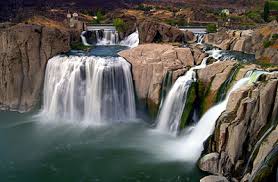 Greetings from Pocatello, Idaho
.
.
From the travels and adventures of the 
"World's #1 Trackchaser"
.
.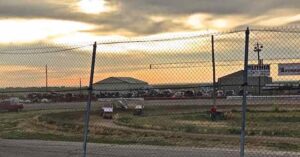 Pocatello Raceway
Inner dirt oval
Lifetime Track #2,342
.
.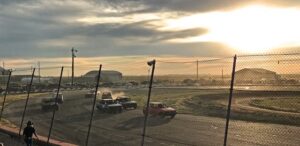 Pocatello Raceway
Outer asphalt oval
Lifetime Track #2,343
The EventVideo PlusPhotos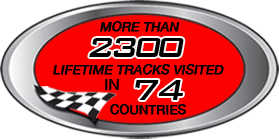 THE EVENT
I have had the opportunity to follow my trackchasing hobby all over the world. As this is written I have seen racing in 74 countries. My lifetime track total exceeds 2,300. Each and every year I will trackchase in 25-30 states.
At track #1,040 I moved into the "World's #1 Trackchasing" spot. Here's the funny thing about that. I was perfectly content to remain in about seventh place in the worldwide trackchasing standings. Then I had rotator cuff surgery, which knocked me out of golf for about six months. With no golf and time on my hands I turned up my trackchasing by a notch or two. I discovered I liked MORE trackchasing and LESS golf. It didn't take all that long to move up to the top of the world trackchasing standings at that point.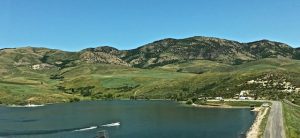 I love trackchasing in the Far West for several reasons. First, the scenery is beyond rugged and beautiful. Secondly, I am the only trackchaser that's done much trackchasing in the Far West. I've never totaled up the numbers but I likely have more than twice as many Far West tracks to my name than any other trackchaser in the world. If you can "double up" on someone in a geography that covers 13 states you've done pretty well.
My hobby is not only about racing. Trackchasing for me centers around three things. The racing part is pretty obvious. However of equal importance is the logistics of trackchasing and the opportunity to see the world.
I live in Southern California. The vast majority of tracks are located in the Midwest and East. It takes a good deal of logistical planning to get from where I live to where the tracks are. For the past 15 years I have traveled about 175 nights each and every year. Surprisingly to some, more than half of those overnights were not part of trackchasing.
Then there's the travel just for the fun of seeing new things. You won't want to miss my "Trackchasing Tourist Attractions" page or my "Sports Spectating Resume" page on my website at www.randylewis.org. That will give you some understanding on how important seeing the world is with my hobby.
Today's adventure was one more of the 2,000 trips that have taken me up, down and around the long and dusty trackchasing trail. If you would like to see where I've been and experience those adventures here's the link: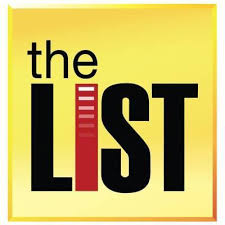 If you've got a question, comment or whatever please leave it at the bottom of this report.  It's very easy to do.  Or you can visit me on Facebook.  Thanks!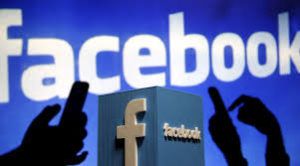 FOREWORD
FRIDAY
I really enjoy trackchasing in the far west. The scenery is beautiful. Most of the time I don't have to change time zones. When I it's only by an hour. Additionally these tracks are difficult to get to. That makes them even more valuable when added to my lifetime list.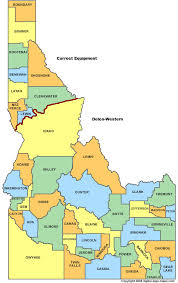 Today I would be trackchasing in Pocatello, Idaho. I have seen 15 tracks over the years in Idaho. My nearest fellow competitor, Alan Brown, has visited nine tracks here.
Many of the Idaho tracks have a history of going in and out of business. This has been the case with the Pocatello Raceway. Additionally, not all of the tracks in the state have been on top of their game with regard to websites over the years.
For this trip my plan was to come all the way to Idaho to visit just one facility. It is rare when I jump on an airplane to visit just one location. However, there was a method to my madness.
I had actually picked up some valuable information from one of my nearest fellow competitors, Guy Smith. He and his lovely wife Pam saw racing in Pocatello just a week or two ago.
I had not realized Pocatello had a smaller dirt oval. It sits just inside their traditional asphalt oval track. They race winged outlaw carts on the dirt track.
This meant that I could now make one trip to Pocatello but see two different tracks. This made the "value" equation much much better. I will say this. I wish I got as much new track information from my fellow competitors as I provide to them.
The Randy Lewis Racing Research Department trumps all other new track discoveries by a wide margin. In any given year I will visit more tracks that have never ever been visited by any trackchaser than all of the other trackchasers combined. Of course I share that information in an exhaustive Trackchaser Report, YouTube video and SmugMug photo album. What do you get in terms of sharing from most of the other trackchasers? You get a one-line entry in their lifetime totals!

We were moving into the Fourth of July weekend. This is the heaviest travel weekend of our American summer. It wasn't going to be easy getting to Pocatello.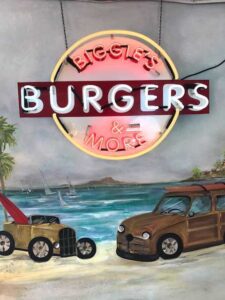 I had a plan A and a plan B in place. I strongly wanted to go with plan A because but if that plan was in jeopardy Plan B was a certain possibility.  The one thing I knew for certain was that I was taking Carol to our favorite burger place in San Clemente, Biggie's Burgers.
Plan A was simple. I would simply hop on a jet airplane and fly from Southern California to Salt Lake City, Utah. From Salt Lake I could make the easy 2 1/2-hour drive up interstate 15 to Pocatello.
However, as you might imagine simply jumping on a plane on a standby basis on the busiest weekend of the summer was not as easy to do as it was to plan. The flights were tight.
It turned out that my best option would be flying from San Diego to Salt Lake rather than from my normal departure airport in Los Angeles. Carol and I often use San Diego to fly to Maui for our by semi-annual Hawaiian vacations.
I am lucky in one way. Our hometown of San Clemente is located midway between Los Angeles and San Diego. We're about 60-65 miles from each of those major airports. Believe it or not the traffic going south to San Diego can often be heavier than driving north to Los Angeles.
I must tell you about the conversation I had with my airport parking shuttle driver on the way to the airport. I asked the guy a question about local sports in San Diego. He looked like a fit man but he told me he didn't have the foggiest notion about anything going on in the world of sports.
Then it dawned on me. He was a surfer. Surfers don't "do" traditional sports. We got into a conversation. I learned that he lived just south of the border in Mexico. He told me he had built a 1,000 square-foot home right on the beach for $85,000. Actually that sounds about right. As long as the Mexican government doesn't decide to take it away he's got a fantastic deal. A house like that located on the Pacific Ocean would cost in the millions.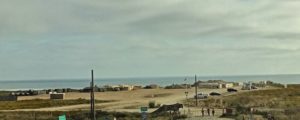 My San Diego flight wasn't leaving until nearly 9 p.m. on Friday night. That was good on one front. That meant I could spend all day Friday at home. I could and did treat Carol to an early dinner before I headed to the airport.  If also likely meant heavy traffic.  I passed through Camp Pendleton, the U.S. Marine Corps base that borders San Clemente.  I could see where the Marines train for their foreign tours of duty.  It's located just off the freeway.
There was a downside to this plan. If I couldn't get on the flight, because it was full, my plan was to drive from San Diego to Salt Lake City. Yes, you heard that right.  Beginning at 9 p.m. that would be an 11-hour drive. Additionally, I would also lose an hour due to time zone changes in Utah.
I figured if I could get to Salt Lake driving by 2 p.m. on Saturday I could rent another car and drive it from Salt Lake to Pocatello, a 2-1/2 hour drive. I would need to change rental cars to minimize the time I had a one-way rental. Yep. There's a lot of strategy in this game of trackchasing. That's one of the things I like about it the most.
Leaving San Diego at 9 p.m. and getting into Salt Lake by 2 p.m. would give me about 16 hours to make the 11-hour drive.  That was pushing it. It was doable but it was pushing it.
I had my one-way rental car reservations all set up to get me to Salt Lake. The best price I could find on a one-way rental was $92. However, the National Car Rental Company agreed to sponsor me on this trip. The one-way rental charge to Randy Lewis Racing would be just $15 U.S. I would likely incur another 60 or $70 in gasoline expense.
If I made the flight I would be landing in Salt Lake City at about midnight. At that point I would have a choice to get a hotel or sleep overnight in the Salt Lake City airport. After consulting www.sleepinginairports.net I confirmed that sleeping in Salt Lake City would be an acceptable experience.
I wouldn't know if I was going to make the airplane ride until almost all of the passengers had boarded the plane. If I made the flight I would have to cancel my National Car Rental reservation leaving from San Diego to avoid losing that sponsorship on future occasions.
Additionally, if I made that flight and wanted to get a hotel room I would have to make a Priceline.com reservation before my flight left San Diego. Priceline's policy is that no reservations can be made for hotels after 11 p.m. local time. I would be landing in Salt Lake City at midnight.
I frequently tell you that I travel much differently than any other trackchaser. Whenever I promote that point to you I provide back up to support the assertion. I'll do that again.
Here I was trying to get on an airplane. I wouldn't know if I was going to get on the plane until virtually every passenger had been seated. Have you ever traveled like that?
Then if I did get on the plane I would have to make a hotel reservation from my laptop and cancel a rental car reservation from my cell phone in order to maximize my financial opportunities. I would have to do that immediately as in about sixty seconds. I have made a lifetime plan of maximizing financial opportunities one by one no matter how small. This has allowed me to do what I do for 15 years of retirement. I am most pleased to report that I got on that airplane!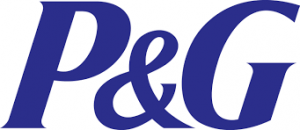 By the way July 1, 2017 marks my 15-year anniversary of retirement from the Procter & Gamble Distributing Company. I would celebrate that date at the Pocatello Raceway. I owe a lot to P&G. They offered the strongest retirement plan in the world by a long shot. I took advantage of that opportunity.
Yes, I can now gleefully tell you that I made the airplane from San Diego to Salt Lake City. To top it off I got a first class seat. On bang bang timing, with the Priceline.com website already to go, I quickly made a reservation at the Rodeway Inn in SLC. I saved 24% off of their very best online price. Then I successfully canceled my National Car Rental reservation while waiting in the airline jet way! I was cutting it close on all of these travel requirements but they all got done in the end.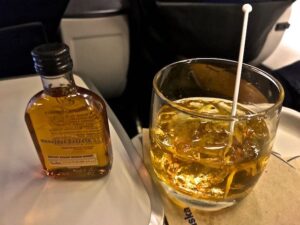 As my plane taxied down the runway (from my first class seat) towards Salt Lake City I thanked my lucky stars that I wasn't heading toward the San Diego rental car center and driving to SLC. Driving 11 hours overnight with 16 hours in total to make it would not have been the most enjoyable thing to do. However, as you know by now I would have done it.
SATURDAY
It was nice having a hotel room on Friday night. I had fully expected (and did) to sleep in a highway interstate rest area after the races tonight. I won't get back to Salt Lake City until 1- 2 a.m. My flight back to Southern California leaves at 8 a.m. There will be no time for a hotel.
The Roadway Inn in SLC offered a very complete hot breakfast buffet. I took advantage of that and then went out for a comfortable morning power walk. In order to meet my trackchasing and exercise goals I have to use every available day.
Salt Lake City sits at an elevation of more than 4,200 feet. That would affect my walking just a bit. There must have been 20 hotels or more situated within several blocks of my Rodeway Inn. It was impossible to miss the snowcapped mountains of Salt Lake City. Yes, the Far West has the very best scenery in the entire United States. Of course the traditional 13 states of the Far West include Alaska and Hawaii, two of our very most beautiful American states.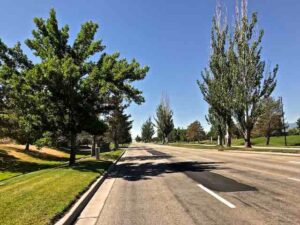 I took it a bit easy on my morning power walk. Exercising at 4,200 feet is not as easy as doing the same thing at sea level at the beach with a fantastic ocean breeze in your face. Salt Lake City can be very warm during the summertime. It was 85 when I exercised. It is expected that SLC will reach more than 100° for several days consecutively next week.
You know that I use GPS everywhere I go. I got so into my walk today amongst hotels and warehouses that I soon lost my way. Not a problem. Google maps took me back to the Rodeway Inn safely.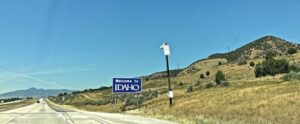 The next step in my grand plan was to take the hotel shuttle from the hotel back to the airport. There I would pick up a rental car and drive about 2 1/2 hours up to Pocatello, Idaho. I had never really thought how easy it was to get to Pocatello. It was a simple nonstop flight to Salt Lake City and a 2 1/2 hour drive. In my book that's nothing.
I was going to have two or three hours of free time in and around Pocatello itself. I wanted to put it to good use. I checked TripAdvisor to see what the top things to do were in the area.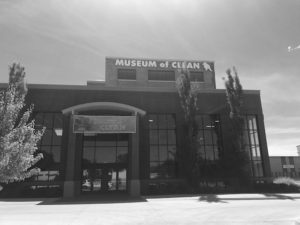 The #1 choice, on a clear-cut basis as the top touring attraction in all of Pocatello Idaho, was the "Museum of Clean". I wonder how many people have ever heard of that? If it was #1 in Pocatello how could I miss it?
I found the place easily. Pocatello is not that big. I walked in the door and paid my six-dollar admission price. I took a lot of photos. If you don't have a chance to go to the Museum of Clean yourself you might enjoy my SmugMug pictorial essay.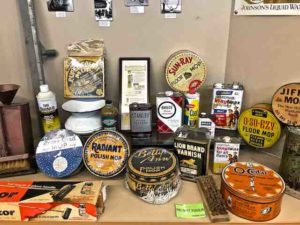 The Museum of Clean is the handiwork of Don Aslett. Don ran a cleaning company. He must have been obsessed with the idea of all of the things that exist in the world to make things clean. There were extensive displays of vacuum cleaners, sweepers, laundry detergents, washboards and old-time washing machines. If something has ever been used to clean anything it was likely at this museum. There were most than 6,000 artifacts in all.
Probably the highlight for me was sitting in the museum's theater. There I watched a rather long DVD of the inventor himself as he entertained a studio full of housewives. His comedy routine on cleaning and throwing out junk and the like was entertaining. Don Aslett has written several books on the subject of cleaning and related topics.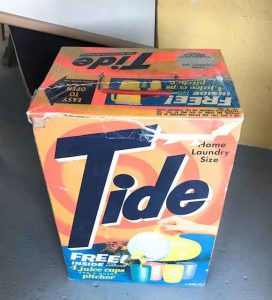 I breezed through the museum in about 40 minutes. I could have taken longer. However, I thought I was getting the gist of it. I'm most happy I stopped there. Things like the Museum of Clean are pretty unusual. Now I can say I've seen it.
Just across the street was the Idaho State University campus. I love touring campuses of both large colleges and small ones.
I drove through the campus getting a general overview. What I was most interested in was the campus bookstore, the football stadium and the basketball arena. I didn't find the bookstore today. It was likely closed. The entire campus was totally deserted.
However I did find the Holt Arena. This is an unusual sports building the likes of which can't be found on very many campuses in the entire United States.
The Holt Arena is home to both the Idaho State Bengals basketball team AND their football team. How many colleges have a multipurpose building where both the basketball football teams play their home games? Unfortunately the place was locked up tight. I would've loved to of seen what it looked like inside. It looked like a huge Quonset hut on steroids from the outside.
The Idaho State campus is at an elevation of 4,560 feet. The Holt Arena opened in 1970. It is the oldest enclosed stadium on a college campus in the U.S. Only the Houston Astrodome (1965) predates it as an enclosed sports stadium. I gotta see a game here sometime!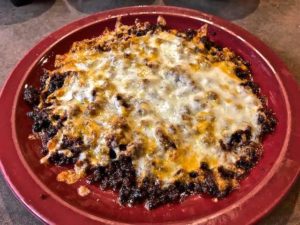 I had just enough time to grab an early supper. I did a Yelp search and came up with El Caporal. I'm on a Mexican food kick in search of an entrée called queso fundido con chorizo.
This is rarely on the menu. However, I've eaten at enough Mexican restaurants that I know their staff will go out of their way to please the customer if it at all possible. I explained what I wanted to my server. In not very much time it was appearing at my table. The guacamole was excellent as well. The restaurant came with a 4.5-star Yelp rating. It was very good.
THE RACING
Pocatello Raceway – Pocatello, Idaho
Next on my daily agenda was to visit the Pocatello Raceway. Yes, this was the day's main activity. I was excited to come here. If all went well I was going to see racing first on a dirt oval followed by racing on an asphalt oval track.
Before I go much further I'm going to tell you two things. First of all I had an excellent time. Secondly there were some significant drawbacks that made my trip to the track inconvenient if nothing else.
I'll begin by telling you specifically about the things that I didn't like at all. Then I'll finish with the things that I found most entertaining. That way I hope you'll leave with a positive feeling about the Pocatello Raceway.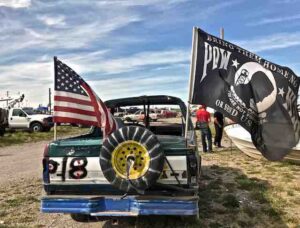 I got to the track at about 5:15 p.m. Sunset tonight in Pocatello was at 9:12 p.m. Last light would occur at about 9:50 p.m. Right now we're in the longest days of the year so in some of these Far West locations it stays light very long.
Tonight they were having a special event. It was going to be a "night of destruction". Commonly, nights of destruction come with a little bit higher price tag than normal. That was the case tonight. A regular night of racing here requires a ten-dollar ticket. Tonight the price was fifteen.
I had three options on how I wanted to experience the Pocatello Raceway. I could pay $15 U.S., the general admission price, to sit in the grandstands. Or I could pay an extra $10 ($25 in total) to watch the races from my car. I would need to park it along the backstretch or around turns three and four. I strongly considered that option. However, with a rental car I'm always concerned about catching a rock in the windscreen.
I found option #3 to be the best for me. For just a five-dollar upgrade, which I thought was most reasonable, I could go into the pits. Since I was so early and racing ultimately would not begin until 6:20 p.m. walking in the pits would be fun. I signed up for another five bucks.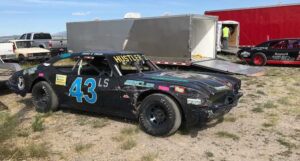 I think I took a picture of just about every competitor at the track today. Then I headed over to the 500cc winged outlaw kart pit area. I know a couple of guys to race those things and wanted to meet them in person tonight.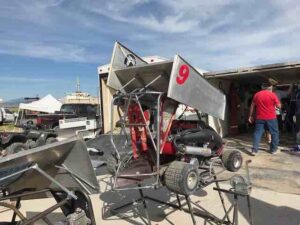 Both John and Blake were friendly guys. They might have seemed surprised that I actually made it up to Idaho. I don't know if they get a lot of contacts from folks who do what I do. When they do I'm not sure that everybody follows through. I always follow through.
The good thing about talking to these fellas was that they turned me onto a new track opportunity that I had never heard of before. I hope to see that track this year. If and when I do I'll provide my very complete Trackchaser Report, YouTube video and SmugMug photo album. Then other trackchasers can evaluate what I share and decide if that is a track they would like to visit.
I never like to recommend tracks to fellow trackchasers for two significant reasons. The first is because most other trackchasers are very poor at sharing information on a broad scale basis. I kind of figure if you discover something it's yours and there's no need to give it away for free. My fellow competitors must feel the same way.
Secondly, I would never want to recommend a track to someone that I haven't seen and experienced myself. What if they took my recommendation as gospel and then didn't have a good time? I would feel responsible. I don't want to be responsible for someone not having a good time right?
There were three classes of winged karts. They raced on a dirt oval that was totally inside the Pocatello Raceway's ¼-mile asphalt oval track. I was forced to stand a fairly long distance away behind two fences. That will decrease the quality of my video production of the winger kart racing.
Nevertheless, it's always fun watching racing when you know some of the people that are competing. I was rooting for John Hershberger and Blake Lyle to do well. Like I said if all goes well I'll probably see them later on this year.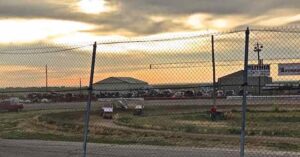 After the kart racing I moved over to the grandstand to watch five or six classes of stock cars compete on the asphalt oval. The car counts were relatively modest. I would say they ranged from 7 to 9 or 10 cars in each division. However, on a track as small as Pocatello, eight cars closely bunched together can put on an entertaining program.
I was not very impressed by the concession stand situation at the track tonight. One of the track employees told me that tonight's crowd was probably going to be the largest of the season. I'm going to estimate that they were 500- 600 people in the grandstand and maybe another 200-300 parked in their cars around the track. That's a good size crowd in this area.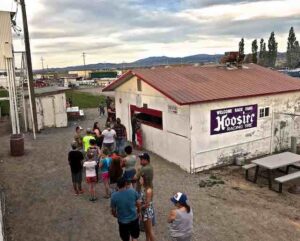 In the main grandstand, home to 500-600 people by my estimation they had one concession stand selling food and drink and one cashier. The line stayed at a constant 15-20 people and moved very slowly. I can't understand why promoters don't realize they are losing money with a system like that. I'm sure they have their most trusted employee behind the cash register but maybe they need to find another two or three trusted employees who could stand behind another two or three cash registers and then there's that.
By about 9 o'clock I was getting very thirsty and somewhat hungry. I had not eaten since about 4:30 p.m. The concession line was still agonizingly long and slow. I didn't want to miss one or two races standing in a concession line.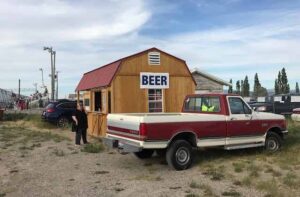 I decided to go down to the beer building. It was located near turn four. There was absolutely no line there. I ordered a Coors Light for three bucks. I gave the lady my money. Then she noted my pit pass wristband.
She told me there was no drinking in the pits. I fully understood that. That is always the case. I wasn't in the pits. I didn't even know if I would be going back to the pit area again tonight.
However, she surprised me when she said that she would have to cut off my pit wristband. Their policy is that no one can drink a beer in the grandstands and then go into the pit area. She said there had been too many drunks going to the pit area and starting fights.
I wasn't drunk. I was parched. I wasn't planning to go back into the pit area but I just didn't like the vibe of losing my pit bracelet and assuring that I would not be going back to the pits. I asked for my money back on the beer, which that you're fully refunded. I left the beer stand still parched.
Overall, I don't have a problem with their policy on beer being bought in the grandstands and the pit pass situation. I applaud the lady for sticking to the policy even with a person like me that posed zero threat to the possibility of starting a fight in the pits. However, it was more than frustrating with how difficult it was becoming to simply quench my thirst (alcoholic or non-alcoholic) at the Pocatello Raceway.
With just two or three features left to go I noticed that the line of the concession stand was down to five people deep. This was my chance! However, my opportunity turned out to be fool's gold. When I got to the head of the line I learned that everything at the concession stand was totally sold out with the exception of Diet Coke and candy.
A Diet Coke would work for me. It pretty much had to. I told the guy taking my money that they had one of the worst concession systems at any track that I've seen in quite a long time. He apologized but looked as if he wasn't in a position to make much of a policy change. Maybe I'll send a note to the promoter. Yes, I will do that. I'll copy him on the entirety of this report. Yes, there were lots of good experiences coming from my visit to the Pocatello Raceway but some outages as well. I don't know if it will do any good but at least I'll be doing my part for improvement.  The concession stand closed with a couple of feature races still left to run.  They were out of everything!
The racing was very good despite the low car counts. I liked the idea of the grandstands being so close to the track. It was exciting to see the cars coming out of the fourth turn and making a sharp left to get down the straightaway. All of the people near me seemed to be having a great time.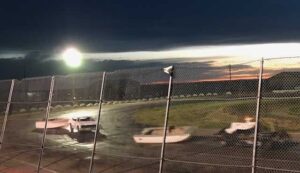 The obvious highlight of the night other that adding two new tracks to my lifetime list, ended up being the "boat race". This was a series of a dozen stock cars and pick up trucks towing old boats behind them on the ground. I know you hear this from time to time from me but you're really not going to want to miss my video of the boat race.
They wetted down the asphalt oval to make things a little more exciting for the boat race. About a dozen drivers came out for tonight's last "car and boat" surviving wins race. Some of the very best crashing action happened down in turns one and two. From my position just outside of turn four I couldn't see that very well. However the action where I was was exciting as well.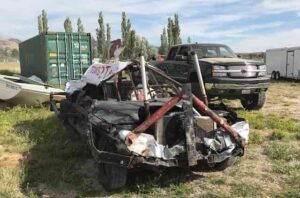 The crowd went bonkers over the boat race. A track employee at told me earlier the crowd "Loves to see carnage" in an event like this. Frankly, I do too. One of the wildest boat races I ever saw was down in Atchison, Kansas. Don't miss the video on that one.  The winner was a most unlikely looking car but very powerful.
When the racing was finished the large crowd began to make their way out of the 8-10 row tall wooden board grandstand. It was at this point that a board collapsed and a young woman in her 20s fell about eight feet to the ground.
She was obviously injured. This put a bit of a pall over the evening. Emergency personnel were called and she was taken away in an ambulance with red flashing lights. I hope she's OK.
I understand business. I majored in business in college. I worked in business for 30 years with the Procter & Gamble Distributing Company. I understand revenue and I understand costs.
The short track racing promoter is caught between a rock and a hard place. They don't have a lot of revenue for capital improvements. I noticed that several boards were in a very bad condition at the track tonight. I suspect that it's very expensive proposition to replace rotted wood with brand-new boards. However, a lawsuit or increased insurance premiums to pay for people who become injured might be more expensive than replacing the boards. Like I say the promoter is sort of in a Catch 22.
Overall, I had a good time tonight. I'm sure I was influenced in my thinking by the idea that I saw two tracks at one facility. It was nice meeting some of the drivers. I enjoyed the racing and the boat race was above and beyond entertaining.
I know the track promoter, at this stage in life, can't do anything about the grandstands facing the setting sun. Maybe the track's originators built the track at night. That's a joke! The promoter should be able to do something about the concession stand dilemma. I think they better work on the grandstand as well.
AFTER THE RACES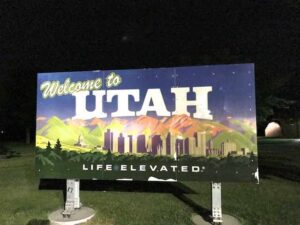 I got out of the races at about 10:30 p.m. I drove down Interstate 15 to the Idaho/Utah border. There I pulled the car into the rest area, leaned back the front seat, pulled out all of the pillows I brought along for just this purpose and slept for about five hours.
SUNDAY
My alarm came at 5 a.m. Mountain Daylight Savings time. Yep. I awoke in the Brigham City, Utah Interstate 15 highway rest area. I did get a relatively good five hours of sleep.
Now the plan was simple. It's always simple after I finish seeing the last race of the trip. What is that simple plan? Get my butt home.
All I had to do now was drive about 60 miles back to the Salt Lake City International Airport. A few miles outside of the airport I would stop to refuel the National Car Rental Racing Chevy Impala.
I am not a big fan of Chevys. I grew up in a Ford family. However, I am not a big fan of Fords anymore. I'm Lexus man. However, the owner of the National Car Rental franchise in SLC owns a Chevy dealership!
My right side buttocks area tells me the potential likelihood of my buying a Chevy Impala to drive cross-country is zero. Nevertheless it did get me safely through about 400 miles of driving on this short 36-hour trip.
Whenever I can fly from Southern California and be gone for just a day and a half and rack up two new tracks I'm going to consider that trip a rousing success. Then when you throw in the Museum of Clean, a college campus tour and a little queso fundido it's been a good adventure. The boat race was just icing on this cake.
I had already checked in for an 8 a.m. wide-open flight back to San Diego International Airport. I would not have expected that just two days before the Fourth of July, the busiest summer travel weekend of the year.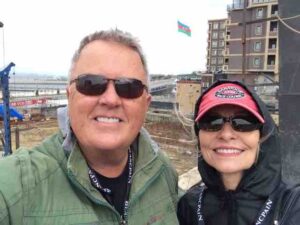 I'll have a few days at home to celebrate the Fourth with my lovely wife. We will have the best seat in the house to watch the annual fireworks display. In San Clemente they shoot them off at the end of the iconic San Clemente pier. We're just 500 yards from that point.
This morning I filled my rental car gas tank at 7:11 a.m. The price was $2.49 a gallon. I'm going to guess that price is a little bit less than it is in Europe right now. Of course we don't get free healthcare.
There was a McDonald's next door to the gas station. That would be perfect for a quick breakfast. I zipped through the drive-thru using my McDonald's app. Two Egg McMuffins and a bottle of water were $8.55. However, using the buy one get one free offer on the Mickey D app my bill was reduced to $4.95.
With my current low-carb eating regimen I stop at McDonald's nearly every day. I'm either eating a McDouble or an Egg McMuffin. The bread gets tossed. The other day I stopped at a McDonald's restaurant. The bill was seven dollars before the app and just a dollar afterwards!
I was back in San Clemente by 11 a.m. It had been a good trip. I think of all of my trips as being good trips. I've never had a bad one.
Good evening from Pocatello, Idaho.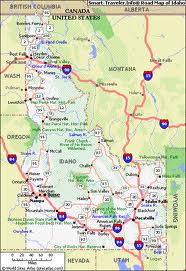 Idaho
The Gem state
This evening I saw my 16th and 17th lifetime tracks in the Gem state, yes the Gem state. I hold the #1 trackchasing spot in Idaho. I've seen 17 or more tracks in 29 separate states. No trackchaser can match that stat.
Thanks for reading about my trackchasing,
Randy Lewis
World's #1 Trackchaser
Peoria Old Timers Racing Club (P.O.R.C.) Hall of Fame Member
Idaho sayings: Fry sauce
What it means everywhere else: Ketchup. 
 
What it means in Idaho: The magical concoction of ketchup and mayo that makes everything better. No fry sauce? No fries.
QUICK FACTS
LIFETIME TRACKCHASER COMPARISONS 
The three most important trackchasing comparisons to me are:
Total lifetime tracks seen
Total "trackchasing countries" seen
Lifetime National Geographic Diversity results
Total Lifetime Tracks
There are no trackchasers currently within 600 tracks of my lifetime total. Don't blame me.
Randy Lewis, San Clemente, California – 2,343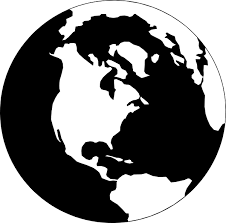 Total Trackchasing Countries
There are no trackchasers currently within 20 countries of my lifetime total.
Randy Lewis, San Clemente, California – 74
Current lifetime National Geographic Diversity results
Randy Lewis, San Clemente, California – 4.37
That's all folks! Official end of the RLR – Randy Lewis Racing Trackchaser Report
Click on the link below to see the video production from the racing action today.
Click on the link below for a photo album from today's trackchasing day.  You can view the album slide by slide or click on the "slide show" icon for a self-guided tour of today's trackchasing adventure.
A quick trip up to Idaho….two tracks in one PLUS the Museum of Clean and more