Greetings from Commerce City, Colorado
From the travels and adventures of the "World's #1 Trackchaser"
Raceland aka Rocky Mountain National Speedway



Raceland – Lifetime track #115 (dirt oval)
Rocky Mountain National Speedway – Lifetime track #858 (figure 8)
Highlights2005 - Figure 8Quick Facts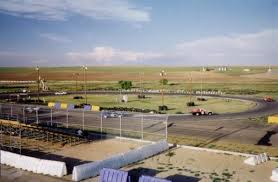 Raceland is officially listed as my 115th lifetime racetrack to see.  This track was the first I ever saw in Colorado.  I went trackchasing at this dirt oval track on July 24, 1982.  I didn't begin writing my famous Trackchaser Reports until about track #400.  Therefore all I have to go on is my memory of this evening activity.  I also didn't begin doing much in the way of photos or videos at that time either.  It was "pre-technology time".  


However I did return to the facility on May 28, 2005 for the figure 8 racing.  That night of trackchasing was part of a "blended double".  Earlier in the day I had seen racing on the road course at the Pikes Peak International Raceway.  Then I began my evening with the figure 8 feature event racing at the Colorado National Speedway in Dacono, Colorado.  I capped off my night with the feature figure 8 racing at the Rocky Mountain National Speedway.  Of course, I also saw racing on the oval tracks of Colorado National and Rocky Mountain National on that evening.  Of course, I was simply revisiting the oval tracks having seen them earlier on.
Special thanks to autoracingmemories group for several of these fantastic photos.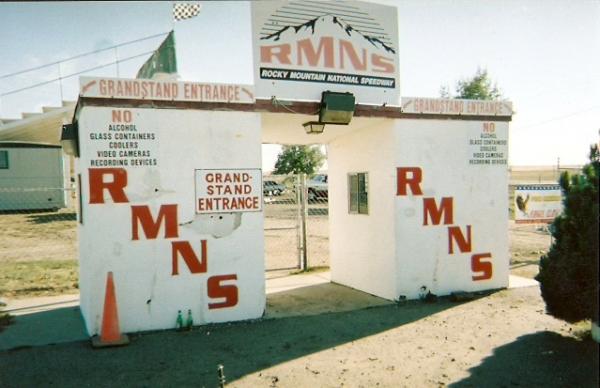 Below is my Trackchaser Report for my visit to the Rocky Mountain National Speedway's figure 8 track.  You'll notice the format of that Trackchaser Report written in 2005 was much different than how it appears today.


GREETINGS FROM DACONO, COLORADO AND THEN COMMERCE CITY, COLORADO
EDITOR'S NOTE
Count me as one who would like to see the NASCAR Nextel Cup races shortened.  Nextel Cup racing is the only racing I watch on TV.  Since I am away from home on most weekends, I begin to watch each Nextel Cup race on Monday.  Sometimes it takes me until Thursday to complete the race!  I would recommend races be 2-3 hours in duration.


PEOPLE/TRAVEL NEWS 
There are three primary types of countable tracks in the world of trackchasing.  They are ovals, road courses and figure 8 tracks.  As a trackchaser, I try to get as many countable tracks as I possibly can.  This involves a good deal of planning and logistical strategy.  Check out the racetrack news to see some of the strategy that was needed to pull off tonight's trackchasing triple.


Since this is the people section, I would be remiss if I did not comment about the people at the Colorado National Speedway.  When I say people I as really talking about the women.  Recall last year when I visited the Tulsa Speedway.  Maybe they were having the Miss America contest in Tulsa during the same weekend I visited that track.  Either that or the Tulsa Speedway is secretly a very hot dance club following the final race of the night.


I can only offer up this conjecture.  This year's Miss America contest has been relocated to Denver!  I have never seen more beautiful women at a racetrack in my life.  Forgive me for sounding like a chauvinist.  The men may have been equally as beautiful, it is just that I didn't notice them.  I have pre-approved this paragraph with Carol.  She understands this is a journalistic endeavor and I am bound by my journalistic oath to report, as accurately as I can regarding the most significant elements that dot the landscape.  Trust me; it was an amazing gene pool.


Today's additional tracks now put me within less than 100 tracks of Guy Smith's total.  Guy ranks as 5th in the worldwide trackchaser standings.  Guy is now on my radar screen and I am sure I am on his.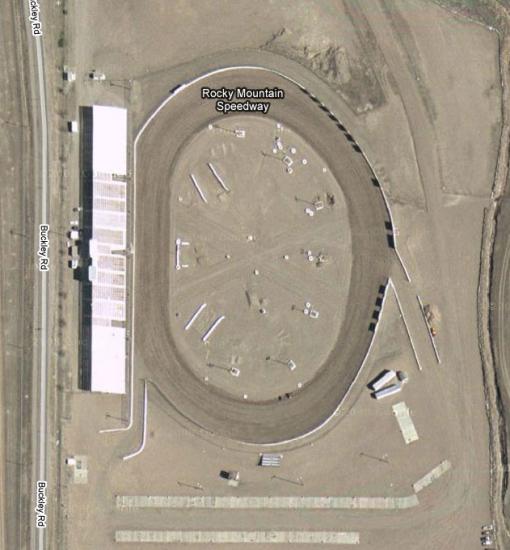 RACE TRACK NEWS: 
COLORADO NATIONAL SPEEDWAY – OVAL – TRACK #856, COLORADO NATIONAL SPEEDWAY – FIGURE 8 – TRACK #857,
ROCKY MOUNTAIN NATIONAL SPEEDWAY – FIGURE 8 – TRACK #858
The above three tracks increase my lifetime trackchasing total to 858.  These are my fifth, sixth and seventh tracks in Colorado.  This increases my National Geographic Diversity ranking from 11th to 2nd in the state of Colorado. 


I had seen at the Colorado National Speedway dirt oval back in 1988.  I had also seen the Rocky Mountain National Speedway, then known as Raceland, in 1982.  With those ovals already counted, that left the figure 8 tracks at each location to see this coming weekend plus the newly paved oval track.


CNS is located in Dacono, Colorado and RMNS is in Commerce City, Colorado.  The facilities are about 25 miles apart.  Freeways and a toll road connect the two locations, so the driving time is about 25 minutes. 


If both tracks ran their figure 8 races at the same time a double would be impossible.  I called CNS earlier in the week to find out their schedule.  CNS does not run heat races.  They only run "B" mains and "A" mains.  That might sound like semantics to some, but I am not authorized to call their "B" mains, heat races.


The CNS overall program started at 6 p.m.  I was told to be at the track by 7:15 p.m., so as not to miss the figure 8 "B" mains.  If I saw the "B" main, I might not be able to stay for the figure 8 "A" main that would start later in the evening.


The RMNS program also started at 6 p.m.  Their figure 8 class ran heat races, but they did not run them on the figure 8 track.  They were contested on the oval.  I know, it is a bit confusing, but that is how they do it.  I was told to be at the track by 9:30 p.m. to see the figure 8 race, which was the last event of the night.


Therefore, with all those variables, I formulated my plan.  I would drive up from my afternoon road course location in Fountain, Colorado.  That drive is about 100 miles, so I could comfortably reach the Denver area in time for the RMNS 6 p.m. start.  I wanted to see some races on the RMNS oval and take some pictures in the daylight.  If I didn't go to RMNS then, I might not see anything at RMNS, if I wasn't able to see the figure 8 group at CNS early enough in the evening.  I hope you are not confused yet.


It was about 6:15 p.m. and I had finished taking pictures at Rocky Mountain.  They still had not started racing at RMNS.  I figured I could leave as late as 6:45 p.m. and still be at CNS as requested by 7:15 p.m.  Then I started thinking.  RMNS had not started yet.  What if I hung around here for too long and then missed the figure 8 "B" mains at CNS.  At 6:15 p.m. I decided to leave RMNS and head out to CNS.


I had a plan on the best way to get from one track to the next.  It was then that I made a mistake.  I thought I would ask the pit gate man at RMNS how he would make the drive.  Don't local people always know the best way?  Although he sounded very confident in his directions, his route was nearly 10 minutes slower than my planned route.  I could make that comparison based upon taking my route on the way back.  This proves something I have always believed in.  A well-informed tourist knows more about the local area than the life long resident does.


I pulled into the jammed CNS parking lot at about 6:50 p.m.  I had to park a long way from the ticket booth.  When I reached the ticketing area, I saw a sign reading, "No video cameras".  I made the long trek back to my car to leave my camera.  By the time I reached the ticket booth again, it was just a few minutes before 7 p.m.  The announcer was saying the figure 8 "B" main was coming onto the track.  Wait just a minute!  They were not supposed to be starting until AFTER 7:15 p.m.  Short tracks don't do anything ahead of schedule.  They do everything later than scheduled, sometimes much later.


I found a seat and watched two "B" main figure 8 races on the traditional asphalt figure 8 track.  There were 19 cars racing in the two events.  Since I had just paid $13 to get in and my countable races were run in the first 10-15 minutes I was at the track, I decided to stay and watch some asphalt oval racing action.  I didn't have to leave the track until about 9 p.m. to catch the 9:30 p.m. or later figure 8 race at RMNS.


Following the "B" mains for the figure 8s, I saw the "B" mains for the late models and modified coupes.  The modified coupes were '32 Ford type body styles with full roof wings.  The track then went quickly into "A" main racing.  There was still time to watch more at CNS, so I stayed for the non-stop 25-lap, 14 car super modified feature.  Next up was the 18-car Grand American Modified feature of 30 laps.  The final race I saw was the 20 lap, 19 car "A" main for the figure 8 cars.  I had seen every class race and the program was well run and entertaining.


The Colorado National Speedway is a weekly Dodge series NASCAR track.  In virtually every instance, this means it is a quality well run facility.  They had a huge crowd, maybe as large as 4,000-5,000.  This track's management has obviously been to the winter promoter's meetings.


They had so many plusses.  There were several concession locations with some exotic offerings that included tamales, spuds, smoothies and turkey legs.  Since I am on a good health kick my only purchase was a sno-cone. 


The P.A. and announcer were first class.  They had the track's future schedule posted as well as the point standings for each class.  They removed on track accidents quickly, had a large scoreboard and everything at the facility was in tip-top shape.


The announcer gave me a very nice trackchaser mention just before the "A" main figure 8 race began.  He talked about trackchasing for a few minutes.  This is somewhat unusual as "professional" short tracks often are more interested in plugging sponsors than recognizing individuals.


I left CNS at 8:45 p.m.  This time I took my route between the two tracks.  It does cost $3.50 to use the toll road, but the route offers high-speed performance driving, which is what I am trained for.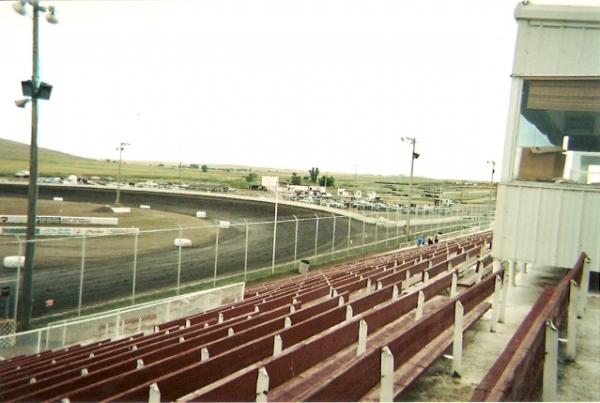 I arrived back at the Rocky Mountain National Speedway just before 9:15 p.m.  I was hoping to make the figure 8 track at RMNS a traditional double with the CNS figure 8 track.  I figured I would catch a very small portion of the program at RMNS.  I was not completely confident that I had made it in time.  The track lights were still on, but based upon CNS being so far ahead of schedule, you never know.


Dirt tracks don't normally run shows as quickly as asphalt shows.  That would be the case at RMNS.  I arrived just as they were watering the track.  The modifieds came out to pack the track for 10 minutes.  The mods then returned to the pits and the cruisers came onto the oval for their feature event. 


The RMNS has a huge grandstand.  They host World of Outlaws sprint car races.  The track is starting to show its age.  There is also a tremendous amount of new housing development in the area.  This track might be effected by that someday soon.


The Second Creek Raceway road course sits adjacent to the RMNS.  That was surprising to me.  I have tried to get this road course a couple of times, but have not been successful to date.


Next up at RMNS was the BST (Blood, Sweat and Tears) modifieds.  They started 25 cars and raced the entire feature with only one yellow flag.   The BST group races throughout the rural west.  They will soon be appearing at the Ripple Ridge Speedway in Rawlins, Wyoming.



Next up was the figure 8 race.  This was what I was at RMNS to see.  The 10-lap race started about 12 cars.  It was fairly uneventful until the very last lap.  A huge crash at the "X" resulted in the impacted car flipping on its top.  This ended the race and the night's program at RMNS.  I had been at the track for an hour and five minutes seeing the three features.  The time I spent at the track qualifies my RMNS figure 8 track as the second half of a blended double with the CNS figure 8 track.


The RMNS track announcer spent several minutes with my press release during between race delays.  He invited me down to the start/finish line for the trophy presentations following the completion of all of the races.  I would have loved to do that, but I had already driven more than 400 miles today and I had another 100 or so before I would fall asleep in Sterling, Colorado.  Just as I left the track and walked out into the parking lot, it started to rain.  I am a very lucky trackchaser with the weather.


This entire section started with a discussion about trackchasing strategy.  I spend many hours formulating each track plan.  Some folks get a little intimidated by this amount of planning.  They feel that because I spend so much time developing a plan, that I am hesitant to change the original plan.  Actually, nothing could be further from the truth.


I would estimate that 9 out of 10 trackchasing plans are not completed, without a change after the trip has begun.  I can have the best plan possible, but if someone tells me of a better opportunity, I will immediately make a U-turn and go with the better idea.


With all of my planning, you can imagine my surprise when I met up with John Moore the next day in Nebraska.  I was telling him about today's trackchasing results.  He told me he had seen the asphalt Colorado National Speedway, "when it was dirt".  When it was dirt?  I had seen the Colorado National Speedway back in 1988.  Frankly, I couldn't remember if the track was dirt or asphalt when I visited the track some 17 years ago.


I checked by records.  Back on July 2, 1988 I saw Steve Kinser win a World of Outlaws race at CNS.  My brother-in-law, Mike Polakovic joined me for the race.  That meant the CNS asphalt oval was a NEW TRACK for me and I didn't even know it.  Wow! 


What a day.  I had seen five countable tracks for the day and four of them were new for me.  That's about as productive a trip as a trackchaser can have.
Thanks for reading about my trackchasing,
Randy Lewis
Trackchasing's #1 trackchaser of the 21st century
That's all the news that's fit to print from San Clemente where the women are strong, the men are good-looking, all of the children are above average and the real estate prices are way above average.
You might have remembrances about Raceland aka Rocky Mountain National Speedway.  If so, please feel free to share in the comments section below.  If you have any photos from back in the day, send them to me at Ranlay@yahoo.com.  I'll try to include them here.
RENTAL CAR UPDATE: 
The Thrifty Rental Car Racing Dodge Stratus has an ineffective driver's side sun visor and a very poorly placed cup holder.
LIFETIME TRACKCHASER STANDINGS UPDATE:
The battle for positions that could change in the near future is as follows:
5.  Guy Smith, Effort Pennsylvania – 956
6.  Jack Erdman, DePere, Wisconsin – 872
7.  Randy Lewis, San Clemente, California – 858
8.  P.J. Hollebrand, Webster, New York – 806
9.  John Moore, Knoxville, Tennessee – 794
10. Ed Esser, Madison, Wisconsin – 770
2005 TRACKCHASER STANDINGS 
1.  Randy Lewis, San Clemente, California – 49
2.  Ed Esser, Madison, Wisconsin – 44
3.  Roland Vanden Eynde, Vilvoorde, Belgium – 27
CUMULATIVE DRIVING DISTANCES: 
Omaha, Nebraska Airport, California – trip begins
Columbus, Nebraska – 204 miles
Culbertson, Nebraska – 482 miles
Fountain, Colorado – 797 miles
Dacono, Colorado – 925 miles
Commerce City, Colorado – 951 miles
TRACK ADMSSION PRICES: 
U.S. 30 Speedway – Free
Hitchcock County Speedway – $8
Pikes Peak International Raceway – Free
Colorado National Speedway – $13
Rocky Mountain National Speedway – $10