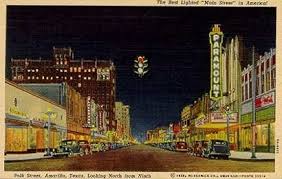 Greetings from Amarillo, Texas
.
.
From the travels and adventures of the 
"World's #1 Trackchaser"
.
.
Route 66 Motor Speedway
Dirt inner oval
Lifetime Track #2,321
The EventVideo PlusPhotos
THE EVENT

I have had the opportunity to follow my trackchasing hobby all over the world. As this is written I have seen racing in 74 countries. My lifetime track total exceeds 2,300. Each and every year I will trackchase in 25-30 states. At track #1,040 I moved into the "World's #1 Trackchasing" spot.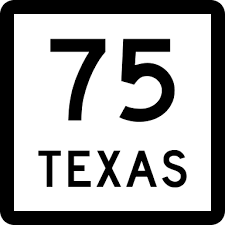 A highlight of today's trackchasing adventure was that I was seeing my 75th track in Texas. I've seen 75 or more tracks in ten different states. That likely means I've made 50 or more trips to those states. Yep. I get around.
My hobby is not only about racing. Trackchasing for me centers around three things. The racing part is pretty obvious. However of equal importance is the logistics of trackchasing and the opportunity to see the world.
I live in Southern California. The vast majority of tracks are located in the Midwest and East. It takes a good deal of logistical planning to get from where I live to where the tracks are. For the past 15 years I have traveled about 175 nights each and every year. Surprisingly to some, more than half of those overnights were not part of trackchasing.
Then there's the travel just for the fun of seeing new things. You won't want to miss my "Trackchasing Tourist Attractions" page or my "Sports Spectating Resume" page on my website at www.randylewis.org. That will give you some understanding on how important seeing the world is with my hobby.
Today's adventure was one more of the 2,000 trips that have taken me up, down and around the long and dusty trackchasing trail. If you would like to see where I've been and experience those adventures here's the link: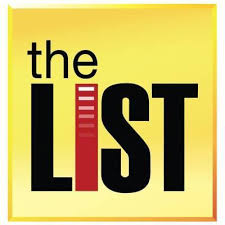 If you've got a question, comment or whatever please leave it at the bottom of this report.  It's very easy to do.  Or you can visit me on Facebook.  Thanks!

FOREWORD
I've been trying to see some racing at this track for years. First, the track was in and out of business for nearly a decade. A coupe of years ago they finally got a promoter who could handle the track well. I tried to see a race there but ended up getting rained out. That was after flying overnight from Seattle, Washington and driving five hours from Dallas to nearly Amarillo. That's when I got the somewhat expected news that the race I planned to attend on Sunday afternoon in April 2016 was washed out.
If you'd like to read about that experience click on the link below:
Today I was making a return trip to Amarillo, Texas. There are certain locations that aren't really close to any of the top 50 major airports. I would classify Amarillo, Texas as being out of the middle of relative nowhere.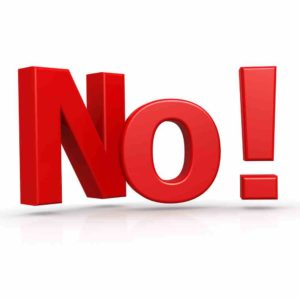 On this particular weekend a monster truck show was planned for the speedway. As you know trackchasing's founding fathers rejected the concept of monster truck shows before they were even a twinkle in the eye of their originator. No, they didn't specifically outlaw monster trucks. They just outlawed what monster trucks do. That's how political systems work all over the world.
However, in addition to the monster truck activity the track was going to be holding some side-by-side (SXS) races. That intrigued me. From my experience I knew it was likely the SXS racing would take place on something other than the Route 66 Motor Speedway dirt oval track. I was correct in that advanced assumption.
I called the track, a few days in advance of the promotion, to inquire further the race office directed me to the fellow who was organizing side-by-side races. Over the phone he told me that yes the side-by-sides would be racing on a specially constructed dirt road course. That was simply outstanding news. Now I could knock off the Route 66 Motor Speedway one time with the road course and come back some day to add the oval track. Life was good.
Going into the 2017 trackchasing season I had never imagined they would be racing on a "secondary" track in Amarillo. I am blown away by the large number of tracks I am seeing that I didn't know about as little as a year ago.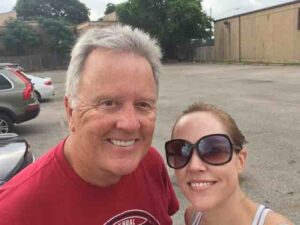 If I were going to travel from my home in Southern California to an out-of-the-way place like Amarillo, Texas it would be a great time to stop down to Austin, Texas. In Austin I could check out those wonderful twin grandbabies and their beautiful and smart mother (our daughter Kristy – above). Of course those twin grandbabies are not really babies anymore. They will be celebrating their ninth birthday very soon. Yes time flies even as a "Gramps".
ON THE WAY TO THE RACES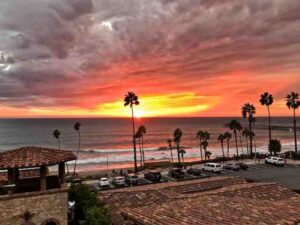 So on Thursday morning I left our modest seaside cottage in the sleepy little seaside village of San Clemente at the bright and early hour of 3:45 a.m. Actually it was dark when I backed out of the driveway. I had a series of three flights that could get me from LAX to either Austin or nearby San Antonio. All the flights were "tight".
I suspect that those Dreaded East Coast Trackchasers have never had to concern themselves with a "tight" flight in their lives. Yes, they have the big trackchasing budgets. They just buy their tickets. Ah, for the rich and lavish lifestyle of those folks. That is not how I roll. I fly standby. If there's a seat I might get on the plane. If not I walk.
As luck would have it I got on the 6:20 a.m. departure to Austin with the next to last available seat. Yes, that flight was "tight". It would not have been a good time to measure my blood pressure. Nevertheless, I've experienced this happy situation of getting a seat on an airplane under my sponsorship program with Carol nearly 1,600 times. Don't worry about me. It's what I do.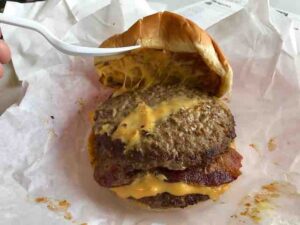 Before I could see any of my children and their friends I had to use Yelp for a lunch recommendation.  Soon I was trying to find a parking place at Dan's Hamburgers.  That wasn't easy.  The burgers were good.  They are served in small, medium and large sizes.  I chose the medium.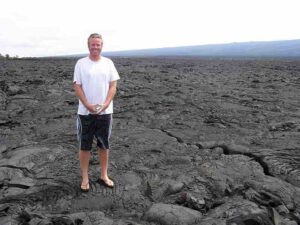 It was fun to see daughter Kristy as well as Mitch and Astrid. An extra bonus was that son Jim (above) was in Austin visiting from Honolulu. We had a delicious shrimp dinner with all of my Texas family as well as Krista and her beautiful little daughters, Jules and Ella. We had fun sipping tequila and drinking Fred's wine. Yes, a very lovely evening.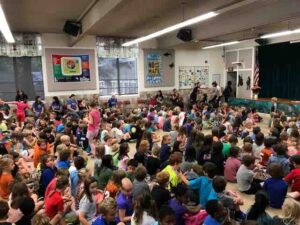 Then on Friday morning I was up early to greet the kids as they had breakfast at 6:45 a.m. Shortly thereafter we were traipsing off to the nearby elementary school. It just turned out that the school was having an assembly this morning. It was pretty wild to see a couple of hundred kids (above) all in the 9-10 year-old range, plus or minus a year or two, sitting on the floor in anticipation of a still to be announced assembly room opportunity. As we left we still didn't know what the assembly was all about.
After a delightful breakfast with daughter Kristy in the rustic Texas themed atmosphere of the Frisco restaurant in Austin I was off on a seven hour drive to Amarillo. There would be no interstates for me. However, much of the road system on my route was four lanes but not interstates.  I wasn't very impressed with the toilet at one of the highway rest areas.  I love cost cutting but no toilet seat?  I'll bet the genius who came up with that idea either got fired or promoted!
The weather forecast for Amarillo was good. No rain was expected although I did run through some rain on my drive northward up to Amarillo. I had to pace myself. Following the racing in Amarillo I had a five-hour drive to the Dallas-Fort Worth airport. I wasn't too worried about that. I had a full 7 1/2 hours to make that five-hour drive.
The roads were generally good. Nevertheless, I would like to know who the genius was that designed some of the on-ramps and off-ramp to these Texas state highways. I wonder how many accidents result from the confusing way people get on and off these state roads?
My drive to Amarillo was for the most part uneventful until I got to Lubbock, Texas. I couldn't resist stopping at Texas Tech University. Good buddies Russ Ingram and Charlie Hulse are notable graduates from there.
When I tour a college campus I like to do four things. If I can I'll want to see the inside of both the football and basketball stadiums. Then I might go over to the bookstore and check out the T-shirts. Of course, I would never buy a T-shirt from any school that's done any damage to Northern Illinois or UCLA. Finally I'll just drive around the campus until I've seen my fill. I've completed this procedure at a lot of college campuses.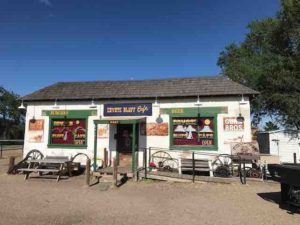 I told Russ Ingram what I was up to via text. He quickly came back to gave me a recommendation for dinner. He was touting the Coyote Bluff Café in Amarillo for burgers.
I had the time. Even though I was eating a low-carb diet a real good burger would taste good. I could never pass up a personal recommendation and in this case it was a Texan talking about Texas.
The place wasn't real big. Actually it was very small and I was lucky to get a table. The café's exterior is rustic or whatever the word is beyond rustic. The interior matched.
My server knew where I was coming from with the low-carb idea when I passed on the bun. She told me she was proud of me and that I was doing a good thing. How could I not leave her a huge tip after those comments?
My burger came with Swiss cheese and grilled onions drowned in lush spicy mustard. It was excellent. However, no matter how good the burger was the experience was muted without having a side of fries or onion rings and maybe even a milkshake. However, as someone once said you will always have to pay for your past sins so that you can sin again in the future…..or something like that.
THE RACING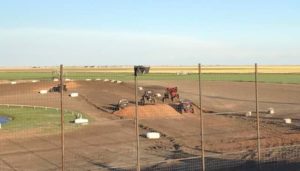 Route 66 Motor Speedway – Amarillo, Texas
The Route 66 Motor Speedway was only a 10-minute drive from the Coyote Bluff Café. That gave me the chance to get to the track about 30 minutes before the scheduled starting time.
Tonight's main program was going to be a monster truck show. However, I did not pay $16 to see that group's entertainment. I was here to watch the side-by-sides race.
I could see the racers from the parking lot as they unloaded in the pit area. There were a lot of UTV/SXS racers. That made me feel good. When I called the track a few days ago they told me the first event of the night was going to be for the side-by-side racers.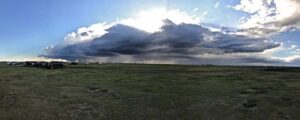 There was just one tiny problem. As I looked out toward the west from the parking lot there were some dark clouds. I could see that it was raining in the distance. I checked my Weather Underground radar. There was a huge thunderstorm approaching our position with lots of yellow and a little bit of red pictured in the radar.
This was troublesome. O.K., it was a tad more than troublesome. I had just completed a seven-hour drive from Austin to Amarillo. Following tonight's track activity I had a five-hour drive scheduled down to the Dallas-Fort Worth airport. I certainly did not want to do all of that driving and be rained out.
When I approached the ticket window I found that the general admission price had been increased from the regular program charge of $12 to $16 for tonight's extravaganza. There was no senior discount. I asked what their policy was if they rained out tonight. I was told that I could use my ticket for tomorrow night's show.
No thanks. I didn't plan to be in Amarillo, Texas tomorrow night. If all went well, and there were no guarantees, I would be in Oxford, Maine tomorrow evening.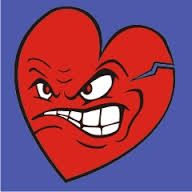 It was at this point that I tested the empathy of the adult female ticket seller. I told her I couldn't come back tomorrow. She essentially looked up at me with heartless stare and in a monotone voice said, "I'm sorry about that". Was she really "sorry"? It was the same type of reaction that you might have from a person who comes upon an accident scene and sees someone mortally injured lying in the middle of the road. The woman I was talking to tonight might easily say "Please crawl off the road as quickly as you can so that I can get my Cadillac Escalade through this mess as soon as possible. I have a hair blowing appointment to get to".
Oh well it was what it was. I was going to chance it.  I quickly went in and sat down in the aluminum grandstands. A crowd of about 300 people, maybe a little bit more had the same idea. I'm happy to report that the program started on time with a prayer and the national anthem at 7 p.m.
The announcer informed the crowd that after the introduction of the six monster truck drivers the "quads" were going to have their heat races. That was funny. I had looked over the pit area and there was not a single quad here tonight.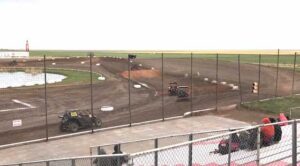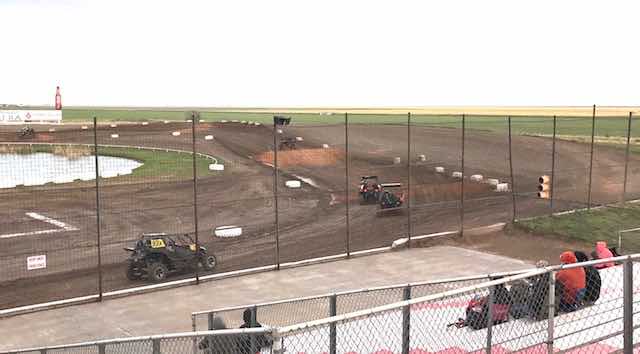 Soon the first of three classes of cars came out on the track. It turned out that the "quads" were really UTV racing machines. The acronym UTV is synonymous word with side-by-side or the other acronym SXS.
The normal track configuration at the Route 66 Motor Speedway is a three-eights mile banked dirt oval. I have been told in advance that tonight's track was going to be a road course. Of course the classic definition of a road course is where the drivers would have to turn both left and right to complete a lap. 
The information I received was incorrect. The drivers raced on what was essentially an oval that had multiple straightaways. They only needed to turn left.
To begin with the driver's raced down the permanent oval's main straight. There were a few dirt jumps built into this part of the track. When they got down toward turn one they turned left onto their own turn one and two just inside the regular oval configuration. The turns one and two of each oval was separated by a series on hay bales and some dirt run off areas. That last sentence was critical to meeting trackchasing's somewhat, at times, stringent rules.
Then when the UTV racers headed down the backstretch their backstretch was inside the backstretch of the main track again separated by hay bales. By the time the UTV racers got out toward turns three and four they were on the regular turn three and four of the oval track. Confused? Watch the video!
This somewhat choppy inner oval also had a series of whoops and other minor jumps the drivers had to contend with. The heat races were for six laps each.
It turned out there were three classes of UTV entries. Conveniently each class had six racers. Each of the classes ran one heat race. This was followed by some monster truck activity.
It's not exactly correct to call the monster trucks "trucks". A couple had Corvette bodies and one had Mustang sheet metal. This was a first for me!
When they were finished doing some wheelies and such the UTV racers came out and ran their feature events. Only two of the classes returned because the third class had such a high dropout rate during their heat race.
The monster trucks had a little bit more activity featuring their ultra loud engines and huge fat knobby tires. The crowd was here for the monster trucks not the UTVs. It's similar to how the fans show up for the demo derby at most places and not the figure 8 races. Then the track went to intermission at about 8:10 p.m.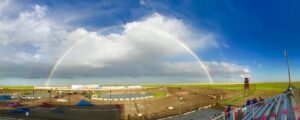 The weather has cleared by now. There was a beautiful full rainbow that spanned the entire backstretch. It was one of the prettiest rainbows I've ever seen. It was likely the prettiest rainbow I had ever seen at a racetrack. What a reward after coming close to being rained out.
During the very first UTV heat race, at about 7:03 p.m. I felt my first sprinkle. The precipitation was hard enough for some people to put up their umbrellas. At that point the announcer explained that if we got rained out tonight the tickets would be good for tomorrow.
At intermission when it was obvious that the weather was perfectly clear and there would not be any more weather problems the announcer told the crowd this. The track's management had decided to allow everyone to come tomorrow night for just five bucks. That was a nice gesture on management's part. Good on them.
AFTER THE RACES
I did use most of the 30 minutes in tonight's parking lot to use my tethering feature with my computer and iPhone. That allowed me to check flights for tomorrow morning. The news I received was not good.
I already booked a hotel for tomorrow night via Priceline for a stay in Bangor, Maine. I never do that in advance but the flights had looked so good last night. I also rarely if ever buy an airline ticket in the middle of a trackchasing trip. I prefer to just wing it. However, in order to make this trip continue in the way that it really needed to I bought a ticket right there in the parking lot at the fully discounted price. Sometimes you have to do what you gotta do.
In order to get down to the Dallas-Fort Worth airport in time to return my car, clear airport security and all of that rigmarole I figured that I had about 8 1/2 hours to make a five hour drive. Two nights ago I got about five hours of sleep. Last night I got about six. For the most part I'm an eight-hour sleeper. Tonight at most I was going to get 3 1/2 hours of sleep and maybe not that much.
You do need to know that I am a professional at this. I wouldn't want you to try this at home or on the road. However, even I have to be careful with driving while drowsy. It's a very dangerous thing and needs to be watched.
Off I went, for the most part, down Texas Route 287. I listen to podcasts, checked sport scores and monitored by GPS ETA arrival times. Tomorrow is going to be a big day of travel with hopefully a very successful outcome in the evening.  I did sleep for a bit in a highway rest area.  However, the "rattlesnake sign" made me sleep with one eye open.
Good evening from Lubbock, Texas.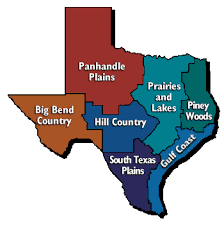 Texas
The Lone Star, not the Long Horn, state
This evening I saw my 75th lifetime track in the Lone Star state, yes the Lone Star state. I hold the #1 trackchasing spot in Texas as I do in 23 other states. I've seen 75 or more tracks in 10 separate states.
Thanks for reading about my trackchasing,
Randy Lewis
World's #1 Trackchaser
Peoria Old Timers Racing Club (P.O.R.C.) Hall of Fame Member
Texas sayings:   Bigger'n Dallas
You'd use this expression when you want to say something is immediately noticeable. "Look at him up there bigger'n Dallas!"
QUICK FACTS
LIFETIME TRACKCHASER COMPARISONS 
The three most important trackchasing comparisons to me are:
Total lifetime tracks seen
Total "trackchasing countries" seen
Lifetime National Geographic Diversity results
Total Lifetime Tracks
There are no trackchasers currently within 585 tracks of my lifetime total. Don't blame me.
Randy Lewis, San Clemente, California – 2,321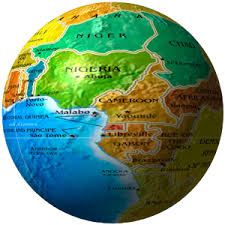 Total Trackchasing Countries
There are no trackchasers currently within 20 countries of my lifetime total.
Randy Lewis, San Clemente, California – 74
Current lifetime National Geographic Diversity results
Randy Lewis, San Clemente, California – 4.37
That's all folks! Official end of the RLR – Randy Lewis Racing Trackchaser Report
Click on the link below to see the video production from the racing action today.
Click on the link below for a photo album from today's trackchasing day.  You can view the album slide by slide or click on the "slide show" icon for a self-guided tour of today's trackchasing adventure.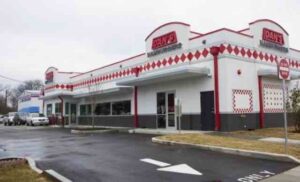 Texas weather, Texas hamburgers, Texas football and Texas racing!