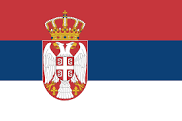 Serbia
Trackchasing Country #71
GREETINGS FROM PLACES ON THE WAY TO
BELGRADE, SERBIA
HighlightsVideosPhotos

LIKE TO KNOW MORE ABOUT SERBIA – TRACKCHASING COUNTRY #71?
As a service to my readers I always provide a top line background of each country I visit. If you'd like to learn a little more about the central European nation of Serbia check out the "background" information I prepared for you. It appears at the bottom of this report. I have condensed this section so you can get a good "feel" for this former portion of Yugoslavia. Most of the material comes from Wikipedia.
PRE-TRIP
Advance Preparation

THE RACE 
I gotta tell you I had a difficult time getting this race confirmed. Several months ago I saw a Serbian race date posted on the Central European Zone race calendar. However, I was a little skittish. Back in 2014 Carol and I had a trip all planned for Serbia. They canceled the event at the very last minute. We had all kinds of non-refundable travel expenses at risk. Luckily, we saved the trip at the last minute by finding tracks to visit in Italy, Slovakia and Austria.
For the life of me I could not get anyone to confirm the race date outside of a one line listing on the CEZ website. I certainly wasn't going to book an entire trip to a faraway place like Serbia with so little information.
Then I discovered a research technique I had never ever used in my previous 70 country track visits. What was the technique? Sorry, I can't share that. My fellow competitors read these reports. Later on I'll tell you about the people who helped me. As always their help was invaluable.
THE VISA 
No visa needed! Some countries require foreign travelers to have a travel visa in addition to a passport to enter their country. Most countries allow some foreigners to visit without a visa while requiring other foreign travelers to the very same country to get a travel visa. I never understand the rhyme or reason behind those decisions. For the most part I think a country lets it's "buddies" in without a visa. Those they don't care for so much must go through the hassle and expense of getting a visa. It's not too much different than everyday life. If you know the right people you'll have a much easier time of it. We must be buddies with Serbia. They had no visa requirement for U.S. travelers.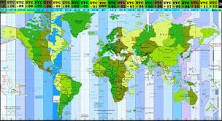 TIME ZONES 
The time zone difference was significant. Belgrade, Serbia is nine hours ahead of the Pacific time zone in Los Angeles. We would be having lunch at 1 a.m. and dinner at about 10 a.m., California time. However, having spent 10 days in England and Germany in advance of getting to Serbia made the time zone irrelevant.
BOOTS ON THE GROUND
Without local contacts this type of adventure is much more difficult to do. I don't use travel agents. I do all of my own planning. I book the airlines, trains, hotels and cars.
I always feel a lot better if I can find a good English-speaking person who lives in country for the racing information. It took me a while to get a good on the ground contact in Serbia. Each day in advance of the trip I would go "fishing". What did fishing have to do with trackchasing? A lot. By fishing I was searching for an on the ground contact with a local person who could speak to me in English about the racing.
As mentioned I do all of my own travel planning. The last time I had anyone plan an international trip for me was with Roland Vanden Eynde. Roland trackchases out of Belgium. That method of doing things stopped with a trip to Germany, my 8th lifetime trackchasing country. That was sixty-two trackchasing countries ago.
At the time I didn't think I could navigate the trackchasing world all that well. Roland encouraged me. He told me I could do it. He was right. Now, I don't want anyone else to plan my trips!
I am most appreciative of the help I get from folks all around the world when it comes to getting all the information I need to enjoy a trip. Not many trackchasers travel internationally. The only trackchasers I know who plan their own trips are the aforementioned Mr. Vanden Eynde and Will White. Of course, this generalization covers those folks who have seen racing in 15 countries or more. Yes, it's easier to have someone pick you up at the airport and drop you back there when the trip is over. However, it isn't nearly as much fun. I like to plan my own trips.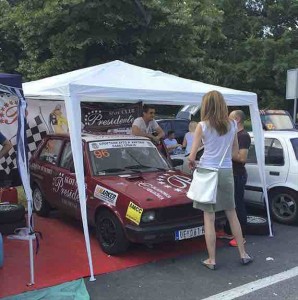 For the trip to Serbia I was lucky enough to come across Luka Kotercevic. Luka is a Serbian race driver. He would be competing in the race Carol and I expected to see. Luka was there to answer every question I had. He was quick to respond and he wrote to me in English. That was huge. Luka, THANK YOU VERY MUCH!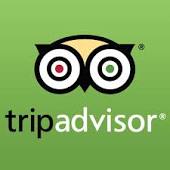 I also have the folks at TripAdvisor to thank. I asked all kinds of questions of them. Several offered their points of view. We even planned the details down to which restaurants to use for most lunches and dinner.
Does this type of support go against what I was telling you above? I don't think so. I want the advice of experts. I will take their advice and bounce it off whatever advice I get from other sources. Then I can make a decision on what course of action might work best for Carol and me.
We would only be in Serbia for four days. I wanted to make sure I didn't pass up any of the best restaurants or tours simply because I didn't know who to ask. We ate well. We saw lots of stuff. Thanks you TripAdvisor Serbian contacts!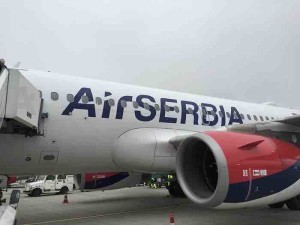 THE TRANSPORTATION
Los Angeles to London to Dusseldorf, Germany to Belgrade, Serbia to Dusseldorf and back to Los Angeles. Sounds pretty straightforward doesn't it?
We rode airplanes, trains, sightseeing boats, city buses, subways, taxis, trams and private cars during our trip. I don't think we missed a single motorized form of public transportation.
We also walked a lot. When public transportation is used it takes some "hoofing" to get places. During the 12 full days we were on the ground we walked just over 67 miles. I have the iPhone app to prove it!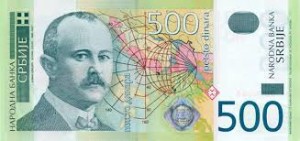 CURRENCY
Do you know the official currency of Serbia?  It's the Serbian dinar. One U.S. dollar bought about 110 dinars. We exchanged some euros first at the airport and then later at our hotel. Whenever we could we used credit cards.
WEATHER
Just fine. The weather was nearly perfect. Temperatures throughout the trip were in the high 70s. There was no rain. We could not have asked for better weather.
OVERNIGHT ACCOMMODATIONS
Every aspect of one of these trips for me/us is like an art project. I want everything to be unique and entertaining. We are retired folks. That means we must manage our expenses well too.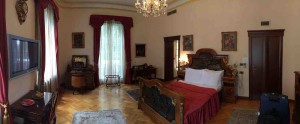 Our hotel in Belgrade was like staying in a museum. Several weeks ago I booked it. For some reason they were having a sale with discounts at nearly 50% off the regular rates.
This allowed us to stay at the Allure Caramel Hotel by Karisma hotel. During the trip I was most surprised to find out the hotel is owned by a group in Mexico. Who would have thunk? We were staying in a hotel in Serbia owned by a company in Mexico. Please do not miss the photos of our hotel room. It was one of the most unique and stately of any hotel rooms we have ever used. 
How long can we continue to travel like this? How long can we continue to afford this? Who knows? I am one of those people that thinks that if it sounds like a good idea I want to do it today. If it WAS a good idea then I want to do it again. That's just how I think about things.
I encounter lots of folks who are thinking about doing something "next" summer, or next year, or when they retire, or when their kids finish school. I don't do "next".
THE RENTAL CAR
No rental car needed. There would be no needed for a rental car on our trip to Serbia. We could walk and take taxis when needed. Walking is the best way to see things anyway, however it is the slowest as well.
NAVIGATION 
With no rental car, and only the use of taxies, trains, buses, etc. navigation in the form of GPS won't be needed when driving. However, we would use Google Maps from time to time when walking to a restaurant or touring.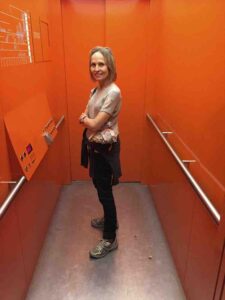 THE TRAVELING COMPANION
Yes, I guess you could call us international jetsetters. I'm happy to report that Carol will be joining me on this trip. She would be seeing racing in her 40th different country. That's pretty good huh? Together we have seen racing in 109 countries before adding Serbia.
I'll have about 40 significant trips this year. Carol will go on about ten of the trackchasing efforts. She will also be with me ten on so of our personal trips. That makes about 20 trips for her. Last year she traveled overnight more than 100 days.
Ying and Yang. I love travel. Carol is more of a homebody. I figure if I am lucky enough to get her to take twenty trips for 100 nights a year then….I'm lucky enough. I feel fortunate to have had her join me on so many trips during our brief 43 years of wedded matrimony.
Carol and I have been to lots of countries where we haven't seen any racing. On this trip we will add Serbia to the list of countries we have visited for racing. Currently, the United Nations lists 193 "official" countries. I took a look at that list. From memory, I've been to the countries listed below but not for racing. Carol has been to all of these countries with me except Senegal. I went there with our son J.J. Almost all of these visits were taken during the more than 25 cruises we have taken.
Antigua and Barbuda
Bahamas, The
Fiji
Haiti
Liechtenstein
Panama
Saint Lucia
Senegal
Venezuela
Vietnam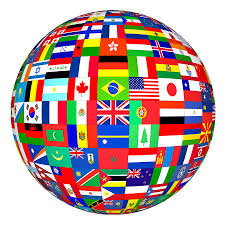 THE SUMMARY
My "world map" is filling up fast. Serbia will be my 35th European country where I have had the chance to trackchase. The European list looks like this.
Andorra
Austria
Azerbaijan
Belgium
Bulgaria
Croatia
Czech Republic
Denmark
Estonia
Finland
France
Georgia
Germany
Greece
Hungary
Iceland
Ireland
Italy
Latvia
Lithuania
Luxembourg
Malta
Monaco
Netherlands
Norway
Poland
Portugal
Romania
Russia
Serbia
Slovakia
Spain
Sweden
Switzerland
United Kingdom
So how did THIS trip really come down?
Tuesday – May 31, 2016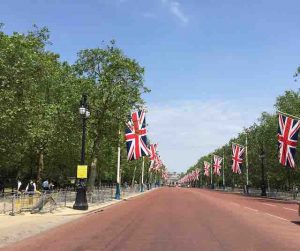 Getting used to the time zone.
We were just coming off a week in England. While there we toured London for a few days. Then we were off to the English countryside to trackchase for three days.
Now it was time for this trip's "main event". If one is going to be referred to as the "World's #1 Trackchaser" it would probably be a good idea to travel the world when trackchasing. I don't think you could ever be considered the WORLD'S #1 trackchaser unless you had seen racing in more countries than anyone else right?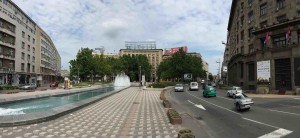 Serbia here we come!
I think I qualify in that regard. I have seen racing in 70 different countries. However, if one wants to stay on top of the heap then one can't rest on their laurels. This trip was all about seeing racing in trackchasing country #71. Serbia here we come!
We were out the door of our London based airport early. I hadn't gotten to bed last night until nearly 3 a.m. after returning our Eurocar rental car at London's Heathrow airport. Less than four hours later the alarm was ringing.
We were on the move today.
The plan was to leave the hotel and walk a short distance to the bus stop. We would take a city bus to the airport. At the airport we would catch the London underground (subway) to the St Pancras International train station. There we would catch a train to Dusseldorf, Germany. In Germany we would tour for a few days. Then we would fly from Dusseldorf to Belgrade, Serbia. Sound adventuresome? I thought so.
Being residents of Southern California we don't "do" much public transportation. Carol is not a big fan. She prefers her Lexus SUV. I find both a challenge and an adventure is using public transit.
London was expecting a huge rainstorm. We beat that storm by about thirty minutes as we waited for the bus. I don't think I would have heard the end of it if we had gotten drenched while waiting for a bus!
A few days ago we had taken a "test run" down to the train station to make sure we had things figured out. That trip probably helped us better understand how things would go today.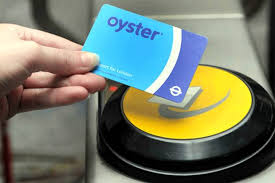 The "Oyster" card.
One of the first stops at the train station was to redeem the unused balance on our underground "Oyster cards". Those had worked very well. We saved about 50% on each underground ride with this card. Using the underground is expensive at about $7-8 U.S. per person per ride. It was also convenient to not have to buy a ticket for each ride. I highly recommend the Oyster card. I don't see any downsides.
A train strike in Belgium.
Upon arrival at the London train station we received some unsettling news. There was a train strike in Belgium. Our itinerary called for a change of trains in Belgium. Because of the strike there would be no trains running from Belgium to Germany today. That could cause all kinds of "down the line" problems for us. We were told that once we got to Brussels, Belgium we would learn more.
O.K., I have to be honest. This news was not "unsettling" as mentioned above. It is these kinds of obstacles that simply make the trip more interesting, fun and challenging!
To get to our train we needed to clear security in the train station much like we do at an airport. Once through security we needed to clear French border control. It was a three-hour train ride from London to Brussels.
I believe there is a great benefit to navigating all of the above uncertainties. What's the benefit? It teaches us, maybe requires us, to have a flexible mindset. If one travels in a group or relies on any one person to handle much of the foreign logistics I believe they are missing out on the main part of the trip. I plan my own trips and implement them precisely on a step-by-step basis. When we encounter issues, like today's train strike, we figure out a way to adapt.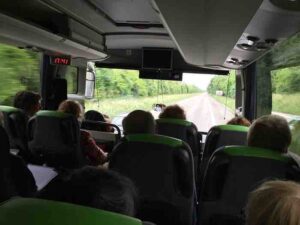 This was the new plan.
When we arrived in Brussels the train folks had a solution for the Belgium train strike. We would ride a bus for three hours over to Koln, Germany. At that particular point in the trip, given the alternatives, that sounded like a good plan to me.
OMG.
In the Brussels train station I looked for a restroom. However, they were charging two euros for the privilege in what Americans might think was a "public" bathroom. OMG as in oh my goodness. What are these people thinking?
A loud talker.
Soon we were on a bus. The driver talked non-stop. Have you ever ridden on a bus where the driver carried on a non-stop conversation LOUDLY with the passengers for the entire trip? Me neither.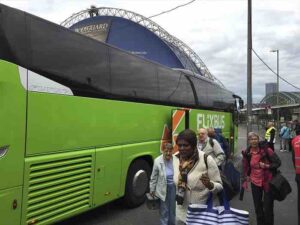 Other passengers had annoying cell phone rings. Every time the guy in back of me shifted his weight he grabbed the back of my seat to do it! I really don't like people who infringe upon my space in public settings. I REALLY don't like that. I do my best not to have anything I'm doing impact anyone else in any way when I'm in public.
We arrived into the Koln, Germany train station at 6:50 p.m. We quickly found an information desk. We were in search of the next train leaving for Dusseldorf. Our original ticket called for Dusseldorf but we needed to go two more stops to Essen. They let us slide on that extra ride.
Old? Good or bad?
As I age I see some younger people just seeing another "old man" when they encounter me. However, what they don't seem to realize is, I feel like I'm 35 years old. I do more than most 35 year olds. That's the secret I'm holding when I encounter a younger person who seems to generalize about older people.
However, there are times when it's a good idea to be considered "old". It is at these times that being old can be used to my advantage. Younger people (that's younger than about sixty nowadays!) will often let older people "slide" when it comes to life's normal everyday requirements. On some days (most days?) I don't fell like meeting every one of life's daily requirements. On those days I am happy to be considered old and somewhat exempt from one rule or another. Make sense?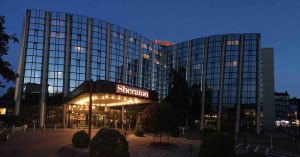 Carol gets the best.
Somewhat amazingly we arrived at the Sheraton Essen hotel in Essen, Germany by 8:30 p.m. or so. We had a beautiful room. Room prices start at $375/night. Wi-Fi is $25/day. Thanks to Sheraton and their sponsorship of my trackchasing hobby they were picking up our entire tab. I could not trackchase as I do without the help of my sponsors.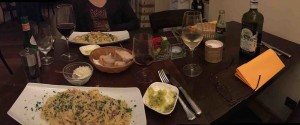 The hotel concierge recommended a beautiful little Italian restaurant just a few meters away. Soon the concierge was making a 9 p.m. reservation for us at Lorenzo's. The food was spectacular. We had wine, pasta and after dinner drinks that all came with exceptional service.
Often times when I am trackchasing by myself you will read about me sleeping in my car or in the airport overnight. However, when Carol comes along she stays in the best places. She lets me share her room!
When I got back to our room I noticed I had walked 8.1 miles, including the after midnight rental car jaunt from last evening. We have averaged about five miles of walking per day.
Germany – Serbia pre-staging.
We will have three days in Germany as we "pre-stage" on our way to trackchasing country #71. The plans are in place. Although, as can be seen by Belgium's train strike today, the best laid plans can go away in a heartbeat.
Wednesday, June 1, 2016
Today is going to be a full touring day in Essen, Germany. Nothing is ever simple with our tours. What seems like "x" is usually "y" when it's all said and done. However, that makes these trips all the more fun.
The hotel concierge recommended public transportation, just 50 meters from front of hotel, to get to our first tour stop. When we saw the "underground" or subway entrance we thought we were there. Wrong! They had wanted us to take the "tram" not the train.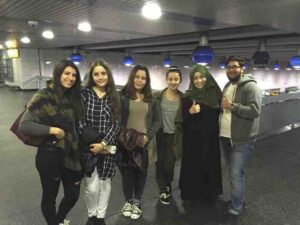 Once down in the underground we attempted to buy our tickets from a machine. Wrong! Of course the machine would not accept our euros. We solicited the help of six young people passing by. It turned out our euros were the "old" kind. I didn't know they had an old kind! The kids exchanged their new euros for our old euros and off we went.
However, they didn't leave before I had taken their photograph. Then we conversed for a while and I gave them my trackchasing business card. The last thing I saw was each of them taking a picture of the card with their phones!
We had been given directions to get off the underground at "Altenessen". That's what we did. Wrong! We got off at "Altenessen Bf". Wrong. The correct stop was two places later at "Altenessen Mitte". Even when we ask and think we're doing the right thing we find out we are usually not!
Our lunch was at a bratwurst restaurant inside a nearby shopping mall. They don't give free refills on drinks in Europeans restaurants. We saw water bowls for pets inside the mall. I had never seen that anywhere else.
I had checked with TripAdvisor.com to see what the top tourist attractions were in Essen (a large suburb of Dusseldorf). Today we selected #1 and #5 of the 69 recommended items. The Zollverein Coal Mine Industrial Complex in Essen is the top-rated tourist activity in all of Essen.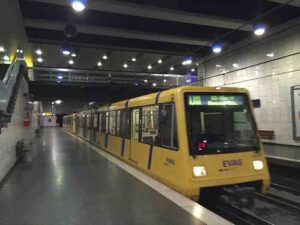 We rode the underground and then a city bus to get there. All of our transportation today was cost us about 17 euros for the both of us. However, we were soon disappointed.
Times change.
We failed to decipher that the tour of the coalmine complex is only given in English on the weekends! Today was Wednesday. We elected to not take the tour with only German being spoken. Luckily, we still had the Ruhr Museum, located at the coalmine complex, to check out. Coal was a big deal in this area until 1986. All but one mine is shut down now and the final one will go away in 2018.
It was interesting to see films in the museum about the industrialization of the coal mining business over the last 100 years and more. Working in a coalmine or foundry must have been the hardest work.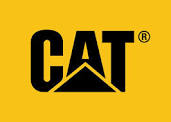 In a way the coal-mining industry leaving this part of Germany was similar to the factories leaving my home area in Illinois. I grew up near the headquarters city of the Caterpillar Tractor Company. Up until I left for college all of those factories were running three shifts a day. Today the factories are all gone and vacant land have replaced them.
Friendly people help with the adventure.
We grabbed a tram back to the Dusseldorf train station. There a friendly information desk worker answered all of our questions in English. He even helped us buy our train tickets for the Dusseldorf airport on Friday. Two tickets were 23 euros for the two of us. We could take a taxi but it would be more expensive (60-70 euros) and not nearly as adventuresome as the train. I'm a lot more into "adventure" than Carol!
Exercise in a hidden form.
We have walked 37 miles in the last seven days of our trip. How do I know that? My iPhone health app tells me so. Even though we are walking a lot, which is great exercise, I can feel myself gaining weight by the day. At every stop we eat like kings and act as if there is no tomorrow. Someday we will be right….but not yet. We capped off the evening with take-out from nearby Lorenzo's. We ate their last night. It's fantastic and "Stephan" treats us so well.
Thursday, June 2, 2016

Crusin'.
Today we did our pre-run for our train trip to the airport tomorrow. The process improved a few things. The train took us to Dusseldorf. We spent the day in the city's old town. The afternoon highlight was a river cruise on the Rhine River.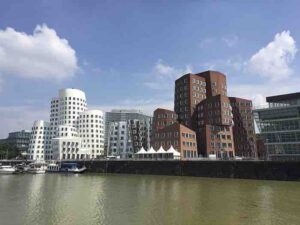 The weather was gorgeous. The Dusseldorf architecture was some of the most unusual we have seen. It don't get much better than having a glass of wine while cruising down the Rhine River in Germany under glorious sunshine and just right temperatures.
What's for lunch? Something good I hope.
We were in the old town section of Dusseldorf. My Yelp! iPhone app helped us choose a Chinese restaurant for lunch. "Chop Chop" was an excellent choice. I love using tech to improve life's everyday experiences.
Later in the evening we had an excellent Asian dinner in the Essen train station. We used chopsticks for every meal all day. It was amazing to find a gourmet restaurant in a train station.
Tomorrow we would have an early start. Our wake-up call would come at 5 a.m. for our flight to Serbia.
Friday, June 3, 2016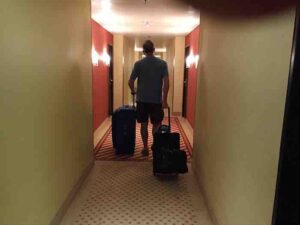 Our earliest wakeup call.
Today was our earliest wakeup call of the trip….5 a.m. I know many of my readers get up earlier than that to begin their workday. However, I am retired and this is vacation!
Would your spouse or significant other do this?
We started out with a 10-minute walk, with our bags, from the hotel to the train station. How many of you could get your spouse or significant other to walk from the hotel to the train station? I'm just sayin'.
Then at a cost of 23 euros (about $26 U.S.) we took a 25-minute train ride to the airport. A taxi would have cost about $40-50 U.S. more. The train station is attached to the airport by a "SkyTrain". SkyTrain's are used in many U.S. airports including Atlanta and San Francisco to connect the airport to rental car locations and the like.
What an airport terminal.
The Dusseldorf airport terminal is brand new and beautiful. It's the third largest airport for passenger traffic in Germany behind Frankfurt and Munich. It is Europe's 20th biggest airport.
In 1996 a huge fire broke out in the Dusseldorf airport. It was caused by welding work on an elevated road outside of terminal A. Seventeen people died in that fire, mostly due to smoke inhalation.
Managing baggage.
Today we could each check one bag. The maximum weight for each checked bag was 22 kg. That's about 48.5 pounds for you folks not working with the metric system. Additionally, we wanted to keep two rolling carryon bags. Each of those bags could weigh up to 8 kg or 17 pounds each.
When we checked in our two carryon pieces of luggage weighed too much. If we had to check one of them it would cost us an additional 60 euros ($75 U.S.). We didn't want to waste our retirement savings on something like that.
However, if we took 5 kg from one carryon bag and mixed and matched it with our two checked bags there would be no additional bag expense. While we mixed and matched our fellow passengers looked on in amazement. No one else was doing this. Of course not many other passengers travel 150-200 days a year either.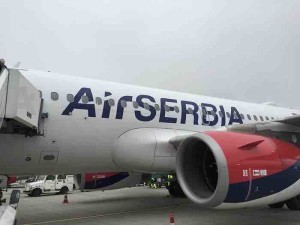 Our first trip on Air Serbia.
We were flying from Germany to Serbia on Air Serbia. They only started flying in 2013. They have 15 jets. Our flight time would be a quick one hour and 45 minutes. I had considered driving but it's a major hassle renting a car to drive to places like Serbia.
There wasn't a lot of legroom on the plane. However, that inconvenience was overcome with free alcohol!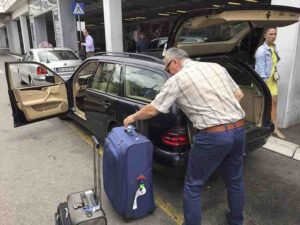 Serbia….in country.
We cleared Serbian customs easily. This was our first ever entrance to the country. The folks on TripAdvisor had recommended I get a "taxi voucher" for the ride into the city from the airport. We didn't pay anything for the voucher. It simply told the cab driver and us how much it would be for the ride.
I've never understood this.
Most of the countries we have visited (about 80) have been more expensive than what the cost of living is in the U.S. I have always found that hard to believe. The U.S. standard of living is pretty much tops in the world. If that is the case how can if cost more in other places for less?
The taxi ride was 1,800 Serbian Dinar (about $16 U.S.) from the airport to the hotel. Before we left the airport we exchanged some euros for Serbian currency. One euro bought us about 125 Serbian dinars.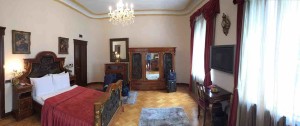 Wow! Double wow!
Wow! Our hotel was like sleeping in an upscale museum. Our room was magnificent. It featured 12-foot ceilings, a huge crystal chandelier and furniture from long ago. Please do not miss the photos. The service at the hotel was like having our own personal concierge.
Time to dine.
My friends at Trip Advisor had recommended several restaurants for us to try while in Belgrade. We had gone back and forth. I selected several eateries offering the types of food we would enjoy. Serbian posters followed up with their unique recommendations on how best to enjoy the places where we would be eating. This was such a benefit compared to blindly trying places on our own.
Guli.
Our first stop was for a late lunch. The restaurant, Guli, was located in the "Skadarlija" area of Belgrade. We asked for a seat in the garden section of the cafe. It was quiet in this outdoor area with several others enjoying the décor and food. Our pizza was most unique. We had ordered it with four extra ingredients. Each one-quarter of the pizza was dominated by one of the four add-ons. It was a beautiful and delicious pizza. What we couldn't eat we took back to the hotel room.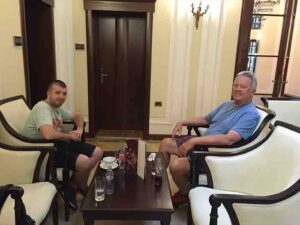 International trackchasing media obligations.
We needed to get back to the hotel by 6 p.m. I had an interview set up with Serbian auto racing journalist Igor Gasparevic editor at www.trke.rs.
I take my responsibility as the "World's #1 Trackchaser" seriously. I see it as my mission to promote the hobby as I travel the world. Igor, Carol and I met for an hour in the hotel bar. I shared my tales of trackchasing travel with Igor. He told me about motorsports in Serbia. An article appeared, in Serbian of course, exposing trackchasing to thousands of Serbian fans and others worldwide whom….I am most certain had never heard of the hobby.
Now for a late dinner.
You might think we come on these trips just to eat. That's not far from the truth. However, when we can eat in these international locations and then share a meal with our international friends it's the best.
Lorenzo & Kakalamba.
Tonight we chose Lorenzo & Kakalamba for dinner. Carol and I have a good friend from Bosnia and Herzegovina who would be joining us for dinner tonight. His name is Boris Miljevic. Boris is a BiH racecar driver.
Boris Miljevic.
I first "met" Boris when I was seeking out information for a trackchasing trip to BiH in 2014. That race was canceled by a "100-year" rain. However, Carol and I ended up at Salzburgring for a race in Plainfield, Austria in its place. We met Boris, his father and friends for the first time there.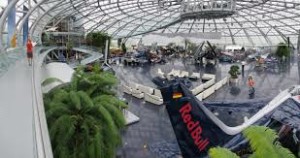 Following the racing Boris invited us to join his party for a trip over to "Hanger-7". Hangar-7 in Salzburg, Austria, owned by Red Bull founder Dietrich Mateschitz, is not a hangar in a traditional sense but rather a multifunctional building with a collection of 25 historical airplanes, helicopters and Formula One racing cars. If you ever get the chance to visit this place do not pass it up. It's one of the most unusual and beautiful racing "museums/hangers/restaurants" I have seen anywhere. Since that time Boris and I have stayed in touch.
Boris was going to be in Serbia meeting with his agents and sponsors. There would be time for him to join us for dinner.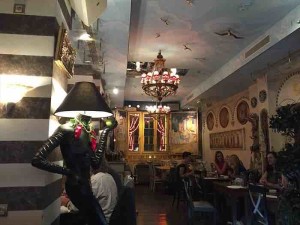 The Lorenzo & Kakalamba restaurant was just about the most uniquely decorated restaurant I have ever seen. I don't really think my photos can do it justice. The Italian cuisine was of a top-notch gourmet variety. The service and wine were excellent. At the end of the night when the check came I was reminded that prices are low in Serbia. Don't miss the photos.
Our first day in Serbia…a very good day.
Our day had begun at 5 a.m. in Germany. It had ended at a little past midnight in Belgrade, Serbia. We had eaten at the best restaurants. We had dined with an international friend. Maybe we really are international jetsetters!
This is what my hobby of trackchasing is all about. Tomorrow? Touring Belgrade. The next day? Seeing racing in my 71st different country.
Saturday, June 4, 2016.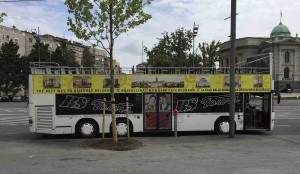 The best way to see a city?
When we travel to large cities we like to get an overview of what types of tourist sites the city has to offer. One of the best and quickest ways to do that is with the double decker touring buses available in lots of big cities. We chose that touring method to see the highlights of Belgrade.
Their tour bus system was not the "hop on – hop off" variety. This was a simple one-hour plus ride around the city. We were provided with headsets. We could listen to a description of what we were seeing in English. The tour was most reasonably priced at 600 Serbian Dinar or about $5.50 U.S. When the bus tour was finished we walked back to some of the areas that required a closer examination. Don't miss the photos.

Walter Cevap.
Our touring then included a stop at TripAdvisor recommended Walter Cevap for lunch. This place had come highly recommended as a place for our mid-day meal. We sat in the outdoor section as recommended by our Serbian friends.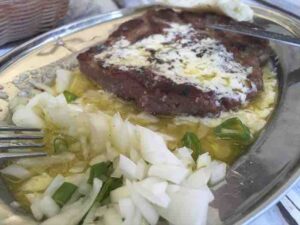 I ordered the"Serbian burger". It was more like a steak than a hamburger. It was served in "milk crème". What the heck was "milk crème"? It was sort of like a butter/lite cheese concoction. I had never had it before! Walter Cevap is famous for "cevapi". This is a minced meat or skinless sausage dish. We didn't try it at Walter Cevap's. We should have but we were still feeling our way in Belgrade! We would try cevapi later in the trip…and enjoy it very much.
We then took a casual walk back to hotel in the mid-afternoon. It was naptime! Belgrade is a very walkable city. It's safe and we walked everywhere day or night.
We woke up from our nap at 6 p.m. We were still stuffed. We cancelled our dinner reservation at "Frans" our high-end fancy meal of the trip. We just can't eat this much!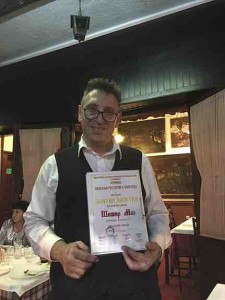 At 8 p.m. we were off to a lite supper. Dinner eating doesn't even BEGIN until about 8 p.m. in these parts. At home we eat dinner at 5:30 p.m. If we really want to be adventuresome we will wait to eat until 6 p.m.!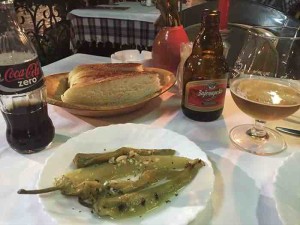 We chose to dine at Sesir Moj one of the many restaurants in the Skadarlija areas on Skadarska Street. This is the food and drink area of Belgrade frequented by tourists and locals alike.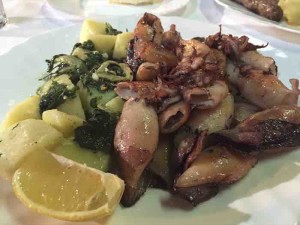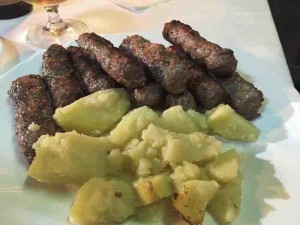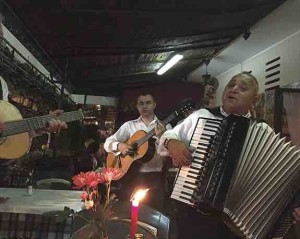 The proprietor could not have been more friendly. We dined, for the first time, on the Serbian specialty of cevapi (above second). It was tasty. The owner served us a complimentary appetizer of crushed peppers, oil and bread. The grilled calamari (above first) was the most unusual and tasty I've had anywhere. We were even serenaded as most customers of restaurants are in in Skadarlija. It was a fun night.
As we walked about eight blocks back to our hotel we mused about what we were seeing in Belgrade. I'm 6'3" tall. In Serbia I had seen several men taller than me. In the U.S. it is somewhat rare to see someone taller than me.
We also commented that the Serbians we met seemed to speak English better than most people we had encountered earlier in the trip in Germany. The Serbs seemed to be a quiet people but more than willing to help if we asked for directions or whatever.
Tonight was Saturday night. The bar across the street from our hotel blasted out music with a heavy base beat until 2 a.m.! It was with this continuing base drum that we drifted off to sleep after our first full day in Belgrade, Serbia.
Sunday, June 5, 2016

Trackchasing Country #71 is here!
Today is race day! Only 71 times in 24,240 days of life have I been able to say, "I'm trackchasing in a new country today!" Well, I could have said it more often. It just would not have been true.
We took a cab to the racetrack. The track was about 3.4 kilometers from the hotel. The fare was just 600 dinars.
The weather was perfect. It was sunny. The temperatures were in the high 70s.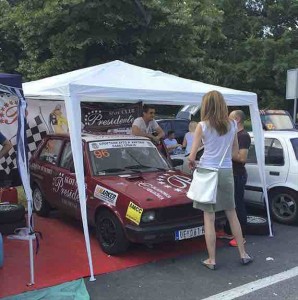 Hello Luka.
There was no admission price. We took a tour of the paddock area checking out the brightly colored racecars. We had just enough time to introduce ourselves to Luka Kotercevic. Luka was driving car #96. I asked how he chose his racecar number? The answer: "I was born in 1996!". Unfortunately, the driver's meeting was being called just as we said hi to Luka. We weren't able to meet up with him over the rest of the day.
Luka had been very helpful in giving me information about the track and the race before we came to Serbia. I suspect others wanted to help too. However, I think some folks don't feel comfortable writing back in English. I can understand that. Thanks again Luka. Your help was invaluable.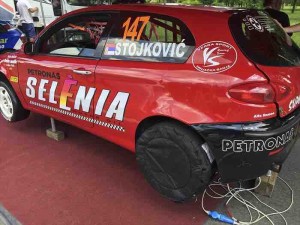 Seeing Usce.
We walked all over track. The Usce track wound its way through a city park. For the most part this was a big square oval. Does that make sense?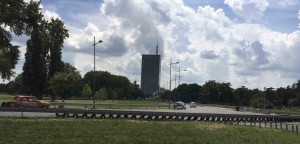 The track had four large straights (streets really) connected by four ninety-degree turns. They raced in a counter-clockwise direction. There were a couple of minor spots where the drivers needed to turn right. This made it technically a road course.
Otherwise it was Flemington Speedway all over again. O.K., this really wasn't Flemington, New Jersey in anyway shape or form. However, the track layout of four straights connected by 90-degree turns made me think of the Flemington Speedway.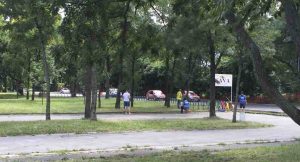 No liability laws?
There were not a lot of safety barriers. Fans who happened to be taking a walk in the park or a stroll along the Sava River, a tributary of the Danube, were exposed to today's racing action.
There was a very limited P.A. system that covered the paddock area only. There were five races on the day's agenda. After each race we checked out another one of the corner's of today's racing layout. We saw racing from every conceivable angle at today's Usce track in Belgrade, Serbia. Don't miss my YouTube video and my very extensive Phanfare photo album of today's racing and this trip.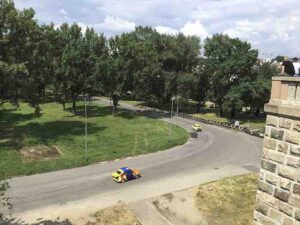 We got to the track at 11:30 a.m. We left at 4 p.m. We saw each of the races. Luka didn't race until the last event of the day.
More expensive going than coming?
We had paid 600 Serbian dinars to get from the hotel to the track. The cab ride from the track back to the hotel was 1,400? I guess this wasn't the first tourist our driver had ever driven back to a hotel!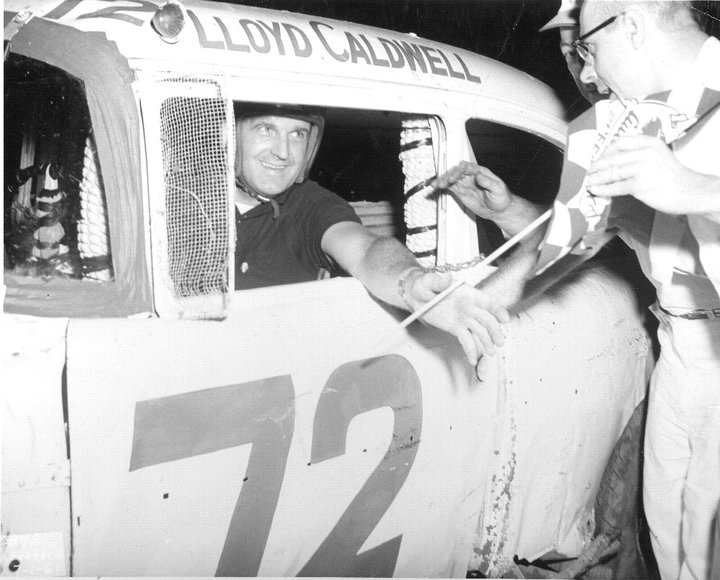 72? Yes, 72!
Boris Miljevic stopped by the hotel for a drink with us. He had been tied up at today's races but was nice enough to call and have a drink before we headed back home tomorrow. Boris and I have some special ideas on what would make a good location for trackchasing country #72. Stay tuned on that one.
Mixing and matching for the trip back home.
Later in the evening we walked down the street for a couple of slices of pizza. It had been a fun day. Carol spent several minutes in our room mixing and matching our luggage to meet the draconian baggage policies of Serbian Airlines. We had four pieces of luggage. We could check two up to 22 kg (48.5 lbs.) and two carry-ons at 8kg (17 lbs.). Luckily, with tonight being Sunday night, the bar across the street didn't play music until the wee hours of the morning.
Monday, June 6, 2016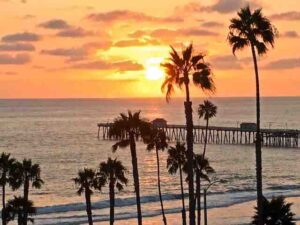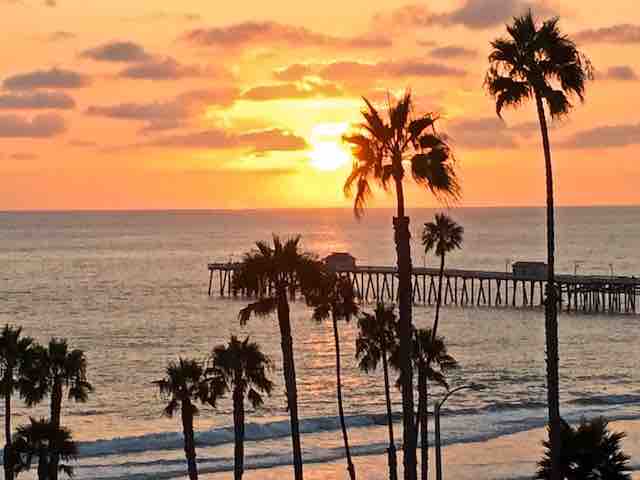 Home sweet home.
Today was "Get back home day"! We had been on the road for 14 days. This had been a great trip. Frankly, I can't think of any trip I've ever taken that wasn't a great trip. That's just how I think about things. Most everything I planned went as planned. The things that didn't quite work out weren't a big deal.
Let's get this day started….real early.
We began our day with a 3:30 a.m. wakeup call at our hotel in Belgrade. I've got to give Carol credit. She's a real trooper. I appreciate that.
It was now time to begin thinking about California. When it was 3:30 a.m. on early Monday morning in Belgrade it was 6:30 p.m. Sunday night (that's LAST night) California time!
Serbian folks…nice and they get the job done.
Our cab was waiting for us at 4:15 a.m. out in front of the hotel. I will tell you this. All of the service we received in Serbia was fantastic. Friendly people who did what they said they would do and they did it on time.
The taxi ride was 2,400 dinars from our hotel to the airport. It was a bit more than normal because of the time of the day. Our Air Serbia flight was leaving Belgrade at 6:30 a.m. and arriving into Dusseldorf, Germany at 8:30 a.m.
We would have a 5-hour layover in Dusseldorf. Then we would hop on an Air Berlin flight that was going non-stop to Los Angeles. That was a good thing. Our car was at LAX!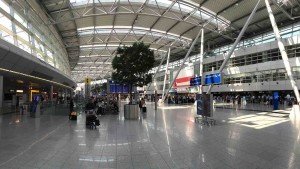 The Dusseldorf airport terminal is gorgeous. It is also quiet. The terminal has more shops and restaurants that any I have seen. I went to McDonalds just so I could use the kiosk self-service ordering machine.
Oops. Delayed.
Our flight to Los Angeles would be delayed by three hours. That changed our layover from five hours to eight. It was time to get creative.
I had used my American Airlines platinum privileges to bypass all lines for bag check in and airport security. Could my platinum status help us a bit more? The answer was "Yes!"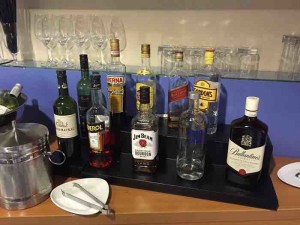 They know me here.
I flashed my card, said a few magic words, and we were admitted into the Air Berlin airport lounge. There was no charge for anything there. There was free food, free booze and free Wi-Fi. It was also an excellent place to just relax while we waited, a long time, for our flight back home.
I am very lucky.
When I think back on it I am very lucky to have the trackchasing hobby as a motivator for me. As you can see it motivates me to just get up and go….all over the world. Without it I would travel. I just would not have traveled to nearly as many faraway, interesting and adventuresome places. Stay tuned for trackchasing country #72 coming to a place likely far far away.
Thanks for reading about my trackchasing, 
Randy Lewis
World's #1 Trackchaser
Randy is a freelance journalist who winters in San Clemente, California and sometime flies in coach.
And so it goes from country #71. I hope you'll tune in when country #72 becomes a reality. It's more than a glimmer in my eye right now. I'm working on it as this is read.
THE COUNTRY LIST
#71!!
RLR – Randy Lewis Racing Lifetime Trackchasing Countries
# 1 – UNITED STATES OF AMERICA – Peoria Speedway – Mt. Hawley, (oval) – Track #1, Peoria, Illinois – circa 1954 (age 5)
# 2 – CANADA – Cayuga Speedway (oval) – Track #174, Nelles Corner, Ontario, Canada – July 31, 1988 (Dick Trickle winner)
# 3 – AUSTRALIA – Parramatta City Raceway (oval) – Track #180, Granville, New South Wales, Australia – November 17, 1989 (accompanied by Carol)
# 4 – UNITED KINGDOM – Northhampton International Raceway (oval) – Track #378, Northhampton – June 26, 1999 (accompanied by Carol, Kristy, Jim)
# 5 – NETHERLANDS – Driesum Racetrack (oval) – Track #839, Driesum – May 5, 2005 (accompanied by Roland Vanden Eynde)
# 6 – BELGIUM – Bellekouter oval (oval) – Track #841, Affligem – May 8, 2005 (accompanied by Roland Vanden Eynde)
# 7 – FRANCE – Circuit de Croix en Ternois (road course) – Track #843, Saint-Pol sur-Ternoise – May 8, 2005 (accompanied by Roland Vanden Eynde – 2nd new country in one day!)
# 8 – GERMANY – Nurburgring (road course) – Track #844, Nurburg – May 13, 2005 (accompanied by Carol, Roland Vanden Eynde)
# 9 – NEW ZEALAND – Western Springs Speedway (oval) – Track #1,134, Western Springs – December 26, 2006 (accompanied by Carol)
# 10 – MEXICO – Triovalo Bernardo Obregon (oval) – Track #1,281, Tiajamulco de Zuniga, Jalisco – October 14, 2007 (accompanied by Carol, J.J., Roger Ward)
# 11 – BARBADOS – Bushy Park Racing Circuit (road course) – Track #1,296, Bushy Park – December 9, 2007
# 12 – THAILAND – Bira Circuit (road course) – Track #1,300, Pattaya – January 19, 2008
# 13 – SOUTH AFRICA – Durban Grand Prix (road course) – Track #1,315, Durban, KwaZulu-Natal – February 24, 2008 (accompanied by J.J. and Will Van Horne)
# 14 – JAMAICA – Dover Raceway (road course) – Track #1,322, Brown's Town St. Ann – March 24, 2008
# 15 – SWEDEN – Sturup Raceway (road course) – Track #1,335, Malmo – May 10, 2008 (accompanied by Carol)
# 16 – DENMARK – Ring Djursland (road course) – Track #1,336, Tirstrup – May 11, 2008 (accompanied by Carol)
# 17 – CZECH REPUBLIC – Automotodrome BRNO (road course) – Track #1,381, Brno – September 13, 2008
# 18 – AUSTRIA – Lambrechten Stock Car Track (road course) – Track #1,382, Lambrechten – September 14, 2008
# 19 – IRELAND – Tipperary International Raceway (oval) – Track #1,388, Rosegreen – October 26, 2008 (Carol and I visited this track earlier in the year)
# 20 – GUYANA – South Dakota Circuit (road course) – Track #1,390, Timehri – November 2, 2008 (accompanied by Carol)
# 21 – CHINA – The Guia Circuit (road course) – Track #1,392, Macau – November 16, 2008 (accompanied by Carol)
# 22 – COSTA RICA – Autodromo La Guacima (road course) – Track #1,398, La Guacima – November 30, 2008
# 23 – ANDORRA – Grandvalira Circuit (road course) – Track #1,404, Port d'Envalira, Andorra – January 17, 2009
# 24 – ARGENTINA – Circuito Efren Chemolli (oval) – Track #1,406, Buenos Aires, Argentina – January 31, 2009 (shared with Jerry Fisher)
# 25 – QATAR – Losail International Circuit (road course) – Track #1,408, Doha, Qatar – February 13, 2009
# 26 – BAHRAIN – Bahrain International Circuit (road course) – Track #1,410, Sakhir, Bahrain – February 27, 2009 (accompanied by Carol)
# 27 – UNITED ARAB EMIRATES – Dubai Autodrome (road course) – Track #1,411, Dubai, United Arab Emirates – February 28, 2009 (accompanied by Carol)
# 28 – COLOMBIA – Autodromo de Tocancipa (road course) – Track #1,415, Tocancipa, Colombia – March 22, 2009
# 29 – SPAIN – Motorland Aragon (road course) – Track #1,416, Alcaniz, Spain – March 28, 2009
# 30 – PORTUGAL – Circuto de Murca (road course) – Track #1,417, Murca, Portugal – March 29, 2009
# 31 – ICELAND – Kapelluhraum (road course) – Track #1,420, Hafnafjorour, Iceland – April 25, 2009 (shared with Will White)
# 32 – HUNGARY – Hungaroring (road course) – Track #1,426, Mogyorod, Hungary – May 8, 2009 (accompanied by Carol)
# 33 – SWITZERLAND – Hock Ybrig (road course) – Track #1,427, Hoch Ybrig, Switzerland – May 9, 2009 (accompanied by Carol)
# 34 – ITALY – Vighizzolo d'Este Stock Car Track (road course) – Track #1,428, Vighizzolo d'Este, Italy – May 10, 2009 (accompanied by Carol)
# 35 – DOMINICAN REPUBLIC – Autodromo Mobil 1 (road course) – Track #1,515, Santo Domingo, Dominican Republic – December 6, 2009 (accompanied by Carol)
# 36 – MALTA – Ta'Qali Race Track (road course) – Track #1,521, Ta'Qali, Malta – February 7, 2010 (accompanied by Carol)
# 37 – FINLAND – Lake Pidisjarvi Ice Track (road course) – Track #1,524, Nivala, Finland – February 20, 2010
# 38 – JAPAN – Suzuka Circuit (road course) – Track #1,530, Suzuka, Japan – March 21, 2010
# 39 – CHILE – Autodromo de Interlomas (road course) – Track #1,531, Temuco, Chile – April 18, 2010
# 40 – MOROCCO – Circuit de Marrakesh (road course) – Track #1,535, Marrakesh, Morocco – May 1, 2010 (accompanied by Carol)
# 41 – BRAZIL – Circuit de Caruaru – Aryten Senna (road course) – Track #1,540, Caruaru, Brazil – May 16, 2010 (accompanied by Carol, Jerry Fisher and Katina Spencer)
# 42 – ESTONIA – Laitse Rally Park (road course) – Track #1,571, Laitse, Estonia – July 24, 2010 (accompanied by Carol)
# 43 – LATVIA – Bikernieki (road course) – Track #1,572, Riga, Latvia – July 25, 2010 (accompanied by Carol
# 44 – GUATEMALA – Autodromo Pedro Cofino (road course) – Track #1,580, Alotenango, Guatemala – August 15, 2010
# 45 – EL SALVADOR – El Jabali (road course) – Track #1,582, Quezaltepeque, El Salvador – August 22, 2010 (accompanied by Carol)
# 46 – ROMANIA – Bradu (road course) – Track #1,603, Bradu, Romania, El Salvador – October 16, 2010
# 47 – BULGARIA – Closed Route – Burgas (road course) – Track #1,604, Burgas, Bulgaria – October 17, 2010 (accompanied by Lyubomir and Plamen Simeonov)
# 48 – SOUTH KOREA – Korea International Circuit (road course) – Track #1,605, Yeongam, Jeollanam-Do, South Korea – October 24, 2010
# 49 – PHILIPPINES – Batangas Racing Circuit (road course) – Track #1,608, Batangas, Philippines – November 21, 2010
# 50 – NORWAY – Lyngas Motorbane (road course) – Track #1,648, Lier, Norway – April 30, 2011
# 51 – MALAYSIA – Sepang International Circuit (road course) – Track #1,656, Sepang, Malaysia – May 28, 2011
# 52 – INDONESIA – Sentul International Circuit (road course) – Track #1,657, Babakan Madang, Boder, Indonesia – May 29, 2011
# 53 – LUXEMBOURG – Alzingen (road course) – Track #1,711, Alzingen, Luxembourg – September 4, 2011 (accompanied by Carol)
# 54 – POLAND – Tor Slomczyn (road course) – Track #1,713, Slomczyn, Poland – September 11, 2011 (accompanied by Carol)
# 55 – SINGAPORE – Marina Bay (road course) – Track #1,714, Singapore, Singapore – September 24, 2011 (accompanied by Carol)
# 56 – URUGUAY – Piriapolis Grand Prix (road course) – Track #1,724, Piriapolis, Uruguay – November 12, 2011
# 57 – SRI LANKA – Pannala Race Track (road course) – Track #1,732, Pannala, Sri Lanka – February 12, 2012
# 58 – ECUADOR – Autodromo Internacional de Yahuarcocha (road course) – Track #1,736, Ibarra, Ecuador – March 11, 2012
# 59 – SLOVAKIA – Slovakia Ring (road course) – Track #1,742, Orechova Puton, Slovakia – April 29, 2012
# 60 – MONACO – Circuit de Monaco (street course) – Track #1,746, Monte Carlo, Monaco – May 13, 2012 (accompanied by Carol)
# 61 – CROATIA – Automotodrom Grobnik (road course) – Track #1,762, Rijeka, Croatia – June 23, 2012
# 62 – PERU – Autodromo La Chutana (road course) – Track #1,802, Lima, Peru – October 21, 2012 (accompanied by Carol)
# 63 – GREECE – Serres Circuit (road course) – Track #1,807, Serres, Greece – November 4, 2012
# 64 – RUSSIA – Moscow Central Hippodrome (oval) – Track #1,824, Moscow, Russia – February 23, 2013 (accompanied by Carol)
# 65 – LITHUANIA – Marijampole Autokross Track (road course) – Track #1,842, Marijampole, Lithuania – May 12, 2013 (accompanied by Carol)
# 66 – INDIA – Buddh International Circuit (road course) – Track #1,915, Noida, India – October 27, 2013 (accompanied by Carol)
# 67 – GEORGIA – Rustavi International Motorpark (road course) – Track #1,916, Rustavi, Georgia – November 10, 2013
# 68 – TRINIDAD AND TOBAGO – Larry Gomes Stadium (road course) – Track #1,928, Arima, Trinidad and Tobago – January 26, 2014 (accompanied by Carol)
# 69 – TURKEY – Istanbul Park (road course) – Track #2,035 Akfirat, Turkey (accompanied by Carol)
# 70 – AZERBAIJAN – Streets of Baku (road course) – Track #2,037, Baku, Azerbaijan (accompanied by Carol)
# 71 – SERBIA – Usce (road course) – Track #2,224, Belgrade, Serbia (accompanied by Carol)
The International Big 3.
Randy Lewis, San Clemente, California USA – 71
Roland Vanden Eynde, Vilvoorde, Belgium – 52
Carol Lewis, San Clemente, California USA – 40
2016 is in the beginning stages of becoming a great international trackchasing year.
LIFETIME TRACKCHASER COMPARISONS 
The three most important trackchasing comparisons to me are:
Total lifetime tracks seen
Total "trackchasing countries" seen
Lifetime National Geographic Diversity results
Total Lifetime Tracks
There are no trackchasers currently within 525 tracks of my lifetime total. Don't blame me.
Randy Lewis, San Clemente, California – 2,224
Total Trackchasing Countries
There are no trackchasers currently within 10 countries of my lifetime total.
Randy Lewis, San Clemente, California – 71
Current lifetime National Geographic Diversity results
Randy Lewis, San Clemente, California – 4.47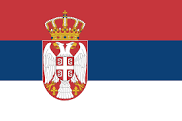 Serbia – FAST FACTS*
Provided by my friends at Wikipedia
Serbia, officially the Republic of Serbia, is a sovereign state situated at the crossroads between Central and Southeast Europe. Serbia is landlocked and borders Hungary to the north; Romania and Bulgaria to the east; Macedonia to the south; and Croatia, Bosnia, and Montenegro to the west; it also claims a border with Albania through the disputed territory of Kosovo. The capital of Serbia, Belgrade, is one of the largest cities in Southeast Europe. Serbia numbers around 7 million residents.
Following the Slavic migrations to the Balkans from the 6th century onwards, Serbs established several states in the early Middle Ages. The Serbian Kingdom obtained recognition by Rome and Constantinople in 1217; it reached its peak in 1346 as a relatively short-lived Serbian Empire. By the mid-16th century, the entire modern-day Serbia was annexed by the Ottomans, at times interrupted by the Habsburg Empire, which started expanding towards Central Serbia since the end of the 17th century, while maintaining foothold in northern Serbia. In the early 19th century, the Serbian Revolution established the nation-state as the region's first constitutional monarchy, which subsequently expanded its territory. Following disastrous casualties in World War I, and the subsequent unification of the Habsburg crownland of Vojvodina with Serbia, the country co-founded Yugoslavia with other South Slavic peoples, which would exist in various political formations until the Yugoslav Wars of the 1990s, which had devastating effects for the region. As a result, Serbia formed a union with Montenegro in 1992, which broke apart in 2006, when Serbia again became an independent country. In 2008 the parliament of Kosovo, Serbia's southern province with an Albanian ethnic majority, declared independence, with mixed responses from the international community.
Serbia is a member of the UN, CoE, OSCE, PfP, BSEC, and CEFTA. As a membership candidate, Serbia is currently negotiating its EU accession. The country is acceding to the WTO and is a militarily neutral state. Serbia is an upper-middle income economy with dominant service sector, followed by the industrial sector and agriculture. The country ranks high in Social Progress Index (45th) as well as Global Peace Index (46th), relatively high in Human Development Index (66th). and an economically moderately free country (77th).          
Climate
The climate of Serbia is under the influences of the landmass of Eurasia and Atlantic Ocean and Mediterranean Sea. With mean January temperatures around 0 °C (32 °F), and mean July temperatures of 22 °C (72 °F), it can be classified into humid subtropical climate.
Serbia is one of few European countries with very high risk exposure to the natural hazards (earthquakes, storms, floods, droughts). It is estimated that potential floods, particularly in areas of Central Serbia, threaten over 500 larger settlements and an area of 16,000 square kilometers. The most disastrous were the floods in May 2014, when 57 people died and a damage of over a 1.5 billion euro was incited.
History
World War II and the Second Yugoslavia
In 1941, in spite of Yugoslav attempts to remain neutral in the war, the Axis powers invaded Yugoslavia. The territory of modern Serbia was divided between Hungary, Bulgaria, Independent State of Croatia and Italy (greater Albania and Montenegro), while the remaining part of Serbia was placed under German Military administration, with Serbian puppet governments led by Milan Aćimović and Milan Nedić. The occupied territory was the scene of a civil war between royalist Chetniks commanded by Draža Mihailović and communist partisans commanded by Josip Broz Tito. Against these forces were arrayed Axis auxiliary units of the Serbian Volunteer Corps and the Serbian State Guard. Draginac and Loznica massacre of 2,950 villagers in Western Serbia in 1941 was the first large execution of civilians in occupied Serbia by Germans, with Kragujevac massacre and Novi Sad Raid of Jews and Serbs by Hungarian fascists being the most notorious, with over 3,000 victims in each case. After one year of occupation, around 16,000 Serbian Jews were murdered in the area, or around 90% of its pre-war Jewish population. Many concentration camps were established across the area. Banjica concentration camp was the largest concentration camp, with primary victims being Serbian Jews, Roma, and Serb political prisoners.
The Axis puppet state of the Independent State of Croatia committed large-scale persecution and genocide of Serbs, Jews, and Roma. The estimate of the United States Holocaust Memorial Museum indicates that between 320,000 and 340,000 ethnic Serb residents of Croatia, Bosnia and northern Serbia were murdered during the Ustaše genocide campaign; the same figures are supported by the Jewish Virtual Library.
The Republic of Užice was a short-lived liberated territory established by the Partisans and the first liberated territory in World War II Europe, organized as a military mini-state that existed in the autumn of 1941 in the west of occupied Serbia. By late 1944, the Belgrade Offensive swung in favour of the partisans in the civil war; the partisans subsequently gained control of Yugoslavia. Following the Belgrade Offensive, the Syrmian Front was the last major military action of World War II in Serbia.
The victory of the Communist Partisans resulted in the abolition of the monarchy and a subsequent constitutional referendum. A one-party state was soon established in Yugoslavia by the League of Communists of Yugoslavia, between 60,000 and 70,000 people were killed in Serbia during the communist takeover. All opposition was suppressed and people deemed to be promoting opposition to socialism or promoting separatism were imprisoned or executed for sedition. Serbia became a constituent republic within the SFRY known as the Socialist Republic of Serbia, and had a republic-branch of the federal communist party, the League of Communists of Serbia.
Breakup of Yugoslavia and political transition
In 1989, Slobodan Milošević rose to power in Serbia. Milošević promised a reduction of powers for the autonomous provinces of Kosovo and Vojvodina, where his allies subsequently took over power, during the Anti-bureaucratic revolution. This ignited tensions with the communist leadership of the other republics, and awoke nationalism across the country that eventually resulted in the Breakup of Yugoslavia, with Slovenia, Croatia, Bosnia and Herzegovina, Macedonia and Kosovo declaring independence. Serbia and Montenegro remained together as the Federal Republic of Yugoslavia (FRY).
Fueled by ethnic tensions, the Yugoslav Wars erupted, with the most severe conflicts taking place in Croatia and Bosnia, where ethnic Serb populations opposed independence from Yugoslavia. In response, the UN imposed sanctions against the Federal Republic of Yugoslavia in May 1992, which led to political isolation and the collapse of the economy.
Multiparty democracy was introduced in Serbia in 1990, officially dismantling the one-party system. Critics of Milošević claimed that the government continued to be authoritarian despite constitutional changes, as Milošević maintained strong political influence over the state media and security apparatus. When the ruling Socialist Party of Serbia refused to accept its defeat in municipal elections in 1996, Serbians engaged in large protests against the government.
Between 1998 and 1999, peace was broken again, when the situation in Kosovo worsened with continued clashes between Yugoslav security forces and the Albanian guerilla Kosovo Liberation Army. The confrontations led to the short Kosovo War, which ended in withdrawal of Serbian forces from Kosovo and the establishment of UN administration of the province. After presidential elections in September 2000, opposition parties accused Milošević of electoral fraud. A campaign of civil resistance followed, led by the Democratic Opposition of Serbia (DOS), a broad coalition of anti-Milošević parties. This culminated on 5 October when half a million people from all over the country congregated in Belgrade, compelling Milošević to concede defeat. The fall of Milošević ended Yugoslavia's international isolation. Milošević was sent to the International Criminal Tribunal for the former Yugoslavia. The DOS announced that FR Yugoslavia would seek to join the European Union. In 2003, the Federal Republic of Yugoslavia was renamed Serbia and Montenegro; the EU opened negotiations with the country for the Stabilization and Association Agreement. Serbia's political climate remained tense and in 2003, the prime minister Zoran Đinđić was assassinated as result of a plot originating from circles of organized crime and former security officials.
On 21 May 2006, Montenegro held a referendum to determine whether to end its union with Serbia. The results showed 55.4% of voters in favor of independence, which was just above the 55% required by the referendum. On 5 June 2006, the National Assembly of Serbia declared Serbia to be the legal successor to the former state union. The province of Kosovo unilaterally declared independence from Serbia on 17 February 2008. Serbia immediately condemned the declaration and continues to deny any statehood to Kosovo.
Serbia officially applied for membership in the European Union on 22 December 2009, and received candidate status on 1 March 2012, following a delay in December 2011. Following a positive recommendation of the European Commission and European Council in June 2013, negotiations to join the EU commenced in January 2014.
Foreign relations
Serbia has established diplomatic relations with 188 UN member states, the Holy See, the Sovereign Military Order of Malta, and the European Union. There are 65 foreign embassies, 5 consulates and 4 liaison offices in Serbia.
Serbian foreign policy is focused on achieving the strategic goal of becoming a member state of the European Union (EU). Serbia started the process of joining the EU by signing of the Stabilisation and Association Agreement on 29 April 2008 and officially applied for membership in the European Union on 22 December 2009. It received a full candidate status on 1 March 2012 and started accession talks on 21 January 2014.
The province of Kosovo declared independence from Serbia on 17 February 2008, which sparked varied responses from the international community, some welcoming it, while others condemn the unilateral move. Serbia has recalled its ambassadors from states which have recognized Kosovo, in protest.
Military
Traditionally relying on a large number of conscripts, Serbian Armed Forces went through a period of downsizing, restructuring and professionalisation. Conscription was abolished on 1 January 2011. Serbian Armed Forces have 28,000 active troops, supplemented by the "active reserve" which numbers 20,000 members and "passive reserve" with about 170,000.
Serbia participates in the NATO Individual Partnership Action Plan program, but has shown no intention of joining NATO in the near future, due to significant popular rejection, largely derived from the NATO bombing of Yugoslavia in 1999.
Demographics
As of 2011 census, Serbia (excluding Kosovo) has a total population of 7,186,862 and the overall population density is medium as it stands at 92.8 inhabitants per square kilometer. The census was not conducted in Kosovo which held its own census that numbered their total population at 1,739,825, excluding Serb-inhabited North Kosovo, as Serbs from that area (about 50,000) boycotted the census.
Serbia has been enduring a demographic crisis since the beginning of the 1990s, with a death rate that has continuously exceeded its birth rate, and a total fertility rate of 1.44 children per mother, one of the lowest in the world. Serbia subsequently has one of the oldest populations in the world, with the average age of 42.2 years, and its population is shrinking at one of the fastest rates in the world. A fifth of all households consist of only one person, and just one-fourth of four and more persons. Average Life expectancy in Serbia at birth is 74.2 years.
Ethnic composition (2011)
 
 
 
 
 
Serbs
  
83%
Hungarians
  
4%
Roma
  
2%
Bosniaks
  
2%
Croats
  
1%
Slovaks
  
1%
Other
  
5%
Unspecified
  
2%
Religion
Religion in Serbia (2011)[173]
religion
 
 
percent
 
Eastern Orthodox
  
84%
Roman Catholic
  
6%
Islam
  
3%
Protestantism
  
1%
Atheism or Agnosticism
  
1%
Others
  
5%
The Constitution of Serbia defines it as a secular state with guaranteed religious freedom. Orthodox Christians with 6,079,396 comprise 84.5% of country's population. The Serbian Orthodox Church is the largest and traditional church of the country, adherents of which are overwhelmingly Serbs.
Language
The official language is Serbian, a standardized form of Serbo-Croatian, native to 88% of the population. Serbian is the only European language with active digraphia, using both Cyrillic and Latin alphabets. Serbian Cyrillic is the country's official alphabet. It was devised in 1814 by Serbian philologist Vuk Karadžić, who created the alphabet on phonemic principles. A survey from 2014 showed that 47% of the Serbian population favour the Latin alphabet, 36% favour the Cyrillic one and 17% have no preference.
Economy
Serbia has an emerging market economy in upper-middle income range. According to the IMF, Serbian nominal GDP in 2015 is officially estimated at $36.56 billion or $5,102 per capita while purchasing power parity GDP was $97.27  billion or $13,577 per capita The economy is dominated by services which accounts for 60.3% of GDP, followed by industry with 31.8% of GDP, and agriculture at 7.9% of GDP. The official currency of Serbia is Serbian dinar (ISO code: RSD), and the central bank is National Bank of Serbia. The Belgrade Stock Exchange is the only stock exchange in the country, with market capitalization of $8.65 billion (as of August 2014) and BELEX15 as the main index representing the 15 most liquid stocks.
The economy has been affected by the global economic crisis. After eight years of strong economic growth (average of 4.45% per year), Serbia entered the recession in 2009 with negative growth of −3% and again in 2012 with −1.5%. As the government was fighting effects of crisis the public debt has doubled in 4 years: from pre-crisis level of 29.2% to 63.8% of GDP.
Active labor force in 2014 stood at 1.703 million, of whom 59.6% are employed in services sector, 23.9% are employed in the agriculture and 16.5% are employed in industry. The average monthly net salary in June 2014 was 44,883 dinars (US$528,50). The unemployment remains an acute problem, with rate of 17.9% as of 2015.
Industry
The industry is the economy sector which was hardest hit by the UN sanctions and trade embargo and NATO bombing during the 1990s and transition to market economy during the 2000s. The industrial output saw dramatic downsizing: in 2013 it is expected to be only a half of that of 1989. Main industrial sectors include: automotive, mining, non-ferrous metals, food-processing, electronics, pharmaceuticals, clothes.
Telecommunications
Fixed telephone lines connect 89% of households in Serbia, and with about 9.8 million users the number of cellphones surpasses the total population of Serbia by 35%. The largest cellphone provider is Telekom Srbija with 5.65 million subscribers, followed by Telenor with 3.1 million users and Vip mobile with just over 1 million. Computers are in 59.9% of households and 55.8% have an internet connection (43.4% have a broadband connection). Some 58% of households have cable TV, which is one of the highest rates in Europe.
Tourism
Serbia is not a mass-tourism destination but nevertheless has a diverse range of touristic products. In 2014, total of almost 2.2 million tourists were recorded in accommodations, of which just over 1 million were foreign.
Tourism is mainly focused on the mountains and spas of the country, which are mostly visited by domestic tourists, as well as Belgrade which is preferred choice of foreign tourists. The most famous mountain resorts are Kopaonik, Stara Planina, and Zlatibor. There are also many spas in Serbia, the biggest of which is Vrnjačka Banja, Soko Banja, and Banja Koviljača. There are several internationally popular music festivals held in Serbia, such as EXIT (with 25–30,000 foreign visitors coming from 60 different countries) and the Guča trumpet festival.
Education and science
According to 2011 census, literacy in Serbia stands at 98% of population while computer literacy is at 49% (complete computer literacy is at 34.2%). Same census showed the following levels of education: 16.2% of inhabitants have higher education (10.6% have bachelors or master's degrees, 5.6% have an associate degree), 49% have a secondary education, 20.7% have an elementary education, and 13.7% have not completed elementary education.
Education in Serbia is regulated by the Ministry of Education and Science. Education starts in either preschools or elementary schools. Children enroll in elementary schools at the age of seven. Compulsory education consists of eight grades of elementary school. Students have the opportunity to attend gymnasiums and vocational schools for another four years, or to enroll in vocational training for 2 to 3 years. Following the completion of gymnasiums or vocational schools, students have the opportunity to attend university.
There are 17 universities in Serbia (eight public universities with a total number of 85 faculties and nine private universities with 51 faculties). Public universities in Serbia include: the University of Belgrade (oldest, founded in 1808, and largest university with 89,827 undergraduates and graduates) and the University of Novi Sad (founded in 1960 and with student body of 47,826). Thе University of Belgrade (placed in 301–400 bracket on 2013 Shanghai Ranking of World Universities, being best-placed university in Southeast Europe after those in Athens and Thessaloniki) and University of Novi Sad are generally considered as the best institutions of higher learning in the country.
Serbia has a long history of excellence in maths and computer sciences which has created a strong pool of engineering talent, although economic sanctions during the 1990s and chronic underinvestment in research forced many scientific professionals to leave the country.
Media
The freedom of the press and the freedom of speech are guaranteed by the constitution of Serbia. Serbia is ranked 54th out of 180 countries in the 2014 Press Freedom Index report compiled by Reporters Without Borders. Both reports noted that media outlets and journalists continue to face partisan and government pressure over editorial policies. Also, the media are now more heavily dependent on advertising contracts and government subsidies to survive financially.
According to AGB Nielsen Research in 2009, Serbs on average watch five hours of television per day, making it the highest average in Europe. There are seven nationwide free-to-air television channels, with public broadcaster Radio Television of Serbia (RTS) operating three (RTS1, RTS2 and RTS3) and remaining four are private broadcasters: Prva, B92, Pink and Happy TV.
There are 220 radio stations in Serbia. Out of these, six are radio stations with national coverage, including two of public broadcaster Radio Television of Serbia (Radio Belgrade 1 and Radio Belgrade 2/Radio Belgrade 3), and four private ones (Radio S1, Radio S2, Radio Play, and Radio Hit FM).
There are 340 newspapers published in Serbia. Some 14 daily newspapers are published in the country out of which 10 are nationwide dailies. There are 1,262 magazines published in the country. There are two main news agencies, Beta and Fonet.
As of 2014, the most visited websites in Serbian (mainly on the .rs domain) are the Serbian version of Google followed by online editions of printed daily Blic, news web-portal of B92 broadcaster, news portal of printed daily Kurir and classifieds KupujemProdajem.[304]
Cuisine
Serbian cuisine is largely heterogeneous, sharing characteristics of the Balkans (especially former Yugoslavia), the Mediterranean (Greek in particular), Turkish, and Central European (especially Austrian and Hungarian) cuisines. Food is very important in Serbian social life, particularly during religious holidays such as Christmas, Easter and feast days i.e. slava.
Staples of the Serbian diet include bread, meat, fruits, vegetables, and dairy products. Bread is the basis of all Serbian meals, and it plays an important role in Serbian cuisine and can be found in religious rituals. A traditional Serbian welcome is to offer bread and salt to guests. Meat is widely consumed, as is fish. Serbian specialties include ćevapčići (caseless sausages made of minced meat, which is always grilled and seasoned), pljeskavica, sarma, kajmak (a dairy product similar to clotted cream), gibanica (cheese and kajmak pie), ajvar (a roasted red pepper spread), proja (cornbread), and kačamak (corn-flour porridge).
Sports
Sports play an important role in Serbian society, and the country has a strong sporting history. The most popular sports in Serbia are football, basketball, tennis, volleyball, water polo and handball.
Football is the most popular sport in Serbia, and the Football Association of Serbia with 146,845 registered players, is the largest sporting association in the country. Dragan Džajić was officially recognized as "the best Serbian player of all times" by the Football Association of Serbia, and more recently the likes of Nemanja Vidić, Dejan Stanković and Branislav Ivanović the elite clubs of Europe, developing the nation's reputation as one of the world's biggest exporters of footballers.The Serbia national football team lacks relative success although it qualified for three of the last four FIFA World Cups.
Serbia is one of the traditional powerhouses of world basketball, as Serbia men's national basketball team have won two World Championships (in 1998 and 2002), three European Championships (1995, 1997, and 2001, respectively) and silver medal at 1996 Olympics as well. A total of 22 Serbian players have played in the NBA in last two decades, including Predrag "Peja" Stojaković (three-time NBA All-Star) and Vlade Divac (2001 NBA All-Star and FIBA Hall of Famer).
Serbia is one of the leading volleyball countries in the world. Its men's national team won the gold medal at 2000 Olympics, and has won the European Championship twice. The women's national volleyball team won the European Championship in 2011.
That's all folks! Official end of the RLR – Randy Lewis Racing Trackchaser Report
Racing action from Serbia
Click on the link below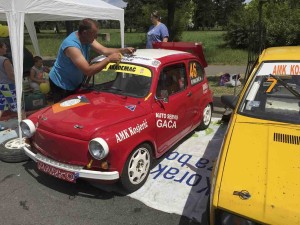 Serbia – Trackchasing Country #71 – The photo album