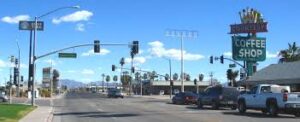 Greetings from Blythe, California
.
.
From the travels and adventures of the 
"World's #1 Trackchaser"
.
.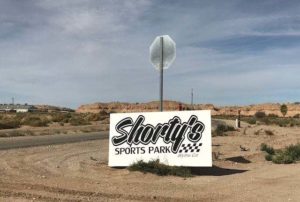 Shorty's Sports Park
Dirt road course
 Lifetime Track #2,410
The EventVideo PlusPhotos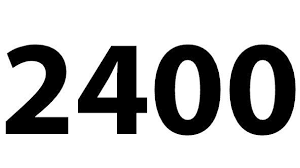 THE EVENT
I have had the opportunity to follow my trackchasing hobby all over the world.  As this is written I have seen racing in 77 countries.  My lifetime track total is just over 2,400.  Long ago I wrapped up seeing racing in every American state.
Some twelve years ago I moved into the "World's #1 Trackchasing" spot.  Of course, that's if that title is awarded to the person who has seen the most lifetime tracks.  Frankly, I don't think it should be.   Maybe "Most Prolific Trackchaser" is a better description for that category.
The World's #1 Trackchaser title should be bestowed on the person who has seen the most racing in the most countries.  That's what the "world" is made up of isn't it?  Countries!
It's nice and relaxing to be able to trackchase in my home state of California.  The tracks just be popping up in the Golden state.  They don't stay popped up long in my world before I knock 'em out.
It's important to note that my hobby is not only about racing.  Yes, that is one part of it.  However, of equal importance are the logistics of trackchasing (getting from point A to B to C, etc.) and the opportunity to see the world.
I live in Southern California.  The vast majority of tracks in the U.S. are located in the Midwest and East.  It takes a good deal of logistical planning to get from where I live to where the tracks are.  A typical weekend trip within the U.S. will cover more than 5,000 air and driving miles.  I do about forty of those trips each year.  For the past 15 years I have traveled about 175 nights each and every year.  Surprisingly to some, more than half of those overnights were not part of trackchasing.
A big part of trackchasing for me is simply travel just for the fun of seeing new things.  You won't want to miss my "Trackchasing Tourist Attractions" page or my "Sports Spectating Resume" page on my website at www.randylewis.org.  Search around on my site.  Use the drop-down menus.  They will take you all over the world!  My site will give you some understanding on how important seeing the world and just "seeing stuff" is with my trackchasing hobby.
Today's adventure was one more of the 2,000 trips that have taken me up, down and around the long and dusty trackchasing trail.  If you would like to see where I've been and experience those adventures here's the link: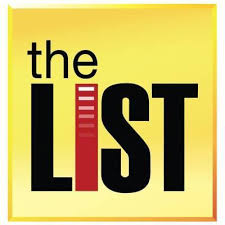 If you've got a question, comment or whatever please leave it at the bottom of this report.  It's very easy to do.  Or you can visit me on Facebook.  Thanks!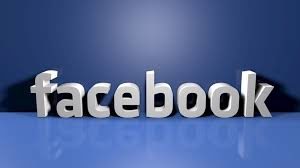 FOREWORD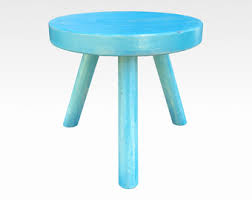 Sunday, January 14, 2018.
I have told you hundreds of times, maybe thousands of times, that my trackchasing hobby is about three different things. Yep. it's a three-legged stool. Without one leg the stool doesn't work.
Of course, trackchasing is about racing. Sometimes I think my racing friends think trackchasing is ONLY about racing. However, I know a lot of people who don't care much for racing but seem to have some interest in the things that I experience with trackchasing.  That's why my Trackchaser Reports cover both the racing and the non-racing activities I encounter.
That brings us to the other two legs of the proverbial stool. One of those is to see and experience as many sights as possible that our country and our world has to offer. I think, if you have followed my hobby for very long, you might agree with this statement.  I do get a chance to see a lot of unique, original and entertaining places and things.  I'm pretty happy with how that part of the trackchasing hobby worked out.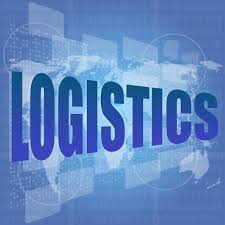 The third and final leg of the stool is a component of my hobby that can easily be overlooked or underestimated. It is the LOGISTICS of trackchasing.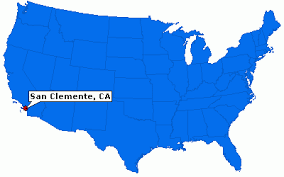 I live in probably in the most inconvenient location in the continental United States to be a trackchaser. Most of the race tracks in the U.S. are located in the Midwest and the east. I live a long way from those places. By the way, the west and the south doesn't have all that much racing compared to the Midwest and the east.
What is the primary method used to transport my fellow competitors? It's their personal automobile. I would guess that 90% plus of all the tracks seen by all of the trackchasers in the history of the hobby have been seen when trackchasers were using their personal automobiles. That is not the case with me.
Well over 90% of MY tracks have been seen when I pulled into the facility driving a rental car. Of course, I don't drive from my home to the racetrack. My fellow competitors?  Well over 90% of the tracks seen by my fellow competitors have been when they simply left their own driveway and drove to the track they were planning to visit.

I can't do that. Just 100 yards to the west of me is the Pacific Ocean. Since the Pacific Ocean never freezes there isn't even an ice racing opportunity in that direction. Just 74 miles to the south of me is the Mexican border. I only know of one permanent race track between me and the border.  Once I get into Baja California there are no permanent race tracks for hundreds of miles.
To the east of me lies hundreds of miles of desert. There are very few people living in the desert. Therefore, I would have to drive 500 miles or more to get many race tracks in that direction.
To my north is more than 800 miles of California. There are a few race tracks in that direction but not all that many. I've long ago seen the 50 or so racetracks that exist in the first 800 miles north of me.
Virtually every other trackchaser in the hobby is what I would call a "regional" trackchaser. The majority of their tracks they have been able to count are within 500 miles or so of their home. If someone lives in the Midwest or the east there are lots of racetracks within a 500-mile radius of their home.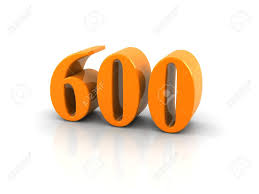 Let me give you an example. Guy Smith is the number two trackchaser in the current world rankings. His totals fall short of mine by more than 600 tracks.
Nevertheless, he had seen more than 200 tracks in his home state of Pennsylvania. The furthest track he has ever visited in the Keystone State is a shorter driving distance that it would take me to go from Los Angeles to San Francisco. It's not even open to debate that living in an extreme corner of the continental United States is a drawback to conveniently trackchasing in our country.
That's why logistics is so important in trackchasing for me. I define logistics in a rather simple manner. It's simply the process of getting from point A to B to C etc. in a cost-effective and stylish manner. If I don't get from point A to B I don't see the race track. If it costs too much to get from point A to B then Carol's retirement savings are in jeopardy. If I can't go from point A to B and style then what's the point? That's the logistics of trackchasing.
Logistics is important to save both time and money. Everyone knows I have never had the big trackchasing budgets of my fellow competitors. Heck, I've been unemployed going on 16 years. Can you imagine doing what I've been doing without a job or without a pension for nearly 16 years?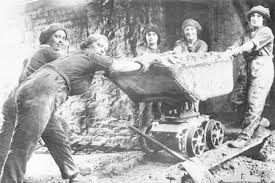 During those 16 years my fellow competitors have been employed for most of that time. They've made their spouses work to support their hobby. They've enjoyed large inheritances. Some trackchasers have even retired and continue to make their spouse work so they can pay for their hobby. I would never do that to Carol.
What is the significance of much of the above?  It just makes my hobby a bit more challenging.  No one wants to play an easy golf course.  When the course is more difficult the achievement just feels better.
Today I was headed to Blythe, California. Blythe is about 250 miles from where we live in San Clemente. One might think that I would simply hop in the family sedan, drive out to Blithe, enjoy a day at the races, and drive home. No, it doesn't work that way in my logistical world.
Carol and I lead a rather robust entertainment life beyond trackchasing. Some people may not realize that. Let me provide again, by example, what I'm talking about.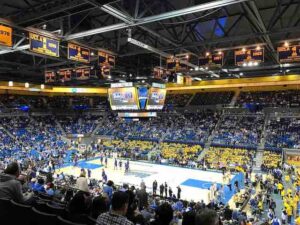 We are currently season ticket holders for the UCLA Bruins basketball program. During the past several years we have owned season tickets to the UCLA football program, the Los Angeles Rams, the Anaheim Mighty Ducks and the Los Angeles Angels of Anaheim. Can you imagine owning season tickets to a professional sports team that plays 81 home games!
Yes, we have very much enjoyed going to local sporting events. However, we have also been season ticket holders to the major playhouses in downtown Los Angeles such as the Pantages Theater. Currently we hold season tickets to the small playhouse in San Clemente, the Cabrillo theater. We're at the movies all the time as well. For years I played more than 100 rounds of golf every year. I did that for 20 years.
The point being is that we have a lot of activities competing with the time that can be spent on trackchasing. That's OK. I love having a full calendar.
So that brings me back, after some historical perspective, to today's Blithe, California trackchasing logistical plan. I would not simply hop in the family sedan, leave on Sunday morning and return on Sunday evening. Then, how WOULD I do it?
Today's race would begin at 2 p.m. Arizona time even though the event was happening in California. What?  Ya, I'll tell you about that later. Carol and I had a basketball game up in Westwood, California on Saturday evening at 7:30 p.m.
I wouldn't ask Carol to come along to the racing activity today in Blythe. I wasn't even sure I should be making the trip. I knew it was going to be a long walk for a short slide. I didn't want to lay that on Carol following a late-night basketball game.
I certainly didn't want to drive my own car to Blythe. As a matter fact, I don't even drive my own car. I drive a car owned by Carol. It's commonly referred to as the Carol Lewis owned and MFunds sponsored Lexus RX 350.
I can't imagine any of my fellow competitors routinely driving a car they don't home. I would say that virtually everyone reading this owns the car they drive each day. Why don't I own my car?
If I told you….that might not be good for you and I'm pretty sure it wouldn't be good for me. You just need to know that I wouldn't have such an arrangement if it wasn't the best alternative of all the alternatives that could be considered. Can we just leave that subject at this stage in the discussion?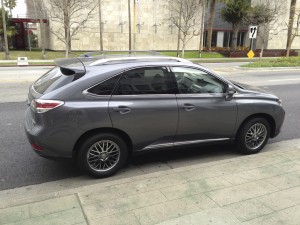 I'm now in my sixth year of driving the COBC. What's a COBC? It's the "Car owned by Carol"!
In those six years I've driven Carol's Lexus RX 350 61,000 miles. During that same time, I've driven rental cars more than 250,000 miles. What do you think the value of the COBC would be with a bit had more than 300,000 miles on its odometer? What would the maintenance expenses have been?
No, I don't have my own car to drive. However, I can't afford to drive someone else's car 300,000 miles in six years. That wouldn't be very nice.
Here was the best driving logistical plan for my trip to Blythe that the Randy Lewis Racing logistical team could come up with. First, Carol and I would drive to the John Wayne Orange County Airport. No, I would not be flying to Blithe.
I would drive the COBC to the airport. Carol would then drive her own Lexus RX 350 to the airport area as well. She would park her car near the airport where we have a full airport trackchasing parking sponsorship. Then we would drive the COBC to legendary Pauley Pavilion in Westwood.  We would be seeing our UCLA Bruins host the recently admitted to the Pac-12 conference Colorado Buffaloes. We were an 11 ½-point favorite in the game.  It seemed as we were in for an easy victory.
Following the game, we would make a hasty exit from Pauley back to the John Wayne airport. By the way, if you want to know who won the basketball game you can Google the results.
We needed to get back to the airport by no later than 11:30 p.m. It was a 52-mile drive from Pauley to the airport. Did you know a passenger can't even catch a flight out of the John Wayne airport at that time of night? They have an 11 p.m. curfew. If your plane doesn't land in Orange County by 11 p.m. you'll get diverted in all likelihood to LAX or Ontario.  I've had that happen to me a few times.  When it does they bus the passengers back to John Wayne.  It isn't pretty.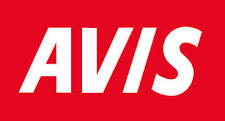 What was so magical about getting back to the airport by 11:30 p.m. when the airport didn't even have any flights at that time of day? That's when the Avis rental car location closed. I had made a reservation, a 24-hour reservation, for a full-sized car with Avis. I'm part of Avis preferred program and get some special perks because of it. 
Avis was going to give me a pretty good deal on a rental car. They were charging me just $19.97 for a full-sized car. Try to get that kind of car at that price in a big city metropolitan market. You'll have a hard time doing it.
After the game we would stop at the airport. I would get out to pick up my rental car. Carol would drive the COBC home. Then when the trackchasing trip was finished I would return the rental car to Avis. When that was done I would walk over to our airport parking garage and pick up Carol's Lexus RX 350. Got that?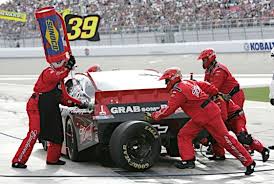 I like to say that in life I learned everything I know from watching NASCAR races on TV and playing golf. Why do I say that? Because it's true.
If you haven't played golf with a friend or had a meal with a friend then you don't have a friend. You can learn more about a person in four hours on the golf course than you can working with them in an office for 25 years. That's just the way it is.
I know that you've all seen NASCAR races on TV. You've seen those lightning fast pit stops where they change four tires and add a full tank of fuel in about 11 seconds.
When I went to pick up my rental car the only choices available were a series of SUVs and pick-up trucks. I certainly didn't have any interest in those vehicles for a 500-mile round-trip drive. They also had a lonely mustang. We owned a Mustang convertible back in the day and a couple of other mustang hard tops early on. That was not the kind a car, at this stage in life, that I want to be driving for 500 miles in a single day.
I was looking for a sleek four-door sedan. I was looking for a four-door sedan that was going to give me about 30 miles per gallon. Gasoline in California might be the most expensive of any state in the country. Right now, fuel in the Golden State is selling for more than three dollars a gallon. By getting a rental car with good fuel economy I would save more in gas, compared to driving the COBC, than it would cost me to rent the car! Cost control is part of my trackchasing logistical plan as well.
I made the rental car guy go out of his way to find me a four-door sedan when the only thing he had on his lot were big gas guzzling SUVs or pick-up trucks. Although he was cooperative he didn't exactly want to do it. At one point in the conversation he told me, "it's only gasoline".
It took all of my willpower not to say something like this, "You're probably working for $10-$12 an hour at nearly midnight on a Saturday night. You're going to tell me, it's only gasoline"? With the mileage I expected to drive I could be spending the next four hours of your pay on the fuel that would be burned by not making a rational rental car choice. Are you willing to give up four hours of your pay to cover the cost of since it's "only" gasoline"?
However, I did not say that. I was asking my "Avis friend" to do me a favor. It's never a good idea to lay hard cold facts on a person, no matter how true they may be, when you expect to get some help from that person. I wasn't trying to be insincere. I was simply withholding my response while trying to be practical.

The Avis rep somehow came up with a spiffy, shiny, black nearly new Nissan Altima. That was perfect. The Altima car would give me about 30 miles a gallon. The Avis guy pulled it right up in front of the office building. While we processed the paperwork, he left the car running. Why not? It's only gasoline.
As I pulled out of the John Wayne airport I knew that Carol was nearly home by now. She might be relaxing in the spa or simply getting ready for a nice night's sleep. She deserved it. I would not be dragging her along to Blythe. That just wouldn't be fair. It just wouldn't be right.
Sunday, January 14, 2018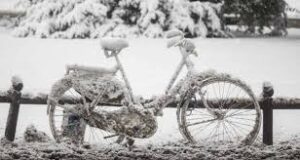 Today's high temperature in San Clemente was forecasted to be 75°. In the middle of January that's a pretty comfortable temperature. I got a text from a friend of mine saying that yesterday's Minnesota ice race was canceled because of cold! Tomorrow that location in Minnesota is expected to have a high temperature of -13° and a low temperature of -25. Yep. San Clemente is a nice place to live.
I was up at 6:30 a.m. and out the door about 15 minutes later. I had a very small backpack that I jammed with a few important items. I was definitely going out of my routine renting a car for this outing and leaving from HOME. When I do stuff like this I normally forget one thing or another.
I dropped my prescription sunglasses into that bag. I had a couple of candy bars and a package of Jif peanut butter that I lifted from the Alaska Lounge. I had a USB cord to power my cell phone for the trip. That was about it. I did bring along my seat cushion. I wouldn't be using that at the track but it provides a nice side leg rest for a 500-mile one-day drive.
I knew there wouldn't be much morning traffic on the way to Blythe. Our 10-lane and bigger freeways would be wide-open. That might not be the case for the return drive. I would be battling all of the people coming back from their weekend in Las Vegas or the California desert. Sometimes that traffic can be brutal. We'll see.
So, what was today's racing going to be about that made such a robust logistical plan necessary? I was heading out to the California desert to see the "Blythe Grand Prix". I did have some history with trackchasing in Blythe.
Back in 1988 I saw racing at the Colorado River Valley Fairgrounds in Blythe. They race on an asphalt oval there.  It was my 177th lifetime track….so it was a long time ago. I would later return to the same track when it was named I-10 Speedway.
By the way if things worked out today I would be seeing my 166th lifetime California track. How many separate trips do you think I have made to see those 166 tracks? How does 143 sound? That's right. I have made 143 separate outings to see 166 tracks in my home state of California.
THE RACING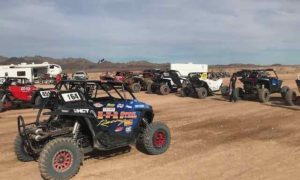 Shorty's Sports Park – Blythe, California
Today's Blythe Grand Prix would include racing for motorcycles, quads and UTVs. I wasn't so much interested in the quads and motorcycles.  They don't count in the trackchasing hobby. Nevertheless, I have commonly found these racing classes to be very entertaining at different locations.
Yes, I was most interested in the UTV racing. Over the past five years I have seen more than 70 tracks where the main racing class, for trackchasing purposes, was the UTVs.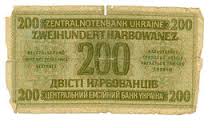 I made a statement when I first started seeing UTVs that I expected to see well over 200 of these tracks. I stand by that statement. During the first five years of figure 8 racing, after it was approved for trackchasing, I saw about 90 of those tracks. There are a lot more figure 8 racing opportunities than there are UTV racing opportunities although that may change in the future.

Today's racing was being promoted and sanctioned by Arizona Off-Road Promotions or "AZOP" for short. I've seen some of their races in the past. I've talk to their promoter, Kyle Krause on the phone. He's a laid-back guy and easy to talk too.
I think Kyle believes I'm a little crazy to be doing what I'm doing. Folks, that is not new news. I understand this. I just live with it.
You should know that after driving 500 miles in a single day there was NO guarantee that I would see countable racing today. How could that be? It really all boils down to how the race is started.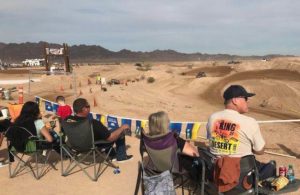 In desert off-road racing the entire ambience of the racing vibe is different.  It's different than anything you might experience at a permanent oval track or a permanent road course or a figure 8 track.
I guess I would classify desert off-road racing as sort of "freestyle". They use the earth's natural terrain and sort of "go with the flow". Desert off-road racers are a lot like surfers. Their dudes. They don't do stuff like most other people do stuff.
Sometimes they have a lot of entries in one particular UTV class. They might have 20-30 or more. Normally the track's configuration does not allow all of those racers to started in one row. Desert racers like to start everyone in the same row. 
When there isn't enough space allocated to having 30 competitors lineup in a single row they start the race off in intervals. Let's say there are 30 racers. They might start seven or eight off in one row and then 15-30 seconds later start another seven or eight until all of the competitors are racing. Often times one loop around the track, ya they call a lap a loop, might be 20 miles long. I've seen some loops that are 50 miles long.
With a track that large there is no need to have all 30 racers race 100 yards into the first turn and crash. A typical 20-mile loop might be part of a four-lap race. They figure that 30 racers have 80 miles to sort things out.  They don't have to all bunch up in the first turn.
I have a series of firsts in trackchasing. Why is that? If you have to ask that question you haven't been reading enough of my Trackchaser Reports! When you catch up on your reading you'll know the answer to that question.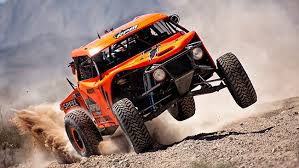 I was the first trackchaser to discover true desert off-road racing. I saw a desert race and I reported the results to the trackchaser commissioner at the time Will White. Will in his role as commissioner added the track to my lifetime list. This is how all of my tracks had been added to my list up to that point.  Then we all headed on down the road to trackchase another day.
Then the powers to be in trackchasing, the trackchasing powerbrokers, decided desert off-road racing couldn't be. Some of these folks lived in in Pennsylvania. O.K., almost all of these folks lived in Pennsylvania.  Of note is that Pennsylvania doesn't have any deserts.  Don't forget that fact. It will be germane in this discussion soon.
They had already see that this fellow from California was impinging upon what had been an eastern dominated hobby. They were seeing tracks added left and right from the left coast. Fear set in. They feared the "World's #1 Trackchaser living west of the Mississippi" might l surpass everyone's totals and become the "World's #1 Trackchaser" in a very short period of time.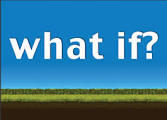 The California deserts are big. Real big. "What if Randy is allowed to continue to see off-road desert racing events? He could pass us even faster. We can't allow this. We won't allow this". That was the common thought from the people who orchestrate trackchasing.
I have always been a stickler for understanding the rules of trackchasing and adhering to them. Anyone who has trackchased with me knows that to be 100% true. If there is any element that makes a track uncountable you will never see me counting it. That's just the way it is.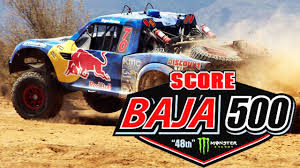 Desert off-road racing has been a big deal for well over 50 years. The Baja 500, the Mint 400 and lots of races like that have been a big draw for the rough and tumble racer nearly as long as racing machines have existed. These races are known all over the world.
However, this small group of power-hungry control freaks living in the Northeast wanted to tell the entire world that desert off-road racing really wasn't "racing". Yes, they WOULD tell folks that three cars in a mud pit traveling at 15 miles an hour for seven laps at a county fair WAS racing.  But somehow off-road racing with national press coverage, state-of-the-art racing machines and chase helicopter's and the like wasn't racing.  Really?
How could this be done.? How could that point of view even exist in today's modern society? Well, when you have a monopoly and you have a good number of pacifist trackchasers, who wouldn't speak up no matter what the situation, then very few people can make some very bad judgments. You saw that happen in World War II in Germany. It happened in trackchasing as well.
The powerbrokers of trackchasing got together and made a rule.  The rule said that every racer in the race must leave the starting line at the same time under one green flag.  If they didn't, and they mostly didn't in desert off-road racing, the track could not count. This effectively ruled out anyone counting the Baja 500 as a race.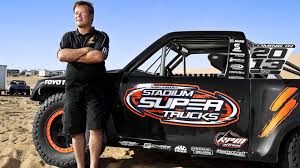 Can you imagine that? Can you possibly imagine in your wildest dreams that the Baja 500 isn't a race? Try telling Robby Gordon that. He'll punch you in the face.
Of course, for me, the two California off-road desert tracks that I had seen, Stoddard Valley OHVA and Anderson Dry Lake had already been counted. They had already been added into the record books.
The new rule did not say anything about "retroactivity". There was no way they could go back in time and remove tracks that had been seen before they were now forbidden.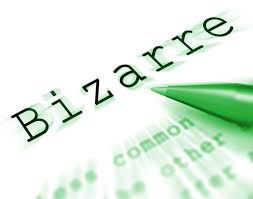 Here's another bizarre circumstance that will tell you just how these folks thank you. Carol had been with me on both of these desert off-road trackchasing adventures. However, at the time she was not an "approved" trackchaser. At that point in time in order to be considered an approved trackchaser one had to have seen 200 tracks.
However, the 200-track limit was only in place for UNITED STATES based trackchasers. The trackchasing elite had some foreign friends. These foreigners had not seen very many tracks. How could the trackchasing elite allow these people living outside of the United States to be considered "trackchasers" when they hadn't done much trackchasing?
The answer was simple. The requirement for foreign-based trackchasers to become an approved trackchaser was only 100 tracks! Now you know how the trackchasing elite thinks. Do you like the way they think?
So I saw the two desert off-road races and they were accepted, counted and approved just fine. Carol saw the very same tracks at the very same time I did. However, when it became time for her to be an approved trackchaser, after she reached 200 tracks, she was not allowed to count the two desert off-road tracks. Why? It was simple according to the trackchasing elite. Even though when she saw those tracks they were considered legal by the time she applied for trackchasing approval those two tracks were not considered to meet the rules. Can you imagine that? Now you know how the trackchasing elite feels. Now you know the fear that was in their hearts when a California-based trackchaser was about ready to turn their world upside down.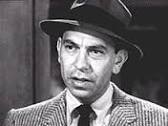 You should know that none of these facts as presented are embellished. They are simply facts. They are a 100% true description of how it all went down quote back in the day. Yes, it was shameful behavior on some people's part. They know who they are. They must live with that. They must get up every day and look in the mirror and know what they have done.
If I drive all the way out to Blythe today, which I surely will, and at least one class of UTV racers do not leave the starting line at the same time the track will not count for me. I will have rented a car and driven it 500 miles with no benefit. However, Kyle the AZOP promoter was confident that a couple of his UTV classes would have so few competitors that they could all start with one green flag. I was a counting on either the UTV 800 or 900 racers to fall into this category.
I hope the above depiction of the trackchasing circumstances back in the day did not ruin anyone's morning or make them sick to their stomach. It's a simple fact that in life you're going to run into people who don't behave by the Golden rule. They take the power they have given themselves and try to control other folks. It isn't right. It's not fair. It's not what God would intend for people. It's simply the way it is. What can you do?
You can simply observe these people, exclude them from your life and move on down the road. That is what I have chosen to do.
The temperature in Blithe today was going to be 79°. There were a few wispy clouds as are often found in the desert in today's blue sky. There was no chance of rain. I would show up at the Blythe Grand Prix wearing a T-shirt, shorts and some grey-suede slippers. No, no one trackchases like I do.
It is true I would be using up one day of my life to do this. I hope that I have many more days so that other more interesting and entertaining experiences could be had later in life. I knew that I would not be wearing out my own car. That was a good thing. I knew I wouldn't be taking advantage of Carol's precious time. That was a good thing. I would simply be sitting in a car for 7-8 hours and then standing out in the California desert for a few more. It wasn't a bad trade. If I got a new track out of it I felt it would be a worthwhile endeavor.
I continued on over Interstate 10 this morning enjoying a tub of salted almonds and a Diet Mountain Dew. These were the same types of almonds that I shared with Commissioner White when I ran into him at a race in Iceland.
By the way I don't hold any ill will toward former Commissioner White. I've always felt that he did what he thought was best even though what he thought was best wasn't what I thought was best a good deal of the time. He was under tremendous pressure from the trackchasing elite. He would later admit that he should have stood up to the trackchasing powerbrokers more strongly than he did. He regretted some of his actions.

I understand. These people all live in the same general sandbox. They see each other frequently. Even today I see people behaving differently so they can get the approval of trackchasing's leader. I'm just happy that I don't have to do that. I've never done it. I won't ever do it.
It wasn't too long after the "UTV decision" that commissioner White resigned his position. He was under pressure from more of trackchasing's founding fathers. After a while he just had enough and quit. That's right. He quit right on the spot.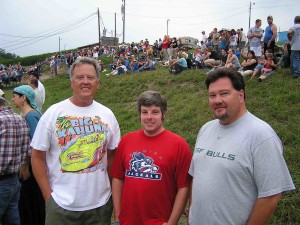 He was replaced by a young man by the name of Andy Ritter (above center). Andy was one of the nicest fellows in all of trackchasing. He's one of the few people to have seen racing in all 50 states even though he has not seen racing at very many tracks.  That's impressive.
Andy took over the position of Trackchaser Commissioner with all of the best intentions. However, in a year or so he was gone. He made a couple of decisions that went against the people who wanted to control trackchasing. They essentially ran him out of office. So, in a period of a year or two Commissioner White stepped aside and Andy Ritter had essentially been impeached. He quit on the spot too.
I hate to dredge up the sordid history that has been a part of the hobby that I enjoy so much. However, I feel that you deserve to know how it all "went down" since you've been reading my Trackchasers Reports for a good long time. Remember, I am just the messenger. Don't kill the messenger. But you know that I'm a pretty honest individual.  I wouldn't exaggerate any of the circumstances and I didn't.
Today's destination, Blythe, California, is a border town. Once you drive through Blythe, headed east word, which doesn't take very long, you are in Arizona. Right off the bat I can think of two major differences between California and Arizona.
Both California and Arizona offer warm weather. However, Arizona weather is much hotter and stays much hotter for much longer.  It never really cools off in the evening like it does in California. I should know. We lived in Phoenix, Arizona for a year back in the 70s.  Arizona is no California.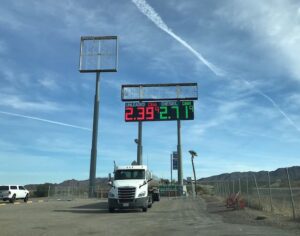 However, Arizona does have significantly lower gasoline prices than California. Today gas was selling in Blythe for about $3.39 a gallon. Just 5 miles away in Arizona I could buy the gas and did for $2.49 a gallon. I could've paid $2.39 if I were willing to part with cash. I wasn't. Nevertheless, I saved about nine dollars on gas, which bought my lunch at Wendy's.
Before I headed out into the boonies of Blythe which is already out in the boonies I wanted to check out the Colorado River Fairgrounds in town. That's where the I-10 Lucas Oil Speedway is/was situated. I had heard they were out of business.
There wasn't any activity at the fairgrounds today. I don't know if they still race there are not.  A surprising number of the nation's short tracks are closing their doors. It really seems like what happened to the drive-in movie theatres is happening to weekly racetracks.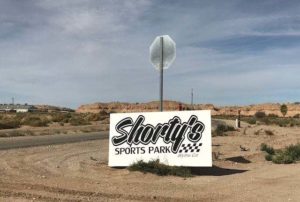 Today's racing would take place at Shorty's Sports Park.  How do I know I was at SSP?  A huge sign greeted me with the track's name at the entrance.
However, I did not find Shorty's on my first try. I had a specific fixed street address for Shorty's. I was using my Waze GPS system. Waze took me across some private property that ended up with a closed road just a mile or so from Shorty's. Waze almost never fails me but it was having an off day today.
I switched to a back-up system. I went with Google Maps.  After a 5-10-minute detour I was pulling onto the grounds of Shorty's Sports park in Blithe, California.
I quickly paid my $10 admission fee. Then I signed a couple of liability release forms saying that if I am dumb enough or unlucky enough to become injured or killed it's on me and not Shorty's Sports Park or the Arizona Off-Road Promotion series. That seemed fair enough to be.
The AZOP promoter, Kyle, was sitting in his UTV just near where I paid my admission. I stopped by to say hello. I've met Kyle on a couple of occasions and talked to him on the phone a few times.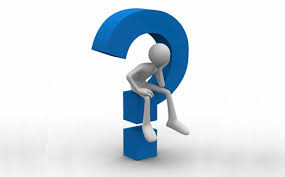 I told him that today I was seeing my 2,410th lifetime track. His response was short and simple, "I've never understood why you do this". Fair enough. That wasn't the first time I had gotten that response. I told him that I wasn't going to bore him with the details today. We both laughed and bid each other farewell. Off I went to find a parking spot.
I'm a racing fan. There are two things that can make UTV racing out in the desert a better bet for the race fan. They are both important.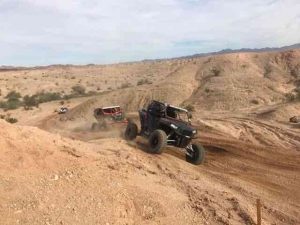 One is having enough competitors to make the racing fun to watch. The other is having a course where the fans can actually see the racing. That seems pretty obvious doesn't it.
A good deal of eastern and Midwestern based UTV racing, which is considered "off road", is actually contested at rural farms. Typically, these farms will be heavily wooded. Much of the race course is actually in the woods and out of the view of the spectators. That's fun for the racers but not so much for the people watching the race.
I've got to give AZOP racing group a major shout out. They had about 20 UTV racers in four different classes at the track today. I don't know how long the track was but there were several good viewing points where the UTVs could be seen doing their thing. AZOP met my spectator requirements on car count and spectator viewability.

When I talked to Kyle, the AZOP promoter a couple of days ago he gave me the scoop on today's racing.  He told me that at least a couple of his UTV classes would be starting in one row.  They would all start with one green flag. That would meet the "Randy Rule" and trackchasing's requirement. Kyle told me the pros as well as the 1,000 turbos and the 900 class of UTVs would race in their own row. That meant that three of the four classes today would start the race with their own green flag. The 1000 non-turbo group had enough racers for a couple of rows. I would not be able to count that class. However, I only needed to count one class so I was good to go.
The temperature topped out at 79° today. It was perfect shorts and T-shirt weather. I didn't even switch into my tennis shoes and socks from my gray suede slippers with no socks. Nevertheless, I did walk nearly two miles over the sand and rock today. That allowed me to see the racing from different vantage points. Very few people in the crowd did that.
I have done quite a few of these "one off" Sunday only California trackchasing trips. Compared to flying and changing time zones and all of the rest this is a pretty laid-back approach to trackchasing for me. It provides a change of pace.
I really enjoy being able to just walk out to the driveway, get in my rental car and drive to the track. It seems so easy. Yes, I was leading the life of a Dreaded East Coast Trackchaser.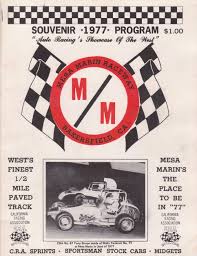 I've done that quite a few times in my trackchasing career when the Mesa Moran Speedway was going strong. I can't count the number of times I've driven over the grapevine after a full day of satisfying racing on an early Sunday evening.
I hope you get the chance to take a look at my photo album and/or my YouTube video from Shorty Sports Park. I think it will give you a complete understanding about what I had seen today. With regard to the racing it's always better to look at the pictures and video than to take your time reading what I have to say about it.
I'm not really sure how long the course was today. I'm going to guess maybe 4 miles. It was true desert sand with a few manufactured banked turns. Those banked turns reminded me of short track oval racing. They were exciting to watch especially the one where the drivers went way high up in the turn and were only a matter of five-ten feet from the fans. Just like with oval tracks the fans got showered in dirt and mud.
Today there were five separate green flags for four different UTV classes. From what I could tell the green flags were thrown at 30-second intervals. I was able to stand right beside the cars when they were starting and got a great view of the action.
I was a little surprised to see all of the drivers returning to the paddock area shortly after the race had started. I asked one of the pit crew members, who was wearing a headset radio, what was up. He told me there had been a major accident on the first lap and the track was blocked. They were going to restart the race just like an oval track might do if they had an accident on the first lap.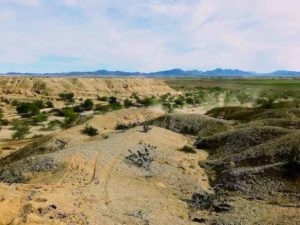 Soon I was watching the starting procedure all over again. As noted, I was one of the few who took the opportunity to walk way out into the desert to get a better view. I'm glad I did. From there I looked down on a huge valley, which probably made up 2/3 of the entire course. Again, you won't want to miss the photos.
I'm always looking to strike up a conversation with a stranger. I love getting their perspective on things. I always ask a lot of questions. People like to have a conversation with someone who asks questions of them rather than spend the entire time listening to someone talk about themselves. I learned that a long time ago and try to practice it whenever I can.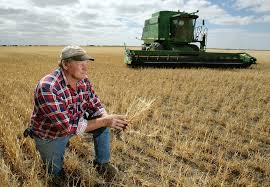 I was soon listening to a fellow by the name of Karl. He was a farmer from central Illinois, not all that far from where I grew up around Peoria.  Karl and his wife come out to Quartzsite, Arizona in early November. They go back for Christmas and then come out again to the west for the beautiful weather until the end of March.
I love talking to farmers. They're easy to talk to and I like what they have to say. Karl got out of pig farming in 1981. He raised his last cattle in 1998. Now he farms about 1,500 acres strictly as a grain farmer.
During the course of our conversation he told me that he just bought a new tractor for $150,000. He mentioned that he didn't really need the tractor but the tax system allowed him to depreciate it so strongly that he couldn't pass up the opportunity. He also told me that he pays about $150,000 a year just to buy seed. Carl said that good farm ground in his area will sell for about $15,000. Less quality dirt goes for $7,000-10,000. This is a major increase over 10 years ago when an acre could be had for about $4,000.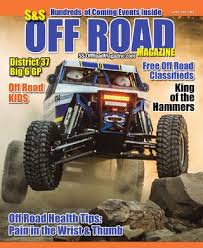 Today I picked up a copy of the S&S Off-Road Magazine. I see this publication frequently at the West Coast off-road events I attend. It's a great magazine for picking up new ideas on groups and organizations as well as racing facilities that I might be able to visit in the future. When I get back home I'll go through the magazine from front to back to make sure I don't miss any opportunities.
Today's racing had begun at 2 p.m. Arizona time. Yes, we were in California and it was only 1 p.m. Pacific time where the race was taking place.
However, since this is an Arizona based group and I presume more people come from Arizona than any other place they quoted the starting time as 2 p.m. Arizona time. Yep.  You gotta pay attention if you're going to be a trackchaser.
AFTER THE RACES
The race, even with the restart, took only about an hour to complete. At a little past 2 p.m. California time I was headed back home. It was going to be about a 225-mile drive to the John Wayne Orange County Airport. When I got there, I would return my rental car. Then I would walk over and pick up Carol's car for the 30-mile drive home.

My westward drive home had me moving into a winter setting sun. That's one of the most difficult signs to handle when driving. I drove through the Palm Springs area.  They've got hundreds, maybe thousands of wind machines out there.
Traffic was surprisingly light getting back to John Wayne. I returned the Avis Rental Car Racing Nissan Altima after having driven it 531 miles. The car gave me even better fuel mileage than I was expecting at 33 miles per gallon.
Overall, it was an excellent day of trackchasing. Frankly, I can't think of any trackchasing day in my entire life that hasn't been good. During the first couple of weeks in January I've already seen three racetracks. That's a pretty good start.
Good afternoon from Shorty's Sports Park in Blythe, California
Randy Lewis – 77 countries – 2,410 tracks.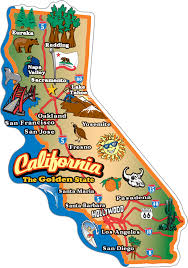 California
The Golden state
This afternoon I saw racing at my 166th lifetime track in the Golden state, yes, the Golden state.  I hold the #1 trackchasing ranking in California as I do in 24 states in the country.
Thanks for reading about my trackchasing,
Randy Lewis
World's #1 Trackchaser
Peoria Old Timers Racing Club (P.O.R.C.) Hall of Fame Member
California sayings:  California is where you can't run any farther without getting wet. 
QUICK FACTS
LIFETIME TRACKCHASER COMPARISONS 
The three most important trackchasing comparisons to me are:
Total lifetime tracks seen
Total "trackchasing countries" seen
Lifetime National Geographic Diversity results
Total Lifetime Tracks
There are no trackchasers currently within 600 tracks of my lifetime total.  Don't blame me.
Randy Lewis, San Clemente, California – 2,410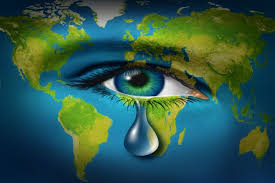 Total Trackchasing Countries
There are no trackchasers currently within 20 countries of my lifetime total. 
Randy Lewis, San Clemente, California – 77
Current lifetime National Geographic Diversity results
Randy Lewis, San Clemente, California – 4.14
That's all folks!  Official end of the RLR – Randy Lewis Racing Trackchaser Report
Click on the link below to see the video production from the racing action today.
Click on the link below for a photo album from today's trackchasing day.  You can view the album slide by slide or click on the "slide show" icon for a self-guided tour of today's trackchasing adventure.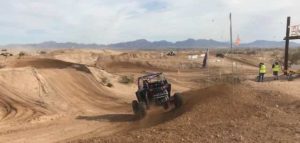 An excellent day of trackchasing in the California dessert