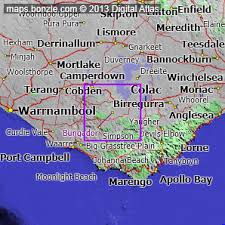 Greetings from Bungador, Victoria, Australia
.
.
From the travels and adventures of the 
"World's #1 Trackchaser"
.
.
Simpson Speedway
Dirt oval
 Lifetime Track #2,403
The EventVideo PlusPhotos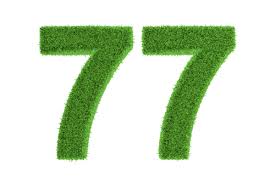 THE EVENT
I have had the opportunity to follow my trackchasing hobby all over the world.  As this is written I have seen racing in 77 countries.  My lifetime track total is just over 2,400.  Long ago I wrapped up seeing racing in every American state.
My hobby is not only about racing.  Yes, that is one part of it.  However, of equal importance are the logistics of trackchasing and the opportunity to see the world.
I live in Southern California.  The vast majority of tracks are located in the Midwest and East.  It takes a good deal of logistical planning to get from where I live to where the tracks are.  For the past 15 years I have traveled about 175 nights each and every year.  Surprisingly to some, more than half of those overnights were not part of trackchasing.
Then there's the travel just for the fun of seeing new things.  You won't want to miss my "Trackchasing Tourist Attractions" page or my "Sports Spectating Resume" page on my website at www.randylewis.org.  That will give you some understanding on how important seeing the world and just "seeing stuff" is with my hobby.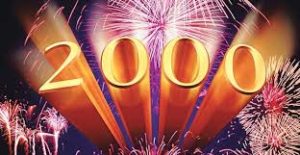 Today's adventure was one more of the 2,000 trips that have taken me up, down and around the long and dusty trackchasing trail.  If you would like to see where I've been and experience those adventures here's the link: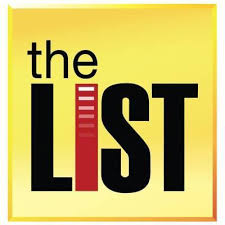 If you've got a question, comment or whatever please leave it at the bottom of this report.  It's very easy to do.  Or you can visit me on Facebook.  Thanks!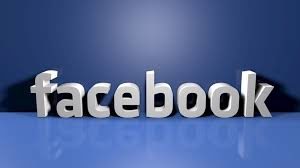 FOREWORD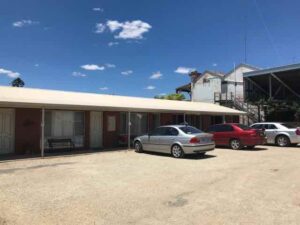 Wednesday, December 27, 2017
I woke up in room number five of the six-room Star Motel in Rutherglen, Victoria, Australia.  I got a good night's sleep.  I should be able to get a full night's sleep every night of this trip except for the last night.
That will be on New Year's Eve.  I'll plan to celebrate in downtown Brisbane as the year 2018 arrives.  Whatever happened with "Y2K"?  I will go directly from the party to the airport for a 7 a.m. flight back to the United States.  However, I don't want to get ahead of myself.  I still have a week of trackchasing to do in Australia before I have to get back home.
The Star Motel was quiet and clean.  I found it on Booking.com for just $65 a night.  It had solid ratings for a basic hotel.  That's all I was looking for. My rate even included breakfast.  They didn't exactly mention that breakfast included bread and cereal as well as butter and jelly…that was stored in the room's refrigerator.  That's OK. I can "cook".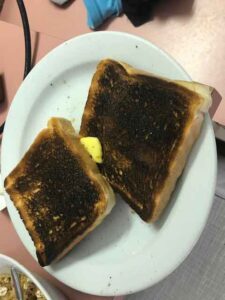 I scoured around until I found the toaster.  When was last time you were in a motel room that had a toaster? I plugged it in and was soon "cooking" my toast.  When the bread popped up it was jet black.  I can eat burnt toast.  However, it was a little disturbing when the motel room's fire alarm smoke alarm went off!
I left the room about 9 a.m.  There was no great rush.  I did have to make a five-hour drive down toward the Simpson Speedway but I had pretty much all day to do it.
My Hertz Car Rental Racing Kia Rio doesn't have a very big fuel tank.  With only an eighth of a tank remaining I stopped for fuel.  The cost was $1.41 Australian per liter.  That translates to about $1.70 U.S. per liter or about $4.12 U.S. per gallon.
Even though the tank was nearing empty it would only take 8.1 gallons.  I figured I was getting about 32 miles a gallon.  That's not bad with an automatic transmission and average highway speeds of about 70-75 mph.  
The traffic was light today.  Much lighter than yesterday's Boxing Day, day after Christmas, traffic.  Where I'm headed it was going to be warm. The temperature would be in the low 90° range.  The landscape everywhere is extremely brown. They haven't gotten much rain around here.  I did pass a racer I had seen race last night at the Wahgunyah Speedway.
There will be no chain hotels for me on the trackchasing portion of this trip.  Tonight, I'll be staying in the Little River B&B.  It's located in the town of the same name in Victoria.  It was along my route to the Simpson Speedway so I figured I would check in this afternoon.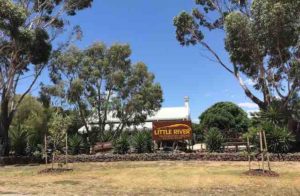 When I approached the B&B building I couldn't raise anyone.  I went next-door to the Little River Hotel which is not a hotel in an American sense but simply a restaurant.  I had a quick lunch there of calamari for the second straight day.  It wasn't as good as yesterday's choice and that wasn't as good as what I might be served back in the states.  However, calamari are never the same from one place to the next.
The Little River Hotel bar and restaurant seemed to have its share of regulars.  They were all inside sharing a brewski and watching sports on TV.  I've been to more taverns in Australia in the last two days that I have been in the United States in the last two years.  I get the sense that Australia is a bit like Wisconsin.  They like their adult beverages.
The Little River B&B was going to be just fine.  It was a big old house with just a few rooms.  The woman who appeared to be the maid let me into my room.  I took a one hour nap there this afternoon.  I would not be getting back to the B&B until nearly midnight tonight.  I would be leaving at about 6:30 in the morning.  The innkeeper told me that breakfast, in the form of bread, jams and the like, would be available starting later to night.  I guess they set things up so they don't have to get up early in the morning to get things going!  I might even have myself a snack when I get back from the race.
Much of the rural landscape around the world looks the same.  Today I was in gently rolling hills with large trees scattered about.  Everywhere I went the fields were brown from lack of rain.  Mind you this is the middle of summer for this part of Australia.

I have often said that I divide my life into two parts.  The first part is before I got an iPhone.  The second part is after I got an iPhone.  I have absolutely no idea how I lived life without an iPhone.
Don't get me wrong.  People CAN live without an iPhone.  They just can't LIVE without an idea.  Are we clear?
Today I spent about a half hour talking to our son J.J. who's back in California right now.  The connection and call clarity was as if J.J. was in the next room. Of course, there's no charge to make such a call or check my email or use my GPS or use all of the apps on my phone or check the weather or convert Australian dollars into U.S. dollars and on and on and on except for the $10 a day AT&T international phone charge. That's an absolute steal.
I've been seeing a lot of McDonald's in Australia.  There are quite a few KFC restaurants as well.  In Australia Burger King is called "Happy Jack".
THE RACING

Simpson Speedway – Bungador, Victoria, Australia
It wasn't long before I reached tonight's racetrack.  I'm going to say that I caught the Simpson speedway on a bad night.  Some of the things that happened definitely were beyond the track's control.  On the other hand, if the right systems were in place I suspect they could have done a much better job.
It was easy to find the track. It was first sign posted some 14 miles out.  Although my GPS was directing me flawlessly it's nice when I track takes the time to put up some signs.
General admission for race tracks in Australia is expensive.  Tonight, a ticket cost me $30 Australian. Pensioners, i.e. senior citizens in our lingo, were admitted for $25.  I offered up that I qualified for the pension price.  However, I was informed that without an Australian pension card I was out of luck.  I truthfully told the ticket seller that if he were to come to America to watch a race that everyone gets a senior discount if they qualify by age.  He looked at me as if to say, "I don't have any plans to come to America please move along".
I don't care who or how often it is explained to me I'm never going to understand why these Australian tracks don't have grandstands.  Almost all the crowd brings their own beach chair and sits on a slightly banked grassy knoll watch the Racing.  What if you don't have a beach chair.  What if you don't want to haul beach chair from the parking lot?  Come on Aussieland get with it.  Get a grandstand.
Mind you I am not saying ban lawn chairs.  That would be "unaustralian".  I'm just saying provide a grandstand.  Another major advantage of a grandstand is that it provides elevation.  The elevation of a normal grandstand is more than twice the pitch of the places where people watch from lawn chairs.
In advance of my coming to the Simpson Speedway I had received an invitation from one of the announcers, Garry Ross, to look him up.  He told me we would have a chat over the PA system and talk about the hobby of trackchasing.  I did exactly that.
However, the announcing booth was a madhouse. Garry and his colleagues were being directed by others as to what the timetable was tonight.  Garry pretty much handed me the microphone and asked me to tell the crowd a little bit about trackchasing.
I've had that happen a time or two before. I was in the midst of telling everyone what trackchasing was and where some of my travels were taking me.  Then Garry came back to where I was sitting and said he had just gotten word that he had to play the national anthem.. We were going to have to talk later and that was it. The United States anthem was played first followed by Australian national song.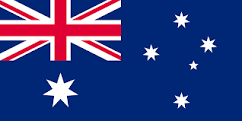 In case you don't know these are the words to the Australian national anthem.
Australians all let us rejoice,
For we are young and free;
We've golden soil and wealth for toil;
Our home is girt by sea;
Our land abounds in nature's gifts Of beauty rich and rare;
In history's page, let every stage Advance Australia Fair.
In joyful strains then let us sing, Advance Australia Fair.
Beneath our radiant Southern Cross We'll toil with hearts and hands;
To make this Commonwealth of ours Renowned of all the lands;
For those who've come across the seas We've boundless plains to share;
With courage let us all combine
To Advance Australia Fair.
In joyful strains then let us sing, Advance Australia Fair.
My prior research as well as a phone call to the track this afternoon told me that "racing" was to begin at 6 p.m.  Unfortunately, the world has varying definitions as to what "racing" really means.  They did not start wheel to wheel racing at 6 p.m.  They did have some hot laps and the announcer made a reference, that I couldn't follow up on, about there being a delay with regard to the ambulance.  I don't know if real wheel to wheel racing was scheduled to begin at 6 p.m. or if they just thought hot laps was racing.  The first actual heat race did not take the green flag until 7:05 p.m.
My next two annoyances were for the most part out of the track's control.  The high temperature today in the area was 98°F.  It was probably 95° when I got to the track.  The heat was not the worst of it.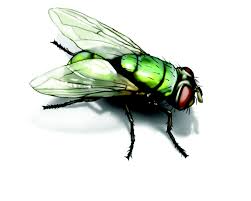 There are some portions of Australia, I'm guessing toward the south in rural areas, where the fly problem is immense.  When you think of a mess in terms of a fly problem do you think of a lot of flies?  Triple it!  The flies will crawl up your nose.  They will get into your mouth.  The flies were bad!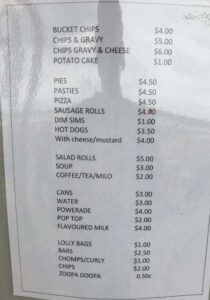 There were positives from tonight's trackchasing experience.  I can't forget those. One of the highlights of my visit to the Simpson Speedway was the concession offerings and the friendliness of the concession staff.  They serve "Dim Sims".  You might call them pot stickers.  Dim sims are basically bite-sized Chinese food.  Over the course of the night I went with five steamed dim sims.
I guess it's not too difficult for Aussies to hear my accent. They know I am from a foreign land.  With the concession staff that simply brought a smile and an extra level of effort to help me in any way they could.  I asked them if they sold anything to thwart the flies.
They didn't sell anything but one of the young gals working the concession stand went to the back room. She brought out a spray can of bug repellent.  That was very nice of her.  It worked a little bit but it certainly wasn't foolproof.  Later I asked the woman selling T-shirts if they sold any bug spray.  Again, she didn't sell anything but would let me use her own personal stash. Nice caring folks!
Australians and Americans speak English but not the same English.  Whenever I would say anything to an Australian they would ask me to repeat it.  When they said something to me I would have to ask them to repeat it.  If we both listened closely we could understand each other. However, it wasn't exactly like having a normal conversation a good deal of the time.
Tonight's PA system could be heard better in some spots than others. When I coupled a poor PA system with announcers that were speaking quickly in "Australian English" it was difficult to get the full jist of what was being said.
I did move around trying to get photos and videos from all sections of the track.  They had a large crowd on hand.  It was Christmas week. It was also a Wednesday night.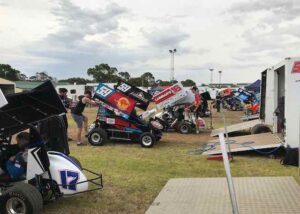 There were two classes racing tonight.  One was the Formula 500s and the other was a winged sprint car group.  The Formula 500s are essentially micro sprints with wings.  From what I could tell they had at least six heat races.  The wing sprint cars had four.  I'll tell you about that later.
From my arrival at 6 p.m. until well past 8 p.m. the flies did not let up.  For the most part ,the temperature didn't fall much either.  Luckily at about 9 p.m. it seemed as if the flies might have gone to bed. The temperature dropped to somewhere in the low 80s. 
At around 8 p.m., when they had been racing for about an hour a speedway 500 driver hit the turn one wall with a tremendous impact.  It would be hard to escape that type of an accident without some injury or even worse.
Track workers took a good 20-30 minutes to administer to the driver at the scene.  They even brought out some huge blue plastic tarps. The workers held those tarps up to create some sense of privacy for the emergency workers and the driver.  The only time I've ever seen tarps come out like that, especially when they were draped over a race car, is when a fatality had occurred.  From what I could tell tonight the injured driver would recover. Thank goodness for that.
The driver and his car were removed from the race track after about 30 minutes.  Then for the next one and a half hours there was no racing.  There was very little commentary from the announcing booth.  The track was watered and packed and then packed and watered some more.
I was under the impression the track was being bitten by the "one ambulance penalty".  What's that?  It's when the track safety crew consists of only one ambulance.  When there's an accident that requires the track ambulance to transport an injured person to hospital the track shuts down until the ambulance returns to the racetrack.
Toward the end of the two-hour total delay I asked a track official wearing a headset if we were waiting on an ambulance. He told me that we were not.  He said the ambulance was still on the grounds trying to stabilize the driver.  When I questioned him he also informed me there was no curfew.  When they resumed racing I was now watching from down toward turn one.  During much of the delay I had found a one row bench where I could actually sit down and lean back against the wall.  That was pure heaven.
By 10:15 p.m. I assessed my options.  I had been at the track for four hours and 15 minutes.  During that time, I had seen six speedway 500 heat races. In a way, they were like finals because each race started about 14 cars.  I had also seen four sprint car heats.
It was beginning to sprinkle.  I was looking at a two-hour drive back to my hotel.  I had an early morning wake up call for my flight to Brisbane.  I didn't know how long and far everyone in the crowd had to drive after the races. I did see several families beginning to pack up their lawn chairs and head on out of the raceway.
In the fourth sprint car heat race a driver spun in front of my turn one viewing position. The yellow flag flew and at the same time another driver flipped down in turn four.  Oh my.  I knew this mess was going to take another 10-15 minutes to clean up.  This is one of the reasons I don't care all that much for sprint car racing.
From a facility point of the Simpson Speedway is an excellent racing plant.  Nevertheless, when you have extreme heat, more than any countries share of flies, no grandstands, a late start and a driver accident that's going to put a crimp in the program.  I'm all for driver safety.  If it took 10 hours to get the driver out of the car I'm O.K. with that.
I think they were a bit tardy or they misinformed the fans or both to say racing would start at 6 p.m. when it would really be in at 7:05 p.m.  I'm not sure exactly what type of safety program they have.  You would think that once a driver is taken away from the track there would be enough remaining medical staff and equipment to continue the racing without waiting for the medical people to do their thing for another hour and a half.  Again, I don't know the background on that but it was a major inconvenience for the fans. I must repeat I'm 100 percent for driver safety. However, the track should anticipate situations like this and have enough personnel to treat the driver affectively and continue the program.
AFTER THE RACES
After more than four hours at the track I left at 10:15 p.m.  I have seen 10 races.  I had hoped to see more. The sprinkles I felt when leaving would pick up enough to cancel the race program before any "A" mains were run.
The racing was O.K.  The viewing circumstances were one of the worst I've experienced in a very very long time.  When there's no grandstand, a major fly epidemic, and lots of delays it's not that much fun.
I arrived back at my Little River B&B at a little past midnight.  This was not before I stopped at a McDonald's drive-through.  I know what you're saying. You've done that a million times right?  You may have done it a million times where you live but I don't think you've ever done it from a right side steering vehicle.  That's why I stopped.  Trackchasing is about having new experiences.  That was a whole new experience and I made it through to get a bottle of water and ice cream cone, without damaging my rental car or injuring any innocent bystanders. 
Good evening from the Simpson Speedway in Bungador, Victoria, Australia.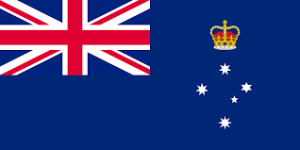 Victoria
The Peace and Prosperity state
This evening I saw racing at my 7th lifetime track in the Peace and Prosperity state yes the Peace and Prosperity state.  I've now seen 12 tracks in Australia.  With another 18 racked up in New Zealand I hold the #1 trackchasing ranking in the entire continent of Australia.  That's right.  The continent of Australia.  I'll take that.
Thanks for reading about my trackchasing,
Randy Lewis
World's #1 Trackchaser
Peoria Old Timers Racing Club (P.O.R.C.) Hall of Fame Member
Victoria sayings:  Someone not very bright
"A stubby short of a six pack."
QUICK FACTS
LIFETIME TRACKCHASER COMPARISONS 
The three most important trackchasing comparisons to me are:
Total lifetime tracks seen
Total "trackchasing countries" seen
Lifetime National Geographic Diversity results
Total Lifetime Tracks
There are no trackchasers currently within 600 tracks of my lifetime total.  Don't blame me.
Randy Lewis, San Clemente, California – 2,403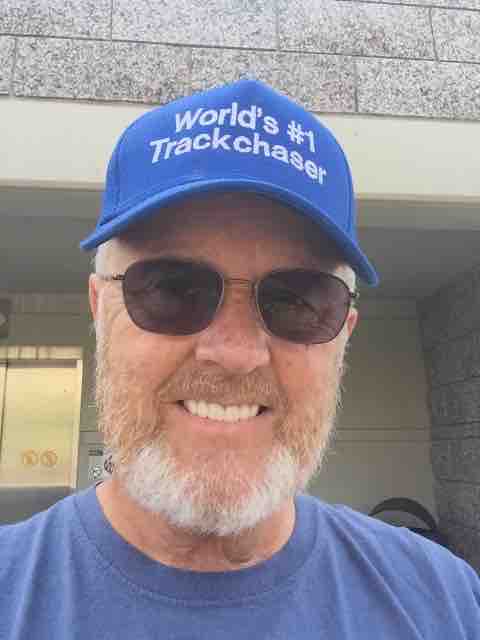 Total Trackchasing Countries
There are no trackchasers currently within 20 countries of my lifetime total. 
Randy Lewis, San Clemente, California – 77
Current lifetime National Geographic Diversity results
Randy Lewis, San Clemente, California – 4.37
That's all folks!  Official end of the RLR – Randy Lewis Racing Trackchaser Report
Click on the link below to see the video production from the racing action today.
Click on the link below for a photo album from today's trackchasing day.  You can view the album slide by slide or click on the "slide show" icon for a self-guided tour of today's trackchasing adventure.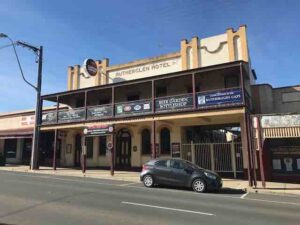 My drive through the Australian state of Victoria and racing at the Simpson Speedway