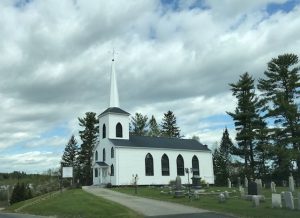 Greetings from Miramichi, New Brunswick, Canada
.
.
From the travels and adventures of the 
"World's #1 Trackchaser"
.
.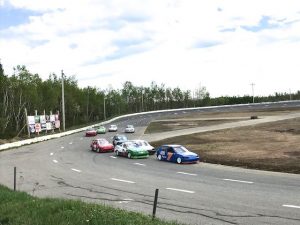 Speedway Miramichi
Asphalt oval
 Lifetime Track #2,439
.
.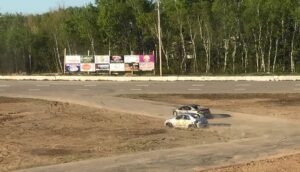 Speedway Miramichi
Asphalt road course
 Lifetime Track #2,440
.
.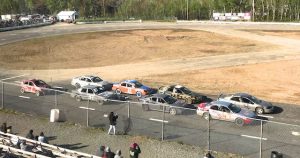 Speedway Miramichi
Asphalt figure 8
 Lifetime Track #2,441
The EventVideo PlusPhotos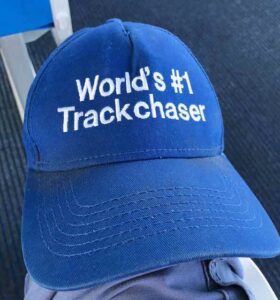 THE EVENT
I am a "trackchaser". So, what the heck is that? I get that question all the time from racing and non-racing people all the time. Here's my best answer.
I'm a racing fan. I love to travel. I love to analyze opportunities to get the most out of everything while saving time and money.
Trackchasing fills the need for all of the above. The racing part of my trackchasing has me trying to see wheel to wheel auto racing at as many different racetracks as I can all over the world. So far that is going pretty well. I've seen racing at more than 2,400 tracks in 80 countries. As a matter of fact, I've seen racing at more tracks than anyone else in the world.
Equally important to me are the things I get to see and experience over the "long and dusty trackchasing trail". I called these adventures "Trackchasing Tourist Attractions". You won't want to miss my "Trackchasing Tourist Attractions" page or my "Sports Spectating Resume" page on my website at www.randylewis.org.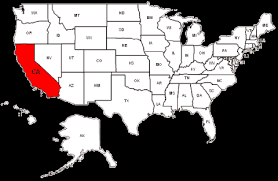 I live in southern California. Most of the racetracks in the U.S. are located well over 1,000 miles from where I live. As a matter of fact, my average trip covers 5,000 miles and more. I take 35-40 of those trips each season. In any given year I will travel well over 200,000 miles, rent more than 50 cars, and stay in more than 150 hotel rooms.
I get the chance to meet people all over the world. With trips to 80 countries and counting just getting the chance to experience so many other cultures, spend times in their homes and meet their friends is a huge reward for being in this hobby. I am indebted to several of these folks for their help and friendship.
It's takes a good deal of planning to do the above and not spend my entire retirement portfolio. I enjoy the challenge, the travel and every other aspect of "trackchasing".
Today's adventure was one more of the 2,000 trips that have taken me up, down and around the long and dusty trackchasing trail. If you would like to see where I've been and experience those adventures here's the link: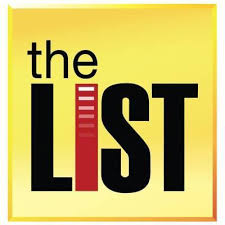 If you've got a question, comment or whatever please leave it at the bottom of this report.  It's very easy to do.  Or you can visit me on Facebook.  Thanks!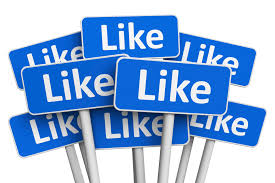 FOREWORD
Racing – Saturday, May 26, 2018.

But on FRIDAY….
I was up early in my New York East Village Airbnb flat.  I wanted to get a quick shower before any of the other 4-5 people in the house were tempted to use the one and only bathroom.  I was successful.
I called an Uber car to pick me up and drop me off on the west side of Manhattan.  I'd already purchased a Mega Bus ticket to catch a ride from New York City to Boston.  The trip would take about four hours.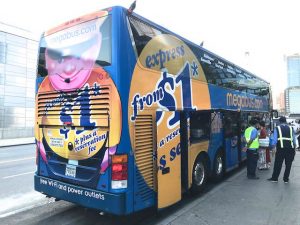 The double-decker bus left on time at 7:40 p.m.  I had paid $7 more than my $32 one-way bus fare to get a reserved seat.  I thought it would be cool to reserve an upper deck seat in the very first row with a nice clear windshield giving me a view of New England all along the way. It was not cool.
Aren't you just bummed when you think you've made a really good decision that turns out to be not so great?  That was the case with my ride on Mega Bus.  The problem with my seat location was essentially two-fold.  The biggest problem was the sun.  It was a 90° day, and I felt like I was in a sauna with the windshield magnifying the heat of the sun during my four-hour ride.  Additionally, there was no legroom; and the woman sitting next to me had a build which encroached upon my seating area. You know what I'm saying?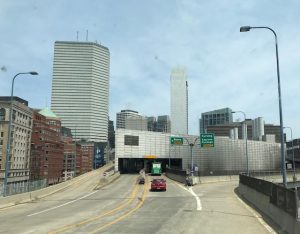 Once I arrived into the Boston South Station bus terminal, I ordered an Uber car.  The Uber car took me to the Logan International Airport and its rental car center.  There I picked up a nearly new Toyota Camry.  This will be a solid road car for the next thousand plus miles into Canada and back.
Tonight I would be staying in Frederickton, New Brunswick, Canada.  That would be about a six-hour drive from Boston.  In the morning I should be able to easily make the three-hour drive over to Mirimichi, New Brunswick for their 2 p.m. start.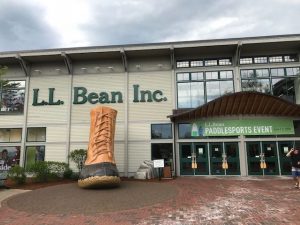 I've driven through Maine many, many times.  One of the things that I have done on most of those trips was to stop in Freeport, Maine at the L. L. Bean outlet store.  Even if I didn't buy anything, it is a beautiful place just to "window shop".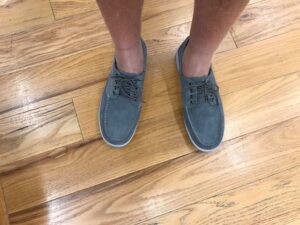 Today I bought a pair of L. L. Bean deck shoes. These are stylish and should be comfortable for some of this coming summer's long drives.  I'm a big fan of L. L. Bean.
After my stop in Freeport, Maine, the next agenda item was finding something to eat for dinner. Wouldn't you know it!  In a few minutes I would be passing one of my all-time favorite truck stops, the Dysart's Truck Stop just outside of Bangor, Maine.  I've been here a few times.  They're famous for cinnamon rolls.  I don't get up there that often so I had to stop.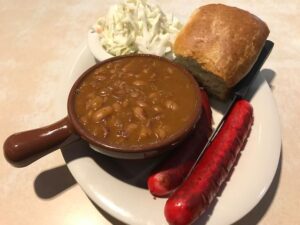 The menu told me that people in Maine eat lots of beans and franks.  I don't think I'd ever had beans and franks at a truck stop.  That's what I ordered.  It came with a generous serving of coleslaw and cornbread.  It all made for more than a meal.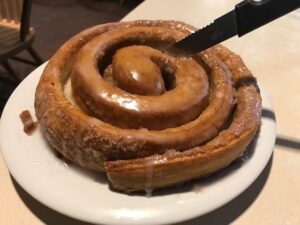 However, I had to be true to myself.  I had stopped here for a cinnamon roll.  It was Friday night. I was highly disappointed when my server told me they only made fresh cinnamon rolls on Saturdays and Sundays, but they froze what they didn't sell–so I could still have one tonight.  Yes, I would be consuming a week-old, previously frozen cinnamon roll; but it was from Dysart's.  It was very good–yet it might have been better had I not known that it had been frozen for a week.
I would be crossing the international border at Houlton, Maine. I would fuel up the National Car Rental Racing Toyota Camry there. Gas was $3 a gallon. It would be higher in Canada.
My Canadian fuel strategy is simple.  I fill the tank to the brim at the last available United States gas stop. Then I strategically plan how I can run the gas tank down to just about nothing as I cross back into the United States.  This way I would avoid paying a 20-30% premium for gas in Canada.  I've been using the strategy for years.  The savings will probably buy me a free lunch and maybe more on this trip.
There was absolutely no one crossing into Canada at about 10 p.m. at the Houlton, Maine border crossing. The female Canadian-border agent was smiling and friendly.  That is not often the case.  I passed the border control in less than 60 seconds.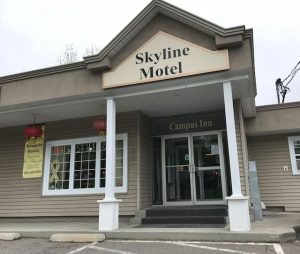 I had made a reservation at the Skyline Motel in Fredericton, New Brunswick.  I got that reservation via Kayak, which is a travel site I use frequently.  Priceline is not as effective in small towns.  The rate was just 50 bucks.
The funny thing about this reservation was that I made it on booking.com within kayak.com.  I knew that the Skyline Motel was paying both kayak.com and booking.com a fee. I'm guessing it was going to be about 20%.
Carol says I am an opportunist.  Why does she say that?  Because I am an opportunist!  I take the opportunity to exploit the choices that come across my path in life.  To me that's the normal thing to do.
With that being the case, I called the Skyline Motel.  I spoke to a young woman who was obviously not the proprietor.  I explained to her that I could buy a room at her hotel this evening for $50 on one of the travel sites.  I also explained that I knew that they were paying a fairly stiff fee to the travel site.  I continued my conversation by telling her I was wondering if she might like to offer me a lower hotel rate if I booked directly with her, bypassing the travel sites.  She told me that the best she could do was offer me the rate that was on the wall which was–you guessed it–$50 a night.  Actually sometimes the rate the hotel offers initially when I call is actually higher than what I can find online.
This woman was obviously an employee.  She was doing what she had been told.  There's nothing wrong with that.  However if I had been able to get in touch with the real decision-maker, she might've said I'll give the room to you for $45 a night since the booking.com travel site would clear me just 40 bucks.  Unfortunately I wasn't able to talk to the boss.  That's never a good thing in life.
At this point I would've enjoyed taking one of my patented 12-minute power naps.  However, when I talked to another woman on the phone at the motel, she told me the desk would be closing at midnight and would not reopen until 10 a.m.  If I didn't arrive by midnight, I would have to call security to be let in.  I didn't know if that would be a hassle or not so I just kept on driving.  I arrived at 11:48 p.m. and checked into room 36.  
I enjoyed my time in New York City.  I always do.  But I was out here to trackchase.
SATURDAY….IT'S RACE DAY!
I got a full eight hours of sleep last night.  I'm in the Atlantic Standard time zone here in Fredericton, New Brunswick, Canada.  That's four hours ahead of Los Angeles. With my on-the-go lifestyle I haven't gotten all that much sleep on this trip.  Getting a big eight hours really felt good.
I'm all about experiencing new things.  A big part of my trackchasing hobby is seeing stuff for the first time.  There have been times in my life when I thought I had seen and done it all.  Usually right after such a thought had crossed my mind, I would see or do something that I'd never experienced before.  So I no longer believe that I have seen and done it all.
Just as I was gathering all of my belongings and walking out of room 36 at the Skyline Motel, I encountered a gentleman in the hallway.  He gave me a friendly hello and asked if I knew where the hotel bathrooms were.  I didn't.  He told me there was no one at the front desk and he had been looking without success for the public restroom.
I absolutely love helping people out when they need the help.  I'm not much for helping people when they don't need help.  That's just me.
As I stood in the doorway of my motel room, "help" for this gentleman was only five feet away.  I invited him to use my bathroom.  He told me he wasn't asking so much for himself as for his wife.  I invited her in, also.
With that gesture I gave them the full use of my room starting with the bathroom.  If they needed anything else, they could use that as well.  Yep.  I am a pretty helpful fellow at times.  I've stayed at more than 5000 hotel rooms in my life.  I can't recall ever giving anyone the use of my bathroom under these circumstances.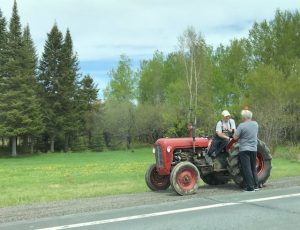 Now I was off for the 2-hour, 15-minute drive up to Mirimichi, New Brunswick.  I was headed to the Speedway Miramichi.  Those in charge up there knew me.  If all worked out well and it looked like it might, I was going to have a very productive Saturday afternoon at Speedway Mirimichi.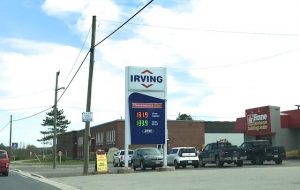 Right now gas in this part of Canada sells for about $1.33 Canadian per liter.  With current exchange rates that translates to about $3.90 U.S. per gallon.  That fact meant my US/Canadian gas-buying strategy might save me about $12 US.   I'll take it.  There was a time when I had to do manual labor for nearly an entire day to earn that much money.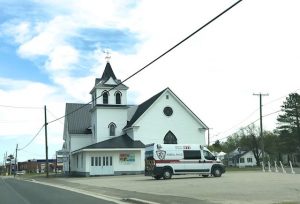 I always enjoy my travels through Canada. During the winter I can't drive through a small town without seeing a hockey stick slung over the back of a youngster. On today's drive I was impressed with all of the old-line churches I was seeing. There seemed to be two on every block.
THE RACING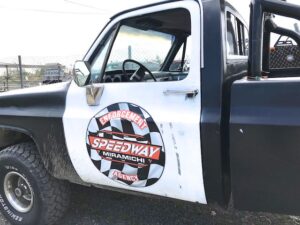 Speedway Miramichi – Miramichi, New Brunswick, Canada
As far as I know, I am the only trackchaser who works at developing personal relationships with the promoters and fans at the tracks I visit.  That approach has served me well over many years.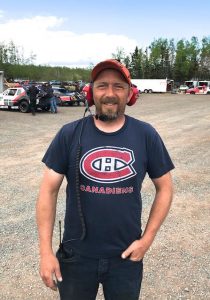 In preparation for my visit to the Speedway Miramichi, I had contacted the track promoter, Barry Richard.  We talked on the phone for several minutes.  I was able to get all the information I needed from Barry about making my track visit a success.  He concluded the phone call by telling me that I would be his guest when I visited the track.  There would be no charge for the World's #1 Trackchaser at the Speedway Miramichi.  Thank you, Barry.
The track's website offers up a very thorough description of the track's colorful history. This year, 2018, they are celebrating 50 years of racing at the track. This is what they have to say.
TRACK HISTORY
What started as a modest little dirt track blossomed into a popular paved short track, rich with history.
The small village of Douglastown, New Brunswick got a little louder in the year 1967. After a couple years of 3 tracks operating within a 50 mile radius (including Hillcrest Speedway, a dirt track just a couple hundred feet down the road from the current track), 5 local businessman teamed up to build a new track in Douglastown. Construction began near the corner of McKinnon Rd. and Williston Dr. on the $400 000 facility. Power lines had to be installed back the length of the Williston Dr., as there had been no developments in the area to that point.
When construction was completed, a brand new 1/3-mile dirt track opened. After a short time, the asphalt was laid and Miramichi Speedway opened its gates. Brent Jay was the inaugural track champion, and then Lindsay Tozer won back to back championships the following years. The early days were initially successful, but times became tough before long, and the track was barely operating by the early 70's.
After a few years of running off and on, River Glade Speedway promoter Ernie McLean stepped up and ran the track for a full schedule for the 1974 season. Some of the best drivers of that time battled, but Jim MacPherson became the 1974 champion. That would be the last year of  racing for the tracks inaugural run, as no successful reopenings happened for nearly a decade.
​
After sitting mostly dormant for 9 years, Pierre Allain reopened the track in 1983 with great fan-fare, kicking off the most well-renowned era in the tracks history. Opening day for the new Douglastown Speedway1983 season saw 3000 fans pack the stands to watch the best Sportsman racing in the province. Alpine sponsored the points championship that year, with Keith Tucker winning it all.
​
1984 seen some more changes to the track. Part way through the 1984 season, Allain sold his lease to Sportsman driver Frank Williston. The track would become known as Williston Speedway. Vernon Gray won the 1984 championship.
​
Under Williston's guidance, the track expanded in 1985. A second division, known as the "Dukes of Hazard" class, and later shortened to the Dukes class, was started at the track. This class would eventually become known as the Bomber class, and eventually the Street Stock class. Terry Russell won the Dukes championship, and former owner Pierre Allain dominated the Sportsman class en route to the championship.
​
Former track champion Lindsay Tozer purchased the track for 1986, and renamed it Miramichi Raceway. Tozer's run as owner was short lived, as he soon sold it back to Frank Williston. In 1988, the track was sold to Wilfred McKay and Sportsman driver Clarence Patles, and renamed yet again – this time to McKay's Speedway.
​
With strong car counts in all classes, the track continued to grow. MASCAR competed at the track some during the late 80's and early 90's, before taking a leave of absence following the 1991 race. In 1990, announcer Cyril Hall created the Brunswick 100 – a 100 lap Sportsman race. The inagural Brunswick 100 was the richest race in tracks history, with an $8500 purse and a potential entry list that exceeded 60 cars! Kirk Jardine was the winner of that race.
​
Throughout these years, a number of drivers made a local claim to fame with their successes. The Sportsman class was dominated by champions such as Rick Buckley, Ray McCray, Brad Mann, Terry Russell, and Moncton driver Tim Rodgers. Fan favorites and multi time winners, who didn't win a championship, included the likes of Frank MacKenzie, Kim Hallihan, Kirk Jardine, Rat Regan, Garth Creamer, and Paul Dunn, just to name a few. In the Street Stock class, John Underhill, Johnny Goodwin, Todd Mullin, Rick Hetherington, Chris Sickles, Frank Dick, Lyndon Lyons and Dave Clark were among the best.
​
In early 1994, Wilfred McKay sold his share of the track to Sportsman driver Brad Mann, and in the fall of 94 Clarence Patles sold his share to businessman Reg Tozer. With the City of Miramichi being formed in 1995 through amalgamation, the track became known as Miramichi City Speedway in 1995. The new owners began making some improvements to the facility immediately. Around this time, Demolition Derby started being held on select race nights at the track. In 1995, attempts were made to create the New Brunswick Pro Stock Tour, which was to have 3 dates in Miramichi. The tour ultimately was unsuccessful and didn't return to the track after this year.
​
In 1996, MASCAR returned to the track for the first time since 1991, with the legendary Scott Fraser dominating to win. That summer would also be the final running of the Brunswick 100 as a Sportsman race, with Brad Tozer claiming the victory.
​
1997 brought more changes to the track. In attempt to create more growth, the new Hobby Stock class was introduced. Unfortunately, Sportsman car counts decreased dramatically that summer, all while Demolitions soared in popularity. In 1999, the track only held 8 events, 5 of which included Demos. 1999 would also be the final stop ever for the MASCAR tour, with John Flemming scoring the victory.
​
Racing saw a bit of a resurgence during the early 2000's. While Demo's were very popular – with in excess of 50 cars sometimes, and the ever popular figure 8 race, Sportsman racing returned to race almost every week of the summer. In 2001 the Street Stock and Hobby Stock class was merged into one division. Unfortunately, car counts never returned to the strong levels of the 80's and 90's.
​
The late 90's and early 2000's saw some new faces winning races. Yves McCray was possibly the most successful during this time, finishing top 2 in points 7 times. Other successful drivers were Brian Ashton, Brad Tozer, Gary Clark, and Wayne Wormell. Blaine Moses, Stephane Savoie, Derek Goodwin, and Jason Silliker were some of the most successful drivers in Street Stock, while Eddy Hay, Kevin Tucker, Robert Legere and Brad MacLean, among others, were successful Demo competitors.
​
2003 saw the introduction of the 4 Cylinder class, and the debut of the Atlantic Open Wheel Tour in Miramichi. Meanwhile, the tracks future began to be put into doubt as the Sportsman and Street Stock classes began to falter. With Miramichi's economy on the downfall, and track owner Reg Tozer's health declining, the 2005 season was not expected to happen. It did – despite only running Demo events with 4 Cylinder races. 
​
In 2006, Miramichi City Speedway got a boost, with the re-introduction of the Dukes class. While this helped the track some, the future still wasn't good for the track. In 2008, champions were crowned for the final time, ending a 26 year run of crowning champions. Only 3 events were held in 2009, and only a single event in each of 2010 and 2011.
​
In 2012, the ambitious Jason Carnahan teamed up with David Nielsen to purchase and restore the track. A massive renovation projected was completed, and the new Speedway Miramichi reopened to a packed crowd of over 2200 in June 2012. In July, the first Sportsman race in nearly a decade was held, with Ken MacKenzie grabbing the win.
​
2014 would mark a major year in the tracks revival. Track champions were crowned for the first time since 2008, and that September, Pro Stock returned for a 125 laps race, which was won by PEI's Jonathan Hicken.
In July 2015 the track was sold to Barry Richard, who continues to operate the track to this day.
​
Under Barry's management, the track saw the biggest race since the 90's, with the 2017 Chi City Showdown being the scene for 25 Street Stock cars to compete for 100 laps. This race won't soon be forgotten, as Brad MacLean came from the back twice to win!
Now known as Speedway Miramichi, 2018 will mark the 50th anniversary of the track opening as a paved oval. The tracks 50th year promises to be an exciting one, as the first chapter of the tracks next 50 years is written! With the return of the Brunswick 100 and increased car counts expected across the board, 2018 will be the most unforgettable season ever!
​
While it hasn't always been good times, the track, much like the city its named after, has survived all the tough times and continued to be resilient. The people of Miramichi never give up, and they especially never give up on their track – one rich with 50 years of history!
There's no doubt about it.  When you have friends, and especially friends at the top, life is a lot easier.  When I pulled into the track, a big rough-looking guy was manning the pit gate.  He had a sweatshirt that said "Football".  He was sort of the "bouncer" type.
He started to give me that stare, something like "you don't look like you're from around here, boy".  That's when I gave him a big smile and told him that I was "Barry's guest".  Pretty soon the bouncer guy was my friend and was showing me where the pit shack was.  I got signed in real quick-like.
The lady in the pit shack gave out a shout on the radio to track down Barry Richard.  Before I could park the National Car Rental Racing Toyota Camry, Barry come over to say hello.  We were happy to finally meet up with each other after our phone contacts and e-mail communications.
Like most promoters who recognize the value in hosting the leading trackchaser, Barry told me that I had full run of the place.  He really was sincere about that.  I'll tell you what "full run of the place" meant as my report continues.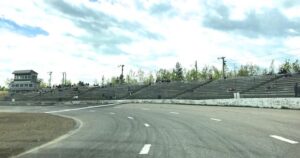 First, Barry set me up with his father-in-law Tom.  Tom drives the pace truck.  I hopped in with him and took a few laps around the 1/3-mile asphalt oval, slightly banked track.  How many people get to ride around the track in the pace truck?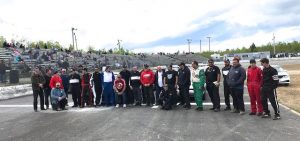 Today was the track's first racing event of the year.  The track was celebrating its 50th anniversary of racing at Speedway Mirimichi.  Some special ceremonies in front of the grandstand included recognizing drivers who had participated during the past half century. I was able to get a lot of photographs of the drivers and cars that came out to be part of the celebration.

Next up was the drivers' meeting.  I have never seen drivers run over to the meeting's location any quicker than what the guys did today.  Normally the promoter has to beg the drivers to come to the meeting which won't start for 10 or 15 minutes after the initial announcement.  Barry ran the meeting.  At the end he introduced me to everyone and told them a little bit about what I would be doing.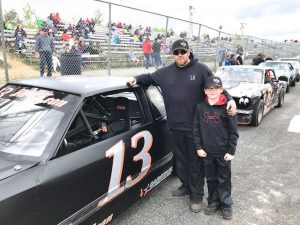 Several drivers and pit crew members came up to say hello.  It was nice talking to these guys.  I always find Canadians to be a very friendly group.
Although there was virtually no chance of rain, the weather wasn't all that comfortable.  Despite it being an afternoon show, the temperature was in the low 50's most of the time with a 10-15 mile-an-hour wind.  I had to switch from my shorts and racing t-shirt into long pants and three layers for my upper body. I was still a little cold.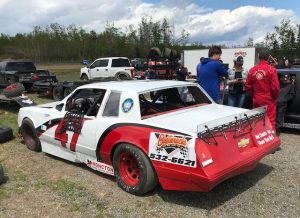 They run a very unusual racing program at Miramichi. I've hardly ever seen it done this way. The first half of the show is a traditional oval-racing program.  Today they had street stocks, modifieds, and mini stocks.
The second half of the show is a demolition derby. They had a lot of different things planned for the demo.  There would be a burnout contest, a reverse race, a powderpuff race, a figure-8 race, and the standard demo derby.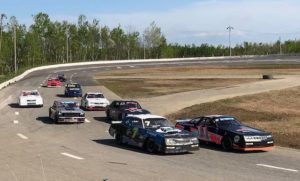 Of course, I have never been to the Speedway Miramichi.  The first half of the program with racing on the traditional oval would count as track number one today.  Then the powderpuff race run over a kidney shaped road course would count as track number two.  Finally the last new track configuration of the day would be racing on the asphalt figure-8 course. That's right–I scored THREE new tracks today.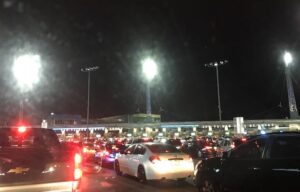 What does my visit mean for the country of Canada?  First of all, it means that it's going to have to increase the staff at all of the border crossings that connect Canada to the State of Maine due to the onslaught of trackchasers seeking their own personal gold at the Speedway Miramichi.  Some trackchasers won't even be able to read the rest of my report before they hop in their cars and head to the Maritimes of Canada.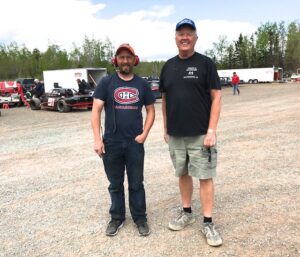 When I was leaving the track, I made a special effort to thank Barry for all of his hospitality.  I also told him that he should be expecting a huge wave of trackchasers.  I asked him specifically not to treat any of them as well as he had treated me.
Barry knew where I was going with that. He agreed with my thinking.  He assured me that no future trackchaser would receive the perks that I had had today.  He also gave me this parting thought, "I won't let them in for free either."  I gave Barry a huge thumbs-up with that comment.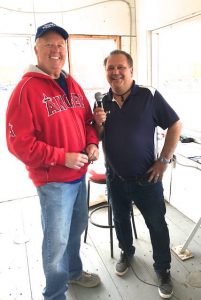 I had spent a good deal of the day up in the press box.  There was no wind up there!  I had a nice interview with the track announcer Mike.  He had one of those radio-quality voices and did a good job of describing the action.  It was fun hanging out with the scorers,  too. All of the guys in the booth had a good time kibitzing about the track's history.  I loved being a part of it.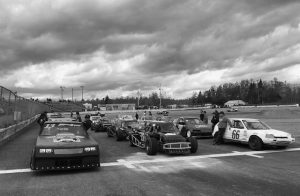 Car counts were on the light side.  Parts of rural Canada have been hit by a troubling economy.  It was also the beginning of the racing season, and a few drivers never can get their car ready for opening day.  The street-stock division had a count of nine cars, the modifieds five, and the four cylinders nine. There were about a dozen cars in the demo group.
I was able to get video of the racing action from up in the press box as well as around the turns, which showed some very close-up racing.  The highlight of the day on the oval track was a 100-lap "Brunswick 100" race for the street-stock cars.  These street stocks were much nicer than any other street-stock class I had ever seen before.  They looked more like super stocks to me.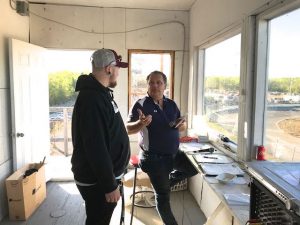 The 50-50 winner took home a prize of $194.  I got to draw the ticket to choose this winner. The announcer joked with the fans that the visiting trackchaser would receive $190 for picking the ticket and the holder of that winning ticket would get $4.  A fellow by the name of Alex (above) won.  Of course he got $194.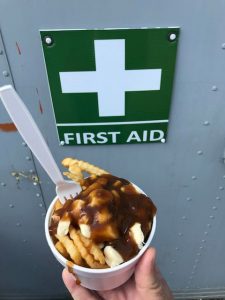 I couldn't go to a Canadian track and pass up the opportunity for a $6 serving of poutine.  It was good.  Poutine is always good.
AFTER THE RACES
It's been a long time since I've met so many friendly people at a single track.  I'll bet I had personal conversations with more than a dozen folks from the track owner to the track announcer to the scorers to racecar drivers, crew chiefs, and fans.
If you are a trackchaser and end up visiting the Speedway Miramichi in 2018, please have the common decency to share the source of the information that motivated you to make such a trip.  I don't want anyone to get the wrong impression. It was the Randy Lewis Racing Research Department that found out about the three different tracks happening at one location.  I wouldn't want any "poacher" to mislead the very few fans who may ask him how he came across this little jewel.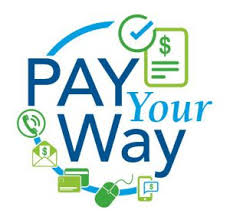 Although Barry and his staff will treat cordially any trackchaser who visits, please don't expect to be  taken under his wing as I was.  It ain't gonna happen. You're going to pay your own way, too.  And that's the way it should be.
Following today's races I made the three-hour drive down to Truro, Nova Scotia. It's been a long time since I have trackchased in Nova Scotia.  I figured it  was time to change that.  When would that change come? How about tomorrow!
I phoned my hotel in Truro, Nova Scotia to tell them that I would be arriving late.  I probably wouldn't get there until nearly midnight.  When I called to share that news, I created some major heartburn for the hotel personnel.  They were expecting everyone to check in by 10 p.m.  I told them not only was that not going to happen, there was no possible way it could happen.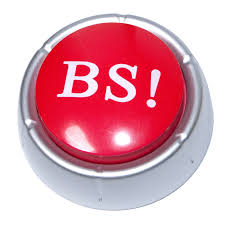 The person I was talking to on the phone had some major consternation about my late arrival.  He feared it would be difficult for me to find my room.  That was a bullshit answer.  He feared that I might make too much noise checking in as late as midnight.  That was a bullshit answer, too.  Finally we came to an agreement where he would place my key in a safe place, and the world would continue to rotate on its axis.
Good evening from Miramichi, New Brunswick, Canada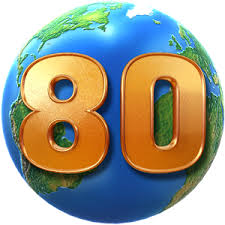 Randy Lewis – 80 countries – 2,441 tracks.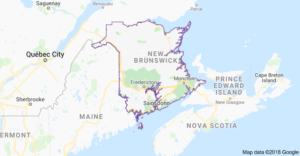 New Brunswick
The Picture Province
This afternoon I saw racing at my third, fourth and fifth lifetime tracks in the Picture province, yes, the Picture province. I've seen five or more tracks in seven of the ten Canadian provinces.
Thanks for reading about my trackchasing,
Randy Lewis
World's #1 Trackchaser
Peoria Old Timers Racing Club (P.O.R.C.) Hall of Fame Member
New Brunswick sayings: Don't let anyone dull your sparkle 
QUICK FACTS
LIFETIME TRACKCHASER COMPARISONS 
The threemost important trackchasing comparisons to me are:
Total lifetime tracks seen
Total "trackchasing countries" seen
Lifetime National Geographic Diversity results
Total Lifetime Tracks
There are no trackchasers currently within 645 tracks of my lifetime total.  Don't blame me.
Randy Lewis, San Clemente, California – 2,441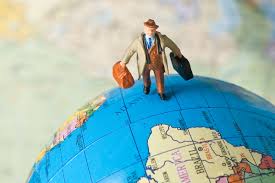 Total Trackchasing Countries
There are no trackchasers currently within 25 countries of my lifetime total. 
Randy Lewis, San Clemente, California – 80
Current lifetime National Geographic Diversity results
Randy Lewis, San Clemente, California – 4.14
That's all folks!  Official end of the RLR – Randy Lewis Racing Trackchaser Report
Click on the link below to see the video production from the racing action today.
Click on the link below for a photo album from today's trackchasing day.  You can view the album slide by slide or click on the "slide show" icon for a self-guided tour of today's trackchasing adventure.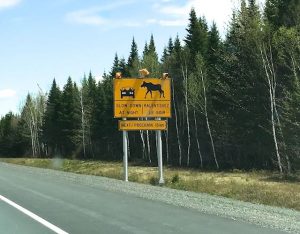 A real fun time up in the Canadian Maritimes…..Mirimichi, New Brunswick