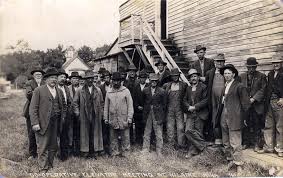 Greetings from St. Hilarie, Minnesota
.
.
From the travels and adventures of the 
"World's #1 Trackchaser"
.
.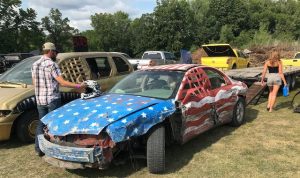 St. Hilarie Community Park
Dirt road course
 Lifetime Track #2,576
The EventVideo PlusPhotos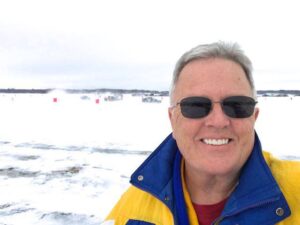 THE EVENT
My name is Randy Lewis. I live in San Clemente, California. I am a "trackchaser". I trackchase. Before you discovered my site had you ever heard of trackchasing? Maybe not? So….what the heck is trackchasing? Sit back, take a read and you'll be an expert on my hobby of trackchasing when you're finished.
Here's my best explanation.
Trackchasing is a three-pronged hobby. I'm a racing fan. I love to travel. I love to analyze opportunities to get the most out of everything while saving time and money.
Trackchasing fills the need for all of the above. The racing part of my trackchasing has me trying to see wheel to wheel auto racing at as many different racetracks as I can all over the world. Yes, all over the world. So far things are going pretty well. As this is written, I've seen racing in 85 countries at more than 2,500 tracks. As a matter of fact, I've seen racing at more tracks than anyone else in the world.
Equally important to me are the things I get to see and experience over the "long and dusty trackchasing trail". I call these adventures "Trackchasing Tourist Attractions". You won't want to miss my "Trackchasing Tourist Attractions" page. Here's the link:  Trackchasing Tourist Attractions  or my "Sports Spectating Resume" page, Sports Spectating Resume  on my website at www.randylewis.org.
I live in southern California. That's probably the most inconvenient location in the country for seeing tracks in the U.S. Most of the racetracks in the U.S. are located well over 1,000 miles from where I live. As a matter of fact, my average trip covers 5,000 miles and more. I take 35-40 of those trips each season. In any given year I will travel well over 200,000 miles, rent more than 50 cars, and stay in more than 150 hotel rooms.
I get the chance to meet people all over the world. With trackchasing trips to 85 countries and counting just getting the chance to experience so many other cultures, spend time in their homes and meet their friends is a huge reward for being in this hobby. I am indebted to several of these folks for their help and friendship.
It's takes a good deal of planning to do the above and not spend my entire retirement portfolio. I enjoy the challenge, the travel and every other aspect of "trackchasing". In reality, my trackchasing hobby is a lot like being with the carnival. I breeze into town, stay a little while and then head on down the road.
Today's adventure was one more of the 2,000 trips that have taken me up, down and around the proverbial long and dusty trackchasing trail.  If you would like to see where I've been and experience those adventures here's the link: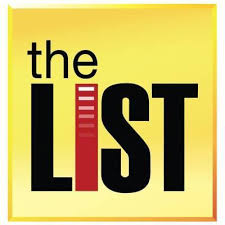 If you've got a question, comment or whatever please leave it at the bottom of this report.  It's very easy to do.  Or you can visit me on Facebook.  Thanks!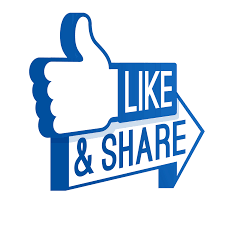 FOREWORD
Saturday, August 10, 2019.
Today my plan was to see racing at my 101st different racetrack in the state of Minnesota. After today I will have seen racing at than 100 tracks in seven different states. The next trackchaser in this category totals only four. Just a handful of trackchasers have ever seen more than 100 tracks in three states.
Going into this year I didn't even know they had autocross racing in St. Hilarie, Minnesota. I learned that fact only a couple of weeks ago when one of the announcers at the Marshall County Fairgrounds mentioned that fact. I checked my calendar. I could make the August 10 date in St. Hilarie!
Last night and tonight I was staying at the Sheraton Minneapolis West hotel. Just outside the hotel is the Ridgedale Mall. Early in the morning there isn't much activity in the huge mall parking lot. That space provides an excellent power walking surface. 
I had made my hotel reservation at the Sheraton with Priceline. When I checked in I casually mentioned that I was a "titanium elite" member of their Bonvoy frequent guest program. That got their attention. Soon I was upgraded to a top floor room with access to the Sheraton Lounge. I was also given complimentary breakfast at the $20 per day hotel buffet. What an excellent value! I saved my money and invested it wisely before I retired. Now I can't seem to get any of my travel partners to take much of it!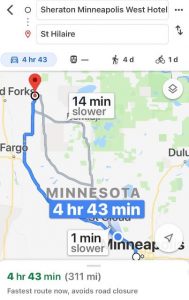 Raise your hand if you would be willing to drive more than 600 miles round-trip to see a junk car Baja race. I'm looking around. I don't see a lot of hands. However, I would raise my hand if that question were asked of me. I would love to do such a thing. 
Today's races at the St. Hilarie Community Park was scheduled to begin at 4:30 p.m. The one-way driving time from my hotel to the track was going to be about five hours. I plugged all of that in with a little bit of leeway and off I went.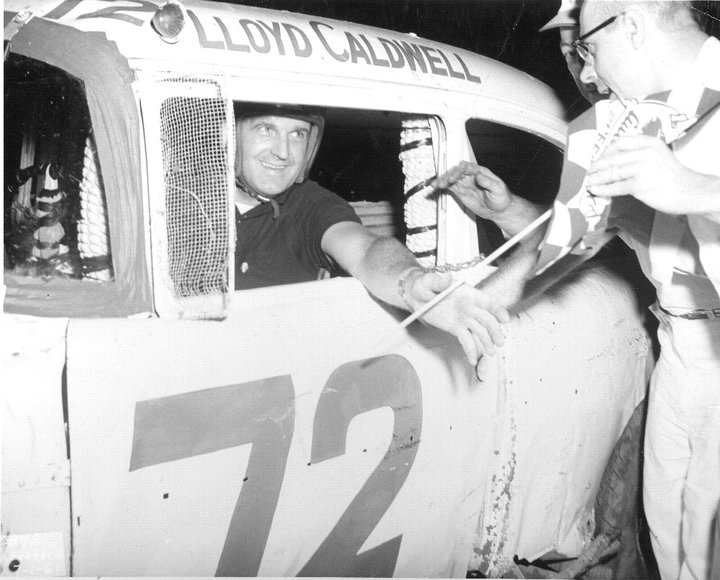 Going into today I had seen racing at 100 tracks in Minnesota. To see those 100 tracks I made seventy-two trips to the North Star state. Many of those trips were during the winter. It's interesting to see the scenery changes during the summer and the winter. As you might imagine the view is quite different. 
I have a new power walking strategy that I've been employing for the past few weeks. Sometimes when I have significant driving times or flying times it's difficult to get in four miles via continuous power walking. 
I have done some measuring and found that 105 steps for me covers about 1/10 of a mile. My new plan, when I stop for gas or to take a personal break at a rest area or whatever, is just to do "four 105s". That's my lingo for walking 4/10 of a mile. Four-tenths of a mile is 10% of my daily goal. If I can do that a few times during the day when I stop to do something else the amount of mileage adds up pretty quickly. I'm enjoying this new method of covering my four miles. This plan is allowing me to go more than four miles and it doesn't even seem like I'm doing that kind of distance. 
I got gas at the Crossroads convenience store just outside of St. Hilarie. I remember stopping here a couple of winters ago when the temperature was about 100° colder and snow was stacked higher than the roof of my car. 
THE RACING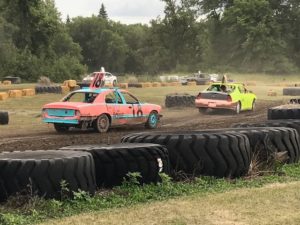 St. Hilarie Community Park – St. Hilarie, Minnesota
I arrived a bit early as I often do. Nevertheless, I found an outstanding parking spot. I am kind of an aggressive parker. I employ the strategy that, "There is always room for one more". 
Initially, I bought a general admission ticket for $10. This would allow me to sit in the spectator section of the park and have access to bathrooms, food and drink. 
The Lions Club was the sponsor of this event. They had a lot of volunteers. I'm sure this is an excellent fundraiser for them. Nevertheless, their food and drink selection was somewhat minimal. They only offered up hotdogs, Polish dogs and a barbecue sandwich.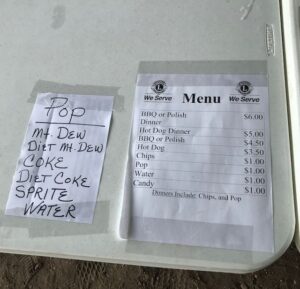 Their "meal deal" was a bargain. For six bucks I could have a good-sized Polish dog with a bun, a choice of chips and a can of Diet Mountain Dew. I smothered my Polish dog in mustard and grabbed a seat at a picnic table. There I enjoyed my lunch. 

Today's race course reminded me of the autograss racing in the United Kingdom. Over in England they simply fine a farm pasture, put out a few markers to outline the track and start racing. When they begin the racing surface is grass. By the end of the day the grass is gone and the surface is dirt and/or mud.
Today's race course was marked with huge tractor tires and hay bales. As a matter fact, during the racing one of the hay bales caught on fire! The race had to be stopped and the fire department summoned. 
I'm going to guess the track was about 1/3 of a mile in distance. Since the drivers had to turn both left and right to navigate the course in trackchasing parlance it was a road course. 
The promoters brought along an excellent PA system. The announcer was entertaining and informative. They played up beat rock 'n' roll style music nonstop. How do I know this? Most of the time I watched the races from within 5-10 feet of their loudest speaker. For the first time that I can ever recall I used an earplug only in one ear!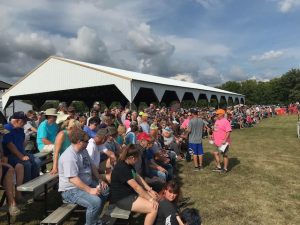 I wasn't a big fan of the seating arrangement. First of all the fans mainly sat on small aluminum grandstands that were only five or six rows high. If you were to think of the entire track as a rectangle, in general all of the spectator seating was on only one of the narrow sides of the rectangle. When the cars got to the opposite end of the rectangle they were pretty far away. 
I had paid $10 U.S. to sit in the spectator area. The pit area was just adjacent to the spectator area. I was interested in seeing what kind of sheet-metal had shown up today. That being the case I "upgraded" my ticket by paying an extra five dollars to get a pit pass. I figured since I come all this way being able to get up close and personal with the racecars was a good idea. 
One of the racer appeals of Baja style or autocross junk car racing is the low price of entry. These are exactly as the name implies, "junk" racing machines. One fellow told me that these cars can be bought for about $500 each. They used to go for $100. The price of a junk car has increased when the price of metal skyrocketed. Now if someone has a junk car they'll sell it to you for 500 bucks or they'll sell it to the metal recycler for 500 bucks.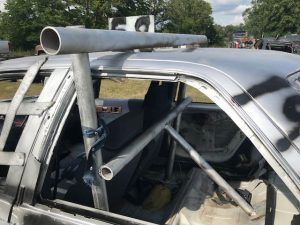 Some of these cars, actually most of them, had some kind of a roll cage. Many of them were as crude as you can possibly imagine. Some drivers raced without a roll cage. Drivers in this type of racing do not wear fire suits. They're just as likely to be wearing a summer tank top as anything. 
I'm going to guess there were about 75 cars in the pit area. For this kind of racing that is a large car count. The field was mainly made up of four, six and eight cylinder cars. There was a truck division as well. 
They started on time with the national anthem at 4:30 p.m. However, they didn't start racing until nearly 5 p.m., which was 30 minutes late. At one point the announcer told the crowd that they were waiting on a couple of drivers who were still expected to arrive. Please. What kind of a bullshit statement is that? They had 75 drivers in the pit area who had been there for hours ready to race. Now they were waiting on a couple of drivers who were yet to arrive? 
They did a decent job of having one race after another. There were a few spins and several disabled cars. The races were six laps in distance. I'm guessing that six laps of racing was about 2 miles in total. It's kind of amazing that a racecar that's been worked on for weeks can't complete 2 miles.
I think I got some good video considering I was limited to where I could film. I missed one spectacular crash. As the cars crossed the finish line one driver got mixed up with another and did a very hard barrel roll. He landed on his wheels and immediately drove back to the pits! I would have loved to have that one on film.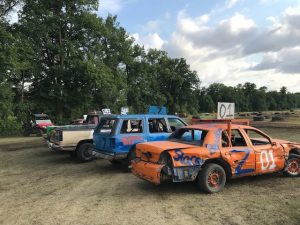 There is one thing about Baja style or autocross racing and that is it gets a little bit repetitive. Once you've seen one eight-car, six-lap heat race and then that process is repeated 10 or 15 times the incremental entertainment value is diminished to some degree. 
With the entertainment value waning at a little past 7 p.m. and the fact that the track didn't have any lights and the fact that I had a minimum five-hour drive back to my hotel I decided it was time to call it a day.
AFTER THE RACES
I had probably seen more than a dozen races. I bought a good sized can of beer, a Polish dog, chips and a diet soda. I talked with a fellow whose son was racing today. He had "heard of me" at one of the previous Minnesota track I had attended. I left my card with the announcer and very much enjoyed my day at the track. Now it was time to head south.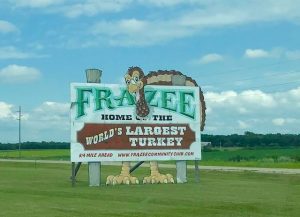 On the way up to the track today I stopped at a small town called Frazee, Minnesota. According to Roadside America, Frazee was being billed as having the largest turkey in the world. How could I pass that up? I took a picture of a large white turkey probably about 10 feet tall in the downtown area. Then I learned that that might not have been the turkey RA was talking about.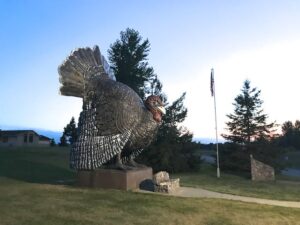 This meant that I would need to return to Frazee, in the dark, after the races to see if I could find the really big turkey. I did. It was in Lions Park. I'm glad I stopped. That was one big turkey. 
I didn't get back to the hotel until well after midnight. No problem. It had been a fun day. Every day that I trackchase is a fun day. Every day that I see an unusual tourist attraction is a fun day. Fortunately, I love driving. Covering more than 600 miles today was nothing. 
Good afternoon from the St. Hilarie Community Park in St. Hilarie, Minnesota. 
Randy Lewis – 85 countries – 2,576 tracks.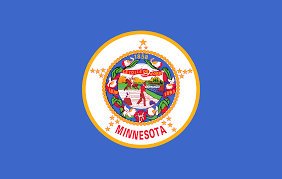 Minnesota
The North Star state
This afternoon I saw racing at my 101st lifetime track in the North Star state, yes, the North Star state.  I hold the #1 trackchasing ranking in Minnesota.  I've seen 101 or more tracks in seven different states. No trackchaser can match that stat.
Thanks for reading about my trackchasing,
Randy Lewis
World's #1 Trackchaser
Peoria Old Timers Racing Club (P.O.R.C.) Hall of Fame Member
Minnesota sayings:  "Oh, yah" (declarative or interrogative)
Another simple phrase, but one usually spoken with that Minnesota spice. (Yes, "Minnesota spice" is cinnamon and brown sugar.) You'll hear this in response to an obvious statement ("You excited for the first snow/thaw? "Oh, yah!") or surprising statement ("I heard the Vikings have a good shot at the Super Bowl this year." "Oh, yah?!") One way for outsiders to discern the difference is to listen to where the emphasis is. A clear affirmative will emphasize the "Oh," while a surprised response leans more heavily on the "Yah." It may sound like a slight difference, but like our winter hats and our love of gravy, it will not be subtle.
QUICK FACTS
LIFETIME TRACKCHASER COMPARISONS 
The three most important trackchasing comparisons to me are:
Total lifetime tracks seen
Total "trackchasing countries" seen
Lifetime National Geographic Diversity results
Total Lifetime Tracks
There are no trackchasers currently within 715 tracks of my lifetime total.  Don't blame me.
Randy Lewis, San Clemente, California – 2,576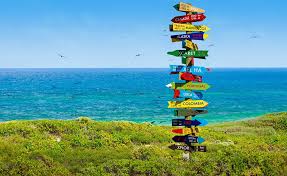 Total Trackchasing Countries
The nearest trackchasing competitor has seen racing in 30 fewer countries compared to my lifetime total. 
Randy Lewis, San Clemente, California – 85
Current lifetime National Geographic Diversity results
Randy Lewis, San Clemente, California – 4.14
That's all folks!  Official end of the RLR – Randy Lewis Racing Trackchaser Report
Click on the link below to see the video production from the racing action today.
Click on the link below for a photo album from today's trackchasing day.  You can view the album slide by slide or click on the "slide show" icon for a self-guided tour of today's trackchasing adventure.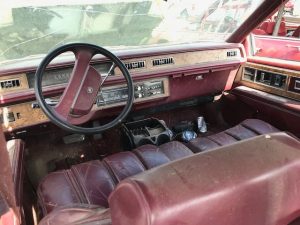 Baja style racing in Northern Minnesota PLUS the world's largest turkey….statue