Greetings from Duncan, Oklahoma
From the travels and adventures of the 
"World's #1 Trackchaser"
Stevens County Fairgrounds – dirt oval
Lifetime Track #2,055
HighlightsThe EventVideosPhotos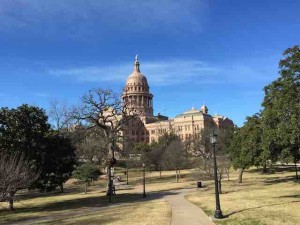 Austin here we come.
The Randy Lewis Racing research team comes to the rescue.
We were going to Austin, Texas for a full week to babysit our grand babies.
I find this is pretty funny.

It pays to rattle cages.
Don't miss the Trackchasing Tourist Attractions.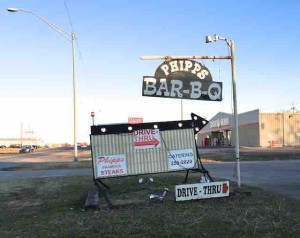 Phipps BBQ – Duncan, Oklahoma
I bought a ticket to use their restroom.
Texas Kart Nationals…..in Oklahoma.

No kids. No way. Any questions?
I'm not a mind reader.
If you are not early you are late. Any questions?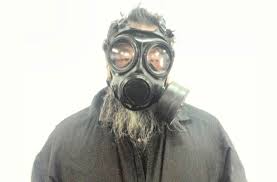 Air quality at indoor events can put you in a stupor.
Lots of things made tonight special.
Not all news was good news – Dave Garrison.
This is not for everyone.
THE EVENT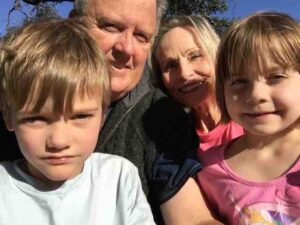 Austin here we come.
I woke up this morning at home in San Clemente, California. I spent the next seven nights, along with Carol, in Austin, Texas. This is how the trip turned out.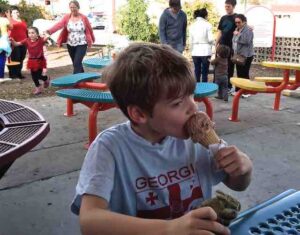 This will keep you young.
This has been quite a week. Carol and I have been babysitting our six-year-old twin grandbabies for the past seven days. They're in kindergarten now. The school day starts at what I think is a very early 7:40 a.m. They go until 2:40 p.m. When I was youngster we went to kindergarten for only half a day. In Carol's school system she didn't even go to kindergarten.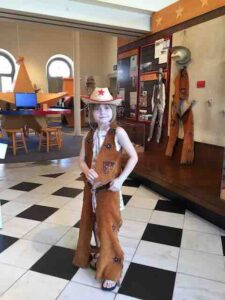 This is our first weeklong babysitting opportunity with the twins. Let me tell you this. It's a full-time job! Carol probably did 75% of the work but I was by her side all the way for moral support. The twin's parents, Kristy and James were off to Dublin, Ireland for a working vacation. We've had a blast. By the way if you haven't seen the twins lately check out the Picasa photo album attached to this post.
The Randy Lewis Racing research team comes to the rescue.
As luck, and lots of research by the Randy Lewis Racing staff, would have it there was an indoor karting event on Friday night, day #5 of our babysitting gig. Our Friday schedule allowed Carol and me to drop the kids off at school in the morning. Then I ran down to the Austin airport to grab a rental car. I was looking at a nearly 350-mile one-way drive from Austin, Texas to Duncan, Oklahoma.  A little quick math tells me that's a 700-mile round trip adventure. You've got to have the passion to drive that far for a winged kart race. I have the passion.
After some nice days in Austin we've had two days of solid rain. That made getting the kids to school and to all of their activities just a little bit more fun! It was still raining heavily when I showed up at the Austin-Bergstrom international Airport to get my rental car.
I'm willing to wait for good stuff.
I had to wait about 10 minutes for them to round up a Hyundai Sonata car for me. Because I was going to be in the car for more than 10 hours satellite radio is a must. However, I'm listening to podcasts with my Tune-In radio app more and more.
Despite gas prices being lower than they have been in a long time it's still a good idea to get a good riding car that offers great mileage. The Sonata does that.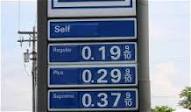 I find this is pretty funny.
I do think it's funny when my fellow competitors comment on the low gas prices. They make it sound as if they wouldn't go on a trackchasing trip if gas prices were higher. In point of fact gas prices have NEVER held a trackchaser back. They will go just as often whether the gas is four dollars a gallon or less than two dollars.
Just wondering.
Here's another funny thing about trackchasers. Many of them are VERY cheap. They are penny pinchers with their money…..except when it comes to one thing…..seeing a countable track. Chasers will spend hundreds of dollars getting to and track and returning home….as long as they could add one more track to their lifetime lists. Many wouldn't spend a dollar seeing a local attraction or eating in a nice place. However they might spend $100-200 or more and hours on the road to be at a low level racing event for 2-3 hours or even less. I have often wondered if they would pay $200, if that were the admission price, to see a four-car figure 8 mud bog event if it were located in their own hometown? The cost would be the same as traveling to see the same show a long ways down the road…..except all of the expense would be in the admission price.
I was lucky that the rain stopped just an hour north of Austin on my way to Oklahoma. This allowed me to make the remaining four hour trip in dry conditions.

It pays to rattle cages.
During the trip I had to make an important phone call. I needed to "rattle the cage" of the Sirius-XM satellite radio people. My one-year contract was coming due. If I didn't call them and "threaten" I mean renegotiate my plan they were going to double the rates.
I have found that in the past at all I need to do is to threaten a cancellation and they immediately cave. This allows me to get the "promotional" rate for another year, year after year. I have a deluxe plan, which includes being allowed to listen to satellite radio over the Internet via my laptop. I don't use that capability nearly as often as I should but it's a great feature. I pay about $10 a month for XM satellite. I rarely listen to commercial free music on satellite radio. However I do have several channels of sports, news and talk as well as self-improvement that I prefer. I would never go back to regular AM/FM radio.
We had come to Austin, Texas to babysit our grandchildren. That turned out to be a 100% wonderful experience. It was just by pure coincidence that a "local" track could be seen in the middle of January.
TRACKCHASING TOURIST ATTRACTIONS
I very much enjoy the racing when I go on trackchasing trips. However, I am not the type of person who would feel the trip was complete if I simply left home, went to the race and came back home.
I do a good deal of traveling. I want to do my best to see the local area when I come for a visit. There are usually unusual attractions that one area is noted for more than any other locale. I want to see those places. I want to touch them and feel them. When I leave an area, I want to have memories of these special places that I call Trackchasing Tourist Attractions. I will remember those experiences long after the checkered flag has fallen on whatever race I have seen that day.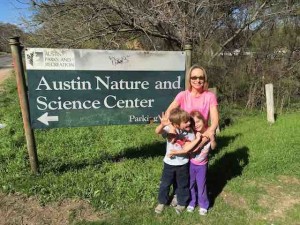 Zilker Park – Austin, Texas
Luckily, one of the days we were in Austin was Martin Luther King Day. That meant a day off from school for Astrid and Mitch. We all talked about our choices and came up with the idea to visit Zilker Park. The park was built all the way back in 1917. It's named after the benefactor that donated the land, Andrew Jackson Zilker.
The park had played host to some major events dues to its size. How major? The Rolling Stones played in front of 42,000 fans there! We had a wonderful time at the Austin Nature and Science Center inside the park.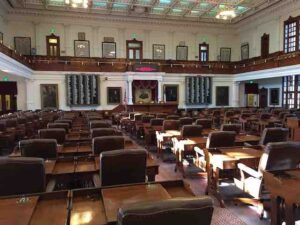 State Capital Building – Austin, Texas
On the last day of our visit daughter Kristy took us down to the Texas State Capital Building. What a place. At the time of its construction it was the seventh largest building in the world!
The building was completed in 1888. It's now home to the Texas state legislature and the Office of the Governor. Much of it is open to the public nearly every day of the year. Don't miss the pictures.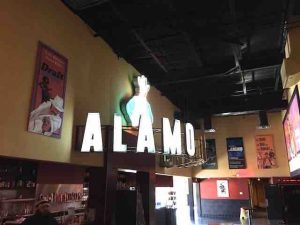 Alamo Draft House Movie Theatre – Austin, Texas
Carol and I enjoy going to the "show" aka the movies frequently. We've never been to a more fun experience than what they offer at the Alamo Draft House. This is a chain of movie theatres in Texas. What makes them so unique?
Lots of things! They offer reserved seating. They serve food inside the theatre. Once you're seated you can scan the menu. They have a broad selection. Servers will come to your seat, pick up you order sheet and some excellent food appears in nearly no time.
This was our second visit to the Alamo Draft House. Today we ordered a pizza and some double chocolate chip cookies with vanilla ice cream. This was gourmet food especially considering we were being served in a movie theatre.
Finally, the movie "shorts" were fantastic. They show old time ads, military training films and the like. It's pretty amazing that what passed for standard practice 50 years or more ago seems quite humorous today. The Alamo Draft House is a very fun experience.
ONE CANNOT LIVE WELL OR SLEEP WELL IF ONE HAS NOT DINED WELL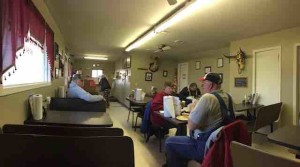 Phipps BBQ – Duncan, Oklahoma
I arrived in Duncan, Oklahoma at about 4 p.m. Our son-in-law James used to live in Duncan and actually went to high school there. He had given me a heads up on a barbecue place in town. I figured I would have time to stop in there for dinner and take some photos of his old high school as well.
It was 50° and clear in the small town of Duncan. I found the high school easily. Then I took a tour of the Duncan Demons campus. Over the years they've had several state championships in Oklahoma high school sports.
By using my Waze GPS app I had just enough time to stop at Phipps BBQ. The sign in the window said they had been in business since 1966. Any place that's been in business for nearly 50 years must have something going for it.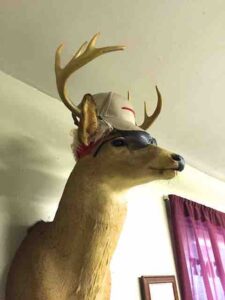 This was the kind of place where you order at the counter then find a table and they'll bring your food to you. The restaurant was small. It couldn't have been more than 25 feet wide by 40-50 feet. The wall hangings consisted of deer head trophies. Many of the deer were wearing sunglasses and cowboy hats!
I ordered the ribs. They came with baked beans, potato salad and coleslaw. The ribs plate was $12.95. I also added a can of Diet Coke for $2.25 (that seemed pricey since they probably bought it from Costco for a quarter). I finished up my meal with the advertised dessert, banana pudding at $2.95. With tax and tip my meal cost around $20.
I certainly wouldn't call it the best barbecue I've ever eaten. Nevertheless I loved the recommendation because it was a place that I would not have walked into otherwise. If you get to Duncan and are looking for a place to eat you might want to try Phipps for the ambience alone. If you do darken their door don't miss the banana pudding.
THE RACE 
Stevens County Fairgrounds – Duncan, Oklahoma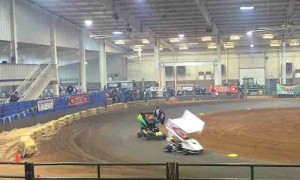 I bought a ticket to use their restroom.
Tonight's racing was scheduled to begin at 6 p.m. They were only having heat races tonight. Tomorrow morning they would have another set of heat races with feature events taking place later in the day.
When I first arrived into Duncan at 4 p.m. I stopped at the Stevens County Fairgrounds. I quickly purchased a five-dollar admission stamp, used the bathroom and set out to checked out the Duncan surroundings. The racers were busy practicing. That meant I was not going to miss any racing action.
Texas Kart Nationals…..in Oklahoma.
Tonight's racing was part of the Texas Kart Nationals. Over the winter they have 4-5 indoor events at different locations. That's a trackchaser's dream.
Tonight the racing would include 18 classes most of them being caged karts. All of the caged karts, no matter what class, were "countable" racing machines. However not all of those classes were "trackchasing countable". What did that mean?

No kids. No way. Any questions?
A few classes had an upper age limit on the drivers that could compete in an individual class. No class that limits a driver's age to 17 or less can be counted for trackchasing purposes. Please do not blame me! I didn't make these rules.
However after taking a good look at tonight's racing format I found there would be four countable classes tonight. Those would be the 125cc, 250cc, open outlaws and open outlaws for drivers over 40. Motorcycle engines would power each one of these classes.
I'm not a mind reader.
There was no PA system in use tonight. That made it difficult to understand which class was racing at any given time. I am no mind reader. Since all of the caged karts looked about the same it was nearly impossible to tell which class was racing.
I had seen a list of tonight's racing order. There were 18 classes racing. The four classes that would make tonight countable for me were scheduled to run 12th, 13th, 16th and 18th. It also looked as if several classes had enough entries for multiple heat races within their respective classes.
If you are not early you are late. Any questions?
When I returned to the indoor racing facility at 6:05 p.m. the drivers meeting was underway. What did that mean? It meant they were behind schedule! Remember the program have been advertised to begin at 6 p.m. In point of fact the first race did not take the green flag until 6:42 p.m. I find that unacceptable but not unusual. It's just the way the short track racing industry works. That is just one of several reasons the industry continues to operate at a "grass roots" level many years after it should have advanced further.
By the way I'm not trying to be critical. However it wasn't me that started the program 42 minutes late. Remember I grew up in a world that operated with the motto, "If you're not early you're late".
I had miles to go before I slept.
This tardy start was compounded by the fact that I would have a 350-mile drive after tonight's races. I suspect most of the fans were tied to racing teams. The racing teams would all be here tomorrow morning at 10:30 a.m. Starting late tonight wouldn't inconvenience them very much. They were likely staying local.
When I was younger I never attempted drives of that length following a racing event. However as I age it seems like I never get tired. Why would that be?
Tonight's racing was done on a nicely banked 1/8-mile dirt oval. I always give it my best shot at estimating the track's length. I make no guarantees.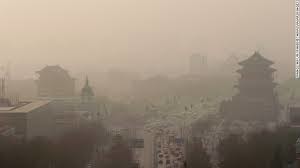 Air quality at indoor events can put you in a stupor.
I arrived at the arena at 4 p.m. The air inside the arena was blue with racing fumes. I think that was because the open outlaw karts had just been practicing. When I returned at 6 p.m. the air was much clearer. That can happen when they open the doors to the arena creating a cross breeze. Of course that let's the cold air in as well.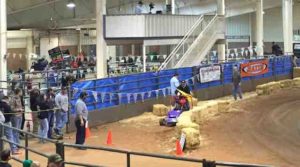 There was some wild racing tonight.
I was most surprised at how aggressive tonight's racers were. The tracks exterior barrier was a series of hay bales. Those hay bales were tested time and again tonight with drivers spinning wildly off the track into the hay. It was actually very exciting to see this aggressiveness. To the track's credit the karts often got back onto the track without the aid of yellow flag. When the yellow was needed there was not much of a delay. I appreciated that.
I must've seen a minimum of 20 races if not more before class #12, the open outlaws for drivers 40 and over, appeared on the track. It was past 9 PM when the first countable class hit the racing surface.
I had been at the track for more than three hours. They were just now getting to a class that would make this track acceptable by trackchasing standards. I watched each of three heats for the open outlaws for older drivers. Heats with the 125cc class, also "countable", followed that. The 125cc class was for drivers aged 10 and over. That "over" ruling made the 125cc group a countable class as well.
I decided to leave at 9:15 p.m. with five classes still waiting to race. I figured a 10+ hour drive up to the track and back as well as more than three hours of sitting in the grandstands was enough for me. That commitment proved my passion right?
Lots of things made tonight special.
There were several things that made tonight's racing special. First I was seeing a race on my birthday. I don't know how many races I've seen on January 23 but it can't be very many. Until a few years ago I never began my trackchasing season until March or April.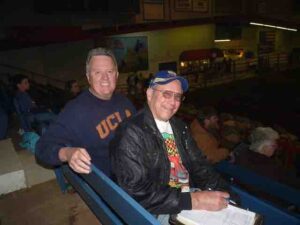 Tonight I was seeing my 31st lifetime track in the state of Oklahoma. That puts me just one track behind the Oklahoma Sooner trackchasing leader Ed Esser. One of my goals for the year is to move into the number one spot in three new states. I've already done that with Nebraska. I'm just one track away in Oklahoma and only 5-10 tracks or less from the #1 position in several other Midwestern states.
Getting to see a track on my birthday in January and getting a track in the state that would move me closer to a number one position certainly made tonight's trackchasing a lot of fun. However the day was not only filled with good news.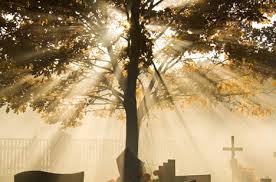 Not all news was good news – Dave Garrison.
When I checked my email I learned that my racing friend Dave Garrison from Kentucky had passed away after a long battle with cancer. I was the first person associated with trackchasing to meet Dave.
I had shown up a late to a race at the Psalm 23 Duck River Raceway Park in Tennessee. It was a cold November evening in 2012. The grandstands were nearly full when I navigated to a position in the top row. I asked the gentleman sitting next to an open seat if that seat were available? He told me "I've been saving it just for you". Those were the first words I ever heard from Dave Garrison.
He and I struck up a conversation and learned we were each talking to a leader in their respective hobby. Dave had been the number one racechaser in the amateur category on a couple of occasions. Of course I had been the world's number one trackchaser, which is certainly different than racechasing, since I had visited my 1,040th lifetime track.
During our conversation Dave told me about his troubles with cancer. In the ensuing two years plus Dave would have both good news and not so good news to share about his disease. In the end the Big C won this heat race but I'm confident Dave will be a feature winner in the bigger race.
Dave was right.
Dave and I had stayed in contact via email. We would later sit together at both East Bay Speedway near Tampa and at the Daytona international Speedway. I once went to the University of Louisville basketball game in Louisville. Later Dave would admonish me for not inviting him to come along as he lived nearby. He was right. I should have invited him.
Throughout our friendship I encouraged him to get involved with trackchasing. Finally, he took my advice. Although he was a diehard racechaser Dave began to enjoy the benefits of going to a place for the first time rather that to a track for the tenth time.
I'm happy to say that I was the first person to bring both Dave Garrison and Mike Knappenberger into the trackchasing hobby. Both had been avowed racechasers. However, I've found if racing fans can get a little recognition for their efforts then trackchasing has its benefits. From what I can tell they have both enjoyed trackchasing a good deal. That's always a good thing.
Nevertheless Dave was not able to win his battle with cancer. We'll all be in his place sooner or later. If you're a believer, and I am, the next place will be better than this one. If that's the case we need to celebrate the passing of our friends not mourn their departure. Rest in peace Dave.
This is not for everyone.
This trackchasing gig is not for everyone. I get that. I do not advocate that others drive 700 miles round-trip to see a simple caged kart racing event. I certainly don't recommend that people drive 350 miles after the race is completed. However I am a professional and this is what I do.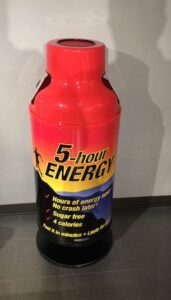 Tonight was going to be a 5-hour Energy drink extra strength night. It seemed like the right product use. I had a five hour drive ahead of me. The 5-hour energy drink was perfectly suited to get me back to Austin safely.
I would have to gas up twice before I returned my rental car. My first stop was in Bowie, Texas for gasoline. Gas there was priced at just $1.75 USD per gallon. Filling up my tank cost me less than $25. That's saying something. It wasn't that long ago when gas prices were much higher the cost to fill up the tank of my Lexus was more than $100.
Technology is my friend.
During the drive back to Austin I dictated the key points from tonight's racing into the skeletal version of a trackchaser report. I also listened to satellite radio and podcasts via my iPhone.
Iced!
I arrived back at the Austin airport at 3:30 a.m. Recall I had dropped off our daughter Kristy's car (Honda Civic) here at 10 a.m. just about 19 hours ago. At that time it was raining hard.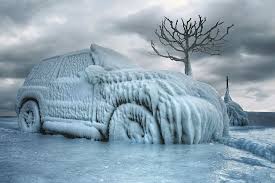 At 3:30 a.m. the temperature was now below freezing. The rainwater had frozen solidly on both the front and rear windows. Luckily for me there was a snow and ice scraper in the backseat. By the way there is not a lot of activity in Austin's remote airport parking lots at this time of day!
To sum up this trackchasing trip might seem like a long walk for a short slide. I've got to be honest with you. I enjoyed every minute of the it!
Oklahoma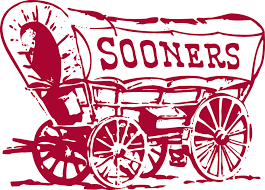 The Sooner state
This evening I saw my 31st lifetime track in the Sooner state, yes the Sooner state. I'm now just one track behind Ed Esser's state leading total of 32 tracks. This was the 21st separate time I have traveled to Oklahoma with trackchasing on my mind. I first came here in 1987 for a World of Outlaws sprint car race at the Oklahoma City Fair Speedway.
Thanks for reading about my trackchasing,
Randy Lewis
World's #1 Trackchaser
Peoria Old Timers Racing Club (P.O.R.C.) Hall of Fame Member
Oklahoma sayings: We have been Outrunning Twisters since 1889
QUICK FACTS
AIRPLANE
Los Angeles, CA (LAX) – Austin, TX (AUS) – 1,238 miles
RENTAL CAR #1
Austin-Bergstrom International Airport – trip begins
Duncan, OK
Austin-Bergstrom International Airport – trip ends – 682 miles
AIRPLANE
Austin, TX (AUS) – Los Angeles, CA (LAX) – 1,238 miles
Total air miles – 2,476 (2 flights)
Total rental car miles – 682 (1 car)
Total miles traveled on this trip – 3,158 miles 
TRACK ADMISSION PRICES:
Stevenson County Fairgrounds – $5
Total racetrack admissions for the trip – $5
LIFETIME TRACKCHASER COMPARISONS 
The three most important trackchasing comparisons to me are:
Total lifetime tracks seen
Total "trackchasing countries" seen
Lifetime National Geographic Diversity results
Total Lifetime Tracks
There are no trackchasers currently within 450 tracks of my lifetime total. Don't blame me.
Randy Lewis, San Clemente, California – 2,055
Total Trackchasing Countries
There are no trackchasers currently within 10 countries of my lifetime total.
Randy Lewis, San Clemente, California – 70
Current lifetime National Geographic Diversity results
Randy Lewis, San Clemente, California – 4.88
That's all folks! Official end of the RLR – Randy Lewis Racing Trackchaser Report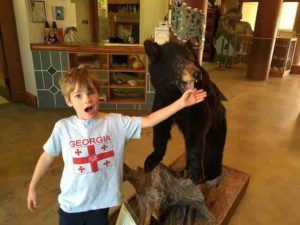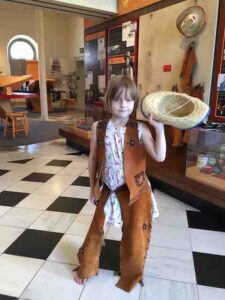 Click on the link below to see how things went in Austin, Texas while we watched over our twin grandchildren:
Grandma and Gramps go to Austin for a week with their grand babies!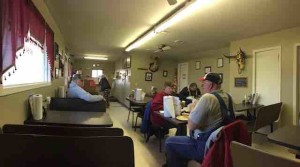 Click on the link below to see what the racing and the dining options were tonight:
Karts, BBQ and the Duncan Demons