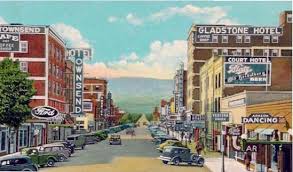 Greetings from Casper, Wyoming
.
.
From the travels and adventures of the 
"World's #1 Trackchaser"
.
.
The Arena at the Central Wyoming Fairgrounds
Dirt oval
Lifetime Track #2,302
The EventVideo PlusPhotos
THE EVENT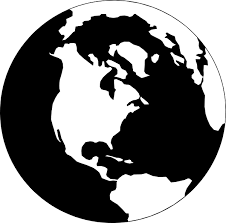 My trackchasing hobby takes me all over the world. Each year I will visit 25-30 American states and several foreign countries.  Long ago I moved into the #1 trackchasing position in both the number of different racetracks seen as well as the number of countries where I've seen racing.  
During my media interviews and discussions with friends and fans they often ask, "When did you start trackchasing?"
Yes, that's a question I get frequently. I never know how to answer it. I started out as a "racechaser". I went to the very best tracks where my favorite drivers were racing.
Somewhere along the line I decided I liked seeing a race at a track for the FIRST time rather than the TENTH time. As I went along I learned I liked the CHASE as much or more than the RACE. By the time I started trackchasing more than racechasing I was hundreds of tracks behind the leading trackchasers most of whom started in their 20s. Here's a list of the number of tracks I had seen by a certain age:
Age 5 – 1 track
Age 30 – 71 tracks
Age 40 – 180 tracks
Age 50 – 404 tracks
Age 60 – 1,517 tracks
Age 68 (today – still a kid) – 2,302 tracks
I often see two or more tracks in a single day or in a single weekend. Sometimes when that happens I will combine my observations from multiple tracks into a single Trackchaser Report. That is the case today.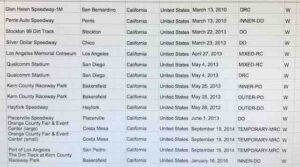 Today's adventure was one more of the 2,000 trips that have taken me up, down and around the long and dusty trackchasing trail. If you would like to see where I've been and experience those adventures here's the link:
If you've got a question, comment or whatever please leave it at the bottom of this report.  It's very easy to do.  Or you can visit me on Facebook.  Thanks!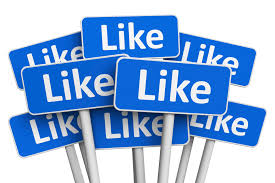 ON THE WAY TO THE RACES
FOREWORD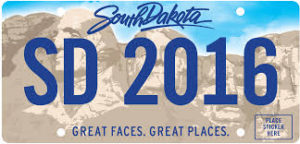 A few months ago I was sitting quietly in the headquarters of Randy Lewis Racing when I got a message from South Dakota. Good buddy Rob Palmer was sending me information about a very unique trackchasing opportunity. Not long after that I got a message from another South Dakota buddy Doug Napier. He was sharing information about the upcoming race in Wyoming. Yep, you just can't say enough about these NIMS people.
It turned out that as far as anyone could tell the state of Wyoming was going to have its first ever indoor race of any kind anywhere ever. If that wouldn't wet a world class trackchaser's appetite I don't know what would.
I don't plan my trackchasing trips out very far at all. Of course my international forays do have to be thought about and acted upon a little bit further out. However, most of my domestic trackchasing activity can be lined up a day or two in advance. I'm not kidding you about that.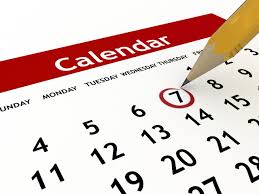 However as soon as I got Rob's message I penciled the Wyoming date in on my calendar. I had already seen thirteen tracks in Wyoming. The entire state's population is only a little more than 500,000. Thirteen tracks in a state with so few people is pretty good.
As a matter of fact I hold a #1 trackchasing ranking in the Cowboy state. Alan Brown sits in second place here with nine tracks.
The state of Wyoming holds a special place in my heart. I have been flying every week since the age of 23. That is absolutely no exaggeration.
I didn't jump on my first airplane until I was 21 years of age. I flew to Billings, Montana. My final destination on that trip was Dayton, Wyoming.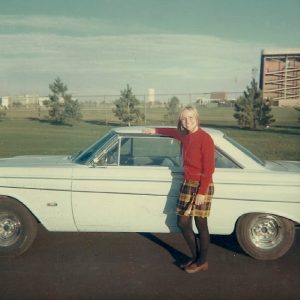 I was headed to see a young blonde haired blue-eyed fräulein whose family tree hailed from Eastern Europe. That's right her ancestors had emigrated from Czechoslovakia. Ultimately she and her family had relocated to the small town at the base of the Foothill Mountains, Dayton Wyoming.
The fräulein's parents owned a motel and campground. That's right. You might know where I'm going with this. The Czechoslovakian fräulein would come to be known as "Trackchasing's First Mother". Yes, I've been going with now wife Carol since 1968. That's a long time in dog years.  By the way that's Carol pictured in 1968 with my '64 Ford Falcon before I had it painted Richard Petty blue!
During my college summers I worked in the steaming hot factories of the Caterpillar Tractor Company. At the end of the summer, after I had earned enough money to pay for an entire year of college, I would take a week and head to Wyoming.
It was most convenient that Carol's parents owned the Foothills Motel & Campground. They would reserve one of their motel cottages exclusively for my own use. As a college kid visiting his girlfriend that was most convenient (wink!).
Carol and I each graduated from Northern Illinois University. That's where we first met. However, each of Carol's siblings are graduates of the University of Wyoming. Yes, they are Cowboys.
WEDNESDAY
With all of the Wyoming anticipation in front of us we hopped on a plane from Los Angeles to Denver, Colorado. Coming to Denver was convenient for several family reasons. First, we would be able to visit Carol's mother. June is in an assisted living home in the city. We would match up with more of Carol's siblings later in the trip.
Our "weekend" trip actually started ‪on Wednesday afternoon and would wrap up if all came about as planned on Saturday. ‪ Wednesday afternoon we drove up to Los Angeles. There we would see the #3 ranked UCLA Bruins completely dominate the University of Washington Huskies.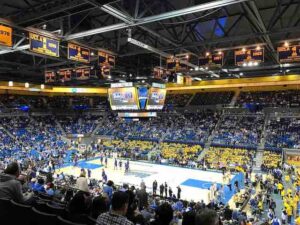 The game was part of our UCLA basketball season ticket package. We had great seats to watch the highest scoring team in the country throttle Washington 98–66. After the game we grabbed an overnight hotel up by LAX before standing by for a morning flight over to Denver.
THURSDAY
Once in Denver we picked up a National Rental Car Racing Chrysler 300. It's all black with shiny chrome wheels. It pretty much looks like a limousine.
After a brief visit with Carol's mom we headed out to dinner. By the way all of the folks in June's assisted-living home have dinner ‪at 4 p.m. Then they're in bed by about ‪6:30 p.m.!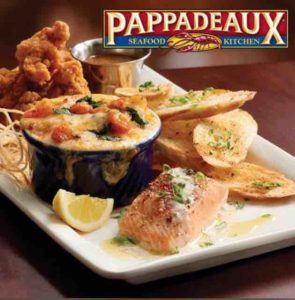 A quick search of Yelp told us that the restaurant "Pappadeaux Seafood Kitchen" served Cajun and Creole food. It was only a couple of minutes away. Last week I was in New Orleans for Mardi Gras. I ate in some highly rated restaurants but none of them served Cajun/Creole food as good as Pappadeaux did tonight. Surprisingly, the Pappadeaux Seafood Kitchen is a chain. They have about ten locations with most being in Texas. When you hear "chain" think Ruth's Chris Steakhouse quality.
We went with the prix fix menu offerings. This included salad, entrée and dessert. The salad wedge was huge! By the end of that course I could easily have left the restaurant and been fully satisfied.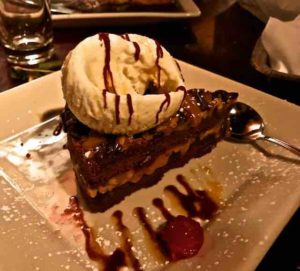 As it was I could only eat about a third of my entrée of pasta, shrimp and sausage. It was absolutely delicious but the servings were beyond gigantic. Then the desserts came. We were able to eat about half of the Turtle Fudge Brownie. It was smothered in vanilla ice cream and probably weighed in at well over 1,000 calories. We didn't even touch the vanilla cheesecake with strawberries.
Everything that we couldn't eat was put in to go box. The food we took away probably weighed three pounds. Will have a delicious lunch with all of that tomorrow in Laramie, Wyoming.
FRIDAY
Today is race day. They are actually racing at the Central Wyoming Fairgrounds on both ‪Friday night and ‪Saturday night. However Friday fits best into our schedule.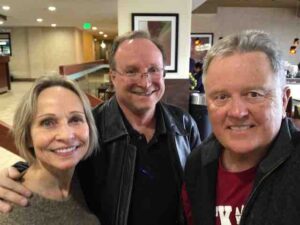 We started our morning with Carol's brother Mike joining us for breakfast in our hotel. We had a great time chatting for more than two hours. Mike and I can go back with lots of fun stories when he was in college and I was about six years older. There's the night on New Year's Eve, when we were snowed in at Casper, Wyoming. Mike, his brother Matt and I bowled 69 games and when the bowling alley closed we went to a bar and drank "skip and go nakeds". Then there's the time we were hauling a full U-Haul trailer of bricks and the thing started to fish tail on the Santa Ana Freeway. That was scary. We dumped pretty much that entire load of bricks on the ten-lane freeway behind us!
Then we had a chance to visit some more with Carol's mother. She seems to be failing. Old age is not a sight to watch. It comes for most of us though. Soon we were headed northward to Wyoming.
Tonight racing would take place in Casper, Wyoming. We will be staying overnight about two hours south in Laramie, Wyoming home of the University of Wyoming.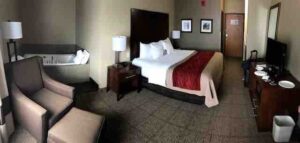 On the drive up to Casper we would drive just a little bit out of our way so that we could check into our hotel in Laramie. Why would we do that? Our hotel room had a microwave. We could feast on all of that leftover Cajun food from Pappadeaux. I was really looking forward to that.
Our Comfort Inn hotel in Laramie turned out to be an excellent choice. We were even upgraded to a suite within the hotel. With Priceline we paid right at 50% of the hotel's best rate.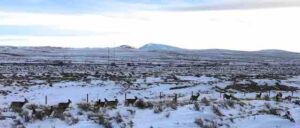 It would be another two hour drive from Laramie up to Casper, Wyoming where the races were being held. Parts of Wyoming can be some of the most beautiful scenery in the country. However the section of Wyoming we were seeing is relatively flat and barren. We didn't counter several deer sightings. As a matter fact a group of 10-15 caused us to slow on the highway until they passed.
We entertained ourselves by listening to SiriusXM satellite radio and various podcasts. We did run into "no service" cell phone areas from time to time.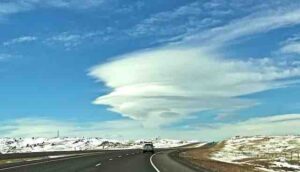 I wasn't paying close enough attention and missed the turn leading us to Casper. That took us 36 miles out of our way. Then, for the first time that I can remember, my Waze GPS system directed us to BACK of the Central Wyoming Fairgrounds. Because of fencing around the fairgrounds we couldn't enter from that direction. We had to make a large circle to get back into the official entrance, which was still not well marked.
THE RACING
The Arena at the Central Wyoming Fairgrounds – Casper, Wyoming
This delayed our arrival until 7:30 p.m. The racing was scheduled to begin at 7 p.m. I don't normally arrive after the scheduled start time. I also don't take wrong turns or have my GPS mess up very often either.
There would be two complete racing shows at The Arena at the Central Wyoming Fairgrounds. The first show would be Friday night. The final complete show would be on Saturday night.
Admission tickets were certainly on the pricey side. I'm suspecting that maybe the group had to pay a high price to rent the fairgrounds? Maybe they were paying travel money to the racers who drove long distance, which most did.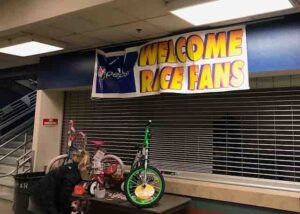 General admission reserved seat pricing was $30. General admission unreserved tickets were $25. Seniors got in for five dollars less than each of these prices. We chose the unreserved seating.
We weren't sure if the inside of the arena was going to be heated. The building is probably used for rodeo more than anything else. Luckily with the winter clothes we were wearing it was quite comfortable temperature-wise indoors.
From the foyer area of the building we could see the blue haze of exhaust fumes. We could also tell it was going to be pretty loud. They were selling ear plugs for a dollar.
I'm not exactly sure where the reserve seating was. Fans could only sit on the front straightaway side of the track. I'm guessing that the first few rows closest to the fence, that had seatbacks, might have been the reserve seating. As it was we sat up in the grandstand pretty much across from the flagman. That is where we would normally sit.
We estimated a crowd of about 120-150 people in the stands.  The cars were pitted in an area behind our view. They entered the track at turn four and exited the arena at turn two.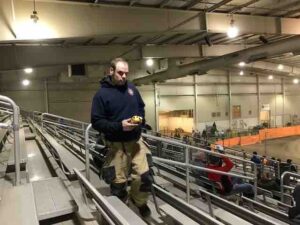 When we arrived they were in the midst of heat races. Just after we sat down and watched one three-car heat race they stopped the program. The announcer told us the program was being halted because of excessive CO2 levels!  That's right.  Firemen were walking through the grandstands measuring air quality levels.  I would have thought a place like Wyoming would have been the last to worry about CO2 levels.
He did announce they would be taking a short break. This would allow the air to clear. There were two large doors in the building that were wide open to the outside. Nevertheless, we had seen some racing. If they canceled because of the air-quality, the track could be counted at this point.
The delay was only five or 10 minutes. Then they went back to racing the 600cc winged mini- sprints and the 270cc winged micro stocks.
I'm going to guess the track was about 1/10 of a mile in length. The dirt oval surface was slightly banked in the turns. There wasn't much dust at all. There might of been a find residue drifting up into the stands that was somewhat difficult to detect. Certainly no need for goggles.
The racing surface seemed to be both slick and dry. This caused a large number of yellow flags. To the track's credit they got the cars going quickly after these delays.
The race format included the "front row shuffle". This was used to determine how the first six cars in the feature events would start. I've only seen this one other time.
It works like this. Two cars race for two laps. The winner continues to race the next car in the lineup with the winner advancing each time. The final winner starts on the pole of the feature race.
The drawback to this procedure tonight was that the car on the inside lane won every one of the two car races. One opportunistic driver kept winning by starting on the inside lane. Prior to that it appeared that the new car racing against the previous winner got the inside. The final driver in the micro stock class was wise to this situation. He demanded the inside lane. Of course, he won from there.
There were various "intermissions", none of which were announced as air quality improvement sessions!. We sampled the concession stand with bottled water and popcorn.
The announcers kept us informed as to which race was happening when. The commentator also did something that I like. He told the crowd where the drivers had come from to race tonight. The one-page racing program indicated that drivers came from seven different states.
The list included Wyoming, Colorado, Nebraska, Kansas, Montana, South Dakota and Washington. You'll see very few racing events that have drivers from competing from seven states. Tonight might be especially noteworthy considering the cumulative driving distances those race teams made from those seven states.
Since we missed some of the early heat racing I'm not sure how many cars were in each of the two classes. I do know that the mini-sprints had a 15-car "B" main event. On a 1/5-mile oval that's a lot of cars.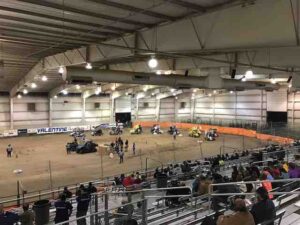 The micro stocks did not run "B" main. After a short break the first feature for the night would be the for the mini-sprints. They started 16 cars in that race.
There were two significant drawbacks to this main event. First of all they had a yellow flag on virtually every lap. Carol tugged on my sleeve and said, "This is not fun". Of course Carol and I come to the races to have fun.
I'm going to guess there were about eight yellow flags in the first 10 laps of the 25-lap race. That was when a red flag was displayed. There were no accidents on the track. Why was there a red flag?
They were shutting things down temporarily because of the declining air-quality. How bad was it? Not only did the drivers turn off their engines but they also took off their helmets and safety gear and got out of their cars. We had no idea how long this particular delay was going to last. It looked like it might take a while.
We looked at each other. We been at the track for 2 1/2 hours. It was now 10 p.m. It was going to be nearly 2 1/2 hours driving time back to our hotel in Laramie.
This is what we were dealing with. We had an unknown re- start time. There had been a yellow flag for nearly every lap of green flag racing. The possibility also loomed that they might have to stop at again for air-quality delays. Yes, it was time for us to exit the building.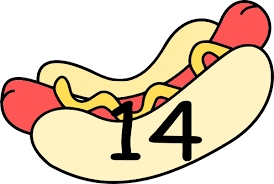 We were both very pleased that we had seen the first ever indoor race in the state of Wyoming. Since Wyoming was admitted to the union in 1890 I guess that's saying something.  Additionally, I was seeing my 14th racetrack in the Equality state.
AFTER THE RACES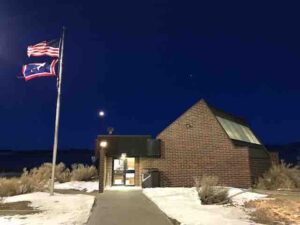 Outside the temperature was in the mid 20s. One electronic sign advertised the wind speed as being up to 50 MPH. Wyoming has a harsh climate. We would need to get gas.
In these parts gasoline was cheap at $2.07 a gallon. As an acknowledgement to the cold wind I sat inside my car while the car's tank filled with gas. I never ever do that. That might give you some idea the strength of the wind.
Then we stopped at McDonald's drive-thru for a brief nearly midnight snack. There was some discussion with the McDonald's personnel about their inability to except my iPhone Apple Pay feature.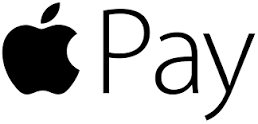 I love using Apple Pay. It's very convenient. I stop at McDonald's drive-thru's often. I usually have to educate the cashier on how to work the Apple Pay program. Just about have the time the cashier has to ask for management to come for assistance.
Tonight the supervisor tried to give me some song and dance that the "new scanner" didn't accept Apple Pay. Being an expert on McDonald's drive-thru procedures I knew that she was blowing smoke up my behind. There was a slight "discussion". Then she handed me my receipt and stormed off.
We were going to have to wait for our fish sandwiches to be prepared. We pulled ahead and stopped for a minute or two. Soon this same McDonald's supervisor was tapping on my window. She was shivering in a short sleeve shirt with a 50 MPH wind as she waited for me to accept our sandwiches.
I considered engaging her in more Apple Pay conversation. However, I feared that if I did she might freeze to death from the wind-chill conditions right in front of me. Did that seem worth it to get the Apple Pay situation addressed again? Maybe. Nevertheless I let it go and accepted our steaming hot fish sandwiches. She scurried back inside likely have a caught a case of pneumonia.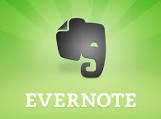 I like my Evernote app very much for dictating these Trackchaser Reports. It saves me lots of time. Nevertheless, the system doesn't work perfectly. Above I said that the woman likely caught Pneumonia. Evernote understood me to say she, "Likely have a cotton ammonia." 
The ride back to the hotel seemed shorter than the ride up to the racetrack. I guess that could be true since we drove 36 miles out of our way on the ride to the track! We were in bed by about 1 a.m. suffering from elevated CO2 levels and the extremely dry winter air of Wyoming.
SATURDAY
We had a lot of logistical objectives during this trip that kept us on a bang bang schedule. The first thing on today's agenda was breakfast at 10 a.m. with Carol's sister Patty. Since I've know Carol for nearly 50 years I've known Patty for that long as well.
We selected the Prairie Rose Café for this morning's meal in downtown Laramie, Wyoming. It came with a 4-star Yelp rating. The service was excellent. Their special menu item was a hot iced cinnamon roll. It was good. What would I do without Yelp?
Following breakfast Patty would lead us on a tour of the University of Wyoming campus. She and her two brothers graduated from the UofW. It was a blue-sky 45-degee day. However, it was windy! They get their share of wind up here.
I ended up buying a Wyoming Cowboys t-shirt. I suspect when I show up wearing it at a race in Ohio that no one else will have one of those.
The highlight of the tour for me was seeing the Wyoming Cowboys football stadium. I love to tour college sports facilities. The Cowboys play their football in Laramie at an elevation of 7,220 feet. They proudly advertise that fact in bold letters painted on the artificial grass surface of their field. I got a great photo of Carol and Patty standing in the center of the football field.
From there is was over to the Arena-Auditorium. The Wyoming Cowboys play their college basketball there. The place was built in 1982. It seats 15,028.
We had ticket to the Wyoming Cowboys vs. San Jose State Spartan basketball game. We were joined at the game by Patty's daughter (our niece) Lee Ann, her husband James and their kids Jack (6) and Blair (3).
James raises cattle. It's "calving" season. He was telling me they had 16 calves born just yesterday. Wow! That's such a different lifestyle than what most folks live.
Today the home team kicked the California team by a score of 74-62. Although Wyoming led almost all the game the margin was much closer until the last couple of minutes.
I entertained Jack throughout the affair. Now he's pretty clear on how many points a team gets for a free throw, a regular field goal and three-pointer. It's fun taking kids to games like that. I remember those events so fondly when they happened for me, in some cases, more than 60 years ago! Jack sat on my lap much of the game.
Following the game we had to say our fast farewells. We had more than a two-hour drive down to the Denver airport. If we didn't hit too much traffic, and we could get our National Car Rental Racing Chrysler 300 gassed up and returned quickly, we could make the last flight of the day back to Los Angeles. We did!
What brought us to the Wyoming/Colorado area this weekend? It was surely the mini-sprint race at The Arena at the Central Wyoming Fairgrounds. Was this the highlight of the trip? No, it was not. Then what WAS the highlight of the trip?
It was simple. Trackchasing gave me a very good reason to take Carol on a trip to meet her family. We had breakfast with her brother who lives in Denver. We visited her mother who lives in an assisted living home in Denver on two separate days. Then we had breakfast with Carol's sister who lives in Wyoming. Finally, we added to my "Sports Spectating Resume" by seeing a basketball game at the Arena-Auditorium. That game attracted even more family with the Stedman's bringing their entire clan up from where they live near the Wyoming/Nebraska border.
For me trackchasing is about racing but it is equally about touring and managing logistics. When one lives in a remote spot like Southern California like I do there is always going to be a lot of logistics involved. The challenge is to get from one place to another in both an efficient and cost-effective manner.
I'm not going to travel thousands of miles only to see an auto race. If I'm going to make that commitment then I want to see some of the local "stuff" along the way. We did that on this trip and saw lots of family too.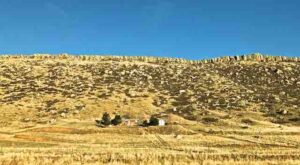 Remember this trip started out last Wednesday when we left San Clemente to see a UCLA basketball game in Los Angeles. We overnighted first in LA, then in the great Denver area and finally in Laramie, Wyoming. Now we were going to be sleeping in our own beds in San Clemente on Saturday night.
Truth be told most of each trip's ORIGINAL logistical plan gets changed for one reason or another. There can be bad weather. There can be airplane issues where I can't get on the flight or it gets delayed or whatever. There can be changes with racetrack schedules or the schedules of people that are part of the grand plan.
I'm happy to say that our logistical forecast, with lots of moving parts, went off 100% as planned. I would say that happens about 5% of the time. This time I'm glad it did!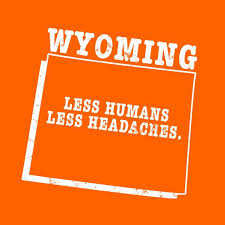 Wyoming
The Equality state
This evening I saw my 14th lifetime track in the Equality state, yes the Equality state. I hold the #1 trackchasing spot in Wyoming. I've seen 14 or more tracks in 37 separate states.
Thanks for reading about my trackchasing,
Randy Lewis
World's #1 Trackchaser
Peoria Old Timers Racing Club (P.O.R.C.) Hall of Fame Member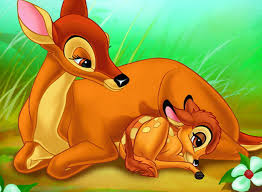 Wyoming sayings: Bambi Is Cute—And He Tastes Even Better
While the rest of the country might be a little hesitant before they chow down on a deer, a Wyomingite won't think twice, after all, the venison in Wyoming is spectacular. Once an out-of-towner takes their first bite, it's a sure thing they'll be coming back for more.
QUICK FACTS
LIFETIME TRACKCHASER COMPARISONS 
The three most important trackchasing comparisons to me are:
Total lifetime tracks seen
Total "trackchasing countries" seen
Lifetime National Geographic Diversity results
Total Lifetime Tracks
There are no trackchasers currently within 565 tracks of my lifetime total. Don't blame me.
Randy Lewis, San Clemente, California – 2,302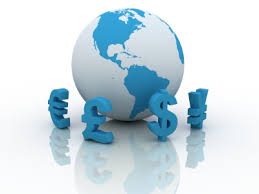 Total Trackchasing Countries
There are no trackchasers currently within 20 countries of my lifetime total.
Randy Lewis, San Clemente, California – 74
Current lifetime National Geographic Diversity results
Randy Lewis, San Clemente, California – 4.37
That's all folks! Official end of the RLR – Randy Lewis Racing Trackchaser Report
Click on the link below to see the video production from the racing action today.
Click on the link below for a photo album from today's trackchasing day.  You can view the album slide by slide or click on the "slide show" icon for a self-guided tour of today's trackchasing adventure.
We did a lot in three days. Check it out.