Greetings from all over Newfoundland and Labrador
.
.
From the travels and adventures of the 
"World's #1 Trackchaser"
.
.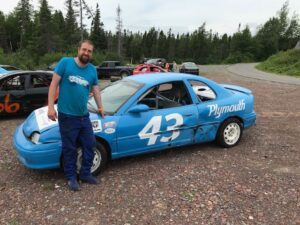 Thunder Valley Speedway 
Asphalt oval
 Lifetime Track #2,471
The EventVideo PlusPhotos
Editor's note:
Our visit to the Eastbound International Speedway and Concert Park and then the Thunder Valley Speedway were the third and fourth of four tracks in Canada that we visited during our trip. Each track will have its own photo album showing our experience at the track. A separate photo album (found by clicking the photos tab) will cover all non-racing activities, and there were lots of them, during the trip. Don't want to wait? Here's the link to the touring portion of this trip.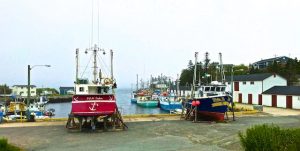 The trip to Newfoundland & Labrador – non-racing photos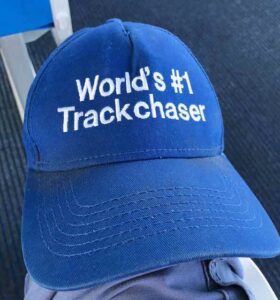 THE EVENT
I am a "trackchaser". So, what the heck is that? I get that question from racing and non-racing people all the time. This is a difficult question to answer. Why? Because after I do my best to respond people still say, "I've never heard of such a thing"!
Here's my best explanation.
Trackchasing is a three-pronged hobby. I'm a racing fan. I love to travel. I love to analyze opportunities to get the most out of everything while saving time and money.
Trackchasing fills the need for all of the above. The racing part of my trackchasing has me trying to see wheel to wheel auto racing at as many different racetracks as I can all over the world. Yes, all over the world. So far things are going pretty well. I've seen racing at nearly 2,500 tracks in 80 countries. As a matter of fact, I've seen racing at more tracks than anyone else in the world.
Equally important to me are the things I get to see and experience over the "long and dusty trackchasing trail". I call these adventures "Trackchasing Tourist Attractions". You won't want to miss my "Trackchasing Tourist Attractions" page. Here's the link:  Trackchasing Tourist Attractions or my "Sports Spectating Resume" page, Sports Spectating Resume on my website at www.randylewis.org.

I live in southern California. Most of the racetracks in the U.S. are located well over 1,000 miles from where I live. As a matter of fact, my average trip covers 5,000 miles and more. I take 35-40 of those trips each season. In any given year I will travel well over 200,000 miles, rent more than 50 cars, and stay in more than 150 hotel rooms.
I get the chance to meet people all over the world. With trips to 80 countries and counting just getting the chance to experience so many other cultures, spend times in their homes and meet their friends is a huge reward for being in this hobby. I am indebted to several of these folks for their help and friendship.
It's takes a good deal of planning to do the above and not spend my entire retirement portfolio. I enjoy the challenge, the travel and every other aspect of "trackchasing". In reality, my trackchasing hobby is a lot like being with the carnival. I breeze into town, stay a little while and then head on down the road.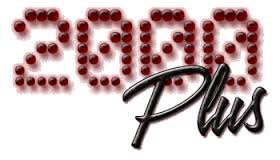 Today's adventure was one more of the 2,000 trips that have taken me up, down and around the proverbial long and dusty trackchasing trail.  If you would like to see where I've been and experience those adventures here's the link:
If you've got a question, comment or whatever please leave it at the bottom of this report.  It's very easy to do.  Or you can visit me on Facebook.  Thanks!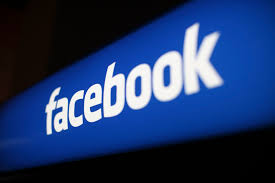 FOREWORD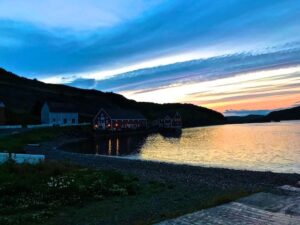 Carol and I came to Newfoundland and Labrador to see some auto racing and to do some touring. We just wanted to see what N&L was all about. We did just that over a span of nearly two weeks. I'll tell you about the racing first. Then we'll move into all of the fun things we saw and did in N&L.
We visited both of Newfoundland's permanent racetracks. The first stop was at the Eastbound International Speedway and Concert Park in Avondale, N&L. The next day we went to the Thunder Valley Speedway in Bishop's Falls.  If you would like to read about our visit to the Eastbound International Speedway, click on this link:
The Newfoundland and Labrador Touring!
SUNDAY, JULY 22, 2018
Today the plan was simple. We needed to get from the Coastal Inn in Sackville, New Brunswick over to the ferry terminal in North Sydney, Nova Scotia. Our four-hour drive was mainly uneventful. It did rain during much of the drive.
To entertain ourselves we listened to the British Open and the NASCAR Cup race from New Hampshire on my Sirius/XM satellite phone app. That's a great feature to have when doing a lot of driving travel.
Once in North Sydney we begin to look for a place for lunch. Of course, I used my Yelp smartphone app. How did I ever live life before cell phones and cell phone apps?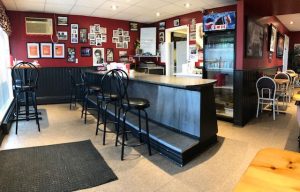 We ended up at Bette's Kitchen. It was actually our third choice. Our first two selections were closed on Sunday.
Bette's was essentially a small diner. They accepted only cash. That was no problem for us. We unloaded all of our Canadian coins, about thirty dollar's worth, that we've been accumulating over several trips to pay for our bill.
I went with the roast beef sandwich special. For an additional $2.50 I could upgrade the French fries to poutine. Who in their right mind wouldn't want to do that? The poutine serving was gigantic. Carol chose a plain hamburger. There's a reason she weighs less than me. It was all good.
At 5:30 p.m. the Atlantic Vision ferry would be taking us on a 16-hour adventure from North Sydney, Nova Scotia over to Argentia, Newfoundland and Labrador. We were very much looking forward to this part of our trip.
We could have simply flown from Boston to St. John's, the capital of N&L. That would have been much quicker and cheaper. However, we really needed to make that stop at Prince Edward Island. When we confirmed we were going to PEI that put a new track visit to New Brunswick in play. Additionally, we really wanted to have the experience of sailing overnight on a ferry boat. How many people get to do that?
We were told to arrive at the ferry terminal at 3:30 p.m., two hours ahead of the scheduled departure time. We pulled in at about 3:10 p.m. At that point we were probably behind 90% of the passengers taking the ferry today. Talk about early birds! We ended up waiting a full two hours before we drove our car onto the ship.
I had done a good deal of pre-planning for this trip. I don't normally do that but I figured that Newfoundland and Labrador was going to be a busy place in the summer. Tourists would be grabbing all of the preferred accommodations. Carol was coming along on this trip. I had to go out of my way to make things the best for her right?
For the 16-hour ferry ride Carol and I would have our own private sleeping cabin. We've done a lot of cruising over the years. I estimate that we have cruised more than 25 times. Nevertheless, we had never stayed overnight on a ferry. It's always fun to do things for the very first time.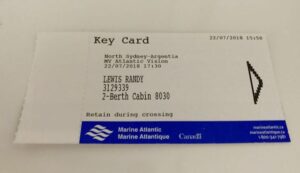 Check-in was simple. Things were so simplified on this cruise that our room key was actually made of light cardboard. We had never seen such a thing. However, it worked quite well.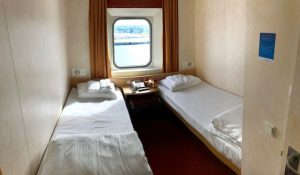 Our cabin was simple and it was somewhat small. We each had our own twin bed. Our stateroom had a TV and a small bathroom including a shower. While lying down on my bunk I looked over at Carol. It was just as if she were my college roommate. How could anyone beat that?
While Carol took a short nap, she's not much of a NASCAR fan, I watched the NASCAR Cup race on our cabin's TV. The race had been delayed several hours by rain. Kevin Harvick would go on to nudge Kyle Busch out-of-the-way in the closing laps for the win. I don't like either one of these drivers, but if one of them had to win I guess I would go with Harvick.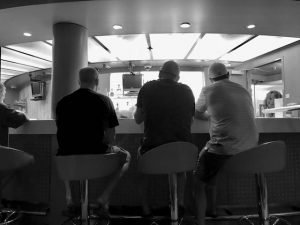 From there Carol and I went into the lounge and enjoyed some of the live evening musical entertainment. We ordered white Russian drinks and mozzarella sticks. After visiting the real Russia Carol is a white Russian aficionado. Yep. It's one of her favorite drinks.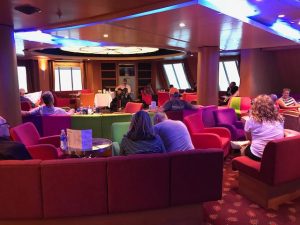 We did some exploring of the ship. It was a little surprising to us that a ferry boat could come so close to reminding us of an actual cruise ship. The Atlantic Vision was initially built in 2001 and refurbished in 2008. It accommodates a little bit more than 900 passengers and more than 500 vehicles. From what we could tell every traveler we encountered was from Canada.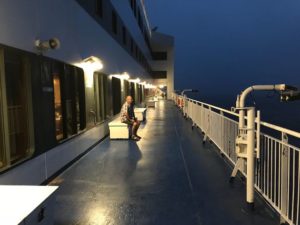 At nearly midnight, after a walk around the outside deck, it was time to retire to our cabin. The most exciting portion of our trip was expected to be just ahead. When we awoke we would be on the island of Newfoundland, which is part of the Newfoundland and Labrador Canadian province. This was the first time we had ever come here.
MONDAY, JULY 23, 2018
Our ship pulled into Argentia, Newfoundland at about 8 a.m. There would be just enough time for us to have the ship's buffet breakfast. It was actually pretty good.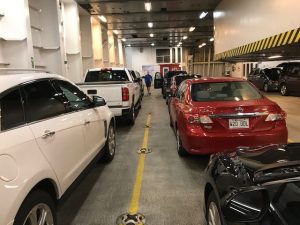 We disembarked the Atlantic Vision ferry at the scheduled time of 10 a.m. The National Rental Car Racing Toyota Camry was waiting for us on deck five. It was extremely convenient to have one and only one rental car from the time we landed in Boston until we returned to Beantown nearly two weeks later.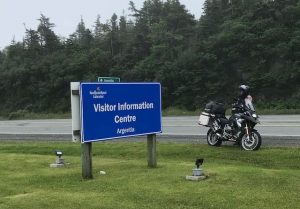 Our first stop was the N&L tourist visitor center. We got some great recommendations and brochures on what might be entertaining activities for the week we'll be in Newfoundland and Labrador.
Off we went in the National Car Rental Racing Toyota Camry. We were headed to the Russelltown Inn in Bonavista, Newfoundland. I noticed our trip odometer had 1919 miles on it when we departed the ferry. We expected to drive another 1,000 miles on the island of Newfoundland. We took a detour to explore a small fishing village, called Southern Harbor. Seeing what local and rural life was like was a highlight of the pictorial trip.
One of the recommendations from the tourist visitor information center was a live theater performance near our hotel. The show was playing tonight. From the car we called up and made a reservation. Soon we had two tickets for the play "Rebel Time" to be performed in Parish Hall in the small town of Trinity. This was all part of the Rising Tide Theatre program.
We made it to our Russelltown Inn B&B in Bonavista, Newfoundland about three hours after we left the ferry. We'll be there two nights.
This is our very first exposure to Newfoundland and Labrador. As you probably know Newfoundland is an island. Labrador is the most eastern part of the Canada's land mass. The architecture all over Newfoundland is most unusual. Carol describes it as "New England gone rogue".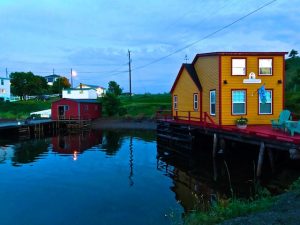 If New England is quaint then Newfoundland is even more quaint. We can't tell if it's New England on steroids or Scotland or Wales. You're not gonna want to miss the photos on this one.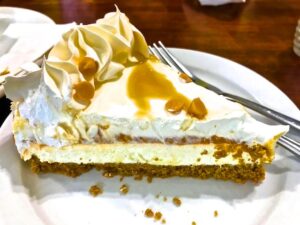 We stopped in a "hole in the wall" place for lunch called Walkham's Gate Pub & Cafe. No tourists here! The all woman serving staff had thick Irish accents. I would come to find out these weren't necessarily Irish accents. They were lifetime Newfoundland accents! We dined on a really good serving of lasagna and the butterscotch cream pie was even better. This was a real find.
Our evening would be spent at the Rising Tide Theater in the town of Trinity. Trinity was a 45-minute drive from where we were staying in Bonavista. The play "Rebel Time" was performed in Parish Hall. Parish Hall was built all the way back in 1898. The second-floor theater seated about 75 people.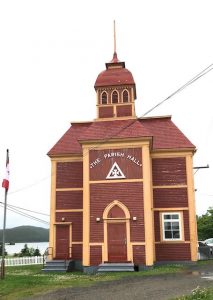 Only two actors performed in the Rebel Time production. The play's setting was the 1940s. The premise was basically a discussion about the future of Newfoundland as to whether or not it should stay part of England or become its own Canadian province. Newfoundland actually did become Canada's 10thprovince on April 1, 1949. There was a lot of dialogue to this play. I was a little surprised that the entire performance lasted only about an hour. That's pretty short for community theater. Nevertheless, it was good being able to observe a "local" production with local people.
Before the play we used Yelp to find a restaurant called the Dock Marina in Trinity. It was only 100 meters from the theater. They were only two reviews on Yelp regarding this place. We gave it a try but didn't find it to be that great. The two Yelp reviewers gave it four stars. It would barely rate three from me.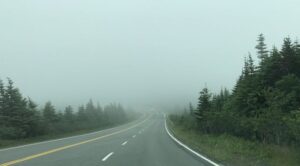 It rained a lot today. The weather forecast looks better for the rest of our time in Newfoundland. I hope so. Most of the drive back to our bed-and-breakfast hotel was in the dark when the play was finished. There wasn't much traffic. I had been told from several native Newfoundlanders that it's best not to drive at night because of the moose activity. So far we haven't seen any moose on this trip but we're on the lookout.
TUESDAY, JULY 24, 2018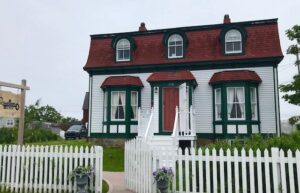 This morning breakfast was served at our Russellville Inn B&B. We don't stay in B&B locations all that often. When we do, we find the experience unique and upscale. That was the case today.
Carol and I were seated with four other guests. Two young men were visiting Newfoundland from Switzerland. Another couple had come back home to Newfoundland where they have grown up.
This morning's breakfast had one fixed menu item. That was French toast with strawberries and bananas. It was served in a lovely atmosphere. Everyone enjoyed the conversation at our table.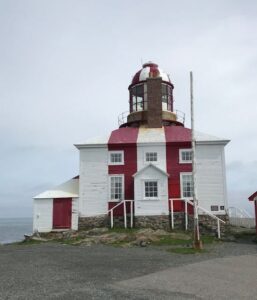 Following breakfast our first activity of the day would be to drive up to Cape Bonavista. They've got an old-time lighthouse up there. From the cliffs at the far end of the city we could see whales. We still haven't seen any moose but we saw whales all day today.
From there Carol and I were headed up to Skerwink Trail. Some 93% of 455 TripAdvisor reviews give the Skerwink Trail a 5-star excellent review. This was a hike recommended by the supervisor at the visitor information center when we landed in Newfoundland.
The Skerwink Trail is located in Port Rexton, N&L. It was about a 45-minute drive from where we were staying. TripAdvisor had told us the roads in Newfoundland were pot-hole filled. In spots they were rough, but nothing really out of the ordinary.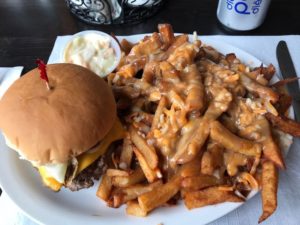 Before the hike we stopped for lunch at the Fireside Dining Room which is part of the Seaport Inn in Port Union. The food was good but the service was excruciatingly slow. At almost every Canadian stop the service has been somewhat indifferent with the exception of the Walkham's Gate Pub & Cafe.
Somewhere along the line I had read a travel report that said it might be best to walk the Skerwink Trail counterclockwise. I can't recall why that recommendation was made. Nevertheless, we were one of only about two groups that went in that direction. We passed everyone else going in the clockwise direction!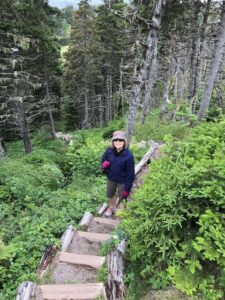 The complete trail walk was going to be 5.3 km or a little bit more than 3 miles. It was a challenging hike. Mind you Carol and I are not frequent hikers. Nevertheless, we are both in pretty decent walking shape for people of any age.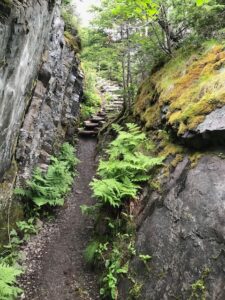 There were lots of extreme ups and downs with steps made from small logs. In places it was very wet from yesterday's downpour of rain. We took our time, saw the sites and stopped to rest whenever we felt the need. Do NOT miss the pictures.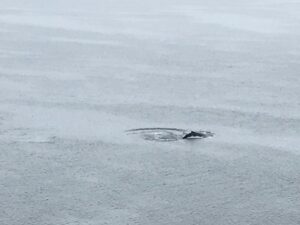 The definite highlight of this hike was seeing four whales playing with each other in a small cove. They slapped their tails on the water making loud sounds. They put on quite a show for the folks watching from high above on the rocky cliffs. Don't miss my video on this one. This was a trip highlight.
When we were finished with the formal hike we had a real sense of accomplishment. We had covered more than three miles of a very strenuous hike that most people would not be able to complete. We were anxious to get back to the car and get something to eat.
However, we had a little bit of a problem finding our car. We would end up walking more than a mile out of our way until we did find where we were parked. Along the way we had to stop and knock on the door of a local resident to ask for help.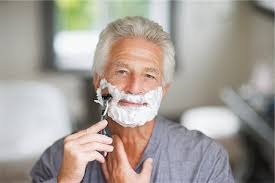 The guy answered the door with shaving cream on his face. He couldn't have been nicer. It can be a little deflating to think that you're just completed a strenuous 3-mile plus walk, you're ready to get back to the car and then you still have another mile to go because of your confusion.
We did have an unusual and unique surprise. As we were pulling away from the trail in our car we encountered the two Switzerland guys we had met at breakfast this morning! They were just getting their gear out of their car to begin the Skerwink Trail hike themselves. What were the chances that nine hours after we had met these two fellows we would meet them again some 30 miles from where we had breakfast? They were happy to see us.
We were pretty well worn out after this hike. We hopped in the car and headed back to our hotel room. There we relaxed for a couple hours until we went out to dinner. For dinner we returned to the Walkham's Gate Pub & Café, only a block from where we were staying.
When I'm traveling I don't normally like to go back to a place we've already eaten at no matter how good it might have been. I want to try new places so I might have the chance to have two different quality experiences. Tonight the service was quick and friendly and the food was good. From there we relaxed for the rest of the evening in our large modern well-appointed modern room.
Tomorrow after breakfast we will make the 3 ½-hour drive down to St. John's. St. John's is the capital of Newfoundland and Labrador. We'll be there for three nights. We're hoping to go trackchasing both Saturday and Sunday this coming weekend. However, as we continue to check the weather forecast it's a little bit iffy. I hate to think we would have to come back here again. I like Newfoundland. Don't get me wrong. We came here to trackchase and tour. We'll have to wait-and-see on the weather.
WEDNESDAY, JULY 25, 2018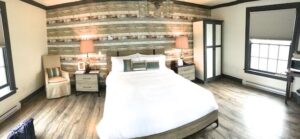 Today we checked out of the Russelltown Inn after two nights in Bonavista, Newfoundland. Our stay had been great. The Russelltown Inn was a very good choice.
Breakfast was included in our room rate. Today we were served fish cakes and eggs, which was part of a fixed rotating menu. This menu changes each day over a three-day period. Like I say we don't stay in B&Bs that often. Nevertheless, I had never seen a meal service performed in this manner.
At a B&B you are very likely to be seated with other guests in the breakfast room. That was the case today as it was yesterday. Today we were seated with some folks from Alberta, Canada. It was fun talking to them about their travel experiences. Probably 80% or more of the people we've met in Newfoundland have been touring from other parts of Canada. We've met almost no state-siders.
Over a period of eight days we will drive about 1,000 miles in Newfoundland. To some that might sound like a lot. To us, it's a light driving schedule. Today the drive would be 3 ½-hours from Bonavista over to the capital of Newfoundland and Labrador, St. John's.
The drive was uneventful although a little slow. Much of today's trip was on two-lane highways. That slowed us down especially when we got behind trucks and buses.
GPS certainly makes these trips a piece of cake. I figure when I'm too aged to drive myself self-driving cars will be doing the driving. That way I can keep doing this until I am well past one hundred!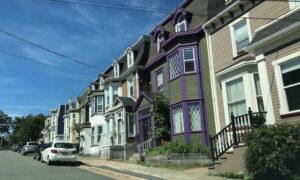 We easily found our hotel in St. John's. We're staying at the Rendell Shea Manor. It's an old Victorian house built in the 1800s. One might think it was a bed-and-breakfast, however they don't serve breakfast. I guess that makes it just a place to stay overnight. We'll be here for three nights. Carol likes to stay in one place as long as we can compared to changing hotels every night. I see her point. I try to accommodate her wishes whenever I can. A happy wife makes for a happy life.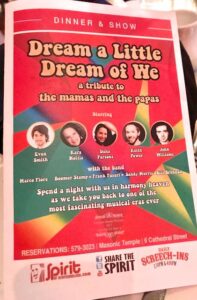 I'm constantly searching for activities to entertain Carol on her quarterly trips. Yes, that's what I call her longer touring adventures. I came up with a good choice for tonight. There was a dinner theater located in the Masonic Temple in downtown St. John's. The Masonic Temple was within easy walking distance from our hotel.
The dinner theater was featuring a musical review of the Mamas and Papas music group. Dinner at the theater was so so and service was a little bit on the slow side. The service at almost all of the Canadian restaurants that we have visited has been very slow and deliberate.
Tonight's room held about 110 guests. A tour bus from Prince Edward Island brought nearly half of the theatre goers. Carol and I were seated at a table for two.
The highlight of tonight's show was obviously the four singers. They were two men and two women. The quarter was excellent. These young folks, in their early 30s, covered the songs of the Mamas and Papas but lots of other groups from that era as well. They were backed up by four-piece band. Between songs they provided a narrative to explain the history of the Mamas and Papas including names like Mama Cass.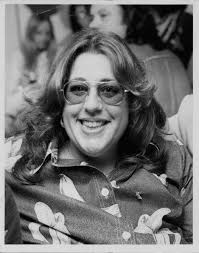 Carol and I saw Mama Cass in concert at the Beverly Hills night club in Northern Kentucky back in the early 70s. We were living in Cincinnati, Ohio at a time. Within the year Mama Cass would be dead at the age of 32. She died in her sleep in London.
Just four years later the Beverly Hills supper club would suffer a major fire. Some 165 people died in that fire. It was the third worst night club fire in the United States at the time.
After the show we walked back to our hotel. We were staying downtown and much of the restaurant scene and touring activities were within easy walking distance. We felt safe at all times.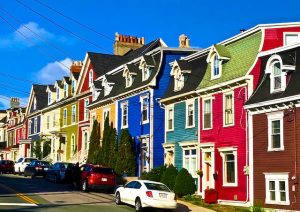 We passed through the "jellybean rowhouse" section of St. John's. These homes were built in the Victorian style like you might see in San Francisco. Each one sports an exterior color from red to blue to green and yellow. It must be a law that you can't paint your house the same color as your neighbor. It's very colorful! This is the jellybean rowhouse section of St. John's.
Tomorrow we're going to try some more hiking. We're also looking forward to seeing the easternmost part of both Canada and North America. That should be fun. By the way this is all true if you consider Greenland, which is controlled by Denmark, to be part of Europe.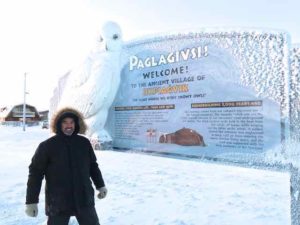 Earlier this year I was in Barrow, Alaska (above with my guide), which is the northern most location in the United States territories. Years ago we were in the southern most location of United States around Key West, Florida. I'm not sure where the western most point of North America is. I'll have to check that out.
Checked it out. The western most point of North America is Cape Prince of Wales, Alaska.
THURSDAY, JULY 26, 2018
For some reason it seems like every day this week was like Saturday. In point of fact, it was only Monday, Tuesday, Wednesday and Thursday. Yes, when you're retired it seems as if every day IS Saturday.
Today we would grab a quick breakfast and get back on the hiking trail. We are not hikers but since the North Head Trail was the #1 rated TripAdvisor attraction in all of Saint John's we couldn't pass it up.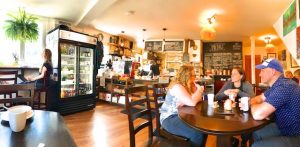 We consulted Yelp and found a 5-star rated place for breakfast. That rating came from 10 reviewers. The restaurant was called the Battery Café. Sadly, this was more of a yuppie like place than a get down and get dirty and get your breakfast place. Carol had the "porridge" a.k.a. oatmeal. I went with the French toast which tasted more like bread putting. I had no problem with that. I love bread pudding. These folks didn't even serve more traditional breakfast items such as eggs, bacon and sausage at all.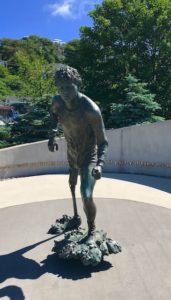 From the Battery Café we walked down toward the St. John's Harbor. There we saw the #7 TripAdvisor attraction in St. John's, the Terry Fox monument. Terry Fox was a young Canadian man who developed a malignant, cancerous tumor in his right leg. His leg ended up being amputated above-the-knee. Terry went on to try to run across the entire east to west distance of Canada to drum up support to fight cancer. He started in Newfoundland and made it all the way to Thunder Bay, Ontario a distance of 3,339 miles. However, from there his cancer worsened. Nine months later, in 1981, Terry died.
Our next adventure would be the North Head Trail. This was the #1 rated attraction in all of St. John's, Newfoundland and Labrador. That seemed especially noteworthy because St. John's is the capital of the province.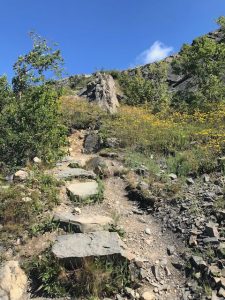 This is a challenging trail built by Parks Canada. It rises in elevation some 500 feet. It wasn't as tough as yesterday's hike at Skerwink but still was a lot of fun.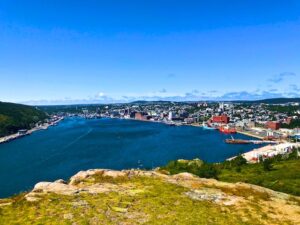 At the top of the North Head Trail was Signal Hill. On top of Signal Hill sits a castle-like building overlooking St. John's harbor. It's the #2 attraction in St. John's. The views were spectacular. We were knocking them off today!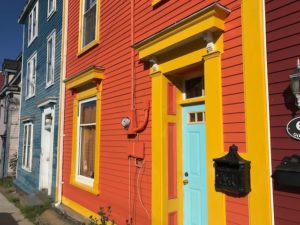 Yesterday we had seen the jellybean row houses. Yep. This was the #10 attraction in St. John's. It was fun to see the colorful houses built in the Victorian style.
Along the North Head Trail hike today we ran into a couple from Philadelphia. We got to talking with them and finished up the rest of our hike together. That part of the walk took us out to the Quidri Vidri Brewery. They make Iceberg Beer there. We relaxed in the brewery and enjoyed ourselves with a few brewskis.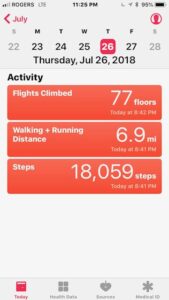 By the end of the day my step counter from my iPhone told me we had covered 6.9 miles, more than 18,000 steps AND 77 flights of stairs. I thought that was pretty impressive.
Carol and I wrapped up our evening with a delicious Indian dinner at a place called Indian Gate in downtown St. John's. It was a four-star rated Yelp recommendation. I think it might've been the best Indian food I've ever eaten.
Although it was only 6:30 p.m. in the evening we had had a pretty full day. We tried to get tickets to a play but they were sold out. Nope. We never give up looking for fun things to do! We would spend the rest of the evening in our suite and plan for more action tomorrow.
FRIDAY, JULY 27, 2018
We had more exciting touring plans scheduled for today. We started with a drive out to Cape Spear. This is the easternmost location in all of North America.
There were quite a few other tourists checking things out there as well. We walked around the grounds, which included a steep hike up to a lighthouse as well as a great view of the huge guns used in World War II to fend off the Germans.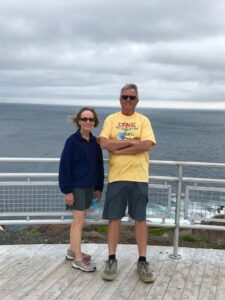 Our next planned stop would be at Burgoynes Cove. Like most of the places we visit we initially found this idea after checking out TripAdvisor's things to do list. Initially, it looked like Burgoynes Cove would be about an hour's drive from Cape Spear. Upon further examination it was going to be a 2 ½-hour drive from St. John's. That was too far for us to go today.
We were both looking forward to that visit because it included a nice hike as well as a view of a United States Air Force plane, an 18 RB-36H reconnaissance aircraft from the 28th Reconnaissance Wing out of Rapid City Air Force Base in South Dakota, crash debris site from all the way back in 1953. Apparently the debris field is so remote they haven't seen the need to remove anything. I guess we'll save that for the next time, if there is a next time, we visit Newfoundland.
With no major other major attractions looking good for the day we went over to the Avalon Mall in St. John's. There, we were just in time to see the new Mission Impossible Fallout movie starring Tom Cruise. It was action-packed and fun to watch.
Later in the evening we used a Yelp recommendation to dine at a place on Duckworth Street called Piatto. It was as good of a little Italian bistro as one could find. Duckworth Street is the main drag in downtown St. John's. It has all kinds of unique shops. Parts of St. John's will definitely remind you of downtown San Francisco.
From there we retired for the evening. The weather is looking better for our racetrack visit on Saturday, but less so for the racetrack visit on Sunday. We are less than 24 hours from the start of racing at the Eastbound International Speedway and Concert Park. I'm hoping for the best, weather-wise on that one.
I also got a call from a reporter at The Telegram newspaper in St. John's. She wants to do a feature story on Carol's and my visit to the area. It's rather amazing how these people discover the fact that we are visiting. I guess that's why they are investigative reporters!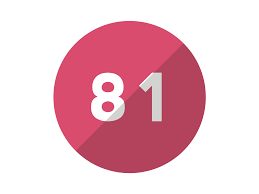 Carol and I spent a little bit of time planning what may very well be my 81st trackchasing country visit this evening. That trip will be Carol's "fall" quarterly vacation adventure. We're planning a strategy that may very well benefit her even more than me in the foreign country trackchasing category. More on that later.
SATURDAY, JULY 28, 2018
We had just four things to do today. The first two were important. The last two were very important. 
After checking out of our 1800s Victoria house/hotel in St. John's we headed over to the local laundromat. Of course, I used Yelp to get a recommendation on the best laundromat in town. St. John's only has two!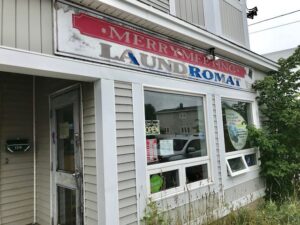 We would spend two hours in the Merrymeeting Laundromat on…..wait for it, Merrymeeting Road. This was day #11 of our trip. It was about the midpoint on my trip even though Carol has only four more days to go on her vacation.
I knew that if we did our wash today for my clothes I would have just enough clean clothes to make it through the next 10 days or so. Yep. There's a lot of strategy that goes into my trackchasing hobby.
Today's racing was expected to begin at 5 p.m. Being in St. John's we were only an hour or so from the track. That meant we had time for one more Trackchasing Tourist Attraction in town.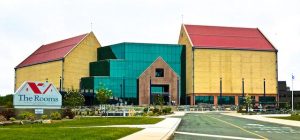 Earlier we had consulted TripAdvisor about what to see and do in Newfoundland. We've been knocking off the top St. John's attractions one by one. This afternoon we went over to the "The Rooms". This was TripAdvisor attraction #5. The Rooms is a huge museum. I was most impressed by its architecture. It must have taken some very creative minds to design this building.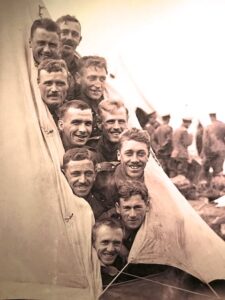 Inside was a wide variety of exhibits ranging from a World War 1 display, an art gallery, a film theater playing interviews of locals explaining how they lived off the land and lots of other things. Please don't miss the photos.
It looked as if the rain was going to hold off for our racing this afternoon at the Eastbound International Raceway and Concert Park. We had been concerned about that during the week. Today my weather app told us the rain was expected at about midnight long after the races would be finished.
I had contacted the track earlier. I told them about our visit. They didn't seem too enthused that the World's #1 Trackchaser and Trackchasing's First Mother were going to be seeing their very first Newfoundland and Labrador track at Eastbound. That's O.K. I get that reaction from time to time.
However, the St. John's leading daily newspaper, The Telegraph WAS interested in our visit. Earlier in the week we had been contacted by a reporter, Juanita Mercer. She wanted to set up a meeting with us at the track this afternoon for an interview. That was great. The more international exposure I can give to the hobby of trackchasing the better.
We agreed to meet Juanita at the track at 4:30 p.m. Racing was scheduled to begin at 5 p.m. Juanita was a very cheerful, intelligent and well-organized reporter. She came with a list of questions. I've been interviewed many times. I can't recall a reporter coming with a full notepad of questions before! She did the interview with Carol and me by recording our conversation on her iPhone. Reporters do that nowadays.
Today is Saturday. The story is expected to run in Monday's addition of The Telegraph. We are leaving that morning but will try to get a copy of the paper. If not it will be published online. We'll see it there.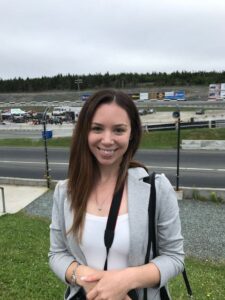 Juanita is a general interest reporter for the paper. She didn't have any special knowledge of auto racing. However, she seemed intrigued by the human-interest aspect of our story. We enjoyed telling our story and meeting Juanita.
Editor's note:
We didn't get a hard copy of our newspaper interview. However, Juanita was kind enough to send us an electronic copy. Here's the link if you'd like to see it.

Thumbs up for Newfoundland Racing Scene
To see my Trackchaser Report from the Eastbound International Speedway and Concert Park click on this link: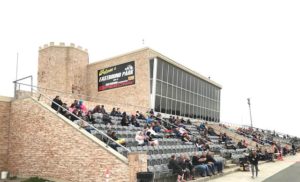 Racing from one of the best facilities in all of Canada….the Eastbound International Speedway and Concert Park
AFTER THE RACES
Following the races at Eastbound, we had a three-hour drive up to Gander, Newfoundland. I was a little concerned about that drive. Most of it was going to be done after dark. I had been told by several travel planners that driving after dark in Newfoundland could be a major problem with their moose population. Someone told me the province has 150,000 moose. Knock on wood…we haven't seen a single one yet.
We pulled into the Quality Inn and Suites Hotel in Gander at nearly midnight. This would be our first chain hotel all week. It felt comfortable.
Tomorrow's trackchasing plan has us visiting the Thunder Valley Speedway and Bishop's Falls, Newfoundland and Labrador. Rain is in the forecast. I'll tell you all about that in my next Trackchaser Report.
The management at the Thunder Valley Speedway had moved up their race time from 2 p.m. to 1 p.m. for Sunday. Rain was expected to hit sometime in mid to late afternoon. That one-hour difference could be a lifesaver for being able to get all or at least part of the program in the books. We'll have to see what the weather brings tomorrow.
SUNDAY, JULY 29, 2018
THE RACING
Thunder Valley Speedway – Bishop's Falls, Newfoundland and Labrador
The management of the Thunder Valley Speedway had moved up today's racing start time from 2 p.m. to 1 p.m. Rain was expected to hit sometime in mid to late afternoon. That one-hour difference could be a lifesaver for being able to get it all or at least part of the program.
This morning we didn't have to check out of our Gander, Newfoundland located Quality Inn and Suites until 11 a.m. That was a good thing. We never get enough rest on these trips. From there Carol and I headed directly to the Thunder Valley Speedway in Bishop's Falls, Newfoundland.
Rain was in the area as predicted. I was thrilled the track's management was going to start an hour earlier than planned. That was good thinking on their part. It can be very dis-heartening to travel such a long distance as we did and get rained out. I suspect the fan who lives just down the road from the track feels the same way.
We pulled into the track at about 12:30 p.m. I had contacted the Thunder Valley promoter Brad Melendy in advance regarding our visit. I wanted to get the lay of the land regarding today's racing. Brad told me to check with him when we arrived at the gate. The first person we met at the ticket booth was a native Newfoundlander named Jeri. She was nice and friendly. We were getting off to a good start with the Thunder Valley Speedway. Jeri sent us in the direction of Brad's wife, Amy.
Soon we met up with Amy who was as friendly as could be. She escorted us down to meet her husband Brad. Brad and Amy both promote the races here at the Thunder Valley Speedway and have been doing so for three years.
Once in the pit area we were introduced to several folks. We took our time exploring the racing competition in the pit area today. There would be four classes of racers on the track today. There were four Bandoleros, five sportsman and about a dozen hobby stocks. Another exhibition class, the junior Bandoleros, brought two competitors.
It was a warm and humid day. The rain that was forecasted to come in at about 3 p.m. never came. This was despite the fact that patches of green, indicating light rain on my phone's weather radar app, appeared right over our location.
All of the racing at the Thunder Valley Speedway is done during the day. They don't have lights. The concession stand is a food trailer. They offered all kinds of food choices there including, the "wiener mess". I never did get around to asking exactly what that was. I'm suspecting it was a wiener with Canada's famous poutine but can't say for sure.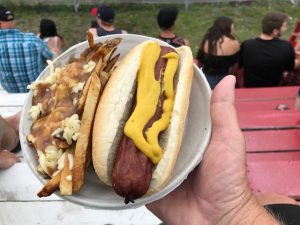 Later in the day we went with the sausage sandwich combo. Like any true racing fans in Canada we upgraded our fries to poutine. It was all excellent.
Today's announcer, Trace Ledrew, was fun to listen to. He talked a mile (kilometer?) a minute. He offered up some funny Canadian phrases to describe the action while informing and entertaining the fans.
During intermission I got a chance to go up and say hello. We didn't talk over the mic but was it was fun just meeting the announcer. He had some pretty strong opinions on the current state of racing and I think he was right.
They may have shortened the program a little bit today because of the potential wet weather. In the pit area one driver told me they would run two qualifiers (heat races) and a feature event. From what I could see today they ran just one heat race and one feature for each division. The heat races were long, 20 laps. The feature race went for 40 laps for the hobby stocks and sportsman cars. That was a little long for five sportman stock cars, but with so few cars they also didn't have a yellow flag problem.
The Thunder Valley Speedway is what I would call a "rustic" track. It reminds me of several of the oval tracks that I've seen in the United Kingdom. Almost every one of them is "rustic" as well.
The racetrack itself was an asphalt oval. It was pretty narrow and looked as if it was only two or three car widths wide most of the way around. My panoramic photo makes the track look more circular than oval. I sort of wanted to call it a quarter-mile track but Carol convinced me it was probably a little bit smaller.
The track announcer told the crowd about my visit to the speedway today. He gave me a rousing introduction and then asked me to stand and give a wave to the crowd. Canadians are always very thoughtful and friendly. You can hear what he had to say about our visit by watching and listening to the Thunder Valley Speedway video.
I'll also recommend that you take a look at my YouTube video to see what today's racing was like. That's always my recommendation. There was some good action, especially with the hobby stock division. I think lots of other tracks would call the hobby stocks at Thunder Valle mini-stocks but that's not the case here.
There are only two active racetracks in the province of Newfoundland and Labrador. Both of those tracks are on Newfoundland island. Normally when one track races during a given weekend the other one is dark. On this particular weekend both tracks were racing. Eastbound went on Saturday and Thunder Valley on Sunday. That's why we chose to come to N&L this weekend. The weather was touch and go for both race dates but we were lucky to get them both in the books.
I don't know if or when we will ever get back to Newfoundland and Labrador. I suspect that if they opened a new track or if either of the ovals that we saw this weekend came up with a road course and/or a figure 8 track we might make the trip again. We had a wonderful time here with all kinds of interesting tourist attractions, good food and nice people. I'd be less than direct if I didn't tell you it is both time-consuming and expensive to make this visit.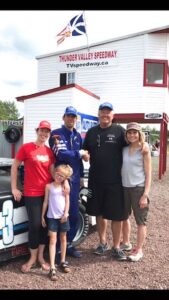 We closed out our visit to the Thunder Valley Speedway with a "group photo". Brad and Amy and their daughter joined us for a great picture. Thanks to everyone, and there were a LOT of folks, who came up to say hi and meet us. We really appreciated that.
AFTER THE RACES
Following today's racing we had a three-hour drive over to Corner Brook, Newfoundland. It rained almost the entire way. I guess we were really lucky to avoid the rain fall at the track today.
Tonight's accommodation was going to be the funkiest of the trip. We would be staying in a college dormitory room on the campus of Grenfell University. I'm not sure where I came up with this idea. In hindsight it was a bad one.

We were staying in at "RA's" room in the dormitory. Of course, "RA" stands for resident assistant. You might be interested to know that Carol and I met each other in college during our sophomore year when we were both resident assistants!
Our room was huge. It had a full refrigerator, microwave, stove and kitchen. The room had several chairs in it. However, it was totally missing the boat in two important areas. There was no air conditioning. It was hot and humid in the room and sleeping was going to be difficult. Secondly, the room only had a double bed. That's not good either.
Who had checked into our room at 8:30 p.m. We needed to be out tomorrow by 6:30 a.m. When we left our "dorm room" we would have a 2 ½-hour drive over to Port aux Basques. There we would board a ferry for the six-hour journey back to North Sydney, New Brunswick. North Sidney is where we started our trip to N&L where the ferry comes into Argentia, Newfoundland and Labrador.
MONDAY, JULY 30, 2018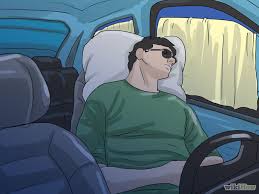 You're not going to believe this. I slept in my car last night rather than in the college dorm room Carol and I had rented. Did Carol kick me out? Nope! It was just too danged hot. I couldn't stand the "sleeping sauna. It wasn't all that much better in the car…but it was better.
Carol put up with the heat in the room. She doesn't quite have the "push" I seem to have when it comes to correcting problems. If stuff doesn't meaure up for me, I take action.
This morning we needed to drive from Corner Brook to Channel-Port aux Basques to board a ferry boat to North Sydney, Nova Scotia. That would be a two-hour drive. Then after we waited to board the ferry for a couple of hours it would be a six-hour boat ride. Nope. If you were thinking this trackchasing stuff is easy to navigate you might want to think that one over again.
We stayed overnight at the Sackville Inn in Sackville, New Brunswick. Recall, we had stayed for two nights about a week ago!
TUESDAY, JULY 31, 2018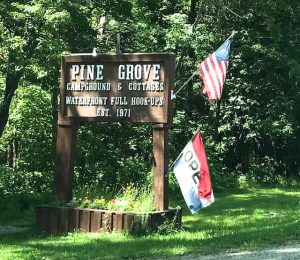 From Sackville, it was nearly a four-hour drive to cross back into the U.S. at Houlton, Maine. This afternoon's destination was the Pine Grove Campground in Medway, Maine. No, we would not be camping.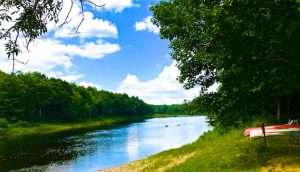 We were going to visit our son-in-law's mother and stepfather, Katie and Jeff. They own the Pine Grove Campground. We found it easily. The campground is in the middle of a….wait for it….pine grove. It's a beautiful spot.
We spent a couple of hours there, it was our first visit, getting the tour and just visiting. Katie is a gourmet chef. She sent us off with two of the biggest cinnamon rolls I've ever seen. They were beyond fantastic. However, to be honest, they didn't make it as far as Portland, Maine. They were "best ever". It was fun seeing Katie and Jeff and we really appreciated their hospitality.
We would be staying the night in Portland, Maine. Portland is home to a minor league baseball team, the Portland Sea Dogs. The Sea Dogs are the AA affiliate of the Boston Red Sox. We spent the evening watching baseball.

The weather was nice for a ball game at Hadlock Field. The place seats 7,368 and it was nearly full on a Tuesday night. We had a good time at the old ballpark.
Tomorrow both Carol and I were on the move. We had spent nearly the last two weeks together in eastern Canada. Now, she would head to Los Angeles. I would fly to Detroit. Folks, sometimes that's how it needs to be done.
WEDNESDAY, AUGUST 1, 2018
This had been an excellent trip. We tried to do the Newfoundland and Labrador adventure a few years ago but weather scared us off. It was good to finally get to visit N&L. It's a fun place to tour and I recommend you try it. However, when the door closes on one trip it seems to open on another for us. We've got a busy year planned and we're just getting started.
Good day from all over Newfoundland and Labrador.
Randy Lewis – 80 countries – 2,470 tracks.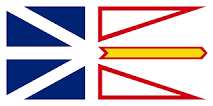 Newfoundland and Labrador
The A World of Difference province
This afternoon I saw racing at my very second lifetime track in the "A World of Difference" province, yes, the "A World of Difference" province. I hold the #3 trackchasing ranking in Newfoundland and Labrador. 
Thanks for reading about my trackchasing,
Randy Lewis
World's #1 Trackchaser
Peoria Old Timers Racing Club (P.O.R.C.) Hall of Fame Member
Newfoundland and Labrador sayings: Ow's she cuttin', me cocky?
How are you, my friend?
QUICK FACTS
LIFETIME TRACKCHASER COMPARISONS 
The threemost important trackchasing comparisons to me are:
Total lifetime tracks seen
Total "trackchasing countries" seen
Lifetime National Geographic Diversity results
Total Lifetime Tracks
There are no trackchasers currently within 655 tracks of my lifetime total.  Don't blame me.
Randy Lewis, San Clemente, California – 2,471
Total Trackchasing Countries
There are no trackchasers currently within 25 countries of my lifetime total. 
Randy Lewis, San Clemente, California – 80
Current lifetime National Geographic Diversity results
Randy Lewis, San Clemente, California – 4.14
That's all folks!  Official end of the RLR – Randy Lewis Racing Trackchaser Report
Click on the link below to see the video production from the racing action today.
Click on the link below for a photo album from today's trackchasing day.  You can view the album slide by slide or click on the "slide show" icon for a self-guided tour of today's trackchasing adventure.
Thunder Valley Speedway…home of friendly people and fun racing
.
.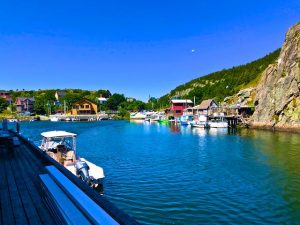 The trip to Newfoundland & Labrador – non-racing photos