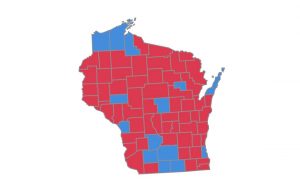 Greetings from a few places in Wisconsin
From the travels and adventures of the 
"World's #1 Trackchaser"
The EventPhotos
Crandon International Off-Road Raceway
Dirt road course
 Lifetime track #880
.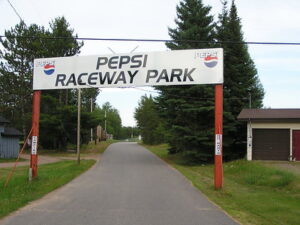 Pepsi Raceway Park
Asphalt oval
 Lifetime track #881
.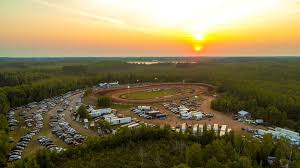 TNT Speedway
Dirt oval
 Lifetime track #882
Reprinted with permission from my Saturday, June 25, 2005, Trackchaser Report. 
THE CLASSIC TRACKCHASER REPORT

Editor's note: This is a CLASSIC Trackchaser Report. What the heck does "Classic" mean? It's simply a Trackchaser Report that comes from my trackchasing archives. Typically these will be stories from tracks I visited five years or ten years or more ago.
For whatever reason (usually not enough time) this trackchasing adventure didn't get posted to my website when I first made the track visit. Often a classic TR will not have a video and/or photo album attached. I didn't begin producing my YouTube videos until 2009 (YouTube channel: RANLAY). I didn't begin writing a complete Trackchaser Report until I had seen about 425 tracks. This was during the 2000 trackchasing season. Photo albums were sort of hit or miss during the early years of my trackchasing. Additionally, if you see a website link know that link worked when the TR was originally written. Will it work now? Your guess is as good as mine! Nevertheless, this CLASSIC Trackchaser Report has finally bubbled to the surface and is now available for everyone to see at www.randylewis.org. I hope you enjoy it.
I AM A TRACKCHASER.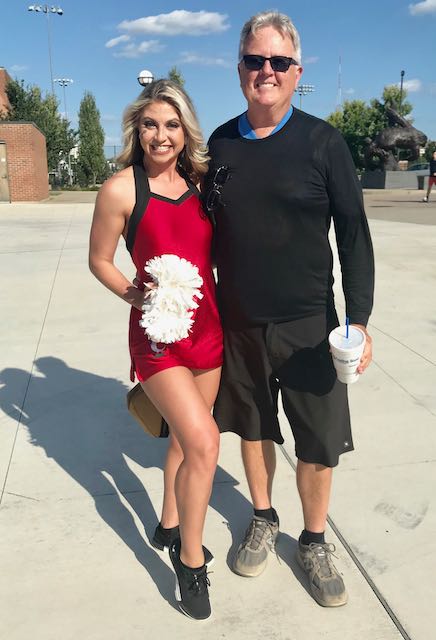 My name is Randy Lewis (enjoying some trackchasing pagentry above). I hail from the sleepy little village by the sea, San Clemente, California. I am a "trackchaser". I trackchase. Have you ever in your life heard of "trackchasing"? I didn't think so. 
I live in southern California. That's probably the most inconvenient location in the country for seeing tracks in the U.S. Most of the racetracks in the U.S. are located well over 1,000 miles from where I live. My average trip covers 5,000 miles and more. I take 35-40 of those trips each season. In any given year I will travel well over 200,000 miles, rent more than 50 cars, and stay in more than 150 hotel rooms. 
I get the chance to meet people from all over the world. With trackchasing trips to 85 countries and counting just getting the chance to experience so many unique cultures, spend time in the homes of my friends and meet so many people is a huge reward for being in this hobby. I am indebted to several of these folks for their help and friendship.
Once you begin researching my trip itineraries from my website, yes you will want to do that, you will be surprised. One day I'll be in Tucson, the next in maybe Tuscaloosa and the following day in Syracuse. I do that kind of thing all the time. Figuring out the logistics of a trip like that is as much fun for me as watching a figure 8 race.
Now you know a little bit about my trackchasing addiction. When you receive one of my Trackchaser Reports or find one on my website at www.randylewis.org I hope you will take the time to imagine in your mind what it took to make this trip from SoCal and understand the fun I had doing it.
There you have it. That's trackchasing…the way I do it. Do others trackchase? Absolutely. Do they share their experiences? Sorry. They don't. If you want to see the true "essence" of trackchasing you've come to the right place.
Today's adventure was one more of the 2,000 trips that have taken me up, down and around the proverbial long and dusty trackchasing trail.  If you would like to see where I've been and experience those adventures here's the link:
If you've got a question, comment or whatever please leave it at the bottom of this report.  It's very easy to do.  Or you can visit me on Facebook.  Thanks!
FOREWORD
Saturday, June 25, 2005.
Greetings from Crandon, Wisconsin and then Tomahawk, Wisconsin and finally Three Lakes, Wisconsin,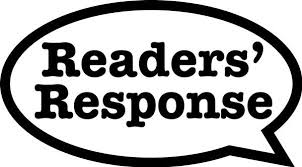 AND THE READER'S RESPOND:
I recently wrote that I felt all red-blooded Americans should rely on their verbal skills to talk their way out of speeding tickets rather than trying to suck up to the cops with those cheesy (a Kristy word) police decals affixed to a car's rear window.
Kindred P. of Clearwater, Florida writes, "If your verbal skills are so manifest why didn't you demonstrate them for me when the South Carolina Highway Patrol stopped us on the way to North Wilkesboro?"
Kin is absolutely right.  I was AWOL in using my verbal skills to help get Kin out of his ticket.  Permit me to say a few words in my own defense.  First, I had never seen a state police officer as big and menacing as the guy who stopped us.  Secondly, I had never been pulled over in a construction zone, where the fines are doubled, before.  Thirdly, I had never seen or heard of a Lincoln Town Car traveling so fast on a public highway until that day.  Finally, I had never traveled with anyone who carried two state's driver's licenses (one for speeding arrests and one for identification).  All of the above must have left me speechless.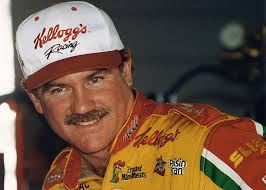 All of that notwithstanding, I would not want my readers thinking I left Kin totally holding the bag.  My offer to pay half the speeding ticket was gladly accepted and we motored on to North Wilkesboro back on April 17, 1988, to see Terry Labonte (above) wheel a Junior Johnson Chevrolet to victory lane.
P.S. Carol had to remind me about the two separate driver's licenses!
PEOPLE/TRAVEL NEWS
We woke up today in a very upscale Super 8 Motel in Marshfield, Wisconsin.  This hotel might have been a Holiday Inn Holidome in a previous life.  In the next 26 hours or so, we expected to drive 10 hours, see three new racetracks and get a little shuteye. 
At that point, Carol will return to California and I will head off to Michigan.  It was raining lightly when we left the motel this morning but the weather forecast for Northern Wisconsin was good.  There is bad weather just to the south of us, but I'm lucky with the weather and don't expect any problems today.
RACE TRACK NEWS: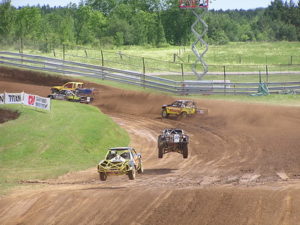 CRANDON INTERNATIONAL OFF-ROAD RACEWAY, CRANDON, WISCONSIN – TRACK #880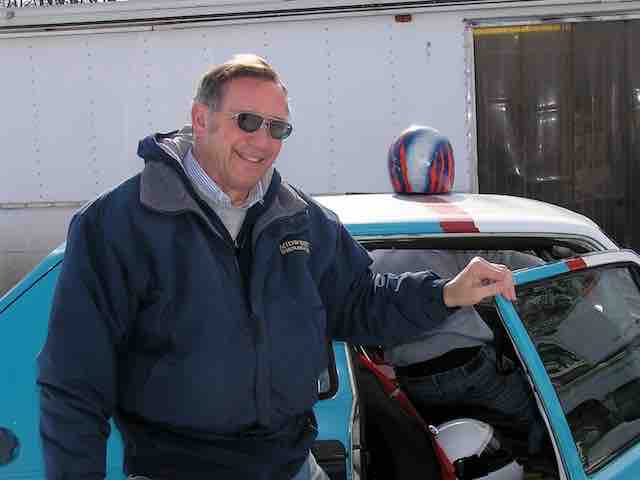 This speedway and the two that followed today bring me to 36 lifetime tracks in Wisconsin.  These were Carol's 192nd, 193rd and 194th-lifetime tracks.  These tracks move me up to eighth place in Wisconsin.  Ed Esser (above) leads the Wisconsin standings with 93 tracks.  I have 20 countable tracks in the state still to see, of which about 12 race on a weekly basis.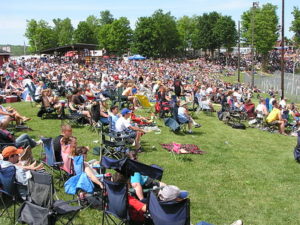 The Crandon International Off-Road Raceway (this was the official name on all signage and souvenir t-shirts) was the highlight of the day.  Carol estimated the crowd at 6,000 people.  There were no bleachers or any formal seating areas.  Most of the people sat in lawn chairs on the hillsides that overlooked the track.
The track itself is a dirt road course with several jumps, changes in elevation and sharp turns.  The racers start the race in a "Oklahoma Land Rush" start.  They start out of sight from most of the spectators.  We were in the pit area and could see the start of one nine-truck event.  The first "row" had seven trucks with two trucks in the second row.  At the signal to go, each truck hit the gas and raced about 500 yards in a straight path before entering the dirt part of the course and coming into view of the fans.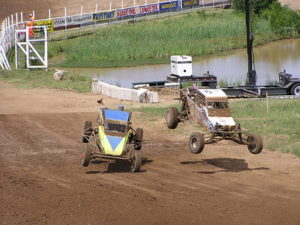 A vast majority of the fans were of the 15-25-year-old age group.  Many of those folks had some horrific sunburns and today's picture-perfect weather was not helping them.  The crowd appeared very knowledgeable about the classes and the drivers.  The event was sanctioned by C.O.R.R.  I was reminded on the track's water truck that C.O.R.R. would "be coming to California" the last weekend of September and the first weekend of October.  I remember seeing this mentioned on their website but the last time I looked there was no mention of specific locations.
We stayed for five feature events at Crandon. This was the first half of our day/night double with the Pepsi Raceway Park. 
Carol really enjoyed this event.  She commented that there were lots of tattooed women, "old ones too".  She liked the professionalism of the program and the jumps.  She said she really liked the start, so I am guessing she would be appalled at watching just two cars start at a time in a West coast off-road event.  She appreciated the track regrades between each event since the track surface got torn up during each race.  She liked it when the promoters threw t-shirts and caps to the kids during these breaks.  She did not like the idea that there was no place to sit, since we did not have any lawn chairs with us.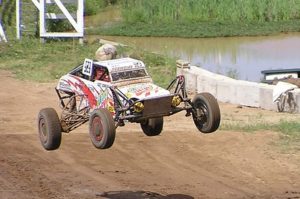 The jumps at 4-5 locations of the track made for some interesting and entertaining action.  Some of the trucks were in the air for nearly three seconds coming over these jumps.  My digital camera was getting a workout, and hopefully I will have some good pix to share with you on my website.
PEPSI RACEWAY PARK, TOMAHAWK, WISCONSIN – TRACK #881
If you are in Northern Wisconsin and can only pick between the Pepsi Raceway Park and TNT Speedway, do not pick the Pepsi Raceway Park.  This track was only a notch above my three all-time worst tracks, Glad Rag Raceway (NY) – dirt, Ninety-Three Raceway (OH) and Cora Speedway (CA).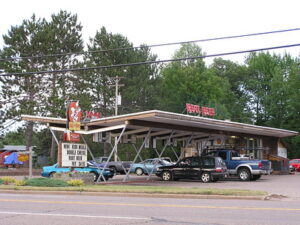 What made it so bad?  It really was not the racing, it was their organization, attitude and amenities (lack of).  We did have one highlight.  We ate at the Dog N' Suds before the races about a mile south of the track.  This Dog N' Suds was established in 1963 and has curb service.  The most unusual items on the menu were deep fried pickles and Mello Yellow.  We stuck with the tenderloin and Coney dog.  Our visit reminded me of when my mother would take my sister and me to the local A&W in Creve Coeur.  We would have a large root beer, 10 cents (a small root beer, 5 cents, if money was tight) and an ice cream sandwich, 10 cents.
The admission charge for the PRP was $10.  This was one of the most overpriced venues I have seen in some time.  I picked the PRP as the first half of my evening blended double because they had a scheduled start time of 7 p.m.  The TNT Speedway was supposed to begin at 7:45 p.m.  Taking the tracks in this order would add an hour to our drive tomorrow back to O'Hare but allow us to see more racing if everyone started on time.
The track had just three divisions racing and only one of them, the street stock bandits (25), had more than 10 cars.  The pro-bandits and super stocks had five each. 
The announcer was really bad.  Even though he did his best to read most of my trackchaser press release, he could hardly get through the material.  Carol asked me if he might be drunk.  He was very fond of reminding the crowd of the upcoming 50-lap Firecracker event coming next week.  He must have mentioned that at least 10 times during the first 20 minutes we were at the track.
We had pulled into PRP at about 6:45 p.m.  They were just finishing up time trials.  Even with a small car count and a small crowd, they did not start until about 7:20 p.m.  The crowd was becoming agitated.  The two guys in front of us were regular stand-up comics as they countered most comments made by the announcer with their snide comments about tonight's program.
Where do I start when I try to tell you these folks run a poor program?  I have already said they overpriced the show, started late, and had a poor car count and a bad announcer.  Even the crowd was bad.  I have never seen more people with large tattoos in more places on their bodies in my lifetime.  Why do people who can least afford it always smoke so much?  The money spent on expensive cigarettes could surely pay for some junior college courses.
Carol felt the previous statement was a bit harsh.  I am not here to be politically correct.  Some of these people need to get their act together.  Not only do they screw up their own lives, but they provide no role-modeling behavior for their children and doom their kids to a life of underachieving poverty-level existence.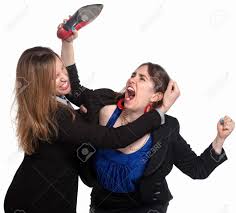 We were treated to a huge fight amongst women in the stands only a few feet in front of us.  One group of women wearing their white racing shirts numbered about eight.  Another group of only two women wearing their team's black shirts sat near the white shirt team.  Their drivers tangled on the track.  Then all heck broke loose in the stands with language, finger-pointing and haymakers.  Wow!
The most populated class was the street stock bandits.  They ran heats of seven, nine and nine cars.  I can only guess the inability to properly and equally divide the cars in terms of quantity was due to someone's poor math skills.  The street stock bandits were small four-cylinder cars.  Many of the drivers wore long-sleeved flannel shirts.  Could these be the super fire retardant flannel shirt look-a-like driving suits that everyone has been talking about? Probably not.
The flagman was terrible.  One car had a small piece of fender skirt that had come loose from the car.  It looked to be a piece of rubber about one foot square in size.  The flagman attempted to pull the small piece of rubber off the car without success.  After figuring out there was no way to get this piece off the car, he black-flagged the driver because this small piece of rubber could come off the car during the race!
There were several other incidents by the flagman of finger-pointing and shouting.  There were also a few episodes of rough driving.  Each time one or more people were given the black flag.  The crowd complained at each black flag by yelling, "We came here to see them race!"
The announcer's favorite ploy was to ask the crowd during a restart, "Who thinks the #23 is going to win? Who thinks the #46 in going to win", etc.  Once with just three cars sitting on the track during a yellow flag, the announcer went through each car with the above line of questioning.  A guy in the crowd yelled, "The #25 car is going to win".  The announcer heard that comment and seemed somewhat befuddled. He came back with this witty reply, "There is no #25 car on the track………..is there?"
The lights, which we did not stay to see turned on, were the most unusual I have ever seen.  Imagine an old-time street light in your local downtown.  They had 12 of these individual lights all evenly spaced around the infield of the quarter-mile asphalt oval.
We stayed for the three five-lap trophy dashes and the five 10-lap heat races.  These races were run off with significant delays for cars crashing and throwing dirt onto the asphalt-racing surface.  The only thing I liked about the entire experience at the PRP was when the winners took a victory lap with the checkered flag being held out the window.
Carol had these comments.  First, she felt the folks sure smoke a lot in Wisconsin.  As we were walking to the car, she said, "This was my 'joke' track of the trip, right?"  She thought the fans were ribbing the announcer like a crowd might heckle a comedian.  Carol's favorite at the track T-shirt featured these words, "Beauty is in the eye of the beer holder".
TNT SPEEDWAY, THREE LAKES, WISCONSIN – TRACK #882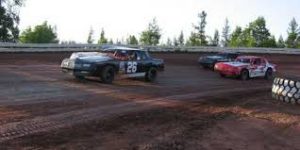 The TNT Speedway is 43 miles up the road from the Pepsi Raceway Park.  Although on its own it would not rank that highly as a racetrack, compared to PRP it looked pretty good.
There were four classes racing tonight.  The classes were WISSOTA modifieds (9), street stocks (5), bombers (15), stinger As, and Bs (15).  We arrived at intermission and then saw all four features.  The timing of the racing we saw as this second half of an evening blended double was perfect.
The one highlight of this track was the announcer.  I suspect this was the same announcer that Allan Brown and I heard at nearby Riverside Raceway in Eagle River back in 2002.  This guy is excellent.  Somewhat unbelievably he made the 20 lap, yes 20 laps, five-car street stock feature interesting even though it was not.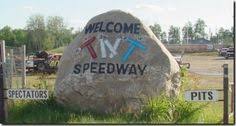 The lighting is bad at the TNT Speedway, but the mosquitoes are worse.  After just five minutes in the small packed grandstands I had to make an emergency run to the car for my Deep Woods mosquito spray.  The parking lot is simply a clearing in Wisconsin's own deep woods. 
My mosquito spray was tucked safely in my golf bag.  My golf bag was tucked safely away in the back of the trunk.  To get to the bug spray I had to take out every bag we had so neatly stacked into the trunk until I reached my golf bag.  Then I had to go through nearly every pocket of my golf bag to find the Deep Woods mosquito spray.  This was the real race of the night.  Would I get to the spray before only my mosquito-ridden skeletal remains were found at the back of the National Rental Car Racing Chevy Malibu LS V6?  You are reading this so I won!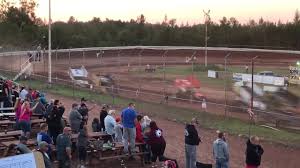 The track lighting was very poor.  The racetrack surface looked like it contained quite a bit of sand.  Even with the sandy surface, it did not get dusty in the stands.  The racing was basic but we saw four features, all scheduled for 15-20 laps each.  At a track like this with the racing classes they offered, that was plenty.
Carol liked the announcer and the racing except for the banger race that reached its 20-minute time limit before they could complete 15 laps.  She felt the racing was basic as well.
RENTAL CAR UPDATE:
I have now done something I cannot remember ever doing.  I have driven more miles with the National Rental Car Racing Chevy Malibu than I will fly round-trip on this trip.  That makes me both a flying and a driving trackchaser.  Most folks think of me as the "wealthy Californian who flies to the races".  As truth must be told, I probably rank in the top two or three trackchasers in terms of miles driven while trackchasing as well. 
Editor's note:  Whenever I make statements like this please imagine an asterisk at the end of the sentence.  That asterisk is meant to exclude Allan Brown from some comparisons because he does his traveling more for business than pleasure. 
LIFETIME TRACKCHASER STANDINGS UPDATE:
These trackchasers are within 100 tracks (plus or minus) of my current trackchaser total.
Any Sivi, Clairton, Pennsylvania – 977
Guy Smith, Effort, Pennsylvania – 969
Gordon Killian, Sinking Spring, Pennsylvania – 964
Randy Lewis, San Clemente, California – 882
Jack Erdmann, DePere, Wisconsin – 872
P.J. Hollebrand, Webster, New York – 817
John Moore, Knoxville, Tennessee – 795
Ed Esser, Madison, Wisconsin – 782 (courtesy note, please try to keep up. If you fall more than 100 tracks behind, Trackchaser Report bylaws will force me to remove your name from this list)
2005 TRACKCHASER STANDINGS
Randy Lewis, San Clemente, California – 73
Ed Esser, Madison, Wisconsin – 53
Roland Vanden Eynde, Vilvoorde, Belgium – 39
CUMULATIVE DRIVING DISTANCES:
Chicago O'Hare Airport – trip begins
Marshfield, Wisconsin – 288 miles
Menomonie, Wisconsin – 537 miles
Winnipeg, Manitoba, Canada – 1,767 kilometers
Grand Forks, North Dakota – 1,327 miles
Beaver Dam, Wisconsin – 1,960 miles
Jefferson, Wisconsin – 2, 005 miles
Plover, Wisconsin – 2,171 miles
Antigo, Wisconsin – 2,826 miles
Sturgeon Bay, Wisconsin – 2,974 miles
Luxemburg, Wisconsin – 3,023 miles
Unity, Wisconsin – 3,326 miles
Crandon, Wisconsin – 3,521 miles
Tomahawk, Wisconsin – 3,576 miles
Three Lakes, Wisconsin – 3,619 miles
Total trip air travel – 3,472 miles
TRACK ADMISSION PRICES:
Marshfield Super Speedway – Free
Red Cedar Speedway – $12
Victory Lane Speedway – $20 Canadian
River Cities Speedway – I'm bringing you in for free!
Raceway @ Powercom Park – $9
Jefferson Speedway – $9
Golden Sands Speedway – $10
Langlade County Speedway – $12
Thunderhill Raceway – $12
Luxemburg Speedway – $12
Monster Hall Raceway – $10
Crandon International Off-Road Course – $15
Pepsi Raceway Park – $10
TNT Speedway – $9
Thanks for reading about my trackchasing,
Randy Lewis
Trackchasing's #1 trackchaser of the 21st century
That's all the news that's fit to print from San Clemente where the women are strong, the men are good-looking, all of the children are above average and the real estate prices are way above average.
Planned new racetracks
(on the last day of each racing trip I will post my tentative plans for my next trip)
June 26 – Thunder Valley Motorsports, Jones, Michigan
June 27 – Jennings County Fairgrounds, North Vernon, Indiana

Racetracks visited in 2005
(** not the first time to visit this track)
Sungold Stadium aka Premier Speedway, Warrnambool, Victoria, Australia, January 1
Freedom Hall – Oval – Louisville, Kentucky, January 15
Freedom Hall – Figure 8 – Louisville, Kentucky, January 15
Southern Illinois Center, DuQuoin, Illinois, January 16
Golden Aisles Speedway, Waynesville, Georgia, February 25
Zephyrhills Antique Racecar Track, Zephyrhills, Florida, February 26
Dirt Devil's Speedway, Land O' Lakes, Florida, February 26
Ringwood Raceway, Ringwood, England, March 25
Birmingham Wheels, Birmingham, England, March 26
Boiling Hills Farm, Sleaford, England, March 27
Snetterton Circuit, Snetterton, England, March 27
**     Great Yarmouth Stadium (oval), Yarmouth, England, March 27
Great Yarmouth Stadium (Figure 8), Yarmouth, England, March 27
The Grove Farm, Monkland, England, March 28
Grimley Raceway, Grimley, England, March 28
Castle Combe Circuit, Castle Combe, England, March 28
Boyd Raceway, Boyd, Texas, April 1
Port City Raceway, Tulsa, Oklahoma, April 2
Outlaw Motor Speedway, Oktaha, Oklahoma, April 2
Hallett Motor Racing Circuit, Jennings, Oklahoma, April 3
JPR Speedway, Tulsa, Oklahoma, April 3
Charlotte County Speedway – Figure 8, Punta Gorda, Florida, April 9
CORA Speedway, Dixon, California, April 16
Reno-Fernley Raceway – Road Course, Fernley, Nevada, April 17
Lakeside Speedway, Kansas City, Kansas, April 22
Salina Speedway, Salina, Kansas, April 23
Jetmore Motorplex, Jetmore, Kansas, April 24
Oberlin Speedway, Oberlin, Kansas, April 24
USA Race Track, Tucson, Arizona, April 30
Tucson Raceway Park (inner oval), Tucson, Arizona, April 30
Driesum Race Track, Driesum, Netherlands, May 5
Autosportsdadion de Polderputten, Ter Apel, Netherlands, May 5
Bellekouter Autocross – oval, Affligem, Belgium, May 8
Bellekouter Autocross – road course, Affligem, Belgium, May 8
Circuit de Croix-En-Ternois, Saint-Pol sur-Ternoise, France May 8
Nurburgring, Nurburg, Germany, May 13
Lopik – oval, Lopik, Netherlands, May 14
Lopik – road course, Lopik, Netherlands, May 14
Ten Boer Autocross, Ten Boer, Netherlands, May 14
Rennplatz "Casper Gerd", Rutenbrock, Germany, May 15
Zuidwolde Autocross, Zuidwolde, Netherlands, May 15
Midland Speedway Circuit, Lelystad, Netherlands, May 15
Aalten Autocross, Aalten, Netherlands, May 16
Circuit de Peel International Speedway, Venray, Netherlands, May 16
U.S. 30 Speedway – permanent inner oval, Columbus, Nebraska, May 26
Hitchcock County Speedway, Culbertson Nebraska, May 27
Pikes Peak International Raceway, Fountain, Colorado, May 28
Colorado National Speedway – asphalt oval, Dacono, Colorado, May 28
Colorado National Speedway – figure 8, Dacono, Colorado, May 28
Rocky Mountain National Speedway – figure 8, Commerce City, Colorado, May 28
Broken Bow Wilderness Park – figure 8, Fullerton, Nebraska, May 29
Casino Speedway, Watertown, South Dakota, May 29
Sioux Speedway, Sioux Center, Iowa, May 30
Madison Speedway, Madison, Minnesota, May 30
Hawkeye Downs, Cedar Rapids, Iowa, June 3
Autobahn Country Club – North Course, Joliet, Illinois, June 4
Shadyhill Speedway, Medaryville, Indiana, June 4
Pottawattamie County Fairgrounds, Avoca, Iowa, June 5
Dawson County Speedway, Lexington, Nebraska, June 5
Marshfield Super Speedway, Marshfield, Wisconsin, June 14
Red Cedar Speedway, Menomonie, Wisconsin, June 15
Victory Lane Speedway, Winnipeg, Manitoba, Canada, June 16
River Cities Speedway, Grand Forks, North Dakota, June 17
Raceway @ Powercom Park, Beaver Dam, Wisconsin, June 18
Jefferson Speedway, Jefferson, Wisconsin – outer oval, June 18
Jefferson Speedway, Jefferson, Wisconsin – inner oval, June 18
Golden Sands Speedway, Plover, Wisconsin –June 19
Langlade County Speedway, Antigo, Wisconsin – June 21
Thunderhill Raceway, Sturgeon Bay, Wisconsin – June 22
Luxemburg Speedway, Luxemburg, Wisconsin – June 23
Monster Hall Raceway, Unity, Wisconsin – June 24
Crandon International Off-Road Course, Crandon, Wisconsin – June 25
Pepsi Raceway Park, Tomahawk, Wisconsin – June 25
TNT Speedway, Three Lakes, Wisconsin – June 25
You might have remembrances about this track.  If so, please feel free to share your memories in the comments section below.  If you have any photos from back in the day, send them to me at Ranlay@yahoo.com.  I'll try to include them here.
Thanks for reading about my trackchasing,
Randy Lewis
World's #1 Trackchaser
Peoria Old Timers Racing Club (P.O.R.C.) Hall of Fame Member
That's all folks!  Official end of the RLR – Randy Lewis Racing Trackchaser Report
Click on the link below for a photo album from today's trackchasing day.  You can view the album slide by slide or click on the "slide show" icon for a self-guided tour of today's trackchasing adventure.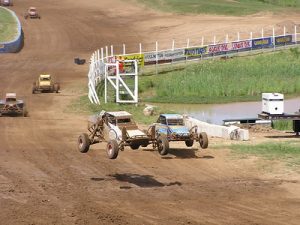 My first visit to the legendary Crandon International Off-Road Raceway
Pepsi Raceway Park PLUS the Dog 'n Suds!