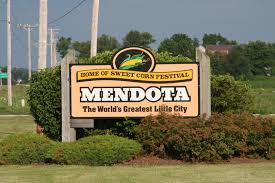 Greetings from Mendota, Illinois
.
.
From the travels and adventures of the 
"World's #1 Trackchaser"
.
.
Tri-County Fair Speedway
Dirt oval
 Lifetime Track #2,586
The EventVideo PlusPhotos
THE EVENT
My name is Randy Lewis. I live in San Clemente, California. I am a "trackchaser". I trackchase. Before you discovered my site had you ever heard of trackchasing? Maybe not? So….what the heck is trackchasing? Sit back, take a read and you'll be an expert on my hobby of trackchasing when you're finished.
Here's my best explanation on what trackchasing is to me.
Trackchasing is a three-pronged hobby. I'm a racing fan. I love to travel. I love to analyze opportunities to get the most out of everything while saving time and money.
Trackchasing fills the need for all of the above. The racing part of my trackchasing has me trying to see wheel to wheel auto racing at as many different racetracks as I can all over the world. Yes, all over the world. So far things are going pretty well. As this is written, I've seen racing in 85 countries at more than 2,500 tracks. As a matter of fact, I've seen racing at more tracks than anyone else in the world.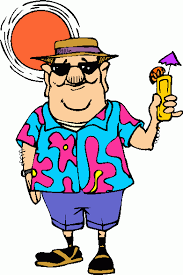 Equally important to me are the things I get to see and experience over the "long and dusty trackchasing trail". I call these adventures "Trackchasing Tourist Attractions". You won't want to miss my "Trackchasing Tourist Attractions" page. Here's the link:  Trackchasing Tourist Attractions or my "Sports Spectating Resume" page, Sports Spectating Resume on my website at www.randylewis.org.
I live in southern California. That's probably the most inconvenient location in the country for seeing tracks in the U.S. Most of the racetracks in the U.S. are located well over 1,000 miles from where I live. As a matter of fact, my average trip covers 5,000 miles and more. I take 35-40 of those trips each season. In any given year I will travel well over 200,000 miles, rent more than 50 cars, and stay in more than 150 hotel rooms.
I get the chance to meet people all over the world. With trackchasing trips to 85 countries and counting just getting the chance to experience so many other cultures, spend time in their homes and meet their friends is a huge reward for being in this hobby. I am indebted to several of these folks for their help and friendship.
It takes a good deal of planning to do the above and not spend my entire retirement portfolio. I enjoy the challenge, the travel and every other aspect of "trackchasing". In reality, my trackchasing hobby is a lot like being with the carnival. I breeze into town, stay a little while and then head on down the road.
I've tried to tell you what the trackchasing hobby is to me. Now I will show you what trackchasing is to me in pictures and music. If you watch just one YouTube video this year, this is the one to watch.
You will see how a simple trackchasing trip takes me a long way from my environment in California and most importantly not just in miles. My hobby is about seeing and experiencing the things that most folks walk right past. Check this out. It might just make your day.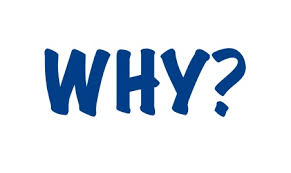 Trackchasing….this is exactly why I do it
Today's adventure was one more of the 2,000 trips that have taken me up, down and around the proverbial long and dusty trackchasing trail.  If you would like to see where I've been and experience those adventures here's the link: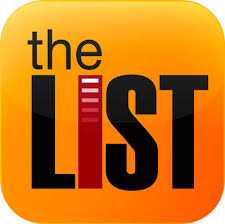 If you've got a question, comment or whatever please leave it at the bottom of this report.  It's very easy to do.  Or you can visit me on Facebook.  Thanks!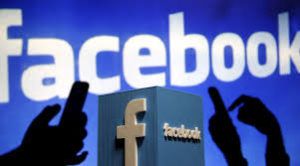 FOREWORD
Sunday, September 1, 2019.
People are always telling me that I seem to have a lot of energy. Maybe I do. I will say this. It is a lot easier to have personal energy when you have the passion for what you are doing. As you may have guessed by now I certainly have the passion for racing, travel and figuring out how to make things happen.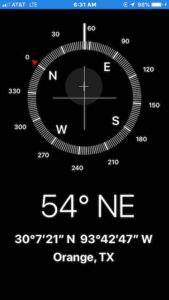 This morning I woke up in a highway rest area in Orange, Texas on the border of Texas and Louisiana. Yesterday afternoon and evening I had trackchased in two different locations in the Bayou State. That trip brought my Louisiana trackchasing total to 16 tracks. That moves me into a tie for the number one ranking in Louisiana with legendary Ed Esser. 
Following in the races in Louisiana last night I had a five-hour drive down to the George Bush Intercontinental Airport in Houston, Texas. I needed to make a 6 a.m. flight from Houston to Chicago. 
I commonly tell you that a big part of my trackchasing is figuring out how to get from point A to point B and beyond. Why do I say that? Because a big part of trackchasing is all about logistics. 
Think about it this way. If I wanted to trackchase on Saturday evening at the Thunder Valley Speedway in Glenmora, Louisiana and then catch a flight out of Houston at 6 a.m. on Sunday morning I wouldn't have much time for sleeping. As it was I was able to sleep for exactly two hours in the Texas highway rest area.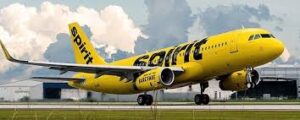 This morning I was flying on Spirit Airlines. Given all of my choices, Spirit would not be my number one airline pick. However, when Spirit Airlines is willing to offer me a one-way ticket from Houston to Chicago for $62 they become my number one choice! 
I have never been blessed with the trackchasing budgets, seemingly unlimited, of the Dreaded East Coast Trackchasers. Sometimes I wonder how they do it. I know what these folks did for a living. Yes, I wonder how they do it. 
When I landed at the Chicago O'Hare International Airport, I immediately went to the American Airlines Admirals Club. There I relaxed with peanut butter and jelly bagels and hard-boiled eggs. I also took a shower at the club. What a nice amenity especially considering my sleeping arrangements from last night.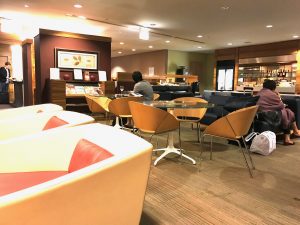 From the domestic terminal at O'Hare, I rode a shuttle bus over to the international terminal, terminal five. That terminal is home to the Swissport Airline Club. My Priority Pass membership sponsors me for free admission to the club. I stopped in there just to say that I did and visit them for the very first time. It's not the most opulent lounge. I prefer opulent lounges. Nevertheless, it was a nice place to relax for a few minutes and have some food and drink.
National Car Rental is normally my rental car trackchasing sponsor. However, today I was going to go with Alamo. My membership at Costco Travel had allowed me to get somewhat of a "one-way" rental. I would pick up the car at Chicago's O'Hare Airport but drop it in Chicago's somewhat downtown located Midway Airport. 
Why would I do that? Tomorrow is Monday, September 2, 2019, Labor Day. It looked as if the flights departing Midway for Los Angeles had more availability for me to use on a standby basis than the offerings at Chicago O'Hare. I rarely use Midway but I hope it works out well.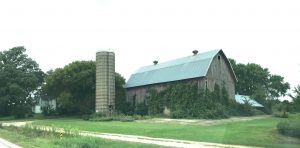 After I picked up my Alamo Rental Car Nissan Racing Altima I headed over to Northern Illinois to pick up my sister Becky and her husband Bob. We were all going trackchasing tonight at the Tri-County Fair Speedway in Mendota, Illinois.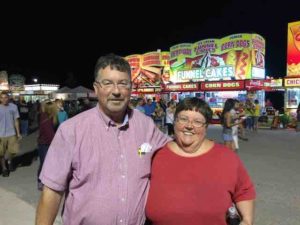 Mendota was only about an hour from where Becky and Bob (above) live. Also joining us would be my college roommate and longtime friend. Stan Logan. He lives about 30 minutes away from Mendota. Our travel plan worked perfectly and we all pulled into the fairgrounds at about the same time.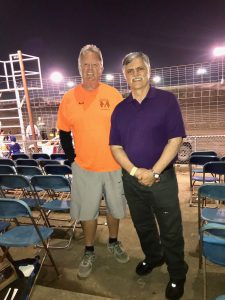 You'll find that the "people" part of my hobby of trackchasing is huge. My travel allows me to see old friends who often times live thousands of miles away. On this evening Mr. Stan Logan was coming to enjoy the races with my sister, brother-in-law and me. Stan and I met as freshmen at Northern Illinois University…..all the way back in 1967, some fifty-two years ago. As you can see we have hardly changed in all that time!
The auto racing history at the Tri-County Fairgrounds in Mendota, Illinois is interesting. Last year they brought auto racing back to the fairgrounds. There hadn't been any racing at this location in more than 30 years. 
One of the first people to turn me onto this racing opportunity was a fellow by the name of Andy Hampton. Andy Hampton runs a Facebook group called "Remembering Speedbowl Park Sterling IL". This is a great historic site about the people who raced at Sterling's Speedbowl Park.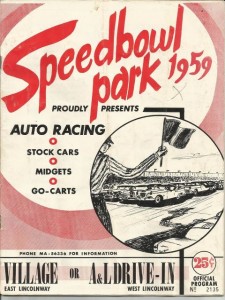 Sterling, Illinois was about 80 miles up the road from where I lived in East Peoria, Illinois as a boy. Speedbowl Park (1959 race program above) stands as my 5th-lifetime track. My step-father and I went there in the mid to late 60s. It was the first place I ever saw my all-time favorite racing driver Darrell Dake race. He used to kick butt there in a 1962 Ford Fairlane convertible. He was as the sign said on his truck, "King of the road". 
Earlier this year I got in touch with track promoter Matt Ramer. We messaged back-and-forth a good deal about his promotional ideas for racing at the Tri-County Fairgrounds. I always like to meet the people I communicate with online and I was able to do that with Matt tonight at the races. 
THE RACING
Tri-County Fair Speedway – Mendota, Illinois
We found a damp fairgrounds when we arrived. The Mendota area had received a lot of rain just the night before. Nevertheless racing was on. 
Becky and Bob bought my race ticket tonight. General admission seating was going for $10. Later, Stan and I would upgrade to a pit pass for an additional 10 bucks each. Being in the pits allowed us to see all of the cars close up. I was able to get a lot of photos of the vintage cars. We also attended the driver's meeting. Car counts were slim but that's to be expected when the track is holding its first race of the year and only second event in more than three decades.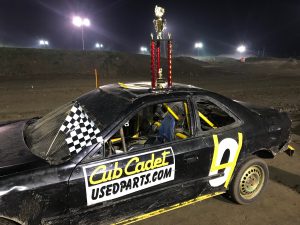 There were three classes of racers on the program tonight. They had the traditional modified stock cars, a hornet division for small four-cylinder cars and, what I expected to enjoy the most, a group of vintage stock cars that have been racing around Illinois for many years. 
Matt Ramer, the promoter and a very enthusiastic guy led the drivers' meeting. He told us that despite the small car counts the purse was going to be pretty strong. The five modifieds would race for $600 to win and $100 to start. The very inexpensive hornet class was going to be racing for $400 to win. I suspect most of those guys hadn't raced for that amount of money ever. It sounded as if the vintage stock cars all got $80 apiece but I'm not exactly certain about that part.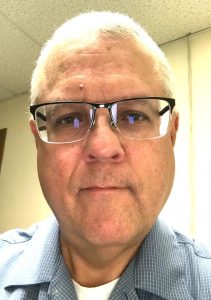 Before the races started I had the chance to meet a gentleman by the name of Kip Cheek. Kip is the editor of Mendota's local newspaper, the Mendota Reporter. Kip was planning on doing a story about my visit and wanted to get a photo.
If you'd like to read the completed story simply click on the link below. In that post you'll find the Mendota Reporter news story by clicking on the "U.S. Midwest" tab in the media section of my website.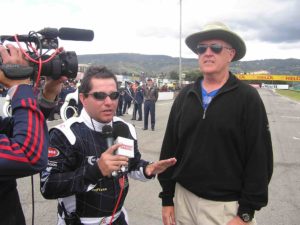 Media history at Randy Lewis Racing
I also went up and introduced myself to the track announcer. Sitting next to him was Matt Ramer's dad. He told me that he owns more than half of the vintage racecars! That's cool.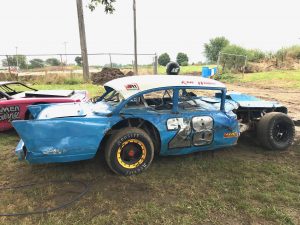 There were nearly a dozen of those vintage racers. The field included a 1957 Chevy, a '55 Chevy, a beautiful 1960 T-Bird, a 1961 Chevy and what I'm guessing was about a 1952 Chevy.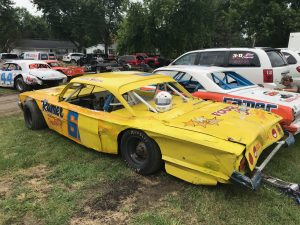 I think most of these racing machines had a vintage body placed over a more modern racing chassis with a solid roll cage. They also had some heavy-duty motors. Don't miss my YouTube video from tonight's racing. 
The hornets put on a pretty good show. This was a long track for them. After the races, Matt Ramer Promotions did a nice thing. He parked all the cars on the front straightaway and fans could come out and take a closer look at the cars and meet the drivers. I'm not an expert on this but I was really impressed with the quality of some of the roll cages in the hornet class. I've seen some pretty rough looking safety equipment on some of these low dollar cars at the tracks I visit. However, these roll cages were outstanding. 
Tonight the cars were racing on a large dirt oval in front of a somewhat traditional county fair covered grandstand. I'm guessing the track's length was a half-mile and maybe more. The announcer sat right in the middle of the grandstand seating. I've seen that a lot in Nebraska and Kansas but not very often in Illinois, my boyhood state.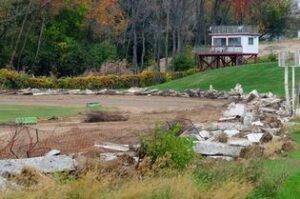 Tonight the track was moist from all of the rain from last night. There wasn't a speck of dust all evening. The track reminded me of the long-gone Freeport Raceway. Yes, this was a big half-mile track with long straightaways and somewhat tight and narrow turns…..just like Freeport. 
The announcer told us that last year's one and only event was marred by a lack of lighting when it began to get dark. They've added quite a few more lights now but I still wouldn't call at the best lit track I've ever seen. 
Several drivers told me tonight that racing on tonight's oval was, "fast". I'm suspecting that the drivers like a really fast track. Of course, spectators do too but not if they can't really see the race action itself.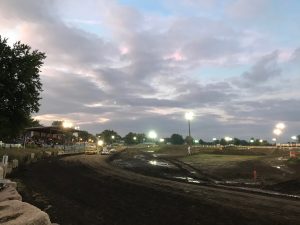 For this type of racing, I think tonight's track was much too long. I think if they made the track half the size spectators would enjoy it much more. Right now there is an extensive motocross track located inside the oval with lots of hills and jumps. I don't know, even if they wanted to if they could shorten the track appreciably being that this is a fairgrounds operation. 
There is no surprise when I say it is difficult to make money in racing either as a promoter or a racecar driver. The racecar drivers need a certain amount of purse money in order to fund their operation. When they can't get that they don't race as often. When the car counts are down the fans don't come. When the fans don't come there is no money for the promoter to offer decent-sized purses. It can often turn into a vicious downward cycle. 
I definitely wish Matt Ramer Promotions and the folks at the Tri-County Fair Speedway all the good luck they deserve. As a veteran race observer, I would only recommend that they keep doing all of the things that are working well, keep the costs down for the racing competitors as much as possible and come up with a shorter track. 
The announcer reminded the crowd that tomorrow they were having a demolition derby on Labor Day as part of the Tri-County Fair. He told the folks that there would be nearly 100 cars competing. He mentioned they had better arrive early if they expected to get good seats. When Becky and Bob heard that they made the decision to come over to the demo derby the next day! 
AFTER THE RACES
When the races were finished, four heats and three features, Bob, Stan and I went down on the track to check things out. Once again we had a chance to talk with Matt Ramer and meet some of the drivers. That was a fun way to end the evening.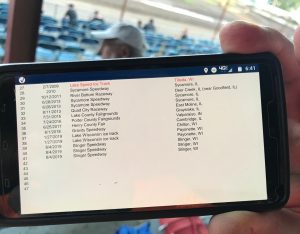 Bob's track list is now up to 42 and counting. He's pretty happy with having seen six new tracks this year including a trackchasing double at a Wisconsin ice racing facility and then three tracks at the Slinger Speedway up in Wisconsin about a month ago. 
Monday, September 2, 2019
Today is Labor Day in the United States. Working people get the day off. Since I've been retired for 18 years I guess every day is Labor Day for me. I certainly like it that way. 
I couldn't find any locations that would meet and/or exceed the rules of trackchasing for me today. That was OK. I simply hopped on a jet airplane and flew from Chicago to Los Angeles. 
I'll be home a day and then I will join up with the World's #3 Trackchaser, that would be Trackchasing's First Mother, who also triples as my wife. Carol and I would be heading to Blackfoot, Idaho for some county fair figure 8 racing. There's not going to be a lot of county fair activity from this point forward in the year. I was working on catching the remnants of the county fair season after having missed three weeks of it in August because Carol and I, happily, chose to take a cruise around Japan and tour Tokyo. 
That's all the news to report from San Clemente, California where all the women are strong, the men are good-looking and all the children are above average.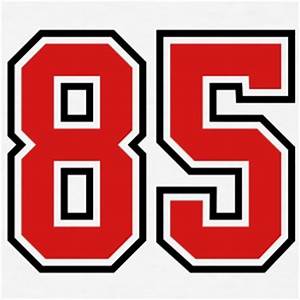 Randy Lewis – 85 countries – 2,586 tracks.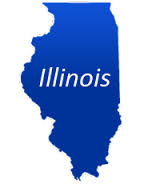 Illinois
The Illini state
This evening I saw racing at my 107th-lifetime track in the Illini state, yes, the Illini state.  I hold the #1 trackchasing ranking in Illinois.  I've seen 107 or more tracks in five different states. No trackchaser can match that stat.
Thanks for reading about my trackchasing,
Randy Lewis
World's #1 Trackchaser
Peoria Old Timers Racing Club (P.O.R.C.) Hall of Fame Member
Illinois sayings:  Grab your gym shoes.
Even when you aren't actually going to the gym, these are your gym shoes. You might know them better as sneakers or tennis shoes.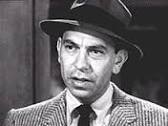 JUST THE FACTS
LIFETIME TRACKCHASER COMPARISONS 
The three most important trackchasing comparisons to me are:
Total lifetime tracks seen
Total "trackchasing countries" seen
Lifetime National Geographic Diversity results
Total Lifetime Tracks
There are no trackchasers currently within 720 tracks of my lifetime total.  Don't blame me.
Randy Lewis, San Clemente, California – 2,586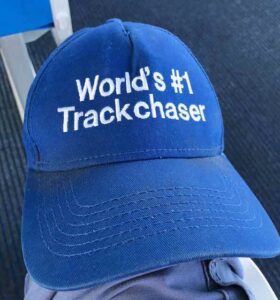 Total Trackchasing Countries
The nearest trackchasing competitor has seen racing in 30 fewer countries compared to my lifetime total. 
Randy Lewis, San Clemente, California – 85
Current lifetime National Geographic Diversity results
Randy Lewis, San Clemente, California – 4.14
That's all folks!  Official end of the RLR – Randy Lewis Racing Trackchaser Report
Click on the link below to see the video production from the racing action today.
Click on the link below for a photo album from today's trackchasing day.  You can view the album slide by slide or click on the "slide show" icon for a self-guided tour of today's trackchasing adventure.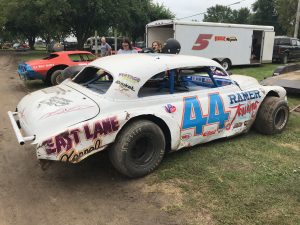 Vintage stock car racing from my home state of Illinois