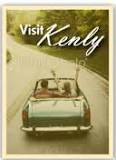 Greetings from Kenly, North Carolina
.
.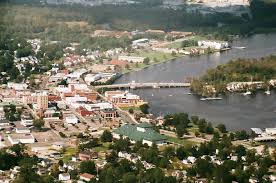 and then from Elizabeth City, North Carolina
.
.
From the travels and adventures of the 
"World's #1 Trackchaser"
.
.
Tri-County Kartway
Dirt oval
Lifetime Track #2,175
.
.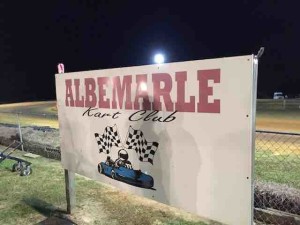 Albemarle Speedway
Dirt oval
Lifetime Track #2,176
The EventVideo PlusVideo LitePhotos
THE EVENT

If you've got a question, comment or whatever please leave it at the bottom of this report.  It's very easy to do.  I'll try my best to respond.  Thanks!
ON THE WAY TO THE RACES
8 a.m.? 5 a.m.?
My alarm woke me from a dead sleep at 8 a.m. this morning Eastern time. That was 5 a.m. Pacific time the time I my body was most accustomed too. I know that some of you who are still in the workforce. Five o'clock in the morning might not seem early to you. However, as a retiree I don't come anywhere close to that number for a wake-up call….except when I'm trackchasing.
However I had a busy day planned with a number of diverse activities. After I tell you about them you can be the judge as to how diverse they actually were.
Let's get that body moving.
The first major item on the agenda was my powerwalk. I don't powerwalk that often on a short trip to the East Coast. Normally the time zone change is a killer for my motivation to exercise.
Nevertheless I have a trackchasing goal to complete twice as many 45-minute, at a minimum, aerobic exercise periods as I do trackchasing days. This year I will trackchase around 100 days. That means I have to exercise about 200 times.
Don't be lazy.
During the first three quarters of the year I was lazy and inattentive to this goal. It put me in a big hole. Now I will have to exercise about 95-100 times during the final quarter of the year in order to meet this goal. There are only 92 days in the fourth quarter. I'm trying my best and making good progress through the last portion of October. We will see how I end up.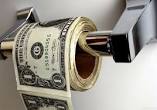 Don't throw your money away.
When I go out on a powerwalk I normally put my room key, a $20 bill and possibly a credit card and driver's license in the pocket of my exercise shorts. That way in case I come upon an emergency I'll be able to provide for myself. This morning I had a just a room key and a $20 bill.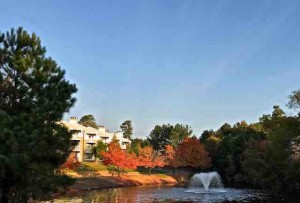 This morning's 50-minute powerwalk, which covered 3 1/4 miles, was lovely. The temperature was cool but not cold at about 60°. The trees were sporting some beautiful shades of gold and red leaves. It was a most enjoyable powerwalk except for one minor issue.
About midway through the exercise. I reached into my pocket to confirm my room key and $20 bill were still there. My room key was still on board but there was no $20 bill. I figured I might have reached into my pocket one too many times and the cash fell out onto the ground somewhere.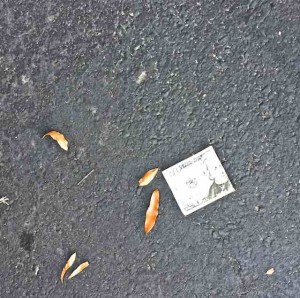 Smile and the world smiles with you.
I began to smile. I was smiling anticipating the good fortune of a passerby who was soon going to increase their net worth by $20. In situations like these that's how I look at life.
However when I got back to the hotel I had one last shot at recouping my 20 bucks. I had placed the contents of my Extended Stay America "grab and go" breakfast inside my rental car. Then I had placed the car keys over the right front tire. Possibly my $20 bill had fallen out during these activities. It had! There sitting just a couple of feet from the right front tire was my $20 bill. Now I smiled again. My net worth had just increased by $20.
Lost it!
I use the "Lose it" app on my iPhone as a weight control device and motivator. I can enter in my current weight as well as the weight I would like to have in the near future. Finally I input the amount of weight I would like to lose a particular week.
Currently I'm attempting to lose 1 pound per week. The program tells me how many calories I can consume given my current body weight to lose a pound in a week. Then as I eat things and drink things during the day I add in those caloric values and try to stay underneath my daily goal. The program works amazingly well. If you have a goal similar to mine you may want to try Lose It!.
By the way, I burn up about 350 calories exercising at a 4 M.P.H. pace for 50 minutes. That would help offset my caloric intake today.
Enough of Lose it! Let's go to the Waffle House.
With it now being past 10 a.m. I would head to the Waffle House. Does a visit to the Waffle House seem inconsistent with exercising to lose weight? Not to me.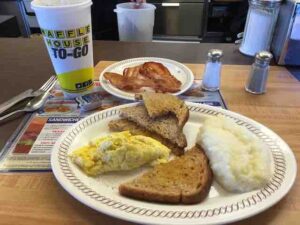 My rationale for consuming a Waffle House All-Star breakfast, which consists of two eggs (scrambled today), two pieces of toast (wheat for me), an order of hash browns or grits (grits please…I'm in the south for gosh sakes), bacon, ham or sausage (four pieces of bacon), a buttermilk waffle, butter and sugar free syrup was that this would be both a late breakfast/early lunch. I figured the entire breakfast came in at 1,229 calories. However that was only about 900 calories after the exercise adjustment. I'm allowed to eat about 2,300 calories a day. I still had a good 1,300 calories or so left for the rest of the day!
It was easy to find a super busy Waffle House. I have a Waffle House app on my iPhone too. Shouldn't everyone? When I entered the front door no less than three or four people from the staff welcomed me with a "good morning". I must've been called "baby" 25 times during my WH visit. I grabbed a seat at the counter and soon was enjoying my breakfast while reading the latest highlights from U.S.A. Today from my iPhone. Do you get the idea I use my phone a lot? However, I don't use it as a PHONE that much.
This was going to be a grand day with all sorts of fun stuff in the plan.
Next up on the agenda was college football. I would be adding to my "Trackchasing Tourist Attraction" total. I look at sporting events and other touring opportunities just as I do trackchasing. I want to try as many things as I can at least once.
This afternoon's event would see me watching the North Carolina State Wolfpack playing at the Wake Forest Demon Deacons. The football game was being played in Winston-Salem, North Carolina. I had originally planned on the North Carolina Tar Heels versus Virginia Cavalier game in Chapel Hill, North Carolina. However, I mis-read the starting time as 12:30 p.m. when it was really 3:30 p.m.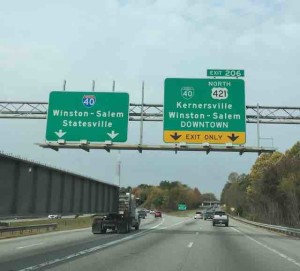 The Wake Forest Demon Deacons game, although about 160 miles out of my way, was going to begin at noon. I would have just enough time to motor up to Winston-Salem from the Waffle House, catch the game, and then head on down to Kenly, North Carolina for this late afternoon's go-kart racing.
Actually all of this was going to be a little tight. I ran the risk of potentially messing up my trackchasing plan. However I thought the risk was worth the reward.
Let's roll. Watch out for North Carolina drivers.
With a Waffle House Diet Coke to go cup at the ready I had some 82 miles of driving up to Winston-Salem. I've got to tell you this. I'm not very impressed with North Carolina drivers. I've seen several accidents already on this trip. The drivers dart in and out of interstate traffic and that worries me.
I arrived into Winston Salem, North Carolina about 20 minutes before today's 12:07 p.m. kickoff time. I was here to see major college conference football. ACC (Atlantic Coast Conference) members Wake Forest and North Carolina State were playing.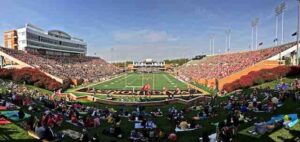 The little guys.
Wake forest, today's host, is the sixth smallest school enrollment wise in all of Division I. Their stadium, BB&T Field, seats a relatively small 31,000 fans.
No tickee.
I didn't have a ticket to the game. Do you ever show up to a major college or professional sporting event without a ticket? Trust me, it's the only way to go.
You may or may not want to try what I'm going to explain. Remember, I am professional. I do this all the time. I hope you can "test market" each and every strategy I explain for your own benefit.
The closer to the actual start of the game makes my ticket-buying strategy flow most smoothly. The game was now starting in just ten minutes. I assessed the situation. I saw about hundred or more fans all queued up waiting to clear security for their bags and such. This would be my target market for getting a ticket to the game today.
The real key to success.
I came equipped with the key to success. What was that key? It was "the sign"! The "sign" IS the key.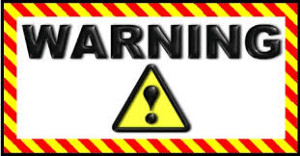 Before we go much further let me issue this warning. From time to time I will recommend to you one multi-step system or another that can improve your life and put a smile on your face. It really doesn't matter whether I'm recommending a strategy for buying a new car, refinancing your mortgage, installing a solar system or simply getting a football ticket to a major college game.
In order to be successful you must complete ALL of the steps in the plan. Imagine if I provided a multi-step process for going to the bathroom. Then if you left out the step of raising the toilet lid where would you be? No, that does not paint a very pretty word picture does it.
You must understand all the steps, be able to implement all of the steps and not skip any of the steps. I don't want to hear from any crybaby wanna bees on why the system didn't work for you if you didn't do everything as explained. Miss any or omit any steps and it's on you.
My sign is simple and to the point.
My "sign" is a simple white piece of paper with some blue magic marker words on both sides of the sign. On one side it reads "Need one". On the other side it reads "Need 1". Pretty simple huh? I've been using the same sign for years. Of course when Carol is with me I operate with the "Need two" sign. That makes perfect sense doesn't it?
Someone once said that advertising is like winking at your girlfriend in the dark. You know what you're doing but nobody else does. Another person also said, "I'm not a gynecologist but I'll have a look". People say the darndest things.
Appealing to a larger market.
"The sign" opens up an entirely new target market. The people who would never think of dealing with a ticket scalper are "relaxed" after seeing the sign. They see a fellow who presents a nice exterior appearance (me) who is obviously in need of a ticket. Sometimes they feel sorry for me. That's a good thing. I've heard women tug on the sleeve of their husbands and say, "Look at that poor guy. He doesn't have a ticket. He needs a ticket". Then they both look at each other, shake their heads, and shuffle along. As long as you don't mind being looked at as if you were homeless you'll be fine.
As I mentioned I have been buying tickets to all kinds of events like this for years. I have learned a few things. I have discovered after years of doing this there are always groups of 2-6 people where someone in the group bailed out at the last minute. You know that person in YOUR group right. Yes, they want to go to the game. However, something always seems to come up and they leave you holding the bag or in this case a ticket to the game. Now this mythical group has one extra ticket to the big game.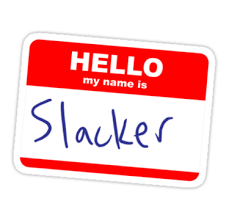 I want the group that includes the slacker.
These are the groups I am targeting. That's right. I am targeting groups that include a slacker. They are easy prey. The sign brings them in for the kill and then I do the rest.
Most people just don't feel comfortable buying or selling a ticket at a game. I don't know why that is. I guess they're just too doggone American. However if you have traveled the world you know that negotiating is a common way of life for most people.
Let's go in for the kill.
This brings us back to today and the Wake Forest game. Here I was standing in front of well over 100 people. Many of those folks were lifelong Wake Forest Demon Deacon season ticket holders. They had placed a deposit on their tickets nearly a year ago. They paid full price for those tickets. They paid a high price for those tickets.
Now one of their fair weather friends had bailed at the last minute. They were upstanding law-abiding people. However they had a ticket in their pocket that was going to go unused. Luckily a fellow like myself was willing to bail them out at the last minute. Yes, I would give them only pennies on the dollar for their ducat. However pennies on the dollar was better than nothing.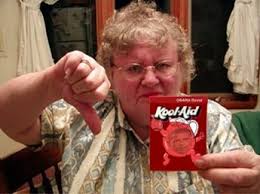 I love dealing with my peers….elderly people.
I had not unveiled my "sign" for more than 30 seconds before an elderly woman (about my age!) came up with a single ticket. I could see her approaching out of the corner of my eye. I didn't want to make eye contact until the last minute. I wasn't looking to make a new friend but I wanted to appear friendly and approachable. Then at the very last minute I made eye contact and smiled. She handed the ticket to me. It looked as if she just wanted to give it to me. Of course she did. She was secretly afraid that if she tried to SELL it to me she might be hauled off to jail.
However I had to be politically correct. Even though I knew she just wanted to give the ticket me I had to ask her how much she wanted for it. "Nothing", she said, "Here it is". I guess I could have asked for the seat location as if I were considering turning her down. However, that would have been rude.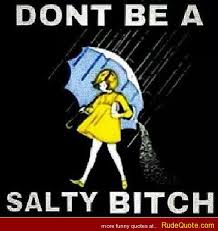 Don't ever be rude.
Yes, I want to take advantage of people's weak negotiating position but I never want to be rude. I have been given tickets for free many times in circumstances like this. I would never consider being rude in the transaction process.
I had fully intended to buy a ticket to the game today. I also fully expected to lowball somebody who might be offering his or her ticket to me for sale. I figured 10 bucks might be my top limit. However today there would be no charge. The "sign" had done its job….again. It went back into the front pocket of my cargo shorts and I went into the stadium.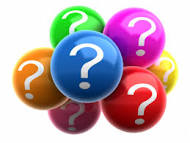 Now I'll open up the ticket buying subject for questions. You can simply go to the bottom of this post, type in your question, and I will respond. As a loyal reader of Randy Lewis Racing Trackchaser Reports you deserve to go to major college football games and other top notch events for little or nothing. Now by implementing my systems you can.
In the market for something bigger than a football ticket?
However, you might be in the market for something bigger than a football ticket. Wanna buy a new car? You don't have much more time because the one and only very best day of the year to buy a new car is fast approaching. Here's the link. Don't miss any of the steps or the approach cannot be guaranteed.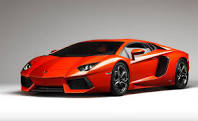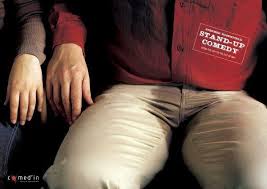 This was no time for wet pants.
Soon I was clearing security at the stadium just like all the other fans. I had my ticket as well as my Waffle House Diet Coke to go cup. That was subtly placed in my pants and covered with my 2008 Pac-12 basketball tournament shirt. Now all I had to do was balance things correctly so that I didn't spill the entire large Diet Coke down the front of my pants.
I was now ready to enjoy another major sporting event. I hope you get the chance take a look at the Trackchasing Tourist Attractions tab on my website. You'll get a sense that this was not the first time I had gone to a venue like this without a ticket. Here's the link to my nearly complete list of Trackchasing Tourist Attractions.
My nearly complete list of Trackchasing Tourist Attractions
Wake Forest isn't very good.
The Wake Forest Demon Deacons got off to a slow start. O.K. Let's be brutally honest and direct here. At the end of the first quarter they were getting killed 28–0. However they did come back to make it somewhat respectable losing 35–17.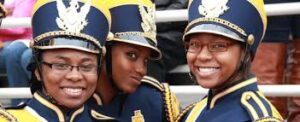 Last week I traveled to North Carolina to see a home game at the North Carolina A&T State University in Greensboro. Now this week I was seeing Wake Forest home football game in Winston-Salem. I love seeing activities in new venues. However now it's time for the main event of the day, some trackchasing in Kenly, North Carolina.
THE RACING

Tri-County Kartway – Kenly, North Carolina
Uncertainty abounded.
I was hoping the Tri-County Kartway in Kenly, North Carolina would be the first half of a day/night trackchasing doubleheader. However there was a good deal of uncertainty surrounding the entire plan. This is what I mean.

Thank you trackchasing founding fathers.
The Tri-county Kartway was holding a well-attended karting event sponsored by Maxxis race tires. Their schedule showed 27 different classes of karts set to compete in feature events. Only two of those 27 classes would count toward my trackchasing hobby. Thank you for that trackchasing founding fathers.
I initially saw that practice would start at 9 a.m. in the morning. I thought that surely racing would happen by early afternoon. However when I called the track in advance I learned that was not the case.
I was told that yes practice would start at 9 a.m. However, when practice was finished there would be qualifying. That would last roughly from noon until 5 p.m. Then the actual races would begin. Each class would run a 20-lap feature event.
It was with that news that I figured I could schedule a college football game beginning at noon and still make the racing that I wanted to see in Kenly, North Carolina. I would be driving down to Kenly for the express purpose of seeing the senior champ class of karts compete. They would be having two different senior champ classes based upon engine type. One of the senior champ groups was scheduled to be the fourth class of twenty-seven to race. The second senior champ class wouldn't start until late much later. They were set to be the 21st class out of 27.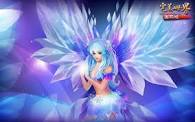 If the world were perfect.
In a perfect world I would see the Wake Forest football game starting at noon. Then I would drive two hours and 15 minutes down to Kenly arriving at about 5 p.m. Then if everything was going really well they would be just about ready to start their feature events.
However if they were way behind schedule, which is more often the case than not, I would be in trouble. That would mean the first senior champ race would be so late that I couldn't make it up to Elizabeth City, North Carolina for this evening's racing.
Alternatively if I arrived after the fourth event but well in advance of the 21st event, which was for the second class of senior champs, I wouldn't make my evening second track of the day either. I had to have precise timing and a good deal of luck.

Cheap gas, chili and burgers.
Following the football game I would need to stop for gas. I paid just $2.09 a gallon for fuel. Take THAT Italy. My Hyundai Azera is getting me about 30 miles per gallon. I was paying only seven cents a mile for fuel. That was all good.
Following my gas stop I made a quick decision to stop by Wendy's for a bowl of chili and a Diet Coke. Then I was off to the races so to speak. However when mother nature called McDonald's answered. I figured I might as well fill up with a triple cheeseburger, no bun, while I was at Mickey D's.
This delayed my arrival a bit into the Tri-County Kartway. However if my contact information was correct I would be arriving about the time practice was ending and the first feature races were starting.
Good fortune!
What I am about to tell you marks a string of good fortune. Some would call it luck. Whatever you call it things were suddenly turning out rather well.
The track provided precise GPS latitude and longitude coordinates. I wonder why more tracks don't do that into today's age of technology? The coordinates took me directly to the backstretch of the red dirt slightly banked oval track.
When the track came in sight the karts were racing down the backstretch. The highway paralleled the racetrack's backstretch. Flat karts were racing. That was good. That either meant the senior champs had already raced or they were coming up soon.
Tickets were half-price.
I pulled in just in time to be shocked at the admission price. The sign read "$20". However when I went to sign the pit release the woman gave me some good news. She had just been told to lower the price to $10 since practice and qualifying were finished and they just begun racing. I never see that happen.
From the best I could tell the second class of the day was racing when I arrived. That was absolutely perfect. By the time I got my car situated just outside of turn four that race had ended.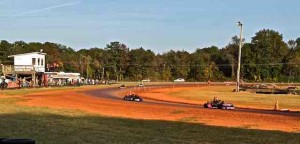 Jr. 1 animal 265.
The next class of flat carts was just entering the track. I am not an expert on flat carts by any means. However it was confirmed this was the "Jr. 1 animal 265" class. That's a mouthful isn't it?
Junior in the class title meant that it was for children. The "animal" descriptor described the type of engine allowed. Finally the "265" meant the minimum weight was 265 pounds including cart and driver.
I could see the senior champ kart class in the staging area. There were six of them. Just as planned they were the fourth racing class of the day.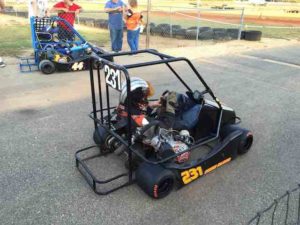 What is a senior champ?
"Senior champ" describes a kart chassis that includes a roll cage similar to what you might find on a sprint car or midget. This class was racing with the clone engine and had a minimum weight limit of 410 pounds. Senior champs allow adults to compete. All of that meant that this was a trackchasing countable class.
Had I arrived 20-30 minutes later I might have missed the senior champ clone kart race. I would then have had to wait until the 21st race of the night to see a countable class of racing. That race would likely take place about three hours or more later. Since my timing was exquisite there was a good chance I would be able to make the "night" portion of today's day/night doubleheader.
I noticed there was one pink senior champ kart racer. That normally signals, and it did tonight, that a woman driver is aboard. The senior champ race was just ready to go when a call came over the safety track worker's radio saying to stop the engines.
Wait. Not so fast.
Oh no. What could this be? Apparently there was a problem with the transponder system at the track. Luckily that was soon corrected and the senior champ karts were heading onto to the track.
They would race for 20 laps. I timed one lap during the race. It came in at 14.77 seconds. The cars all started the race at the same time in single file.
I have to check the video but I think the race ran nonstop for 20 laps. It's finished at about 5:20 a.m. As soon as that race finished the next feature came onto the track. This was just the fifth class out of 27 scheduled for the evening. The flat kart group that preceded the senior champs had a yellow flag about every other lap. It would not be a stretch to think this program might go on until nearly midnight.
However there was no need for me to stay any longer. I had gotten my money's worth. I had seen a feature event contested by the only trackchasing countable kart type at the track today, the senior champs. It was time to exit the Tri-County Kartway.
Albemarle Speedway – Elizabeth City, North Carolina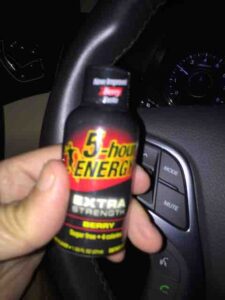 Geographically this was working out perfectly.
Now I was headed to Elizabeth city, North Carolina. Elizabeth city is in the northeastern corner of the state. It would be a quick 160-mile drive from where I was in Kenly up to Elizabeth City. My GPS system told me my ETA would be 7:50 p.m.  Nevertheless, I knew it was still going to be a "5-Hour Energy" night.
Would I make it on time?
I needed to call the promoter at the Albemarle Speedway. I wanted to ask him a question. If I arrived by 8 p.m. would I still be in time to see THEIR senior champ class race. He told me he was "99% sure" that I would be there in time.
I go to the top. The air is better up there.
I was talking to Doug Johnson the club president. Doug told me the program was running about an hour behind schedule. He also mentioned that the senior champs would race later in the program. Finally he mentioned the entire show should be over by about 10:30 p.m. If I arrived by 8 o'clock I would be in good shape.
This was all I needed to know. My car had plenty of gas. I made a physical needs stop at the Tri-County Kartway just before I pulled out of their parking lot. Finally I was probably OK on the food front. I did have the almonds Carol always packs for me on these trips.  I even had a can of Vienna sausages in my bag from LAST week's trackchasing trip.  I didn't plan on making any stops along the way until I reached the Albemarle Speedway.
With all of this in mind I concluded my conversation with the Albemarle Speedway promoter. I told him it was all "pedal to the metal" from here. He was quick to remind me that if my route took me through "Emporia" I should watch my speed. "They'll get you there if you're speeding". Good advice.
Promoters look out for me.
A little while later I received a text from Doug. He told me he had made arrangements to make my admission tonight complementary. That was very generous of him to do that and I appreciated it very much.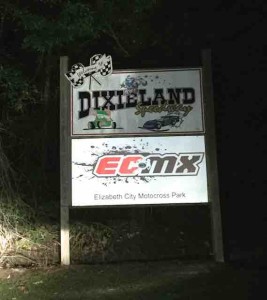 I pulled into the Albemarle Speedway at about 7:45 p.m.  The Dixieland Speedway is also located at this address.  They were just wrapping up with qualifications. My timing was perfect.
This guy cared about my having a good time.
I soon found the group's president Doug Johnson roaming the pit area. He stopped to chat with me for about 15 minutes. He gave me a little bit of the history of the club that operates the track and some of the background on tonight's racing.
Karting was the first type of racing to come to the property. Since then the Dixieland Speedway, a full-sized oval dirt track (I haven't been there…yet), a mud bog and some off-road racing venues abound.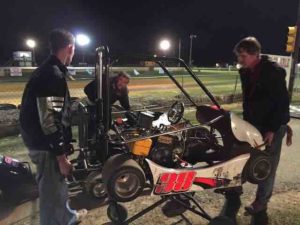 Tonight I was here to see the senior champs compete. They were about six of them. I soon learned their race would be the last of the evening. Doug did mention that there was an 11:30 p.m. curfew. However he assured me that all classes would complete their races.
The economics of karting.
He mentioned the club members pay a $20 entry fee. The kart drivers do not race for money purses. They compete for trophies and season-ending awards including six-foot high trophies and jackets etc.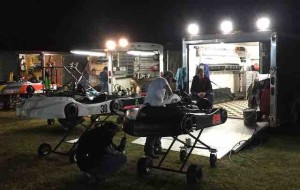 The Albemarle Speedway hosts major regional karting events such as the Virginia Dirt Kart Association and the Maxxis Tires racing series. Having groups like that come to your track pretty well means the track knows what they're doing here.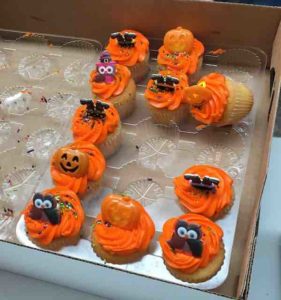 I had calories to spend.
With a bit more than 300 calories yet to spend on this day I hopped over to the concession stand. I ordered a hot chocolate and unbeknownst to me the woman next to me had just ordered a pastry wrapped fried Milky Way! I couldn't afford one of those, calorically. However, on the other hand, I couldn't turn down a complementary orange iced cupcake supporting the Halloween holiday either. Now I was virtually out of calories but at least it was already 8:30 p.m.
Staying warm is always of importance.
With the temperature falling quickly I went out to the parking lot in search of my car. There were only a couple of spectators watching the races from their cars. I found an open space near the turn four fence and parked there. At least while I waited for the senior champs to race I could keep warm. I keep bringing blue jeans with me on these trips. However, I never use them.
I learn a little more every time I go to a go-kart race.
My go-karting experience, is admittedly somewhat limited. Nevertheless, I noticed they grid the classes two at a time at the Albemarle Speedway. As an example the karts racing in the very next race might be in the "grid one" area. The karts racing in the race after that were gridded in the "grid two" area. This way the karts are always lined up and ready to go. If done properly this procedure works very well.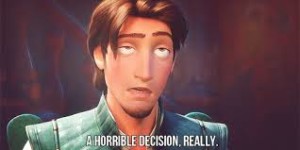 A grievous error indeed.
I would be less than genuine with you if I didn't say that I feel trackchasing's founding fathers made a grievous air in not counting go-kart racing. Go-karts match and exceed other forms of trackchasing countable racing in several areas. 
Yes go karts have an engine, four wheels and a steering wheel. They race on oval and road course configurations. Adults race go-karts. And by the way I'm using the term "go-karts" to refer to "flat" karts.
Go-karts come to the race track in most cases in enclosed trailers. They have quite a bit of advanced racing technology. Tire management is important. Engine power is important. Driving skill is important.
Now contrast the above with the majority of junk car events that trackchasers now attend. How do "junk cars" match up with go-kart racing in aspects one would commonly associate with serious auto racing.?
Not very f#$%##g well. There is absolutely no reason that a go-kart should not be considered a full-fledged racing machine. I've heard some ill-informed trackchasers say that a go-kart isn't really a "race car". Is a 1995 Dodge Neon pulled from the local junkyard with the number applied from a spray paint can a "race car"? Please. What in the world were trackchasing's founding fathers thinking?
So what should be done NOW?
The question now becomes should "go-kart tracks" be counted at this stage of the game. I don't really have a clear answer on that. Some would say the horse had left the barn on this idea.
Would it be fair for trackchasers to begin counting go-kart tracks now after so many of the leading trackchasers have completed their careers without having that opportunity? Possibly not. However if you want to go on case precedent the group did add figure 8 tracks several years ago. A good number of trackchasers never got the opportunity to fully explore the figure 8 trackchasing opportunity. Nevertheless the group added figure 8 racing as a countable configuration and race class. They even allowed the figure 8 track visits to be counted RETROACTIVELY. In reality figure 8 racing doesn't measure up to go-kart racing in terms of the true intent of auto racing as a genre.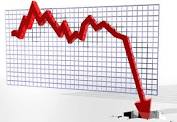 Here's a main reason trackchasing numbers are way down.
I think most trackchasers got into this hobby because of their love of racing in general. I am sad to report that the hobby of trackchasers has morphed into a hobby of "counting". Trackchasers no longer have a strong interest in racing itself. It's all about counting the track. The "racing" aspect of the hobby is a distant second.
I have never stopped to count the number of "go-kart tracks" I've seen where the class of senior champs is the countable class. I'm going to guess that number comes in at 200 and maybe more.
Track politics.
I spent several minutes in the pit area talking to a senior champ kart owner. His group used to race up at the Langley Speedway in Virginia. However, track politics drove them from the Langley asphalt down to the dirt at Albemarle. They were back to having fun down here.
Tonight's racing.
Tonight's track layout was similar to most go-kart tracks I visit. They're usually only slightly banked and shorter in distance compared to a "stock car" ova. These shorter track go maybe 250 to 400 yards in length. The track's racing surface is almost always extremely smooth. You will rarely find a rough go-kart racetrack.
Tonight the only public address announcements were made to the drivers themselves. They were told when they would be racing next. This is not uncommon at go-kart tracks. I wish those kinds of tracks did a better job of announcing the race. However go-kart racing is more of a participant sporting and not so much a spectator activity.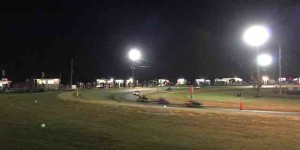 Tonight there were a dozen classes or so racing. Kart counts range from three or four on the low-end to a dozen or so on the high-end. I found the racing to be fast and furious. Actually flat kart racing is a fairly dangerous endeavor. The drivers wear a helmet but that's about as far as safety equipment goes. There are no seatbelts or other restraints. The karts are fast and during a wreck the driver is sometimes separated from his mount.
Perks is perks.
I quite frequently take the extra step of contacting the race promoter personally. I usually do this in advance of the race simply to get information about when and where and how the events are going to be conducted. However, once I get to the track I will also look up the promoter and meet him or her personally.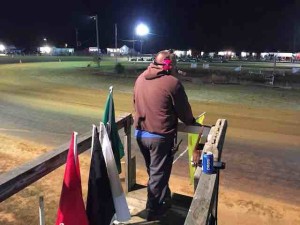 This procedure, often allows me extra "perks". Tonight I was allowed to go up on the flag stand at an elevation of about 20 feet. From there I could see the racing really well. I think you'll agree it adds to the quality of the video I produce.
Temperatures were racing downward toward 50°. I was still wearing cargo shorts. Fortunately I had the good sense to sit in my car from time to time to warm up.

This was the race I had come to see.
However you can bet I was on the top of the flag stand for the last racing event of the night. Seven senior champs took the green flag. They started double file. I liked that.
One of the racers I talked to earlier in the evening told me they normally have about a dozen entries. However some of the champ racers are also drag racing fans. A handful of them were down in Richmond, Virginia for a major drag racing event this weekend.
AFTER THE RACES
No hotel tonight.
Following the races I immediately jumped in the National Car Rental Racing Hyundai Azera and headed north word toward Pennsylvania. It was nearly 11 p.m. I had a seven hour drive ahead of me. I needed to be in Dornsife, Pennsylvania by 11 a.m. A bottle of 5-Hour Energy drink was my friend.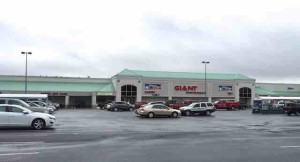 Along the way I stopped at a rest area and slept for about an hour and a half. Later at about 6 a.m. I found a shopping center (above) for another hour's nap. There is no rest for the weary in the hobby of trackchasing. However I seem to be able to manage the hours better than most.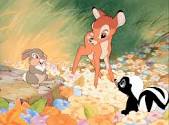 Deer. Dead deer.
This is the season for deer road kill. I frequently see huge blotches of red on the highway and then will commonly see an expired deer laying alongside the road. I have an off often wondered how many deer that have been hit make it into the weeds if so many of their brothers and sisters are lying along the road?
I've seen something unusual regarding road kill on this trip. I don't recall ever seeing it to this degree. There've been so many "fresh" hits. By the time I reached some places a significant part of the deer was still in place on the roadway. I remember crossing over one and hearing the crunching of bones. That can't be a good feeling for any of the participants.
 =
Why shoot deer?
I often wonder what the true attraction of deer hunting really is. Why buy a gun and ammo and a license? Why not just go out about 10 p.m. and pick up your own deer? They're already dead and free to take with you!
Good night.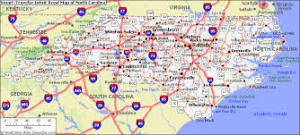 North Carolina
The Tar Heel state
This afternoon and evening I saw my 53rd and 54th lifetime tracks in the Tar Heel state, yes the Tar Heel state. I've seen 54 or more tracks in 14 different states.
Thanks for reading about my trackchasing,
Randy Lewis
World's #1 Trackchaser
Peoria Old Timers Racing Club (P.O.R.C.) Hall of Fame Member 
North Carolina sayings: Pretty is as pretty does
QUICK FACTS
AIRPLANE
Los Angeles, CA (LAX) – Baltimore, MD (BWI) – 2,326 miles
RENTAL CAR #1
Baltimore- Washington International Airport – trip begins
Raleigh, NC
Kenly, NC
Elizabeth City, NC
TRACK ADMISSION PRICES:
North Carolina State Fairgrounds – $10
Tri-County Kartway – $10
Albemarle Speedway – Complimentary admission (including pit pass)
LIFETIME TRACKCHASER COMPARISONS 
The three most important trackchasing comparisons to me are:
Total lifetime tracks seen
Total "trackchasing countries" seen
Lifetime National Geographic Diversity results
Total Lifetime Tracks
There are no trackchasers currently within 500 tracks of my lifetime total. Don't blame me.
Randy Lewis, San Clemente, California – 2,176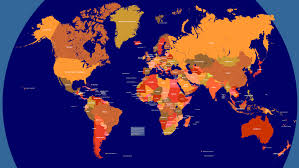 Total Trackchasing Countries
There are no trackchasers currently within 10 countries of my lifetime total.
Randy Lewis, San Clemente, California – 70
Current lifetime National Geographic Diversity results
Randy Lewis, San Clemente, California – 4.88
That's all folks! Official end of the RLR – Randy Lewis Racing Trackchaser Report
Click on the link below to see the "Video Plus" production from today's racing.
Click on the links below to see the one-minute "Video Lite" production from today's racing.
Tri-County Kartway…..preview
Albemarle Speedway…..preview 
Click on the link below for a photo album from today's trackchasing day.  Double click on a photo to begin the slide show or watch the photos at your own pace.  Hover over a photo to read the caption.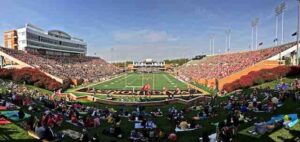 Tri-County Kartway – Track #2,175 PLUS Wake Forest football
.
.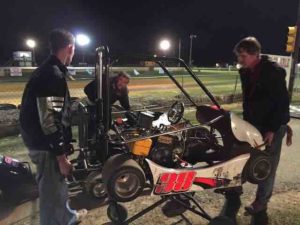 Albemarle Speedway – Track #2,176