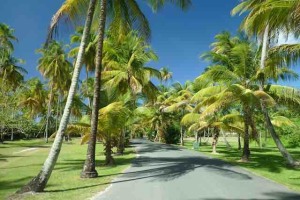 Trinidad and Tobago
Trackchasing Country #68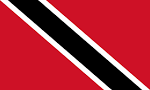 GREETINGS FROM PLACES ON THE WAY TO
ARIMA, TRINIDAD AND TOBAGO
From the World's #1 Trackchaser
Highlights
The Event
Videos
Photos
My birthday visit to Trinidad and Tobago.
What would YOU do with excess Guyanese dollars?
Whoa! I didn't have a passport!
I manage risk.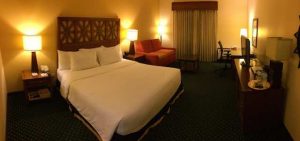 I was well covered with sponsorship dollars.
Trinidad and Tobago is just eight miles from the Venezuela coast.
Hot and sticky.
Yes, I guess you could call us international jet-setters.
Let's visit that famous Houston Intercontinental Airport chapel.
Happy Birthday!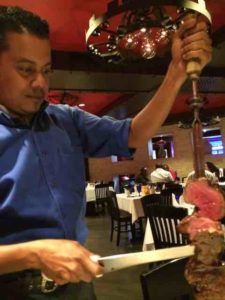 Don't pass up a Brazilian steakhouse.
Tobago here we come.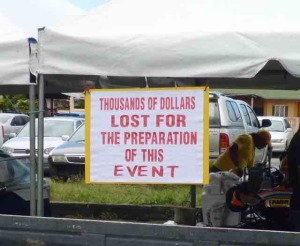 Races cancelled. No! No way!
Sadie to the rescue.
You didn't give it ALL to her did you?
If you can't handle change don't go to Trinidad and Tobago.
I had a bad feeling.
We would soon be meeting the management of the Trinidad and Tobago Sports Association.
Moral integrity?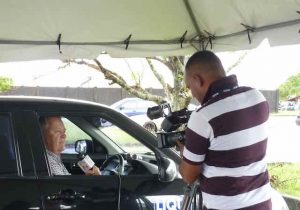 Trackchasing media coverage.
Other white people.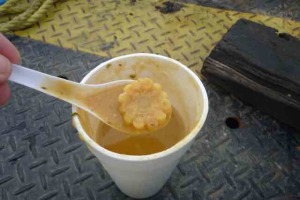 Corn soup!
If a street race was canceled because it was part of "a high risk crime area" was it also too dangerous of an area to race in the nearby parking lot?
Praying for a traffic jam.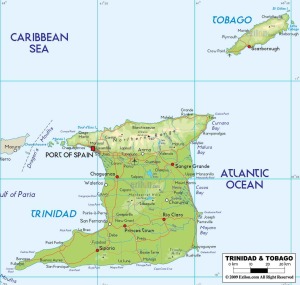 LIKE TO KNOW MORE ABOUT TRINIDAD AND TOBAGO – TRACKCHASING COUNTRY #68?
As a service to my readers I always provide a top line background of each country I visit. If you'd like to learn a little more about Trinidad and Tobago the island nation check out the "background" information I prepared for you. It appears at the bottom of this report. I have condensed this section so you can get a good "feel" for this most unique southern Caribbean location. Most of the material comes from Wikipedia.
PRE-TRIP
ADVANCE PREPARATION
THE RACE

My birthday visit to Trinidad and Tobago.
What a great time to leave for Trinidad and Tobago (T&T). We were leaving on my birthday. I have a pretty robust international research staff at Randy Lewis Racing. I would have too in order to have seen racing in 67 different countries. I also operate with a satellite group of folks far more knowledgeable than me in the goings on of local geographies.
One of my most aggressive 2014 goals.
I have a goal for the 2014 trackchasing season of adding six new countries to my trackchasing totals. Folks, given where I'm at with the number of foreign countries where I have already seen racing I think this is the most dramatic and optimistic goal I have this year. The only thing that will hold me back is a track organizer backing out of currently scheduled race dates. That could certainly happen.
Appreciative and thankful.
I am most appreciative of the foreign contacts I have established. I am thankful for the time and effort they take to keep me posted on opportunities in the shrinking number of auto racing countries I have yet to see. If I ever win the lottery they will be well compensated. For the time being all I can offer is my personal thanks.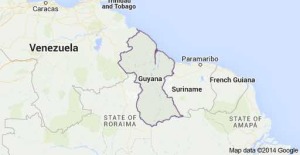 International jet-setter?
It wasn't long after I had returned from New Zealand that I was contacted by a racing friend who hails from the South American country of Guyana (trackchasing country #20). He had information about racing in Trinidad and Tobago. Can you imagine that? I was coming home from a faraway place like New Zealand, hearing from a friend in Guyana that would soon have me hopping on a plane to Trinidad and Tobago. That sounds like an international jet-setting lifestyle to me. Thanks Bryan!
There was just one minor problem with a trip to T&T. I didn't have a passport. Not having a passport was a deal killer. However, we're on our way to Trinidad and Tobago so things must have worked out right. What happened. I'll tell you all about it below.
Bryan rocks.
I will tell you this. I had known about auto racing activity happening in T&T for some 2-3 years ago. However, when I learned of one particular street race it had already occurred. Since that time I've kept in touch with my Guyana buddy. He had agreed to keep me posted on any upcoming racing activity. That's exactly what he did. Thanks Bryan!
By the way I have another shout out for Bryan. It was about a year ago when Carol reminded me we had about $100 U.S. of Guyanese dollars sitting around the Lewis compound. Our bank didn't trade in that currency. Since I didn't know if we would ever get back to Guyana I asked Bryan if he would mind exchanging the funds back into U.S. dollars in his home country of Guyana. No problem. Bryan stepped up to the plate and helped us out. Thanks again Bryan!
THE VISA
No visa needed.
Some countries require foreign travelers to have a travel visa in addition to a passport to enter their country. Most countries allow some foreigners to visit without a visa while requiring other foreign travelers to the very same country to get a travel visa. I never understand the rhyme or reason behind those decisions. For the most part I think a country lets it's "buddies" in without a visa and those they don't care for so much must go through the hassle and expense of getting a visa. It's not too much different than everyday life. If you know the right people you'll have a much easier time of it. We must be buddies with T&T. They had no visa requirement for U.S. travelers.

This could be a big problem.
However, I had a passport problem. What was the problem? I didn't have a passport. "Whoa! Randy, you've been all over the world. What do you mean you don't have a passport" the excitable reader might likely ask. How simply can I put it? When I first learned about a racing opportunity in T&T I DIDN'T have a passport. That was both problematic and troublesome.
I guess a few more words need to be wrapped around this lack of passport situation. Permit me to elaborate. I used to have a passport; I just didn't have one when the T&T opportunity came about. Frankly, I didn't know if I would have a passport when it was time to leave on this trip.
You knew this right?
You probably know that a U.S. passport is good for ten years. My last passport was ordered in early May, 2004. That meant it was set to expire ten years later in May, 2014. Often time foreign countries require that you have 3-6 months remaining on your passport in order to enter their country.
So as not to be shut out on future foreign trips I had to act before my passport expired. I'm the kind of person who uses their passport a lot. I might travel to 5-10 "foreign" countries every year. Normally those visits are spaced apart every month or two. I also travel to Canada several times every year in addition to those 5-10 "foreign" trips. Of course, if you've read very much of what I write you know I don't really consider Canada a foreign country.   However, both the U.S. and Canada like to pretend they are separate countries, which is fine with me. With winter ice racing coming up not having a passport would prevent me from standing on a frozen lake somewhere in Canada as well.
How would I go about fixing this dilemma?
I needed to fix this problem. The U.S. government website told me there was "currently" a 4-6 week wait for getting a new passport. Because this was winter time the wait was a big shorter than it would have been during the summer tourist season. I could pay more to get things expedited. However, I didn't think I needed to do that. I could easily bypass Canadian ice racing for this winter. My first "foreign" trip wasn't planned until May, 2014. I thought I had plenty of time.
Nevertheless, I wasn't going to waste any time applying for my new passport. I needed to get that 4-6 week time clock started. I have long been a proponent of the "If you're not early you're late philosophy". I'm not very smart but I know a lot of smart people. Thank you Gerry O'Reilly for that bit of wisdom.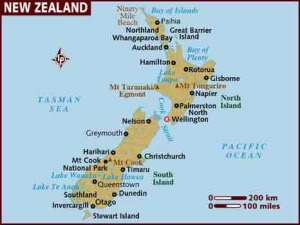 Weary but awake.
I had returned from New Zealand via Sydney, Australia (after about 18 hours of flying) on a Monday morning at 9:30 a.m. You might imagine I was dragging a bit from that trip. However, as soon as I drove 65 miles back home from LAX I went directly to my office.
I quickly completed the on-line application process for new passports for both Carol and me. Then I drove down to the post office in the middle of the late Christmas rush of people getting their Christmas presents in the mail. This was the best I could possibly do. I needed my passport to get me home from New Zealand. Then within hours of returning home our old passports and new passport applications were in the mail. We were passportless.
You probably new that in order to order a new passport, if you've already had one, you need to give up your old passport at the time of your application. I knew that when I received my new passport I would get my old one back (with a couple of holes punched through it) as a souvenir. What did I do next? I waited.
Oh, no! Good news but underlying bad news.
While I was waiting I received a message from Guyana regarding this racing opportunity in Trinidad & Tobago. They don't race often in T&T since their old racing circuit was seized by the government some 10-15 years ago.
The T&T race was scheduled to occur exactly 41 days after I had sent my passport into Washington, D.C. The U.S. government had told me it was estimated I would get my passport back in 4-6 weeks. In days that meant 28-42 days. Of course I would need to leave at least a couple of days before the race would run to get into the country in good order. I figure I had 37-38 days to wait on my passport. I was definitely in the government's window of 28-42 days.
There were a couple of "trying" details.
However, you don't just buy an airline ticket to a place like T&T on three days notice. You don't make a hotel reservation on three days notice for a trip like this. Well, of course you CAN try to do that but you risk things being sold out and/or being very expensive to do last minute transactions like these.

I manage risk.
What should I do? Did I want to risk buying non-refundable airline tickets and then NOT having a passport to make the trip? The answer was YES! I consider myself a "managed" risk taker. Frankly, I've managed to get where I've gotten by taking well-considered risks. I know lots of folks who weren't willing to take the risks I have and they have less for it. I know others who have taken much more risk than me. Some have more and some have less for it. Risk taking is a personal thing. If you're too conservative with your risk taking you're going to lose a lot. If you're too aggressive with your risk taking you could lose even more. I believe you simply need to understand you're maximum exposure and then act one way or the other.
I was well covered with sponsorship dollars.
I will tell you this. If I made the trip I was going to have a 100% sponsorship covering my airfare, airport parking, hotel and race tickets. I wasn't going to need a rental car and with no rental car I would need no gas. This covered six of my seven trackchasing expense categories. If I could afford to feed myself and Carol (luckily she doesn't eat much) we could afford the trip.
However, if we didn't make the trip because of the passport issues or anything else we would be on the hook for having to cancel the airline tickets. That didn't seem like much risk to me. I went full steam ahead with our trip planning to T&T.
Success!
Editor's note: Our new passports came back to us in early January. The government had estimated the wait time to be 28-42 days. We got those passports back in just 24 days. They even came back quick enough for me to attend a Canadian ice race that was unplanned based upon not having a passport. It's always good to "under promise and over deliver". This time the government did just that. By the way I know a lot of people who reserve mostly negative comments for our government. I am not one of those people regardless of which party is in office. Go U.S.A.!
With new passports we are good to go for the next ten years. I doubt we'll see as much in the next 10 years as we have in the past ten. But who really knows.
This could be a workable idea.
I did learn during the Indian visa process of a couple of months ago that a person can hold a SECOND passport. That would be used when you have to send your FIRST passport away for a couple of weeks to get a "country visa". I may look into that option. I never want to be without a passport. There are just too many opportunities out there to risk missing out.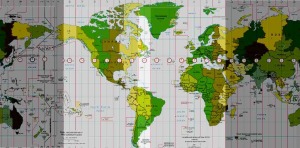 TIME ZONES
The time zone difference wouldn't cause any major problems.
T&T's time zone, the Atlantic time zone would be four hours ahead of our time in California. We'd be there for five days. They say that in order to get used to a new time zone you need a day "in country" for each hour of time zone change. What did that mean? By the last day we would be up to speed on the four hour time change just in time to head home!
BOOTS ON THE GROUND
Without local contacts this is much more difficult to do.
We did have some difficulty making a final confirmation that the race was truly on. Making a commitment to travel to an exotic land like Trinidad and Tobago is a big one. We were going there first and foremost for a trackchasing event. Of course, we would have fun just seeing and experiencing T&T but it would be a lot more fun if we had a chance to see a race.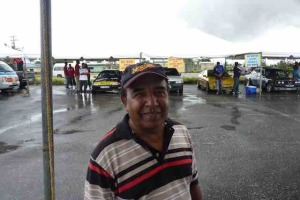 This guy was tough to find but we found him.
That being the case I put RLR's bloodhounds on the scent of the trail. In almost no time they identified an individual by the name of Nizam Mohammed. Nizam was the circuit completion director. I figured why not just give Nizam a call. So, using TruPhone my amazing iPhone international calling app I phoned him up.
To my surprise and delight he answered on the first ring. We talked for several minutes. By the time we finished speaking Carol and I were the invited guests of the Arima Grand Prix. Nizam was not only the competition director but a savvy marketer. After our conversation he recognized the advantage I could give his event from a public relations point of view. I am happy to share the word about the far flung plethora of international racing venues I visit.
THE TRANSPORTATION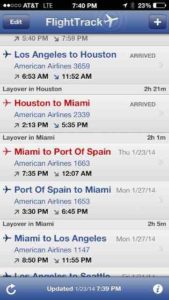 Los Angeles to Houston to Miami to Port of Spain, Trinidad and Tobago to Miami to Los Angeles.
For this trip I would revert back to the support of one of my old-time airline sponsors, American Airlines. They were willing to come on board for this trip with a full sponsorship for both me and the Mrs. I guess my status as a lifetime platinum member of their frequent flyer program still carried some weight. Granted I have earned more than SIX MILLION miles on AA so maybe they were just trying to repay me for my loyalty. I certainly had my share of late night flights in a cramped seat earning that many miles. Remember, there is no such thing as a free lunch.
Trinidad and Tobago was much further south that I expected.
On the outbound leg of this trip we would need three airplane rides. The total flying time would be approximately eight hours. I was surprised at the flight time from Miami to Port of Spain, Trinidad and Tobago. Since T&T is a Caribbean island you might think it's not too far from Miami. In point of fact Port of Spain is a three hour and 21 minute flight from Miami. I guess that stands to reason. Trinidad and Tobago is just eight miles from the Venezuela coast.
That got me to thinking. If T&T were just eight miles from Venezuela they must have a ferry between the two countries. Maybe if they had a ferry, a car ferry, then just maybe just maybe the T&T racers raced in Venezuela. Venezuela might not be the safest place for Americans nowadays. Nevertheless, I had never seen a race there. I was just thinkin'.
CURRENCY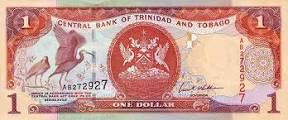 Do you know the official currency of Trinidad and Tobago?
It's the Trinidad and Tobago dollar. As we speak my iPhone currency app tells me I can get about 6.25 T&T dollars for each U.S. dollar. When Carol can she picks up foreign currency from out local bank. On my last new country trip, to Georgia (not the southern state!), the bank didn't deal in that currency. However, and this was surprising to me, they did handle T&T money. She picked up a quick $200 U.S. giving us more than 1,200 T&T dollars. The challenge with currencies like this is not to bring any home. I have no idea if we'll ever be back to T&T. If I had to guess I would say we wouldn't. That being the case the goal will be to return with no T&T currency at all. I had read where U.S. dollars are accepted for barter in T&T. We'll used a combination of local funds, U.S. money and our Target charge card.
WEATHER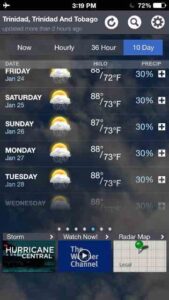 Hot and sticky.
The climate in T&T is as you might expect, from the southern most Caribbean island, tropical. The high temperature each day is expected to range from 86-88 degrees Fahrenheit. The lows will get down to only 72-74. Rain chances are 30% everyday.
I'm expecting typical hot and humid conditions. These are not my favorite weather types. I don't like humidity and I don't like temps higher than about 75 degrees. Yes, living in San Clemente makes me spoiled compared to what I will get in 99.44% of the rest of the world.
OVERNIGHT ACCOMMODATIONS
The perfect sized trip.
This was the perfect sized trip. We would be in Trinidad & Tobago for five nights and four days. Some might think, given the distance it takes to get there, it might be a good idea to stay longer. I can see the logic in that.
However, our vacation travel is a bit different than most. I'm going to make almost 30 separate trackchasing trips this year. Carol and I will make another ten or so going to Hawaii, UCLA basketball and football games and the like. If you're going to go on some 40 separate vacations then you can't stay for two weeks every place you go. Make sense?
How long can we continue to do this? How long can we continue to afford this? Who knows? I one of those people that thinks that if it sounds like a good idea I want to do it today. If it WAS a good idea then I want to do it again. That's just how I think about things.
I must admit, because I am contracted to tell the who truth and nothing but the truth, we had a full sponsorship to Trinidad and Tobago with the Marriott Corporation. Like American Airlines I am also a lifetime platinum member of their frequent stay program. If I had to guess I would probably say I've stayed about 500 nights (who really knows for sure) at Marriott properties. They are more than willing to reward their most frequent guests.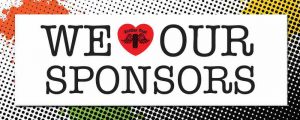 Again just thankful.
I never want my sponsorship capabilities to sound like boasting. What I do want you to understand is that I couldn't do this without my sponsorships. I don't have the big travel budgets of those "Dreaded East Coast Trackchasers". Heck, I'm been unemployed for the past 12 years for gosh sakes. When I go on these trips I don't have to bring someone along to help share the expenses. I don't make my wife work so I can use her money to pay for trackchasing. I am 100% responsible for getting me and often times Carol to these events. I am not beholding to anyone. However, I am most thankful for my sponsors. Without them I couldn't do this. My sponsors allow me to travel first class as we would be doing on this trip to Trinidad and Tobago. Thank you sponsors!
THE RENTAL CAR
I don't need no stinkin' rental car.
I won't need a rental car. Carol and I will use local taxis to get around. We won't be able to see quite as much as I would like to see that way but we'll work it out.
NAVIGATION
Nada.
With no rental car, and only the use of taxies, navigation in the form of GPS won't be needed.
THE TRAVELING COMPANION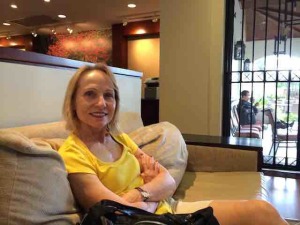 Yes, I guess you could call us international jet-setters.
I'm happy to report that Carol will be joining me on this trip. She will be in search of her 35th different trackchasing country. Recall that she and I were the first and only trackchasing couple to see a combined 100 trackchasing countries. That has a nice ring to it right?
As mentioned above I'll have about 40 significant trips this year. Carol will go on about ten of the trackchasing efforts. She's also be with me on all ten or so of our personal trips. That makes about 20 trips for her. Last year she traveled overnight more than 100 days.
Ying and Yang.
I love travel. Carol is more of a homebody. I figure if I am lucky enough to get her to take twenty trips for 100 nights a year then….I'm lucky enough. I feel fortunate to have had her join me on so many trips during our brief 41 years of wedded matrimony. We're just looking for a relaxing time in Trinidad and Tobago.
Carol and I have been to lots of countries where we haven't seen any racing. On this trip we will add Trinidad and Tobago to the list of countries we have visited for racing. Currently, the United Nations lists 193 "official" countries. I took a look at that list. From memory, I've been to the countries listed below but not for racing. Carol has been to all of these countries with me except Senegal. I went there with our son J.J. Almost all of these visits were taken during the more than 25 cruises we have taken.
Antigua and Barbuda
Bahamas, The
Fiji
Haiti
Liechtenstein
Panama
Saint Lucia
Senegal
Venezuela
Vietnam
THE SUMMARY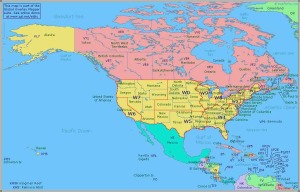 My "world map" is filling up fast.
T&T will be my 10th North American country where I have had the chance to trackchase. Yes, Trinidad and Tobago is in North America. The list looks like this.
Barbados
Canada
Costa Rica
Dominican Republic
El Salvador
Guatemala
Jamaica
Mexico
United States
Pre-Trinidad and Tobago
Not to much thought given to this trip.
Frankly, I didn't give our trip to Trinidad and Tobago too much advanced thought especially in the days leading up to the event. Once I had the race, airfare, passports and hotel parts of the trip put to bed I figured the rest would simple take care of itself.
Thursday – Day 1 – (San Clemente to Los Angeles to Houston to Miami to Port of Spain, Trinidad and Tobago)
Just sit down in the airplane seat and relax. We'll be there soon enough.
Today was a travel day. We (Carol) got up at 3 a.m. I slept in until 3:49 a.m. We backed out of the driveway at 4:11 a.m. We would need three flights to get from our home in San Clemente to our hotel in Port of Spain, Trinidad and Tobago.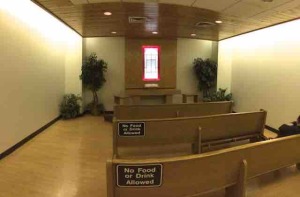 Let's visit that famous Houston Intercontinental Airport chapel.
Those three flights would take a cumulative eight hours of seat time. When we arrived into the George Bush Intercontinental Airport (IAH) in Houston it was cold and rainy. I couldn't resist taking Carol have way across the airport to show her the chapel that I had slept overnight in during one of my more recent trips. Her comment? "I thought it was bigger". In point of fact the small chapel has three rows of padded pews. It was perfect for an overnight airport slumber. As one women I met on a plane said, "God put it there to help people".
Happy Birthday!
Then we were off to Miami's airport. There I received phone calls from my two son's, first Jim and then J.J. wishing me Happy Birthday. Finally, daughter Kristy send me a video were her and those precious grandbabies saying Happy Birthday. My good buddy George gave me a birthday call. Those contacts made my day complete.
It was going to take just a little bit longer.
We boarded our plane to the Port of Spain thirty minutes late. Then when a passenger, who had checked a bag, didn't show up there was another 30-minute delay getting that bag off the plane. On international flights if you don't show up to board the plane then your bag doesn't go. It has something to do with a terrorist putting a bomb in his/her bag, then checking that bag and not boarding the plane. Makes sense to me.
That put us into Trinidad about 1 a.m. local time. Clearing customs took all of 30 seconds. The customs stamp from Trinidad and Tobago was the first in our new passports. Maybe the customs agent thought we were first time travelers with our brand new stiff passports.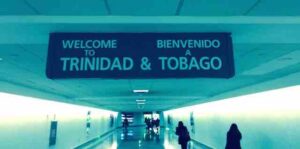 Randy Lewis.
Once we passed through customs we clear of all security. It wasn't long before we met a young man, who was carried a black and white sign that read "Randy Lewis". I guess they knew we were coming! How was that? I had made a reservation to have a private car pick us up from the airport and take us to the hotel.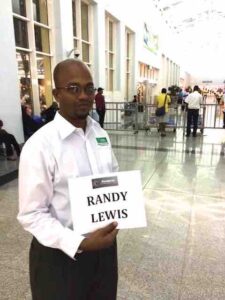 As I said I hadn't really done all that much research on T&T. I was a bit surprised to see they drove on the left side of the road with right side steer cars. That comes from their British rule. Did you know that some 42% of the world's population drivers on the left side of the road? Did you know that Trinidad and Tobago gained their independence from the United Kingdom in 1962. That means that prior to age 13 I never could have come here to see racing in T&T for the purpose of adding a new country. It wasn't a country prior to 1962 as it is now.
Friday – Day 2 – (Port of Spain, Trinidad and Tobago)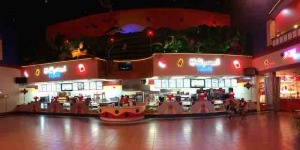 It was time for the city tour….not.
I was surprised when our alarm went off at 9 a.m. local time waking us from a sound sleep. I guess I shouldn't have been too surprised. That was 5 a.m. our time.
When we take these trips we do the best we can to see as much as we can see. Granted it is trackchasing that takes us to many of these places. However, attending a racing event normally takes up an afternoon of just one day. In T&T we would have two full days for sightseeing and two partial days to see things as well.
We hustled down to take with the concierge of the hotel. Soon we were booked on a three-hour city tour of Trinidad for today. Tomorrow we would board a Caribbean Airlines flight to the island of Tobago. We would get to spend the entire day there before returning late Saturday night. We were all set on the touring front with race day being on Sunday.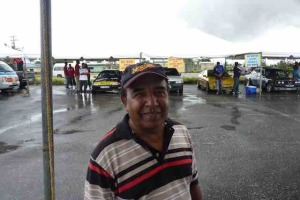 Things were going well.
I checked in with race organizer Nizam Mohammed. He was excited to have us in Trinidad and Tobago. He confirmed that his representative would drop off our race passes, programs and the like at the hotel for us.
We were impressed with the people of Trinidad.
We've been here just a short time. Nevertheless, it was easy to make some early observations. First, the T&T people were most friendly and polite. They had an accent of sorts, which required that I listen closely to understand what they were saying. Finally, no one looked like us. We didn't see any Americans in the hotel or anywhere we went. I am surprised at how little Americans travel at least to the places we've been visiting over the past few years. I liked the idea our having such an unusual appearance in this part of the world. That certainly made us unique.
Cancelled.
At the appointed time of 1 p.m. we appeared in the hotel lobby for our tour pickup. It was then that we were informed the three-hour tour had been cancelled. Apparently we were the only folks to sign up and that wasn't enough to make doing the tour a profitable idea for the tour company. Bummer.
Touring plan #2.
Luckily within 100 meters or so of the hotel was a shopping complex with a five-screen movie theatre. Back home we go to the movies 2-3 times each month or more. In place of the city tour we would go to the movies.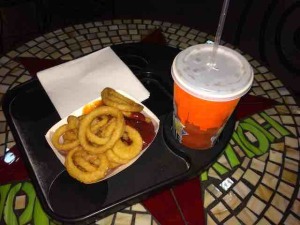 No cheese and olives.
Movie tickets were price at $45TT. I would imagine that movie tickets in your home town are less than $45. However, we can't forget that whatever price we see in Trinidad and Tobago must be divided by six to get a rough U.S. equivalent. That made the price, in our currency, about $7.50. This was a most modern theatre. It was unique in the sense that they served hot food. We first picked out the cheese and olive offering for $25TT. However, even though the item appeared on the menu board, it had been discontinued. First no tour and now no cheese and olives? I hoped we had not stumbled upon a trend.
Instead we chose a serving of onion rings for $15TT. That's only about $2.50 U.S. When have you heard of something as simple as onion rings selling for that price especially in a movie theatre. We enjoyed a showing of "American Hustle" a very entertaining movie with lots of twists and turns. Two thumbs up from the both of us.
Following the show we split a cup of "chocolate cake batter" ice cream at cold stone creamery. So far our trip was not much different than the things we do back home. I hoped that trend would not continue. We don't fly nearly 8,000 miles one-way to do the same things we do back home.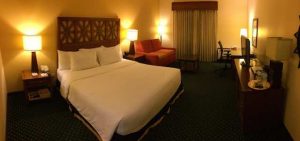 This was no Motel 6.
From there we spent some time back in our luxurious hotel room. I will tell you this and I've mentioned it before. When Carol comes along there is no Motel 6, there is no sleeping in the airport. Carol gets upgraded to the most opulent places….and I get to tag along.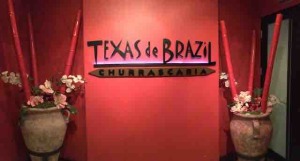 Don't pass up a Brazilian steakhouse.
For our evening meal we discovered a Brazilian style steakhouse. We had eaten in one of these in where else, Brazil. That was a special trip when we had our own Brazilian guide. We even had the chance to reunite with Englishman Jerry Fisher whom I had first met in Argentina with his then Russian wife. However, in Brazil Jerry was now with Katia a native of Brazil. Katia and Jerry invited over to their Brazilian apartment in Recife for dinner. Whenever we've had the chance to visit our friends in their homes in a foreign country it has been the most special highlight of the trip!
However, I digress. Carol and I were having my birthday celebration dinner in a Brazilian steakhouse. You had better be a meat lover to eat here. While you're at it you might want to raise the limit on your credit card too.
In an eatery like this the servers come to your table with one particular kind of meat (beef, pork, chicken, lamb). The meat is on a three foot metal skewer. If you would like some you give them the O.K. There had to be at least ten servers, all serving a different kind of meat, constantly circling the tables. We enjoyed the experience for the uniqueness of it all despite the fact that neither of us eats all that much red meat at home.
Today had been a little different than planned. We had hoped to do some local touring. When that was canceled without our consent we did the best we could with the options we had. That part worked out very well but did not increase our knowledge and exposure to Trinidad and Tobago. If all goes well tomorrow that will change when we fly to the island of Tobago.
Saturday – Day 3 – (Port of Spain, Trinidad and Tobago)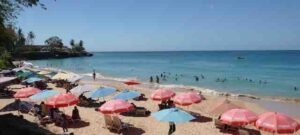 Tobago here we come.
I was very much looking forward to today. We would be flying over to Tobago a neighboring island and part of the country of Trinidad and Tobago. Tobago has just 4% of T&T's overall population. We weren't sure what to expect but everyone had told us the Trinidad is the industrial part of the city and Tobago in the tourist area.
However, not everything goes as well as planned. We would receive several bits of less than positive news. Some of it was potentially devastating, in a trackchasing vein of course.
Do you know anything about the auto racing this weekend?
We had paid for an organized tour of Tobago. This included having a driver pick us up at the hotel and drive us some 45 minutes to the airport. Everything was going fine with "Rick" our taxi driver. That was until I asked him what he knew about auto racing in Trinidad and Tobago.

Races cancelled. No! No way!
I told him we would be heading up to Azima for the races tomorrow. That's when he laid a bombshell on us. "Those races have been cancelled. I heard about it on the news last night," he told us. What! Say What? "What do you mean they've been cancelled?" I asked. The government has declared the area a "High Risk Crime" area and the races cannot be held.
This was more than unsettling news. I immediately contacted Nizam Mohammed, my T&T racing contact. Yes, Nizam confirmed the street race portion of this event had been cancelled. However, he told me there would still be racing in the Larry Gomes Stadium itself.
Our phone connection wasn't the greatest. Nevertheless, he explained what the plan was and it sounded as if countable racing would take place. He also told me he would be dropping off racing passes for us and t-shirts for Carol and me as well. We wouldn't really know what was going to happen until tomorrow. I didn't feel great about this outcome but we would just have to wait.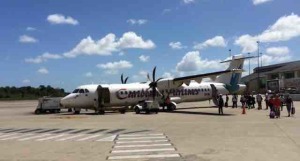 When we had booked our tour of Tobago, at the last minute, the earliest flight we could get departed Trinidad at 12:10 p.m. We would return on a 7:35 p.m. flight. The flight time from Trinidad to Tobago was just 20 minutes. We would have about seven hours for our time in Tobago. That wasn't much but it would be enough.
Not prepared for us?
When we landed we were met by "Peter" a rather glum acting and sounding taxi driver. The first thing out of his mouth was "What are we going to do with you?". He explained that most people arrive about 9 a.m. and then there's plenty of time for touring, lunch our glass bottom boat ride, etc.
I told Peter we had paid for our tour and didn't fly all the way over here to not get what we had contracted for. I was still a bit ill-tempered from getting the news that there might not be any racing tomorrow.
Peter could sense my disenchantment with the tour process. He took us over to see "Marjorie" who was only slightly more supportive of our touring effort than Peter! This was not going well.
Please. Let's focus.
Nevertheless, I was able to get everybody "focused" on how we COULD do our tour despite arriving later than normal. Everyone knew in advance what our arrival time would be before we booked the tour. Now they were acting as if this was "new news".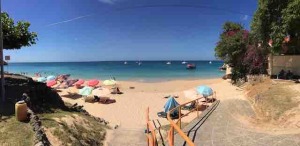 Pigeon Point.
Peter dropped us off at "Pigeon Point" which had been highly recommended as one of the most beautiful spots on Tobago. There we had a quick lunch of shrimp tacos and calamari (squid). Actually, because of slow service we had to take our lunch to go and board the "Oceans 1" glass bottom boat.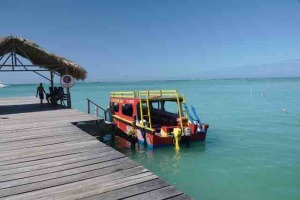 This boat didn't seem all that seaworthy. However, it wouldn't be much of a problem because we were never in more than three feet of water! It was the captain and his first mate, four local young people and Carol and me.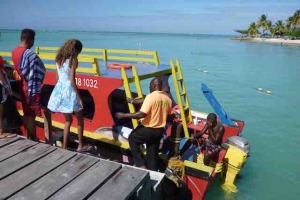 The boat stopped for snorkeling, although no one on board wanted to snorkel. We had not brought our bathing suits. Later in the cruise the boat dropped anchor for some swimming. Just two folks hit the water, which was only 2-3 feet deep. Nevertheless, we could see the beautiful white coral and some small fishes via the glass bottom boat. It wasn't our best ever boat ride but the weather and scenery was beautiful.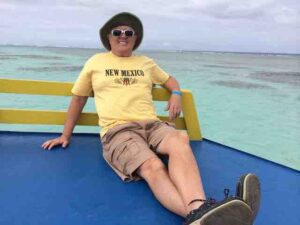 Pina collatas in paradise?
Following the boat ride, and before Peter was to return for our city tour, we had time for some pina collatas. Those went down smoothly. Then we discovered "Sadie" who would be replacing Peter as our afternoon tour guide. I'm learning that most of what I think is real in T&T is really quite fluid.
Sadie to the rescue.
Sadie turned out to be a wonderful upgrade from Peter as a tour guide. She took us all over and answered my millions of questions. We were most pleased with Sadie.
Toward the end of our tour I asked Carol to give me $20TT for Sadie as a tip. That's only about $3.50 U.S. not much of a tip but it was the thought that counted. Sadie had recommended a local T&T dish for our supper. It was the "Curry crab dumpling" a specialty on Tobago. Unfortunately, the one place that could have served us the food was out of the dumplings when we gave them a call.
As we pulled up to the airport, Carol slipped me some T&T cash from the backseat to where I was seated in the front seat. In the dark, I couldn't see the bills she was giving me. There were multiple bills so I assumed she was giving me four "fives" to make up the $20TT that I had requested from her.
At the airport Carol and I said our good-byes to Sadie. I slipped her the money Carol had slipped me. Then we got out of the car and waved good-bye. Sadie drove off.
You didn't give it ALL to her did you?
I said to Carol, "Thanks for giving me the money. I gave it to Sadie". "You didn't give it ALL to her did you?" Carol exclaimed. "Of course, I did. I asked you for $20TT, you gave it to me and I gave it to Sadie" I replied.
"I gave you $100!!!! You gave it all to her?" Carol almost yelled. "Yes, I did! What was I supposed to do? I couldn't see how much you were giving me in the dark. I thought you gave me $20TT," I said.
At this point I thought I had given Sadie $100 U.S. Carol just kept saying "That was $100, you gave her $100". At this stage Sadie was long gone. I just looked at Carol as if to say, "She probably needed the money more than we did". Even after 41 year of wedded matrimony communication can be difficult!
A little more questioning of Carol told me she had given me $100TT NOT $100 U.S. That made a big difference. In reality $100TT is only about $16.70 U.S. That made the whole situation a lot easier to handle. Now Sadie just thought I was a big tipper and not a person with the frugal reputation of the "Dreaded East Coast Trackchasers".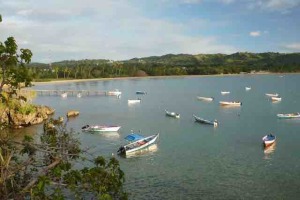 Our flight left 20 minutes EARLY.
Next we boarded our plane for the 20-minute flight back to Trinidad. The flight left 20 minutes EARLY. Doesn't ANYTHING around here happen the way it is supposed too?
Then when we arrived back at the Trinidad airport taxi driver Rick was nowhere to be found. We waited for about 15 minutes and he finally showed up. I must tell you this. Taxi driver Rick, aged 60, did have some funny stories about his two ex-wives.
If you can't handle change don't go to Trinidad and Tobago.
When we returned to the hotel I asked the front desk if a package had been left for me. Nope. No package and therefore no race passes. I gave Nizam a call. Were the races still on? He assured me there would be racing. He told me he hadn't dropped the passes off because with the change in race format now admission would be free. Folks if you don't like change I don't recommend you come to Trinidad and Tobago.
We capped off the night next door at the shopping center/movie complex. There was a rock n roll band entertaining a couple hundred people or more n a huge outdoor seating area of one of the major restaurants.
We grabbed two of the very last seats. Then we cornered a waiter above the din of the music and ordered a White Russian (Carol's favorite) and Strawberry Daiquiri. We couldn't hear ourselves talk but it was fun experience.
Then, without any known reason to us, the customers seated near the band began to leave their tables and seats. We thought the band was clearing the area for a huge dance floor. When no one came out to dance we wondered what was going on. Then I looked at the ground under the open skies. It was wet. It was raining lightly. The people had left their seats and tables because it was raining! What a strange day. Could anything else go wrong? It was going to be interesting tomorrow. Would we see racing and therefore make this track countable or not?
Sunday – Day 4 – (Port of Spain, Trinidad and Tobago)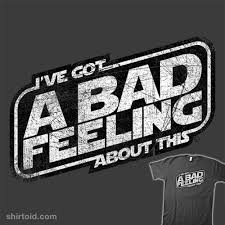 I had a bad feeling.
I must admit I had a very bad feeling about today. We had been in Trinidad and Tobago for four days. So far we had had a wonderful time. However, trackchasing brought us to T&T. Our last full day in the island country was reserved for racing. However, on Friday of this week this information was posted on local news networks and racing forums,
Good Day All,
Please be advised that the Arima Grand Prix, scheduled for Sunday 26th January, 2014 has been cancelled.
The Commissioner of Police sited as his reason for revoking approval, the fact that the area to be used for the Grand Prix was presently a "High Risk Crime Hotspot" and thus unsafe for an event of this nature. As such, the event would no longer be allowed to continue.
TTASA is sorry for any inconvenience that this cancellation will cause, but as one can see, even despite our greatest efforts, the matter is presently out of our jurisdiction.
Regards
Radha Mohammed
Hon. Sec.
Oh my!
I first became aware of this news from our taxi driver on the way to the airport when we were flying to Tobago yesterday (Saturday). You can imagine my chagrin at receiving such news on this timing. I made an immediate phone call to my main T&T racing contact Nizam Mohammed the group's Competition Chairman. Nizam confirmed the main racing event had been cancelled. However, he assured me they would be racing on an alternate track at the Larry Gomes Stadium in Arima. Arima was just 33 km east from where we were staying in Port of Spain. Based on Nizam's assurances we would continue with the plan as if nothing had happened.
Something HAD happened.
However, something HAD happened. Racing was now planned for a much narrower track in the parking lot of the Larry Gomes Stadium. This stadium was built in 2001 and named after the famous cricketer Larry Gomes.
I was a bit concerned that whatever racing the group might have would not be "countable" by trackchasing rules. I had explained to Nizam the trackchasing requirements. Nizam told me, "Don't worry we will have a race for you". Despite Noam's assurances it's my job to worry just a little bit until the race is in the books. We had traveled 8,000 miles and I certainly wanted to see a race in Trinidad and Tobago.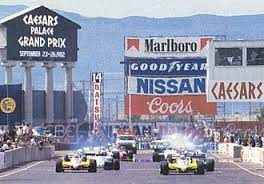 A race in a parking lot? This would not be the first one.
With the above as background Carol and I hired a taxi at the Marriott this morning (Sunday) and motored on over to the stadium. This would not be the first race I had ever seen run in a parking lot. Back in the early 80s I saw the World F1 racing event in the parking lot of Caesars Palace in Las Vegas! I figured if the Formula 1 boys could race in a parking lot it was good enough for anybody.
We would soon be meeting the management of the Trinidad and Tobago Sports Association.
Once at the track today we were quick to meet up with my contact Nizam Mohammed for the first time in person. It's always fun to finally make acquaintances with the person that I have been working with over the phone or the computer. Nizam gave us a warm welcome and then brought us over to his car. There he had event t-shirts waiting for both Carol and me. These shirts were beautiful. Don't miss my photos of them. Nizam's hospitality was carrying on the welcoming and friendly attitude we have received all week in T&T. I might add that each of the "Trinis" we met was also very polite and respectful.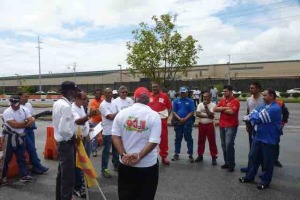 What would happen at the driver's meeting?
Under cloudy skies and warm temperatures it was soon time for the driver's meeting. There I would meet all of the group's key officials. They also introduced me to the drivers. I was allowed to speak to them briefly telling them about trackchasing and why I had come all the way to T&T. They seemed most appreciative that someone cared enough about their racing to make the trip.
At the driver's meeting the club's president Robert Amar explained the craziness of the local government's actions in cancelling the original race. Robert then offered a prayer for everyone's safety and would later flag the races. He was doing three people's jobs.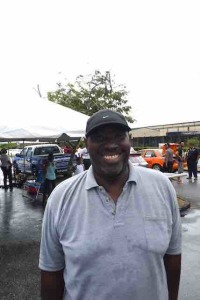 Then "Mr. Bob" took time to address the drivers. He is Trinidad's Minister of Motorsports. Mr. Bob urged the drivers to hang in there because help was on the way in the form of a new and better place to race. From afar it looked to me that the racing group just needs to increase their political clout which has been causing them problems for years.
Their "old" track, the Wallerfield Circuit, had been closed in 2006. When Wallerfield closed they didn't have any place to race permanently.
What would today's racing program look like?
At the driver's meeting the day's racing program was explained to the competitors. First would be practice and then qualifying. Following qualifying would be a 10-lap race for four competitors. That race, which would meet trackchasing's guidelines for countability, would be followed by a series of races where just two competitors would race. One racer would start on one side of the track while the other began his race on the opposite side of the track. Because the track was so narrow this would keep the cars from having to pass each other. The cars in these events would be racing against the clock and therefore not countable. Additionally a drifting exhibition and flat kart racing was on the card.

By the way the track's asphalt surface was nearly flat. There was a slight crown in the middle as you would find in an American football field. The track had 6-7 turns with the course marked on both sides by automobile tires. I clocked one driver during qualifying with a time of about 33 seconds to get around the road course layout.
I was hoping each of the racers would maintain control of their cars.
I was a bit concerned about the safety of spectators. At some points plastic but weighted "Jersey like" barriers were erected. However, there were several spots where there really weren't anything separating fans and racing cars. In those locations the cars were driving straight but it doesn't take much in racing to get a car "sideways" at the most unusual locations. I know the sanctioning group was under the gun to pull a track together on almost no notice. Nevertheless, a spectator injury might have put them further behind with the political adversaries.
Moral integrity?
The race format concerned me just a bit. I did not want the group to make up a race just for my benefit. Some of my fellow competitors, led by commissioner Guy Smith, had "encouraged" and even paid promoters to run special races so a track would miraculously become countable. That isn't against the rules although it should be. Nevertheless, it has to go against just about anyone's moral integrity doesn't it?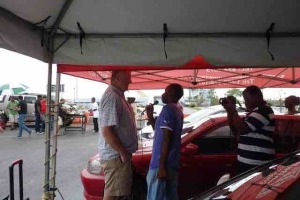 I do get special treatment at times.
Today I feared the four cars that would be starting at the same time and racing ten laps to a checkered flag might have been staged just for me. I had only explained what our trackchasing requirements were to Nizam. I had not asked that he change the program to suit me. I would never to do that. However, I know that when I visit these faraway locations the locals always go out of their way to make sure my visit is a pleasant one.
Fortunately, as the day wore on three more races were run in the trackchasing countable format, i.e. all cars start at the same time, race for a certain number of laps in this case and first to the checkered flag wins. I'm thinking the drivers preferred that format to the two-car "races" where the winner was based on time. I was now convinced that there was no special race format established just for me. That was good. We would be at the track for about five hours today. However, we did leave before all racing was complete so I suspect even more races qualifying as trackchasing countable were run as well.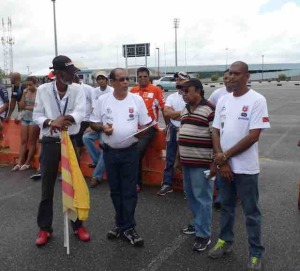 These folks deserve a lot of credit.
The group was more than disappointed with the government's ruling to cancel their main event after receiving approvals from various authorities over the past two months. To have the race canceled on two days notice was a major blow to the organization.
However, I have to give them 100% credit for coming up with a backup plan on 48 hours notice. Gentlemen, well done. There were a number of placards in the paddock area expressing the group's displeasure with the T&T local government.  The group's president, Robert Amar (above) did an excellent job on TV of explaining what the benefits to Trinidad and Tobago would be with auto racing being part of the commercial landscape. Don't miss the photos. In doing additional research about racing in Trinidad and Tobago I discovered a very similar cancellation had occurred in 2011. One posting described that cancellation thusly,
THIS EVENT HAS BEEN OFFICIALLY CANCELLED UNTIL FURTHER NOTICE. POLICE AUTHORITIES HAVE WITHDRAWN THEIR APPROVALS AT THE LAST MINUTE.
As far as I can tell there was no backup event for the cancelled 2011 Arima Grand Prix. That makes us very lucky that after a last minute cancellation of the 2014 Arima Grand Prix they had the capability to reschedule with the racing they had today.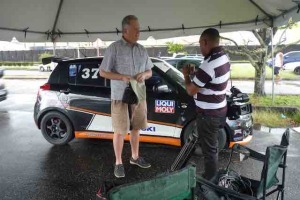 Trackchasing media coverage.
I guess my title of the "World's #1 Trackchaser" carries some weight with the media. During the afternoon I was called on to do two TV interviews. The first was with local news channel 7, WinTV. The program aired later in the evening showing. The group's president was shown explaining in some very strong language how badly the racing group needs a permanent race facility and how screwed up the local government was. Robert doesn't pull any punches! The five-minute TV piece concluded with my commenting on our trackchasing visit to the friendly island nation of Trinidad and Tobago. Here's a link to that TV broadcast:
Trinidad and Tobago needs a new racetrack….now!
Additionally, I did an interview with Eric from the Kelly Village TV channel (KVTV). Eric wanted to know which countries were my favorites for racing. Truth be told I don't have any real favorites. I've enjoyed trackchasing in each and every one of the 68 countries where I have seen racing. However, when pressed on the issue I told him that "New Zealand, Australia and the United Kingdom" were favorites.
At one point Eric needed to run to his car to get some promotional materials he wanted to give me. He said, "Don't worry. I'll find you in the crowd. You sort of stand out" referring to our obvious unique (in T&T) ethnicity.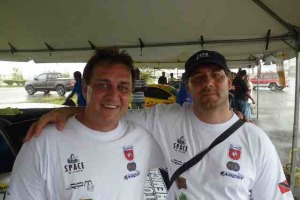 Other white people.
The only other "pale skinners" I noticed were two guys that were advertised as being "from Russia". In point of fact they were from Ukraine. They live and work permanently in T&T in the shipping industry. They have boats coming from Brazil that unload their cargo onto bigger ships heading to China. They were careful to point out the cargo itself never actually lands in Trinidad. The cargo is all exchanged on the high seas from boat to boat. I would love to know THEIR life stories.
I told the guys from Ukraine that I was concerned about the political problems they were having there. I feared the upheaval would end up affecting our upcoming Ukraine trackchasing plans. The guys told me, "Don't worry. It's winter in Ukraine. During winter we argue. During the summer we have racing." Shortly after I returned home it was confirmed that the Ukrainian conflict with Russia would end up cancelling our trip.  
Eric from KVTV sent this link to a trailer of our interview. The full interview will be posted in the next few days.
Trackchasing interview from Trinidad and Tobago
They race in the sun and rain here.
The weather was something to behold. Black clouds would be seen off in the distance. They would move toward the race track quickly. It would rain hard for 1-2 minutes and be gone. This seemed to happen about every thirty minutes. Nevertheless, the rain didn't stop the racing.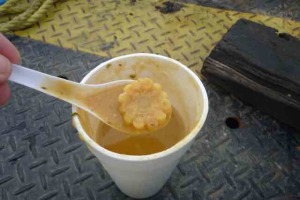 Corn soup!
Track refreshments were quite unique. Some local people had set up their stand serving delicious corn soup from large three foot high stainless steel kettles. When was the last time a track featured corn soup as their main food attraction? It was the best corn soup I have ever had! Carol chose the popcorn with the largest kernels she had ever seen and perfectly salted.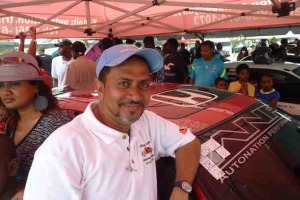 Don't miss the racing footage.
Much of my racing footage was taken from the top of a grandstand at a nearby basketball court. From an elevation of 25 feet I had a great view of the racing action.  I had the chance to meet several drivers.  They were the nicest folks.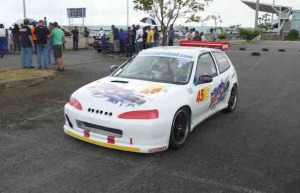 There were about a dozen cars racing today. Some 25 had been pre-entered for the original event. Another ten karters and three drifting machines attended. Fortunately, the cars were pitted under plastic/nylon roof tops, which provided adequate shelter from the frequent rain storms that passed.
Amenities from the track.
A little later in the afternoon a woman showed up handing out free racing programs that were nicely done. As mentioned there were also event t-shirts available. Later in the afternoon a gentleman pulled into the paddock area in a station wagon. Atop the wagon were two large audio speakers. This machine was pulled to the center of the racetrack and acted as the P.A. system for the rest of the day. I found the action more entertaining when someone over a good sound system was calling the action.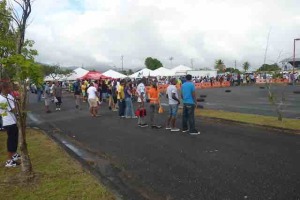 Tickets were originally priced at $60TT for the Arima Grand Prix. When the venue changed admission was now free. The event attracted a good-sized crowd of observers who stopped their cars on the street. Here they watched with great interest.
If a street race was canceled because it was part of "a high risk crime area" was it also too dangerous of an area to race in the nearby parking lot?
I found it difficult to understand how the Police authorities could cancel a street race around the Larry Gomes Stadium because of this being a "High Risk Crime Hotspot". Then, on the same weekend they would allow the racing to go on in the parking lot of the Larry Gomes Stadium which was likely within meters of the original planned track? Sound like political games were being played to me.
When it was time to leave.
When it was time to leave the track Nizam walked us down to a local street corner. I told you I'm given special treatment at races like this and I appreciate it. There he waited with us until we could get a taxi. In T&T cars with license plates beginning with "P" are privately owned cars. Cars with license plates beginning with "H" are taxis. Finally, vehicles with plates beginning with "T" are trucks.
We had to wait about 10 minutes to get a taxi. When we hopped in our taxi we bade Nizam farewell and thank you. The taxi driver had one other woman in the car as his fare. He soon dropped her at her residence and we were then bound for the return trip to the Marriott.
What a ride!
Up to this point we had only ridden in Marriott recommended taxis. These had all been pristine driving machines with well-spoken drivers in tidy white shirts. Today's driver, although very friendly, was driving a well-used vehicle in serious need of a front-end alignment. His local dialect was difficult to understand but that didn't matter. We couldn't hear him because his radio was playing at a volume approaching the maximum.
Praying for a traffic jam.
As we drove along with the windows down I prayed for traffic. Why did I want traffic? So our driver would slow down! On the open road his speeds approached 150 K.P.H. With front wheels that seemed as if they might fall off at any second it was probably unsafe to ride in this vehicle at one-third the speed he was driving. However, when we arrived back at the hotel the bill was only $100TT (about $17 U.S.) compared to the $35 U.S. we had paid for a Marriott sponsored car to get to the track.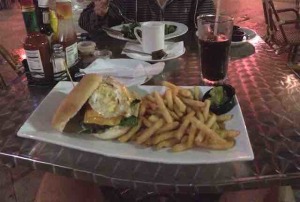 Wrapping up a very successful day.
We finished what had now been a most lovely trackchasing day at "Trader Jack's Island Grill" in the nearby to the hotel movie/shopping complex. Their menu was similar to what a T.G.I.F. might offer. Although the service was deliberate (read that slow) the food was fantastic. The location of our hotel made this shopping area a frequent visit.
It was time to reflect.
In summary, I must tell you this. It can certainly be a very long and expensive trip to these foreign country trackchasing adventures. Often times, and in this case too, it is difficult to get perfect information on the "whens and wheres" of the event we plan on seeing. In a way that just adds to the adventure.
I got a slow start on my international trackchasing. First, I followed Will White's international efforts. Then I followed Roland Vanden Eynde's. Finally, when it was time for me to hit the "international skies" I did it with a vengeance.
In all of the 68 countries I have now visited for racing I had never come to a country without getting a chance to see a race. I suspect that in coming to Trinidad and Tobago I might have come closest to breaking that streak…but that streak was not broken. I had the members of the Trinidad and Tobago race group to thank for their perseverance. I know that some day they will get that permanent track they are looking for. They deserve it. In the meantime I'll simply say thank you to all of the people we met in T&T. A special thank you goes out to Nizam and his friends. Our five-day visit was such a relaxing and fun trip.
Monday – Day 5 – (Port of Spain, Trinidad and Tobago – Miami – Los Angeles – San Clemente)
We were not shortchanged on sleep.
One of the best items about our trip to Trinidad and Tobago was getting to sleep in each and every morning of the trip. With T&T being four hours ahead of our time zone we could have had some early morning wakeup calls but we didn't.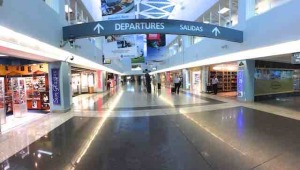 Today was no exception. With a 3:30 p.m. departure from the Piarco International Airport (Trinidad) to Miami we could sleep in and have a leisurely breakfast. I even had time for 45 minutes on the hotel's elliptical trainer my first formal exercise of the trip.
On the way home.
The Trinidad airport is somewhat modern. They only have about four places to eat and three of them are fast food chicken outlets! With our sponsor, American Airlines, helping out with our flights it was a relatively easy 8-9 hours of flying time first to Miami, Florida and then onto Los Angeles, California.
However, we did "pay" a bit for such a late departure from T&T. We landed at LAX at nearly midnight. By the time we got our car and the rest of it we weren't home until nearly 2 a.m. What time was it in Trinidad when we pulled into our driveway? It was nearly 6 a.m.! Our day in California was just ending while the days in the lives of the "Trinis" that we had left in the afternoon were just beginning.
I am very lucky.
When I think back on it I am very lucky to have the trackchasing hobby as a motivator for me. As you can see it motivates me to just get up and go….all over the world. Without it I would travel. I just would not have traveled to nearly as many faraway, interesting and adventuresome places. Stay tuned for trackchasing country #69 coming to a place likely far far away.
Thanks for reading about my trackchasing, 
Randy Lewis
World's #1 Trackchaser
Randy is a freelance journalist who winters in San Clemente, California and sometime flies in coach.
And so it goes from country #68. I hope you'll tune in when country #69 becomes a reality. It's more than a glimmer in my eye right now. I'm working on it as this is read.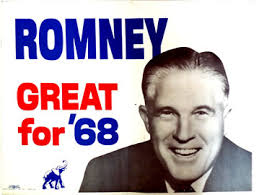 THE COUNTRY LIST
#68!!
RLR – Randy Lewis Racing Lifetime Trackchasing Countries
# 1 – UNITED STATES OF AMERICA – Peoria Speedway – Mt. Hawley, (oval) – Track #1, Peoria, Illinois – circa 1954 (age 5)
# 2 – CANADA – Cayuga Speedway (oval) – Track #174, Nelles Corner, Ontario, Canada – July 31, 1988 (Dick Trickle winner)
# 3 – AUSTRALIA – Parramatta City Raceway (oval) – Track #180, Granville, New South Wales, Australia – November 17, 1989 (accompanied by Carol)
# 4 – UNITED KINGDOM – Northhampton International Raceway (oval) – Track #378, Northhampton – June 26, 1999 (accompanied by Carol, Kristy, Jim)
# 5 – NETHERLANDS – Driesum Racetrack (oval) – Track #839, Driesum – May 5, 2005 (accompanied by Roland Vanden Eynde)
# 6 – BELGIUM – Bellekouter oval (oval) – Track #841, Affligem – May 8, 2005 (accompanied by Roland Vanden Eynde)
# 7 – FRANCE – Circuit de Croix en Ternois (road course) – Track #843, Saint-Pol sur-Ternoise – May 8, 2005 (accompanied by Roland Vanden Eynde – 2nd new country in one day!)
# 8 – GERMANY – Nurburgring (road course) – Track #844, Nurburg – May 13, 2005 (accompanied by Carol, Roland Vanden Eynde)
# 9 – NEW ZEALAND – Western Springs Speedway (oval) – Track #1,134, Western Springs – December 26, 2006 (accompanied by Carol)
# 10 – MEXICO – Triovalo Bernardo Obregon (oval) – Track #1,281, Tiajamulco de Zuniga, Jalisco – October 14, 2007 (accompanied by Carol, J.J., Roger Ward)
# 11 – BARBADOS – Bushy Park Racing Circuit (road course) – Track #1,296, Bushy Park – December 9, 2007
# 12 – THAILAND – Bira Circuit (road course) – Track #1,300, Pattaya – January 19, 2008
# 13 – SOUTH AFRICA – Durban Grand Prix (road course) – Track #1,315, Durban, KwaZulu-Natal – February 24, 2008 (accompanied by J.J. and Will Van Horne)
# 14 – JAMAICA – Dover Raceway (road course) – Track #1,322, Brown's Town St. Ann – March 24, 2008
# 15 – SWEDEN – Sturup Raceway (road course) – Track #1,335, Malmo – May 10, 2008 (accompanied by Carol)
# 16 – DENMARK – Ring Djursland (road course) – Track #1,336, Tirstrup – May 11, 2008 (accompanied by Carol)
# 17 – CZECH REPUBLIC – Automotodrome BRNO (road course) – Track #1,381, Brno – September 13, 2008
# 18 – AUSTRIA – Lambrechten Stock Car Track (road course) – Track #1,382, Lambrechten – September 14, 2008
# 19 – IRELAND – Tipperary International Raceway (oval) – Track #1,388, Rosegreen – October 26, 2008 (Carol and I visited this track earlier in the year)
# 20 – GUYANA – South Dakota Circuit (road course) – Track #1,390, Timehri – November 2, 2008 (accompanied by Carol)
# 21 – CHINA – The Guia Circuit (road course) – Track #1,392, Macau – November 16, 2008 (accompanied by Carol)
# 22 – COSTA RICA – Autodromo La Guacima (road course) – Track #1,398, La Guacima – November 30, 2008
# 23 – ANDORRA – Grandvalira Circuit (road course) – Track #1,404, Port d'Envalira, Andorra – January 17, 2009
# 24 – ARGENTINA – Circuito Efren Chemolli (oval) – Track #1,406, Buenos Aires, Argentina – January 31, 2009 (shared with Jerry Fisher)
# 25 – QATAR – Losail International Circuit (road course) – Track #1,408, Doha, Qatar – February 13, 2009
# 26 – BAHRAIN – Bahrain International Circuit (road course) – Track #1,410, Sakhir, Bahrain – February 27, 2009 (accompanied by Carol)
# 27 – UNITED ARAB EMIRATES – Dubai Autodrome (road course) – Track #1,411, Dubai, United Arab Emirates – February 28, 2009 (accompanied by Carol)
# 28 – COLOMBIA – Autodromo de Tocancipa (road course) – Track #1,415, Tocancipa, Colombia – March 22, 2009
# 29 – SPAIN – Motorland Aragon (road course) – Track #1,416, Alcaniz, Spain – March 28, 2009
# 30 – PORTUGAL – Circuto de Murca (road course) – Track #1,417, Murca, Portugal – March 29, 2009
# 31 – ICELAND – Kapelluhraum (road course) – Track #1,420, Hafnafjorour, Iceland – April 25, 2009 (shared with Will White)
# 32 – HUNGARY – Hungaroring (road course) – Track #1,426, Mogyorod, Hungary – May 8, 2009 (accompanied by Carol)
# 33 – SWITZERLAND – Hock Ybrig (road course) – Track #1,427, Hoch Ybrig, Switzerland – May 9, 2009 (accompanied by Carol)
# 34 – ITALY – Vighizzolo d'Este Stock Car Track (road course) – Track #1,428, Vighizzolo d'Este, Italy – May 10, 2009 (accompanied by Carol)
# 35 – DOMINICAN REPUBLIC – Autodromo Mobil 1 (road course) – Track #1,515, Santo Domingo, Dominican Republic – December 6, 2009 (accompanied by Carol)
# 36 – MALTA – Ta'Qali Race Track (road course) – Track #1,521, Ta'Qali, Malta – February 7, 2010 (accompanied by Carol)
# 37 – FINLAND – Lake Pidisjarvi Ice Track (road course) – Track #1,524, Nivala, Finland – February 20, 2010
# 38 – JAPAN – Suzuka Circuit (road course) – Track #1,530, Suzuka, Japan – March 21, 2010
# 39 – CHILE – Autodromo de Interlomas (road course) – Track #1,531, Temuco, Chile – April 18, 2010
# 40 – MOROCCO – Circuit de Marrakesh (road course) – Track #1,535, Marrakesh, Morocco – May 1, 2010 (accompanied by Carol)
# 41 – BRAZIL – Circuit de Caruaru – Aryten Senna (road course) – Track #1,540, Caruaru, Brazil – May 16, 2010 (accompanied by Carol, Jerry Fisher and Katina Spencer)
# 42 – ESTONIA – Laitse Rally Park (road course) – Track #1,571, Laitse, Estonia – July 24, 2010 (accompanied by Carol)
# 43 – LATVIA – Bikernieki (road course) – Track #1,572, Riga, Latvia – July 25, 2010 (accompanied by Carol
# 44 – GUATEMALA – Autodromo Pedro Cofino (road course) – Track #1,580, Alotenango, Guatemala – August 15, 2010
# 45 – EL SALVADOR – El Jabali (road course) – Track #1,582, Quezaltepeque, El Salvador – August 22, 2010 (accompanied by Carol)
# 46 – ROMANIA – Bradu (road course) – Track #1,603, Bradu, Romania, El Salvador – October 16, 2010
# 47 – BULGARIA – Closed Route – Burgas (road course) – Track #1,604, Burgas, Bulgaria – October 17, 2010 (accompanied by Lyubomir and Plamen Simeonov)
# 48 – SOUTH KOREA – Korea International Circuit (road course) – Track #1,605, Yeongam, Jeollanam-Do, South Korea – October 24, 2010
# 49 – PHILIPPINES – Batangas Racing Circuit (road course) – Track #1,608, Batangas, Philippines – November 21, 2010
# 50 – NORWAY – Lyngas Motorbane (road course) – Track #1,648, Lier, Norway – April 30, 2011
# 51 – MALAYSIA – Sepang International Circuit (road course) – Track #1,656, Sepang, Malaysia – May 28, 2011
# 52 – INDONESIA – Sentul International Circuit (road course) – Track #1,657, Babakan Madang, Boder, Indonesia – May 29, 2011
# 53 – LUXEMBOURG – Alzingen (road course) – Track #1,711, Alzingen, Luxembourg – September 4, 2011 (accompanied by Carol)
# 54 – POLAND – Tor Slomczyn (road course) – Track #1,713, Slomczyn, Poland – September 11, 2011 (accompanied by Carol)
# 55 – SINGAPORE – Marina Bay (road course) – Track #1,714, Singapore, Singapore – September 24, 2011 (accompanied by Carol)
# 56 – URUGUAY – Piriapolis Grand Prix (road course) – Track #1,724, Piriapolis, Uruguay – November 12, 2011
# 57 – SRI LANKA – Pannala Race Track (road course) – Track #1,732, Pannala, Sri Lanka – February 12, 2012
# 58 – ECUADOR – Autodromo Internacional de Yahuarcocha (road course) – Track #1,736, Ibarra, Ecuador – March 11, 2012
# 59 – SLOVAKIA – Slovakia Ring (road course) – Track #1,742, Orechova Puton, Slovakia – April 29, 2012
# 60 – MONACO – Circuit de Monaco (street course) – Track #1,746, Monte Carlo, Monaco – May 13, 2012 (accompanied by Carol)
# 61 – CROATIA – Automotodrom Grobnik (road course) – Track #1,762, Rijeka, Croatia – June 23, 2012
# 62 – PERU – Autodromo La Chutana (road course) – Track #1,802, Lima, Peru – October 21, 2012 (accompanied by Carol)
# 63 – GREECE – Serres Circuit (road course) – Track #1,807, Serres, Greece – November 4, 2012
# 64 – RUSSIA – Moscow Central Hippodrome (oval) – Track #1,824, Moscow, Russia – February 23, 2013 (accompanied by Carol)
# 65 – LITHUANIA – Marijampole Autokross Track (road course) – Track #1,842, Marijampole, Lithuania – May 12, 2013 (accompanied by Carol)
# 66 – INDIA – Buddh International Circuit (road course) – Track #1,915, Noida, India – October 27, 2013 (accompanied by Carol)
# 67 – GEORGIA – Rustavi International Motorpark (road course) – Track #1,916, Rustavi, Georgia – November 10, 2013
# 68 – TRINIDAD AND TOBAGO – Larry Gomes Stadium (road course) – Track #1,928, Arima, Trinidad and Tobago – January 26, 2014
The International Big 3.
During the last 6 years or so, I have added 59 trackchasing countries to my list. That's an average of nearly ten new trackchasing countries for each of the last six years.
Randy Lewis, San Clemente, California USA – 68

Roland Vanden Eynde, Vilvoorde, Belgium – 52

Carol Lewis, San Clemente, California USA – 35
2014 is just in the beginning stages of becoming a great international trackchasing year.
Trinidad and Tobago is the beginning of what I hope we be another big year of international trackchasing. My goal for the year was to add six new countries. If they race as scheduled I plan to be there.
2014 Country List
Trinidad and Tobago
TRAVEL DETAILS
AIRPLANE
Los Angeles, CA (LAX) – Houston, TX (IAH) – 1,379 miles
Houston, TX (IAH) – Miami, FL (MIA) – 964 miles
Miami, FL (MIA) – Port of Spain, Trinidad and Tobago (POS) – 1,622 miles
PRIVATE DRIVER/TAXI
We were shuttled all over Trinidad and Tobago by friendly and courteous driver.
Private cars – 56 miles
AIRPLANE
Port of Spain, Trinidad and Tobago (POS) – Miami, FL (MIA) – 1,622 miles
Los Angeles, CA (LAX) – Miami, FL (MIA) – 2,342 miles
Total air miles – 7,929 (5 flights)
Total private car/taxi miles – 56
Total miles traveled on this trip – 7,985 miles 
TRACK ADMISSION PRICES:
Larry Gomes Stadium – Complimentary
Total racetrack admissions for the trip – $0
LIFETIME TRACKCHASER COMPARISONS 
The three most important trackchasing comparisons to me are:
Total lifetime tracks seen
Total "trackchasing countries" seen
Lifetime National Geographic Diversity results
Total Lifetime Tracks
There are no trackchasers currently within 350 tracks of my lifetime total. Don't blame me.
Randy Lewis, San Clemente, California – 1,928
Total Trackchasing Countries
There are no trackchasers currently within 10 countries of my lifetime total.
Randy Lewis, San Clemente, California – 68
Current lifetime National Geographic Diversity results
Randy Lewis, San Clemente, California – 4.96
Trinidad and Tobago – FAST FACTS*
Trinidad and Tobago, officially the Republic of Trinidad and Tobago, is an island country off the northern edge of South America, lying just off the coast of northeastern Venezuela and south of Grenada in the Lesser Antilles. Usually considered part of the Caribbean, it shares maritime boundaries with other nations including Barbados to the northeast, Grenada to the northwest, Guyana to the southeast, and Venezuela to the south and west.
The island of Trinidad was a Spanish colony from the arrival of Christopher Columbus in 1498 to the capitulation of the Spanish Governor, Don José Maria Chacón, on the arrival of a British fleet of 18 warships on 18 February 1797. During the same period, the island of Tobago changed hands among Spanish, British, French, Dutch and Courlander colonizers. Trinidad and Tobago (remaining separate until 1889) were ceded to Britain in 1802 under the Treaty of Amiens. The country Trinidad and Tobago obtained independence in 1962, becoming a republic in 1976. Unlike most of the English-speaking Caribbean, the country's economy is primarily industrial, with an emphasis on petroleum and petrochemicals.
Trinidad and Tobago is known for its Carnival and is the birthplace of steelpan, limbo, and the music styles of calypso, soca and chutney.
GEOGRAPHY.
Trinidad and Tobago are southeasterly islands of the Antilles, situated between 10° 2′ and 11° 12′ N latitude and 60° 30′ and 61° 56′ W longitude. At the closest point, Trinidad is just 11 kilometres (6.8 mi) off the Venezuelan coast. Trinidad is 1,841 square miles in area (comprising 93.0% of the country's total area) with an average length of 50 mi and an average width of (37 mi). Tobago has an area of 120 square miles, or 5.8% of the country's area, 25 miles long and 7.5 miles at its greatest width.
Trinidad and Tobago lie on the continental shelf of South America, and is thus geologically considered to lie entirely in South America. However, the West Indies are generally considered to be part of North America, and as the language and cultural links of Trinidad and Tobago are not to South America, but to the rest of the English-speaking Caribbean nations, the nation is often treated as part of North America.
CLIMATE.
The climate is tropical. There are two seasons annually: the dry season for the first six months of the year, and the rainy season in the second half of the year. Unlike most of the other Caribbean islands, both Trinidad and Tobago have frequently escaped the wrath of major devastating hurricanes, including Hurricane Ivan, the most powerful storm to have passed close to the islands in recent history, in September 2004. The nation lies outside the hurricane belt.
Record temperatures for Trinidad and Tobago are 100.4°F for the high in Port of Spain, and a low of 12°C.
HISTORY – TRINIDAD.
Trinidad
Both Trinidad and Tobago were originally settled by Amerindians of South American origin. Christopher Columbus encountered the island of Trinidad on 31 July 1498.
Skipping ahead….The Abolitionist movement[27] and/or the decreased economic viability of slavery as a means of procuring labor both resulted in the abolition of slavery in 1833 via the Slavery Abolition Act 1833 (citation 3 & 4 Will. IV c. 73), which was followed by its substitution by an "apprenticeship" period. This was also abolished in 1838, with full emancipation being granted on 1 August. An overview of the populations statistics in 1838, however, clearly reveals the contrast between Trinidad and its neighboring islands: upon emancipation of the slaves in 1838, Trinidad had only 17,439 slaves, with 80% of slave owners having less than 10 slaves each.
In contrast, at twice the size of Trinidad, Jamaica had roughly 360,000 slaves. Upon emancipation, therefore, the plantation owners were in severe need of labor, and the British filled this need by instituting a system of indenture. Various nationalities were contracted under this system, including Chinese, Portuguese and Indians. Of these, the Indians were imported in the largest numbers. Indentureship of the Indians lasted from 1845 to 1917, over which more than 147,000 Indians were brought to Trinidad to work on sugarcane plantations.
They added what was initially the second-largest population grouping to the young nation, and their labor developed previously underdeveloped plantation lands. The indenture contract was exploitative. Persons were contracted for a period of five years with a daily wage (25 cents in the early 20th century), after which they were guaranteed return passage to India. Indentureship contracts were soon extended to 10 years after the planters complained they were losing their labor too early.
The cacao (cocoa) crop also contributed greatly to the economic earnings in the late 19th and early 20th centuries. After the collapse of the cacao crop (due to disease and the Great Depression), petroleum increasingly came to dominate the economy. Petroleum was discovered in 1857. The collapse of the sugarcane industry concomitant with the failure of the cocoa industry resulted in widespread depression among the rural and agricultural workers in Trinidad, and encouraged the rise of the Labor movement in the 1920–1930 period. The Depression and the rise of the oil economy led to changes in the social structure. By the 1950s, petroleum had become a staple in Trinidad's export market, and was responsible for a growing middle class among all sections of the Trinidad population.
INDEPENDENCE.
Independence
Trinidad and Tobago gained its independence from the United Kingdom in 1962.
The presence of American military bases in Chaguaramas and Cumuto in Trinidad during World War II profoundly changed the character of society. In the post-war period, the wave of decolonization that swept the British Empire led to the formation of the West Indies Federation in 1958 as a vehicle for independence.
In 1976, the country severed its links with the British monarchy and became a republic within the Commonwealth. The Republic profited greatly from the rising price of oil, as the oil-rich country increased its living standards greatly. Since 2003, the country has entered a second oil boom, a driving force which the government hopes to use to turn the country's main export back to sugar and agriculture. Great concern was raised in August 2007 when it was predicted that this boom would last only until 2018. Petroleum, petrochemicals and natural gas continue to be the backbone of the economy. Tourism and the public service are the mainstay of the economy of Tobago, though authorities have begun to diversify the island. The bulk of tourist arrivals on the islands are from Western Europe.
POLITICS.
Trinidad and Tobago is a republic with a two-party system and a bicameral parliamentary system based on the Westminster System. The head of state of Trinidad and Tobago is the President, currently Anthony Carmona. The head of government is the Prime Minister. The President is elected by an Electoral College consisting of the full membership of both houses of Parliament. The Prime Minister is elected from the results of a general election which takes place every five years.
From 24 December 2001 to 24 May 2010, the governing party has been the People's National Movement (PNM) led by Patrick Manning; the Opposition party was the United National Congress (UNC) led by Basdeo Panday. Another recent party was the Congress of the People, or COP, led by Winston Dookeran. Support for these parties appears to fall along ethnic lines with the PNM consistently obtaining a majority Afro-Trinidadian vote, and the UNC gaining a majority of Indo-Trinidadian support. COP gained 23% of the votes in the 2007 general elections but failed to win a seat.
MILITARY.
The Trinidad and Tobago Defense Force (TTDF) is the military organization responsible for the defense of the twin island Republic of Trinidad and Tobago. It consists of the Regiment, the Coast Guard, the Air Guard and the Defense Force Reserves. Established in 1962 after Trinidad and Tobago's independence from Britain, the TTDF is one of the largest military forces in the English-speaking Caribbean.
ECONOMY.
Trinidad and Tobago is one of the wealthiest and most developed nations in the Caribbean and is listed in the top 40 (2010 information) of the 70 High Income countries in the world. It has one of the highest GDP per capita of USD $20,300 (2011) in the Caribbean. In November 2011, the OECD removed Trinidad and Tobago from its list of Developing Countries. Trinidad's economy is strongly influenced by the petroleum industry. Tourism and manufacturing are also important to the local economy. Tourism is a growing sector, although not proportionately as important as in many other Caribbean islands. Agricultural products include citrus, cocoa, and other products.
Oil and gas account for about 40% of GDP and 80% of exports, but only 5% of employment. The country is also a regional financial centre, and the economy has a growing trade surplus. The expansion of Atlantic LNG over the past six years created the largest single-sustained phase of economic growth in Trinidad and Tobago. It has become the leading exporter of LNG to the United States, and now supplies some 70% of U.S. LNG imports.
Trinidad and Tobago's infrastructure is good by regional standards. The international airport in Trinidad was expanded in 2001. There is an extensive network of paved roads with several good four and six lane highways including one controlled access expressway. The Ministry of Works estimates that an average Trinidadian spends about four hours in traffic per day. Private hospitals are available and reliable. Utilities are fairly reliable in the cities. Some areas, however, especially rural districts, still suffer from water shortages.
Telephone service is relatively modern and reliable. Cellular service is widespread and has been the major area of growth for several years.
DEMOGRAPHICS.
As of 2005, most (96%) of the country's 1.3 million inhabitants reside on the island of Trinidad with the remainder (4%) in Tobago. The ethnic composition of Trinidad and Tobago reflects a history of conquest and immigration.
Religion
Religion in Trinidad and Tobago (2011 census)

Religion

 

 

Perce nt

 

Christianity

  

63.4%

Hinduism

  

18.1%

Islam

  

5.0%

None/Not stated

  

13.3%
Many different religions are present in Trinidad and Tobago. Among Christian denominations (65.7%) are Roman Catholics, Anglicans, Seventh-day Adventists, Presbyterians, Methodists, Jehovah's Witnesses and other Evangelical groups. Other religious groups include Hindus (25.6%) and Muslims (6.6%) (2000 census).
Language
English is the country's official language (the local variety of standard English is Trinidadian English or more properly, Trinidad and Tobago Standard English (TTSE)), but the main spoken language is either of two English-based creole languages (Trinidadian Creole or Tobagonian Creole) which reflects the Amerindian, European (including Spanish), African, and Indian heritage of the nation.
Education
Children generally start pre-school at the early age of two and a half years. This level of tuition is not mandatory but most children start school at this stage as children are expected to have basic reading and writing skills when they commence primary school. Students proceed to a primary school at the age of 5 years. Seven years are spent in primary school. The seven classes of primary school consists of First Year and Second Year, followed by Standard One through Standard Five. During the final year of primary school, students prepare for and sit the Secondary Entrance Assessment (SEA) which determines the secondary school the child will attend.
Students attend secondary school for a minimum of five years, leading to the CSEC (Caribbean Secondary Education Certificate) examinations, which is the equivalent of the British GCSE O levels. Children with satisfactory grades may opt to continue high school for a further two-year period, leading to the Caribbean Advanced Proficiency Examinations (CAPE), the equivalent of GCE A levels. Both CSEC and CAPE examinations are held by the Caribbean Examinations Council (CXC). Public Primary and Secondary education is free for all, although private and religious schooling is available for a fee.
Tertiary education is also free for all, up to the level of the Bachelors degree, at the University of the West Indies (UWI), the University of Trinidad and Tobago (UTT), the University of the Southern Caribbean (USC), the College of Science, Technology and Applied Arts of Trinidad and Tobago (COSTAATT) and certain other local accredited institutions.
Culture
Trinidad and Tobago is the birthplace of calypso music and the steelpan, which is widely claimed in Trinidad and Tobago to be the only acoustic musical instrument invented during the 20th century. Trinidad is also the birthplace of Soca, Chutney, Parang, and Carnival (in the form that has been widely copied in the Caribbean and around the world).
Trinidad and Tobago also has the distinction of being the smallest country to have two Miss Universe titleholders and the first Black women to ever win: Janelle Commissiong in 1977 and Wendy Fitzwilliam in 1998.
SPORTS.
Olympics
Hasely Crawford won the first Olympic gold medal for Trinidad and Tobago in the men's 100 m dash in the 1976 Summer Olympics. Nine different athletes from Trinidad and Tobago have won twelve medals at the Olympics, beginning with a silver medal in weightlifting, won by Rodney Wilkes in 1948, and most recently, a gold medal by Keshorn Walcott in the men's javelin throw in 2012. Ato Boldon has won the most Olympic and World Championship medals for Trinidad and Tobago in athletics, with eight in total – four from the Olympics and four from the World Championships. Boldon is the only world champion Trinidad and Tobago has produced to date in athletics. He won the 1997 200 m sprint World Championship in Athens.
Cricket
Cricket is one of the most popular sports of Trinidad and Tobago, with intense inter-island rivalry with its Caribbean neighbors. Trinidad and Tobago is represented at Test cricket, One Day International as well as Twenty20 cricket level as a member of the West Indies team. The national team plays at the first-class level in regional competitions. Trinidad and Tobago along with other islands from the Caribbean co-hosted the 2007 Cricket World Cup.
Football
The national football team qualified for the 2006 FIFA World Cup for the first time by beating Bahrain in Manama on 16 November 2005, making them the smallest country ever (in terms of population) to qualify. Prior to the 2006 World Cup qualification, Trinidad and Tobago came agonizingly close in a controversial qualification campaign for the 1974 FIFA World Cup. Following the match, the referee of their critical game against Haiti was awarded a lifetime ban for his actions..
Other sports
Netball has long been a popular sport in Trinidad and Tobago, although it has declined in popularity in recent years. At the Netball World Championships they co-won the event in 1979, were runners up in 1987, and second runners up in 1983.
Basketball is commonly played in Trinidad and Tobago in colleges, universities and throughout various urban basketball courts. Rugby continues to be a popular sport, and horse racing is regularly followed in the country.
There is also the Trinidad and Tobago national baseball team which is controlled by the Baseball/Softball Association of Trinidad and Tobago, and represents the nation in international competitions. The team is a provisional member of the Pan American Baseball Confederation
That's all folks! Official end of the RLR – Randy Lewis Racing Trackchaser Report
Racing action from Trinidad and Tobago
Don't miss my appearance on the country wide Trinidad and Tobago TV news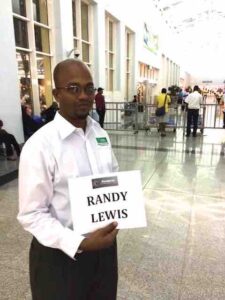 Click on the link below
Photos, all kinds of photos, from our adventure to the island country of Trinidad and Tobago