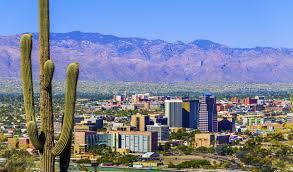 Greetings from Tucson, Arizona
.
.
From the travels and adventures of the 
"World's #1 Trackchaser"
.
.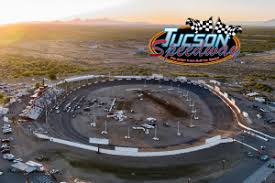 Tucson Raceway Park
Paved oval
 Lifetime Track #235
.
.
Tucson Raceway Park
Mixed surface inner oval
 Lifetime Track #838
.
.
.


I have just posted one of my "classic" Trackchaser Reports. These are reviews from tracks seen long ago that I haven't had a chance to post to my website at www.randylewis.org.
This review comes from the Tucson Raceway Park in Tucson, Arizona. I first went there on Saturday, April 30, 1994, to see racing on the track's paved oval. I returned to TRP on Saturday, April 30, 2005, for racing on the track's mixed surface inner oval. Can you believe it? My visits were EXACTLY 21 years apart.
Since my very first visit to Tucson Raceway Park was before I began writing my Trackchaser Reports in the format you see today my notes are limited. I do know that Dave Chase #50 won the feature during my 1994 visit. At the time I described TRP as "The perfect race facility owned by NASCAR". When I came back to TRP in 2005 I was able to provide a much more complete description of my visit.
Reprinted with permission from my April 30, 2005 visit. 
THE CLASSIC TRACKCHASER REPORT
Editor's note: This is a CLASSIC Trackchaser Report. What the heck does "Classic" mean? It's simply a Trackchaser Report that comes from my trackchasing archives. For whatever reason (usually not enough time) it didn't get posted to my website when I first made the track visit.
Often times a classic TR will not have a video and/or photo album attached. I didn't begin producing my YouTube videos until 2009 (YouTube channel: RANLAY). I didn't begin writing a complete Trackchaser Report until I had seen about 430 tracks. That means I didn't produce a review for my first visit to the Tucson Raceway Park. Photo albums were sort of hit or miss during the early years of my trackchasing. Additionally, if you see a website link know that link worked when the TR was originally written. Will it work now? Your guess is as good as mine! Nevertheless, this CLASSIC Trackchaser Report has finally bubbled to the surface and is now available for everyone to see at www.randylewis.org. I hope you enjoy it.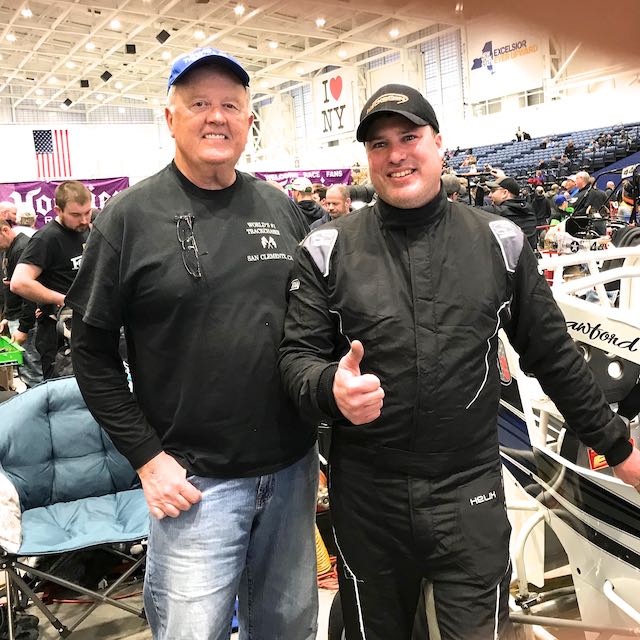 I AM A TRACKCHASER.
My name is Randy Lewis (above with my buddy Carl Crawford who hails from up Syracuse way). I hail from the sleepy little village by the sea, San Clemente, California. I am a "trackchaser". I trackchase. Have you ever in your life heard of "trackchasing"? I didn't think so. 
Well, you made it this far. You might as well pour yourself a cold one and take your Trackchasing 101 class. When you finish you'll have your trackchasing diploma and can then teach your own friends about the hobby. 
Let's get started. Trackchasing is a three-pronged hobby. I'm a racing fan. I love to travel. I love to analyze opportunities to get the most out of everything while saving time and money.
Let's do this by the numbers.
The racing part of my trackchasing has me trying to see wheel to wheel auto racing at as many different racetracks as I can all over the world. Yes, all over the world. Do I really mean that? Yes, I do! I've seen racing in 85 countries at more than 2,600 tracks. I'm known as the "World's #1 Trackchaser". Why? Because I've seen racing in more countries in the world than anyone else by a wide margin. 
However, my hobby of trackchasing involves much more than simply visiting racetracks. Much more. My hobby includes and requires lots of traveling. I get to see and experience, over the "long and dusty trackchasing trail," all kinds of interesting places, restaurants, sporting events and the like. I call these adventures "Trackchasing Tourist Attractions". You won't want to miss my "Trackchasing Tourist Attractions" page. Here's the link:  Trackchasing Tourist Attractions or my "Sports Spectating Resume" page, Sports Spectating Resume on my website at www.randylewis.org.
I live in southern California. That's probably the most inconvenient location in the country for seeing tracks in the U.S. Most of the racetracks in the U.S. are located well over 1,000 miles from where I live. As a matter of fact, my average trip covers 5,000 miles and more. I take 35-40 of those trips each season. In any given year I will travel well over 200,000 miles, rent more than 50 cars, and stay in more than 150 hotel rooms. 
I get the chance to meet people from all over the world. With trackchasing trips to 85 countries and counting just getting the chance to experience so many unique cultures, spend time in the homes of my friends and meet so many people is a huge reward for being in this hobby. I am indebted to several of these folks for their help and friendship.
It takes a good deal of planning to do the above and not spend my entire retirement portfolio. I enjoy the challenge, the travel and every other aspect of "trackchasing". In reality, my trackchasing hobby is a lot like being with the carnival. I breeze into town, stay a little while and then head on down the road.
Once you begin researching my trip itineraries from my website, yes you will want to do that, you will be surprised. One day I'll be in Tucson, the next in maybe Tuscaloosa and the following day in Syracuse. I do that kind of thing all the time. Figuring out the logistics of a trip like that is as much fun for me as watching a figure 8 race.
Now you know a little bit about my trackchasing addiction. When you receive one of my Trackchaser Reports or find one on my website at www.randylewis.org you'll get three pieces of entertainment.
First, my Trackchaser Report will be an in-depth essay of how the trip went from A-Z. Yes, I'll cover the racing aspect of things. But you will also hear about what it took to pull off the trip, the special stops that made the trip fun and the obstacles that needed to be overcome.
Secondly, you'll get a YouTube video of the racing action I saw. These are normally short 3-6 minutes highlights of the racing. My YouTube channel is named, "RANLAY". I have nearly 2,000 subscribers to my channel. Currently, I have posted more than 1,300 videos and my channel has more than 1.2 million views!
Finally, I'll share a captioned photo album using a photo-sharing program called SmugMug. Normally, there will be anywhere from 50-200 photos from each trip I take. Sometimes more! My website is linked to literally hundreds of thousands of photos from all of the trips I have taken.
There you have it. That's trackchasing…the way I do it. Do others trackchase? Absolutely. Do they share their experiences? Sorry. They don't. If you want to see the true "essence" of trackchasing you've come to the right place.
A common question I get about my hobby is, "Why?". I'm a curious fellow. I'm an adventuresome fellow. My hobby is about seeing and experiencing the things that most folks walk right past. Below is a link to a special video. It shows a small town in Missouri that I visited on one of my trips. In this video, I'll share with you exactly what I mean. This video might just make your day.
Trackchasing….this is exactly why I do it
Today's adventure was one more of the 2,000 trips that have taken me up, down and around the proverbial long and dusty trackchasing trail.  If you would like to see where I've been and experience those adventures here's the link: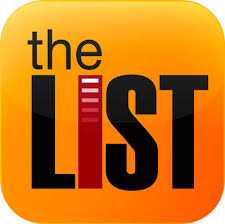 If you've got a question, comment or whatever please leave it at the bottom of this report.  It's very easy to do.  Or you can visit me on Facebook.  Thanks!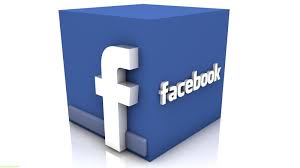 FOREWORD
Saturday, April 30, 2005.
Greeting from Tucson, Arizona
EDITOR'S NOTE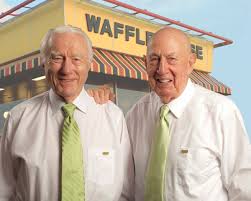 I would like to offer special recognition and thanks to Thomas Forkner and Joe Rogers Sr.  These two fellows were the founders of the Waffle House back in 1955.  The Waffle House is celebrating its 50th anniversary in 2005.
CORRECTION
The cost of the Tucson rental car was $36.53, not $40.48, making the incremental rental car expense $26.53.
PEOPLE/TRAVEL NEWS
The travel news from the USA Race Track in Tucson to the Tucson Raceway Park is pretty simple and straightforward.  The drive along mainly back roads is only 10.5 miles.  You can see TRP track lights in the distance while sitting in the USA grandstands.
As I travel the country and the world, I often see yellow highway signs warning of animals in the area.  I've seen koala bear signs in Australia, donkey signs in Hawaii as well as the more common deer signs all across the United States.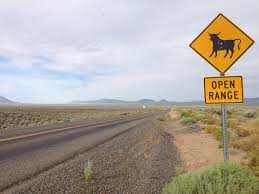 Tonight we saw a sign we don't see very often.  It said, "Open Range" with a road sign picture of a cow.  That sign is supposed to mean there is no fencing to keep the cattle off the road.  I really didn't give that warning much thought.  Maybe, I should have.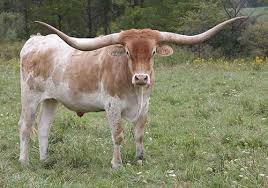 On the way out of TRP back toward Interstate 10, we came across a large longhorn steer grazing about a foot from the two-lane road we were driving on.  That was a surprise.  I made a U-turn to take a closer look.  That steer must have weighed 800 pounds with horns that were at least 18 inches long.  That cow might have put a big dent in the Buick Lacrosse's' front bumper!
The most unique "people" news of note was the trackchaser recognition by the track announcer.  I almost always prepare a trackchaser press release for the local track announcer.  I forgot to make one up for this trip.  My oversight was not a problem as I usually have leftover press releases in my camera bag and I did tonight.
I gave my note to this cute little girl to give to the announcer.  I watched her walk down the steps until she found a track official.  The official and that cute little girl engaged in conversation for a couple of minutes before he accepted the note and patted her on the shoulder.  She then ran back up the grandstand steps to her seat location.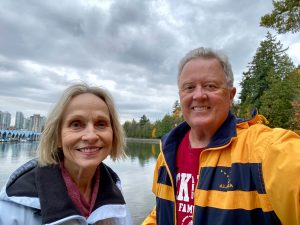 Did anyone have a mental picture of a nine-year-old girl with pigtails skipping down the aisle of the grandstands? Kind of creepy huh?  Wrong mental picture, you know that cute little girl as my wife, Carol.
Shortly thereafter, the announcer came over the quality P.A. system with news to the crowd that a trackchaser was in the house.  I've had many announcers talk about trackchasing, probably in the 100-200 range.  Tonight's trackchaser mention was one of the best ever.  Why?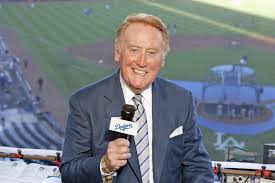 First, the announcer had a voice quality similar to hall of fame baseball announcer, Vin Scully of the Los Angeles Dodgers.  Secondly, there was no action on the track during this intermission period, so there was plenty of quiet.  Finally, the announcer talked about trackchasing as if he was really interested.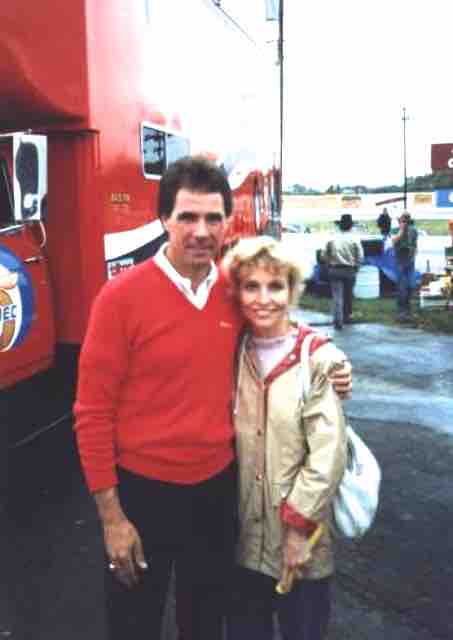 My press release has a bit of information about my personal trackchasing history.  It also lists the current top 10 worldwide trackchasers.  I really like it when these folks get some well-deserved recognition.  They are generally a quiet bunch and don't look for the spotlight much.  Think of me as the Darrell Waltrip (the real Darrell above with Carol) of trackchasing.  Darrell once carried the nickname of "Jaws" and if also now a highly paid TV broadcaster based upon his loquaciousness.  The remainder of our top 10 might share some similarities with other NASCAR drivers such as Bill Elliott (quiet), Harry Gant (modest) and Dale Earnhardt (grumpy).   
Tonight's announcer, with the golden vocal cords, went through the names and hometowns of the trackchaser top 10 just like the Indianapolis 500 track announcer recites the driver's name on Memorial Day morning at Indy.  The only thing any better would have been if each of the trackchasers had walked out from behind a curtain onto a podium to the crowd's applause.
I'm going to do my best to get a .wav file of this announcement and post it on my website.  The announcer told the crowd that he was going to link my information to the TRP site, so they could communicate with me.  I'll check www.tucsonracewaypark.com to see if he did. 
Breaking news……I can't find any links anywhere but I did discover some interesting news about the TRP inner oval.  Check out the TRP story below.
RACE TRACK NEWS:
TUCSON RACEWAY PARK – INNER OVAL – TRACK #838 – TUCSON, ARIZONA
The inner oval at the Tucson Raceway Park is my 21st-lifetime track to see in Arizona.  I visited the three-eights mile asphalt outer oval back in 1994.
Both ovals are new tracks for Carol, as she did not accompany me on my 1994 visit.  This gives Carol her 8th and 9th tracks of the 2005 season.  She also increases her career total to 177 tracks.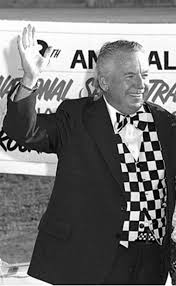 Tonight's visit to TRP is the second half of our blended double.  I had called the track earlier in the week to confirm they were racing on their inner oval track.  I spoke with general manager David Deery.  At the time of my call, I did not catch his last name.  I believe he might be one of Hugh Deery's sons.  Hugh (above) was the legendary racetrack promoter at Rockford Speedway.
David told me they would be running the "Hornet" class on the TRP inner oval.  He said his hornet car count was down because a track "across the street" had been racing hornets.  Although I am still trying to confirm his statement, I believe he is referring to the Tucson Kart Raceway.  This track abuts TRP and is a one-sixth mile dirt oval.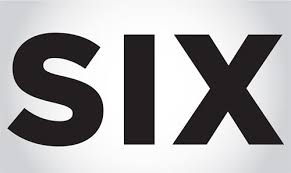 It does seem that promoters are prone to exaggeration.  David said that even though his hornet car count was affected by the other track (which was not racing tonight); he still expected 15-20.  How many raced tonight?  Six!  Yes, that's how it works in the world of short track racing.
The crowd at TRP was not as big as the crowd that the USA Race Track drew.  It's a shame that two tracks have to race on the same night when they are located just 10.5 miles apart.  Yes, one of these tracks is dirt and one is asphalt, but this makes a local race fan choose between the two.
Carol's countable racing action on the outer oval was the 25-lap, nine-car late model feature.  The late model feature was followed by the 30-lap, six-car hornet feature.  I was told the hornets would be the last event of the night because they race on an infield course.  That did not turn out to be accurate.  The "Tuff Trucks" raced their feature events after the hornet feature.
The inner oval racing surface is made up of both dirt and asphalt.  The cars race around four huge tractor tires that define a square rather than a circle.  Of course, as the cars drive around the tires they traverse a circle more than a square.  The distance is about one-sixth of a mile. 
There is not a lot of entertainment to squeeze out of six mini-stock type cars racing around a one-sixth mile flat track.  The highlight was when two of the six conked out early in the race.  No yellow or red flags were displayed, ala the U.K.  The remaining four cars occasionally slid into the hapless drivers occupying the two dead racecars.  The crowd approved of this.  The United States hungers for U.K. style banger racing!
The final event of the night was the tuff trucks.  This is not a countable form of racing because only two trucks are allowed to race at the same time.  The trucks race one lap on an infield road course, with the winner advancing to the next round.
Carol liked the track's infrastructure.  I told her about the track's NASCAR beginning and she thought the professionalism was evident everywhere she looked.  She was happy the drivers didn't do anything "goofy" and the fact that there was no dust from the asphalt oval.  She also admired the professionalism of the track's announcer. 
We went into the pits following the conclusion of racing.  She liked being able to walk on the racetrack's steep banking.  She felt the pit area was very large, but the poor lighting would make it difficult for the crews to work on the cars.  She noted the food menu was simpler and easier to read than what she found at the USA Race Track. Yes, Carol sees and comments on lots of things I don't see in life.
On our way out, we stopped at the track restrooms.  The men's room had 17 full toilets all without ANY separators at all.  This was just like it was during my Marine Corps boot camp.  I most wanted to show this to Carol.  As you might imagine, she had some trepidation about walking into the nearly deserted men's room especially after her experience in Mississippi (new readers can only imagine that one).  Ultimately, a male smoker positioned near the men's room foiled my plan for Carol's men's room visit!
I was reviewing the TRP website on Monday morning and found this new news about Hornet racing at TRP.  Looks like we may have seen the last race on their makeshift inner oval.  I thought I heard the announcer say the track might be putting a paved inner oval inside the three-eighths-mile outer oval.
"The Hornets made their 2005 debut with Karl Griggs pushing his Pontiac Grand Am to the limit to capture the win.  The entry-level division saw Griggs dodging the obstacles of Josh Burdick who lost a right-front tire and ended up in the middle of turn one and two.  Hornet racing has no yellow flags with only a red to fly if needed.  John "Crash" Callans, the 2004 Hornet Champion became another obstacle when his engine expired and he ended up in turn 4 watching Griggs power his way to the win.  Robert Davis finished second, rookie Anthony Jacinto third, Richard "Twisted" Jisko fourth, and Callans takes fifth.  Hornet drivers were thrilled to hear from Track Officials that hornet racing will move to the 3/8 mile asphalt oval."
RACE TRACK FOOD: 
We didn't buy any food at TRP.  The most unusual item on the menu was the Gyros at $3.50 each.  We did eat at the Waffle House on Sunday morning to honor their 50th-anniversary celebration.  The Tucson location accepted credit cards, a first in my Waffle House lifetime.
RENTAL CAR UPDATE: 
We entertained ourselves with XM radio broadcasts through the rental car's FM radio.  The car was trashed a good deal with peanut shells, fast food trash and spilled Diet Coke.  I believe the "Short-term automobile cost reduction strategy" worked out very well.
LIFETIME TRACKCHASER STANDINGS UPDATE:
The battle for trackchasing's worldwide rankings could change in the near future is as follows:
Guy Smith, Effort Pennsylvania – 951

Jack Erdman, DePere, Wisconsin – 872

Randy Lewis, San Clemente, California – 838

P.J. Hollebrand, Webster, New York – 804

John Moore, Knoxville, Tennessee – 787

Ed Esser, Madison, Wisconsin – 761
2005 TRACKCHASER STANDINGS
Ed Esser, Madison, Wisconsin – 33

Randy Lewis, San Clemente, California – 29

P.J. Hollebrand, Webster, New York – 16
CUMULATIVE DRIVING DISTANCES:
San Clemente, California – trip begins
USA Race Track – 504 miles
Tucson Raceway – Park 514.5 miles
San Clemente, California – trip 1,053 miles
TRACK ADMSSION PRICES:
USA Race Track – $7 (includes $3 senior citizen discount)
Tucson Raceway Park – $7 (includes $3 senior citizen discount)
Total racetrack admissions – $14
Thanks for reading about my trackchasing,
Randy Lewis
The #1 trackchaser living west of the Mississippi
That's all the news that's fit to print from San Clemente where the women are strong, the men are good-looking, all of the children are above average and the real estate prices are way above average.
Planned new racetracks (on the last day of each racing trip I will post my tentative plans for my next trip)
I will be going away for a while.  I'll be entering a renowned 12-step trackchasing rehabilitation program complete with a couple of two-day follow-ups.
No, actually I will be jetting off tomorrow morning for my first ever continental European trackchasing trip.  My continental European trackchasing counterpart, Roland Vanden Eynde, is organizing an amazing trip.  We plan to see racing in Belgium, the Netherlands and Germany.
The littlest trackchaser west of the Mississippi will also join Roland and me on her way to becoming a listed trackchaser.  You won't hear from me for some time, but when you do, I'll have all the trackchasing details and lots of pictures.  Stay tuned!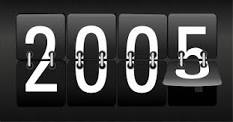 Racetracks visited in 2005 (** not the first time to visit this track)
Sungold Stadium aka Premier Speedway, Warrnambool, Victoria, Australia, January 1
Freedom Hall – Oval – Louisville, Kentucky, January 15
Freedom Hall – Figure 8 – Louisville, Kentucky, January 15
Southern Illinois Center, DuQuoin, Illinois, January 16
Golden Aisles Speedway, Waynesville, Georgia, February 25
Zephyrhills Antique Racecar Track, Zephyrhills, Florida, February 26
Dirt Devil's Speedway, Land O' Lakes, Florida, February 26
Ringwood Raceway, Ringwood, England, March 25
Birmingham Wheels, Birmingham, England, March 26
Boiling Hills Farm, Sleaford, England, March 27
Snetterton Circuit, Snetterton, England, March 27
**     Great Yarmouth Stadium (oval), Yarmouth, England, March 27
Great Yarmouth Stadium (Figure 8), Yarmouth, England, March 27
The Grove Farm, Monkland, England, March 28
Grimley Raceway, Grimley, England, March 28
Castle Combe Circuit, Castle Combe, England, March 28
Boyd Raceway, Boyd, Texas, April 1
Port City Raceway, Tulsa, Oklahoma, April 2
Outlaw Motor Speedway, Oktaha, Oklahoma, April 2
Hallett Motor Racing Circuit, Jennings, Oklahoma, April 3
JPR Speedway, Tulsa, Oklahoma, April 3
Charlotte County Speedway – Figure 8, Punta Gorda, Florida, April 9
CORA Speedway, Dixon, California, April 16
Reno-Fernley Raceway – Road Course, Fernley, Nevada, April 17
Lakeside Speedway, Kansas City, Kansas, April 22
Salina Speedway, Salina, Kansas, April 23
Jetmore Motorplex, Jetmore, Kansas, April 24
Oberlin Speedway, Oberlin, Kansas, April 24
USA Race Track, Tucson, Arizona, April 30
Tucson Raceway Park (inner oval), Tucson, Arizona, April 30
Thanks for reading about my trackchasing,
Randy Lewis
World's #1 Trackchaser
Peoria Old Timers Racing Club (P.O.R.C.) Hall of Fame Member
Arizona sayings: Because someone has to be 49th in everything
That's all folks!  Official end of the RLR – Randy Lewis Racing Trackchaser Report
[/tab]
[/tabs]