Greetings from Sparks, Nevada
From the travels and adventures of the "World's #1 Trackchaser"
Lifetime Track #1,792
HighlightsThe PlanThe TripThe ExperienceRace ReviewVideosPhotosQuick Facts
WHAT DID CAROL'S KNEE OPERATION HAVE TO DO WITH STADIUM OFF ROAD RACING
IN THE NEVADA DESERT?
THE KEYS TO THE TRIP
Why come to Nevada for just one track?……………more in "The Plan".
Don't miss the Arciero racing family history……………more in "Race Review".
Maybe they needed my seat cushion more than I did…………..details in "Observations".
THINGS YOU MIGHT HAVE NOTICED HAD YOU BEEN PAYING MORE ATTENTION IN SCHOOL
THE BEST READERS IN RACING TAKE TIME TO CONTRIBUTE
From a new subscriber out in the Northeast somewhere.
Awesome site!!!! I stumbled upon it while googling Poughkeepsie Raceway, and proceeded to spend the next 5 hours checking out every corner of it.  A perfect way to spend a rainy day off.  Anyway thanks for sharing your adventures, having all these tracks to look at will definitely fill the racing void through the winter.
Remember I promised to send out the complete personal "car history" of any of my readers who shared them?  Russ from Texas was the first to take me up on that offer.  Take a ride with Russ over a period of more than forty years of car ownership.
Randy,
I really enjoyed hearing about your car history.  So I though I would share mine with you.
1953 Chevy Bel Air – My first car was fourteen years old when I got it.  It had a straight 6 engine but it ran reasonably well.  I believe my dad paid $100 for it.  I lost my virginity in it, and my girlfriend did too, the same night I did.
1966 Chevy Impala – I upgraded when I headed off to college.  Because I had a full scholarship and saved him paying college expenses, my dad decided I should have an upgrade.
Then another 1966 Chevy Impala, with less miles, and loaded with every option.
1973 Chevy pickup – I put a topper on the back and used it for camping.  My dad and I split the cost of the truck, and he used it some, but mainly I drove it.
1976 Chevy El Camino – This was the first car I paid for totally myself.
1980 Plymouth Volare – My first company car was a real piece of $h!t.  It had 60,000 miles on it and was completely worn out.  Plus the prior driver had been fired, and he was so bitter when he left and turned in the car that he left it in a dangerous place, and all the windows were broken out.  They were fixed of course when I got it, but I found glass shards from time to time for the six months I drove it.  In those days we went to EVERY grocery store, so I only drove for a mile or two between calls in Dallas.  It was the summer of 1980, one of the worst heat waves ever, and the air conditioner in the car barely functioned.  The interior of the car would never cool down much at all between calls.  There were about 50 straight days of 100+ degree temperatures in Dallas that summer.  The first thing I would do when I walked in a Safeway was go over to the coffin freezer, and walk slowly down one side, then the other, in an effort to cool off.
1981 Chevy Citation – My first company car that was brand new.  The hatch back was handy.
Other company cars:  another Chevy Citation, Dodge, Ford Escort, Chevy Celebrity, Chevy Lumina, Chrysler, several other forgettable sedans, and three Ford Tauruses (or is it Tauri?), two of which I purchased when they were up for trade, and gave to my kids.  My last company car was a black Ford Taurus that I liked a lot.
2007 Honda Pilot –  My first non-company car in 27 years.  It was a year old when I bought it and in perfect shape with very low mileage.  I thought I would drive it until the wheels fell off.
Then we bought an Airstream, and needed a tow vehicle, so I traded in the Pilot and bought a new 2010 Toyota Tundra pickup.  I had sworn I would never buy another new car, because of how one loses all that depreciation the day it leaves the lot.  But a guy that I played football with at Texas Tech is the president of a Toyota dealership in the area, and he gave me such a sweet deal that I had to take it.  I love the truck.  Not only does it tow well, but it is very roomy in the cab, and with my size, that matters a great deal.  I plan to keep it for a couple hundred thousand miles, and if we keep traveling in the Airstream like we have the last couple of years, that really won't take all that long.
Best regards,
Russ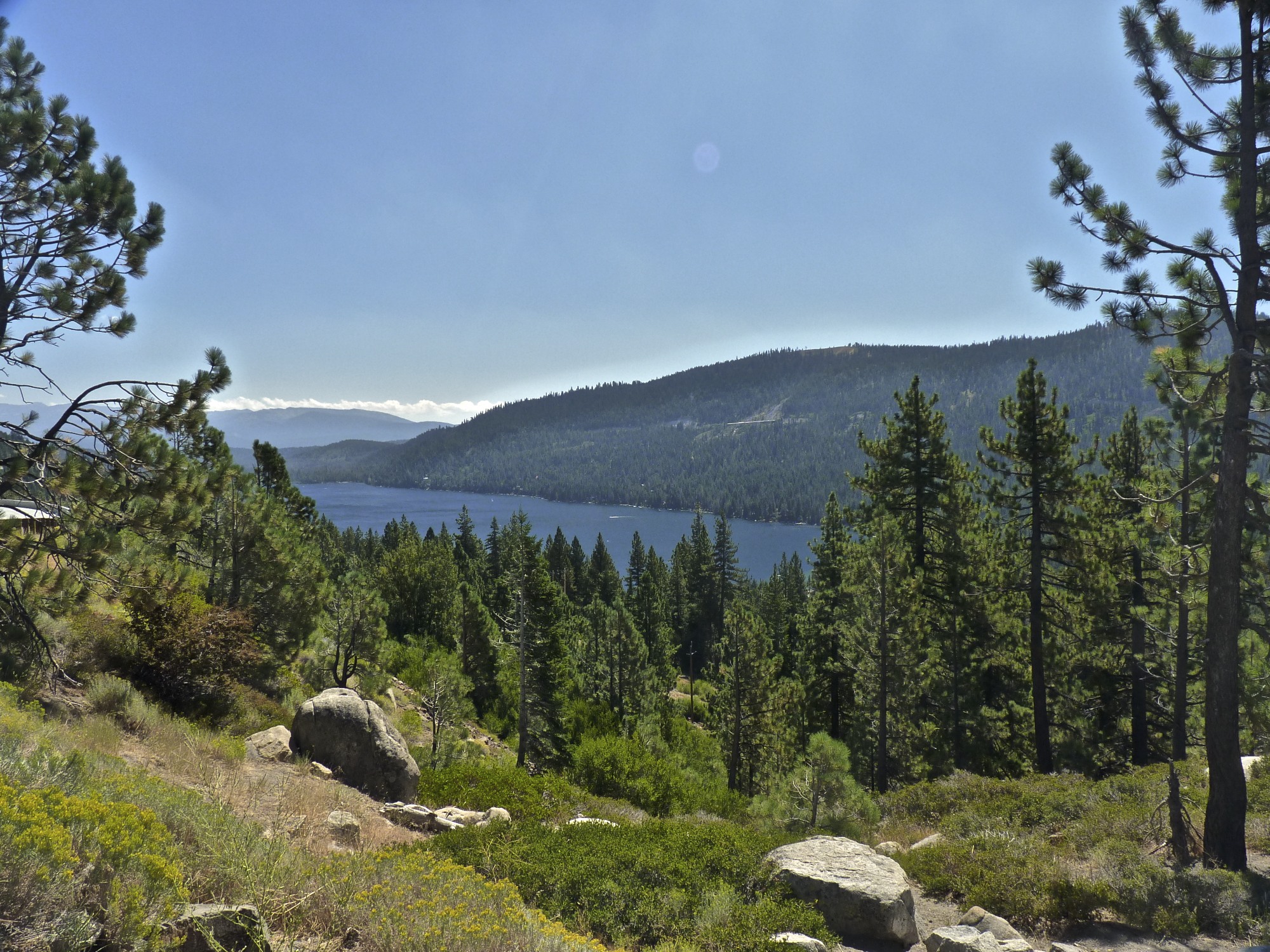 I looked at Nevada but I never expected to be here.
I had been looking at this race date for several months.  However, Sparks, Nevada is out in the middle of nowhere in trackchasing parlance.  The Lucas Oil Off-Road Racing Series had never raced here.  Actually NOBODY had ever raced at the Wilt West Motorsports Park.
I don't have any active Nevada tracks remaining to be seen.  That meant there would be nothing to "tie in" the Wild West Motorsports Park with.  There was nothing within an eight-hour drive in any direction that I could link up with a trackchasing visit to Sparks, Nevada.

No Nevada for me; I was headed East.  That was until Carol decided to go 'under the knife'.
Therefore, I had no plans to go to Sparks, Nevada this year.  I had a perfect 5-track trip planned for the Midwest and east.  That's where nearly all the tracks are you know.  However, when Carol elected to have her arthroscopic knee surgery this week, the Nevada location was "back in play".
She chose this week for her surgery so she would be in good shape for some upcoming international trips.  However, when one door closes another one opens.  Since I would be "hanging around home" to keep an eye on "Trackchasing's First Mother's" condition that might open up some near home trackchasing opportunities that wouldn't keep me away from home for long.  It did!
With Carol's surgery being Wednesday morning, she was feeling well enough for me to make a driving trackchasing trip up to Lancaster, California on Thursday night.  Then when she was feeling even better on Saturday, the idea of flying up toward Sparks, Nevada seemed to make sense as well.

This could be a logical concern.
Now I know at least one of you might be thinking "But Randy, aren't you being a little hard hearted.  Carol has just undergone surgery and you're heading off toward another new track?"  This would be a logical concern.

Let's not spoil people or make them dependent.
However, I have always felt you can't "baby" folks.  If you want people to do things for themselves then you've got to encourage them to do things for themselves.  You don't need to give a person a fish, you need to teach them how to fish.
That has always been my feeling when it comes to sharing my trackchasing research data with my fellow competitors.  Yes, I could simply give them all the information I worked hard to get.  However, if I did that then they would soon EXPECT this type of entitlement.  I know some trackchasers that try to befriend other chasers when, in fact, they are only seeking more new track information.  That type of "two-faced" behaviour is not for me.
It was under these "guidelines" that I supervised Carol's recuperation period.  Having had the same surgery many years ago (although I have long since forgotten which knee it was on) I could be assured that Carol was coming along quite nicely.  How nicely?  Although I was a bit tired getting home from Nevada after 18 hours of almost non-stop travel what was Carol planning?

But wait!  Carol was going to Disneyland.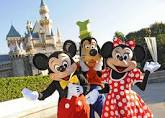 She was going to Disneyland!  Yep!  Just five days after her surgery she was joining J.J. and those twin grand babies for one last pre-school trip to Disneyland.  I elected to partially sleep in and go to my morning yoga class.
Yes, our lifestyle has a lot of "moving parts".  Much of what we do is not planned very far in advance.  Carol got word of the "Disney plan" less than 24 hours before she entered the gates of the Magic Kingdom.  Don't most folks plan a trip to Disneyland a little further out than that?  Nevertheless, everyone is fine and going up to Nevada worked out to be a good idea.
Was this going to be a long walk for a short slide?
I woke up this morning in San Clemente California.  I went to bed in San Clemente, California.  That doesn't have often!  This is what today looked like.
My alarm went off at 4:55 a.m.  If all went as planned I would be home again by tonight.  The plan called for 130 miles of round-trip driving to and from the Los Angeles International Airport.  By the way, on this morning's 65-mile ride up to the airport I used my cruise control function for the entire time I was driving on the freeway a distance of about 63 miles.  That's pretty good considering Los Angeles' reputation for traffic.
There would be another 40 minutes of walking to and from the LAX parking garage.  Then, of course, there would be 270 miles of round-trip driving to and from the Sacramento International Airport to the track in Sparks, Nevada.  I would be at the racetrack for about three hours.  Does that seem worth it to you?
Had I elected to drive from my home to Sparks, Nevada it would have been a 573-mile one-way drive.  That's nearly 1,200 miles round-trip.  I didn't have the time or the money to do that.

I had a history with 'Sacto'.
During the last few years of my business career (I retired more than ten years ago) I went to Sacramento monthly to work.  Sacramento is the capital of California but still sort of a "country town" compared to Los Angeles or San Francisco.
"Sacto" can get very warm (around 100 degrees) during the summer months.  I used to rent bikes in the evening when I worked there and take rides along the American River.  Some twenty years ago, I came to Sacramento with the idea of buying a group of rental houses.  Prices were cheap in Sacto compared to SoCal.  Ultimately, I passed on the idea when I decided managing properties 500 miles from home would be just too much hassle.
The Sacramento airport has changed a good deal in the past ten years.  It's very modern and roomy now.  Today I was just rushing through.

Getting the right rental car is very important in my hobby.
I must tell you I absolutely love the National Rental Car Company.  I can make reservations over the phone in less than a minute.  They give me great rates and a free rental day after every five-car rentals.
Of course, I get to pick the best car on their lot.  I always ask for a car with satellite radio.  Today I went with a Ford Taurus with Sirius satellite radio.  Today's Taurus is huge, especially compared to the Ford Taurus of the 1980s.
For a while in the 80s I became a used car dealer of sorts.  When our company cars reached 60,000 miles they were scheduled to be "turned in".  The employee always had the option of buying them at a discount or simply giving the car back to the company.
I soon figured out I could buy the car and then resell it quickly for a $1,000 profit.  This was easy money.  Soon I began buying other salespeople's company cars as they rarely wanted them for their own use when it came time to turn them in.
That's when I encountered California's laws regarding the resale of cars.  An individual needs a "used car resale license" if they want to sell more that four cars per year.  This governmental regulation pretty much shut down my budding used car operation!
Today's Ford Taurus is about the size of a Chrysler 300.  Both of these cars are rented by National and offer Sirius satellite radio most of the time.  After renting them both recently I think I'll go with the Chrysler.  Of course, neither one of them is a Lexus!
After the races………..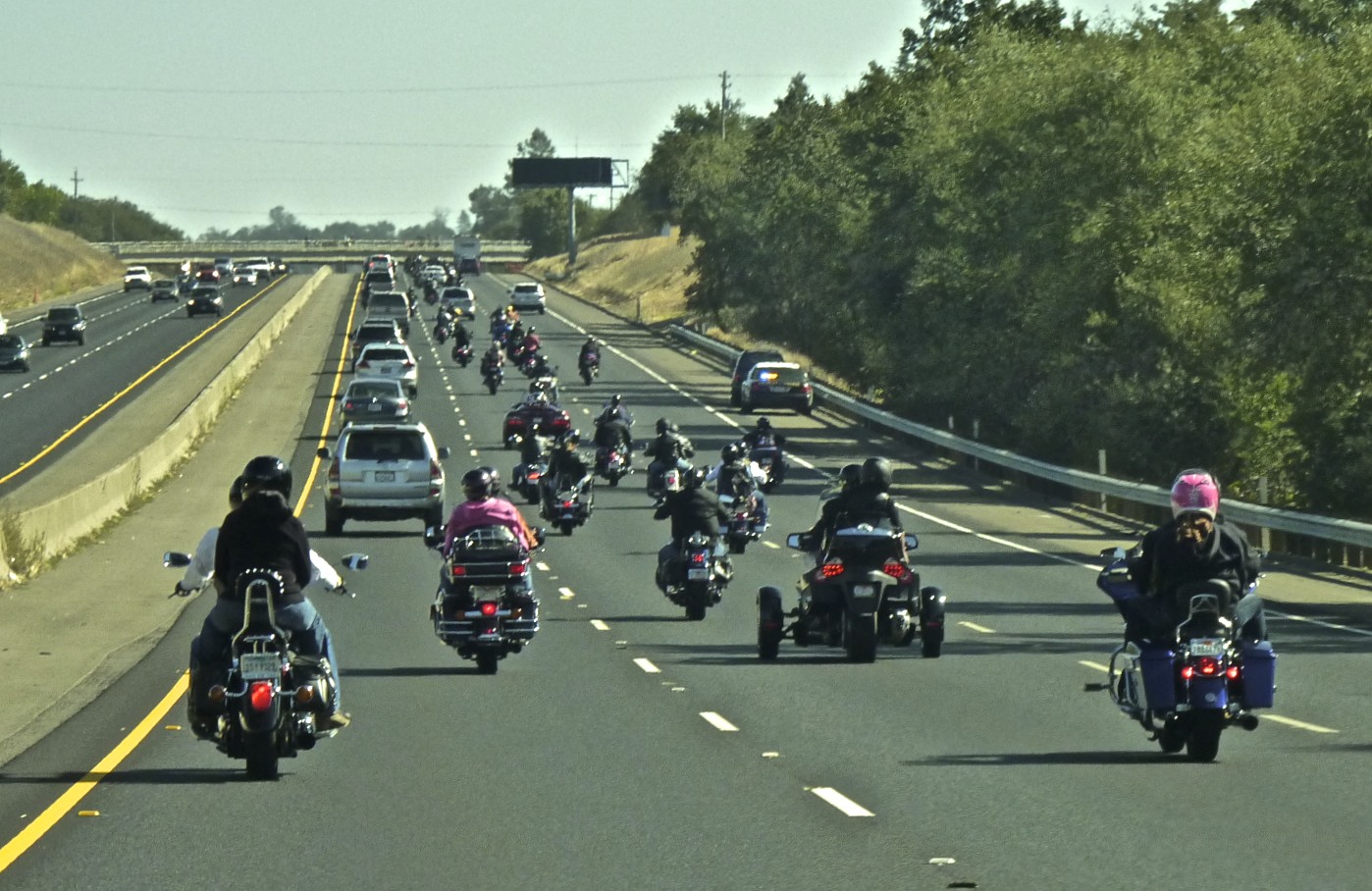 It was time to get back home.
When it's time to get home, it's time to get home.  I was a bit concerned about how I WAS going to get home after today's races.  Sparks, Nevada is a suburb of Reno, Nevada.  Of course Reno is a "little Las Vegas".  I toyed with the idea of simply getting a room in Reno, seeing a show and maybe playing some blackjack.  However, flights out of Sacramento tomorrow were very tight.  I couldn't chance not getting home on Monday.
That meant I would make the trip back to Sacramento following the races.  When I left the races, "Garth" my friendly GPS buddy told me my ETA (Estimated Time of Arrival) to the Sacramento airport would be just 60 minutes before the first of my two flying options would be leaving for LAX.  That was tight.

Could you travel under these circumstances?
It was tight for THREE reasons.  First of all, there is a good deal of construction on interstate 80 from Reno to Sacramento as it winds its way over the Donner Pass (The Pass).  The elevation of the Donner Pass is a hefty 7,227 feet.  I had seen westbound traffic backed up on the other side of the freeway when I drove out this morning.
Secondly, I would still need to stop and fill my rental car's tank with gas.  Finally, the rental car return lot is "off-airport" in Sacramento.  That always means another 5-10 minutes of travel time just to get back to the terminal.  I much prefer airports where you drop your rental car and walk a short distance to the airport terminal.
If you were making a trip home how would you feel about these parameters?  If you could drive 135 miles over a freeway with heavy duty road construction at freeway speeds you would arrive at the airport just one hour before flight time.  Of course, stopping to get gas and riding a rental car shuttle bus would probably take at a minimum another 15 minutes.  Now, if construction traffic didn't hold you up you would have 45 minutes to check-in and clear security.  Sounds a little tight doesn't it?

And if the above were not enough……..
Let's try to make this entire situation just a little more uncomfortable.  The first flight I was trying to get on had ZERO empty seats (but it was not oversold).  There were six people standing by to get on this flight (I was fortunate to be the #1 person on the standby list).
If I didn't get on that flight there was one more option leaving an hour later.  On that flight there was one seat "open" and I was #2 on the standby list.  For some folks these "issues" would be a deal breaker or at a minimum an ulcer maker.  I just go with the flow.  I try to establish systems that save time to make these plans work.  When the plans don't work, I get a new plan.
I was able to cover the 135-mile drive at near freeway speeds.  I will say that far too many people "park" in the fast lane.  If I was in charge of the police I would give tickets to people who do this.  I used Garth to get a gas station with "easy off/easy on" capabilities.  I completed my fill-up in four minutes when the budget was five.
When I returned my rental car I thought about asking them not to close out my contract.  That way if I didn't get on either of the two flights mentioned above I could get back in my rental car and find a hotel.  However, I had a feeling I would get on the plane so I closed out my rental car contract.
Clearing security in the Sacramento airport was a breeze on Sunday night.  There was no one in line at all.  I ended up getting on the first flight back to LAX.  I made it but not everyone on the standby list did.  What did they do when it was Sunday night late and there were no more flights?  I don't know for sure.  Maybe they would need to check out www.sleepinginairports.net.

I had escaped from near disaster one more time.
I had escaped the limitations of my travel program one more time.  How many times can I come this close to disaster and live to tell about it?  Hopefully, at least a few more times!
Everybody loves J.J.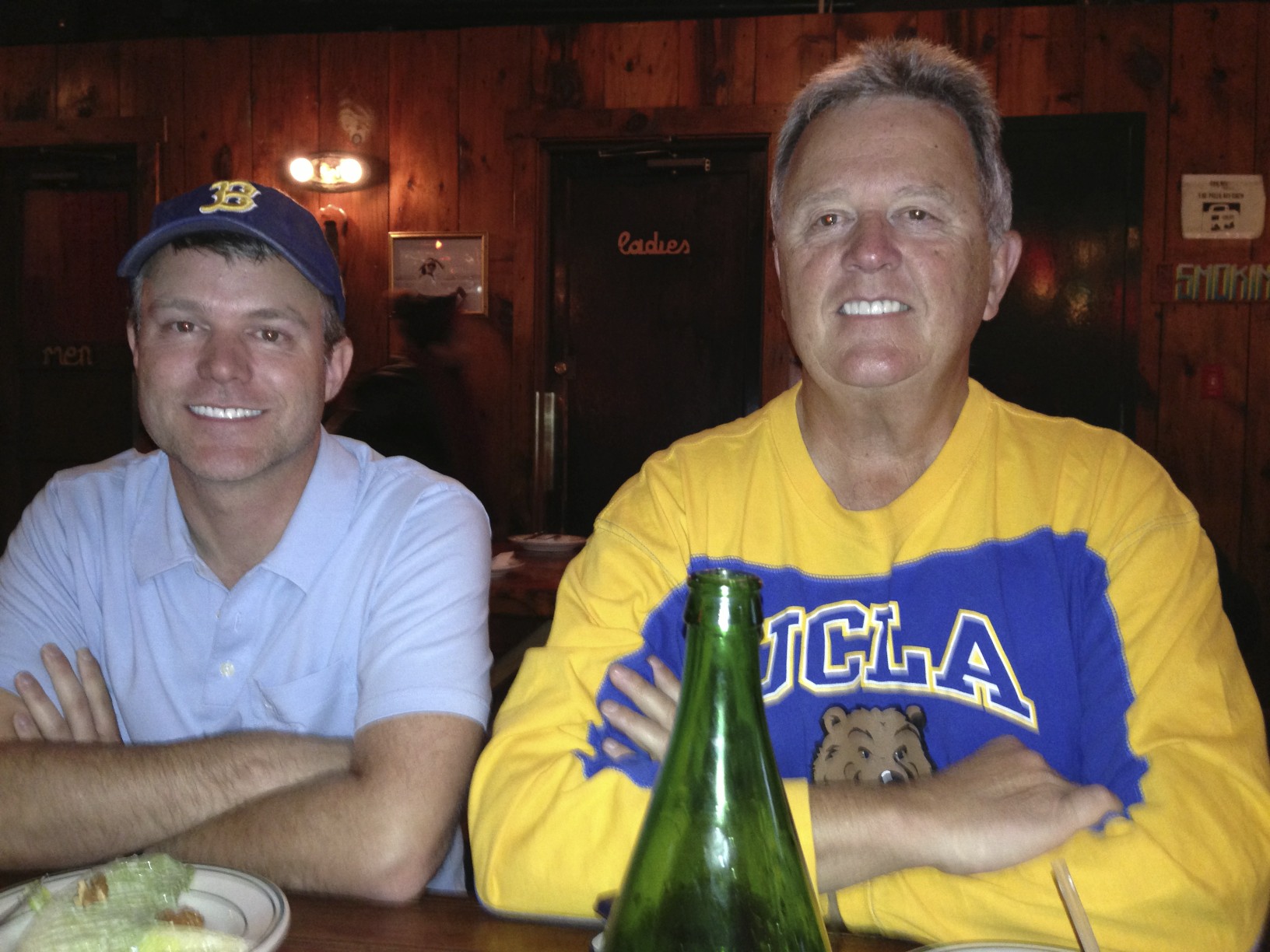 I flew up to Sacramento and back on SkyWest Airlines.  J.J. works directly for SkyWest and flies under the Delta Connection and United Airlines Express retail brands.  SkyWest is a wonder regional carrier.  As far as I can tell they are the top-ranked regional carrier of all in the U.S.
Whenever I'm on a SkyWest flight I always ask the flight attendants and pilots if they know J.J.  Today one of the flight attendants and the captain told me they had flown with him recently.  Their faces lit up when I told them I was his dad.  That always happens when the SkyWest people have flown with J.J.  Everyone likes him!
The flight attendant told me that just recently she had shared one of her working trips with J.J.  She said the entire crew (that would likely be two flight attendants as well as the captain and the first officer) had gone to the movies and did a "hamburger tasting".  "We were comparing Five Guys and In N' Out" she told me.  "Which did you like best?" I asked.  Without missing a beat she replied, "In N' Out".  Who in their right mind would prefer Five Guys to In N' Out?

Stealing sucks.
What do you think about stealing?  Are there some times when it's O.K. to steal from others?  I don't think there's ever a good time to steal or to lie for that matter.  I guess if your survival depended on it stealing would be acceptable.  With lying I can't even accept a "little white lie".
Today I was the victim of theft.  Earlier in the afternoon I had found myself a great top row seat in the grandstand.  I watched some racing from there and decided to take a tour of the paddock area.  To save my seat I put down my seat cushion and then placed my half-completed soft drink glass on top of the cushion.
When I returned it was gone.  Stolen!  I looked around to see if somebody else's butt was on my pink seat cushion.  I didn't see it although some people butt's might have obscured my gardener's kneepad seat cushion!
I've had a few things stolen from me over the years (baby moons from my driveway, tachometer on the way to breaking the law in Ohio, etc.).  Each time it happened I tried to put myself in the position of the person who did the stealing.  What were they thinking?  What was their value system?  Finally, I always tried to philosophize and simply thought to myself, "Maybe they needed what they took more than I did"!

I seem to meet people coming and going to prison.
That reminded me of when I check into a Motel 6 property after midnight.  Take my word for it.  The clientele at that hour is a rough crowd.  Folks, we've got a lot of different "classes" of people in this country.  In the U.S. about 793 people out of every 100,000 are in prison.  In total about 2.2 million people are in prison as you read this document.  After midnight I believe a good deal of those people checking into a Motel 6 have either just gotten out of prison or will be checking into their "incarceration" center soon.  It's a rough crowd.

A level playing field?  That's not for me.
Recently, I was in the Pittsburgh airport.  I went to the National Rental Car lot and asked the attendant, "Where is the 'Executive Selection' section for your rental cars.  The attendant looked at me at said, "We don't have that.  Everyone has a level playing field here".
Wow!  Some people think there needs to be a "level playing" field everywhere they go.  I, on the other hand, go out of my way to make sure the playing field that I play on is NOT level.  Today, I looked directly into the eyes of the rental car employee and said, "Sir, the LAST THING I'm looking for when I pick up my rental car is a level playing field".  He didn't know what to make of that statement.

A menace to the traveling public?
People walking down the terminal hallways in the airport, reading information from their cellphones as they walk are a menace to society.  I think they should be ticketed.  If drivers are this absorbed with the content of their phones, which they can be, they might be worse than drunk drivers.

Hello.  My name is Randy and I am a trackchaser.
From time to time I play golf with new members at my golf club.  Invariably, my hobby of trackchasing will come up in conversation.  Most folks will be amazed at what I do.  What's sort of funny is they really have NO idea what it takes to do this.  They might think they do but they really don't.  Why is that?  Because it would be rare for them to know anyone or even have heard of anyone who does what I do year in and year out.  That's no criticism of my fellow golfing competitors.  It just shows how strange and unusual my hobby of trackchasing really is.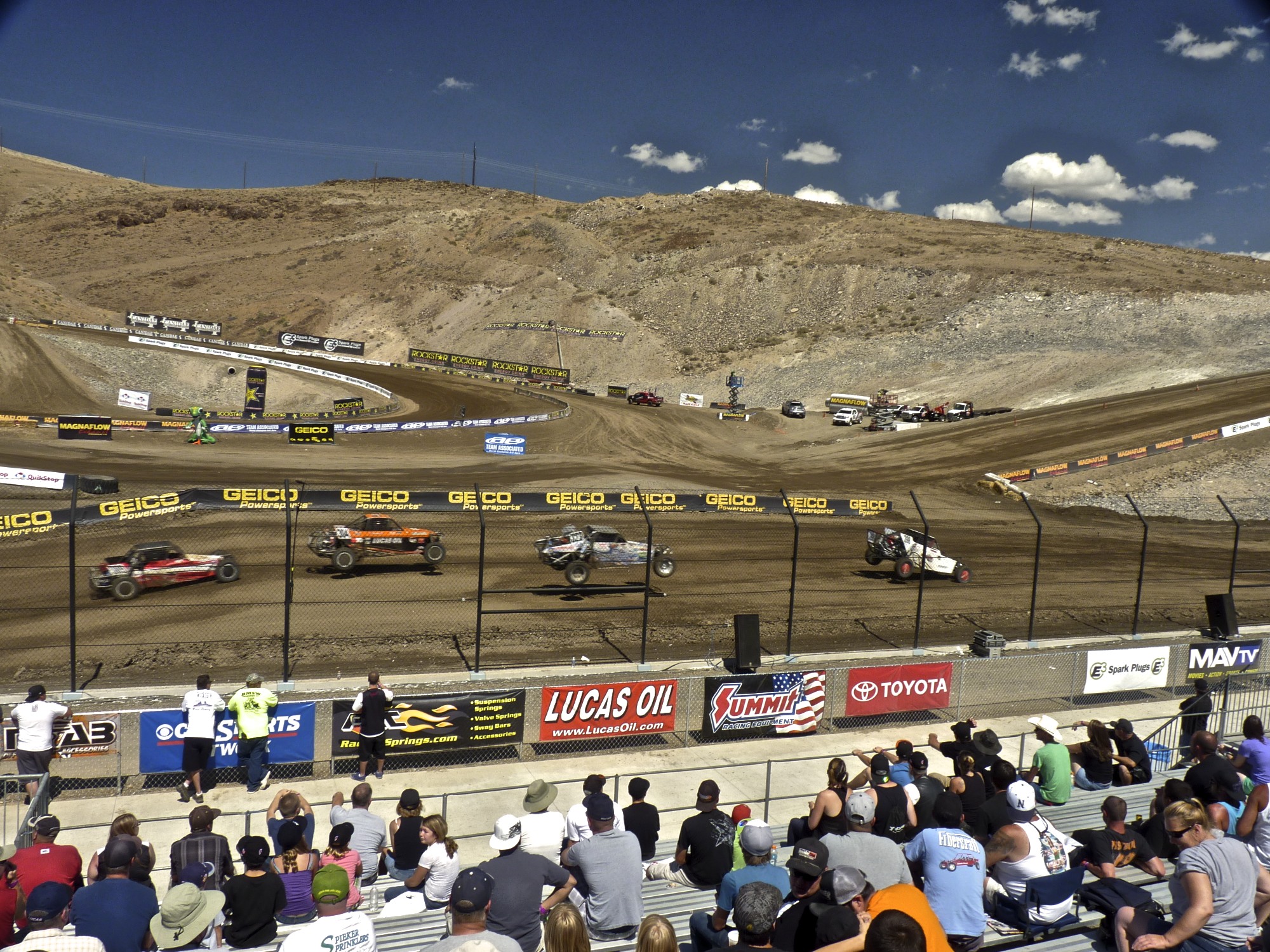 WILD WEST MOTORSPORTS PARK – SPARKS, NEVADA
This was a 'first ever' at WWMP.
Today's event was a first ever promotion by the Lucas Oil Off-Road Racing Series (The Series).  At the beginning of the year, I had never heard of this track, the Wild West Motorsports Park.  There are more and more tracks popping up like this every year.  Often, they won't be in existence just a few year later.
I am a huge fan of what I saw today.  I call the genre "Stadium Off-Road Racing".  The race organizers have taken traditional "off-road" racing, which can frequently cover one hundred miles or more of driving in the desert, and compressed it.  They have compressed it to a point where the fans can see 100% of the racing action.







The Arciero family was big in racing and specifically 'Stadium Off-Road Racing'.
I play a good deal of golf with Frank Arciero Jr.  Frank was a stadium off-road racer of note. His dad Frank Arciero (The history of the Arciero family in racing and beyond), who passed away in May, 2012, was a founder of the Indy racing group, CART.  Drivers such as Dan Gurney, Parnelli Jones and the Unser brothers got their starts driving cars owned by the Arciero family.  Frank Jr., who I know as "Butch," is a great guy and excellent golfer and has quite a history in motorsports.  He doesn't say much about it but I ask him to tell me more every time I seem him.  Butch "gets" my interest in racing.
While doing some research for this report I found this in the L.A. Times, "Butch to friends and associates–is the all-time winningest driver in the Mickey Thompson Off-Road Gran Prix, and most of his success has come in the desert buggies. Arciero, 43, of Laguna Hills, has won 14 stadium races–three in unlimited single-seaters, which no longer are running in the stadiums, 10 in Super 1600s and one in a Grand National truck."  If you want to see the entire story written by the famous auto racing writer, Shav Glick click on this link, (Frank Arciero Jr)

Let's meet the 'skaters'.
Stadium Off-Road Racing appeals to a totally different demographic than traditional road racing or oval track racing.  Road racing is often called the "wine and cheese" set.  The incidence of manicures and pedicures is much higher with road racing than any other racing form.
On the other hand, the oval track scene might be known as the "beer and pretzel" set.  Even within the oval track racing scene there is a "class" system.  I always found the stock car fans a little rougher around the edges than the sprint car set.  No manicures or pedicures here!
However, the stadium off-road fan is more likely to have watched an "ESPN extreme sports" competition during the last week than you or me.  Their beverage of choice is Red Bull or Rockstar.  They wear Vans brand shoes and wide-brimmed baseball style hats sideways.  They are "skaters".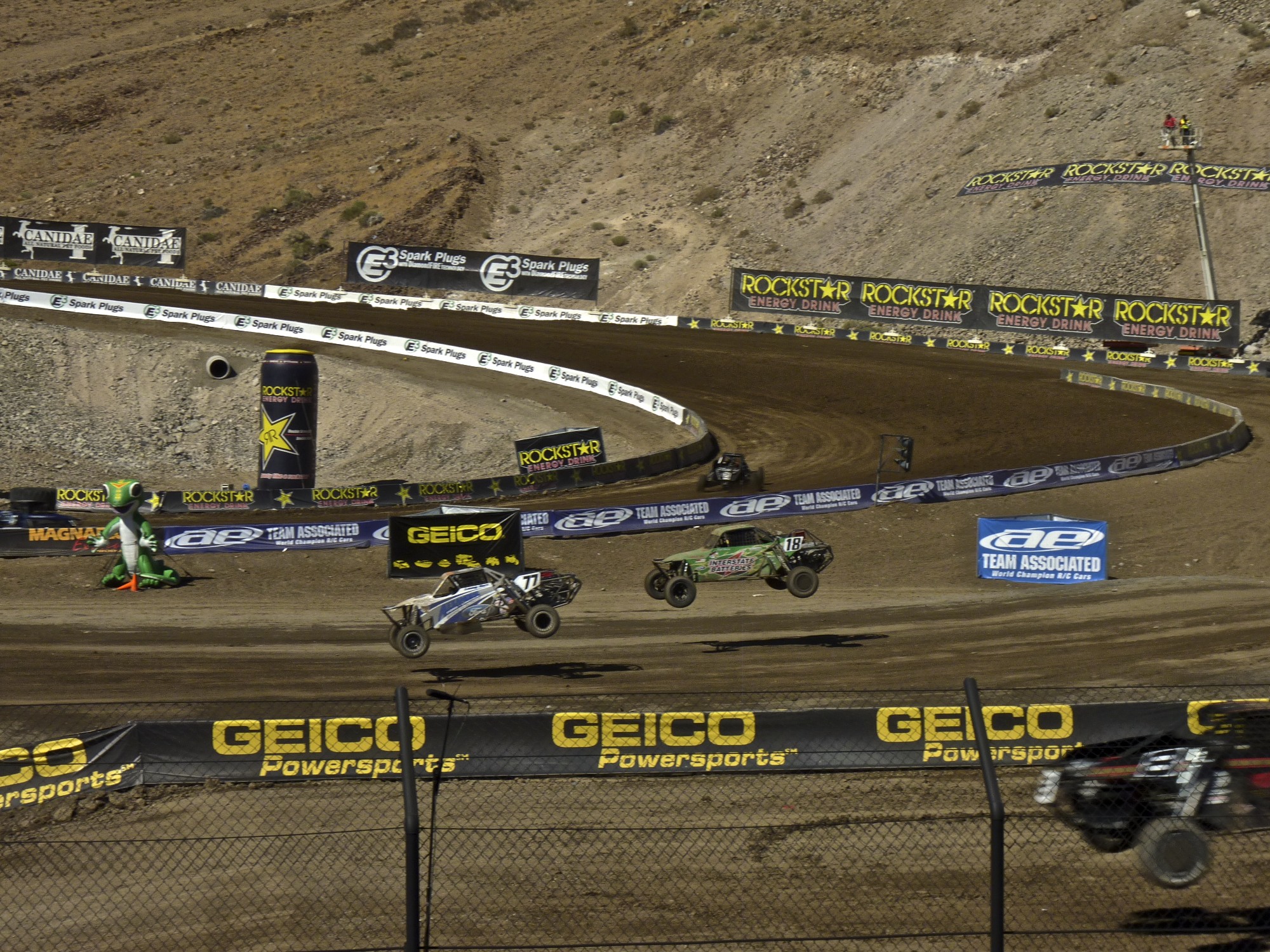 This looks dangerous and it looks like fun.
The racing is most unusual too.  The trucks and buggies race over a dirt road course that typically, like today, has huge elevation changes.  I wouldn't want to drive down some of these hills at 5 M.P.H.  These drivers do it at more than 60 M.P.H. and then hit a jump and fly through the air some 50 yards or more.
I know I tell you this from time to time, but I really mean it this time.  You really don't want to miss my videos of the stadium off-road racing action.  The things these trucks and buggies do look to be nearly impossible….until you see it.

There was just one thing I didn't like.
About the only thing I didn't like about today's event was the $10 U.S. parking charge.  Even at NASCAR's biggest tracks parking is free.  However, today's parking charge was not as much as they charge to park at the Rose Bowl for a UCLA football game.  That gouge is twenty dollars U.S.  Admission for the event today was a somewhat hefty $30 U.S. ($25 for folks 62 and older).
After buying my ticket with a credit card (to save my cash) I was given a plastic wristband.  Then something happened that I had never seen before at the nearly 1,800 tracks I have attended.  The security detail used an iPhone looking device to "scan" my wristband to insure it wasn't counterfeit.  I guess that must be a problem or they wouldn't use these measures.
It was a warm (90 degrees) day but with very low humidity, which is typical of the western high desert areas.  A brisk breeze of 15-20 M.P.H. blew at our backs in the grandstand.  That made the warm blue-sky day quite comfortable.

Did somebody lose the A.D.D. medicine?
These events always have "on the edge" announcers who seem to have forgotten their A.D.D. medicine for the day.  The P.A. systems are stout and scantily clad young ladies represent the latest energy drink.  Today that was ROCKSTAR energy drink, (ROCKSTAR) and their female representatives made for a very consumer friendly atmosphere.
The general admission ticket allows the holder to come and go freely at these races.  There is no extra charge to get into the paddock area.  There fans can get up close and personal with the trucks and drivers that make up this racing series.

Don't miss the video.
I won't tell you much more about the racing.  The photos and videos should cover that point.  Suffice it to say this was a very entertaining event.  When I stack it up against the rallycross racing I've seen the Stadium Off-Road Race program is 100% better.  They offer bigger fields of competitors racing in longer events with much more action during each race.  Yes, I'm a big fan of Stadium Off-Road Racing.  It's too bad I have now seen racing at every venue on the 2012 Lucas Off-Road Racing schedule.  However, I wouldn't be too surprised if they come up with some new location for the 2013 season.
STATE COMPARISONS
Nevada
The Silver State
This afternoon I saw my 26th lifetime track in the Silver state, yes the Silver state.  This helps me meet my goal of seeing more tracks than anyone else in every Far Western state (X California).
What's left in Nevada?  Not much.  There are a couple of track locations that might hold countable racing from time to time.  I'll keep my eye on them but I might not be making many more trackchasing visits to the Silver state in the foreseeable future.  But then again I might be over there in just a few weeks.
Thanks for reading about my trackchasing,
Randy Lewis
World's #1 Trackchaser
Peoria Old Timers Racing Club (P.O.R.C.) Hall of Fame Member
Nevada sayings:  Home of Area 51
TRAVEL DETAILS

AIRPLANE
Los Angeles, CA (LAX) – Sacramento, CA (SMF) – 346 miles
RENTAL CAR #1
Sacramento International Airport – trip begins
Sparks, NV – 150 miles
Sacramento International Airport – 301 miles – trip ends
AIRPLANE
Sacramento, CA (SMF) – Los Angeles, CA (LAX) – 346 miles
Total air miles – 692 (2 flights)
Total rental car miles – 346 (1 car)
Total miles traveled on this trip – 1,038 miles
TRACK ADMISSION PRICES:
Wild West Motorsports Park – $25 (includes $5 senior discount and $10 parking – NASCAR never charges for parking!)
Total racetrack admissions for the trip – $25
LIFETIME TRACKCHASER COMPARISONS 
The three most important trackchasing comparisons to me are:
Total lifetime tracks seen
Total "trackchasing countries" seen
Lifetime National Geographic Diversity results
Total Lifetime Tracks
There are no trackchasers currently within 300 tracks of my lifetime total.  Don't blame me.
1.  Randy Lewis, San Clemente, California – 1,792
Total Trackchasing Countries
There are no trackchasers currently within 10 countries of my lifetime total.
1.  Randy Lewis, San Clemente, California – 61
Current lifetime National Geographic Diversity results
1.  Randy Lewis, San Clemente, California – 5.29
That's all folks!  Official end of the RLR – Randy Lewis Racing Trackchaser Report
[WPP][/WPP]