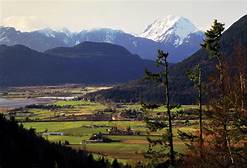 Greetings from Abbotsford, British Columbia, Canada
.
.
From the travels and adventures of the 
"World's #1 Trackchaser"
.
.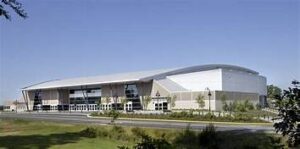 Abbotsford Centre
Concrete figure 8
 Lifetime Track #2,546
The EventVideo PlusPhotos
THE EVENT
I am a "trackchaser". I trackchase. Before you discovered my site had you ever heard of trackchasing? Maybe not? So….what the heck is trackchasing? Sit back, take a read and you'll be an expert on my hobby of trackchasing when you're finished.
Here's my best explanation.
Trackchasing is a three-pronged hobby. I'm a racing fan. I love to travel. I love to analyze opportunities to get the most out of everything while saving time and money.
Trackchasing fills the need for all of the above. The racing part of my trackchasing has me trying to see wheel to wheel auto racing at as many different racetracks as I can all over the world. Yes, all over the world. So far things are going pretty well. As this is written, I've seen racing in 82 countries at more than 2,500 tracks. As a matter of fact, I've seen racing at more tracks than anyone else in the world.
Equally important to me are the things I get to see and experience over the "long and dusty trackchasing trail". I call these adventures "Trackchasing Tourist Attractions". You won't want to miss my "Trackchasing Tourist Attractions" page. Here's the link:  Trackchasing Tourist Attractions or my "Sports Spectating Resume" page, Sports Spectating Resume on my website at www.randylewis.org.
I live in southern California. That's probably the most inconvenient location in the country for seeing tracks in the U.S. Most of the racetracks in the U.S. are located well over 1,000 miles from where I live. As a matter of fact, my average trip covers 5,000 miles and more. I take 35-40 of those trips each season. In any given year I will travel well over 200,000 miles, rent more than 50 cars, and stay in more than 150 hotel rooms.
I get the chance to meet people all over the world. With trackchasing trips to 82 countries and counting just getting the chance to experience so many other cultures, spend time in their homes and meet their friends is a huge reward for being in this hobby. I am indebted to several of these folks for their help and friendship.
It's takes a good deal of planning to do the above and not spend my entire retirement portfolio. I enjoy the challenge, the travel and every other aspect of "trackchasing". In reality, my trackchasing hobby is a lot like being with the carnival. I breeze into town, stay a little while and then head on down the road.
Today's adventure was one more of the 2,000 trips that have taken me up, down and around the proverbial long and dusty trackchasing trail.  If you would like to see where I've been and experience those adventures here's the link: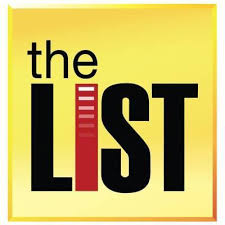 If you've got a question, comment or whatever please leave it at the bottom of this report.  It's very easy to do.  Or you can visit me on Facebook.  Thanks!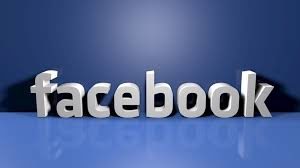 FOREWORD
I really enjoy trackchasing in the Pacific Time zone. Quite often I can drive to the tracks. If I'm not driving then I'm probably not going to have to fly very far. When I wake up in the morning I'm on my own time zone. Yes, I like trackchasing in the Pacific Time zone.
This was going to be my 14th consecutive weekend of trackchasing. However, this would be my first weekend of the year to stay on the West Coast. This was a good thing.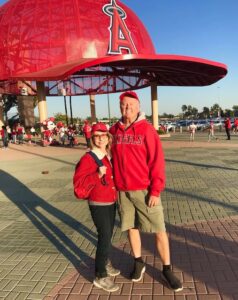 Carol and I had a good week at home. We were able to see our first Los Angeles Angels baseball game. As you may or may not know the Angels just signed the very best player in baseball, Mike Trout, to a 12-year contract. Wouldn't you know it? He sat out his first game of the season tonight when we came to Angel Stadium.
This trip was going to be rather simple. I would fly from Los Angeles to Seattle, rent a car and drive three hours up to Canada. Then I would repeat that process by driving back to Seattle and then flying home to LAX. I would stay overnight for just one night. In my line of hobbiness that's a pretty easy trip.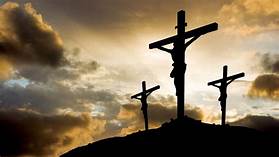 Friday, April 12, 2019.
Today was one of the most difficult days for me to fly on a standby basis. That was surprising to me. Next Friday is Good Friday Easter weekend. Flights on Good Friday are wide-open. However, today they were just about as tight as I had never seen them. I'm sure that has something to do with spring break. 
I would try to get on a flight in the first part of the day. The first part of the day? Yes, at 6 a.m. If I missed that flight I would continue to wait almost on an hourly basis until I did get on a flight. If I didn't make any of the flights I would simply go back to my car and return home. I didn't expect it to come to that.
I would be less than honest if I didn't tell you I was counting on the laziness and unpreparedness of my fellow man. How many of those people booked on the first flight of the day were going to sleep in and miss that early 6 a.m. flight? I only needed a few to declare themselves by their actions as sick, lame or lazy. I ended up getting the very last seat on that 6 a.m. flight!
I landed in Seattle at 9 a.m. Then I just hung around the airport. Here was my thinking. I didn't want to pick up my rental car until 6 p.m. today. Why was that? I planned to return my car tomorrow at about 6 p.m. If I picked up the car today at six I would only incur one day of car rental expense. No, I never had the big trackchasing budgets, nor did I require anyone else to come along to help pay my way. No, I have never trackchased like the Dreaded East Coast Trackchasers.
I was able to use two different private airline clubs to relax. I did some computer work, planned some future trips and overall just prepared for life in the future. If you don't prepare for the future you might not be ready when the future arrives.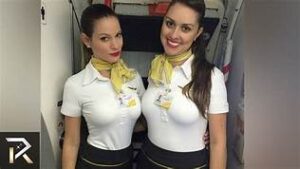 I did go out for lunch with the general population. All of the tables in the food court were full when I needed one. Then a lady waived me over and offered to share her table. She was an airline flight attendant. We ended up chatting away for about 45 minutes. Cathy made my lunch much more enjoyable today.
Tomorrow afternoon I will be trackchasing in Abbotsford, B.C. You might recall I also trackchased in Abbotsford last summer. In August, 2018 I saw racing there, outdoors, on both oval and figure 8 configurations.
Saturday's weather forecast was terrible. It was going to rain. It might even snow. The temperature would max out in the low 40s. There was no way an outdoor track would race in weather like this.
I wasn't concerned about the bad weather forecast at all. I could sleep like a baby not worrying about that. Tomorrow's racing would take place indoors at the Abbotsford Centre. Here's some background about that arena.
Abbotsford Centre
Location
33800 King Road
Abbotsford, British Columbia
V2S 8H8
Coordinates
49.030665°N 122.287145°WCoordinates: 49.030665°N 122.287145°W
Owner
City of Abbotsford
Operator
Global Spectrum
Capacity
Hockey: 7,000
Basketball: 7,046
Concerts: 8,500
Construction
Broke ground
September 24, 2007
Opened
May 10, 2009
Construction cost
C$66.2 million
($77.2 million in 2018 dollars[1])
Architect
PBK Architects
Project manager
MHPM Project Managers Inc.[2]
Structural engineer
Cochrane Engineering[2]
General contractor
PCL Constructors Westcoast Inc.[3]
Tenants
Abbotsford Heat (AHL) (2009–2014)
BC Angels (LFL Canada) (2012–2013)
Fraser Valley Thunderbirds (BCMML) (2018–)
Fraser Valley Bandits (CEBL) (2019–)
The Abbotsford Centre is a 7,000-seat multi-purpose arena in Abbotsford, British Columbia. The arena was expected to cost $64.7-million. Construction began on September 24, 2007. From 2009 to 2014, it was the home of the Abbotsford Heat of the American Hockey League.
Saturday, April 13, 2019.
I stayed overnight in Bellingham, Washington. It was nice being able to sleep in to a reasonable hour in my own time zone. The drive from Bellingham to Abbotsford was less than an hour.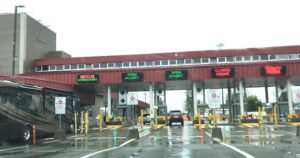 After doing what I do in retirement for a while I have come to the conclusion that not many other people do what I do. The idea that I am from California and I'm normally driving an out-of-state rental car across the Canadian border seems to befuddle border control agents. The overridingly common question is, "you came all the way from California to see a demolition derby or a sprint car race or whatever". Then I have to go into the explanation that this really is what I do. Usually the response I get is something like, "I wish I could be doing what you do".
TRACKCHASING TOURIST ATTRACTIONS
By looking at the ETA from my Waze GPS system I knew I had about an hour to play with. I decided to check out what the leading TripAdvisor recommended touring activities would be in Abbotsford. As you can imagine there were not a lot of choices. The one that appealed to me most was a visit to Wall Lake. It was the number one trip TripAdvisor recommended activity in town.

Wall Lake was easy to find because Abbotsford is a small town. This was a very scenic spot even on a bad weather day. There were a couple of hardy souls out walking in the rain and cold but not many. I spent about 15 minutes just looking around and enjoying the day the best I could, given the weather. Even with a Trackchasing Tourist Attraction stop I still arrived at the Abbotsford Centre nearly an hour before racing was expected to begin at 12 noon.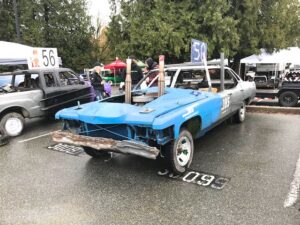 I spent some of that time walking through the pit area taking pictures of the very unusual demolition derby, roll over and figure 8 entries. You will not want to miss my SmugMug photo album. Click on the tab in this report to find the album.
THE RACING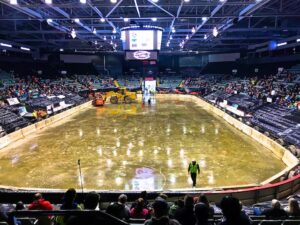 Abbotsford Centre – Abbotsford, British Columbia, Canada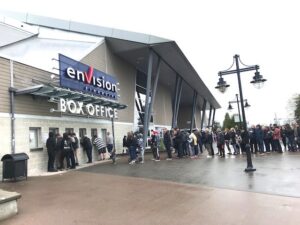 It was now time to get my ticket to the event. I had read online that tickets "started" at $25 each. That seemed a little steep even if it was in Canadian currency. I was somewhat discouraged to see a line of some 40-50 people waiting to buy their tickets at the box office at the Abbotsford arena. Did I want to stand in line in the rain and pay a minimum of $25 Canadian? The answer I came up with was, "no".
Folks, if you have read very many of my Trackchaser Reports you know I have a proclivity for acquiring tickets to larger events at low prices and sometimes at no charge. This was sort of a "small town" event. Small-town folks have to be treated just a little bit differently than if I were wheeling or dealing in New York City, Los Angeles or Paris. I'm try to operate with both types of clientele.
Today's strategy was just to hang around and keep my eyes and ears open. If I saw someone holding a series of four tickets or more and their group was around them maybe they had an extra. Maybe someone in the group bailed at the last minute. I asked a couple people if they had an extra but they didn't.
Then I noticed a gentleman sort of standing by himself with a ticket in his hand. If that was his ticket why wasn't he walking into the arena right now? My antenna went up. I approached him and asked if he had an extra ticket. Wouldn't you know it? He did.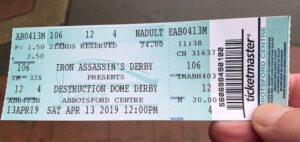 He actually had a ticket to this afternoon's demolition derby program as well as for this evenings that would begin at 6:30 p.m. I couldn't stay for the later show. I asked him how much he wanted for his ticket. He said, "$20". I could see that the ticket carried a face value of $20 plus $4 more dollars in "fees". I'm sure he would like to get $20 but it wasn't going to come for me.
I probably should have offered him ten dollars but I was in a generous mood this morning. I offered him $15 for his ticket and he accepted. Then he shared something with me that he probably shouldn't have shared by saying, "If I didn't sell it to you I would probably just walk into the arena with it. It would be of no value whatsoever to me". You just don't say these things to your negotiating competition.
So, I had paid to $15 Canadian for a ticket that cost the seller $24 Canadian. The good thing about being an American is it our currency is stronger than the Canadian dollar right now. When I adjusted for the currency differences I was paying only $11.25 US. That seemed fair to me.
In advance of this event I had seen these details about the racing and motorsports event. Certainly $27,000 Canadian in prize money seemed pretty hefty. Below is how they described today's event and the prize money offered.
WELCOME TO THE DESTRUCTION DOME
Iron Assassins Destruction Dome Demo Derby & Stunt Show
BC's biggest indoor demolition derby is now official.  APRIL 13TH @ Abbotsford Centre. All your favorite events: Fully welded big car derby, un-welded big car derby,  small car & small truck figure 8 racing and demo derby, minivan derby, and Rollover stunts, featuring Crazy Smurf Brent Shetler of the Pacific Northwest, we will be featuring the ever popular KIDS POWER WHEELS DERBY. We will also be raffling off a custom painted Power Wheels, visit Cherisse Peck booth the concourse at Abbotsford Centre April 13th.
OVER $27500 IN PAYOUTS. Custom trophy's including the Iron Assassin (mad dog) awards. Trophies by Monkey Metal Art Doug Morton.
Abbotsford Centre April 13th shows noon and 630PM, tickets are starting at $25 for adults and $15 for kids, for each show. We are selling combo tix for both shows starting at $40, adults and teens (kids over 12) starting and $20 for kids (12 and under). Tickets available at Ticket Master  (click on the Ticket info page for links) or the Abbotsford Centre box office
I didn't exactly know what to expect when I walked inside the Abbotsford Centre. The place seats about 7,000. I'm sure that hockey has been their primary tenet over the years. Today about a third of the seats were blocked off with curtains and blankets. Another third of the seats were empty. That meant that the remaining one-third of the seating was occupied by fans for this afternoon's show. I suspect that maybe the evening performance will draw a bigger crowd but I didn't know for sure.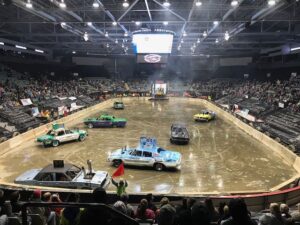 All the demolition derby and racing would take place on a flat concrete floor. To make things just a little bit more challenging and certainly safer for the drivers a couple of maintenance workers used garden hoses to wet down the entire concrete floor. Then during the day, as cars smashed and crashed, fluids mixed with the water making it a greasy, slimy, slick mess.
The first two events of the day were demolition derby heats. They started about eight cars with the top three advancing to the finals for this evening. Despite the slickness of the concrete race surface they got in some pretty good hits. When I have the time I enjoy watching a little bit of demolition derby. That is always the crowd's favorite when compared against other motor sport activities that are part of these events.
Next up was a rollover contest. They put a large heavy steel ramp at the entrance to the arena. Then the rollover cars came barreling down from outside the arena and tried to flip as many times as they could after hitting the steel ramp. The best any of the four entries could do was one complete flip that returned them to their wheels. I think the promoters and the fans were expecting more. Don't miss the video from the rollover contest!
The fourth event of the day would be a truck figure 8 race. There ended up being six trucks racing for eight laps on the slimy, flat concrete surface. Two tractor tires anchored the direction that the racers would run.
This was my 325th lifetime figure 8 track. It was also possibly the most unusual. If you could imagine pick-up trucks trying to race around a hockey rink on ice with no traction then you can imagine what I was seeing today. You really don't want to miss the video. This slick track really slowed the cars down. The spins were pretty much constant all over the place. It really wasn't very competitive figure 8 "Racing" but it met the expectations of the trackchasing rule book.
One of the benefits of this one track trip was I would only be staying overnight for only one night. This will be my shortest stay in the 2019 trackchasing season so far. After traveling for 14 straight weekends I really liked that idea….especially with the travel schedule I have coming up. However, in order to make that happen I needed to leave after the truck figure 8 racing. I would miss the car figure 8 Racing that was coming along in about an hour and a half. However, if they "raced" the same way as the trucks I really wouldn't be missing much.
I will tell you this. This was a laid back event. There were lots of families with small children and younger people in attendance. I just don't see that demographic with more "traditional" racing. Maybe that's why traditional racing isn't doing that well! I enjoyed simply being able to kick back and be entertained by fun stuff. They kept the show moving, had some good announcers and a good deal of action. It was an entertaining show.
AFTER THE RACES
The drive back to the Seattle airport was relatively uneventful. Crossing the border back into Sumas, Washington took about 20 minutes, which was about 19 minutes longer than it took to enter Canada. The greater Seattle Washington has some pretty heavy duty traffic that can rival Los Angeles on any day. It rained off and on.
The flights were wide open tonight. I ended up getting a first class seat for the trip back to Los Angeles from Seattle. When I landed I walked over to the Tom Bradley international terminal to pick up some P.F. Chang's food for Carol. I frequently do that. P.F. Chang's closes at 11 p.m. I didn't get there until after 10 p.m. By the time I walked back to the parking garage I had covered 4.5 miles for the day. I completed the 65-mile drive back to our sleepy little city by the sea, San Clemente just as the clock struck midnight.
It had been a good trip to Abbotsford, British Columbia, Canada.
P, S. I don't expect to be trackchasing in the United States anytime soon. However, I will be trackchasing. I'll let you take it from there.
Randy Lewis – 82 countries – 2,546 tracks.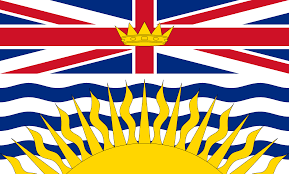 British Columbia
The Beautiful British Columbia province
This afternoon I saw racing at my 19th lifetime track in the Beautiful British Columbia province, yes, the Beautiful British Columbia province. I hold the #1 trackchasing ranking in B.C. Have other trackchasers come to British Columbia to trackchase? Er….do I really have to answer that question? All right, I will. Other than Carol and me, a couple of people have seen TWO B.C. tracks. Why haven't more people come up here for trackchasing? I think you would have to ask them.  
Thanks for reading about my trackchasing,
Randy Lewis
World's #1 Trackchaser
Peoria Old Timers Racing Club (P.O.R.C.) Hall of Fame Member
British Columbia sayings: As a kid growing up in British Columbia, back a long way, I learned to skate.
QUICK FACTS
LIFETIME TRACKCHASER COMPARISONS 
The threemost important trackchasing comparisons to me are:
Total lifetime tracks seen
Total "trackchasing countries" seen
Lifetime National Geographic Diversity results
Total Lifetime Tracks
There are no trackchasers currently within 705 tracks of my lifetime total.  Don't blame me.
Randy Lewis, San Clemente, California – 2,546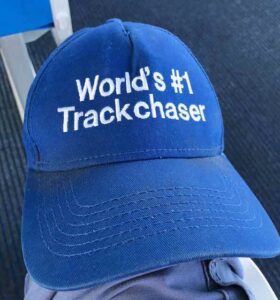 Total Trackchasing Countries
The nearest trackchasing competitor has seen racing in 30 fewer countries compared to my lifetime total. 
Randy Lewis, San Clemente, California – 82
Current lifetime National Geographic Diversity results
Randy Lewis, San Clemente, California – 4.14
That's all folks!  Official end of the RLR – Randy Lewis Racing Trackchaser Report
Click on the link below to see the video production from the racing action today.
Click on the link below for a photo album from today's trackchasing day.  You can view the album slide by slide or click on the "slide show" icon for a self-guided tour of today's trackchasing adventure.
This was just a one-nighter up towards Canada but I crammed a lot in