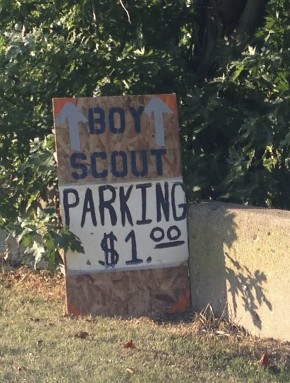 Greetings from Abingdon, Illinois
From the travels and adventures of the 
"World's #1 Trackchaser"
Lifetime Track #1,892
HighlightsThe DetailsAttractionsRace ReviewVideosPhotosQuick Facts
No trackchasing today.  It was a 'geographical re-positioning day'…………….more in "The Details".
How do YOU answer this question?……………more in "The Details".
I don't think Ed would mind at all……….more in "The Details".
What can be learned by watching NASCAR on TV? ……….more in "The Details".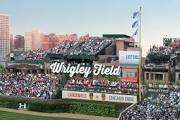 My major league baseball history goes back a long way. ……….more in "Attractions".
Politically incorrect?………..details in "Race Review".
This fellow was a precocious character.………..details in "Race Review".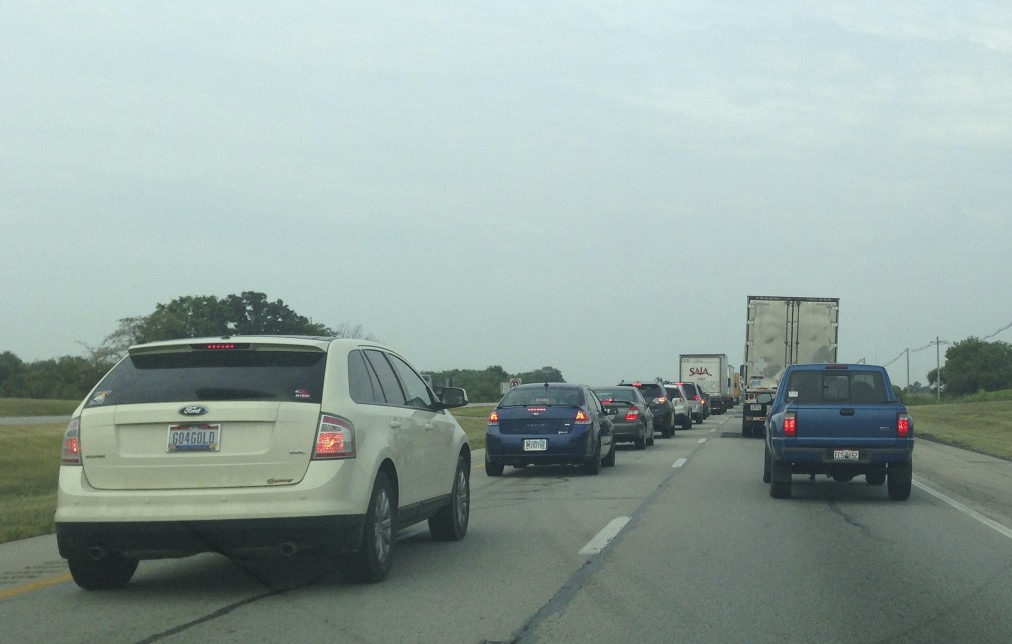 Moving right along.
I woke up on Thursday morning in Columbus, Ohio.  I spent much of the day in Cincinnati at a Trackchasing Tourist Attraction before retiring for the evening in Indianapolis, Indiana.  On Friday morning I motored over to my trackchasing activity in Abingdon, Illinois before finding lodging in Joliet, Illinois for the night.  This is what my two-day trip looked like.
THURSDAY
No trackchasing today.  It was a 'geographical re-positioning day'.
This is day 16 of my 27-day summer trackchasing trip.  There weren't any good trackchasing choices so I reverted to my secondary on the road activity.  What is that?  Seeing major league baseball parks.
I considered today to be a "geographical re-positioning" situation.  I was lucky there just happened to be a major league baseball viewing opportunity between trackchasing in Greensburg, Pennsylvania (Wednesday) and Abingdon, Illinois (Friday).  It wasn't just ANY baseball park it was a park I hadn't seen yet.
Just maybe….
Today was the first day I started to think I could possibly see every current major league baseball park.  I thought that would be both an interesting and significant personal accomplishment.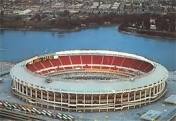 Riverfront Stadium
But Randy…..
Today's visit would take me to the "Great American Ball Park" in Cincinnati.  "But Randy" I could already hear a large number of people saying.  "I've been following your trackchasing hobby for years.  I know that you lived in the greater Cincinnati area for a year in 1974.  I also know that you followed the "Big Red Machine" in their glory years of Pete Rose, Johnny Bench, Joe Morgan and Tony Perez.  Are you trying to tell me this was your first major league game to see in Cincinnati?  I don't believe it" several readers would likely be saying to their spouse over morning coffee.
No I am not trying to say such a thing.  Of course, Carol and I saw the "Big Red Machine" play several games in Cincinnati.  However, those games were played at Riverfront Stadium.  The Cincinnati Reds now play their home contests at the Great American Ballpark.  My goal is to see a game in every CURRENT major league baseball park.  I'll tell you more about how this came down behind the "Attractions" tab.
Trucks and more trucks.
As I traveled across the Middle West today I was amazed at much big truck traffic there was on the interstate.  Indianapolis is a trucking hub given its central location and extensive interstate system.  However, I don't mind it a bit.  Trucks are the means by which most of the goods on your store shelves got there.
I enjoy being curious.
I am a naturally curious person.  I was curious as to whether or not the track I avoided last night in Ohio had gotten their show in with all the bad weather in the area.  I called the Ohio track promoter.  He told me they got a very heavy rainfall just south of the track.  Nevertheless, the racing went off as planned with 18 figure 8 cars.
How do YOU answer this question?
I have a more than 800-day rain-free trackchasing streak going on right now.  I always try to use logic and ethical behavior in my trackchasing hobby.  I have a question for you.  You can respond by leaving a comment below.
I avoided the Ohio track last night because I thought they might cancel their show because of bad weather.  Instead I drove over to Pennsylvania to see a figure 8 race there.  I arrived just in time to catch the smallest amount of figure 8 racing.  Here's the question.
I now know the Ohio track raced despite bad weather in the area.  I just wasn't there.  What if I had arrived late over to Pennsylvania, where I actually did go, and missed all the racing.  Would my rain-free streak have been broken since I had dodged Ohio because of threatening weather?  The Ohio and Pennsylvania tracks were my only alternatives.  Under the above scenario I would not have seen any racing however both tracks in Ohio and Pennsylvania ended up racing their full show despite threatening weather in both locations.  If I had not seen any racing would my rain-free streak have been broken?  It is questions like these that keep trackchasers up at night.
Following the game…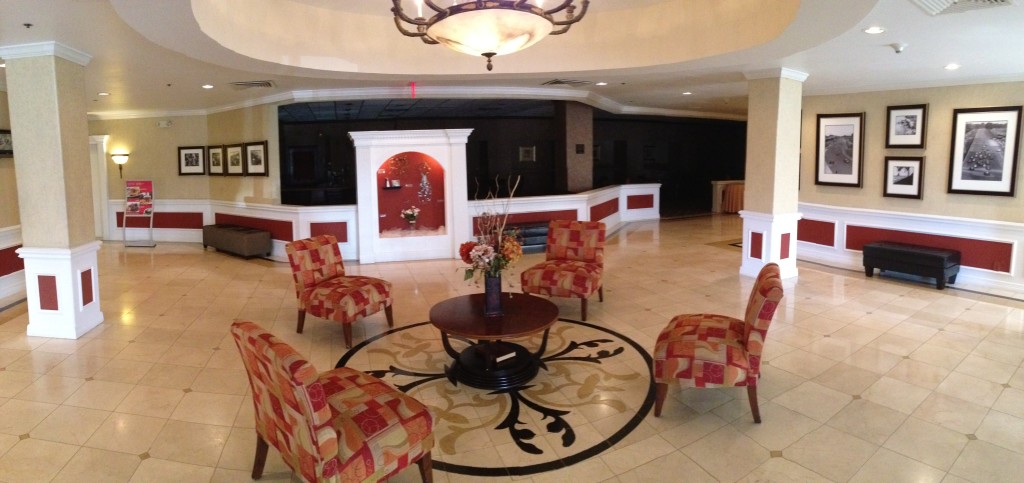 Taking candy from a baby?
I was able to get a very luxurious Radisson at the  Indianapolis Airport Hotel from Priceline for the princely sum of just $45.  The cheapest online rate for that evening for the Radisson was going for nearly twice that much.  I feel as if I'm taking candy from a baby.
Overall it was a good day even though I didn't see any new tracks.  I was able to advance my goal of seeing baseball played at every current major-league park. The words to that statement are precise.  It means I have to go back to cities where I've already seen a game but where I have not seen a game at their current park.  This will be the case in several cities including Seattle, St. Louis, Chicago (White Sox) and New York (Mets) to name a few.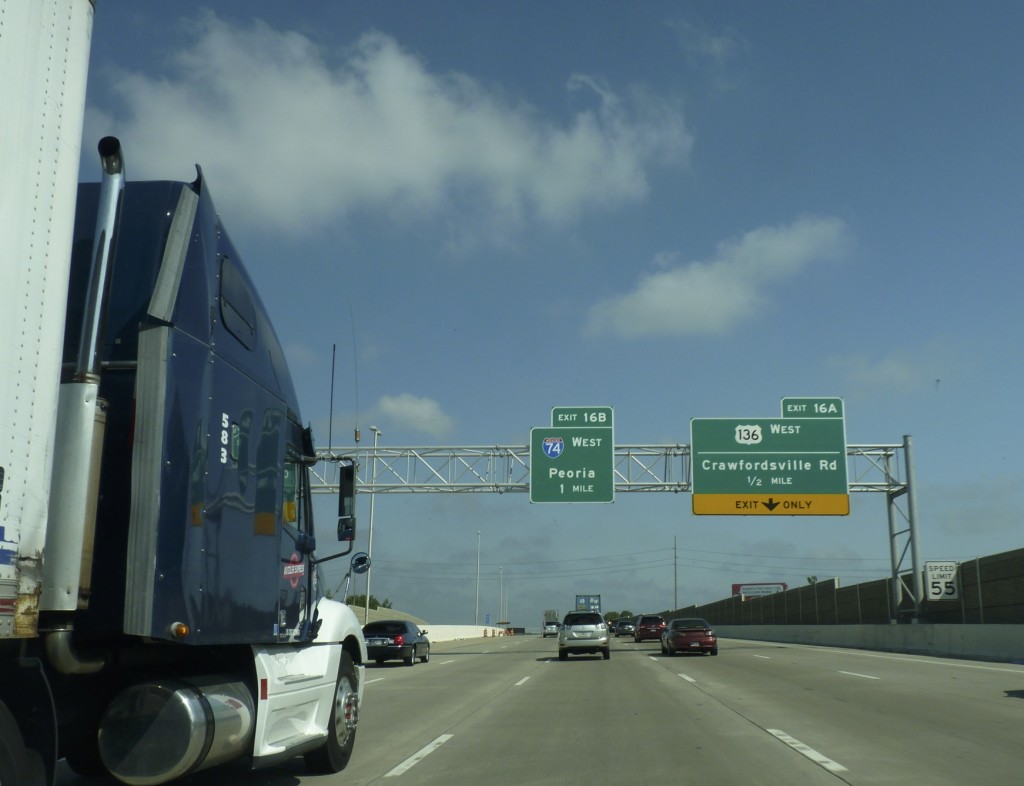 FRIDAY
I truly could do this every day for a very long time.
This is day 17 of my 27-day trip.  I have now been on the road 31 of the last 32 days.  You won't see any of those Dreaded East Coast Trackchasers making this type of commitment to the hobby.  Have they no passion?
Don't be at the airport when your ship comes in OR don't be at the wrong airport when your plane is ready to leave.
The Indianapolis area got a brand-new airport about two years ago. It's beautiful.  The hotel I stayed at last night is near the old Indianapolis airport, which is now being torn down.
I once showed up for a flight in Nashville not knowing a new airport had replaced the old airport!  All I found was a deserted airport with a chain-link fence around the entire place. Luckily the two airports weren't very far apart.
It's been getting hotter than it has been for most of this trip.  It's humid as well.  Nevertheless I was out on the trail this morning for my 45 minute power walk. Due to extreme driving conditions over the next two days including having to sleep in my car as well as early morning flights there will be no more powerwalking for a couple of days.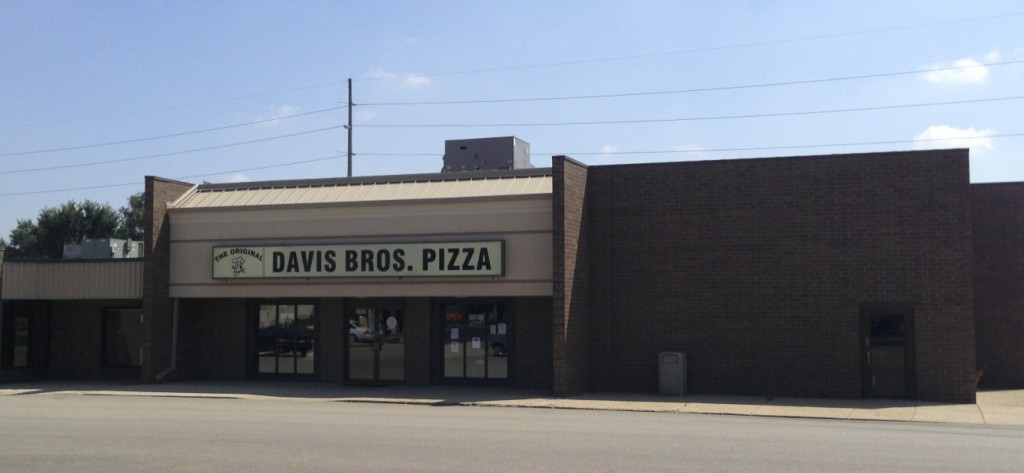 My usual pizza place in nearly 2,000 miles from home.
Today I intentionally skipped breakfast and lunch.  Why do that?  I wanted to chow down on my all-time favorite pizza.  I'm talking about Davis Bros. Pizza in my boyhood home town of East Peoria, Illinois. I find it amazing how frequently that a fellow from San Clemente can revisit his hometown nearly 2,000 miles away and enjoy the pizza he's craved for more than 50 years.  I eat at Davis Bros. 2-3 times ever year.
I don't think Ed would mind at all.
Tonight I'm planning to see my 87th track in Illinois. Wisconsin Trackchaser Ed Esser, now deceased, has reported 99 tracks in Illinois.  Unless the figure 8 county fair craze takes over it will be difficult to ever reach 99, although it is definitely possible.  I am sure Ed would love for me, an Illinois boy and fraternity brother of his, to be the Illinois leader. I'll leave trackchasing's leadership position in Wisconsin for Ed!
The weather on this trip has been for the most part rain free. The immediate forecast for my next several tracks looks to be dry.  I find it most amazing that my rain free streak has lasted this long.  Most races are run in the Midwest and east in the summer. When and where does it rain the most?  In the Midwest and east during the summer!  I'll go with it as long as I can.
Technology works very well for me.
I must confess to being very productive during these trips. For my powerwalks my iPhone provides three things. I listen to Johnny Cash music on my Pandora app and I use Runkeeper to measure my time and distance for each powerwalk.  Then I use the phone to take interesting pictures of whatever I encounter during the walk.  If I get lost I use my Google maps on my iPhone!
This all requires some balancing.
On my drive over towards Central Illinois I was trying to balance my remaining fuel with I need to get Davis Bros., catch an afternoon movie and get to the racetrack by 7 p.m.  Yes, I like to stay busy with agenda items that I and not someone else establishes.  Carol has long said that if someone else set up my travel schedule I would hate it.  She is 100% right.  But if I set the travel schedule how can I ever be disappointed?  Make sense?
While driving I checked the movie times on my iPhone.  It was going to be tight.  I figured I could stop for fuel and a "convenience" break as long as it didn't take more than five minutes.  I would have to phone in pizza order to Davis Bros.  That way my pizza would be ready for pickup with minimal downtime.  If all went as scheduled I would arrive at the movie theatre while the previews were playing.  I would end up at a new movie theatre in Pekin, Illinois.  Pekin, a team in our conference won the Illinois state basketball title during both my freshman and senior years.  That was quite an accomplishment considering at the time Illinois operated under a single class system with nearly 800 schools in the tournament.
Just trying to stay productive.
I should tell you that I'm very productive as I move on down the highway with my iPhone. Of course my iPhone is using Google Maps! to get me where I want to go efficiently.  You won't find me flipping through any last century paper maps.  They're too difficult to refold.  Often times I have no idea what section of the state I'm in.  Why?  Because it doesn't matter.  In the corporate world I soon learned there wasn't time to gather lots of information that wasn't needed.  That would be a waste of time and resources.  Make sense?
I check movies times and text messages.  Of course, I do my best to do this when there's no traffic nearby.  Do I recommend this for others?  No.  Remember, I am a professional.  I do this more often than anybody you know.  Sometimes I look at the National Speedway Directory's iPhone app, Track Guide.  If you like racing you need this app.
When I'm driving the interstate it's not much different that when I'm sitting in my office at home.  I also use the dictation function so I can remember the key points of each trip.  Why?  I don't want you to miss any of the excitement.  Just a few years ago who would have thought the trackchasing hobby would have developed to this stage.  Heck, those Dreaded East Coast Trackchasers even have cellphones now.  Some are beginning to use GPS.  What is the world coming too?  If THEY have reached this state, some 10 years behind the curve, it's time for me to move onto the next new thing.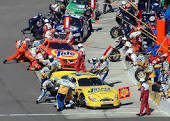 What can be learned by watching NASCAR on TV?
As this is written I've driven my rental cars more than 3,000 miles on this trip.  I have only two more days to go with my current car.  I'm trying to manage my fuel stops so that I stop only when the car is dead on empty and then I fill it to the brim. Over time I will stop fewer times using this method. Of course I learned all this by watching NASCAR on TV!
As you have read I am on Day 17 of my 27 day trip. I believe I'm in my "laundry window". Just like a NASCAR crew chief I want to stop as few times as I can to do laundry.  On this 27-day trip I packed so that I will do laundry two times. I last did laundry on day eight.  That takes me good out to day 18 or 19. And when I do laundry at that point I'm good to go until I get back home on day 27.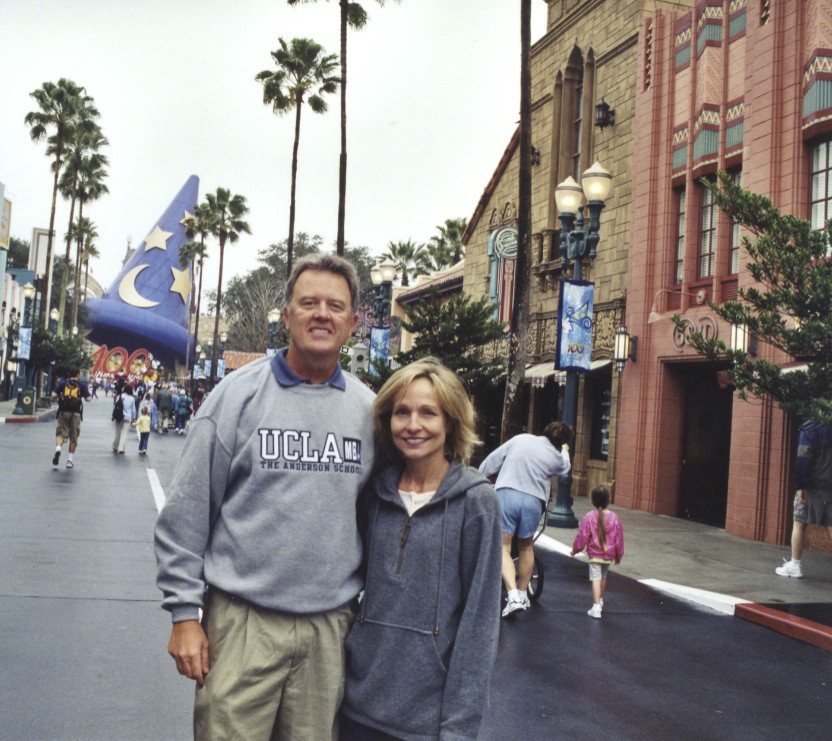 Carol will be with me on about 50% of the days on this trip.
The positive about planning a long trip like this is that Carol spent the first 6-7 days with me.  She will also spend the last 6-7 days of this trip with me.  But she will not be around for any of the laundry episodes.  It wouldn't be fair to have her visit "conveniently" match up with the days when my laundry needed to be done would it?  Yes, I try to be a considerate husband.
TRACKCHASING TOURIST ATTRACTION
I very much enjoy the racing when I go on trackchasing trips.  However, I am not the type of person who would feel the trip was complete if I simply left home, went to the race and came back home.
I do a good deal of traveling.  I want to do my best to see the local area when I come for a visit.  There are usually unusual attractions that one area is noted for more than any other locale.  I want to see those places.  I want to touch them and feel them.  When I leave an area, I want to have memories of these special places that I call Trackchasing Tourist Attractions.  I will remember those experiences long after the checkered flag has fallen on whatever race I have seen that day.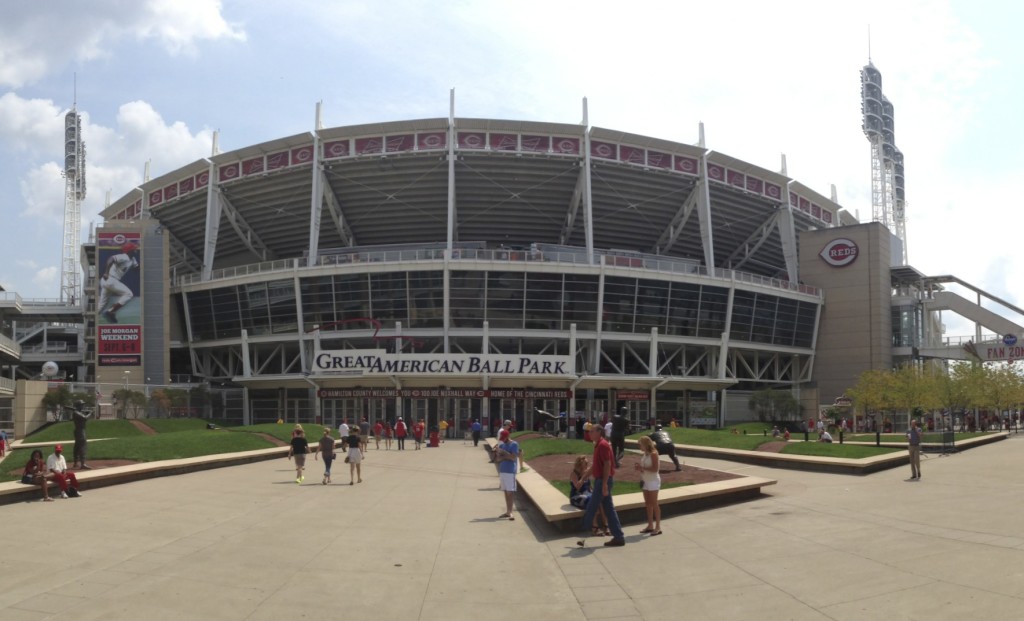 Great American Ball Park – Cincinnati, Ohio
A perfect fit.
Off days from trackchasing make good days for visiting major league baseball parks.  If I can see the game in the afternoon it gives me more flexibility for driving to faraway destinations in the evening.  Not much is done with trackchasing logistics that doesn't fit into the "bigger" plan.
My major league baseball history goes back a long way.
I first started watching major league baseball in person as a child in the 50s.  We lived about three hours from Chicago.  My grandfather and I would drive up to Chicago for the day to see the Cubs play.  Sometimes we would pickup my Uncle Francis in Kankakee along the way.  I didn't understand economics as a kid.
We would leave home in the dark at about 5 a.m.  Back then all of the Cubs games at Wrigley Field were played in the daytime.  That has changed now.  When the game was over we headed back to East Peoria.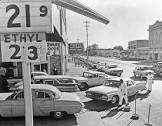 I haven't thought much about it but we really weren't spending much money.  Gas was about 20 cents per gallon.  The trip was less than 400 miles.  If we got 15 M.P.G. we might have used 20 gallons of gas or so.  That meant our total gasoline costs were just $4-5 U.S. for the entire trip.  I have no idea what tickets to the game cost back then.  I'm sure we bought the cheapest general admission tickets available.  That might have set us back another $4-8 for the two of us.  We always stopped at "White Castle" for a sack of burgers on the way back home.  Maybe we (my grandfather not me!) spent twenty bucks on the entire trip.  We only did this once a year but the memories stayed with me a lifetime.  I hope my children have memories like this.
On this trip I expect to see major-league baseball played in Pittsburgh, Cincinnati and Washington.  Yes, I'm knocking them off one by one.  I may see a few more before the 2013 season ends.  Then I'll put a full scale blitz on for 2014.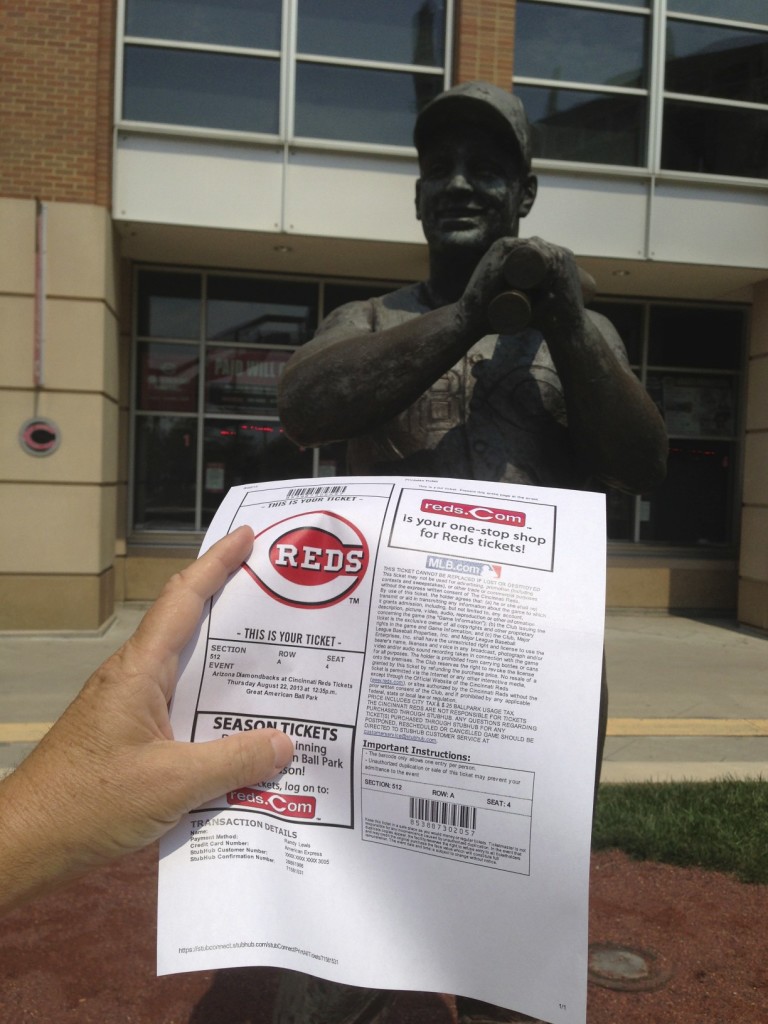 It was time to get a ticket to the Great American Ballpark.
I bought my ticket on Stubhub.  I paid just six dollars.  Considering the inflation from the 1950s through 2013 that's pretty good isn't it.  I didn't have a printer because my entire ticketing transaction was done on my iPhone.  Wouldn't it have been cool to have an iPhone in the 50s if no one else had one!  Without a printer I simply showed up at the ticket office and using my confirmation number received my ticket.
If you work at it you can get good stuff cheaply.
Parking can be expensive and sometimes inconvenient at a major league game.  Our experience in Boston was the worst.  The best spot we could find was a long way from the park, expensive and not in the best of neighborhoods.  That's one of the reasons why you will find me being critical of the East coast infrastructure.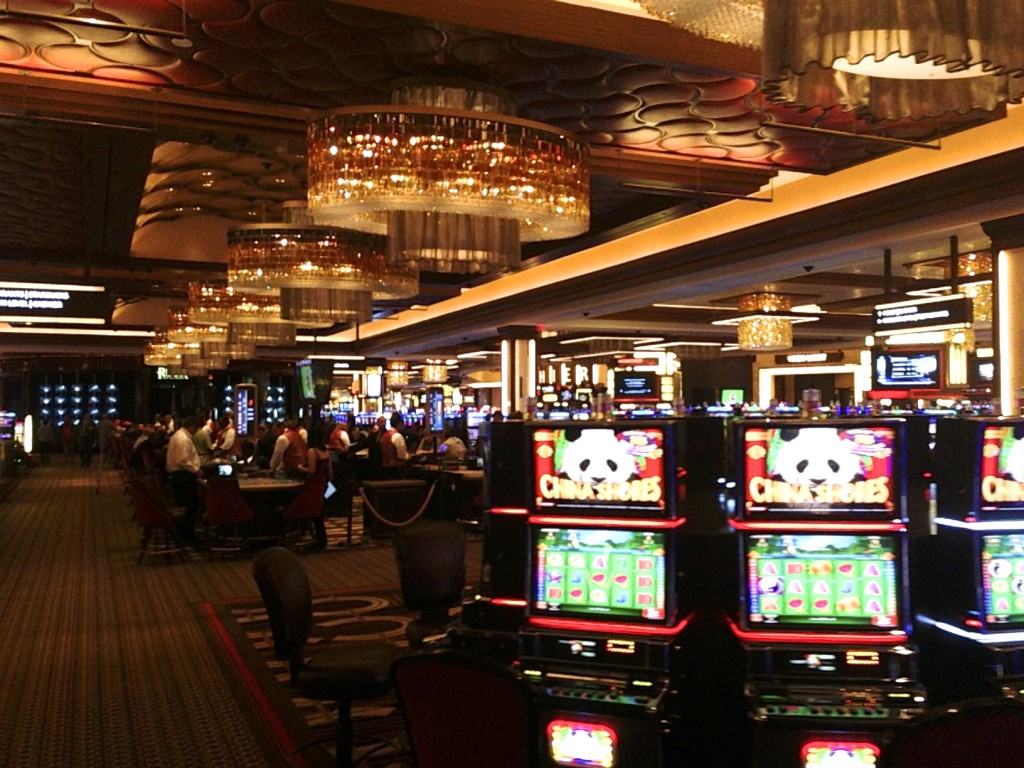 Trying to park in a major city for an afternoon game when everyone in town is working at their downtown office is difficult.  We found that out in Pittsburgh.  After searching for the best deal I finally ended up parking at the Horseshoe Casino.  Casinos typically offer free parking.  Of course, it's not likely to be "free" if you play in the casino!  However, it was a good-sized walk from the casino to the ballpark as my Cincinnati friends know.
Along the way I picked up a Diet Mountain Dew and tasty Italian sausage sandwich for five dollars including tip from a street vendor.  When I arrived at the ballpark I saw the 20 ounce bottled Diet Cokes were selling for $5.75 alone!  You wouldn't see prices like that at a NASCAR race.
I really wanted to buy a souvenir T-shirt.  However, the least expensive t-shirt I saw was priced at $35!. They did have one sale rack of t-shirts for "recently traded" players selling for $10.  That didn't appeal to me.
Cincinnati more expensive than Los Angeles?
On a most hot and humid day I did go for a large Bud Light beer for $9.25. It was surprising to see that the the Cincinnati baseball concession prices were dramatically more expensive than what is offered at Angels Stadium in SoCal.  On the other hand I did end up paying just six dollars for my ticket and parking for free.  That was a big savings from just a few nights ago when I paid much more to attend a minor-league class A game.  Anyone who says minor-league baseball is a better buy than the major leagues might be dealing with old data.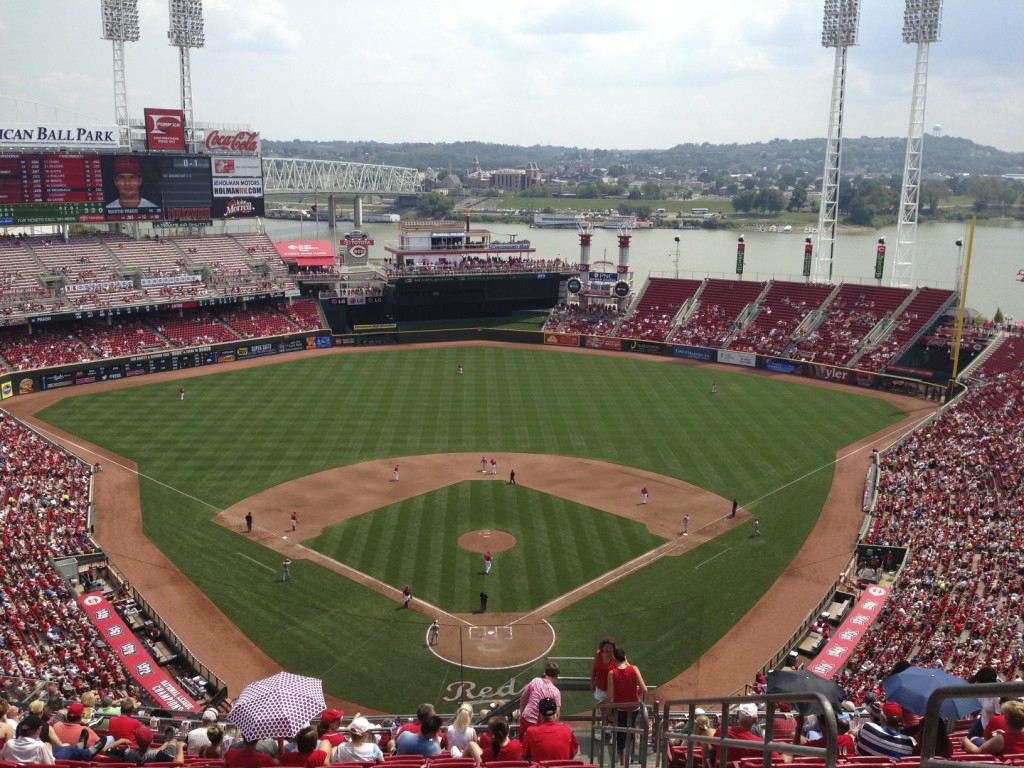 What a beautiful park.
With an afternoon game today the stadium was only about half full.  The announced crowd was just over 21,000.  I like sitting behind home plate so I grabbed a seat in the upper deck right behind home plate.  This is a beautiful stadium.  Like PNC Park in Pittsburgh this venue overlooks a river beyond the outfield fences.  In Cincinnati you can see all of the boat activity which gives it a leg up on Pittsburgh.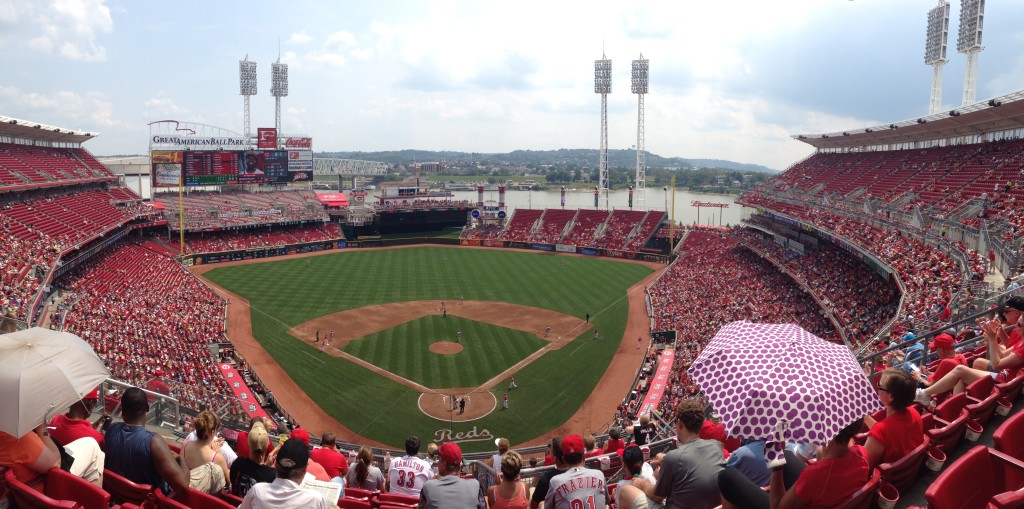 It was a warm and humid afternoon with temps at about 85°.  In the sun it seemed hotter.  I found a seat underneath an overhang.  From there I watched the game in the shade which made things much more comfortable.
Following the baseball game in Cincinnati, by the way they played the Miami Marlins, I walked back to the Horseshoe Casino.  It's a huge modern casino in downtown Cincinnati just a block or two from Procter & Gamble headquarters.  Heck, P&G workers could come over for a few hands of blackjack on their lunch hour.
No racechasing for me.
Following the game I had an option of going to Kokomo Speedway for the USAC wingless sprints. I love Kokomo.  I love wingless prints.  However rain was in the area. I was also little burned out on going to a racing event every night. I elected to simply go to my hotel in Indianapolis and relax for the evening. I'm glad I did that.
ONE CANNOT LIVE WELL OR SLEEP WELL IF ONE HAS NOT DINED WELL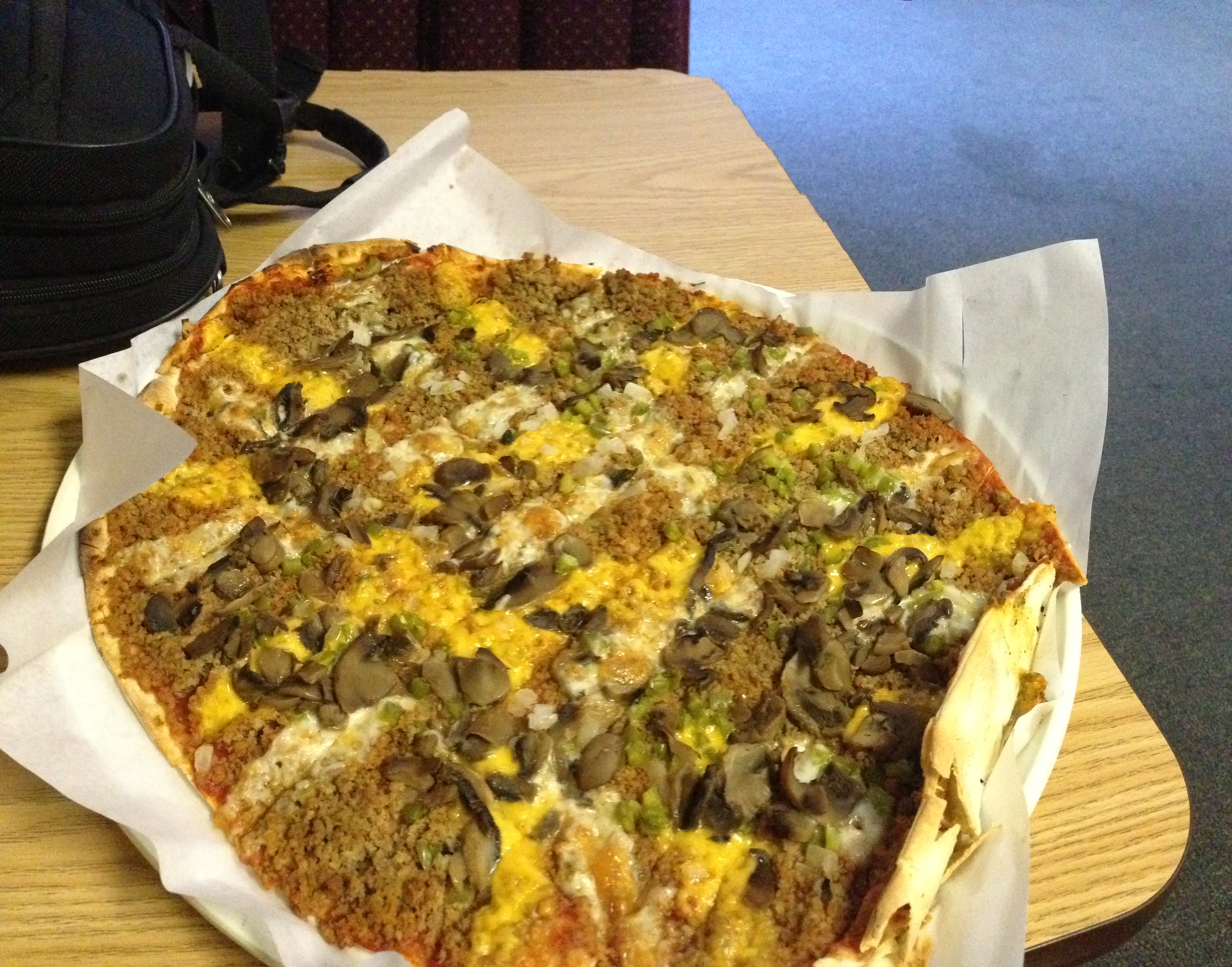 Davis Bros. Pizza – East Peoria, Illinois
It's my hometown pizza joint.  It's serves the most unique pizza you will ever find.  I like it.  You will too if you ever get the change to have it.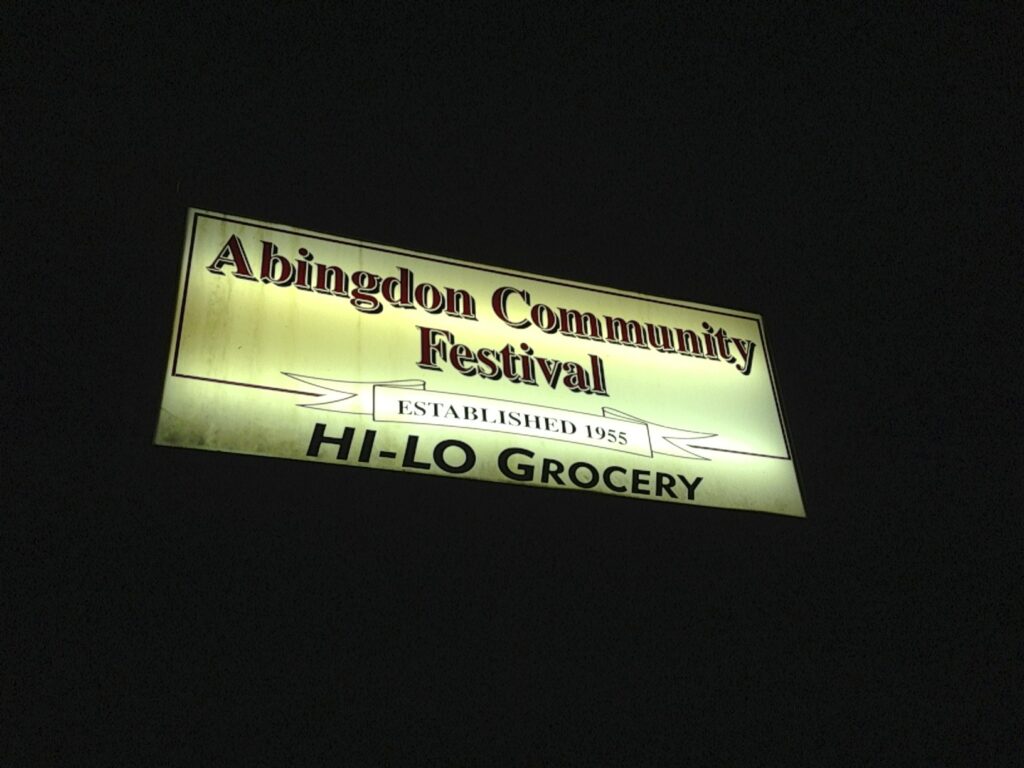 Abingdon Fairgrounds – Abingdon, Illinois
This was a simple affair.
Tonight I was visiting the Abingdon Community Festival.  The festival was founded in 1955. Parking was one dollar with the money going to the Boy Scouts.  Fair admission including entrance to the racing was eight dollars.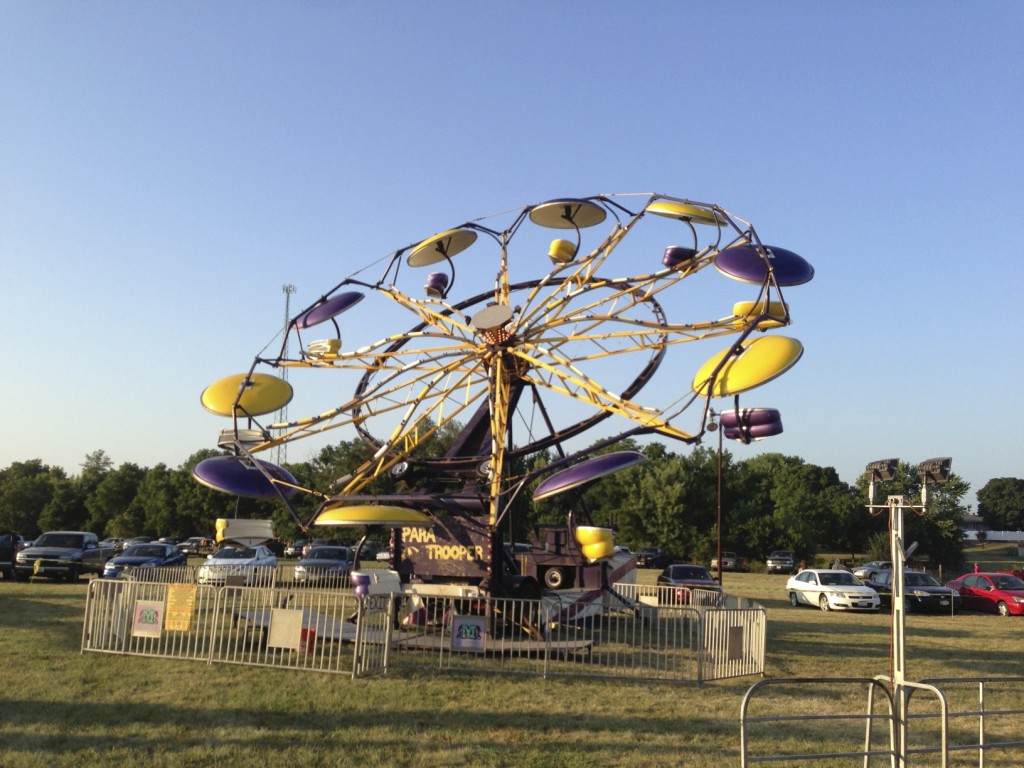 The festival featured a very small carnival.  There were also a few livestock barns.  I never miss those.  It was still warm when I arrived – 82 degrees.
If you are not early you are what?  Late!
I was most disappointed the first event did not begin until 7:49 p.m.  The advertised start time was 7 p.m.  Most folks in the crowd probably lived within a few blocks of the fairgrounds.  They didn't care if the program started late.  What else were they doing on a Friday night?  However, I had a more than three-hour drive when the racing was finished.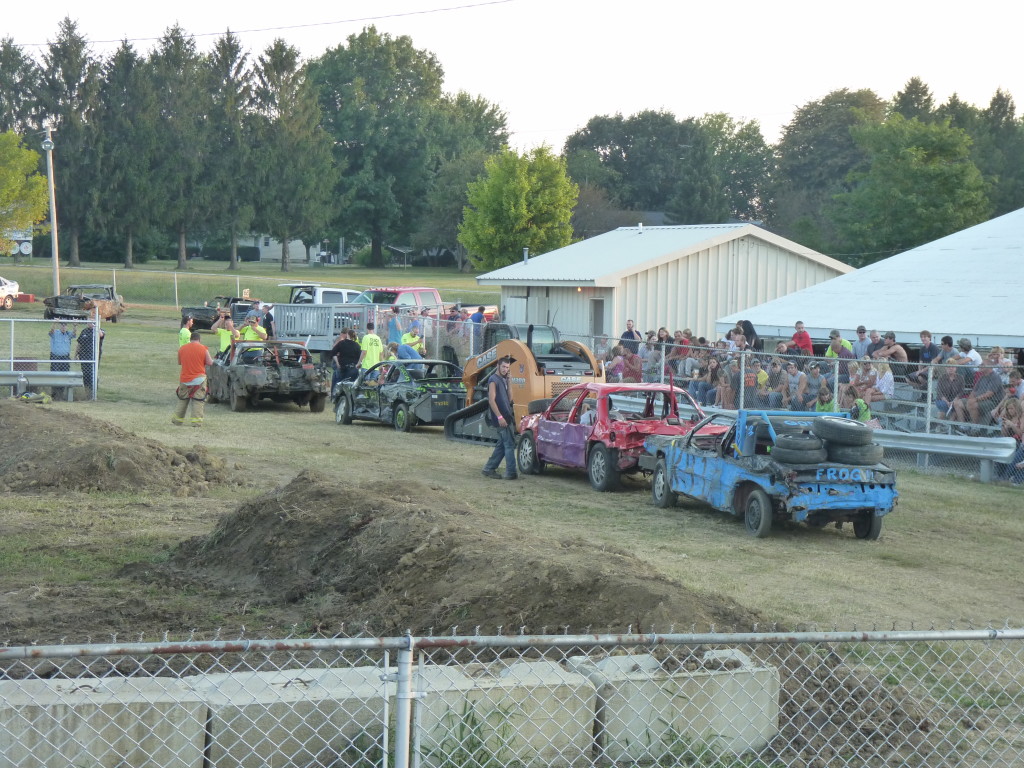 Politically incorrect?
The first event was a figure 8 "Powder-puff" feature event.  It took more than 30 minutes to complete.  By the way "Powder-puff" is a somewhat dated and some would say politically incorrect way of saying this race for women only.  Do they have any "men only" races?  I'm just sayin'.  Nevertheless, the ladies put on a good job of slamming and banging.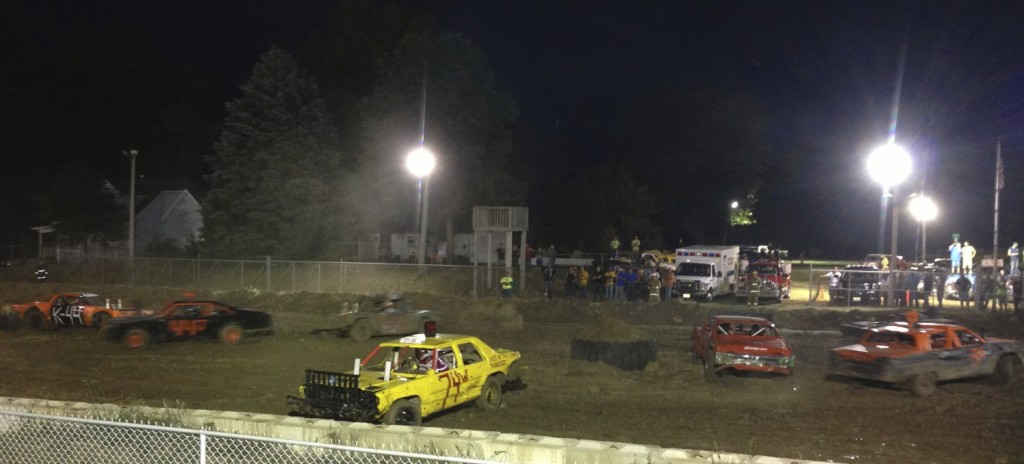 There were also big car and truck figure 8 racing divisions.  The track had a rule I didn't recall seeing before.  During the race one competitor had to hit another every 60 seconds.  I didn't really see this rule be enforced but it was unusual.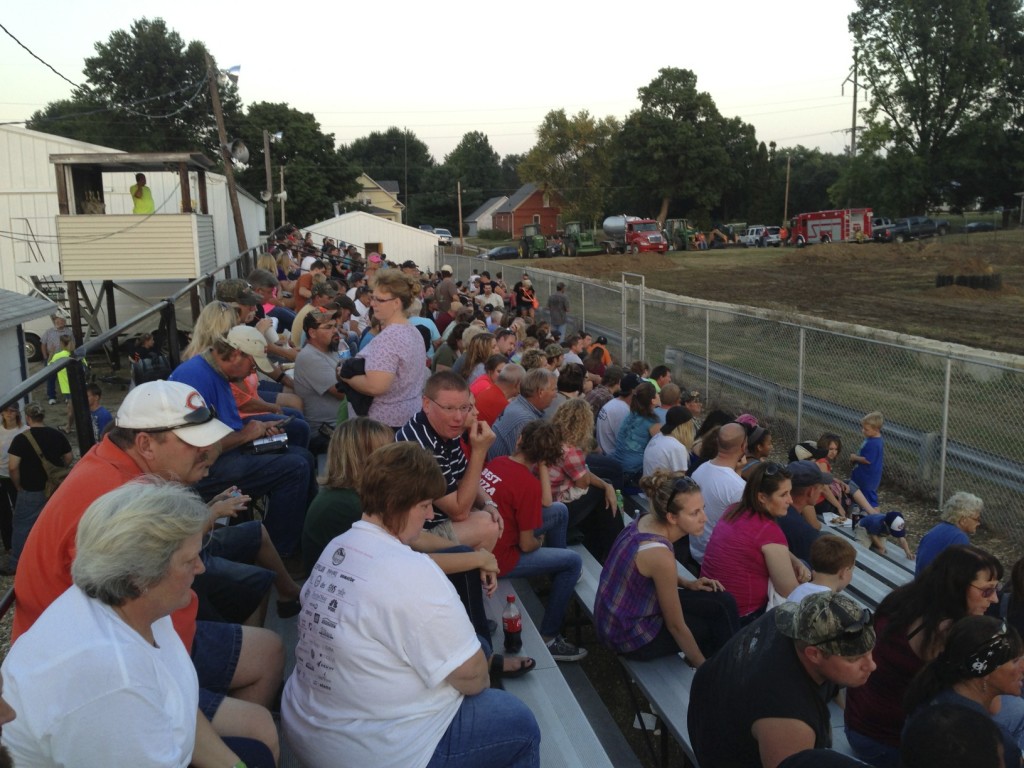 I had a great viewing spot from the top row.  When I was a kid we would get to the Peoria Speedway before the gates even opened for the night.  Why?  We wanted to be able to get top row seats!
This fellow was a precocious character.
Almost immediately a 14-year-old boy from the local high school and seated next to me began a conversation. He wasn't too impressed with my trackchasing background but he was a big demo derby fan. I was taken with this kid for one reason.  He wasn't afraid to talk to adults and he made good eye contact.  You won't always get that in a 14-year old kid.  When I went down to the concession stand I offered to bring him back something.  "Ya, I'll take a hot dog and put some ketchup on it please".  No this kid wasn't shy especially considering he had grown up in such a small rural Midwestern town of 3,600 people.  A 20 oz. bottle of water was a buck and a hot dog the same.  Folks in places like this are living in the 1970s if not earlier.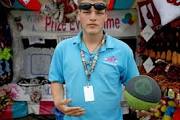 This is one of the best things about my hobby.
One of the best things about trackchasing, when I want to do it, is that I can strike up conversations with people who aren't very much like me.  I spent a few minutes on the way out talking to a carnival worker.  Business was slow.  The carnival rides were not being used much for two reasons. First everyone had been inside the arena watching the figure 8 racing.  Secondly ride tickets cost two dollars.  When a hot dog costs a dollar two bucks for one carnival ride is expensive.
The carny worker told me that tomorrow night was "wristband night".  Everyone could buy a wristband for a few and ride the rides as much as they wanted.  Then business would be picking up.
This worker had been on the job for only been two weeks.  He had spent the first week at the carnival's "headquarters" working on and getting used to the rides.  This was his first fair of the season.  He had five more weeks to go. He told me he slept in a trailer which had five "rooms" and a total of 12 bunk beds.  I asked if the job paid well.  He didn't know what he made on an hourly basis. He said it was a "salary position" and he knew what he made on a weekly basis.  I've always wanted to join the carnival but I feel it may have passed me by.  I guess in a way trackchasing really is it's own carnival where I pick up stakes virtually every night and head on down the road.  I like that part of it.
When I'm on the road it's almost like being at home.
During a time when Carol is not with me on the road we talk each night. We just refinanced our mortgage for what will likely be the last time.  I did my administrative part entirely from the road which I find rather amazing.  I'm also preparing for Carol to join me in a couple of days.  I have too.  I plan extra hard because I want her trip to be a fun one.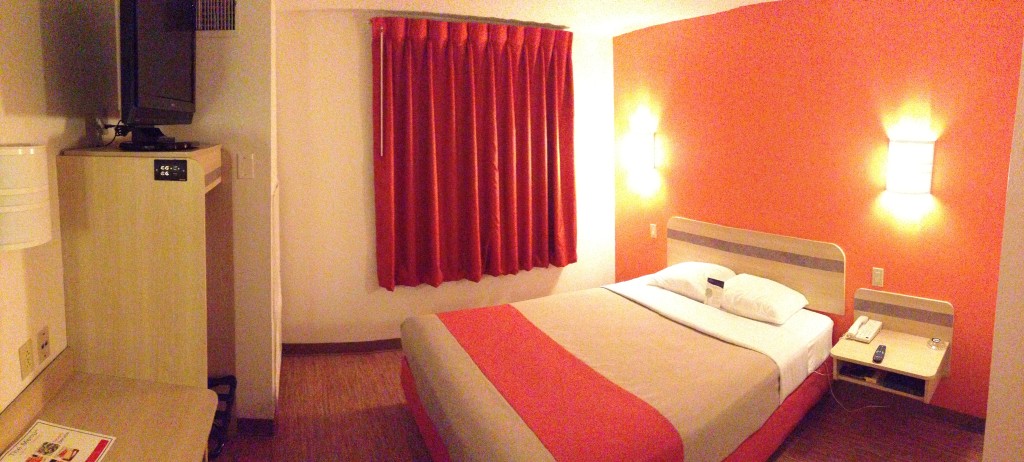 Following the race I left Abingdon and was off to Joliet, Illinois.  That trip would take about 3 ½ hours primarily along interstate 80.  One of the nicest Motel 6 properties in the country is in Joliet.  It rivals a Motel 6 I frequent in Toronto as being one of the best in the chain.
Tomorrow will be a big day. It includes three separate four hour drives followed by sleeping in my car overnight and then catching a 7:30 a.m. flight the next morning.  Yes, my life is a bit like the carnival workers but they probably have it easier!  I don't mind putting up with a little inconvenience tomorrow.  The reward is seeing three tracks.
STATE COMPARISONS
Illinois
The Illini State
This evening I saw my 87th lifetime track in the Illini state, yes the Illini state.  Can I see 12 more?  I'm going to try.
Thanks for reading about my trackchasing,
Randy Lewis
World's #1 Trackchaser
Peoria Old Timers Racing Club (P.O.R.C.) Hall of Fame Member
Illinois sayings:  America's gut
QUICK FACTS
AIRPLANE
Los Angeles, CA (LAX) – Chicago, IL (ORD) – 1,745 miles
Chicago, IL (ORD) – Detroit, MI (DTW) – 234 miles
RENTAL CAR #1
Detroit Metro Airport – trip begins
Belleville, MI
Butler, PA
Urbana, OH
Union, KY
East Moline, IL
Marshall, MI
Armada, MI
West Branch, MI
Midland, MI
Detroit Metro Airport – 2,378 miles
RENTAL CAR #2
Detroit Metro Airport – trip begins
Greenland, MI
Escanaba, MI
Escanaba, MI (again!)
Hudsonville, MI
Greensburg, PA
Abingdon, IL
TRACK ADMISSION PRICES:
Wayne County Fairgrounds – $10
Butler Farm Show – $12 (not trackchasing expense)
Champaign County Fairgrounds – $12
Florence Speedway – Complimentary admission
Quad Cities Speedway – $8 ($2 senior discount – not trackchasing expense)
Calhoun County Fairgrounds – $10
Armada County Fairgrounds – $8
Ogemaw County Fairgrounds – $8
Midland County Fairgrounds – $10
Adventure Mountain Raceway – $8
Upper Peninsula International Raceway – $8
Upper Peninsula State Fairgrounds – $5
Hudsonville County Fairgrounds – $9
Westmoreland County Fairgrounds – $8
Abingdon Fairgrounds – $10
LIFETIME TRACKCHASER COMPARISONS 
The three most important trackchasing comparisons to me are:
Total lifetime tracks seen
Total "trackchasing countries" seen
Lifetime National Geographic Diversity results
Total Lifetime Tracks
There are no trackchasers currently within 350 tracks of my lifetime total.  Don't blame me.
1.  Randy Lewis, San Clemente, California – 1,892
Total Trackchasing Countries
There are no trackchasers currently within 10 countries of my lifetime total.
1.  Randy Lewis, San Clemente, California – 65
Current lifetime National Geographic Diversity results
1.  Randy Lewis, San Clemente, California – 5.10
That's all folks!  Official end of the RLR – Randy Lewis Racing Trackchaser Report