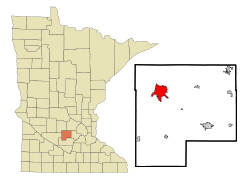 Greetings from Hutchinson, Minnesota
.
.
From the travels and adventures of the 
"World's #1 Trackchaser"
.
.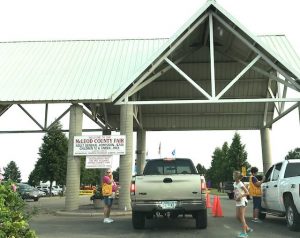 McLeod County Fairgrounds
Dirt road course
 Lifetime Track #2,483
The EventVideo PlusPhotos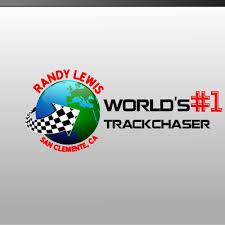 THE EVENT
I am a "trackchaser". So, what the heck is that? I get that question from racing and non-racing people all the time. This is a difficult question to answer. Why? Because after I do my best to respond people still say, "I've never heard of such a thing"!
Here's my best explanation.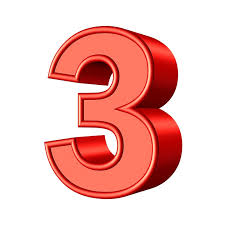 Trackchasing is a three-pronged hobby. I'm a racing fan. I love to travel. I love to analyze opportunities to get the most out of everything while saving time and money.
Trackchasing fills the need for all of the above. The racing part of my trackchasing has me trying to see wheel to wheel auto racing at as many different racetracks as I can all over the world. Yes, all over the world. So far things are going pretty well. I've seen racing at nearly 2,500 tracks in 80 countries. As a matter of fact, I've seen racing at more tracks than anyone else in the world.
Equally important to me are the things I get to see and experience over the "long and dusty trackchasing trail". I call these adventures "Trackchasing Tourist Attractions". You won't want to miss my "Trackchasing Tourist Attractions" page. Here's the link:  Trackchasing Tourist Attractions or my "Sports Spectating Resume" page, Sports Spectating Resume on my website at www.randylewis.org.
I live in southern California. Most of the racetracks in the U.S. are located well over 1,000 miles from where I live. As a matter of fact, my average trip covers 5,000 miles and more. I take 35-40 of those trips each season. In any given year I will travel well over 200,000 miles, rent more than 50 cars, and stay in more than 150 hotel rooms.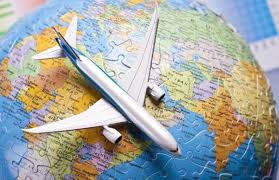 I get the chance to meet people all over the world. With trips to 80 countries and counting just getting the chance to experience so many other cultures, spend times in their homes and meet their friends is a huge reward for being in this hobby. I am indebted to several of these folks for their help and friendship.
It's takes a good deal of planning to do the above and not spend my entire retirement portfolio. I enjoy the challenge, the travel and every other aspect of "trackchasing". In reality, my trackchasing hobby is a lot like being with the carnival. I breeze into town, stay a little while and then head on down the road.
Today's adventure was one more of the 2,000 trips that have taken me up, down and around the proverbial long and dusty trackchasing trail.  If you would like to see where I've been and experience those adventures here's the link: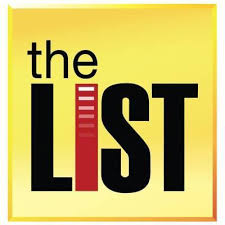 If you've got a question, comment or whatever please leave it at the bottom of this report.  It's very easy to do.  Or you can visit me on Facebook.  Thanks!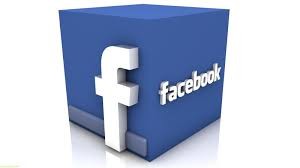 FOREWORD
Thursday, August 16, 2018.
I had trackchased in Wilmot, Wisconsin last night. My plan was to trackchase in Owatonna, Minnesota tonight. Wilmot and Owatonna are five hours apart. After the Wilmot races I made the long drive up to La Crosse, Wisconsin arriving at a little past 1 a.m. I was well-positioned to make tomorrow's two-hour drive over to the Steele County Fairgrounds in Owatonna.
Not all of my trackchasing plans work out 100% of the time. I've got a pretty good record of salvaging a plan when the first part of it appears to be going downhill. However, as I see more and more tracks there are fewer and fewer tracks to be seen in the future. This limits my ability to quickly and easily go to a back-up option.
Rain was on the way to La Crosse when I woke up this morning and also to Owatonna, Minnesota where I hoped to trackchase tonight. Today with lots of time on my hands I slept in late, had a triple cheeseburger over at Culver's, one of my favorite spots, and then decided to see a movie.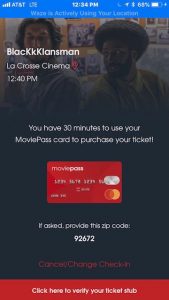 I have the annual MoviePass program membership. This allows me to see one movie a day, every day, for the entire year for the princely sum of $85 per annum. So far I've had my membership for about nine months. I've seen 29 movies. That's a little bit more than three a month at a cost of about $2.50 each to see first-run movies, whenever and wherever I want. That's a pretty good deal. Is it TOO good of a deal?
If you read the financial press you will notice that MoviePass is having some problems. Some might not find that too difficult to believe. If you collect seven dollars a month from someone and then allow them to see as many movies as they want while you're paying the theater full price for each ticket, each time your customer goes to the movies how does that work?
The people at MoviePass obviously think they can make this business model work or they wouldn't have started it. They hope to collect and then sell data from each of their users. They hope there will be more people who use the service less than once a month than people who use it three or four times a month or more.
I hope the theaters will give them a break on tickets. It remains to be seen whether or not that will work or not. Nevertheless, if they went out of business today and I lost the remaining three months of my membership I would still be way ahead of the game. I hope they make this work. I love going to the movies.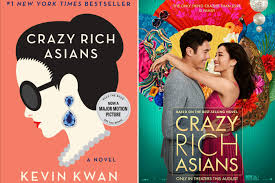 Yesterday I saw "Crazy Rich Asians". That title sounds a little demeaning to the Asian race. After seeing the movie I don't think the title is all that descriptive of the subject matter. Nevertheless, I guess the title is an eyecatcher of sorts.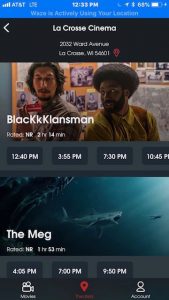 Today I would see BlacKkKlansman. It's a movie directed by Spike Lee. I loved it. It was a true story of the dramatic events that happened when a black Colorado Springs police officer infiltrated the Ku Klux Klan with the help of one of his white buddies on the police force. It was a riveting story except for the last one minute or so, which got into politics. Yep. I loved it.
When the movie was finished I got in touch with the Steele County Fairgrounds. By watching my weather radar I could see they had gotten some rain. I just didn't know how much and how bad it might be. It was bad. The woman on the other end of the phone line told me the program for tonight was canceled.
It takes quite a bit of rain to cancel a county fair enduro. They would not be re-running the race at a later date. There were no other open days in the county fair schedule and that was that.
With my third rainout of the year (along with 75 successes) in my back pocket, I decided to drive up to Minneapolis. It was pretty much on the way to tomorrow night's racing location in Hutchinson, Minnesota. Using Priceline.com, I got a great deal on a Crown Plaza Hotel in the Twin Cities. I saved more than 50%.
On my drive from La Crosse up to Minneapolis I came within 30 or 40 miles of what I had hoped would be tonight's racing location Owatonna. All during that drive the highway pavement was as dry as a bone. There wasn't a cloud in the sky. It was sunny and hot. They either got a lot of rain in Owatonna this afternoon, or they don't have much equipment to clear off the mud that was created by the rain they did get or they just didn't have the will. I hope it was the former and not the two latter choices.
I stopped to fuel my Toyota Camry rental. This car gets about 500 miles per tankful. It's getting me somewhere between 35-37 miles per gallon. I love it.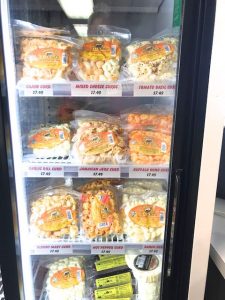 At the gas station I stopped inside the convenience store. I was in Minnesota. Of course they had a full section of cheese curds available in the convenience store as you might expect. I think everyone should eat cheese curds as much and as often as they can. I picked up a 12-ounce package of garlic basil cheese curds and headed happily down the road.
I checked into my hotel a little past 8 p.m. There was still about a half hour of light. This would allow me to finish up the last 3 miles of my 4-mile power walk.
Walking is not as good for you as running. However, as people age most can't seem to handle running because of the wear and tear on their joints.
The next best thing to running is power walking. Power walking is simply walking at a very brisk pace. For me that a pace greater than 4 MPH. There is a huge difference between going for a stroll and power walking. Power walking is definitely the little sister to running. Casual walking? You might as well stay in the recliner.
Nevertheless, no matter what exercise it is you do, exercise and the calories burned are only about 20% of a good weight-loss plan. As Bill Clinton used to say it's the economy stupid. In weight loss it's the calories that you put in your mouth.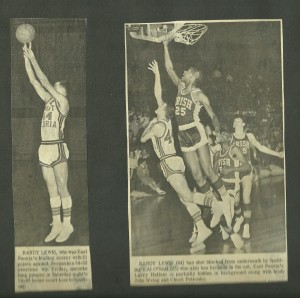 I am no longer twiggy from a bodybuilder point of you. I guess when I was a senior in high school and the East Peoria Community High School basketball program listed me as 6'3" tall, 170 pounds, I WAS twiggy.
There are a lot of people much, much bigger than me. America is by far the fattest population of any country I have visited and I've been to nearly 100. If you are grossly overweight and you are going for a stroll through the park you're wasting your time. If you're doing it to see the sights fine. If you're doing it to improve your health you might want to consider backing away from the chow table a little more often. Again, I don't want to call the kettle black because I would love to lose 20 pounds. I think it would be wonderful if somehow the government could develop programs to motivate people to exercise more and more. They don't seem to be able to do it on their own.
Friday, August 17, 2018.
I woke up in my lovely Crowne Plaza hotel this morning and smiled at the fact that check out wasn't until 12 noon. I needed to get a 4-mile exercise credit in this morning. I might not have much opportunity to do it later. However, it was already hot and humid in Minneapolis, Minnesota. Staying in a nice hotel like I was provided to me a different option. They had a full-scale attached health club.
I checked it out. Soon I found myself on a treadmill walking at 4.3 MPH. There was at 1% incline as well. It wasn't nearly as much fun being on a treadmill compared to where I power walk at home along the beach and just steps from the Pacific ocean. However, I wasn't in San Clemente today. I had to take what I could get.
My hotel was only an hour's drive from the McLeod County Fairgrounds in Hutchinson, Minnesota. Race time tonight was set for 7 p.m. That gave me all afternoon to relax.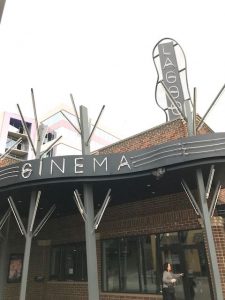 I decided to see a movie for the third consecutive day during my trip. Today I drove to downtown Minneapolis and arrived at the Lagoon Theater. This was kind of an artsy type theater. I hadn't been to one of those in a long time.
I passed up a couple of movies that I thought might be fun for Carol and me to see together. Today I chose the movie titled, "Puzzle". It was a romantic drama film. It covered the relationship between a married couple whose union had grown stale. I loved this film. I loved it even more when it seemed as if the lead actress was being played by a friend of mine, Bette Golden. If "my Betty" had been a movie star I think she would've played the part just the way Kelly Macdonald did in Puzzle.
I'm on a roll with MoviePass. Over the past three days I've seen Crazy Rich Asians, BlacKkKlansman and now Puzzle. They were all entertaining. I think the creative folks that can come up with these entertainment vehicles are brilliant.
THE RACING

McLeod County Fairgrounds – Hutchinson, Minnesota
Now it was time to go trackchasing. Remember racing is part of trackchasing for me right? Sometimes the other stuff in more entertaining that the racing!
Tonight the folks would charge me and everyone else 12 years of age and over seven dollars to be admitted to the fairgrounds. Then I would pay an additional eight dollars to get into the grandstand where tonight's autocross racing will take place.
I've been to more than 500 county and state fairs. I normally try to scout out the fair, the farm buildings the carnival rides, the concessionaires etc. before the race. Tonight I arrived at 6:30 p.m. The grandstand was already filling up. I decided to go inside and get a good seat. I could check out the fair later.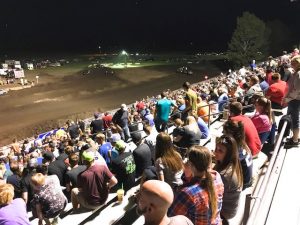 I was early enough to garner a top row seat. It's easy when you're only one. As Merle Haggard sings in, "I'm a Lonesome Fugitive", "He who travels fastest goes alone". By the time it was dark the stands were packed.
Unfortunately neither of the people sitting on either side of me were conversational material. That was OK. I would simply sit back relax and enjoy the racing.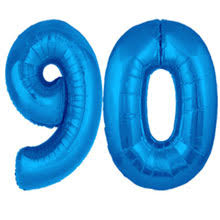 After tonight I will have seen 90 tracks in Minnesota. The North Star state probably is the leading candidate to become my next 100-track state. I benefit from their ice racing venues, there plentiful fairgrounds racing opportunities as well as their traditional permanent oval tracks.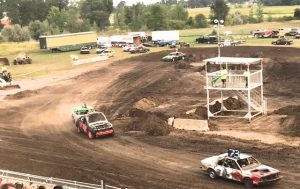 Tonight they would be racing on a black dirt road course. They raced in a counterclockwise direction. The track had a couple of banked turns, some jumps and a few minor right-hand turns in order to make this a road course.
The announcer told us they had to reconstruct the track tonight since they raced motocross the last two nights at the fair. They would change it again for tomorrow's truck and tractor pull as well. That's a lot of work.
There were at least six classes of competitors tonight. They had big and small trucks. There were big and small cars. A UTV class as well as a 4 x 4 class also competed.
Although the announcer was enthusiastic he got on my nerves a little bit by the end of the show. He hadn't taken the time to get the names of the drivers. He simply described the action as car number 4 is in first place, car number 17 is in second and here comes car number 56 trying to pass car number 39 for third place. Heck, I could see that much. He did know a couple of local guys. H he referred to them by name constantly.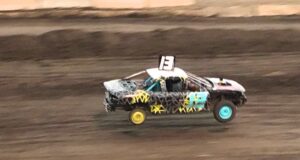 At the beginning of the program he called one of the turns the "widow maker". Then on virtually every lap for the rest of the night he mentioned the word, "widow maker" in his description of the action. I haven't heard the word "widow maker" that often in the previous 69 years of life.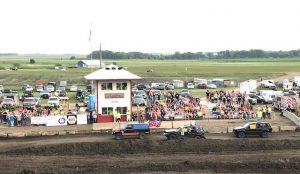 The racing was fine. However, lap times were in the one-minute range. That was just a little bit tedious considering the relatively slow speeds of these cars and trucks. They had a few rollovers. They ran the program efficiently with one race starting after another. They were able to remove the debris after each event was completed in a timely fashion.
I left the grandstand with only the UTV and 4 x 4 features to go. I want to have a chance to check out the fair. So that's what I did.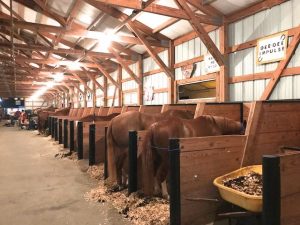 I peeked inside the various farm animal barns. They were well-kept and fully lighted. There was a rock 'n' roll band providing some very loud and entertaining action for a large crowd. I had my eye on an order of strawberry shortcake, one of my all-time favorite fair desserts. Alas, I didn't find any. That was probably a good thing for my calorie count.
AFTER THE RACES
I made the drive over towards the Minneapolis airport in a little bit more than an hour. I was going to have to sleep in my car tonight. I couldn't get inside the airport's "airside" part of the terminal. The last flight leaving MSP was at 11 p.m. No problem. I've got a favorite Walmart parking lot less than 5 miles from terminal one at MSP.
I pulled into the Walmart parking lot. I found a good spot. Then I got a few things organized, checked out some info on the web using my tethering capability and then leaned the front seat back and went to sleep. Life can be pretty simple at times.
Tomorrow I had originally planned a trackchase down in Missouri and then in Ohio on Sunday. The weather forecast for Sunday in the Buckeye state was poor. I didn't want to do all that driving for only one track. I had an alternative. I could head to the East Coast and probably see racing first in Maryland on Saturday and then in New York on Sunday. That's what I would do.
Good night from the McLeod County Fairgrounds in Hutchinson, Minnesota
Randy Lewis – 80 countries – 2,483 tracks.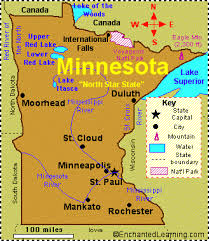 Minnesota
The North Star state
This evening I saw racing at my 90th lifetime track in the North Star state, yes, the North Star state.  I hold the #1 trackchasing ranking in Minnesota.  I've seen 90 or more tracks in seven different states.
Thanks for reading about my trackchasing,
Randy Lewis
World's #1 Trackchaser
Peoria Old Timers Racing Club (P.O.R.C.) Hall of Fame Member
Minnesota sayings:  "Uff-da"
This is a word to express a wide variety of emotions. Something surprises you? Uff-da! Someone smells funky? Uff-da. So tired of finals and school and just want to be done? Uff-da. You can express any sort of emotion with this one word. The key is to pay attention to tone in order to understand the context it's being used in.
QUICK FACTS
LIFETIME TRACKCHASER COMPARISONS 
The threemost important trackchasing comparisons to me are:
Total lifetime tracks seen
Total "trackchasing countries" seen
Lifetime National Geographic Diversity results
Total Lifetime Tracks
There are no trackchasers currently within 665 tracks of my lifetime total.  Don't blame me.
Randy Lewis, San Clemente, California – 2,483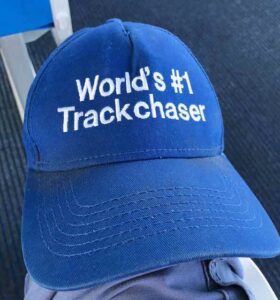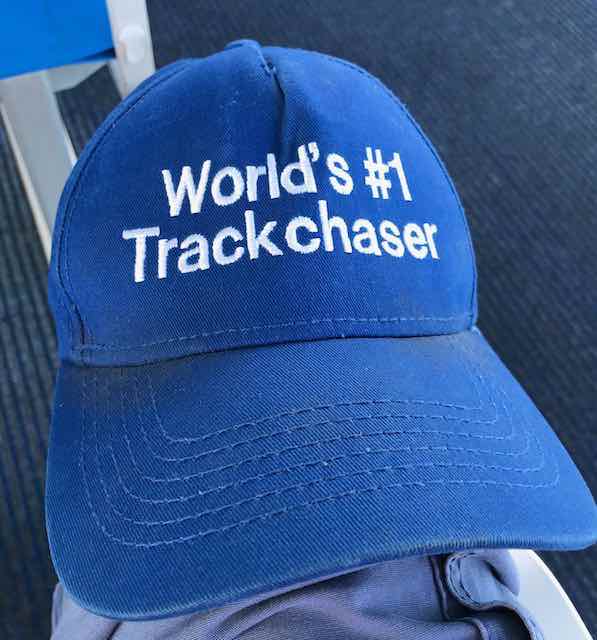 Total Trackchasing Countries
There are no trackchasers currently within 25 countries of my lifetime total. 
Randy Lewis, San Clemente, California – 80
Current lifetime National Geographic Diversity results
Randy Lewis, San Clemente, California – 4.14
That's all folks!  Official end of the RLR – Randy Lewis Racing Trackchaser Report
Click on the link below to see the video production from the racing action today.