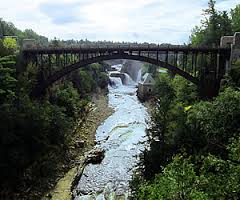 Greetings from Plattsburgh, New York
.
.
From the travels and adventures of the 
"World's #1 Trackchaser"
.
.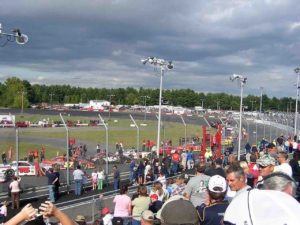 Airborne Speedway
Asphalt oval
Lifetime Track #1,494
.
.
Airborne Park Speedway
Dirt oval
Lifetime Track #2,344
The EventDirt TrackAsphalt trackVideo PlusPhotos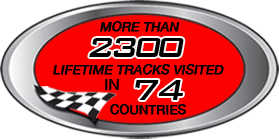 THE EVENT
I have had the opportunity to follow my trackchasing hobby all over the world. As this is written I have seen racing in 74 countries. My lifetime track total exceeds 2,300. Each and every year I will trackchase in 25-30 states.
At track #1,040 I moved into the "World's #1 Trackchasing" spot. Here's the funny thing about that. I was perfectly content to remain in about seventh place in the worldwide trackchasing standings. Then I had rotator cuff surgery, which knocked me out of golf for about six months. With no golf and time on my hands I turned up my trackchasing by a notch or two. I discovered I liked MORE trackchasing and LESS golf. It didn't take all that long to move up to the top of the world trackchasing standings at that point.
Trackchasing is pretty much a "one and done" game. A chaser visits a track and then there is a very good chance they will never darken the door of that racing facility ever again. That's just the way it is. Trackchasing focuses on numbers.
However, once in a while the actual hobby of trackchasing ENCOURAGES me to return to a racing facility. That was the case tonight at the Airborne Park Speedway. I'm glad it worked out that way. It was a fantastic night of racing.
My hobby is not only about racing. Trackchasing for me centers around three things. The racing part is pretty obvious. However of equal importance is the logistics of trackchasing and the opportunity to see the world.
I live in Southern California. The vast majority of tracks are located in the Midwest and East. It takes a good deal of logistical planning to get from where I live to where the tracks are. For the past 15 years I have traveled about 175 nights each and every year. Surprisingly to some, more than half of those overnights were not part of trackchasing.
Then there's the travel just for the fun of seeing new things. You won't want to miss my "Trackchasing Tourist Attractions" page or my "Sports Spectating Resume" page on my website at www.randylewis.org. That will give you some understanding on how important seeing the world is with my hobby.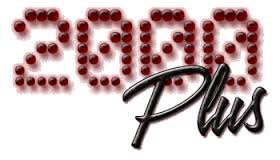 Today's adventure was one more of the 2,000 trips that have taken me up, down and around the long and dusty trackchasing trail. If you would like to see where I've been and experience those adventures here's the link: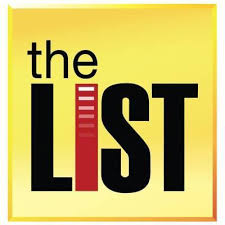 If you've got a question, comment or whatever please leave it at the bottom of this report.  It's very easy to do.  Or you can visit me on Facebook.  Thanks!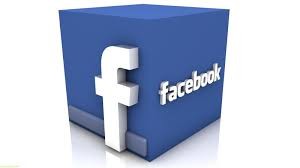 FOREWORD
It's July! It's July 1. July is the biggest month for county fair trackchasing. I have been to more than 300 county fairs chasing tracks. That's a lot of corn dogs.
Carol and I wrapped up our Fourth of July celebration by watching the San Clemente fireworks. For the first time ever we grabbed our beach chairs and walked down the hill, about 90 yards, to the sand. The waves of the Pacific Ocean were lapping up to within 10 feet of where we were sitting. We enjoyed this long-standing family tradition with lots of other San Clementeites.

The Fourth of July is the biggest day of the year in San Clemente. It's bigger than Christmas! The town is packed with beachgoers. You can't find a parking space within 10 blocks of the beach.
You won't find me trackchasing on the Fourth of July. Never in my recorded trackchasing history have I trackchased outside of California on the Fourth. The last time I went trackchasing on July 4 was in 1984. On that night Carol and I saw some figure 8 racing up in Watsonville, California. That was a long time ago. The Watsonville Fairgrounds Speedway figure 8 track was lifetime track #142.
However, when the last fireworks explosion had taken place I continued to look skyward. Yep. I'll be on a plane tomorrow night July 5 headed to the East Coast to begin a busy month with my hobby.
WEDNESDAY
Carol and I spent a relaxing day at the house following our late night Fourth of July celebration. In less than a week the grandkids, family and friends will be invading our modest seaside cottage. They'll be in SoCal for about 10 days. We will be doing Disneyland and maybe the Orange County Fair and lots of other things. That will take me off the trackchasing trail during one of the busiest months of the trackchasing year. Nevertheless, family activities always trump trackchasing.
The timing meant I could sneak in a five-day trip between the Fourth of July and the kids visit. This would allow me to maintain my competitive edge. Tonight I will grab a plane leaving Los Angeles for Boston at 11 p.m.
My foreign readers may not realize that the East Coast time zone is three hours ahead of where we live in California. That means if I leave California at 11 p.m. (2 a.m. Eastern time) I'll land in Boston at about 7:30 a.m. local time. However, that IS 4:30 a.m. California time.
I had an exit row window seat with plenty of legroom. The middle seat was open. I didn't sleep all that well on the plane. I watched a movie on my MacBook Pro called "Hackers". It was actually pretty good but the ending was terrible leaving me perplexed as to how everything could have happened. Then I reminded myself that it was only a movie.
THURSDAY
I landed in Boston on time at 7:30 a.m. My initial plan was to run over to the American Airlines Admirals Club and just relax for a couple of hours. I might even take a nap.
However, in order to do that at the Logan International Airport in Boston, I would have to change terminals by leaving security and then clearing security again. That just seemed like too much hassle. I don't care much for airports that make passengers pass through security more than once because of their terminal set up. LAX is guilty of this too.
I elected to simply get my rental car and get on the road. For several reasons I am not a big fan of Boston. I don't like the airport. I don't like the fact that they remove everyone from the airside terminal at about midnight so you can't sleep there.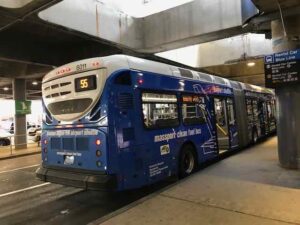 I don't like their rental car bus set up, which creates a long ride to get out to rental cars. I don't like Fenway Park. When Carol and I went there there was no parking at the stadium. We paid an astronomical amount to park and then had to walk through what seemed like a bad neighborhood. Once in Fenway, for some unknown reason, we were restricted to a very small part of the stadium. To top it off we had an overhang, which prevented us from seeing the ball when it was hit up in the air. Our experience with Fenway might have been the worst of any of all of the ballparks that I have seen in the major leagues. I've seen them all through 2016.
Don't even get me started on Boston roads and traffic. I classify Boston and Chicago as the two worst cities for getting from one side to the other. One really has to be on top of their game to even get out of the airport and on the road to wherever you're going from Logan. No, I'm not a big fan of Boston.
There were several cities that I traveled to frequently in business. These included places like New York, Orlando, New Orleans, Chicago, St. Louis, Minneapolis, Phoenix, San Francisco, Portland and Seattle. There were other major cities where I never did much business travel. Those included Boston, Philadelphia, Cleveland and San Diego among others. I have always been partial to the cities where I spent a lot of time. Maybe that's just because I was more familiar with them.
I'll be driving the National Car Rental Racing Nissan Maxima over what I expect to be the next two days. As an Executive Elite member of the National Car Rental frequent renter program I get my choice of cars. They didn't have much but I did grab the Nissan Maxima over the Nissan Altima about a $10,000 upgrade.
I bought the toll transponder from National today. Normally I don't do that. It costs $3.99 per day plus the cost of the tolls themselves.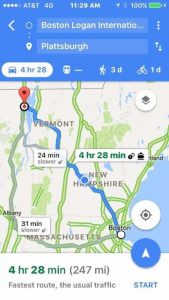 Using my Waze GPS program I found out that the "no tolls" option up to Plattsburgh, New York today would take me an hour and one-half longer than if I used the toll roads. That's a pretty big difference. That made getting and using the toll transponder a better idea.
Tonight I expected to return to the Airborne Park Speedway in Plattsburgh, New York for the first time since September 13, 2009. Back then I saw racing on their asphalt oval track. This year they changed from asphalt to a dirt-racing surface. That simple change allows a trackchaser, by trackchasing rules, to count a track a second time.
I don't think that much of that rule. I understand that trackchasing is about "the track". However, when I think about tracks I think about configurations such as ovals, road courses and figure 8 tracks. To my way of thinking a change of surface is not a new track. Nevertheless, I stick to the trackchasing rules no matter how much I might disagree with some of them. If I didn't I would have a difficult time comparing my results with others using the same counting system.
Tonight I was hoping to see maybe the biggest short track race of my entire 2017 season tonight. The big block dirt modifieds, one of my long-time favorite classes, was the headliner division tonight. They were running a special Thursday night show. I've been looking forward to this for a long time.
However, rain was in the forecast. All this week the rain probabilities ranged from 40-80% with as much as a third of an inch of rain expected. As I got closer to take off from LAX the rain chances seemed to diminish somewhat.
I figured if I got rained out I could simply hop on a plane from Boston to Chicago tomorrow morning. I would change the trip from an eastern-based beginning to the Midwest. I don't have as many track options as I did a few years ago. I still have a lot of flexibility with my travel planning.

I've been at this travel game for a while. I pretty much know how to buy travel "right". At a New Hampshire rest area I tethered my iPhone with my MacBook Pro. Soon I had a hotel from my long-time sponsor Priceline.com. I had it at the right price too.
I would be staying at the Days Inn and Suites in Plattsburgh a town of about 20,000 people in New York. The hotel was just 5 miles from the racetrack. I was surprised I could get a 34% discount off of the hotel's best rate given the fact that the race teams were in town.
I looked at it this way. I could get to the hotel at 3 p.m. That way I could nap for a couple of hours if need be before getting over to the track at about 6 o'clock. If tonight's race were rained delayed it would be nice having a hotel just five miles from the track rather than a much longer driving distance.
I'm doing my best to keep up with my trackchasing sharing. It is a challenge to do that with all of the travel that is required.
I've got to give trackchasing commissioner Guy Smith some credit. He will write a page or so, almost exclusively limited to what happened at the track itself. Other Trackchasers don't share a thing. Frankly, I think that's a shame. They benefit from the sharing and track research of others but are unwilling to share anything on their own.
Year in and year out I normally see more tracks in a given year than anyone else. That's been the case for more than 10 years. Despite that level of commitment I still provide a very detailed Trackchaser Report along with a YouTube video and a SmugMug photo album normally averaging around 100 photos or more.
I can travel two hundred thousand miles a year. I can stay overnight 175 nights every twelve months. I can average more than 100 tracks each year for well over a decade. If I can do all of that and STILL share can't a trackchaser with far less commitment to the hobby share SOMETHING? I've been asking that question for years. The answer still remains the same.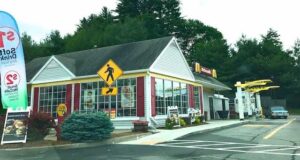 Moving on…..today's route would take me from Massachusetts through New Hampshire and then into Vermont before finally curving over towards upstate New York. Upstate New York is very scenic and extremely rural. It's a beautiful place.  New England architecture is unique.  A Vermont McDonalds doesn't look like most other McDonalds.
I was getting close to Plattsburgh, New York tonight's destination. That was when I noticed something unusual with my Waze GPS system. I was being told that I would soon be taking a ferryboat ride. Whoa! I hadn't signed up for that.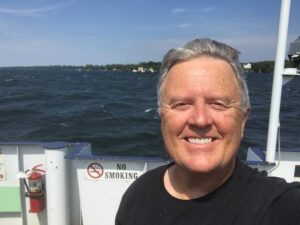 However, a ferryboat it would be. That's right I was paying $10.25 for the 12-minute Lake Champlain ferryboat ride from Grand Isle, Vermont to Plattsburgh, New York. I hadn't planned on this but it was a fun part of the journey.
Once in Plattsburgh I had just enough time to check into my Priceline.com acquired Days Inn Hotel and Suites property. Then I had just enough time to take an hour and a half late afternoon nap. People in retirement do that. Not everyone in retirement took an all night flight from LA to Boston last night though.
For about twenty years I played nearly 100 rounds of golf every year. There was an interesting thing about playing that much golf. Every year, no matter what happened, one of those 100 rounds was going to be my best. I didn't know in advance which round it would be.
I haven't seen 100 new tracks in 2017 yet and I don't think I will. However tonight's track, the Airborne Park Speedway was my 52nd new track of the year. I didn't know it but it would provide the best racing I've seen of any new track visit in all of 2017.
I have been to the then named Airborne Speedway one other time. I darken their doors back in 2009 to see racing on their asphalt oval. That was lifetime track number 1,494. In 2017 they decided to cover their race surface tar with dirt. That meant I could count it again tonight as a dirt track.
This was a Thursday night. Normally the Airborne Park Speedway races on Saturdays. Tonight they were having a special program featuring a Super DIRTcar modifieds. If I lived in the east I don't think I would ever miss one of their shows.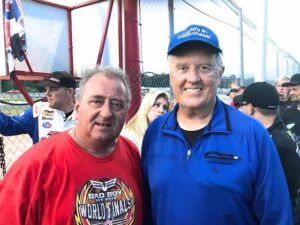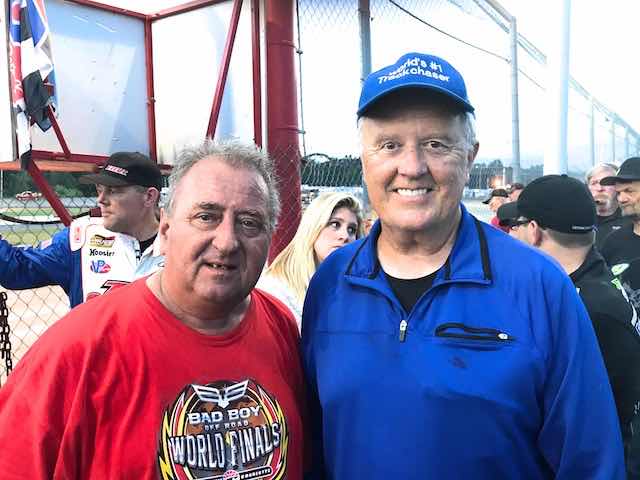 Another highlight of tonight's track adventure was that I would be meeting what up with old pal Rick Young. Rick and I have met up with each other several times. I think I first met Rick at the Cornwall Motor Speedway back in 1999. Or, maybe it was the next night at Drummondville, Quebec. We have stayed in touch over the years.
Rick is famous for his "Rick at the Races" photography hobby. He's normally stationed in the infield of any track he visits taking pictures of the cars and drivers. He's made a lot of friends doing this and enjoys it very much. He should. He doesn't have to travel much and he gets to see great racing.
Rick and I had been messaging back and forth over the last few days. We were discussing the weather forecast. A couple of days ago it wasn't good. I fully expected to be rained out. However, those things can change and they did. Tonight's racing would be done under fair skies and warm temperatures.
THE RACING
Airborne Park Speedway – Plattsburgh, New York
I had two options for watching the races tonight. I could buy a seat in the grandstands for $25 US. Alternatively I could buy a pit pass that for nonmembers would set me back 40 bucks. I looked over the situation and saw that there weren't any great viewing points from the pit area. I elected to go with a grandstand admission.
The place was packed. Remember this was a Thursday night and tickets were not inexpensive at $25 per. I parked at the far end of the massive sand parking lot. It was about a five-minute walk to the entrance. In hindsight that was good fortune. I was so far back in the lot that I would be one of the first people to get out of the property after the races concluded.
I am going to proceed to tell you that tonight's racing was the best I've seen of any new track visit all year. Operating under the theory that there's always room for one more, I got that from the Bible by the way, I found a seat in the top row of the grandstand. I was about 30 yards to the left of the starter. It was a great seat.
There were three classes racing tonight. The mini-modifieds brought just six cars. However, the modified sportsman class had 31 competitors and the Super DIRTcars brought nearly 30 as well.

I've been watching these dirt modified superstars race since we first moved to Connecticut in 1979. Some of the competitors including names like Brett Hearn, Frank Cozze, Billy Decker and Danny Johnson seemed as if they've been racing since the 80s and I think they have.
Before I headed into the grandstands I bought a most reasonably priced $2.20 ounce bottle of Diet Mountain Dew. I would make that last the night with the remnants of a bag of pork rinds bought sometime ago.  They had one item on the menu that I had never heard of.  It was the "Michigan".  What is that?
I'm going to tell you the PA system was stout. The announcer was as good as I've ever heard. He was most informative regarding what the racing program looked like and what the drivers and their backgrounds were. He even told us that if we had brought along a radio, which I had not, we could listen to the broadcast on an FM station.
The fastest drivers were turning lap times in about the 18-second range. This was being down on a nearly half-mile oval that was well lit. The cars pitted pretty much beyond turn two.
There were a lot of "bests" tonight. Remember that tonight I was seeing lifetime track number 2,344. For something or somebody to get an all-time best after my seeing those many tracks they it must have been something.
I have long told you of my affection for the starters in the United Kingdom. Those guys are so animated and entertaining that just watching the flagman during an entire race can be fun.
Most American flagman aka starters simply wave the flags. Often times they are being directed by someone up in the tower as to when they should even display those flags. That was not the case tonight.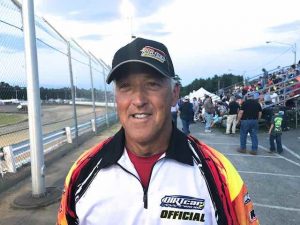 There was a gentleman by the name of Dave Farney that might go down in my personal record books as the best starter/flagman I have ever seen. It was fun meeting Dave at intermission. He's a friend of Rick Young.
I'm absolutely going to require that you view the video from tonight's racing action. You'll see nearly a minute of Dave's antics that cover just the last two laps of a single heat race. This guy was 100% animated and totally on top of his job. He even gave a "you've got a big lead" signal to the race leaders every lap during the feature event. Congratulations Dave Farney. You're now the top flagman in my book and will have a special place on my website of most "favorites".
Intermission was going to be a highlight for me on two fronts. The Airborne Park Speedway does something that just about every track could do if they were motivated. They have a trolley car. You would be correct if you said not many tracks have trolley cars.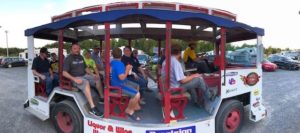 The trolley car will accommodate about 20 people. It doesn't cost anything. I hopped on and the driver took us on about a 10-minute ride through the pit area. On the ride through the pits we got a close and personal view of the cars, drivers and their rigs. You won't want to miss my photographs and video from this treat. Like I say virtually every track in America could do this. It just takes a little initiative.
The second highlight at intermission was being able to spend some time talking with Rick Young. He is such an enthusiastic supporter of Northeast and Canadian racing. Rick is from the UK.
I love UK racing as much as anything. I ask Rick which group he preferred, the spectacular Formula One BRISCA stock cars or tonight's Super DIRTcar racing. Remember Rick's an Englishman. He told me that at this point in life he'd go with the Super DIRTcars!
We had a few more minutes to talk. Rick has had some health issues in the past year. I'm rooting for him to feel better soon and I know that he will. Please say a special prayer for Rick's good health.
The sportsman modifieds ran a 25-lap feature for their 30 cars. It was an entertaining race. On any other night their feature would have been the highlight of the entire race evening.
The Super DIRTcar modifieds traditionally run 100-lap features. In the fall they often switch to 200-lap events. I've seen them race all over the Northeast and up in Canada. I have loved every one of their shows.
Tonight's racing was just as good as I remembered it. I was aided by sitting next to a fan whose home track was the Brewerton speedway. He must've told me nearly 10 times that Brewerton had more people doing well in the Super DIRTcar series than any other track. However it's not bragging if it's the truth or you can do it.
The 100-lap contest had two yellow flags during the entire race. Somewhat surprisingly they were both started by long time veteran and very successful racer Brett Hearn.
Early in the race he slid off of turns three and four but kept going. This brought out a yellow flag and Brett lost a few spots.
In just about every group endeavor of any kind there's going to be one guy who's just a little smarter than the rest. It's kind of like that one round of golf each and every year being your very best. The best always sticks out. There's nothing wrong with that.
Maybe Brett Hearn is the smartest driver of all of the Super DIRTcar chauffeurs. At lap 97 he pulled off of turn number two with a reported flat tire. He actually parked his car long enough to bring out a yellow flag. Then he darted into the pits to change his tire.
This has been a common practice for years and years with the modifieds and sometimes the sprint cars as well. I'm not sure it's a good idea but the people who make the rules here seem to think it is.
With 26 cars starting the future and virtually no stoppages for yellow flags during the first 97 laps there were now only five cars racing on the lead lap including Brett Hearn. When he brought out the yellow on lap 97 they stopped counting laps. That meant Brett could pit, change a tire, and come back at the end of the line with the cars racing on the lead lap.
The Super DIRTcar people use the "lucky dog" method initially developed by NASCAR Cup series. Lots of local tracks follow NASCAR's lead on rules changes. Another example would be the double file restarts. With one car moving onto the lead lap with the lucky Brett Hearn now started sixth on the lap 97 restart.
With a new right rear tire he had a 97-lap advantage over everyone else ahead of him. They were racing on nearly worn out tires from the start of the race. During the last three laps Brett Hearn was able to move out from sixth to third. He might have won the race had he had another lap or two. Yes, that was a very smart move on Brett Hearn's part to bring out a yellow flag the way he did. Nothing wrong with that. The rules allow it.  Editor's note:  Maybe the rules don't allow Hearn's maneuver.  I checked the official finish and he was place sixth.
I never leave big races like this early. They are just too darn entertaining. I even took the time to stand by the fence and listen to the winner's interviews.
AFTER THE RACES
I could see traffic was backed up getting out of the parking lot. There was a huge crowd here tonight. That would not be a problem for me. I took the long walk back to my car. I was parked within 50 yards of the property exit.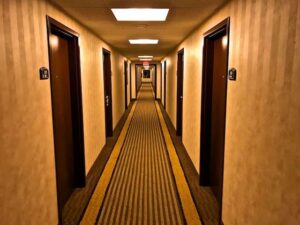 I simply nudged my way in and was leaving the property within two minutes of finding my car. I had just a nine-minute drive back to the hotel. It had been a very good night.
I had seen the best racing I have seen all year. I have now seen a flagman that qualifies as the best ever in my more than 2,300 track trackchasing history. To top it off I had a chance to meet up with Rick Young and spend some time talking with him. It don't get much better than that.
Good evening from Plattsburgh, New York,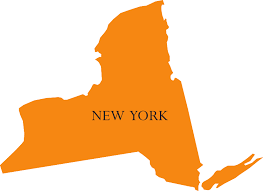 New York
The Empire state
This evening I saw my 75th lifetime track in the Empire state, yes the Empire state. I've seen 75 or more tracks in 11 separate states. No trackchaser can match that stat.
Thanks for reading about my trackchasing,
Randy Lewis
World's #1 Trackchaser
Peoria Old Timers Racing Club (P.O.R.C.) Hall of Fame Member
New York sayings: New York is always a good idea
QUICK FACTS
LIFETIME TRACKCHASER COMPARISONS 
The three most important trackchasing comparisons to me are:
Total lifetime tracks seen
Total "trackchasing countries" seen
Lifetime National Geographic Diversity results
Total Lifetime Tracks
There are no trackchasers currently within 600 tracks of my lifetime total. Don't blame me.
Randy Lewis, San Clemente, California – 2,344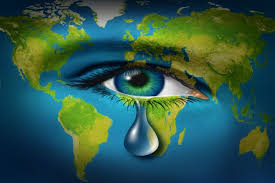 Total Trackchasing Countries
There are no trackchasers currently within 20 countries of my lifetime total.
Randy Lewis, San Clemente, California – 74
Current lifetime National Geographic Diversity results
Randy Lewis, San Clemente, California – 4.37
That's all folks! Official end of the RLR – Randy Lewis Racing Trackchaser Report
DAYS 8+9 – "THIS IS NOT A TEST…OF MY PINPOINT AIRSTRIKE CAPABILITY" TRACKCHASING TOUR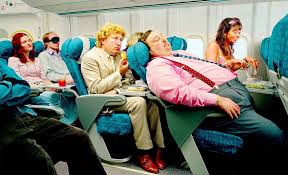 TRACKCHASING ALERT!
My attempt to set a record for consecutive days of flying in the pursuit of the trackchasing hobby is now complete. I became the first trackchaser to fly nine straight days during a single trackchasing trip. My 13 airplane rides covered 8,001 miles and I drove another 1,871 miles in eight rental cars!
Day #1 – September 6 – fly – Los Angeles, CA to Dallas, TX
(Additional driving distance – 308 miles)
Day #2 – September 7 – fly – Dallas, TX to Chicago, IL and then Chicago, IL to Des Moines, IA
(Additional driving distance – 244 miles)
Day #3 – September 8 – fly – Des Moines, IA to Minneapolis, MN
(Additional driving distance – 395 miles)
Day #4 – September 9 – fly – Minneapolis, MN to Detroit, MI
(Additional driving distance – 73 miles)
Day #5 – September 10 – Randy's flight – Detroit, MI to Des Moines, IA; Carol's flights – Orange County, CA to Denver, CO to Des Moines, IA
(Additional driving distance – 113 miles)
Day #6 – September 11 – Randy and Carol's flights – Des Moines, IA to Chicago, IL to Milwaukee, WI
(Additional driving distance – 390 miles)
Day #7 – September 12 – Randy and Carol's flights – Milwaukee, WI to Detroit, MI
(Additional driving distance – 191 miles)
Day #8 – September 13 – Randy and Carol's flights – Detroit, MI to Montreal, Quebec, Canada
(Additional driving distance – 157 miles)
Day #9 – September 14 – Randy and Carol's flights – Montreal, Quebec, Canada to New York, NY to San Francisco, CA to Los Angeles, CA
(Additional driving distance – 4 miles)
Greetings from Plattsburgh, New York
TODAY'S HEADLINES
The track announcers and race director were the very best I've heard this season.…………..details in "Race Review".
What is the "Triangle of Trackchasing"?………………more in "The Objective".
I did it! Nine straight days of flying. …………..details in "The Trip".
Today it was the Maniac and a friendly U.S. Customs agent. …………..details in "The People".
THE OBJECTIVE, THE TRIP, THE PEOPLE…AND A WHOLE LOT MORE
The Objective 
The triangle of trackchasing.
I need three things in order to have a successful trackchasing trip. That would be 1) tracks, 2) weather and 3) transportation. I believe I first learned about this race date from www.speedwaysonline.com. Allan Brown runs this site. He has posted the racing schedules for all of the major sanctioning bodies in the U.S. and Canada. Very few of the races I attend would be included in these listings. However, from time to time (like today) I can find that elusive date that completes my trackchasing program. Thanks to Speedways Online I found a fun event for Carol and me to attend on a Sunday afternoon.
The weather was cooperating also. Despite cloudy skies, the Weather.com "app" told me it wasn't going to rain. Although the skies were a bit dark I have lot of faith in www.weather.com.
The final portion of our "Trackchasing Triangle" was going to be transportation. Today's track in Plattsburgh, New York was less than 50 miles from the Canadian border. We slept in Detroit, Michigan last night. Today's racing was to begin at 1 p.m. How would we get from Detroit to rural upstate New York after leaving last night's track at nearly midnight for today's early afternoon racing?

The answer!
The answer to this question usually comes to me after hours of analyzing my various options while sitting in my San Clemente office. Trust me; this is a labor of love. My Rand McNally mapping software tells me it's a 599-mile drive from Detroit to Montreal. I guess we could have made this distance in the 12 hours we had from one race to the next. However, since Carol is with me that didn't seem like a prudent plan. Heck, even if she weren't with me that wouldn't be a good idea.
I analyzed all of the potential locations we could fly to from Detroit to get to the track. There were several places in New York state that had flights but none of them could get us to the track on time. Our only choice was Montreal, Canada. Yes, we would have to leave the United States just so we could return to the United States to see a race in New York. I'll bet none of those Dreaded East Coast Trackchasers (DECTs) ever had to do anything like that. Of course, I have instructed "Trackchasing's First Mother" to bring her passport along on every trip. I just never know when a diversion like we would make today would be necessary.
There you have it. This is how the "Trackchasing Triangle" of tracks, weather and transportation came about. Now it was time to have fun at one of the biggest races in the Northeast this year.
The Trip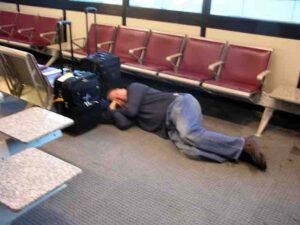 I did it! Nine straight days of flying.
This morning I was flying for the eighth consecutive day on this trip. Today I was renting my eight different rental car. I had stayed in a different hotel from one night to the next during the entire trip. I had gassed up my rental cars eight times. Tomorrow Carol and I would fly again. For me it would be nine consecutive days of flying. Carol was holding up her part of the bargain as well. She would be flying everyday for five days.
I don't mind flying this much at all. I have packing and clearing airport security down to a fine science. This type of "moving around" is necessary if I want to trackchase all over the country from one day to the next. No one in the history of our hobby has ever traveled in pursuit of this hobby like I do.
But what about sleep?
The only minor drawback is the lack of sleep a schedule like this requires. I usually get to my hotel (assuming there is enough time to get a hotel) late after the races. In order to have the best chance of successfully flying standby, I must take the first flight of the day to my destination. This practice often means getting to the hotel after midnight and awakening by 5 a.m. or so to catch that early morning flight.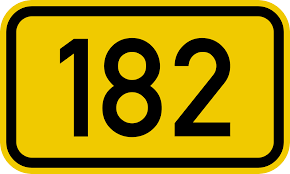 My "airline sponsorships" have been in place for three years now. It's funny; my biggest year of trackchasing (2005 – 182 tracks) came when I had none of this support. Nevertheless, the timing of my new airline help could not have been better.
The 'cluster' system.
Prior to three years ago, I had trackchased using a cluster system. I would fly into one area and act, for that weekend, as if I lived where I had flown into. I would see a "cluster" of tracks in that area and then return home. Now, after having seen nearly 1,500 tracks, the tracks that remain are just a little further apart. Being able to fly everyday if necessary brings those dots on my trackchasing map just a little bit closer to each other.
The People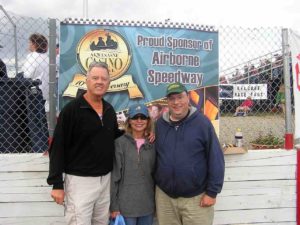 The Maniac showed up today.
A highlight for today on the "People" front was being able to go racechasing with Maniac John Sullivan. John had made the 700-mile roundtrip drive from up Orrington, Maine way down to Plattsburgh to see the 300-lap ACT main event and to meet "Trackchasing's First Mother" for the first time.
I find it quite fun to begin a trackchasing/racechasing relationship via email and eventually get to meet that person at a race somewhere down the line. I've done this many times and always enjoyed each encounter.
Today was an international event of sorts.
Carol and I arrived from Canada to the rurally located track in upstate New York just as the very first support class race was set to begin racing. The stands were packed but "Big John" had two seats reserved for us in a prime location. It was fun to have John there to give me the background on these racers today. I have only followed the American Canadian Tour (ACT) from afar and was not familiar with any of their drivers. John's experience and the real-time information I gathered from my race scanner made all the difference in the world as far as enjoying a 300-lap race was concerned.
I've broken bread with most of today's leading trackchasers.
It's been my experience that as soon as the checkered flag falls, trackchasers scatter like the newly fallen leaves of another New England autumn season. I can understand that. Folks need to get back to where they came from. That was not the case tonight.
Yes, we needed to get where we were going but we still made time to share a meal. John had a 350-mile drive to make. Carol and I had to cross back into Canada with an unknown border waiting period. We would be heading out early on Monday morning for a cross-country flight back to sunny SoCal.
Nevertheless, we all took the extra time to have a meal together in Plattsburgh. That was time well spent. In addition to knowing everything there is to know about New England racing, John is a huge history buff. I also learned he is a Red Sox fan, if the t-shirt he was wearing today means anything. This means that John and I will need to make a friendly wager assuming the Angels matchup happens with those dreaded Red Sox in the playoffs. John what shall we bet?
Today's customs agent was a race fan.
Clearing international customs is easier than it has ever been. When we left Montreal on Monday morning we cleared U.S. Customs at the Montreal airport. This would mean one less distraction when it came time to land in New York.
I am often asked by airport customs agents or at border crossings, this question. "You came all the way from California to (fill in the blank) just to watch a race?" "Er, yes!!" I always say. Why wouldn't I! Today the customs agent asked me where we had been trackchasing. When I told him "Plattsburgh" his face lit up. "I used to live in Plattsburg and would take me two boys to the races there all the time. It was a safe place for us to have fun". It's always good to have the customs agent in your corner!
RACE REVIEW
AIRBORNE SPEEDWAY – PLATTSBURGH, NEW YORK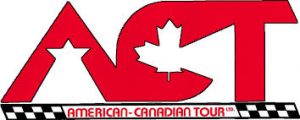 This was one of the best races I've seen in 2009.
Today's American Canadian Tour (ACT) race was conducted on a ½-mile slightly banked asphalt oval. The Airborne Speedway is one of the oldest tracks in the Northeast. It's an hour south of Montreal, which is where we came from today.
The featured attraction for the day was a 300-lap American-Canadian Tour race. As I look over the 94 tracks I've visited this year, today's racing with the 300-lapper, was among the top five events of 2009 for me. I was a bit surprised to find out the winner only received $5,425 for the win. Late model dirt stock car racing routinely pays $5,000-10,000 and sometimes much more on a weekly basis at their specials. This was all the more noteworthy considering the admission price was a high $27 per person. The race did pay $600 to start for the 36th place car.
There were several support classes of stock cars racing today. They all got around the track in good shape. A major highlight for me was hearing two well-known northeastern announcers. The first was Ken Squier. Ken was the voice of the Daytona 500 from 1979-1997 on CBS. He coined the phrase, "The Great American Race" for the Daytona 500 and is credited with developing the in-car camera for the 1982 Daytona 500.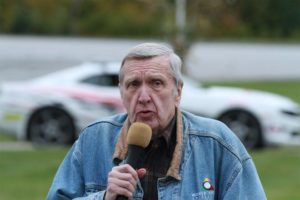 Ken, now 75 years old, did the P.A. work for the support divisions today. I would have loved to have received a trackchaser mention from Mr. Squier at this event but it was not meant to be. Ken co-founded the Motor Racing Network (MRN) back in 1969 and still owns the famous Thunder Road International Speedbowl in Barrie, Vermont.
Three reasons why today's event was so good.
There were three main reasons I enjoyed the racing with the ACT group so much today. The first was having John Sullivan sitting next to me. John gave me the heads-up on which drivers to watch in this long race. Secondly, we both used our race scanners to listen to the "behind the scenes" action. I find the scanner, especially entertaining for long distance races like this one, to be invaluable. It really adds important information that the casual fan never gets to hear.
Finally, the race announcer for the ACT feature was Dave Moody. Dave has been a long-time broadcaster for MRN radio and currently has a three-hour show on the NASCAR channel of Sirius satellite radio. He did a play by play of the event over the P.A. system. This was a perfect way to keep track of 36 cars running 300 laps.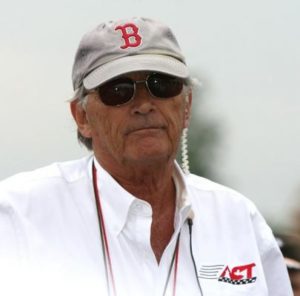 Tom Curley should be cloned and loaned out to every track in the country.
Although I very much liked listening to Ken Squier and Dave Moody the highlight of the day was hearing Tom Curley manage the race over my race scanner. I had heard the name "Tom Curley" in connection with both the ACT group (he's president) and the Thunder Road track (he's the manager and promoter).
Tom Curley is a no nonsense guy and runs a very tight ship. Listening to him over the race scanner brought back memories of Marine Corps boot camp. Tom doesn't take anything from anybody, period! This goes for both his employees and the racing competitors.
There were a couple of times cars were coming into the pit area during the race. Different track employees were supposed to wave the flag letting cars come and go into the pits. When the flagger was slow in displaying the proper flag Tom was all over him. Early in the race, he said something to the effect "get a new person in there. You're too slow with the flag. We need to get somebody down there that can do the job".
With the competitors he was extra tough. Long-time race fans have often seen a racecar slow on the track with a flat tire, draw a yellow flag and then sprint to the pits for a tire replacement. That plan doesn't work with Tom Curley. One driver slowed in the turn as if he might have a flat tire. Curley came over the radio and said, "If that guy takes off after we throw the yellow, I'm parking him". Luckily the potentially offensive car had a much more serious problem and did not try to take advantage of the yellow flag.
The ACT group uses a flag I have never seen. It's pink and called the "piggy" flag. It is used to tell a driver that he is "blocking". If he continues to block he will be given the black flag and parked for the day. Today's race winner, Patrick Laperle, was given the piggy flag during the first ten laps of today's race. Tom Curley told everyone listening on the radio that if Laperle was caught blocking again he would park him for the entire race. I believed him!
Tom did make one mistake today. Late in the race, an orange traffic cone had made its way to the very inside of the track's turn #1. It looked to me as if the cone would soon be hit by one of the racecars. Tom made the decision to keep racing. He judged the cone was "out of the way". About a lap after he said that one car hit the cone and skidded up the track causing a major pileup. Tom didn't say anything on the radio for several laps after that.
Although Laperle started on the pole and won the race there were 19 lead changes among five drivers. Laperle only led about 100 laps of the 300 run. Laperle's strategy to wait until about lap 230 for fuel and tires proved to be the winning one. He was the last car on the track to pit. Had a yellow flag not come out at just the right time, he would have had to pit under green costing him the race. There were still six cars on the lead lap at the end.
To some who didn't know the history of Mssrs. Squier, Moody and Curley this might not have been such an interesting race. I found these three to "make the day" for me. When I go to these "racechaser" races I sometimes wonder what I'm doing at some very lame shows that make up much of the trackchaser "racing" agenda in today's world.
STATE COMPARISONS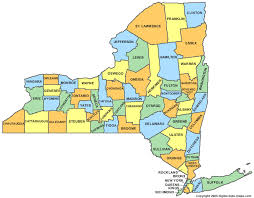 New York
This afternoon I saw my 51st track in the Empire state. This gives me a rank of 20th in New York. That stat is somewhat misleading. New York has some outstanding dirt racing all over the state. I've seen racing at virtually all of the major venues that New York have to offer. Nevertheless, I still have some 81 tracks here still to see. Only about nine of those race on a regularly scheduled basis. Most of the rest are a conglomeration of figure 8s and inner ovals and the like. Guy Smith leads P.J. Hollebrand 163-156 in New York. Those are some pretty spectacular totals.
Coming Soon – RANLAY Racing Exclusive Features!
Why I fear Ed Esser. (Delayed again! Come on Ed I can't wait forever…..my readers can't either. They're beginning to bug me about this).
Trackchasing politics revealed….they're about ready to kill each other.
Who have been Randy's three toughest trackchasing competitors? (September, 2009)
Don't miss my financial "Return on Investment" review that I offer each year. (Coming in the first report after October 11, 2009)
Thanks for reading about my trackchasing,
Randy Lewis
Alberta's #1 Trackchaser
Some day is not a day of the week.
TRAVEL DETAILS
AIRPLANE
Los Angeles, CA – Dallas, TX – 1,237 miles
RENTAL CAR #1 
Dallas-Ft. Worth International Airport – trip begins
Belton, TX – 149 miles
Dallas-Ft. Worth International – 308 miles – trip ends
AIRPLANE
Dallas, TX – Chicago, IL – 802 miles
Chicago, IL – Des Moines, IA – 299 miles
RENTAL CAR #2 
Des Moines International Airport – trip begins
Bethany, MO – 141 miles
Des Moines International Airport – 244 miles – trip ends
AIRPLANE
Des Moines, IA – Minneapolis, MN – 232 miles
RENTAL CAR #3 
Minneapolis-St. Paul International Airport – trip begins
Grand Rapids, MN – 199 miles
Minneapolis-St. Paul International Airport – 395 miles – trip ends
AIRPLANE
Minneapolis, MN – Detroit, MI – 528 miles
RENTAL CAR #4 
Detroit Metropolitan Wayne County Airport – trip begins
Saline, MI – 40 miles
Detroit Metropolitan Wayne County Airport – 73 miles – trip ends
AIRPLANE
Detroit, MI – Des Moines, IA – 534 miles
RENTAL CAR #5 
Des Moines International Airport – trip begins
Boone, IA – 55 miles
Des Moines International Airport – 113 miles – trip ends
AIRPLANE
Des Moines, IA – Chicago, IL – 299 miles
Chicago, IL – Milwaukee, WI – 67 miles
RENTAL CAR #6 
General Mitchell Field – trip begins
Plover, WI – 199 miles
General Mitchell Field– 390 miles – trip ends
AIRPLANE
Milwaukee, WI – Detroit, MI – 238 miles
RENTAL CAR #7 
Detroit Metropolitan Wayne County Airport – trip begins
Clio, MI – 99 miles
Detroit Metropolitan Wayne County Airport– 191 miles – trip ends
AIRPLANE
Detroit, MI – Montreal, Quebec, Canada – 529 miles
RENTAL CAR #8 
Trudeau International – trip begins
Plattsburgh, NY – 75 miles
Trudeau International – 157 miles – trip ends
AIRPLANE
Montreal, Quebec, Canada – New York, NY – 333 miles
New York, NY – San Francisco, – 2,566 miles
San Francisco, CA – Los Angeles, CA – 337 miles
Total Air miles – 8,001 (13 flights)
Total auto and air miles traveled on this trip – 9,872 miles
TRACK ADMSSION PRICES: 
Belton County Expo Center – $13
Northwest Missouri State Fairgrounds – $6
Grand Rapids Speedway – $5
Saline Community Fairgrounds – $7
Boone Speedway – $10
Golden Sands Speedway – $15
Auto City Speedway – $15
Airborne Speedway – $27
Total racetrack admissions for the trip – $98
COMPARISONS
LIFETIME NATIONAL GEOGRAPHIC DIVERSITY UPDATE
Randy Lewis – current score = 4.98 (tracks posted thru September 1)
2009 NGD point changes 
Connecticut -7
Iowa -1
Maine -10
Massachusetts -6
New Hampshire -11
North Dakota -1
Rhode Island -8
South Dakota -1
Texas +1
Vermont -8
Wisconsin -1
Net changes -53
Gordon Killian – current score = 5.76 (tracks posted thru August 27)
2009 NGD point changes 
Connecticut +1
Georgia -6
Kansas +1
Kentucky +1
Minnesota -1
Nebraska -2
New Jersey +1
New Mexico -4
North Dakota -1
Ohio -1
Rhode Island -1
South Carolina +2
South Dakota +1
Net changes -9
LIFETIME TRACKCHASER COMPARISONS   
There are no trackchasers currently within 200 tracks of my lifetime total.
Randy Lewis, San Clemente, California – 1,494
Official end of RANLAY Racing Trackchaser Report
Click on the link below to see the video production from the racing action today.
Click on the link below for a photo album from today's trackchasing day.  You can view the album slide by slide or click on the "slide show" icon for a self-guided tour of today's trackchasing adventure.
My 2017 dirt track visit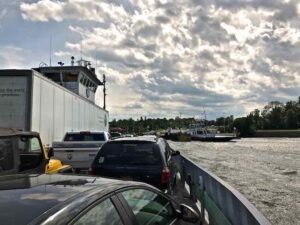 From out of nowhere Waze told me I would be taking a ferry boat and then there's that PLUS lots more
.
.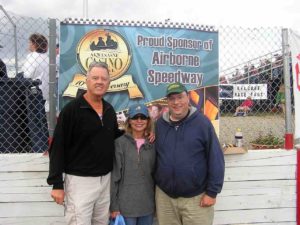 Airborne Speedway ACT racing on asphalt