Greetings from Roswell, New Mexico
.
.
From the travels and adventures of the 
"World's #1 Trackchaser"
The EventVideo PlusPhotos
Alien Motor Speedway
Dirt oval
 Lifetime Track #2,616
THE EVENT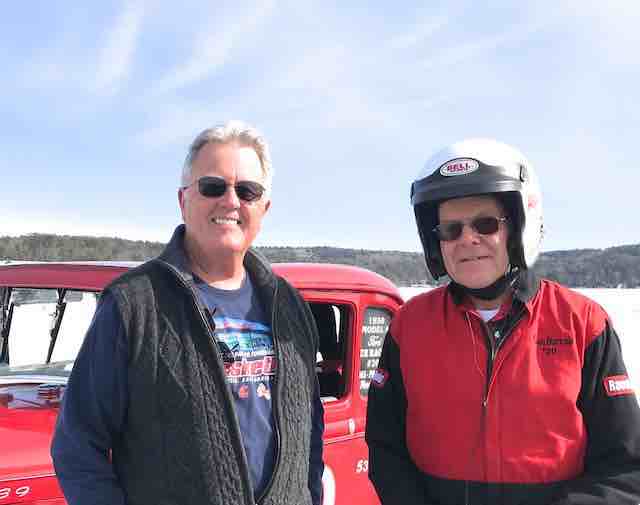 I AM A TRACKCHASER.
My name is Randy Lewis (above with my all-time favorite ice racer Allan Durrah who races in Maine). I hail from the sleepy little village by the sea, San Clemente, California. I am a "trackchaser". I trackchase. Have you ever in your life heard of "trackchasing"? I didn't think so.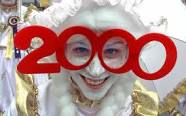 Today's adventure was one more of the 2,000 trips that have taken me up, down and around the proverbial long and dusty trackchasing trail.  If you would like to see where I've been and experience those adventures here's the link:
If you've got a question, comment or whatever please leave it at the bottom of this report.  It's very easy to do.  Or you can visit me on Facebook.  Thanks!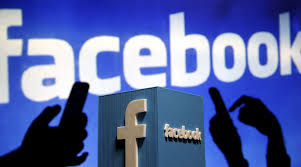 FOREWORD
Saturday, June 20, 2020.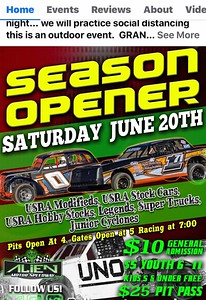 I wish I had kept count on how many racetracks I visited for their inaugural racing event. I've been keeping my eye on the Alien Motor Speedway in Roswell, New Mexico for three or four years. They've taken a while to construct their track and tonight was their very first race ever.
Over the years I've made my way over to New Mexico many times to trackchase. The rural far western states don't have all that many tracks. The tracks they do have are typically spread out far apart.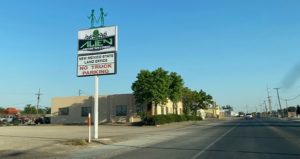 Tonight, at the Alien Motor Speedway in Roswell, New Mexico, I was seeing my 16th track in the Aztec State. I have made 12 separate visits to New Mexico to see those 16 tracks. There have been a couple of tracks over here that have closed before I had a chance to see them.
One of the challenges, a very common challenge for me, was how was I going to get from San Clemente, California my hometown to the track's location in Roswell, New Mexico. Roswell was 921 driving miles from San Clemente.
I considered several options. The race was scheduled to begin at 7 p.m. on Saturday night. My first and leading choice and this might tell you that all of my choices were not outstanding, was to take an overnight flight from Los Angeles to Denver and drive 7 1/2 hours from Denver down to Roswell. Then after the race, I would return my rental car to Albuquerque and fly home. Does that sound like a dream travel vacation to you?
I also considered flying into other locations such as Dallas, Albuquerque and Phoenix. However, all of those locations either didn't have enough airplane standby seats to make the risk worth it or if I did make a flight there wasn't enough time to drive over to Roswell to see the races.
There is one thing I might mention. I fly "standby" for many of my trips. If there is an unsold seat on an airplane and I have enough "juice" (seniority) I will get that seat. However, if I try to fly standby and don't make it there usually isn't enough time to try for a plan B. When that happens I don't make it to the racetrack!
For this trip, when the standby seats to Denver seemed to melt away I concocted the idea of renting a car in Los Angeles and driving it 14 hours one way to Roswell. This decision might give you some idea on how badly I wanted to see the racing at the Alien Motor Speedway on this Father's Day weekend.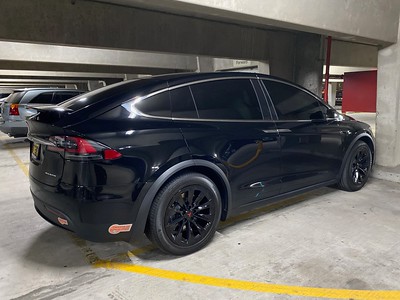 I would have no interest in driving the EECU Credit Union Racing Tesla Model X from Southern California to New Mexico. There were two reasons for that. I never want to use up my personal automobiles with thousands of trackchasing miles. That's just a waste of a good asset. Additionally, the plan was to leave Los Angeles in a rental car but to drop that car in Albuquerque after the races and fly home.
Then just 10 minutes before I was scheduled to leave for LAX to pick up the rental car I had one more Hail Mary idea. There was a flight leaving at noon on Saturday from Los Angeles Albuquerque. What if the price for that one-way airline ticket was reasonable enough to compare favorably to renting a one-way rental car for two days and buying gas for a 14-hour one-way driving adventure? What if?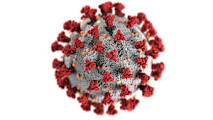 The number of flights going from anywhere in the United States because of the COVID-19 pandemic is down to about 30 or 40% of normal. That, along with the idea that airlines are holding middle seats open in many cases to provide more social distancing, makes finding a standby seat much more difficult.
In some cases nowadays, when purchasing an airline ticket, the price is either much higher than normal or much lower than normal. Today I checked the one and only nonstop flight from Los Angeles to Albuquerque. Albuquerque was only a three-hour drive from Roswell.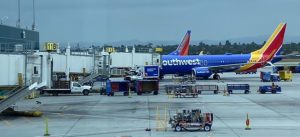 I was very much surprised to see that I could buy a ticket on Southwest Airlines for just $149 one-way. If I were driving I would have used up two $90 value certificates for "free" rental car usage on a one-way drop off location basis. If I flew I would save about 800 incremental miles of driving or about $50 in gas expense. Of course, if I flew into Albuquerque I would still have a $50 rental car charge. The simple computations told me I would be saving about $180 in expenses and only incurring $150 in airfare charges. Additionally, I would knock out 12 hours of overnight driving!
If you were following me on this decision-making process you might observe one thing. I am always searching for the best way. As soon as the new way is determined to be better than my old way I go with a new way. Michael B., it's really not a good idea to be "set in your own ways". If you do that you might miss out on the benefits of the new better idea.
The two-hour flight from Los Angeles to Albuquerque was uneventful. I'm enjoying my new Apple iPad. The advantage the iPad has over my MacBook Pro when I'm flying is that I can begin watching movies on the airplane as soon as I sit down. With the laptop, I can't use it on the airplane until we ascend to 10,000 feet. Then I am required to stop using it when we descend below 10,000 feet. Today I watched an excellent movie called, "Waves". It's one of the most hard-hitting dramas I've ever seen especially during the first half of the movie.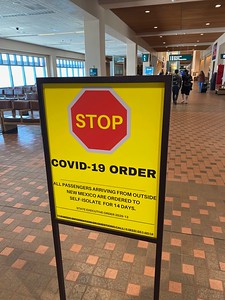 When I landed at the Albuquerque airport I saw a sign that concerned me quite a bit. It said that anyone arriving into New Mexico from outside of the state must self-quarantine for 14 days. That requirement was exactly the reason I wasn't trackchasing in Alaska this weekend. It would've been fun to go to Alaska now because today is the longest day of the year. I would've been able to experience is Alaska's land of the midnight sun. 
There was a woman sitting as some sort of a "registration table" behind the self-quarantine sign. When I passed she didn't look up from what she was doing. I didn't ask any questions. I certainly wasn't expecting to self-quarantine in New Mexico for the next 14 days!
I picked out a Toyota Camry car from my normal vendor National Car Rental. I always check Costco Travel rental car rates as well. However, on a one-day rental Costco cannot favorably compare with National for me. National provides sponsorship dollars which lower the cost of my rental cars since I am a frequent user of their product and they like trackchasing.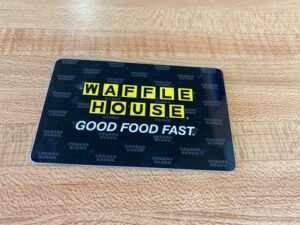 During the pandemic, I went online and bought a $100 gift card from the Waffle House. I was able to buy it at a 20% discount. I was a little dismayed that Waffle House charged me a two-dollar handling fee but what was I going to do. Therefore for $82 I can now purchase $100 of Waffle House waffles!
As it is there are no Waffle Houses in the state of California. No problem there. I am a frequent visitor to all parts of the United States where Waffle Houses are prevalent. There are two Waffle Houses in Albuquerque. I picked out one of them today to use my gift card for the very first time.
Some restaurants in the United States do not allow folks to dine in at this point because of the COVID-19 pandemic. Most restaurants are offering takeout. The two Waffle Houses in Albuquerque do allow for dine-in usage. They have blocked off about 50% of their tables. In any typical Waffle House, there are six stools at the counter. At the Waffle House visit today four of those stools had their chairs removed allowing only two people to sit together at the counter.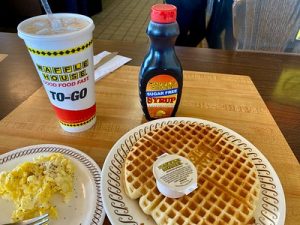 Today I enjoyed my waffle while I used my iPhone to calculate the driving time and distance over to the Alien Motor Speedway. It was going to take me three hours to cover about 200 miles of driving. There would be no traffic and the scenery of New Mexico would be most unusual. Off I went.
The drive was uneventful. It's warm in New Mexico in June. The high temperature in Roswell today would be 96°. However, tomorrow's forecast called for a 106° high temperature.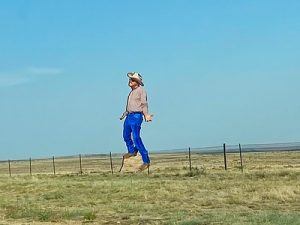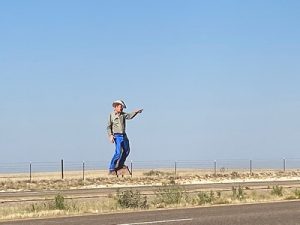 I did have the opportunity to see quite a few very unusual sights as recommended by Roadsides America app. The first of which was the "Cowboy Rukus: Giant Cowboy Cutouts" in Vaugh, New Mexico. This was worth stopping to take the pictures!
Then my next Roadsides opportunity was seeing the "Roswell Welcome Sign". As you likely know Roswell is famous for or maybe infamous for UFO sightings. I'll tell you more about that before I leave Roswell on Sunday morning.
The idea of flying from Los Angeles to Albuquerque and then renting a car was the best logistical idea I could come up with to get me to Roswell, New Mexico. As noted above it was also reasonably cost-effective.
I talked to the Alien Motor Speedway promoter this past year about how the construction and operation of the track was coming along. He couldn't have been more friendly. Today, June 20, 2020, was the very first night of racing operation at the track.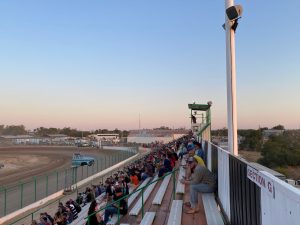 The overall facility at Alien is a good one. They have tons of quality grandstand seating. The general manager told the crowd over the PA system that he expects to hold a World of Outlaws sprint car race here in 2021.

The track itself was what I would call a 3/8-mile mildly banked dirt oval. The area around the track seemed to have quite a bit of sand. There was a minor bit of dust with tonight's racing. Luckily from my seating location at the top row of the grandstand, I was pretty far for most of dust and dirt but you could feel the sand and grist in the air.
The track announcer gave me a nice trackchaser mention. The PA system had a bit of scratchiness to it and probably needed to be adjusted somewhat.
The facility is operating with a number of porta potties at this point. The announcer did tell the crowd they have quality restroom buildings on the way.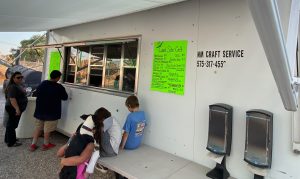 The track was pretty well missing the boat on concessions as well. They did have two food trailers but the lines were long and slow. As I looked out over the crowd of 1,000-1,500 people virtually no one was enjoying any food or drink. Again, the announcer told us this would be remedied in the near future.
The track featured easily the most unusual starter's stand that I have ever seen in all of my 2,616 track visits. They have the front half of a pick-up truck elevated some 20-25 feet above the ground. The flagman did his work from INSIDE of the cab of the pick-up truck. I shared that image on my Facebook page. That single photo received more than 1,800 shares and counting. That's more shares, by about 1,770, than anything I have ever posted on Facebook!
The playing of the national anthem was special as well. A young woman did a solo violin performance of the national anthem. She was outstanding. Don't miss my video to hear a clip of what she played. That was special.
The racing was OK. They ran six classes of cars, which included three or four classes of low dollar stock cars, sport trucks, legends, and the headlining division the modifieds. A couple of classes including the modifieds brought 15-20 cars. For a rural far west track that is very respectable. Three or four of the classes had just enough cars for one heat race and their feature race.
They started with a short hot lap session for each class of cars at 7 p.m. They finished up their heat racing, which probably included about eight heats by 8:30 p.m. That was all good.
However, they then went to a longer than what I thought was necessary 40-45 minute intermission. With the concession line moving so slowly they certainly weren't going to sell all that much food and drink during intermission with lines that were so long all night.
The feature racing was OK. I would have liked to have seen them run the 20-car modified feature race earlier in the program. As it was the modified class was the last race of the night. The modified feature was for the most part a follow the leader hug the inside lane race. The guy who ran second all night got nudged out on the last lap or two and ended up finishing fourth.
There was a young woman named Christy Barnett (see below) who started third in the modified feature and finished second. She also won her heat race. It was advertised that she is the only woman to ever win a $10,000 to win modified race anywhere in the country.
Without ever having heard or seen Ms. Barnett race I automatically assumed she was another one of the 20-year-old female drivers whose racing father had encouraged to be a racer when in fact he probably wanted a son. I don't mean to be harsh. Most of these women are in the sport for a short time and run at the back. Those are just the facts.
Christy Barnett was different. You don't get to be the first woman to win a $10,000 modified race without being a "racer". I did some research on Christy Barnett and found out she has been racing every weekend for eleven out of twelve months for the past 40 years! Wow! This call was experienced as the story believe will detail. I'm now a Christy Barnett fan!
"Christy Barnett, the fastest woman in Nascar, came to CSO after many years of pain. With the help of Dr. Michael Janssen, she received a total disc replacement, then this year had lumbar spine surgery to alleviate pain after a serious accident, in which her upper spine disconnected from her lower spine. Read below for more of Christy's story.
Professional dirt track race car driver Christy Barnett (formerly Christy Georges) holds an impressive number of records, including the fastest woman in NASCAR after hitting 208 mph at the Bonneville Salt Flats. An office filled with 800 trophies attests to her expertise and speed.
In addition to NASCAR, she has also raced flat track three-wheelers on dirt as well as motorcycles. "I've led an extremely exciting, active lifestyle," says Christy, who at age 60 has been racing every weekend 11 months out of 12 months a year for 40 years.
The Start of Christy's Spine Pain
Christy says that her spine pain may have started many years ago when she was working out with heavyweights. She was lifting 450 pounds when her wrist began to hurt. She asked her trainer to unhook the hooks. He did and then let go. "That took me down to the floor. It was the start of my pain," she says.
(L-R) Sherman and Christy Barnett are pictured with friends after she won the Legends race at the Las Vegas Motor Speedway in November 2019.
Later, while racing flat track three-wheelers on a dirt track, Christy hit a wet spot. Her bike spun around backward, and Christy landed on her chin. "That was the demise of my neck," says Christy. After that, she visited a chiropractor for 25 years. "He kept telling me that there was something wrong with my neck, but my back actually hurt more."
Christy suffered many more injuries during subsequent years, the result of numerous car wrecks, including hitting a wall at 100 mph. "Everything wrong with my body is self-inflicted," she says. "I did a lot of things I shouldn't have done."
Numbness & Tingling Leads Christy to Seek Help
It was not until Christy felt numbness and tingling in her arm that she got an MRI. As soon as she saw it, she knew something was seriously wrong. Her chiropractor reviewed it and told her she couldn't race anymore. He referred her to a nearby neurosurgeon, who said that her spine was almost cutting into her spinal cord, and she could become paralyzed at any time. Three days later, she had cervical spine (neck) fusion surgery. From then on, she felt discomfort all the time.
Total Disc Replacement Surgery by Dr. Mike Janssen
Fortunately, a friend, Russell Stephens, CEO of MSP Ignition, told her about Dr. Michael Janssen, a top spine surgeon in Denver. Christy flew to Denver for disc replacement surgery by Dr. Janssen. "He took out the fusion hardware and put in a disc replacement at the level above the fusion," she says. "After that, I could spin my head like an owl." That was in January 2019.
A Second Surgery to Treat Low Back Pain
Christy and some of the Dallas Cowboys football players are pictured at a race she won in Las Cruces, New Mexico.
Early in 2020, Christy once again sought out Dr. Janssen to alleviate the lumbar spine pain she had had for five or six years following a serious accident. "I got punted outside the track, struck a telephone pole, and dropped 40 feet, landing on concrete. It was a hard landing," she recalls. "Bending over and standing for any amount of time hurt from then on. I was awake all night long."
Christy returned to Denver on February 18 and had lumbar spine surgery by Dr. Janssen the next morning. The procedure lasted three hours. "He put rods and a big spacer in my spine. It was as if my upper spine was completely disconnected from my lower spine," she says.
Following the surgery, Christy got up and walked about 50 laps around the surgery center. The next day, the surgery center discharged her. She and her husband, Sherman, stayed a couple more days to visit Blackhawk before returning to El Paso, TX, where the two own and operate the world's largest Harley Davidson dealership, Barnett Harley-Davidson in East El Paso.
Christy's Advice
This is another of Christy's race cars.
Christy and Sherman have been racing cars for 40+ years and want to continue racing for as long as they can. Thanks to Dr. Mike Janssen, who performed total disc replacement surgery on Christy's cervical spine (neck), she is able to continue racing."
Also racing tonight was a driver named Sherman Barnett. Sherman was in the sport truck division. He had a great looking truck and easily won his heat and feature. He looked to have the best equipment and easily drove away. Mr. Sherman was 84 years old. His goal is to be the oldest active race driver. From what I can tell Sherman and Christy Barnett are married but this is just my educated guess. They both have a handle on dirt track racing.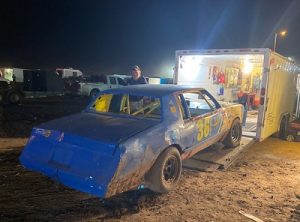 My hotel, the Fairfield Inn and Suites in Roswell, was only a seven-minute drive from the speedway. With my hotel being so close when the modifieds finished up their feature I took a brief tour of the pit area.
Because I had not been able to eat anything at the track because of the long and slow concession lines I made a brief appearance at the McDonald's drive-through lane after the racing. There was a mix-up with the store being unable to accept first my Apple Pay and then my credit card. They ended up giving me my meal. That meant tonight's late-night dinner of a McDouble, no ketchup no pickles, two apple pies bought at the price of one and a large Diet Coke were free. I guess I can say that McDonalds sponsored me tonight!
Then when I checked into the hotel the young woman working the front desk at the Fairfield Inn was most helpful. When I told her that I was a titanium elite Bonvoy member of the Marriott frequent stay program she rewarded me with two free "market items". Like I always say I couldn't do this without my sponsors.
It's always a pretty good day when I could wake up and have breakfast in my office in San Clemente. Then I get to grab an airplane to see a new track in a faraway state where they are having their first-ever automobile race. Finally, I can stay in a Marriott property and be home by the next evening. Yep. That's a pretty good day.
SUNDAY
Today it's time to head home back to Southern California. This was a short trip. I left home on Saturday morning and will be home by early Sunday evening. There is a solid reduction (60-70%) in airplane flights because of COVID-19. Combining that fact with the reality that I don't have that many more tracks to see I guess one-day trips will be more frequent in my trackchasing future.
I had just enough time this morning to drive around the town of Roswell to see what things looked like. I used my Roadsides America app to identify several notable landmarks. These included the following.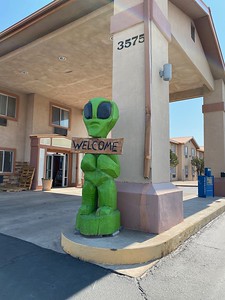 Welcome Alien Statue
Flying Saucer and Alien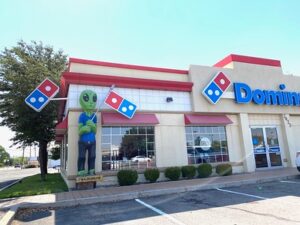 Fast Food Alien – Dominos and KFC
Alien Donut Overlord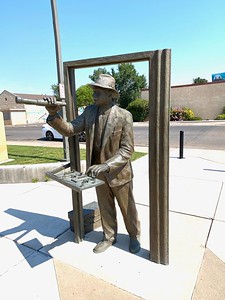 Robert Goddard Statue and Rocket
My morning drive took me past the New Mexico Military Institute of Roswell too. This is a public military junior college. It was founded in 1891. Each year about 1,000 cadets enroll. The NMMI is also a feeder system for our five U.S. military academies. About 100 students each year graduate from NMMI into one of the academies.
From there it was a simple three hour, 200-miles or so drive from Roswell over to Albuquerque. The roads in this part of the country are good. The traffic was minimal. I really enjoy driving in the Southwest. The scenery is so much different than the rest of the country. Originally I had scheduled a 14-hour drive from San Clemente over to Roswell. I think I would've really enjoyed that. However, when a flight opened up saving me time and money it was difficult to pass that opportunity up.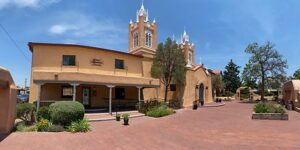 I pulled into Albuquerque with a few hours to spare. This gave me time to run into downtown Albuquerque and visit their famous "old town". It was a warm day with temperatures at nearly 100°. However, this is desert heat and a dry 100° is more comfortable than a humid 100° by a long shot although still hot.
I was flying standby on a flight back from Albuquerque to Los Angeles. The flight was relatively wide open. I didn't have any trouble getting on the plane for the short two-hour duration. Before I boarded the plane I did get in 3 miles of walking inside the ABQ airport. I think the greeter standing outside one of the terminal restaurants thought I was a little weird but I was getting in my steps!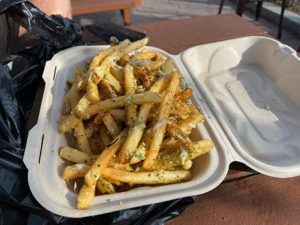 Today is Father's Day Sunday. Son J.J. texted me and invited me to an informal dinner in the beach town of Redondo Beach. We could dine outside once I landed. It was nice catching up with him. We spent a couple of hours together just chewing the fat at a place called "The Standing Room". They are noted for their gourmet hamburgers. Their specialty Parmesan cheese fries were good too.
It wasn't long after that I was marching through the front door of our modest seaside cottage into the loving and welcoming arms of Trackchasing's First Mother. Yep. Another of my more than 2,000 trackchasing trips was finished.
I will tell you this. Once I got on the airplane from Los Angeles to Albuquerque this trip's logistical planning went perfectly. That doesn't always happen. As a matter of fact, it doesn't happen more often than not. When things run smoothly I love it. Heck, even when things don't run smoothly I love it!
Good evening from Roswell, New Mexico.
Randy Lewis – 85 countries – 2,616 tracks.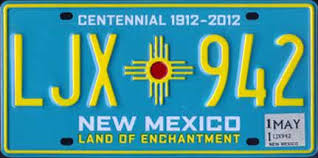 New Mexico
The Land of Enchantment State
This evening I saw racing at my 16th-lifetime track in the Land of Enchantment State, yes, the Land of Enchantment State.  I hold the #1 trackchasing ranking in the state. New Mexico ranks #37, amongst all the states, in tracks seen for me in the U.S.
Thanks for reading about my trackchasing,
Randy Lewis
World's #1 Trackchaser
Peoria Old Timers Racing Club (P.O.R.C.) Hall of Fame Member
New Mexico sayings: "Mira, I told you not to go outside without shoes!" 
This phrase always followed us returning to the house weeping after stepping on a goat head.
JUST THE FACTS
LIFETIME TRACKCHASER COMPARISONS 
The three most important trackchasing comparisons to me are:
Total lifetime tracks seen
Total "trackchasing countries" seen
Lifetime National Geographic Diversity results
Total Lifetime Tracks
There are no trackchasers currently within 735 tracks of my lifetime total.  Don't blame me.
Randy Lewis, San Clemente, California – 2,616
Total Trackchasing Countries
My nearest trackchasing competitor, a native of Belgium, has seen racing in more than 30 fewer countries compared to my lifetime total. 
Randy Lewis, San Clemente, California – 85
Current lifetime National Geographic Diversity results
Randy Lewis, San Clemente, California – 3.96
That's all folks!  Official end of the RLR – Randy Lewis Racing Trackchaser Report
Click on the link below to see the video production from the racing action today.
Click on the link below for a photo album from today's trackchasing day.  You can view the album slide by slide or click on the "slide show" icon for a self-guided tour of today's trackchasing adventure.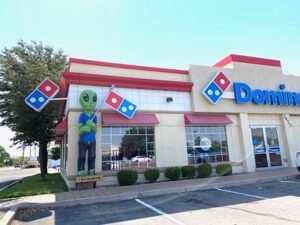 A most interesting 24-hour trip to Roswell, (Alien capital of the world) New Mexico