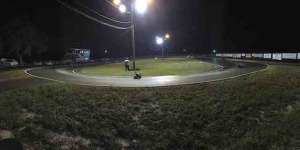 Greetings from Wimauma, Florida
From the travels and adventures of the 
"World's #1 Trackchaser"
Ambassador Racing School – Lifetime Track #2,047
HighlightsThe EventVideosPhotos
I don't stop trackchasing in October anymore.
I had to get a sponsorship agreement in place pronto.
I have "chores" to do when I travel.

What's in a name?
When one track closes another takes its place.
Miss Debbie….a wealth of information.
Few tracks start out as schools before they hold their first race.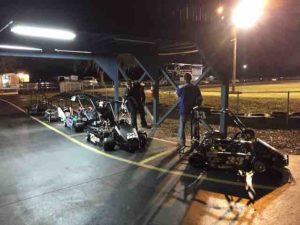 Senior champs were the dominant class tonight.
If you're not early….you're late.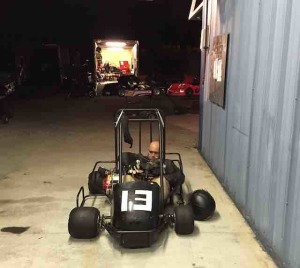 Tonight's dominant driver.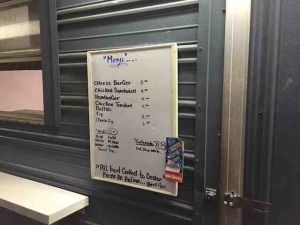 Lots of amenities at ARS.
Nice folks at the Ambassador Racing School.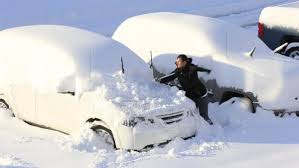 December? Florida or New York?
THE EVENT
I don't stop trackchasing in October anymore.
I woke up this morning at home in San Clemente, California. I went to sleep on an airplane that was landing in Orlando, Florida after departing overnight from Los Angeles, California. This is how the day turned out.
My trackchasing season used to end in October each year. However with the advent of the Internet and potentially global warming more and more tracks race later into the year.

Starbucks.
I've been to Starbucks about twice in my life. This morning was the second time. Carol and I met up with our friends the Moody's who were visiting from Northern California. We made arrangements to go on a UCLA basketball road trip later in the season.
I had to get a sponsorship agreement in place pronto.
From there I dropped Carol off at home and began a December trackchasing trip. I had not expected to do any trackchasing in December. Therefore I wasn't concerned when I had no airport parking sponsorships lined up. Now with this relatively last-minute trip planned I need to get a sponsorship agreement in line immediately.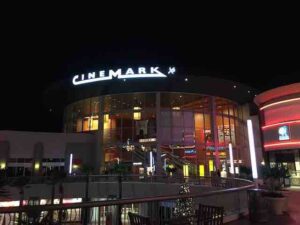 In order to do that I attended an airport sponsorship appearance. No appearances; no sponsorships. I finished up my appearance by 5 p.m. I was planning on a 9:40 p.m. late night departure from LAX to Florida. That itinerary allowed me enough time to see a movie at the Promenade at Howard Hughes Center. This massive complex is less than 2 miles north of the airport. I caught an excellent drama titled Nightcrawler and starring Jake Gyllenhaal. I liked the movie so much I took Carol to see it a few nights later.
Been there; done that.
It wasn't long before I was on an airplane headed toward Orlando Florida. No I was not going to Disney World. Carol and I went there on our honeymoon more than 42 years ago and we've been back a few times since.
My four-hour flight landed at about 5 a.m. Orlando time. Once inside the airport terminal I took a couple of hours to plan the last aspects of this weekend's trip. There was no rush to get a rental car until at least 7:30 a.m. By waiting I would have my rental car for just 24 hours avoiding an extra day's rental expense. I had left home on a Thursday night. With any luck I will be back in Los Angeles late Sunday night after seeing three and possibly even four new tracks. That's a pretty amazing statement considering it's December and I've already seen more than 2,000 lifetime tracks.
I have "chores" to do when I travel.
One of my "chores" at the airport this morning was to secure a Priceline.com sponsored hotel. If you've ever dealt with Priceline you know that you can get a good deal of savings by making a bid or accepting one of their "Express Deals".
The Express Deals offer savings of 15 to 50% off of regular price. I have learned that I can bid a few dollars less than the offered express price and get it via the bidding section of Priceline. I did that today.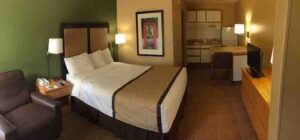 Extended Stay America a good hotel value.
I was able to get an Extended Stay America property. This chain is listed in Priceline's rating system as a two star property. I paid just $35 for the Brandon, Florida location. That hotel's best price online was $65 plus tax. With taxes included this was about a 50% savings. I do my best to save a little here and save a little there so that I can afford to stay out on the road. It's what I need to do in order to be competitive with the Dreaded East Coast Trackchasers (aka DECTs).
Once I had my National Car Rental Racing Hyundai Sonata I drove 6 miles before being lured into a Waffle House for breakfast. From there I completed my 90-minute drive over to the hotel. I was allowed to check in at 11 a.m. That was good news! I took that opportunity to relax and sleep in my room until 4 p.m. At that point I got out on the road for a 45-minute power walk.

What's in a name?
Tonight I will be seeing racing at a most unusually named track. The track goes by the name of "Ambassador Racing School".
I had known about this track for several years. However I was all always concerned about the lack of countable racing classes competing there for trackchasing purposes. In the past some trackchasers had used "half midgets" to count the track.
When one track closes another takes its place.
On this particular trip I was expecting to see senior champ karts race. I had never really seen a class by that name associated with the Ambassador Racing School. I think they may call their senior champs "box stocks". The nearby East Bay Raceway in Gibsonton, Florida races senior champ Karts on Friday nights. It appears that East Bay may have closed their kart track. It might be closed for good. That being the case the Ambassador Racing School was hosting a special Friday night program in hopes of drawing cars from East Bay.
Miss Debbie….a wealth of information.
I had called the track earlier in the week. I spent the better part of a half hour speaking with "Miss Debbie". She was a great ambassador for the track. She told me everything I wanted to know about the track and what might be racing tonight. Why was that important? Without the information Miss Debbie provided there was no way I was going to fly across country from California to Florida and end up not seeing "trackchasing countable" racing. By the time we finished our conversation I was convinced there would be countable racing at the Ambassador Racing School track. This feeling was further cemented when Miss Debbie's son "JR" called me back to confirm program details.
ONE CANNOT LIVE WELL OR SLEEP WELL IF ONE HAS NOT DINED WELL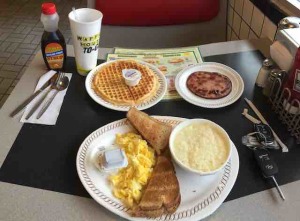 Waffle House – All over the South!
You can't go wrong with the "All-Star" breakfast.
THE RACE 
Ambassador Racing School – Wimauma, Florida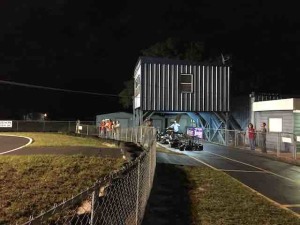 Few tracks start out as schools before they hold their first race.
The Ambassador Racing School track started out as a "racing school" rather than as a race track hence its name. JR told me the racing school began in 1995. They didn't begin having wheel to wheel racing until three years later in 1998.
Tonight's racing would begin at 8 p.m. That was a little later than what I would consider normal. However racers were getting off work on Friday night. Some had to travel a distance to get here. I arrived at the track at 7:30 p.m. It was already dark.
The pit shack.
I parked my car just outside turn four. From there I could simply sit in the car and watch all of the races for no charge. However I needed to meet the people who had been so nice as to explain what tonight's program was going to be all about. I soon found Miss Debbie at the pit shack (yes, folks in racing often call the sign in center the "pit shack") signing racers in. It was nice to finally meet the person who spent so much time telling me about the track. Miss Debbie was pleased to see someone come all the way from California. As a reward for my travels she gave me a complementary pit pass. Thank you!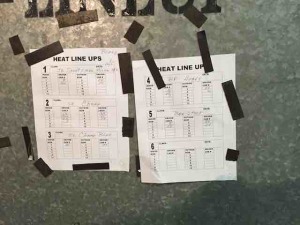 Just in time for the driver's meeting.
I was just in time for the drivers meeting. JR, who runs the racing school, was holding court with a microphone and explaining what the rules and regulations for tonight's events would be. Most spectators don't get the benefit of hearing what goes on in the driver's meeting. It might not be a bad idea for promoters to broadcast what is talked about at this meeting. That would certainly help the casual fan become a little more engaged.
There were five racing classes tonight. Each class would run two heat races of eight laps each. Then each class would run a 15-lap a feature event.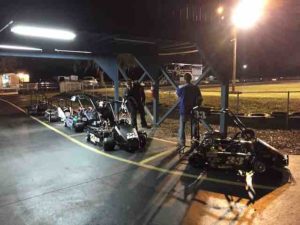 Senior champs were the dominant class tonight.
Of the five classes racing tonight just two were caged. One of those caged classes was the senior champs group with seven entries. The senior champs had the largest number of competitors of any class racing tonight. The other caged class was a junior champ type affair with two racers. By deduction the other three classes were flat karts.
If you're not early….you're late.
They started promptly at 8 p.m. with the national anthem. I start off liking any track that begins their program on time. Each class would run a heat race. I'm not sure how they determined the race lineup for the first heat. The second heat race for each class would start in reverse order of the grid for the first heat. That seemed like a fair way to do things. The feature event lineup was based upon points earned in the two heat races.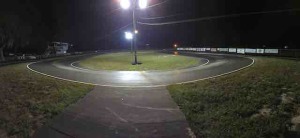 A very sharp looking little track.
The Ambassador Racing School race track is a very sanitary little facility. The track itself has a paved surface covering the slightly bank oval. It appeared to me that turns three and four were banked just a little bit more then turns one and two.
Fans could watch from their cars at the fence. Others watched from small bleacher areas in the pits. I was happy to see the program move along smartly. The senior champ feature took the checkered flag at 9:40 p.m.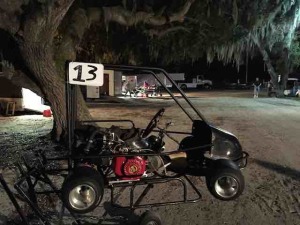 Tonight's dominant driver.
I guess it pays to be the racing instructor for the track itself. JR was racing the senior champ #13. In the first he started on the pole and won the race. In the second heat he started in last place and won THAT heat race. This result put JR on the pole for the feature event, which he won easily.
Lots of amenities at ARS.
I don't see very many asphalt go kart tracks. Tonight's track had a very smooth surface. The truck was well lit. The PA system was used only to lineup the competitors. I really wish that kart racing put a little more focus on the track announcer. That way fans could learn more about the drivers and the events themselves. However kart racing is more of a participant sport with a limited spectator base. It's much like amateur Road racing in America.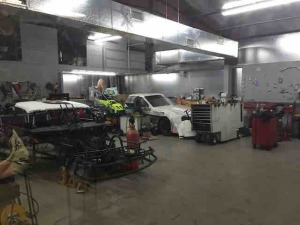 Nice folks at the Ambassador Racing School.
It was nice getting to meet Miss Debbie and JR. I also had the chance to meet Ray briefly. He helps run the track. Ray is husband to Miss Debbie and father to JR. It's definitely a family affair.  As you can see the family races other types of machines around Florida as well.
Most of the racing at the Ambassador Racing School up to this point has been done on Sunday afternoons. That's got to be a hot and sticky affair in Florida. JR did tell me they race some Saturday nights. According to him they may race a little more often on Fridays if they can get competitors to come over from East Bay.
It was warm all during the night tonight. Where can you get temperatures in the mid 70s during the first week of December?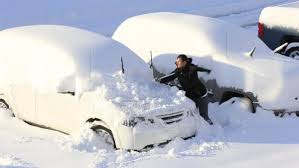 December? Florida or New York?
I was happy to get this track in the books. I had considered going to Syracuse, New York for tomorrow afternoon's racing. It was an indoor show. However the travel situation seemed to indicate that it might be better to stay in the south. That's what I would do. Tomorrow I would have to get up early in the morning and fly from Tampa to Atlanta. From there I'll drive to South Carolina before my travels take me up to Virginia for Sunday afternoon's racing.
Florida
The Sunshine State
This evening I saw my 59th lifetime track in the Sunshine state, yes the Sunshine state. I've seen the second highest number of tracks of any trackchaser in Florida.
Thanks for reading about my trackchasing,
Randy Lewis
World's #1 Trackchaser
Peoria Old Timers Racing Club (P.O.R.C.) Hall of Fame Member
Florida sayings: Ask us about our grandchildren
QUICK FACTS
AIRPLANE
Los Angeles, CA (LAX) – Orlando, FL (MCO) – 2,210 miles
RENTAL CAR #1
Orlando International Airport – trip begins
Wimauma, FL
TRACK ADMISSION PRICES:
Ambassador Racing School – Complimentary pit pass
LIFETIME TRACKCHASER COMPARISONS 
The three most important trackchasing comparisons to me are:
Total lifetime tracks seen
Total "trackchasing countries" seen
Lifetime National Geographic Diversity results
Total Lifetime Tracks
There are no trackchasers currently within 450 tracks of my lifetime total. Don't blame me.
Randy Lewis, San Clemente, California – 2,047
Total Trackchasing Countries
There are no trackchasers currently within 10 countries of my lifetime total.
Randy Lewis, San Clemente, California – 70
Current lifetime National Geographic Diversity results
Randy Lewis, San Clemente, California – 4.96
That's all folks! Official end of the RLR – Randy Lewis Racing Trackchaser Report