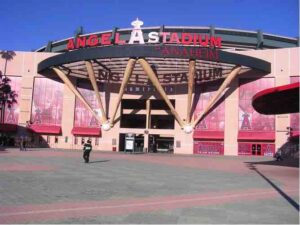 Greetings from Anaheim, California
.
.
From the travels and adventures of the 
"World's #1 Trackchaser"
.
.
Angels Stadium
Dirt inner oval
Lifetime Track #1,146
.
.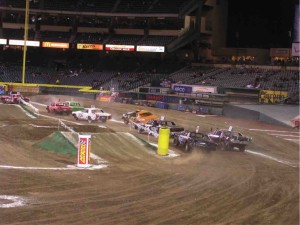 Angels Stadium
Dirt outer oval
Lifetime Track #1,147
The Event
THE EVENT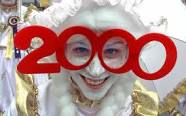 Today's undertaking was just one of more than 2,000 trips that have taken me up, down and around the long and dusty trackchasing trail. If you would like to see where I've been and experience those adventures here's the link:
If you've got a question, comment or whatever please leave it at the bottom of this report.  It's very easy to do.  Or you can visit me on Facebook.  Thanks!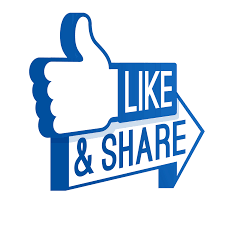 I often see two or more tracks in a single day or in a single weekend. Sometimes when that happens I will combine my observations from multiple tracks into a single Trackchaser Report. That is the case today.
ON THE WAY TO THE RACES
We woke up in San Clemente, California this morning and went to sleep in San Clemente, California. That's unusual. This is what transpired today. 
PEOPLE/STRATEGY/TRAVEL NEWS
The Strategy             
Trackchasing strategy is very simple. In order to be successful, you need to go "where the fishes swim." What does that mean? A successful trackchaser needs to go where the tracks are. The longer a trackchaser trackchases, the further you have to row the boat to find the fish.
It's very unusual when you can walk out the back door, drop a line in the water and immediately catch a fish or maybe even a couple of fish. I will tell you exactly how we did that below.
The Trip
Normally I spend a lot of time telling you how far I had to fly and how long I had to drive in order to reach the next track of the trip. Yes, I traveled about 210,000 miles in 2006 and I have traveled more than 500,000 miles during my last three years of trackchasing. Tonight's travel won't do much to augment those totals. That's O.K. This track trip will make up for many more that are to come of a much longer distance in 2007.
The People
You might not think that after being gone for 17 days to New Zealand and Tahiti and picking up 12 new tracks in the process that Trackchasing's First Mother would be chomping at the bit to hit the road again. If you think that, you would be absolutely correct.
However, we are trackchasers. We are very competitive trackchasers. If we don't trackchase, then our fellow competitors will gain ground. We can't have that. Therefore, we must trackchase, especially when a trackchasing opportunity is so close to home.
During the three-year period of 2004-2006, I saw 456 new tracks and traveled more than 534,000 miles (airplane, car and ferryboat) to see those tracks. That means each and every one of those tracks averaged MORE THAN 1,000 miles of seat time to reach.
Tonight's track was only 36 miles up the I-5 freeway. Even though we had been back from down under for just four days, it was time to hit the road again. We were bound for the Angels Stadium of Anaheim. No, we were not going to see the Los Angeles Angels of Anaheim play major league baseball. We do that in the summer about 10 times each season.
This is winter in California. It's freezing. O.K., it's not freezing, it was 46 degrees. However, add a little wind and 46 degrees seems like freezing to us Golden Staters.
The stadium seats about 45,000 people. Since many of America's short tracks get a crowd of 100-200 people, you would think we would not have a problem getting a seat tonight. In the back of my mind, I thought we might. When I plunked down my MasterCard at the ticket window, I discovered we would have a problem.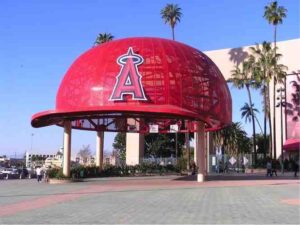 They were sold out! The program was officially scheduled to begin at 7:30 p.m. We were at the ticket window at 4:30 p.m. They were sold out in advance of the event! The ticket seller did tell me that we could come back for the identical event on January 27 (note: that's race date sharing in case the pundits didn't realize it). That wouldn't do for us. We were here to trackchase tonight.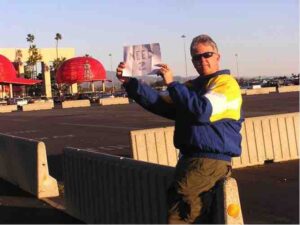 Therefore, I went into "Emergency Ticket Acquisition" mode. Yes, that meant I grabbed an 8 1/2" by 11" white sheet of paper and hurriedly scribbled in big block letters the phrase, "Need 2." I then directed my accomplice, that would be Carol, to accompany me to the automobile entrance of the stadium. Yes, we had to go "where the fishes swim." I figured there would be somebody who had purchased four tickets and had their friends bow out at the last minute. Those folks would likely have two extra tickets.
We were stationed at a point where motorists entered the stadium at only about 10-15 M.P.H. They could easily read our sign. We had about 45 minutes before it would get dark. Since we were here three hours before the official start time, there was not a rush of vehicular traffic. It was cold and it was windy. Carol suggested that I might want to "find a new hobby." Of course, she was kidding I think.
Business was slow. Normally my sign works well and it works fast. It was getting darker. It was getting colder. We had a couple of cars stop with just one extra ticket. One extra ticket wouldn't do us much good. What would Carol do for the rest of the evening?
Finally, a scalper who I had turned down earlier in the evening came by. He wanted $60 for two tickets that each had a face value of $12. I had turned down his offer earlier, but now it seemed to look more attractive. I offered him fifty dollars. He countered with $55.
I had to give him credit, he was hanging in there. Nevertheless, I re-countered with my original bid, telling him that fifty dollars was all I was willing to pay. I was very much hoping he would accept that offer as I didn't want to stand out in the cold any longer. He did! He left happy and so did we.
Carol and I immediately went to the Carol Lewis owned and Life of Virginia sponsored Lexus LS 430. We used it as a warming hut. We knew that once we entered the Angels Stadium of Anaheim we would not be allowed to leave and re-enter. We had to get as warm as we could. Did you know that once you exceed 85 degrees on the Lexus' interior thermometer, it simply says "hot?" That was O.K. with me.
I mention all of this in the people section of the TR because of our encounter with a ticket scalper. Scalpers are great. First, they are entrepreneurial. They don't expect anyone to give them anything for free. They go out and earn what they get. They do better if they are smarter. That's the American way.
Tonight, we were saved by a scalper. We didn't HAVE to buy a ticket from him. However, since the event was sold out the scalper was our friend. We just needed to get some tickets at the most reasonable price possible. I'm confident that I could have ended up finding a non-scalping spectator to sell me tickets at face value or even below, but that would have taken time. I was happy to buy from a scalper tonight.
RACE TRACK STATS:
ANGELS STADIUM OF ANAHEIM, ANAHEIM, CALIFORNIA – INNER OVAL – TRACK #1,146 AND OUTER OVAL – TRACK #1,147 (CAROL'S TRACKS #301 AND #301
These two tracks increase my all-time California track count to 100. This is the first state where I have ever reached the century mark. The late Gary Jacobs leads the state with 149 tracks. I am in second place in the Golden state.
These were Carol's 55th and 56th tracks in our home state. She continues to ride in 5th place in the state trailing Alan Skinrood who has 62 California tracks.
RACE TRACK NEWS:
ANGELS STADIUM OF ANAHEIM, ANAHEIM, CALIFORNIA – INNER OVAL – TRACK #1,146 AND OUTER OVAL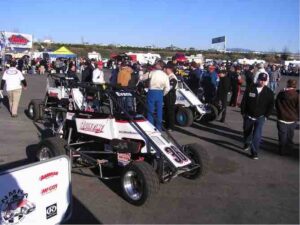 The first item on tonight's racing agenda was the "pit party." This was just like last year's Monster Truck event at the Qualcomm Park in San Diego. The racing vehicles and drivers were available for the fans to meet and greet.
The pit party was located in the parking lot beyond center field. We were parked near home plate. It was a long walk, against the wind, to get to the pit party. We didn't have any tickets to the pit party. The longer we walked the more I started to think we would probably need tickets. I didn't really want to walk back to the only ticket booth selling tickets, which was at the home plate entrance.
Yep! They wanted tickets to the pit party. Just as I was beginning the ½-mile round-trip walk back for some pit party tickets, I noticed a young Hispanic boy holding a fist full of tickets. We made eye contact. He seemed to sense that I might be a wayward trackchaser in need of a second chance. He offered me two pit party tickets for free. Thank you very much young man.
Just as we entered, we noticed about ten TQ midgets. I walked up to car #36 and met West Evans. He is the president of the National Midget Racing Association. I've been corresponding with him over the last two years. We were happy to finally meet each other.
He had told me in advance that the group would run two heat races from about 4:30-5:00 p.m. They would then race a feature event at 7:30 p.m.   Upon meeting West, I learned of the new plan. They would be racing only one race. That race was planned for 6:20 p.m. In trackchasing, the word of the day is flexibility. Recall, last year, they raced a heat race in San Diego and the feature race was cancelled because the track was tearing up. Yes, you have to be flexible.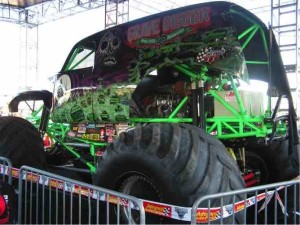 Our pit party visit proved to be even more influential on the success of this trackchasing visit than we ever could have imagined. We spent some time marveling at the huge monster trucks and the remote control cars that were flying high into the sky from the stationary wooden launching ramps.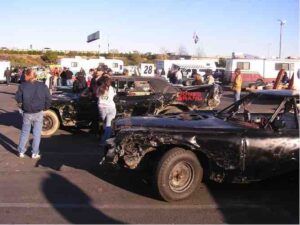 Just as we were about to leave the pit party, I noticed something in the very back of the pit area. It looked like a stock car. Yep! It WAS a stock car. Not just one, but more than twenty. I walked up to the driver and asked him what they would be doing tonight. "Demo derby," he said. Dang! Demo derbies don't count according to trackchaser rules.
Before we could enter the stadium, we had to make one more visit to the Lexus warming hut. Soon we were warm and toasty again. The official program was not scheduled to begin until 7:30 p.m. The gates to the stadium didn't even open until 5:30 p.m. The only countable race was set to begin at 6:20 p.m.
I didn't think the starting time for the TQ midgets was firm. I didn't want to be sitting in the car when their one and only race went off. We entered the stadium at 5:35 p.m. Our $12 seats were great. We were in the ninth row of the right field stands. On a summer evening, we would have been sitting right behind American League MVP Roberto Guerrero.
The entire field was covered in dirt. There were a few jumps for the monster trucks. White chalk marked the boundaries for the various events to be held tonight. There were also several eight-foot tall barrels being used as course markers.
Despite the advertised starting time of 7:30 p.m., they started several preliminary events at around 6 p.m. This included some ATV races, qualifying for production trucks and a demonstration by a Championship Off-Road Racing (CORR) race truck. By the way, CORR will be visiting two new venues in California this year (Palmdale and Pomona) for the first time ever. They appear to have abandoned their Wisconsin (Crandon) roots.
During this part of the program, the stock cars came out and hot lapped around an oval that encompassed nearly the entire interior of the stadium. This was most unusual. I thought these guys were going to run a demo derby. I have never seen demo cars come out and hot lap around an oval track before.
Right at 6:20 p.m., the TQ midgets came out for their race. They would be racing around three pylons that made up something that might look like a 1/6 mile or so oval. This was a different and much smaller oval than the stock cars had practiced on. The dirt was loose and dry. The cars seemed to have a hard time getting a grip.
There had been 10 midget racecars in the pit area, but only nine attempted to start this race. I think the race went 8 or 10 laps. It was hard for me to tell because I was videotaping and taking digital photos.
There were two yellow flag periods before the race officially got underway. This eliminated four of the nine cars. There were two more yellow flags in the short race before it checkered.
Yes, I am reminded that I am once again watching racing in the United States. The folks that promote this event need to take a lesson, no several lessons, from the racing people down under in New Zealand. Although this was a special event, a poorly prepared track for a small field of cars, with multiple yellow flags stoppages is just not very entertaining for the fans.
Even though the 45,000-seat stadium was sold out, less than 5,000 people were in their seats to see the TQ midgets race. I had seen the countable race. I had seen the monster trucks race last year. The temperatures were in the mid-40s with a howling wind. I had seen what I had come to see. I had gotten my $50 worth of entertainment.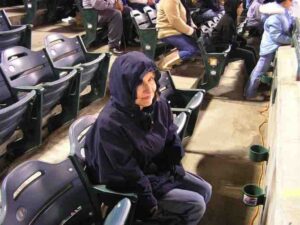 I nudged Carol and asked, "Ready to go? We can go somewhere and get a nice dinner." She didn't respond. Was she frozen to death? Nope. She is a practical and financially responsible girl. She didn't feel comfortable leaving just yet until we had seen enough of the show to justify our expenditure. I've got to give her credit; she manages our money in the very same fashion.
So….we stayed with lots of other shivering fans. I'm glad we did. A few minutes later, the stock cars came out for more practice. They were not here to race a demo derby. They were here to race "autocross." This meant they would be racing some 27 vehicles around an oval two to three times as large as the oval used by the TQ midgets.
The stock cars ran a few hot laps around an oval track. Since I had been thinking demo derby I didn't pay too much attention to them. These stock cars looked like street stocks. I was also thinking they looked much too nice and well built to be demo derby cars.
Both of these ovals are temporary tracks. I have been involved previously with the trackchaser administration when two temporary ovals were used during the same night. By contractual negotiation, I cannot discuss the details of the night at the Chenango County Fairgrounds in Norwich, New York. Suffice it to say, a "Randy rule" was developed based upon that experience.
A "Randy rule" is a rule designed to tell all worldwide trackchasers how they should and can handle temporary oval track situations. There is also a "Rick rule" that covers "apron" tracks. Here is what those rules have to say.
"All temporary tracks of the same type are only separately countable if they physically exist and are active at the same time, even if they are located on different parts of the property (moving a temporary track during the course of the day does not constitute a new track), with the following exception, tracks located inside different buildings on the same property can be counted separately."
"Any track that is composed entirely of the apron of another track (ie: no part of it is physically separated) can not be counted as a second track (ex: Lake Erie)."
My strategy is to understand the trackchaser rules and get every possible track that I can that meets the rules. I would never count a track that did not meet our rules. By the way, the founding fathers of trackchasing (I was not involved) came up with the original rules. They were sometimes referred to as "guidelines." Later on this original set of rules morphed into the current rules.
Both of the temporary ovals at the Angels Stadium of Anaheim met the rules. Both ovals were active at the same time. There was a significant separation, maybe 40-50 yards between the two ovals. The only portion of the larger oval to even come in contact with the smaller oval was about 50 yards of the big oval's backstretch.
Editor's note: Following this event, I contacted trackchaser commissioner, Will White, to explain what I had encountered. He agreed that both ovals met our rules. I would never want to try to count a track where there was any question about its meeting our rules. That is why my phone bill over the years to the commissioner has been very high.
We were in business. There was only one problem. The one and only "Autocross main event" was not going to happen until most of the monster truck racing was finished. That meant we had to sit out in the cold for more than two more hours. I didn't like that.

We found a place to eat our Carl's Jr. dinner. It was not the nice dinner I had planned with an early departure, in a location out of the wind. We still had two hours to kill before the autocross event. We found a location, out of the wind, where we could stand behind the last row of fans in the terrace seating area to watch the monster trucks.
Yes, we STOOD for two hours in very cold temperatures waiting for that autocross race which would give us an additional countable track. Most of my readers are men. I need an honest response from those men. Would your wife and/or girlfriend and/or significant other stand in the cold for two hours (after already being in the cold for three hours!) to get another countable track? If she would then she's a trooper like Trackchasing's First Mother.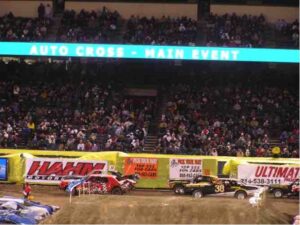 At nearly 10 p.m., the autocross cars came onto the track. By now the stadium was packed. This was so different from when the TQ midgets raced at 6:20 p.m. with only 5,000 people or so in their seats. The cars lined up in rows of two and took the green flag. I asked Carol to count the laps while I took pictures. At the end, she told me she thought they ran 15 laps.
The 27-car race was wild. It reminded me a lot of full-sized stock car racing like the bangers in the U.K. There was definitely a lot of contact. They raced counter-clockwise around an oval that I would estimate to be nearly 4/10 mile in length. There was one red flag stoppage for a flip.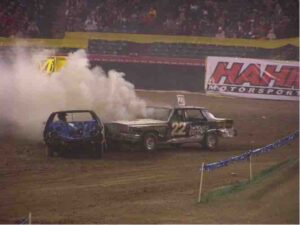 The action was fierce. Only about 8-9 cars took the checkered flag. Several were smoking badly at the finish. After the race was over one of these smokers caught on fire. The crowd went wild during this race.
It's funny; this was just the first weekend of five consecutive weekends, where the Angels Stadium of Anaheim will host either monster trucks or motocross events. I suspect they will sell out all of these promotions.
The ticket prices are more than reasonable in the $10-15 range. How is auto racing missing out on these types of crowds? I remember going to Santa Fe Speedway near Chicago in the early 80s. Although they had an excellent oval racing weekly stock car program, their biggest crowds of the year were for the demo derby, figure 8, crash 'em and bang 'em type programs. Why can't someone promote that type of event in these big stadiums? That's seems more entertaining that watching two pickup trucks on steroids race two at a time and never come in contact.
WEATHER CONDITIONS
It was a cold, raw and windy night. Admittedly, we Californians are not a hardy bunch. The extent of our winter wardrobe consists of a light jacket and beanie (sometimes referred to as a stocking cap.) It was about as cold as I can remember it being in SoCal.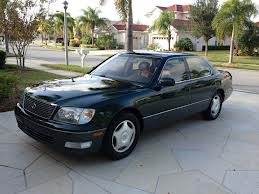 RENTAL CAR UPDATE: 
No rental car tonight. The Carol Lewis owned and Life of Virginia sponsored Lexus LS 430 took us to and fro.
Saturday total driving miles – 72
LIFETIME TRACKCHASER STANDINGS UPDATE: 
These worldwide trackchasers are within 100 tracks (plus or minus) of my current trackchaser total.
Randy Lewis, San Clemente, California – 1,147
Guy Smith, Effort, Pennsylvania – 1,078 (-69)*
Rick Schneider – Bay Shore, New York – 1,064 (-83)*
Ed Esser, Madison, Wisconsin – 965 (-182)**
* Warning, you are within 50 tracks of being removed from this list.
** Special exemption.
Other notables
These worldwide trackchasers are within 10 tracks (plus or minus) of Carol's current trackchaser total.
Carol Lewis, San Clemente, California – 303
Chris Economaki, Ridgewood, New Jersey – 302 (-1)
Gary Jacob, Turlock, California – 301 (-2)
Ron Rodda, Lincoln, California – 297 (-6)
2007 TRACKCHASER STANDINGS
Randy Lewis, San Clemente, California – 9
Carol Lewis, San Clemente, California – 9
Ron Rodda, Lincoln, California – 1
Mike Knappenberger, Reading, Pennsylvania – 1
Guy Smith, Effort, Pennsylvania – 1
Pam Smith, Effort, Pennsylvania – 1
Gordon Killian, Sinking Spring, Pennsylvania – 1
Tracks have been reported from 7 different worldwide trackchasers this season.
Thanks for reading about my trackchasing,
Randy Lewis
#1 Trackchaser Living West of the Mississippi
Your best bet is to work your butt off, reach your goals and enjoy your rewards.

CUMULATIVE TRAVEL DISTANCES:
AIRPLANE
No airplanes!
RENTAL CAR
No rental cars!
Personal car total driving – 72 miles
Total auto and air miles traveled on this trip – 72 miles

TRACK ADMSSION PRICES:
Angles Stadium of Anaheim – $25
Total racetrack admissions – $25
UPCOMING TRACKCHASING PLANS 
Time to visit my brother and do some Grand Canyon state racing.

RACETRACKS VISITED IN 2007 (** not the first time to visit this track)
1,139.  Meremere Dirt Track Club, Mere Mere, New Zealand – January 1
1,140.  Meeanee Speedway, Hawkes Bay, New Zealand – January 1
1,141.  Top of the South Speedway, Richmond, New Zealand – January 2
1,142.  Woodford Glen Speedway, Christchurch, New Zealand – January 3
1,143.  Robertson Holden International Speedway, Palmerston North, New Zealand – January 5
1,144. Taupo Motorsports Park, Taupo, North, New Zealand – January 6
1,145.  Waikaraka Park International Speedway, Auckland, New Zealand – January 6
1,146. Angels Stadium of Anaheim (inner oval), Anaheim, California – January 13
1,147. Angels Stadium of Anaheim (outer oval), Anaheim, California – January 13