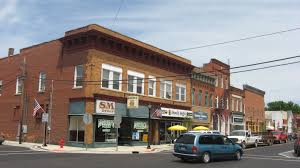 Greetings from Fremont, Indiana
.
.
From the travels and adventures of the 
"World's #1 Trackchaser"
.
.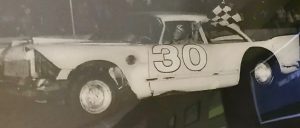 Angola Motorsport Speedway
Dirt figure 8
 Lifetime Track #2,588
The Event2001 oval2019 figure 8Video PlusPhotos
Editor's note: This post covers my visit to the Angola Motorsport Speedway oval track in the year 2001 and my return in 2019 to see racing on their grass figure 8 track.
THE EVENT
My name is Randy Lewis (above with friends from Ukraine). I live in San Clemente, California. I am a "trackchaser". I trackchase. Before you discovered my site had you ever heard of trackchasing? Maybe not? So….what the heck is trackchasing? Sit back, take a read and you'll be an expert on my hobby of trackchasing when you're finished.
Here's my best explanation on what trackchasing is to me.
Trackchasing is a three-pronged hobby. I'm a racing fan. I love to travel. I love to analyze opportunities to get the most out of everything while saving time and money.
Trackchasing fills the need for all of the above. The racing part of my trackchasing has me trying to see wheel to wheel auto racing at as many different racetracks as I can all over the world. Yes, all over the world. So far things are going pretty well. As this is written, I've seen racing in 85 countries at more than 2,500 tracks. As a matter of fact, I've seen racing at more tracks than anyone else in the world.
Equally important to me are the things I get to see and experience over the "long and dusty trackchasing trail". I call these adventures "Trackchasing Tourist Attractions". You won't want to miss my "Trackchasing Tourist Attractions" page. Here's the link:  Trackchasing Tourist Attractions or my "Sports Spectating Resume" page, Sports Spectating Resume on my website at www.randylewis.org.
I live in southern California. That's probably the most inconvenient location in the country for seeing tracks in the U.S. Most of the racetracks in the U.S. are located well over 1,000 miles from where I live. As a matter of fact, my average trip covers 5,000 miles and more. I take 35-40 of those trips each season. In any given year I will travel well over 200,000 miles, rent more than 50 cars, and stay in more than 150 hotel rooms.
I get the chance to meet people all over the world. With trackchasing trips to 85 countries and counting just getting the chance to experience so many other cultures, spend time in their homes and meet their friends is a huge reward for being in this hobby. I am indebted to several of these folks for their help and friendship.
It takes a good deal of planning to do the above and not spend my entire retirement portfolio. I enjoy the challenge, the travel and every other aspect of "trackchasing". In reality, my trackchasing hobby is a lot like being with the carnival. I breeze into town, stay a little while and then head on down the road.
I've tried to tell you what the trackchasing hobby is to me. Now I will show you what trackchasing is to me in pictures and music. If you watch just one YouTube video this year, this is the one to watch.
You will see how a simple trackchasing trip takes me a long way from my environment in California and most importantly not just in miles. My hobby is about seeing and experiencing the things that most folks walk right past. Check this out. It might just make your day.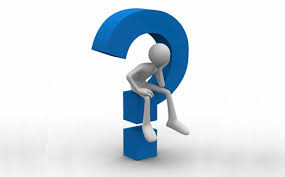 Trackchasing….this is exactly why I do it
Today's adventure was one more of the 2,000 trips that have taken me up, down and around the proverbial long and dusty trackchasing trail.  If you would like to see where I've been and experience those adventures here's the link: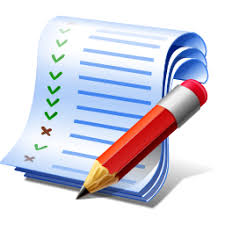 If you've got a question, comment or whatever please leave it at the bottom of this report.  It's very easy to do.  Or you can visit me on Facebook.  Thanks!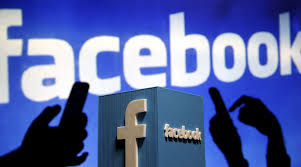 Reprinted with permission from my July 1, 2001, Trackchaser Report. 
Greetings from Angola, Indiana
TRAVEL/PEOPLE NEWS
The final night of my six tracks three-day racing trip allowed me to meet trackchaser and more importantly racechaser, a young Hugh Hefner look-alike, Ron Rodda.  Ron and I had planned to meet up at the track.  Just as I arrived in the parking lot and identified Ron's motor home he emerged.  He immediately identified me because I almost always wear shorts to races, except in Quebec in February. That fact has been documented many times in this space.
Ron and I watched time trials for several minutes.  We then went back to the motor home and I had the opportunity to meet Ron's lovely wife with a beautiful name, Pacita.  We all chatted for a while before going in to watch the night's activities.  It's always nice to meet up with a race/trackchaser who is part of our email group.  I must note Ron is very tech-savvy.  He had a wireless internet connection in his motor home as well as satellite TV and a cell phone.  He can communicate! Remember, if you are reading this at some later date, this was 2001.
RACING NEWS
Angola Motor Speedway is a 3/8-mile high-banked asphalt oval.  Angola is my 494th different lifetime racetrack and my 28th new track this season.  The Auto Value Super Sprints were the special attraction for the evening.  There were about 28 sprints and 3-4 other divisions of modifieds and stock cars.  This is a very loud track.  It offers a great view from all areas.  The public address system was clear and there is ample seating.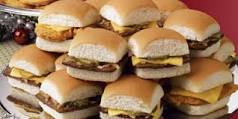 Refreshments were good.  The cheeseburger I ate ($2.75) was one of the best I've had all season.  Ron had some White Castles (above) earlier in the evening in the motor home.  So much for healthy eating!
General admission was a somewhat steep $15.  The sun sat over turns three and four and was mildly irritating.  I had forgotten that Indiana is part of the Central time zone in the summer.  After I got to the track I realized I might have been able to go to Spartan Speedway in Lansing, Michigan for their figure 8 show.  Then I could have driven the 80 miles from Lansing to Angola in just 20 minutes (counting the hour I would gain).  Allan, what time did Spartan run their figure 8 races?  This time change idea would bite me in the butt one more time.  I was flying out of Detroit.  Going from Angola to Detroit made me lose an hour over the 140-mile drive.  Therefore, with the show dragging a bit, I boogied about 10:30 p.m. and arrived at a hotel near Toledo and around 1 a.m.
Overall, this was a very productive trip.  I had a chance to see some races with friends and not drive too much.  Even though the weather threatened it never got to be a major problem.
Weather:  They say in the Midwest there are two seasons, winter and the fourth of July.  I can support that theory.  Even though it was early July it felt like October.  I had to change into long pants!
Current rental car mileage:  736 miles when turned in.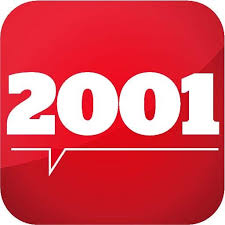 New racetracks visited in 2001
Do you feel lucky? If so, you can try the URL links listed below. They worked in 2001. Do they still work today? Do you feel lucky?
Laughlin Event Center, Laughlin, NV (no web site)
Loc Moran, Mont Carmel, Quebec (http://www.grabnetworks.net/delta/)
Circuit Jacques Rainville, Vanier, Quebec (no web site)
Pauline Davis Pavilion, Red Bluff, CA (http://www.rboutlaws.com/)
The Pavilion at the Fairgrounds, Chico, CA (no web site)
Baton Rouge Raceway, Baker, LA (http://www.batonrougeraceway.com)
Mississippi Motorsports Park, Long Beach, MS (http://www.msmotorsportspark.com)
South Alabama Motor Speedway, Opp, AL (http://www.southalabamaspeedway.com)
Nashville Super Speedway, Smyrna, TN (http://www.nashvillesuperspeedway.com)
Beech Bend Raceway (oval track), Bowling Green, KY (http://www.beechbend.com)
Beech Bend Raceway (figure 8 track), Bowling Green, KY (http://www.beechbend.com)
Soggy Bottom Speedway, Morgantown, KY (http://www.soggybottomspeedway.com)
Buttonwillow Raceway Park, Buttonwillow, CA (http://www.buttonwillowraceway.com)
Speedway 90, Beaumont, TX (http://www.Speedway90Bmt.com)
105 Speedway, Cleveland, TX (http://www.105speedway.com/)
482   Savannah Speedway, Savannah, MO (no web site)
Winston Speedway, Winston, MO (no web site)
Stuart Speedway, Stuart, IA (http://www.midiowa.com/showtime/stuart.html)
Barberton Speedway, Barberton, OH (http://www.barbertonspeedway.com/)
Eriez Speedway, Erie, PA (http://www.statelineeriezspeedway.com/)
Anderson Dry Lake, Lucerne Valley, CA (http://hometown.aol.com/mdrracing/index.html)
Perris Auto Speedway-(figure 8 track), Perris, CA(http://www.perrisautospeedway.com/)
Dixie Motor Speedway – (figure 8 track), Birch Run, MI (http://www.dixiemotorspeedway.com)
Dixie Motor Speedway – (oval track), Birch Run, MI (http://www.dixiemotorspeedway.com)
Grand Prix of Cleveland, Cleveland, OH (http://www.imgmotorsports.com/)
492   Painesville Speedway – (oval track), Painesville, OH (http://members.tripod.com/pspeedway/)
493   Painesville Speedway – (figure 8 track), Painesville, OH (http://members.tripod.com/pspeedway/)
Angola Motor Speedway, Angola, IN (http://www.angolamotorspeedway.com/index.shtml)
FOREWORD
Saturday, September 7, 2019.
I woke up in the Auburn Hills Marriott Hotel in Pontiac, Michigan this morning. This was a full-sized highest quality Marriott property. I got into the hotel with Priceline for a price that I can't even advertise here because it was so low. Then when I checked in, I used my titanium elite Bonvoy frequent stay status to get an even better deal. The hotel gave me almost as much in freebies in the form of high-speed Wi-Fi, a credit in the gift shop, a complimentary buffet breakfast and a hotel room upgrade as what I paid in cash to get my room in the first place! Thank goodness for my sponsors! 
Tonight I was headed to the Angola Motorsport Speedway. Yes, it is motorsport and not motorsports. This would not be my first appearance at this venue. 
Back in 2001, I made my first visit to the track to see the Auto Value sprint car race on Angola's asphalt oval. At the time that was my 494th-lifetime track visit. 
Tonight racing was scheduled to begin at 6:30 p.m.  The Angola Motorsport Speedway was only about two hours from my hotel. At 11 a.m., after finishing off a freshly-cooked custom-made jalapeños with ham, egg and sausage omelet, I went out for some power walking. 
Today was a glorious early fall day with temperatures in the low 70s and a bright blue sky. I had plenty of time to scout out a Trackchasing Tourist Attraction. These were some of my touring options. 
Michigan – Army football game – Ann Arbor. 
Michigan State Capitol building tour – Lansing. 
Arab American Museum, the only one of its in America – Detroit 
The African-American Museum – Detroit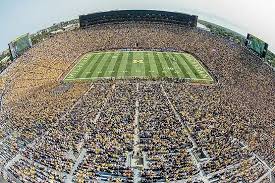 I really would have liked to have seen all of them. The football game would be fun. However, I wasn't sure I was up for the hassle of dealing with a crowd of 100,000 people, who routinely show up at the, "Big House". I ended up choosing the Michigan State Capitol building tour.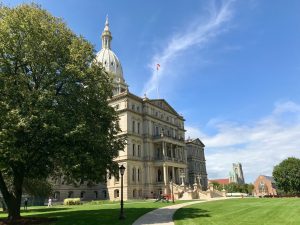 Somewhere along the line during my travels, I started searching out tours of state capitol buildings. I'm now up to about twelve. I have no current burning desire to see every one of them but I'll see another one every time I have the opportunity and the motivation. Maybe if I get into the 30s or so I'll make it more of a priority. We'll see. 
There was no charge to see and tour the state capitol building. These buildings are meant to be, "The house of the people". Today I called the folks at the Michigan state capital and asked for some details. 
I was told the tours run every half hour from 10 in the morning until three in the afternoon. All I had to do was show up. There was free parking right in front of the capitol building. I was amazed that the city of Lansing, Michigan's state capital was virtually deserted at mid-day on Saturday. There was NOBODY around. 
Carol and I toured the Utah State Capitol building (above) just this past Tuesday. Utah's building was the first that I can recall that didn't have any metal detector security systems. Then when I showed up today in Lansing they didn't have that type of security either. 
There were not a lot of people beating the door down to take a tour of the capital building today. How many people were in my tour group? One! Me! My tour guide "Jerry" took the time with me and answered my questions and showed me around just as if he had a tour group of 50 people. He was very knowledgeable. The inside of the building was one of the most beautiful I've seen. 
From there I headed down to Fremont, Indiana, home to the Angola Motorsport Speedway. On the way down I was getting a case of the "Mexican munchies". Technology is a beautiful thing.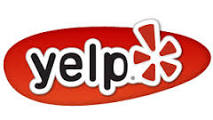 I always say the, "good old days" are not in the distant past but they're actually today. Back in 1970 or 80 or whenever I couldn't use an app like Yelp on my smart phone and ask for a list of the very best Mexican restaurants located nearby as I sped down the freeway and 80 mph. However, today I did just that. 
Yelp recommended the Don Tequilas restaurant in Charlotte, Michigan. They had a 4 ½-star rating from several reviewers, nearly thirty actually. I've noticed that people in small towns don't provide Yelp reviews nearly as much as they do in bigger cities. I guess people in small towns just don't do tech as well. 
It was mid-afternoon so the place wasn't very crowded. I chose my go-to appetizer queso fundido chorizo. It was served with three flour tortillas and a basket full of tortilla chips. Initially, my order came out as sort of a soupy cheese with small bits of chorizo, a Mexican spicy sausage. As time went on it would harden up a little bit making for a perfect dip for the tortillas and tortilla chips.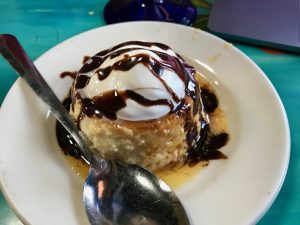 Of course, because I was having a relaxing day and I wanted to maintain that vibe I went with the jumbo margarita with no salt. As I enjoyed my lunch I did some work on my computer to plan future travel reservations and trackchasing trips. Then I finished off the entire meal with an excellent serving of flan. My bill came in at 25 bucks plus tip, but it was worth it. 
On the way down to the track, I listened to the UCLA – San Diego State football game on my Sirius satellite radio app on my smartphone. Did I tell you that I love tech?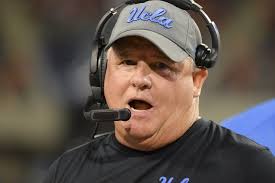 The Bruins have a new coach they paid handsomely to get. His name is Chip Kelly. He had a very successful run at the University of Oregon about six years ago. Then he moved on to the NFL and got his butt kicked. So far at UCLA Chip is getting his butt kicked as well. The Bruins would end up losing the game 23- 14. Chip Kelly's record at UCLA so far is 3-11. 
THE RACING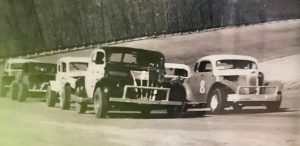 Angola Motorsport Speedway – Fremont, Indiana
At 6:30 p.m. I was in the parking lot of the racetrack. There were still a few minutes to go with the game so I marched on in with my iPhone and associated earbuds. I paid a reasonable price of admission, 10 bucks, to see the season-ending night of destruction extravaganza. 
I was here to see their figure 8 race. They do this just once or twice a year at Angola. I've known about this opportunity for years but today was the first time I could act on my impulses.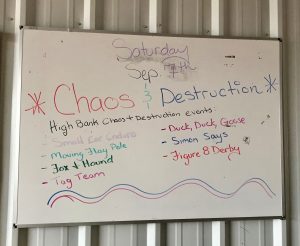 AMS was having some unusual events today. Many of them I had never heard of. The program included a tag team race, a duck duck goose race, a Simon says event, an enduro, some regular oval racing that sometimes featured a TQ midget racing amongst modified stock cars and mini-stocks. They finished off the entire evening with a station wagon driving at a relatively slow speed into the side of the motorhome.  Yep! I got all of this for just 10 bucks. 
The Angola Motorsport Speedway is a nice facility located in the middle of farm country in northern Indiana. They've got a very nice modern high-quality aluminum grandstand. The track's quarter-mile asphalt oval is in good shape with solid lighting. They've even got a building that houses their concession stand and sort of a party room amongst other things. I was a little disappointed in the sound system. It was too bad that I couldn't hear or understand much of what the announcer was saying. 
Fortunately for nearly mid-September in northern Indiana the weather was pretty decent. The temperature as the night wore on was in the 60-65° range. It could have been colder.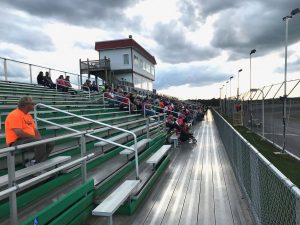 A small crowd of a couple hundred people was in the stands. I wouldn't say the promoter had a tremendous sense of urgency to keep one event coming after another. After almost every one of the 10 events or so there was a 10-15 minute period of no activity. This really added up at the end of the night. 
Following tonight's races, I had 13 hours to make a 6 ½-hour drive. That meant that I would be sleeping overnight in my car, hopefully in a highway rest area somewhere up in Canada. Er….well that's what I do. As the night dragged on I had less and less time to make all of this happen. 
I had been in my top row grandstand seat since 6:30 p.m. The figure 8 race, which was really the only event that I needed to see for trackchasing purposes, didn't pull onto the track until 10:45 p.m.!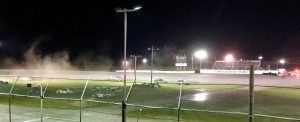 They started about 10 cars in the figure 8 race. The, "pylons" were a couple of light poles on the infield of the quarter-mile asphalt track. These light poles were probably more than 100 yards apart. This was one of the longest figure 8 tracks I could ever remember seeing.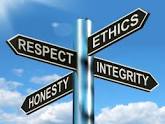 To start the figure 8 race the flagman was positioned in his normal flag stand where he would handle the starting duties for the oval racing. Somehow there was a miscommunication and all of the figure 8 drivers took off even though the flagman had not waved the green flag. That "start" was called off. This created a delicate ethics question within the trackchasing hobby and its rules. 
The rules of trackchasing say that a trackchaser must see, "competitive racing". Had I seen "competitive racing" at the point where the drivers started the race themselves? What if a hurricane came along right now or an earthquake or the lights went out and there was no more racing action this evening? Things like this happen! Would I have been able to count this figure 8 race? I concluded the race had not started. I waited. My overnight sleeping time in my car in Canada was decreasing by the minute.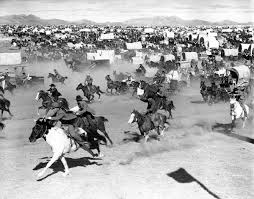 Luckily, there was no hurricane or earthquake and the lights remained on. The flagman was able to start the race properly with the waving of a green flag. Then the competitors from a standing start, took off as if they were members of the Oklahoma land rush. It was a reasonably entertaining race. They had three or four yellow flags for the purpose of getting the drivers out of cars when they had become totally disabled. 
I didn't know at that time if there was anything coming after the figure 8 race. It didn't matter to me. I was committed to leaving the Angola Motorsport Speedway as soon as the checkered flag flew over the figure 8 race. However, all good plans are only good plans if they are capable of being altered. 
When the figure 8 race finished the announcer told the crowd the last motorsport event of the evening would have a Chevy station wagon driving at its top speed for about 200 yards into the side of a hapless recreational vehicle. How could I pass that up? Yes, staying a little bit longer would cut down on the time I could sleep and drive on my way to Canada tonight but I couldn't pass this up!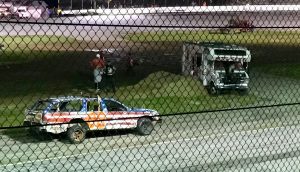 The driver who was going to pilot the Chevy station wagon spoke to the crowd for a couple of minutes about his strategy. Apparently he owned both the camper and the station wagon. He told the crowd he had taken the engine out of the camper and put it in the station wagon. I would have expected nothing less!
I've seen people drive passenger vehicles through the side of an RV a few times. Who hasn't right? Tonight's action was just a little bit different. Apparently the reason for junking the RV was because it didn't have a very good engine. Tonight that engine, housed in the station wagon, could only get up to a speed of 30-40 miles an hour. The driver didn't crash through the RV he only made it into the RV. Nevertheless, it was a fun event and I'm glad I stayed. 
AFTER THE RACES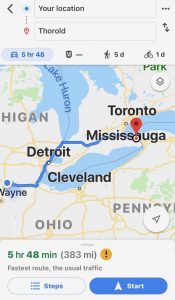 Now with the time being nearly midnight, the announcer told everyone they could see one more attempt with the Chevy station wagon driving into the very much damaged at this point, RV. Then, when that was finished, they were going to have a hotdog eating contest and a pie-eating contest. These AMS racing fans were night owls! I wasn't hungry and I needed to get on the road. It was time to leave the Angola Motorsport Speedway after a very unique night of trackchasing.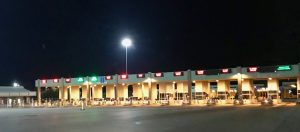 From there I drove until nearly 4 a.m. Just east of Detroit I crossed into Canada. My conversation was somewhat standard with the border control agent. 
Being that I was the only car crossing the border at that time of night I think the agent wanted to have just a little fun with me or maybe he was just craving conversation. He asked the standard questions, one of which was, did I have any alcohol, tobacco or firearms with me. I told him I did not. He asked me if I owned a gun. I told him I did not. He asked me if I could buy a gun. Where was he going with this line of questioning?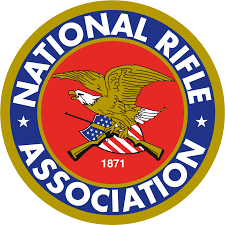 I told him that yes I COULD buy a gun but I wasn't planning to. I couldn't tell if this guy was pro-gun or anti-gun. It's important to know your audience! I  certainly didn't want to make a comment in support or not in support of guns without knowing where this border control agent stood on the topic. With all of that, I was allowed to pass. 
Good evening from Fremont, Indiana and the Angola Motorsport Speedway.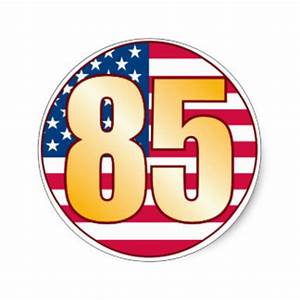 Randy Lewis – 85 countries – 2,588 tracks.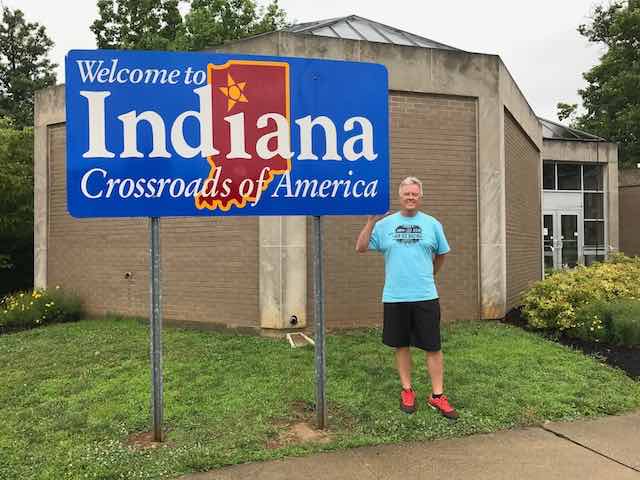 Indiana
The Hoosier state
This evening I saw racing at my 120th-lifetime track in the Hoosier state, yes, the Hoosier state.  I hold the #2 trackchasing ranking in Indiana. I am gaining rapidly on the state trackchasing leader.  I've seen 120 or more tracks in three different states.
Thanks for reading about my trackchasing,
Randy Lewis
World's #1 Trackchaser
Peoria Old Timers Racing Club (P.O.R.C.) Hall of Fame Member
Indiana sayings: He's from the region.
This refers to the northwestern part of Indiana just outside of Chicago.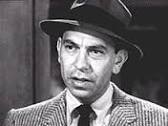 JUST THE FACTS
LIFETIME TRACKCHASER COMPARISONS 
The three most important trackchasing comparisons to me are:
Total lifetime tracks seen
Total "trackchasing countries" seen
Lifetime National Geographic Diversity results
Total Lifetime Tracks
There are no trackchasers currently within 720 tracks of my lifetime total.  Don't blame me.
Randy Lewis, San Clemente, California – 2,588

Total Trackchasing Countries
The nearest trackchasing competitor has seen racing in 30 fewer countries compared to my lifetime total. 
Randy Lewis, San Clemente, California – 85
Current lifetime National Geographic Diversity results
Randy Lewis, San Clemente, California – 4.14
That's all folks!  Official end of the RLR – Randy Lewis Racing Trackchaser Report
Click on the link below to see the video production from the racing action today.
Click on the link below for a photo album from today's trackchasing day.  You can view the album slide by slide or click on the "slide show" icon for a self-guided tour of today's trackchasing adventure.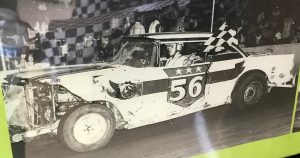 A return after nearly 20 years to Angola, Indiana after another state capitol building tour