Greetings from Oliver, British Columbia, Canada
.
.
From the travels and adventures of the 
"World's #1 Trackchaser"
.
.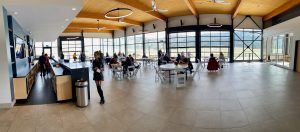 Area 27 Motorsports Park
Asphalt road course
 Lifetime Track #2,592
The EventVideo PlusPhotos
THE EVENT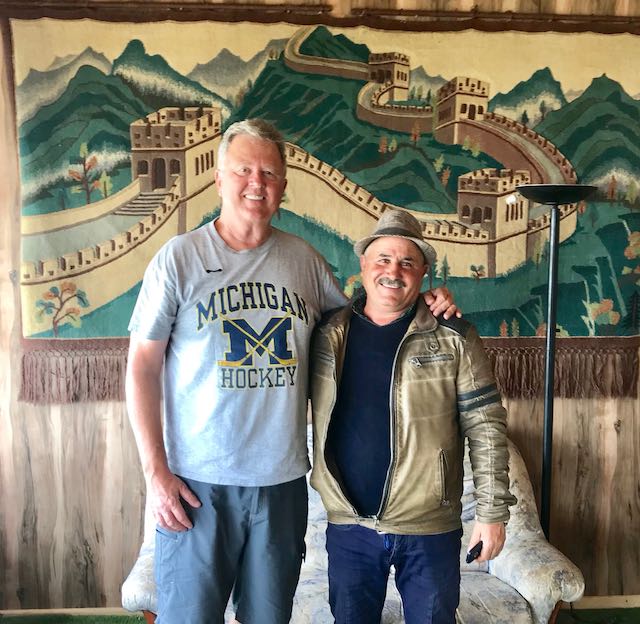 I AM A TRACKCHASER.
My name is Randy Lewis (above with Tunisian track owner, "Lootsie"). I live in San Clemente, California. I am a "trackchaser". I trackchase. Before you discovered my site had you ever heard of trackchasing? Maybe not? So….what the heck is trackchasing? Sit back, take a read and you'll be an expert on my hobby of trackchasing when you're finished.
Here's my best explanation on what trackchasing is to me.
Trackchasing is a three-pronged hobby. I'm a racing fan. I love to travel. I love to analyze opportunities to get the most out of everything while saving time and money.
Trackchasing fills the need for all of the above. The racing part of my trackchasing has me trying to see wheel to wheel auto racing at as many different racetracks as I can all over the world. Yes, all over the world. So far things are going pretty well. As this is written, I've seen racing in 85 countries at more than 2,500 tracks. As a matter of fact, I've seen racing at more tracks than anyone else in the world.
Equally important to me are the things I get to see and experience over the "long and dusty trackchasing trail". I call these adventures "Trackchasing Tourist Attractions". You won't want to miss my "Trackchasing Tourist Attractions" page. Here's the link:  Trackchasing Tourist Attractions  or my "Sports Spectating Resume" page, Sports Spectating Resume  on my website at www.randylewis.org.
I live in southern California. That's probably the most inconvenient location in the country for seeing tracks in the U.S. Most of the racetracks in the U.S. are located well over 1,000 miles from where I live. As a matter of fact, my average trip covers 5,000 miles and more. I take 35-40 of those trips each season. In any given year I will travel well over 200,000 miles, rent more than 50 cars, and stay in more than 150 hotel rooms.
I get the chance to meet people all over the world. With trackchasing trips to 85 countries and counting just getting the chance to experience so many other cultures, spend time in their homes and meet their friends is a huge reward for being in this hobby. I am indebted to several of these folks for their help and friendship.
It takes a good deal of planning to do the above and not spend my entire retirement portfolio. I enjoy the challenge, the travel and every other aspect of "trackchasing". In reality, my trackchasing hobby is a lot like being with the carnival. I breeze into town, stay a little while and then head on down the road.
I've tried to tell you what the trackchasing hobby is to me. Now I will show you what trackchasing is to me in pictures and music. If you watch just one YouTube video this year, this is the one to watch.
You will see how a simple trackchasing trip takes me a long way from my environment in California and most importantly not just in miles. My hobby is about seeing and experiencing the things that most folks walk right past. Check this out. It might just make your day.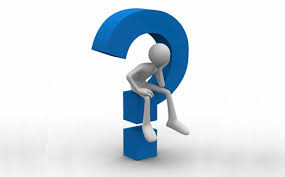 Trackchasing….this is exactly why I do it
Today's adventure was one more of the 2,000 trips that have taken me up, down and around the proverbial long and dusty trackchasing trail.  If you would like to see where I've been and experience those adventures here's the link: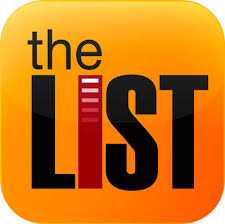 If you've got a question, comment or whatever please leave it at the bottom of this report.  It's very easy to do.  Or you can visit me on Facebook.  Thanks!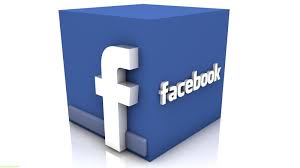 FOREWORD
Friday, October 11, 2019.
It's mid-October. By this time of the year, most race tracks have closed. With almost all auto racing being an outdoor sport fans don't want to sit outside to watch the races in the cold. Tracks that are closed by now won't reopen until April or May of next year.

Additionally, after having seen racing at nearly 2,600 racetracks the number of tracks that remain to be seen, let alone those that would be racing into October, are limited. However, I do have the services of the Randy Lewis Racing Research Department on my side. That's important.
If the weather begins to turn cold in mid-October what geographical direction would you expect I would head? South? Mexico? Nope. I would be flying to the Northwest and then driving into Canada!
Even though I had seen racing at 23 different British Columbia tracks I was able to identify two more BC racing venues that were competing this weekend. One of them only races once a year. The other races just four weekends a year. With such rare finds, this was going to be a fun trip.
It's almost always best to talk with a live person in advance of a trip when I expect to visit a new track. When I do that I like to go to the top. I learned that during my business career. When I go to the top I am likely to get the best and most actionable information. I did that on this trip.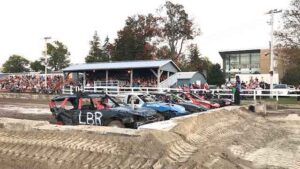 My first contact was a fellow named Lyle. Lyle and I had messaged back-and-forth several times before we finally talked on the phone. He was representing the demolition derby event up in Armstrong, British Columbia.
Lyle told me that the main attraction for their event was the demolition derby. However, he continued to say that they expected to have some minivan figure 8 racing. It was that kind of racing that would draw me to British Columbia. He told me they were even considering holding a race on an oval track. That would be a nice bonus.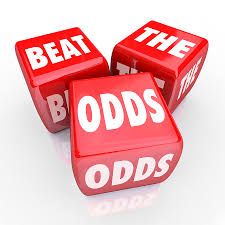 It's important to understand the odds of being able to see two different racing locations during one weekend in the middle of October in British Columbia. British Columbia doesn't have all that many racetracks. Having already seen twenty-three of them meant that there were very few BC tracks left that I had not already visited. When you add in the seasonal aspect and the fact that because it gets colder sooner in Canada almost all of their tracks were closed. Seeing two tracks up here was going to be a total order.
I had also been messaging a woman named Felicity for the past couple of years. She was representing the somewhat unusually named race facility, the Area 27 Motorsports Park. At the time of our earlier messages, I didn't know what Felicity's position was at the track. I did know she was always very quick with her follow-up and specific about their future race dates.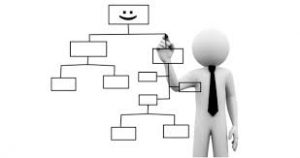 I gave a call to Felicity to find out that she was the general manager of Area 27. During my phone call with her, we confirmed all the details about the racing that would be happening on the first day of this two-day trackchasing weekend. She invited me to come up to say hello when I arrived. She told me that if any security personnel tried to limit my activity at the track just to give them her name. Now that's going to the top!
Now I had Lyle and Felicity in my corner. I was pretty sure that if I needed anything they would provide it. I've always found Canadian people to be more than friendly.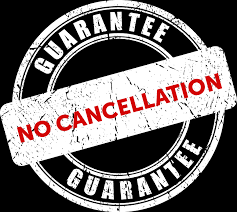 The weather forecast wasn't ideal. Temperatures were going to be in the 40s, maybe the low 50s. Rain was expected. When I asked Lyle if the show might be canceled because of the wet stuff his simply reply to my text message was, "show goes". Felicity and her crew had a similar type of message. I was told unless there was standing water on the track they would be racing.
In order to make this work given that these two tracks were in a remote portion of British Columbia, I would need to leave our modest seaside cottage in the sleeping little village of San Clemente on Friday. I probably couldn't get home until Monday. That was a little longer trip than I would like to have for two-track visit but it was the best I could do.
On this Friday morning, I gave the World's #3 Trackchaser in the entire world a kiss and a hug. Then I drove up to LAX, and hopped on a plane to Seattle. For some reason, this weekend flights were wide open for standby passengers.
When I landed in Seattle our plane parked at a gate in the North terminal. That was sort of important. My one and only Priority Pass restaurant sponsor was within 25 yards of our gate.
I wasn't looking for a full meal from the Bambuza restaurant. They specialize in Vietnamese food. Bambuza's sponsorship of my trackchasing allows me to order up to $28 in food and drink on the house. Today I simply went to their cold case and selected a few bottles of soda and water, a chicken Caesar salad and some cheese. I might have been a pretty good, "Price is Right" contestant. All of the stuff I grabbed in the space of about 30 seconds had a bill that came to $27.36. No charge for me.
Today I would be renting a Ford Fusion hybrid from the National Car Rental Company at the SeaTac airport. I am certainly not a big fan of their rental car center which is located way offsite. Additionally, the rental car buses are always packed. Today I had to stand outside for the 10-minute ride.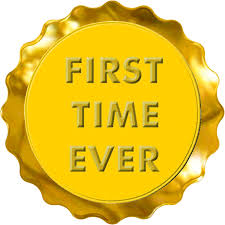 Something happened today when I attempted to leave the rental car lot that I can never ever remember happening. I rent more than 50 cars each and every year. I've been doing that for every year of my 18 years of retirement. That's nearly 1,000 car rentals.
When I handed the National Car Rental agent my driver's license he looked at it for a couple minutes. Then he punched some things into the computer and asked me if I had a reservation. Did I have a reservation? Of course, I had a reservation. However, he could not find it in the system. I remembered checking the price online. Maybe I didn't click "reserve". Not a major problem. He simply made the reservation for me at the checkout gate. The price was the same as I had seen a few days ago. That was a weird exchange.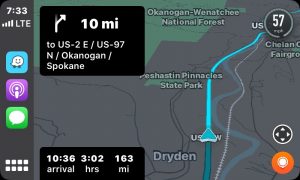 I had my car now at 4 p.m. It was going to be a long drive up to Oliver, British Columbia where my hotel was for the night. The driving distance was 300 miles. Waze projected my arrival with a couple of stops here and there for gas to get me into Oliver at about 11 p.m.
Yesterday I called my motel, the Maple Leaf Motel and RV Park, to let them know that I wouldn't be arriving until later. The lady I spoke with promised that if she wasn't still up she would leave my key where I could get to it easily. I hoped that would work out. If it didn't the options at that point would be uncomfortable for everyone.
Luckily, I enjoy driving. When I'm driving for play I can drive all day. If I'm driving on some sort of work assignment not so much. If I didn't like driving I would have been out of the trackchasing hobby a long time ago. Tonight I was very patient with my drive especially considering I was in a traffic jam of unknown origin for about an hour out in the middle of the Cascade Mountains along Interstate 90.
I would classify tonight's six-hour drive as sort of ordinary. Of course, my definition of ordinary is probably a little bit different than most others.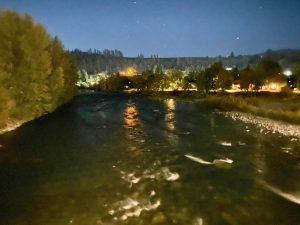 For most of my drive, the outside temperature was in the low 40s and later on in the evening as low as 32°. During one bathroom stop in Cashmere, Washington I took off walking in the dark in the cold wearing shorts and a t-shirt simply to get an extra mile of power walking in. That would allow me to meet my goal of exercising at least 4 miles for the day.
I also stopped about 30 miles south of the Canadian border to fill up the National Car Rental Racing Ford Fusion hybrid with unleaded fuel. I paid $3.21 a gallon. That price should be quite a bit cheaper than what fuel cells for in Canada. By filling up at that point in the trip I wouldn't have to buy any gas whatsoever in Canada. This is something I've been doing for a long time and over time has probably saved me hundreds of dollars.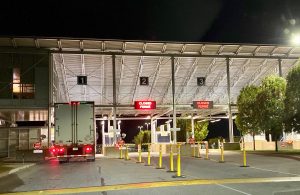 I crossed the Canadian border at 11 p.m. A somewhat rotund female border control officer was friendly and concise. She asked me only five or six questions almost all of which could be answered with a yes or no from me. Then I was permitted to pass. The Maple Leaf Motel and RV resort was only about 13 miles north of the border in Oliver, British Columbia.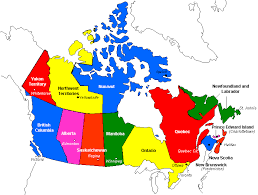 Over the years I've had a lot of fun trackchasing in Canada. Going into this weekend I've seen racing at 177 Canadian tracks in all 10 Canadian provinces. As a matter of fact, in 2018, I saw a race in every one of Canada's provinces in just a single year. Nobody's ever done that.
I get a lot of Canadian folks who follow my hobby of trackchasing. As a matter of fact, I've had more newspaper stories about my trackchasing, on a per capita basis, here in Canada than any other country that I visit. Here's a link to the media page on my website at www.randylewis.org.
Randy Lewis Racing Media History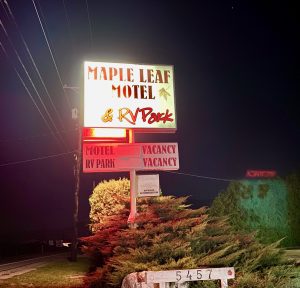 Tonight I pulled into the Maple Leaf Motel and RV Park at nearly midnight. I had called the proprietor a couple of days ago to alert the staff to my late arrival. As you might imagine I have stayed in lots of mom and pop type motels doing what I do. I always feel a little bad when I roll in at about 2 a.m. and have to wake them from a dead sleep. Tonight the owners of the motel simply left my key in an envelope with a nice welcoming note.
It was somewhat ironic that I was staying at a motel and campground property tonight. I used to date a girl from Wyoming. When I finished my summer work in the factories of the Caterpillar Tractor Company, which paid for about half of my college education, I would visit this girl in the cowboy state.
Her folks owned a small motel and campground in Dayton, Wyoming. The motel portion of the business was a series of about ten small cabins. These were rustic cabins. No TVs or phones.
When I look back on those visits that was a pretty cool set up. If you're of college-age and you can go visit your girlfriend and her parents give you your own motel room and your girlfriend is a beautiful blonde how much better can life really get? Right!
So why am I sharing such details about a series of rendezvous so many summers ago with a young college girl considering I've been married to my wife Carol for 47 years? I guess there is a method to my madness. That young beautiful blonde college girl…. WAS Carol. And now you know the rest of the story as Paul Harvey would say.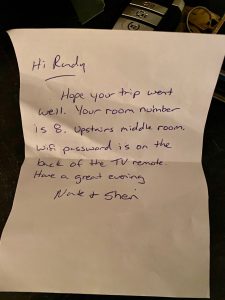 Tonight my room was on the second floor of the Maple Leaf Motel. I'm guessing this place was built in the 60s or 70s. It was rustic but clean and had all of the amenities of a much more modern hotel room. It had a full kitchen including a stove and refrigerator. Towels were brand new and folded neatly. My room had everything I needed and was probably the lowest priced motel I had seen in the area of Oliver, British Columbia. The proprietors even left a nice note with my room key. The Maple Leaf Motel was an excellent value and I would stay there again.
Saturday, October 12, 2019

Today I would be trackchasing in Oliver, British Columbia. According to a huge sign at the edge of town, Oliver is the, "Wine Capital of Canada". That seemed to make sense. There were wineries everywhere. When I went to TripAdvisor to check out things to do in the area the top 15 choices were winery tours! However, that sort of tour would be better done with Carol, which means we have to get back to Oliver's sometime.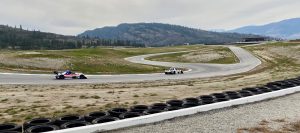 Today I would be visiting the Area 27 Motorsports Park. Area 27 is a sprawling road course racing facility located on more than 200 acres in Oliver. The track was only a 10-minute drive from my motel.
I first learned about Area 27 back in around 2015. The folks up there were building a "country club" style racetrack. What is that?
Actually the country club-style racetrack is pretty much what the name implies. It's very similar to how private golf country clubs operate. Members pay an initiation fee and then likely a monthly fee. Then as members, they can enjoy the benefits that come with a private club.
I was a member of a private golf country club for 20 years. Sometimes when a member plunks down their initiation fee a very small fractional part of ownership comes with the deal. That's called an equity membership. Then over time the value of that particular membership can rise or fall depending upon market demand. I've seen some people do very well selling their memberships when they can no longer use them and others not so well.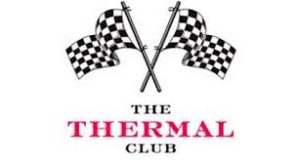 The country club-style program for racetracks has been steadily expanding over the past 10-15 years. I've seen racing at virtually every one of those businesses that is now completed with the exception of the Thermal Club, which is less than a two-hour drive from where I live. It's out near Palm Springs. One of these days I'll take the initiative to see some racing at the Thermal Club but it has not been a high priority yet.
These types of racing facilities are for the most part not open to the public just like their golf country club counterparts. By not being open to the public the club can give their members a little better access and enjoyment of the facilities.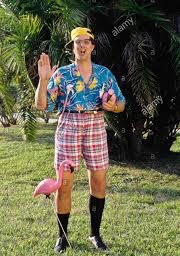 I know this about golf country clubs. Our municipal golf course in San Clemente is a very nice course with ocean views and it's open to the public. However, the course can get so crowded that playing a round of golf could take 5-6 hours. The clientele might not always be as respectful of the game and the course as they could be on a public course.
When I was a member of the Pacific Golf Club, also in San Clemente, there was never a wait for a tee time. I could play golf in less than four hours with my fellow country club friends. Everyone respected the game, the course and other players.
In the spirit of full disclosure, I must tell you that the behavior of some of the people who started the trackchasing is quite surprising to me. One fellow who has attended a few races at these country club-style racing complexes just as often as not leaves the impression that the people who run these places and their members are too, "snooty" for him. He complains about the facility being private. He almost always complains about one aspect or another of the exclusivity that these racetracks offer.
Everyone is entitled to their own opinion. That being the case I wouldn't call up a private country club style road course and beg them to let me see their operation and then when I reviewed the visit criticize them for being private. Of course, that's just me.
There's a term called, "class envy". What does that mean? It simply describes the behavior of those people who begrudge someone that seems to have more of whatever, usually money and/or material things, than the criticizer has. I think that's a very poor personality trait.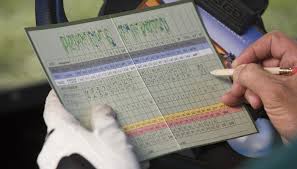 I learned this playing golf. There was always someone on the golf course that I could beat and there was always someone on the golf course who could beat me. That's true in just about everything. There is always going to be somebody who has more money than I do, a better house or a better car than I do. Luckily, I'm always going to have a better house or a better car or whatever than someone else as well.
I simply say deal with it. Don't complain about it. Don't begrudge someone who has become more successful in one particular aspect of life or another than you. Congratulate them. Envy is never a good color worn by anyone. If you want to see racing at a private country club racetrack don't call them up and try to convince them to let you in, when you're not a member, and then throw them under the bus. I think most people know who I am describing.
THE RACING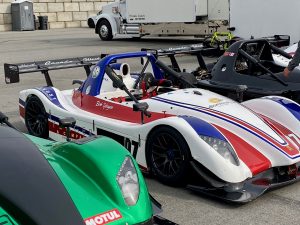 Area 27 Motorsports Park – Oliver, British Columbia, Canada
I wasn't a member of the Area 27 Motorsports Park. In all likelihood, I never will be. Nevertheless, when I got in touch with Ms. Felicity Johnson (above), the general manager at Area 27, she welcomed my visit with open arms. She told me that if any security personnel questioned me in any way to simply drop the secret password on them, "Felicity", and I would be permitted to pass.
I did as I was instructed. When I pulled up to the entrance of the paddock area a security person stopped me for a brief moment. I told him I was a guest of Felicity's. At that point, the gates to the Area 27 Motorsports Park were thrown wide open. The guard simply asked me to sign in at the clubhouse and enjoy my visit.
When I approached the sign-in desk I asked if I might be able to meet up with Felicity Johnson. That request was met with a smile. I was told Felicity was eating her lunch in the room next door. At the mention of my name, out popped Felicity just finishing her sandwich. She greeted me warmly and asked if I might like to take a tour of the facility. I told her that I didn't want to interrupt her lunch. She told me that wouldn't be a problem and off we went on the tour.
Ms. Johnson first began working for the club on a part-time basis back in 2015. She worked her way through the ranks and now is a full-time staff member in the general manager position. What I am about to tell you is what Felicity told me. I didn't take notes so I hope my memory doesn't fail me. I asked her if whatever she mentioned could be shared with the people who follow my hobby. She smiled and said, "Of course that would be fine".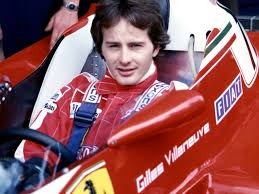 One of my first questions was how did they came up with the name, "Area 27?" I suspect that Felicity has been asked that question many many times. The number 27 was chosen as a tribute to Canadian racing legend Gilles Villeneuve, who claimed the number as his own driving for Ferrari.
Then because the track is located sort of out of the middle of nowhere they did a wordplay off of Area 51 in Nevada to come up with "Area 27". Pretty creative huh?
My wife Carol and I often joke that despite my having seen racing at nearly 2,600 tracks I almost always see something at the next track that I am visiting that I have never ever seen before. That was the case today with the Area 27 Motorsports Park as well.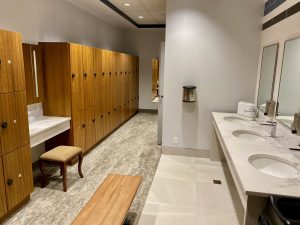 What in the world could that be? One of our first tour stops was a visit to the women's locker room. No, after seeing racing at 2,591 racetracks I can't ever recall taking a tour of the women's locker room with the track's general manager who was also a woman. Of course to maintain gender equality we also peeked into the men's locker room. 
This clubhouse only opened in early 2019. They are still awaiting the arrival of some of their custom furniture which will adorn the locker rooms and other public areas. This part of the facility was as nice as just about any private golf country club that I have ever visited.
There were also several meeting areas in the building. One was occupied during my tour with the drivers getting their instructions for this afternoon's racing. Then we walked up to the second floor of the clubhouse. Felicity pointed out that some of the lighting fixtures were actually refurbished tire rims from F1 racing! Don't miss the photos.
On the second level was a beautiful 2,500 square-foot dining room. The space had beautiful views of the racetrack and the snow-capped mountains that surround the entire property. Of course, this space could be used for all kinds of activities such as weddings, anniversaries and the like. I'm sure that over time that kind of activity will add some solid revenue for the club.
I was surprised to hear that despite being a new private country club style racing facility Area 27 has more than 300 members. Memberships are family memberships so the total number of people including members of the family exceeds 800. I was also told that they are currently maintaining a list of nearly 100 prospective members.
I had now seen the clubhouse facility. Felicity asked me if I might like to enjoy lunch and/or a drink. Since I had just eaten now seemed like a good time to tour the paddock and see what kind of race cars would be competing today.
Felicity had been a wonderful host. We parted with her saying that during one of the breaks she would be happy to arrange a ride around the track for me this afternoon. That would be fun although in this particular case I didn't take her up on her offer.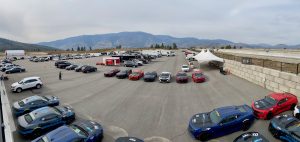 I was impressed with the infrastructure at the Area 27 Motorsports Park. I'm talking about a fully paved paddock, entry roads and that sort of thing. That can be expensive. There was a lot of asphalt and concrete in this place. In a way, it reminded me of the Taj Mahal of dirt oval tracks that being the Lucas Oil Speedway down in Wheatland, Missouri.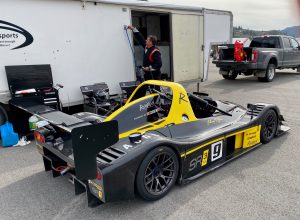 There would be two main classes of cars racing today. Each class would have two races. I really enjoyed the radical class (above). The radicals brought seven or eight competitors for the racing today. The GTU class had a much larger field and started nearly 20 racers.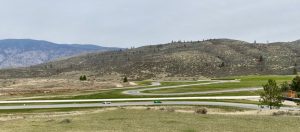 Felicity told me about two different viewing options where I could see racing on the backside of the 3.0-mile road course. There were several gravel roads that could be walked on or driven on to get to the other side of the track. I did a little bit of both. Felicity was right. There was so much more racing to see that was beyond the view of the clubhouse.
As a matter of fact, there was a public viewing area (above). This was a great place to see the race action. This space was elevated and could be accessed without entering the more private part of the club and with no admission charge. Hopefully if any of the trackchasers, who feel the need to criticize private racing facilities, ever visit they can pull into this area to watch the races for free.
Don't miss my video from today's racing. You'll see what I could see from the clubhouse area. However, the very best viewing spots would be on the backside of the track. There I could get within just a few yards of the racers themselves. It was at this point where I could see some of the track's limited elevation changes as well.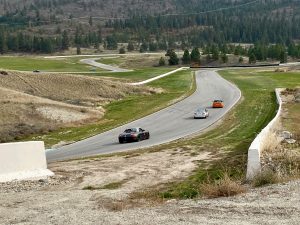 I spent more time, "out in the bush" on the backside of the track watching the racing than I did anywhere else. When I was back there I struck up a conversation with a young man about forty years of age. We talked about the racing in the events of the day and more.
Whenever you meet someone for 15-20 minutes and in the midst of the conversation you introduce yourself and shake hands and then when you finish the conversation you also shake hands you know you've met a quality individual. James, a transportation dispatcher, was one of those guys. I would be proud to have him as a son.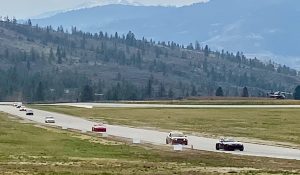 I really enjoyed the GTU race. It was good seeing as many as 20 cars on the track at one time. Road course racing is not a fantastic spectator sport. I'm sure it is enjoyed by the racers in general much more.
Nevertheless, if you are willing to move around to explore all of the nooks and crannies of a road course event I think you'll have a good time. As most of you know I have a daily goal of walking four miles or more. I was really killing two birds with one stone today by watching racing from all over the Area 27 Motorsports Park and getting my steps in.
The weather was good enough. The temperature was 45 to 50°. Just a couple of days ago they were expecting rain for this weekend but there was no rain during my visit. I must admit that I wore blue jeans. I almost never wear long pants to the races I attend. As I recall I didn't see anyone wearing shorts today.
I finished up my day of watching the races from the public viewing area as well as the gravel road that goes behind most of the racetrack. That gravel road probably runs nearly a mile and offers some close-up views of the racing action.
If I were a more "normal" trackchaser I might have just pulled into the public viewing area, sat in my car and watched the races. If I had done that I would have had a nearly 100% different trackchasing experience than I did today.
Being able to get in touch with Felicity Johnson, general manager of Area 27, was a stroke of good luck. She gave me an outstanding cook's tour of everything there was to see. Area 27 is brand new and appears to be being guided by expert leadership.
Having the chance to spend as much time as I needed in the paddock area as well as being able to walk all over the facility to get closer views of the racing was a tremendous benefit. Since I am willing to strike up conversations with anybody meeting the drivers, some of the fans and the fellow I met on the backside of the track were highlights of the day for me.
AFTER THE RACES
There was still some light left in the day when I left the track. I decided to drive up to the town of Penticton, 25 miles to the north of Oliver. I had been trackchasing at the Penticton Speedway back in August 2008. During that visit, I saw racing on their two different sized ovals, lifetime tracks #1,370 and #1,371.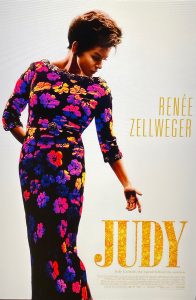 On this evening I was headed to the Landmark Theater. This theater chain is owned by Mark Cuban. The feature attraction was the movie, "Judy". The film was the biographical story of famous singer Judy Garland. Judy was portrayed by one of my favorite actresses Renée Zellweger. Remember, you heard it here first. I predict Miss Zellweger will get an academy award nomination for performance if not the academy award itself.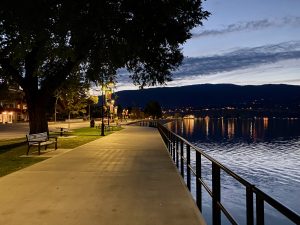 I finished up my day with an evening walk in the dark in downtown Penticton along Rotary Park. I had a nice Mongolian grill dinner at Lee's and called it a day.
You've seen what this one-day trackchasing included. Now if you can imagine for a moment doing this nearly 2,600 times you'll get a good impression about what I've been doing since I retired nearly 18 years ago. It's been a fun ride and I never ever take a single day for granted.
Good afternoon from the Area 27 Motorsports Park in Oliver, British Columbia, Canada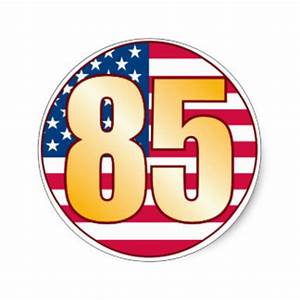 Randy Lewis – 85 countries – 2,592 tracks.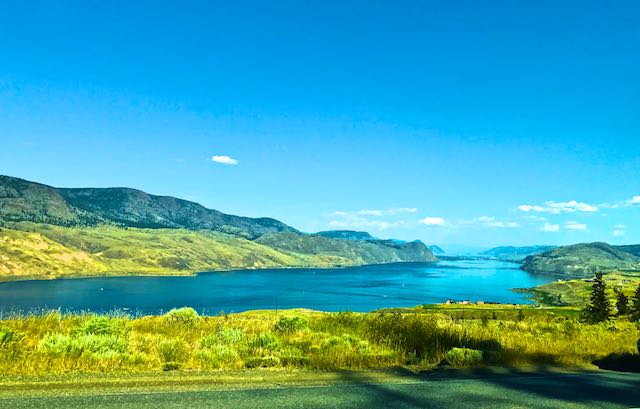 British Columbia
The Pacific Province
This afternoon I saw racing at my 24th-lifetime track in the Pacific Province, yes, the Pacific Province.  I hold the #1 trackchasing ranking in British Columbia.
Thanks for reading about my trackchasing,
Randy Lewis
World's #1 Trackchaser
Peoria Old Timers Racing Club (P.O.R.C.) Hall of Fame Member
British Columbia sayings: Ginch/gonch – a particular type of men's briefs that are threadbare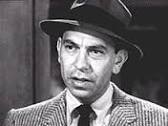 JUST THE FACTS
LIFETIME TRACKCHASER COMPARISONS 
The three most important trackchasing comparisons to me are:
Total lifetime tracks seen
Total "trackchasing countries" seen
Lifetime National Geographic Diversity results
Total Lifetime Tracks
There are no trackchasers currently within 725 tracks of my lifetime total.  Don't blame me.
Randy Lewis, San Clemente, California – 2,592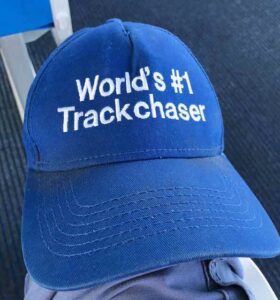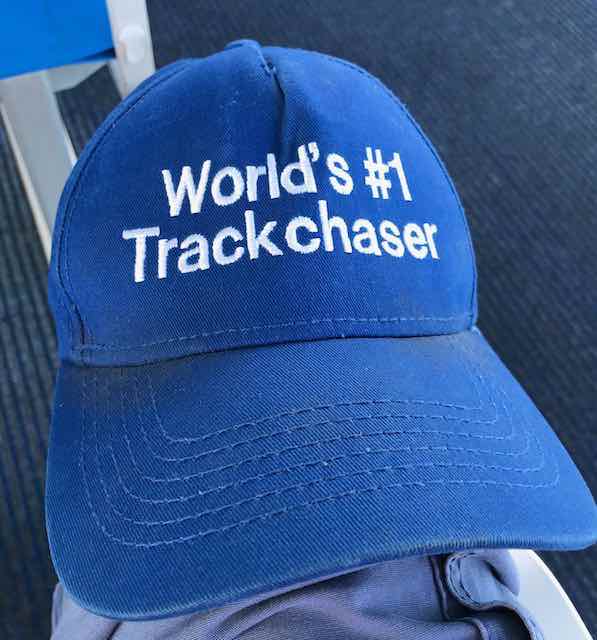 Total Trackchasing Countries
The nearest trackchasing competitor has seen racing in 30 fewer countries compared to my lifetime total. 
Randy Lewis, San Clemente, California – 85
Current lifetime National Geographic Diversity results
Randy Lewis, San Clemente, California – 4.14
That's all folks!  Official end of the RLR – Randy Lewis Racing Trackchaser Report
Click on the link below to see the video production from the racing action today.
Click on the link below for a photo album from today's trackchasing day.  You can view the album slide by slide or click on the "slide show" icon for a self-guided tour of today's trackchasing adventure.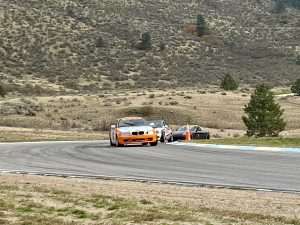 Don't miss this photo tour of the brand new Area 27 Motorsports Park