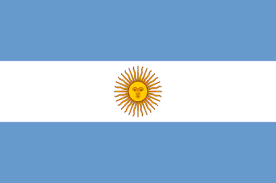 Argentina
HighlightsBuenos Aires TouringThe race and more touringVideosPhotos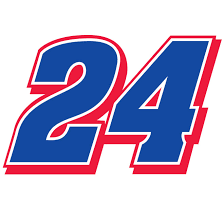 Trackchasing Country #24
Greetings from places on the way to and from Buenos Aires, Argentina.   Click on the links above to read about the advanced prep, touring and racing segments from this fun trip to the eighth-largest country in the world at the bottom of South America…Argentina, home to my trackchasing country #24.
DAYS 1-3 – "DON'T CRY FOR MY ARGENTINA" TRACKCHASING TOUR
I grew up in a small town in central Illinois.  Up until I was 15 years old, I never went to any other races than those held at the tiny little one-quarter mile dirt track in the small town of Peoria, Illinois.  I didn't fly on my first airplane until I was 21 years old.
With this as background, you can imagine how I felt jetting down the rain-slicked streets of Argentina in a taxi at midnight this weekend.  My new English friend was in the front seat and I sat in the back with a beautiful Russian woman.  It was a bit surreal.  Over the next two RANLAY Racing Trackchaser Reports I will tell you how all of this came to pass.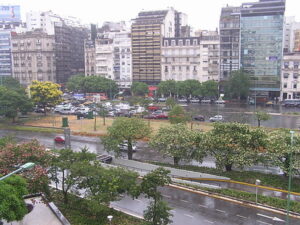 Greetings from Buenos Aires, Argentina,
On Wednesday morning, I woke up at my home in San Clemente, California. Carol and I spent the evening in Los Angeles before staying overnight near the airport. My Thursday night was spent sleeping in seat 3A (yes, that would be a business class seat) on an airplane flying to Buenos Aires, Argentina. On Friday evening I stayed in Buenos Aires.
PART 1, THE PRELUDE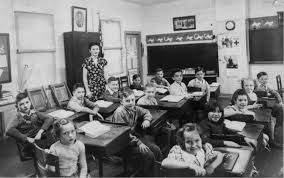 Things you might have noticed had you been paying more attention in school.
I will maintain my policy of affording anonymity to readers who send in interesting bits of information or who provide cutting edge analysis.
RANLAY returns to the track!!
Some of us in the trackchasing community are former drivers.  Some have driven more (Steve Kinser, Sammy Swindell, and Kenny Schrader).  Some have driven less…..me!  I have been a co-pilot in actual races.  I did this in New Zealand (sprint car) and New York (ice race).  I have also driven in England.  There I piloted a Ford Fiesta in a dirt stock car race.
I will be returning to the driving wars during my next trackchasing trip.  For security reasons, I can't share the location or other details.  Well….I could share that info but what good would it do you or me?  If you would like to attend this event, simply send me an email and I will evaluate your security clearance.  If a "green light" comes on, the information will be sent to you.  This should be fun and I hope to get lots of pictures.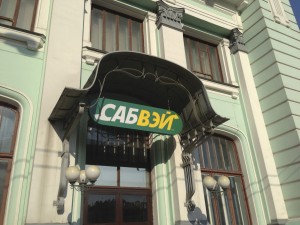 IS SUBWAY CORRUPT?
I enjoy eating at Subway (above Subway store visited in Moscow, Russia) sandwich stores.  When ordering properly these outlets can provide healthy food while I'm on the go.  My favorite sandwich is the foot-long double turkey on wheat bread.  Having ordered the "double meat" turkey sandwich nearly 100 times, I know that the sandwich is supposed to have 12 slices of turkey.  Recently, I have noticed that the sandwich preparers often "short" me by putting less than the corporate policy of 12 turkey slices.  I count the slices as they are added to my sandwich and am not shy about bringing it to their attention when they shortchange me.  Notably, I have never seen them put MORE than 12 slices on a sandwich.  What could be causing this problem that always seems to be in their favor?
TODAY'S HEADLINES
The trip started with some special Trackchasing Tourist Attractions in Los Angeles…………..details in "Trackchasing Tourist Attractions".
First, my flight was canceled and then they couldn't find my hotel reservation.  Not to worry, everything worked out perfectly. ………………more in "The Trip".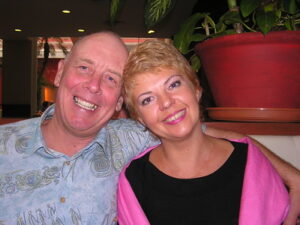 Tonight I met a very special couple that made my trip most enjoyable…………..details in "Friday, January 30, 2009".
What you are about to read is based upon a true story.  Heck, I'm hearing some of this stuff for the first time myself!
THE OBJECTIVE, THE TRIP AND THE PEOPLE…AND A WHOLE LOT MORE
The Objective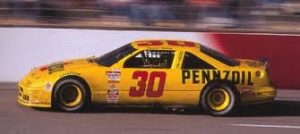 RACE TO 30 INTERNATIONAL CONTEST
Despite being on a limited budget, I am making a valiant attempt to become the very next trackchaser to see racing in 30 countries.  I now have made it to 24 countries for the purpose of trackchasing.
Last year, I traveled some 257,000 miles in pursuit of my trackchasing objectives.  That was a record year of travel for me.  My travel beginning today and over the next 30-40 days may be the most I have ever done in such a short time frame while adding to my trackchasing resume.
The winter months, especially this year, are the ideal time to trackchase internationally.  Why is that you might ask?  First, passenger traffic is much lighter during the winter to almost all international locations.  Secondly, this winter with the severe economic downturn, folks have stopped spending money and traveling.  That makes getting flights on a standby basis must easier.  I must strike while the iron is hot…..and I plan too.
The Trip
BEFORE I LEFT ON THE TRIP
This was my original plan.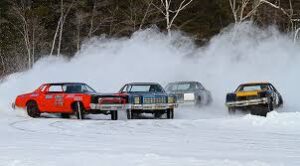 Normally, I put a good amount of time into planning each trackchasing trip I make.  I was all set for some ice racing for this weekend.  I would leave on Friday and come back on Sunday.  However, when I did some more research into the Minnesota ice racing I was considering I found some shocking news.  The "Fire on Ice" racing event at the Minneapolis-St. Paul Winter Carnival event was for boats!  Boat racing doesn't count in trackchasing.  I'm glad I found this important fact out before I trudged all the way to Minnesota in the dead of the winter.
I would just stay at home.
Now my Minnesota ice-racing plan was down to just one track.  It didn't make sense to go for just one new track.  I would do it for an international visit or even a Far West visit but not for much else.  My new plan was to just stay at home.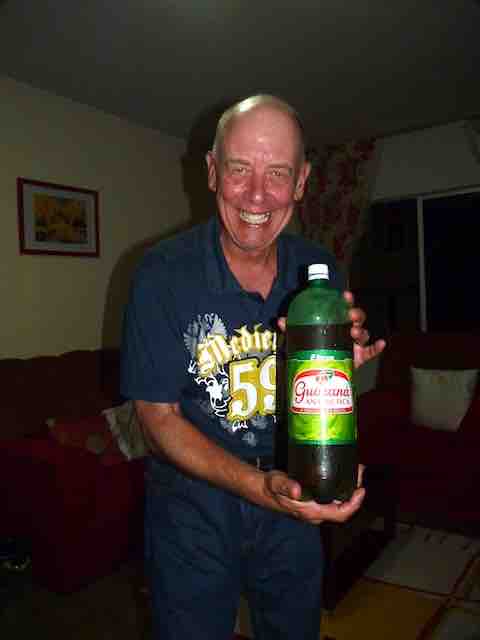 Then…….Jerry Fisher came onto my radar screen.
I get lots of help from friends, fellow racechasers and fellow trackchasers.  I do my best to avoid using and/or getting information from those "Dreaded East Coast Trackchasers".  A fellow has to draw the line somewhere.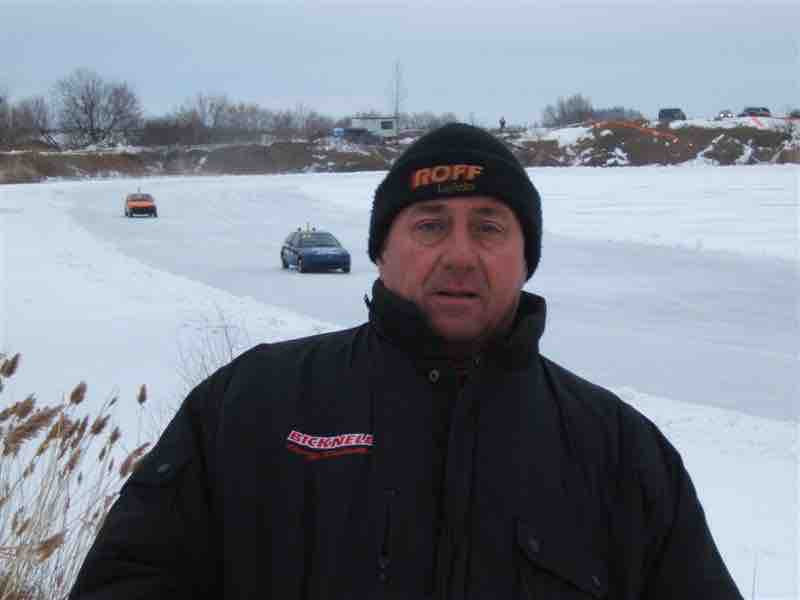 There's a man by the name of Rick Young who lives up in Ontario, Canada.  He's a relocated Englishman who writes a blog titled "Rick at the Races".  He also has a website by the same name at www.rickattheraces.com.  Rick's recent commentary mentioned a fellow by the name of Jerry Fisher.  Jerry is also an Englishman, who is currently living in Argentina.  Jerry and his wife Elena are waiting in Argentina before they relocate to Brazil.  You probably never expected a simple fellow like me, from a small town in Illinois, to be involved in such international intrigue.
After hearing of Jerry's racing exploits in Argentina (via Rick's reports) I contacted Jerry about racing in Argentina.  I was told the season was finished and Jerry was moving onto Brazil.  This encouraged me to look into Brazil.  I used Will White's website at www.autoracingrecords.com to get some info about Brazilian tracks.  I had a trip to Brazil all planned for last weekend only to run into immigration problems.  Brazil requires Americans to apply a minimum of ten days in advance for a visa.  No visa, no visit to Brazil.  I didn't have enough lead-time to make the trip to Brazil.  I guess a visit there will come later when I can plan it further in advance.  By the way, a Brazilian visa for Americans costs $130 U.S.!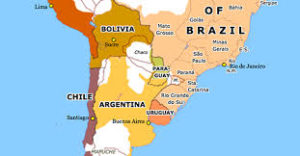 I had all but given up on Argentina and Brazil for the immediate future.  It was at this point that I received an email from Jerry Fisher.  Jerry was telling me, and others, that he was still in Argentina.  More importantly, there was a small track racing in Buenos Aires, Argentina this weekend!
With only three days' lead time, I decided on Monday to fly to Buenos Aires on Thursday.  Yes, you must be flexible in trackchasing.  I am the most flexible travel planner in the hobby.  With 72 hour's notice, I was going to Argentina! Do you know anyone else who travels like I do?
WEDNESDAY, JANUARY 28, 2009
My trip had me leaving my house in the middle of the afternoon.
Almost all of my racing trips have me leaving my house in the pre-dawn hours of the morning.  For this trip, I left at three in the afternoon.  This was most unusual.  My delayed departure time was actually in reaction to the non-trackchasing activities I have put into place that are designed to make it more difficult to even go trackchasing!
One of those obstacles designed to keep me home is season tickets to the Pantages Theatre in Los Angeles.  Wednesday evening of this week had long been reserved for the Phantom of the Opera production there.  I would be going with Carol.  Most of the places we visit in Los Angeles are a 1-2 hour drive from our house.  Getting to an evening of entertainment in downtown Los Angeles takes us through the heart of rush hour traffic.  For our plays and basketball games, we must leave in mid-afternoon.  We do this to give us time to have a relaxing dinner away from home in advance of our entertainment for the evening.  Since this outing was "on the way" to Argentina, meaning I would not be returning home to San Clemente following the play, the activity qualifies as a "Trackchaser Tourist Attraction".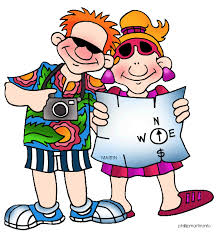 TRACKCHASING TOURIST ATTRACTION
I very much enjoy the racing when I go on trackchasing trips.  However, I am not the type of person who would feel the trip was complete if I simply left home, went to the race and came back home.
I do a good deal of traveling.  I want to do my best to see the local area when I come for a visit.  There are usually unusual attractions that one area is noted for more than any other locale.  I want to see those places.  I want to touch them and feel them.  When I leave an area, I want to have memories of these special places that I call Trackchasing Tourist Attractions.  I will remember those experiences long after the checkered flag has fallen on whatever race I have seen that day.
Hollywood Walk of Fame
We parked directly in front of the famous Capitol Records building in Hollywood.  The Hollywood "Walk of Fame" runs right past this building and all throughout the immediate area.  If you come to Los Angeles seeing the Walk of Fame is a must.
The Hollywood Walk of Fame is Hollywood's tribute to the Hollywood stars of yesterday and today.  It was created in 1958.  A total of 1,558 stars were added in the first 16 months.  About two stars per month have been added since bringing the total amount of stars to about 2,500.  Check out the Walk of Fame website listed above to see if where your favorite star's star is located.
Every theatre performance we attend must be preceded by a pre-theatre dinner.
Our pre-theatre dinner was arranged via my Apple iPhone app, "Yelp".  Yes, Yelp rocks.  We parked near the Pantages and then began our dinner planning process.  There is really no need to plan very far ahead when I have all of the information I could possibly want on my iPhone. Up to that point, I had no idea where we would be eating.
"Yelp" provided a list of all notable restaurants within a mile or a little bit less of the Pantages Theatre.  The Natalie Peruvian Seafood restaurant caught our eye.  It was 0.7 miles from where we were.
The 45 customer reviews provided by Yelp convinced us this was the choice for tonight.  We decided to walk.  In hindsight I wouldn't recommend doing that from where we were.  Carol and I love to walk and are in very good shape for folks with as many years on our bones as we have.  However, this walk took us past a mission or two for the homeless.  There weren't any late 50ish (all right 60!) white people walking in this less than well-lit lower economic area.
Once we arrived the little restaurant was just as it had been described by the users of Yelp.  It was small and located in a strip shopping center.  The tables and chairs were Chinese red.  There might have been eight tables.  Only one other table was occupied while we were there.
The service was excellent.  We started off with the "dry-fried corn" appetizer.  I had never tried this item or even heard of it.  The corn looked like unpopped corn kernels but was crunchy and quite tasty in its salted stage.  Large bread rolls were served with a spicy green sauce.  I had a combination chicken/spaghetti dish.  Carol went with a fish serving.  We capped off our dinner with some "leche asada".  This was a flan-like custard dessert with a caramelized top ala crème brulee.
Everything was just wonderful and the entire bill was only about $30.  I heartily give the Natalie Peruvian Seafood (http://www.yelp.com/biz/natalie-peruvian-seafood-restaurant-los-angeles) restaurant a RANLAY Racing Money Back Guarantee.  I hope you're keeping track of my travel recommendations.  I know you won't be disappointed in any of them.
Pantages Theatre
(http://www.pantages-theatre.com/), Los Angeles, California
The Pantages Theatre is somewhat nondescript from the outside but one of the most beautiful theatres inside that I have ever seen.  The five highest-grossing weeks in L.A.'s theatrical history were all shows at the Pantages.  For ten years, the Pantages Theatre was home to the Academy Award presentations from 1949-1959.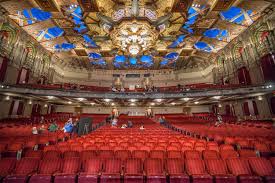 The theatre opened on June 4, 1930.  The cost of construction was $1.25 million.  When it was finished the Pantages boasted the most elaborate sound equipment anywhere in the world.  Today the theatre seats nearly 2,700 patrons.  We enjoy coming here for professional theatre of Broadway quality.  Tonight we saw Phantom of the Opera, for our third time.
We wrapped up our evening by staying at the Crown Plaza Hotel near the Los Angeles airport.  Of course, I used www.priceline.com and www.biddingfortravel.com to ensure we got a great rate.  We saved more than $100 off the very best rate being offered at the Crown Plaza website.  Remember, I'm not interested in "buying cheap stuff cheap, I want to buy good stuff cheap".
THURSDAY, JANUARY 29, 2009
This was not a normal international departure for me.
On a normal day at home, Carol gets up a few minutes before I do.  How else could she have a hot breakfast waiting for me each morning?  However, today would be different.  We were waking up in a hotel.  I had to leave early to catch my flight.  She could catch a few extra winks before enjoying breakfast at the hotel.  With a brief kiss and hand squeeze (this is how I leave her on each trackchasing trip), I was off into the morning darkness.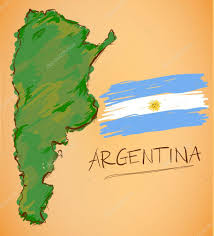 Argentina would end up being my second longest international trackchasing trip ever.
This would be a travel day.  It would be a long travel day.  I spent the entire day, and night, traveling!  It's going to take more than 17,000 miles of round-trip air travel to complete this trip to Argentina from California.  Only my trip to South Africa last February has been further.  There are people who have trackchased in more countries than I have, but no trackchaser has ever traveled further to see racing than I have in the foreign countries they have visited.  It's not even close.
This morning I showed up at LAX bound for New York's JFK airport.  I found my flight was canceled!  The agent told me that the flight loads were light and they combined two flights rather than send two out half empty.  Yes, the economic airline sword cuts both ways.
Rather than wait three hours for the new combined flight I hopped over one terminal and caught another airline that departed just one hour after my originally scheduled time.  I even got a business class seat.  I've been really fortunate with being upgraded on my long trips.  To date, 38% of my total sponsored airline miles have been in business or first class.  You can't beat that.
My layover in New York was four hours.  I put that time to good use with my "anytime/anywhere" Sierra Wireless internet connection (no additional at the airport charges) and Apple iPhone "app" usage.  I was easily entertained during the layover.
What did I do for 11 hours while flying to Buenos Aires?
My flight from New York to Buenos Aires left at 10 p.m.  Buenos Aires is six hours ahead of Los Angeles time.  The flight time from New York would be just a bit more than 11 hours covering 6,114 miles.  Yes, I will go to all ends of the earth just to get one more track, if it's in a foreign country.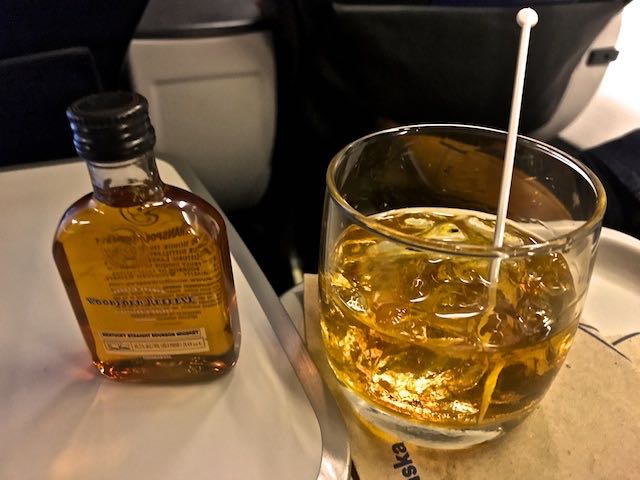 I was lucky again to get a business class seat flying to Argentina.  There are many advantages to this class of airline service.  The foremost of which is the extra space.  I had a very nice dinner (filet mignon and shrimp), then I went to sleep.  When I awoke I heard the pilot saying we were just 30 minutes from landing in Argentina.  I had even slept through breakfast!  I can't recall ever sleeping this long on an airplane ever.
FRIDAY, JANUARY 30, 2009
The weather forecast was great.
Most of the foreign country tracks that I visit are road courses.  Road courses never cancel in bad weather.  Therefore, I never have to worry about traveling a long distance and being rained out.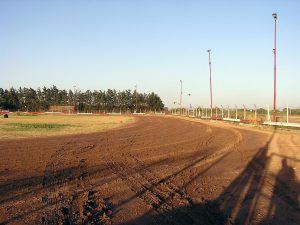 The track I would be visiting in Argentina was a basic little quarter-mile dirt oval.  They would cancel if it rained.  They canceled their program just two weeks ago when it rained.  January is one of the rainiest months of the year for Buenos Aires, Argentina.  Was I taking a big risk with the weather?  I didn't think so.  Weather.com showed the rain forecast to be 0-10%.  I was home free or so I thought.
I landed at noon, it was raining!
I landed at noon (6 a.m. San Clemente time).  When I looked out the airplane window as we taxied toward the gate, I noticed it was raining.  How could that be?  Weather.com is never wrong.
Clearing customs took all of 20 seconds.  I wasn't asked any questions about my visit at all.  I'm glad I got those 48 blank pages added to my passport.  I'm going to need them, especially over the next month or so.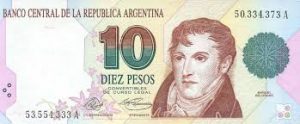 I needed some pesos.
My next step in the overall planning process was to get some local currency.  Normally, Carol goes to our local bank to get my "foreign currency".  However, this trip was planned on such short notice there wasn't time for that.
No problem, I simply exchanged some U.S. dollars for Argentinean pesos.  There was no commission to get the money, they make their money off of the exchange rate.  I received 3.03 pesos for each of the 200 American dollars I exchanged.  This gave me about 600 pesos to work with over the next three days.  I would try to charge as much as I could in order to save my pesos.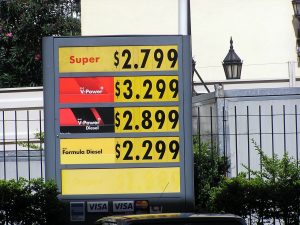 No rental car on this trip.
I have a great U.S. government website (http://travel.state.gov/travel/cis_pa_tw/cis/cis_1765.html) for providing foreign country travel and entry information.  This site lists every country in the world and what their visitor entry requirements are for U.S. citizens.  They even provide detail about local conditions in the country that might provide danger for visitors.  One of the points they focused on with Argentina was the high incidence of fatal automobile crashes.  They went on to say that Argentina is the most dangerous country in all of South America for driving a car.  I wouldn't be renting a car primarily because I didn't have to travel far.  Taxis would meet the need. Nevertheless, I did check out fuel prices in Argentina.
What was the best way to get a taxi to downtown from the airport.
My limited amount of research conducted at www.tripadvisor.com warned me about renting a cab by hailing one off the street.  You see, they KIDNAP folks for ransom in this part of the world!  Yes, it's all part of the international trackchasing challenge.  There were a couple of "official" trackchasing rental kiosks inside the airport.  I picked one and paid 95 pesos for my ride to downtown.  I would later learn this wasn't the best price to make the journey but at the time I didn't know that.
The ride was uneventful and covered about 30 miles.  I was surprised to notice we had to clear three tollbooths during the trip.  The road was like any multi-lane freeway in a major city.  The road was in good condition and there wasn't any major traffic.
There was just a little minor confusion when I arrived at the hotel.
Most folks would be unwilling to travel as I do.  First, they might object to the amount of travel I undertake.  Secondly, they might not want to travel at the last minute as I do.  Although I receive tremendous support from my airline sponsors, I travel on a standby basis.  Everyone would like to travel for free.  However, most folks would not want to risk not getting on the plane when they were dreaming of the dream vacation!
Since I don't know for sure if I am going to get on the plane, I cannot make non-refundable hotel reservations until the very last minute.  Of course, non-refundable hotel reservations are how I get such great rates on hotels.
My flight from New York's JFK to Buenos Aires looked like I would get a seat.  However, I was not able to make a hotel reservation until one hour before I left just to be sure.  Jerry Fisher had recommended a hotel that would be in a good location and reasonably priced.  I often use www.sidestep.com for my hotel reservations.  At the very least I go on that site to see what hotels are in the area I will be visiting and to see what are the going prices.
At Sidestep, I found the Embajader hotel.  This was one of the two places Jerry had recommended.  I made my reservation after Sidestep directed me to www.easyclicktravel.com.  Just to be safe, I copied the reservation details into a Microsoft Word file.  This way I could retrieve the information if I needed to without having to have an internet connection.  Yes, I have been doing this for a long time and understand most of the potential pitfalls.
As Murphy's Law would have it, the hotel did NOT have any details about my hotel reservation when I went to check-in.  Although George the hotel clerk, who would soon become my friend, was helpful, I wasn't going to get a room until I could prove I had a reservation.  I simply popped open my laptop and brought up the reservation details.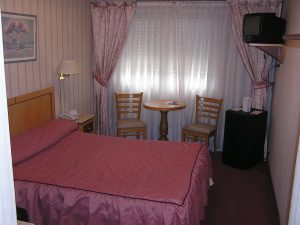 With that, I was given room #603.  I had asked George for a room with a view and he didn't disappoint.  My room was on the smallish side and somewhat basic.  The biggest drawback to the room was that it did not have air-conditioning.  Since the expected highs were only about 75-80 degrees Fahrenheit, this didn't pose too much of a problem.
The room did have a small security safe.  It wasn't big enough for my laptop but it could store my other smaller valuables including my passport, some tickets purchased along the way for next week's international trip and my Bose headphones.  I simply took every small item that I had that was of any value and stuffed it in there.
By the way, I never wear my Rolex watch on trips like these.  I don't want to draw any more attention than necessary.  I also make copies of my passport and carry those with me rather than my actual passport.  These are just tips I have learned from others along the way.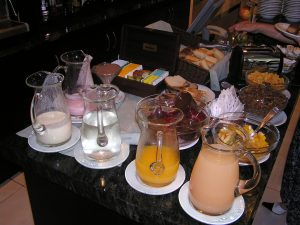 I was happy to see that breakfast was included in my room rate.  That would be convenient since many South American and European cultures are not into breakfast.  This meal plan would also save me some money.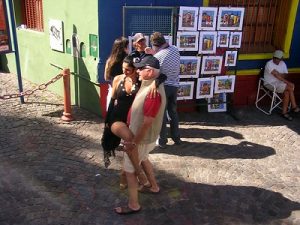 It was now 3 p.m. on Friday.  I would be meeting Jerry Fisher and his wife Elena in a couple of hours.  I decided to take a walk around town to see what was what.  True to Jerry's prediction I was in the heart of the action. Although I didn't think I looked like "I wasn't from around here" most of the local Argentinean "touts" weren't fooled for a minute.  I was constantly being asked to take a business card for whatever endeavor they were supporting or talk to them.  This part of the world has a bad reputation for muggings and petty theft.  I wanted to avoid those problems.
I would have time for some major sightseeing later in the trip.  After an hour of walking the streets, I returned for a 30-minute nap.  A quick shower and shave had me ready for my first ever evening on the town in Argentina.
A few minutes before our planned meeting time of 6 p.m. my hotel room phone rang.  The call was from Jerry Fisher.  "If you're not early, you're late" is my motto.  I hopped in the hotel elevator, which could accommodate only about three people, and headed down to me Jerry Fisher.
Jerry was waiting for me in the lobby.  I would find out that Jerry was a cross between two good friends, P.J. Hollebrand and Jim Sabo, both long-time readers of the trackchaser report.  P.J. and Jim don't know each other and I don't know anyone else who knows them both.  However, both P.J. and Jim and nice guys and that means Jerry is a nice guy.
Jerry was by himself.  He told me Elena was still getting ready.  Jerry is a very decisive person and he had a plan in mind.  We would walk for a while and try to catch the Auto Club of Argentina vintage racing museum.  Unfortunately, by the time we reached the museum it had just closed.  At that point, we hopped in a cab and headed off to Jerry's apartment to pick up Elena.
I had offered to treat Jerry and Elena to dinner and was very much looking forward to our date.  I have found that much like golf, you can really get to know someone over a meal.  Jerry and Elena are a fun-loving, outgoing and friendly couple.  After just a few minutes, I felt like I had known them for a long time.
They are the most interesting couple.  Elena is a beautiful woman who hails from Moscow, Russia.  She was an attorney in her home country before meeting up with Jerry about 10 years ago.  We talked about our various childhood cultural experiences.  Elena told me she loves both the city and the rural country.  She would visit her relatives on a Ukrainian farm each summer.  I can only imagine the vast array of experiences she has seen in her life.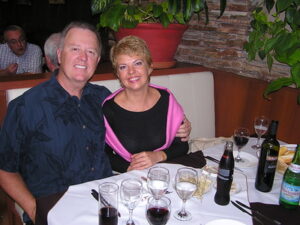 I asked her what the Russian people thought of the communist state.  She told me that most liked it since the government provided so many things including free housing.  I had never thought of it that way before.
At dinner, we had beef.  Argentina is famous for its grass-fed beef.  We each had the "Grande" portion of filet mignon.  It was very good.  I found during this trip that restaurant waiters, taxi drivers and others spoke very little, if any, English.  Nevertheless, there was just enough overlap on both of our parts, accompanied by the proper gestures to make things work.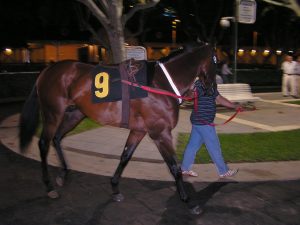 Following dinner Jerry had a fun entertainment option in mind.  We were headed for the horse races at Hippodrome Argentino de Palermo (http://www.professionaltravelguide.com/Destinations/Buenos-Aires/Entertainment/Sports/Events/Horse-Racing/Hipodromo-Argentino-de-Palermo-p1828377).  By now, the weather had cleared up and it was a very comfortable evening with temps in the 70s.  I've been to my share of horseracing tracks all over the U.S.  At one time this sport appealed to me as much as auto racing.
The Palermo track is very upscale (posh!).  We watched a couple of races and I even placed a bet.  My horse #5 led early but pulled up and finished last!  My $6 pesos to win bet would now go down in the expense category.  I always bet to win.
The horse track facility also has a casino on the premises.  In this part of the world, "casino" often means a betting facility that offers only slot machines.  That was the case tonight.  We enjoyed a beverage in the glitter of a Las Vegas like casino before calling it an evening.
I go trackchasing with Carol about one-third of the time.  I go trackchasing by myself about one-third of the time.  Finally, I go trackchasing with friends about one-third of the time.  For me, this is a perfect ratio.  My journey will be made much easier with the help of Jerry on this trip.  I will see more and experience more, especially away from the track.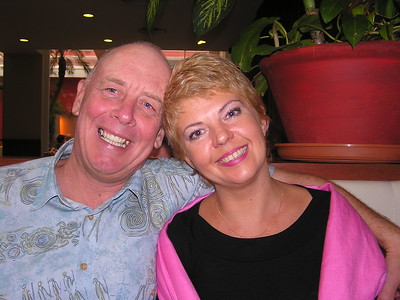 Tonight, I spent an evening with a very enjoyable couple.  I might never meet people like this if I were not into trackchasing.  I'm the better for it.
Tomorrow is race day!  I'll be back soon with my second and final report after I've seen racing in my 24th-lifetime country.
Thanks for reading about my trackchasing,
Randy Lewis
Alberta's #1 Trackchaser
My iPhone is making my laptop seem like a boat anchor.
TRAVEL DETAILS
AIRPLANE
Los Angeles, CA – New York, NY – 2,467 miles
New York, NY – Buenos Aires, Argentina – 6,114 miles
RENTAL CAR
None
DAYS 4-6 – "DON'T CRY FOR MY ARGENTINA" TRACKCHASING TOUR
Editor's note
My friend Jerry Fisher had been too tonight's track a few times before.  He warned me that the races would be over late and we were in a bad neighborhood.  We had ridden a city bus and a taxi to the track.
He told me we had three options for getting home after the races were over at 2-3 a.m.  We could: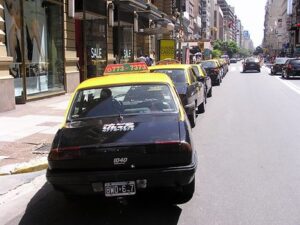 Try to get a taxi, but it was unlikely any would be trolling in a bad neighborhood at that hour.
We could try to find a ride back into Buenos Aires with some fan who was going our way. In the states, we call this "hitchhiking".
Another option would be to take a ride back with the track photographer. However, the photographer had to stay for an hour after the races were finished to take pictures before he left the track.  With this option, we might not leave before 3 a.m.
Jerry also mentioned that recently he had accepted a ride from the track with a motorcycle rider.  He hopped on the back without a helmet in the most unsafe driving country in all of South America.  He told me the motorcycle rider rode through every red light at full speed for fear of being accosted by gangs who steal motorcycles that stop at this hour of the morning.  It was with this proviso that I headed out to see racing in my 24th different country!
Greetings from Buenos Aires, Argentina,
On Saturday night (day 4) I stayed in Buenos Aires. My final night on Sunday (day 5) I spent my overnight time in business class seat #1A on a plane ride from Buenos Aires to New York. On Monday morning (day 6) I took my final leg of the journey back to Los Angeles. By mid-afternoon Carol and I were playing with our grandchildren. This is the final chapter describing what transpired on the trip to the bottom of South America.
PART 2, THE FINALE
#24
RANLAY Racing Lifetime Trackchasing Countries
# 1 – UNITED STATES OF AMERICA – Peoria Speedway (Mt. Hawley, oval) – Track #1, Peoria, Illinois – circa 1954 (age 5)
# 2 – CANADA – Cayuga Speedway (oval) – Track #174, Nelles Corner, Ontario, Canada – July 31, 1988 (Dick Trickle winner)
# 3 – AUSTRALIA – Parramatta City Raceway (oval) – Track #180, Granville, New South Wales, Australia – November 17, 1989 (accompanied by Carol)
# 4 – UNITED KINGDOM – Northhampton International Raceway (oval) – Track #378, Northhampton – June 26, 1999 (accompanied by Carol, Kristy, Jim)
# 5 – NETHERLANDS – Driesum Racetrack (oval) – Track #839, Driesum – May 5, 2005 (accompanied by Roland Vanden Eynde)
# 6 – BELGIUM – Bellekouter oval (oval) – Track #841, Affligem – May 8, 2005 (accompanied by Roland Vanden Eynde)
# 7 – FRANCE – Circuit de Croix en Ternois (road course) – Track #843, Saint-Pol sur-Ternoise – May 8, 2005 (accompanied by Roland Vanden Eynde – 2nd new country in one day!)
# 8 – GERMANY – Nurburgring (road course) – Track #844, Nurburg – May 13, 2005 (accompanied by Carol, Roland Vanden Eynde)
# 9 – NEW ZEALAND – Western Springs Speedway (oval) – Track #1,134, Western Springs – December 26, 2006 (accompanied by Carol)
# 10 – MEXICO – Triovalo Bernardo Obregon (oval) – Track #1,281, Tiajamulco de Zuniga, Jalisco – October 14, 2007 (accompanied by Carol, J.J., Roger Ward)
# 11 – BARBADOS – Bushy Park Racing Circuit (road course) – Track #1,296, Bushy Park – December 9, 2007
# 12 – THAILAND – Bira Circuit (road course) – Track #1,300, Pattaya – January 19, 2008
# 13 – SOUTH AFRICA – Durban Grand Prix (road course) – Track #1,315, Durban, KwaZulu-Natal – February 24, 2008 (accompanied by J.J. and Will Van Horne)
# 14 – JAMAICA – Dover Raceway (road course) – Track #1,322, Brown's Town St. Ann – March 24, 2008
# 15 – SWEDEN – Sturup Raceway (road course) – Track #1,335, Malmo – May 10, 2008 (accompanied by Carol)
# 16 – DENMARK – Ring Djursland (road course) – Track #1,336, Tirstrup – May 11, 2008 (accompanied by Carol)
# 17 – CZECH REPUBLIC – Automotodrome BRNO (road course) – Track #1,381, Brno – September 13, 2008
# 18 – AUSTRIA – Lambrechten Stock Car Track (road course) – Track #1,382, Lambrechten – September 14, 2008
# 19 – IRELAND – Tipperary International Raceway (oval) – Track #1,388, Rosegreen – October 26, 2008 (Carol and I visited this track earlier in the year)
# 20 – GUYANA – South Dakota Circuit (road course) – Track #1,390, Timehri – November 2, 2008 (accompanied by Carol)
# 21 – CHINA – The Guia Circuit (road course) – Track #1,392, Macau – November 16, 2008 (accompanied by Carol)
# 22 – COSTA RICA – Autodromo La Guacima (road course) – Track #1,398, La Guacima – November 30, 2008
# 23 – ANDORRA – Grandvalira Circuit (road course) – Track #1,404, Port d'Envalira, Andorra – January 17, 2009
# 24 – ARGENTINA – Circuito Efren Chemolli (oval) – Track #1,406, Buenos Aires, Argentina – January 31, 2009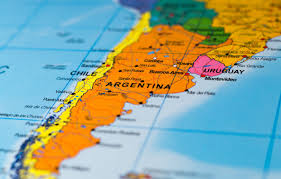 ARGENTINA FACTS
Argentina is the second-largest country in South America by land size and the eighth largest in the world.  Argentina borders Paraguay and Bolivia to the north, Brazil and Uruguay to the northeast, and Chile to the west and south.  Buenos Aires is the capital of Argentina and the official language is Spanish.  Christina Fernandez became the first-ever woman president of Argentina last year.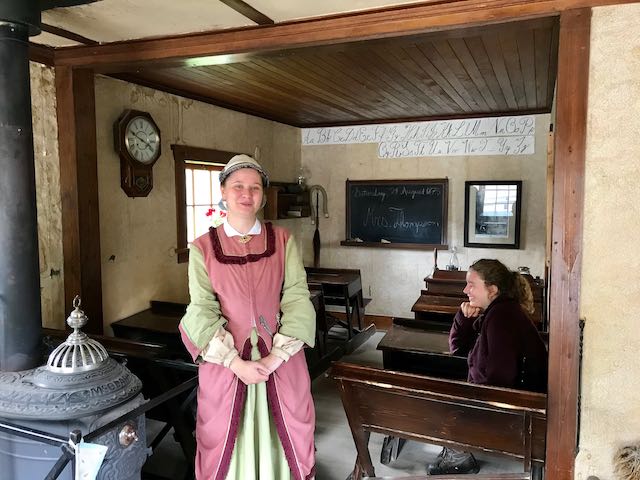 THINGS YOU MIGHT HAVE NOTICED HAD YOU BEEN PAYING MORE ATTENTION IN SCHOOL
I will maintain my policy of affording anonymity to readers who send in interesting bits of information or who provide cutting edge analysis.
CONFLICT OF INTEREST FROM A SoCal READER?
You are a riot!  I love your reports and thanks again for the Argentinean coins.  Does Carol know about this "beautiful Russian woman"?  Just kidding.
TODAY'S HEADLINES
They do it differently at Argentina short tracks and they don't do it that quickly…………..details in "Race Review".
Without a rental car or a hotel room, how would I secure my computer?………………more in "Sunday, February 1, 2009".
I used six public transportation methods during this trip.  Can you name them?………………more in "Sunday, February 1, 2009".
What you are about to read is based upon a true story.  Heck, I'm hearing some of this stuff for the first time myself!
THE OBJECTIVE, THE TRIP AND THE PEOPLE…AND A WHOLE LOT MORE
The Objective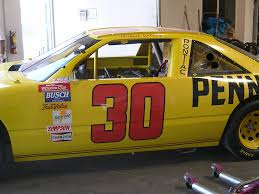 RACE TO 30 INTERNATIONAL CONTEST
Tonight I saw racing in my 24th different country.  I have some very specific plans that should increase that total quickly.  Stay tuned.
The Trip
RACE DAY!  SATURDAY, JANUARY 31, 2009
It was time to tour Buenos Aires.
Trackchasing brought me to Argentina.  However, I always "try to see what I can see" of the local area when I go trackchasing.  Usually, that's the most fun part of the trip.
The hotel had an excellent one-page hand out of the various tours being offered around the city.  At first I signed up for a straight city tour.  This involved a tour bus.  It was scheduled to last three hours at a cost of just 50 pesos (about $17 U.S.).  Departure time would be 9:30 a.m.  I didn't need to meet Jerry Fisher for the races until 7 p.m.  That got me to thinking.  Would I have time for some more touring?  Yes, I would.  I added the "Panoramic Lunch Cruise" to my land tour for a total tour cost of 190 pesos.  This included lunch on board the "Humberto M." sea vessel.
I was the only native English-speaking person on today's tour.
Our tour bus was a modern air-conditioned coach.  There were about 25 people on the bus.  The tour guide spoke in both English and Spanish.  I was the only American on the bus.  I don't think anyone else spoke English as his or her primary language.
The bus tour was great for seeing the major sights of Argentina.
We saw all of the standard highlights of Buenos Aires.  This included the huge pink presidential palace (above).  Buenos Aires is the capital of Argentina.  The current president of Argentina is Cristina Fernandez.  Her husband was Argentina's president before her!  Downtown Buenos Aires reminds me a lot of Mexico City.  Both of these cities have a reputation for being dangerous.  However, during the daytime, Buenos Aires didn't look much different or dangerous than any other major city I have visited.
We made a couple of stops where everyone could get off the bus.  One of those was in the La Boca area.  The La Boca area was originally home to Italian immigrants.  The Boca Juniors play football (soccer) in a huge stadium here.  There was also a large market offering local goods for the tourists in the area.  It was a pleasant stop on a perfect weather day.  We wrapped up the tour with a brief stop at the Recoleta Cemetery, permanent home of Eva Peron (think Evita).
At lunchtime my bus tour ended dockside just in time to hop on a boat for the next two hours.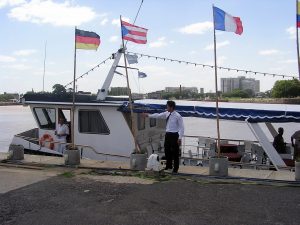 The Humberto M. mini-yacht had a beautiful dining area down below and two decks for viewing up above.  Lunch was part of our cruise.  The dining room was well above average and the three-course lunch was as well.
Following lunch I went up to the top deck for sun and people watching.  It was fun to see people from other cultures enjoying themselves on the boat.  None of them spoke English.  Nevertheless, they took their pictures, laughed and joked with each other and generally had a good time.
I had ridden on a bus and a boat and finished my touring adventure with a private car.
When our lunch cruise was finished it was only about 2:30 p.m.  I wanted to visit the Pacifico Shopping Mall that came highly recommended.  The shopping area might have been a mile from where the tour boat docked.  I wanted to walk there.  It was a bright and sunny day.  However, our female guide on the boat explained that the area wasn't the best and it would be best not to walk.  She had a private car waiting for me (included in the tour price) to take me to the shopping center.  I followed her advice although the area didn't look bad to me.
The Pacifico Shopping Mall was very posh.
If you live in an urban area imagine the most upscale shopping mall that you know.  I suspect the Pacifico Shopping Mall was just as nice or better than what you might be imagining.  I know that in SoCal we have some of the most high-end shopping areas anywhere in the world.  The Pacifico was on a par with them.  I spent several minutes checking things out before hitting the streets for more shopping bargains.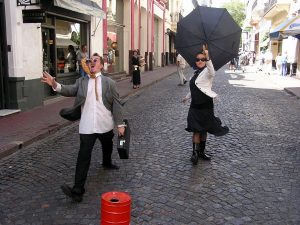 The streets of Argentina were full of interesting shops that offered all kinds of merchandise.
The Pacifico mall was about 10 blocks from my hotel.  I spent an hour or two along Florida and Lavelle Streets on the walk back to the hotel. When you come to Buenos Aires, these streets should not be missed if you are looking for souvenirs for friends and family at home.  I absolutely love buying gifts for others.
SUNDAY, FEBRUARY 1, 2009
Sunday was set aside for more touring and relaxing.
Following breakfast at my hotel (included in my room rate), I had a full day of sightseeing/relaxing before my flight was scheduled to leave at 8 p.m.  The website at www.tripadvisor.com provides active forums where one can get all kinds of tips on virtually every foreign country in the world.  It was here that I learned about the "San Telmo" area of Buenos Aires.  This was a street market that sold both locally made goods as well as antiques of all varieties.
Without a car, how would I secure my computer?
I take my laptop with me everywhere I go.  Except when I'm playing golf it is rarely more than 10 feet away from me.  I will say the Apple iPhone has replaced my laptop in many ways.  The main use of my Lenovo laptop is to "create".  I create all kinds of things in Microsoft Word and Excel.  With all of my financial planning tools and trackchasing creations I can keep myself entertained for a very long time.
Jerry Fisher and I seemed to have a lot in common.  He mentioned that he and his wife "do everything on the laptop".  Jerry said his TV watching time has been greatly reduced because he is on his laptop so often.  I am the same.  I watch almost zero TV on a live time basis.  It's TIVO for me baby.  I recently watched the Super Bowl on TV.  It was the first game of the year I had seen on TV of the National Football League.  Of course, I watched it on TIVO.  The Super Bowl's commercials are often more entertaining than the game.  This year's game was better than the commercials.  That doesn't happen very often.  Since I wasn't skipping through the Super Bowl commercials it seemed to take me forever to watch the game.  I had to do it over about four sittings.  NASCAR races are long too but being able to skip the commercials makes it tolerable.
Anyway…without a rental car I had no good place to store my computer after I checked out of my hotel at noon.  I had used my hotel room's safe for some of my items but it was too small to handle my laptop's 17" screen.  I didn't like the idea of leaving it at the front desk.  My back can't stand carrying my super heavy laptop for very far.  What was I to do?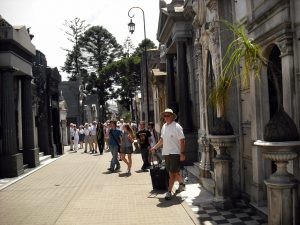 I came across the idea of putting my laptop in my rolling carryon travel bag.  Since I was going to be walking along city streets (smooth) and riding in cabs, this solution worked perfectly.  I have also purchased a backpack (my generation missed the use of those things) for times when I need to bring my computer to the racetrack (for security reasons) and don't have a rental car.  This happens more frequently when I trackchase internationally.
Without a rental car I was using all public transportation methods.
I had already come to Argentina on an airplane and rode both a tour bus and a city bus.  I had also ridden in several taxis and well as a privately owned car.  What was left?  The subway!  I really like subway riding. Argentina's subway costs just 10 Argentinean centavos (about 3 cents U.S.) to ride one-way.  It works just like the New York subway so riding it for me was simple to do.  The Buenos Aires subway was clean and it looked very safe to me.  With rolling bag and laptop in hand I headed over to San Telmo.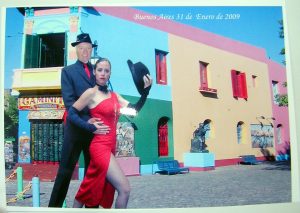 San Telmo, the famous antique market.
I enjoyed spending a couple of hours at the San Telmo market.  There were all kinds of street vendors (blocks and blocks) as well as street entertainers.  You won't want to miss the street entertainers that I found so unique that I actually tipped them.  My prize purchase was a small toy racecar of a racing midget.  I'll have if forever.
It was time to visit Eva Peron.
Jerry and I had agreed to meet for a brief look at Eva Peron burial site at the Recoleta Cemetery.  Ms. Peron was the wife of Argentina president Juan Domingo Peron.  She served as the first lady of Argentina until her death in 1952.  She became known for supporting labor rights and ultimately for the movie, "Evita".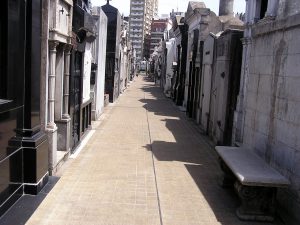 The Recoleta Cemetery is something like I have never seen.  This is a final resting place for the rich and powerful.  The tombs are reminiscent of small office buildings.  Inside are coffins, sanctuaries and the like.  I have several interesting photos of this place.  Eva Peron's tomb was the most popularly viewed and photographed of all by a wide margin.
Jerry and I then headed off for a coffee.
One of the advantages of spending time with a local is seeing places I would not have come across as a tourist.  I remember spending time with one of my old bosses and his wife in Bangkok, Thailand.  They lived there and Carol and I were in Thailand for the day while on an Asian cruise.  I remember saying that I wanted to go in the grocery store where they shopped.  Do you remember that day, Greg?
Today Jerry and I stopped in a "Borders" like bookstore that offered a small café.  There we spend some time talking about our racing trip in Buenos Aires and where we might meet up again.  Jerry also asked me to give him a demonstration of my Apple iPhone.  I happily obliged.
The rest of the afternoon was spent relaxing.
Before Jerry left he showed me the downtown movie theatre where he and Elena see their movies.  Movies here are in English with Spanish subtitles.  The theatre complex was as modern and upscale as any I have seen in the states.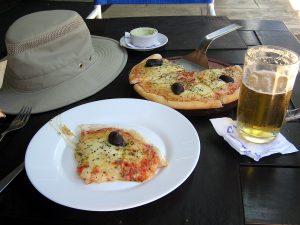 Nearby was an Italian restaurant with an outdoor seating area.  I relaxed, on an absolutely beautiful day, having a beer and a small pizza and just watching the people walking past.  When I was finished my server took the last two pieces of pizza away to wrap up.  I figured I would eat them somewhere along the way before I got on my airplane.  As the server left my table a young homeless looking man rushed up and asked the server for the uneaten pizza that was soon to be wrapped for "takeaway".  The server shoed him away.
The homeless man walked across the way and sat on a park bench.  I watched him.  He had his eye on this restaurant.  He looked hungry.  When I had paid my bill and received my uneaten pizza I walked over to the young man and without saying anything handed him the two slices of pizza.  He was most grateful.  It wasn't much.  I don't like to enable people who are in need, often from their own devices.  However, I do like to help and educate the less fortunate whenever I can.  There is a major difference between giving a man a fish and teaching him to fish.  Today all I could do was provide some food.
I was off to the airport; my visit to Argentina was almost over.
From lunch, I grabbed a cab back to my hotel.  I had my laptop carrying case stored there.  It was jammed with dirty clothes!  I suspected my cab driver took the "long way" around, but I probably couldn't prove it.  The hotel staff at the Embajador Hotel had been wonderful.
They had arranged for a private car to take me to the airport.  The fare was just 80 pesos.  That was 15 pesos less than the cab that had taken me from the airport to the hotel to begin the trip!
I had some details to take care of at the airport before heading back to Los Angeles.
Once at the airport I paid $18 U.S. as a departure tax.  It's all in the cost of doing business.  Security was unusual.  I simply put my bags through a security conveyer system and that was it.  There was no removal of shoes, no taking my laptop out of its case and no removing liquids from my travel bag.  It makes me wonder if the Argentina system is not safe or the American system is overkill.  What say you, John?
The Argentina airport security folks did make a half-hearted attempt to inspect the bags at the gate but with this effort, they could not have found much. I was flying standby back to the states. There was only one flight leaving Buenos Aires for the day. That flight flew from Buenos Aires to New York. It departed at 11:30 p.m.
The flight was oversold. It didn't look like I would get on. That was a potential problem. If I didn't make this flight I would have to wait another 24 hours for the next one…and I might not get on then.
For anyone who thinks they would really like to "fly for free" I'm not really sure what they think they would be signing on for. When we got within 15 minutes of the flight's departure there were three passengers who had not shown up yet. If those three people didn't make it the three people (including me) who were flying standby would get on the plane. At this point, and I've been at this point many times, I just look down the long terminal and see if anybody is "running". In the vernacular, these people are aptly called "runners". Not one of the three late arrivals did make it. All three of us standby passengers were put on the plane.
I received a business class seat for my return home to New York! I was a lucky duck. However, everyone's luck runs out. To date, Carol and I have flown standby on almost 2,000 flights. What was about to happen to me in Buenos Aires had never happened before or since. The pilot decided that with "weight and balance" regulations the three standby passengers were not going to be able to fly.
Commercial airliners can only fly with so much weight given local temperatures, fuel loads and altitude. Much of the weight they are carrying is cargo and fuel. They also use a standard calculation per passenger to account for the weight of a passenger and his/her luggage. I have been denied boarding because of weight and balance a few times. Except for that Buenos Aires flight I have never been denied boarding once I was on the plane….and in business class no less.
Now it was midnight. I was off the plane. The next flight would not be leaving Buenos Aires for the states until 11:30 p.m. tomorrow night! I had a decision to make. It was a $40 cab ride into Buenos Aires from the airport. Then I might have to pay $150 or more for a hotel that I wouldn't get too until nearly 2 a.m. Then I would have another $40 cab ride to get me back to the airport tomorrow. Once I checked out of my hotel at about 11 a.m. tomorrow I wouldn't have any convenient place to store my luggage if I wanted to sightsee. I had already spent a couple of days checking out Buenos Aires. All of this didn't sound like going back into the city at this time of night at the expected expense was worth it.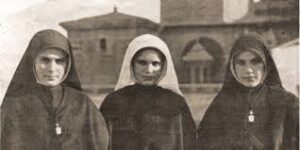 I made the executive decision to fight three airline chairs and sleep overnight on them. I did just that. I remember waking up at about 4 a.m. only to see three Catholic nuns sitting across from me and I'm sure wondering how I ended up where I was! The definition of a LONG day is waking up inside a busy airport at 6 a.m. and having nothing to do until 11:30 p.m. when the next flight was expected to depart….and not having any certainty I would even get on that flight.
MONDAY, FEBRUARY 1, 2009
It was a long ride back to Los Angeles.
I am happy to report I made that late flight back on New York….on my second try.  I had been in the "airport system" for just about 24 hours.  Is it any wonder so few, if any, folks trackchase to the degree that I do.  It ain't easy, but it's fun for me.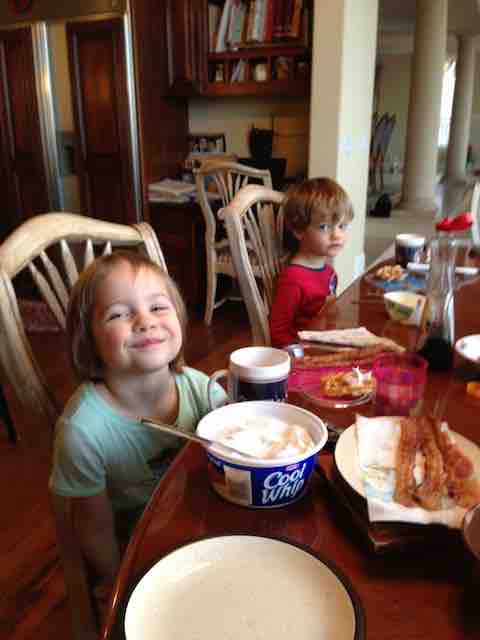 Later on Monday when I landed at LAX Carol was there to pick me up in the Carol Lewis owned and Life of Virginia sponsored Lexus LS 430.  From the airport, we went directly over to visit the grandkids, Astrid and Mitch.  They are 7 ½ months old now and we love 'em.
Argentina was fun.  All of my trips are and this was no exception.  It was great meeting Jerry and Elena.  I hope Carol gets to meet them someway.
Don't miss my race driving experience this weekend.  Then I've off to another hair-raising international adventure.  I won't be at home much during February.
The People
How would I characterize the people of Argentina?
First, they didn't speak much English.  They seem to be an industrious bunch.  The folks in legitimate businesses (retail stores, street vendors) seemed well prepared to conduct business.  Folks in illegitimate business (touts) were aggressive and they seemed to be everywhere.  However, an equally aggressive "no" to their advances kept them out of my face.
I was surprised at how unwilling to negotiate many of the marketplace vendors were.  I tried to bargain a couple of times and the sellers stuck to their prices.  I came across the "most darling" little shirts for the twins that I had to buy.  They reduced the price from 88 pesos to 80.  When I tried for a further reduction they wouldn't budge.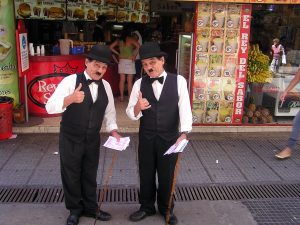 My formal negotiating training told me that when the seller will allow you to walk away (without coming after you) then you have reached their best offer.  I did walk away, but not very far, before returning to get those shirts for 80 pesos!  On the other hand, I bought an antique toy hard rubber midget racecar that had a price tag of 80 pesos.  I offered fifty.  The vendor told me he was accepting my offer because it was "first business" of the day.  I never like it when I make an offer and it is accepted.  I always feel as if I could have bought the item for less.  Nevertheless, the little toy car now sits proudly on my office bookshelf.  In a couple of months I will have forgotten what I paid for it, but it will always remind of my visit to Argentina.
RACE REVIEW

CIRCUITO EFREN CHEMELLI, BUENOS AIRES, ARGENTINA
I have now seen 1,406 lifetime tracks.  The last 23 of those tracks have covered eight new trackchasing countries for me!
We rode a city bus and a taxi to the track tonight.
I can probably count on one hand the number of tracks I have visited where I did not arrive in a private car.  Most of those have been in the past year.  My track visits in Thailand, Guyana, China and Mexico City are among those where I used taxis to go to and from the track.
Tonight I would be going to the races with Jerry Fisher.
I had only met Jerry the night before.  Nevertheless, I felt like I had known him for a long-time and I think he felt the same way about me.  Jerry is originally from England.  He and his wife, Elena, are living in Argentina while awaiting more permanent residence in Brazil.  Jerry is a former racer.  You can view his racecars in the photos attached to this Trackchaser Report.  He had been to tonight's track, the Circuito Efren Chemolli a few times already this year.
We were taking public transportation to the track tonight.
Jerry recommended we take a city bus for a couple of miles to reduce our taxi expenses.  I loved that idea.  I had not ridden a city bus yet and wanted to do it just for the experience.  The bus took only coins.  The cost was small, just 1 peso, and 25 centavos (about 40 cents U.S.) for our one-way ride.
Once we got near the freeway we hopped off the bus and flagged down a taxi.  Most, maybe all, Buenos Aires cabs run on propane.  We had a 15-20 mile ride out to tonight's track.
We would be in for a bit of a long evening at the track tonight.
We arrived at the track by about 7:30 p.m.  The gates to the track didn't open until 8 p.m.  This is much later than any nighttime track I had ever visited.  The weather was perfect with the temperature in the low 70s, although there was a fairly strong breeze.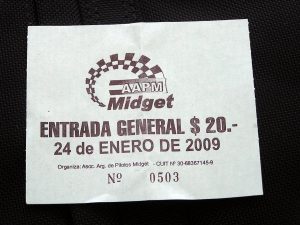 The track had a good deal of similarities to small dirt ovals in the U.S. and several things that I hadn't seen before.
Admission was just 20 pesos (about $7 U.S.).  This admission price included admission to the pit area.  Tonight we would be seeing just one class race, wingless midgets.  There were 26 of them.
Gates opened at 8 p.m.  Time Trials were supposed to begin at 9 p.m.  They didn't get a car on the track until nearly 10 p.m. and time trials were finished at 10:17 p.m.  They didn't have their first race for another 30 minutes.  There was no noticeable reason for such a tardy start.  However, Jerry told me that previous programs had run well into the night.
It stayed light until past 9 p.m.  This allowed me to get several good pictures of the midget cars that would race tonight.  The racing cars were beautiful.  They looked to be several years old in most cases. Don't miss my photos tab in this post.
A famous road course layout sits just a few yards from tonight's dirt oval track.  This is the Autodromo Oscar Alfredo Galvez circuit.  This track hosted a world Formula 1 event about 10 years ago.  It was getting dark but I was able to get a couple of photos for you to review.
The track's facilities were unusual to some degree.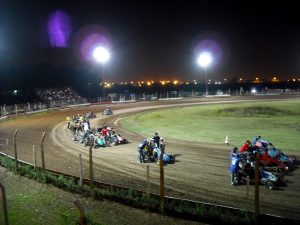 The track itself was a nearly flat quarter-mile dirt oval.  Think Kokomo Speedway.  The entire track electrical grid was powered by a nearly pre-World War II generator.  The concession stand was small.  I'm talking really small.  I estimate the crowd tonight at about 1,500.  The concession trailer could not have been more than 50-75 square feet.  There was just enough room for a grill and two workers.  They sold hamburgers, hot dogs and Coca-Cola.  They didn't have the hamburgers ready until about 9 p.m.  Three hamburgers and two Cokes came in at 25 pesos.  There was one vendor patrolling the grandstands selling sugar coated nuts and suckers.  Several fans brought their own food and drink coolers in with them.
The P.A. system was good, although the commentary was exclusively in Spanish.  I thought it humorous that during breaks between races, they played only English speaking music.  I wonder how many fans understood what Elvis Presley was talking about when he sang "All Shookup".  There were three grandstands, each about 12 rows high.  I referred to these grandstands as "bleachers" and Jerry asked, "What's a bleacher".  He agreed with me that U.K. race promotions are woefully behind the times in almost exclusively offering no grandstand seating for their patrons.  The track provided a very complete and free program.  The program listed all of the drivers and the previous week's results.
The racing left something to be desired.
Wingless midgets are one of my favorite racing divisions.  Truth be told they could have run any type of race or racecar and I would have been thrilled just to see a race in Argentina.
If this were a race in the U.S. I would have been much more critical of the program than I am likely to be today.  First, let's try to get our facts straight.  There was just one division racing tonight.  There were just 26 cars in that division.  For some reason, they thought they needed to have time trials.  For an even odder reason, they wanted to start the fast cars in the front of the heats.  For some reason, they didn't want to open the gates until 8 p.m. or finish time trials until 10:17 p.m.  Yes, if this happened in the U.S. the situation would have had my blood pressure rising to an unhealthy level.  O.K., that's not really true.  I have low blood pressure and always have had. Yes, that's me in the blue shirt above.
When they finally did get started, they ran four heat races.  Each heat had 6-7 cars in it.  I was surprised to see that the heat races were only four laps in length.  Most U.S. based heats for this type of car would be 8-10 laps.
The starting procedure was most unusual, to me anyway.  The cars entered the track from the second turn with a push start.  They then drove around to the starting line and turned off their engines.  Then two crewmembers per car would push the car backwards about 20 feet, then push it forward that same 20 feet until the engine fired again.  The cars were then line up in rows of two or three for a "standing" start just as they did it at my boyhood track, the Peoria Speedway.
The actual beginning of the race was something I had never seen.  With the drivers all waiting to get going, a track official stood in front of them and waved the blue and white Argentina flag.  He then ran off the track and the drivers looked up at a light standard similar to a drag racing Christmas tree starting system.  With the drivers racing their engines, the light turned from red to green and they were off.
Each of the heats ran caution-free.  There were spinners and wreckers but they didn't stop the race for these underperformers.  The spinners simply got going again and resumed their race.  The first heat race had not started until 10:47 p.m.  It took them nearly an hour to run four, four-lap heat races.  Wow!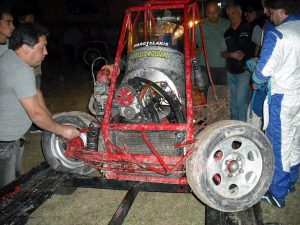 It was getting cold and the clock was ticking.
The wind was now blowing some 15-20 M.P.H.  The temperature had dropped to the upper 60s.  I had only a t-shirt (Macau Grand Prix) and shorts on.  What was funny is that I had brought long underwear (in case I didn't make Argentina, my plan was to go to the ice races in Canada). However, since I didn't have a car at the track all of my "stuff" was back at the hotel.
Jerry recommended we take a tour of the pit area again.  There he introduced me to Adrian, the track photographer.  Adrian was kind enough to send me a beautiful full panoramic view of the track.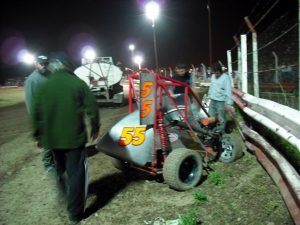 The program continued to drag as they tried to run through two last-chance races, two semi-finals and then the 10-car, 8-lap feature event.  It was getting colder and colder.  Jerry reminded me of our options for getting back to the city.  There didn't seem to be much taxi traffic on the highway that could be clearly seen from the grandstand.  I didn't much like the idea of hitchhiking back to town.  Staying until an hour after these races ended and riding back with Adrian, the photographer didn't seem like a great idea.  I would not even entertain riding on the back of a motorcycle for 20 miles in this country.
It was time to head for the exits.
Finally at about 12:30 a.m., after we had been at the track for about five hours Jerry asked me if it might be time to head back to the city.  I assessed the situation and concurred.  With that, we were off.
We didn't have to wait very long before a taxi driver drove up and stopped.  This was probably the worst taxi ride I have had in a long time.  The guy drove like a madman and one of his tires seems liked it might come off at any moment.  I considered asking him to slow down, but since he didn't speak any English that would have been useless.  When we got back into the city, he was pretty good about running red lights as well.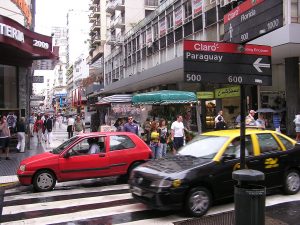 First, we dropped off Jerry in his neighborhood.  Then the wild and  crazy cab driver took me back to my hotel.  I arrived in my room at about 2 a.m.  And this was after we had left early!  Jerry later emailed me to say the races had ended at 1:30 a.m. with Walter "Speedy" Gonzales winning the feature.  I suspect he started from the pole.
Overall, despite the extreme tardiness of the program, I had a wonderful time at the track.  Most of my foreign country visits are at road courses where very little of the actual racing can be seen.  I would much rather watch racing on a track like the small dirt oval that ran tonight.  However, these types of tracks rain out easily.  I would not have wanted to fly 17,000 miles to Argentina and back to be rained out.  That might make me cranky!  It was also good to have some local knowledge in the form of Mr. Fisher.  We had a good time trackchasing together and just might be doing it again sometime.
COUNTRY COMPARISONS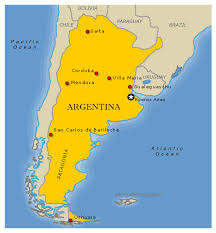 Argentina
This evening I saw racing in my 24th different country.  I am the tenth listed trackchaser to see racing in Argentina.  I am the only living American trackchaser to come to this part of South America to trackchase.
RENTAL CAR UPDATE
Buenos Aires, Argentina – Friday/Sunday
I won't be renting a car on this trip.  I'll use taxis instead.
Thanks for reading about my trackchasing,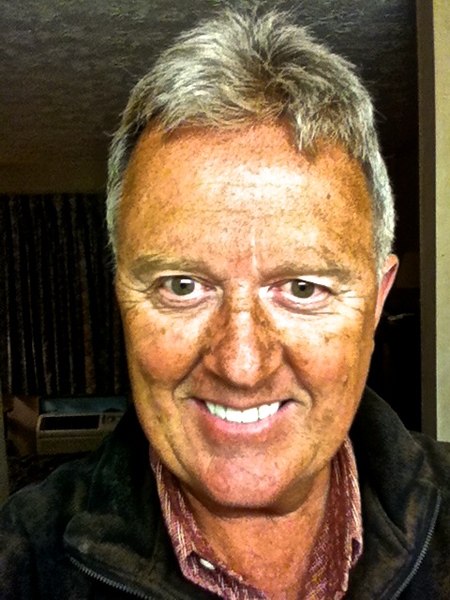 Randy Lewis
Alberta's #1 Trackchaser
Age and treachery will overcome youth and good intentions.
TRAVEL DETAILS
AIRPLANE
Los Angeles, CA – New York, NY – 2,467 miles
New York, NY – Buenos Aires, Argentina – 6,114 miles
RENTAL CAR
None
AIRPLANE
Buenos Aires, Argentina – New York, NY –6,114 miles
New York, NY – Los Angeles, CA –2,467 miles
Total Air miles – 17,162 (4 flights)
Total auto and air miles traveled on this trip – 17,162 miles
TRACK ADMISSION PRICES:
Circuito Efren Chemolli – 20 pesos
Total racetrack admissions for the trip – 20 pesos
COMPARISONS
LIFETIME TRACKCHASER COMPARISONS UPDATE:
There are no trackchasers currently within 200 tracks of my lifetime total.
Randy Lewis, San Clemente, California – 1,406
Other notables
These worldwide trackchasers are within 10 tracks (plus or minus or more) of Carol's current trackchaser total.
Kevin Eckert, Indianapolis, Indiana – 455
Ken Schrader, Concord, North Carolina – 373
Carol Lewis, San Clemente, California – 371
2009 TRACKCHASER COMPARISONS
Randy Lewis, San Clemente, California – 6
UPCOMING TRACKCHASING PLANS
Following my trip to Argentina, I will resume my race-driving career.  Up to this point, I have been primarily a European driver with co-piloting experiences in the U.S. and Asia.  I hope to compete on my second continent to match the exploits of fellow drivers Steve Kinser and Sammy Swindell.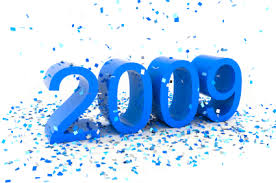 RACETRACKS VISITED IN 2009
1,401. Death Valley Raceway (oval), Armargosa Valley, Nevada – January 3
1,402. Lake Weyauwega Ice Track (oval), Weyauwega, Wisconsin – January 11
1,403. Marion Pond Ice Track (oval), Marion, Wisconsin – January 11
1,404. Grandvalira Circuit (road course), Port d'Envalira, Andorra – January 17
1,405. Kuna International Raceway (oval), Kuna, Idaho – January 25
1,406. Circuito Efren Chemolli (oval), Buenos Aires, Argentina – January 31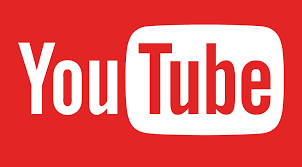 I went down to Argentina in late January 2009. At the time I was not making YouTube videos of the racing action I was seeing. Just a few months later in May, I posted my first-ever YouTube video on my YouTube channel called, "ranlay". As this is posted I now have more than 1,300 race videos on my YouTube channel. Since I didn't produce a video from the Circuito Efren Chemolli racetrack I found some folks who have done that. I hope you enjoy their productions and get the chance to see what I saw on a Saturday night in Argentina.
In-car midget racing from Argentina
.
.
Midget feature racing on a small Argentina dirt track