Greetings from Iron River, Wisconsin
.
.
From the travels and adventures of the 
"World's #1 Trackchaser"
.
.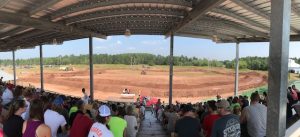 Bayfield County Fairgrounds
Dirt road course
 Lifetime Track #2,481
The EventVideo PlusPhotos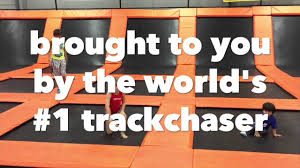 THE EVENT
I am a "trackchaser". So, what the heck is that? I get that question from racing and non-racing people all the time. This is a difficult question to answer. Why? Because after I do my best to respond people still say, "I've never heard of such a thing"!
Here's my best explanation.
Trackchasing is a three-pronged hobby. I'm a racing fan. I love to travel. I love to analyze opportunities to get the most out of everything while saving time and money.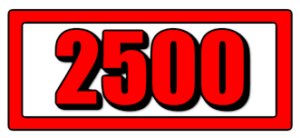 Trackchasing fills the need for all of the above. The racing part of my trackchasing has me trying to see wheel to wheel auto racing at as many different racetracks as I can all over the world. Yes, all over the world. So far things are going pretty well. I've seen racing at nearly 2,500 tracks in 80 countries. As a matter of fact, I've seen racing at more tracks than anyone else in the world.
Equally important to me are the things I get to see and experience over the "long and dusty trackchasing trail". I call these adventures "Trackchasing Tourist Attractions". You won't want to miss my "Trackchasing Tourist Attractions" page. Here's the link:  Trackchasing Tourist Attractions or my "Sports Spectating Resume" page, Sports Spectating Resume on my website at www.randylewis.org.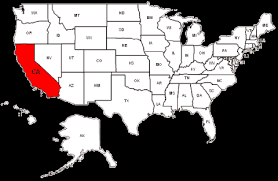 I live in southern California. Most of the racetracks in the U.S. are located well over 1,000 miles from where I live. As a matter of fact, my average trip covers 5,000 miles and more. I take 35-40 of those trips each season. In any given year I will travel well over 200,000 miles, rent more than 50 cars, and stay in more than 150 hotel rooms.
I get the chance to meet people all over the world. With trips to 80 countries and counting just getting the chance to experience so many other cultures, spend times in their homes and meet their friends is a huge reward for being in this hobby. I am indebted to several of these folks for their help and friendship.
It's takes a good deal of planning to do the above and not spend my entire retirement portfolio. I enjoy the challenge, the travel and every other aspect of "trackchasing". In reality, my trackchasing hobby is a lot like being with the carnival. I breeze into town, stay a little while and then head on down the road.
Today's adventure was one more of the 2,000 trips that have taken me up, down and around the proverbial long and dusty trackchasing trail.  If you would like to see where I've been and experience those adventures here's the link: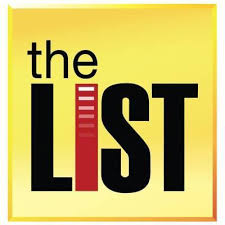 If you've got a question, comment or whatever please leave it at the bottom of this report.  It's very easy to do.  Or you can visit me on Facebook.  Thanks!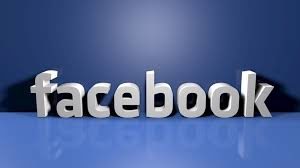 FOREWORD
Sunday, August 12, 2018.
I woke up this morning in Minneapolis, Minnesota. Today is day number four of my 12-day primarily mid-western trackchasing trip.
I'm going to have my Minneapolis-based rental car for nine days. I expect to cover nearly 3,000 miles during that time. Three thousand miles spread over nine days is really only an average of 6-7 hours of driving each day. That's actually not all that bad in my world.
THE RACING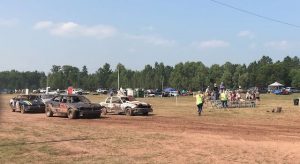 Bayfield County Fairgrounds – Iron Mountain, Wisconsin
It was pretty easy to complete the three-hour drive over to Iron River, Wisconsin. Iron River is home to the Bayfield County Fairgrounds. In this part of northern Wisconsin they do something called "Dirt Dash" racing. I've seen it once before. There are at least three or four fairgrounds using this format.
Today I paid $13 for admission to the fairgrounds. I was told this expense covered everything that I would enjoy at the fair excluding food and drink. Another way to say it was that the thirteen bucks included my admission to the fair and to the grandstand for today's racing as well as the carnival rides as few as they might have been.
Before I went into the grandstand I started to watch some of the local entertainment. I was mesmerized by a four-person female group. They had their singing and choreography down perfectly. What was so cool about this group is that every one of their members performed as if the camera was spotlighting their performance even when they were in the back of the line. Very professional.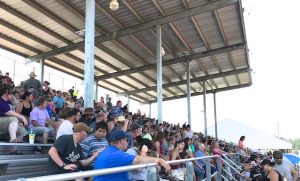 Today there was a decent-sized covered grandstand. It was nearly full with fans coming to watch the Dirt Dash racing. I grabbed a top row seating position. That was good for the view. However, it was bad for the sun, the top row made it feel as if I were sitting under a heat lamp. Today's high temperature was about 90°.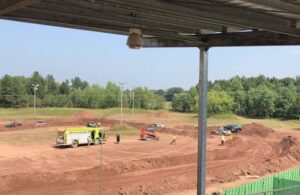 The dirt road course configuration was probably about 3/4 of a mile long. Of course, I'm guessing. The track was extremely narrow. On each side of the racing surface were dirt mounds about 4 feet or higher. Sometimes these mounds served as  launching ramps to make the cars nearly flip.
The announcer could not be heard all that well. I had to really strain to hear what he was saying. It sounded as if there were two classes of cars racing, called amateur and professional. Those were the two classes of racers that I grew up with as a boy at the Peoria Speedway.
I had a hard time telling how many cars were in each of the two classes. I'm thinking there were nine professional drivers and maybe a few more than that in the amateur class. They ran 4-6 cars in very short four-lap heat races.
The announcer made some reference to the races being qualifiers for the main event. That's pretty normal. However, I was not expecting there would be at least three rounds of heat races before the features would begin. Yes, it was all somewhat confusing because of the poor PA system.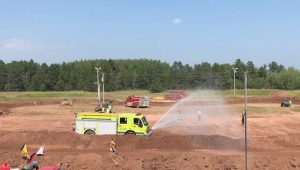 There were delays between the races to water the track and remove the disabled race cars. I had been in the grandstand for more than two hours watching a series of about 10 heat races. Frankly, the racing wasn't all that fantastic. The best part was when the second-place car would put the first place car into a dirt mound just before they reached the checkered flag. That happened a lot.
During the third round of heat races I couldn't take it anymore. I decided to go out and explore the fairgrounds, 4-H buildings and the like.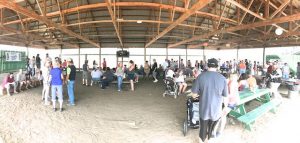 Then I discovered the beer garden. That was only appropriate. I WAS in Wisconsin. There is no question about it in my mind. Wisconsin features the biggest beer drinking opportunities of any state in the country. I've only seen that matched by my friends in Zimbabwe!
I joined in and ordered a 16-ounce Bud Light draft beer. It was cool and refreshing. The beer garden was heavily shaded. Nearly 100 people hung out in there. We could see the start of each race very well from this position.
After I had been on the fairgrounds for nearly 3 hours I decided enough was enough. It was hot. I couldn't hear the announcer very well. The actual racing was marginal at best. I figured three hours was enough time to put into this show.
I'm really trying to catch up on my sleep after getting only 30 minutes on night number one in Canada. For some reason hotels in the Duluth, Minnesota/Superior, Wisconsin area are very expensive. A Motel 6 was selling for $90 a night plus tax. I talked my way into a $76 rate at Super 8 and thought I just won the lottery.
THE RACING
Procter Speedway – Procter, Minnesota
There was a silver lining with today's race plan. The Proctor Speedway is located in Proctor, Minnesota. That's just a couple of miles outside of Duluth. Carol and I went there all the way back in the year 2005. In 2005 I set the all-time trackchasing record for tracks seen in one year at 182. I was hustling that year. Of course, I hustle every year.
The racing at the Proctor Speedway was scheduled to begin at 5:30 p.m. I had already had my fill of heat racing this afternoon. I decided to skip the heat races and show up when I thought the feature races might begin.
I paid the $9 senior rate for my ticket. That was a real bargain for what I was about to see at the Proctor Speedway. Granted they did take nearly a one-hour intermission after I arrived, between the heats and features to groom the track. I wasn't too wild about that.
However, the feature racing was worth the price of admission and more. They were running six classes and the features ranged from 15-25 laps. There were a couple of classes of modifieds, a late model class, a mini stock class and two basic stock car classes.
Most of the races had changes for the lead. All but one class ran pretty much caution free. The lighting was good, there was little dust and they had a good announcer. The Proctor Speedway is one of those top 100 tracks in the entire country.
I don't go "racechasing" very much anymore. I already devote so much time to trackchasing. When I'm not trackchasing I want to be with my family. I want to enjoy my other entertainment opportunities. However, with the Proctor Speedway being so close to this afternoon's race and with no need to do any driving tonight, getting a chance to visit a good racetrack was just what the doctor ordered.
AFTER THE RACES
The last feature of the night took the checkered flag at 9:30 p.m. That's what needs to be done for a Sunday night show to work. At that point I headed to McDonald's and grabbed a chocolate sundae as a reward for being out in the hot sun all day.
My next two days will be spent with family in my boyhood state of Illinois. Then I will go trackchasing in Wisconsin, Minnesota, Missouri and Iowa. Weather might be a problem. We'll see. Stay tuned.
Good afternoon from iron River, Wisconsin.
Randy Lewis – 80 countries – 2,481 tracks.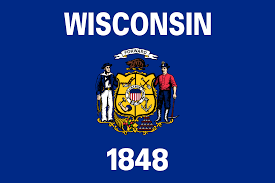 Wisconsin
The Badger state
This evening I saw racing at my 87th lifetime track in the Badger state, yes, the Badger state.  I hold the #4 trackchasing ranking in Wisconsin behind three Wisconsin natives. I've seen 87 or more tracks in eight different states.
Thanks for reading about my trackchasing,
Randy Lewis
World's #1 Trackchaser
Peoria Old Timers Racing Club (P.O.R.C.) Hall of Fame Member
Wisconsin sayings:  "Stop 'n go lights"
Traffic lights? Please. In 'Scansin, we just call them what they are, dontchya know?
QUICK FACTS
LIFETIME TRACKCHASER COMPARISONS 
The threemost important trackchasing comparisons to me are:
Total lifetime tracks seen
Total "trackchasing countries" seen
Lifetime National Geographic Diversity results
Total Lifetime Tracks
There are no trackchasers currently within 665 tracks of my lifetime total.  Don't blame me.
Randy Lewis, San Clemente, California – 2,481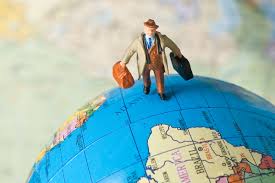 Total Trackchasing Countries
There are no trackchasers currently within 25 countries of my lifetime total. 
Randy Lewis, San Clemente, California – 80
Current lifetime National Geographic Diversity results
Randy Lewis, San Clemente, California – 4.14
That's all folks!  Official end of the RLR – Randy Lewis Racing Trackchaser Report
Click on the link below to see the video production from the racing action today.
Click on the link below for a photo album from today's trackchasing day.  You can view the album slide by slide or click on the "slide show" icon for a self-guided tour of today's trackchasing adventure.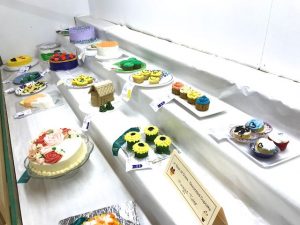 Dirt Dash racing, a county fair cake contest and, because I was in Wisconsin, a beer garden!