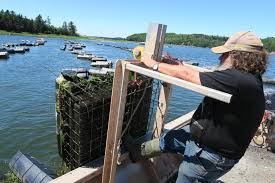 Greetings from Oyster Bed, Prince Edward Island, Canada
.
.
From the travels and adventures of the 
"World's #1 Trackchaser"
.
.
Oyster Bed Speedway
Asphalt oval
 Lifetime Track #1,751
First visit – May, 2012
Second visit – July, 2018
The EventVideo PlusPhotos
Editor's note: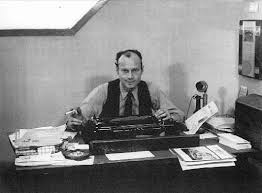 Our visit to the Oyster Bed Speedway was the second of four tracks in Canada that we visited during our trip. Each track will have its own photo album showing our experience at the track. A separate photo album (found by clicking the photos tab) will cover all non-racing activities, and there were lots of them, during the trip.

THE EVENT
I am a "trackchaser". So, what the heck is that? I get that question from racing and non-racing people all the time. This is a difficult question to answer. Why? Because after I do my best to respond people still say, "I've never heard of such a thing"!
Here's my best explanation.
Trackchasing is a three-pronged hobby. I'm a racing fan. I love to travel. I love to analyze opportunities to get the most out of everything while saving time and money.
Trackchasing fills the need for all of the above. The racing part of my trackchasing has me trying to see wheel to wheel auto racing at as many different racetracks as I can all over the world. Yes, all over the world. So far things are going pretty well. I've seen racing at nearly 2,500 tracks in 80 countries. As a matter of fact, I've seen racing at more tracks than anyone else in the world.
Equally important to me are the things I get to see and experience over the "long and dusty trackchasing trail". I call these adventures "Trackchasing Tourist Attractions". You won't want to miss my "Trackchasing Tourist Attractions" page. Here's the link:  Trackchasing Tourist Attractions or my "Sports Spectating Resume" page, Sports Spectating Resume on my website at www.randylewis.org.

I live in southern California. Most of the racetracks in the U.S. are located well over 1,000 miles from where I live. As a matter of fact, my average trip covers 5,000 miles and more. I take 35-40 of those trips each season. In any given year I will travel well over 200,000 miles, rent more than 50 cars, and stay in more than 150 hotel rooms.
I get the chance to meet people all over the world. With trips to 80 countries and counting just getting the chance to experience so many other cultures, spend times in their homes and meet their friends is a huge reward for being in this hobby. I am indebted to several of these folks for their help and friendship.
It's takes a good deal of planning to do the above and not spend my entire retirement portfolio. I enjoy the challenge, the travel and every other aspect of "trackchasing". In reality, my trackchasing hobby is a lot like being with the carnival. I breeze into town, stay a little while and then head on down the road.
Today's adventure was one more of the 2,000 trips that have taken me up, down and around the proverbial long and dusty trackchasing trail.  If you would like to see where I've been and experience those adventures here's the link: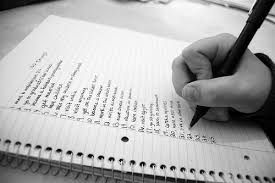 If you've got a question, comment or whatever please leave it at the bottom of this report.  It's very easy to do.  Or you can visit me on Facebook.  Thanks!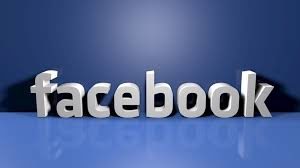 FOREWORD
Saturday, July 21, 2018.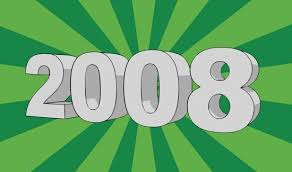 Carol and I first came to the Oyster Bed Speedway located on Prince Edward Island in Canada back in 2008. That was ten years ago! I know what you're saying. "What the heck? Why would you go back to a speedway you've already visited?" The answer is rather simple and it is complicated.
You see when Carol and I came here in 2008 we were rained out. We can't count having seen a track unless we've seen a race. If it rains out before any racing takes place we just can't count the track.
So I came back in 2012. Of course, I invited Carol to join me but she declined. Shame on her. That decision would cost us a lot of money down the road. Nevertheless, six years ago I saw racing at the Oyster Bed Speedway. It was my 1,751stlifetime track.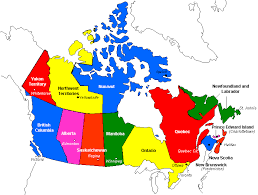 I am sure you are aware that Canada has 10 individual provinces. Yes, a province in Canada is somewhat similar to a state in America. Carol and I were thinking it might be a good idea to say that we had seen a race in every province within Canada. O.K., who am I kidding? I was thinking that! In order to get all ten provinces for BOTH of us we would have to come back to Prince Edward Island so that she could see a race there.
We had never ever seen a race in the Canadian province of Newfoundland and Labrador either. Back in 2014 we tried to remedy that situation. First, we tried to see a race on Prince Edward Island so Carol could count that province. Then we planned to head, via a ferry boat, to Newfoundland and Labrador so we could both knock off our 10th Canadian province. What a great plan we had.
Although that was a lovely trip to PEI for the two of us trackchasing-wise it was unsuccessful. On that night in 2014, which was my third visit to the Oyster Bed Speedway and Carol's second, we were rained out again! I thought they could have raced but they drug their feet and ended up canceling the show. I do remember our having an outstanding lobster dinner that evening as a somewhat inadequate substitute for not seeing the racetrack at Oyster Bed.
After being rained out in Oyster Bed our trip was planned to continue to take us over to Newfoundland and Labrador. However, the weather forecast for that location was terrible. We canceled our ferry boat ride at the very last minute after we were already in North Sydney, Nova Scotia where the ferry departs to Newfoundland. I figured if we went there and spent a week in Newfoundland without seeing a race that someday we would have to come back to N&L. That meant a double expense for traveling to Newfoundland. I guess I'm happy to report the race was canceled in 2014 so we saved the expense of a trip to Newfoundland.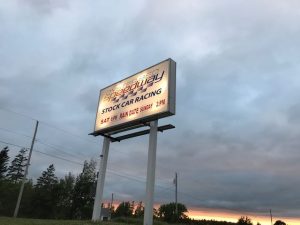 Fast forward to 2018. We were back! Tonight I was returning to the location of the Oyster Bed Speedway for the fourth time. Carol was coming back for her third try. Although the weather was heavily overcast there was no rain in the forecast for PEI. We had a very good chance for success.
This morning we woke up at the Coastal Inn in Sackville, New Brunswick, Canada. We were only 78 miles from the Oyster Bed Speedway. Racing tonight would begin at 6 p.m. The schedule gave us plenty of time for local touring.
We started out with a walking tour of the Sackville Waterfowl Pari, located less than a mile from our hotel. It was a warm, somewhat humid and sunny day at this stage. We walked more than a mile and considered this a successful Trackchasing Tourist Attraction.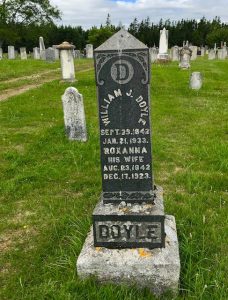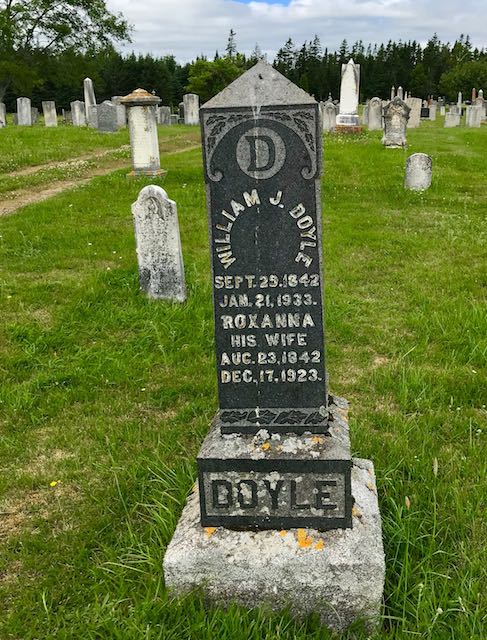 We continued our touring by stopping at a cemetery along the highway. Birthdates of the folks interred there dated all the way back to 1860 and earlier.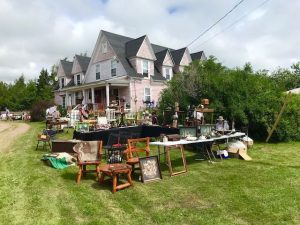 As we drove further we came across a series of cars parked along the highway. They were all stopped for some antiquing. We joined them but found the prices and selection not to our liking.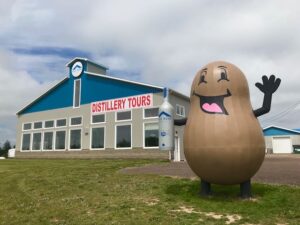 We were really discovering lots of great touring opportunities today. About that time we saw signs for the Blue Roof Vodka distillery. These folks made their vodka from potatoes! How could we pass that up?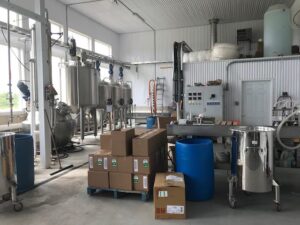 We stopped in for a tour. It was a brief tour of a very small distillery. Nevertheless, the vodka tasting was good. We ended up buying a bottle of 50% alcohol, 100 proof potato vodka. Cost was $45 Canadian. We passed on the strong stuff at 70% alcohol, which our tour guide described as being "moonshine". I would love to have bought a bottle of that. It would have been a great liquor to serve our houseguests.
We had still more time for exploring. We had all of this time because we were only 78 miles, driving distance, from the hotel to speedway. We can really see and do a lot when we don't have to drive 500 miles a day.
I suggested a movie. In twenty minutes or so we were seated comfortably munching on popcorn that was heavily salted and heavily buttered. What would we do without Google Search and Waze? Our movie of choice was Mamma Mia Here We Go Again.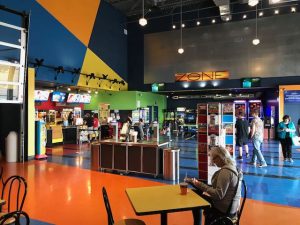 Normally I'm not a big fan of musicals. However, I absolutely loved the show. It was one of my favorites of the year. Lots of beautiful people singing beautiful songs. We had also seen the Broadway production of Mamma Mia. When the movie was finished I told Carol that I loved Mamma Mia the movie almost as much as I loved her. She blushed.
From the movie theater over to the speedway was going to be about a 45-minute drive. We encountered some absolutely gorgeous canola fields. My photographs never do justice to the beauty of these golden fields. However, we also discovered some light sprinkles on the windshield. No, this couldn't happen again to lovely young Carol right?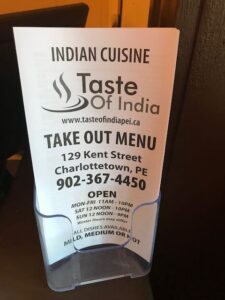 We capped off our day of leisure and touring with a nice pre-race dinner at the Taste of India restaurant. This was a Yelp recommended restaurant located on Kent Street in downtown Charlottetown. The food was outstanding. Now it was time to go racing.
THE RACING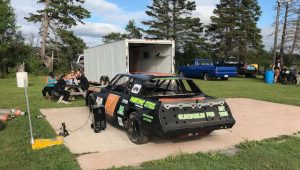 Oyster Bed Speedway – Oyster Bed, Prince Edward Island, Canada
I'm happy to report that at 6:03 p.m. Atlantic time, the Oyster Bed Speedway became part of Carol's lifetime trackchasing list. She has now officially seen racing in nine of the ten Canadian provinces. Congratulations to Carol.
Tonight the adult general admission price to see the races was $15 Canadian. For just five dollars more, in Canadian currency, or a little bit less than four dollars in U.S. funds, we could secure a pit pass. That's exactly what we did. We took a leisurely stroll through the pit area to see what kind of racing machinery would be on the track tonight.
There would be four classes of racers tonight competing on the high-banked quarter-mile asphalt oval track. This included about seven mini-cup cars driven by adults. There were also two four-cylinder classes. They each had 12-14 competitors in their divisions. Finally there were nine street stocks racing tonight as the premier class.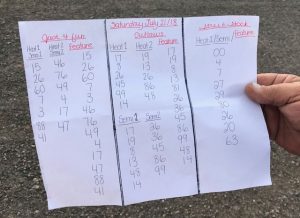 We ran into a track official in the pit area. He showed us the race lineup for the evening. Each class would run a heat race, then a semi and then a feature. The two four-cylinder classes divided their racers into two groups for the heats and the semi. Effectively a heat and semi was the same as two heats.
Because we had filled our tummies with Indian food in advance of the races we didn't order any food or drink at the track. I noticed that no one was carrying poutine to their grandstand seating area. Later I would check the concession stand menu and see the poutine entrée had been taped over. That can't be a good thing.
Carol and I would choose to sit in the track grandstand located right above turns three and four. This was an exciting position to watch the races. The cables that might prevent the cars from flying up into our seating area looked a little rusty to me.
I thought the racing was very competitive. Even though the heat races had only seven or eight cars it seemed as if the top three or four at the head of the pack raced closely and cleanly. On one occasion a driver dumped another driver for the lead. The yellow flag came out. The dumper was put to the back while the dumpee retained his spot in first place. I'm sure this type of ruling accounted for the mostly green flag racing tonight.
The announcer did a decent job over a decent PA system of entertaining and informing the crowd. The races were completely finished by 8:30 p.m. The track never did turn on their track lighting system even though it did get a little gray toward the end.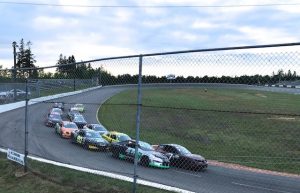 This was another racing program where the car counts were skinny. I was glad to see the street stocks not break up their nine-car field into two heat races. Despite an average car count by class of only 10 or so the racing program was still entertaining. They did a great job of bringing the next race on the track as soon as the previous race was finished.
This was my fourth trip to the Oyster Bed Speedway in order to get the track in my column as well as Carol's. This was Carol's third attempt at Oyster Bed. It's good to have this one in the rearview mirror.
I can confidently say with full confidence we will never ever darken the door of the Oyster Bed Speedway again. Of course that's unless they run a makeshift figure 8, or democross or autocross, or kidney-shaped road course or some other form of non-sense. If that happens? We're there!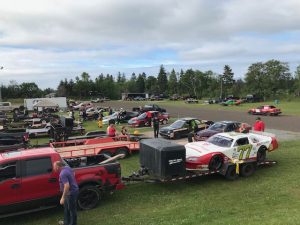 Carol, like most women, enjoyed rooting for the female drivers. The track point later Amanda Wheatly in car #80 started in the middle of the pack in the street stock feature. She drove a strong conservative race and ended up finishing in third place. Carol also noted that the track seemed to attract quite a few families. I don't see that all that much anymore.
AFTER THE RACES
It was only an 80-mile drive or so from the racetrack back to our hotel in Sackville, New Brunswick. However, because all of the driving had to be done on two-lane roads it seemed as if the driving distance was twice as long.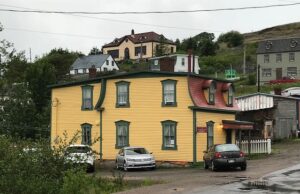 There were a couple of noteworthy memories on the drive back to the hotel. The first was the predominance of houses painted with yellow paint. It seemed as if about every fourth house was painted one shade of yellow or another. I remember noticing this first in Finland. My research told me that yellow was the color of wealthy people back in the day. For the first 15 years of my life I grew up in a yellow house. We were not wealthy.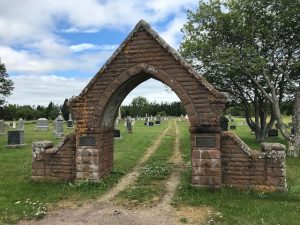 The second item of note was the preponderance of cemeteries. In the U.S. it's much more common to see a cemetery in the east than it is in the west. However, driving around Prince Edward Island and New Brunswick the number of cemeteries was more than ever what you might see in the eastern part of United States. I'll bet during our 80-mile drive we saw nearly a dozen cemeteries, maybe more.
From a trackchasing perspective seeing the races in Prince Edward Island as well as on the province of Newfoundland and Labrador were our top two goals. Prince Edward Island was the secondary goal, the undercard. Next up was the top trackchasing prize of the trip. That will be seeing a race in Newfoundland and Labrador. The weather forecast is a little iffy but we're still a week out so we're hopeful.
Good evening from Oyster Bed, Prince Edward Island, Canada.
Randy Lewis – 80 countries – 2,469 tracks.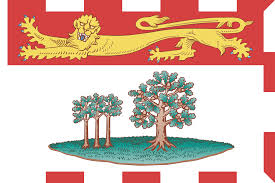 Prince Edward Island
The Spud Island province
This evening I returned to the sight of my first track visit on Prince Edward Island.  I hold a #1 trackchasing ranking at PEI.  I've seen one or more tracks in nine Canadian provinces.
Thanks for reading about my trackchasing,
Randy Lewis
World's #1 Trackchaser
Peoria Old Timers Racing Club (P.O.R.C.) Hall of Fame Member
Prince Edward Island sayings: "As big as a haystack." Describes very large, well-fed senior men.
QUICK FACTS
LIFETIME TRACKCHASER COMPARISONS 
The threemost important trackchasing comparisons to me are:
Total lifetime tracks seen
Total "trackchasing countries" seen
Lifetime National Geographic Diversity results
Total Lifetime Tracks
There are no trackchasers currently within 655 tracks of my lifetime total.  Don't blame me.
Randy Lewis, San Clemente, California – 2,469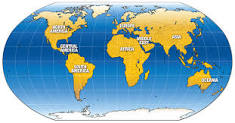 Total Trackchasing Countries
There are no trackchasers currently within 25 countries of my lifetime total. 
Randy Lewis, San Clemente, California – 80
Current lifetime National Geographic Diversity results
Randy Lewis, San Clemente, California – 4.14
That's all folks!  Official end of the RLR – Randy Lewis Racing Trackchaser Report
Click on the link below to see the video production from the racing action today.
Click on the link below for a photo album from today's trackchasing day.  You can view the album slide by slide or click on the "slide show" icon for a self-guided tour of today's trackchasing adventure.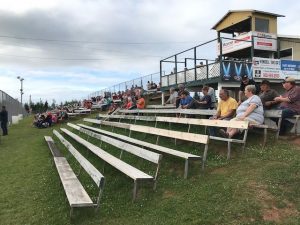 Four trip to the Oyster Bed Speedway…two rainouts….two races….fair enough