Greetings from Saylorsburg, Pennsylvania and a little later on Newberrytown, Pennsylvania
From the travels and adventures of the 
"World's #1 Trackchaser"



Borger's Speedway – Dirt oval – Track #390
Borger's Speedway – Asphalt oval – Track #1,907
HighlightsThe DetailsRace ReviewVideosPhotosQuick Facts
The early bird gets the worm.……………more in "The Details".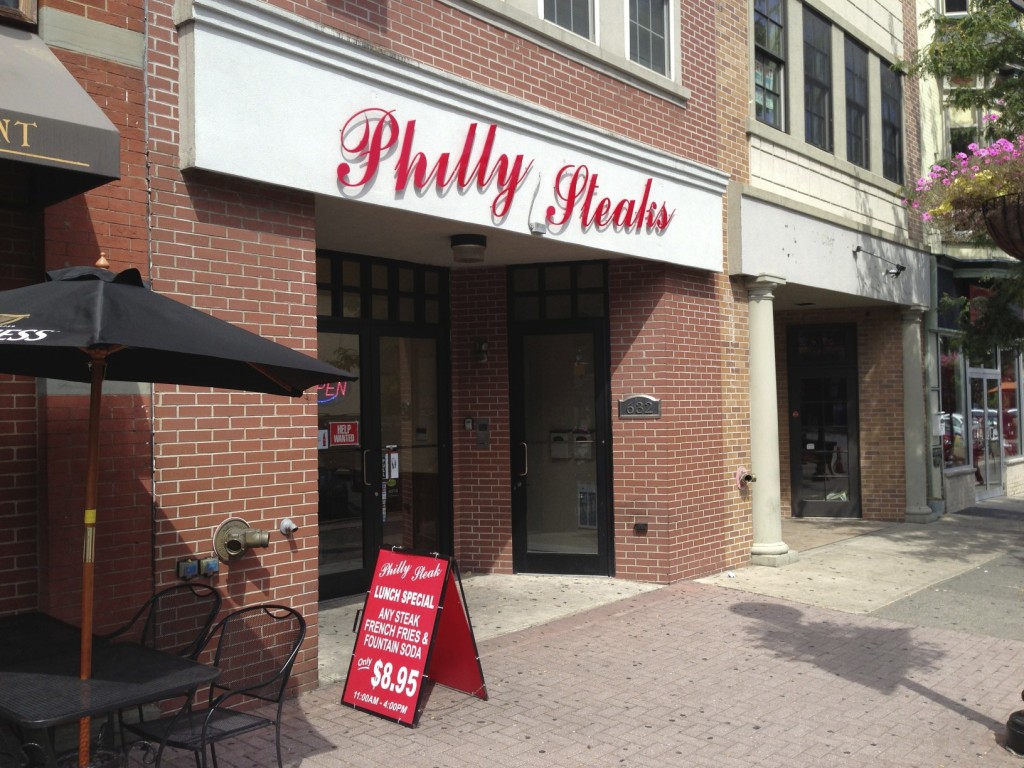 I love eating local foods.……………more in "The Details".
14 years = 1,525 tracks………..details in "Race Review".
What do you think of people who do this?………..details in "Race Review".
Never in my life had I heard of this racing class………..details in "Race Review".
Battery power = information power………..details in "Race Review".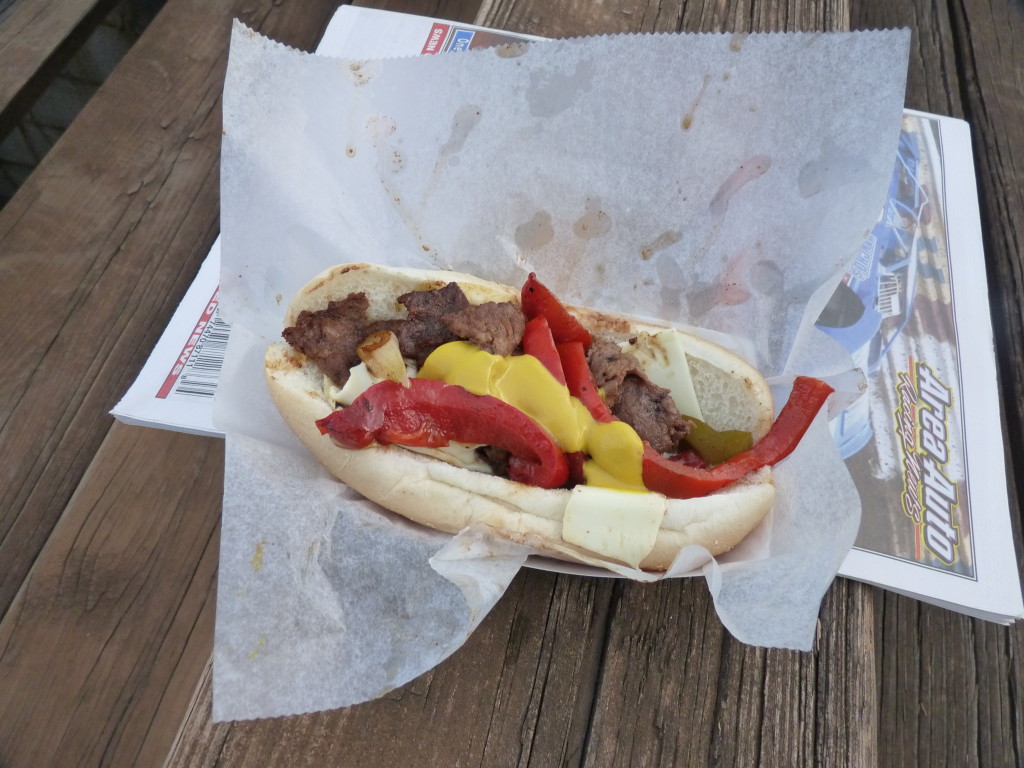 Eastern tracks serve the best food………..details in "Race Review".
Do NOT tell the "Dreaded East Coast Trackchasers" about this………..details in "Race Review".
The early bird gets the worm.
I woke up this morning in Austin, Texas.  I went to bed in Orefield, Pennsylvania.  By the way, who wakes up in Austin, Texas and goes to a race that afternoon in rural Pennsylvania?  Anyway, this is what today looked like.
My morning would begin with a 4:40 a.m. Central time (2:40 a.m. San Clemente time) in Austin, Texas.  It was a 13-minute drive to the Austin airport.  The National Car Rental airport location was not open when I returned my rental car.  It tells you something when the customer service people are off when it's time to use their services.  When that happens you pretty much know you are an "unusual consumer".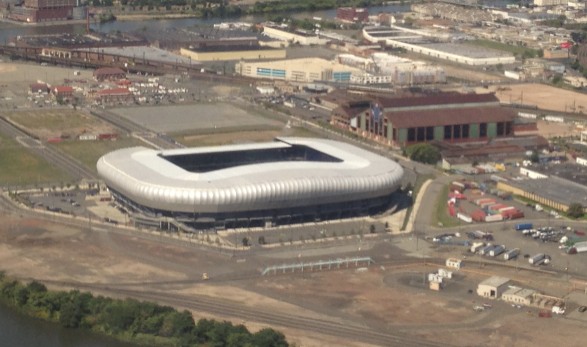 I would be standing by for a 6:24 a.m. flight from Austin to Newark, New Jersey.  There were four open seats and I was #1 on the standby list.  That was good.  The three hour and thirty-three minute flight seemed like a long time to be on a regional jet.
A bargain on a toll pass?
Once in Newark I picked up a Hyundai Sonata hybrid rental car.  It will give me more than 40 miles per gallon.  I also bought a toll pass for $2.70 per day.  That will save me 20% on all tolls.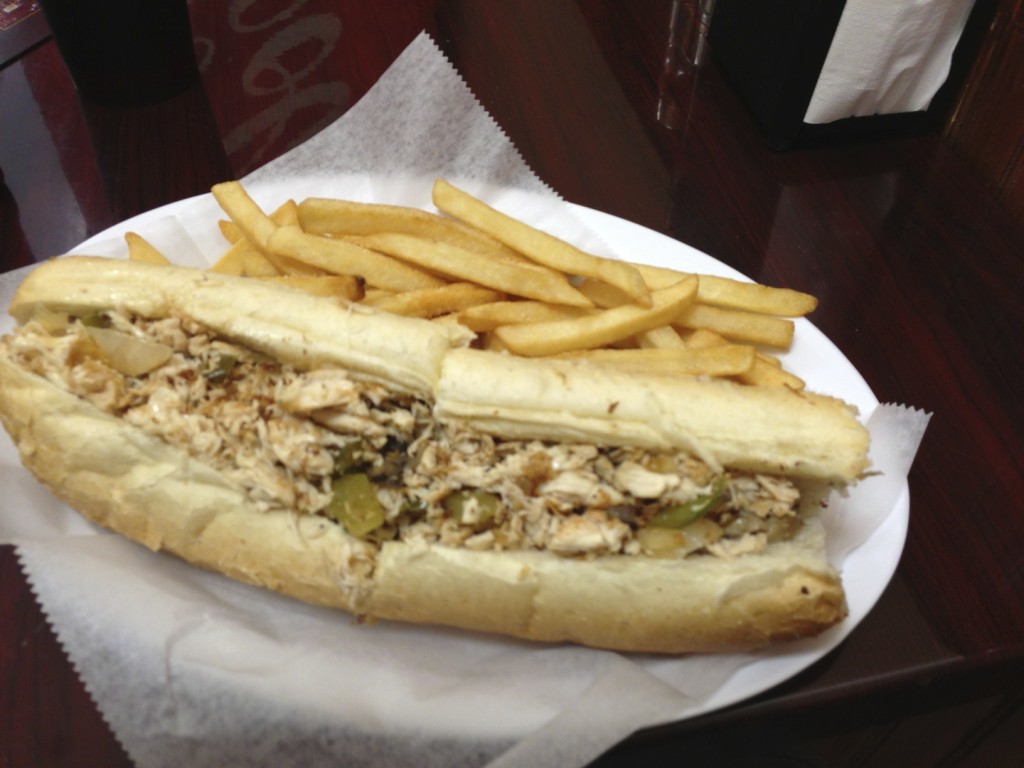 I love eating local foods.
I was in the market for a cheesesteak.  Who wouldn't be if they were traveling to this area?  I stopped at a Philly steak shop in Stroudsburg, PA for a chicken cheesesteak.  The sandwich was large and came with fries and a drink for 10 bucks.  It was a bit dry but I guess that comes with the chicken choice.
It was a picture-perfect day with blue skies and a 75° ambient temperature.  The downtown area of Stroudsburg never looked better.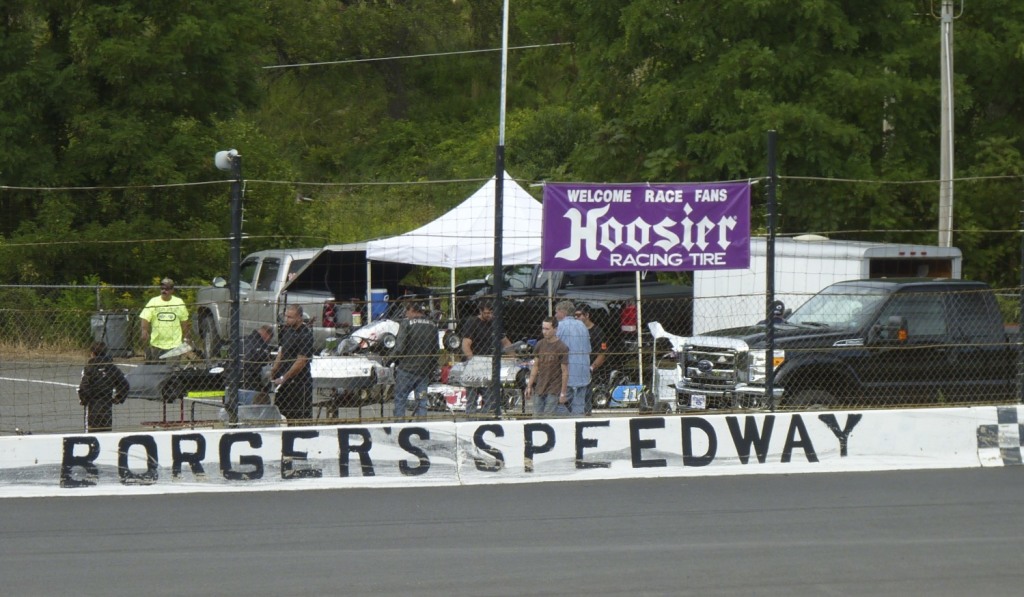 I was headed to Borger's Speedway.  I'll tell you all about that afternoon of racing behind the "Race Report" tab.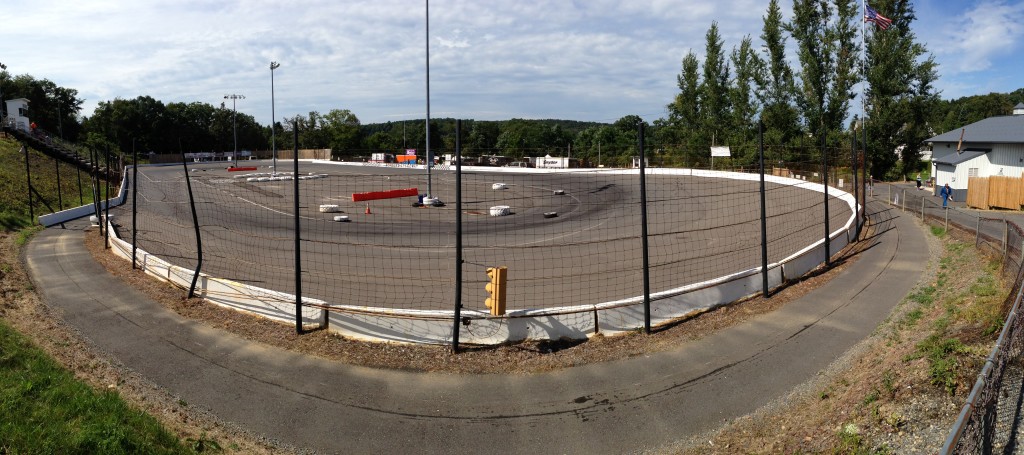 Borger's Speedway – Saylorsburg, Pennsylvania
14 years = 1,525 tracks.
I had seen racing at this facility years ago when the racing surface was dirt.  Now the track surface is asphalt.  As you know trackchasing rules allow trackchasers to count "change of surface" tracks.
I last made my way to this Saylorsburg racetrack on August 10, 1999.  At that point the dirt track version of Borger's was track #388.  It's hard to imagine that in the ensuing 14 years I have added 1,525 tracks.  That's an average of about 108 tracks for each of the last 14 trackchasing years.  Very few trackchasers have seen 108 tracks in a single year let alone AVERAGED that amount for the last 14 years.  Leading names in trackchasing such as Guy Smith, Allan Brown and Rick Schneider have never had a SINGLE year of seeing more than 100 tracks in one year.  Yes, it's been a fun ride…..and it continues.
The track's website told me that racing would change to afternoons from nights beginning today.  That was good fortune.  You'll learn why shortly.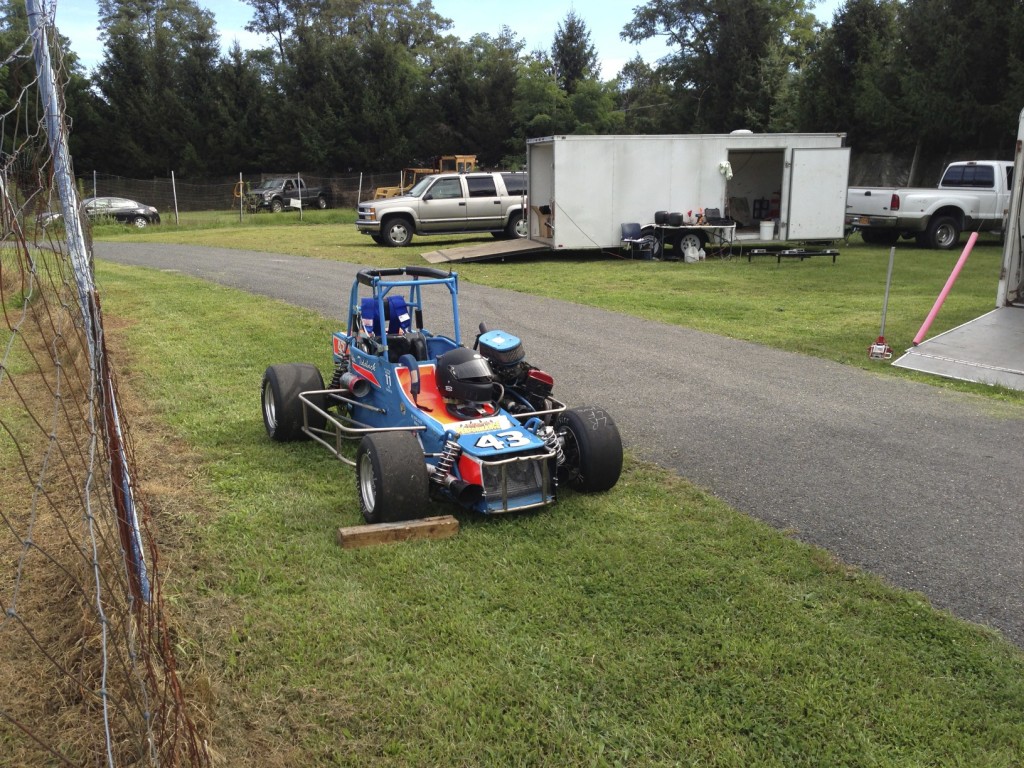 This is short track racing!
The track advertised a start time of 1 p.m.  Later communication with a representative from the tracks informed me that racing would begin at 2 p.m.  I didn't arrive until 2:40 p.m.  I thought I would be late.  Nah, this is short track racing.  They were just wrapping up practice!  The national anthem started at 3:13 p.m.  You got a love short track racing!  I do.
What do you think of people who do this?
Is it disrespectful for people to walk to their seats during the national anthem?  I do.  Today I saw something unusual.  A young 15-year-old was walking rapidly back to her seat while the national anthem played but with her hand crossed over her heart!  She must have felt guilty!
Never in my life had I heard of this racing class.
I've heard literally hundreds of names for various racing classes.  Today I heard a new one.  It didn't seem very politically correct.  It was the "Pork chop" class.  Pork chop?  Why pork chop?  There was only one competitor racing in this flat kart class.  The driver was a bit on the "portly" side and maybe a lot on the portly side.  Was that the reason this racer was relegated to the "Pork chop" class?  Indeed.
The day's regular admission was $10 for "regular" people.  For us senior citizens over 62 we paid just five dollars.  That was a nice discount.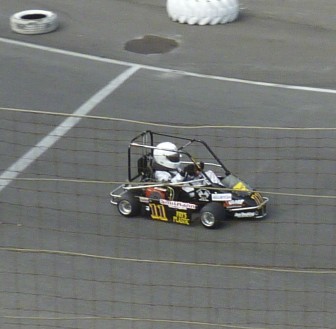 Kart racing has too many divisions.
Most of the flat cart racing wasn't much with four cars or fewer in the heat races.  No division had more than one heat.  A couple of divisions had only one cart.  One of the problems, from a spectating point of view, is that kart racing has so many separate classes that each class has too few racers.
There was one flat cart division that raced seven starters.  The drivers did a good job.  These were the more powerful carts with adults.  They provided good racing that ended with a very hard crash in turn number two.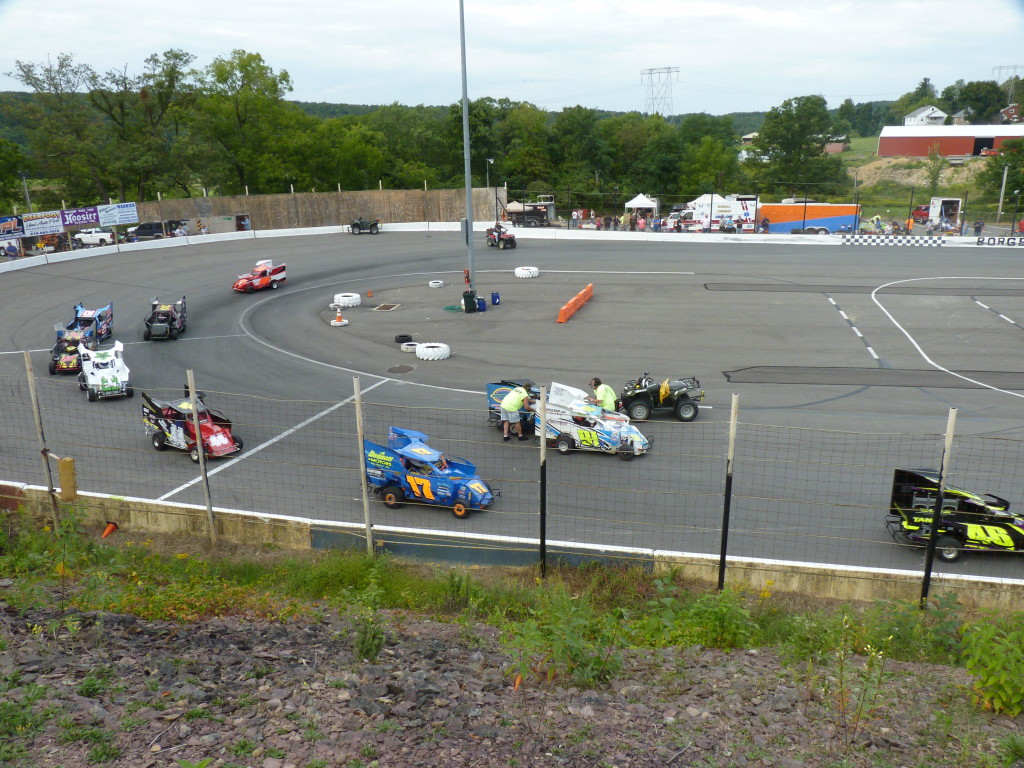 Here's the reason I showed up today.
Today's countable classes were senior champs, senior slingshots and TQ midgets.  I really enjoyed the slingshots on this little paved track.  If they had a full field it would have been a fun class to watch run by themselves.
Battery power = information power.
I took lots of photos and video from turn one.  With another race to see tonight I needed to charge my still camera's battery.  I used my car's power adapter also known by the politically incorrect term, "cigarette lighter" to charge the small battery.
The shock of the day!
When it was time to leave Borger's I was in for a shock or actually the lack of a shock.  Charging my camera's 2 oz. battery had run down the hybrid car's battery!  The car would not start.  This was bad.  I needed to get on the road so that I could pick up trackchasing buddy Paul Weisel and see another track tonight.
Luckily I was in an area where people take on challenges like this in a heartbeat.  These are people who live in a rough climate.  They deal with difficult people and situations in their everyday East coast life.  They seem to face an uphill battle in so many things they do.
I went to the ticket taker for help.  She could not have been nicer.  She looked over her shoulder and pointed to her husband and his friend sitting quietly under a huge shade tree.  It turned out the "husband's friend" had a battery charger at his home within a block or so.  He went to get it.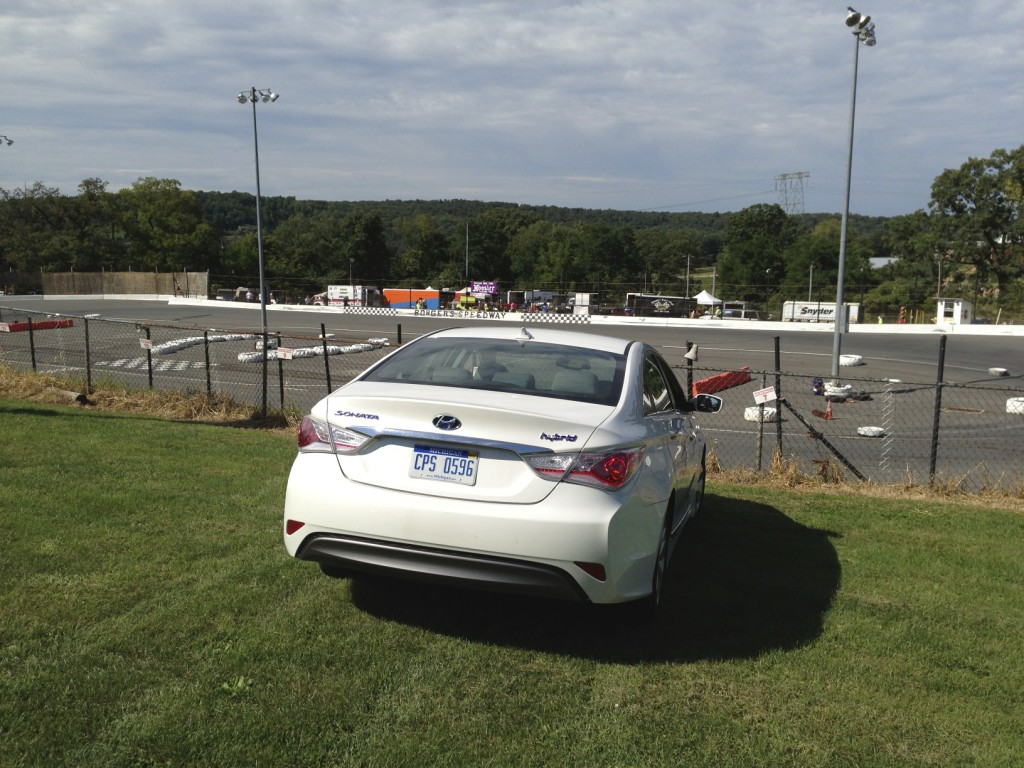 I know the car's battery is in there somewhere.
In the meantime using my most limited automotive skills I raised the hood.  I wanted to check on the battery's connections.  However, even though I looked and looked there was no battery in the engine compartment!  Nothing is ever easy when I do mechanical things.
I quickly went to the car's owner's manual.  It was conveniently located in the glove box.  I soon learned the battery on these cars is in the trunk!  No, this is never easy.
No, nothing mechanical, is every easy.
My newfound friend soon returned with his portable charger.  He hooked things up and asked me to try to start the car.  There's only one problem when you start one of these hybrid cars.  They make no sound when they start so it's difficult to tell whether the engine is running or not.  I was parked on a slant facing downhill.  Because I couldn't tell if the engine was running or not I had to gas it quickly to prevent the car from rolling forward and into a ditch.  At this point it was similar to driving a stick shift car on an uphill grade.  I soon found out the car was running.  How did I know that?  When I jammed the gas the car shot backward quickly nearly running over my Good Samaritan helper!  No, nothing is ever easy.
Sometimes all you've got to give is a heartfelt "Thank you".
All I could do was thank my battery-charging benefactor.  He was a nice guy.  He had pulled me out of a bad spot.  I would have liked to have talked to him longer but I had to get on the road bound for southern Pennsylvania.
It's never a good time to have your car not start.  However, given where I was it was definitely a close call.  Off I went toward Orefield, Pennsylvania home to the #1 trackchaser in all of Orefield, Paul Weisel.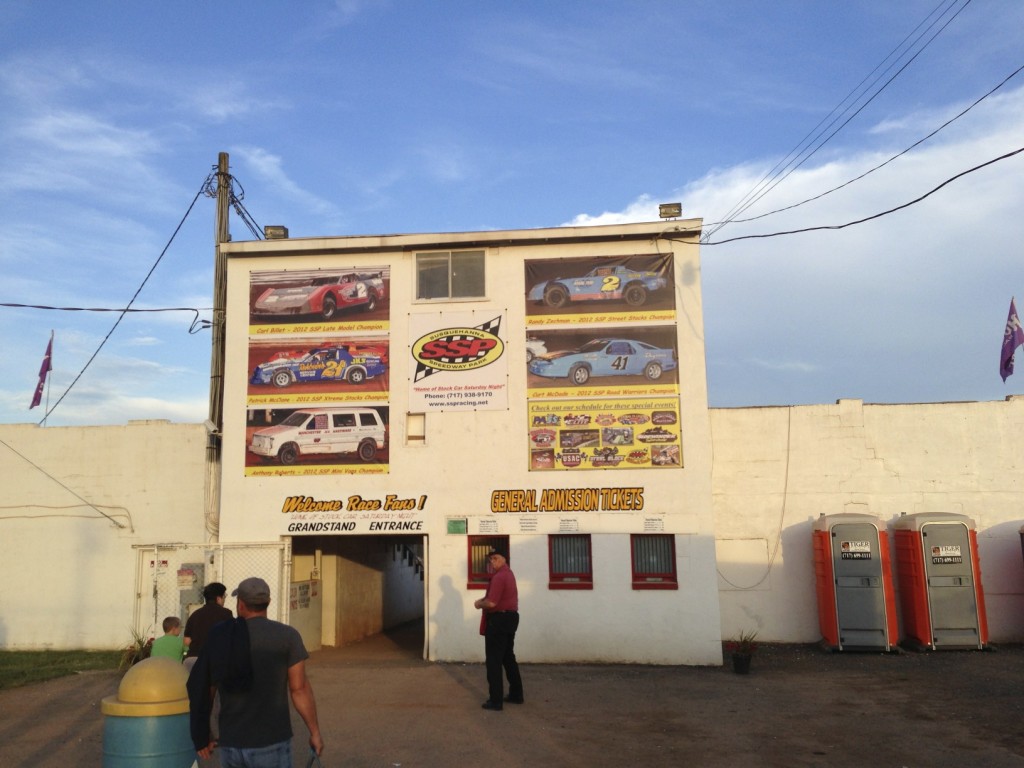 On to the evening's round of entertainment.
That evening Paul and I were going to the Susquehanna Speedway Park.  I had been there is 1998 (track #334).  On that night I saw Brett Hearn (Brett the Corporate Jet) win the modified feature race.
Frankly, if I didn't keep meticulous records I wouldn't have remembered the feature winner from 1998.  To be honest I had absolutely NO REMEMBRANCE of this track.  This seems to happen more and more as tracks get further down the overall list.  There's really no problem with that.  Even though I had been to the Susquehanna track a long time ago tonight's visit seemed like a first ever visit.  That's a good thing.
Did they start on time?  I have no idea.
Tonight's senior admission was just $10 U.S. a two-dollar savings over regular admission.  Racing was scheduled to begin at 6 p.m.  Did they start on time?  I don't know.  We didn't arrive until 6:40 PM.
We were both here tonight to see the Figure 8 racing.  The figure 8 racers were scheduled to race after all the oval heat races were completed.  We were in plenty of time for that race as there were several classes running heat races.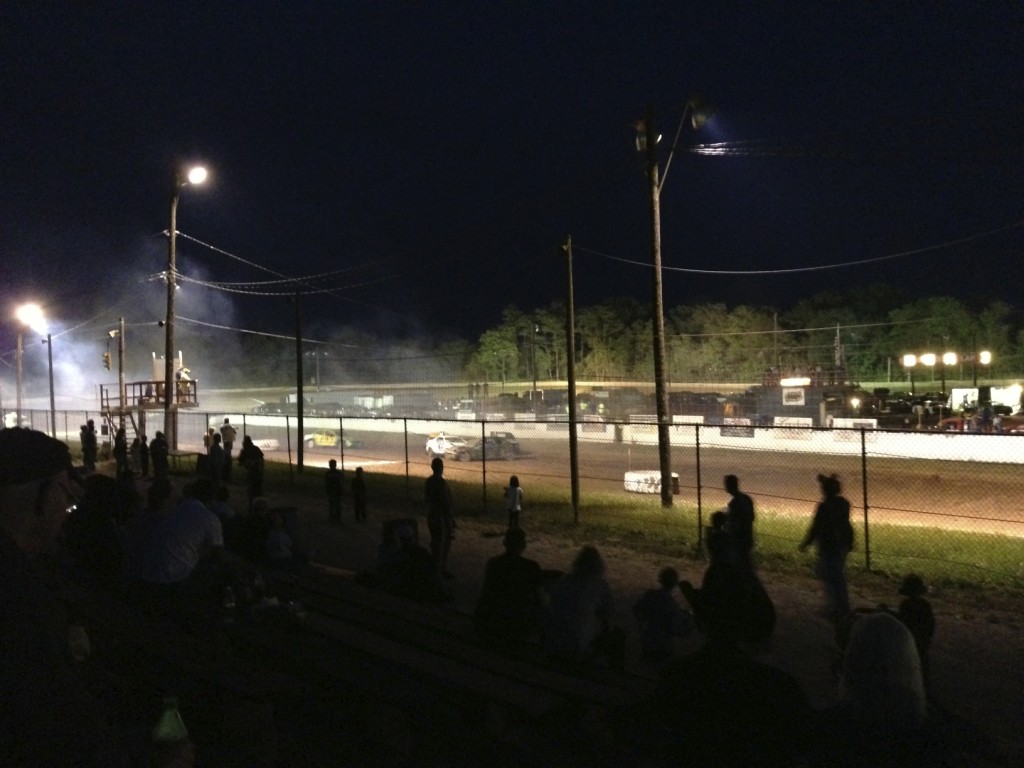 Somewhat more entertaining than expected.
Tonight's figure 8 race was populated with five junk cars.  I'm guessing they raced for 15 laps.  It was actually a bit more entertaining than we expected.  Possibly that has something to say about our being entertainment depraved.
Yes, this is difficult to explain.
It's important to note that I had rushed through a more than 125-mile one-way drive to see five junk cars race for just a few minutes (probably less than ten) around a makeshift figure 8 track.  Why?  That's somewhat difficult to explain.  I'll just go with "somehow this is fun".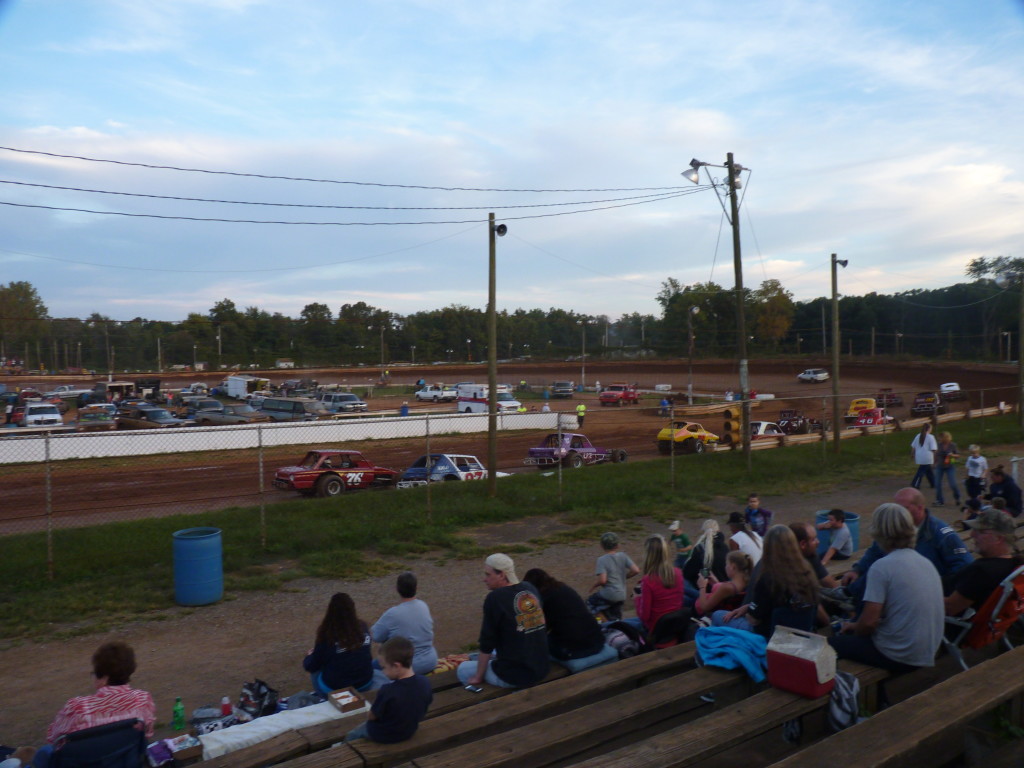 This was 1978 (or further back).
The Susquehanna Speedway Park has been around for a long time.  When the vintage stock car modified class came onto the track it felt as if someone had "flipped a switch" and we were back in 1978 all over again.  The track facilities and fans all seemed to be from that era.  If you want to go back in time some 40 years you can do it in Newberrytown, Pennsylvania.
Eastern tracks serve the best food.
The concession stand offered up a very good cheesesteak sandwich for five bucks.  The track restrooms were from the 60s, or thinking about that a bit longer, maybe the 50s.  The track was dusty but the dust didn't reach the grandstands.  Although we were here to see the figure 8 racing we stayed for one oval track main event featuring the late models.  It was one of the better races I've seen all season.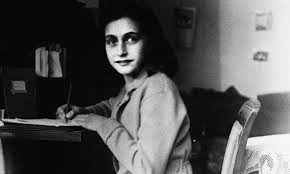 Do NOT tell the "Dreaded East Coast Trackchasers" about this.
Have you ever been to Ann Frank's house?  It's in Amsterdam.  Ann Frank was protected by a family from the German invasion during World War II.  No one could find out about Ann's benefactor's or they would have all been killed by the German Nazis.  That's a situation somewhat similar to Paul Weisel providing refuge to me "behind enemy lines".  How's that?  Check it out.
We didn't get back to Paul's house until about 11 PM.  He had invited me to be his guest at his home in Orefield.  Before we headed in for the evening we peeked in the outstanding racing "museum" that sits on his property.  It's officially called the "Eastern Auto Racing Historical Society".  That name sort of sounds like a library to me.  In fact, it is a library of sorts.  If you're an Eastern U.S. open-wheeled racing fan you will be in heaven here.  It's something.
We stayed up for a while shooting the breeze about our common interest in racing.  Paul and I seem to get along well because we have a very direct no-nonsense approach to life.  However, we certainly don't agree on all things which creates a lively conversational atmosphere.  I can only hope that Paul is not discriminated against by the DECTs because of his generosity. 
STATE COMPARISONS


Pennsylvania
The Keystone State
This afternoon and evening I saw my 83rd and 84th lifetime tracks in the Keystone state, yes the Keystone state.
Thanks for reading about my trackchasing,
Randy Lewis
World's #1 Trackchaser
Peoria Old Timers Racing Club (P.O.R.C.) Hall of Fame Member
Pennsylvania sayings:   You've got a friend in Pennsylvania.
Please wait for photos to load.
What did it take to get there?
AIRPLANE
Los Angeles, CA (LAX) – Austin, TX (AUS) – 1,241 miles
RENTAL CAR #1
Austin-Bergstrom International Airport – trip begins
San Antonio, TX
Austin-Bergstrom International Airport – trip ends – 237 miles
AIRPLANE
Austin, TX (AUS) – Newark, NJ (EWR) – 1,504 miles
RENTAL CAR #2
Newark Liberty International Airport – trip begins
Saylorsburg, PA
Newberrytown, PA
TRACK ADMISSION PRICES:
San Antonio Speedway – $15
Borger's Speedway – $5 ($5 senior savings)
Susquehanna Speedway Park – $10 ($2 senior savings)
LIFETIME TRACKCHASER COMPARISONS 
The three most important trackchasing comparisons to me are:
Total lifetime tracks seen
Total "trackchasing countries" seen
Lifetime National Geographic Diversity results
Total Lifetime Tracks
There are no trackchasers currently within 350 tracks of my lifetime total.  Don't blame me.
1.  Randy Lewis, San Clemente, California – 1,907
Total Trackchasing Countries
There are no trackchasers currently within 10 countries of my lifetime total.
1.  Randy Lewis, San Clemente, California – 65
Current lifetime National Geographic Diversity results
1.  Randy Lewis, San Clemente, California – 5.10
That's all folks!  Official end of the RLR – Randy Lewis Racing Trackchaser Report