BOSNIA AND HERZEGOVINA
Trackchasing Country #72
GREETINGS FROM PLACES ON THE WAY TO BANJA LUKA, BOSNIA AND HERZGOVINA
HighlightsVideosPhotos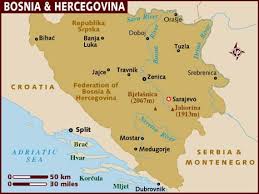 LIKE TO KNOW MORE ABOUT BOSNIA AND HERZEGOVINA – TRACKCHASING COUNTRY #72?
As a service to my readers I always provide a top line background of each country I visit. If you'd like to learn a little more about the Southeastern European nation of Bosnia and Herzegovina check out the "background" information I prepared for you. It appears at the bottom of this report. I have condensed this section so you can get a good "feel" for this former portion of Yugoslavia. Most of the material comes from Wikipedia.
PRE-TRIP
Advance Preparation
THE RACE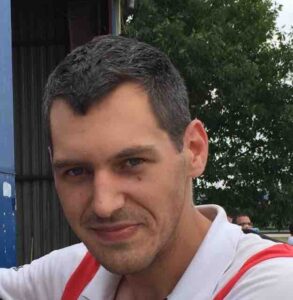 This was not the easiest race to confirm in advance. However, I had a special advantage. That advantage came in the form of a fellow named Boris Miljevic. You're going to hear a lot about Boris later in this report.
Bosnia and Herzegovina (BiH) races just one time per year. They have only one racing circuit in the entire country. That limited my timing options somewhat didn't it?
Here's some information I gathered from the site, www.racingcircuits.info about the BiH race circuit.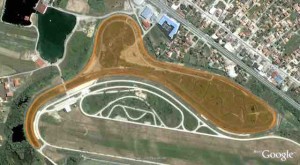 "Zalužani is Bosnia's only motor racing circuit, based on the grounds of a former military training centre. On roads that once might have seen tanks rumbling along them, you'll now be able to see various Yugoslav racing series throughout the year on two and four wheels.
The circuit sprang up in the late 1980s and was fairly primitive in its early years, little more than a small pit area and a course marked out around the roads of the complex. Safety arrangements were fairly minimal, with little in the way of run off for anyone who should stray from the narrow ribbon of tarmac – it was essentially only the width of a normal two lane road.  Nevertheless it proved popular and was an alternative to the street racing which otherwise made up the balance of the local racing scene. It was good for spectators too, with large amounts of the circuit viewable from close to the pits.
The Bosnian War inevitably brought racing to a close in 1992 but resumed in 1998 on a slightly shortened course, the final hairpin being tightened and brought closer to the final corner in a bid to increase run-off. Facilities remained fairly primitive until 2008, when the majority of the course was resurfaced and a proper pit lane installed – this time separated from the track by a concrete barriers. Some other improvements were made to run-off areas and tyre-bundles appeared at certain corners, providing a modicum of extra safety.
The track has remained in active use for a variety of local championships, perhaps the highlights being the running of ex BTCC and STW Cup Super Touring Cars in the mid-2000s. The circuit is also available to lap in a road car for very reasonable prices.
Recent years have divisions in the organising bodies, leading to some being unable to compete at the track, while local reports suggest that part of the site is also being used for landfill by the local authorities, while at other times part of the circuit is being used as a diversion route following a dispute about access rights to a local road. Nevertheless, local racing does seem to be continuing, so it is to be hoped these difficulties can be resolved.
Getting There
Moto Staza Zalužani is located at Zalužani, a village just north of Banja Luka, in Bosnia and Herzegovina. The nearest aiport is Banja Luka International Airport, which is around 20 minutes' drive to the north.
The circuit is straightforward to find, being located alongside the M16 road which links Banja Lauka and the airport. A petrol station, tyre shop and restaurant are located near to the circuit entrance."
Thanks to the folks at racingcircuits.info for providing this background.
THE VISA 
No visa needed for U.S. residents. However if you are from BiH you need a visa to enter the United States! Some countries require foreign travelers to have a travel visa in addition to a passport to enter their country. Most countries allow some foreigners to visit without a visa while requiring other foreign travelers to the very same country to get a travel visa.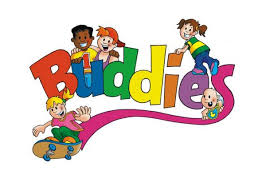 I never understand the rhyme or reason behind those decisions. For the most part I think a country lets it's "buddies" in without a visa. Those they don't care for so much must go through the hassle and expense of getting a visa. It's not too much different than everyday life. If you know the right people you'll have a much easier time of it. As you will come to learn I know the right people in BiH.
TIME ZONES 
The time zone difference was significant. I had come here after spending a few days in the Eastern time zone. I trackchased in Kentucky, Indiana and Ohio before boarding a jet airplane to Europe.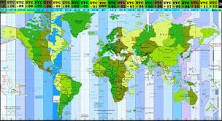 Where I was headed, Banja Luca, Bosnia and Herzegovina is nine hours ahead of the Pacific time zone in Los Angeles. This made it somewhat difficult to stay in touch by phone with family members back home. If I woke up at 8 a.m. it was 11 p.m. on the shores of San Clemente.
BOOTS ON THE GROUND
This would be an unusual trackchasing trip for me. I do all of my own travel planning, navigating and driving. I stop when I want and go when I want. Some of my fellow trackchasing competitors seemingly require a travel companion to drive them to most tracks, including foreign locations, they visit. If they can't get someone to go with them they don't go much. In most circumstances that system doesn't appeal to me.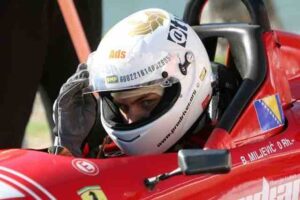 However, more than two years ago I met a guy from BiH. I was online searching for information on racing in both Serbia and BiH. That's when I met Boris Miljevic. Boris is a professional racecar driver. He's won more racing championships in several forms of competition (circuit, hill climbs and karting) than any other BiH racing driver. That's impressive.
Carol and I were set to meet Boris in May, 2014. However a 100-year rain came along and flooded the country like never before. The BiH race in 2014 was canceled. Nevertheless, we met Boris, his father Damir and their friends from Croatia at a race later that summer in Austria. Then Carol and I had dinner with Boris in Serbia three weeks ago.
Boris is a native of BiH and specifically the country's second largest city Banja Luka. Boris wanted to join up with me for a trackchasing effort in first BiH and then Hungary. I would be leaning on Boris' knowledge of BiH and the overall Baltic region. More on all of that shortly.
Surprisingly I didn't get much help from my friends on TripAdvisor. Truth be told I didn't need their help on this trip. With a BiH native I had all the help I would need.
THE TRANSPORTATION
Why don't you try this trip on for size when it comes to using airplanes. For me, it's all part of the hobby. These are the airports I used on this trip.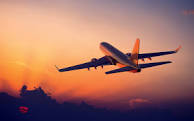 Los Angeles, California
Portland, Oregon
Chicago, Illinois
Indianapolis, Indiana
Atlanta, Georgia
Dusseldorf, Germany
Frankfurt, Germany
Zagreb, Croatia
Amsterdam, Netherlands
Dusseldorf, Germany
Chicago, Illinois
Seattle, Washington
Los Angeles, California
The above covers about 40 hours of flying. Folks, I've trackchased in 72 countries over six continents. Imagine how much airtime that has taken and where I have been. It's a fun ride. That's why I do it.
Three weeks ago on the trip to Serbia we rode airplanes, trains, sightseeing boats, city buses, subways, taxis, trams and private cars during our trip. This trip's transportation choices were much more limited. It included planes, a private car…..and Uber. That's right an international trackchaser has never ever used Uber during one of these trips.
CURRENCY
The international portion of this trip would include racing in first BiH and then Hungary. Both of those European countries use there own currencies. No euros for these folks. As it turned out I didn't have to get any money from BiH or Hungary.
WEATHER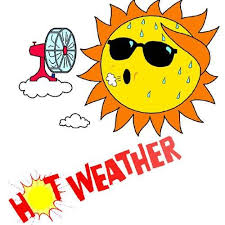 Hot. Just about everywhere we went it was hot. Temperatures were as high as 32-33 degrees Centigrade. That's in the neighborhood of 90 degrees for us Americans.
OVERNIGHT ACCOMMODATIONS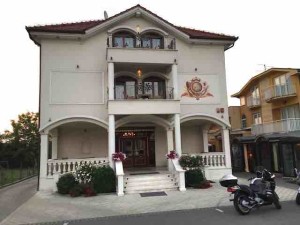 I stayed in luxury Sheraton hotels on several nights and little B&Bs in both BiH and Hungary. I've never had better accommodations. If I told you what I paid (Boris knows) you'd think I was stealing.
THE RENTAL CAR
No rental car needed on this trip. We would be traveling through multiple European countries (BiH, Austria, Slovenia, Croatia and Hungary) in Boris' Toyota Yaris. I don't ride with someone else driving very often. I would estimate than some 99.9% of the miles I spend in cars finds me at the wheel. Whenever I had the urge to press on the brake pedal from the passenger's seat I reminded myself, "This guy's a professional race driver!!"
NAVIGATION 
For the most part we relied on Boris' knowledge of the region. Occasionally we reverted to the GPS system from his iPhone.
I would say I am at the top of the technology curve for people close in my age range. That's a little bit like saying you're the fastest runner at a Weight Watchers convention. I learned several tech things from Boris. I really liked that.
THE TRAVELING COMPANION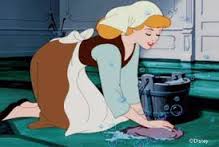 No Carol on this trip. She was back at home resting after notching her 40th trackchasing country three weeks ago in Serbia. O.K., she wasn't resting at home. She never rests at home. Why? First, because she can't sit still. Secondly, because I don't do ANYTHING at home. She does EVERYTHING. I'm not bragging….just telling you the truth. O.K., I do manage the refinancing every couple of years for our mortgage.
Carol did accompany me on the first five days of this trip. I drove her all over the Midwest. Then I put her on a plane back to Los Angeles…..and then went exploring this big wide world of ours.
THE SUMMARY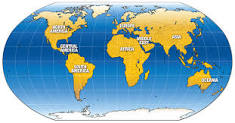 My "world map" has filled up surprisingly quickly. BiH will be my 36th European country where I have had the chance to trackchase. Here's the European list:
Andorra
Austria
Azerbaijan
Belgium
Bosnia and Herzegovina
Bulgaria
Croatia
Czech Republic
Denmark
Estonia
Finland
France
Georgia
Germany
Greece
Hungary
Iceland
Ireland
Italy
Latvia
Lithuania
Luxembourg
Malta
Monaco
Netherlands
Norway
Poland
Portugal
Romania
Russia
Serbia
Slovakia
Spain
Sweden
Switzerland
United Kingdom
I first became exposed to the early part of my non-English speaking trackchasing countries from Belgium trackchaser Roland Vanden Eynde. He's the master of Europe. However, I'm not too far behind.
Roland has seen racing in a couple of European countries that no longer exist, East Germany and Yugoslavia. He's also been to Slovenia, which doesn't have any trackchasing countable racing. Roland has also seen racing in Ukraine. Carol and I had a trip to Ukraine cancelled on about two week's notice when our buddies over in Russia invaded the country!
I've seen racing in two countries, Azerbaijan and Russia, where Roland has yet to trackchase. Currently I trail Roland, in the continent of Europe, in total countries 38-36. However, I have designs!
So how did THIS trip really come down?
Wednesday – June 22, 2016
Hot on the international trackchasing trail.

Just 16 days ago Carol and I were trackchasing in Serbia. Serbia was the 71st different country where I have pursued my hobby of trackchasing.
There are not all that many countries that have racing, where I have not trackchased. However there are some.
#72….here I come.
Today I was leaving the United States. I was headed to what would become trackchasing country number 72. Where would that be? Bosnia and Herzegovina.
For the person who didn't do that well in world geography Bosnia and Herzegovina are not two countries but one. This country was birthed when Yugoslavia broke up into six different countries if you don't consider the situation in Kosovo.
If you live in my world.
The logistics of getting to Banja Luca, Bosnia and Herzegovina were fairly simple if you live in my world. However, very few people live in my world.
What did you think of the travel itinerary I listed above? No, I don't have the big budgets of those Dreaded East Coast Trackchasers. But I'm street smart. I know how to get from point A to B,C,D,E,F etc. and it won't cost me much money.
On most of the planes I used I didn't even know if they would have a seat for me until about 15 minutes before the plane lifted up from the runway. Most people wouldn't have much interest and/or capability to travel to all of the places this trip took me with that uncertainty. For those that might have an initial interest most of those folks would drop by the wayside if they were flying standby!
I would give it a try.
Of course this is summertime. The time of year simply added to the overall standby flying challenge. Air travel to get from United States to Europe and back is both expensive and crowded. During June, July and August the demand for seats is at a year-long high. Would I be able to find an open seat on the airplane flying toward Bosnia and Herzegovina? I was certainly going to try.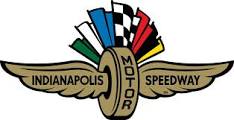 From the Midwest to Bosnia.
I was already in Indianapolis, Indiana when the European portion of this adventure began. Carol and I had had a very successful trackchasing trip up to this point. We had seen racing in Kentucky, Indiana and Ohio.
A couple of days ago I sent Carol back on a jet airplane to Southern California. Someone has to look after our modest seaside cottage right? Carol is the person for the job. She enjoys it a lot more than I do!
It was time to board the airplane.
Today I would be taking a plane from Indianapolis to Atlanta, Georgia. I got up early to catch a 7 a.m. departure for two reasons. First, that flight had more standby seats. Secondly an earlier flight would also beat an expected major rainstorm that would hitting Indianapolis about an hour after I left.
I landed in Atlanta without incident. Many of my international trackchasing trips have emanated from ATL. Atlanta is a big airport. It's got some great walking paths to get from one end of the terminal to the other. Today I covered just over 4 miles mostly walking the Atlanta airport.
How would I entertain myself all day in an airport.
I landed in Atlanta about 8:30 a.m. The flight I wanted to take to Düsseldorf, Germany was not leaving until nearly 6 p.m. What would I do in the airport for that long?
The answer was pretty simple. I would head over to the American Airlines Admirals Club airport lounge. This is a private facility mostly used by business travelers.
Years ago, when I was in business, I was a long time member of the Admirals Club. It's a great place to get away from the crowds, relax and enjoy food and drink on a complementary basis.
Free is usually not free.
Of course it's not really "complementary". The dues for an annual membership to these clubs are fairly expensive. The Admirals Club is one of the most expensive of any being offered. Nevertheless, because I am a member of the Alaska Airlines Board Room club I get complementary admission to all of the American Airlines Admirals Clubs around the world. Folks, let me tell you that that is a very nice travel perk.
I spent much of the day in the club managing my multiple travel arrangements for this and future trips. I got a lot of "paperwork" done on my computer.
I was glad I wasn't trying to go to Stuttgart!
I will be flying from Atlanta to Düsseldorf, Germany. Let give you an example of what the demand can be for European flights during the summer. There was a flight boarding just across the hallway to Stuttgart, Germany. Demand was so high that they overbooked the plane. That's right. More passengers with a purchased ticket had shown up to fly that plane than there were available seats. They were offering passengers $800 if they were willing to give up their seat and take a flight tomorrow. Fortunately the demand for my flight to Düsseldorf was not as high.
My nine-hour flight was relatively uneventful which is the way I like my airplane rides to be. I watched one movie on my Apple MacBook Pro simply to clear out some space on my hard drive. I have to watch the available storage on both my computer and my iPhone. The photos and videos I take use up a lot of storage space.
Thursday, June 23, 2016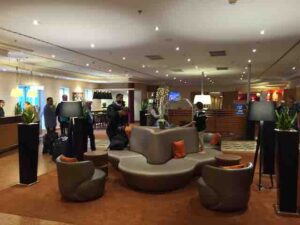 Sheraton Hotels….a fine trackchasing sponsor.
I landed in Düsseldorf at about 8:30 a.m. Carol and I first discovered the beautiful Dusseldorf airport on our trip three weeks ago.
I had also discovered there is a Sheraton hotel attached to the Düsseldorf airport. From time to time the Sheraton hotel chain is willing to sponsor my trackchasing hobby. This was one of those times.
The least expensive rates at the Sheraton Düsseldorf airport hotel go for about $200 per night. I'm retired. I haven't work for money for 14 years. I'm living off my lifetime savings. On my own I couldn't afford $200 a night. However if I had a full sponsorship… I could!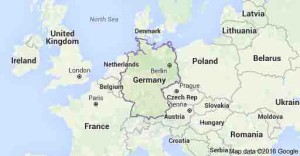 What should I do in Germany?
I had a few choices with how I wanted to spend my day today. I hadn't slept much on the nine-hour flight to Germany. I was going to need some sleep sooner or later.
I was hoping they would let me check into the hotel at about 9 a.m. They did. I had a beautiful room that was quiet. I was only 100 meters or so from the airport terminal itself.
Trackchasing strategy.
My first strategy was to take a short nap for two hours or so. Then I would hop on a train and ride it down to the old town section of Düsseldorf. Carol and I had enjoyed our time down there earlier this month. We took a ride on a Rhine River cruise and had lunch in the old town section of Düsseldorf.
Committing a cardinal sin?
I have traveled to Europe more than 100 times. I know it's a cardinal sin, when arriving in the morning, to go to sleep before 6 p.m. or so. If one does that they're going to have a very hard time going to sleep when it's nighttime in Europe.
I didn't care too much about that problem today. It was 9 a.m. I was tired. I was by myself. What harm could a two-hour nap do at this point in the day?
I would take that nap. However when my alarm woke me after two hours I didn't really feel like getting out of bed. It was about 11 a.m. local time. That was just 2 a.m. back in California. I don't normally get up at 2 a.m. in California to begin my day. I wasn't going to get up at 11 a.m. in Düsseldorf, Germany either!
I figured it would be too much trouble to take a train into Düsseldorf. I would just relax and sleep as much as I could. I was going to have a very busy weekend. The more sleep I could get now might be helpful for that part of the trip.
With complementary Wi-Fi, based upon my gold status in the Starwood Preferred Guest (SPG) program, I slept off and on and used my computer for future trackchasing research. I never let up on my fellow competitors.
You might not believe the time it takes to put together these trips. Even though I consider myself one of the most efficient travel planners I know, O.K. the most efficient travel planner I know, it still takes some time to do the job right.
Let's take on the day….'er night.
It wasn't until about 7:30 p.m. that I ventured out of my room in search of dinner. The Düsseldorf airport and terminal has more shops and restaurants for its size than any airport I have seen. Everything is dramatically upscale as well.
When I had arrived in the morning the terminal was a beehive of activity. Now, at nighttime, the entire terminal was a ghost town. It was eerie.
McDonald's? In Germany? You're kidding right?
I knew where the McDonald's was in the Düsseldorf airport. I had successfully navigated their self service ordering kiosk and even paid with my ApplePay feature on my Apple iPhone on my last visit here. I had chosen McDonald's simply for the fun of operating the kiosk.
It would have been easy to eat at McDonald's tonight. However, I don't travel this far from home to do things I can do back home. I would choose another restaurant location in the airport.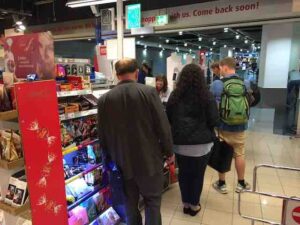 Supper at Kroger's?
I scouted around and soon found a supermarket of sorts. I wondered in just to check things out. I ended up grabbing a couple of pastries and a bottle of Coke Zero.
Then I walked a few more steps and found a restaurant called " Asiagourmet". These folks were preparing cooked to order real gourmet Thai food. I had the prawns and noodles. It was one of the best Asian dishes I've ever had. I've had my share.
I had very little cash.
I didn't have a lot of cash on me. When Carol went back home on Monday to California I was left with $83 U.S. I couldn't find any 7-Eleven ATMs in Indianapolis or anywhere close to where I was. Why was I looking for a 7-Eleven. They work withy my bank, Citibank, and don't charge any ATM fees. I was going to have to exist on $83 cash for the next 8-10 days.
Would you do this?
I spent ten of those dollars to get into the Rush County Fairgrounds on Tuesday night. Now I was leaving on a trip to Europe, which would include stopping in six different countries. I had $73 to my name. Would you do it this way?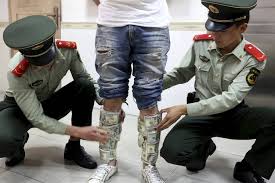 Is Carol an international currency smuggler?
However, Carol had given me a cellophane package full of euros. I wasn't sure how much was in there. I don't even know where Carol gets the foreign currency she gives me or where she keeps it. I just know that if I asked for any of the popular currencies, within an hour, a cellophane bag of foreign cash will appear on my desk. It's nice to have a "banker" like that on the team.
Thinking about the travel part.
Following dinner I made the short walk back to the hotel. In the hotel lobby I found a kiosk. It would allow me to check into my KLM Airlines flight for tomorrow.
This trip had begun in Los Angeles. It would end in Los Angeles. I will have been in these airports after I left California: Portland, Chicago, Atlanta, and Düsseldorf. The only airline ticket I had purchased in advance would take me from Düsseldorf to Amsterdam and then onto Zagreb, Croatia. When I was finished seeing racing in BiH I hoped retrace my steps from Croatia back to Germany.
Once back in Germany I wasn't really sure when or where I was going to go from Düsseldorf. Likely candidates included Chicago, Atlanta, Boston, New York, Miami, Los Angeles and even Fort Myers, Florida. Who would have guessed there was a nonstop flight from Düsseldorf, Germany to Fort Myers?
However when I got back to the U.S. mainland I was not headed home. I still had some more Midwestern trackchasing to do. I also hoped to stop off at my sister's home in Illinois. But alas I am getting ahead of myself. I have work to do in Europe.
It was nearly midnight now. I was now going to pay the price for sleeping during the day. Would I be able to sleep at night? I didn't really know. At midnight here it was just 3 p.m. in Southern California. Not too many SoCal residents go to bed for the night in the mid-afternoon. Nevertheless, the anticipation was building. My alarm was set for 4 a.m. I was headed to trackchasing country #72. See you tomorrow.
Friday, June 24, 2016
If you can't handle change you can't handle trackchasing.
I enter every one of my trackchasing trips with a robust travel plan. However, on nearly every trip I find something doesn't work out. I never know exactly what isn't going to work but I'm pretty sure something isn't going to work.
I had made it all the way to Germany flying on a standby basis. However on the one ticket I had purchased in advance there were problems.
My wake up call was set for 4 a.m. this morning. I figured that would get me to my 6:20 a.m. departure on KLM Airlines flying from Düsseldorf to Amsterdam in plenty of time.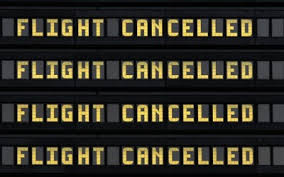 Up early….cancelled?
After having slept a good part of the previous 24 hours I was up at 2:30 a.m. checking email and messages. That's when I noticed my early morning flight to Amsterdam had been CANCELED!.
That was problematic. No one likes to encounter problems at 2:30 a.m. to begin their day. The original plan called me for me to go from Düsseldorf to Amsterdam and onto Zagreb, Croatia. Now what was I going to do?
In the KLM message notifying me of the cancellation they told me they were "working on" a new plan for the World's #1 Trackchaser. They didn't exactly put it that way but I think you know what I mean.
The NEW plan.
It wasn't long before I received another message from KLM. They had a new travel itinerary for me. Now I would be flying from Düsseldorf over to Frankfurt, Germany and then to Zagreb, Croatia. That was actually a good thing in a way. The departure time was 10:35 a.m. rather than my original 6:20 a.m. That was a good thing.
I rolled over and reset my alarm for 6:30 a.m. and just relaxed. There wasn't much I could do other than go with the flow.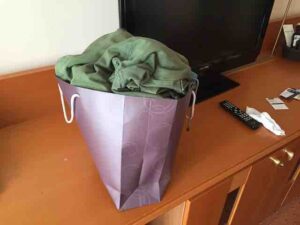 How's this for being an opportunist?
I would be checking out of the Sheraton airport hotel at the Düsseldorf airport this morning. However, I would be coming back to this hotel on Monday evening. That plan would prove fortuitous.
My plan was to leave my army field jacket stuffed full of unneeded shoes and clothing at the hotel. This would lighten my load so that I could meet the stiff weight requirements for carryon bags from European airlines.
It's really nice staying at an airport hotel. There's no need to return a rental car anywhere. There's no hotel shuttle bus to ride. I simply walked about 100 meters from the Sheraton to the airport itself.
The only other time I can remember doing something like that is when I stayed at the secondary Frankfurt, Germany airport. That's a very small place. They have a hotel that's probably 30 meters from the front door of the airport terminal.
Trying my best to avoid checked baggage fees.
With KLM Airlines having canceled my flight I would now be flying on Lufthansa Airlines. I checked with them to make sure everything was OK with my carry-on baggage plan. I also wanted to weigh my carry-on bag as well as my "personal item ".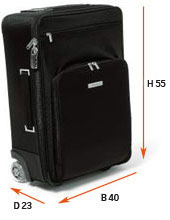 Managing the numbers to preserve my cash.
I knew I had an 8kg limit for my carry-on bag. With all of the stuff I left back at the hotel in my army field jacket my carry-on bag weighed only 6.4kg. I was golden. Just for the fun of it I weighed my "personal item" which was actually my laptop briefcase bag. It weighed 5.8kg. The airline agent winked at me and said, "Don't show anyone that number." I wouldn't.
There was plenty of time to walk around the airport getting my 4 miles of walking in for the day. I also stopped at the grocery store at the end of the terminal C area. There I picked up a large pork sandwich and some German bread to go along with a bottle of Coke Zero. I was really golden now. I found a quiet place to eat my German breakfast. 
Germany to another part of Germany to Croatia.
I would have just a one-hour connecting time from when I was scheduled to land in Frankfurt, Germany and then take off for the Zagreb, Croatia. Under normal circumstances that would be fine.
However, for whatever reason, my flight from Düsseldorf to Frankfurt, a distance of all of 117 miles, left 25 minutes late. When we landed we taxied forever. Then it turned out that our gate was occupied. This is a common problem in the U.S. as well.
I was getting very concerned that I wasn't going to make my connection to Croatia. If that happened it would be a major problem. Luckily we found a gate in Frankfurt in the next few minutes. I made the connecting flight by the skin of my teeth. Good things are never easy.
My first time ever flying into a Croatian airport.
It wasn't long after that, actually about an hour and a half, that I was landing at the Zagreb airport for the first time ever.  I was seeing Croatia for the very first time from the air.  It didn't look all that much different than parts of the U.S.  I had trackchased in Croatia in 2012 (track #1,762) at the Autodrome Grobnik. It was a fun day of trackchasing on a glorious afternoon then. I was able to walk all around the road course. I had a great time although my time in Croatia had been brief.
I had friends meeting me at the airport.
Today my good buddy Boris Miljevic would be picking me up at the airport. I first met Boris back in 2014 at the race the famous Salzburgring in Austria. Boris had been helping me online with information about the racing in Bosnia his home country.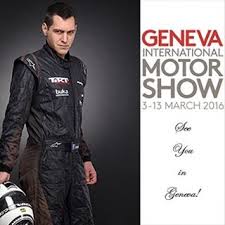 Boris is a professional racecar driver. You can follow him at http://www.borismiljevic.com. I had intended to first meet Boris in Bosnia in 2014. That meeting was canceled when they had a one hundred year rainfall. That was disappointing. In the big picture that might have been fortuitous. It us allowed us to meet Boris for the first time a little later in 2014…..in Austria.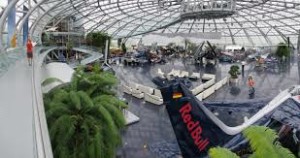 Hanger-7!
Carol and I had a lot of fun meeting with him and his dad and their friends from Croatia in Salzburg, Austria. Following that race in 2014 we spent time with them at the "Hanger-7" a car museum of sorts in Salzburg. Hanger-7 is owned and operated by the Red Bull energy drink people.
Boris and I communicate frequently. He was anxious to help me enjoy my return trip to Bosnia. The weather in Bosnia wasn't going to be rainy but on the other hand extremely hot. Boris and his dad had driven two hours from their home in Banja Luka, Bosnia and Herzegovina to meet me.
I had seen Boris just three weeks ago when Carol and I visited Serbia. He was in Belgrade to do some promotional work. We met for dinner one night and for drinks on another. It's fun having international friends from some faraway and interesting places. I think my international friends see it the same way for the same reasons.

What a beautiful Croatian airline terminal….not.
When I landed in Zagreb, Croatia I saw a beautiful airline terminal. It was all silver and shiny. There was just one thing odd thing about that terminal. There weren't any planes parked in front of it.
Why would that be? It turned out that the newly built airline building had not opened yet. They were still using the old terminal in the Zagreb Airport built a long time ago….a real long time ago. I guess I had flown into Zagreb a few months too early.
Time to meet the Miljevic's.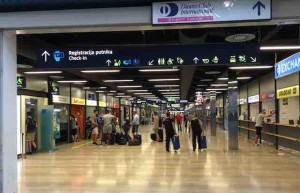 Nevertheless, Boris and his dad Damir (above) were waiting for me upon my arrival. This was going to be an unusual trip. I normally seek the advice of anyone I can find on these international trips. In some places it's not that easy to get people to converse in English. I know that local folks know so much more about their geographical situations than I do. That's as true outside the U.S. as it is in my country.
Local knowledge.
What made this trip so unusual is that Boris was going to be my navigator for the entire three days I would be in the area. That's not how I normally do it. Nevertheless, it was going to be a lot of fun seeing the inside of Bosnia with Boris as my guide. He had lived here since birth.
A notable feature of the weather today was the high temperatures. It had to be in the low 90s. The three of us enjoyed talking about Bosnia and its situation since all of the trouble with war that happened only 20 years ago. When you think about it that's not really that long ago when they were having major issues.
The Bosnian War.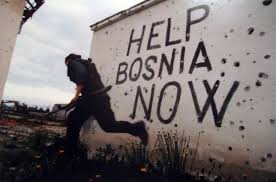 Later in the day Boris and I had the opportunity to talk about the war. He is 31 years old today. Nevertheless, it sounded as if his childhood might have been different than mine.
When I was a kid I played sports 24/7. The most dangerous thing in my life was when the Masters brothers (they were twins – Bob and Jim) came walking up my street when they had finished delivering newspapers. It was my job to take their collection money from them on the basketball court. Normally, I did.
Did you do THIS when you were a kid?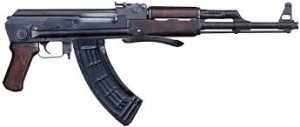 When Boris was a kid he owned his own AK-47! He also had an RPG (rocket propelled grenade). Heck, I was simply trying to get a new basketball from time to time.
Boris' family (Boris, his mother and his sister) caught one of the last planes out of Bosnia toward Belgrade, Serbia. There they lived for a while to avoid the war. Boris told me of the time he and friends were playing on the roof of their apartment building in BiH. What flew by? A Tomahawk missile, just 50 feet above their heads. I'm 100% certain I really have no idea what life was like in BiH during this time.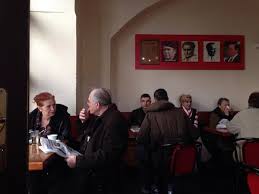 "Having a coffee".
We stopped on the way back to Bosnia for "a coffee". Coffee drinking is a national pastime for Bosnians. We would stop for "a coffee" many times during the weekend. I'm not a coffee drinker. I went with Coke Zeros most of the time. Nevertheless, I now regret not having a single "coffee" in BiH.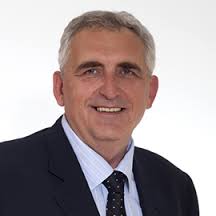 Damir, Boris' father, is an economist. He had some interesting thoughts on that subject as it relates to Bosnia, the poorest country in Europe as he described it.
Having originally gotten up at 2:30 a.m. today I was dragging by the time we reached Banja Luka at about 7 p.m. I was thrilled when Boris suggested he drop me off at my hotel for an hour and a half or so. Then he would return. We would go out to dinner. That sounded like a great idea.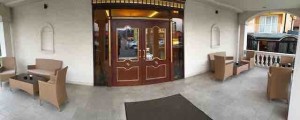 A lovely little place in Banja Luka.
I checked into the Hotel Villa Victorija a place Boris had recommended. It was a very modern smaller hotel with just 12 rooms. The interesting thing about the hotel was it was located only 200 meters from the racetrack. There is only one racetrack in BiH and my hotel was right on top of it.
The B&B rate was going to be only about forty dollars U.S. That price included breakfast. This was a perfect situation. The hotel came with a 9.2 rating on Booking.com.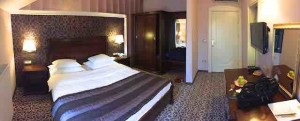 The first thing I did when I checked in was to take a 40-minute nap. I think I could have slept at that point for four days. However, I needed to get up and take a shower and meet Boris for dinner.
What time do you have dinner?
At home we commonly have dinner at 5:30 p.m. If we want to be extremely adventuresome and are up for some risk-taking we might even have dinner at a little past six. Tonight we wouldn't be sitting down to dinner until past 10 p.m.
It is quite normal for Europeans to have dinner late. Boris chose the Marco Polo restaurant located next to the Vrbas River in Banja Luka. We ate outdoors in very comfortable surroundings at an upscale restaurant.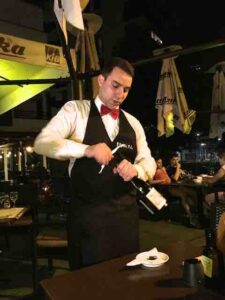 Boris is a wine expert. He knows a LOT about wine. On the other hand my wine knowledge stops shortly after, "red or white". Boris also knew the people who ran the place. They treated us well.
How often do you BEGIN sightseeing at midnight?
Following dinner Boris asked me if I would like to see the sights in downtown Banja Luka. Of course I would. It was just past midnight. I had gotten up at 2:30 a.m. today. Nevertheless, we went sightseeing….at midnight. I never want to miss a thing.
Seven girls for every guy?
Boris told me that for whatever reason Banja Luka seems to have seven girls for every guy. That was a nearly unbelievable statistic. After we had finished touring I believed him 100% on this point.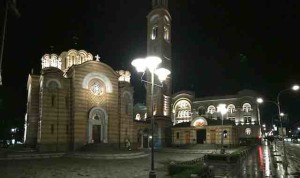 We saw some beautiful old buildings, churches and mosques. The most followed religion in BiH is Muslim. I didn't know that. All of the buildings were lit up for the night. They really were unique and historic buildings. The mosque was one of the very best.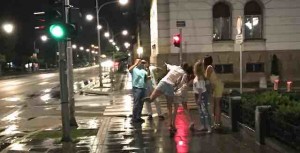 Young people were out enjoying their Friday night.  It was absolutely true. There were at least seven girls all dressed up for partying for every male I saw. These women were all in there twenties and good looking.
Banja Luca is Boris' town.
Boris is quite the popular figure in his hometown. At the restaurant everyone knew him. As we walked along Bosnia's second largest city more that one girl stopped him to say hello and give a welcoming kiss. It was nice to see that Boris is so popular with the people he had grown up with.
I truly believe that Boris would have continued to show me the city until the sun came up. Nevertheless, I recommended we call it a night. It was 2 a.m. It had been a long day. I had flown on a couple of airplanes. It was more than hot. I checked my iPhone app. I had walked more than five miles today.
I'm very much looking forward to tomorrow. Tomorrow I'll be seeing racing in my 72nd different country. That's going to be fun. I can't wait.
Saturday, June 25, 2016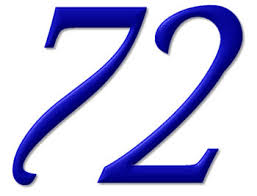 Time to get up. This was the BIG day.
Breakfast was being served in the café next-door as part of my hotel room rate until noon. I liked that feature. I couldn't drag myself over there until 11:15 a.m.!
I felt fresh. However I knew at the end of today I would be dragging because we're going to be out in the sun a good deal at today's race.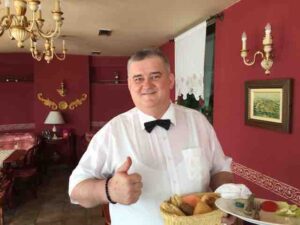 Raje was cool….just cool.
My waiter, Raje, was a big friendly and gregarious guy. He spent several minutes at my table telling me about his home country. He was most proud of it. Everywhere I go, in the U.S. or not, it seems as if everyone loves where THEY live. That's cool.
Following the race today our plan was to go over to Boris's family home in downtown Banja Luka. I was hoping to meet Boris' mother and girlfriend and spend some more time with his dad. After that we would drive north up toward Hungary. We had a race planned for Hungary on Sunday morning.
International trackchasing is fun in so many ways.
This was another excellent day of international trackchasing. It was a special day on really two fronts. First, I would be able to go trackchasing in a country where I'd never seen racing before. I've only had that experience seventy-one times before.
This was the trip's highlight.
Equally important I would get to do something that very few people have the opportunity to do. I would be able to experience a foreign culture up close and personal. My activities were simple but at the same time they were things that very very few people ever get to do.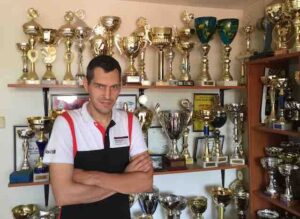 When Boris came to pick me up we drove over to his parent's apartment in Banja Luka. The apartment has been in the family home since 1971. My hobby is all about doing things I have never done before and that other people haven't done either. How often do you get to go into the home of your friends who live on another continent? I've done it a few times notably in Scotland, Belgium and Brazil. I hope I'm not forgetting anybody. Trust me. It's a fantastic and unique experience. Oh yeah, I also got to see Boris' trophy room.  That was a treat!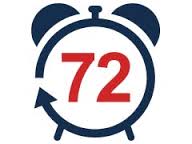 Time for trackchasing in #72.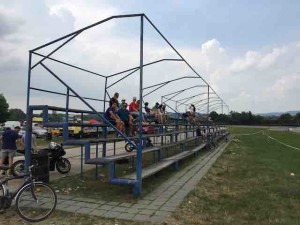 Then Boris and I drove just a couple of miles to Bosnia and Herzegovina's only racetrack in the entire country. As a matter fact, they race on this track only one weekend each year. That didn't give me very many options to come to Bosnia-Herzegovina. It was now or next year or never!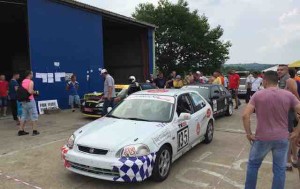 There weren't all that many cars racing today. They had two divisions of touring cars. The first group started seven in the 14-lap race. About nine or ten took the green flag in the second and final race of the day. Boris told me that just a few years ago they were getting as many 80 entries in these types of events in BiH.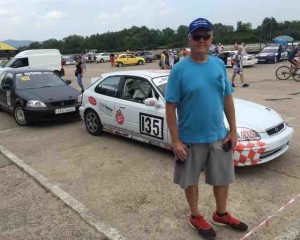 Paddock touring.
Today we first toured the paddock area. Boris spent time catching up with friends he hadn't seen in a while. Boris is frequently off to all parts of Europe testing and racing cars. I had a chance to get photographs of virtually all of the racers as well as the entire layout at the track. You won't want to miss those.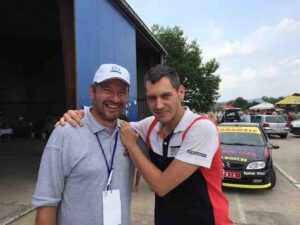 Meeting the movers and shakers of BiH racing.
I was also able to meet and talk with Božo Erak the track and race promoter. He was a nice guy. Bozo was most appreciative that I had taken the time to come to see them race in Bosnia.  He and Boris are good friends.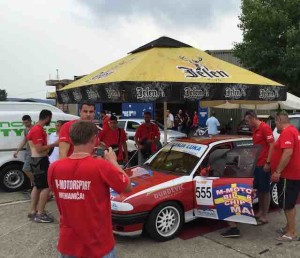 There was a 100% chance of rain pretty much right at race time. Božo told me the rain would not effect them. The cars could use rain tires if necessary. It was comforting, more than comforting, to know there was no way the race would be canceled this year because of precipitation.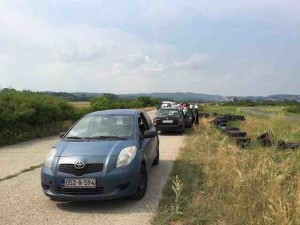 Boris and I moved all around the perimeter of the track getting some good video clips for your viewing enjoyment. Don't miss the video of my trip to Bosnia.
We also noted where an old karting track was once used. Today that area is a bit overgrown. It obviously hasn't been in use for some time.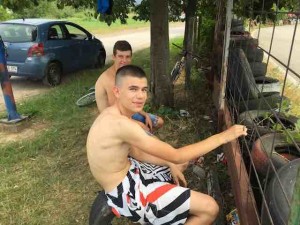 Knot-holing.
There were areas just beyond the track's fencing where I took several photos/videos. In the turns that wasn't the safest place to be! At some spots young boys had parked their bicycles and were "knot-holing" it. By the way, there was no admission charge for anyone watching the races today.
Making our plans for the rest of the trip.
You might rightly note that I didn't spend much time in this report talking about the racing. I do that for two reasons. First, the racing brings me to a new country. However, it is the people and places I visit that are the highlight of the trip to me. Secondly, you'll get to see the racing from my YouTube video.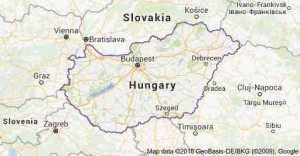 It's Hungary tomorrow.
Following the race we went back to Boris' apartment to make a plan for tonight and tomorrow's visit to the country of Hungary. Tomorrow we plan to see a race at the Pannonia-Ring race circuit.
Pannonia-Ring is located in the unusually named town of Osffyasszonyfa. I'm glad I don't have to spell that every time I rent a car or stay in a hotel!
While researching the Bosnia race I had discovered the race in Hungary. When I mentioned it to Boris he was most enthused to become a "trackchaser" for the weekend.
We combined our efforts in online searching and came up with the Var Park Sanzio bed-and-breakfast hotel in Sarvar, hungry. We were able to get two rooms for a low price of just twenty dollar per room. The hotel had good ratings and looked modern.
Family stuff in Banja Luka.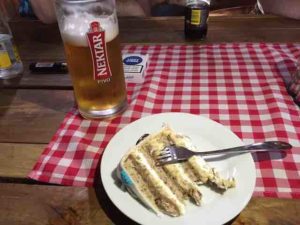 Next up was a visit to the Banja Luka Brewing Company. No, we didn't go there to drink beer. We were going to a birthday party. The party was for a one-year old the daughter of one of Boris' relatives.  The mother of the "party baby" made a special trip over to give me a piece of birthday cake.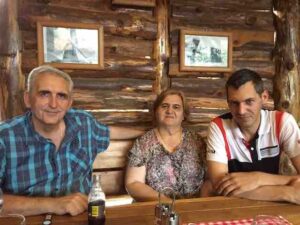 This would be my first opportunity to meet and visit with Boris' mother Gordana. She was a lovely lady. Boris, his father Damir, Gordana and me all sat down to have a drink. We spent several minutes talking about all sorts of things.  This was a definite highlight of the trip. 
What is so special about trackchasing?
Trackchasing is a special hobby for me. Lots of people think the hobby is about racing. That couldn't be further from the truth. It's about meeting people, seeing foreign (not always foreign countries) places and figuring out how to get there and back.
It is the people and places I will remember long after any memories about the racing have faded away. The racing is the spark that generates these experiences. However, the very best part is meeting and getting to know people like Gordana, Damir and Boris. How many people get the chance to do something like that? It was a highlight of the trip for me.
Hill climbs!
Boris is not only a circuit race driver from Bosnia but he also had participated in a large number of hill climb competitions. Hill climb racing is very popular in Europe. I've never seen a hill climb race in my life. Boris drove me up the hill climb course used in Banja Luka. I could tell he wanted to let "loose" in the Toyota Yaris but traffic prevented most of that! Hill climb racing in not a countable form of racing by trackchasing rules.
Boris was up for an international trackchasing adventure.
I had invited Boris to come along with me to the race in Hungary after today's racing in Banja Luka. I had mistakenly thought the driving time was about two hours to get up there. In point of fact it was 5 1/2 hours! Nevertheless Boris was up for the adventure.
The trip would take us from Bosnia and Herzegovina first through Croatia, then Slovenia, Austria and finally into Hungary. In some ways it wasn't much different that driving from Iowa to Illinois to Kentucky to Tennessee. In most other ways it was a lot different!
What's the Schengen Agreement have to do with all of this?
Most of those countries are not part of the Schengen Agreement. The Schengen agreement was signed on 14 June 1985 by five of the ten current European Economic Community. Those countries were Belgium, France, Luxembourg, the Netherlands and West Germany countries. The agreement essentially allowed people to go in and out of these countries without border checks. Today the agreement covers 26 European countries. The initial agreement was signed independently of the European Union.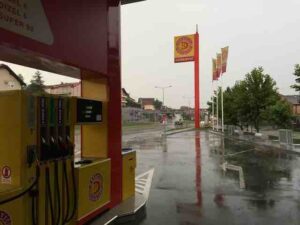 Good luck and then some minor bad luck.
Just before we left Banja Luka it began to rain hard. Had the rain come a couple of hours earlier we would have gotten drenched watching the race at Zaluzani.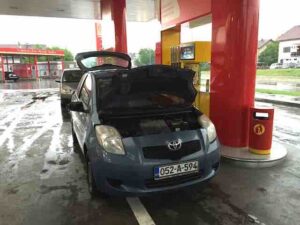 Before we could leave town Boris would need to add a quart of oil to his Toyota Yaris. Of course when we went to the gas station we couldn't get the oil cap off to add the oil!
It was now seven o'clock on Saturday night. We had a five and one half hour drive ahead of us. What did Boris do? He simply called his mechanic, who is part of his race team, and told him we were coming over to seek some help. How many of you can call your mechanic on Saturday night and get them to help you out? I can't.
Soon we were driving into a residential neighborhood and meeting up with Boris' friend who works on all of his cars. The guy had a lift in his garage. The problem was soon solved and we were off to the races so to speak.
The passport stamps were mounting up.
At each border crossing, our trip involved five different countries, we had to show our passports to leave the country. We also had to show our passports to enter this next country. The border control stopping points were just yards (meters?) from each other. Our passports got a lot of stamps!  At one point an entire tour bus of people had to get out of their bus to have their passports examined.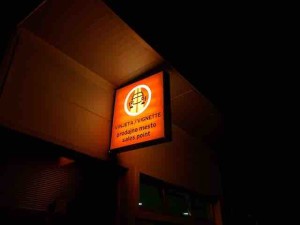 Ever had to buy a vignette?
In two of the countries, Austria and Hungary, we had to buy "vignettes". These are stickers that cost about €10 each. They allow people to drive for a short number of days on the highways of that particular country.
If you don't have the sticker and get caught, like I did in Austria a few years ago, the fine can be stiff. At the time I came to Austria I didn't even know a vignette was needed. I ended up having to pay a fine of €170 which is nearly $200 U.S.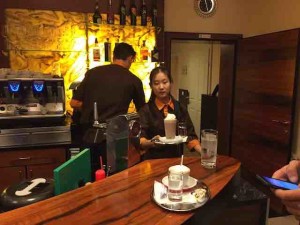 Having a coffee!
We stopped from time to time to "have a coffee". I am addicted to Diet Coke. Boris might be addicted to cappuccino! These were nice opportunities to relax and chat. We very much enjoyed each other's company for the 5 1/2 hour drive up to Hungary and all weekend.
We didn't arrive to our hotel until nearly 2 a.m. Last night was a 2 a.m. "night" as well!. The hotel proprietor told us he was available 24 hours a day so it really didn't matter if we checked in late.
No lights. No hotel manager. No nothing.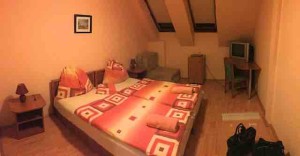 However, when we arrived at the small modern hotel there were no lights on. No one seemed to be available. Boris had to call the hotel manager on his cell phone. Finally the hotel owner's wife came down to check us in. She did not appear to be all that happy to be awakened at this hour of the night.
Without showing any identification whatsoever she simply handed us our keys and wished us a good evening. You wouldn't see that happening in any United States based hotel.
Our rooms were on the second floor of what looked like an eight unit building. In the U.S. our rooms would have been on the third floor. In most of Europe the ground floor is called "0" not "1". That takes some getting used too. Of course there was no elevator.
Initially we couldn't find the remote control for the hotel room's air-conditioner. The rooms were hot. However, Boris went down to the main desk on a reconnaissance mission. He soon returned with remote controls for each of our rooms. We agreed to meet tomorrow morning at 8:30 after just five or six hours of sleep. Trackchasing is not for the faint hearted. Boris was just beginning to learn this….and loving it!
Sunday, June 26, 2016
Knock. Knock. Knock.
Boris and I had agreed to meet each other in the morning at 8:30 a.m. for breakfast. He did tell me the night before to knock on his door if he didn't show up on time.
I was dressed and ready to go at the appointed time of 8:30 a.m. There was no Boris. I went to his room and wrapped on his door hard. Soon he appeared but was not quite in breakfast mode.
Boris was feeling the effects of his first real trackchasing weekend. In the past several other people have trackchased with me for a day or three. Their common conclusion was the same as what I heard from Boris, "I don't know how you do it".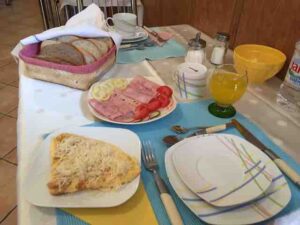 One of the best hotel values ever.
Soon we were enjoying our breakfast. We had stayed in a B&B for the night, which included air-conditioning, free Wi-Fi and a fully cooked breakfast. The place was quiet and modern. What would something like that cost in Hungary? Not very much. We paid €20 for each room which is about $22 U.S. per night. That's got to be the best value in a hotel room I've ever paid for.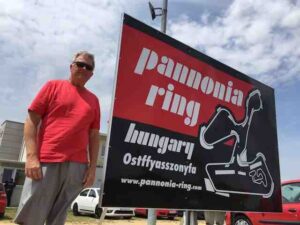 My second trackchasing stop in Hungary.
Soon we were driving a short distance of 10 miles or so to the Pannonia- Ring in Osffyasszonyfa, Hungary.  Hungary has just two permanent road courses. Back in 2009 Carol and I saw racing at Hungaroring in Mogyorod. The World Formula 1 group races there. On that trip, seven years ago, we saw racing in first Hungary, then Switzerland and finally Italy over a three-day trackchasing weekend.
I had found today's track when researching trackchasing opportunities in both Serbia and Bosnia. Since they were racing on the same weekend as Bosnia, just 5 1/2 hours driving time away, I figured we might as will visit the track and make it a weekend. Boris loved that idea.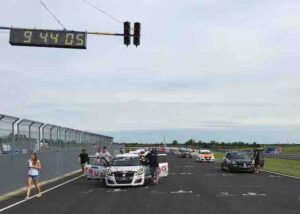 Suzuki Cup.
The Suzuki Cup sanctioning group was the featured attraction at Pannonia-Ring. I asked Boris what Suzuki (a Japanese brand) had to do with Hungary. He told me Suzuki has a major factory and production plant for their automobiles in the country.
When we entered the track Boris flashed his Porsche sponsorship logo. That was good enough to get us both in for free. I don't know how much they were charging the general public.
I did tell Boris that if I had flashed my Randy Lewis Racing business card we might have gotten in for free AND received complimentary food and drink. He just smiled!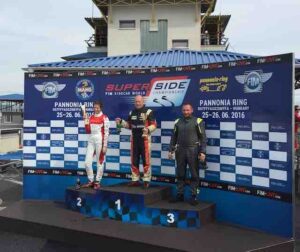 A nice morning and afternoon of Hungarian road racing.
The Pannonia-Ring opened in 1997 with an emphasis on motorcycle racing. They do a lot of testing at this track. In fact, Boris' race team tests here. Boris was testing at Pannonia-Ring just a couple of weeks ago.
We were just in time to see the Suzuki Cup feature event. They started about 25 cars and ran for 25 minutes plus one lap. We first watched from the start/finish line.
Then we moved over to what you might call the backstretch at an oval track. In point of fact this was virtually all of the track with the exception of the start/finish straightaway.
I was surprised at how much of the track was visible from our slightly elevated position. Much the track was a long distance away but at least you could see the cars to some degree. That is not always the case with road course racing.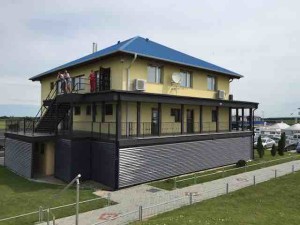 While touring the track we noticed a 25-room hotel in the middle of the property. There were elevated (about 15 feet) viewing areas where the handful of fans watched.
There was also a karting track on property. Today some flat karts and smaller motorcycle classes were practicing.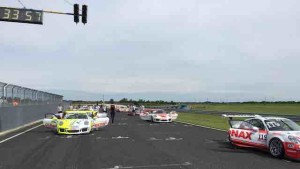 We watched the second feature event of the day for the Porsche race group. These guys are fast. They had much more horsepower than the Suzuki racecars.
Time for a coffee.
From there we went to the track's café. We relaxed in the shade with Boris having his famous coffee and me swigging Coke Zeros. It was a nice relaxing way to spend a few minutes as we contemplated our three-hour drive back to Zagreb, Croatia.
International jet setters….or international drivers!
To get up to the track in Hungary we had begun in Bosnia and Herzegovina, passed through Croatia, Slovenia and Austria before reaching Hungary. We would reverse that path on our way to Croatia.
Several of those countries including Slovenia, Austria and Hungary require vignettes to legally drive on the roads. These vignettes normally cost €8-10. They are good for a week or so. If you don't have one of those with your car in either decal or paper form you could be subject to a fine of anywhere from €170-€1000. We made sure we had all of our vignettes!
We both have had negative experiences with not having the proper vignettes in foreign countries. In Austria I was fined €170 with I didn't have the country's vignette. Heck, I didn't even know I needed a one at the time.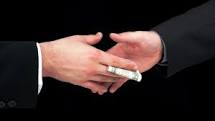 Wink!
Boris was stopped without a vignette once. The fine was going to be nearly €1000. Let me put it this way. He was able to creatively use five euros and the potential liability of €1000 euros quietly went away! You can draw your conclusions as to what that might mean.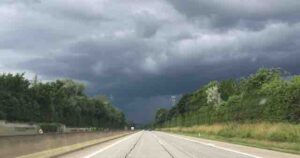 On the way back to Croatia we ran into some very severe thunderstorms. We could see the dark black and blue clouds coming our way from a long distance. It looked as if we might miss them but in the end we did not.
We were crossing country exit borders and entry borders it seemed like every few miles. The passport stamps in my book were piling up. At this rate I'll need new pages before you know it.
We elected to ride the storm out for a few minutes along the Austrian/Slovenian border. I was quick to take advantage of this opportunity. I napped for a few minutes. Then we were on the road again down toward Zagreb, Croatia.
Here's my view on sleeping in the car.
By the way let me share my view on sleeping when I'm in the car with someone else. In almost all circumstances I think it's disrespectful to sleep while you're traveling companion drives. I consider that to be the height of selfishness.
There were a couple of times on this trip where I was so tired I don't think I could even speak. Nevertheless, I fought the urge to go to sleep. Boris was driving. It wouldn't have been fair to him, even though I knew he would not have minded, if I slept while he took the responsibility of driving.
Of course there could be times when it's O.K. for the passenger to sleep. If both people were switching off the driving chores and the passenger needed to be fresh for his turn at the wheel I would consider that acceptable.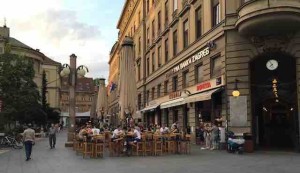 Zagreb, Croatia – capital city.
It wasn't long before we entered the capital city of Croatia, Zagreb. I had a reservation at the Sheridan hotel located in the middle of the nearly 1,000,000 person city.
I checked into the hotel while Boris parked his car right in the front of the hotel. Then we retired to the piano lounge for a glass of wine. It had been a long trip up to Hungary. Now we could sit back and admire our accomplishments. I was lucky to have Boris on my side. He is a wine expert and gave me lots of good advice…which sadly I will not remember.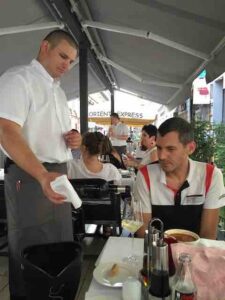 This is definitely the life.
The hotel gave us some ideas on restaurants. We soon found ourselves at an outdoor café dining in comfortable weather and being served gourmet food.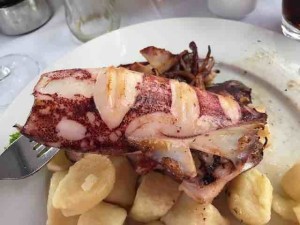 Boris selected a nice bottle of white wine. We scanned the menu. My entrée selections included grilled calamari (squid) and gnocchi (potato dumplings). Don't miss the pictures of this meal. I enjoy calamari all the time. However, I've never seen it prepared like it was today or had such large pieces of the delicacy.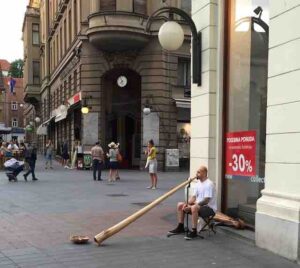 We had a few minutes to explore downtown on a beautiful Sunday evening. Lots of people were out and about just enjoying the city. The weather was perfect for people watching.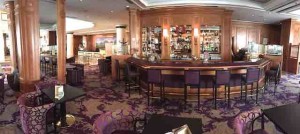 We headed back to the Sheridan hotel for a final drink. The weekend had gone exactly as we had planned. We really enjoyed each other's company and the challenge of "seeing another track".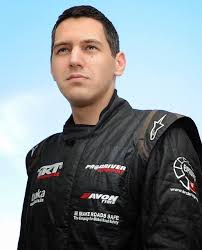 Boris could be a trackchaser!
I think if Boris lived in the area where there were more racetracks to see he would be all over the trackchasing hobby. As it was we discussed opportunities on when I might return. I was equally interested in seeing Boris and his girlfriend Sophia visit the United States. I would love to have Boris see the sights of the U.S. Hopefully we will be able to meet both of those goals.
So long Boris….until next time.
Soon Boris was leaving for the two-hour drive back to Bosnia and Herzegovina. I went up to my room in search of a bed. We had gone to bed at 2 a.m. each of the last two nights. I was starting to feel it.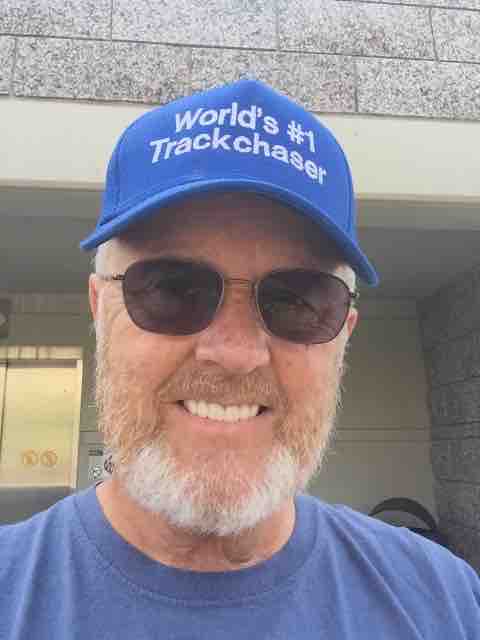 About that time I got a call from the hotel's front desk. They had a hat for me. Yes I had left my "World's #1 Trackchaser " hat in Boris's car. Luckily, he had noticed it. Did you know you can buy those hats with my logo at the Mall of America in Minneapolis?
By the way my gift to Boris for his friendship and hospitality was a Randy Lewis Racing t-shirt. The shirt fit perfectly and matched his shoes in color!
Monday, June 27, 2016
Time to start heading for home.
Today I had an 11:55 a.m. flight from Zagreb to Amsterdam. In Amsterdam I would have a three-hour layover until I picked up a flight to Düsseldorf, Germany.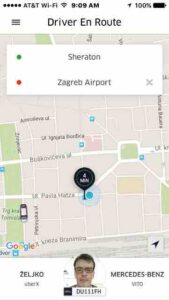 Croatia. Uber. A good combination.
I left the hotel at 9 a.m. I simply ordered an Uber ride from the hotel to the airport. The hotel desk clerk told me a taxi to the airport was about 150 Croatian Kuna. With Uber I paid just 90 Kuna saving me about $10.
The driver showed up just four minutes after I placed the order on my iPhone. He was driving a Mercedes van. My chauffer grabbed my luggage and off we went to the airport. It took us 21 minutes to go 16 km. Paying just $13 for a ride of that distance is a pretty good deal.
I like Uber.
I don't know if you've tried Uber yet. I've used them in Washington D.C., Honolulu and now Serbia. It's easy to order a ride on the iPhone. There is no cash exchange. Everything is billed to my credit card at the end of the ride. I get a chance to rate my driver and he rates me!
Bilked!
I was early for my KLM Airlines flight check-in. There would be time to have breakfast. I was about ready to lose the $10 advantage I had gained with Uber.
The existing terminal was built in 1966. A new terminal is under construction. It will be completed by the end of this year. I just missed it!
Today, on the second level of the very old terminal there was a small café. They were serving a limited assortment of entrées for breakfast.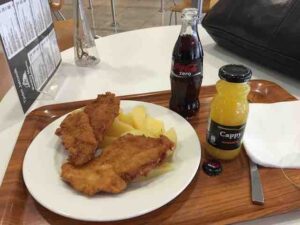 I chose the breaded chicken with boiled potatoes. I also selected a small jar of orange juice and a small Coca-Cola zero. Any idea what that might cost? How does $18 U.S. sound! It didn't sound very good to me. When I ordered my food there were no prices. I can see why now!
Powerwalking in Amsterdam.
I boarded my flight to Amsterdam without incident. That's saying something nowadays. Once in the Amsterdam airport, which is huge, I took the opportunity to do some walking. Airports are a great place for exercise. When I don't have time to exercise aerobically I like to walk a minimum of 4 miles each day.
My layover in Amsterdam went by quickly. I was soon on a regional jet headed to Düsseldorf, Germany. Tonight I would be staying in the same Sheraton hotel at the Düsseldorf airport where I had stayed on Thursday night.
This hotel has to be one of most convenient I have ever used. It's located 100 meters from the arrivals level at the Düsseldorf airport. From the time I got off my airplane to the time I walked up to the front desk of the hotel maybe three or four minutes had elapsed.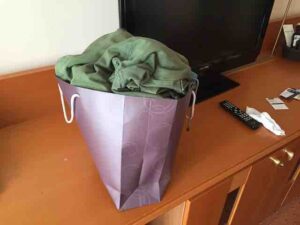 How many hotels have stored your dirty clothes?
When I checked in I had something very important to do. I had to pick up my military field jacket. I had stuffed it with dirty clothes when I departed last Friday. I couldn't take that stuff with me because of the weight requirements for my carry-on luggage with the airlines.
The Sheridan hotel was on the ball. They brought me my clothing wrapped in a nice shopping bag in a matter of seconds. Soon I was in my hotel room anticipating a flight back to the U.S. tomorrow.
At about 8 o'clock in the evening I walked back over to the airport for dinner. I went right back to the Asiagourmet restaurant where I dined a few nights ago. They do a real nice job for a place located in an airport.
I was leaving Europe and bound for any of seven different locations.
I was hoping I could fly to Chicago tomorrow morning. The flight had some open seats unless I was burned by "weight and balance". If I made it to Chicago on time I could see a race in Indiana tomorrow night. How's that for being efficient?
If I didn't make it to Chicago I might end up in Boston, New York, Miami or Los Angeles just to name a few of the options. Was that concerning to me? Not in the least. I simply go with the flow when that's the best I can control.
Tuesday, June 28, 2016
Meeting new people. That's what this is about.
I made the flight from Dusseldorf, Germany to Chicago. I got a seat in coach next to a young woman (most woman I meet at younger than me) from the Netherlands. She was a dog groomer going to visit her sister in Denver.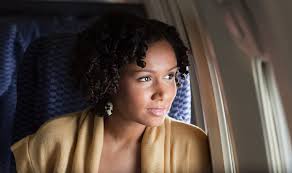 We hit it off and talked for nearly the entire nine-hour airplane ride. It's amazing the things people will tell a fellow airline passenger during a long flight! Jennifer, nice meeting you!
I cleared U.S. border control in a jiffy with the Global Entry system. Soon I was renting a car and driving off toward Ft. Wayne, Indiana on ANOTHER trackchasing adventure.
I am very lucky.
When I think back on it I am very lucky to have the trackchasing hobby as a motivator for me. As you can see it motivates me to just get up and go….all over the world. Without it I would travel. I just would not have traveled to nearly as many faraway, interesting and adventuresome places.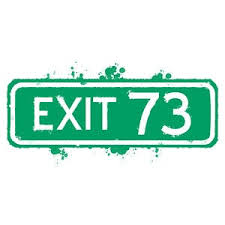 I've seen racing in 72 countries. What about #73? Believe it or not I'm working on it right now. That doesn't surprise you does it!
Thanks for reading about my trackchasing, 
Randy Lewis
World's #1 Trackchaser
Randy is a freelance journalist who winters in San Clemente, California and sometime flies in coach.
And so it goes from country #72. I hope you'll tune in when country #73 becomes a reality. It's more than a glimmer in my eye right now. I'm working on it as this is read.
THE COUNTRY LIST
#72!!
RLR – Randy Lewis Racing Lifetime Trackchasing Countries
# 1 – UNITED STATES OF AMERICA – Peoria Speedway – Mt. Hawley, (oval) – Track #1, Peoria, Illinois – circa 1954 (age 5)
# 2 – CANADA – Cayuga Speedway (oval) – Track #174, Nelles Corner, Ontario – July 31, 1988 (Dick Trickle winner)
# 3 – AUSTRALIA – Parramatta City Raceway (oval) – Track #180, Granville, New South Wales – November 17, 1989 (accompanied by Carol)
# 4 – UNITED KINGDOM – Northhampton International Raceway (oval) – Track #378, Northhampton – June 26, 1999 (accompanied by Carol, Kristy, Jim)
# 5 – NETHERLANDS – Driesum Racetrack (oval) – Track #839, Driesum – May 5, 2005 (accompanied by Roland Vanden Eynde)
# 6 – BELGIUM – Bellekouter oval (oval) – Track #841, Affligem – May 8, 2005 (accompanied by Roland Vanden Eynde)
# 7 – FRANCE – Circuit de Croix en Ternois (road course) – Track #843, Saint-Pol sur-Ternoise – May 8, 2005 (accompanied by Roland Vanden Eynde – 2nd new country in one day!)
# 8 – GERMANY – Nurburgring (road course) – Track #844, Nurburg – May 13, 2005 (accompanied by Carol, Roland Vanden Eynde)
# 9 – NEW ZEALAND – Western Springs Speedway (oval) – Track #1,134, Western Springs – December 26, 2006 (accompanied by Carol)
# 10 – MEXICO – Triovalo Bernardo Obregon (oval) – Track #1,281, Tiajamulco de Zuniga, Jalisco – October 14, 2007 (accompanied by Carol, J.J., Roger Ward)
# 11 – BARBADOS – Bushy Park Racing Circuit (road course) – Track #1,296, Bushy Park – December 9, 2007
# 12 – THAILAND – Bira Circuit (road course) – Track #1,300, Pattaya – January 19, 2008
# 13 – SOUTH AFRICA – Durban Grand Prix (road course) – Track #1,315, Durban, KwaZulu-Natal – February 24, 2008 (accompanied by J.J. and Will Van Horne)
# 14 – JAMAICA – Dover Raceway (road course) – Track #1,322, Brown's Town St. Ann – March 24, 2008
# 15 – SWEDEN – Sturup Raceway (road course) – Track #1,335, Malmo – May 10, 2008 (accompanied by Carol)
# 16 – DENMARK – Ring Djursland (road course) – Track #1,336, Tirstrup – May 11, 2008 (accompanied by Carol)
# 17 – CZECH REPUBLIC – Automotodrome BRNO (road course) – Track #1,381, Brno – September 13, 2008
# 18 – AUSTRIA – Lambrechten Stock Car Track (road course) – Track #1,382, Lambrechten – September 14, 2008
# 19 – IRELAND – Tipperary International Raceway (oval) – Track #1,388, Rosegreen – October 26, 2008 (Carol and I visited this track earlier in the year)
# 20 – GUYANA – South Dakota Circuit (road course) – Track #1,390, Timehri – November 2, 2008 (accompanied by Carol)
# 21 – CHINA – The Guia Circuit (road course) – Track #1,392, Macau – November 16, 2008 (accompanied by Carol)
# 22 – COSTA RICA – Autodromo La Guacima (road course) – Track #1,398, La Guacima – November 30, 2008
# 23 – ANDORRA – Grandvalira Circuit (road course) – Track #1,404, Port d'Envalira – January 17, 2009
# 24 – ARGENTINA – Circuito Efren Chemolli (oval) – Track #1,406, Buenos Aires – January 31, 2009 (shared with Jerry Fisher)
# 25 – QATAR – Losail International Circuit (road course) – Track #1,408, Doha – February 13, 2009
# 26 – BAHRAIN – Bahrain International Circuit (road course) – Track #1,410, Sakhir – February 27, 2009 (accompanied by Carol)
# 27 – UNITED ARAB EMIRATES – Dubai Autodrome (road course) – Track #1,411, Dubai – February 28, 2009 (accompanied by Carol)
# 28 – COLOMBIA – Autodromo de Tocancipa (road course) – Track #1,415, Tocancipa – March 22, 2009
# 29 – SPAIN – Motorland Aragon (road course) – Track #1,416, Alcaniz – March 28, 2009
# 30 – PORTUGAL – Circuto de Murca (road course) – Track #1,417, Murca – March 29, 2009
# 31 – ICELAND – Kapelluhraum (road course) – Track #1,420, Hafnafjorour – April 25, 2009 (shared with Will White)
# 32 – HUNGARY – Hungaroring (road course) – Track #1,426, Mogyorod – May 8, 2009 (accompanied by Carol)
# 33 – SWITZERLAND – Hock Ybrig (road course) – Track #1,427, Hoch Ybrig – May 9, 2009 (accompanied by Carol)
# 34 – ITALY – Vighizzolo d'Este Stock Car Track (road course) – Track #1,428, Vighizzolo d'Este – May 10, 2009 (accompanied by Carol)
# 35 – DOMINICAN REPUBLIC – Autodromo Mobil 1 (road course) – Track #1,515, Santo Domingo – December 6, 2009 (accompanied by Carol)
# 36 – MALTA – Ta'Qali Race Track (road course) – Track #1,521, Ta'Qali – February 7, 2010 (accompanied by Carol)
# 37 – FINLAND – Lake Pidisjarvi Ice Track (road course) – Track #1,524, Nivala – February 20, 2010
# 38 – JAPAN – Suzuka Circuit (road course) – Track #1,530, Suzuka – March 21, 2010
# 39 – CHILE – Autodromo de Interlomas (road course) – Track #1,531, Temuco – April 18, 2010
# 40 – MOROCCO – Circuit de Marrakesh (road course) – Track #1,535, Marrakesh – May 1, 2010 (accompanied by Carol)
# 41 – BRAZIL – Circuit de Caruaru – Aryten Senna (road course) – Track #1,540, Caruaru – May 16, 2010 (accompanied by Carol, Jerry Fisher and Katina Spencer)
# 42 – ESTONIA – Laitse Rally Park (road course) – Track #1,571, Laitse – July 24, 2010 (accompanied by Carol)
# 43 – LATVIA – Bikernieki (road course) – Track #1,572, Riga – July 25, 2010 (accompanied by Carol
# 44 – GUATEMALA – Autodromo Pedro Cofino (road course) – Track #1,580, Alotenango – August 15, 2010
# 45 – EL SALVADOR – El Jabali (road course) – Track #1,582, Quezaltepeque – August 22, 2010 (accompanied by Carol)
# 46 – ROMANIA – Bradu (road course) – Track #1,603, Bradu – October 16, 2010
# 47 – BULGARIA – Closed Route – Burgas (road course) – Track #1,604, Burgas – October 17, 2010 (accompanied by Lyubomir and Plamen Simeonov)
# 48 – SOUTH KOREA – Korea International Circuit (road course) – Track #1,605, Yeongam, Jeollanam-Do – October 24, 2010
# 49 – PHILIPPINES – Batangas Racing Circuit (road course) – Track #1,608, Batangas – November 21, 2010
# 50 – NORWAY – Lyngas Motorbane (road course) – Track #1,648, Lier – April 30, 2011
# 51 – MALAYSIA – Sepang International Circuit (road course) – Track #1,656, Sepang – May 28, 2011
# 52 – INDONESIA – Sentul International Circuit (road course) – Track #1,657, Babakan Madang, Boder – May 29, 2011
# 53 – LUXEMBOURG – Alzingen (road course) – Track #1,711, Alzingen – September 4, 2011 (accompanied by Carol)
# 54 – POLAND – Tor Slomczyn (road course) – Track #1,713, Slomczyn – September 11, 2011 (accompanied by Carol)
# 55 – SINGAPORE – Marina Bay (road course) – Track #1,714, Singapore – September 24, 2011 (accompanied by Carol) 
# 56 – URUGUAY – Piriapolis Grand Prix (road course) – Track #1,724, Piriapolis – November 12, 2011
# 57 – SRI LANKA – Pannala Race Track (road course) – Track #1,732, Pannala – February 12, 2012
# 58 – ECUADOR – Autodromo Internacional de Yahuarcocha (road course) – Track #1,736, Ibarra – March 11, 2012
# 59 – SLOVAKIA – Slovakia Ring (road course) – Track #1,742, Orechova Puton – April 29, 2012
# 60 – MONACO – Circuit de Monaco (street course) – Track #1,746, Monte Carlo – May 13, 2012 (accompanied by Carol)
# 61 – CROATIA – Automotodrom Grobnik (road course) – Track #1,762, Rijeka – June 23, 2012
# 62 – PERU – Autodromo La Chutana (road course) – Track #1,802, Lima – October 21, 2012 (accompanied by Carol)
# 63 – GREECE – Serres Circuit (road course) – Track #1,807, Serres – November 4, 2012
# 64 – RUSSIA – Moscow Central Hippodrome (oval) – Track #1,824, Moscow – February 23, 2013 (accompanied by Carol)
# 65 – LITHUANIA – Marijampole Autokross Track (road course) – Track #1,842, Marijampole – May 12, 2013 (accompanied by Carol)
# 66 – INDIA – Buddh International Circuit (road course) – Track #1,915, Noida – October 27, 2013 (accompanied by Carol)
# 67 – GEORGIA – Rustavi International Motorpark (road course) – Track #1,916, Rustavi – November 10, 2013
# 68 – TRINIDAD AND TOBAGO – Larry Gomes Stadium (road course) – Track #1,928, Arima – January 26, 2014 (accompanied by Carol)
# 69 – TURKEY – Istanbul Park (road course) – Track #2,035 Akfirat (accompanied by Carol)
# 70 – AZERBAIJAN – Streets of Baku (road course) – Track #2,037, Baku (accompanied by Carol)
# 71 – SERBIA – Usce (road course) – Track #2,224, Belgrade (accompanied by Carol)
# 72 – BOZNIA AND HERZEBOVINA – Zaluzani (road course) – Track #2,235, Zaluzani (accompanied by Boris Miljevic)
The International Big 3.
. Randy Lewis, San Clemente, California USA – 72
. Roland Vanden Eynde, Vilvoorde, Belgium – 52
. Carol Lewis, San Clemente, California USA – 40
2016 is becoming a great international trackchasing year.
LIFETIME TRACKCHASER COMPARISONS 
The three most important trackchasing comparisons to me are:
Total lifetime tracks seen
Total "trackchasing countries" seen
Lifetime National Geographic Diversity results
Total Lifetime Tracks
There are no trackchasers currently within 550 tracks of my lifetime total. Don't blame me.
. Randy Lewis, San Clemente, California – 2,235
Total Trackchasing Countries
There are no trackchasers currently within 10 countries of my lifetime total.
. Randy Lewis, San Clemente, California – 72
Current lifetime National Geographic Diversity results
Randy Lewis, San Clemente, California – 4.47
Bosnia and Herzegovina – FAST FACTS*
Provided by my friends at Wikipedia
Bosnia and Herzegovina sometimes called Bosnia-Herzegovina or Bosnia & Herzegovina, abbreviated BiH or B&H, and, in short, often known informally as Bosnia, is a country in Southeastern Europe located on the Balkan Peninsula. Sarajevo is the capital and largest city. Bordered by Croatia to the north, west, and south; Serbia to the east; Montenegro to the southeast; and the Adriatic Sea to the south, with a coastline about 20 kilometres (12 miles) long surrounding the city of Neum.
The Ottomans brought Islam to the region, and altered much of the cultural and social outlook of the country. This was followed by annexation into the Austro-Hungarian Monarchy, which lasted up until World War I. In the interwar period, Bosnia was part of the Kingdom of Yugoslavia and after World War II, the country was granted full republic status in the newly formed Socialist Federal Republic of Yugoslavia. Following the dissolution of Yugoslavia, the country proclaimed independence in 1992, which was followed by the Bosnian War, lasting until late 1995.
Today, the country maintains high literacy, life expectancy and education levels and is one of the most frequently visited countries in the region, projected to have the third highest tourism growth rate in the world between 1995 and 2020. Bosnia and Herzegovina is regionally and internationally renowned for its natural beauty and cultural heritage inherited from six historical civilizations, its cuisine, winter sports, its eclectic and unique music, architecture and its festivals, some of which are the largest and most prominent of their kind in Southeastern Europe. The country is home to three main ethnic groups or, officially, constituent peoples, as specified in the constitution. Bosniaks are the largest group of the three, with Serbs second and Croats third. A native of Bosnia and Herzegovina, regardless of ethnicity, is identified in English as a Bosnian. The terms Herzegovinian and Bosnian are maintained as a regional rather than ethnic distinction, and the region of Herzegovina has no precisely defined borders of its own. Moreover, the country was simply called "Bosnia" until the Austro-Hungarian occupation at the end of the 19th century.
Bosnia and Herzegovina has a bicameral legislature and a three-member Presidency composed of a member of each major ethnic group. However, the central government's power is highly limited, as the country is largely decentralized and comprises two autonomous entities: the Federation of Bosnia and Herzegovina and Republika Srpska, with a third region, the Brčko District, governed under local government. The Federation of Bosnia and Herzegovina is itself complex and consists of 10 federal units – cantons. The country is a potential candidate for membership to the European Union and has been a candidate for North Atlantic Treaty Organisation membership since April 2010, when it received a Membership Action Plan at a summit in Tallinn.
Geography
The country's name comes from the two regions Bosnia and Herzegovina, which have a very vaguely defined border between them. Bosnia occupies the northern areas which are roughly four-fifths of the entire country, while Herzegovina occupies the rest in the southern part of the country.
Sarajevo is the capital and largest city. Other major cities are Banja Luka in the northwest region known as Bosanska Krajina, Bijeljina and Tuzla in the northeast, Zenica and Doboj in the central part of Bosnia and Mostar, the largest city in Herzegovina.
Somewhat Recent History
Political tensions culminated on 28 June 1914, when a Bosnian Serb nationalist youth named Gavrilo Princip, a member of the secret Serbian-supported movement, Young Bosnia, assassinated the heir to the Austro-Hungarian throne, Archduke Franz Ferdinand, in Sarajevo—an event that proved to be the spark that set off World War I. At the end of the war, the Bosniaks had lost more men per capita than any other ethnic group in the Habsburg Empire whilst serving in the Bosnian-Herzegovinian Infantry (known as Bosniaken) of the Austro-Hungarian Army. Nonetheless, Bosnia and Herzegovina as a whole managed to escape the conflict relatively unscathed.
The Austro-Hungarian authorities established an auxiliary militia known as the Schutzkorps with a moot role in the empire's policy of anti-Serb repression. Schutzkorps, predominantly recruited among the Muslim (Bosniak) population, were tasked with hunting down rebel Serbs (the Chetniks and Komiti) and became known for their persecution of Serbs particularly in Serb populated areas of eastern Bosnia, where they partly retaliated against Serbian Chetniks who in fall 1914 had carried out attacks against the Muslim population in the area. The proceedings of the Austro-Hungarian authorities led to around 5,500 citizens of Serb ethnicity in Bosnia and Herzegovina being arrested, and between 700 and 2,200 died in prison while 460 were executed. Around 5,200 Serb families were forcibly expelled from Bosnia and Herzegovina.
Kingdom of Yugoslavia (1918–1941)
Following World War I, Bosnia and Herzegovina joined the South Slav Kingdom of Serbs, Croats and Slovenes (soon renamed Yugoslavia). Political life in Bosnia at this time was marked by two major trends: social and economic unrest over property redistribution, and formation of several political parties that frequently changed coalitions and alliances with parties in other Yugoslav regions. The dominant ideological conflict of the Yugoslav state, between Croatian regionalism and Serbian centralization, was approached differently by Bosnia's major ethnic groups and was dependent on the overall political atmosphere. The political reforms brought about in the newly established Yugoslavian kingdom saw few benefits for the Bosniaks; according to the 1910 final census of land ownership and population according to religious affiliation conducted in Austro-Hungary, Muslims (Bosniaks) owned 91.1%, Orthodox Serbians owned 6.0%, Croatian Catholics owned 2.6% and others, 0.3% of the property. Following the reforms Bosnian Muslims had a total of 1,175,305 hectares of agricultural and forest land taken away from them.
The establishment of the Kingdom of Yugoslavia in 1929, however, brought the redrawing of administrative regions into banates or banovinas that purposely avoided all historical and ethnic lines, removing any trace of a Bosnian entity. Serbo-Croat tensions over the structuring of the Yugoslav state continued, with the concept of a separate Bosnian division receiving little or no consideration.
The Cvetković-Maček Agreement that created the Croatian banate in 1939 encouraged what was essentially a partition of Bosnia between Croatia and Serbia. However the rising threat of Adolf Hitler's Nazi Germany forced Yugoslav politicians to shift their attention. Following a period that saw attempts at appeasement, the signing of the Tripartite Treaty, and a coup d'état, Yugoslavia was finally invaded by Germany on 6 April 1941.[18]
World War II (1941–45)
Once the kingdom of Yugoslavia was conquered by Nazi forces in World War II, all of Bosnia was ceded to the Nazi puppet regime, Independent State of Croatia (NDH). The NDH leaders embarked on a campaign of extermination of Serbs, Jews, Romani, Croats who opposed the regime, communists and large numbers of Josip Broz Tito's Partisans by setting up a number of death camps. An estimated 209,000 Serbs and Montenegrins were killed on the territory of Bosnia-Herzegovina during the war.
Many Serbs themselves took up arms and joined the Chetniks, a Serb nationalist movement with the aim of establishing an ethnically homogeneous 'Greater Serbian' state. The Chetniks were responsible for widespread persecution and murder of non-Serbs and communist sympathizers, with the Muslim population of Bosnia, Herzegovina and Sandžak being a primary target. Once captured, Muslim villagers were systematically massacred by the Chetniks. Of the 75,000 Muslims who lost their lives in Bosnia and Herzegovina during the war, approximately 30,000 (mostly civilians) were killed by the Chetniks. Later, a number of Muslims served in Nazi Waffen-SS units. Between 64,000 and 79,000 Bosnian Croats also perished from April 1941 to May 1945. Of these, about 18,000 were killed by the Chetniks.
More than 300,000 people died in Bosnia and Herzegovina in World War II. At the end of the war the establishment of the Socialist Federal Republic of Yugoslavia, with the constitution of 1946, officially made Bosnia and Herzegovina one of six constituent republics in the new state.
Socialist Federative Republic of Yugoslavia (1945–1992)
Due to its central geographic position within the Yugoslavian federation, post-war Bosnia was selected as a base for the development of the military defense industry. This contributed to a large concentration of arms and military personnel in Bosnia; a significant factor in the war that followed the break-up of Yugoslavia in the 1990s. However, Bosnia's existence within Yugoslavia, for the large part, was a peaceful and very prosperous country, with high employment, a strong industrial and export oriented economy, good education system and social and medical security for every citizen of S. R. Bosnia and Herzegovina.
Several international corporations operated in Bosnia— Volkswagen (car factory in Sarajevo, from 1972), Coca Cola (from 1975), SKF Sweden (from 1967), Marlboro, (a tobacco factory in Sarajevo), and Holiday Inn hotels. Sarajevo was the site of the 1984 Winter Olympics.
During the 1950s and 1960s Bosnia was a political backwater of the Republic of Yugoslavia. In the 1970s a strong Bosnian political elite arose, fueled in part by Tito's leadership in the Non-Aligned Movement and Bosnians serving in Yugoslavia's diplomatic corps. While working within the Socialist system, politicians such as Džemal Bijedić, Branko Mikulić and Hamdija Pozderac reinforced and protected the sovereignty of Bosnia and Herzegovina. Their efforts proved key during the turbulent period following Tito's death in 1980, and are today considered some of the early steps towards Bosnian independence. However, the republic did not escape the increasingly nationalistic climate of the time. With the fall of the Soviet Union and the start of the break-up of Yugoslavia, doctrine of tolerance began to lose its potency, creating an opportunity for nationalist elements in the society to spread their influence.
Bosnian War (1992–1995)
On 18 November 1990, the first multi-party parliamentary elections were held. A second round followed on 25 November, resulting in a national assembly where communist power was replaced by a coalition of three ethnically based parties. Croatia and Slovenia's subsequent declarations of independence and the warfare that ensued placed Bosnia and Herzegovina and its three constituent peoples in an awkward position. A significant split soon developed on the issue of whether to stay with the Yugoslav federation (overwhelmingly favored among Serbs) or seek independence (overwhelmingly favored among Bosniaks and Croats).
On 18 November 1991, the party branch in Bosnia and Herzegovina of the ruling party in the Republic of Croatia, the Croatian Democratic Union (HDZ), proclaimed the existence of the Croatian Community of Herzeg-Bosnia, as a separate "political, cultural, economic, and territorial whole", on the territory of Bosnia and Herzegovina, with Croat Defence Council (HVO) as its military part. The Bosnian government did not recognize it. The Constitutional Court of Bosnia and Herzegovina declared Herzeg-Bosnia illegal, first on 14 September 1992 and again on 20 January 1994.
A declaration of the sovereignty of Bosnia and Herzegovina on 15 October 1991, was followed by a referendum for independence from Yugoslavia on 29 February, and 1 March 1992 which was boycotted by the great majority of the Serbs. The turnout in the independence referendum was 63.4 percent and 99.7 percent of voters voted for independence. Bosnia and Herzegovina declared independence on 3 March 1992 and received international recognition the following month on 6 April 1992. The Republic of Bosnia and Herzegovina was subsequently admitted as a member State of the United Nations on 22 May 1992. In the meantime, following a period of escalating tensions, the opening shots in the incipient Bosnian conflict were fired when Serb paramilitary forces attacked Bosnian Croat villages around Capljina on 7 March 1992, and Bosanski Brod and the Bosniak-majority town, Gorazde, on 15 March. These minor attacks were followed by much more serious Serb artillery attacks on Neum on 19 March, and on Bosanski Brod on 24 March. It is disputed between Bosniaks, Croats and Serbs who the first casualties of the war were. Bosniaks regard the attack on the peace rally that was organized in Sarajevo on 5 April 1992, as marking the start of warfare between the three major communities. As the largest section of demonstrators moved towards the parliament building, Serb forces opened fire on the crowd from across the "Holiday Inn" hotel, killing two women, Suada Dilberović, a Bosniak, and Olga Sučić, a Croat. The Vrbanja bridge where they perished has since then been renamed in their honour. Serbs consider the attack on a Serb wedding procession in downtown Sarajevo on 1 March 1992 to be the catalyst for the war. Nikola Gardović, the groom's father, was the only person killed. The attacker was reportedly Ramiz Delalić, a Bosniak small-time gangster, and it is alleged that the attack was provoked when the wedding guests brandished Serbian flags as the wedding procession moved through the old Muslim neighbourhood of Baščaršija.
Discussions between Franjo Tuđman and Slobodan Milošević at the March 1991 Karađorđevo meeting are believed to have involved a plan to divide Bosnia and Herzegovina between Serbia and Croatia. Following the declaration of independence of the Republic of Bosnia and Herzegovina, the Serbs attacked different parts of the country. The state administration of Bosnia and Herzegovina effectively ceased to function having lost control over the entire territory. The Serbs wanted control of large parts of Bosnia and Herzegovina, and Milošević was widely accused of being the mastermind of a plan to build a "Greater Serbia", the RAM Plan. At the same time, the policies of the Republic of Croatia and its leader Franjo Tuđman towards Bosnia and Herzegovina were never totally transparent and always included Franjo Tuđman's ultimate aim of expanding Croatia's borders. Bosnian Muslims were an easy target, because the Bosnian government forces were poorly equipped and unprepared for the war.
International recognition of Bosnia and Herzegovina increased diplomatic pressure for the Yugoslav People's Army (JNA) to withdraw from the republic's territory which they officially did. However, in fact, the Bosnian Serb members of JNA simply changed insignia, formed the Army of Republika Srpska, and continued fighting. Armed and equipped from JNA stockpiles in Bosnia, supported by volunteers and various paramilitary forces from Serbia, and receiving extensive humanitarian, logistical and financial support from the Federal Republic of Yugoslavia, Republika Srpska's offensives in 1992 managed to place much of the country under its control.
Initially, the Serb forces attacked the non-Serb civilian population in Eastern Bosnia. Once towns and villages were securely in their hands, the Serb forces—military, police, the paramilitaries and, sometimes, even Serb villagers—applied the same pattern: Bosniak houses and apartments were systematically ransacked or burnt down, Bosniak civilians were rounded up or captured, and sometimes beaten or killed in the process. 2.2 million refugees were displaced by the end of the war (of all three nationalities).
Able-bodied men were separated from their families and interned in camps under a brutal regimen of abuse, murder, and sporadic group executions, whereas women and children were kept in unsanitary detention centers, deprived of food and water. Rape by Serb soldiers or policemen was commonplace at the detention centers, and victims included women and minors as young as 12 years old.
Though on a significantly smaller scale, war crimes would later also be committed by Bosniaks and Croats as their military campaigns gained momentum, including the establishment of prison camps in which torture, murder and rape took place.
In June 1992, the focus switched to Novi Travnik and Gornji Vakuf where the Croat Defence Council (HVO) efforts to gain control were resisted. On 18 June 1992, the Bosnian Territorial Defence in Novi Travnik received an ultimatum from the HVO which included demands to abolish existing Bosnia and Herzegovina institutions, establish the authority of the Croatian Community of Herzeg-Bosnia and pledge allegiance to it, subordinate the Territorial Defense to the HVO and expel Muslim refugees, all within 24 hours. The attack was launched on 19 June. The elementary school and the Post Office were attacked and damaged.
The situation became more serious in October 1992, when Croat forces attacked the Bosniak population in Prozor. According to Jadranko Prlić indictment, HVO forces cleansed most of the Muslims from the town of Prozor and several surrounding villages.
By 1993, when an armed conflict erupted between the predominantly Bosniak government in Sarajevo and the Croatian Republic of Herzeg-Bosnia, about 70% of the country was controlled by Republika Srpska. Ethnic cleansing and civil rights violations against non-Serbs were rampant in these areas. DNA teams have been used to collect evidence of the atrocities committed by Serbian forces during these campaigns. The single most prominent example was the Srebrenica massacre, ruled a genocide by the International Criminal Tribunal for the former Yugoslavia. An estimated 8,372 Bosnians were killed by the Serbian political authorities. The Inter Services Intelligence (ISI) ran active military intelligence program during the Bosnian War which started in 1992 lasting until 1995. Executed and supervised by General Javed Nasir, the program distributed and coordinated the systematic supply of arms to various groups of Bosnian fighters in their fight against the Serbian war missions.
Bosnia and Herzegovina after the Dayton Agreement – In March 1994, the signing of the Washington Accords between the leaders of the republican government and Herzeg-Bosnia led to the creation of a joint Bosniak-Croat Federation of Bosnia and Herzegovina, which absorbed the territory of the Croatian Republic of Herzeg-Bosnia and that held by the Army of the Republic of Bosnia and Herzegovina.
Following the Srebrenica genocide, a NATO bombing campaign began in August 1995, against the Army of Republika Srpska. Meanwhile, a ground offensive by the allied forces of Croatia and Bosnia, based on the Split Agreement signed by Tudjman and Izetbegović, pushed the Serbs away from territories held in western Bosnia, which paved the way to negotiations. In December 1995, the signing of the Dayton Agreement in Dayton, Ohio, by the Chairman of the Presidency of Bosnia and Herzegovina (Alija Izetbegović), Croatia (Franjo Tuđman) and Serbia (Slobodan Milošević) brought a halt to the fighting, roughly establishing the basic structure of the present-day state. A NATO-led peacekeeping force was immediately dispatched to Bosnia to enforce the agreement.
The number of identified victims is currently at 97,207 (civilian and military casualties). These include 64,341 Bosniaks, 24,726 Serbs, and 7,602 Croats. Recent research estimates the total number to be no more than 110,000 killed (civilians and military), and 1.8 million displaced.
At the International Court of Justice (ICJ), the Bosnian government charged Serbia of complicity in genocide in Bosnia during the war. The ICJ ruling of 26 February 2007, effectively determined the war's nature to be international, though exonerating Serbia of direct responsibility for the genocide committed by Serb forces of Republika Srpska. The ICJ concluded, however, that Serbia failed to prevent genocide committed by Serb forces and failed to punish those who carried out the genocide – in particular, General Ratko Mladić – and bring them to justice. Mladić was arrested in a village in northern Serbia on 26 May 2011 and, among other genocide and war crime charges, accused of directly orchestrating and overseeing the slaughter of 8,000 Bosniak men and boys.
The judges ruled that the criteria for genocide with the specific intent (dolus specialis) to destroy Bosnian Muslims were met only in Srebrenica or Eastern Bosnia in 1995. The court concluded that the crimes committed during the 1992–1995 war may, according to international law, amount to crimes against humanity, but that these acts did not in themselves constitute genocide. The Court further decided that Serbia was the only respondent party in the case after Montenegro's declaration of independence in June 2006, but that "any responsibility for past events involved, at the relevant time, the composite State of Serbia and Montenegro".
Protests in 2014 against the two governments
Government and politics
Bosnia and Herzegovina consists of the Federation ofBosnia and Herzegovina (FBiH); Republika Srpska (RS); and Brčko District (BD).
Bosnia and Herzegovina is a liberal democracy. It has several levels of political structuring, according to the Dayton accord. The most important of these levels is the division of the country into two entities: Republika Srpska and the Federation of Bosnia and Herzegovina. The Federation of Bosnia and Herzegovina covers 51% of Bosnia and Herzegovina's total area, while Republika Srpska covers 49%.
The representation of the government of Bosnia and Herzegovina is by elites who represent the country's three major groups, with each having a guaranteed share of power.
The Chair of the Presidency of Bosnia and Herzegovina rotates among three members (Bosniak, Serb, Croat), each elected as the Chair for an eight-month term within their four-year term as a member. The three members of the Presidency are elected directly by the people with Federation voters voting for the Bosniak and the Croat, and the Republika Srpska voters for the Serb.
Military
The Armed Forces of Bosnia and Herzegovina were unified into a single entity in 2005, with the merger of the Army of the Federation of Bosnia and Herzegovina and the Army of Republika Srpska, which had defended their respective regions.
The Bosnian military consists of the Bosnian Ground Forces and Air Force and Air Defense. The Ground Forces number 14,725 active and 7,000 reserve personnel. They are armed with a mix of American, Yugoslavian, Soviet, and European-made weaponry, vehicles, and military equipment. The Air Force and Air Defense Forces have 3,000 personnel and about 62 aircraft. The Air Defense Forces operate MANPAD hand-held missiles, surface-to-air missile (SAM) batteries, anti-aircraft cannons, and radar. The Army has recently adopted remodeled MARPAT uniforms, used by Bosnian soldiers serving with ISAF in Afghanistan. A domestic production program is now underway to ensure that army units are equipped with the correct ammunition.
On 23 April 2010, Bosnia and Herzegovina received the Membership Action Plan from NATO, which is the last step before full membership in the alliance. Full membership was expected in 2014 or 2015, depending on the progress of reforms.
Ethnic groups
Population density in Bosnia and Herzegovina by municipality, early data from the 2013 census
Religion in Bosnia and Herzegovina
religion
percent
Islam
45%
Serbian Orthodoxy
36%
Catholicism
15%
Others
4%
Bosnia and Herzegovina is home to three ethnic "constituent peoples": Bosniaks, Serbs and Croats. According to the 1991 census, Bosnia and Herzegovina had a population of 4,377,000, while the 1996 UNHCR unofficial census showed a decrease to 3,920,000. Large population migrations during the Yugoslav wars in the 1990s have caused demographic shifts in the country. Between 1991 and 2013, political disagreements made it impossible to organize a census. A census had been planned for 2012, but was delayed until October 2013. The 2013 census found a total population of 3,791,622 people in 1.16 million households; 585,411 fewer people than the 1991 census.
Ethnically, according to data from 2000 cited by the Central Intelligence Agency, Bosniaks constitute 48% of the population, Serbs 37.1%, Croats 14.3%, and others form 0.6%.[2] According to unofficial estimates from the Bosnian State Statistics Agency cited by the US Department of State in 2008, 45 percent of the population identify religiously as Muslim, 36 percent as Serb Orthodox, 15 percent as Roman Catholic, 1 percent as Protestant, and 3 percent other (mostly atheists, Jews, and others). A 2012 survey found that 54% of Bosnia's Muslims are non-denominational Muslims, while 38% follow Sunnism.
Languages
Bosnia's constitution does not specify any official languages. However, academics Hilary Footitt and Michael Kelly note that the Dayton Agreement states that it is "done in Bosnian, Croatian, English and Serbian", and they describe this as the "de facto recognition of three official languages" at the state level.
Economy
Bosnia faces the dual-problem of rebuilding a war-torn country and introducing transitional liberal market reforms to its formerly mixed economy. One legacy of the previous era is a strong industry; under former republic president Džemal Bijedić and SFRY President Josip Broz Tito, metal industries were promoted in the republic, resulting in the development of a large share of Yugoslavia's plants; S.R. Bosnia and Herzegovina had a very strong industrial export oriented economy in the 1970s and 1980s, with large scale exports worth millions of US$.
For most of Bosnia's history, agriculture has been conducted on privately owned farms; Fresh food has traditionally been exported from the republic.
The war in the 1990s, caused a dramatic change in the Bosnian economy. GDP fell by 60% and the destruction of physical infrastructure devastated the economy. With much of the production capacity unrestored, the Bosnian economy still faces considerable difficulties. Figures show GDP and per capita income increased 10% from 2003 to 2004; this and Bosnia's shrinking national debt being negative trends,and high unemployment 38.7% and a large trade deficit remain cause for concern.
The national currency is the (Euro-pegged) Convertible Mark (KM), controlled by the currency board. Annual inflation is the lowest relative to other countries in the region at 1.9% in 2004. The international debt was $5.1 billion (as on 31 December 2014) . Real GDP growth rate was 5% for 2004 according to the Bosnian Central Bank of BiH and Statistical Office of Bosnia and Herzegovina.  Bosnia and Herzegovina has displayed positive progress in the previous years, which decisively moved its place from the lowest income equality rank of income equality rankings fourteen out of 193 nations.
According to Eurostat data, Bosnia and Herzegovina's PPS GDP per capita stood at 29 per cent of the EU average in 2010.
Transport
Sarajevo International Airport (IATA: SJJ, ICAO: LQSA), also known as Butmir Airport, is the main international airport in Bosnia and Herzegovina.
Communications
The Bosnian communications market was fully liberalised in January 2006. There are three landline telephone providers, although each one predominantly serves a partile services are provided by three operators, with nationwide services. Mobile data services are also available, including high-speed EDGE and 3G services.
Oslobođenje (Liberation), founded in 1943, is one of the country's longest running continuously circulating newspapers. There are many national publications, only some of which include the Dnevni Avaz (Daily Voice), founded in 1995, and Jutarnje Novine (Morning News) in circulation in Sarajevo. The international news station Al Jazeera maintains a sister channel that caters to the Balkan region, Al Jazeera Balkans, broadcasting out of and based in Sarajevo.
Additionally, the country is the most liberated in terms of freedom of the press in the region, ranking 43rd internationally.
Tourism
According to an estimation of the World Tourism Organization, Bosnia and Herzegovina will have the third highest tourism growth rate in the world between 1995 and 2020.
In 2012, Bosnia-Herzegovina had 747,827 tourists an increase of 9% and 1,645,521 overnight stays which is an 9.4% increase from 2012. 58.6% of the tourists came from foreign countries.
In 2006, when ranking the best cities in the world, Lonely Planet placed Sarajevo, the national capital and host of the 1984 Winter Olympic Games, as #43, ahead of Dubrovnik at #59, Ljubljana at #84, Bled at #90, Belgrade at #113, and Zagreb at #135. Tourism in Sarajevo is chiefly focused on historical, religious, and cultural aspects. In 2010, Lonely Planet's "Best In Travel" nominated it as one of the top ten cities to visit that year.
Međugorje has become one of the most popular pilgrimage sites for Christians in the world and has turned into Europe's third most important religious place, where each year more than 1 million people visit. It has been estimated that 30 million pilgrims have come to Međugorje since the reputed apparitions began in 1981.
Tourist attractions
Some of the tourist attractions in Bosnia and Herzegovina include:
Sarajevo, the "Olympic City" or "European Jerusalem"; the scientific, cultural, tourist and commercial center of Bosnia and Herzegovina
Vratnik old town and Bijela Tabija fortress in Sarajevo
Shrine of Our Lady of Međugorje, with Annual Youth Festival; the site of a Marian apparition and subsequent Catholic pilgrimage destination
Mostar, the "City on Neretva" or "City of Sunshine"; the location of the UNESCO World Heritage Sites of Stari most and old-town Mostar
Višegrad, location of the UNESCO World Heritage Site of the Mehmed Paša Sokolović Bridge
Banja Luka, the "Green City", with sights such as the Kastel fortress and Ferhadija mosque
Media
Television, magazines, and newspapers in Bosnia and Herzegovina are all operated by both state-owned and for-profit corporations, which depend on advertising, subscription, and other sales-related revenues. The Constitution of Bosnia and Herzegovina guarantees freedom of speech.
Cuisine
Bosnian cuisine uses many spices, in moderate quantities. Most dishes are light, as they are cooked in lots of water; the sauces are fully natural, consisting of little more than the natural juices of the vegetables in the dish. Typical ingredients include tomatoes, potatoes, onions, garlic, peppers, cucumbers, carrots, cabbage, mushrooms, spinach, zucchini, dried beans, fresh beans, plums, milk, paprika and cream called Pavlaka. Local wines come from Herzegovina where the climate is suitable for growing grapes.
Sports
Bosnia and Herzegovina has produced many athletes, both as a state in Yugoslavia and independently after 1992. The most important international sporting event in the history of Bosnia and Herzegovina was the 14th Winter Olympics, held in Sarajevo from 7 to 19 February 1984. The Borac handball club has won seven Yugoslav Handball Championships, as well as the European Championship Cup in 1976 and the International Handball Federation Cup in 1991.  Amel Mekić, Bosnian judoka, became European champion in 2011. Track and field athlete Amel Tuka won the bronze medal in 800 metres at the 2015 World Championships and Hamza Alić won the silver medal in shot put at the 2013 European Indoor Championships.
The Bosna basketball club from Sarajevo were European Champions in 1979. The Yugoslav national basketball team, which won medals in every world championship from 1963 through 1990, included Bosnian players such as FIBA Hall of Famers Dražen Dalipagić and Mirza Delibašić. Bosnia and Herzegovina regularly qualifies for the European Championship in Basketball, with players including Mirza Teletović, Nihad Đedović and Jusuf Nurkić.
Association football is the most popular sport in Bosnia and Herzegovina. It dates from 1903, but its popularity grew significantly after World War I. Bosnian clubs FK Sarajevo and Željezničar, won the Yugoslav Championship. The Bosnia and Herzegovina national football team played at the 2014 FIFA World Cup, its first major tournament.
Leisure activities
Coffeehouses, where Bosnian coffee is served in džezva with rahat lokum and sugar cubes, proliferate Sarajevo and every city in the country. Coffee drinking is a favorite Bosnian pastime and part of the culture. Bosnia and Herzegovina is the tenth country in the entire world by per capita coffee consumption.
That's all folks! Official end of the RLR – Randy Lewis Racing Trackchaser Report
Do not miss the photo album of this trip to Bosnia and Herzegovina.  There was so much to see.  What a great trip.  Click on the link below.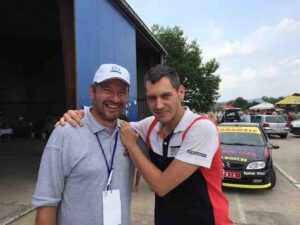 Bosnia and Herzegovina – the photo album….don't miss it!