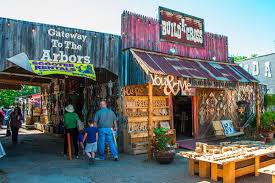 Greetings from Canton, Texas
.
.
From the travels and adventures of the 
"World's #1 Trackchaser"
The EventVideo PlusPhotos

Buffalo Creek Speedway
Dirt oval
 Lifetime Track #2,614
THE EVENT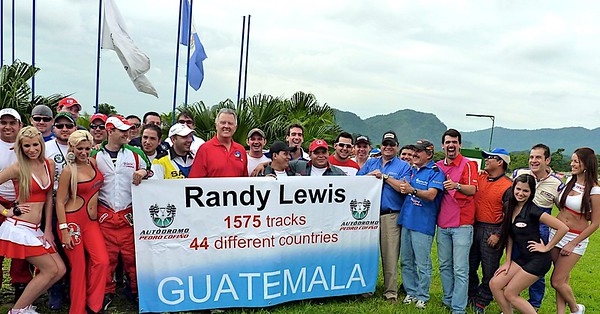 I AM A TRACKCHASER.
My name is Randy Lewis (above with my friends from Guatemala). I hail from the sleepy little village by the sea, San Clemente, California. I am a "trackchaser". I trackchase. Have you ever in your life heard of "trackchasing"? I didn't think so.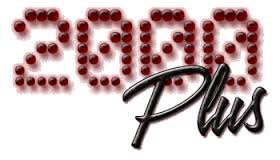 Today's adventure was one more of the 2,000 trips that have taken me up, down and around the proverbial long and dusty trackchasing trail.  If you would like to see where I've been and experience those adventures here's the link:
If you've got a question, comment or whatever please leave it at the bottom of this report.  It's very easy to do.  Or you can visit me on Facebook.  Thanks!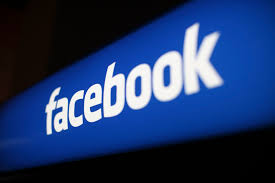 FOREWORD
Friday, June 12, 2020.
I'm pretty sure that the logistical dynamics of simply getting from point A to point B turn some people off from the hobby of trackchasing. Think about this after you read the story of today's experience. Then remember that I have seen racing in 85 countries at 2,613 race tracks. I've been there and done that and bought the T-shirt and hat.
Last night I trackchased at the Wisconsin International Raceway in Kaukauna, Wisconsin. That track is over by Green Bay up in northern Wisconsin. I had picked up my rental car in Minneapolis. I was dropping it in Chicago.
I figured the drive from the racetrack in Kaukauna down to Chicago would take me about three hours. I had to be inside the airport in about seven hours. Running the numbers told me that I could sleep, somewhere, for a maximum of four hours.
My master plan was to sleep for four hours in my car. I have an informal rule that tells me I have to have at least seven or eight hours available in order to make getting a hotel room a worthwhile idea. Tonight I only had four hours. No hotel room.
I figured I would get within a one-hour driving radius of the O'Hare International Airport in Chicago and find a highway rest area. I would nap there. I couldn't find any of those rest areas. Next I looked for a Walmart or some other place where I could inconspicuously park my car. No dice!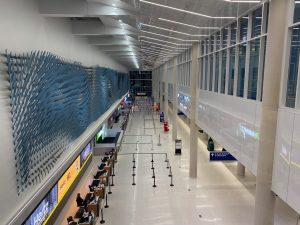 With no good "in the car" sleeping options available I elected to return my rental car at a little past 1 a.m. I would try my luck sleeping in the airport. However, I will tell you there is a major difference between sleeping landside and airside at an airport.
By arriving at the airport when I did there would be no option to clear security and get myself airside inside one of the airport terminals. The best I could do was to grab a chair and get a little bit of sleep landside until TSA security opened up at 3 a.m. I set my iPhone alarm for that time giving me about an hour and a half's worth of sleep in a chair.
At 3 a.m. I joined a group of about 25 other young adventuresome travelers and cleared security. This gave me a couple of hours to find one of the soft vinyl-covered couches. These are near terminals H and K inside the airport. Trust me, I know where the best places to sleep in most of our major airports are located. I slept there for an additional two hours.
FRIDAY
This morning I was trying to standby for a flight from Chicago to Dallas. It departed at 7 a.m. I was number 23 on the standby list. That wasn't good. Surprisingly to me I was one of the last people to have my name called for a flight down to the big D.
I have flown a few times since the coronavirus pandemic panic has begun to subside somewhat. Each time I have been given an entire row to myself. Not today.
Today I did get an aisle seat but there were also passengers in the middle and window seats of my row. Right now airlines require every passenger to wear a facemask which I was doing. However, the guy next to me in the middle seat was taking things to a new level. He wore not only a facemask but a plastic face shield. He also had on a winter ski jacket despite Dallas temperatures being in the 90s. On top of that, he wore gloves. I don't know if all of his gear will protect him from COVID-19. I do know that he might be susceptible to heatstroke.
When I landed in Dallas I did a little walking to get myself closer to my 4 mile per day requirement. Then I picked up my rental car. I selected another Toyota Camry like I had in Wisconsin. I like those for trips like these. The Camry gives me good fuel mileage. They are reasonably comfortable to drive and I could sleep overnight in one just like I did last week.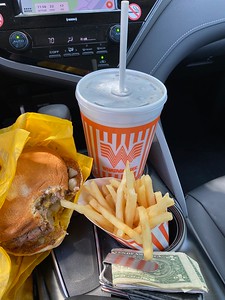 The hamburger fast food option of choice for Texans is Whataburger. I'm a big fan of In-N-Out Burgers in California. A lot of people, probably including me, think In N Out is the best hamburger fast-food chain in the country. However, I also like Whataburger as well.
There is a Whataburger location less than a mile from the Dallas Rental Car Center. I've stopped there many times. Today I made another pitstop at my favorite Whataburger location. I like Whataburger but they are sort of expensive. My full go-to meal is a double cheeseburger, French fries and a large Diet Coke.
Today at Whataburger my bill ran to a little bit more than $13. If I had ordered the same items at In-N-Out Burgers the charge would be seven or eight dollars. Granted the Whataburger double cheeseburger is larger than the In-N-Out Burger option but probably a sandwich that size isn't necessary if someone is trying to avoid a 1,000+ calorie lunch.
Tonight's racing venue, the Buffalo Creek Speedway, in Canton, Texas was less than an hour's drive from Dallas. That meant I had time to check out some local touring options in the city of Dallas. I've been to Dallas many times. I've seen quite a bit of what they have to offer such as AT&T Stadium, the Texas Rangers ballpark, the Dealey Plaza where JFK was shot in 1963 and more.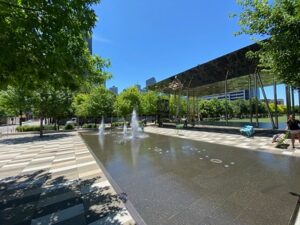 I did a Google search and came up with a couple of good ideas. First, I would make a stop at Klyde Warren Park in downtown Dallas. This is a space where they tore down the freeway, built a park and then build the freeway under the park for about three blocks worth of distance. This city park is a very beautiful, green and peaceful place.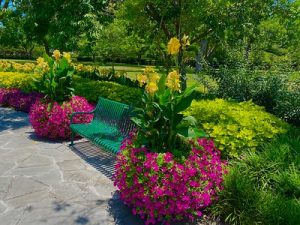 My next stop was to the Dallas Arboretum and Botanical Garden. You are not going to want to miss the photos from this beautiful location. General admission for seniors was 12 bucks. That was fair enough. However the garden's sign said it would be $15 to park. For some reason, they were only charging $10 to park. I still thought that was outrageous. For $12 the gardens were a nice value. For $22 not so much. Again, don't miss the pictures.
I'm not going to try to kid you. Sleeping in a car or in an airport chair for just a couple of hours is not something that I want to do any more often than I have to. Sometimes if I want to get from point A to point B it is my one best option.
Touring a couple of the Texas sightseeing locations around Dallas was fun but I had to power through it given my lack of sleep. Fortunately, I had less than a one-hour drive over to Canton, Texas. Canton would be home to my hotel lodging for the evening.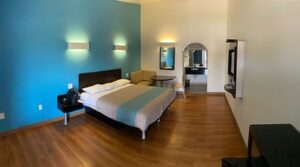 I selected the Motel 6 located in Canton. A long time ago I moved out of the Motel 6 hotel classification into more upscale properties typically owned by Marriott and Sheridan. However, in some small population markets, my hotel choices are limited. The Canton, Texas Motel 6 came with a decent 7.6 rating and a very reasonable price. I would stay there.
One of the advantages of this motel's location was that the Buffalo Creek Speedway was less than 5 miles away. That was perfect. I had enough time for about a two hour catnap in the afternoon. After sleeping for three hours in an airport last night that two-hour nap seemed to fly by in about two minutes.
The Buffalo Creek Speedway is a newly opened track. This is only their third year of racing. I guess because the track has only been open for three years that's one of the reasons I haven't seen it yet.
The track is rurally located. There were almost no signs identifying where to turn off from the highway. The road into the track is a dirt/gravel combination with significant potholes. Folks, this is not unusual when chasing these country tracks. I didn't know how far back off the highway the track was located. The further I drove the more I wondered if maybe tonight they were not racing.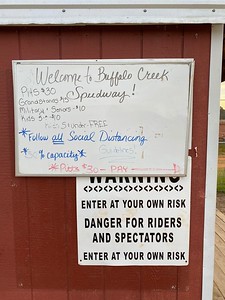 However, I am here to tell you that the track was back off the highway aways. They were charging a $15 general admission price. Experienced people, read that oldsters would only have to pay 10 bucks. After seeing the program I would say that a $15 general admission price is way too high.
These little tracks are caught between a rock and a hard place. If they charge too little they can't make a profit because revenues will not be great enough. If they charge too much fans will stay away. It is extremely difficult to make a profit at local tracks.
Just two weeks ago the track advertised a starting time at 4 p.m. Then last week they changed the start time to 7:30 p.m. Tonight's start time has been put back even later to 8:30 p.m. I don't know that I've ever attended a Friday night track that had a starting time that late.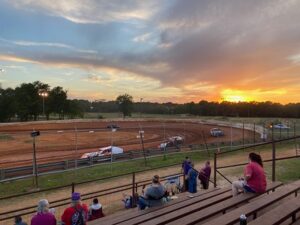 I guess I would be one of those people who would think that if a track was going to start as late as 8:30 p.m. they would start on time. I've got to be perfectly honest with you. I am a gullible person. I like to trust people. If they tell me something I like to believe them. A person should not have that attitude if they expect to go into the hobby of trackchasing. This is not only true about short tracks but about the people who run trackchasing.
It is sad to say but more true than not that the short track auto racing industry doesn't quite get it when it comes to starting the racing on time. The road racers get it. They have a schedule for when every race, lunch and potty break will take place. The short track race industry is often on Hawaii time.

I was in the grandstand by about 8 p.m. I chose a top row location and sat down next to what appeared to be a local fan. As Tim Lewis can attest, and I hope he is reading this, I try to select an interesting looking individual to sit next too.
I guess I was batting one for two tonight on that part of things. The top row seating location in the grandstand was a great place to watch the races. However, the guy sitting next to me, a construction worker, was friendly enough he just didn't have much interest in conversation. No harm no foul there.
The track's management didn't put a single car on what looked like a wet dirt track surface until 8:21 p.m. They ran the track in with the cars driving in the reverse direction. Some of the drivers and car owners had their kids in the car while they slowly idled around the track packing down the wet and muddy red dirt surface.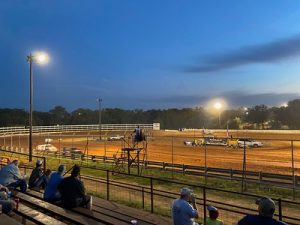 As God is my witness the first race did not take a green flag until 9:13 p.m. The other night I was sitting in the grandstand in What Cheer, Iowa with trackchasing newcomer Brian Dolphy. I mentioned to Brian that the average car count at the tracks that I have been visiting in the past few years is somewhere around 10 cars per class. He was surprised by that comment. He said, "Maybe that's because the tracks you've been going to see over the past couple of years have all been the less successful tracks that you never got around to see it until now."
What an insightful comment. I have never thought about that before. It is true that during the early part of my trackchasing career I went to the tracks that seemed like they offered the best racing. As a generalization, I guess that left the tracks that would offer lesser quality racing for the second half of my trackchasing career.
Tonight, the Buffalo Creek Speedway was featuring four different race classes. The four-cylinder class and the Texas stock car class each brought only four competitors. The factory stock division and the modified division had 12 and 11 competitors respectively. That put only about 30 cars in the pit area for an average car count for each class of about eight.
In total there were six heat races and four feature events. The track itself was a small 1/5-mile or so nicely banked dirt oval. It's a racy little track. I think open-wheeled midget racing would be good here.
In point of fact, the racing wasn't bad given the parameters that I have described above. When you put 11 or 12 cars on a small track like this racing can be close and competitive. Tonight it was although there really wasn't all that much passing.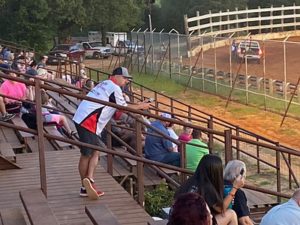 The track announcer made a strong push for their 50-50 ticket promotion. If you don't know the funds raised from a 50-50 ticket sale are normally distributed like this. Half of the money (50%) goes to the grandstand winner and the other half (50%) goes to the track or the driver's point fund or something like that. Get it? 50/50!
My construction worker friend sitting beside me told me that he won the 50-50 last week for a total of $76. This motivated me to spend a dollar on a ticket but I didn't win. Tonight the fans' share of the 50/50 was 75 bucks. I was at the Eldora Speedway once and a fan won more than $17,000. I've heard the 50/50 at Eldora has been much bigger than that.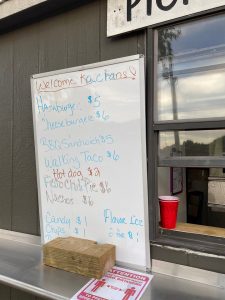 I did check out the concession stand. The prices were more than reasonable. A hotdog was just two bucks and a bottle of water a dollar. You're not going to beat that. Then just when I didn't think prices could be any lower I was told of an opportunity where they would be.
Next week, was going to be "dollar hotdog" night. I remember going to a minor-league baseball game and hotdogs were a dime. Yes, they were smaller than normal but a hotdog has to be pretty small to make them not a good value for a dime. I've also been to a couple of major league baseball games where it was dollar hotdog night which was also an excellent value considering major-league baseball park prices.
Then toward the end of the evening, the announcer told the crowd that all of the sandwich prices have been cut in half. Here I was thinking I got a good deal on a two-dollar hotdog and now anyone and their brother could go down there and buy one for 50% of what I paid. That proves one thing. No matter how good of a deal you think you got somebody's always going to get a better one. No harm no foul there.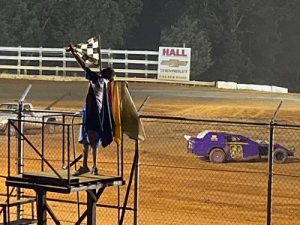 What was the highlight of the evening for me? I think it might have been simply watching the flagman. He was very animated. The starter reminded me of the people who do that job in the United Kingdom. Yep. He was very animated. Don't miss my video. You'll see what I mean.
The racing wrapped up at 11:30 p.m. By most standards that is late. I guess it's even late for a program that advertises a start time of 8:30 p.m. and actually starts at 9:13 p.m. The finishing time was three hours past the advertising start . Should thirty cars take three hours to race? I don't think so.
After having slept in an airport chair last night the idea that my hotel was located less than 5 miles from the track was a very appealing concept to me. I did stop off at a 7-Eleven convenience store to pick up a bottle of water and a bottle of Diet Coke. Then my animal instincts got the best of me. I selected two chocolate iced long johns and a chocolate iced cream filled pastry. I couldn't help myself.
Good night from Canton, Texas.
Randy Lewis – 85 countries – 2,614 tracks.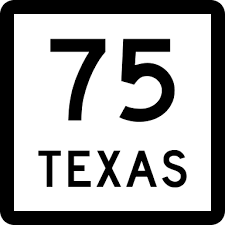 Texas
The Lone Star State
This evening I saw racing at my 83rd-lifetime track in the Lone Star State, yes, the Lone Star State.  I hold the #1 trackchasing ranking here. Texas ranks #10, amongst all the states, in tracks seen for me in the U.S.
Thanks for reading about my trackchasing,
Randy Lewis
World's #1 Trackchaser
Peoria Old Timers Racing Club (P.O.R.C.) Hall of Fame Member
Texas sayings: "Might could."
Translation: "Could."
Example: "You might could just sell your ticket to me. I am a big fan of Willie Nelson."

JUST THE FACTS
LIFETIME TRACKCHASER COMPARISONS 
The three most important trackchasing comparisons to me are:
Total lifetime tracks seen
Total "trackchasing countries" seen
Lifetime National Geographic Diversity results
Total Lifetime Tracks
There are no trackchasers currently within 735 tracks of my lifetime total.  Don't blame me.
Randy Lewis, San Clemente, California – 2,614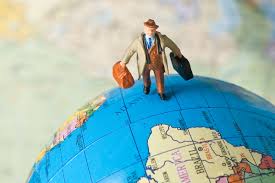 Total Trackchasing Countries
My nearest trackchasing competitor, a native of Belgium, has seen racing in more than 30 fewer countries compared to my lifetime total. 
Randy Lewis, San Clemente, California – 85
Current lifetime National Geographic Diversity results
Randy Lewis, San Clemente, California – 3.96
That's all folks!  Official end of the RLR – Randy Lewis Racing Trackchaser Report
Click on the link below to see the video production from the racing action today.
Click on the link below for a photo album from today's trackchasing day.  You can view the album slide by slide or click on the "slide show" icon for a self-guided tour of today's trackchasing adventure.
The long trip down to Texas from Wisconsin to see the little Texas track that could