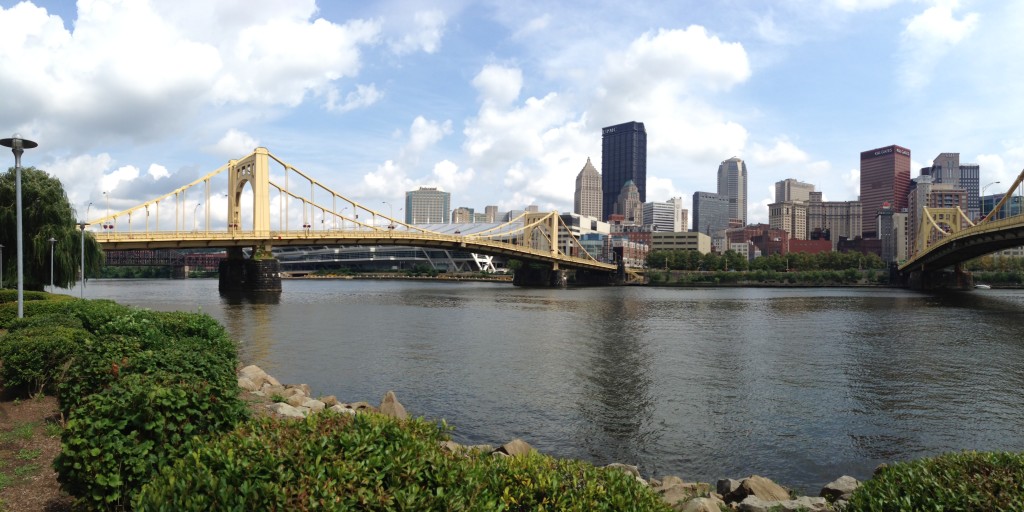 Greetings from Butler, Pennsylvania
From the travels and adventures of the 
"World's #1 Trackchaser"
Lifetime Track #754 (2004) – Re-visit 2013
HighlightsThe DetailsAttractionsRace ReviewVideosPhotosVintage
Trackchasing does not support being a sports fan or eating in the best restaurants……………more in "The Details".
What's so unique about Thursdays in Major League Baseball?……………more in "The Details".
Another major league baseball park is in the rearview mirror…………..details in "Trackchasing Tourist Attractions".
Pittsburgh….a city of extremes……………more in "Race Review".
Don't miss the "Vintage" report from this venue………….more in "Vintage".
I wouldn't want to live anywhere else but I do like visiting lots of other places.
We woke up this morning in Middleburg Heights, Ohio.  We went to bed in Coraopolis, Pennsylvania.  This is what today looked like.
We live in a beautiful place in Southern California.  If some folks lived where we did they might never leave.  I don't feel that way.  I want to see and experience different ways of life and geographies.  Take today as an example.  We had a wonderful time seeing the sights, eating some good local food and watching how people go about their lives on a daily basis.  Would I like to live in the greater Pittsburgh area 365 days a year?  No.  However, visiting for a short time fits the bill.
I guess you have to be a night owl to be a trackchaser.
Most trackchasing activity in the U.S. happens at night.  Why is that?  Fewer people work at night than they do in the day.  During the summer it's a lot cooler at night than in the day.  Most auto racing takes place outdoors and must be economically supported by fans that have some free time and wouldn't want to sit out in the hot sun.
On the other hand most racing in non-English speaking countries takes place during the day.  That seems odd to me.  Don't those people have to go to work during the day?  Don't those same people get too hot watching most of their racing during the day?  Hard to figure huh?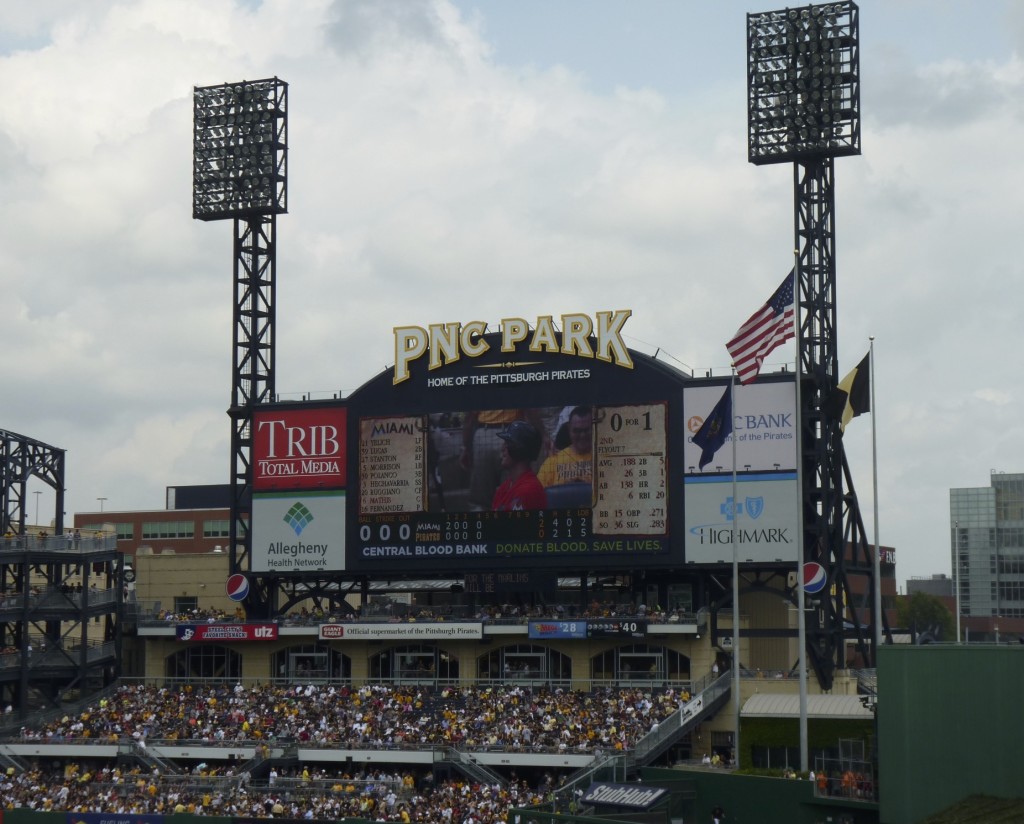 Trackchasing doesn't support being a sports fan or eating in the best places.
Why mention this?  It's because I'm a sports fan.  I love to eat in good restaurants too.  Trackchasing as a hobby doesn't support those two things.  If you're at a racetrack you can't go to many other sporting events because they're happening at the same time…at night.  You can't eat dinner in nice restaurants because you're at the racetrack.

What's so unique about Thursdays in major league baseball?
However, today in Pittsburgh would be different.  Today was Thursday.  Thursday is often a travel day for major league baseball teams.  They might have a series against one team on Tuesday, Wednesday and Thursday.  Then one or both of those teams would travel on Thursday to the next city and play games against a new opponent on Friday, Saturday and Sunday.  In order to make that happen games are often scheduled for Thursday afternoon.  That way when the afternoon game is finished the teams can travel Thursday night and be ready to play somewhere else Friday night.
What did all THAT mean?  We would be able to see a major league baseball game this afternoon with the Pittsburgh Pirates hosting the Miami Marlins.  That would be fun.  I was in Pittsburgh last year.  On that visit I had a chance to take a formal tour of PNC Park where the Pirates play.  I even had the chance to visit the player's clubhouse.  How many people get to do that?  Check out the "Attractions" tab to see how the entire Pirate experience went.  As always the ticket buying experience was a highlight.
TRACKCHASING TOURIST ATTRACTION
I very much enjoy the racing when I go on trackchasing trips.  However, I am not the type of person who would feel the trip was complete if I simply left home, went to the race and came back home.
I do a good deal of traveling.  I want to do my best to see the local area when I come for a visit.  There are usually unusual attractions that one area is noted for more than any other locale.  I want to see those places.  I want to touch them and feel them.  When I leave an area, I want to have memories of these special places that I call Trackchasing Tourist Attractions.  I will remember those experiences long after the checkered flag has fallen on whatever race I have seen that day.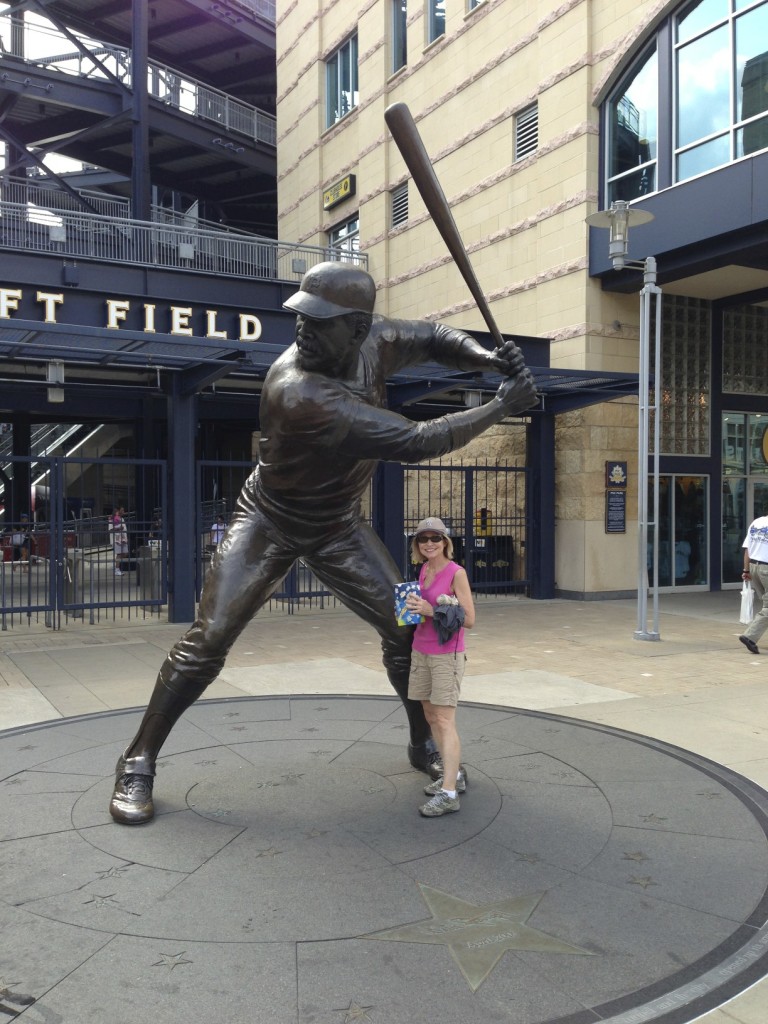 PNC Park – Pittsburgh, Pennsylvania
Pirates vs. Marlins.
Today's game would start at 1 p.m.  We didn't have any tickets.  That's never a problem if you know where to look.  I've been using Stubhub.com lately for my sports ticket purchases.  Usually you can buy tickets there cheaply (just to get yourself into the stadium) and then sit just about anywhere you want.  Today I bought two tickets for just $5 each.  Heck, that's about what tickets to games like this cost 50 years ago!  The tickets were downloaded electronically to my iPhone.  When I got to the stadium I just needed to give a confirmation # at the ticket window and the tickets would be handed to me.  How simple is that?

Pittsburgh…a city of extremes.
For me Pittsburgh seems to be a city of extremes.  I have never seen a place, anywhere in America, with as screwed up of an infrastructure as Pittsburgh has.  Their roads in and around the city are the worst in the country!  It takes forever to go anywhere.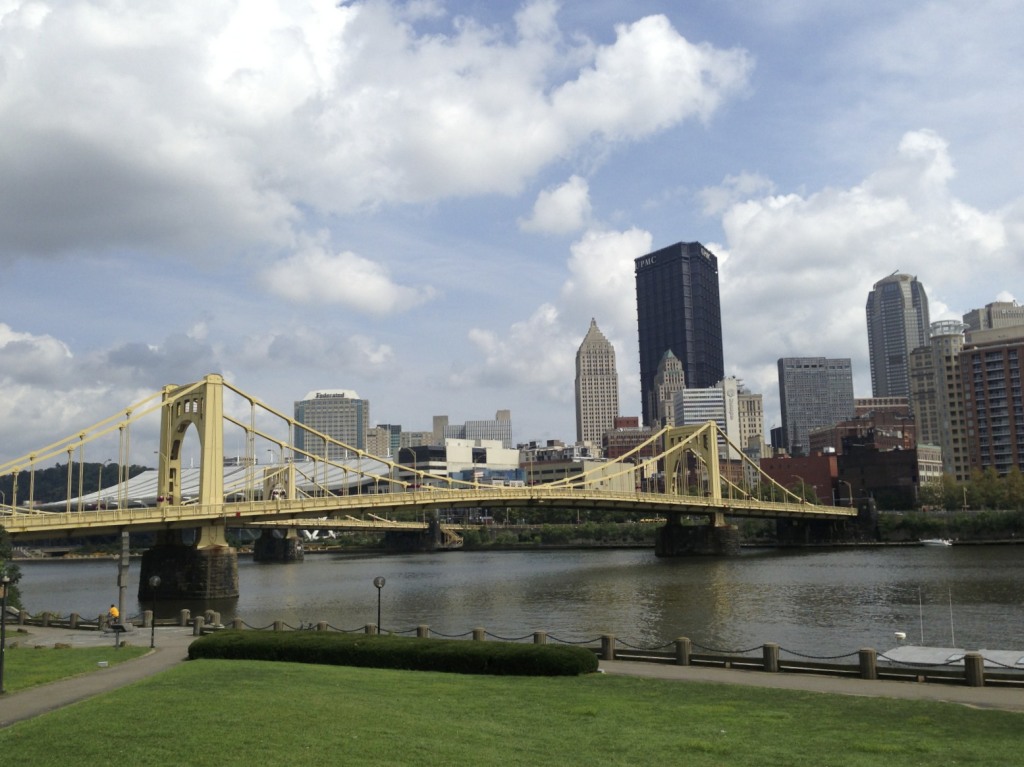 On the other hand Pittsburgh is one the most beautiful cities I have visited.  There are three rivers (Ohio, Monongahela and Allegheny) that crisscross the city.  Pittsburgh is the "City of Bridges".  Did you know the city has 446 different bridges?  Don't miss the pictures of the beautiful yellow bridges that lead into the city and surround the sports stadia.

Did you hear me?
This being a day game and this being a baseball stadium located in the middle of downtown parking was horrendous.  Did you hear me?  Parking was HORRENDOUS.  Back home we are spoiled.  Angels Stadium is located in the suburbs.  Fans there can simply pull into a huge stadium parking lot, pay $10, and park in a well-lit safe environment.  No fuss.  No hassle.
This was not the case in Pittsburgh.  We drove around forever trying to find a spot.  Many lots were "closed for baseball parking".  These lots were filled with the cities daytime workers.  We finally did find a lot about a mile from the baseball park.   It was a long walk on a very hot and humid afternoon.  However, we were walking along the beautiful Allegheny River with the city of Pittsburgh as a backdrop.  I'm not sure I would have wanted to make that walk at night though.

Now about those tickets.
When we reached the ballpark I had Carol stand under the larger than life statue of Pirate great Willie Stargell.  Then we approached the ticket booth to get our Stubhub ordered ducats.  However, there was a Pirate's employee outside handing out free tickets!  It was almost game time.  Rather than stand in line to get the tickets we had pre-ordered we simply grabbed two of the free tickets and went into the stadium.  Timing is everything.  As they say "Don't be at the airport when you're ship comes in.
Our seats were down the right field line.  The weather was extremely hot and humid.  Our seat location was just one row from the top.  We soon discovered that by sitting in the top row we had a great breeze AND view from the Allegheny River.  That made things all the more comfortable.

I don't care who wins.
When I come to a baseball game I don't come to watch the game all that much.  I really don't care who wins unless the Angels are playing.  As a youngster I was a Yankees fan.  Then in college I cheered for the Cubs.  Finally, when we moved to California I became an Angels fan.  In 1979, for the first time ever, we were full season ticket holders with the Angels.
When I do go to a game I'm there for the ambience.  I'm there for the personal experience.  I likely won't return to that stadium anytime soon.  I want to see what the souvenir store has.  What types of concessions are they selling?  I'll likely move around the stadium to see what the action looks like from several different angles.  It was special to return to PNC Park since I had taken the stadium's tour last year.
Overall, Carol and I had a very nice time at PNC Park.  The parking situation really sucked.  However, the ballpark itself was beautiful.  You might be on the lookout for a special announcement regarding Major League Baseball from Randy Lewis Racing coming soon.
ONE CANNOT LIVE WELL OR SLEEP WELL IF ONE HAS NOT DINED WELL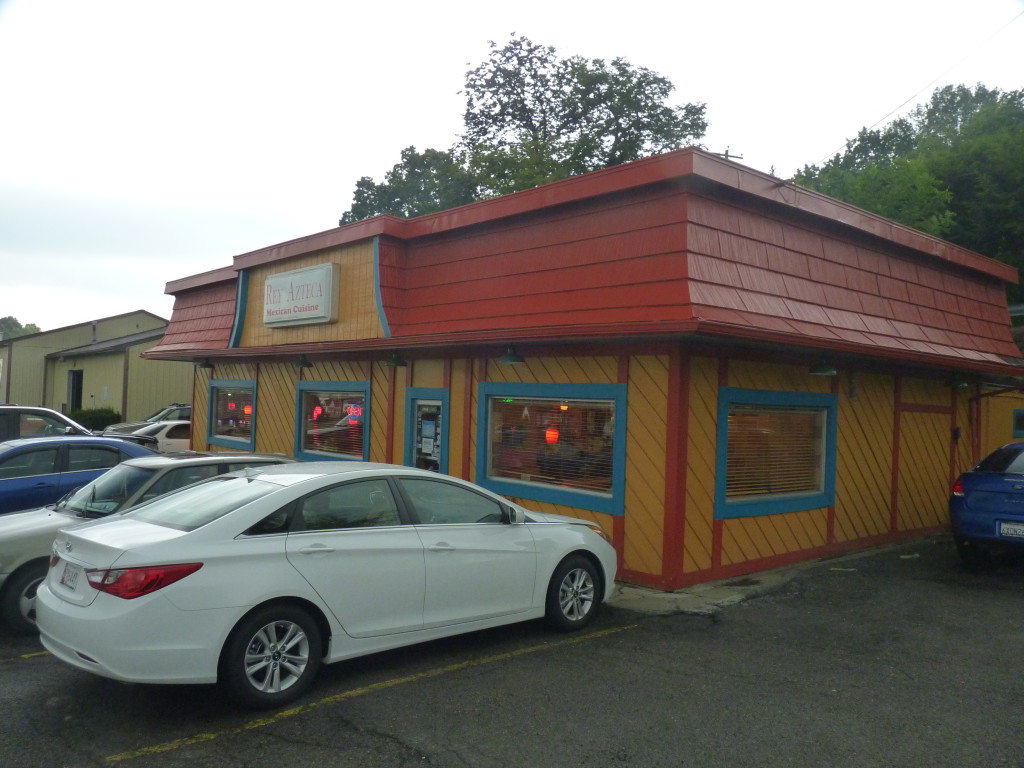 Rey Azteca – Butler, Pennsylvania
A very important aspect of every one of my trackchasing trips is finding a good place to eat.  Sometimes I'm in a hurry and a fast food drive-through is all my schedule will allow.  However, when I have time I would to eat in good places.  I use technology to give me "hints" as to where the very best places are.  Yelp! is my favorite in this regard.  Yelp! provided an excellent recommendation tonight in the Rey Azteca Mexican restaurant.
For some reason we virtually NEVER eat American food at a sit-down restaurant.  We don't even think about eating that type of food.  You'll find us only in ethnic restaurants.  Favorites include Mexcian, Chinese, Italian, Greek, Peruvian, Thai and Mongolian BBQ locations.  I'm probably leaving out a few as well.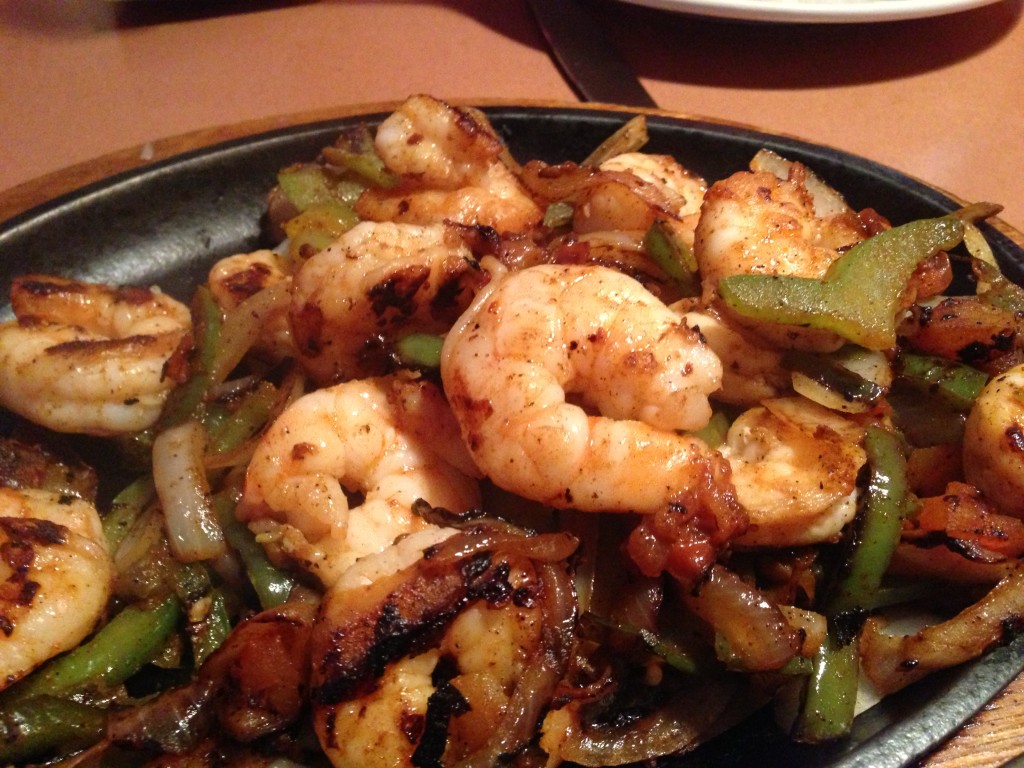 If you find yourself in Butler you won't do better than the Rey Azteca.  I had the shrimp fajitas.  Fantastic as the photo shows.  I could just about reach into that photo and grab a couple shrimp.  Eating on these trips is important to me.  One of our foreign trackchasers comes to the U.S.A. and eats most of his meals at McDonalds and Subway.  I love those chains but would not consider them if I were traveling in a foreign country.  There's just too much variety in America to do that.  Frankly, I think America makes better ethic food than some of the countries themselves do!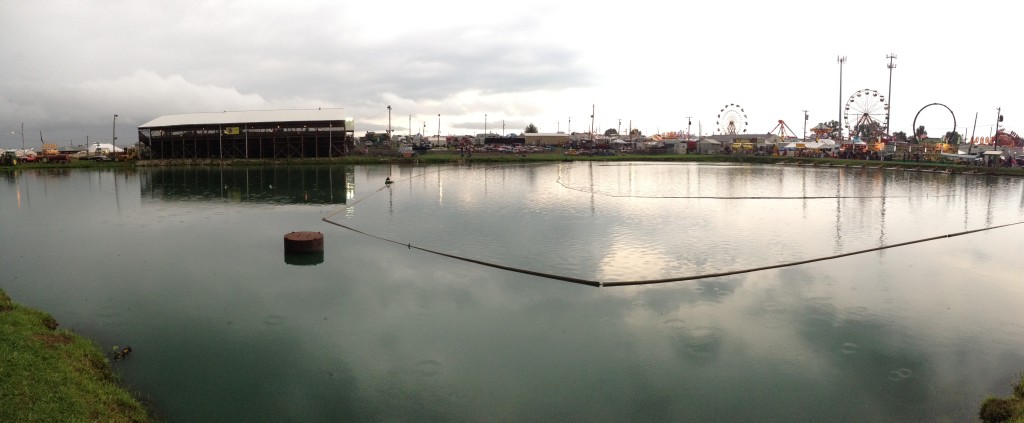 Butler Farm Show – Butler, Pennsylvania 
Confusion rained although I didn't know it at the time.
The Butler Farm Show was scheduled to be my 1,882nd lifetime track to visit.  However, it wasn't.  Were they rained out?  Nope, although the weather was bad enough to rain out a normal show.  They raced through some heavy rains tonight.
You see there was some confusion on my part.  I've not very smart but I know a lot of smart people.  I try to do what they tell me to do.  I sought out advice in advance for tonight's racing program and still failed to meet my objective.
I never realized I had been hear before.
Tonight we were in Butler, Pennsylvania to see county fair figure 8 racing.  We were at the "Big Butler Fair".  There's also racing activity at the Butler Fairgrounds in Prospect, Pennsylvania just eight miles away.  I actually called the fairgrounds in advance to try to clear any cobwebs that might have existed.  I don't know if I forgot I went to the Big Butler Fair in the past or thought the Big Butler Fair was really the Butler Fairgrounds or what.  I didn't even remember visiting this place after I was there for two hours.  Heck, my original visit to the Big Butler Fairgrounds WAS 10 years ago.  I've seen more than 1,000 tracks since then.  Whatever the issue was we still had a good time on a very rainy night in Pennsylvania.  You can bet the next time I try to go to the Butler Fairgrounds I won't get them mixed up.  In the meantime I will make a plea to the folks who run both of these facilities.  There's a lot of words in the English language.  Do you have to use the same one for both of your locations?
As mentioned I came to the Big Butler Fair in 2004, I had seen a show here with trackchasers Eleanor and Paul Weidman.  I remember them saving me a seat in a crowded grandstand.  I haven't heard much from the Weidmans over the past few years.  I hope they're doing O.K.
Don't miss this "Vintage" report.
By the way you can read the entire report on THAT visit from 2004 behind the "Vintage" tab.  If you take a look you'll see how the format and detail of my Trackchaser Reports has changed over the years.  Remember, this is behind the "Vintage" tab.  Back in 2004 I was in 9th place among worldwide trackchasers…and climbing.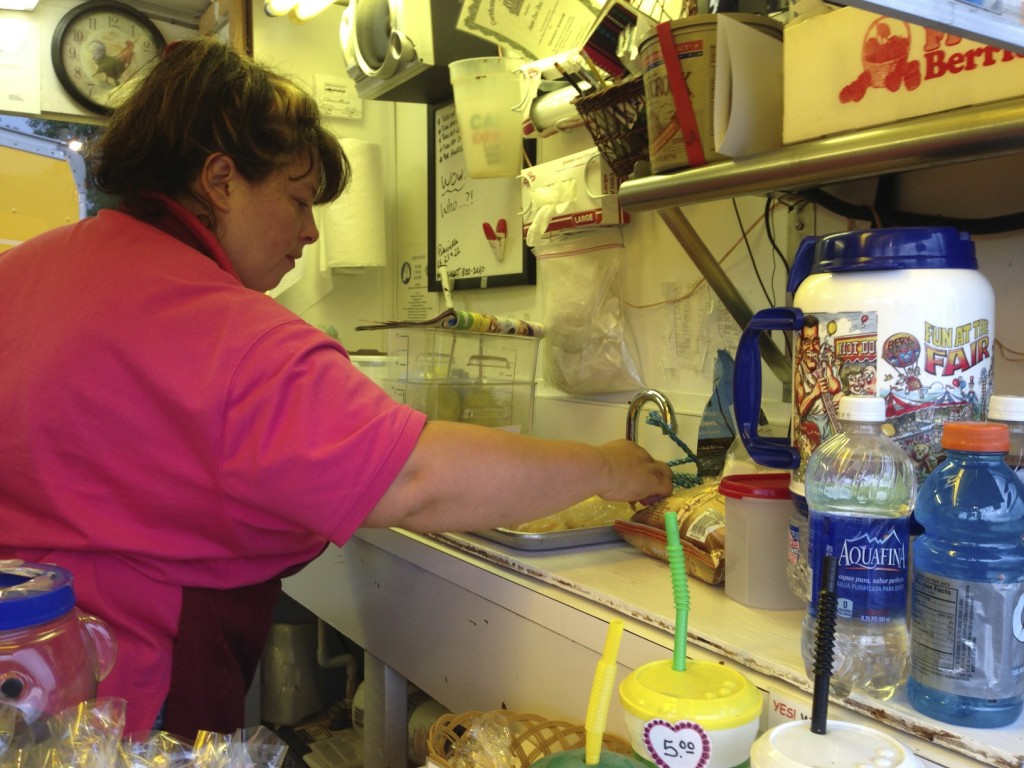 This is somewhat routine by now.
Tonight Carol and I did our normal pre-race county fair drill.  What was that?  Of course, we had to tour the farm animals barn.  We don't have "farm animals" in San Clemente.  Then we checked out all of the county fair food specialties.  How could one pass up chocolate covered bacon?  I did in favor of my most favorite county fair dessert of all….strawberry shortcake.
The rainy weather was beginning to move in by now.  That wasn't a major problem from a comfort point of view.  They have a wonderful covered grandstand on both sides of the arena at the Big Butler Fair.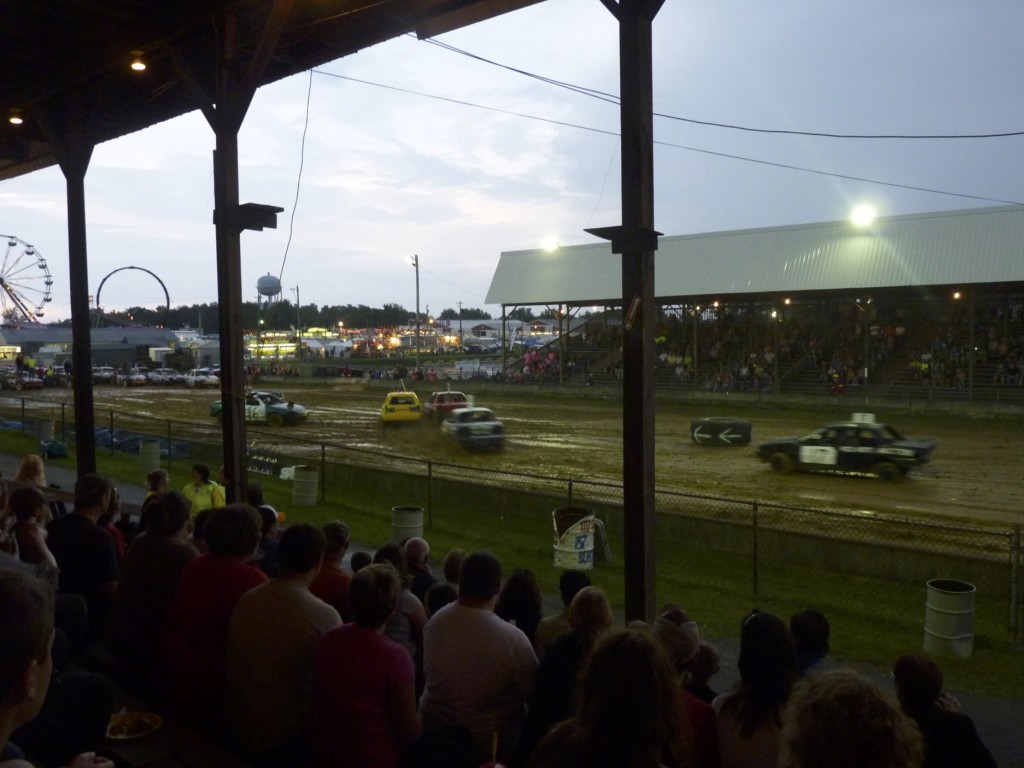 Tonight's figure 8 racing was sponsored by JM Productions.  They are a Pennsylvania based group that runs both figure 8 races and demolition derbies.  They do a fine job of running a race program.  They run a "double" figure 8 show.  That's with three tires as markers not two.
Your best bet to see what the racing action looked like is to check out my "racing action" YouTube video.  Remember, my YouTube channel name is "RANLAY".
Toward the end of the show it began to rain much harder than it had been raining.  This created one major concern.  We had parked in a huge sloping grassy field.  When we had parked I noticed how wet the area once especially in the low areas.
Now it was dark.  It had been raining hard for more than an hour.  We decided to leave for one reason.  We didn't want to have a problem getting our car out of the parking lot!
When was the last time you tried walking through a huge field in the dark with unseen 6-12" puddles.  Those can do a number on your shoes and socks.  When we reached our car we could see two others being towed out of the muck.  Luckily, I could pull forward and get a running start until we reached higher ground.
Then we were on our way to the Pittsburgh Marriott hotel.  Yes, when I travel with Carol we stay in better places.  Back at the hotel I spent more than an hour trying to wrap up race tickets for what I hope will be country #66.  I never was successful on this trip doing that.  However, I never give up.
STATE COMPARISONS
Pennsylvania
The Keystone State
This evening I made a re-visit to my 754th lifetime track.
Thanks for reading about my trackchasing,
Randy Lewis
World's #1 Trackchaser
Peoria Old Timers Racing Club (P.O.R.C.) Hall of Fame Member
Pennsylvania sayings:  Land of 10,000 potholes
Please wait for photos to load.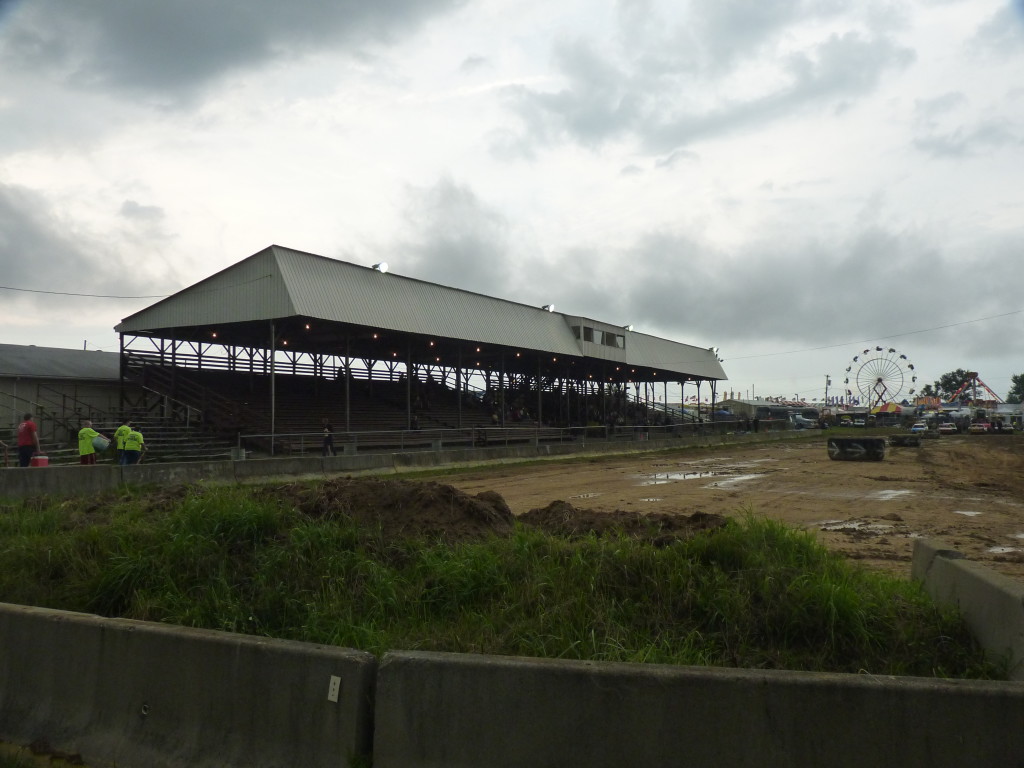 August 9, 2004
GREETINGS FROM BUTLER, PENNSYLVANIA
PEOPLE/TRAVEL NEWS
Hoosiers!  Do you recall the movie about the small town Indiana High School basketball team that ended up winning the state championship?  I loved that movie.  I remember the scene where the team boards the bus on a cold winter morning before the sun has come up.  The bus motors through the team's hometown bound for the state tournament.  As the bus is making its way through town, lights in nearby houses are on and the inhabitants of those houses can be seen in the windows waving at the passing bus and giving the players the thumbs up sign.
Well, that is how I feel this morning.  Incredibly, my wake-up call is at 3 a.m.  I'm out the door at 3:14 a.m. bound for LAX and a 6 a.m. departure.  I have to schedule such early flights so I can reach the east coast in time for the races, which usually begin about 7 p.m. Eastern time.  As I'm driving down the street, I see my neighbors with lights on waving at me and giving me the thumbs up sign for a successful trip.  Many of them are wearing "Anybody but Esser" nightshirts.  I'm starting to see "Hollebrand" signs with a circle around the name and a line drawn through the name.  Can it be that San Clemente residents are taking an interest in trackchasing as their hometown boy prepares to enter the shark invested trackchasing waters that lie east of the Mississippi?
Trackchasing is a seasonal business.  The primary season runs from June through August.  The shoulder seasons extend trackchasing from March to October.  You'll rarely see me chasing a new track during the five-month period from November through February.  Very few tracks race during those five winter months and those that do are subject to colder than normal weather and the cancellations that can result.
I'm an airborne trackchaser.  This is my 12th round-trip airline trip of the season for trackchasing.  I have 71 tracks and I've driven to just one of them.  I usually schedule my trips 4-6 weeks in advance.  Like most of you, I use the internet to shop around.  My "hometown" airport is the John Wayne/Orange County/Santa Ana Airport.  It's also usually the most expensive airport to fly from in Southern California.  At Orange County, I have free airport parking so I have to balance that benefit with the cheaper flights I might get elsewhere in the SoCal area.
I've done a lot more trackchasing this year than I ever have before.  It used to be that a trackchasing trip was something of a novelty that interrupted my time in San Clemente.  Now, it seems that my time in San Clemente breaks up the constant travel associated with trackchasing.
So, what did I do with the six days at home before today's trip started?  The highlight was having our niece, Jennifer visit from DeKalb, Illinois.  Jennifer joined me on my return flight from Chicago last Monday.  We took her to Disneyland and probably walked 10 miles during the day.  Trips to the movies, the club for lunch and walks along the beach made Jennifer's stay a fun one.  We also dropped son, Jim off at LAX for his trip to Honolulu and the start of grad school at the U. of Hawaii.
There was a time when our Midwestern relatives were younger and making their first ever trips to the Golden State.  We went to Disneyland 10-12 times per year then.  We actually had a routing that was designed to maximize their enjoyment at Disneyland based upon the amount of time they could visit.  But, with children growing up, the cost of travel increasing and the newness of coming to California wearing off, we don't get the amount of visitors we used too.  I also ended up playing golf four times this week, which is way too much for my aging body.  I need to go on the road just to rest up.
You would think getting up at 3 a.m. for a 6 a.m. flight departure would be plenty of time when the airport is 65 miles away.  But, it was close.  As mentioned, I left the house at 3:14 a.m.  There were very few cars on the road, especially for our area. I arrived at LAX at 4:17 a.m.  There's a problem with checking bags at curbside when I'm traveling alone.  You can't leave your car unattended while you wait in a line for a skycap to check your bags.  Sometimes, if you get there early enough and the cops aren't around you can get a skycap to check the bags quickly.  That was not the case today.  A cop made me park in the short-term parking area and then walk my two bags over to the bag check-in area.  It was now starting to get crowded even though it was 4:30 in the morning!  I was able to short circuit one line that probably saved me 15-20 minutes.  After the bags were checked, I had to go back to short-term parking, get my car and drive it to the Lot C long-term parking area.  I then had to get on a shuttle bus and ride for 10 minutes back to the airport.  It was now 5:15 a.m. and my flight left in 45 minutes.
The American Airlines Platinum security line is supposed to save frequent travelers time.  The platinum area for American is located on the second level, which is accessed by a moving escalator.  It was so crowded that when people reached the top of the escalator there was no room for them to get off.  This created a big safety hazard.  When I got to the part of the line where they check your boarding pass and I.D. it was 5:30 a.m.  Thirty minutes before flight time.  I demurely (as much as a six foot three, 220 pounder can) told the man checking boarding passes and I.D.s that my flight left in 30 minutes.  I asked if he could help.  He looked up at me sweetly (as much as a non-U.S. citizen, hardly able to speak English person can) and smilingly directed me to a line that looked like it had the fewest people in it.
Well, this line turned out to be the "extra security" line.  This is where they take a flashlight and shine it into areas of your body that only a prison guard could appreciate.  I tried my demure approach again as I was down to 15 minutes before flight time.  This elicited a response from the drone like TSA employees that could only be translated this way, "I'm dropped out of school early, I've used drugs most of my life, I rent a studio apartment in a bad neighborhood, I got here at 3 a.m. and I don't get off til noon and I could really give a s—t, that you were planning to fly across the country today".  You know the type.  Dealing with airport security people is a lot like driving in the snow.  To go faster, you have to drive slower.  So, I summoned up all my patience and did the "yes sir, no sir" bit.  This allowed me to reach my plane at 5:50 a.m., 10 minutes before departure.  The plane pushed off at 5:57 a.m., three minutes ahead of schedule.  This meant I had gotten up at 3 a.m., which was three hours before departure and made the plane by 7 minutes.  That's cutting it pretty close.
I looked around the Dallas bound plane to see if anyone else looked like they might be connecting in DFW to Pittsburgh for the Butler Farm Show figure 8 program.  To be honest, it didn't look like there were any other folks interested in figure 8 racing.
I have not been to Pittsburgh that many times.  What I do remember on the few occasions I've been in the river city is the road system isn't very good.  I remember years ago trying to get out of the airport across the city and it seemed like we were on surface streets at slow speeds for miles.  Today, I wanted to get to the major interstate in town, I-79.  I followed the National Rental Car manager's directions and I again was stuck in surface street traffic (Route 60 South) for several miles.  Andy Sivi, is this normal?
It was only 48 miles up to the Butler Farm Show fairgrounds.  This was a medium sized fair (using the Eleanor Weidman fair sizing scale).  I took a quick tour of the farm buildings.  The most unusual thing I saw and heard was an Adam Sandler look and talk alike hog caller.  Trust me, anyone movie goers would have sworn this was Adam himself.
RACING NEWS:
I paid $6 for entrance to the fair, which included admission to the JM Productions figure 8 program.  That seemed very reasonable.  As I was beginning to tape my seat cushion in the grandstands so my seat location would be reserved, who did I run into?  Yep, those two lovebirds and long-time trackchasers from up Albany way, Eleanor and Paul Weidman.
They're out on a racing vacation some 400 miles from home.  They had arrived early and reserved some seats in the top row of the wooden, covered grandstands.  I threw my cushion down with them and spent the evening chatting with them.  When I'm with trackchasers, I always try to pick up information.  What was the #1 tidbit tonight?  I learned the Weidmans refer to Guy Smith as "Smitty", and why wouldn't they?  That's a common nickname for a person named Smith.  Guy, is this colloquial reference reserved for just the Weidmans or is it available to all worldwide trackchasers.  I also learned for the first time what P.J. Hollebrand's first name is.  Since I don't know if this is proprietary information, I won't release it at this time.
Tonight's figure 8 program featured 54 cars (as counted by Eleanor).  They raced in seven heat races with only the winner transferring to the feature.  Each heat was eight laps in duration and the feature started eight cars, not sure, where the extra came from for 10 laps.  Figure 8 racing, while certainly countable, is a different form of racing just like road racing is compared to oval racing.  I enjoy figure 8 racing and particularly like the crashing.  The figure 8 racing experience is enhanced when it's in a county fair atmosphere.   The Weidman's favorite car for the evening was the #66 self-sponsored Ford Escort Wagon racing machine.  The car had a big "hit me" sign on its rear.  The Weidmans made this car their favorite because the also drive an Escort wagon.
The track, my 754th, was a flat, dirt, double O configuration.  I'm not sure if I've ever seen a double O figure 8 track before.  The program started at 8 p.m. and finished about 10:15 p.m.  Except for a couple of unnecessary intermissions, this was a very entertaining show.  They had a good combination of racing and crashing.
I got a kick out of hearing Paul talk about the "old days" of trackchasing.  Obviously, his early beginnings were before the internet took over.  I asked him how he found the tracks.  His answer, "Racing papers, I even called fire stations and ambulance companies looking for tracks".  Very creative, Paul!  I'm sure he's seen a lot of tracks that would boggle the mind.
There's a good chance I'll see the Weidmans on my Berea, Ohio on Thursday night.  Save travels, Weidmans, until then.
RACE TRACK FOOD:
They had an extensive selection of fair foods.  I passed on the fried Twinkies and went with a Philly cheese steak and shake 'em up lemonade.  The cheese steak was small but good.  The lemonade tasted gritty with sugar, just the way I like it.
RENTAL CAR UPDATE:
This is my second National Rental Car Racing Pontiac Grand Prix in a row.  This ones a little sportier than the one I got in Chicago.  This car has a sun roof, but a few more overall miles at about 19,000.
ED ESSER & P.J. HOLLEBRAND UPDATE:
As of August 2, 2004, the battle for positions 7-10 in the worldwide trackchaser standings is as follows:
       P.J. Hollebrand – 768
       John Moore – 757
       Randy Lewis – 753
Ed Esser – 697
At the end of this trip, I'll give you a recap of where I stand against both P.J. Hollebrand and Ed Esser, trackchasers who are just above and below me in the rankings.
You can keep track of Ed at, www.2arace.com .     
CUMULATIVE DRIVING DISTANCES:
Pittsburgh International Airport – trip begins
Butler Farm Show – 48 miles
TRACK ADMSSION PRICES (U.S. DOLLARS):
Butler Farm Show – $6
Randy Lewis
That's all the news that's fit to print from San Clemente where the women are strong, the men are good-looking, and all of the children are above average.
Racetracks visited in 2004 (** not the first time to visit this track)
754.  Butler Fairgrounds, Butler, Pennsylvania August 9
753.  Ninety-Three Speedway, Oak Hill, Ohio, August 1
752.  Jackson County Speedway, Jackson, Ohio, August 1
751.  Sportsdrome Speedway, Jeffersonville, Indiana (figure 8), July 31
750.  Sportsdrome Speedway, Jeffersonville, Indiana (oval), July 31
749.  Gateway International Speedway – road course, Madison, Illinois, Illinois, July 31
748.  Warren County Fairgrounds (oval), Roseville, Illinois, July 30
747.  Warren County Fairgrounds (figure 8), Roseville, Illinois, July 30
746.  Tri-City Speedway (inner oval), Auburn, Michigan, July 29
745.  Tri-City Speedway (outer oval), Auburn, Michigan, July 29
744.  Munger Fairgrounds, Munger, Michigan, July 29
743.  Ionia Fairgrounds, Ionia, Michigan, July 28
742.  Thayer County Speedway, Deshler, Nebraska, July 18
741.  Heartland Park-Road Course, Topeka, Kansas, July 18
740.  Montgomery County Speedway, New Florence, Missouri, July 17
739.  Soggy Bottom Raceway, Greenup, Illinois, July 17
738.  Wayne County Speedway, Wayne City, Illinois, July 16
737.  Music City Motorplex, Nashville, Tennessee, July 15
736.  Clarksville Speedway, Clarksville, Tennessee, July 14
735.  Tri-State Speedway, Pocola, Oklahoma, July 13
734.  Tulsa Speedway, Tulsa, Oklahoma, July 12
733.  Park City Raceway, Valley Center, Kansas, July 11
732.  Heartland Park – Road Course, Topeka, Kansas, July 11
731.  Nevada Speedway, Nevada, Missouri, July 10
730.  Adrian Speedway, Adrian, Missouri, July 10
729.  Bolivar Speedway, Bolivar, Missouri, July 9
728.  Dallas County Speedway, Urbana, Missouri, July 9
727.  U.S. 30 Speedway (small oval), Columbus, Nebraska, July 8
726.  U.S. 30 Speedway (large oval), Columbus, Nebraska, July 8
725.  Butler County Speedway, Allison, Iowa, June 27
724.  Webster County Fairgrounds, Ft. Dodge, Iowa, June 27
723.  Dallas County Fairgrounds, Adel, Iowa, June 26
722.  Butler County Speedway, Rising City, Nebraska, June 25
721.  Hamilton County Fairgrounds, Aurora, Nebraska, June 25
720.  The Speed Bowl, Red Cloud, Nebraska, June 23
719.  Junction Motor Speedway, McCool Junction, Nebraska, June 22
718.  Belle-Clair Speedway, Belleville, Illinois June 13
717.  Charleston Speedway – Road Course, Charleston, Illinois June 13
**Eldora Speedway, Rossburg, Ohio, June 12
716.  Doe Run Raceway, Doe Run, Missouri, June 11
715.  Fredericktown Raceway, Fredericktown, Missouri, June 11
714.  Highland Speedway, Highland, Illinois, June 8
713.  Pine Ridge Speedway, Baldwyn, Mississippi, May 29 (Carol's #153)
712.  Memphis Motorsports Park-Road Course, Memphis, Tennessee, May 29 (Carol's #152)
711.  Simpson County Speedway, Mendenhall, Mississippi, May 29 (Carol's #151)
710.  Southern Speedway, Hattiesburg, Mississippi, May 28 (Carol's #150)
**Charleston Speedway, Charleston, Illinois, May 22
709.  Coles County Speedway, Loxa, Illinois, May 22
708.  Lincoln Trail Motorsports Off Road Park, Casey, Illinois, May 22
707.  Warren County Speedway (oval track), Indianola, Iowa, May 21
706.  Warren County Speedway (Figure 8 track), Indianola, Iowa, May 21
705.  Firebird International Raceway – East Course, Chandler, Arizona, May 2 (Carol's #149)
704.  Pagota Motorcycle Club, Birdsboro, Pennsylvania, April 25
703.  Mahoning Valley Speedway, Lehighton, Pennsylvania, April 24
702.  Shellhammer's Speedway, Leesport, Pennsylvania, April 24
701.  Hill Valley Speedway, Orbisonia, Pennsylvania, April 24
700.  Thunder Alley Speedpark, Evans Mills, New York, April 22
699.  Belle Vue Greyhound Stadium, Belle Vue, United Kingdom, April 12
698.  Buxton Raceway, Buxton, United Kingdom, April 12
697.  Brampton Raceway, Brampton, United Kingdom, April 12
696.  York Autograss, York, United Kingdom, April 12
695.  Sheffield Stadium, Sheffield, United Kingdom, April 11
694.  Blyton Raceway, Blyton, United Kingdom, April 11
693.  Hunmanby Raceway, Hunmanby, United Kingdom, April 11
692.  Skegness Stadium, Skegness, United Kingdom, April 10
691.  Silverstone, Silverstone Circuit, Silverstone, United Kingdom, April 10
690.  Mildenhall Stadium, Mendenhall, Suffock, United Kingdom, April 9
689.  Bovingdon Circuit, Bovingdon, Hertfordshire, United Kingdom, April 9
688.  Sunshine Speedway (figure 8), Pinellas Park, Florida, April 3
**Sunshine Speedway (oval), Pinellas Park, Florida, April 3
687.  Lubbock Motor Speedway, Lubbock, Texas, March 21
686.  Thunderbird Speedway, Crandall, Texas, March 20
685.  Kennedale Speedway Park, Kennedale, Texas, March 20
684.  Texas World Spdwy (Road Course), College Station, Texas, March 20
683.  Heart O' Texas Speedway, Waco, Texas, March 19
**Central Arizona Raceway, Casa Grande, Arizona, January 20         
Planned new racetracks (on the last day of each racing trip I will post my tentative plans for my next trip)
10-Aug  EMRA Road Racing  Pocono Raceway-RC       Pocono, PA
11-Aug  Fair race                     Clinton Cty Speedway    Loch Haven, PA
12-Aug  Figure 8                      Cuyahoga Cty Fair           Berea, OH
13-Aug  Regular program              Motordrome Spdwy  Smithton, PA
14-Aug  SCCA                          Beaverrun                  Wampum, PA
14-Aug  ASA Stock Cars         Jennerstown Spdwy       Jennerstown, PA
15-Aug  Mini-Sprints               Blanket Hill Spdwy   Blanket Hill, PA
QUICK FACTS
AIRPLANE
Los Angeles, CA (LAX) – Chicago, IL (ORD) – 1,745 miles
Chicago, IL (ORD) – Detroit, MI (DTW) – 234 miles
RENTAL CAR #1
Detroit Metro Airport – trip begins
Belleville, MI
Butler, PA
TRACK ADMISSION PRICES:
Wayne County Fairgrounds – $10
Butler Farm Show – $12 (not trackchasing expense)
LIFETIME TRACKCHASER COMPARISONS 
The three most important trackchasing comparisons to me are:
Total lifetime tracks seen
Total "trackchasing countries" seen
Lifetime National Geographic Diversity results
Total Lifetime Tracks
There are no trackchasers currently within 350 tracks of my lifetime total.  Don't blame me.
1.  Randy Lewis, San Clemente, California – 1,881
Total Trackchasing Countries
There are no trackchasers currently within 10 countries of my lifetime total.
1.  Randy Lewis, San Clemente, California – 65
Current lifetime National Geographic Diversity results
1.  Randy Lewis, San Clemente, California – 5.10
That's all folks!  Official end of the RLR – Randy Lewis Racing Trackchaser Report