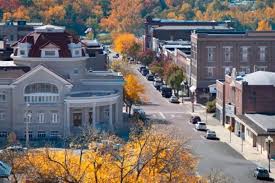 Greetings from Fulton, Missouri
.


From the travels and adventures of the 
"World's #1 Trackchaser"
The EventVideo Plus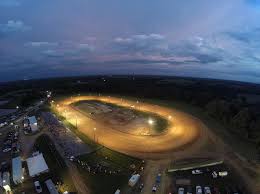 Callaway Raceway
Dirt oval
 Lifetime Track #573
Reprinted with permission from my Friday, June 14, 2002, Trackchaser Report. 
THE CLASSIC TRACKCHASER REPORT


Editor's note: This is a CLASSIC Trackchaser Report. What the heck does "Classic" mean? It's simply a Trackchaser Report that comes from my trackchasing archives. Typically these will be stories from tracks I visited five years or ten years or more ago.
For whatever reason (usually not enough time) it didn't get posted to my website when I first made the track visit. Often a classic TR will not have a video and/or photo album attached. I didn't begin producing my YouTube videos until 2009 (YouTube channel: RANLAY). I didn't begin writing a complete Trackchaser Report until I had seen about 425 tracks. Photo albums were sort of hit or miss during the early years of my trackchasing. Additionally, if you see a website link know that link worked when the TR was originally written. Will it work now? Your guess is as good as mine! Nevertheless, this CLASSIC Trackchaser Report has finally bubbled to the surface and is now available for everyone to see at www.randylewis.org. I hope you enjoy it.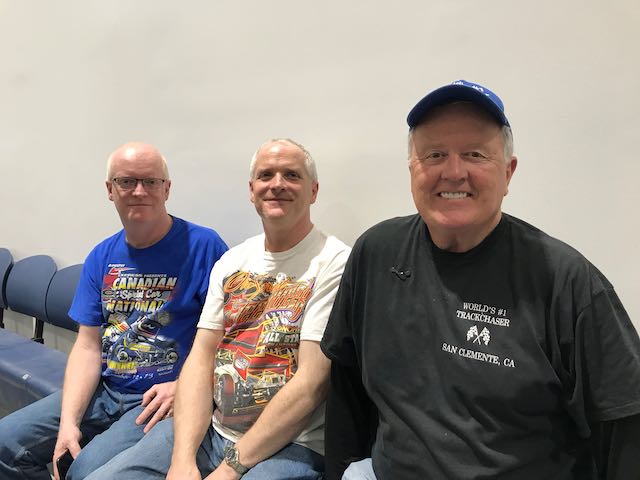 I AM A TRACKCHASER.
My name is Randy Lewis (above – with the Shirton boys who come from Canada). I hail from the sleepy little village by the sea, San Clemente, California. I am a "trackchaser". I trackchase. Have you ever in your life heard of "trackchasing"? I didn't think so. 
Today's adventure was one more of the 2,000 trips that have taken me up, down and around the proverbial long and dusty trackchasing trail.  If you would like to see where I've been and experience those adventures here's the link: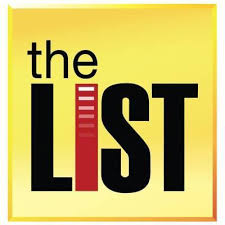 If you've got a question, comment or whatever please leave it at the bottom of this report.  It's very easy to do.  Or you can visit me on Facebook.  Thanks!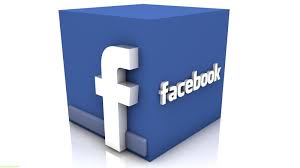 FOREWORD
Friday, June 14, 2002.
Greetings from Fulton, Missouri,
PEOPLE/TRAVEL NEWS
Today is a day of trackchasing I've looked forward to for a long time where I'll have the pleasure of company with special people.  I'm going to meet up with two friends that Carol and I met during our 11-day trip to China four years ago.  At that time our tour group consisted of 12 people. Two of those folks were Florene and Bud (above when they joined us at another Missouri track).  I've corresponded with Florene and Bud who hail from Jefferson City, Missouri over email but we haven't seen each other since the China trip.
Bud is a sprint car fan who used to be a regular at Capital Speedway in Holts Summit, Missouri.  Both are avid readers of the race report.  Bud is planning of joining me for the race tonight in nearby Fulton, Missouri.
My computer-generated directions led me to their house quite efficiently.  Before we can go racing we wanted to play a little golf together.  Bud picked out a course just three blocks from his house.  The weather was picture perfect with temps in the low 70s, no humidity and beautiful blue skies. 
The Oak Hill Golf Course in Jefferson City was typical of several midwestern courses I've played.  It had lots of rolling hills, was very wooded and in good condition considering the rains the area has had.  One unusual aspect of the course was the existence of large electric fans around two of the greens.  I've seen this only one time before. That was in the Tulsa, Oklahoma area.  These fans are about 6 feet in diameter.  Their purpose is to keep the air moving over the greens in the hot and humid summer weather that's well known to this region of the country.
Bud and I had a fine time playing together.  Bud's short game is spectacular.  On 4-5 of the holes, he chipped to within 3 feet and almost holed two of his shots.  I think he also hit every drive in the fairway.  Following golf, we went back to the house, kicked back in the easy chairs of their beautiful home, had a beer, watched the U.S. Open, and ate the sandwiches Florene made for us.  It was a great day.
I knew that Bud had had a great basketball career at the University of Missouri.  After some prodding, I convinced him to show me some of his results from those playing days.  Bud was the leading scorer for the Mizzou Tigers for two seasons in the early fifties.  They played all over the country including the old Madison Square Garden. That is beyond cool.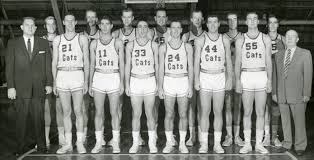 He went on to play for the Caterpillar Cats from Peoria, Illinois in the old National Industrial Basketball League (NIBL).  This was during a period of time (1952, 1956, 1960) where the majority of players on the U.S. Olympic Team were from the NIBL and the NCAA championship team.  The Caterpillar Cats coach, Warren Womble, was the head coach of each of these three Olympic Gold medal-winning teams.  Growing up in Peoria, Illinois I was a big fan of the Caterpillar Cat basketball team.  Does anyone else remember the NIBL and teams such as the Phillips 66ers, Denver Truckers, Cleveland Pipers to name a few?  These teams were all sponsored by major corporations and were a place where star college players went to play while they waited their turn to play in the Olympics before going to the NBA.
While doing some research on Bud's basketball background I found this. Bud was playing at a top level of college basketball in his day.
"Bud Heineman: Old school champion
Versailles' August "Bud" Heineman was one of several notable basketball players to lace up the sneakers for the Tigers.
Heineman led the Tigers all the way to the state finals at Springfield's McDonald Arena in 1947 where the team finished second to Beaumont by a final score of 54 to 42. Beaumont had only lost one game the entire season. During this time, different classes based on school size did not exist so smaller teams battled against schools that could be much bigger than their own. Heineman earned All-American honors that year.
After his career at Versailles, Heineman continued to be a tiger at the University of Missouri as a member of the basketball and baseball teams. He was Missouri's top scorer in the 1950-51 season and helped the Tigers upset defending national champion City College of New York. His 283 points on the season proved to be the most by a player in 30 years. Heineman played through the 1952 season and earned the nickname of the, "Little leftie with the radar jump shot" for his shooting ability as a southpaw."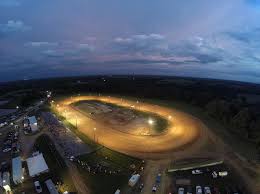 RACING NEWS
The Callaway Raceway is my 573rd different track to see.  Getting to the track was a bit of a chore.  I had checked the National Speedway Directory for directions to the track.  After reading the directions I immediately appointed Bud as the navigator. 

Here's how the directions read;  "0.1 mi south on CF F, on Business U.S. 54, then 0.1 miles east on county road O, then 2.8 miles south on county road C, then 0.3 miles west on county road 404, then 0.9 miles south on county road 405."
After reading these directions and agreeing they were the most complicated of any in the book Bud recommended we stop at a gas station for help.  The woman at the station gave some rather succinct directions.  "Go to the Texaco station and turn left down the gravel road and you'll find the track".  I haven't been on a gravel road in a long time.  This was a very dusty road with a fine paste, almost like chalk dust.  We followed some cars ahead of us and the cloud of dust was so severe that we couldn't see more than a few yards in front of us.  It didn't look to me like any of these back roads was marked.  When we finally reached the track the dark blue Dodge Intrepid looked like it had been in a Minneapolis snowstorm.  Bud was amazed the track was so far out in the boonies.
The track announcer, the self-proclaimed, "Hound dog", got a kick out of my trackchasing note.  He allowed that he would love to do this but if he did his wife would divorce him!  Fortunately, I've got a great wife who doesn't mind when my trackchasing is done in moderation.  Of course, it's usually not done in moderation.  By the way, even though I rank only #10 in the world in trackchasing, I'm proud of the fact that I've seen more racetracks WHILE BEING MARRIED than anyone in the world.   That's a tribute to "the little trackchaser", my wife Carol.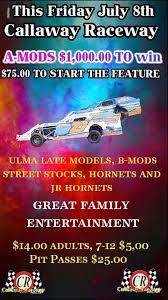 The featured attraction was the United States Modified Touring Association.  This is one of my favorite sanctioning groups in the entire nation.  They put on a great show with lots of three and four-wide racing on this one-quarter mile dirt oval.  They brought about 40 cars and it was well worth the $12 admission.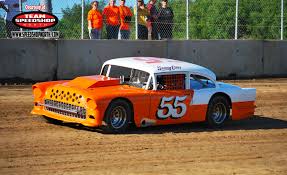 The track could have done with fewer support divisions than the 4-5 they presented.  Andy, I did see the sharp-looking '55 Chevy.  I was disappointed to see he had a yellow flashing light (it was not operating) on the center of his top.  We stayed for the USMTS feature and got back to Jeff City around midnight.  I think Bud enjoyed the races.  We both agreed that cars spinning out and causing a yellow flag before they began to move off the track was bad for the program.
TRACK FOOD:    I got a brief respite from traditional track food.  Florene prepared an outstanding Chicken Parmejean entrée that was just right after an outdoor day of golf.  I especially liked here strawberry shortcake dessert.
RENTAL CAR UPDATE:    The National Rental Car Racing Dodge Intrepid was up to only 245 miles.  By the end of this trip I expect it to cover almost 2,000 miles.
TRACK RADIO FREQUENCY:   151.625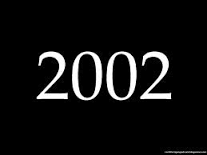 New racetracks visited in 2002
Beebe Speedway, Beebe, AR (http://www.beebespeedway.com/.)
North Alabama Speedway, Tuscumbia, AL (www.northalabamaspeedway.com)
Pike County Speedway, Magnolia, MS (http://hometown.aol.com/racecentrl/index.html)
North Central Arkansas Speedway, Yellville, AR (http://www.northcentralarspeedway.com/)
West Plains Motor Speedway, West Plains, MO (http://www.westplains-speedway.com/)
Southern National Speedway, Kenly, NC (http://www.southernnationalspeedway.com/)
Carolina Motorsports Park, Kershaw, SC (http://www.cmpracetrack.com/)
The Dirt Tract at Lowe's Motor Speedway, Concord, NC (http://www.charlottemotorspeedway.com/)
Oglethorpe Speedway Park, Savannah, GA (www.ospracing.net)
Big Daddy's South Boston Speedway, South Boston, VA (http://www.southbostonspeedway.com/)
Bakersfield Raceway Park, Linton, IN (http://www.ncci.net/Bakersfield/)
Indianapolis Raceway Park (road course), Indianapolis, IN (http://www.irponline.com/)
Kil Kare Speedway (one quarter mile oval), Xenia, OH (http://www.kilkareraceway.com/)
Thunder Raceway, Show Low, AZ (http://www.thunderraceway.com/)
Columbus 151 Speedway, Columbus, WI (http://www.racingonline.com/columbus151/)
Kalamazoo Speedway, Kalamazoo, MI (http://www.kalamazoospeedway.com/)
Toledo Speedway (small oval), Toledo, OH (http://www.arcaracing.com/)
Toledo Speedway (figure 8), Toledo, OH (http://www.arcaracing.com/)
Irwindale Speedway (figure 8), Irwindale, CA (http://www.irwindalespeedway.com/index.html)
Lafayette County Fairgrounds, Darlington, WI (http://www.racingonline.com/lafayette/)
Hamilton County Fairgrounds, Webster City, IA (no web site)
Missou Speedway, Moberly, MO (no web site)
Hartford Raceway Park, Hartford, MI (http://www.hartfordspeedwaypark.com/)
Stateline Speedway, Edon, OH (http://www.statelinespeedway.net/)
Sixty-Seven Raceway Park, Godfrey, IL (http://www.67racewaypark.com/)
Callaway Raceways, Fulton, MO (http://www.callawayraceways.com/)
You might have remembrances about this track.  If so, please feel free to share your memories in the comments section below.  If you have any photos from back in the day, send them to me at Ranlay@yahoo.com.  I'll try to include them here.
Thanks for reading about my trackchasing,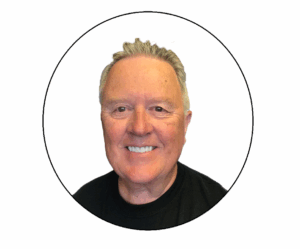 Randy Lewis
World's #1 Trackchaser
Peoria Old Timers Racing Club (P.O.R.C.) Hall of Fame Member
Missouri behaviors: You describe locations in "time it takes to drive to St. Louis."
St. Louis is often used as an arbitrary endpoint, as in: "I live in Hannibal. It's about two hours north of St. Louis." People from Missouri will often say things like that to people from other states, as if everyone else automatically knows where St. Louis is and why it's important that Hannibal is two hours away.
That's all folks!  Official end of the RLR – Randy Lewis Racing Trackchaser Report
Click on the link below to see the video production from the racing action today.
I went to Callaway Raceway in 2002. I didn't begin producing YouTube videos from my trackchasing adventures until 2009. Today, my YouTube channel (ranlay) has more than 1,300 videos posted. What I share today is a good representation of the racing action at Callaway Raceway. Enjoy.