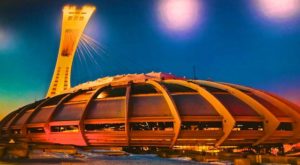 Greetings from first Montreal, Quebec, Canada
.
.
and then Plainfield, Connecticut
.
.
From the travels and adventures of the 
"World's #1 Trackchaser"
.
.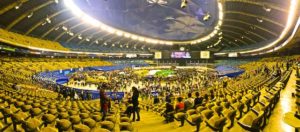 Olympic Stadium
Dirt road course
 Lifetime Track #2,544
.
.
Central Cycle Club MX
Dirt road course
 Lifetime Track #2,545
The EventVideo PlusPhotos
THE EVENT
I am a "trackchaser". I trackchase. Before you discovered my site had you ever heard of trackchasing? Maybe not? So….what the heck is trackchasing? Sit back, take a read and you'll be an expert on my hobby of trackchasing when you're finished.
Here's my best explanation.
Trackchasing is a three-pronged hobby. I'm a racing fan. I love to travel. I love to analyze opportunities to get the most out of everything while saving time and money.
Trackchasing fills the need for all of the above. The racing part of my trackchasing has me trying to see wheel to wheel auto racing at as many different racetracks as I can all over the world. Yes, all over the world. So far things are going pretty well. As this is written, I've seen racing in 82 countries at more than 2,500 tracks. As a matter of fact, I've seen racing at more tracks than anyone else in the world.
Equally important to me are the things I get to see and experience over the "long and dusty trackchasing trail". I call these adventures "Trackchasing Tourist Attractions". You won't want to miss my "Trackchasing Tourist Attractions" page. Here's the link:  Trackchasing Tourist Attractions or my "Sports Spectating Resume" page, Sports Spectating Resume on my website at www.randylewis.org.
I live in southern California. That's probably the most inconvenient location in the country for seeing tracks in the U.S. Most of the racetracks in the U.S. are located well over 1,000 miles from where I live. As a matter of fact, my average trip covers 5,000 miles and more. I take 35-40 of those trips each season. In any given year I will travel well over 200,000 miles, rent more than 50 cars, and stay in more than 150 hotel rooms.
I get the chance to meet people all over the world. With trackchasing trips to 82 countries and counting just getting the chance to experience so many other cultures, spend time in their homes and meet their friends is a huge reward for being in this hobby. I am indebted to several of these folks for their help and friendship.
It's takes a good deal of planning to do the above and not spend my entire retirement portfolio. I enjoy the challenge, the travel and every other aspect of "trackchasing". In reality, my trackchasing hobby is a lot like being with the carnival. I breeze into town, stay a little while and then head on down the road.
Today's adventure was one more of the 2,000 trips that have taken me up, down and around the proverbial long and dusty trackchasing trail.  If you would like to see where I've been and experience those adventures here's the link: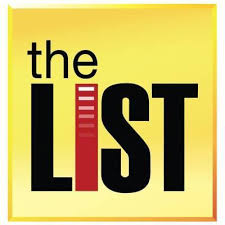 If you've got a question, comment or whatever please leave it at the bottom of this report.  It's very easy to do.  Or you can visit me on Facebook.  Thanks!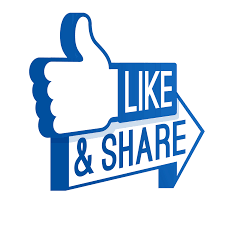 FOREWORD
Friday, April 5, 2019
It was another good week of relaxing in San Clemente. "Winter" is over for us. Actually, it never really started. We did get some rain. The vegetation that comes with that moisture is taller than I've ever seen it.
Carol continues to rehab from her knee surgery. She's getting closer and closer to getting out on the trackchasing trail every day. It won't be long now.

I was leaving on my 13th consecutive trackchasing weekend. Most of those trips have been "out on Friday and back home on Sunday". It's hard to pass up trackchasing opportunities when once a year or in some cases once-in-a-lifetime racetracks are holding an event. 
At the completion of this weekend I will have seen racing at 26 tracks. As I look back over that list some 22-23 of those tracks were not known to Randy Lewis Racing until the past year. Some of them came onto my radar screen a week or two before I saw them this year! With that being the case how long can so many previously unknown tracks continue to show up?
On Thursday evening before I left on this trip Carol and I went out for dinner and a movie. We do that frequently. It's a nice relaxing way to spend some time together.
This weekend's trackchasing activity would take me first to Montreal, Quebec, Canada. I would finish off my racing weekend on Sunday in Plainfield, Connecticut.
I commonly tell you that I couldn't do this without the help of my trackchasing friends and sometimes trackchasing strangers. Trackchasing strangers soon become trackchasing friends!
This winter I met a fellow by the name of Mark Meyer (above right). Mark is a UTV racer. When I met him he lived in the province of Alberta. As we speak he and his family are moving over to Quebec. He told me about a special UTV race that would be happening this weekend in the Olympic Stadium in Montreal, Quebec, Canada.
As I went to get more information about that race I came across Jason Mateus. Jason is a native French-speaking resident of Quebec. He also speaks perfect English. He and I spent several minutes talking on the phone this week. Not only did I get information about this weekend's racing in Montreal but he provided a heads-up on several other tracks that I might be able to see this summer. Jason, thanks for everything. You are no longer a trackchasing stranger but a trackchasing friend.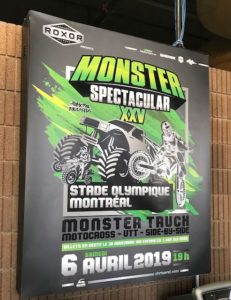 The UTV race schedule for the Olympic Stadium in downtown Montreal was actually part of a bigger program. The UTVs were going to be the undercard for a huge monster truck show. Monster trucks are sort of the equivalent of the World Wrestling Federation approach to entertainment. Monster trucks are loud and aggressive. The crowds love them. That show appeals to a family demographic.
Olympic stadium has 56,040 permanent seats. They can see more than 78,000 for concerts. In advance I had no idea how popular this event would be. I didn't know it was the 25th annual monster truck race in Montreal.
I had noticed that tickets available on the event website were fairly expensive. Luckily, I was seeing Canadian prices which are discounted some 25-30% for Americans but the tickets were still expensive. I would chance it. I was coming to this huge event without getting an advanced ticket.
However, I would not be able to use my "need one" sign as I usually do. Why not? Quebec is the only province of the ten in Canada that is nearly 100% French speaking. I would have to develop a "need one" sign in French.
No problem, I simply went to Google Translate and created my sign in French. "Need one" translated into "besoin d'un". Then I ran my work past Jason. He had some suggestions. The English translation of his sign read, "I want one, please". In French it was, "J'en vevx un SVP". That was a little different than my original sign. However, when in Rome follow the advice of the Romans right? When people know more about a subject than I do I take their advice.
Soon I had my sign. Then I hopped on a jet airplane and flew from Los Angeles to Boston. I estimated the driving distance from Boston to Montreal to Plainfield, Connecticut and back to Boston would be about 800 miles. This was my 13th consecutive trackchasing weekend. When it is over I will have driven about 9,500 miles in rental cars. That's nearly as much as I drive my personal car in one year.
I landed in Boston after five hours of flying. I arrived at 6 p.m. There was no need to get on the road and jump into Friday night Boston city traffic immediately. I took a moment to relax.
Not only could I not trackchase at the level I do without the help of the people I meet over the long and dusty trackchasing trail but I couldn't do it as easily without the help of my sponsors. I have sponsors that support me in one way or another for all seven of my trackchasing expense categories.
During the past six months I acquired Priority Pass as a primary trackchasing sponsor. They are fantastic. They've given me thousands of dollars of free meals and airline clubs stays during the time they have been on board.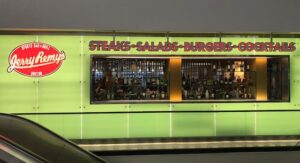 Tonight I used my Priority Pass sponsorship to dine at the Jerry Remy's restaurant in Boston's Logan International Airport. Uniquely, Jerry Remy's restaurant is located outside of security. That is a rare circumstance for an airport restaurant. I dined on calamari. Then I took a giant cheeseburger with me to eat later in the hotel. Virtually the entire check was picked up by Priority Pass.
Boston area hotels like most hotels in the northeastern part of the country are expensive. This is the highest priced area of the United States for hotels. Nevertheless, I grabbed an Extended Stay America in Tewksbury, Massachusetts at about 33% off of the going rate. That was a good deal.
I had gotten up early to leave our modest seaside cottage in San Clemente to make this trip. When I arrived at LAX I had just enough time to have breakfast at another one of my Priority Pass sponsorship locations, Rock & Brews. My sponsorship allowance allowed me to order enough food to provide lunch on the airplane during the long flight.
It was going to be nice to get a good night's sleep on this Friday evening. I expected to sleep in my car on Saturday night before hopefully flying home on Sunday night. Yes, I was going to enjoy an evening in a hotel.
Saturday, April 6, 2019
I was able to sleep until about 9 a.m. eastern time this morning, which was only 6 a.m. back in California. At home I normally sleep until about 7 a.m. On a typical morning I will read the news electronically and make my plans for the day while still lying in bed. By about 7:30 a.m. or so I'm normally ready to get going. Yes, it's nice being retired!
Tonight racing wasn't going to begin until 7 p.m. They were planning a 5 p.m. "fan pit party". I didn't want to miss that. Off I went from my Tewksbury, Massachusetts hotel to Montreal.
TRACKCHASING TOURIST ATTRACTIONS
I would soon leave Massachusetts and head into New Hampshire. However, the majority of the drive would take me through Vermont before crossing the border near Highgate, Vermont. I figured I had just enough time to stop and experience a couple of Vermont Trackchasing Tourist Attractions. I love doing that.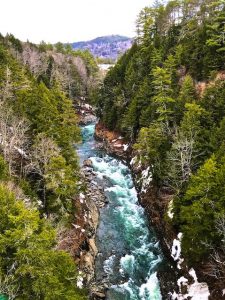 I did a little online searching and came up with two ideas. The first was the Quechee Gorge. That would be followed by seeing the tallest file cabinet monument in the world. The Quechee Gorge is located in Quechee, Vermont. The world's tallest filing cabinet monument is situated in Burlington, Vermont. Both were right on the path that would take to get me to Montreal.
I will tell you this. Being able to use GPS has simplified my hobby a great deal. I began using GPS much, much sooner than my trackchasing fellow competitors. When they were using paper maps I had a GPS machine. When I graduated to using GPS on my phone they were still back with freestanding GPS machines. It's always been like that with technology.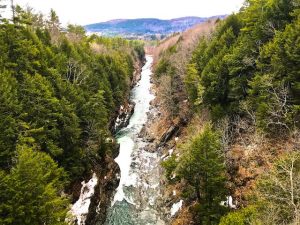 I was impressed with the Quechee gorge. Don't miss my photos in from this attraction. From there it was an easy 89-mile drive up to Burlington, Vermont.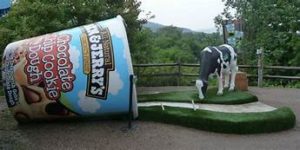 I had already done some pretty interesting and entertaining Vermont "Trackchasing Tourist Attractions" in the past. These included the Ben & Jerry's factory tour, a ride on the Lake Champlain ferryboat in Grand Isle and the Vermont Teddy Bear factory tour. Yep. Seeing "stuff" out on the long and dusty trackchasing trail is important to me. If you ever want to see a nearly complete summary of my TTAs here's the link: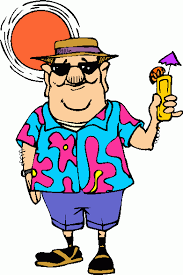 Randy's Trackchasing Tourist Attractions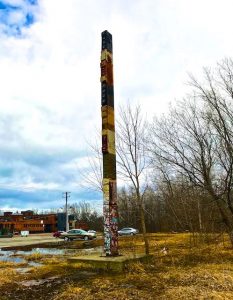 The world's largest file cabinet monument was certainly going to be an unusual attraction. It wouldn't take long to find it or to see it. Surprisingly to me, another car of three tourists was viewing the attraction when I pulled up. Nevertheless, I think I might be able to build a filing cabinet monument taller than this one.
When it came time to cross into Canada I encountered a very inquisitive Canadian border agent. He asked me all manner of questions. Like most other agents he would say he was surprised that I had "traveled so many miles to go to a monster truck race". I get that a lot. He also reminded me that although cannabis is legal in Canada it is not legal to bring cannabis into Canada from United States. Good to know right.
From the border it was an easy 107-kilometer drive into downtown Montreal. I was expecting to see my 36thlifetime track in the province of Quebec.
THE RACING
Olympic Stadium – Montreal, Quebec, Canada
It was not difficult to find the Olympic Stadium. This place comes with an interesting history. It was built in the mid-70s for the 1976 Summer Olympics held in Montreal. It is affectionately known as the "Big O". Of course to me the "Big O" can only mean one thing.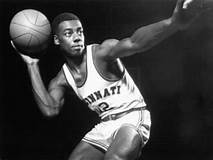 That would be Oscar Robertson, star of the University of Cincinnati Bearcats. I was lucky enough to see the "Big O" play college basketball a couple of times against my all-time favorite boyhood college team the Bradley Braves. Oscar Robertson led his team to the NCAA championship game in 1960.
Back in his day college players could only play beginning with their sophomore year. That meant three years of college varsity eligibility. No college players left early for the NBA back in those days. There was no three-point line during Oscar Robertson's playing days.
During the Big O's sophomore season he laid 56 points on the Arkansas Razorbacks in the Final Four third-place game. Yep. They played for third place back in those days. In the 58-59 season he scored 39 against the Louisville Cardinals, again in the NCAA third place game. Finally in his senior season Oscar and his Cincinnati Bearcats beat NYU for the NCAA championship. Oscar scored 32 and averaged more than 30 PPG for the four-game tournament.
But wait! We're not here to talk about THAT "Big O" but Olympic Stadium in Montreal. The place is always known at the "Big Owe" because of the cost of the stadium!
Wikipedia provided this background to Randy Lewis Racing about the Olympic Stadium.
The stadium is the largest by seating capacity in Canada. After the Olympics, artificial turf was installed and it became the home of Montreal's professional baseball and football teams. The Montreal Alouettes of the CFLreturned to their previous home of Molson Stadium in 1998 for regular season games, but continued to use Olympic Stadium for playoff and Grey Cup games until 2014 when they returned to Molson Stadium for all of their games.
Following the 2004 baseball season, the Expos relocated to Washington, D.C. to become the Washington Nationals. The stadium currently serves as a multipurpose facility for special events (e.g. concerts, trade shows) with a permanent seating capacity of 56,040. The capacity is expandable with temporary seating. The Montreal Impact of Major League Soccer (MLS) use the venue on occasion, when demand for tickets justifies the large capacity or when the weather restricts outdoor play at nearby Saputo Stadium in the spring months.
The stadium has not had a main tenant since the Expos left in 2004. Despite decades of use, the stadium's history of numerous structural and financial problems has largely branded it a white elephant.
Incorporated into the north base of the stadium is the Montreal Tower, the world's tallest inclined tower at 175 metres (574 ft). The stadium and Olympic Park grounds border Maisonneuve Park, which includes the Montreal Botanical Garden.
Tonight I could have parked at a side street parking area for $10 Canadian. Right now an American can buy a Canadian dollar for just 74.6 cents American. That's a little bit more than a 25% discount. I'll take it.
To make things easier I elected to simply use the parking lot attached to the stadium. I paid $20 Canadian to do that. That meant my parking charge was about $15 U.S. They accepted credit cards. This allowed me to save some of my Canadian cash that had been so efficiently and effectively provided to me by Carol.
Now the rubber was going to meet the road. I took my carefully prepared "I want one, please" sign written in French from my briefcase. I couldn't recall using a foreign language sign for such a task in the past. I did use this general approach for the South Korean Formula One Grand Prix. However, I went with fingers there rather than using a sign. I will tell you that my holding up one finger confused a lot of South Koreans!
I found a spot just outside the entry doors to the stadium. There was no security. This spot was where all of the fans were entering from the parking garage. I simply stood tall, with a smile on my face and held my sign about chest high. 
The predominate demographic was young families with small children aged four to maybe ten or so. I hadn't seen a crowd like this in a long time. As they passed by my sign they seemed to understood what I was up to.
In less than five minutes and older man who looked like me in many ways came from inside the entry doors and handed me a ticket. He was giving it to me for free. He had seen my sign when he came in from the parking garage. Upon further reflection he decided he had an extra ticket. Lots of people have extra tickets that they are not going to use. It seems like more than half the time they're willing to give these tickets  to me for free. Maybe that comes from my having a pleasing personality, outgoing approach and well-groomed appearance. I can only guess about that.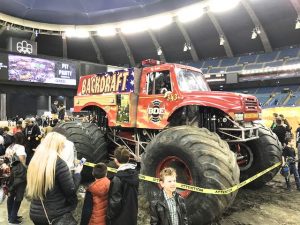 It was now about 4:45 p.m. I had been told the pit party would begin at 5 p.m. I looked around a bit and soon found how I was going to get on the floor of the coliseum for the party. I followed a crowd of the people as we wound ourselves around the inner bowels of Olympic Stadium. Soon I was on the floor of the stadium itself and enjoying the huge pit party like hundreds and possibly thousands of other fans.
I would come to find out that in addition to the monster trucks there would be demonstrations by motorcycle jumpers, tough trucks and the UTVs I had come to see. This was going to be fun. The program was something that I don't see every day. I'm not a huge fan of monster trucks but once a year is OK.
The event was supported by a huge video screen. The announcer, decked out in a black and white tux with a red bowtie, was most entertaining. Unfortunately he was operating with a PA system that just wasn't very effective. There are almost no effective PA systems in huge stadiums. That's too bad. It didn't help that he was speaking mostly in French!
You're not gonna want to miss my video of tonight's activity. There was a large crowd on hand but it didn't come anywhere close to filling the stadium. In point of fact probably slightly less than half of the seats were filled.
There were essentially two levels of seating in the stadium. At the beginning of the night virtually none of the seats in the upper deck were occupied. Although my ticket called for seating in the lower level I elected to go up to the highest level and sit in the front row. This gave me a nice perspective on what I would see tonight. As the stadium began to fill up more and more people chose the upper deck alternative.
There were about 15 monster trucks on hand. They did some various one on one "races". The tough trucks, which were actually more like dune buggies on steroids, also raced one against one. The motorcycles did an excellent job with their jumps. I have no idea how they learned to do some of those things but it's got to be bone-breaking preparation.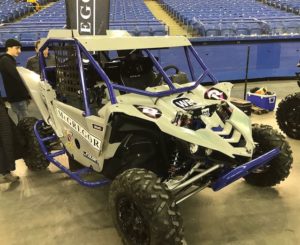 I breathed a sigh of relief when the six UTV racing machines came onto the arena floor. Tonight they would be racing on a dirt road course with a couple of jumps. Once they all started the race with the drop of one green flag and completed about four laps the checkered flag flew.
Let's think about this. I have driven 65 miles to get to the Los Angeles International Airport. Then I took about a six-hour flight from Los Angeles to Boston. Next, I drove 495 kilometers from Boston to Montreal crossing into a foreign country. I showed up without a ticket but soon had one. Then I spent about four hours being in the Olympic Stadium before the less than five minute UTV race was completed. Is that a long walk for a short slide?
Shortly after the UTV racing was finished I headed out of the stadium. It was 9 p.m. I suspected that the monster truck show had about another 30-45 minutes to go. However, for the price of my ticket, I had received more than adequate entertainment for the evening.
AFTER THE RACES
Tomorrow's Sunday racing was going to begin at about 10 a.m. The driving time from Montreal down to Plainfield, Connecticut was about 5-1/2 hours. I was leaving at 9 p.m. tonight. That meant if I drove nonstop I would pull into Plainfield at about 2:30 a.m. Of course I would have to clear border control getting back into the U.S. I would need to stop for gas and maybe something to eat. The entire process would allow for just a few hours to sleep overnight in my car.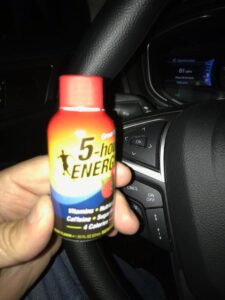 When I have a long overnight drive I normally will consume a bottle of 5-Hour energy drink. I did that tonight. I'll probably use 5-hour Energy five or six times a year. It works very well for me.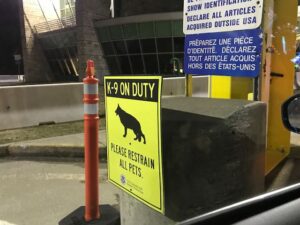 I did have a bit of an "international situation" when crossing the border tonight back into the U.S. I always like to take pictures at the border crossing. Carol tells me that is a bad idea. However I enjoy living on the edge of what many people might think is acceptable. I had taken a few pictures before I approached tonight's woman border agent. She asked me the standard questions. She also told me to "roll" my back window down. I thought about correcting her on that but decided to keep my mouth shut. Then she looked at my phone, which was sitting on my lap. "What are you doing with your phone?" she asked. I was ready for such a question. "I use it for GPS," I told her. However, there was a problem with that answer. At that very moment the camera application of my phone was on not my GPS map. Hmmmm. "Did you take any pictures of the border crossing?" she asked. This did not appear to be a good time to be untruthful. Few times are. "Errrrr, yes I did" I said. "Let me see the photo" she commanded. I showed her a photo indicating they used dogs are the border crossing. "Did you take any other photos?" she continued to ask. Well, we were in it now. I showed her four more photos of the entry to the border crossing. Then she looked sternly at me and said, "You are not allowed to take photos of border agents. Since none of your pictures were of border agents you're OK this time". I nodded meekly and proceeded back across the border into the U.S.A.
For the first couple of hours of tonight's drive I listened to the Texas Tech – Michigan State NCAA Final Four basketball game. The Red Raiders of Texas Tech would go on to take that game and move into the finals against the University of Virginia.
My driving goal tonight, at a minimum, was to drive at least 3-1/2 hours of the 5-1/2 hour drive before stopping. I figured if I made it that far I could sleep for a few hours and then finish off the last couple of hours of the drive in the morning. However, I felt so good that I made the entire 5-1/2 hour drive down to Connecticut without having to stop to rest.
I was a little bit surprised when I pulled into the Central Cycle Club in Plainfield, Connecticut at nearly 3 a.m. The gates to the property were open. I simply drove on in, found a parking spot, leaned back the driver's seat and went to sleep.
Plainfield, Connecticut's low temperature on this Saturday evening was 34°. I can attest to this fact. I slept without my shoes and socks and yes, it was 34°. I woke up at about 7:15 a.m. After maybe four hours of sleep. I was pleased to have brought along a large plastic McDonald's drink cup!
Sunday, April 7, 2019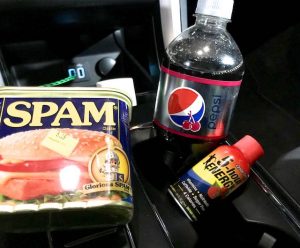 This morning I finished off the last remnants of a 12-ounce can of Spam in the car. I grew up eating spam. I was mildly surprised that a 12-ounce can contains 1,080 calories of the delicacy. However, I was sort of spreading those calories over a late night dinner as well as breakfast. In my mind that made a better caloric deal. A highlight was Spam contains virtually no carbohydrates.
THE RACING
Central Cycle Club MX – Plainfield, Connecticut
This morning, as promised, practice began at 9 a.m. Today I would be seeing UTVs as the countable trackchasing class.
Followers of the hobby know that I was the first trackchaser to discover and pursue UTV racing in 2013. I think that was a good idea but I'm sure others could question the validity of that assertion.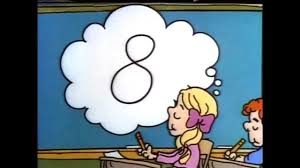 At the time I told everyone that I thought in the long run I would end up seeing more UTV dominated race tracks than figure 8 tracks. I don't think people believed me. To date I have seen 324 lifetime figure 8 racetracks. However, with the exception of ten retroactively added figure 8 tracks I didn't begin actively seeing F8 race venues until 2001. How did my first six years and three months stack up for figure 8 tracks compared to UTV tracks? Here's what I did with F8 tracks once they became "legal" in 2001.
2001 – 12
2002 – 8
2003 – 9
2004 – 21
2005 – 31
2006 – 20
2007 thru April 7 – 0
During this time frame I saw 101 figure 8 tracks. During the same time period I watched UTV racing at 92 tracks where they were listed as the primary countable track. That's pretty close.
As I have fewer and fewer more traditional tracks to see I believe UTV racing will become even more prevalent in my trackchasing. Will my UTV total some day pass my figure 8 lifetime total. I think it could.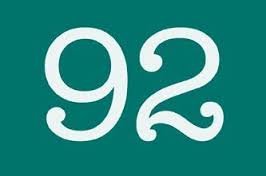 The Central Cycle Club MX track was going to be my 92nd lifetime UTV track. I haven't surpassed my figure 8 activity yet with UTVs but I still maintain that I just might.
Here's my unofficial UTV count since I first started seeing UTVs race as the primary countable class at the tracks I was visiting.
2013 – 1
2014 – 15
2015 – 24
2016 – 17
2017 – 13
2018 – 9
2019 – 13 (so far!)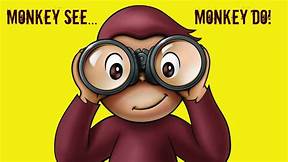 If you were to review others' track lists you would see the "copycat" behavior began in mid-2014 with UTV racing. Trackchasing is like the sport of auto racing. It's "monkey see; monkey do". I'm glad I was able to bring an entirely new genre of racing to the trackchasing hobby. UTV racing is good for the "counting" part of the hobby. It may not always be good for the spectating part of trackchasing.
I had a good time today at the Central Cycle Club racetrack. It turned out to be a nice day with lots of sun and temperatures in the low 60s. I probably saw more quad racing than I've seen in a long time. Some of those guys are "on it"!
For some reason they had a lot of stoppages today for rider injuries. It seemed like the two ambulances were shuttling back-and-forth to the hospital with great frequency. There was actually a delay in the program of about 30 minutes when both ambulances were away from the track. Most tracks can't race if they don't at least have an ambulance and/or an EMT on the premises.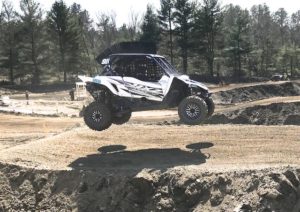 A highlight of the day for me was talking with some of the locals. I spent several minutes chatting with one of today's side-by-side drivers. He began to tell me about tracks I had never heard of before. It's amazing what happens when you can meet new people and simply listen.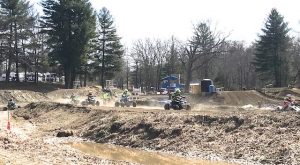 Then I spent several minutes talking to the father of one of the pro sport quad drivers. He told me his son had about $20,000 in his quad. He told me, "He's got that much money in the quad and we race for plastic trophies!" That's pretty much how racing works at virtually every level.
I spent the rest of the afternoon sitting next to a gentleman who looked like he might simply be a fan of the sport. In point of fact, he was a side-by-side driver whose mount had blown an engine the day before. We enjoyed each other's company.
There are some advantages to trackchasing alone. First it is true that, "He who travels fastest travels alone". Additionally, I meet a lot more new people if I'm trackchasing by myself and not with Carol or friends. Traditionally, I've trackchased by myself about one-third of the time, been with Carol one-third of the time and with friends for the final third.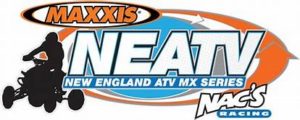 The NEATV MX racing organization runs a good program. Today as soon as the last driver took the checkered flag in their moto the next moto was taking the green flag on a separate part of the track. The side-by-side's actually ran their Moto #1 yesterday evening. Today they would run their second and final moto. Every competitor at the track gets to run two motos, which is what we stock car fans would likely call heat races.
Today's admission price was $15. For that amount of money a spectator could walk all over the track and into the paddock area. I did quite a bit of walking myself. When the ambulances were away at the hospital I took a 12-minute power nap in the car.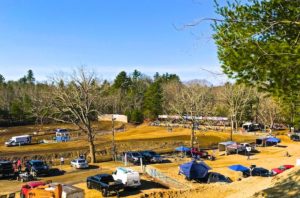 Today's track was a road course configuration with a dirt surface. It was one of the best tracks of this type that I've seen in a long time for spectator viewing. From just two spots I could see the entire track. That doesn't happen often. You won't want to miss my photos and videos from today's racing action. I think you're going to like what I will share.
All of today's races were four laps in length with the exception of the pro sport group for quads. They ran six laps. It was beyond amazing how far those quads can jump when they crest a hill. I can only imagine the time and effort and bumps and bruises it took for the riders to learn that skill.
Racing started at 10 a.m. today. I was thinking with the side-by-sides being the 21st race of the day and with NEATV running things so efficiently that I would be out of the track by noon or so. That wasn't the case. The slowdowns for driver injuries had the side-by-side moto going off at about 2:30 p.m. That was pushing it for me if I wanted to make my flight back to Los Angeles tonight.
AFTER THE RACES
It was about an hour and a half from the track to  Boston's Logan International Airport. My flight was leaving at 6 p.m. If I could get back to the airport by 4:30 p.m. or so I could have an early supper at Jerry Remy's restaurant where I had eaten on Friday night. The stars aligned pretty well. Traffic was relatively light. I returned the rental car quickly. Soon I was dialing in the above mentioned eatery.
Flights from Boston to Los Angeles are generally pretty tight on Sunday nights. They were nearly full tonight but I only needed one seat. I ended up catching that seat on the flight leaving at six. With a six-hour flight time into the wind heading to the West Coast I would land at past midnight Boston time or nearly 10 p.m. in Los Angeles. It was nice to get home from a quick "out Friday back Sunday" trip.
Randy Lewis – 82 countries – 2,545 tracks.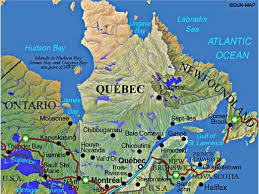 Quebec
The Je me souviens province
This evening I saw racing at my 36th lifetime track in the Je me souviensprovince, yes, the Je me souviens
province.  I hold the #5 trackchasing ranking in Quebec.  I've seen 36 or more tracks in 2 different provinces.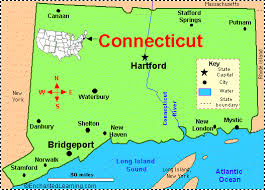 Connecticut
The Nutmeg state
This afternoon I saw racing at my 16th lifetime track in the Nutmeg state, yes, the Nutmeg state.  I hold the #4 trackchasing ranking in Connecticut.  I've seen 16 or more tracks in 35 different states. No trackchaser can match that stat.
Thanks for reading about my trackchasing,
Randy Lewis
World's #1 Trackchaser
Peoria Old Timers Racing Club (P.O.R.C.) Hall of Fame Member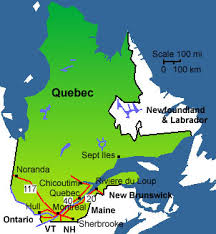 Quebec sayings: Aweille
French: Tasse- toi
English: Move your ass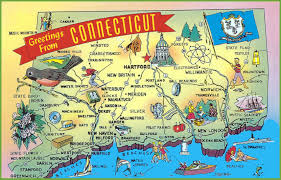 Connecticut sayings:  Land of stuffy White people
QUICK FACTS
LIFETIME TRACKCHASER COMPARISONS 
The threemost important trackchasing comparisons to me are:
Total lifetime tracks seen
Total "trackchasing countries" seen
Lifetime National Geographic Diversity results
Total Lifetime Tracks
There are no trackchasers currently within 705 tracks of my lifetime total.  Don't blame me.
Randy Lewis, San Clemente, California – 2,545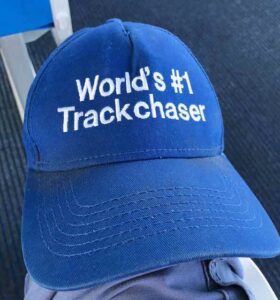 Total Trackchasing Countries
The nearest trackchasing competitor has seen racing in 30 fewer countries compared to my lifetime total. 
Randy Lewis, San Clemente, California – 82
Current lifetime National Geographic Diversity results
Randy Lewis, San Clemente, California – 4.14
That's all folks!  Official end of the RLR – Randy Lewis Racing Trackchaser Report
Click on the link below to see the video production from the racing action today.
Wild action racing of all types from Olympic Stadium in Montreal, Quebec
.
.
Just plain fun off-road racing at the Central Cycle Club MX track in eastern Connecticut 
Click on the link below for a photo album from today's trackchasing day.  You can view the album slide by slide or click on the "slide show" icon for a self-guided tour of today's trackchasing adventure.
Monster trucks and my "French language sign" from the Olympic Stadium in Montreal
.
.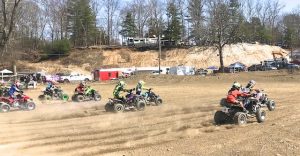 A fine day of Connecticut UTV racing on a track with good viewing points