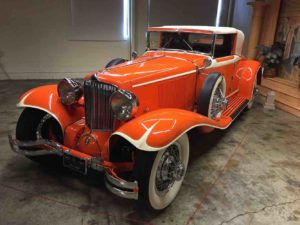 Greetings from the Auburn Cord Duesenberg Automobile Museum  – Auburn, Indiana
From the travels and adventures of the 
"World's #1 Trackchaser"
HighlightsPhotos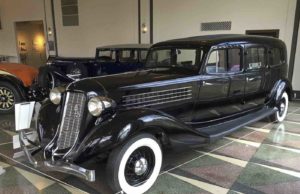 Today I had about 12 hours from the time I landed in Indianapolis until tonight's racing would begin in Coldwater, Michigan. I spent the first couple of hours putting together a plan for today and the rest of the trip. Once I got my rental car I would stop as needed and take short naps. That is a requirement after flying overnight and getting virtually no sleep on the airplane.
Another thing I try to do, when time permits, when I'm out on these trips is to see the local sites. I find that to be just as much fun as seeing the local racing activity.
I did a search of things to do in Fort Wayne, Indiana. However, I didn't come up with much. Sorry Dale.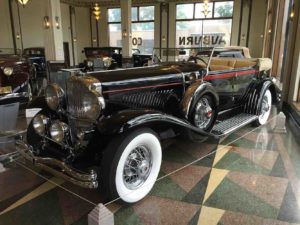 However as I drove along I saw a highway billboard that alerted me to something that would be a grand way to spend my afternoon. It was the Auburn Cord Duesenberg Automobile Museum located in Auburn, Indiana.
I love automobile museums of any type. Indiana has more than their fair share. I had a couple of hours and I was going to spend it in Auburn, Indiana.
Here's some background information from Wikipedia on what I was about to see:
"The Auburn Cord Duesenberg Automobile Museum, also known as the Auburn Cord Duesenberg Automobile Facility, is an automobile museum located in Auburn, Indiana in the United States. It is dedicated to preserving cars built by Auburn Automobile, Cord Automobile, and Duesenberg.
The Auburn Cord Duesenberg facility was a factory where cars were hand-assembled, rather than mass-produced. The showroom and administrative buildings were designed by architect Alvin M. Strauss in Art Deco style and were built in 1930. The facility's showroom and administrative buildings, the service and new parts building, and the L-29 building were together declared a National Historic Landmark in 2005.
The museum is organized into seven galleries that display about 125 cars and related exhibits such as restored Auburn Automobile company offices. Some exhibits have interactive kiosks that allow a visitor to hear the sounds the car makes and to see related videos and photographs that show details of what is under the hood of the car."
The price of admission for today's museum seemed a little steep at $12.50 with no senior discounts. However, I would come to find out it was a fair price.
You simply will not want to mess my Phanfare photo album from today's visit. I tried to take a photograph and description of each and every car that I was seeing. The museum has more than 100 automobiles. I also stopped to watch several videos and short films. I must have been in the museum for more than two hours. I really enjoyed it and if you like this kind of thing I suspect you would as well.