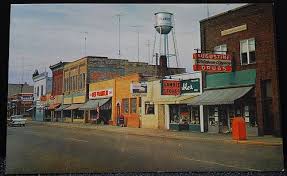 Greetings from Crandon, Wisconsin
.
.
From the travels and adventures of the 
"World's #1 Trackchaser"
The EventVideo PlusPhotos
Crandon International Off-Road Raceway
Dirt road course
 Lifetime Track #2,646
THE EVENT
Editor's note: From time to time I return to a racetrack that I have visited a very long time ago. Why? Usually, it's for the opportunity to see a different track configuration. All the way back in 2005 I saw racing at Crandon on their "big" track, 1.5 miles in length. We returned today to see racing on their smaller 1.25-mile road course.
I AM A TRACKCHASER.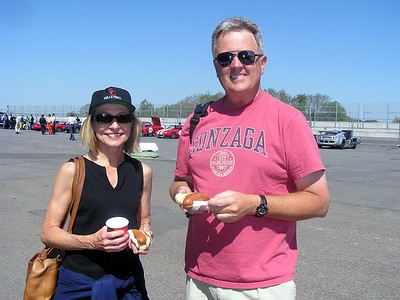 My name is Randy Lewis (above with Trackchasing's First Mother aka wife Carol). I live in a modest seaside cottage in the sleepy little village by the sea, San Clemente, California. I am a "trackchaser". I trackchase. Have you ever in your life heard of "trackchasing"? I didn't think so. 
Trackchasing for me is all about three things. First, I'm interested in seeing an auto race. Secondly, I want to take some time to see the local attractions of wherever I might be visiting. Finally, I want to create a logistical plan that allows me to accomplish the two points mentioned above without depleting my retirement account. That's trackchasing for me.
Am I truly serious about trackchasing? I think so. I've seen an auto race in 85 countries at more than 2,660 different tracks. Does that sound serious to you?
I've been able to see the world doing this. If you're interested in exactly what I've been able to experience all around the U.S. and the world I recommend you click on this link.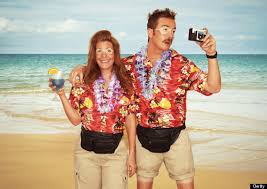 Trackchasing Tourist Attractions
Trackchasing can be an expensive hobby. One of my fellow competitors was said, "When Randy stops trackchasing we know he will have run out of money". Folks, I have been retired for nearly 20 years and have not earned a single dime working. I'm still trackchasing!
After each and every event that I attend I post a YouTube video, a SmugMug photo album and a very detailed Trackchaser Report about the experience on my website at www.randylewis.org. I guess people find what I share interesting. My website gets more than 20,000 views every month.
Because I have seen racing in 85 countries at this point I am considered the World's #1 Trackchaser. That's good enough for me. Now I encourage you to drop down a few spaces and read about today's trackchasing adventure. As you discover what went on at this track just think about the idea that I've done this more than 2,600 times. I don't mind admitting I am addicted to the hobby of trackchasing.
If you're interested in looking back and seeing where I've been the following link is for you.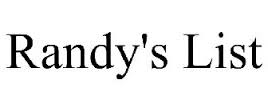 If you've got a question, comment or whatever please leave it at the bottom of this report.  It's very easy to do.  Or you can visit me on Facebook.  Thanks!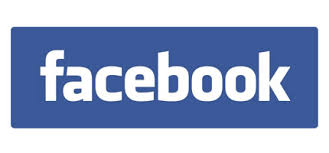 FOREWORD
Friday, September 4, 2020.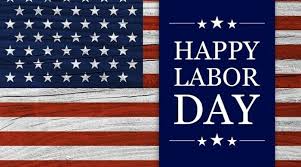 This is Labor Day weekend in the United States. Carol and I have a six-day, five-night trackchasing extravaganza trip planned. As the World's #1 trackchasing couple, we need to stay on our toes and keep adding tracks whenever we can. The next leading trackchasing couple is more than 300 tracks behind our totals.
This trip is going to be big in many ways. First of all, we expect to drive just about 2,000 miles during the five days we have our rental car. Secondly, we're going to meet up separately with three different sets of relatives in Iowa, Illinois and Wisconsin. We hope, weather permitting, that we will add four new racetrack visits each to our lifetime totals. Finally, when we can we will stop at as many Trackchasing Tourist Attractions as we can. Yes, this is going to be a very full trackchasing weekend. As we go along we will play things by ear with the objective of doing as much as the above as possible.
I'm always telling you there is a tremendous amount of logistics that go into successfully completing one of these trips. Today we left the house at 10:15 a.m. for the 65-mile drive up to the Los Angeles International Airport. Traffic was light. Pandemic light. We arrived in plenty of time to get lunch from Subway which we would eat inside the airport.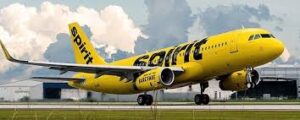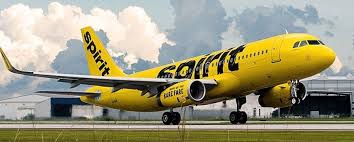 Then as we always do I dropped Carol inside the airline terminal. She needed to walk only a few steps to a kiosk to get our airline boarding cards. We were flying on Spirit Airlines today. While she had that responsibility I parked our car in our LAX World Parking garage. They've been sponsors of mine for more than a decade. Next, I made the one-mile walk to meet up with Carol.
Now that we had our boarding cards (not passes – more on that later) we used our TSA pre-check capabilities to pass relatively long lines of airline passengers who were in the "normal" lands airport security lines. With everything running like clockwork we had plenty of time to find a remote space in the airport to enjoy our Subway lunch.
Spirit airlines is a discount airline. It is no-frills. We were flying standby. We fly standby quite a bit. I knew the flight had open seats and that we would make this flight to Chicago. We did. Carol and I were lucky that the two of us got an entire row to ourselves. The flight time from Los Angeles to Chicago was going to be just a bit more than four hours.

I am lucky in one important regard. Carol is a good traveling companion. She is not a whiner. She can go with the flow. It wouldn't be much fun if I were bringing along a person who needed to be pampered and spoiled at every turn in the trip. She can carry her weight and more.
I come well-fortified electronically on these flights. Today I had my Apple AirPods, my Apple iPhone, my Apple iPad and my Apple MacBook Pro. All of this was supplemented by a brand new wireless Bose noise-canceling headset. If I can't get it done will all of those electronic items it probably doesn't need to be done.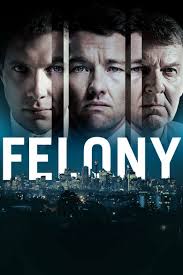 During the plane ride, we would be watching a movie together on my iPad. Today's choice was called "Felony". Spirit Airlines does not offer any in-flight movie options of any kind. Felony was an interesting police drama although it seemed to drag at times. I did learn that my wireless AirPods and my wireless Bose headset will not work together at the same time as my iPad. That being the case we had to use a hardware connection with a splitter (of course, I carry a splitter) into my iPad for both of us to listen to our movie.
When we landed I was a little bit surprised at how crowded Chicago's O'Hare airport was. Air traffic, nationally, is only at 30-35% of the pre-pandemic levels. The crowded conditions were especially noticeable in the Spirit Airlines wing (terminal L) of the airport. Spirit's passenger demographic is unique, to say the least. I think I only saw one passenger other than us that might've been older than 30 years of age. Spirit caters to the low-price flyer.
On today's flight, there were three small Hispanic kids probably aged 4-6 or so seated in the row in front of us. Their somewhat strict mother was in the aisle seat across from them. I wouldn't call her a nurturing mother. Her main approach was negativity.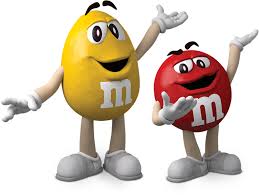 I could see one of the little kids in the middle seat in front of us turning around and staring at me. I was eating a snack. This family had not ordered any food or drink from the flight attendant. I sensed that these folks might be short on funds. I signaled over the flight attendant and ordered about $20 worth of M&Ms and Pringles. There was a serving of each of the three children in the row ahead of us.
These offerings were going to be my gifts to the three kids. However, mama bear wasn't exactly 100% receptive to my plan. She did allow me to give the kids just one bag of M&Ms that they had to split. They enjoyed it immensely.
Later on in the flight when mama bear was sleeping I tried to slip another package of M&Ms to my buddy in the middle seat in front. I signaled to him that he should keep this on the QT. I'm not sure he got the message. As soon as I gave him the package of M&Ms he ratted me out. Yep. He told his mom! From what I could see she didn't let them eat that second offering. I was also a little surprised when we deplaned. The mother didn't acknowledge us or say anything regarding my attempt at generosity. Yes, I know kids shouldn't take candy from strangers. I get it. But this was a different environment wasn't it? I wrote off the interaction to a general lack of social skills on the mother's part but I might've been wrong.
I'll take a moment to point something out that I seem to be seeing more and more. Maybe it's my imagination…but I don't think so. From time to time I notice a void when young people and older people interact in public. Sometimes the younger people don't give full respect to people who are old enough to be their grandparents. Sometimes the older people might not respect the appearance or manners of the younger folks. I do know this. The kids who can interact with adults, even older adults probably will do better in life.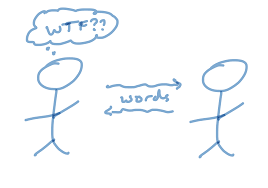 One other thing that is related to these observations. I see a distinct lack of friendliness and politeness between younger people of color and lots of other white people. I get the impression that these two groups might not like each other or at a minimum might not have much experience interacting with one another. Don't get me wrong. This is not happening with everyone. It just seems noticeable far more times than it seems like it should. The country has a huge problem in this area. I'm a little unhappy to see the problem popping up in the public arena.
Nevertheless, our travel day was moving forward. We hopped on a rental car bus for what seemed like a very long almost 15-minute ride to Chicago O'Hare Rental Car Center. The center is a beauty. It's just a little time consuming to get there. I've been told that a train is supposed to connect the rental car center and the airline terminals but that project seems to have been stalled.
The next portion of our trip logistics was going to be extremely important. We will be driving approximately 2,000 miles on this six-day (five rental car days) trip. We really get needed to get a good rental car.
I have "executive elite" status with National Car Rental. This allows me to walk out into the rental car garage and pretty much select any car that's available. Right now my favorite rental car is the Toyota Camry. It rides smoothly, is quiet and gets more than 40 miles per gallon. Sometimes a Camry is hard to find but today we walked out into the garage the first car I saw was a Toyota Camry.
I also brought along my Illinois tollway transponder. This will allow me to use all of the toll roads in the Midwest where we will be driving. The tolls will be charged to my credit card electronically. That's a huge advantage in terms of convenience. Also, people who use the toll transponder pay 50% less than motorists who don't have a transponder and pay in cash.
Recently on a trip to Pittsburgh, I left my toll transponder in the car. When I inquired about it a day or two later they told me they couldn't find it. That was not a major problem. I simply called the Illinois Tollway people. They shipped me out a brand new transponder fully loaded with funds from my credit card for only 10 bucks. That was a steal. The last time I left my sunglasses in a National rental car they charged me $30 to mail it back to me.

Tonight we're staying up in the Milwaukee, Wisconsin area. I had secured a nearly brand new luxurious Four Points by Sheraton hotel there. I can't really tell you the rate I got. I used Priceline. I can't tell you the rate because someone might sue Priceline for unfair price cutting. Just now I don't think I've ever paid less money for a Sheraton Hotel.
I've probably made 40 or more trips every year for the last 20 years, maybe the last 30 years. That's somewhere in the range of 1,000 trips. We've got the "drill" down pretty well. What does that mean? Our trip is efficient. We don't have to stand in lines. We get quality products at super low prices. All of this just makes the traveling experience a real piece of cake. That's a good thing.
FRIDAY
This morning we woke up in Brown Deer, Wisconsin. Brown Deer is a suburb of Milwaukee. We had stayed the night at the Four Points by Sheraton hotel.
I estimate that I have stayed in hotel rooms for more than 5,000 nights in my life. I think with that professional experience I can get upscale properties at low prices with lots of amenities. As noted I used Priceline.com to get a reservation at the Sheraton hotel.
You probably know that Sheraton hotels are for the most above-average luxury properties. Upscale typically means expensive. How expensive was our hotel for this past evening? With Priceline, I paid only $51 plus tax. The local Motel 6 was charging more than that!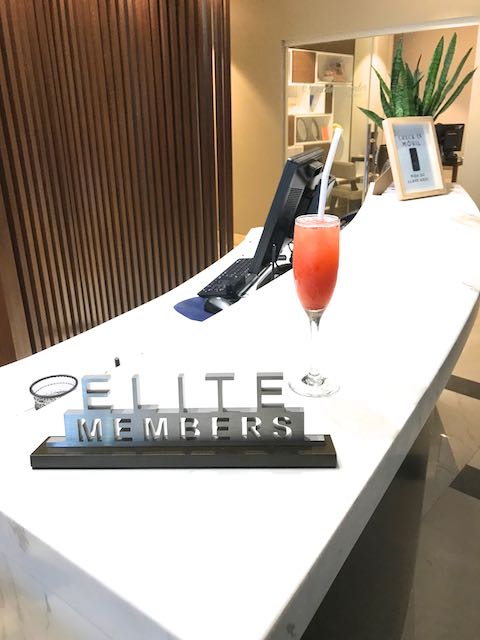 When we checked in last night at 1 a.m. I casually mentioned that I hold "titanium elite" status in the Marriott frequent-stay program. That carries a lot of weight. Soon we were upgraded to a two-room hotel suite. Then the front desk person added two complimentary breakfast coupons with a $15 value each. Can you imagine that? We were upgraded to a suite. We were given $30 in free food AND I only paid 51 bucks to begin with. Yep. My deal is simple. I don't want to buy cheap stuff cheap. I want to buy good stuff cheap.
When I'm traveling on trips like this I put a special emphasis on taking the time and effort to see whatever local attractions sound interesting. With that in mind today Carol and I will be visiting the Wisconsin Auto Museum in nearby Hartford.
I've been able to see quite a few auto museums over the past several years. Each time I see one I normally begin thinking the museum I'm seeing today is one of the best I've ever seen. That's how I felt about the Wisconsin Auto museum.
Carol and I showed up in the late morning and received a one-dollar discount because of our age experience. Some people call that the senior discount. We paid only nine dollars each. We were in the museum for a couple of hours so this was an outstanding value.
What was somewhat astonishing to me was that during our two-hour visit we were the only guests in the museum. I guess you could say we had our own private tour! I know that COVID-19 is scaring a number of people to stay home no matter what. It's kind of a tough decision. Do you go outside and experience life or stay home until there's a vaccine. For everyone's sake, I hope we get a vaccine or cure as soon as possible. I've got friends who feel both ways on the subject.
When I visit an auto museum I take photographs of not only every vehicle in the exhibit but also the placard which explains what type of car and maybe what kind of background each car has. I then take all these photographs and put them in a single electronic photo album. You'll be able to see a lot of these museums and sometimes Halls of Fame at this particular link on my website at www.randylewis.org. 
Wisconsin Automotive Museum…a special vintage auto museum
On this trip, we expect to drive about 2,000 miles all over the Midwest. Following the visit to the museum, we headed straight north up to Crandon, Wisconsin. They were having their big Labor Day championship off-road racing event.
Crandon holds races on two separate configurations. For lack of a better description, I'll simply call these layouts the big track and the small track. Back in June 2005 Carol and I made our way up to Crandon to see racing on their larger track. At the time Crandon was my 880th-lifetime track and Carol's 192nd.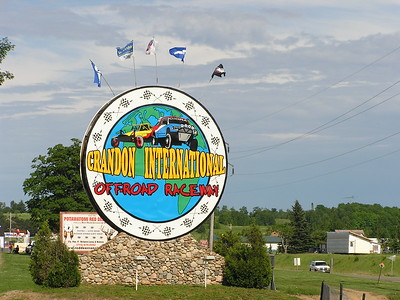 Crandon International Off-Road Raceway….the long track from 2005
This week a special class called Sportsman UTVs were going to race on the smaller track at Crandon. Their feature event was being conducted on Friday, which was today. There were a couple of other classes racing on the smaller track today as well but the drivers were "age-limited" meaning they don't count in the hobby of trackchasing. Why is that? Don't ask me. Ask trackchasing's founding fathers. They must have a stock answer to that question by now.
It is true that we were going all the way up to northern Wisconsin to the Crandon International Raceway for the express purpose of seeing only one specific race. However, when I come back to a track location for a second time to pick up one of these unusual configurations (the smaller track) there is a benefit. I also get to see racing on the configuration that drew me to the track often times many years ago (the bigger track). That's what happened today.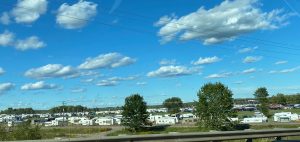 The Labor Day racing in Crandon is a HUGE event. When we pulled onto the property we could see literally hundreds if not thousands of campers. Today was Friday. I suspect that most of these people pulled in a day or two earlier or maybe even more. They would likely stay until next Tuesday. That's nearly a week of camping, partying and watching racing with your friends. I would just like to have the recycling funds that could come from collecting the beer cans! There are very few events across the country that get this level of support from campers but Crandon certainly does.
You won't find me complaining about the cost of what I do virtually ever. Nevertheless, I do want to get good value for money. I was a little concerned when I read that individual ticket prices for a single day of racing at Crandon were going to be $30 per person. Remember, we only needed to see one single race to make this a success from a trackchasing point of view.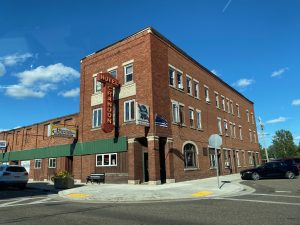 When we drove past the track to take a quick look at downtown Crandon   (above) I noticed there were some parking lots across the highway from the racetrack. Their signs indicated they were charging $20 to park. That meant that race tickets and parking would be about 80 bucks for a race that was going to last maybe 20 minutes.
It was about this time that divine intervention raised its beautiful head. I saw an entrance to the track that read, "spectators". I pulled in. Before long I found myself in a huge campground. We had not encountered anyone limiting our forward progress or asking for identification or charging us any money for that matter.
I found a place to park the National Car Rental Racing Toyota Camry in the campground. Then I asked one of the fans waiting at the porta-potties what direction the track was and how long of a walk it might be. The gentleman gave us some directions and an estimate that it might take 15 minutes to walk there. Off we went on a 15-minute walk over hill and dale and through the campsites of hundreds of campers.
Somehow, and I don't really know how we did this, we walked directly into the track where the spectators were watching the racing on the more than one-mile dirt road course. I did notice that most people seemed to be wearing white wristbands. Honestly, I wasn't so curious as to ask them where they got those wristbands or what they meant. I didn't see anyone selling these wristbands or selling tickets to the event anywhere. Luckily with the cooler temperatures of Northern Wisconsin, we had long sleeves on which blocked fact that we either had a wristband on or did not.
We wouldn't do anything to consciously sidestep the ticket buying process. We don't roll that way. It's good to be clever but not to be dishonest. However, like I say we walked from the campground directly into the spectator area of the track. We didn't see any ticket booths or anything like that.
We had been driving for a while today and needed to sample the food and drink at the Crandon International Raceway. That's when we learned that their concession stands only accepted tickets, not cash for food and drink, which were purchased at secondary location. I've seen a few tracks do this but not many. Selling "food tickets" is mainly a security feature so that fewer and fewer employees need to handle the money. They say that retail stores lose more from their own employees stealing from them than from customers stealing from the store!
We looked around to see where we might be able to buy some food and drink tickets. That was when I saw something that I've never ever seen before in 2,646 new track visits. What could that possibly be?
The track had automatic food and drink ticket machines! Well, that's one more American job displaced by technology. Customers simply inserted a five-dollar bill or a $20 bill or whatever and the proper amount of tickets spit themselves out. Tickets were one-dollar each. We took a 20 spot knowing that we could spend as much of it as possible and then adjust if we had a few tickets left over.
Don't miss the photos of the automatic ticket machines. They offered up a couple of locations for these machines. Today canned beer went for a reasonable three dollars and we got brats for three bucks apiece as well.
Racing started today at about 2 p.m. We arrived at 5 p.m. The race for the sportsman side-by-sides was going to go off at 6:30 p.m. We were in plenty of time to see that race. It was a little confusing given the fact that we sort of jumped into the entire event in the middle of the program. This is why I almost always arrive early.
I had a lot of help from a person named Tim Christensen. He and his son, Tim Jr. are part of the Christensen racing team. They competed in the sportsman side-by-side division. Thanks, Tim for all of your information. That really helped out.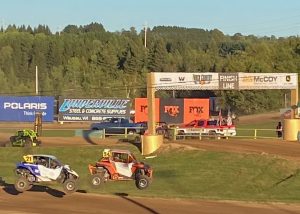 I think the sportsman side by side race was the best of the day. They started an incredible 32 entries and raced on the smaller track as advertised. I'll ask that you take a look at my YouTube video and my SmugMug photo album so you can see what today's racing actually did look like.
Tim Christensen's son, Tim Jr. ended up finishing second out of 32 starters. That was impressive. He really did a good job of tailing the leader all the way to the checkered flag and nearly passing him.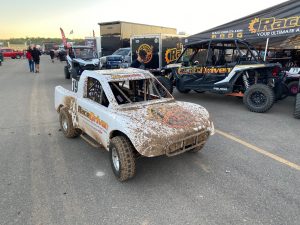 When the races for the day were finished we went into the paddock area looking for UTV racer number 88 from the Christensen racing team. We walked up one aisle and down another and didn't see the team. We were pretty much giving up on the idea of introducing ourselves until we came across the very last building which was the tech building. That's where we found the Christensen race team making some repairs.
We were able to meet up with father Tim and son Tim and crew. They had just passed tech inspection and were working on the car. We learned these guys race with both the Championship Off-Road Racing series (competing today) and the SXS Sports series up in this part of the world. They have or will be racing out a few tracks that I haven't been to. Maybe I'll catch them again.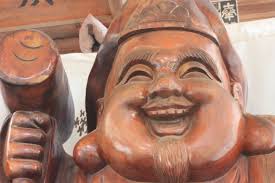 From there Carol and I trudged back to the campground where our car was parked. Soon we were leaving the grounds of the Crandon International Raceway having not had to pay a single penny for track admission or parking. This was truly fitting for a couple that travels the world living on a small fixed income….or something like that. Sometimes the trackchasing gods smile down from above. When they do we just smile back.
I told you that in the space of six days, with only five rental car days, we were going to be driving right at 2,000 miles. Tonight we got out of the track at about 8 p.m. We needed to make a five-hour drive all the way down to Rochester, Minnesota. We will be trackchasing in western Iowa tomorrow night. Getting to Rochester tonight was critical for a successful trackchasing day tomorrow.
Thanks for reading along. Good evening from Crandon, Wisconsin.
Randy Lewis – 85 countries – 2,617 tracks.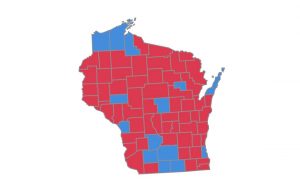 Wisconsin
The Badger State
This evening I saw racing at my 102nd-lifetime track in the Badger State, yes, the Badger State.  I hold the #4 trackchasing ranking in Wisconsin. Wisconsin ranks #8, amongst all the states, in tracks seen for me in the U.S.
Here's a link to my all-time Wisconsin state trackchasing list. I have made 59 separate trips to Wisconsin seeing these tracks.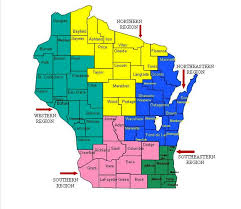 Thanks for reading about my trackchasing,
Randy Lewis
World's #1 Trackchaser
Peoria Old Timers Racing Club (P.O.R.C.) Hall of Fame Member
Wisconsin sayings: "How's by you"
If you get asked this in Wisconsin, you are in. You best be ready to grab a Spotted Cow, sit down, and stay awhile. And if you are feeling it, go ahead and respond, "Fair to middlin."
 JUST THE FACTS
LIFETIME TRACKCHASER COMPARISONS 
The three most important trackchasing comparisons to me are:
Total lifetime tracks seen
Total "trackchasing countries" seen
Lifetime National Geographic Diversity results
Total Lifetime Tracks
There are no trackchasers currently within 770 tracks of my lifetime total.  Don't blame me.
Randy Lewis, San Clemente, California – 2,646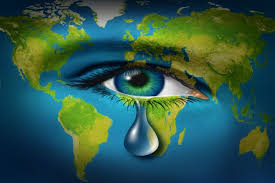 Total Trackchasing Countries
My nearest trackchasing competitor, a native of Belgium, has seen racing in more than 30 fewer countries compared to my lifetime total. 
Randy Lewis, San Clemente, California – 85
Current lifetime National Geographic Diversity results
Randy Lewis, San Clemente, California – 3.96
That's all folks!  Official end of the RLR – Randy Lewis Racing Trackchaser Report
Click on the link below to see the video production from the racing action today.
Click on the link below for a photo album from today's trackchasing day.  You can view the album slide by slide or click on the "slide show" icon for a self-guided tour of today's trackchasing adventure.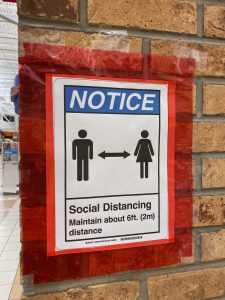 From San Clemente to Crandon and beyond 
Our return to the famous Crandon International Off Road Raceway
Wisconsin Automotive Museum – Hartford, Wisconsin
A very special vintage auto museum featuring the Kissel automobile