DAYS 1-2 – "A FARAWAY TRIP IN MY HOME STATE" TRACKCHASING TOUR
Reprinted with permission from my May 16 & 17, 2009 Trackchaser Report.  I wrote one report for both tracks seen during this weekend.
GREETINGS FROM YREKA, CALIFORNIA AND THEN LAKEPORT, CALIFORNIA
TODAY'S HEADLINES  
So far in 2009, I have traveled an average of 7,900 miles each and every week. This weekend would be different .

Flying standby is not for the weak-hearted.
What is the "bigger fool" theory in short-track auto racing?
THINGS YOU MIGHT HAVE NOTICED HAD YOU BEEN PAYING MORE ATTENTION IN SCHOOL 
I will maintain my policy of affording anonymity to readers who send in interesting bits of information or who provide cutting edge analysis.
FROM THE BEST READERS IN RACING 

From a website reader from Italy regarding my visit to that country last week.  
Complimenti!! Io mi chiamo Marco, ho 20 anni e mi occupo dei video presenti su youtube e della galleria fotografica del sito di Stock Car Cross. E' stato un piacere averti come ospite ad una nostra manifestazione. Arrivederci a presto!!
Loosely translated, this is what my Italian reader said,
Congratulations! My name is Mark, I am 20 years old and I work on youtube video and photo gallery site Stock Car Cross. It's been a pleasure to have you as our guest at the event. See you soon!
Although I would be trackchasing within the state of California I still needed to catch an airplane to make this trip happen.  This is what transpired on days 1 & 2 of my 13th trackchasing flying trip of the 2009 season.
THE OBJECTIVE, THE TRIP AND THE PEOPLE…AND A WHOLE LOT MORE

The Objective   
I can't fly across the world every weekend in search of trackchasing immortality.
In 2009, up to this point in my trackchasing season, eighteen full weeks of the year have passed. During this period I have traveled more than 133,000 miles in the pursuit of my hobby. This means I have traveled an AVERAGE of 7,400 miles each and every week of 2009.
I can't continue this for the remaining 34 weeks of the year. Well, I could……but I wouldn't want too. It was with this thought in mind that I decided to "stay home" and trackchase in my home state of California.
The Trip
This weekend's tracks were "just up the freeway".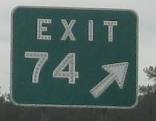 We live in San Clemente, California. We're just a few blocks off of Interstate 5 at exit #74. This means we are 74 miles north of the U.S./Mexican border at Tijuana, Mexico. This evening's racetrack, the Siskiyou Motor Speedway in Yreka, California was also located just a few blocks off Interstate 5.
However, the speedway was at exit #773. That meant the track in Yreka was 699 miles north of my home in California. Can you imagine driving 699 miles and STILL being in the state where your trip began? I find this mind-boggling.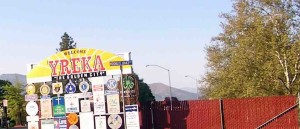 Yes, Yreka is in Northern California. It's about 21 miles south of the California/Oregon border. This means the distance from the California/Mexico border is nearly 800 miles from the California/Oregon border. Even when I try to cut back on my travel by staying in my home state, I can't catch a break.
I certainly wasn't going to put 1,500 miles round-trip on the Carol Lewis owned and Life of Virginia sponsored Lexus LS 430 visiting a couple of dirt tracks. That would be pretty stupid.
Even though I wouldn't be leaving California I still had to fly most of the way. It was the only way to handle the distances involved and keep the trip down to a one overnight adventure. Although I was still recovering from my weeklong plus bout with the flu, I was up at 3:45 a.m. on Saturday morning just three days after returning from Europe.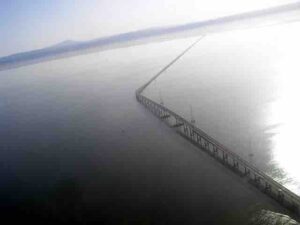 A quick one-hour drive had me at the San Diego airport. Now I was only about 15 miles from the Mexican border. From there I hopped a flight to San Francisco. The landing route into the San Francisco International Airport takes the airplanes over the water.  Passengers can get some fantastic views of the bay and the city.  Most people think of San Francisco as being in Northern California. Let me give you an idea where Yreka, California was in relation to San Francisco. Yreka is 328 miles north of San Francisco. THAT'S northern California!
California is a very diverse state geographically. When one gets north of San Francisco, the state gets very rural. It's not like central California, which is also rural but dominated by farmland. This far north in California, you will find snow-capped mountains, ranchland and vineyards along with California's famous Eucalyptus trees. It's very different and beautiful scenery.
After the races…….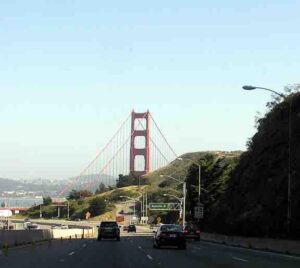 The drive back into San Francisco was beautiful.  On a clear day San Francisco and NorCal in general is a most beautiful area.  I drove across the Golden Gate bridge getting back to the SFO airport.  Flying standby up and down California's coast (Los Angeles to/from San Francisco) can be treacherous on a Sunday night. Sunday night is the most popular travel time of the week in this corridor. Younger folks are returning from their party weekends in the end of the state where they don't live.
I needed to get from San Francisco to San Diego. My car was in San Diego. However, the first of three flights to San Diego was sold out and I was 37th on the standby list. I wouldn't get on that flight and I likely wouldn't get on the remaining two flights. Standby passengers who don't make one flight are "rolled over" to the next flight along with the standby passengers already booked on the later flight. This meant I would be 37th or worse for the second and then the third flights to San Diego.

I had to make some executive decisions. I didn't reach this level of trackchasing without being able to think on my feet. I had other Southern California flight options. I could fly to Los Angeles, Burbank, Orange County or Ontario. Then I would have to figure out a way to get from one of those places to San Diego so I could get my car.
To make a long story short I snagged one of the last seats on a flight to Los Angeles (LAX). I figured I would simply call the National Rental Car Company (one of my associate sponsors), get a one-way rental to San Diego and drive the last 100 miles down to San Diego. However, National did not and could not get me a car for this routing. I did my best to change their mind but was unsuccessful.
I had a flight to LAX. LAX was some 100 miles or so north of San Diego where I needed to get my car. I had one more option. I could catch a flight from Los Angeles to San Diego. The flight didn't leave til 10:30 p.m. on Sunday evening. This flight was sold out and had six people standing by to get on the flight. If I waited for this flight and didn't get on it would be nearly 11 p.m. and I would have no good way to travel 100 miles from LAX to San Diego. Remember, this was supposed to be a relaxing weekend where I would not be traveling an average of more than 7,000 miles. So much for that idea.
To add insult to injury I was the last person on the plane from San Francisco to Los Angeles. The gate agent made me check my bag to LAX since there was no longer any overhead baggage space on the plane. What did this mean?
It meant that once I landed in Los Angeles at 9:30 p.m., I would have to leave security, claim my bag and then clear security one more time. I would have 60 minutes to make all of this happen. My flight to San Diego left at 10:30 p.m. I would have to do all of this legwork without any firm idea whether I would be able to get on the plane to San Diego or not.
I arrived at the San Diego gate just 12 minutes before that plane would take off. It turned out that a large number of people who were originally booked on that flight had changed their plans during the day. When I got there, there were about 15 open seats on the 66-passenger plane. That meant I would be flying to San Diego. Thank goodness.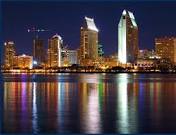 We landed at nearly midnight. I grabbed my car and was pulling into my driveway at just past 1 a.m. Yes, trackchasing from California is the most difficult place that any trackchaser could pursue the hobby from. However, California is such a beautiful place to live, it's worth it!!
The People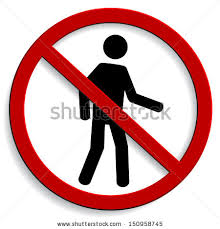 There wasn't much people interaction on this trip.
I very much enjoy my encounters with others along the varied road of trackchasing. However, there are times when I simply like to keep a low-key and avoid people. I was still recovering from my illness. I had not made any advance contacts with anyone at this weekend's tracks. That meant I could simply do my driving and sit in the stands like everyone else. During this weekend I liked that.
RACE REVIEW
SISKIYOU MOTOR SPEEDWAY, YREKA, CALIFORNIA 
I've been waiting forever to get this track.
I've been waiting a good ten years to see the Siskiyou Motor Speedway. The gigantic travel distances, most of which would need to be driven, as well as the track's irregular schedule had stopped me up to now. The track had actually gone out of business a time or two during this time. However, most tracks that go out of business for operational reasons return to try again. It's called the "bigger fool" theory. There is always someone who thinks they can do it better than the last guy did.
The Siskiyou Motor Speedway is a California county fair dirt oval track. California probably has a higher percentage to county fair tracks relative to all tracks than any other state. This is a rural track and community.  The facility did have a large covered grandstand.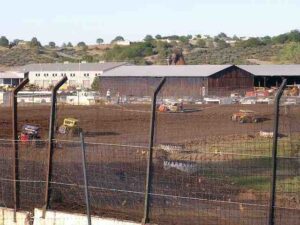 The racing was basic. There were four classes racing tonight. This included dwarfs, super stocks, mini-stocks and some form of hobby stocks. Each class averaged about 8-10 cars. They started a few minutes late, which, by short track racing standards, IS starting on time.
The program ran heat races with 4-5 cars in each and a four-car trophy dash for each class. These races went off well with very few yellow flags delays. However the features were different. They were marred with constant yellow flags.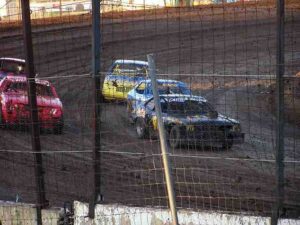 The feature races were also long. Do you think a 6-7 car field in a support class should run a 25-lap feature? No, I didn't think you would. When the cars were racing under the green flag the racing wasn't bad despite small fields and some pretty rundown racecars.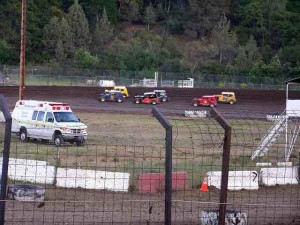 I stayed until the last feature for 12 dwarf (aka Legends) cars. They were going to run a 50-lap race with a break after the first 25 laps. I watched the first 25 laps and called it a night.
The Siskiyou Motor Speedway is the last track in California for me to see that runs on a regularly scheduled basis. I'm glad to finally get it "out of way". As you might imagine the Siskiyou Motor Speedway was my "signature" track in California. That honor now goes to the Antelope County Fairgrounds.   They race only one time per year, so it could be a long-time before I see that signature track.
I have only four tracks in my "still to be seen" California trackchasing database. I couldn't guarantee that three of those four are still running countable trackchasing events. Nevertheless, I'll keep an eye on them and visit when I can.
DELBERT'S MEMORIAL RACEWAY, LAKEPORT, CALIFORNIA
Much of the racing I see if just not very entertaining.
The Delbert's Memorial Raceway is unbeknownst to most trackchasers. It does not appear at www.autoracingrecords.com, the bible for trackchasers worldwide. However, at soon as this Trackchaser Report hits the airwaves that will change. From that point forward "Delbert's" will be a full-fledged track member at www.autoracingrecords.com.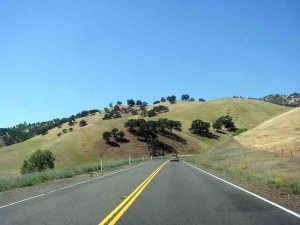 I'm all for sharing track information with my fellow competitors. That's why I write a Trackchaser Report that has the widest readership amongst trackchasers of anything written by any other track chaser.  Some "undiscovered" tracks are out in the boonies.
However, I believe in sharing my track information after I have had a chance to check out the facility. "But, Randy when you discover a new track why don't you just tell your fellow competitors immediately about what you have found?"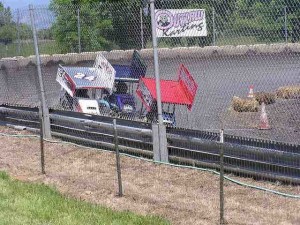 That's a good question. That are several reasons for my track sharing policy. Often a new track is unknown because it has no history of ever holding a trackchasing countable event. Today's location was out in the boonies relative to where most people would be coming from. I felt a personal responsibility to check out the track myself first. This way I couldn't be held responsible for having someone travel a long distance, try to see a new track and then come away disappointed that it didn't meet their expectations and might not even be countable.
You certainly wouldn't want to recommend a restaurant to a friend without actually having tied it yourself…..would you? Once I check out a track and "certify" it, I can then share directions, tips and all manner of things that will keep any future trackchasers up to speed. I will even provide tens of photographs so every trackchaser who has an interest can learn even more about the track. I think this policy is very fair-minded.

Regrettably we have a few trackchasers who never share anything about their trackchasing experiences with the trackchasing community. They don't share before they go and they don't share after they go. Shame on them. If they TAKE from the system, they should GIVE BACK to the system. Carol says that people who don't share what they have will be paid back. She's probably right.
In a matter of days, the Delbert's listing will appear on www.autoracingrecords.com. A complete album of photos is available elsewhere in this post. I will stand ready to answer anyone's questions about the track. I don't know how I can share any more than that without sending someone a plane ticket and expense money so they can make the trip. I hope it never comes to that.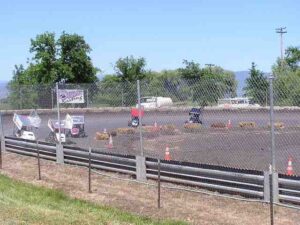 Delbert's Motor Raceway runs about twice a month on Sunday afternoons. They race only winged outlaw karts/midgets. Today they had four classes. I believe only the 500cc outlaw midget class (mini-sprint?) was trackchaser eligible. All of the cars racing today were trackchaser eligible but it looked like every class but the 500cc group was limited to youngsters.
I believe that the Delbert's track replaced the kart track that raced on an inner oval at the Lakeport Speedway. They've been running here for about five years. Overall, the track is well constructed and very professional.
The cars were turning laps in under nine seconds. I estimate the track distance was about 1/6-mile. The dirt oval, which was banked, seemed to have some oil added to the surface.   This kept the dust down.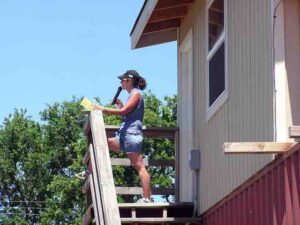 There was a track announcer but she didn't say much. I didn't try any of their food but the menu looked extensive and even included a broad selection of smoothies.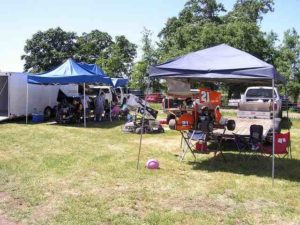 I paid ten dollars to get in and this included my admission to the pit area. I'm not sure if any other admission option was available. The track does not have lights and it gets very warm here in the summer. Overall, this made a very nice weekend double with the remotely located Siskiyou Motor Speedway.
STATE COMPARISONS
California
This weekend's California trackchasing increased my state total to 107 tracks in the Golden state. In most places a track total of that amount would easily qualify for a first place ranking. However, in California the late, great Gary Jacob leads with 149 tracks. It is extremely unlikely that I will ever match that total. I'm not sure I would ever want too.
RENTAL CAR UPDATE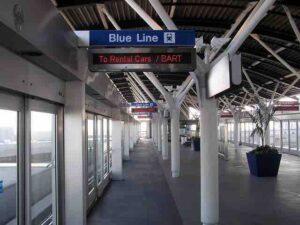 San Francisco, CA – Saturday/Sunday  
I passed on a Chevy Malibu to avoid the hip-busting "notch" their crack designers have put into the driver's side doorframe. I selected a Saturn and it had the same thing!
Coming soon! 
How do fellow P&G retirees really think?
Why I fear Ed Esser.
Thanks for reading about my trackchasing,
Randy Lewis
Alberta's #1 Trackchaser
I am we Todd it.
TRAVEL DETAILS
AIRPLANE
San Diego, CA – San Francisco, CA – 447 miles
RENTAL CAR
San Francisco International Airport – trip begins
Yreka, CA – 328 miles
Lakeport, CA – 595 miles
San Francisco International Airport – 733 miles – trip ends
AIRPLANE
San Francisco, CA – Los Angeles, CA – 337 miles
Los Angeles, CA – San Diego, CA – 109 miles
Total Air miles – 893 (3 flights)
Total auto and air miles traveled on this trip – 1,626 miles
TRACK ADMSSION PRICES:
Siskiyou Motor Speedway – $6
Delbert's Memorial Speedway – $10 (pit pass)
Total racetrack admissions for the trip – $16
COMPARISONS
LIFETIME TRACKCHASER COMPARISONS UPDATE:
There are no trackchasers currently within 200 tracks of my lifetime total.
Randy Lewis, San Clemente, California – 1,430
Other notables
These worldwide trackchasers are within 10 tracks (plus or minus or more) of Carol's current trackchaser total.
Kevin Eckert, Indianapolis, Indiana – 460
Carol Lewis, San Clemente, California – 380
Ken Schrader, Concord, North Carolina – 374
2009 TRACKCHASER STANDINGS
Lifetime track totals in ( ).
Bing Metz, Tatamy, Pennsylvania – 48 (359)
Ed Esser, Madison, Wisconsin – 36 (1,199)
Randy Lewis, San Clemente, California – 30 (1,430)
LIFETIME NATIONAL GEOGRAPHIC DIVERSITY STANDINGS
Final 2008 National Geographic Diversity results have been posted.
UPCOMING TRACKCHASING PLANS
Memorial D
ay weekend is coming up. That is always a big racing weekend in America. I expect it will be a huge trackchasing weekend for me, and Trackchasing's First Mother.
RACETRACKS VISITED IN 2009
1,401. Death Valley Raceway (oval), Armargosa Valley, Nevada – January 3
1,402. Lake Weyauwega Ice Track (oval), Weyauwega, Wisconsin – January 11
1,403. Marion Pond Ice Track (oval), Marion, Wisconsin – January 11
1,404. Grandvalira Circuit (road course), Port d'Envalira, Andorra – January 17
1,405. Kuna International Raceway (oval), Kuna, Idaho – January 25
1,406. Circuito Efren Chemolli (oval), Buenos Aires, Argentina – January 31
Ozark Empire Fairgrounds (oval), Springfield, Missouri – February 6 (new track for Carol only)
Lake Speed Ice Track (oval), Tilleda, Wisconsin – February 7 (new track for Carol only)
1,407. DeltaPlex (oval), Grand Rapids, Michigan – February 8
1,408. Losail International Circuit (road course), Doha, Qatar – February 13
1,409. Lake Washington Ice Track (road course), Mankato, Minnesota – February 15
1,410. Bahrain International Circuit (road course), Sakhir, Bahrain – February 27
1,411. Dubai Autodrome (road course), Dubai, United Arab Emirates – February 28
1,412. Dunkin Donuts Center (oval), Providence, Rhode Island – March 6
1,413. Fur Rondy Grand Prix (road course), Anchorage, Alaska – March 8
1,414. Perris Auto Speedway (road course), Perris, California – March 14
1,415. Autodromo de Tocancipa (road course), Tocancipa, Colombia – March 22
1,416. Motorland Aragon (road course), Alcaniz, Spain – March 28
1,417. Circuto de Murca (road course), Murca, Portugal – March 29
1,418. High Plains Speedway (oval), Clovis, New Mexico – April 19
1,419. Flomaton Speedway (oval), Flomaton, Alabama – April 22
1,420. Kapelluhraum (road course), Hafnafjorour, Iceland – April 25, 2009
1,421. Monadnock Speedway (oval), Winchester, New Hampshire – April 25, 2009
1,422. Berlin Lions Club Fairgrounds (oval), Berlin, Connecticut – April 26, 2009
1,423. Tri-State Speedway (oval), Amarillo, Texas – May 1, 2009
1,424. Uranium Capital Speedway (oval), Milan, New Mexico – May 2, 2009
1,425. Speedworld Off-Road Circuit (road course), Surprise, Arizona – May 3, 2009
1,426. Hungaroring (road course), Mogyorod, Hungary – May 8, 2009
1,427. Hoch Ybrig (road course), Hock Ybrig, Switzerland – May 9, 2009
1,428. Vighizzolo d'Este Stock Car Track (road course), Vighizzolo d'Este, Italy – May 10, 2009
1,429. Siskiyou Motor Speedway (oval), Yreka, California – May 16, 2009
1,430. Delbert's Memorial Raceway (oval), Lakeport, California – May 17, 2009
Official end of RANLAY Racing Trackchaser Report