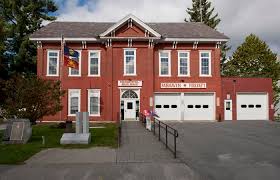 Greetings from Fair Haven, Vermont
.
.
From the travels and adventures of the 
"World's #1 Trackchaser"
.
.
Devil's Bowl Speedway
Outer dirt oval
Lifetime Track #1,078
.
.
Devil's Bowl Speedway
Outer asphalt oval
Lifetime Track #1,588
.
.
Devil's Bowl Speedway
Inner dirt oval
Lifetime Track #2,352
The Event2017 – Inner Dirt Oval2010 – Outer asphalt Oval2006 – Outer Dirt OvalVideo PlusPhotos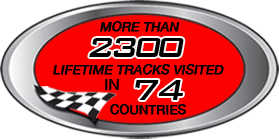 THE EVENT
I have had the opportunity to follow my trackchasing hobby all over the world. As this is written I have seen racing in 74 countries. My lifetime track total exceeds 2,300. Each and every year I will trackchase in 25-30 states.
At track #1,040 I moved into the "World's #1 Trackchasing" spot. Here's the funny thing about that. I was perfectly content to remain in about seventh place in the worldwide trackchasing standings. Then I had rotator cuff surgery, which knocked me out of golf for about six months. With no golf and time on my hands I turned up my trackchasing by a notch or two. I discovered I liked MORE trackchasing and LESS golf. It didn't take all that long to move up to the top of the world trackchasing standings at that point.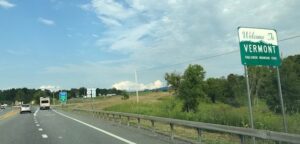 I've made three visits up to the Devil's Bowl Speedway in Vermont. For once I am appreciative of the trackchasing rules. Those rules encouraged me to come up this way to the Green Mountain state more often. That's a good thing….a very good thing.
My hobby is not only about racing. Trackchasing for me centers around three things. The racing part is pretty obvious. However of equal importance is the logistics of trackchasing and the opportunity to see the world.
I live in Southern California. The vast majority of tracks are located in the Midwest and East. It takes a good deal of logistical planning to get from where I live to where the tracks are. For the past 15 years I have traveled about 175 nights each and every year. Surprisingly to some, more than half of those overnights were not part of trackchasing.
Then there's the travel just for the fun of seeing new things. You won't want to miss my "Trackchasing Tourist Attractions" page or my "Sports Spectating Resume" page on my website at www.randylewis.org. That will give you some understanding on how important seeing the world is with my hobby.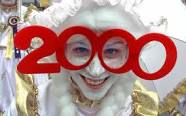 Today's adventure was one more of the 2,000 trips that have taken me up, down and around the long and dusty trackchasing trail. If you would like to see where I've been and experience those adventures here's the link:
If you've got a question, comment or whatever please leave it at the bottom of this report.  It's very easy to do.  Or you can visit me on Facebook.  Thanks!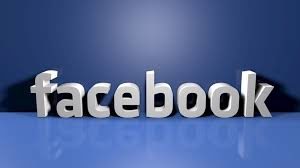 FOREWORD
Following a morning of UTV racing at the Old Bridge Township Raceway Park in Englishtown, New Jersey I will be returning to a facility I first visited several years ago. Yep. I was headed all the way from New Jersey up to the Devil's Bowl Speedway in Fair Haven, Vermont.
Back in 2006 Carol and I first came to Fair Haven to see racing on what would now be called the outer oval dirt track. That weeklong trip had us seeing races in New York, New Hampshire and Vermont. In the east the tracks are so close together you can practically see one from another. At the time the Devil's Bowl Speedway was my 1,078th lifetime track.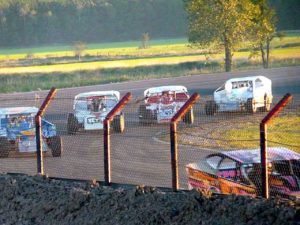 By 2010 they had changed the racing surface from dirt to asphalt on the outer oval in Fair Haven. As you probably know trackchasing rules allow a chaser to count a track a second time if the surface changes from hard to dirt or vice versa. I believe that is a strange way to look at things but then again I didn't make the rules I only play by them.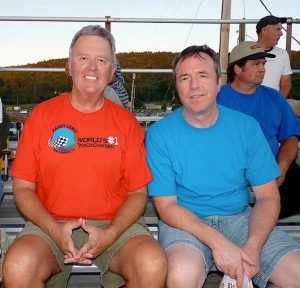 On that Sunday night in late August New Hampshirite Bruce Spencer joined me to watch the modifieds and others compete. I was seeing lifetime track #1,588. That seven-day trip had begun in Illinois and continued on to Maine, Quebec and New Hampshire before ending in and around the Green Mountains.
The trip was known for my visit to the Oxford Plains Speedway to see their winged kart division. I was happy to finally knock that one off. However, as soon as I reported that achievement to trackchasing commissioner Will White a ruckus occurred. Mr. White, from trackchasing world headquarters in Quakertown, Pennsylvania was disallowing the track! Yep. That's right. He was telling me I had only seen flat karts with cages race. According to trackchasing rules essentially "flat karts suck". By rule I was told the track would not be allowed to count. Oh my gosh. What could I do but remove the track from my list as quickly as it had been added.
Let's get on with much more positive things. Tonight I was spending an evening at the races with Bruce Spencer. Bruce is an avid race fan from New England. Over the years Bruce and I have met up several times. When and where you ask? Take a look.
July 23, 2017 – Devil's Bowl Speedway – Vermont
August 29, 2010 – Devil's Bowl Speedway – Vermont
July 10, 2009 – Seekonk Speedway – Massachusetts
February 15, 2008 – Mototown USA – Connecticut
February 25, 2007 – Lee Pond Ice Track – New Hampshire
February 24, 2007 – Northeast Pond Ice Track – New Hampshire
October 8, 2006 – Hudson Speedway – New Hampshire
October 8, 2006 – Londonderry Speedway – New Hampshire
July 15, 2006 – White Mountain Motorsports Park – New Hampshire
As you can note Bruce and I had not gotten together in seven years. About the only thing that has changed with Bruce since then is that he is now an active race driver! That's right. Bruce now pilots an enduro racecar primarily at the Star Speedway but at some other venues as well. If you frequent the New Hampshire racing scene be looking for the black #333 Honda Civic driven by Mr. Bruce Spencer out of Bristol, New Hampshire.
I always like to ask racing drivers how they came up with their car number. Bruce told me that in the enduro racing world there is always a car with number 666. They are the bad guys. Bruce reasoned that he was only half bad hence his car number.
The Devil's Bowl Speedway knows what they're doing. They must be at the head of the class at the winter race promoter's meeting. So what did they do right? Pretty much everything!
THE RACING
Devil's Bowl Speedway – Fair Haven, Vermont
Racing was scheduled to begin at 6 p.m. on a Sunday night. I arrived at 6:06 p.m. Bruce was waiting for me. As I approached the track from about a half a mile out I could see a bit of a dust cloud. Dust cloud? If you've been to the Devil's Bowl Speedway you've likely seen racing on their asphalt track.
They do have a 1/3-mile asphalt track. They race on that surface on Saturday nights for the most part. However, a couple of years ago they built an inner dirt oval, which is totally separate from the asphalt track. It's a quarter-mile in length and fairly flat.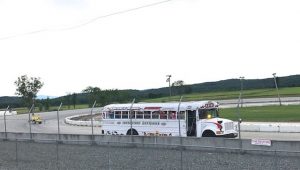 Tonight they were racing micro sprints, sportsman modifieds, midgets and street stocks. The midgets brought just six cars. The other divisions were in the range of 10-14 with sixteen for the modifieds.  The track even had a school bus in service taking fans around the track and through the pit area.  More track should do that!
The Devil's Bowl Speedway essentially does everything right that anyone would have a right to expect with short track racing. They started on time at 6 p.m. The entire show was finished by 8:30 p.m. They didn't even have to turn on the track lights.
They've got a great PA system and an above average track announcer. When each feature race was completed they brought the top three finishers to the starting line. They interviewed each driver briefly, which allowed the crowd to get to know the drivers and their personalities just a little bit better.
I didn't have anything at the concession stand. However, this was dollar hotdog night. The announcer told the crowd last nights sales in front of the asphalt racing group amounted to about seven or eight hundred hotdogs. He challenged the dirt track spectators, who had only ordered about 500 hotdogs tonight, to see if they could match their tar friends. I leaned over and told Bruce that with an announcement like that they must have a surplus of hotdogs on hand tonight!
The racing was very good. They had a good amount of passing. I particularly liked the modified sportsman feature.
Back in the 80s, especially when we lived in Connecticut, I started following the dirt modifieds. I got to know, from a fan's point of you, several of the drivers. One of those folks was Kenny Tremont Jr. Kenny's hometown is West Sand Lake, New York. Year ago I was staying at the same hotel Kenny and his race team were using. I had a chance to say hello and observe their racing team one Saturday morning.
It was probably about 1980 when I ran into Kenny Tremont at that hotel. Some time has passed since that meeting. Kenny would have been about twenty years old then. He's 57 now. Seeing him tonight was a little bit like going to a high school reunion after many many years and not recognizing the people you were sure you would be able to recognize!
When the races were finished Bruce and I took a quick tour of the pit area. By the time the mini stocks, the last group to race tonight, had completed their feature race most of the other competitors had already cleared the pit area. They were headed home on a Sunday night.
It was fun to see Kenny Tremont Jr. and his racing team loading up their modified. I knew back in the day that Kenny's race team included his father. I don't know for sure, but it looked like his father was still an active part of the team if the gentleman I saw it truly was Kenny's dad. They had a huge NASCAR Cup style trailer. I'm sure a cup team had that what it was brand new.
It was now time for Bruce and me to say our goodbyes. We couldn't recollect exactly when was the last time we had seen each other. I checked my record books and it looks like we were together at this very same Devil's Bowl Speedway to see racing on the asphalt all the way back in 2010. As noted above I first met Bruce during the 2006 season.
Now that Bruce is an active enduro stock car driver maybe I'll get a chance to watch him race sometime. That will be a treat. I wish him the best of luck in those endeavors.
AFTER THE RACES
I had really wanted to see the Super DIRTcar Series race up toward Montreal tomorrow night Monday and also on Tuesday night. However the wet weather forecast for the Drummondville, Quebec area for Monday was terrible. I couldn't chance spending another day or two on the road and get rained out. My fears were fully realized. The rain did come and the races for Monday were canceled.
I was leaving the Devils Bowl track at about 9 p.m. or so. The first 40-50 miles of the drive was on two-lane roads. That's not my favorite at that time of night but I really had no choice.
I stopped at one of the New York thruway service areas for a quick 20-minute nap. That nap seemed to go by in about two minutes. I was headed in the direction of the Newark Liberty International Airport in Newark, New Jersey.
There are some really good websites that identify where highway rest areas or service areas are on our nation's freeways. I checked and confirmed that the last service area on the southern portion of interstate 87 was at mile marker 33. That would put me just 40 miles or so north of the airport. That would be a "perfect" place to overnight.
I pulled into the service area at a little past 1 a.m. I set my iPhone alarm for 5:15 a.m. I was lucky to have a large plastic Wendy's Diet Coke cup. Those cups can come in handy (wink)…if you know what I mean.
MONDAY

My alarm came at 5:15 a.m. as expected. It was raining in the New York thruway service area where I had parked for a few hours overnight. It rained hard all the way down until I reached the Newark Liberty International Airport.
I will tell you that the roads needed to get to the airport, especially in a driving rain storm, are old, pothole filled and not well marked. I have never been a big fan of the infrastructure of the East Coast. It is old and crumbling. Yes, I will take a beautiful New England scene anytime. However the major cities are really in bad shape in so many ways.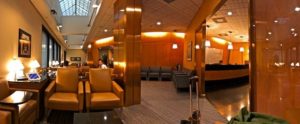 I was flying on a standby basis back from Newark to Los Angeles. There are a series of now routine for me steps such as gassing up my rental car, getting a boarding pass, clearing security etc. etc. I completed all of those tasks with enough time to stop by the Newark American Airlines Admirals Club to relax for a few moments.
I had four different airplanes that would get me back to Los Angeles and meet my budget constraints. The first one left at 8 a.m. and the last one left at 6 p.m. If I didn't make the 8 a.m. and missed the next couple I could be departing as late as 6 p.m. I might not even make that one. I'm happy to report that I made the 8 a.m. flight!
Last night I had trackchased in Vermont. I arrived back in the Los Angeles International Airport before lunch. You can't beat that can ya!
It had been an excellent trip. Yes, I do say that about EVERY trip. I was rained out at one of the six tracks I was trying to get. However, with the weather forecasts I was facing I thought I would be rained out at least twice if not more.
I had two rental cars and three rental car contracts. In the space of four rental car days I drove 2,424 miles. That's a bit more than 600 miles for each of the four days.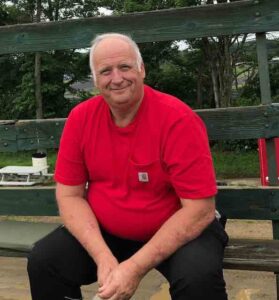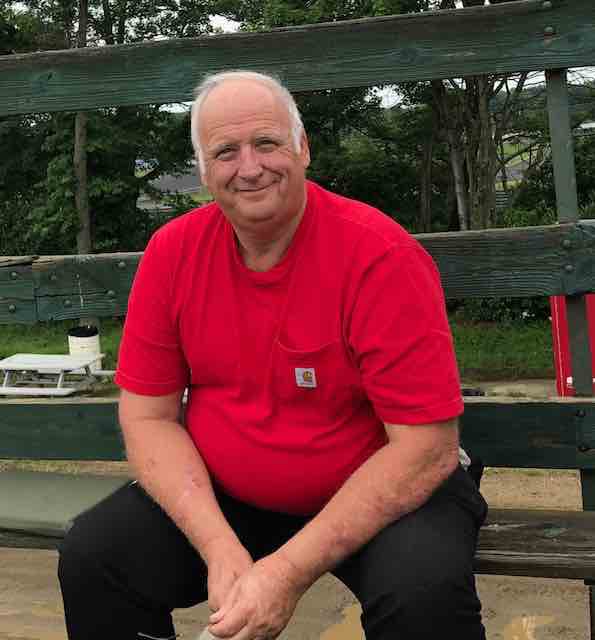 I met some real nice folks up at the Roseau County Fairgrounds. Then I matched up somewhat unexpectedly with trackchaser Dan Schultz along the way. It was nice meeting Dan for the first time. It's always fun to bat the conversation back-and-forth with buddy Paul Weisel. And finally it was a special treat to be able to meet up with Bruce Spencer after not having seen each other in seven years.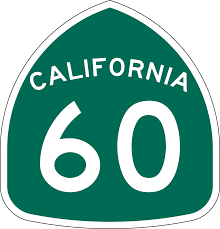 I have now seen 60 new tracks during the 2017 trackchasing season. I am solidly in the second half of the summer right now. August will be busy. I've already traveled to 31 American states, three Canadian provinces and two Mexican states to trackchase.
All of my trackchasing travel so far has been limited to North America. I'm pretty certain that's going to change and it could change in a big way. I'll keep you posted. Keep reading. If you ever have a comment or question send them along.
Good evening from Fair Haven, Vermont.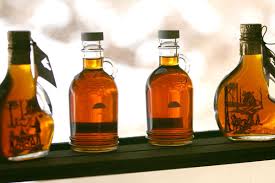 Vermont
The Green Mountain state
This evening I saw my 9th lifetime track in the Green Mountain state, yes the Green Mountain state. Three of those tracks were at the Devil's Bowl Speedway! Another two of those tracks were on ice in Vermont! Can you imagine that a southern California trackchaser was the first to EVER see ice racing in Vermont and the FIRST trackchaser to ever see an ice racing figure 8 event? Amazing, but as always true!
Thanks for reading about my trackchasing,
Randy Lewis
World's #1 Trackchaser
Peoria Old Timers Racing Club (P.O.R.C.) Hall of Fame Member
Vermont sayings: Mud season
Mud season is most certainly a real season in Vermont. It falls between winter and spring and makes driving on dirt roads into a competitive sport.
QUICK FACTS
LIFETIME TRACKCHASER COMPARISONS 
The three most important trackchasing comparisons to me are:
Total lifetime tracks seen
Total "trackchasing countries" seen
Lifetime National Geographic Diversity results
Total Lifetime Tracks
There are no trackchasers currently within 600 tracks of my lifetime total. Don't blame me.
Randy Lewis, San Clemente, California – 2,352

Total Trackchasing Countries
There are no trackchasers currently within 20 countries of my lifetime total.
Randy Lewis, San Clemente, California – 74
Current lifetime National Geographic Diversity results
Randy Lewis, San Clemente, California – 4.37
That's all folks! Official end of the RLR – Randy Lewis Racing Trackchaser Report
Reprinted with permission from my August 29, 2010 Trackchaser Report
DAYS 5&6 – "LAST TRIP BEFORE LABOR DAY" TRACKCHASING TOUR
Greetings from first Claremont, New Hampshire and then West, Haven, Vermont,
TODAY'S HEADLINES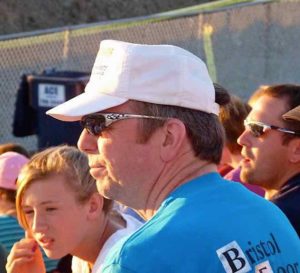 Bruce Spencer….a great race fan. …………..details in "The People".
Danger was lurking……………..more in "Race Review – New Hampshire".
Vermont was important …………..details in "Race Review – Vermont".
THE OBJECTIVE, THE TRIP, THE PEOPLE…AND A WHOLE LOT MORE
The Objective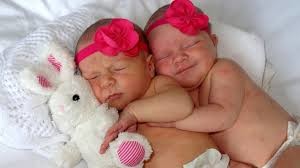 Doubles….Doubles.
Trackchasing "doubles" are the lifeblood for any leading trackchaser. Of course a "double" is simply seeing two countable tracks in one day.
I've had 14 trackchasing doubles so far in 2010. Doubles are getting harder and harder to come by. Of the fourteen I have seen this year, nine of those were "day/night" doubles. What's a "day/night" double? It simply means I saw one new track in the afternoon and one in the evening.
I have also seen five "same location" doubles this year. A same track double is where a single racing business operates more than one type of countable track with racing on the same day. In trackchasing we count three "types" of tracks. Those would be ovals, road courses and figure 8 layouts. Sometimes one facility has two different sized ovals. Those are commonly called an "inner" oval and an "outer" oval. The "same location" double is the easiest to get. You don't even have to leave your seat!
The other types of trackchasing doubles are the "traditional", the "blended double with a feature on both ends" and a "blend double with a feature on the back end only". I haven' seen any of those "double types" so I won't take your time to explain them now.
Today's double was a 'two-stater'.
Today's trackchasing double was unusual on one front. It involved TWO states. In the afternoon I went trackchasing in New Hampshire and in the evening I saw a race in Vermont.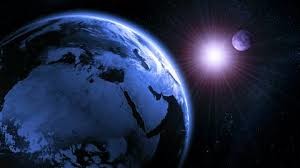 The only inter-continent double ever recorded.
I probably hold the claim to having the most unusual trackchasing double of all-time. It was an INTER-CONTINENT double. That came about when I saw an afternoon race in Iceland and an evening race in New Hampshire! I even surprised myself with that one.
The Trip
I love giving gifts.
I woke up this morning in Burlington, Vermont. It was going to be a short drive over to this afternoon's track in Claremont, New Hampshire. That's what so unique about northeastern racing. You can literally fall out of bed and there's a plethora of racetracks scattered nearby. I wish that were the case in the Far West.
I had some time in the morning so when a flea market caught my eye. I had to stop. I made just one purchase. This was a 70-year old children's book for, arguably, the very best grandkids on either side of the Mississippi. It was about monkeys and the kids love monkeys. It was selling for the right price…..just a dollar. The inside cover told me that a previous owner lived in Wilton, Connecticut. It's a small world. I worked in our Wilton, Connecticut corporate offices when we lived in Connecticut.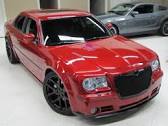 A phantom Vermont track.
Then it was off to get some gas for the National Rental Car Racing Chrysler 300. I normally wouldn't take your time to talk about filling my gas tank. However, while gassing up, I overheard a conversation between two men nearby. One was telling the other about how he was racing his Honda at a small dirt track in Vermont. That got my attention!
I sidled over to this gentleman and briefly explained my vocation. He told me there were just three drivers and they raced on some land owned by a friend. I gave him my business card and asked him to call me with details. If he does I just might visit that track. If I do, and it meets both OSHA safety requirements and trackchaser guidelines I will share the information with my fellow competitors. That way, I will have checked out the track first for both suitability and countability. I wouldn't want anyone to make a wasted trip to a track that I had only heard about but not experienced first hand.
Next up it was time for lunch. I asked Garth to take me to Subway. He obliged. However, when we arrived both the Citgo gas and the Subway store were closed for remodeling. Eating establishments don't seem to be as plentiful in New England as other places. That is certainly true for chain locations. However, my temporary loss turned into a long-term gain a few hours later (see below). Off I went to try my luck at the Twin State Speedway.
The People
The dog ate my homework doesn't cut it.
When I can I'll let my friends know that I'm trackchasing in their area. Because of my somewhat erratic and unpredictable travel schedule this can be difficult. I'm one of those "be there or be square" kinds of people. If I commit to doing something I do my level best to do it. I don't like to here those "the dog ate my homework" excuses on why someone couldn't show up.
Therefore, I am somewhat reluctant to make commitments in advance. However, I knew that once I got to Boston (whenever I got to Boston!) the rest of the trip would be done by car. Cars are predictable for me, airplanes less so.
Bruce Spencer….a great race fan.
It was with this in mind that I alerted New Hampshire racechaser Bruce Spence about this afternoon's races in first the Granite state (NH) and then the Green Mountain state (VT). Bruce is a great race fan. He didn't show much interest in the idea of seeing some caged go-karts race. I don't blame him. When I was a racechaser I would not have been interested in that show either.
However, Bruce did want to meet up for the race at the Devil's Bowl Speedway in Vermont. We even had time to share a meal together at the Lake House Pub & Grill in nearby Lake Bomoseen, Vermont. The Lake House restaurant is just over the mountain from the racetrack. Carol and I went there the first time I visited Devil's Bowl. That was back in2006 when the track had a dirt-racing surface.
It's always nice to see Bruce. We've been together for several races in New England. Bruce's racing roots go back a long way as mine do. He grew up with oval asphalt racing while my early outings were limited to dirt oval racing. To this day those early experiences remain our preference. Nice seeing Bruce and watching the races together.
RACE REVIEW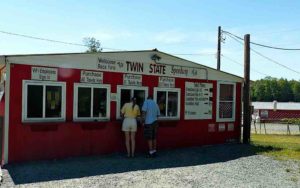 TWIN STATE SPEEDWAY – CLAREMONT, NEW HAMPSHIRE
Three visits….three tracks.
Some people decry the fact that trackchasers can count more than one track at the same facility. I'm not that wild about that idea either but I understand the thinking behind the rule.
After this afternoon I have now been credited with seeing three different tracks at the Twin State Speedway. However, I had to come here three DIFFERENT times to see racing on first the outer oval, then the figure 8 track and today the inner oval. I feel better, in some ways, about doing it that way.
Danger was lurking.
Today I planned to see countable racing with the "senior champs karts". They looked to be the only class that met trackchasing standards. These karts were caged and the drivers were "adults". Those are pretty much the two standards that must be met when seeing "kart" racing.
However, there was danger lurking with today's senior champ karts. For some reason, this is not a terribly popular class at many tracks where they race. Twin State has had 6-8 kart races this year. The first race of the year drew eight senior champs. However, the last two races had only two senior champs competing. For practical purposes two racers is the MINIMUM allowed for a race, and thus a track to count.
There was one more troublesome fact about today's event. During the past two races the points leader had raced each time. However, the second car racing during those two events was different for each race. I figured the leader would be here today. However, would one of the two drivers who had only made one of the past two events show up?
The price was right.
Today spectator admission was free. It was $15 for a pit pass. Let's see.   I'm retired. I don't have the big trackchasing budgets of those "Dreaded East Coast Trackchasers". I chose free.
There were a grand total of less than ten people in the grandstands on a gloriously beautiful New England day. Soon the senior champs came out for their heat race. This track was "nearly in the books".
This track was almost in the books.
The announcer told us that point leader Ryan Hammer was coming onto the track. The announcer then said, "Ryan is being joined by Roger LeBlanc for the senior champ kart heat". I smiled internally. Two karts were all I needed and two karts were what we had.
"Wait", the announcer screamed. "I guess Roger LeBlanc isn't here today. Ryan Hammer is the only senior champ kart racer running today".
Say what!! How can this be Mr. Announcer? You told us there were TWO senior champs coming out for the heat race. Alas, there was a sole senior champ racer. He ran his ten lap heat race all by himself.
A feeling of melancholy.
Yes, a feeling of melancholy came over me. I still had a race this evening in Vermont to see so the entire day wasn't wasted. I didn't fancy the idea of coming back to the Twin State Speedway for a FOURTH time just to see a senior champ kart race.
There were some other kart classes racing today. However, from their names it didn't sound as if any of them were countable. With names like Austin, Tyler, Ashley and Cassandra you know these folks were not born in the 50s. Some chasers would have gotten up and left when it was learned there was only one senior champ kart racing. They aren't race fans they are trackchasers. I would like to tell you I stayed for my love of racing. That wouldn't be true. I can't really explain why I stayed when it appeared there would be no countable racing….but I did.
I stayed.
I didn't have to be in Vermont for several hours. I stayed to watch the rest of the non-countable races. They had the "Tiger Cub" class and then the "Tiger Cup A" and "Tiger Cub B" group. It was warm and sunny day, so I just sat back and relaxed. There were still more classes racing including the "Junior Outlaws, Junior Sportsman Champs and Junior Champs". I can't tell you the difference in these classes. However, if the word "Junior" appears in a class name nearly 100% of the time that class is NOT countable.
The "stock heavies" and the "heavy outlaws" raced. I think the same two karts raced in these classes. These racers were "flat" karts and they don't count in trackchasing.
Then something unusual happened. The "senior outlaw" class came out to race. There were just two of them. I've seen other "outlaw kart" classes and they are normally "flat" karts. Flat karts don't have roll cages and go-karts without roll cages don't count in trackchasing. However THESE senior outlaw karts HAD cages. That made the car countable but what about the driver?
IPhone don't fail me now.
I fired up my iPhone internet connection and went to the Twin State Speedway website. I wanted to check out the rules for these senior outlaws. There it was as plain as day in the rules section was the "driver's age rule" for the senior outlaws (page 6 of 13). This class was open to racers "15 and over". The car was countable. The driver was countable. That meant the track was countable!!
Yes, and He said, 'The meek shall inherit the earth'.
Now my melancholy feeling faded away and was replaced by jubilation. Yes, and HE said the "meek shall inherit the earth". Amen! Patience had prevailed. I would not ever be coming back to the Twin State Speedway to see kart racing again. I sat back and watched a lovely two-kart senior outlaw heat race. I even recorded the event for any naysayer amongst the group of naysayers. Folks, as they say, "this track was in the books!"
DEVIL'S BOWL SPEEDWAY – WEST HAVEN, VERMONT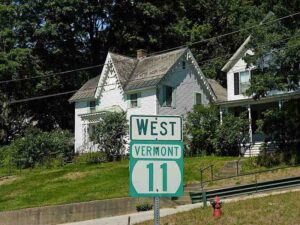 Vermont was important.
Coming to Vermont to trackchase this weekend was of great importance. Earlier in the year I had been knocked out of the trackchasing "top ten" in Vermont. There was no fanfare from the trackchasers who knocked me out. They know enough not to "kick a sleeping dog". Recently, I found out I was ranked #11.   That saddled me with five National Geographic Diversity (NGD) penalty points.
Even though I finished in the lifetime NGD lead by 42 overall state points at the end of 2009, I never like to lose points anywhere. I could go to 100 new tracks in the right combination of states and never GAIN five state points. I didn't want to lose five points in a single state.
Change of surface means a new track.
As mentioned Carol and I saw racing here in 2006 when the track had a dirt surface. During this past winter they changed the surface to asphalt. This isn't done often but it does happen. The maintenance is so much less time consuming and expensive with an asphalt track.
Trackchasing rules allow us chasers to count a track layout a second time when the surface changes from dirt to asphalt or vice versa. There are a number of rules in trackchasing that I don't agree with. I probably disagree with this one as much as any. We are TRACK chasers. It doesn't make any sense to be to count a track a second time just because they change it from dirt to tar or whatever.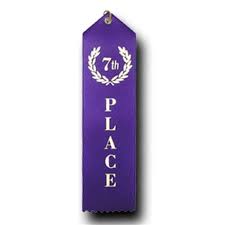 I'll take 7th place.
Nevertheless, I now have five lifetime tracks in Vermont. This put me in a tie for 7th place with Bruce and Pat Eckel, Gordon Killian and Pam Smith. There's not enough firepower from the trackchasers listed below me in Vermont to cause much concern. I'm in the clear here for a good long time.
Car counts seemed to be on the skinny side tonight. However, the racing was very good. They had a solid announcer who told us what was happening over a very stout P.A. system.
Who is responsible for this?
There was one annoying feature at this track. It was warm. The temperature had to be in the high 80s. Racing starts at 6 p.m. on Sunday nights here. The sun doesn't set until nearly 8 p.m. As luck would have it…..no, let's call a spade a spade. Luck doesn't have a darned thing to do with it.
Someone made a colossal mistake by putting the spectator grandstand on the WRONG side of the track. Fans are forced to stare into a glaring, setting sun for nearly two hours. I consider this "retina abuse". This makes viewing very uncomfortable and would keep me from coming to the Devil's Bowl Speedway on a regular basis.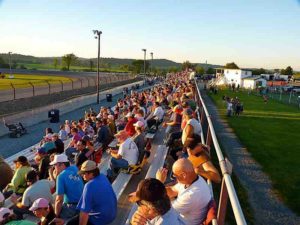 Take all the pictures you want.
On the other hand the track has made some improvements in its draconian policy regarding cameras. The last time we were here they didn't allow cameras! I've run into a track or two that doesn't allow video cameras. I can never recall having a track ban "point and shoot" cameras. I guess with nearly everyone's cell phone having a camera they had to relent.
They still have a list of "don't" rules longer than just about any other track I know. You can't bring in blankets. You can't go out to the car and get your jacket and return without buying another ticket. These are most unusual and I doubt they are truly necessary.
Down in front.
I was taking advantage of my location in the top row of the grandstand to take some pictures for your viewing enjoyment. That was until the track announcer told me to sit down. It's not often that someone yells "down in front" when I'm standing in the TOP ROW. Apparently I was blocking the view of the track scorers. Fair enough. That made sense to me. I sat down and enjoyed the rest of the races.
STATE COMPARISONS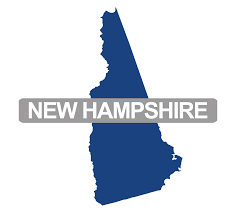 New Hampshire
This afternoon I saw my 19th lifetime track in the Granite state, yes the Granite state. This moves me into a fourth place ranking all by myself and punts Gordon Killian back into fifth spot. I trail Eleanor Weidman (25) as well as both Paul Weidman and Guy Smith who have 27 tracks up here. I would love to know the story behind why Paul has two more tracks than Eleanor in New Hampshire. They are a lovely couple and seem to go everywhere together.
I have just a single figure 8 track and some ice racing locations yet to see in New Hampshire. Had it not been for my NGD competitors I never would have "developed" my New England trackchasing to this degree. Who would have guessed I would have a fourth place ranking in Maine and now New Hampshire.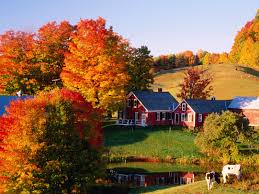 Vermont
This evening I saw my fifth lifetime track in the Green Mountain state, yes the Green Mountain state. I trail John Osowski and Rick Schneider for fifth place. They each have six tracks here. Guy Smith leads Paul Weidman 10-9 for the state lead in Vermont. I'm not sure I have any tracks remaining to be seen up here…..unless of course the guy at the gas station comes through!
Coming Soon – RLR – Randy Lewis Racing Exclusive Features!
I've added YouTube slide shows and movies with actual racing footage of the tracks I visit. This is all in the name of "trackchasing promotion". I've got one more promotional idea in the "pipeline". Soon you'll see what I've got up my sleeve.
Thanks for reading about my trackchasing,
Randy Lewis
World's #1 Trackchaser
New Hampshire sayings: Go away and leave us alone.
Vermont sayings: Yep!
TRAVEL DETAILS
AIRPLANE
Los Angeles, CA (LAX) – Chicago, IL (ORD) – 2,210 miles
RENTAL CAR #1
O'Hare International Airport – trip begins
Joliet, IL – 59 miles
O'Hare International Airport – 123 miles – trip ends
AIRPLANE
Chicago, IL (ORD) – Boston, MA (BOS) – 863 miles
RENTAL CAR #2
Logan International Airport – trip begins
Dover-Foxcroft, ME – 272 miles
Oxford, ME – 444 miles
Montreal, PQ – 659 miles
St-Eustache, PQ – 689 miles
Claremont, NH – 888 miles
West Haven, VT – 961 miles
Logan International Airport – 1,160 miles – trip ends
AIRPLANE
Boston, MA (BOS) – Los Angeles, CA (LAX) – 2,608 miles
Total Air miles – 5,681 (3 flights)
Total Rental Car miles – 1,283 (2 cars)
Total miles traveled on this trip – 6,964 miles
TRACK ADMISSION PRICES:
Route 66 Raceway – Joliet, Illinois – $20
Mechanical Park @ Piscataquis Valley Fairgrounds – $6
Oxford Plains Speedway – $5
Circuit Gilles Villeneuve – $35 Canadian
Autodromo St-Eustache – $20 Canadian
Twin State Speedway – Free!
Devil's Bowl Speedway – $10
Total Race Track Admissions – about $93 U.S.
COMPARISONS
LIFETIME TRACKCHASER COMPARISONS 
There are no trackchasers currently within 200 tracks of my lifetime total.
Randy Lewis, San Clemente, California – 1,589
Ed Esser, Madison, Wisconsin – 1,319
Guy "The Kid" Smith, Effort, Pennsylvania – 1,300
Official end of the RLR – Randy Lewis Racing Trackchaser Report
Reprinted with permission from my July 16, 2006 Trackchaser Report.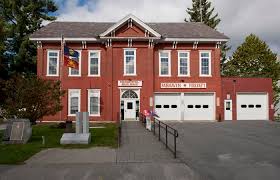 Greetings from Fair Haven, Vermont
SPECIAL THANKS!!
Jim Brennan
Jim is a long-time reader of the Trackchaser Report. He is also a columnist with the Hawkeye Racing News racing paper located in Vinton, Iowa. I have been a subscriber to this paper for more than 30 years. Jim recently did a story about my trackchasing in the HRN. You can read his work at www.ranlayracing.com. Just click on the "Media coverage" tab.
Jay Pesicka
Jay is the Course Superintendent at the Pacific Golf Club. Jay is originally from South Dakota and a new reader of the Trackchaser Report. Jay's dad in South Dakota picked up a couple copies of the recent Argus Leader newspaper story about my trackchasing. The newspaper story goes into more detail than the internet version of the story that I posted on the website. If you would like to read the "Expanded" story, again go to www.ranlayracing.com and click on the "Media coverage" tab.
Dave Sully
I was reunited with Dave this past week at the Little Valley Speedway in New York. Dave does all kinds of media work including a radio program called Pit Stop.  It airs on Saturdays at noon on WJJL, 1440AM.  The coverage area is Western New York and Southern Ontario. I'll be on his program so if you're in the area tune in.
Special thanks to each of these folks for taking the time out of their schedules to support trackchasing.
Carol and I woke up in Lebanon, New Hampshire. This is what transpired today.
PEOPLE/STRATEGY/TRAVEL NEWS
The Strategy                                                           
Today's trackchasing strategy revolves around Carol's trackchasing. She has never been to Vermont to see a racetrack. By adding Vermont, she will have seen racing in 40 different states. She expects to increase that total during the ladder part of the 2006 season.
The Trip
Some trackchasing days are better than others. This day certainly had its issues.
First, we drove down to Manchester, New Hampshire on Sunday morning. The Londonderry Raceway was having a last minute "Rain date" makeup race. I had spoken with the promoter in advance of our visit. She said she wasn't sure how many competitors they would have. Since this was a last minute make up date, some racers had scheduled vacations and some would be going to the Nextel Cup race in Loudon. To make a long story short, they had only five or six racecars show up, almost all in different divisions. They held a short practice and decided not to race.
This was actually my second trip to the Londonderry Raceway. I was rained out on my first visit. It looks like I'll be coming back to this track for a third time sometime in the future, since there was no countable racing today. This misstep took us more than 150 miles out of our way.
Our second less than productive stop was at a small roadside seafood restaurant just across the Vermont state line. It was a gorgeous day, although somewhat on the warm and humid side. It was time for lunch and the eatery sign bragged about their fried clams.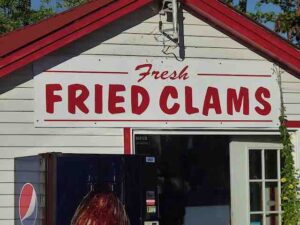 A small order of fried clams, an order of hush puppies, a bottle of water and an iced tea cost us $19. The fried clams ended up being less than totally fried. Biting into them, reminded us of eating sushi. Bad! We had them fry them some more, but it only added to the grease content.
Our third disappointment for the day centered around our evening's lodging. Tonight's racetrack is located near the Vermont/New York border. We stopped at the Vermont Welcome Center. We learned there were very few hotels in the area. There was one location recommended and a call to the establishment confirmed they had one room left. It was a small cottage located directly on Lake Bomoseen at a rate of just $80. Perfect!
We drove over to the property and I entered the property office. The office found me standing in an older woman's living room. The woman looked at me and said, "I'm so sorry. My daughter took your reservation and she didn't know I sold our last room two hours ago." No lakefront cottage. No morning new track in New Hampshire. No tasty fried clams. We were having a bad day.
I will say the day's trip was not a total washout. We arrived at the Devil's Bowl Speedway at about 4:30 p.m. They would not be starting until 7 p.m. The track is located in the midst of rolling Vermont farmland. We needed a place for dinner.
A fuel stop yielded a great recommendation from both the gas station attendant and one of his customers. When I asked for a place to eat, they both replied in unison, "The Lake House." Soon their directions had us driving just 4-5 miles over to a very large lake and its lakeside restaurant. We were given a table within five feet of the lake. People would drive their boats up, dock and sit down to eat. If you go to the Devil's Bowl Speedway, don't miss the "Lake House." The view, service and food were outstanding.
The People
The people of New England have been great. If I had to say, I would give the nod to New Hampshire over Vermont in people niceness. Of course, my data to make this judgment is limited but our Granite state experiences were superior.
RACE TRACK STATS:
DEVIL'S BOWL SPEEDWAY, FAIR HAVEN, VERMONT – TRACK #1,078 – 7/16/06
CAROL'S TRACKS INCLUDED – DEVIL'S BOWL SPEEDWAY, FAIR HAVEN, VERMONT – TRACK #267 – 7/16/06
This was only my second ever career track in Vermont. All the way back in 1985, I went to Thunder Road in Barrie, Vermont. My Vermont ranking is now 21st, although I would only need four Vermont tracks to be tied for 7th place.
This was Carol's first ever track in the Green Mountain state. This gives her 40 different states where she has trackchased. This gives her a 28th place state rank and a tie with NASCAR's Ken Schrader among others. Paul Weidman leads the state with just nine tracks.
RACE TRACK NEWS:
DEVIL'S BOWL SPEEDWAY
I don't like to be too negative when I write about an individual track, but with the Devil's Bowl Speedway, it might be necessary. I've not certain what their problem is, but they seem to have one.
You've all seen the neighbor's kid who rides by your house on his or her bicycle. You know the wimpy little kid who has training wheels, a helmet, maybe two helmets, elbow and kneepads, a heart monitor, a first aid kit attached to the handlebars and maybe a cell phone in case a call to 911 is necessary. They seem to be expecting all kinds of bad things to happen and very few really will.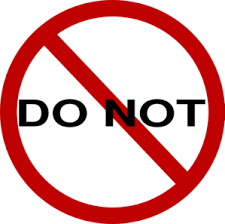 The Devil's Bowl Speedway seemed to have very little confidence in their customers. I'm not sure what all of the track's rules were designed to prevent. I have never been trackchasing in communist China, but being at this track made me feel like I was in a communist controlled environment. Let me list just some of the rules and regulations of this track.
No Camcorders. This is not an unheard of rule. I estimate that 10% or less of all the tracks I see have this rule. I guess they are afraid I'm going to sell my footage to ESPN and they will miss their cut.
No Cameras. Oh, my! I have never ever been to a track where still cameras were not allowed. These people really are communists.
No blankets. Oh, my again. Granted it was nearly 90 degrees today and I didn't need a blanket. However, Vermont can get very chilly in the spring and fall. I asked a fan sitting next to me about this rule. He told me they just "Wear more clothes" when it's cold and the "No blanket" rule exists.
Food tickets only. This meant we had to go to a special ticket booth and exchange cash for food tickets. This is a control feature for the track. It prevents employee theft. The consumer (us) must now make two stops, one at the ticket booth and then at the food booth. It also requires buying EXACTLY the right number of coupons for the food you want to buy. Great for the track, not so great for the fans.
After each race, a few family and friends were permitted onto the track for a photo with the race winner. Each time the fans walked onto the track from the stands, the announcer reminded them, "Going onto the track is dangerous business. You do so at your own risk. Please watch your step." Maybe the fans should have been given helmets before getting their picture taken with the race winner.
The flagman was actually WEARING a helmet. I'm not sure I've ever seen that before.
No re-entry. That means you can't go out to the car to get a blanket if the weather turns cold. Of course, you couldn't go out to get a blanket, because of the "No blanket" rule anyway.
The announcer even had a warning for the kids. He told them, "Don't go under the grandstands. There's a lot of angle iron under there just waiting to hit you in the head."
The track had a state trooper patrolling the parking lot while riding in a golf cart. A nearby fan told us that the police would "Kick you out of the property if they catch you eating a Subway sandwich in the parking lot."
At one point in the program, the announcer called for the sheriff to settle a disagreement.
Again, from the announcer, "We've placed extra trash cans on the grounds for your convenience." Please don't tell me that something is a benefit to me when it's a benefit for you.
I kept looking up at the sky. I fully expected, with all of this negative thinking that a meteor might fall on my head. Luckily none did. Again, the more than friendly fan sitting next to me, offered more local information. Apparently the next-door farmer does not like the racetrack. Before each race, he releases the scent of cow manure that wafts over the grounds. The cow manure smell was evident the moment we left the car.
The entire night was not a washout. My one ticket (one dollar) sno cone was excellent. The racing on the dirt oval track was the best of our entire trip. The Northeastern dirt modifieds are one of my most favorite racing classes. Kenny Tremont was in the field tonight. He and I stayed at the same hotel a few years ago in Pennsylvania. He held a door open for me and I've been a fan ever since!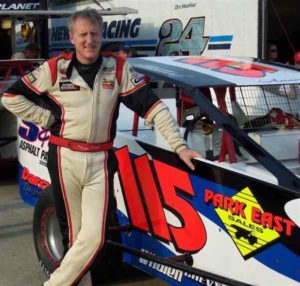 Tremont started 11th in a 20-car feature field. He raced into second place before getting caught up in someone else's wreck. This sent him to the back of the pack for the restart. By lap 15, he had passed everyone and went on to win the feature. The modifieds were great. The 19-car pro stock feature was also excellent. The entire program was finished by 9:45 p.m. I have never seen a pit area clear out as fast as they did at the Devil's Bowl. Since this is a Sunday night track, I guess everyone has to get up for work on Monday morning.
At intermission, I was called to the announcing booth. Had the state trooper seen me pee in the parking lot? Did they see me taking a picture of the races with my cell phone? Were we going to be kicked out of the East coast?
No, the announcer wanted to talk about trackchasing with me. I really didn't want to do the interview, but I felt an obligation to the fans. Let me tell you why I do these interviews.
Obviously, everyone in the stands has an interest in racing or they wouldn't be at the track. I'm leading a lifestyle that nearly every race fan thinks they would like to have. I must say that if they tried it to the degree that I do it, most would probably not like it for long. From the reaction of the fans, they have a real interest in someone who goes all over the world seeing racetracks.
These interviews are also educational for the local race fans. I've done more than 100 at the track interviews. Crowds at these tracks may have averaged between 1,000 and 2,000 people. That means that somewhere between 100,000 and 200,000 mostly different people have been exposed to the trackchasing hobby. No other trackchaser has had such a widespread impact with exposure in nearly every single state and a few foreign countries. I believe that when more people understand what trackchasing is all about and how it's done, the benefits to the hobby can only be good.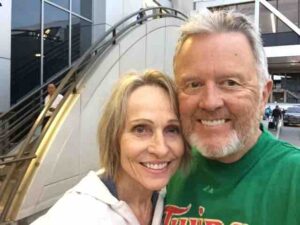 CAROL'S COMMENTS
I've seen a lot more smokers here in New England than I would have expected. I think this track is paranoid. There was not one single positive vibe in the entire place. They were too quick with the yellow flag. Nevertheless, I thought the racing was great.
WEATHER CONDITIONS
It was hot. Some genius thought it was a good idea to have the grandstands facing directly to the west. Staring into a setting sun on a 90-degree and humid day is not much fun.
RENTAL CAR UPDATE:
The Massachusetts plated National Rental Car Racing Pontiac Grand Prix was parked in the far reaches of the grass pasture parking lot. I felt safer knowing the state police were patrolling the lot in a golf cart.
Wednesday total driving miles – 204 miles
Thursday total driving miles – 462 miles
Friday total driving miles – 428 miles
Saturday total driving miles – 296 miles
Sunday total driving miles – 323 miles
LIFETIME TRACKCHASER STANDINGS UPDATE:
These worldwide trackchasers are within 100 tracks (plus or minus) of my current trackchaser total.
Randy Lewis, San Clemente, California – 1,078
Rick Schneider – Bay Shore, New York – 1,046 (-32)
Guy Smith, Effort, Pennsylvania – 1,037 (-41)
Allan Brown, Comstock Park, Michigan – 1,021 (-57)*
Gordon Killian, Sinking Spring, Pennsylvania – 1,018 (-60)*
Andy Sivi, Clairton, Pennsylvania – 1,015 (-63)*
Ed Esser, Madison, Wisconsin – 914 (-164)**
* Warning, you are within 50 tracks of being removed from this list.
** Special exemption.
The widespread use of the "*" is causing my printer cartridges to run dry much faster than they should.
Other notables
These worldwide trackchasers are within 10 tracks (plus or minus) of Carol's current trackchaser total.
Dale Danielski, Onalaska, Wisconsin – 269
Carol Lewis, San Clemente, California – 267
Bob Schafer, Oshkosh, Wisconsin – 267 (+/- 0)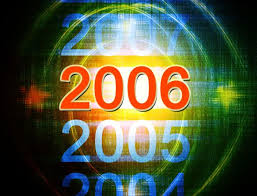 2006 TRACKCHASER STANDINGS
Randy Lewis, San Clemente, California – 87
Ed Esser, Madison, Wisconsin – 54
Roland Vanden Eynde, Vilvoorde, Belgium – 46
Mike Knappenberger, Reading, Pennsylvania – 44
Carol Lewis, San Clemente, California – 37
Paul Weisel, Orefield, Pennsylvania – 36
Gordon Killian, Sinking Springs, Pennsylvania – 32
Roger Ferrell, Majenica, Indiana – 32
Guy Smith, Effort, Pennsylvania – 32
Allan Brown, Comstock Park, Michigan – 24
Thanks for reading about my trackchasing,
Randy Lewis
#1 Trackchaser Living West of the Mississippi
I should never care to argue for anything that would lesson the difficulty of the game because difficulty is its greatest charm. 
CUMULATIVE TRAVEL DISTANCES:
AIRPLANE
Los Angeles, CA – Boston, MA – 2,567 miles
RENTAL CAR
Logan International Airport – trip begins
Little Valley, NY – 547 miles
Claremont, NH – 1,037 miles
Canaan, NH – 1,074 miles
Loudon, NH – 1,207 miles
North Woodstock, NH – 1,258 miles
Wentworth, NH – 1,290 miles
Fair Haven, VT, – 1,686 miles
TRACK ADMSSION PRICES:
Little Valley Speedway – $12
Twin State Speedway – $10
Canaan Fair Speedway $10 senior rate (Reg. $15)
New Hampshire International Speedway – $50
White Mountain Motorsports Park – $15
Legion Speedway – $10
Devil's Bowl Speedway – $12
UPCOMING TRACKCHASING PLANS
We should get one more track on this trip. This will allow Carol to move into sole possession of 37th position in the worldwide rankings.
RACETRACKS VISITED IN 2006 (** not the first time to visit this track)
Watermelon Capital Speedway, Cordele, Georgia – January 14
Cross Roads Motorplex (asphalt oval), Jasper, Florida – January 15
Norfolk Scope Arena, Norfolk, Virginia – January 20
Qualcomm Stadium, San Diego, California – January 21
Oregon State Fair & Expo Center, Forster Livestock Arena, Salem, Oregon – January 28
Morosso Motorsports Park, Jupiter, Florida – February 4
Thunderbowl Speedway of Ocala, Ocala, Florida – February 4
Cross Roads Motorplex (dirt oval), Jasper, Florida – February 5
1,000. Auburndale Kartway, Auburndale, Florida – February 10
1,001. Ocala Speedway (asphalt oval), Ocala, Florida – February 12
1,002. Speedworld Speedway, Surprise, Arizona – February 19
1,003. Lowe's Motor Speedway (1/5 mile asphalt oval), Concord, North Carolina – February 25
1,004. Concord Raceway, Concord, North Carolina – February 25
1,005. Antioch Speedway, Antioch, North Carolina – February 25
1,006. Green Valley Speedway, Gadsden, Alabama – February 26
1,007. East Bay Raceway (inner oval), Gibsonton, Florida – March 17
1,008. Volusia Speedway Park West (1/6M oval), Barberville, Florida – March 18
1,009. Speedway Park, Fruitland Park, Florida – March 18
1,010. Sand Mountain Speedway (road course), Fort Meade, Florida – March 19
1,011. Anderson Motor Speedway, Anderson, South Carolina – March 31
1,012. Westminster Speedway, Westminster, South Carolina – March 31
1,013. East Lincoln Motor Speedway, Stanley, North Carolina – April 1
1,014. Margarettsville Speedway, Margarettsville, North Carolina – April 2
1,015. Sunny South Raceway, Grand Bay, Alabama – April 7
1,016. Barber Motorsports Park, Leeds, Alabama – April 8
1,017. Coldwater Raceway, Coldwater, Alabama – April 8
1,018. Talladega Short Track, Talladega, Alabama – April 8
1,019. Ballymena Raceway, Ballymena, Northern Ireland – April 14
1,020. Oulton Park, Little Budworth, England – April 15
1,021. Somerset Rebels Banger Raceway, Rooks Bridge, England – April 16
1,022. Mendips Raceway, Shipham, England – April 16
1,023. Oval Raceway, Angmering, England – April 17
1,024. Arlington Stadium, Eastbourne, England – April 17
1,025. Southside Speedway, Midlothian, Virginia – April 28
1,026. Motor Mile Speedway, Radford, Virginia – April 29
1,027. Wythe Speedway, Wytheville, Virginia – April 29
1,028. Summit Point Raceway, Summit Point Circuit, Summit Point, West Virginia – April 30
1,029. Old Dominion Speedway – inner inner oval, Manassas, Virginia – April 30
1,030. Shenandoah Speedway, Shenandoah, Virginia – May 4
1,031. Bridgeport Speedway (inner oval – front), Bridgeport, New Jersey – May 5
1,032. Empty Jug, Hawley, Pennsylvania – May 6
1,033. Oakland Valley Race Park, Cuddebackville, New York – May 6
1,034. Thunder Mountain Speedway, Center Isle, New York – May 6
1,035. Motocross 338, Southwick, Massachusetts – May 7
1,036. Glen Ridge Motorsports Park, Fultonville, New York – May 7
1,037. Calumet County Speedway, Chilton, Wisconsin – May 19
1,038. Grant County Speedway, Lancaster, Wisconsin – May 20
1,039. Blackhawk Farms Raceway, Rockton, Illinois – May 21
1,040. The Milwaukee Mile (Road course), West Allis, Wisconsin – May 21
** Angell Park Speedway, Sun Prairie, Wisconsin – May 21 (new track Carol only)
1,041. Park Jefferson Speedway, Jefferson, South Dakota – May 25
1,042. Superior Speedway, Superior, Wisconsin – May 26
1,043. Brainerd International Raceway, Brainerd, Minnesota – May 27
1,044. Canby Speedway, Canby, Minnesota – May 27
1,045. Crawford County Fairgrounds (figure 8), Denison, Iowa – May 28
1,046. Tri-State Speedway, Sisseton, South Dakota – May 29
1,047. Sheyenne River Speedway, Lisbon, North Dakota – May 29
1,048. Spring Mountain Motorsports Ranch, Pahrump, Nevada – June 3
1,049. The Bullring at Las Vegas Motor Speedway, Las Vegas, Nevada – June 3
1,050. Hibbing Raceway, Hibbing, Minnesota – June 6
1,051. Buena Vista Raceway, Alta, Iowa – June 7
1,052. Lebanon Midway Speedway, Lebanon, Missouri – June 8
1,053. Rocky Top Raceway, Coal Grove, Ohio – June 9
1,054. Midvale Speedway (oval), Midvale, Ohio – June 10
1,055. Midvale Speedway (figure 8), Midvale, Ohio – June 10
1,056. Spring Valley Raceway, Millport, Ohio – June 11
1,057. Rialto Airport Speedway, Rialto, California – June 17
1,058. Lawrenceburg Speedway (figure 8), Lawrenceburg, Indiana – June 20
1,059. Lawrenceburg Speedway (temporary oval), Lawrenceburg, Indiana – June 20
1,060. Thunder Mountain Speedway, Knox Dale, Pennsylvania – June 21
1,061. State Park Speedway, Wausau, Wisconsin – June 22
1,062. Dodge County Fairgrounds Speedway, Beaver Dam, Wisconsin – June 23
1,063. Lucas Oil Speedway (oval), Wheatland, Missouri – June 24
1,064. Lucas Oil Speedway (figure 8), Wheatland, Missouri – June 24
1,065. Tri-City Speedway, Pontoon Beach, Illinois – June 25
1,066. Lake Ozark Speedway, Eldon, Missouri – June 29
1,067. Poplar Bluff Speedway, Poplar Bluff, Missouri – June 30
1,068. Indianapolis Motor Speedway (road course), Indianapolis, Indiana – July 1
1,069. Rush County Fairgrounds, Rushville, Indiana – July 1
1,070. Rock Castle Speedway, Mount Vernon, Kentucky – July 2
** Windy Hollow Speedway (oval), Owensboro, Kentucky – July 2
1,071. Heartland Park Topeka (dirt oval), Topeka, Kansas – July 3
1,072. Thunderhill Speedway, Mayetta, Kansas – July 3
1,073. Little Valley Speedway, Little Valley, New York – July 13
** Twin State Speedway (oval), Claremont, New Hampshire – July 14
1,074. Twin State Speedway (figure 8), Claremont, New Hampshire – July 14
1,075. Canaan Speedway (asphalt oval), Canaan, New Hampshire – July 14
** New Hampshire International Speedway, Loudon, New Hampshire – July 15
1,076. White Mountain Motorsports Park, North Woodstock, New Hampshire – July 15
1,077. Legion Speedway, Wentworth, New Hampshire – July 15
1,078. Devil's Bowl Speedway, Fair Haven, Vermont – July 16
Click on the link below to see the video production from the racing action today.
Racing on the dirt inner oval – 2017
.
. 
Devil's Bowl racing action from our 2010 visit
.
.
This video gives you a good idea what a single day on the trackchasing trail looks like….from Vermont this time.
Click on the link below for a photo album from today's trackchasing day.  You can view the album slide by slide or click on the "slide show" icon for a self-guided tour of today's trackchasing adventure.
A Sunday night of dirt track racing from Vermont
.
. 
A trip to the Devil's Bowl Speedway in Fair Haven, Vermont – 2010