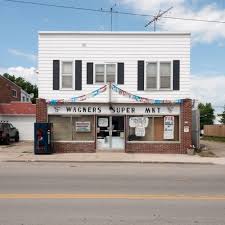 Greetings from Lena, Wisconsin
.
.
From the travels and adventures of the 
"World's #1 Trackchaser"
The EventVideo PlusPhotos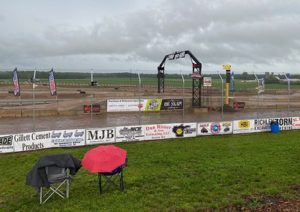 Dirt City Motorplex
Dirt road course
 Lifetime Track #2,630
THE EVENT
Editor's note: The weather plays a big part in my ability to trackchase. Some outdoor venues rain out easily. Others don't.
Typically road course racing, both paved and dirt, does not rain out virtually at all. That's why when the weather forecast at today's track in Wisconsin called for a lot of rain I wasn't too worried. However, one should never count their chickens. Today's dirt off-road racing was nearly rained out as you will see from my story and YouTube video.
I AM A TRACKCHASER.
Are you new to the hobby of trackchasing? If so, let me give you just a little bit of background. Before I go any further I will tell you that a lot of people get pretty enthused about what I've been doing with trackchasing. I will offer this warning. If you try it yourself it could become addictive.
My name is Randy Lewis (above with my northern Indiana buddies at a county fair BnR race). I hail from the sleepy little village by the sea, San Clemente, California. I am a "trackchaser". I trackchase. Have you ever in your life heard of "trackchasing"? I didn't think so.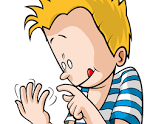 Trackchasing is a "collecting" hobby. Trackchasing is a "counting" hobby. It's really not all that much different than when you were a kid and you collected stamps or beer cans or bottle caps.
Trackchasing is all about visiting new auto racing tracks for the very first time. Believe it or not, trackchasing has "rules" as to what kind of racetrack and race car and race driver count toward your lifetime totals and which ones would not.
I'll try to oversimplify the rules situation for you. Trackchasers are allowed to count racing cars and trucks that compete on oval, road course and Figure 8 configurations. Any class that is racing, in order to count, must be open to racers 18 years of age or older.
This means that trackchasers cannot count racing down exclusively by kids. There are also various motorsports events and classes of cars that do not count. Trackchasers do not count drag racing, demolition derbies, motorcycle racing or boat racing. Just cars and trucks on ovals, road course and figure 8 tracks. Trackchasing does not allow the counting of flat go-kart racing either.
Remember, I didn't set up these rules. I only count by them. The rules were set up in the 1990s by a group of white men who primarily hung out in Pennsylvania. I don't know that any of them had ever seen any racing on a road course or figure 8 track or maybe even a drag race, with a few exceptions, when the rules were established. There is one good thing about having a common set of rules. It allows each trackchaser to compare his or her list to the next trackchaser. Trackchasers like to do that.
In addition to the racing part of trackchasing for me, I really enjoy seeing the local sights and sounds of whatever area I am visiting. I called these "Trackchasing Tourist Attractions". If you go to my website at www.randylewis.org and click on the Trackchasing Tourist Attractions tab you'll see where I've been all over the world. Here's a link to that tab.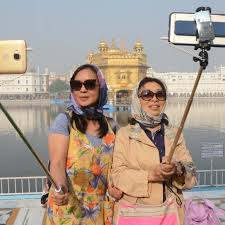 Trackchasing Tourist Attractions
I also really enjoy the logistical part of the hobby. I have been retired for nearly 20 years. During that time I have not earned a single dime of work income. That means I have to manage my money pretty closely enable in order to be able to do what I do.
Logistically I have to handle seven different categories of trackchasing expenses. Those expenses include airplanes, rental cars, hotels, airport parking, gasoline, food and race tickets. As an example, you can just imagine what traveling from Southern California out to the Midwest for four days of racing would cost.
In any given year I will travel well over 200,000 miles. I'll stay in hotels 150-200 nights a year, rent 50-75 rental cars every year and buy a full tank of fuel about 100 days a year just for trackchasing.
After each and every event that I attend I post a YouTube video, a SmugMug photo album and a very detailed Trackchaser Report about the experience. My stories are not just about what happened at the track but about my visit to the area and what exactly it took to make the trip happen. That's where the racing, the touring and the logistical challenges come from.
I told you that trackchasing is a "counting" hobby. Trackchasing is ultra-competitive as well. Lots of people don't recognize that when they are initially exposed to this hobby. Trackchasing has had all of the political drama, cheating, accusing people of cheating and other aspects of poor personal behavior that any other competitive activity might have. This is why I am NOT a member of any organized trackchasing group. The management of these groups has been so poor over the years these groups are not something I want to be associated with whatsoever.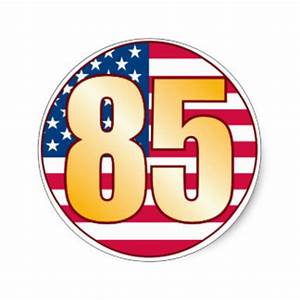 As this is written I have seen racing in 85 different countries at more than 2,625 racetracks. During all this time I have never tried to benefit financially from my hobby. This is despite being interviewed by hundreds of track announcers, newspaper reporters and radio and TV outlets as well as doing a TV pilot. I'm a volunteer. I do this 100% for the fun of it.
Because I have seen racing in 85 countries at this point I am considered the World's #1 Trackchaser. That's good enough for me. Now I encourage you to drop down a few spaces and read about trackchasing adventure. As you discover what went on today just think about the idea that I've done this more than 2,600 times. I don't mind admitting I am addicted to that hobby of trackchasing.
Yes, today's adventure was one more of the 2,000 trips that have taken me up, down and around the proverbial long and dusty trackchasing trail.  If you would like to see where I've been and experience those adventures here's the link: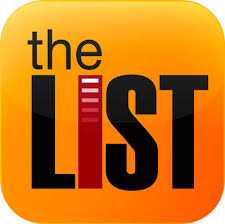 If you've got a question, comment or whatever please leave it at the bottom of this report.  It's very easy to do.  Or you can visit me on Facebook.  Thanks!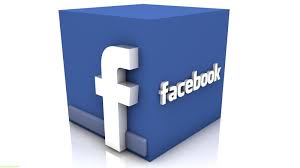 FOREWORD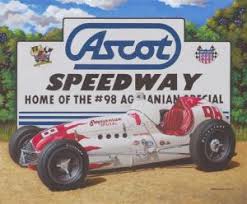 Sunday, July 26, 2020.
Today I was heading up to Wisconsin in the hopes of seeing my 98th-lifetime track in the Badger State. With a little bit of luck, I might be able to see my one-hundredth track in Wisconsin later in the 2020 season.
I have already seen more than 100 tracks in seven different states. My nearest fellow competitor has only done that in four states. I always think it's a good idea to share a comparison like that so you can see whether or not an accomplishment is all that significant or not.
I often tell you that I need three things in order to make a successful trackchasing trip. I need a race date, good weather and a way to get there. The challenge on this particular Sunday was the weather. It was raining. Rain and dirt tracks don't go well together in the United States.
A "way to get there" was noteworthy today as well. It was going to take me an hour and a half to drive up to Lena, Wisconsin this morning, home to the Dirt City Complex. Then after the races, it was going to be a ten-hour drive down to the Kansas City area to return my rental car. I would knock off as much of that as I could following the racing.
Since I have seen racing at virtually every permanent oval and road course racing facility in the United States and Canada finding new tracks is getting more and more difficult. This weekend is a good example of that fact.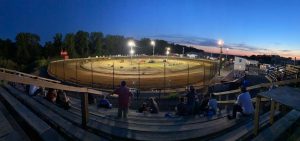 On Friday night I went to the KC Raceway (above) in River Bend, Missouri. This was a track that's only been in existence for a year or so. I just learned about it about a month ago. Then on Saturday afternoon, I went trackchasing at the Poplar Motor Speedway in Kamrar, Iowa. Granted this track has been around for 30 years or so but they rarely race any type of kart that meets trackchasers rule. I was able to see one of their rare caged kart race events.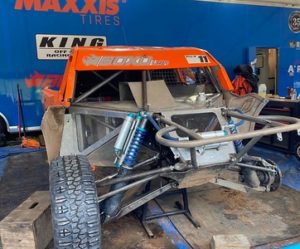 Today's Dirt City Motorplex had its first race only a year ago. It was brand new. Today they were hosting a championship off-road racing event. All three of this weekend's trackchasing selections would not have been available to me for the most part just two years ago.
I am a huge fan of racing in England. Why? Amongst other things they race in the rain, they don't have very many yellow flags and they allow full contact in many of their race classes. Yes, they have very entertaining shows in the U.K. England gets a lot of rain which is why they rarely cancel before wet weather.
Today's Dirt City Motorplex layout is a 1.25-mile dirt road course. They have a few jumps but for the most part, those jumps aren't much. I would classify the track as pretty close to flat especially compared to other similar layouts I've seen in the past.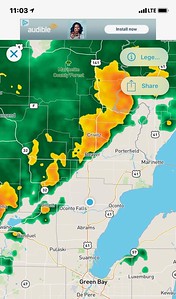 The weather forecast called for rain pretty much on and off all day. The weather radar that was coming our way was filled with yellow and red so it was going to be difficult to miss that rain.
Some folks were parking across the road from the track and taking a tractor-pulled shuttle over to the entry area. I didn't want to do that. I figured if I could drive my car as far into the paddock area as possible if it rained I could get to the car for shelter.
Today's admission price was $25 U.S. I paid by credit card. Whenever I can I like to save my cash. Being parked in the paddock and having my ticket paid for with a credit card were a couple of conveniences that I found helpful.
The concession stands today were using a somewhat consumer inconvenient idea of "food tickets". With a system like this, the consumer has to go to one location and buy the right number of tickets for whatever amount of food they expect to consume. Then they use those tickets at a second location to redeem the tickets for food and drink.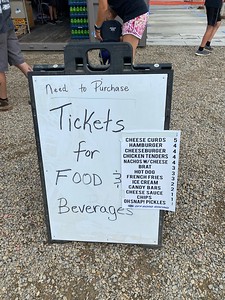 Why is this inconvenient for the race fan? First, the fan needs to figure out how many tickets they will need for each food and drink item. Secondly, this system prevents the fan from buying any impulse selections. That has to hurt the sales at the track. Finally, what if someone buys 20 tickets and only used seventeen? They have three tickets left over that can't be used anywhere. Normally, those tickets cannot be refunded. What a system simply because both the employer can't trust the employee and the employee can't be trusted!
Yes, tracks do this for security purposes. It keeps fewer and fewer employees from getting their hands on the money! Did you know that employees steal more from grocery stores than customers?
I arrived at the track just in time to catch the last couple of minutes of the drivers' meeting. The closing comments told everyone that the first race was going to be in 20 minutes. That was all fine and good except a massive black cloud that seemed to take up half the sky was about a mile away.
I was happy that I had parked my National Car Rental Racing Toyota Camry so close to where the drivers' meeting was held. However, when the heavy rain soon began to fall I knew there was no way I could reach the car without becoming a wet and muddy mess. I joined another half dozen fans underneath the canopy of one of the vendors.
We all stood in this space for the next 20 minutes and watched it pour down rain. It was at this point that no one knew whether or not they would be racing this afternoon or not. One of the fans standing next to me said the race director had mentioned at the drivers' meeting that one more rain like we were having right now and they would have to cancel for the rest of the day. I hadn't been rained out a single time in the entire 2020 season. This included 30 new track visits before this one.
When it finally did stop raining a huge electronic sign in the middle of the track's infield indicated we were in a temporary rain delay. They expected to have the first race in about 90 minutes. That seemed optimistic. I went back to my car to wait out the delay.
My rental car had front-wheel drive. I was smart enough to park the front wheels on a solid gravel base that would get me out no matter how much moisture came from the rain. The area all around me that wasn't gravel was rapidly becoming a huge mud pit.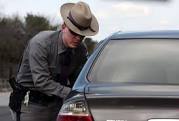 I was engrossed in working with some information on my laptop when a knock came on my driver's side window. It was a cop. It was a state policeman. He had just park next to me and was knocking on the window to say hello. How often does that happen!
The officer was in an unmarked police cruiser. It had looked to me that he was parking in a very precarious position given the standing mud and water. He made an unusual comment to me. He said, "Did you think I was a dumb ass for parking there?" When a state policeman knocks on your car window and asks if you think he is a dumb ass what do you say? No, I told him. I simply said, "I figured you knew what you were doing". With that answer, he smiled and went on his way. Almost busted again!
I'm happy to report that they did start racing a little past 1 p.m. I think they were deviating from the schedule a good deal. I was able to watch several of the features that were supposed to run much later in the afternoon.

The racing was decent. However with the extremely hot, humid and muddy conditions as well as a fairly significant lack of social distancing as regards COVID-19 I didn't feel all that comfortable. I did spend quite a bit of time walking all over the paddock in the areas that were walkable due to the mud. I was able to get some pretty good photos. I also got some excellent video from the track. You won't want to miss that.
I left the track in the middle of the afternoon. Overall, I was just a little bit disappointed. On the one hand, I was very pleased they had elected to race given the rain. I'm sure they could have canceled easily if they had wanted too.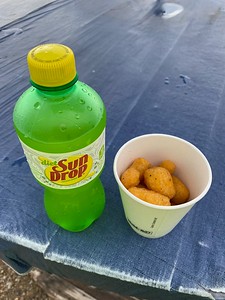 The weather conditions with not only the rain but the heat and humidity were less than ideal. Paying five bucks for a really small order of average cheese curds wasn't so great. I also had to think about the idea that I had a ten-hour drive back to the Kansas City airport from Dirt City in Lena, Wisconsin.
I had no idea how far I would make it during the rest of the afternoon and evening. That wasn't a problem. I knew I could drive at least seven hours leaving me only three more to go tomorrow morning before a Monday flight at 2 p.m.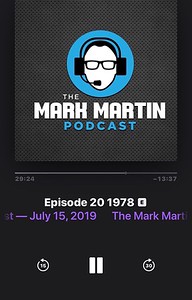 I took my time and listened to the new, for me, Mark Martin podcast. Right now there are about 35 episodes that have been recorded. Mark has decided that each episode will recap, for the most part, a single year of his racing career.
I think if you were to listen to his podcast that it would be very easy to conclude that he was a racer's racer. Did you know Mark was recently inducted into the NASCAR Hall of Fame? Despite his success in NASCAR he credits his overall racing development to the early days of racing dirt tracks in Arkansas and then graduating to asphalt racing including three straight ASA national championships.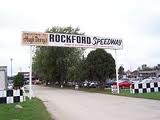 He credits his three biggest wins in racing as being a 50-lap feature on the dirt surface of his home track of Batesville Speedway in Arkansas, an asphalt win at the nearby to his home Springfield, Missouri track and winning the Rockford Speedway (IL) short track nationals as an 18-year-old. I didn't see his win at Rockford but have visited Rockford for their nationals' racing several times.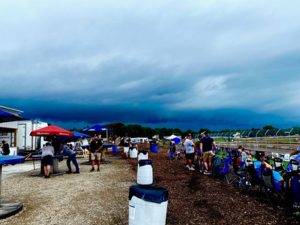 Much of my drive this afternoon took me in a southwesterly direction. There was something weird about that itinerary. The rainstorm that had dropped a lot of rain on the track had moved south and now I was driving through this heavy rain all over again. The rain was so strong that I and several other drivers had to pull off to the side of the road to wait it out. However, I knew that the more we waited the more the storm was moving from north to south. This just meant driving through more of the rain once I got back on the road.
I'm lucky I have my podcasts that originate from my smartphone and can be broadcast over the audio system of my rental car. I subscribe to several different podcasts on a variety of different subjects. This gives me control over the timing and quantity and quality of my broadcast entertainment. I can listen to what I want when I want.
When I had figured out exactly how far I wanted to drive tonight I used my smartphone and the SnapTravel online travel agency to make a reservation back at the Super 8 motel in Bethany, Missouri. I had stayed here two nights ago. This was a good quality lower-priced motel that would meet my needs just perfectly.
MONDAY
My hotel in Missouri was only an hour and a half drive from the Kansas City airport. This allowed me to get a full eight hours of sleep and then do about 45 minutes of power walking in the relatively cool Missouri July morning temperatures. This would make getting in my four miles of power walking an easy achievement for the day.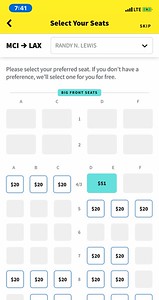 I flew home nonstop from Kansas City to Los Angeles on Spirit Airlines. Spirit offers some incredibly low fares. I checked a flight for Carol the other day which was nonstop from Los Angeles to Denver. The one-way airfare was only $17!
I will tell you this. The clientele on Spirit Airlines is ROUGH! I wouldn't want to be in a dark alley or a bad neighborhood with these folks. If I don't catch COVID-19 riding on a 3-1/2 hour Spirit Airlines flight from Kansas City to Los Angeles I don't think I'll ever get it.
Good afternoon from the Dirt City Motorplex in Lena, Wisconsin.
Randy Lewis – 85 countries – 2,630 tracks.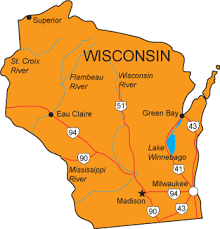 Wisconsin
The Badger State
This afternoon I saw racing at my 98th-lifetime track in the Badger State, yes, the Badger State.  I hold the #4 trackchasing ranking in Wisconsin. Wisconsin ranks #8, amongst all the states, in tracks seen for me in the U.S.
Here's a link to my all-time Wisconsin state trackchasing list. I have made 60 separate trips to Wisconsin seeing these tracks.
Thanks for reading about my trackchasing,
Randy Lewis
World's #1 Trackchaser
Peoria Old Timers Racing Club (P.O.R.C.) Hall of Fame Member
Wisconsin sayings: "Youse wanna grab a couple-two-three brewski's tonight?"

JUST THE FACTS
LIFETIME TRACKCHASER COMPARISONS 
The three most important trackchasing comparisons to me are:
Total lifetime tracks seen
Total "trackchasing countries" seen
Lifetime National Geographic Diversity results
Total Lifetime Tracks
There are no trackchasers currently within 760 tracks of my lifetime total.  Don't blame me.
Randy Lewis, San Clemente, California – 2,630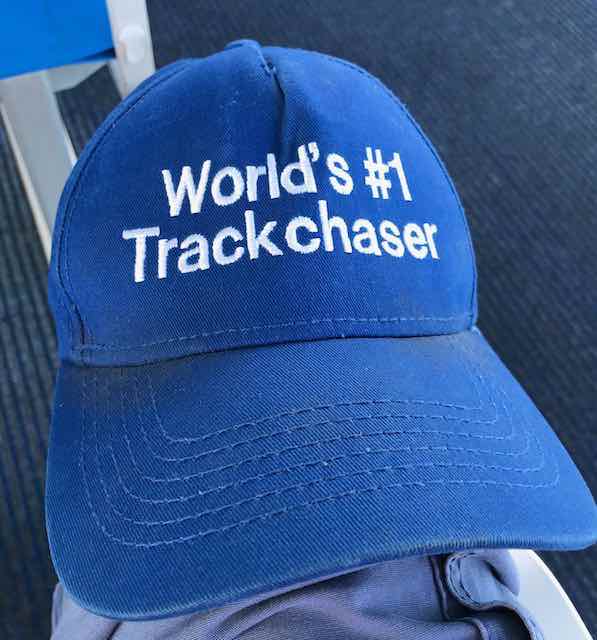 Total Trackchasing Countries
My nearest trackchasing competitor, a native of Belgium, has seen racing in more than 30 fewer countries compared to my lifetime total. 
Randy Lewis, San Clemente, California – 85
Current lifetime National Geographic Diversity results
Randy Lewis, San Clemente, California – 3.96
That's all folks!  Official end of the RLR – Randy Lewis Racing Trackchaser Report
Click on the link below to see the video production from the racing action today.
Click on the link below for a photo album from today's trackchasing day.  You can view the album slide by slide or click on the "slide show" icon for a self-guided tour of today's trackchasing adventure.