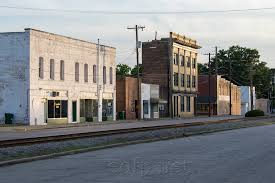 Greetings from Robersonville, North Carolina
.
.
From the travels and adventures of the 
"World's #1 Trackchaser"
.
.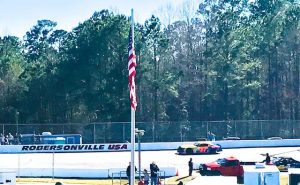 East Carolina Motor Speedway
Asphalt oval
 Lifetime Track #2,540
The EventVideo PlusPhotos
THE EVENT
I am a "trackchaser". I trackchase. Before you discovered my site had you ever heard of trackchasing? Maybe not? So….what the heck is trackchasing? Sit back, take a read and you'll be an expert on my hobby of trackchasing when you're finished.
Here's my best explanation.
Trackchasing is a three-pronged hobby. I'm a racing fan. I love to travel. I love to analyze opportunities to get the most out of everything while saving time and money.
Trackchasing fills the need for all of the above. The racing part of my trackchasing has me trying to see wheel to wheel auto racing at as many different racetracks as I can all over the world. Yes, all over the world. So far things are going pretty well. As this is written, I've seen racing in 82 countries at more than 2,500 tracks. As a matter of fact, I've seen racing at more tracks than anyone else in the world.
Equally important to me are the things I get to see and experience over the "long and dusty trackchasing trail". I call these adventures "Trackchasing Tourist Attractions". You won't want to miss my "Trackchasing Tourist Attractions" page. Here's the link:  Trackchasing Tourist Attractions or my "Sports Spectating Resume" page, Sports Spectating Resume on my website at www.randylewis.org.
I live in southern California. That's probably the most inconvenient location in the country for seeing tracks in the U.S. Most of the racetracks in the U.S. are located well over 1,000 miles from where I live. As a matter of fact, my average trip covers 5,000 miles and more. I take 35-40 of those trips each season. In any given year I will travel well over 200,000 miles, rent more than 50 cars, and stay in more than 150 hotel rooms.
I get the chance to meet people all over the world. With trackchasing trips to 82 countries and counting just getting the chance to experience so many other cultures, spend time in their homes and meet their friends is a huge reward for being in this hobby. I am indebted to several of these folks for their help and friendship.
It's takes a good deal of planning to do the above and not spend my entire retirement portfolio. I enjoy the challenge, the travel and every other aspect of "trackchasing". In reality, my trackchasing hobby is a lot like being with the carnival. I breeze into town, stay a little while and then head on down the road.
Today's adventure was one more of the 2,000 trips that have taken me up, down and around the proverbial long and dusty trackchasing trail.  If you would like to see where I've been and experience those adventures here's the link: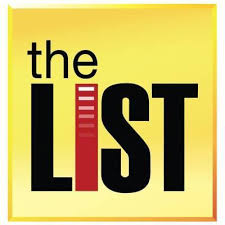 If you've got a question, comment or whatever please leave it at the bottom of this report.  It's very easy to do.  Or you can visit me on Facebook.  Thanks!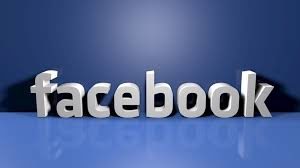 FOREWORD
Saturday, March 23, 2019.
Last night I wrapped up my trackchasing at the Illinois State Fairgrounds in Springfield, Illinois at nearly 10 p.m. It felt good to leave California early on a Friday morning and have a new Illinois track in the books by that night.
It's the middle of March. The middle of March is one of the most difficult times of the entire year to find new tracks to visit. The ice racing season is finished. A very small percentage of race tracks open their outdoor season as early as the middle of March. Since I've been doing this for a long time I have pretty well knocked out all of those "early risers" who would like to try to race in March.
I do have the passion for and the capability of seeing tracks that are located in point A and then point B even though point A and point B may be a long way apart. The following was my plan after leaving Illinois fairgrounds last night.
The track I wanted to see the next day…Saturday (17 hours after I left Springfield), was the East Carolina Motor Speedway. The track was built about 30 years ago. It's located in Robersonville, North Carolina. So, exactly how would I get from Springfield, Illinois down to the far eastern portion of North Carolina?
American Airlines has a large "hub" in Charlotte, North Carolina. If I could find somewhere in the Midwest that had an open flight on Saturday morning heading to Charlotte I could probably get over to East Carolina for their 3 p.m. starting time today.
I literally looked at flights from more than 15 cities that were within an eight hour drive of Springfield, Illinois. Only a couple of those cities had flights with enough unsold seats that I might be able to get one on a standby basis early on Saturday morning. 
The likely suspects were Kansas City, Des Moines and Nashville. As the week went by Kansas City filled up. I removed them from the list. When I finally had to make a decision I went with Des Moines, Iowa. Their loads had stayed constant all week. Since Des Moines is kind of "out of the middle of nowhere" in the airport business I figured they wouldn't sell their last remaining seats. People who live out in the middle of nowhere don't book flights at the last minute. Yes, I've learned a lot over the years.
Last night I left Springfield at 10 p.m. It was going to be a five-hour drive from there to Des Moines. My flight was leaving from Des Moines to Charlotte at a bit past 6 a.m. That meant I would need to return my rental car by about 5 a.m.
Let's do the math. Fact #1. If I leave Springfield at 10 p.m. and it's a five-hour drive without stops to Des Moines then I get into Des Moines at 3 a.m. Fact #2. If I return my rental car by 5 a.m. that gives me two hours to sleep. Fact #3. Yesterday I got up at 3:30 a.m. California time to begin my trip. Now on night #2 of this trip I was going to get two hours of sleep. Just like sergeant Friday used to say, "Just the facts ma'am". Don't worry I am a professional.
I used the first of my two hours of allocated of sleep in an Iowa Interstate 80 highway rest area. The temperature dropped to 32° overnight. It was a bit chilly but certainly doable. Then I took my last hour of sleep at the Des Moines airport. I knew the rental car company return lot was closed until 6 a.m. I pulled in there at about 4 a.m. and slept for another hour. Yes, trackchasing is the Life of Riley (Google it).
I must admit I slept for most of the 2 1/2-hour airplane ride from Des Moines over to Charlotte, North Carolina. If you're going to burn the candle at both ends like I often do you had best get 15 minutes or 30 minutes or an hour of sleep whenever it's available.
When I landed at the Charlotte Douglas International Airport I went to their new rental car center. With the old one someone renting a car had to ride a shuttle bus to their own particular rental car brand's lot. Now all of the rental car companies are in ONE location and you don't have to ride any shuttle buses. One can walk there. That's the best of all world's when you are pressed for time.
I normally go with my long-time rental car sponsor National Car Rental. However, occasionally Avis has rates that are quite a bit better than National. I've been renting from Avis from time to time lately. It's always good to develop a backup supplier just in case something happens to the primary option.
Today Avis had a car reserved for me and already parked in a space where I could easily pick it up. They were charging me about half of what National wanted for the three-day rental. I couldn't pass that up. For the next three days I'll be driving a brand new Toyota Camry. It came with about 500 miles on the odometer when I picked it up!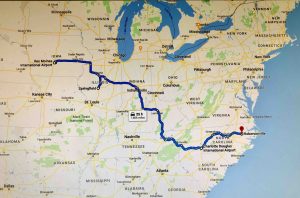 When I landed at O'Hare on Friday afternoon it was a four-hour drive down to the fairgrounds in Springfield. Then after last night's racing in Springfield it was a five-hour drive over to Des Moines. Now this morning in Charlotte it was going to be a four-hour drive over to Robersonville, North Carolina home to the East Carolina Motor Speedway. That's 13 hours of driving in the space of a day or so, maybe less.
It's only mid-March. After this weekend I will have seen racing in seven states and two Canadian provinces. In any given year I've see racing in 25-30 states. Over five years or so I'm likely to see racing in all of our states but one. Rhode Island no longer has any active racing tracks.
I've got a pretty strong history with racing in North Carolina. I guess I should. I used to live in North Carolina! You didn't know that? Yes, I (that's me lower left) lived here for three months at Camp Lejune when I was stationed on active duty in the United States Marine Corps. I didn't see a single race during the time I lived in the Tar Heel state.
After today I will have seen racing in 59 North Carolina states. This gives me a fourth place trackchaser ranking in North Carolina. I've seen all but a couple of the state's permanent stock car oval tracks. Luckily, county fair and off-road tracks pop up here from time to time.
THE RACING
East Carolina Motor Speedway – Robersonville, North Carolina
Today's racing was scheduled to begin at 3 p.m. When I left the Charlotte airport my ETA was 2:59 p.m. However, I did not expect to arrive at the beginning of the East Carolina race program. I knew that I would have to stop for a quick lunch. I might also stop for a 15-20 minute nap. Today I did both and pulled in to the track's parking lot at 3:40 p.m.
I didn't really know much about the East Carolina Motor Speedway. I didn't even know if today's oval track had a dirt or paved surface. Do you find that unusual? I don't. If I needed to know that information I would've known it. I didn't need to know it. I was going to come to the East Carolina Motor Speedway regardless of what type of surface they used!
Although I didn't have a lot of expectations I would tell you that today's facility over delivered on my expectations. Of course, parking was free. Parking is almost always free at permanent short track oval venues in United States.
When I walked up to the ticket window I got good news on two fronts. First they had a senior discount. Rather than paying the $12 general admission price I would get in for just $10. Don't get me started on why I think senior citizens should NOT be getting senior discounts!
Additionally they had a credit card machine so I could charge the price of my ticket. I charge EVERYTHING that I can. It earns me rewards and it saves me having to get cash from our ATM in San Clemente.
I would come to find out through a small but very informational one-page program that today would be feature racing only. They had eight classes of cars racing today. By arriving late at 3:40 p.m. I missed three of the eight class races.
It looked as if two of those three classes and maybe all three were open to younger drivers only. I was pretty impressed they had already run three feature events in the first 40-minutes of the day. That meant they must have started on time. I had no idea how many cars competed in those first three races.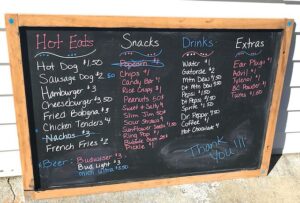 I did stop at the concession stand on the way into the bleacher area. I was impressed at what a wide selection of racetrack food they offered and at extremely low prices. A hamburger went for three dollars. There probably won't be one track out of 25 that will sell their hamburgers for three bucks or less this season. I grabbed a sausage sandwich for $2.50 and a can of soda for a dollar and a half. That was certainly a reasonable price for the sausage sandwich but at the same time it was also one of the smaller sausage offerings I've seen anywhere!
It was a beautiful clear and crisp spring day in North Carolina. It almost reminded me of being a day in the fall when temperatures are getting cooler. Today's high temperature was in the low 60s but came with a steady wind of about 10 miles an hour. I wore my Germany purchased army field jacket to ward off the wind.
The track announcer spoke to us over one of the best PA systems I've heard in recent memory. He was a congenial fellow who knew what he was doing and he met my two announcer requirements. He informed and entertained.
The track commentator told the crowd this was the 30th year of racing for the track. Considering the track had that amount of age I can tell you that I've probably never seen another track that was as clean and well-maintained as the East Carolina Motor Speedway.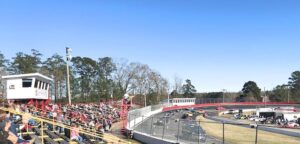 I'm going to say the track was a quarter-mile, maybe just a little bit bigger, asphalt oval. I was a little surprised to see the paved surface. That was OK. There are pluses and minuses to pavement racing compared dirt. I probably shouldn't call this track an oval. It seemed like it had turns in the straightaway and straight parts in the turns. The track came with a strong banking to it as well. The cars pitted in the infield. I always like that because I can see what's going on from the grandstand.
I've said in the past and I believe it to be true. I think North Carolina has the best short-track asphalt racing anywhere in the U.S. Over the years they've had some really nice venues and of course NASCAR's "home" is in Charlotte, North Carolina.
I was going to see racing from five divisions today. This included the street stocks, bombers, legends, chargers and late models. Car counts were thin. Three of the five divisions I saw race had only six cars. The other two came up with 10 and 13. Since this was a small track those minute car counts didn't affect the show all that much. It was a far cry from when features used to start 24 cars and sometimes more.
The crowd was small. I'm going to guess there were 200 people or maybe just a little bit less in the stands. The pits might have had another 150 or so. Everyone was well behaved and the track appeared to promote a family atmosphere.
Although I don't like to say it I believe that the short track racing industry in so many locations is going the way of the drive-in movie theater. We all know what happened to drive-ins and what their status is in America today. Small tracks like the one I was visiting today are hamstrung by low car counts and low fan counts even when they present their racing venue in such a positive light as they did today.
Back in the day you could pretty much count on a permanent oval track racing once a week from roughly May through September. A large number of the tracks that used to run weekly 25 years ago are no longer in existence at all. Another significant group of those tracks are racing a "specials" only program or running on an every other week basis. The East Carolina Motor Speedway races every other week beginning in mid-March through mid-September.
There aren't really that many asphalt short tracks in America. Small asphalt tracks are much less popular than small dirt tracks. Quite a few asphalt tracks operate in the south. Many of those run a "features only" race program. They've done away with the heat races. I'm a supporter of that idea in most cases. That's what they were doing today.
Today's last race was a 50-lapper for six late models. They finished up at about 6 p.m. They kept the show moving today. They did interview the top three finishers in each division. Friends and family were allowed to come down on the track during these interviews for photos and the like. I don't mind tracks doing that as long as they keep the rest of the show moving.
During the late-model feature the announcer told the crowd that all remaining food items were being sold at 50% off of list price. Remember list prices were already low. Now fans were getting a super bargain. I've got to tell you that quite a few of the fans who rushed up to the food line to take advantage of this promotion looked as if this wasn't the first time they had bought more food than they really needed.
AFTER THE RACES
Speaking of food, when I left the track I immediately consulted Yelp. I wanted to find a local Mexican restaurant where I could order my "go to" meal, which is queso fundido chorizo. This is a fantastic low-carb option.
Yelp rarely lets me down. I quickly learned a Mexican restaurant was within 15 miles of the track. I headed over there and had a delightful meal with chips, salsa and a soft drink and my menu item. The charge for that meal? $7.97.
Tonight I would be staying over in Greensboro, North Carolina. Greensboro is a 2 ½-hour drive from today's racetrack. I figured with dinner and then the drive time I would get to Greensboro at about 10 p.m. Being able to stay in a hotel for the first night on this trip following an evening where I drove through the night was going to be much appreciated.
My trackchasing for this trip is now finished. I saw two tracks. Considering what I have planned for the next two days seeing two new tracks is quite acceptable.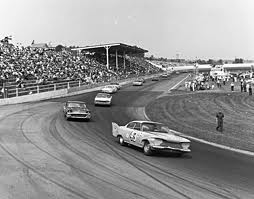 Tomorrow I'll be heading over to the Martinsville Speedway. Twice a year they host the NASCAR Monster Energy Cup race series. Tomorrow will be my eighth visit to Martinsville. It's one of my top three most favorite NASCAR tracks.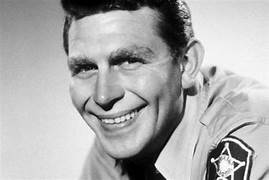 Then on Monday I have a tentative plan to tour Mount Airy, North Carolina. You may recognize Mount Airy as being the boyhood home of TV and movie star Andy Griffith. "Mayberry", North Carolina was the fictional equivalent of Mount Airy. I might even get my haircut in Floyd's City Barbershop!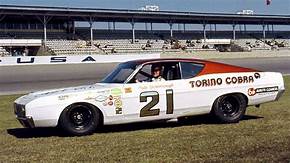 I will also hope to stop by the Wood Brothers Racing museum in Stuart, Virginia. If I pull all of that off it will be a great four-day trackchasing and touring trip.
Good afternoon from Robersonville, North Carolina.
Randy Lewis – 82 countries – 2,541 tracks.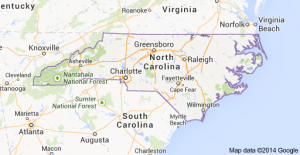 North Carolina
The Tar Heel state
This afternoon I saw racing at my 49th lifetime track in the Tar Heel state, yes, the Tar Hell state.  I hold the #4 trackchasing ranking in North Carolina.  I've seen 49 or more tracks in fifteen different states. No trackchaser can match that stat.
Thanks for reading about my trackchasing,
Randy Lewis
World's #1 Trackchaser
Peoria Old Timers Racing Club (P.O.R.C.) Hall of Fame Member
North Carolina sayings: Cajun Filet Biscuit
With bo rounds and a sweet tea.
QUICK FACTS
LIFETIME TRACKCHASER COMPARISONS 
The threemost important trackchasing comparisons to me are:
Total lifetime tracks seen
Total "trackchasing countries" seen
Lifetime National Geographic Diversity results
Total Lifetime Tracks
There are no trackchasers currently within 700 tracks of my lifetime total.  Don't blame me.
Randy Lewis, San Clemente, California – 2,541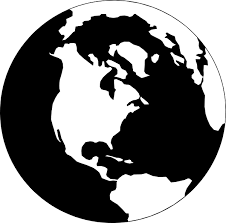 Total Trackchasing Countries
The nearest trackchasing competitor has seen racing in 30 fewer countries compared to my lifetime total. 
Randy Lewis, San Clemente, California – 82
Current lifetime National Geographic Diversity results
Randy Lewis, San Clemente, California – 4.14
That's all folks!  Official end of the RLR – Randy Lewis Racing Trackchaser Report
Click on the link below to see the video production from the racing action today.
Click on the link below for a photo album from today's trackchasing day.  You can view the album slide by slide or click on the "slide show" icon for a self-guided tour of today's trackchasing adventure.
A day in eastern North Carolina for some down home stock car racing