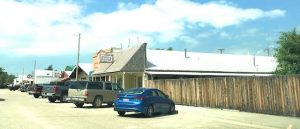 Greetings from Ekalaka, Montana
.
.
From the travels and adventures of the 
"World's #1 Trackchaser"
.
.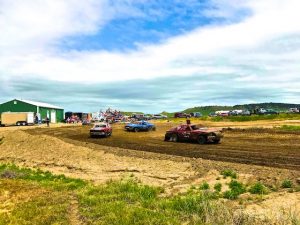 Ekalaka
Dirt road course
 Lifetime Track #2,450
The EventVideo PlusPhotos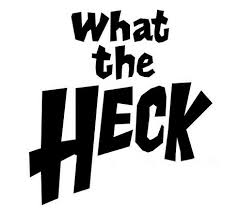 THE EVENT
I am a "trackchaser". So, what the heck is that? I get that question all the time from racing and non-racing people all the time. This is a difficult question to answer. Why? Because after I do my best to respond people say, "I've never heard of such a thing"!
Here's my best answer.
I'm a racing fan. I love to travel. I love to analyze opportunities to get the most out of everything while saving time and money.
Trackchasing fills the need for all of the above. The racing part of my trackchasing has me trying to see wheel to wheel auto racing at as many different racetracks as I can all over the world. Yes, all over the world. So far things are going pretty well. I've seen racing at nearly 2,500 tracks in 80 countries. As a matter of fact, I've seen racing at more tracks than anyone else in the world.
Equally important to me are the things I get to see and experience over the "long and dusty trackchasing trail". I call these adventures "Trackchasing Tourist Attractions". You won't want to miss my "Trackchasing Tourist Attractions" page. Here's the link:  Trackchasing Tourist Attractionsor my "Sports Spectating Resume" page, Sports Spectating Resumeon my website at www.randylewis.org.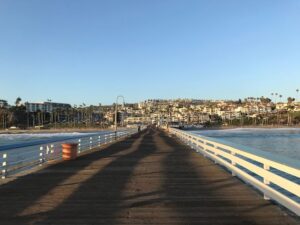 I live in southern California. Most of the racetracks in the U.S. are located well over 1,000 miles from where I live. As a matter of fact, my average trip covers 5,000 miles and more. I take 35-40 of those trips each season. In any given year I will travel well over 200,000 miles, rent more than 50 cars, and stay in more than 150 hotel rooms.
I get the chance to meet people all over the world. With trips to 80 countries and counting just getting the chance to experience so many other cultures, spend times in their homes and meet their friends is a huge reward for being in this hobby. I am indebted to several of these folks for their help and friendship.
It's takes a good deal of planning to do the above and not spend my entire retirement portfolio. I enjoy the challenge, the travel and every other aspect of "trackchasing". In reality, my trackchasing hobby is a lot like being with the carnival. I breeze into town, stay a little while and then head on down the road.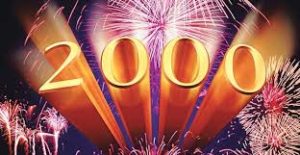 Today's adventure was one more of the 2,000 trips that have taken me up, down and around the long and dusty trackchasing trail. If you would like to see where I've been and experience those adventures here's the link:
If you've got a question, comment or whatever please leave it at the bottom of this report.  It's very easy to do.  Or you can visit me on Facebook.  Thanks!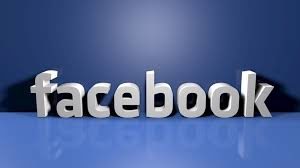 FOREWORD
Sunday, June 10, 2018.
I really enjoy trackchasing in the Far West. The thirteen state region doesn't have very many race tracks compared to the Midwest, east or south. Additionally, I've seen most of the Far West tracks the region does have by now. However, there are still a few and wherever I get a chance to tour the Far West that's a good thing to do.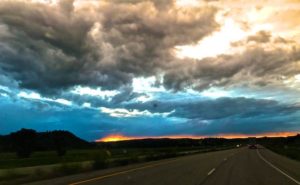 I got out of last night's figure 8 racing show in Rigby, Idaho at 8 p.m. Today's Montana Bump N Run races would begin at 12 noon today in Ekalaka, Montana. Ekalaka is a nine-hour From Rigby.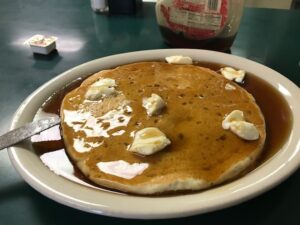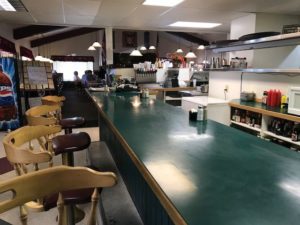 This all meant that I had 16 hours to make a nine-hour drive. I figured an hour of that time would be taken with gas stops, stretch breaks and the like. I did stop at a very authentic but at the same time desolate looking little small town Montana cafe. I had a pancake and moved on down the road.
I also hoped to get to the race track early. With all of that I figured I would have four or five hours of time to sleep. The night before I had a similar situation and ended up with only two hours of sleep. I can do that for short bursts but after two or three days of very little sleep I start to feel it.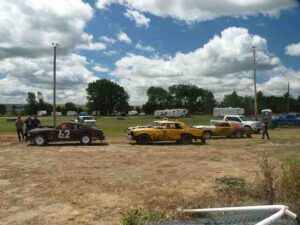 I have a bit of a history with the Montana Bump N Run racing association. I've seen BnR shows in Montana at Lewiston, Acton, Forsyth, Plentywood and Baker. Ekalaka's track would make that six BnR events. There are still a few of their tracks to see so I hope to be back to the Big Sky state.
During my business career I learned it pays to go to the top when you need a decision made or more information. I try to apply what I learned in business to trackchasing whenever I can. It definitely pays to go to the top.
This group races at six or eight tracks about 10 times a year. I've been told they have been in the Racing business as the Montana Bump N Run group for 30 years or more. From time to time I've had a difficult time finding out when and where they will be holding the races. Each time I had some trouble I would ultimately locate someone representing the group and get all the information I needed.
A couple of years ago I was searching for Montana BnR information. I ended up talking to a fellow by the name of Casey Schledweiler. One night a couple of years ago we talked for a very long time on the phone. Casey gave me a complete history of what the group of been up to over the years. Today Casey is the president of the Montana BnR group.
I had been in contact with Casey regarding a trip to Ekalaka this weekend. I told him if I made my flight from Dallas to Boise on Saturday morning I would be in Ekalaka on Sunday afternoon. I'll bet he doesn't hear very many travel plans like that. My statement didn't turn out to be exactly true. I missed the flight to Boise but I did catch a flight to Bozeman, Montana, which was good enough to make my Sunday afternoon trip come true.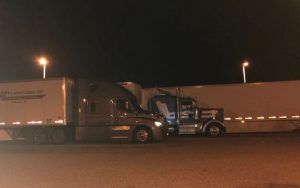 I was able to get about four hours of sleep in the Custer, Montana rest area off of interstate 94 last night. This is the same rest area I slept overnight in a year or two ago. On that trip a huge black bear ran across the entire four-lane interstate highway with me just missing him by the smallest of distances.
Before I stopped in the highway rest area last night I had driven nearly 6 hours up from the racing in Idaho. That left only about three hours of driving to get to the track this morning. Nevertheless I did have to stop for a couple of 20-minute power naps because of the sleep deprivation this trip has been sending my way.
Last night's drive had been most challenging. My Waze GPS system took me northward on the edge of Yellowstone National Park. I saw deer and buffalo. I was expecting to see bears at any moment.
The state of Montana erects a small white cross at the site of wherever a fatality takes place along the road. A good deal of my driving in Idaho and Montana this weekend has been on two-lane highways. I have seen literally hundreds of those white crosses.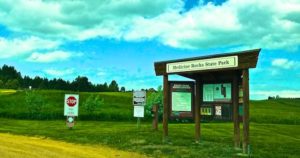 When I was only eleven miles north of the track I came across a sign that read, Medicine Rocks State Park. I had the time to stop. I'm always looking for another Trackchasing Tourist Attraction. I pulled into the park and was amazed at the sand stone rocks that are both huge and weathered. Don't miss the photos on this one.
By the way this is what Wikipedia had to say about the park.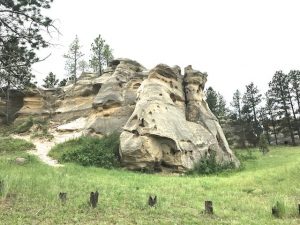 "The park is named for the "Medicine Rocks," a series of sandstone pillars similar to hoodoos some 60 to 80 feet (18 to 24 m) high with eerie undulations, holes, and tunnels in them. The rocks contain numerous examples of Native American rock art, and are considered a sacred holy place by Plains Indians. The park is 330 acres (130 ha) in size and 3,379 feet (1,030 m) in elevation. It is managed by the Montana Department of Fish, Wildlife and Parks. Theodore Roosevelt said Medicine Rocks was "as fantastically beautiful a place as I have ever seen". The park was listed on the National Register of Historic Places in 2017.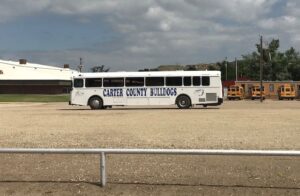 I figured when I pulled into the small town of Ekalaka, with its population of 300 people, finding the racetrack would be easy. Nope, it wasn't. I drove around town and still couldn't find the track until I saw a race car hauler headed out of town a short distance. I followed the racing team and they took me to the track.
THE RACING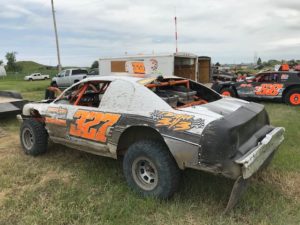 Ekalaka – Ekalaka, Montana
Today's general admission charge of just seven dollars was more than reasonable. Last night I paid seven dollars to see figure 8 racing in Idaho and the night before only eight dollars to see a quality stock car program in Texarkana, Arkansas. Those are very reasonable ticket prices.
The Montana BnR group races exclusively on dirt tracks. Most of the tracks I've seen are around 3/4 of a mile, maybe a mile in total distance. The track configuration is always a road course with a little bit of left and right hand turning but has many of the elements of a very large oval.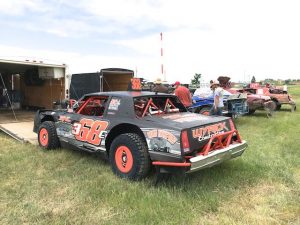 These folks race full sized "Detroit iron" stock cars. They have two classes, super stocks and modifieds. There are no wimpy four-cylinder cars racing with Montana bump and run. These are big V-8 powered heavily reinforced stock cars.
They had about 20 stock cars in the pit area plus one pick-up truck. The super stocks brought about a dozen cars with the balance being modifieds. The one and only pick-up truck ran a four lap heat race by himself. He won!
Today there was a strong PA system. About one track out of every 200-300 I see has a woman announcer. Often times those ladies are nothing special. Don't get me wrong. A lot of times male announcers aren't anything special today either.
The woman doing the commentating today, Jesse Scott, was not a shy person. She was more than willing to express her opinions and describe the situations in an entertaining and informative fashion. That's really what the announcer supposed to do with the crowd, entertain and inform them. This woman sounded as if she were from the south and not so much from around these parts. It was too bad I didn't get a chance to talk to her.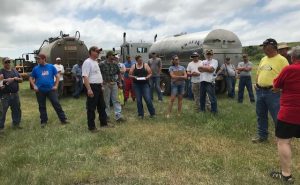 During the driver's meeting Casey introduced me to his racers. I had several folks come up and say hello. It was fun talking to these guys and hearing about their racing in Montana.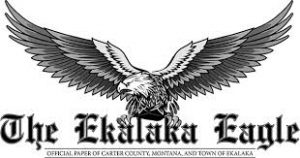 I noticed a young man walking around the pit area taking notes and photographs. Later he would come up and introduce himself as Ryan O'Connell from the local newspaper, the Ekalaka Eagle. I was a little surprised that a town of only three hundred people would have its own paper.
Ryan told me he was interning with the newspaper for this summer. He's a student at the University of Montana and hopes to make small town journalism his career. We had a nice chat about my hobby. Ryan told me he would send along whatever appears in the newspaper. 
I've had more than 100 published newspaper interviews. There have been lots of radio shows and a few TV appearances. The biggest TV gig was a one-hour ESPN Sports Center like program in the country of Malta. I've done live radio interviews in both Colombia and Bolivia. Lots of people seem interested in my hobby of trackchasing and what it takes for me to move around the world doing what I do.
Here's a look a Ryan's story as it appeared in the Ekalaka Eagle.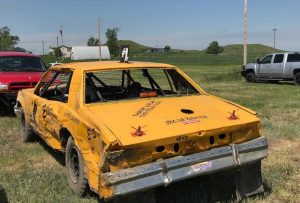 "The traffic-cone orange fire suit has room for two and the helmet makes my head a goldfish in a fishbowl. Five separate straps join in my lap, holding my upper body against the back of the seat while my legs are free to straddle the car's battery. "How fast do you want to go?" Casey Schladweiler asks.
"I wanna go fast."
The yellow stock car merges onto the dirt track, Schladweiler hits the gas and swings the car around the first turn, its rear-end proclaiming "LONG LIVE BUMP-N-RUN."
Hot laps, pre-race practice runs, feel like the car's backside is drifting across glass until the brakes clinch, the tires dig and the nose of the car rips towards the next turn. The first time over the finish line hill, my stomach has to catch up and I'm too distracted to notice if the car's three gauges fluctuate. The laps are over too fast and I can't stop grinning. More statement than question, Schladweiler says, "It's addicting, isn't it?" 
It is.
Drivers show up to Ekalaka's Bump-N-Run as early as 8 a.m. and keep pulling into the grass field serving as the pit area until the driver's meeting a little after noon. Locals drive their cars straight to the track, others, many who have driven hundreds of miles, show up with their cars on trailers.
Doug Stieg and his wife Sandy have been putting on Ekalaka's Bump-N-Run for almost two decades. Their daughter, Jennifer, organized today's event. 
Stieg and his son, Justin, are both driving today. Stieg wins the stock car division's second heat and Justin Stieg goes on to finish third in the modified division's main event. 
Later this afternoon, the PA announces, "Happy anniversary to Doug and Sandy Stieg."
The best part of his day? Stieg smiles, twirls a dipstick and looks out over the cars lined up in the pit area. "All day," he says. 
Today's race has two different divisions, the stock cars and the modified cars. The stock cars are just that, stock. Typically, they're more beat up and dirtier than the mod cars. There are dents in the paneling and bends in the frames, some cars look covered tin foil that's been crumpled, flattened and wrapped around a roll cage, painted, hit with a sledgehammer and papier-mâchéd with dirt. 
They look cool. 
The modified cars are driven by drivers who have the cash and time to sink into their hobby. Anything goes in the mod division, except methanol fuel and cars structured with a tube chassis. 
As cars have gotten faster, safety standards have gotten higher. The introduction of fire suits and extinguishers, specific helmets and neck restraints are coupled with a rulebook that can adapt in the span of a week to accommodate safety. 
Pivoting, digging cars fling dirt up over the first turn's berm as they head into a quick second turn. The cars pick up speed after the track's third kink, heading into the straightaway. During each heat, at least one car loses a tire, gets turned around or stalls out. Some drivers, like Schledweiler, are able to move off the track or to its edge, but the cars that can't present a surprise obstacle for other drivers. A large green tractor comes over at the end of races to tow wrecked cars to the pit.
There are 12 stock racers today and seven modified cars. Turnout is down, due to a race the previous night, some cars won't be fixed in time to race here, but it has been a trend the last few years. The oil fields crashed and drivers sold their cars or moved away. Regular maintenance is expensive and the sport's startup price has gone up. Despite this, driver's say there's been a recent uptick in entries. The sport is revving back up. 
This is driver Anthony James' first season in the modified division. His father, Jeff, races too, but is spending today as pit crew for his son and his friend Tanner Dey. They had a fire start at last night's race due to electrical issues and have spent the morning rewiring, changing a tire and monitoring the car's transmission. The repairs pay off and James finishes fourth in his division's main event. 
Jim Heaton's pit crew consists of his son, Taylor, who will be racing next season, and his daughter, Keely. Between races, Keely helps scrape dirt off the car's tires and mud flaps.
Some folks are new to racing, others have two decades or more of experience, and then there's Randy Lewis.
Lewis' business card reads, "World's #1 Trackchaser." He's seen races in 80 countries and Ekalaka is track 2,450. Lewis says he saw his first track when he was five, but didn't see his second until he was 15. At 40, he'd seen 150. After retiring 16 years ago, he's picked up the pace. As the cars churn dirt, he says, "I realized I liked seeing a track for the first time more than the 10th."
He'd rather spend the day at a track like Ekalaka's than at Daytona. 
The closest NASCAR track is 863 miles away in Kansas City. The consensus on this: good.
A Bump-N-Run is the sort of place where the pit meeting happens "at the old porta john," the PA announcer sits on her pickup's tailgate and teases drunk spectators by name, and on the other side of pit areas fence are two animals rating one horsepower a piece. Rolls of hay in pairs are on the outside of the track. Inside are two more. Instead of Pepsi, DuPont or Laughing Clown Malt Liquor, the sponsors are small-town retailers. Bob's Body Shop, Dean Trucking, Runnings. Daniel Shennum's car has a Budweiser logo on the hood. The company isn't paying his bills though, his brother just liked the sticker.
The PA's announcement of the beer truck's arrival is tuned in, the repeated pit meeting reminders tuned out. The concession stands estimate they grill 150 burgers. Half will be eaten by the crowd and the other half by the drivers, crews and volunteers. For the flaggers, water tenders, wreckers, concession workers, announcers, organizers, firefighters and ambulance service it isn't the pay (there isn't any) that keeps them coming. Volunteers show up to support their friends, their community and the sport.
For the kids though, this is the big time. They rush the fence to get their T-shirts and arms signed by drivers. Over the PA, Jesse Scott, who has been spitting one-liners all day, asks a driver if he has prepared head shots to give out.
Local driver Aspen Smith-Kuehn's autograph is most coveted. When his police squad patterned car vrooms past the bleachers, kids climb the checker box fence, entwining their fingers so they don't fall, and yell, "Aspen! Go Aspen!"
Smith-Kuehn wins the stock division's first heat and the main event.
In the mod division, Daniel Shennum drives his white and blue, centered steering wheel car to win the only heat of the day and the main event. 
Jesse Stotler's pick-up, with "'MERICA" and the U.S. flag painted on the side, is the only one registered. He declines the automatic win and speeds through the track. "He'll either be first or last," says Scott over the PA. He's first.
The crowd thins out quickly, affected by the last few hour's RPMs. Those parked closest to the bleachers imagine their pickups as race cars and anxiously wait for people to speed walk past before they peel out.
"Fans expect us to be here even if the car isn't 100 percent," says Luke Holestine. He pushed Heaton's stalled car across the line in the first heat. During the mod main event, Holestine's engine malfunctioned and his steering went out. "It's hard not to finish," he says.
Ryan O'Connell
Jim Heaton smiles as his #368 modified car is towed off the track.
Heaton smiles a "what can you do," smile as he sits on the edge of his car's window as it is towed off the track by a green tractor. His detached tire won't fit behind the car in his trailer, so he rolls it around to the side door. 
After loading up their cars, drivers review the race, eat burgers and plan repairs. Heaton says they can't be letting Tristan Silweland win the point standings again.
"You'd better get used to it," Silweland replies.
Half of the drivers weren't able to finish the race, one car never got off the trailer. Still, no one moans, no one complains. "There's a little bit of attrition to it," says Clint Dietz, who, despite a blown out front tire, finished third in the stock division. "It's kind of the nature of the beast."
That's Bump-N-Run. And they'll all be ready for next week."
Nice job describing a day of Montana BnR by Ryan!
Rather than say too much about the racing I'm going to ask you to take a look at my photo album and my YouTube video. I think you'll see a picture of every car that was at the track today. You'll also see this most unusual dirt road course with some minor jumps and some very high-banked oval track like turns. You'll see fun downhome racing. They ran a very efficient program.
I'm always telling Carol that at virtually every new track visit I make something happens or I see something that I've never seen before. Now that I've been to nearly 2,500 tracks I wonder how that can be possible.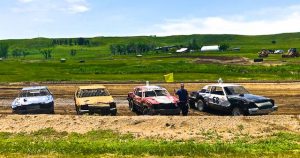 Today the people running the show had a "Calcutta". I've heard of a Calcutta in golf but have never experienced one in racing. From what I could tell by observation and asking people around me some questions here's how it works.
To begin with all of the drivers in the super stock division came out onto the front straightaway. By all the drivers I mean all of the drivers who were 18 years of age or older. Drivers under 18 can't be part of any kind of "gambling" apparently in Montana, so they were asked to stay in the pit area during the Calcutta bidding process.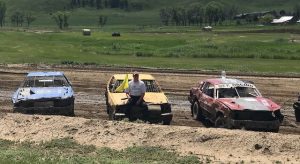 One by one each driver was introduced to the crowd and asked to stand in front of their car. Then everyone in attendance begins to participate in an auction of sorts. One car owner told me that he thought half of the money that was raised during the entire auction would go to the fan who picked the winning driver and the other half to the winning driver.
The announcer started the bidding at $25-50. Obviously the fans knew which drivers had been the most successful in the past. One driver in the super stock division ended up having his bid top out at more than $400. The total money raised within the super stock division probably amounted to nearly $1,000 bucks. If I have my information right that meant the winning driver would get an extra $500 bonus if he won the feature. The fan who "bought" that winning driver would get the other 500 bucks. Again, it absolutely amazes me that I continue to see things for the very first time after having done what I do for quite a long time.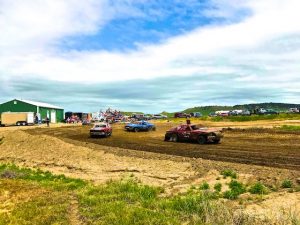 I had parked my car in a position where I could watch the races from inside the National Car Rental Racing Toyota Highlander. I watched the first half of the program, the heats, mostly from the pit area. Then when it came time to run the two features I moved over to the spectator side and watched from there.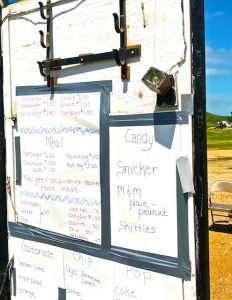 Today the track was selling concessions, which included beer. I had one of the biggest double cheeseburgers I've ever seen at a race track for seven bucks.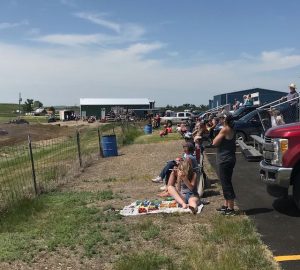 The crowd was on the small side. One car owner told me that as the bump and run group tightened their rules to focus more on real racing and less banging he thought the crowd had fallen off a bit. I can understand that. The biggest crowds I see anywhere I go are for crash and bang type racing not sophisticated late model type short track oval racing.
I was both happy and tired when today's show ended at 2:30 p.m. I enjoyed myself very much. I met lots of nice people and saw some interesting racing. I told Ryan, the newspaper reporter, that I would rather spend an afternoon doing what we were doing today than attending the Indianapolis 500. Of course, I can say that because I've attended the Indy 500.
At 2:30 p.m. after being out in the sun and the wind for a few hours and getting virtually no sleep over the last three nights, I was one whipped puppy. Nevertheless, I still had a six-hour drive back to Bozeman, Montana. I hope to fly home from Bozeman tomorrow, Monday morning. However, the flights are tight. Because I fly standby I have no assurance I will make it home tomorrow.
AFTER THE RACES
Tonight I was expecting to get back into Bozeman at nearly midnight. I had to be at the airport on Monday morning by 6 a.m. I strongly considered sleeping in my car for the third consecutive night. Hotel prices during the summer in this part of the country can be expensive. I didn't want to pay 100 bucks to sleep in an economy hotel for six hours.
I was actively planning to take a shower at an interstate truck stop. Most people reading this have never done such a thing. I've only done it a couple times but the facilities are quite nice.
This was my plan until I noticed that the low-temperature tonight in Bozeman was expected to be 37°. I did not need to be trying to sleep in my car for six hours to avoid a $100 hotel bill in 37° weather. On the other hand, I guess I could have bought a one hundred dollar jacket, slept in the car and had a one hundred dollar jacket to show for the experience when it was all said and done.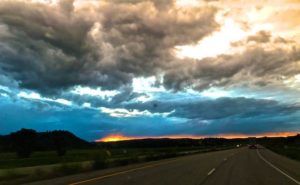 The drive back to Bozeman was fairly uneventful. I did drive through a rainstorm for a bit. The weather moves through this part of the country pretty fast and the rain didn't last long.
I was pleasantly surprised to get nearly 28 miles per gallon from my big and heavy Toyota Highlander. I've had rental car agency people in the past tell me that the SUV they wanted to give me gets better mileage than it actually would. I would definitely consider renting another Highlander although I don't see them around in rental car lots all that much.
Notwithstanding the idea that I still have to find a flight home tomorrow morning this has been a very successful trackchasing weekend. There has never been a trackchaser in the entire history of the hobby that completed a three-track three-day weekend trip that involved first Arkansas and then Idaho and Montana. I'm pretty happy about that.
People either ask me directly or wonder privately how I pay for all of the things that are required to make my trackchasing a success. I've been doing this for a long time. I get good deals. As an example, I paid less than $100 for three days of premium rental cars. I drove the two cars I had during the trip a total of more than 1,600 miles in three days. I ended up paying about $80 for three nights of overnight stay. I got a real good deal my airfare as well. The cost of these trips isn't the biggest challenge.
In reality this is more of a mental game than anything else. First, you have to run through the mental gymnastics of what it takes to come from Southern California to Arkansas, then onto Idaho and Montana and find a way to get back home. Then you have to decide if you're willing to put your body through the physical part. As a graduate of the United States Marine Corps boot camp training I learned a long time ago that you can pretty much do anything you want to or anything you have to. I apply what I learned there to trackchasing and it's pretty much a piece a cake.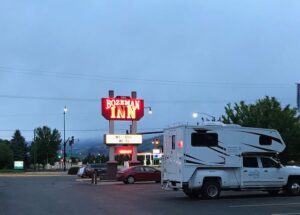 I ended up getting a hotel room in Bozeman. I noticed on Booking.com they were selling rooms for 75 bucks a night. In the middle of June in Montana that's a pretty good rate. Nevertheless, I called the hotel directly and negotiated things down to $69 a night under the idea that the Bozeman Inn wouldn't have to pay Booking.com a fee for their services if they sold the room directly to me. They could pass along some of those savings to me! I don't have any problem making those requests. The worst the people I'm talking to can do is say no right? 
I don't know if I'll be up in this part of the country again this year. That being the case I took the time to enjoy my drive into the western setting sun this evening. Montana is not only Big Sky country but they've got a lot of beautiful scenery as well. Right now everything is green and there are lots of ponds and rivers running through the landscape. Montana is a beautiful space.
MONDAY
It was a short night of sleep at the Bozeman Inn. When I left the hotel at 5 a.m. for my 7 a.m. flight it was cold! I was glad at that point I had paid for a hotel room. I mailed my postcards back home at the airport.
I made a series of flights that took me from Bozeman (BZN) to Seattle (SEA) to Los Angeles (LAX). I was home in time to take Carol for a walk at the beach. The waves on this evening were HUGE. We had dinner at one of our local Italian restaurants. It was good to be home. It was good to have had such a great trackchasing weekend.
Randy Lewis – 80 countries – 2,450 tracks.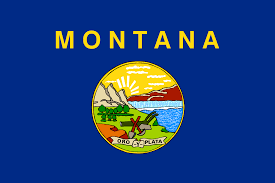 Montana
The Treasure state
This afternoon I saw racing at my 16th lifetime track in the Treasure state, yes, the Treasure state.  I hold the #1 trackchasing ranking in Montana.  I've seen 16 or more tracks in thirty-four different states.
I often tell you that trackchasers don't show up very often in the thirteen Far Western states. Why? There aren't many tracks in the Far West. Most race only on Saturday. The Far West is a long way from where most all trackchasers live, which is in the east and a little bit in the Midwest.
Montana is one of the three states where I have seen twice as many tracks or more than the second ranked trackchaser. In the Treasure state Michigan's Allan Brown ranks second with seven tracks. In total, I have seen 425 Far West tracks.  
Thanks for reading about my trackchasing,
Randy Lewis
World's #1 Trackchaser
Peoria Old Timers Racing Club (P.O.R.C.) Hall of Fame Member
Montana sayings:
Always drink upstream from the herd.
Never squat with your spurs on.
Raining like a cow peeing on a flat rock.
QUICK FACTS
LIFETIME TRACKCHASER COMPARISONS 
The threemost important trackchasing comparisons to me are:
Total lifetime tracks seen
Total "trackchasing countries" seen
Lifetime National Geographic Diversity results
Total Lifetime Tracks
There are no trackchasers currently within 655 tracks of my lifetime total.  Don't blame me.
Randy Lewis, San Clemente, California – 2,450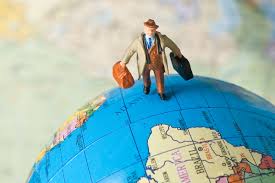 Total Trackchasing Countries
There are no trackchasers currently within 25 countries of my lifetime total. 
Randy Lewis, San Clemente, California – 80
Current lifetime National Geographic Diversity results
Randy Lewis, San Clemente, California – 4.14
That's all folks!  Official end of the RLR – Randy Lewis Racing Trackchaser Report
Click on the link below to see the video production from the racing action today.
Click on the link below for a photo album from today's trackchasing day.  You can view the album slide by slide or click on the "slide show" icon for a self-guided tour of today's trackchasing adventure.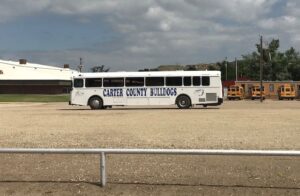 On the road to Montana….for Bump N Run racing