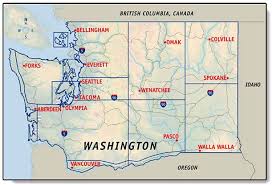 Greetings from Monroe, Washington
.
.
From the travels and adventures of the "World's #1 Trackchaser"
.
Evergreen Speedway – 5/8-mile asphalt oval – Lifetime Track #152
Evergreen Speedway – Figure 8 – Lifetime Track #515
Evergreen Speedway – 3/8-mile asphalt oval – Lifetime Track #516
Evergreen Speedway – Asphalt road course – Lifetime Track #964
Evergreen Speedway – 1/5-mile asphalt oval – Lifetime Track #1,332
Evergreen Speedway – Mixed surface road course – Lifetime Track #2,371
.
Highlights5/8-mile ovalFigure 83/8-mile ovalRoad Course1/5-mile ovalMixed surface road coursePhotosVideos
I've had a lot of fun trackchasing at the Evergreen Speedway.  Some folks criticize trackchasing's rules regarding the "countability" of tracks.  These critics think the counting of tracks is too "liberal".  According to trackchasing rules there are three track "configurations" that allow a trackchaser to count a track.  These configurations are ovals, road courses and figure 8 tracks.
In case you didn't know trackchasers can count a track if it is a dirt track and then count it again if the racing surface were to change to asphalt.  There are also "mixed" surface tracks (commonly used for rallycross) where the racing is done on BOTH dirt and asphalt.  That's a THIRD way to count the same track layout.
Then, as is the case with the Evergreen Speedway different SIZED ovals also count as different tracks.  At Evergreen they race on three separate sized ovals of 1/5-mile, 3/8-mile and 5/8-mile distances.  Finally if two road courses are different enough (rules are a bit complicated on this one) then a chaser could count racing on two different road courses at the same facility.
Let me be perfectly clear.  If I were in charge of trackchasing rules I would limit the counting of tracks to just one per facility.  At the very least I would limit the counting of tracks to just one per visit.  However, I am not in charge of trackchasing rules.  As a matter of fact I didn't have anything to do with how these rules on oval and road course counting came to be.  Nevertheless, in order to properly compare my results against other trackchasers I count my tracks by the current trackchasing rules.
I can tell you this.  I have now seen countable racing at six different tracks at the Evergreen Speedway.  However, I have been to the Evergreen Speedway on SIX different occasions to do that.  Therefore, I don't feel too badly about getting six tracks in six visits.
Behind each of the five tabs you will see photos and a description of my time at the Evergreen Speedway.  It's a fun place to watch racing.  I've seen some great racing up there in the NASCAR West days and met some fine people.  Yes, the Evergreen Speedway is a quality track comparable to any short track on a national basis.
By the way don't miss the radio interview I did with ESPN 1380 radio on one of my most recent Evergreen visits.  Here's the link:

ESPN Radio interview: Evergreen Speedway
I first came to the Evergreen Speedway back in 1985 to watch the NASCAR West series race.  Some of my all-time favorite drivers competed in this series.  I saw Richard Petty win a NASCAR West series race at the Phoenix International Raceway back in the day.  Herschel McGriff was one of my favorites at well.  By the way…have you checked out my list of all-time favorite drivers?  Here's a link to that post:
Randy's all-time favorite drivers
During my 1985 visit to the Evergreen Speedway I had a chance to meet an up and coming NASCAR star named Bill Elliott.  As luck would have it I was wearing a Bill Elliott t-shirt that day!  I found Bill to be a soft-spoken young man befitting his Georgia roots.  Later, I would meet Bill again along with his son Chase at the Atlanta Motor Speedway.  During that visit Bill told me he raced in a figure 8 race at the Evergreen Speedway.  Bill also mentioned that he "felt like he had been to 3,000 tracks" after hearing about my trackchasing exploits.  I hope not.  Then that would make Bill Elliott the World's #1 Trackchaser!
During my 1985 visit Derrick Cope won the main event.  When I returned in 1989 for the same "Evergreen 500" NASCAR West race Chad Little won.  Sadly the NASCAR West series no longer exists.  One of the things I liked best about that series was the drivers did not use it as a "stepping stone" to bigger series.  Guys like Ray Elder, Roy Smith, Herschel McGriff and the like ran with this group for many years.
Greetings from Monroe, Washington,
 
TRAVEL/PEOPLE NEWS
The weather on my racing travels this year has been great. I have only a one-sentence weather requirement. It reads the weather should be of "clear blue skies, temps in the low 70s with no humidity". That's exactly the weather in the Pacific Northwest. Washington is one of the most beautiful places in the country on a clear bright day. You're most likely to get one of those in July or August.
Today's drive from Portland went by Mount St. Helens. You will recall that is the mountain that blew up. Can you remember when the last major explosion from this occurred? It was May 18, 1980. Seems like it wasn't that long ago to me. Can you remember where you were on that day? I was watching Bobby Allison win a Winston Cup race at Dover International Speedway in Dover, Delaware.
I stopped near the Mountain St. Helens National Park and watched a 30-minute film about the activities. The explosion carried the power of 27,000 atomic bombs, was heard 700 miles away and generated enough ash to cover the entire city of Seattle to a depth of the Space Needle! Write this stuff down, you can use it at your next cocktail party.
The Evergreen State Fair is very good sized. Their "food court" is one of the largest I've seen at a county/state fair. I was good and downed only a $2 lemonade.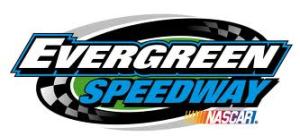 RACING NEWS
I had been to the Evergreen Speedway twice before in 1985 and 1989 to watch races on the 5/8 mile oval. In 1985 I got the chance to meet Bill Elliott and have my photo taken with him. Bill was just starting out in NASCAR back then. When people visit my office I'm proud to point out the 8"x10" photo although Bill and I look much younger in the picture than one would think.
In addition to the 5/8-mile oval, Evergreen Speedway has a figure 8 course, a road course and two other ovals of 1/5 and 3/8 mile distances. I emailed the track in advance and they told me the races started at 7 p.m. and they would be using the figure 8, 1/5, and 3/8 mile ovals. That would be a great evening….three new tracks in just one location.
Unfortunately, only a little bit of the track's information was correct. After I entered the Evergreen State Fair (not sure if this is the Washington State Fair or not – Barb, maybe you can help on this one) and paid $5 bucks to park I was just relaxing in the car. It was only 5 p.m. and I had two hours before race time or so I thought. I heard the sounds of racing cars and thought they were hot lapping. Upon closer review they were starting the heat races at 5 p.m. So I hustled into the fairgrounds and paid my $20 for fair and race admission (throw a few more $twenties on the fire!).
The opening heat races that I saw were on the figure 8 track so that one goes in the books at #515. The announcers were professional in the "DJ" style. This is not my favorite style of announcing but these guys weren't bad. They had a strong aversion to delaying restarts and doing the "one more time around" thing. One memorable quip, "if we starting reading War and Peace now we can be finished by the time they restart!".
I bought a race program for $4. I gave the high school aged lady who was selling the programs my track list with a dollar bill tip attached and asked if she would take it up to the announcing booth. She agreed and marched it up right away. The announcers immediately made comment on the trackchasing activity and mentioned I had given them a dollar to broadcast the message. This gal would have a hard time making it in the exotic dance club industry!
Following the figure 8 heats races were some oval track races. The figure 8 feature started 18 cars. That's the largest field for a figure 8 field I've seen lately. The 20-lap feature was a good one with only one major crash that happened on the last lap.
Food of the day: A late breakfast at Shari's Restaurant of chicken fried steak hit the spot. An early dinner at KFC was it for the day.
Rental Car mileage: I now have 331 miles on the National Rental Car racing Pontiac Grand-Am as it beds down in Bellingham, Washington.
Greetings from Monroe, Washington,
 
TRAVEL/PEOPLE NEWS
The DJ announcers had a movie trivia quiz. See if you can get it. What was the name of the movie that told the live story of drag racer Shirley Muldowny?
Jaws
Heart Like a Wheel
Gone with the Wind
Viva Las Vegas
If you guessed Heart Like a Wheel you win four free passes to next week's event at Evergreen Speedway. If not, continue to read these racing reports and try again later.
RACING NEWS
The 3/8 mile oval was track #516. Contrary to earlier track communicaton they would not be racing on the 1/5 mile oval tonight. They had a large field of street stock/bomber cars as well as mini stocks and late models. This is a NASCAR weekly track. The street stock/bomber B main was scheduled for 20 laps or 20 minutes whichever came first. After about 35 minutes they cut the length of the race to 15 laps. Go figure!
GREETINGS FROM MONROE, WASHINGTON,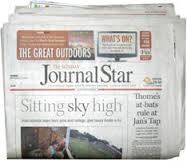 VERY SPECIAL NOTICES
Over the past couple of weeks, I have been working with Peoria Journal Star sportswriter, Don Baker. I met Don on my recent Labor Day visit to the Peoria Speedway. He and I have talked on the phone a couple of times in preparation for his feature story about trackchasing and me.
I suspect that not all of the more than 1,000 Trackchaser Report readers are subscribers to one of the best daily newspapers in the country, the Peoria Journal Star. Don't worry, you can still read the story. Simply click on www.pjstar.com.  Then click on "Sports" and then click on "Thirst for speedway dirt". I hope you enjoy the story and I thank Don Baker very much for showing an interest in trackchasing. Thanks, Don!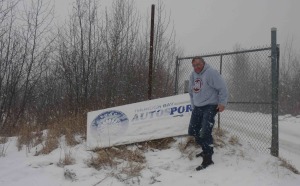 Finally, it looks like Ed Esser is well on his way to winning the Trackchaser Cheese Challenge. Unless bad weather befalls him during the next six weeks, he's going to be flying somewhere on me. He has just 18 tracks to go and he wins!
TRIP ENDING SUMMARY
This was a very successful trackchasing trip. Whenever I can get five new tracks in just three trackchasing days, it is a great trip.
Not only was the trackchasing productive, but we had time for some great local tourist stuff as well. Riding ferryboats and seaplanes was a kick. Our final day included a drive out to Mt. St. Helens in southern Washington. It is hard to believe it has been 25 years since that mountain blew its top. It is still steaming today.
The weather during the trip was postcard picture perfect. My string of tracks without a rainout day is now up to 124! I will be traveling to some areas of the country where that streak will be challenged. We will see if my weather powers can overcome the seasonal increase in precipitation!
We drove "only" 797 miles on this trip. The National Budget Rental Car Racing Chevy Impala got 26.6 M.P.G.   We paid an average of $2.94 per gallon.
PEOPLE/STRATEGY/TRAVEL NEWS
Today is a fun day of trackchasing travel. Carol is making a sacrifice so I can further my trackchasing results. In the end, we may both see a new track today, but that is not guaranteed for her.
Here's the background. The Evergreen Speedway is holding a "Hornets Nationals" program today on a road course. The Evergreen Speedway also has three different sized ovals and a figure 8 track. That means they have five countable tracks that are all currently active. I do not know of any other track with this many countable racing circuits.
To be clear, before I joined the trackchasing group, I only counted one track at each race facility. If I had been king, that's the way I would have had the trackchaser group count their tracks. However, the folks who organized the trackchaser group saw things differently than I did. They allowed ovals of different sizes at the same facility, road courses and figure 8s, again all at the same facility to count. That allows me the opportunity to see five different tracks at the Evergreen Speedway. I still have not seen the one-fifth mile oval at Evergreen.
Fortunately, I think, most race facilities have only one countable track. I am guessing that about 80% of facilities have only one countable track. Even though I would not have organized the trackchaser counting system the way the founders did, I am now satisfied with it as I believe it adds to the strategy of trackchasing.
Here was the dilemma Carol and I faced today. The road course racing at Evergreen was scheduled to race in the afternoon. I was guessing they might start at 1 or 2 p.m. The ferry schedule would not allow me to make it to the race in time to see much if any racing.
I think of myself as a resourceful guy. I began searching other transportation alternatives and found I could make the track if I took a seaplane ride on Kenmore Airlines. My seaplane flight would leave Victoria at 10 a.m. and get me into Kenmore, Washington at 11:30 p.m. I could then take a cab from Kenmore to the track. Trust me, this was not a terribly inexpensive option, but it was an option.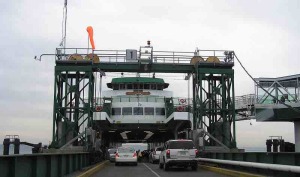 While I was doing all of this, Carol would be riding the ferry from Victoria to Port Angeles. She would then drive 60 miles from Port Angeles, Washington to Kingston, Washington. In Kingston, she would board another auto ferry for the 30 minute ride to Edmonds, Washington. When she finished that ferry ride, she would drive about 25 miles over to Evergreen Speedway and meet me at the track.
The majority of Trackchaser Report readers are men. Gentlemen, I ask you, "Would the woman in your life do this for you?" You can stop shaking your heads now.
After a full breakfast of eggs, ham, bacon, pancakes and juice, I dropped Carol off at the ferry terminal. Of course, due to budget constraints, she was limited to just oat meal and coffee. Sometimes the budget cannot accommodate everything for everyone every time. I then walked almost a mile over to the Kenmore Terminal in Victoria.
I am sure you know that a seaplane takes off from the water and lands on the water. Carol and I had ridden a seaplane during a sightseeing tour in Alaska a few years back, but this was my first ever seaplane flight on the way to a race.
My flight would go from Victoria to Seattle and then on to Kenmore, Washington. The first leg of the flight included just one pilot and nine passengers. The baggage weight limit was 24 pounds. The take off and landings were smooth. We flew the 59 miles at an altitude of 3,500 feet. The weather was clear. I took several digital still photos as well as video. I was seated in the first row and had an excellent view of the open cockpit.
The landing into Seattle was spectacular. We flew directly down the Puget Sound with all of downtown Seattle's skyline in front of us as well as the Space Needle just off to the right. It turned out I was the only passenger of the nine continuing on to Kenmore.
Since I was a group of one, they decided to fly me the eight miles from Seattle to Kenmore in a much smaller four-seat plane. It was just the pilot and me. I have flown with just my son, J.J. and me, but this was a first for a "commercial" flight.
I wanted to say this was the first time I had ever had a pilot fly just me to a race, but that would not be true. Back in 1998, J.J. flew me to Yuma, Arizona for a new track visit. It is getting harder and harder to get "firsts" in this trackchasing game. I will declare this as my first ever commercial flight where I was the only passenger.
On the way to Kenmore, we flew up the Puget Sound at an altitude of only 1,000 feet. Again, I took a ton of photos and video as I sat next to the pilot. I am sure he thought I was strange by being only two feet away and taking pictures of him.
It was a $40 cab ride from the Kenmore, Washington to the track. I had landed in Kenmore at 11 a.m. The plan was to cab it from there.
Earlier in the week, I had learned this afternoon's race was not scheduled to begin until 3 p.m. and would probably last until "7 or 8 p.m." If Carol made the 2:15 Kingston-Edmonds ferry, she could meet me at the terminal at 3 p.m. and I would save the cab fare. We could then get to the track no later than 3:30 p.m., less than 30 minutes after the scheduled start. If she did not make the earlier ferry then I would take the cab.
Actually, I could have cancelled my seaplane ride when I learned the race would start later than I originally thought. But heck, doesn't everyone want to ride on a seaplane? Also, if Carol missed the earlier ferry, the track might be in jeopardy. We don't want to have tracks "in jeopardy".
I ended up sitting in the Kenmore Terminal from nearly 11 a.m. to almost 3 p.m. The Kenmore customer service agents take reservations over the phone in this building. For almost four hours, I listened to them taking and making reservations.
What did I learn from this? After several calls, the agents would joke and/or complain about the caller they had just finished with. The most general complaint was that the caller wanted more from the agent than the agent could provide. They wanted the agent to guarantee the on time arrival of their flights; they wanted the agents to guarantee the weather or agree to allow them to carry more baggage than normally allowed. If was an eye-opening experience for me for sure.
RACE TRACK STATS:
EVERGREEN RACEWAY (ROAD COURSE), MONROE, WASHINGTON – TRACK #964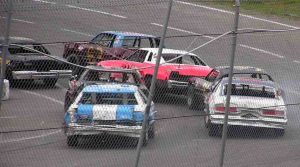 This Washington track is my 15th countable track to see in the state. It is my second new track to see in the state this year. I am ranked at #2 in Washington. Allan Brown leads the state totals with 17 tracks.
This afternoon was Carol's 221st lifetime track. The Evergreen Speedway is Carol's second countable track at the Evergreen Speedway and her third track to see in the state of Washington.
RACE TRACK NEWS:
EVERGREEN RACEWAY (ROAD COURSE), MONROE, WASHINGTON
I started going to the Evergreen Speedway back in 1985. During my first visit to the track, I was able to meet and talk with NASCAR's Bill Elliott. He was just an up and coming race driver at the time, having won his first NASCAR race in late 1983.
Today is my fourth visit to Evergreen Speedway. Carol and I have come to watch racing on the Evergreen road course. The road course uses turns three and four of the track's three-eights mile oval. Coming out of turn four the cars make an "S" shaped turned through the infield before getting back onto the three-eighths oval at the beginning of that track's backstretch.

The event today is the 1st annual nationals for Hornets. There were about 32 of those small four-cylinder cars racing today. The first two days of the Hornet nationals were raced on Friday and Saturday of this weekend at the Skagit Speedway.
I elected to wait for Carol rather than take a cab to the track. I received a call from her letting me know she had gotten on the earlier ferryboat. This meant we could arrive about 45 minutes later than the 3 p.m. starting time. The promoter told me earlier in the week, they would be racing until "7 or 8 p.m." In point of fact, the last race of the day checkered at 5:27 p.m. I don't know why but I always believe what people tell me. However, if I think they lied to me, I am unlikely to ever believe them again. I do not think this promoter lied; I believe he just gave me an incorrect estimate.
The Evergreen Speedway is the sight of the Washington State Fair. This is a large facility with a very large grandstand. The grandstand, which is partially covered, must seat nearly 5,000 people.
When we saw the grandstands from the highway on the way in, I could see only a few people sitting in the stands. This was mildly concerning to me. We hurried to park the car and grabbed some food at the concession stand that is located underneath the grandstands. It was very quiet and we couldn't hear any racing action. I didn't know what to think of that.
Armed with a cheeseburger, chicken sandwich, Carmel apple and our drinks we walked up the short flight of stairs into the grandstand area. I was looking behind me watching out for Carol as she navigated the steps when someone tapped me on the shoulder. It was the track announcer. He was standing right next to me with a handheld microphone.
He was talking to the crowd and as we entered, he spoke these words over the microphone, "I want to welcome these two people to the Evergreen Speedway. (Speaking to us and in front of just 50 PEOPLE in the 5,000 person grandstand) Where do you want to sit?" he asked. I recognized his humor, and appreciated it. Without breaking stride, I looked up into the stands at two people who looked very comfortable. "I want us to sit in those two seats where those folks (pointing) are sitting". The announcer played along and told me they could arrange that to happen.
While I was holding my cheeseburger and Diet Coke, the announcer and I continued to talk over the microphone. Never wanting to miss a media opportunity, I pulled a press release from my camera bag and we began to talk trackchasing.
Throughout the rest of the day, the announcer kept referring to the press release. He kept saying "this guy has been to Australia and Illinois. He's been to Belgium and Nebraska". The combinations he came up with seemed unusual to me.
While we were still talking with the announcer and before we were seated I looked up into the grandstand's 50 people and spotted someone familiar. It was none other than Madison, Wisconsin's Ed Esser. I had expected Ed to be here although I didn't know for sure.
Earlier Ed had won a trackchasing contest I initiated and with it came an airline ticket on United Airlines. When he was using that ticket for a trackchasing trip, he was bumped and earned another free ticket. That free ticket funded this trip for him where he saw six tracks in Idaho, Oregon and Washington. Ed now has seen racing in 42 states.
Today's racing wasn't much. They ran the four heat races before we got there. We arrived during the running of the two dashes. The "B" main ran 20 laps and the "A" main ran 50 laps for 29 cars. There was lots of squealing of tires and several racers blew their right front tires sliding on the all asphalt track.
I almost always have a "first" at each track I visit. Today's first was seeing a flagman wearing a helmet. It was a big white open-faced affair and made him look like a school kid who just got off his bike.
Overall, after our very unusual transportation choices for the day, the racing was nice and laid back and it didn't last too long. Carol and I spent several minutes after the races talking to Ed. Unless the weather is very unkind to him, I expect he will win the "Cheese Challenge" by seeing 128 or more tracks. I will keep all of the loyal Trackchaser Report readers posted of his progress.
CAROL'S COMMENTS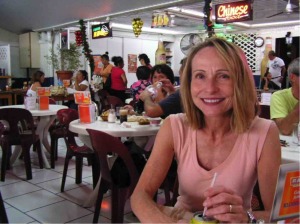 She was surprised there were only 50 people in the 5,000-person grandstand. She was also surprised we bumped into the track's announcer before we even had time to sit down. She was happy that my prediction of seeing Ed Esser at this track was accurate. She also felt the track's admission price was out of line for the racing program presented. I agreed.
RENTAL CAR UPDATE:
Other than the fact that my National Rental Car Racing Chevy Impala slid into a Z4 BMW everything went well on the rental car front.
LIFETIME TRACKCHASER STANDINGS UPDATE:
These worldwide trackchasers are within 100 tracks (plus or minus) of my current trackchaser total.
Rick Schneider – Bay Shore, New York – 1,038 (+74)
Allan Brown, Comstock Park, Michigan – 1,020 (+56)
Any Sivi, Clairton, Pennsylvania – 1,003 (+39)
Guy Smith, Effort, Pennsylvania – 999 (+35)
Gordon Killian, Sinking Spring, Pennsylvania – 984 (+20)
Randy Lewis, San Clemente, California – 964
Jack Erdmann, DePere, Wisconsin – 872 (-92)
Other notables
Alan Skinrod, Livermore, California – 223 (+2)
Carol Lewis, San Clemente, California – 221
2005 TRACKCHASER STANDINGS
Randy Lewis, San Clemente, California – 155*
Ed Esser, Madison, Wisconsin – 110
Roland Vanden Eynde, Vilvoorde, Belgium – 83
Paul Weisel, Orefield, Pennsylvania – 68
P.J. Hollebrand, Webster, New York – 57
Guy Smith, Effort, Pennsylvania – 57
Carol Lewis, San Clemente, California – 53
Roger Ferrell, Majenica, Indiana – 51
Pam Smith, Effort, Pennsylvania – 40
Allan Brown, Comstock Park, Michigan – 28
Andy Sivi, Clairton, Pennsylvania – 28
* Trackchasing "New Tracks in One Season" record
Thanks for reading about my trackchasing,
Randy Lewis
Trackchasing's #1 trackchaser of the 21st century
Randy Lewis is a freelance writer, who winters in San Clemente, California and frequently flies in economy class.
CUMULATIVE TRAVEL DISTANCES:
Rental car driving distance
Portland, Oregon Airport – trip begins
Banks, Oregon – 37 miles
Kent, Washington – 222 miles
Victoria, British Columbia, Canada – 381 miles
Monroe, Washington – 481 miles
Portland Oregon Airport – 797 miles – trip ends
Ferryboat travel
Port Angeles, WA – Victoria, British Columbia, Canada – 23.59 miles
Air travel
Orange County, CA – San Jose, CA – 322 miles
San Jose, CA – Portland, OR – 563 miles
Kenmore Terminal, Victoria, B.C. – Kenmore Terminal, Seattle, WA – 59 miles
Kenmore Terminal, Seattle, WA – Kenmore Terminal, Kenmore, WA – 8 miles
Portland, OR – Orange County, CA – 1,369 miles
Total actual air travel miles – 2,321 miles
Total frequent flyer miles – 4,864 miles
Total car rental, ferryboat, and air travel – 3,142 miles
TRACK ADMSSION PRICES:
Sunset Speedway Park – $12
Pacific Raceways – $8
Western Speedway – $13 (Canadian)
Evergreen Speedway – $12.50
Total track admissions – about $42.50
UPCOMING TRACKCHASING PLANS
October 2 – Otay Ranch, San Diego, California
October 14 – Abilene Speedway, Abilene, Texas
"TRACKCHASER CHEESE CHALLENGE 2005 PACE OF THE RACE REPORT BROUGHT TO YOU BY FRONTIER AIRLINES"
This is a comparison of how many new tracks Ed Esser has seen in 2005 and how many tracks I saw through the same date in 2004 on my way to seeing, at then a record, 127 tracks. In order for Ed to win the "Cheese Challenge", he must see 128 new tracks.
Through September 26 – Ed – 110 tracks         Randy – 96 tracks*
Ed's recent activity:
September 21-25 – 5 new tracks in Idaho, Oregon and Washington
Prize: If Ed sees more than 128 new tracks in 2005, he wins a round-trip domestic airline ticket to anywhere Frontier Airlines flies. If he cannot see at least 128 new tracks then I win 10 pounds of the Wisconsin cheese of my choice.
TODAY'S HEADLINES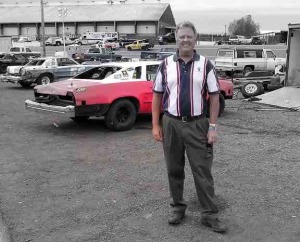 Today I saw my fifth countable track at the Evergreen Speedway. Had I taken the easy road to get these five new tracks?……………….more in "The Objective".
When should a busy body be dismissed and when should they be shot? …………..details in "The Trip".
The Western Washington Racing Association aka WWRA in a word "rocks!"…………..details in "The People".
Why can the WWRA run the type of race program than more than 80% of other sanctioning groups and racetracks cannot?…………..details in "Race Review – Evergreen Speedway".
GREETINGS FROM MONROE, WASHINGTON.
I WOKE UP THIS MORNING IN SEQUIM, WASHINGTON. I WENT TO SLEEP IN SAN CLEMENTE, CALIFORNIA. THIS IS WHAT TRANSPIRED TODAY.
PEOPLE/STRATEGY/TRAVEL NEWS
The Objective 
One of my overriding objectives in the hobby of trackchasing is to see as many tracks as I can. So far that part of trackchasing is going pretty well. I've seen 1,332 different racetracks, which is more than anybody else can lay claim too.
It is somewhat concerning when people don't understand the rules of trackchasing. Most of the trackchasing rules were already in place when I joined the other trackchasing hobbyists. I don't spend much time complaining about the rules. Do I agree with all of them? No I do not.
Do I feel strongly enough about changing any rules to propose a vote on a replacement rule. No, I do not. I cannot think of any rule that I would like to change AND that I feel could get the needed majority vote to pass. Therefore, I support the trackchasing rules from a "consensus" point of view. Being in "consensus" support simply means that I like most of the rules and am willing to go along with the group on the rules that are not my favorites.

Today, I am seeing my fifth countable track at the Evergreen Speedway. "But, Randy, if this is your fifth countable track here, have you seen five countable tracks at EVERY location you visited. That would mean the 1,332 tracks you've seen were only at about 250 locations. That's not so hot", the quizzical reader might ask.
Actually, my records show that I have been to 1,183 different venues.   Some folks would call each of the venues I've seen as "shows at one grandstand". There are only a few locations that offer multiple countable tracks at just one location. Often this means the facility has both an inner oval and a larger oval. Sometimes it means they have an oval track and a connected figure 8 track. Those are probably the most common situations where one facility has one or more countable tracks.
As it turns out the Evergreen Speedway has FIVE countable tracks according to trackchaser official rules. They have three ovals. They are all (obviously) of different lengths measuring 1/5, 3/8 and 5/8 of a mile. They have a figure eight track that is part of the 1/5-mile oval as well as a road course that covers parts of several ovals.
I'm happy to report that I did not take the "easy way out" to get five new tracks at the Evergreen Speedway. I did not come up here just one time and walk away with five new tracks. I first came here in 1984 to see racing on the 5/8 mile oval. I came back in 1986 to see racing on the big oval again that featured a visit by NASCAR's Bill Elliott.
Back in 2001, I came up to see racing on the 3/8-mile oval and the figure 8 track. In 2005, I made my fourth trip to the Monroe area speed plant to see the hornets race on a road course. Finally, today, I made my fifth and possibly final visit to the Evergreen Speedway for the 1/5-mile oval.
The only other facility that I can think of where I have seen five countable tracks is at the Texas Motor Speedway in Fort Worth, Texas. I've seen racing on four different ovals there and a road course. At that property, they have three different grandstands for those five tracks.
Could I envision a scenario where I might be able to see even more racetracks at Evergreen? Possibly, yes. If they were to change racing surfaces from asphalt to dirt that could open up five more opportunities I guess. For everyone's sake, I hope they don't do that.
The Trip
I do my best to keep a positive attitude while I'm out on the trackchasing trail. Sometimes, it is difficult to do. This morning when I awoke, my shower did not provide any hot water. This is very unusual. On my way out of the hotel I mentioned this to the desk clerk. A guest overheard my comment and said, "My shower didn't have any hot water either".
The desk clerk could only shrug her shoulders and say, "The boilers are lit. People must be all taking a shower at the same time. They've been telling me this all morning." Do the previous two sentences seem to contradict each other? How could everyone be taking a shower at the very same time, if they've been telling the clerk about the lack of hot water "all morning"? Heck, I can't blame the clerk, she's just making her seven bucks an hour and looking at the clock to see when she gets off. The motel owner likely doesn't care as every expense he cuts is just more profit in his pocket…………at least for a while.
Do you ever go to the car wash and stand by the window until your car pulls through just to watch it get rinsed, soaped and then rinsed again? Me too! I love it. I feel like a kid in a car wash, when I get to ride on an auto ferryboat as well.
This morning, I boarded the Kingston to Edmunds auto ferry for the 5.6-mile ride across the Puget Sound. I can now say I've used airplanes, rental cars and ferryboats in my 2008-trackchasing journeys. However, I did encounter two people who attempted to rain on my parade. One person was actually trying to help me and the other was just being an —hole.
When I drove up to the ticket booth for today's ferry ride, the helpful ticket taker asked, "You wouldn't happen to be 65 years old would you?" When you're just 59 years old, this is not the type of question you want to hear. "No" I told him I was not yet 65 years of age. No, I did not get the senior discount and paid the full price of $11.35. I can't really hold anything against the ticket seller. He was trying to help me, which I appreciate. I always have the fullest appreciation and respect for anyone who tries to help me.
Once I parked my car on the ferry, I put my laptop in the trunk and went to explore the boat. Like I say, I really get a kick out of the simple idea of driving my car on a ferry boat and exploring what there is too see.

I was taking pictures of several things I thought you might find interesting from my ferryboat adventure.  During my photo taking time, an elderly woman (maybe SHE was 65 or more) came up to me and said. "You'd better watch out. They don't like you taking pictures on the ferryboat". I asked her if she worked for the Washington State Ferry Boat system. "No", she told me, she did not. "They might get very mad at you for taking pictures" she continued.
Editor's note: This was not an elderly senile type of individual. She was just that type of person who wants to control the behavior of others. There is a big difference. Probably in her personal life, if she has anyone in her personal life, no one ever tells her to —- off.
With that, I grimaced at her and waited for her to step out of my shot of the ferryboat's cafeteria. I continued to take me pictures. This act of defiance seemed to really "steam" the woman. She could not understand why I would not immediately lay down my camera at her request. She walked up to one of the cafeteria workers, whispered, and then pointed in my direction. She apparently did not understand that the cafeteria worker was making just seven bucks an hour and watching the clock until it was time to get off work.
There were no signs on the boat anywhere that I could see that prohibited the taking of photographs. During the announcement made over the P.A. system of the dos and don'ts (i.e., no smoking, no running, etc) there was no mention of a rule against taking pictures.
Maybe the woman had been watching too much Fox TV. I don't know. I will say this. I love to listen to advice and new ideas from other people. However, I can't stand nor will I tolerate to any degree whatsoever, a person who tries to control my behavior when they have ZERO authority or responsibility about what's going on.
This woman did not work for the ferryboat system. I was not doing anything that violated any of the written or stated policies of the ferryboat system.
This reminds me of some trackchasers who want to control other's behaviors when they have neither the authority nor responsibility to do so. I tell them what I meant to tell this old woman, "Go pound salt, baby."
Later in our voyage, I saw my adversary walking through the boat deck with an employee of the ship. Was she bringing someone after me? I tried to stay out of sight, just in case….but continued to take photos. 
When we were off the boat, I passed a McDonalds. Who was exiting the drive-thru lane and trying to blend into outbound traffic? Yes, it was the woman who had hassled me about the photo taking. Do you think I let her in front of me? I'll give you two guesses and neither one counts!
The People
I will tell you that my "people" experiences took a dramatic upturn when I arrived at the Evergreen Speedway. Today the Western Washington Racing Association was sanctioning the races. They are in their 51st year of running races. They must be doing something right.
Last week, I discovered these guys when I called up the sanctioning body president Steve Schoenfeldt. We had a great conversation. Steve was surprised to hear that somebody would trackchase all over the world like I do. I was happy to hear that the WWRA (www.wwra.net) would be racing on the 1/5-oval at Evergreen and on a Sunday no less.  Click on the link below to listen to that interview:
ESPN Radio interview: Evergreen Speedway
We hung up the phone and I promised to look Steve up when I got to the track. Then that very same afternoon, I received a surprise email. The emailer was requesting a trackchaser interview with me on the Everett (Seattle), Washington ESPN affiliate radio station. I've been interviewed a few times on radio but this would be my first with ESPN.

Later in the day, we did our interview. Steve Mortland, who handles the North Sound Racing 1380 AM ESPN racing program, was the interviewer. Steve does his program weekly each Thursday from 7-10 p.m. He's got that natural radio voice and most importantly knows his racing. We did 15 minutes of talk that seemed like five. I hope you were able to catch it when the program aired live. If not, you might be able to hear it on my website soon.
Today, I arrived during the driver's meeting. Unfortunately, I learned that Steve Schoenfeldt, my WWRA contact, had to work today and would not be at the races. That was disappointing although I was soon put in the capable hands of Jon Forsgren. Jon is a former past president of WWRA. He was great at giving me a good background of the club and what type of racing would be going on today. Mr. Forsgren, thank you very much.
I learned the Western Washington Racing Association has been in business for 51 years. They originally started out as the "Sky Valley Racing Association". They raced at the Joplon Gravel Pit until the city decided the gravel was more valuable than the racetrack. Sound familiar?
That meant that in 1978, they moved down to begin racing at the Evergreen Speedway. When they're not racing the club supports local food and clothing drives. Check out their website at www.wwra.net to see what their club is all about.
Jon introduced me to Denny Strimple of North Fork Photo. Denny is the WWRA official photographer. He and his wife both take pictures. They are so in demand that sometimes he must work at one track while she works at another. Denny was also a wealth of information. Thanks, Denny.
I was introduced at the driver's meeting. They also made mention of my upcoming visit on their website. That probably went a long way in so many people coming up to talk as I toured the pits. I didn't get most people's names but I did hear several interesting stories.
I ran into one young man who was driving a green #7 racecar. He told me this was his second ever racing event. He just happened to be renting a place on the second floor of an auto racing dealership. They offered him the chance to race one of their cars. Many of the NASCAR success stories have not been any more unusual than that.
I also met the gentlemen manning the pit gate at the spectator side of the pit area.  He was a long haul trucker for years. He collected so many knickknacks that he had to put them someplace. Let's just say this, his dashboard is "busy".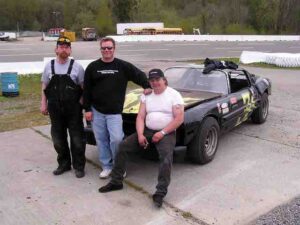 I met a threesome of rough looking guys who turned out to be some of the nicest I talked to all day. They had several racecars "back at the shop" and just one at the track today. We spent several minutes talking racing before I moved on. Check out their picture and see if they don't look like some guys who you'd like to have "on your side".
I also ran into Mary Schoenfeldt, wife of President Steve (boy, I hope I've got her first name right!). She drives the #6 car in the roadrunner division. She took time out of her busy schedule to say hello. I have a great photo of her leading the pack out of turn four.
I met several other folks in the pit area. What a great group of people just like the WWRA president had promised. It was great meeting you all.  I doubt I will run into a better group of racers anywhere I end up.
RACE REVIEW
EVERGREEN SPEEDWAY (1/5-MILE OVAL), MONROE, WASHINGTON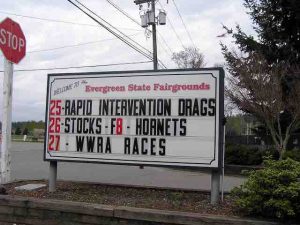 I would have to say I was given the royal welcome by the Western Washington Racing Association. What might constitute such a welcome? After talking to WWRA President Steve Schoenfeldt, I began receiving messages in my website guestbook welcoming me to the Evergreen Speedway and my visit was still a few days away!
Then, as mentioned, I received an email request asking me to be interviewed on ESPN radio. When I checked the WWRA website, the lead mention was directing everyone in the club to be on the lookout for me and to make me feel at home. When I actually did arrive at the track, I was introduced at the driver's meeting.
During my original phone call with Steve, we talked about trackchasing and some of the travel that is involved. Steve immediately offered to get me "set-up" with one of the club members to stay over at their house.
I have had some very nice welcomes along the trackchasing trail. I don't believe I have ever had a better overall one than that offered by the Western Washington Racing Association. They went over the top. What can I say…..they're the best racing folks.
The WWRA offers low-budget stock car racing. They have decent fields of cars. They race side by side with lots of passing and a good deal of banging and bumping. They run one race after another with no delays. Moreover, one of the best things of all for all of their fans in the grandstands, there is no admission charge. It's freeeeeeeeeeeeee!
Let's break down the above paragraph. Where can you see all of the good things I just mentioned for free? I've been to more than 1,300 tracks. In the past several years I've been going to more than 150 new tracks each year. I'm not sure I can think of one place that offers what the WWRA does at the price they charge.

Today's racing took place on both the 3/8-mile oval and the 1/5-mile oval. I was most interested in seeing racing on the smaller track since that was the one track that I was missing from the Evergreen quintet of tracks. The roadrunners and thunder cars race on the 1/5-mile.
We're talking asphalt oval racing. The one good thing about asphalt racing compared to dirt racing is there are probably fewer delays. Often times, dirt tracks are difficult to get race ready and then require constant watering to keep them dust free. A special advantage of asphalt racing, especially at the Evergreen Speedway is they run "rain or shine".
The Evergreen Speedway has a huge spectator grandstand. A roof partially covers the stands. I will say that some of the bleacher boards were in need of a new coat of paint. The P.A. system was stout.
I've a big fan of good track announcers. It seems like the quality of announcing is generally going downhill. Maybe, that's just because I'm seeing some of the second-tier tracks nowadays. However, the announcer today at the Evergreen Speedway is one of the best I've heard in a long time.
He had that deep radio quality voice coupled with a great knowledge of racing. He also knew who all of the local drivers were. You'd be surprised at how often the announcers couldn't tell you the names of more than half the drivers in a particular race. This guy could easily have a job at any of the big name tracks.
Following the preliminary races, fans are permitted down onto the track to meet and greet the drivers in what is called an "autograph session". It's amazing that the WWRA can spend 20 minutes or more with this type of thing, still run trophy dashes, heat races, feature events for five classes, and complete the entire show in three hours. If you've read many of my trackchaser reports, you know that it is extremely rare for most tracks to finish their programs in three hours. Most of those tardy tracks don't run as many races or offer "meet and greet" programs either.
Finally, the racing was good ol' slam-bang big iron stock car racing. When cars spun, either they got going again or the ensuing yellow flag period was only for a lap or two. When a yellow did come out there was not the incessant parade laps while officials struggle to get the line-up correct. They kept everything moving with one race fully staged and ready to go as soon as the last program was wrapped up.
Despite all of the great things the WWRA was doing, there was still a very small crowd in the stands. I suspect most of the fans were friends and family of the competing drivers. I also suspect there is little or no budget to attract new fans to these races. I guess you wouldn't want to spend much money trying to get new fans who got in for free!
Overall, as an outsider, I would have to guess the WWRA exists for it members and their friends and family. They are not trying to make a profit. They simply want to have a good venue to be able to race at.
When I compliment or criticize something, I always offer very specific examples of what I thought was good and bad. There is a lot of "bad" in short track racing today. Bad fields, bad track prep, bad organization, bad announcing and bad racing. There isn't any "bad" in the WWRA program. It's all good!
STATE RANKINGS
Washington
This afternoon I saw my 22nd new track in the Evergreen state. According to my "all North American" tracks database, I have only four more tracks in Washington that I have not seen. I have now extended my Washington state tracks leadership position to three tracks over second place chaser Allan Brown. Allan has seen 19 tracks here. I am the #1 ranked trackchaser in eleven states in the U.S. Thirty-three listed trackchasers have visited the state of Washington in pursuit of their hobby.
RENTAL CAR UPDATE
Seattle, Washington – Saturday/Sunday
I'll be driving the Alamo Rental Car Racing Chevy Malibu. I rented it via Priceline.com for the unbelievably low price of just $10 per day for the two days I will use it. Actually, the various taxes came to more than $22! That means the politicians get more revenue than the rental car company. That just seems wrong.
I drove the Alamo Rental Car Racing Chevy Malibu 272 miles in the slightly more than 29 hours that I had it. I paid an average price of $3.70 per gallon. The Chevy gave me 27.5 miles per gallon in fuel mileage at a cost of 13.5 cents (U.S.) per mile. The car cost 15.5 cents per mile to rent, all taxes included.
Thanks for reading about my trackchasing,
Randy Lewis
Alberta's #1 Trackchaser
With each Trackchaser Report, you get a picture with a thousand words.
TRAVEL DETAILS
AIRPLANE
Orange County, CA – Seattle, WA – 976 miles
RENTAL CAR 
Seattle-Tacoma International Airport – trip begins
Bremerton, WA – 60 miles
Port Angeles, WA – 139 miles
Monroe, WA – 228 miles
Seattle-Tacoma International Airport – 272 miles
AIRPLANE
Seattle, WA – Orange County, CA – 976 miles
Total Air miles – 1,952 miles (2 flights)
Total auto and air miles traveled on this trip – 2,324 miles
TRACK ADMSSION PRICES:
Bremerton Raceway – Free
Port Angeles Speedway – $10
Evergreen Speedway – Free
Total racetrack admissions for the trip – $10
RANKINGS
LIFETIME TRACKCHASER STANDINGS UPDATE:
There are no trackchasers currently within 100 tracks of my lifetime total. I'm telling you, it's not my fault!
Randy Lewis, San Clemente, California – 1,332
Other notables
These worldwide trackchasers are within 10 tracks (plus or minus or more) of Carol's current trackchaser total.
Kevin Eckert, Indianapolis, Indiana – 450
Ken Schrader, Concord, North Carolina – 365
Carol Lewis, San Clemente, California – 358
Max Allender, Des Moines, Iowa – 349
2008 TRACKCHASER STANDINGS
Randy Lewis, San Clemente, California – 34
Mike Knappenberger, Reading, Pennsylvania – 25
Ed Esser, Madison, Wisconsin – 18
Guy Smith, Effort, Pennsylvania – 10
Carol Lewis, San Clemente, California – 9
Paul Weisel, Orefield, Pennsylvania – 9
LIFETIME COUPLES TRACKCHASING STANDINGS
Randy & Carol Lewis, San Clemente, California – 1,689
Allan & Nancy Brown, Comstock Park, Michigan – 1,672
Guy & Pam Smith, Effort, Pennsylvania – 1,668
UPCOMING TRACKCHASING PLANS
Trackchasing's First Mother and I are about ready to embark upon a major international trackchasing effort. It remains to be seen how much "pain and suffering" I want to put my body through to get even more new tracks before we leave on our big trip.
If history is any predictor of the future I will likely be more than willing to attempt those trips no other trackchaser would be willing to face. If I do, you will be the first too learn about it.
RACETRACKS VISITED IN 2008 (** not the first time to visit this track)
1,299. Barnes Lake Ice Track, Ashcroft (road course), British Columbia, Canada – January 13
1,300. Bira Circuit, Pattaya (road course), Thailand – January 19
1,301. Cameron Lake Ice Track (oval), Erskine, Minnesota – January 26
1,302. Birch Lake Ice Track (oval), Hackensack, Minnesota – January 27
1,303. Mille Lacs Lake Ice Track (road course), Garrison, Minnesota – January 27
1,304. Mille Lacs Lake Ice Track (oval), Garrison, Minnesota – January 27
1,305. Ozark Empire Fairgrounds (oval), Springfield, Missouri – February 1
1,306. Atlanta Motor Speedway (road course), Hampton, Georgia – February 2
1,307. Brainerd International Raceway Ice Track (road course), Brainerd, Minnesota – February 3
1,308. Bay of Green Bay Ice Track (road course), Marinette, Wisconsin – February 9
1,309. Lake Speed Ice Track (oval), Tilleda, Wisconsin – February 9
1,310. Shawano Lake Ice Track – North Shore (oval), Shawano, Wisconsin – February 10
1,311. Cecil Bay Iceway (oval) – Cecil, Wisconsin – February 10
1,312. Mototown USA (oval) – Windsor, Connecticut – February 15
1,313. Moosehead Lake Ice Track (oval) – Greenville Junction, Maine – February 16
1,314. Clarence Creek Ice Track (oval) – Clarence Creek, Ontario, Canada – February 17
1,315. Durban Grand Prix (road course), KwaZulu-Natal, South Africa – February 24
1,316. Lake La Biche Ice Track (road course), Lake La Biche, Alberta, Canada – March 1
1,317. Rice Lake Ice Track (oval), Rice Lake, Wisconsin – March 8
1,318. Ashland Ice Track (oval), Ashland, Wisconsin – March 9
1,319. Autodromo Hermanos Rodriquez (road course), Mexico City, Mexico – March 16
1,320. Hartwell Motor Speedway (oval), Hartwell, Georgia – March 22
1,321. Lavonia Speedway, Lavonia (oval), Georgia – March 22
1,322. Dover Raceway (road course), Brown's Town, St. Ann, Jamaica – March 24
1,323. Lake Country Speedway (oval), Ardmore, Oklahoma – March 29
1,324. Swainsboro Raceway (oval), Swainsboro, Georgia – April 3
1,325. Screven Motor (oval), Sylvania, Georgia – April 4
1,326. Centerville Super Speedway (oval), Centerville, Arkansas – April 5
1,327. Central Arkansas Speedway (oval), Plumerville, Arkansas – April 5
1,328. Clinton Country Speedway (oval), Alpha, Kentucky – April 6
1,329. Pleasant Valley Raceway (oval), Boise, Idaho – April 20
1,330. Bremerton Raceway (road course), Bremerton, Washington – April 26
1,331. Port Angeles Speedway (oval), Port Angeles, Washington – April 26
1,332. Evergreen Speedway (1/5-mile oval), Monroe, Washington – April 27
FAR West "Chase to be #1"
In the business world, the U.S. is often divided up into geographic areas that are referred to as East, Central and the "eleven Western states plus Alaska and Hawaii." No, I don't know why they don't just say the "thirteen western states." Those states include Arizona, California, Colorado, Idaho, Montana, Nevada, New Mexico, Oregon, Utah, Washington and Wyoming and, of course, Alaska and Hawaii.
The far west probably has the most beautiful scenery per square mile anywhere in the United States. This got me to thinking. Over the next 2-3 years, I'd like to put a "full-court" press on these far west states for trackchasing purposes. I want to establish a goal of becoming the number one trackchaser in each of these states except California by the end of 2009. Becoming #1 in California is not a realistic goal at this time.
Below is a listing of these thirteen Far Western states. The state's name is followed by my current rank and how many tracks I need to see to gain at least a tie for 1st place. As an example, I'm currently in ninth place in Alaska and trail first place by three tracks. I'm looking forward to spending more time than usual is the Far West, a great part of our country.
Alaska – 9th by 3
Arizona – 1st
California – 2nd by 46
Colorado – 2nd by 1
Hawaii – 3rd by 1
Idaho – 1st
Montana – 1st
Nevada – 1st
New Mexico – 1st
Oregon – 1st
Utah – 1st
Washington – 1st
Wyoming – 1st
Greetings from Monroe, Washington
.
.
From the travels and adventures of the 
"World's #1 Trackchaser"
THE EVENT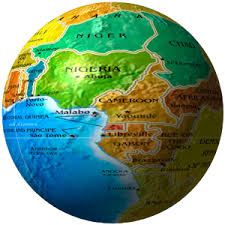 I have had the opportunity to follow my trackchasing hobby all over the world. As this is written I have seen racing in 75 countries. My lifetime track total sits at nearly 2,400. Each and every year I will trackchase in 25-30 states.
At track #1,040 I moved into the "World's #1 Trackchasing" spot. Here's the funny thing about that. I was perfectly content to remain in about seventh place in the worldwide trackchasing standings. Then I had rotator cuff surgery, which knocked me out of golf for about six months. With no golf and time on my hands I turned up my trackchasing by a notch or two. I discovered I liked MORE trackchasing and LESS golf. It didn't take all that long to move up to the top of the world trackchasing standings at that point.
My hobby is not only about racing. Trackchasing for me centers around three things. The racing part is pretty obvious. However of equal importance is the logistics of trackchasing and the opportunity to see the world.
I live in Southern California. The vast majority of tracks are located in the Midwest and East. It takes a good deal of logistical planning to get from where I live to where the tracks are. For the past 15 years I have traveled about 175 nights each and every year. Surprisingly to some, more than half of those overnights were not part of trackchasing.
Then there's the travel just for the fun of seeing new things. You won't want to miss my "Trackchasing Tourist Attractions" page or my "Sports Spectating Resume" page on my website at www.randylewis.org. That will give you some understanding on how important seeing the world is with my hobby.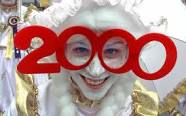 Today's adventure was one more of the 2,000 trips that have taken me up, down and around the long and dusty trackchasing trail. If you would like to see where I've been and experience those adventures here's the link: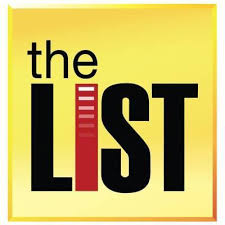 If you've got a question, comment or whatever please leave it at the bottom of this report.  It's very easy to do.  Or you can visit me on Facebook.  Thanks!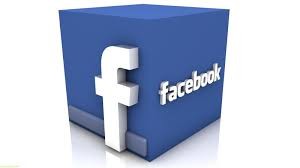 FOREWORD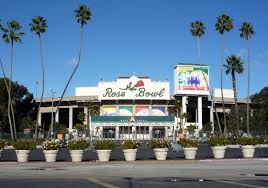 This would be a simple but yet unusual trackchasing trip. It would begin at the historic and iconic Rose Bowl in Pasadena, California.
Was I going to be trackchasing at the Rose Bowl? Yes, I know that sounds absurd doesn't it. Nevertheless, I HAVE actually trackchased at the Rose Bowl.
Back in 1991 son Jim and my Baja racing buddy Val Dodd did in fact see an "off-road" race at the Rose Bowl! They constructed a course where the football field normally sits. The Rose Bowl was lifetime track #187. I guess the idea of trackchasing at the Rose Bowl isn't as off-the-wall as one might think.
Today Carol and I were driving to the Rose Bowl to see our favorite UCLA Bruins play football. All three of our kids graduated from this fine university, in four years each I might add. Parents don't get that trifecta very often.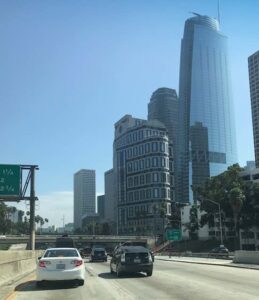 The Rose Bowl is a pretty good haul from our modest seaside cottage in San Clemente. The driving distance is around 75 miles. Traffic is usually heavy when we get up into Los Angeles and closer to the stadium.
Today we would each be driving our own cars. That wasn't because we didn't enjoy each other's company. Taking two cars just seemed like the very best plan given what was to follow the UCLA game against the University of Hawaii Rainbow Warriors. We took Carol Lexus SUV to J.J.'s house.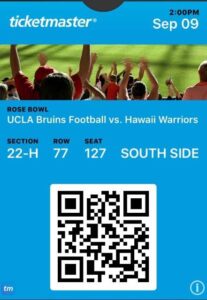 From their we continued in my "own" Carol Lewis owned and MFunds sponsored Lexus RX350 SUV. Although we can currently afford two Lexus(s) we can't afford to park two cars at the Rose Bowl. Today we got a five-dollar discount off the onerous thirty-dollar U.S. parking charge.  I had our tickets to the game in my "electronic wallet" since I don't carry a real wallet.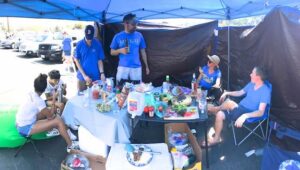 We would be joining son JJ, his friend Dustin and several other friends at a tailgate party. By the time Carol and I arrived the party was going strong. We joined in.
UCLA has a decent team but not great. Their best player is their quarterback Josh Rosen. He is likely to be drafted in the top two or three players of this year's National Football League draft.
Today Rosen threw for five touchdowns in the first three-quarters of the game. The Bruins easily won 56-23. I must report that UCLA's defense is poor. It's the defense that will kill them this year. If Josh Rosen were to get hurt, and he has in the past, the Bruins are doomed.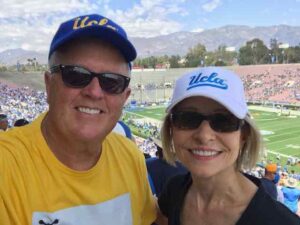 After the game we did some more tailgating. Then Carol and I made the long walk back to where my car was parked. All of the parking at the Rose Bowl, or at least most of it, is done on two public golf courses. That's got to be a most unusual situation for a major college football team.
By the way the Bruins have been playing their home football games at the Rose Bowl since 1982. They played their first home games at the Los Angeles Memorial Coliseum in 1928 after joining the Pacific Coast Conference.
After the game we would return to J.J.'s house. I would be staying the night there. Carol was heading home to San Clemente. Yes, we lead a crazy lifestyle compared to just about anyone you know. It works for us!
SUNDAY
My wake up call came at 4 a.m. I was walking out the front door of J.J.'s home at 4:17 a.m. I arrived at my airport parking garage just 15 minutes later. The short commute is one of the reasons J.J. bought his home in this area.  At 5 a.m. I was clearing airport security. Everything was going smoothly.
There was just enough time to stop at the Alaska Lounge for a bit of breakfast. Then I was boarding a plane from Los Angeles to Seattle. There was something most unusual and exciting about this particular flight.
Since our son J.J. became a commercial airline pilot, about 11 years ago, I had only flown with him as the pilot a time or two. Today, my pure happenstance, J.J. was flying the plane that would take me to Seattle. That's pretty cool when your son, who you used to haul all over town in his car seat, comes over the PA of a big jet airplane and tells you to buckle your seatbelt.
Of course we had a perfect landing on the runway of the SeaTac International airport. J.J. and got our obligatory photograph together and off he went to San Diego. I went to get my National Car Rental vehicle to begin the "business" part of this trip.
In the back of my mind I didn't necessarily want to make this trip. I had just returned from Africa a few days ago. We spent a full day in the hot sun at the Rose Bowl. It would have been nice to go back to our modesty seaside cottage after the game and just relax for the day.
Additionally I'm not a big fan of the Red Bull Global Rally Cross racing series. They would be appearing today at the Evergreen Speedway in Monroe, Washington. I have a rich and glorious history with the Evergreen Speedway.
Before I tell you that history let me answer a question many of you may be asking yourselves. "Why in the heck does Randy keep going to the Red Bull GRC race if he dislikes their race program so much"?
The answer is pretty simple. Trackchasing is a "dog eat dog" fierce competition. If someone in the worldwide top 10 of the trackchasing standings tells you differently you will know something about that person. They're lying! If I don't go to each Red Bull GRC event someone else will. There's a reason they "count" each track!
I guess you could say I have a strong history of trackchasing at the Evergreen Speedway.
Evergreen Speedway – 5/8-mile asphalt oval – Lifetime Track #152
Evergreen Speedway – Asphalt figure 8 – Lifetime Track #515
Evergreen Speedway – 3/8-mile asphalt oval – Lifetime Track #516
Evergreen Speedway – Asphalt road course – Lifetime Track #964
Evergreen Speedway – 1/5-mile asphalt oval – Lifetime Track #1,332
Evergreen Speedway – Mixed surface road course – Lifetime Track #2,371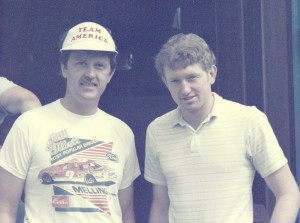 On my first ever trip to the Evergreen Speedway I met a young up and coming NASCAR star with red hair. He was quiet, thin and polite. His name was Bill Elliott. Later in his career he would come to be known as "Million Dollar Bill" Elliott. Bill is the father of current Cup driver Chase Elliott. I met Bill again and his son at the Atlanta Motor Speedway about ten years ago. It was hard to believe that my last trip to Evergreen had been more than 1,000 new track visits ago.
Now back to today's racing. So why don't I care for the Red Bull GRC series? I have two primary reasons. First, I don't care much for their racing. Most races start 4-5 cars for 4-5 laps. It is extremely rare to see a pass for position after the first lap. Any other leading series would be castigated if they showed up with a race program that ran five cars for five laps.
Additionally their ticket prices are out of sight. They routinely charge $60 for a general admission ticket. They don't get very big crowds. I attribute that partially to the idea that the ticket prices are so high.
Yes, the above two items are irritants. Nevertheless, I live a life with very few irritants. I go out of my way to avoid irritating people and irritating experiences. Let me tell you how I do that with the Red Bull GRC series.
I am one of those people that doesn't pay full price for virtually anything. Today I got a pretty good deal on my airfare. I have a sweetheart deal for parking my car at the Los Angeles International airport. I would not need a hotel for this trip because of my airline deal. I plan to be home after the races tonight. I wouldn't pay much in gas today. The round-trip driving distance was expected to be less than 100 miles.
I got a good deal on my rental car. I ended up with a jet black Chrysler 300. It looked like a limousine. I wouldn't be paying all that much for food. I had a large serving of kettle corn leftover from Rose Bowl yesterday. I used my McDonald's app to get $11 of food for five bucks. All of the above left me only the idea of the skirting the Red Bull GRC horrific ticket price structure.
THE RACING
Evergreen Speedway – Monroe, Washington
In 45 minutes or so I arrived at the Evergreen Speedway from SeaTac. The Red Bull GRC promotional group always initiates a $10 parking charge. What bugs me about that is that the speedways hosting GRC races mostly don't charge anything for parking whatsoever for their normal racing activity.
I'm in the midst of doing a luggage test. I am preparing for a foreign trip where the maximum luggage weight that I can carry on board is 17.4 pounds or 8 kg. I'm using this weekend as a test to make sure I don't forget anything for the bigger trip to follow in just a day or two.
This test has already shown me that I forgotten one important item that I would certainly need for today. That was my "need one" sign. I have already attended three Red Bull GRC racing events this year. Those were at Memphis, Thompson, Connecticut and Indianapolis.
The general admission ticket price at each of those events was $60 U.S. per person. For those three previous races I've paid a total of $15 using my "need one" sign. Memphis and Thompson didn't cost me a penny. At Indy I paid fifteen bucks for my ticket.
Today, when I entered the Evergreen State Fairgrounds home to the Evergreen Speedway, I noticed an opportunity to park in a different lot that wasn't charging $10. I was able to skate past the paid lot and park for free.
I gobbled up the remaining portion of my Rose Bowl kettle corn and set out to do some "work". Yes, I am retired. In my life "work" looks a little bit different than what it does for most people. What do I consider work?
First of all, I don't do any manual labor. I know folks who do. I just don't and won't do it. No offense intended toward anyone who enjoys that type of work.
I'm more of a "brain worker". I do spend one hour each year re-balancing our retirement portfolio. That's work isn't it? Every year or 18 months I will refinance our mortgage. That takes a little bit of my time. Finally, my last "work" activity is simply being able to buy the tickets to the events that I attend at a very cheap price. Frankly, I my heart aches for my friends who attend major sporting events without a "need one" sign. I am nothing if not an empathetic soul.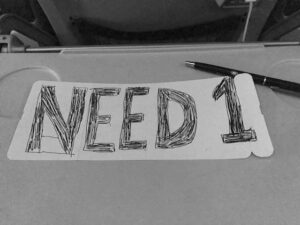 Yes, today I had forgotten my "need one" sign. I quickly fashioned one from my airline boarding pass. This wasn't my best work but it would do the job.
I hadn't asked two people today if they had any extra tickets when a young man came up and said that he had one. As a matter fact he had several. I asked him what he wanted for it.
Folks, nobody likes a greedy individual. I certainly don't. Until I stopped this fellow he was entering the race with his friend and a pocket full of extra tickets. I would learn that this fellow's uncle does work for the track. The track gives the uncle free tickets. The uncle gives his greedy nephew the tickets.
Today the nephew thought to himself, "I might be able to take advantage of this senior citizen". Maybe "nephew" was dealing with the wrong senior citizen!
He told me he would take $35 for a single ticket. I'm sure he would! I retorted with an "explosive no". That's a formal negotiating technique where you essentially tell someone what they are asking for is outrageous and you would never consider paying them what they are asking.
Yes, I told the seller his price was way too high. He told me, "They're selling for $40 inside." In point of fact, they were selling for $60 inside. This told me that "nephew" had no idea what the tickets were selling for or really worth. I didn't really think I needed to mention these facts at this point in our negotiation.
I did tell him I could pay ten dollars for a ticket. I had just bracketed our negotiation….another tried and true negotiating tactic. A sale, if a sale did take place would now be between $10 and $35. Then "nephew" told me, "The lowest I could possibly go would be $25." Doesn't "nephew" read my Trackchaser Reports?
I asked him what he was going to do with his fist full of tickets if he didn't sell one to me. He told me he was going to sell them to other people. I said, "Look around. There's no one around." I had made my point to "nephew".
Yes, my factual logic seemed to make an impression on my friend. We ended up settling on $10 for his ticket plus I offered to buy him a beer once we were inside. Folks, this is how it's done. I know that you work hard for your money. I don't want to see you waste it. That's why I share these adventures with you as I do.
Once inside the arena we couldn't find any place selling beer. I told the fellow that I was more than willing to buy him a beer but they didn't have any to sell. I gave him an additional five bucks for his trouble. He seemed a bit disappointed. Maybe if he hadn't been such a greedy SOB I would have cut him some slack, maybe not. What could "nephew" learn from this situation? Don't "F" with senior citizens. Don't try to negotiate with the World's #1 Trackchaser. I've been there and done that.
There is one very cool thing about the Red Bull GRC series as it is regards trackchasing. They always race on a mixed surface road course. A mixed surface is pretty much what it sounds like. Part of the track is dirt and part of the surface is asphalt. Normally the dirt portion is about 20-40% of the entire course. Today I would estimate the dirt surface was closer to the 20% of the road course track. 
It's going to be somewhat difficult for me to explain what the course looked like today. I highly recommend you take a look at my video. In essence today's road course covered about 70% of the five eights oval. In the middle of the backstretch of that oval they made a left-hand turn onto a dirt surface. They did some ins and outs in the infield before returning to turn number three of the three-eights mile oval. They then drove down toward the traditional start/finish line. Uniquely, the joker lap was actually longer today than taking the normal course. It's the first time I've seen that. Like I said. Watch the video.
I used my "3 1/2 hour" rule today. What is that? I'm a big sports fan. I got a lot of college basketball games. They last about two hours. I go to a lot of major league baseball games. They last about three hours sometimes less. I go a lot of college football games. They might run as long as 3 1/2 hours.
I figure if the basketball, baseball and football games can finish in 3 1/2 hours and sometimes quite a bit less than that then 3 1/2 hours is plenty to spend at an auto racing event. Of course, if I'm at a big NASCAR show or some other type of racing that I really enjoy the "3 ½ hour" rule is suspended.
Today I watched several races from the top row of the grandstands. The weather was beautiful. Temperatures were the mid-60s. It was very comfortable.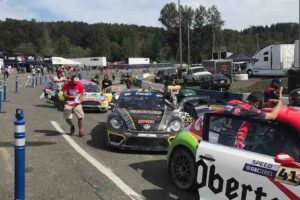 I also spent a lot of time in the paddock area getting close up photos of the cars and general pit action. Being in the paddock allowed me to see some of the racing on a ground level basis. You'll note that in the video I produced.
Each race in the series except for the final goes with only four or five cars for a series of five laps or less. That's not much racing. The Red Bull Global Rally Cross series has two classes of cars. They struggle to get 10 cars in each class.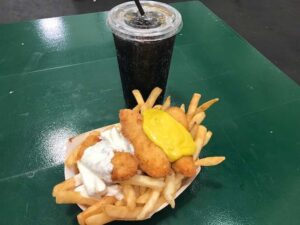 By this time the 3 1/2 rule was ready to be implemented I had covered nearly every inch of the Evergreen State Fairgrounds property. It was fun to get back to this place. I first started coming here more than 30 years ago.  I had lunch at the track.  Prices were high but I was a captive subject.
AFTER THE RACES
When it was time to skedaddle I headed back to the SeaTac International Airport. By the time I turned in my National Car Rental Racing Chrysler 300 I noticed I had only driven 81 miles round-trip.
Tonight I got the next to last seat on an airplane headed back toward Los Angeles International Airport. After stopping at Yogurtland on the way home I pulled into the driveway at a little before 9 p.m. It had been a busy Saturday and Sunday. However, the way I do weekends this one wasn't all that much different than many others.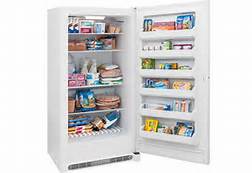 Carol had spent the day getting our new frozen food freezer operating. Our old one failed a few days ago. We bought a brand new one to replace it. That one didn't work very well either and had to be replaced today. While I was out having fun on the trackchasing trail Carol was home doing what she does best…. taking care of the homestead.
Good afternoon from Monroe, Washington.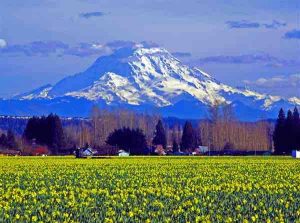 Washington
The Evergreen state
This afternoon I saw my 41st lifetime track in the Evergreen state, yes the Evergreen state. I hold the #1 trackchasing spot in Washington as I do in 24 total states. As a matter of fact, I've seen more than twice was many tracks up here than the fellow in second place. I've seen 41 or more tracks in 18 separate states.
Thanks for reading about my trackchasing,
Randy Lewis
World's #1 Trackchaser
Peoria Old Timers Racing Club (P.O.R.C.) Hall of Fame Member
Washington sayings: Why Washington state? Well that's a stupid question!
QUICK FACTS
LIFETIME TRACKCHASER COMPARISONS 
The three most important trackchasing comparisons to me are:
Total lifetime tracks seen
Total "trackchasing countries" seen
Lifetime National Geographic Diversity results
Total Lifetime Tracks
There are no trackchasers currently within 600 tracks of my lifetime total. Don't blame me.
Randy Lewis, San Clemente, California – 2,371
Total Trackchasing Countries
There are no trackchasers currently within 20 countries of my lifetime total.
Randy Lewis, San Clemente, California – 75
Current lifetime National Geographic Diversity results
Randy Lewis, San Clemente, California – 4.37
That's all folks! Official end of the RLR – Randy Lewis Racing Trackchaser Report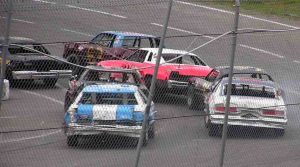 Click on the link below for photos from the Evergreen Speedway:
.
.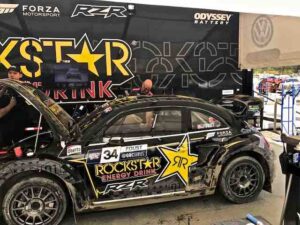 Red Bull Global Rally Cross racing from Washington state PLUS a trip to the Rose Bowl