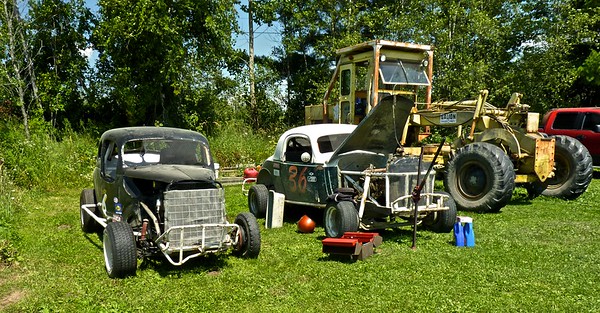 Greetings from Unity, Maine
From the travels and adventures of the 
"World's #1 Trackchaser"
HighlightsThe Details!AttractionsRace ReviewVideosPhotosQuick Facts
Fantasy Speedway
Dirt oval
Lifetime Track #1,776 
"WAS THIS A FANTASY….OR WAS IT THE FANTASY SPEEDWAY?"
Editor's note:
Don't miss the video from the Fantasy Speedway.  It includes 1930s racing machines racing just like they did in the 1950s.  You also won't want to miss the "outtakes".
THE KEYS TO THE TRIP 
If I had to drive to each point on this trip it would have taken me 9,185 miles to do it.  Does that seem like a lot?…………..more in "The Details"
Would you be up for today's flight plan?……………..more in "The Details".
Just a couple of times a year I come across a racetrack with special people…today was one of those days …………..details in "Race Review".
GREETINGS FROM UNITY, MAINE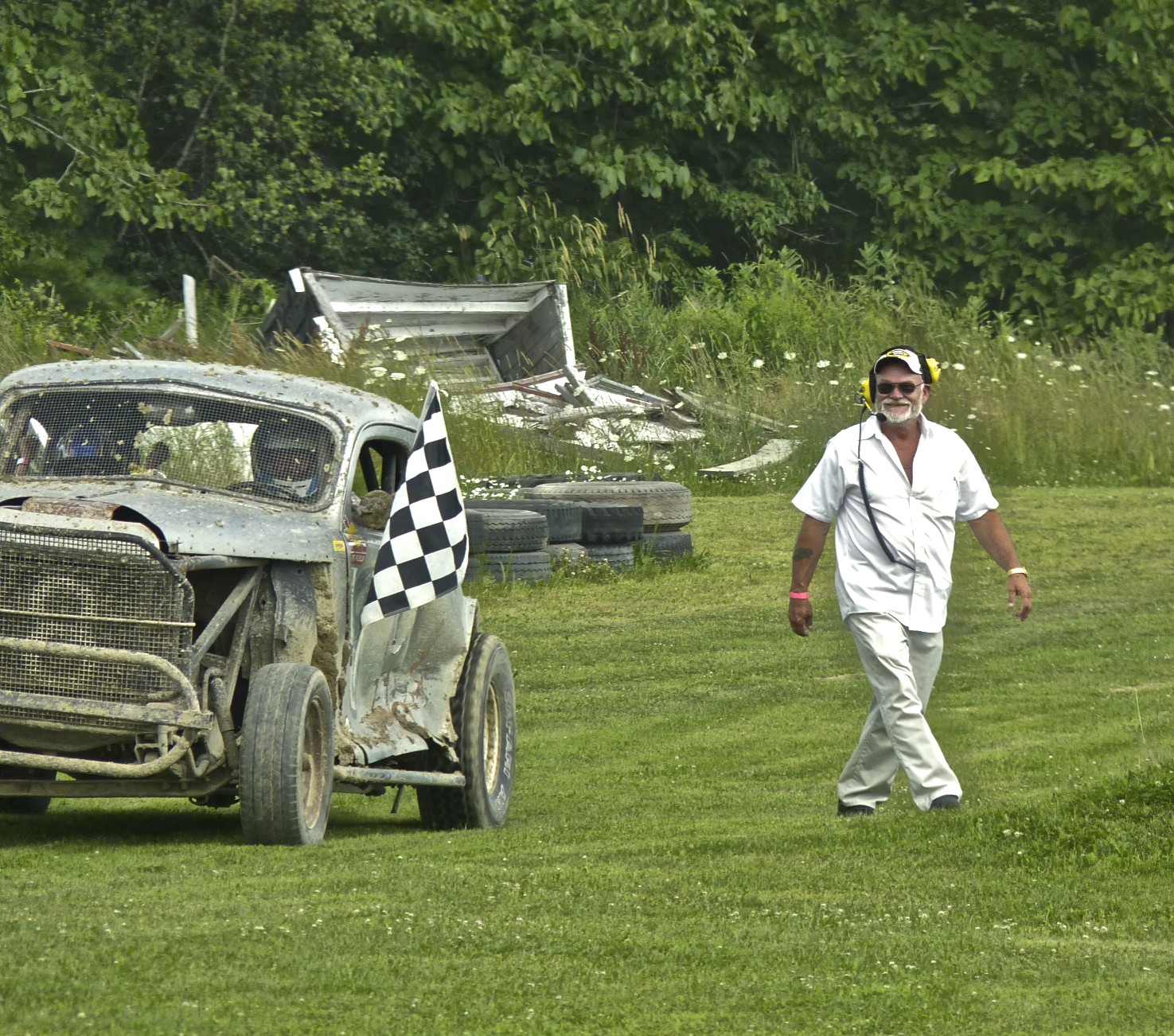 The Plan 
This wasn't the original plan but it still turned out to be a darn good plan.
When I walked out the door some 12 days ago, I was bound for a FOUR-DAY trackchasing trip.  However, all good plans retain a healthy level of flexibility….or you don't have a good plan.
As you know by now, forecasted bad weather in Oregon kept me from meeting up with "Trackchasing's First Mother" in the Beaver State.  Rather than return to the west coast for a potential rainout, I stayed out on the hot summer trackchasing trail in the Midwest, then headed east and finally all the way up to New England.  Truth be told, I could do this day in and day out…..for a very long time.  However, that's not good for family life….or my golf game.
Luckily, I had six days worth of clothes with me on this trip.  A strategic washing at the end of day six kept me in clean clothes for the entire 12-day trip.  Now I'll have a full 48 hours (if I make the flights home today) before I leave on my next trip.  Yes, July and August are the busiest months of trackchasing all year.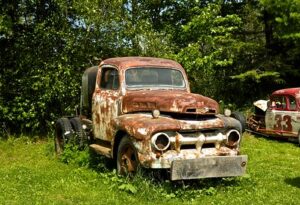 I was looking forward to traveling backward in time.
I was really looking forward to today.  I would be going back in time.  Was it a fantasy?  No, but it WAS the Fantasy Speedway.  The folks who run this place specialize in the "50s".  That's right.  Everything they do at their track tries to replicate how racing was in the 1950s racing era.
I first was introduced to auto racing in about 1955 at age six.  My hometown track was the Peoria Speedway at its first location near Peoria's Mt. Hawley airport.  A good friend, Scott Shultz, operates a website dedicated to the history of Peoria Speedway.  Take a look at this link, (Peoria Oldtimers Racing Club) to see all of the cars and stars from my boyhood era.  Then you might better appreciate the authenticity of the cars and stars racing at the Fantasy Speedway.
The Trip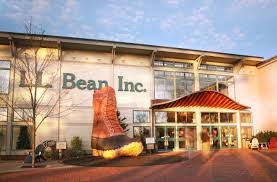 L.L. Bean's flagship store is a "must stop" for me.
I woke up this morning in Manchester, New Hampshire.  I went to bed in Bangor, Maine.  The next day I headed back to the sleepy little city by the sea, San Clemente.  This is what today looked like.   
On the drive up to Unity, Maine this morning I passed through Portland, Maine.  I can't ever remember driving through Portland without stopping at the L.L. Bean store.  However, I was running behind today and since I had purchased a ten-year supply of deck shoes at a Michigan outlet mall during my last trip there was no need.  However, I did miss that store!

Does this seem like a lot?
To make this 12-day, 11-night trip happen I ended up renting seven cars and driving 3,230 miles.  Does that seem like a lot?  My driving was reduced with the aid of fourteen flights that moved me into a position better.  This allowed me to trackchase in Kansas, Nebraska, Minnesota, back to Kansas, Michigan, back to Minnesota, back to Michigan, New York and finally Maine.
Any idea what the driving distance would have been had I driven from home in SoCal to each of these cities and the back to California?  You're right.  It would have been a long way!  The exact total would have been 9,185 miles.  At 60 M.P.H. that would have taken 153 hours.  I was only gone for about 288 hours.  That would not have left much time for sleep or seeing the racing, would it?
Nevertheless, to me, it's all about getting from point A to point B to point C, etc.  I rarely, if ever, get frustrated with the travel aspect.  I take a nap when the situation allows.  I eat when I can (I never miss a meal).  Of course, nearly every day I watch some racing.  It all works for me.  Luckily, I have a more than an understanding wife.  That makes life a lot easier.
Nevertheless, I had to get back home!
Normally, I don't HAVE to get back home from one of these trips.  Granted in the 1,037 flights since we gained our airline sponsorship in 2006 Carol and I have only missed our "same day destination" four or five times.  That's miraculous.  By the way, "same day destination" means we might have missed a flight flying standby but we were able to catch another one and still get to our destination the same day.  I wouldn't want to try this if I were attending my own wedding but for trackchasing purposes, it works out "mighty fine" as my good buddy Charlie Garrison used to say.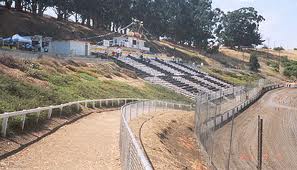 I had to get home today from this trip, however.  There were three reasons the pressure was on.  First, Carol and I had a luncheon appointment with Santa Maria Speedway (above) promoter Chris Kearns and his girlfriend Jolene tomorrow.  They were vacationing in San Clemente.  I was really looking forward to this.
Next up was on one of our Los Angeles Angels of Anaheim games tomorrow night.  We needed to be on the 5:50 p.m. train for that one.  Angels games are supposed to "keep me home" a bit more.  When I came up with this program I never imagined I would come skidding into the driveway on Monday night for a Tuesday game only to leave again on Wednesday.

And what was the THIRD reason?
The THIRD reason I had to get home was that I was leaving again on Wednesday (this is Monday).  I had to get home in time to not miss leaving again!  I TOLD you that July and August were hectic on the trackchasing front.
There IS one problem with July and August being the busiest months on my trackchasing calendar.  These months are also the vacation times for just about everybody else.  That means that mom, dad, their kids, THEIR moms and dads and just about anybody else will be jamming the nation's airports.  Yes, I guess I could sit home on the porch but that's not why I retired early.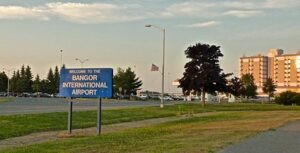 Would you have liked this flight plan?
My flying day started in Bangor, Maine.  I couldn't fly home (LAX) non-stop from Bangor.  My best two Bangor options were to fly into Detroit or Philadelphia.  From each of these cities, I could fly non-stop to LAX.  Seat availability looked best going through Philly.  However, once I reached Philadelphia I found the flight to LAX to be overbooked.  I took a safer approach and flew onto Chicago.
When I left Philadelphia the flight from Chicago to Los Angeles "looked good".  However, when I landed in Chicago's O'Hare airport the flight I wanted was now overbooked by fifty people.  An earlier flight must have canceled.  I would NOT be flying non-stop from Chicago to home.  Now I needed an "interim" location.  It was only 11 a.m. Central time.  I took an iPhone photo of all six "departure" boards that showed today's remaining flights from Chicago.  Then I grabbed a chair and "went to work".
I was up against two roadblocks now.  I had to find two planes that had an open seat AND I had to find two planes that left Chicago at 11 a.m. and connected somewhere that would still get me back to LAX tonight.  This isn't easy but it's doable.  It's also one of the things I so much enjoy about this method of travel for my trackchasing.
The situation was so dire I almost called son J.J. for his advice.  However, what's the challenge of travel if someone holds your hand the whole way.  I would sink or swim on my own.

Bingo!
Soon I found a flight!  I could fly to Colorado Springs (COS) and still make it home tonight.  There were eight seats open and nine people on the standby list.  I didn't know for sure where I would rank on that standby list.  Off I went toward gate F11B.  The flight was leaving in 35 minutes.  There wasn't time to check-in online (45 minutes is required).  I would need to check-in at the gate and that meant getting a move on.  On the way to the gate, I passed a Mickey D's.  I hadn't eaten anything today.  Was there time to stop?  I made the executive decision that there was.  Soon a double cheeseburger (it's a $1.85 not a dollar in the airport) and Diet Coke were making the last several yards of this marathon walk.
I came screeching up to the gate with a cheeseburger in hand.  I was just in time to get my name on the standby list in the #2 position no less.  I would make this flight easily.  Then I would have two final chances to get out of Colorado Springs today so I could make it to Los Angeles by tonight.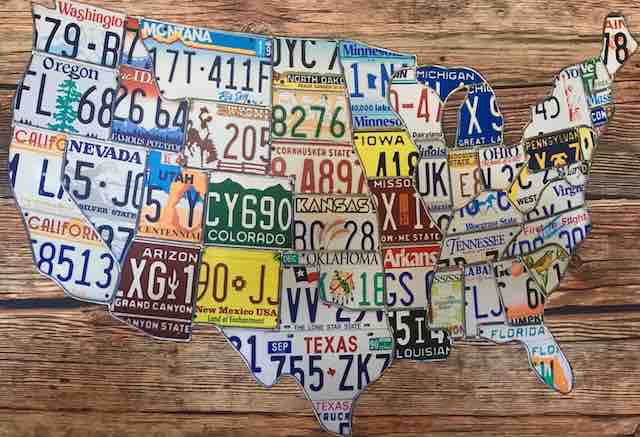 I sent text messages to both Carol and J.J. telling them I had already been in Maine, Pennsylvania, Illinois and soon to be Colorado.  From the comfort of their personal surroundings, they expressed amazement about my adventures.  That was just enough fuel to keep me going.  Flying from BGR to PHL to ORD to COS to LAX kept me busy for the day….but I made it home for all of my commitments!
Observations
It pays to ask and be nice when you ask.
I stayed in Manchester, New Hampshire the night before my visit to the Fantasy Speedway.  Priceline.com gave me an excellent deal on this Holiday Inn Express hotel.  It was past midnight when I checked in.  When I entered my room it had a distinct "smoking" smell.  I returned to the front desk to lodge a complaint.  The woman at the desk could not have been nicer.  She said, "Three people still have not checked in yet.  I'll give one of them your smoking room and give you a better room".  What did I learn from this?  Two things.  First, don't be afraid to speak up on your own behalf.  Secondly, you "snooze you lose".

I guess I over packed.
As a precaution, I brought a long pair of pants and a sweatshirt.  During the entire 12-day trip I never needed them once.  It was hot everywhere I went.  By the way, I rarely, if ever, wear long pants in California.  You'll find me in an Aloha shirt and cargo shorts every day of the year.

Every couple of nights I upgraded my lodging choices.
During my 12-night trip, Priceline.com gave me three hotel rooms at Sheratons and Holiday Inns at about 65% of the hotel's best internet price.  I also used Booking.com for a Howard Johnson one evening.  The rest of my time was spent in Motel 6 properties.  When Carol is not along on the trip a Motel 6 is fine.  However, when she does come along or when Priceline can help me out I would much rather stay in a more upscale place.  I estimate that Priceline.com saves me about $50 per night over as many as 40-50 nights each year.

I don't watch live TV.
How's this for an unusual behavior?  In eleven nights of hotel stays on this trip I never turned the TV on one time.  Often I was getting to the hotel at midnight or later and leaving early the next morning.  With hours like that, Motel 6 is an even better value.  When I do have time in a hotel room, I prefer to use my laptop for entertainment.

I continue to trackchase in ideal weather.
It rained only one day during my 12-day trip.  That happened to be on the one and only day that I would not be trackchasing.  Is it luck or good planning? 
ONE CANNOT LIVE WELL OR SLEEP WELL IF ONE HAS NOT DINED WELL
Dysart's Truck Stop – Bangor, Maine
Dysart's is now a "must stop" restaurant.
On my last trip to Bangor, Maine I discovered (with the help of Yelp!) the Dysart's Truck Stop.  They serve great food here.  Dysart's is famous for its cinnamon rolls.  I had one last time and they are the VERY BEST.  How often do you get the chance to eat a 1,000-calorie plus cinnamon roll?  Probably not too often if you end up eating TOO many of them!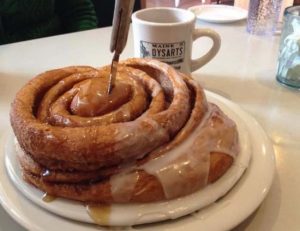 Cinnamon rolls were dancing in my head.
Nevertheless, I was really looking forward to my cinnamon roll tonight.  Alas, when I arrived I learned they had sold out of cinnamon rolls!  I ended up going with their French toast.  The French toast wasn't as good as Carol's nor was it as good as the pancakes I had at Dysart's last time.  However, the Blueberry cobbler with vanilla ice cream was over the top.  If you get to Bangor don't miss Dysart's.
I filled my gas tank at Dysart's too.  They offer full service at self-service prices.  The gas station attendant told me he didn't understand why the government did make it a requirement that gas stations must pump the gas to create jobs.  I didn't agree with that on two fronts.  First, I'm not sure that "adding costs" ever creates a competitive advantage.  Secondly, I don't think the government should be creating "make work" jobs just to keep people employed.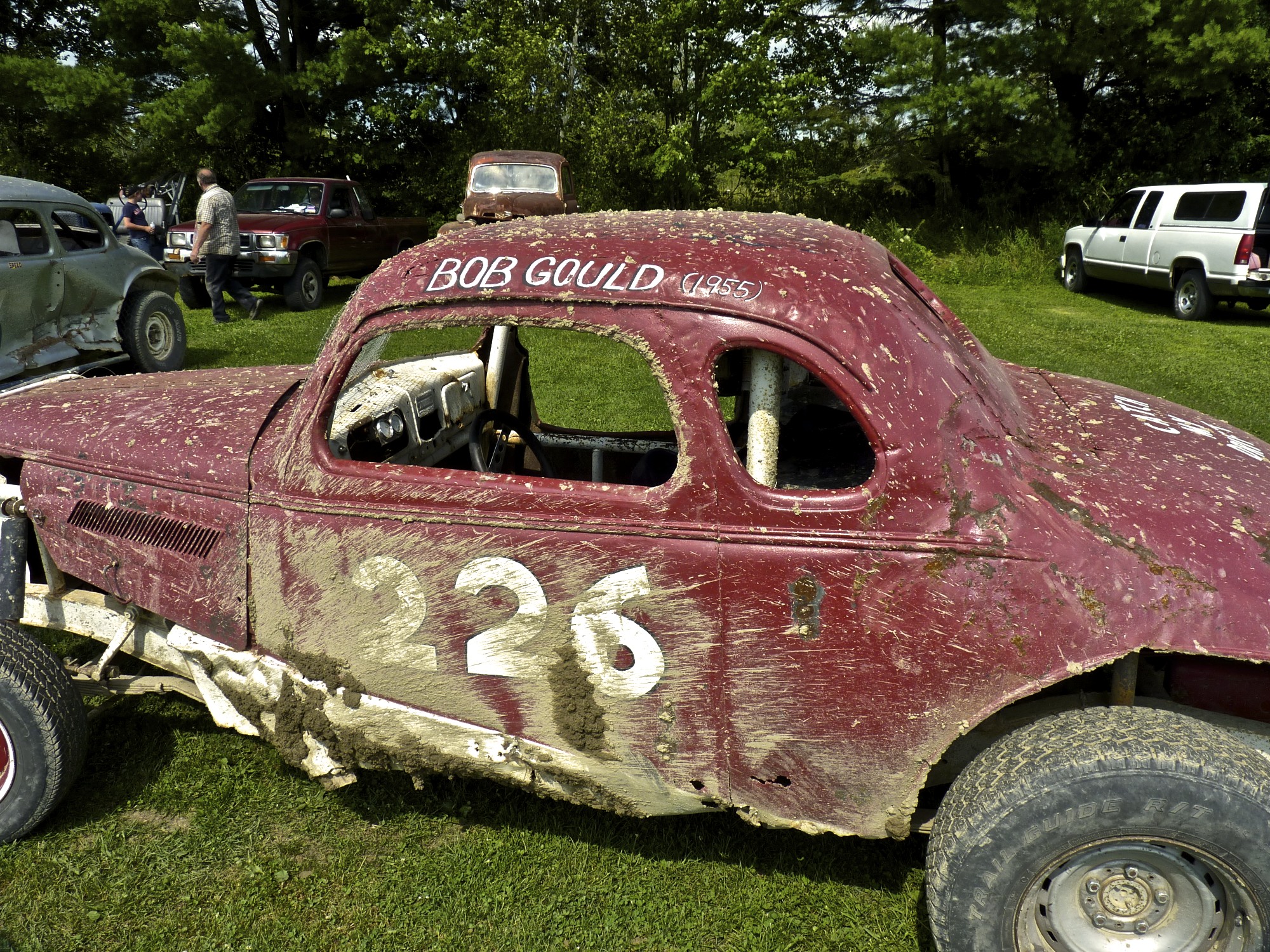 FANTASY SPEEDWAY – UNITY, MAINE
It did take them four years to answer my email.
I first learned about this track a few years ago.  At the time a group called "Wicked Good Racing" was running races here.  Back in about 2006, I sent an email to the group asking about their race dates.  I never heard back from them.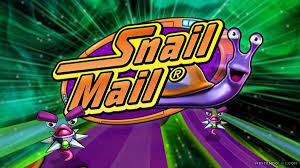 Then some four years later an email came sailing into my inbox.  It was from Tom Clark.  He was answering my email from four years earlier!  I can't ever recall waiting this long for a reply.
In his email response, Tom told me about the "Fantasy Speedway".  He and his brother, Ron had split off from the "Wicked" group and were now organizing the races at the old Unity Dirt Track (as opposed to the "hot tar" aka asphalt track in Unity that I attended in 2009). 

I almost made it here last year.
Fast forward to 2011 and I was on board with coming up to Maine to see their track.  I was somewhere in the Midwest when I reached both Tom and Ron on the phone.  These guys reminded me of  "Click and Clack, the Tappet Brothers" (those Click and Clack guys are really named Tom and Ray Magliozzi) famous for their "Car Talk" radio program on NPR (radio).
We talked on the phone for a good long time as I drove to my next track.  I was impressed with their stated objective of making the experience once you drove through the gate at the Fantasy Speedway "just like you were back in the 50s".  They seemed impressed with what I was doing in trackchasing.  We had a great conversation and I was set to see them in a day or two.
However, it was either weather or a lack of flights, or maybe both that prevented me from coming in 2011.  I always felt bad that I never got in touch with Ron and Tom to tell them why I didn't show up.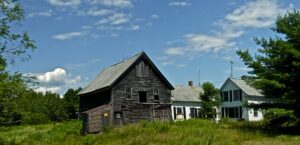 Nevertheless, when the 2012 season rolled around I penciled in their seven race dates on my proprietary race date calendar.  I felt I needed to get to Maine so I could re-experience my own 1950s.  A quick phone call to brother Ron got me back in the good graces of the Fantasy Speedway.  This time I wouldn't miss their show.  The weather was going to be great and this time I was DRIVING to Maine.

Welcome to the 1950s.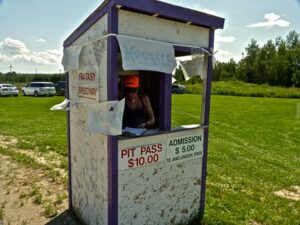 It was a nearly four-hour drive from Manchester, NH on Sunday morning to Unity, ME.  When I arrived in Unity I scouted around for lunch.  Finally, I gave up.  Nobody seemed to be open.  About that time I was happy to see a small sign directing me to the Fantasy Speedway.  Racing was scheduled to begin at 2:30 p.m.  When I pulled into the track it WAS like returning to the 1950s-racing era.

I was meeting special people today.
Before I go any further I want to tell you this.  Every so often, maybe 2-3 times each year, I run into a racetrack crew that goes out of their way to make me feel extra welcome.  The folks from these tracks always seem to really enjoy what they are doing.  I got that feeling and treatment at the Fantasy Speedway today.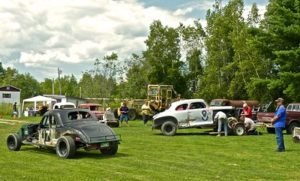 There were about a dozen race cars in the pit area.  They were all body styles from the 1930s and maybe some from the 1940s.  These old "coupes" were the types of stock cars that raced just after World War II and through about 1960 when they were slowly replaced by "late models".

Soon I started meeting these Mainers.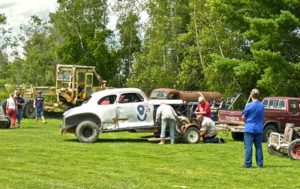 When I arrived there was no one manning the ticket booth.  I parked and went to the concession stand.  I asked where I could buy my pit pass.  "Tom's collecting the money" I was told.  I soon was directed to Tom Clark who was on his backside working underneath his racecar.  From under the car, without recognizing me, he told a young woman nearby to get me "signed in".  Once I had paid my $10 pit admission I had full run of the place.
While Tom was working on his car, I sought out brother Ron.  I learned he was the track announcer too.  Was Ron brushing up on today's driver biographies?  Nope!  He was on the track running the water truck around.  Everybody is a volunteer here and every volunteer has learned to multi-task!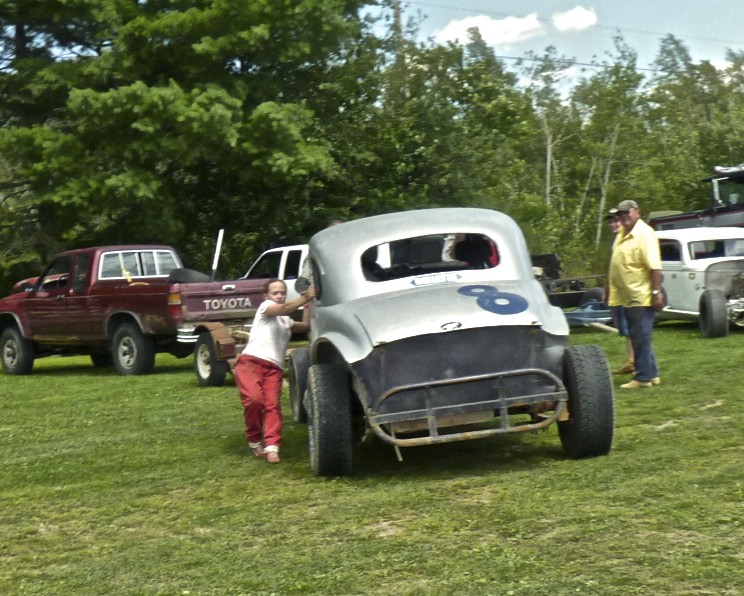 This fireball comes in a small package.
While the brothers were busy I ran into a young woman named, Erica.  She was a petite and pretty young blonde.   She greeted me with an accent that told me she was from Maine and asked, "Are you the guy from California?"  I guess I WAS the only one wearing an Aloha shirt in the pit area.  It looked as if "Mainers" don't go in much for Aloha wear.
I would soon learn I was talking to Erica Clark.  Erica is Ron Clark's daughter.  She is also one of the more outspoken women I had met this year or any year!  She wasn't afraid to express her opinion on most subjects and could probably keep pace in just about any bar in Maine when it came to salty language.  She was also the driver of the #33 "modified" race car. 
Erica gave me the lowdown on her car (it was bought in Florida for $5,500 from the guys who races vintage cars at Zephyrhills – I saw racing at that track in 2005).  I was learning that everybody was a volunteer, lots of people were related to each other and everybody knew everybody else as a friend.  It was a real friendly atmosphere.

The crowd got an education on "50's racing" from the announcing tower.
The entire field of cars was spilt into "stock cars" and "modifieds".  Some of the stock cars raced with the modified group to get more track time.  As always the best bet to see what these cars and the track really looked like is to take a look at the pictures and the videos.  Since these vintage cars are not much like most of the racing I see you're (and I was too) in for a treat.  I even did the movie in black and white to add to the "authenticity" of the era.
Ron did a great job of talking the crowd through what "vintage racing" and the track's purpose really was.  Each class ran a ten-lap heat and a fifteen-lap feature event.  There were a few spins and one car nearly got upside down.  The track was a bit dusty and the wind blew that dust toward the crowd.  I was told the wind normally blows the other way. 
The concession stand, the "Trackside Cookhouse" sold a good burger for just two bucks.  Toward the end of the day, the price on sandwiches was reduced by 50%.  That's just how they did it back in the day!

I was impressed with what's going on at the Fantasy Speedway.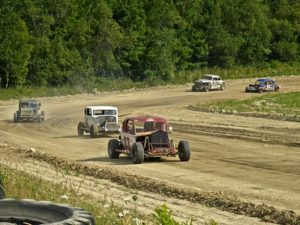 I was impressed with two things at the Fantasy Speedway.  The cars and racing were great.  I took photos from just about every angle.  This, along with watching the "late models" with 1955-57 body styles were my most favorite racing eras of all-time.
The second and equally important aspect of today's racing event was meeting and talking with all of the people.  I didn't get everyone's name and forgot the names of some people I did meet.  I was able to talk to several people for several minutes.  Both Ron, Tom and Erica answered all my questions and could not have made me feel more welcome.

Lots of interesting people to talk too.
I also had a great conversation with the track flagman, Phil Hutchinson (who admitted that this was only his third ever race to flag but he wanted to do his job with flare).  Another man I met, Dennis Smart, was the volunteer grass cutter at the track.  He had "driven truck" for much of his working career.  He also had a most unusual story from his boyhood regarding the prejudice of his fellow man that I won't cover here.  There were others too that wanted to say hello, give me a big Maine welcome and just enjoy an afternoon of old-time racing.
The Fantasy Speedway operates, intentionally, as a "non-profit" organization.  There are lots of other short tracks across the country that are also operating as non-profits but it's not of their choosing!

This racing program is unique.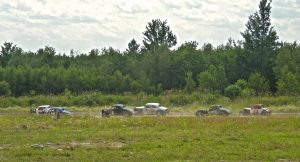 I can't think of any other track in the country that runs races on a regularly scheduled basis with just vintage stocks cars at one track.  That makes the Fantasy Speedway racing program special. Then when you add in the hospitality of the folks who frequent the Fantasy Speedway it makes the entire operation super special.
If you get to Maine, you need to stop at L.L. Bean and eat at Dysart's in Bangor.  Of course, if you come all the way to Maine, you can't miss the Fantasy Speedway.  If you get there tell them "Randy sent you".
STATE COMPARISONS
The Pine Tree State 
This afternoon I saw my 12th-lifetime track in the Pine Tree state, yes the Pine Tree state.  I don't have much left to see in Maine.  There are some ice tracks and other places that seem to "come and go" with their races.  Nevertheless, I'm a big fan of Maine and want to find a reason to get back here up.
Thanks for reading about my trackchasing,
Randy Lewis
World's #1 Trackchaser
Peoria Old Timers Racing Club (P.O.R.C.) Hall of Fame Member  
Maine sayings:  You can spit on Canada from here.
Click on the link below for a photo album from today's trackchasing day.  You can view the album slide by slide or click on the "slide show" icon for a self-guided tour of today's trackchasing adventure.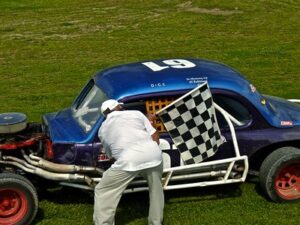 What an experience at a place called, "Fantasy Speedway"
TRAVEL DETAILS

AIRPLANE
Los Angeles, CA (LAX) – Kansas City, MO (MCI) – 1,367 miles
RENTAL CAR #1
Kansas City International Airport – trip begins
Blue Rapids, KS – 178 miles
Clay Center, NE – 330 miles
Doniphan, NE – 368 miles
Kansas City International Airport – 637 miles – trip ends
AIRPLANE
Kansas City, MO (MCI) – Minneapolis, MN (MSP) – 382 miles
Minneapolis, MN (MSP) – Fargo, ND (FAR) – 290 miles
RENTAL CAR #2
Fargo Airport – trip begins
Fertile, MN – 107 miles
Fargo Airport – 233 miles – trip ends
RENTAL CAR #3
Fargo Airport – trip begins
Geneva, NE – 515 miles
Eppley Field (Omaha) International Airport – 697 miles – trip ends
AIRPLANE
Omaha, NE (OMA) – Detroit, MI (DTW) – 647 miles
Detroit, MI (DTW) – Grand Rapids, MI (GRR) – 120 miles
RENTAL CAR #4
Gerald R. Ford (Grand Rapids) International Airport – trip begins
Marne, MI – 24 miles
Gerald R. Ford (Grand Rapids) International Airport – 56 miles – trip ends
AIRPLANE
Grand Rapids, MI (GRR) – Detroit, MI (DTW) – 120 miles
RENTAL CAR #5
Detroit Metro Airport – trip begins
Detroit, MI – 22 miles (Angels 2 – Tigers 7) L
Detroit Metro Airport – 50 miles – trip ends
AIRPLANE
Detroit, MI (DTW) – Outagamie Regional County Airport (Appleton), WI (ATW) – 295 miles
Outagamie Regional County Airport (Appleton), WI (ATW) – Minneapolis, MN – 235 miles
RENTAL CAR #6
Minneapolis-St. Paul International Airport – trip begins
Clinton, WI – 201 miles
Minneapolis-St. Paul International Airport – 402 miles – trip ends
AIRPLANE
Minneapolis, MN – South Bend, IN (SBN) – 410 miles
South Bend, IN (SBN) – Detroit, MI (DTW) – 156 miles
RENTAL CAR #7
Detroit Metro Airport – trip begins
Caro, MI – 108 miles
Richford, NY – 563 miles
Fort Edward, NY – 751 miles
Unity, ME – 1,111 miles
Bangor International Airport – 1,155 miles – trip ends
AIRPLANE
Bangor, ME (BGR) – Philadelphia, PA (PHL) – 472 miles
Philadelphia, PA (PHL) – Chicago, IL (ORD) – 658 miles
Chicago, IL (ORD) – Colorado Springs, CO (COS) – 908 miles
Colorado Springs, CO (COS) – Los Angeles, CA (LAX) – 831 miles
Total air miles – 6,791 (14 flights)
Total rental car miles – 3,230 (7 cars)
Total miles traveled on this trip – 10,091 miles
TRACK ADMISSION PRICES:
 Marshall County Fairgrounds – $10
Clay County Fairgrounds – $6
Mid-Nebraska Raceway Park – $18
Polk County Fairgrounds – $10
Fillmore County Fairgrounds – $10
Berlin Raceway – $10
Big Stone County Fairgrounds – $10
Tuscola County Fairgrounds – $10
Broome-Tioga Sports Center – $10
Turkey Trot Raceway – $10 (included pit pass)
Fantasy Speedway – $10 (included pit pass)
Total racetrack admissions for the trip – $114 U.S.
LIFETIME TRACKCHASER COMPARISONS  
The three most important trackchasing comparisons to me are:
Total lifetime tracks seen
Total "trackchasing countries" seen
Lifetime National Geographic Diversity results
Total Lifetime Tracks
There are no trackchasers currently within 300 tracks of my lifetime total.  Don't blame me. 
1.  Randy Lewis, San Clemente, California – 1,776
Total Trackchasing Countries
There are no trackchasers currently within 10 countries of my lifetime total.  
1.  Randy Lewis, San Clemente, California – 61
Current lifetime National Geographic Diversity results 
1.  Randy Lewis, San Clemente, California – 5.29
That's all folks!  Official end of the RLR – Randy Lewis Racing Trackchaser Report