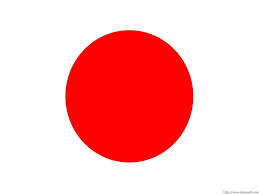 Greetings from Oyama, Japan
.
.
From the travels and adventures of the 
"World's #1 Trackchaser"
.
.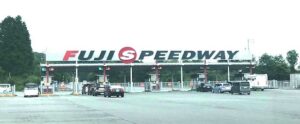 Fuji Speedway
Asphalt road course
 Lifetime Track #2,564
The EventVideo PlusPhotos
THE EVENT
I am a "trackchaser". I trackchase. Before you discovered my site had you ever heard of trackchasing? Maybe not? So….what the heck is trackchasing? Sit back, take a read and you'll be an expert on my hobby of trackchasing when you're finished.
Here's my best explanation.
Trackchasing is a three-pronged hobby. I'm a racing fan. I love to travel. I love to analyze opportunities to get the most out of everything while saving time and money.
Trackchasing fills the need for all of the above. The racing part of my trackchasing has me trying to see wheel to wheel auto racing at as many different racetracks as I can all over the world. Yes, all over the world. So far things are going pretty well. As this is written, I've seen racing in 85 countries at more than 2,500 tracks. As a matter of fact, I've seen racing at more tracks than anyone else in the world.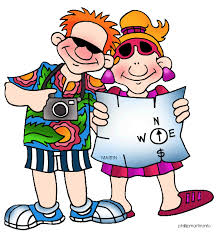 Equally important to me are the things I get to see and experience over the "long and dusty trackchasing trail". I call these adventures "Trackchasing Tourist Attractions". You won't want to miss my "Trackchasing Tourist Attractions" page. Here's the link:  Trackchasing Tourist Attractions or my "Sports Spectating Resume" page, Sports Spectating Resume on my website at www.randylewis.org.
I live in southern California. That's probably the most inconvenient location in the country for seeing tracks in the U.S. Most of the racetracks in the U.S. are located well over 1,000 miles from where I live. As a matter of fact, my average trip covers 5,000 miles and more. I take 35-40 of those trips each season. In any given year I will travel well over 200,000 miles, rent more than 50 cars, and stay in more than 150 hotel rooms.
I get the chance to meet people all over the world. With trackchasing trips to 85 countries and counting just getting the chance to experience so many other cultures, spend time in their homes and meet their friends is a huge reward for being in this hobby. I am indebted to several of these folks for their help and friendship.
It's takes a good deal of planning to do the above and not spend my entire retirement portfolio. I enjoy the challenge, the travel and every other aspect of "trackchasing". In reality, my trackchasing hobby is a lot like being with the carnival. I breeze into town, stay a little while and then head on down the road.
Today's adventure was one more of the 2,000 trips that have taken me up, down and around the proverbial long and dusty trackchasing trail.  If you would like to see where I've been and experience those adventures here's the link: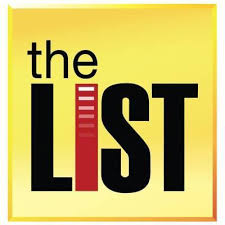 If you've got a question, comment or whatever please leave it at the bottom of this report.  It's very easy to do.  Or you can visit me on Facebook.  Thanks!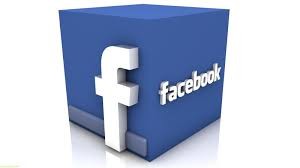 FOREWORD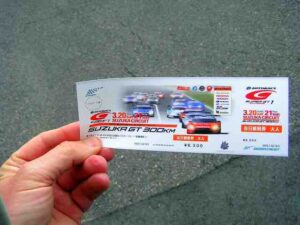 I first went trackchasing in Japan all the way back in 2010. On that trip I saw racing at the famous Suzuka Circuit. Carol and I have flown through Japan a time or two since then. However, I always wanted to take her to Japan for an extended visit. That's what this trip, in 2019, was all about.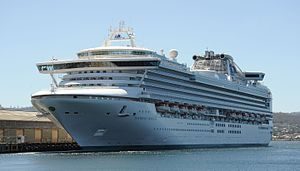 This trip wasn't really about racing or trackchasing. It was about touring Asia, cruising the China Sea (on the Diamond Princess) and discovering Tokyo, Japan. We would spend just ONE day at a racetrack. The trip would take three weeks.
I can't really believe I was able to convince Carol to leave home for three weeks. I must be a helluva salesman and I am.
More than 95% of the time we (I) do all of our own vacation planning. We don't rely on tour guides. We don't rely on the myriad of friends I've made all over the world doing this. If any of those people were to lead our trip the adventure changes one hundred percent!
Have you ever tried to navigate the subway in Tokyo, Japan? If you're with someone who know how to do that then you just let them do it. You can daydream through the entire process and certainly get from point A to point B.
That is the LAST way I want to travel! I don't want anyone else doing the traveling. I don't want anyone else doing the driving. I don't want anyone else translating or buying my subway ticket. I want to do all of the above….myself. At times it will be more difficult than simply having someone else make the trip "easy". However, I don't come on these trips to "daydream" my way through the subway if you get my drift. I want to be responsible for getting both Carol and me from point A to point B to point…….wherever. That's just how I roll.
As I mentioned all but one day of this trip was devoted to touring, cruising, meeting people and having unusual experiences. One day of this trip was spent trackchasing. I will lead off my Trackchaser Report by telling you how that trackchasing day went. Many of you signed up for racing reports more than touring reports.
On the other hand, the last thing many of my readers want to do is read about one more racetrack visit and how many modifieds raced for how many laps and how the show didn't start on times. For those people I will provide a day by day summary of the highlights from places like Japan, South Korea, Taiwan (China) and the like. You'll see the observations we made along the way. Observations are really what foreign travel is all about. The observations about the things that are NOT like back home is really what traveling to the faraway places we frequent is all about.
Let's go visit Asia!
Saturday, July 13, 2019.
We've been on the road for more than two weeks. Finally, today is the day we go trackchasing. We're headed to the Fuji Speedway in Oyama, Japan.
I didn't have all that much help from anyone else, with one exception, in planning the racing part of this trip. No other true trackchaser has ever been to a racetrack in Japan, let alone the Fuji Speedway! The Fuji Speedway didn't help out at all. Their website was nearly useless.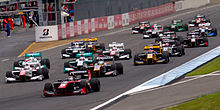 I did "meet up" with one fellow, Russell Yost, of the Super Formula race group. Russell was very helpful is answering questions about the event we attended at the Fuji Speedway. Super Formula, formerly known as Formula Nippon, is a type of formula racing and the top level of single-seater racing in Japan. Formula Nippon evolved from the Japanese Formula 2000 series begun in 1973 by way of the Japanese Formula Two and Japanese Formula 3000 championships. I actually got the race day from the Japanese Formula 3 Championship race series. They are a junior level feeder series for the Super Formula group and the like.
We woke up this morning in the Ginza section of Tokyo, Japan. We were headed to the Fuji Speedway. The track is located about 105 kilometers southwest of Tokyo. We had a few transportation options. We could drive, ride the bus or take the train.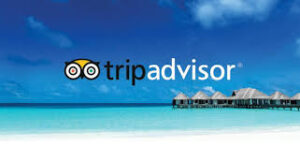 I consulted the travel experts of TripAdvisor, who are generally not racing fans, about the best travel choice. Russell Yost chimed in as well. After I provided the constraints we were facing and listened to everyone's input I decided to take the bus….mainly. I was told the bus would be faster and simpler than taking a Japan bullet train or getting there any other way.
We were staying at the Millennium Mitsui Garden Hotel. When Carol travels with me I want an opulent hotel. The more opulent the better. This hotel is located in the Ginza district. We chose to ride a "hi-way" bus from Tokyo Station to Gotemba Station. Although we could have ridden the subway from Ginza station near our hotel to Tokyo Station we chose to make the 15-minute walk. It was simpler way. Simple can be good. Walking allowed us to stay in control.
Something that might seem as simple as buying a bus ticket was anything but. Yesterday we stopped at the Ginza Six tourist information department. There we met two very fun-loving congenial travel experts.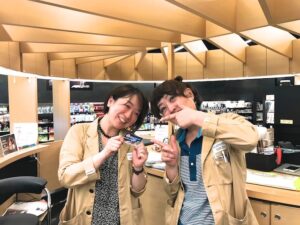 How long did it take the two of them to book our round-trip bus trip? One hour! If it took them one hour to figure thinks out how long do you think if would have taken us to do the same thing working online? Thank goodness for those two young gals. They also made an excellent promotional video about the World's #1 Trackchaser making the trip to the Fuji Speedway. Thank you ladies!
We left the hotel early to make sure we were on time for our 8:20 a.m. bus. Tokyo Station is one of the busiest train stations in the world. However, on a Saturday morning most of their nearly 100 restaurants are still closed. Japan isn't much for what we consider to be a traditional breakfast. There was ONE place open for breakfast. McDonalds. I don't recommend that American tourists eat at Mickey Ds when traveling abroad. But there can be exceptions. Today was an exception.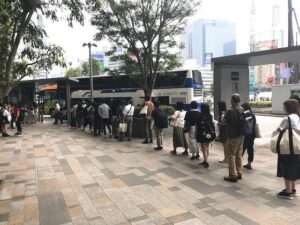 The Japan highway bus system features high-quality modern and comfortable coaches. The fares are reasonable. We paid the equivalent of $66 U.S. for the two of us to ride round-trip from Tokyo Station to Gotemba Station, a distance of about 100 kilometers.
My TripAdvisor friends had strongly advised against my renting a car and driving. They made it sound like that would be a terrible idea with the congestion that comes from being in Tokyo. Folks, I've driven in Los Angeles traffic for 40 years. How much worse could Tokyo be?
However, I have learned to follow, not blindly, the advice of travel experts from other countries. The traffic getting out of Tokyo on this Saturday morning was harsh. Yes, it was slow. It would not have been difficult to navigate using my Waze GPS system but it was a lot more comfortable in the bus. Seating on the bus was reserved although Carol and I didn't have seats together to begin with. I convinced the young Japanese girl sitting next to me to trade with Carol. A nice feature on the bus was the American style electrical plug available at each seat. Keeping my phone and laptop fully powered in important on any trip I make.
We got to the Gotemba bus station about 40 minutes late because of the traffic. We just missed catching a shuttle from Gotemba to the racetrack. That would have cost us just $16 U.S. for the both of us to use one-way.
The distance from our Gotemba bus station to the Fuji Speedway was just 9.5 kilometers. We would take a taxi from the bus station to the racetrack. How much would a cab cost for a trip a bit more than six miles long? If you guessed $48 U.S. you would be correct. Ouch!
Our driver was 85 years old and a very nice guy. Luckily, he accepted our Visa card for payment. Otherwise, we might not have been able to afford our race tickets and cab fare with the cash we had on hand.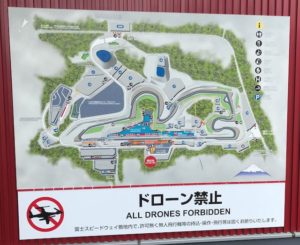 Tickets for today's racing would be 7,400 Japanese yen or about $37 U.S. for the each of us. We were going to today's event (Saturday) because tomorrow's weather forecast was calling for an inch of rain. I would have preferred seeing the Super Formula 55-lap main event on Sunday but it would be easier to see today's racing even though a light rain fell for most of today.
I will tell you that seeing the actual racing at the Fuji Speedway was most underwhelming. Not a problem! These international trips, and domestic ones as well, are NOT about the racing. They are about the people, the sightseeing and the adventure. Please allow me to repeat….these trips are NOT about the racing. The racing is a sidelight.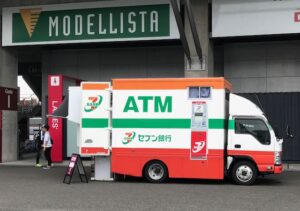 The first thing we did once we were inside the track was to hit the ATM. We did that a couple of times on the trip. This was a portable truck style ATM. Using our Citibank ATM card getting Japanese Yen was a breeze.
I found this information about the Fuji Speedway at Wikipedia. I thought you would enjoy it. Did you know that the Fuji Speedway started out as a NASCAR track? Me neither!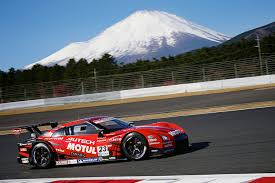 "Fuji Speedway is a motorsport race track standing in the foothills of Mount Fuji, in Oyama, Suntō District, Shizuoka Prefecture, Japan. It was built in the early 1960s. In the 1980s, Fuji Speedway was used for the FIA World Sportscar Championship and national racing. Originally managed by Mitsubishi Estate Co., Fuji Speedway was acquired by Toyota Motor Corporation in 2000. The circuit hosted the Formula One Japanese Grand Prix in 2007, after an absence of 30 years, replacing the Suzuka Circuit, owned by Honda. After Fuji Speedway hosted the 2008 race, the Japanese Grand Prix returned to Suzuka for the 2009-onward races. The Super GT Fuji 500 km race is held at the racetrack on Golden Week.
Fuji Speedway has one of the longest straights in motorsport tracks, at 1.475 km (0.917 mi) in length. The circuit has FIA Grade 1 license.
History
1963–79: F1 launches in Japan
Fuji Speedway Corporation was established in 1963, as Japan NASCAR Corporation. At first, the circuit was planned to hold NASCAR-style races in Japan. Therefore, the track was originally designed to be a 4 km (2.5 mi) high-banked superspeedway, but there was not enough money to complete the project and thus only one of the bankings was ever designed. Co. invested in the circuit and took over the reins of management in October 1965.
Converted to a road course, the circuit opened in December 1965 and proved to be somewhat dangerous with the banked turn (named "Daiichi") regularly resulting in major accidents.
After a double fatal accident in 1974 on the Daiichi banking where drivers Hiroshi Kazato and Seiichi Suzuki were both killed in a fiery accident that injured 6 other people, a new part of track was built to counteract the problem, and the resultant 4.359 km (2.709 mi) course which also eliminated 5 other fast corners proved more successful. In 1966, the track hosted a USAC Indy Car non-championship race, won by Jackie Stewart. The track had a 24-hour race in 1967.
The speedway brought the first Formula One race to Japan at the end of the 1976 season. The race had a dramatic World Championship battle between James Hunt and Niki Lauda, and in awful rainy conditions, Hunt earned enough points to win the title. Mario Andretti won the race, with Lauda withdrawing due to the dangerous conditions.
In 1977, Gilles Villeneuve was involved in a crash that killed two spectators on the side of the track, leading to Formula One leaving the speedway. When Japan earned another race on the F1 schedule ten years later, it went to Suzuka instead. The Grand Prix returned to Fuji in 2007.
1980–2000: National racing venue
Fuji remained a popular sports car racing venue and FIA World Sportscar Championship visited the track between 1982–1988 and it was often used for national races. Speeds continued to be very high, and two chicanes were added to the track, one just past the first hairpin corner, the second at the entry to the very long, very fast final turn (300R). But even with these changes the main feature of the track remained its approximately 1.5 km (0.93 mi) long straight, one of the longest in all of motorsports.
The long pit straight has also been utilized for drag racing. NHRA exhibitions were run in 1989, and in 1993 Shirley Muldowney ran a 5.30 on the quarter-mile strip at Fuji. Local drag races are common on the circuit.
The track continues to be used for Japanese national races, but plans to host a CART event in 1991 were abandoned and it was not until the autumn of 2000 that the majority of the stocks of the track was bought by Toyota from Mitsubishi Estate, as part of its motor racing plans for the future.
On May 3, 1998 there was a multi-car crash during a parade lap before a JGTC race, caused by the safety car going at twice the recommended speed in torrential rain. Ferrari driver Tetsuya Ota suffered serious burns over his entire body after being trapped in his car for almost 90 seconds.Porsche driver Tomohiko Sunako fractured his right leg.
2001–present: renovations
In 2003 the circuit was closed down to accommodate a major reprofiling of the track, using a new design from Hermann Tilke. The track was reopened on April 10, 2005. The circuit hosted its first Formula One championship event in 29 years on September 30, 2007. In circumstances similar to Fuji's first Grand Prix in 1976, the race was run in heavy rain and mist and the first 19 laps were run under the safety car, in a race won by Lewis Hamilton.
The circuit has always hosted the NISMO Festival for historic Nissan racers, since the takeover and refurbishment in 2003, the event took place at TI Circuit. When the festival returned in 2005, the organizers allowed the circuit owner to bring in their Toyota 7 CanAm racer to re-enact the old Japanese GP battle. Toyota also hosts its own historic event a week before the NISMO festival called Toyota Motorsports Festival. Close to the circuit is a drifting course, which was built as part of the refurbishment under the supervision of "Drift King" Keiichi Tsuchiya. The short course nearby was built under the supervision of former works driver and Super GT team manager Masanori Sekiya and there is a Toyota Safety Education Center, a mini circuit. In addition to motorsports, Fuji also hosts the Udo Music Festival.
Following both poor ticket sales and weather it was decided by FOM that the FIA Japanese Grand Prix would be shared between Fuji Speedway and Suzuka on alternate years with Suzuka holding the next race on Sunday, October 4, 2009. After the global recession and its own operational deficit, Toyota decided to discontinue the hosting of Japanese Grand Prix since 2010.
Fuji Speedway was announced to host the finish of the road cycling races at the 2020 Summer Olympics."
Back to the story….
Today's weather wasn't great. It spit rain off and on. Luckily, some of the huge grandstand was covered. Rain wouldn't cancel or postpose the racing. One of the best things about road racing is that they race in the rain.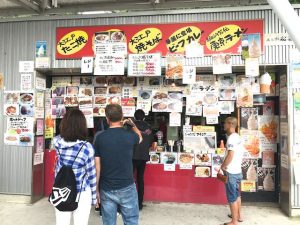 The concession stands offered a varied menu of Japanese delights. For some reason, Japanese vendors and small eateries offer American style corn dogs. During the day both Carol and I consumed the aforementioned corn dogs as well as some noodles, a hot dog without bun and a very thin crepe stuffed somewhat burrito style with strawberries, whipped cream and chocolate sauce amongst other sweet delicacies.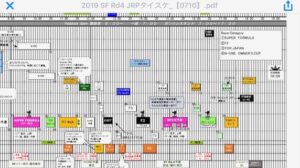 We had arrived before any of the racing had begun. My advance contact, Russell Yost, had provided what looked like a Total Quality flow chart. This was the weekend schedule of racing. Today, Saturday, there were just three races scheduled.
The first race was for "flat" go-karts. It would be a seven-lapper. As you may know long ago in a smoke-filled room trackchasing's elite, aka trackchasing's founding fathers got together metaphorically and turned thumbs down on all flat kart racing and lots of other things.
The flat kart race seemed to be divided into two classes based upon the staggered starting procedure. By the way virtually all of the announcing, maybe all, was done in Japanese. What did that mean? We really had no idea what was being said!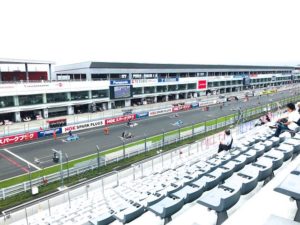 There were about 35 karts in total. Carol counted them. We could only see the racers as they came into view at the top of the front stretch. They were probably in our view for 25-30 seconds. Luckily, I guess, there was a Jumbotron type screen to show us what we were missing when the race machines were not directly in front of us.
I grew up watching racing at the Peoria Speedway in Peoria, Illinois. That track was a high-banked quarter-mile dirt oval. I didn't have any problem seeing the cars racing 100% of the time at the Peoria Speedway. I'm glad I didn't grow up at the Fuji Speedway!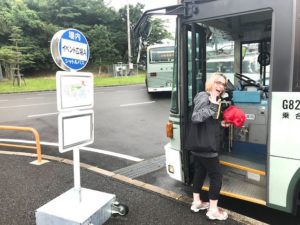 When the karts were finished we hopped on a shuttle bus that looked like it might be taking fans to other parts of the huge road course. The bus was doing that in a way. It was actually taking fans to the various parking lots. We rode the bus one lap around the circuit.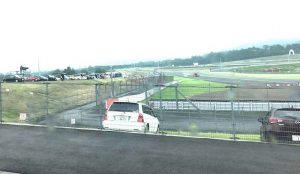 We saw a few cars parked with some good views of the turns. However, it was raining a bit stronger by now. We didn't have a car to protect us from the elements. I would have liked to have walked around the outside of the racetrack layout. The weather made that seem like a poor choice.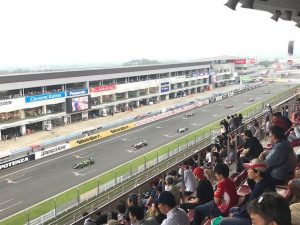 By this time it was just about time for the 15-lap Japanese Formula 3 Championship race. They started 12 cars. Twelve cars isn't much on a track this size. There was a crash on the first lap eliminating one entrant. It took them four laps under yellow to get that cleaned up. Essentially the now 11-car, 11-lap race would be the "countable" racing we saw. Like I say this isn't about the racing or I would go crazy.
All during the day we were keeping an eye on what it would take to initiate our exit plan. We were locked into the two-hour or so bus ride from the Gotemba Station to Tokyo. That bus, the last bus of the day, was leaving at 1815 (6:15 p.m.).
I didn't hear a single person speaking English today. Not a single person. Most of the Japanese people we spoke to had a very limited understanding of English. That was true in the information center as well. We tried to find out if there was a shuttle bus from the track to Gotemba Station, where that bus might be located and when it might be leaving. It was a tough slop to get that information. Nevertheless, a couple of stops at the information center gave us something to do during the downtimes when only Japanese was being heard over the PA system.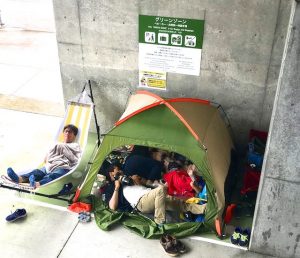 Today I saw something I have never ever seen in 2,563 previous racetrack visits. There were a number of tents pitched under the huge concrete grandstand and other places designated for such a thing. These were small little "pup" tents that you might see in homeless shelters that seem to be popping up all over America.
What were these folks doing with the tents? They were sleeping in them and just relaxing. Were they bored with the on track activity? Would they be staying overnight in these tents and watching tomorrow's big Super Formula 55-lapper? I didn't know. It was an unusual sight. Don't miss the photos.
There were several tents selling race souvenirs. Most of the offerings were toy cars and manufacturer specific swag. There were very few Fuji Speedway souvenirs and nothing worth parting with our Japanese yen.
There were three segments of qualifying for the weekend's premier division, the Super Formula cars. Watching a few cars race down the front straight and out of sight was not all that thrilling.
I know that virtually all of my fellow trackchasing competitors simply pull into a racetrack, buy a ticket, sit in the grandstand, watch the race and leave. Oh, my. I rarely do it that way.      
Normally, I have made a contact with the track or an individual and receive V.I.P. treatment. We didn't have any of that today. What a boring existence! We did our best to stay entertained but that was difficult.
There were no rides around the track in the pace car. There were no chances to meet any of the drivers. There were no lavish buffets in the VIP suites. From what I could tell we couldn't even get into the paddock area of the Fuji Speedway. Oh, my.
There was one more race on the docket today. It was a twenty-three minute plus one lap race for the TCR class. This race was scheduled to begin at 4:10 p.m. The track kept to their schedule today. They do that when racing at a permanent road course most of the time. Their dirt track brothers and sisters often don't.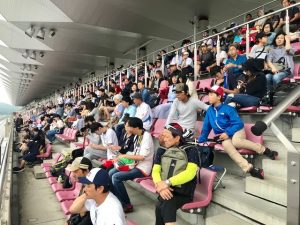 We had a decision to make. There were two shuttle buses leaving the track that would get us back to the Gotemba Station in time to make our 6:15 p.m. bus back to Tokyo. They left at 4 p.m. and 5 p.m. If we stayed for the 4:10 p.m. race we would have one shuttle bus option. If that bus was full we were screwed. The information people told us that once the Super Formula qualifying was finished those fans would overwhelm the two remaining shuttle buses.
We made the only reasonable decision a rational international traveler could make. We went for the 4 p.m. shuttle bus. Actually, we were in the area by 3:30 p.m. We had been at the track for about four hours. We had seen a kart race, a Japanese Formula 3 Championship race and had a corn dog among other things.
Was this visit to the Fuji Speedway the very best "racechasing" day I have ever had? Honestly, no. Was it in the top half of the very best racechasing days I've ever had? Again, no. How far down was it? Pretty far down!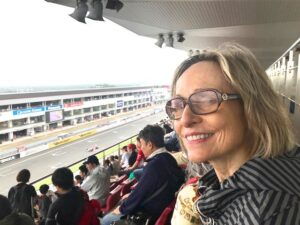 On a "trackchasing" level where did the Fuji Speedway rank? Way up there! Trackchasing is about having new experiences and seeing new things. It's about being immersed in a foreign culture and a foreign people. The Fuji Speedway and three weeks in Japan was all of that. Was I disappointed in the day? Absolutely not!! I was happy for Carol. She had now seen racing in her 49th different country.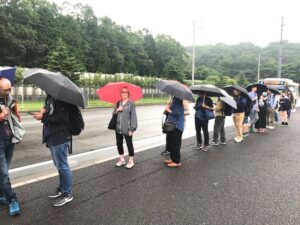 I'm glad we showed up for the 4 p.m. shuttle bus a half hour early. By 4 p.m. the line to get on the bus exceeded the buses seating capacity. We were fifth in line and got seats. What did the people do who tried to get on the last and final shuttle bus back to Gotemba do at 5 p.m.? Maybe they grabbed one of those pup tents and stayed the night.
The traffic getting back to Tokyo on the highway bus was much lighter than going from Tokyo to Gotemba. As a matter of fact, just three minutes before the 5:15 p.m. bus departure was leaving we were able to switch from the 6:15 p.m. bus to the 5:15 p.m. departure. That was a nice break since there wouldn't have been much to do at Gotemba Station for an hour on a rainy day.
The bus ride back to Tokyo station went a lot faster than this morning's bus ride. It was a satisfying trip. Carol had knocked off Japan and I had seen my second track in the country.
We arrived back into Tokyo station just in time for dinner. Tokyo station is the busiest station in Japan. More than 3,000 trains pass through it each day.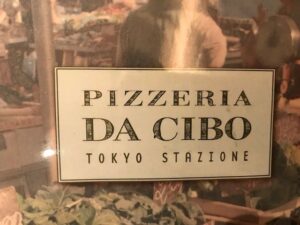 Inside the station are probably more than fifty restaurants. Think Grand Central station in New York City. We selected a popular restaurant named Pizzeria Da Cibo. Most of the Japanese eateries we dined at accepted cash only. That made visits to the ATM more frequent than normal for a foreign trip.
From dinner we took a leisurely walk back to our hotel at the Millennium Mitsui Garden Hotel. We've made this walk a few times now. It's getting familiar. Today had been a good day.
And now for the rest of the trip…..
Touring places a long way from home.
Below you'll find out exactly how a three-week trip gets planned and gets done. We had a great time. If you can every make a trip like this I suspect you will have fun as well.
Wednesday, June 26, 2019.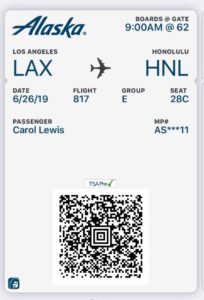 Our flight plan was simple for this trip. We would fly from Los Angeles to Honolulu to Osaka, Japan. Why not fly non-stop from LAX to the great Tokyo area? I really can't answer that since I booked the trip so long ago. If I had to guess I would say it had something to do with cost.
We flew Alaska Airlines from LAX to Honolulu. We were able to use our "companion flies for just $99 plus tax" offer that comes with our Alaska Airlines credit card. We get to use this special deal just one time each year.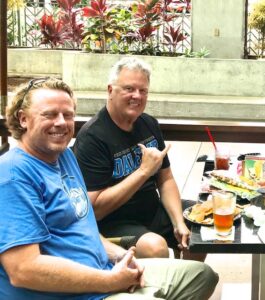 It just turned out that our son Jim and his family were vacationing in Honolulu from Austin, Texas when we were passing through. Jim brought his 11-month old daughter Ceci along to meet us at the airport. We didn't have a lot of time but just enough for lunch and some fun times with Jim and Ceci. Jim, thanks for the Japanese snacks. We enjoyed them for a very long time.
In Honolulu we enjoyed their Priority Pass sponsored airport lounge. Then we hopped on an Air Asia flight from HNL to Osaka. Air Asia is a discount airline. We paid something like $229 per person to fly one-way from Hawaii to Japan. That was a smoking hot deal. They offered plenty of leg room and a flight as good as just about any other airline would provide in coach.
Thursday, June 27, 2019.
We arrived in Japan about 36 time zone hours after we left Los Angeles. Those 36 hours were pretty much the sum of the time zone changes and flight times we encountered getting to Asia.
The time zone in Japan is 16 hours ahead of the time zone in Los Angeles. We left LAX at 9:40 a.m. on Wednesday, June 26. That was already 1:40 a.m. on THURSDAY, June 27, 2019 in Tokyo. When you add about 15 hours of flying time we didn't land in Japan until about 10 p.m. on Thursday, June 27, 2019.
Our plan had been to take a high-speed ferry boat from Osaka to somewhat nearby Kobe, Japan. Our nearly two-week cruise on the Diamond Princess was departing from Kobe. The ferry was the absolute best way to get from the airport to near where the cruise would leave.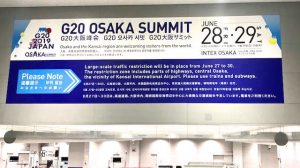 However, there was a problem. It just turned out that that world G20 Summit was taking place in Osaka, Japan at the very same time we were arriving into Osaka.
Folks, we had never been to Osaka, Japan in our long and storied lives. The G20 Summit had never ever been in Osaka. What were the chances we would be there when Donald Trump and his worldwide buddies and buddettes would be in Osaka? And on the SAME day no less. As one person accurately reminded me….100%!
Imagine a large circle, with a 30-mile diameter, separating where we were at the Osaka airport and where we wanted to go to our hotel in Kobe. Now fill that circle with water. The high-speed ferry could navigate that distance in an hour.
However, when they decided that the G20 Summit would be held in Osaka they canceled the ferry for "security" reasons. We were also told that the road AROUND the circle would be closed or suffer serious delays. That knocked out the taxi/automobile option.
I went to TripAdvisor. What did those folks have to say? They told me to take the train. At the late hour we were arriving there would be only one or two train options. When we landed we would have to collect our luggage, clear Japan border control and buy our train ticket. There would be no time to waste.
Before I go much further I think a point of explanation is needed. Did you know that almost no trackchasers ever pursue the hobby outside of the U.S. and Canada? Then most of those trackchasers who do venture outside the U.S. only go to English speaking countries. THEN those very few who might try to trackchase outside of the U.S. and outside of English-speaking foreign countries require local guides who handle the decision-making, the driving and the language barrier! It's true!
Carol and I don't do it that way! We make all of our own decisions. We do all of the foreign driving or arrange for public foreign transportation and we handle the language barrier. Together we have trackchased in more than 130 countries and made literally hundreds of foreign trackchasing trips. More than 98.7% of those trips were just us….figuring it out!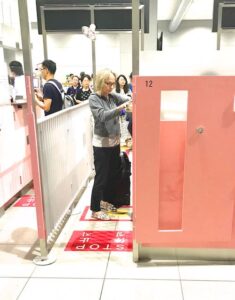 Getting our luggage, all 200 pounds of it, (nearly twice the weight of Carol) and clearing Japan's border control was easy and quick. Getting a Japanese train ticket was another matter.
Do you know how many true trackchasers have ever bought a Japanese train ticket other than Carol and me? Did you say, "none"? Correct! No other true trackchaser has EVER trackchased in Japan. Folks, I don't make up these facts. I only report them.
So what is a "true" trackchaser. It's a person who is NOT a racecar driver. Trackchasing is about going to see racing at a new track. Did Mario Andretti visit a track for the first time in order to enjoy the experience and ambience? No, he did not. He went there to work. Trackchasing is not work. Mario Andretti had never ever HEARD of the trackchasing hobby during his driving career. Others have gone to racetracks for their work as well. Would they have traveled to a place like Japan just for the fun of it to see a race? The answer is a resounding, "No!". How do I come to that conclusion? Because none of these "workers" ever made these kinds of trips when they were not working. Don't the facts simply amaze?
Carol and I were in Japan for fun. We would be here for three weeks and just one four-hour period would place us at a racetrack, the Fuji Speedway. We did not go to the Fuji Speedway to collect a paycheck. We were going there for fun and to pursue our hobby of trackchasing.
Before we could start having fun we needed to get those train tickets. That would be much more difficult that I had been led to believe from listening to the folks on TripAdvisor. Nevertheless, we had to make it happen. It was 10 o'clock at night and the train was leaving soon.
Inside the Osaka train station, which was also inside the greater Osaka airport complex, it was hot and humid. I'm not talking Illinois summer hot and humid. I'm talking Japan hot and humid. Japan is much worse than Illinois in the summer by a factor of several. I know that might be hard to believe but it's true.
Natives of Japan do not speak much English. I don't speak any Japanese. That was grounds for a significant problem. I got in the back of an "English speaking" line where people waited to get their train tickets. I was about 25thin line. The line inched along at a snail's pace. While I was in this line we missed the next to last train of the night. Where was Roland to save the day and take us from point A to Z until our trip was finished. Roland was nowhere to be found. Roland has never been to Japan.
I took a risk. I moved over to the Japanese speaking line. I was behind only one person. In less than a minute I had purchased our train tickets with my Chase Sapphire Reserve Visa card. Now Carol and I and our 200 pounds of luggage tried to find what train track we would be using.
Does everyone realize that Carol weighs just over 100 pounds after she's just come from the shower? Doesn't matter. She still needed to carry her share of the 200 pounds of luggage we brought on the trip. I didn't send her to 24-Hour Fitness six days a week for the past thirty years out of the goodness of my heart. A wife who can hump 100 pounds of luggage after flying 15 hours in oppressive heat and humidity is a good wife.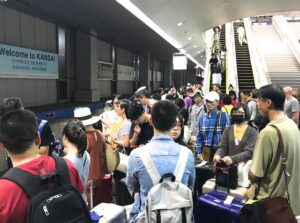 We were just about to learn that the Japanese people are, in general, passive pushers and shovers. They won't get in your face like New Yorkers. They are more like boring termites. One minute they are behind you in line and the next you are four people behind them in line. Sorry, I love the Japanese people. I'm just telling your how it is.
When that last train pulled up there were 100 people with their own massive amount of luggage wanting to get on the train. Carol is not an aggressive person. I am. Maybe that's why we've been married for 47 years. I got on the train with my share of the luggage. Carol was now about five people behind me and falling back fast. What if she couldn't get on the train? That was pretty simple. She might not see racing in her 49thlifetime trackchasing country.
I'm here to tell you that we made that train. We didn't get a seat but our luggage and us made that train. We had NO idea how long we would ride this train before we transferred to the next one. We just hung onto a strap over our heads and hoped that no one wanted our luggage, which was now parked some twenty feet from us with another dozen Japanese folks between us and our bags.
After about thirty minutes we reached our stop. We had exactly 12 minutes to find our connecting train and get on it. If we missed that train there wasn't another. We found that train. It was a "Shinkansen" train, which is to say it was a bullet train.
We hopped in a car that carried no other passengers. This train was wide open compared to the first one. I knew why that train didn't have any other people riding in it. That being the case, I sure wasn't going to tell Carol until we got to our destination. When we reached the Shin Kobe train station I told her why no one was sitting in our train car. That car was for reserved seat passengers. We didn't have reserved seats. Carol didn't need to know that because she would have feared for her life and imagined all kinds of things that would never come true. I have learned over time what to share with Carol and what not to share.
We struggled with our luggage to reach ground level. We would need to take a cab to our hotel, the Ana Crown Plaza. I had made a non-refundable reservation with them months ago. I had heard about how expensive Japanese cabs could be. Was I about ready to find out?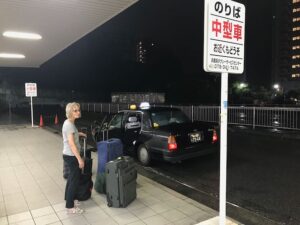 The cab driver got out of the car and opened his trunk. He asked where we are headed. The "Ana Crown Plaza" I yelled. With that he looked over his shoulder and pointed. There was the red sign advertising the….wait for it….the Ana Crown Plaza.
I had made that hotel reservation predicated on our taking the high-speed ferry. When the ferry was canceled because of the G20 Summit we had to take the train. It was 100% luck that our hotel was right next to the Shin Kobe train station. Who needs Roland anyway?
The Crown Plaza is the upscale branch of the Holiday Inn chain. Think Lexus and Toyota. I've stayed in my share of Holiday Inns and Crown Plazas in my time. This Crown Plaza was the best one I had ever seen. Japanese hotels are expensive. How much did I pay for this Crown Plaza in Kobe? I can't tell you the exact amount to protect the value of the brand. I will just say I got a smokin' hot deal.
I have been trained to follow the adage that, "If you don't ask you don't get". I follow that line of thinking everywhere I go. Because so many people are simply afraid to ask, those of us who do ask get more often than not.
I don't have any status with Holiday Inn. I do have a frequent stay account but it probably has almost no points accumulated. Nevertheless, I presented my account number to the check-in clerk. I asked if my membership might get us a better room at this nearly midnight hour.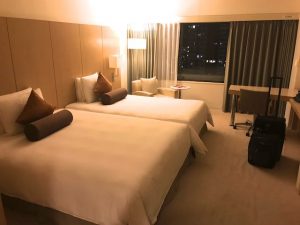 It did! We got a fantastic large room on a high floor. Japanese hotel rooms, are noted for the same thing that New York hotel rooms are….they are expensive and they are small. We got a huge modern room, with a heated toilet seat, at a rock bottom price. But wait! There's more.
The clerk gave us admission to the club lounge where a complimentary breakfast would be served in the morning. That was a $50-60 U.S. value in Japan.
Following the G20 Summit fiasco, and the "English-speaking" train ticket line snarl and the oppressive and I do mean oppressive heat and humidity of Japan in the summer things were starting to turn in our favor.
The hotel bellman helped us with our large amount of heavy luggage. When I tried to tip him for his help he refused. The bellman reminded us of the "no tipping" policy in Japan. Yes!
Tomorrow we board a cruise ship bound for South Korea, Taiwan (China) and ports all over Japan. This would be the trip of a lifetime. I try to take at least one trip of a lifetime every couple of months and have been doing so for 20-30 years or more.
Friday, June 28, 2019.
I commonly say that, "People vote with their feet". It doesn't matter what someone says but what they do. Carol and I are ocean cruisers. By my count we have cruised on the open seas more than twenty-five times….all over the world.
Today we would be boarding the Diamond Princess cruise ship for a 13-day cruise mostly around Japan but also including stops in South Korea and Taiwan (China). This was going to be fun.
We are cruising in late June and during the first half of July. That is prime trackchasing season. It is also "hot and humid" season in this part of the world. I would have preferred to have done this cruise much later in the year. However, later there was only an eight-day cruise available in Japan and for the cruise we would take now the duration was 13 days. I had to answer a one question. Would I like to cruise for 13 days or eight days? Remember, people vote with their feet.
Earlier this morning we checked out of our Crown Plaza hotel. Their breakfast room was huge with an excellent buffet. For most of the time we were at breakfast we were the only guests in the place. The views of downtown Kobe from our high-rise building were outstanding. Kobe is famous for their beef….and their earthquakes.
A true highlight of the Crown Plaza was their toilet. It came with a heated seat, slow motion toilet lid and automatic flushing. The toilet was sort of like having power windows in your car. Once you get used to the new way of doing things you wonder how you lived with the old.
We would need to move seven pieces of luggage, all weighing in at about 200 pounds from the hotel to the cruise ship. We were nearby but not near enough for Carol to move all of that luggage by herself. The hotel had some taxis at the ready but they weren't big enough to carry all of our gear. They called a BIGGER taxi, sort of like a mini-van, and the problem was solved. I was pleasantly surprised that the bigger taxi was the same price as the standard car taxi fare.
The cruise ships really have their act together when it comes to efficiently boarding nearly 3,000 guests. The taxi pulled up to the cruise terminal, the driver unloaded our bags and they soon disappeared only to reappear inside our state room by the time we arrived at cabin #D305. Magical!
The only "slowdown" is getting onto the Diamond Princess was clearing Japanese customs. That process involved a long line and probably took thirty minutes or so. From there it was smooth sailing (I know!). Carol and I carry "Platinum status" with Princess Cruise lines, which would end up being a benefit many times over the next couple of weeks. Today that status helped us jump the lines several times. It definitely pays to know people.
I can't say for sure but I think I booked a balcony room with Princess several months ago. There are seemingly a million types of cabins available for rent on one of these big cruise ships. They range from an interior cabin to the biggest of suites. It also matters where your cabin is situated on the ship from front to back and top to bottom. There is a lot less rocking in the center of the ship.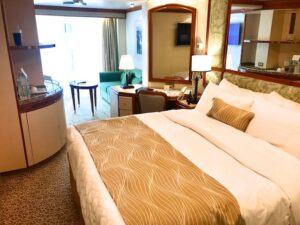 When we checked into D305 we found we had been upgraded to a suite! It definitely pays to know people. Of course our suite had a balcony accessed by a sliding glass door. There was a sitting room with an eight-foot sofa, 2 TVs, refrigerator, king-sized bed and a Rolls-Royce type toilet to be covered later. We were set for the next two weeks!
Our cabin steward, Edwin, greeted us with two glasses of Champaign. The first scheduled event was the lifeboat drill held in the Princess Theatre. We were on deck nine. The Princess Theatre was on deck seven and directly below us. The ship offered elevators and three separate staircases to move passengers from one floor to another. We had a staircase very near our front door. We could almost fall out of bed and down to flights of stairs to get to the Princess Theatre where there was entertainment every night.
Carol and I have adhered to a personal travel policy of using the stairs rather than the elevator when cruising. The first time we use the elevator is to move whatever carry-on luggage we have into our cabin on day one. The next time we use the ship's elevators would be when we leave the ship on the last day with our carry-on luggage. We will commonly climb 10-30 flights of stairs each day and sometimes more. Very few folks use the stairs.
The ship provides a daily newsletter called the "Princess Patter". This four-pager lists the myriad of ship activities, entertainment, restaurant hours and the like. You will not starve on a cruise ship. You will gain weight….even if you use the stairs!
While we waited for the ship to leave its Yokahama seaport we explored the ship. The Diamond Princess is an older boat by cruise standards. It was built in 2004 and refurbished in 2017. The Diamond Princess is a large ship weighing in at more than 115,000 tons. It carries a five-star ship rating with Vacations to Go, my go to cruise booking website.
My minimum standard for cruising is a five-star vessel. There are a very few six-star options but not many. A five-star cruising machines will get you up and down the ocean in fine style. The ship carries up to 2,670 passengers and 1,100 crew. Having one crew member for every three passengers makes customer service top notch.
We had not known for sure what the passenger demographic on this ship would be. The itinerary called for us to leave Japan, cruise around and come back to Japan. I guess that should have told us something.
I would estimate that 80-90% of the passengers were Japanese speaking. Most of the English speaking people were from Australia and New Zealand. What did all of this tell me? People normally don't travel all that far to take their cruises. We met almost no English-speaking American travelers.
Japan is 16 hours ahead of our time zone in Los Angeles. Whenever we wanted to figure out what time it was back home we simply flipped the a.m. and p.m. and subtracted four hours. My advice is this. Don't worry about what time it is back home. You're on vacation. Home will be there when you get back.
We had pre-selected the "late" dinner seating option. We almost always to do that. On the Diamond Princess the late dinner seating, which was the second and last dinner seating, commenced at 7:45 p.m. That is much later than we eat dinner at home. Back at our modest seaside cottage in the sleepy little village of San Clemente we usually dine from 5:30-6 p.m.
In the late afternoon today we decided to take a nap. That would end up becoming a regular routine on many of our "non-port" cruising days. On this day Carol asked me to wake her up in time for dinner. However, when dinner came she was sleeping peacefully and I enjoyed the quiet time as well. I let her sleep and we slept through dinner! No problem, man. We're on friggin' vacation. When we both came to we ventured up to the 14thflour deck, using the stairs of course, and chose some offering from the all-day buffet at the Horizon Court restaurant.
Day #1 of our cruise was now finished. We were looking forward to a grand time on the China Sea and other major bodies of water. Let's do this.
Saturday, June 29, 2019.
Today was an "at sea" day. During our 13-day cruise we would have six full at sea days. That simply means the cruise ship would be sailing all day. We would not stop at any ports during an at sea day.
I really like days like this. They are so relaxing. The ship has so many activities that normally one overlaps another and you are forced to choose one interesting presentation over another. Of course, you can always fall back on two cruise staples, eating and/or sleeping.
Tonight was going to be our first "formal" night on the ship. There would be three during the entire voyage. A formal night simply means that women wear their cocktail dresses. The word "cocktail" almost seems outdated in today's hi-tech world.
Gentlemen were expected to be attired in formal wear such as a tuxedo or dark suit. You will always see some joker running around the ship on formal night in a t-shirt and shorts. Even though I very much prefer wearing t-shirts and shorts 99.9% of the year I can go for a formal night or two.
Going into this cruise I owned two tuxedos. I mean exactly how many tuxes does one guy need who wears shorts and t-shirts 99.9% of the year? Over the last many years my shoe size has somewhat miraculously changed from a 12 to a 14. I can't explain it. I'll still 6'3" tall.
O.K., that explains why my old shoes don't fit. Therefore I shouldn't be surprised that neither one of my tuxedos currently fit either. I tried on one of them at home. Carol had a better chance of having that tux fit well than I did. The second tux was close but again no cigar.
This meant I would need to rent a tuxedo. Fortunately I had tried on my "old" formal wear with enough time to run down to Andy's Tuxedo & Rental, owned by a woman named Kathy no less, and check out a rental tux.
I was well into the process of renting a tux when a great idea rushed over me. The rental price of the tuxedo was going to be $160 without shoes. Just for the fun of it I asked Ms. Kathy how much it would cost to BUY a tuxedo from her. When she told me the expense would be only $90 more than renting a tux I couldn't pass up that deal.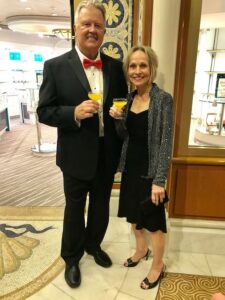 Now for $250, one and one-half times the cost of renting a tuxedo, I would be the proud owner of a brand-new piece of formal wear that I could use until I grew out of it or returned to a place where I could fit into one of my two "now old" tuxedos. I was very pleased with that idea.
It would also cost me another $38 for a tuxedo shirt. I could have simply worn one of my long sleeve white business dress shirts but if you're going to go first class you had best go first class.
Now I needed to face the matter of formal wear shoes. I could rent a pair from Andy's. However, a local shoe store had some very smart looking black dress shoes that I could BUY for just two dollars more than the rental expense of shiny, high gloss Corfam shoes.
The upside of buying the shoes is that they could double as formal wear shoes with a tuxedo and I could wear them as dress shoes with a suit or sport coat. Folks, I NEVER wear dress shoes. Sorry, I just don't. Nevertheless, it's probably a good idea to have some dress shoes at the ready.
There was a minor downside to buying these shoes. Normally, especially with athletic shoes, I wear a size 14. These dress shoes were a size 13. I figured with thin black dress socks and just a wee bit of stretching the shoes would work (above). I wasn't planning on wearing them ten hours a day. Nevertheless, during the day today I wore them around our stateroom just to get used to them. They were going to work out just fine for this occasion.
Carol and I had slept in a bit today. On most days of this cruise we would simply walk up to deck 14, from our cabin on deck 9, to the Horizon Court buffet. I like buffets because you can serve yourself fast. There is also a much broader selection available at a buffet. Granted buffet food might not be of the same quality as ordering off the menu but a sit-down restaurant takes time and I prefer the quicker dining process most of the time.
My go too breakfast option almost every day was the bread pudding with a vanilla sauce. The bread pudding was moist, flavorful and almost melted in my mouth. It was just about like eating cotton candy. My second option would be the "butter" noodles. Imagine soaking linguini in butter or olive oil. Yes, I could have been a vegetarian!
The Diamond Princess had a large number of retail stores on board. For some reason they had a very small selection, for a ship, of liquor. Sales are announced each night and the next day you would think it was "Black Friday" at the retail shops on board. Remember, 80-90% of the passengers were Japanese, most of whom spoke very little English. The Japanese are shoppers just like their fellow Americans.
We also attended a presentation by the ship explaining exactly what types of goods would be sold onboard during the cruise. Most employees on the ship come from countries outside of the United States. Typically they sign nine-month work contracts. That essentially means they are away from their families for a very long time. Working on a cruise ship is definitely a different lifestyle and not for everyone. Most ship workers are younger. From what I can tell the money they earn during a nine-month contract will go a long way "back home".
At lunch I discovered a food grill that was serving hamburgers, hot dogs and bratwursts. Right next to that location was an outlet offering pizza. These places turned out to be my luncheon choice about half the time. While I waited for a fresh cheeseburger to come off the grill Carol went hunting for salads. Maybe that's why her formal wear still fits.
Playing dress-up on formal night was fun. We had our picture taken with members of the captains' staff. We made it to the Savoy Grill, when we had a 7:45 p.m. dinner reservation each night.
We really like having dinner in a formal sit-down restaurant for our evening meal. It's always fun to meet new people and hear about their travel experiences.
Last night we had slept in and missed dinner. That meant we didn't get to meet the people who would we be having dinner with each night for nearly two weeks. When was the last time you had dinner with folks who started out as strangers for the next two weeks?
As it turned out we would have to wait another night to meet our dinner companions. The gentleman's luggage had missed the boat. That meant he didn't have any formal wear for tonight's formal night.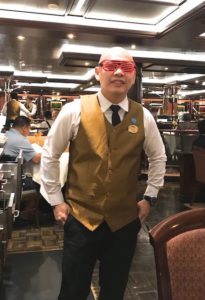 Our servers were fantastic led by our head waiter, "Jay-R" who lived in the Philippines. Having a good head waiter makes a big difference in the cruise ship dining experience. We have always had great service from cruise ship staff members.
A cruise ship dining experience in one of the formal dining rooms is like eating in any upscale restaurant. The service and ambience are first class. On a cruise ship, if you want, you're going to get an appetizer, entrée and dessert. The menu will offer 5-10 choices in each category.
If you want you can have EVERY ONE of the appetizers, entrees and desserts on the menu. If you want you can have as many of any of those selections as you want. There is no extra charge for anything except alcohol and soda. If you can't gain weight on a cruise it's your own fault!
On this night Carol and I dined on salmon. My appetizer was a creamy seafood Newburg with garlic bread. For dessert I went with the vanilla soufflé, which was one of the best desserts of the trip. Often Carol declined all dessert options. There's a reason why she's in the best shape of anyone in the trackchasing hobby.
With our tummy's full we marched on down to the Princess Theatre for a night of the ship's onboard entertainment. The singing and dancing from the one-hour show was fun.
We capped off the night in one of the ship's cocktail lounges watching the "Yes/No" game. Passengers were brought on stage. If they could answer a series of conversational questions for three minutes without saying the words, "Yes or no" or nodding their heads they would win a bottle of Champaign. It was surprising how many people had a hard time winning that bubbly drink.
From there we were off to bed. Our first full "at sea" day was complete. We had a good time all day.
Sunday, June 30, 2019.
Today we would be making port in Busan, South Korea. I've been to South Korea twice before. Once was for the World Formula 1 race back in 2010 at the Korea International Circuit. F1 no longer races there. A second time had Carol and me connecting in Seoul, South Korea on the way to another international trackchasing adventure. The airport in Seoul is at or near the top of my favorite airport list.
Today we had paid for and reserved a tour of Busan and the surrounding area. We were supposed to meet others taking the tour at 9:15 a.m. in one of the cocktail lounges….or so we thought. We showed up a few minutes early only to find out the meeting time was 8:30 a.m. We missed the tour! In all of our years of cruising we have never been late for a land-based tour.
Although Carol was disappointed I am trained to react to situations like this. I would simply take her ashore and mimic most aspects of the tour we missed. By the way, Princess gave us a 50% refund on the tour we missed. That seemed more than fair to me.
Southeast Asia is really hot and humid at this time of year (June/July). I hate heat and humidity. The weather was oppressive. Nevertheless, it was what is was.
We boarded the Airport Limousine Bus to take us from the ship to downtown Busan. Our first stop was an underground shopping center. Since it was still early in the day there wasn't all that much happening with many of the stores not yet open. We did sample a chocolate frosted Dunkin' Donut. In the past Asian donuts didn't have much flavor. This one seemed rather normal. Anything in the name of research.
Next up on the RANLAY tour was a stop at the fish markets. Although I no longer fish and don't like to eat fish that much I very much enjoy visiting fish markets. Go figure. The fish market in Busan was huge, one of the largest I've seen. Don't miss the photos.
My self-constructed tour was really rolling now. We spent the next couple of hours in the absolutely huge Busan International Market. This thing went on forever. However, the true highlight of the day was just coming up. Don't miss the photos on this one either.
Our original cruise land tour in Busan had advertised a Korean BBQ lunch. These meals are normally served on a hot "stove" built into the dining table itself. The international market had several of these types of restaurants. We window shopped a few and made our selection.
Having a Korean BBQ lunch in a busy South Korean restaurant was a highlight of the entire trip. Don't miss the photos and video of this visit. Our table stove was probably about two feet square. The server filled the entire cooking surface with "pork belly" and other meats and vegetables. Then she left and we ate sizzling food for most of the next hour. Carol loved this and I did as well. Yes, this was a trip highlight.
I am a Diet Coke drinker. I would come to find out that more often than not restaurants and concession kiosks offered regular Coke but not diet versions. I've seen that before. Most Asians are on the thin side and when they drink soda they drink the sugar-laden versions. Most Americans are NOT on the thin side and many drink diet sodas. What's up with that?
Once back on the ship our path took us through the ship's casino. On previous cruises the casino is always packed. During this trip we saw very few people using the Casino's slot machines and blackjack tables. We concluded that the Japanese are not big gamblers.
Tonight we would meet our dinner companions for the first time. Harry and Kate were frequent cruisers. She had more than 400 nights of cruising to her credit. They were both Chinese-Americans who were natives of Honolulu, Hawaii. The four of us had a lot of common experiences. For the next ten days we pretty much were the last table to leave the restaurant. We all had such a fun time chatting the night away. The culinary of the evening was the crème Boulet.
Monday, July 1, 2019.
On several early mornings I was up for a morning power walk around the ship. The weather was cloudy and damp for much of our trip. We were told the rainy season lasts for just one month and the rainy season is now. I didn't really believe the "one-month" comment but who knows?
The Japanese passengers were also early risers. They did their morning "Tai Chi" exercises by watching a recorded exercise leader from the huge Jumbotron like movie screen. While they stretched I walked. This huge screen was also used for both daily and nightly feature film presentations. Passengers often grabbed a lounge chair beside the pool and watched the movies.
Today, July 1, was "Canada Day". The ship was decked out in red and white with several images of the Canadian flag flying. There were also special Canada Day red and white dessert cakes being served.
The true highlight of the day for Carol and me was happening at 10:30 a.m. in the Princess Theatre. The head chef, responsible for serving 14,000 meals a day, gave a cooking demonstration followed by a tour of the ship's galley.
The chef was from Germany and offered up a pretty funny dialog as he cooked recipes from the ship's menus I would love to have been able to try the chocolate forest cake that concluded his presentation. Don't miss the video. We had close up seats. The cooking demonstration was better than the food galley tour. It was fun to watch the cruise director play off the humor of the head chef.
By the way we had TWO cruise directors. I had never seen that before. The English speaking cruise director was from St. Louis, Missouri. He told me later in the cruise he "bled red" as a St. Louis Cardinals fan.
The female Japanese cruise director had a great sense of humor. They worked together. One would explain everything in English. Then what had been said in English was translated into Japanese. With the Japanese population dominating the attendance at most events it often took the translation from English to Japanese to have the crowd react to the punchline. It seemed as if the Japanese translation took much longer to unfold than what was said in English. However, I did two tests and the time spent with each language was the same. Like I say, go figure.
All cruise announcements, game shows, theatre presentations and the like were first shared in English and then in Japanese. We've been on one similar cruise. On that cruise FOUR languages were spoken with each announcement!
During the afternoon we attended an English speaking presentation headed by a young Japanese man who had spent some of his early years growing up in Chicago. The topic was "The Japanese Culture". He did a great job for the mainly English speaking audience. He spent quite a bit of time explaining the culture in the Japanese school systems and homes. I learned a lot.
Following the Japanese Culture lecture Carol and I relaxed in the cocktail lounge. She enjoyed a white Russian and I went with a mai tai. No cash is accepted on the ship. Each passenger has a cruise card. When you want to buy anything on the ship you simply present your cruise card as payment. At the end of the cruise each person's bill is then settled.
Dinner featured a couple of sake type drinks presented in red and green souvenir shooter classes. Those glasses reminded us of Christmas.
The highlight of dinner was a special birthday cake given to me. Then the entire population of the Savoy Grill sang happy birthday to me. It wasn't EXACTLY my birthday but then we weren't cruising when I had my birthday. I figure when I go cruising I get one birthday celebration since I have one birthday each year. We had plenty of chocolate cake to take back to our stateroom.
Carol made me promise NOT to have a birthday offering for her on this cruise. She can be shy. It took all of my perseverance to cancel the secret upcoming cruise birthday celebration I had planned for her. She would not have been a happy camper if the entire dining room sang HB to her!
We closed out the evening, as we did on almost every evening with a show in the Princess Theatre. This was a singing and dancing '50s show and very well done. Cruise ships always offer good late night after dinner entertainment.
Tuesday, July 2, 2019.
On this morning it was foggy and wet when I went about my morning walk up on deck 15. By the time I had finished my New Balance shoes were soaked. They would be useless for the rest of the day. I would switch to my Sketchers for today's land tour.
We were going ashore in Japan for the first time since we set sail. That meant we needed to clear Japanese customs while still on the ship. There were two lines getting off the ship. One for Japanese citizens and the other for citizens of other countries. It took more than thirty minutes of standing in line to get off the ship, our longest wait of the trip.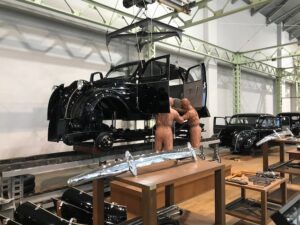 We boarded our tour bus and our first stop was the "Toyota Commemorative Museum of Industry and Technology" in Nagoya, Japan. Back in 2010 I spent a few days in Nagoya. The highlight of that trip was seeing the Japanese Major League Chunichi Dragons play a game inside the Nagoya Dome. That was one of my very best Trackchasing Tourist attractions of all time.
Did you know the Toyota Motor Company started out in the clothing/sewing business? Then in about 1933 they bought a Chevrolet car, took it apart, and began figuring out how they could make a better car. This was the beginning of their automobile business. The rest is history. In the spirit of full disclosure Carol and I both own Toyota products albeit with the Lexus brand.
Today's museum was only O.K. I very much enjoyed the Toyota manufacturing plant tour from years ago during my trip with son J.J. in Toyota City, Japan.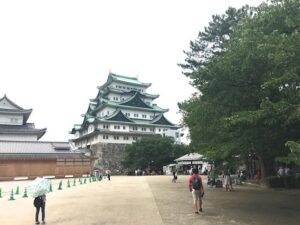 We followed this museum tour with a tour of the Nagoya Castle. The castle in undergoing renovation so we couldn't go inside. Additionally, the weather was terrible! Hot and humid. I've seen hot and humid weather but never like they have in Japan. I would say the tour we had selected was marginal at best. These tours are typically pretty expensive as well.
One of the reasons that we always select the late dinner seating option is because of the ship's land tours. The early seating diners begin at 5:30 p.m. Often times the tour buses don't get back to the ship until 4-5 p.m. We have always surmised that it would be too much hassle to try to turn things around so quickly after a hot and humid tour in order to eat dinner early.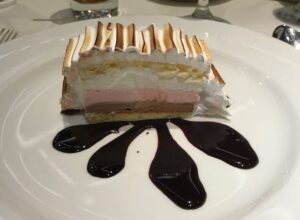 Tonight's dinner dessert headliner was the baked Alaska. On most ship's baked Alaska is served on the last night of the cruise. This WAS the last night of the cruise for SOME passengers.
We didn't know in advance that our 13-day cruise was really two shorter cruises put together. Yep. Princess had combined a 5-day cruise with an 8-day cruise. When we met people on the ship people were coming and going on different timetables. When that was coupled with the idea that every ship announcement and most presentations were delivered in first one language and then translated into another things were a bit confusing.
Our cruise had begun in Yokohama, Japan five days ago. Tonight the ship was returning to Yokohama to disembark some passengers tomorrow morning and take on new ones. In eight more days we would be the passengers leaving the ship!
Wednesday, July 3, 2019.
Today was an interesting day. We were in Yokahama, Japan for the day. Some passengers were getting on the ship to begin their vacations. Others were leaving the Diamond Princess at the end of their voyage. We were sort of in the middle of our two-week cruise.
We left to go ashore early in the day. We were still in the Yokohama sea terminal when I heard someone from begin yelling, "Mr. Randy, Mr. Randy". It was none other than Jay-R our head waiter from the Savoy Grill where we have dinner each night.
He was going ashore for a couple of hours to do some personal shopping. Jay-R lives with his wife on the ship. When they're not working they live about 12 hours south of Manilla in the Philippines. Jay-R gave us some good tips to help us enjoy the day.
Our first stop would be to check out the Yokohama Stadium. This stadium is home to the Yokohama DeNa BayStars of the Nippon Professional Baseball league. This is Japan's version of professional baseball. The stadium was built in 1978 and seats 30,000. Unfortunately, the BayStars were not in town today. Had they been we would have been seeing a baseball game in the limited time we had on shore!
We had fun just walking all over Yokohama's downtown area although the weather remained stiflingly hot and humid. Jay-R had recommended Chinatown for lunch. He also said we should checkout a store called Don Quijote. The Don Quijote chain is the biggest group of discount stores in Japan.
Jay-R had given us directions to Don Quijote but we still couldn't find the store. At different points I stopped people on the streets randomly to ask for directions. Although few of these people spoke much English they all tried to helped the best they could. I really like the Japanese people.
Our journey took us through the Minato-No-Mieru-Oka Park. This was a large park that featured a great view of the Yokohama port. From the top of the park, a good 150 steps up from where we entered, we could see the Diamond Princess. That was a good thing. At least I knew the direction to head to get back to the ship!
From time to time during our trip I used the services of our cell carrier, AT&T and their travel program called International Day Pass. For ten bucks a day my phone works virtually the same as if I were using it in the U.S. When traveling that's a fantastic bargain. I used Google Maps while walking many times to keep us on track.
We had pretty much given up on finding the Don Quijote store. We had searched and searched with no luck. However, our time trying to find the store was not wasted. We discover so many interesting things when we are lost!
We did sort of stumble into a store that had a large indoor parking structure attached to it. We went inside just to check things out. On the top floor we found a store with all kinds of goods including electronics, health and beauty aids, clothes and more.
I was in the market for a "man purse". On these walking tours and when I visit racetracks I'm always wanting to carry sunglasses, ear plugs, power bars (electronics, not food) and such. A small bag/purse might just be the solution to that need.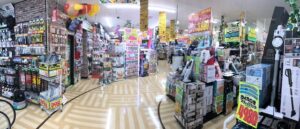 The store's merchandise was packed high and the aisles were narrow. It was easy for Carol and me to get separated. Who did we find in the bag aisle in this large and crowded with merchandise store? It was Kay our dinner companion! She is a shopper and was looking for a bag to carry her treasures back home. What were the chances? We were in a section of the store, where I couldn't even find Carol at times, and for only five minutes and we find one of the handful of people we knew from the ship. It was a miracle! Later, unbeknownst to us at the time, we would find out this store was Don Quijote. Another miracle!
From there it was time for lunch. The Chinatown area of Yokohama is huge. Yokohama's Chinatown is the largest in all of Japan and one of the largest Chinatown areas in the world. There were a myriad of Chinese restaurants, temples and stores. I am told there are roughly 250 Chinese-owned stores and restaurants in Yokohama's Chinatown.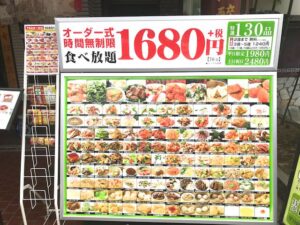 We picked out a restaurant advertising a "buffet". They had photos of well over 150 foods on a huge board outside the restaurant.. While we were looking at the choices the owner came out and welcomed us to his restaurant. Sold! Let's go eat some Chinese food.
When we travel internationally we frequently find that the way foreigners do things is not always the way we do things. The way things work in foreign countries is not the way things work in the United States. That is even true with Chinese buffets!
Yes, the restaurant offered a "buffet". But it was not like any other buffet I had ever seen. All of the items were listed in a huge menu. The items were NOT all available in a long line as you might see in a "normal" buffet.
Diners could select up to six items from the menu at a time. The food was cooked to order and delivered to the table as it was ready. This was unusual but it worked well. We tried all manner of things. This included various forms of dim sum, sesame balls (one of my favorites) and much more. We always tried to pay by credit card to save our cash. On the other hand it seemed as if many restaurants, cab drivers and others wanted cash, Japanese yen. Credit cards are accepted in far fewer establishments than in the U.S.
On the walk back to the ship we stopped at a McDonalds for research purposes only. I am a strong proponent of Americans NOT eating at Mickey Ds when traveling abroad. Why do that when you can eat at McDonalds back home anytime you want. You're on a foreign trip for gosh sakes. Eat at local places on a foreign trip.
However, when I am back home I eat at McDonald's frequently. They are fast, cheap, available and I like their food. I particularly like their burgers when I am on a "low-carb" kick. I just throw away the hamburger buns. I am also addicted to Diet Coke and getting a large drink for a dollar is hard to pass up.
When in a foreign country I like to stop at McDonalds once each trip and try whatever item might be on their menu that is not available in the U.S. Today that turned out to be two items. They had a "garlic shrimp burger" and seasoned French fries. Since we were just coming from a Chinese buffet we couldn't handle the shrimp burger. However, we did go for the seasoned fries. Essentially these were regular fries that came with a package of seasoning. Nothing unusual about this option at all.
It was now time to return to the ship. Because we have sailed with Princess Cruises many times in the past we have "status" with them. Offering status to frequent customers is a business' way of hooking those customers for life. We are "platinum" members of the Princess Cruise line. This allowed us "Priority Guest Check-In" when getting back on the ship. That saved us quite a bit of time.
Tonight's entertainment in the Princess Theatre offered a female Jamaican singer who now lives in Japan. All of the ship's entertainment was solid and professional.
On this night the Princess Theatre entertainment preceded dinner. The highlight of the Savoy Grill meal was the prime rib. Our meal was enjoyed with our friends from Hawaii, Harry and Kay. Again, we talked until they closed the place.
Today had been a busy and interesting day. It was fun to see the Yokohama Stadium, even if we couldn't see a game. The Chinese buffet was good and the way they handled it unusual. Finally finding the Don Quijote store was rewarding. I found a man purse!
Even getting to wander around the park in Yokohama had been fun. We definitely put on the walking miles. Yesterday we walked more than eight miles. Today we did nearly six. During those two days we have climbed nearly 50 flights of stairs. All of the walking was done in 90-degree temperatures and 90%+ humidity. The one thing I don't like about this vacation is the stifling heat and humidity. We should have chosen a different time of the year to take this cruise.
Thursday, July 4, 2019.
It's the Fourth of July….and we're in Japan. Back at our modest seaside cottage in the sleepy little village of San Clemente the Fourth of July rivals Christmas as the biggest holiday of the year. From our roof deck we have a beautiful view of the San Clemente fireworks show. They shoot them off the pier just 500 meters from our place. We rarely leave home on the Fourth. This year we did leave.
Today and tomorrow would be "at sea" days. When we get back to a land tour on July 6 we would be touring the city of Taipei in the country of Taiwan. Some will dispute the statement that Taiwan is a country. The country of China would be at the top of that list. I don't do "political" so you can decide for yourself.
Just like with Canada Day the ship was decorated with the red, white and blue of the United States for the Fourth of July. Carol and I would have breakfast at the Horizon Lounge on deck 14. We did that every morning except one.
It's actually more fun to have breakfast and lunch in the formal dining room. When we do that we invariably meet other passengers. Meeting other folks, in this case with similar interests (travel) is always fun. We go all over the world all the time. Lots of other people travel a good deal as well. The downside to eating in the formal dining room is that the food selection is more limited and the service much slower.
We always need to decide do we want more food served (by us) quicker? Or, do we want to meet new people? It doesn't matter what I say here. People vote with their feet. We ate at the self-service buffet for breakfast and lunch every time but one. However, on that one breakfast visit to the formal dining room we met a lady named Mary Ann. It turned out she was a graduate of UCLA! She was traveling with her granddaughter as a gift for her 8thgrade graduation. We would run into Mary Ann several times during the cruise. She's a world traveler.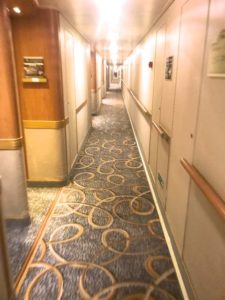 On days at sea if I wasn't power walking in the early morning up on deck 15 I was walking the hall ways of the ship. On our deck, deck nine, the distance from one end of the hallway to the other was 1 ½ tenths of a mile. During a day at sea I always got my four miles of walking knocked off. Walking in the ship's hallways wasn't that much different than walking in the airports. Everybody else is going somewhere and they don't seem to notice anyone else.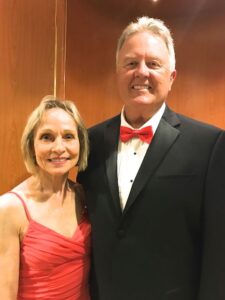 Tonight was our second of three formal nights. Each night I use my recently purchased tuxedo my cost per day goes down! Carol and beautiful and we had a nice night on the ship.
Dinner is always extra special on a cruise ship formal night. They served bananas foster and some other fancy sweets for dessert. Cruising is definitely a luxurious way to relax and vacation.
Friday, July 5, 2019.
Today I discovered for the first time that the Horizon Court buffet will serve cooked to order omelets for breakfast. That along with my morning staple bread pudding became my go to breakfast choices.
This was also the morning that I first heard we were having earthquakes back in California. When we first moved to California, originally from the Midwest, our friends and family were always asking about earthquakes. The Midwest and east, over the past 50 years or so, have been impacted by tornadoes, hurricanes and floods much more than any damage caused by California earthquakes. Folks, "back east" are usually much more conservative in their behavior than Californians. Nevertheless, the fear of earthquakes to those people is nearly always much greater than what they have in their own backyards. Go figure.
We had pizza for lunch and the ship's drink of the day in one of the cocktail lounges. We also attended a "destination expert's" presentation. It's always good to get advice from people who know more than you do…..on anything. Carol went up to the ship's fitness center on most days. She likes working with the "machines". Since her knee surgery she has backed off her "step" classes some. She's also into yoga.
The entertainment in the Princess Theatre came from a couple from Belarus. They were eastern European ball room dancing champions. They danced to all kinds of music with all forms of dance to lively music and a video background. Very well done. Entertaining.
Saturday, July 6, 2019.
Today when we woke up our ship was already docked in Taipei, Taiwan. We have never been to Taiwan, still officially considered part of China. 
We had a big touring day planned. There was just one minor problem. The weather! It was extremely hot and humid. The temperature was in the low 90s with humidity at nearly 100%. Those conditions form my least favorite weather.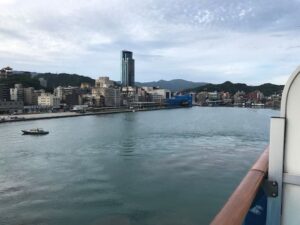 It's nice having a room with a balcony on a cruise ship. It's even nicer when the ship docks and your side of the ship is facing the port. That was the case in Taipei today. However, all we could see was a pretty old section of the industrial part of the city. 
The entire process of getting off of the ship, finding the location where your tour bus will depart and then waiting for everyone to get on the bus is a process. I wasn't all that press impressed with the English speaking skills of our tour guides on this trip. They were well-meaning, it's just that their English was difficult to understand.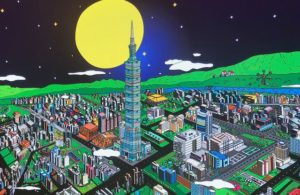 The major highlight of today's tour was a visit to Taipei 101 formerly known as the Taipei World Financial Center. This is a huge building in the Xinyi district of Taiwan.  At one time, just a few years ago (2004-2010), Taipei 101 was the tallest building in the world! 
Today's ship tour called for the bus to simply drop us off at the base of this tall building and let us explore Taipei on our own for the next five hours. However, it seemed like a better choice to pay an extra $25 per person and have our guide take us around the city for five hours. There was no question that was the way to go. 
If we wanted to ride to the top of the 101-story Taipei 101 building that was going to be an additional $25 U.S. One can't come to Taipei and not go to the top of this iconic structure. We did just that and the views were spectacular.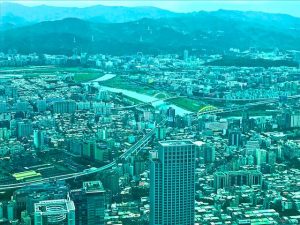 The elevator in the building has set records for speed. It can go from the 5thfloor to the 89thfloor in 37 seconds! The building opened on New Year's Eve in 2004. The views from the top of the building were spectacular.
At the base of Taipei 101 is a huge shopping mall with some of the most upscale stores you'll find anywhere in the world. They had an Apple store as well. I checked to see if I might get a good deal on a new iPhone but prices were higher in Taiwan than they are in the United States. 
The World Trade Center in New York City also had a huge shopping mall at its base. I still have a special "RANLAY" hat that I bought at the World Trade Center mall before tragedy struck in 2001. 
I must tell you two things about using my iPhone as a camera. First, I think I'm a pretty good photographer with that camera. Of course, by the time you see my photos that have been cropped, colored and massaged. Secondly, I must tell you that when I give my iPhone to someone else to take our pictures they often screw it up. How can you make a fuzzy looking screwed up photo using an iPhone? 
The Taipei 101 building has a very unique stabilization system to keep it upright during earthquakes and strong winds. I've never seen such a thing. Please don't miss the photos we took from the top of the building or of the stabilization system. 
From the Taipei 101 building our guide took us through the Taipei subway system. The Taipei Metro opened its first line in 1996 and by 2000 had 62 stations up and running. It looks to be nearly brand new, very clean and super safe. Had we not taken this particular guided tour I don't think we would have ever seen the subway system. 
The guide and our group of about a dozen people stopped at her favorite dumplings eatery. This was a walk up style and take the bun with you idea. Very good. We got to do a lot of special and unique activities on her guided tour.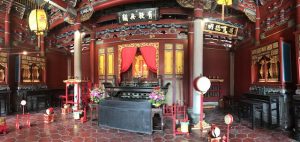 From there we went to a couple of different temples. I'm not really a "temple" person. I'm really not a temple person in extremely hot and humid weather. 
A special highlight of this particular tour was a visit to the main square in Taipei, Liberty Square. Once a year they have a military demonstration with lots of uniformed soldiers marching in formation. Today was that day! This attracted a huge crowd and gave us another significant photo op from Taipei.
On the ride back to the ship it was interesting seeing a huge Taipei golf driving range. In some ways it didn't look all that different than what you might find in the U.S. However, this one had netting on the sides and the top since it was located in the middle of the city. 
From there it was back to the ship. Tonight's entertainment was going to be coming from a single young female opera singer. Her performance was excellent. The entertainment on the ship is extremely professional, colorful, and entertaining. Following the early opera performance we went to  dinner. Yes, I eat more than I should but enjoyed it even more. 
Sunday, July 7, 2019.
Today we will be touring Ishigaki, Japan. Again today's weather was extremely warm and humid. 
The vending machines are interesting in Japan. They are located everywhere. Most of them carry 15-20 or more drink items. We have learned to use them pretty well with our Japanese yen coins. 
Our tour was called "Highlights of Ishigaki". The first "highlight" was being able to stand high on a hill and see both the Pacific ocean and the China Sea at the same time. That was a very cool photo opportunity.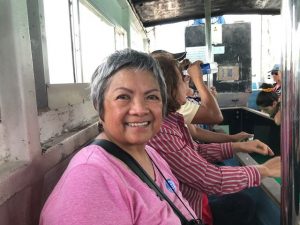 From there we migrated to the beach and took a glass bottom boat ride. It was fun to see the coral, sea turtles and fish doing their thing. Mary Ann, a woman we had met earlier on the cruise, was taking the same tour we were today. It seems like once you meet someone on the ship, despite there being nearly 3,000 passengers, we run into them frequently. 
Following the glass bottom boat ride we had a little time to explore on our own. Carol and I dropped into a Japanese eatery for some cold beers and Japanese noodles. That really hit the spot. 
Like I say if you can't gain weight on a cruise ship you had better go to the doctor and find out what's wrong. They will feed you and then they will feed you and then they will feed you some more. They will let you drink as much as you want as well. It's all a fun and somewhat gluttonous at times experience. 
Monday, July 8, 2019.
Today we were touring Okinawa, Japan. This was going to be fun. I've always heard a lot about Okinawa but never had a chance to visit there. Okinawa is famous for being the sight of one of the major battles during World War II.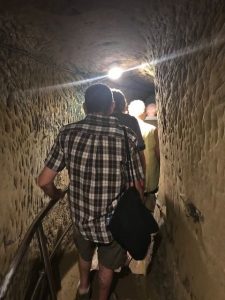 A major highlight of our bus tour was being able to go into a huge underground tunnel, which at one point during the war hid and was home to more than 4,000 Japanese. It's difficult to imagine that as recently as 60 years ago such a war was even taking place compared to what happens in this region today. 
When Carol and I ride on these tour buses I always take the window seat. This allows me to take photographs of the local life. Once again I saw a huge driving range full with Japanese golfers.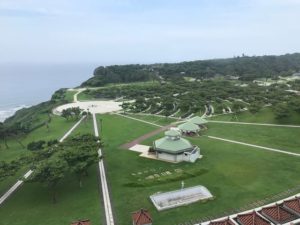 One of the best touring stops of the entire cruise was a visit to the Okinawa Prefectural Peace Memorial Museum in Okinawa. It was established in 1972. During World War II, the United States invaded the Ryukyu Islands to use as a staging area for the Invasion of Japan. Fighting occurred between March and September of 1945, resulting in over 250,000 casualties, including 150,000 Okinawan civilians. The Battle of Okinawa has been described as the deadliest battle of the war. The United States controlled the islands until 1972, when they were returned to Japan and Okinawa Prefecture was reestablished.
This both indoor and outdoor museum featured a wall with a list of the names of not only the Japanese soldiers who died in the battle of Okinawa but of the allied forces as well.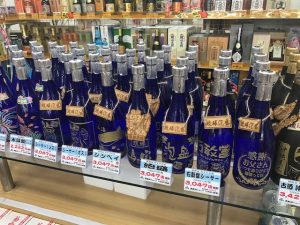 When the tour was finished we migrated through the gift shop. There we bought a bottle of Japanese sake for our neighbor who was watching our stuff while we were gone. It was interesting to note that the gift shop had cans of Spam for sale as well as 100% packages of brown sugar. We bought a package of the brown sugar. I took one bite and didn't care for it. We gave the rest of our package to a schoolteacher who was on the tour to give to her students when she returns home.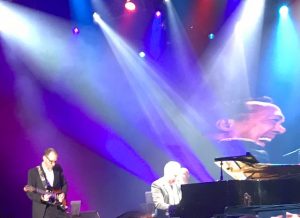 The entertainment on the ship tonight came from a concert pianist. He was backed up by the Diamond Princess orchestra. The entertainment on the ship has been very very high-quality. 
Tuesday, July 9, 2019.
Today was a simple "at sea" day on the cruise ship. I really enjoy at sea days. If they happen about every other day that's what I'm looking for. 
As we cruised along the East China Sea I noticed they were having a golf chipping contest out by the pool. I didn't play but it was interesting to see how popular this contest was with the Japanese tourists, who are avid golfers and golf fans. Some of the ladies really had some good form. 
Tonight was formal night. For me that meant a tuxedo. We were invited to the Captain's Circle cocktail party. This is reserved for the most frequent cruisers on Princess Cruises line. 
Based upon the nights that you have cruised with Princess you gain various levels of "status". The highest level a frequent cruiser can get is called "Elite". If you have cruised on Princess for more than 150 nights you are an elite member of their program. We were told that only 3% of the people on the ship, out of about 2600 passengers, were "elite" members. 
We have cruised on all ships more than 25 times. We have cruised on several different cruise lines although Princess has always been one of our favorites. We carry a platinum status as frequent cruisers with Princess. They mentioned that 10% of the guests on this particular ship of more than 2600 passengers were platinum members of the Princess frequent user program. That meant just 13% of all of the passengers were either elite or platinum members. Being a platinum member came with a few perks including 850 minutes of free Wi-Fi time. That came in handy.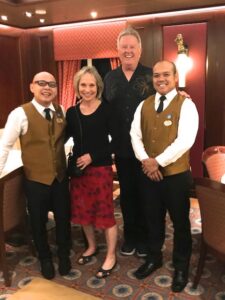 Tonight they were serving lobster at dinner. I had two portions! Then we went to the Princess Theater for our late night entertainment. It was standing room only. We had to stand! I can't ever remember doing that before. By the way we really loved our servers at dinner each night. Great guys. 
Wednesday, July 10, 2019.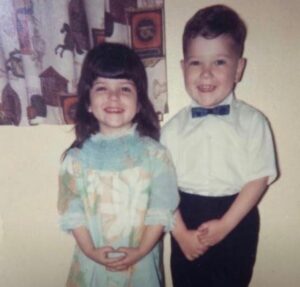 Today we sent birthday wishes to my twin brother and sister. They live back in Illinois where our family is from. 
This was another kickback day on the ship. In the morning Carol and I attended a special session in the theater where the ship's head chef was being introduced to us. He was a comical character from Germany. During his 45-minute presentation he prepared three separate meals and desserts. It was fun to see how we did it. The food looked delicious. 
We're going to be gone on this trip for three weeks. That meant that I would have to do wash a couple of times in the ship's laundry room. The Diamond Princess had some excellent laundromat facilities located just down the hall from our room. 
We ate most of our meals in the Horizon Lounge, which was essentially a buffet for breakfast and lunch. They had a little bit of everything and probably more than 100 choices including desserts. 
The evening's entertainment was something that resembled a Broadway show. Quite entertaining albeit with standing room only seats. We seem to spend so much time talking to our dinner companions that we are late for the shows! 
Normally on a cruise ship we ask for the "late" dinner seating. Late seating usually begins at about 8 p.m. Early seating commences at about 6 p.m. We've always found the late seating accommodates our daytime tours better. We might get home from a tour at 5 p.m. and having three hours rather than one hour to get organized and cleaned up for dinner has always been a good thing for us. 
Tonight was our last night on the ship. For nearly two weeks we have had dinner with our friends Kay and Harry, who live in Hawaii. I always find it amazing how four people who have never met can find something to talk about every night for dinner for a couple hours for nearly a couple of weeks. We enjoyed their company and I think they enjoyed ours.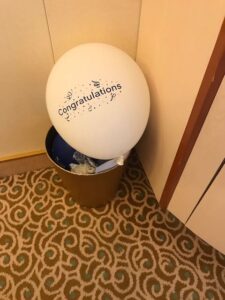 On the last night of a cruise passengers pack up everything and put their luggage outside their stateroom door before they go to bed. The next morning it's time for breakfast before getting off the ship. Then folks go down and grab their luggage before getting on with the next part of your vacation. Yes, this was the last night of our cruise. We had an excellent time as we always do. 
Thursday, July 11, 2019.
Getting off the ship went very well. While we waited Princess Cruises had arranged for elite and platinum members to have a special cocktail lounge to relax in. There we waited for our numbers to be called so we could get off the ship. We quickly found Kay and Harry and relaxed with them until it was time to say goodbye.
We were leaving the ship in Osaka, Japan. For the next five days we will be staying in Tokyo. Today we would need to leave the cruise ship, get on a bus and ride it to a train station. There we would board a train to within a few blocks of our hotel. At that point, we would grab a taxi for the last stage of our transport. It was a little challenging to buy the Japanese train tickets but we made it.
We are off the ship by about 9 a.m. That meant it was going to be too early to get a room at our hotel. We ended up storing our luggage at the front desk. The plan was to come back to the hotel at 3 p.m. when we were told our room would be ready.
With that we went about sightseeing in Tokyo. First, we would need lunch. That requirement was satisfied with an Indian restaurant located on the fourth floor of a downtown building. With a little bit more time before we could get our hotel room I decided that we should see a movie. I love seeing movies in foreign countries.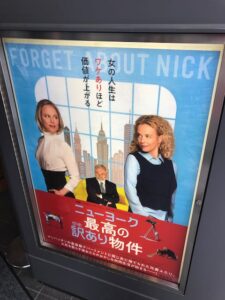 I have unlimited data with my international cell phone plan in Japan at a cost of $10 per day. I would use my phone for GPS, web surfing, weather forecasting, stock prices and much more. It was my phone that allowed us to find a cinema and ultimately see the movie, "Forget about Nick". 
After the movie we stopped in a pachinko parlor just to check things out. Pachinko is really popular in Japan. It was now the middle of the afternoon and time to head back to our hotel.
We were staying at the Millennium Matsui Garden Hotel in the Ginza district of Tokyo. My research told me that if we specified that we wanted two beds in our room we would most likely get a larger room than if we asked for only one bed. Tokyo is noted for their small rooms and expensive prices. 
Our hotel room was excellent. It was large and overlooked the city and the neon lights that dominate the Tokyo high-rises once the sun goes down. It was pricey but worth it considering our location. 
One of the most noteworthy aspects of our hotel room was the toilet! When we opened the door to that particular room the toilet lid automatically raised itself. When we were finished with our business and started to leave the room the toilet flushed itself and lowered the lead. We need one of those at home!
The hotel was charging $50 for two people for breakfast. We figured we could get a lot more variety in several different places and probably at a lower price. That being the case all of our meals for breakfast, lunch and dinner were selected at random. We simply walked along the streets, often the side streets, and found something that looked good and just dropped out. It worked very well for us.  
We finished up the evening back at the hotel going online to find things to do entertainment wise in Tokyo. I found two activities that I figured would be entertaining and fun. One was a food tour of Tokyo and the other was a special drum and dance performance at a local theater. I ordered tickets online and we were all set to go. 
Friday, July 12, 2019.
Tomorrow is race day in Japan for us. It would be the only day we would go trackchasing during the entire three-week trip. We are headed to Fuji Speedway. Once we see a race there Carol will have knocked off her 49th trackchasing country cementing her position as the World's #3 Trackchaser. 
However, the Fuji speedway was 2-3 hours outside of Tokyo depending upon traffic. We didn't really know how we were going to get there. I had talked with people on TripAdvisor and they told me not to drive. That left the bus and the train as our options. 
We finally decided on the bus or as they call it in Japan the, "highway bus". We would ride the bus from near our hotel at the Tokyo station to Gotemba station. Then we would take a taxi from there to the Fuji speedway. 
We were using today as a test run. We wanted to buy our bus tickets. We also wanted to figure out where the bus boarding location was going to be and exactly how all of that worked.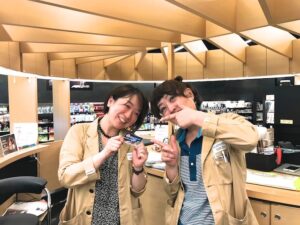 We were more than fortunate to run across a couple of young Japanese women who worked at a travel agency. They were friendly, bubbly and they stayed on the case for well over an hour until we had purchased our bus tickets. You wouldn't think it would be all that complicated, especially with some local help, but it was. Thank you ladies you were wonderful. Don't miss their cameo video.
The bus folks only excepted cash for the bus tickets. We rarely use an ATM on our foreign travels. We normally have enough cash in advance to make things happen. However, in Japan we used the ATM frequently.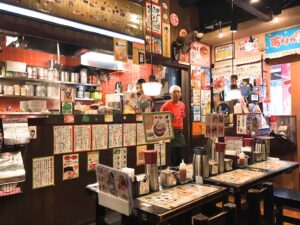 When we wrapped up the bus situation to our satisfaction we headed off to lunch. Most the time we simply walked the streets of Tokyo and when we saw something that looked interesting we stepped in for a bite to eat. That was the case today. We went into a small little Japanese noodle shop that couldn't have sat more than 15 people or so. It was as authentic as authentic gets. 
From there we took a tour of the Hama-rikyu Gardens. Tokyo is famous for their botanical gardens and have several of them.  The weather was a little damp but we still had fun in the Gardens. We even had time to take a short one-hour Tokyo cruise around the city.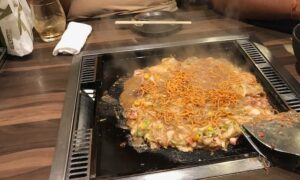 Tonight's Trackchasing Tourist Attraction was going to be a Tokyo food tour. We have taken big city food tours in Miami, New Orleans and New York. They're a lot of fun. You get to meet new people and sample all kinds of foods. Don't miss the pictures from the food tour.  I even ate tofu and if you know me that's about as "out-of-the-box" as I'm ever going to get. 
Following the food tour Carol and I bade farewell to our tour guides and new touring friends. We rode the subway back to the Ginza district where our hotel was located. This was our first time riding the subway by ourselves on the trip. 
Saturday, July 13, 2019.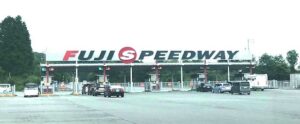 Race day! See the beginning of this Trackchaser Report
Sunday, July 14, 2019.
With our Japan racetrack visit in the rearview mirror we had one more full day to enjoy what Tokyo had the offer. A couple of days ago I found some information about a drum and dance production being offered at the Alternative Theater in downtown Tokyo. The reviews were great. That sounded like a lot of fun. We would give that a try for this afternoon.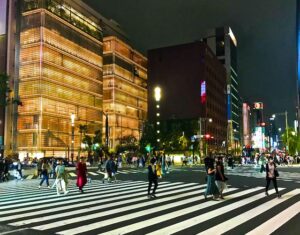 We have found that much of what we want to do can be seen by simply walking. Tokyo is a lot like New York City in that both are walking cities. However, Tokyo is much cleaner than New York and appears to be safer as well. 
The weather was damp and spit a very very light sprinkle from time to time. That was the kind of weather we got on much of the trip. We found a little curry bar for our breakfast/lunch.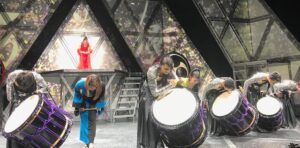 It's difficult to fully explain what a drum and dance show is. By the way, that's my description. I'll just tell you it was Broadway quality and a lot of fun to see. For the last few minutes of the show they allowed us to take photographs and video. Check it out. 
From there I wanted to take Carol from the Ginza District over to the Shinjuku district. Shinjuku is a much more crowded area of Tokyo and a little more hip than where our hotel was located.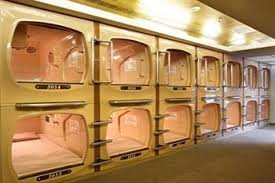 During my first visit to Japan I had stayed at a capsule hotel in Shinjuku. Shinjuku is also home to Shinjuku station, which is the busiest train station in the world.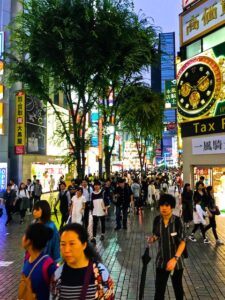 We walked all over Shinjuku looking for where I had stayed at the capsule hotel. We would ultimately learn that the entire block that that hotel has occupied had been torn down. A new larger capsule hotel was being built to replace it. Maybe I'll stay there someday. Maybe Carol will stay there Sunday. Probably not. 
We spent a little bit of time in a Tokyo Don Quixote discount store. We first discovered this chain earlier in the visit to Busan, South Korea. They sell just about everything in a wild crowded discount atmosphere. I like stores like that. 
From there we found an upstairs restaurant serving teriyaki shrimp. We went up there, had a couple beers and some teriyaki food and life was good.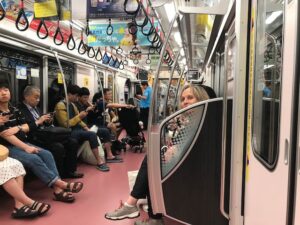 We rode the subway back to our hotel in the Ginza district. In some places there really isn't much English for the English speaking tourist in Tokyo. However, the more we walked around and observed things the easier it was to get around. I didn't have any problem whatsoever in buying our subway tickets and getting us back to where we needed to be. I noticed that in the past four days we had walked about 18 miles. Luckily, I picked a wife who has stayed in shape and that kind of mileage is no problem for her or me. 
Monday, July 15, 2019.
Today was getaway day. We had been gone for three weeks. Carol doesn't like to be away from home that long. I don't mind it a bit. I could have stayed for another three weeks.
We walked around Ginza until we found a place for breakfast. We were nearly packed when we returned to our hotel room. The Millennium Mitsui Garden Hotel had been an excellent choice. The location was great, the room was large and the service was excellent albeit at a pretty stiff price. However, Tokyo is one of the most expensive places in the entire world.
We always shoot for an opulent place to stay. Carol deserves it. The Millennium wasn't fully opulent but it was certainly close.
We were flying out of the Haneda (HND) airport. Haneda is not as well-known at Tokyo's Narita airport but still very large, efficient and comfortable.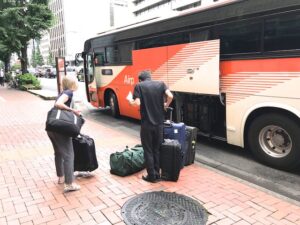 We scored a great deal, considering the high taxi prices in Tokyo, with the Airport Limousine bus. For just $9 U.S. per person we rode from the Ginza district to the airport a distance of nearly 25 miles. We couldn't have gotten a ride that cheaply in Los Angeles.
The bus actually departed from the Courtyard by Marriott hotel, which was located about four blocks from where we were staying. We had 199.67 pounds of luggage to transport. One of the staff members placed all of our luggage on a large kart. Then he pushed that kart four blocks over to the Marriott. When I attempted to tip him for his efforts he reminded me that people don't tip or accept tips in Japan. I love the Japan people.
The bus ride to the airport was quick and easy taking about 25 minutes. There was no congestion at the airport. American airports and Americans in general could learn a lot from the Japanese.
We checked about 170 pounds of our luggage in the hold of the plane. Then we headed to the Japan Airlines airport lounge. As a lifetime platinum member I, and my guests, get to use the American Airlines Admirals lounges around the world and their affiliates.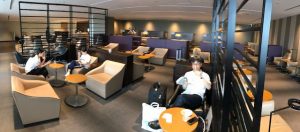 We ate and drink and relaxed in the club until it was time to board our flight from Tokyo to Los Angeles. Flight time would be a quick nine hours and forty-five minutes. We were aided by west to east tail winds.
Through the first six and one-half months of this trackchasing year I have traveled nearly 170,000 miles. If I were to keep up that pace, which I won't, I would shatter all previous trackchasing travel records and I hold all of those records!
We had a lot of "firsts" on this trip. My airline seat was one of those firsts. We were flying on a Boeing 777. I was in seat 22J. What a seat! For the most part the plane's seat configuration was 2-5-2. Except in my row they had added a third seat to the "two" side. Oh, my. This was just about the same as if they have placed my seat in the middle of the aisle.
The flight attendants had a hard time missing me with their huge metal kart for about ten hours. There was no place in front of me to store my personal belongings. I didn't have any access to USB charging or the electrical adapter. With no seat in front of me I had one of those clunky folding movie screens. To top it off the lady sitting next to the window was the only person on the plane who didn't lower her window shade during daylight hours. And to top that off…oh well, I think you get my point.
Nevertheless, our plane did land at LAX on Monday at about 12 noon. We had left Tokyo on Monday at about 5 p.m. We actually got to re-live all of Monday even if I had to do it in seat 22J on a Boeing 777.
The trip had been great. We got VIP treatment just about everywhere we went except at the Fuji Speedway. We saw and did and ate a lot. Who wouldn't want to go on a three-week trip to Japan!
Thanks for reading about my trackchasing,
Randy Lewis
World's #1 Trackchaser
Peoria Old Timers Racing Club (P.O.R.C.) Hall of Fame Member
QUICK FACTS
LIFETIME TRACKCHASER COMPARISONS 
The threemost important trackchasing comparisons to me are:
Total lifetime tracks seen
Total "trackchasing countries" seen
Lifetime National Geographic Diversity results
Total Lifetime Tracks
There are no trackchasers currently within 710 tracks of my lifetime total.  Don't blame me.
Randy Lewis, San Clemente, California – 2,564
Total Trackchasing Countries
The nearest trackchasing competitor has seen racing in 30 fewer countries compared to my lifetime total. 
Randy Lewis, San Clemente, California – 85
Current lifetime National Geographic Diversity results
Randy Lewis, San Clemente, California – 4.14
That's all folks!  Official end of the RLR – Randy Lewis Racing Trackchaser Report
Click on the link below to see the video production from the racing action today.
We were gone for three weeks on this trip. We spent less than one day trackchasing. That's why you won't want to miss my "outtakes" video from the non-racing part of this adventure. You're going to love it. Check it out now.
.
.
Check out first ever visit to the famous Fuji Speedway
Click on the link below for a photo album from today's trackchasing day.  You can view the album slide by slide or click on the "slide show" icon for a self-guided tour of today's trackchasing adventure.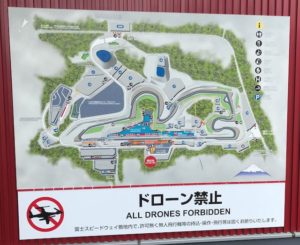 This photo album covers our time touring Tokyo and the day spent at the Fuji Speedway
Our trip to the Fuji Speedway and Tokyo Touring
.
.
We were three weeks in Japan and two of those weeks were spent on the Diamond Princess cruise ship. Want to see what that was all about?
Thirteen days on a cruise ship sailing all over Japan, South Korea and Taiwan. Why not?