First, a couple of "tech" updates. This message should begin with "Hi Sam" or "Hi Sally"…if that's your first name. If your name is not included in the greeting then send me your first and last name. That might prevent my message from going to your SPAM file. My first message about the Indian visa fiasco was not opened by nearly 100 people….and these are folks who just signed up for my blog last week. I am suspecting the message ended up in their SPAM file. Check your SPAM file! Of course, if you are one of those people who did not open my last message because it was in your SPAM file then you probably won't see this one either!
Now…on with India. You would have to agree that our (my?) problems with getting a visa for our trip was comical, crazy and downright interesting to read about right? Well we DID make it to India…by the skin of our teeth. Remember as you run through what I am sharting that cellphone camera technology in 2013 was not what it is today.
This message is about the first half of our tour of India. India is the most unusual of the nearly 100 countries we have visited and the contest isn't even close. If you have never clicked on one of my photo albums or seen one of my videos it is time to break that habit. If you do you'll feel as if YOU went to India. Here goes!
A trip to India is much more about the images than the written word. It ain't even close.

India – Part 1 – This is a photo album you do not want to miss!

All over India – some people say this was one of my best videos. Check it out.
And now for the story, the pictures and the people. Yes, India was the most unusual country we have ever visited.
India – Trackchasing Country #66
written by Randy Lewis October 7, 2014
 
Greetings from Noida, India
From the travels and adventures of the "World's #1 Trackchaser"
Buddh International Circuit
Asphalt road course
Country #66 – Track #1,915
Saturday – Day 1 – (San Clemente to Los Angeles to Guangzhou, China)
It's not over til it's over.
Considering our most recent visa experience I won't rest easy until we have cleared customs in India.  With these trips "You're not in til you're in and it's not over til it's over".
Our first flight of the trip, bound for Guangzhou, China would be leaving from the Los Angeles International Airport.  Going into this trip I have traveled overnight exactly 170 nights for the year. It's only October. I think that may be the most I have ever traveled in a single year…..ever.  Counting this trip to India I still have three major international trips before the year winds up.  That's a lot of travel but I only do it because I love it.
We left the house at 6 p.m. for a quick dinner at our favorite Greek restaurant in San Clemente.  Then it was a 65-mile hike in surprisingly heavy Saturday evening traffic.  I dropped Carol and some of the bags off at the newly remodeled Tom Bradley International Terminal.  Tom Bradley was a former mayor of Los Angeles.
From there I took the Carol Lewis owned and Advanced Improvements Lexus RX 350 to the airport parking garage.  I still have an airport parking sponsorship for which I am most grateful.
India is so far away we had to fly through China to get there!
We will be using China Southern Airlines exclusively on this trip.  They have a "hub" in Guangzhou, China and we'll be using it to connect into New Delhi, India.  China Southern allows each paying passenger to check two bags weighing up to 50 pounds each.  That's very generous compared to the checked bag policy of most American based airlines.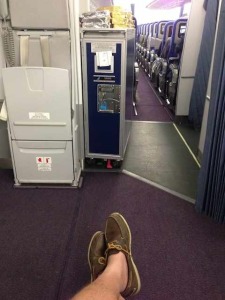 The China Southern agent carefully checked the details of our Indian visas.  We passed!  That was a relief.  Then I had the bright idea to ask for exit row seats.  My request was accepted.  The flight time from LAX to Guangzhou was 14 hours and 20 minutes.  Getting as much legroom as possible was priceless.
I will take just a moment to share my view on flying coach compared to first-class or business class on these trips. I have flown on probably 200 round-trips outside of North America. I would guess that for 50-75 of those trips I have been in first-class or business-class. I have never ever paid for FC or BC. Each time I have received a free upgrade. 
I would never ever PAY for first-class or business class on these long trips. I can fly to Europe and back for about $1,000 and often less. Business-class would be a minimum of $2,000 and maybe as much as $4,000. First-class might be two or three times the price of business class. I do understand that flying "upfront" is a more pleasurable experience than flying in the back. However, I think first class and business class flying is just about the worst "value for money" of anything I can think of. My flying experiences are certainly different than most. I fly on these inter-continent trips on average about 10 times a year. I would much rather have the difference in price between coach and first-class to spend on hard goods or quality experiences. Saving $1,000-3,000 and more ten times a year can actually add up to some real money! I'll just "suck it up" and fly coach for 10-17 hours. Yes, I once flew from Johannesburg, South Africa to Atlanta, Georgia and they didn't even have power outlets in coach. I will gladly fly in first-class or business-class. I just won't pay for it.
Clearing international security wasn't any different or more cumbersome than what normal U.S. domestic security would be.  Because this was an international flight we couldn't use our "TSA Pre-Check" capabilities.  However, on the way back into the U.S. we'll have the benefits of the Global Entry Program.  We'll be able to pass completely through U.S. Customs in 60 seconds or less even if the regular line of U.S. citizens is one or two hours long.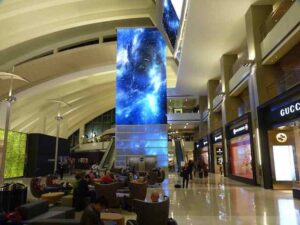 They did a good job with this terminal at LAX.
Much of LAX is what I call a "zoo".  I use this airport the most because you can fly to so many places.  The "new" international terminal has just opened up.  This was my first time using it. I will tell you it is absolutely gorgeous.
The terminal has the most beautiful, unique and unusual video display I have ever seen anywhere.  It's a huge tower that has to be 60-80 feet tall.  The tower's shape is squarish measuring some 50 feet on each side.  When we entered the tower had a beautiful blue-sky motif.  However, what was to come was right out of Disneyland or Las Vegas or both.  The light display that makes up the tower constantly changes.  From time to time there are out of this world 3-D displays….sort of like movies.  I've included a short video of one of the displays for you to see. Absolutely spectacular.  They did a great job on this terminal especially considering much of LAX is on the rundown side.
It wasn't long before we were on the plane to China.  The legroom was unbeatable.  I had ten feet of free space in front of me.  I must say I didn't find the all-female Chinese flight attendant group very friendly.  They almost never smiled.  We were lucky to get the "Gestapo" member of the group in our seating area.  She caught me taking a picture of a flight attendant serving food.  She came over and made me delete it!
Sunday – Day 2 – (On the way to Guangzhou, China)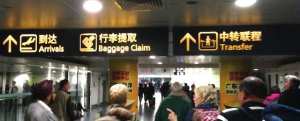 Sunday went by pretty fast.
We left Los Angeles on Saturday night. We landed in Guangzhou, China on Sunday night. Guangzhou is 15 hours ahead of the Pacific time zone in Los Angeles.  Then after just a two-hour layover in China, we landed in New Delhi India on Monday in the late morning.  Where did Sunday go?  I don't know but we might find out on the way back.
Monday – Day 3 – (Guangzhou, China to New Delhi, India)
We were getting in the right position to make this adventure happen.
After some 20 hours of flying, we landed in New Delhi, the capital of India.  It was easy to clear Indian customs and reclaim our three checked bags.  At this point, we were "In India".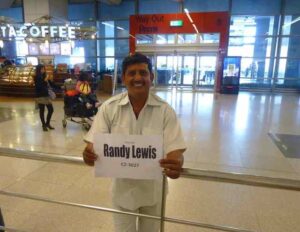 We left baggage claim area for the terminal to find our driver, Raju, waiting with a sign that read "Randy Lewis".  I love it when a plan comes together.  Raju had parked his Toyota Etios in the airport parking garage.  We introduced ourselves and headed to the car.
Driving on the "wrong" side of the road.
In India, cars are "right-side" steer and drive on the left side of the road.  Countries that were or are under British control normally use this driving method.  Japan does as well for some reason.  I have read that 42% of the world's population drives on the left side of the road.
We were in the hands of Raju for the rest of the week.
Raju was a smaller Indian man in his mid to late 40s.  He was wearing an all-white short sleeve shirt and long white pants.  This is a somewhat normal "driver uniform".  Raju was soft-spoken, very friendly and most helpful.  He spoke just enough English that we could get our questions answered but not so much that we needed to talk non-stop for the entire eight-day trip on the ground in India.  That worked perfectly for me.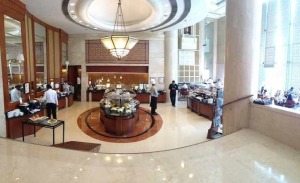 For our first night in India, we would be staying at the Sheraton New Delhi.  New Delhi has a huge population.  Their metro area is home to 21 million people.  The metro area of greater Los Angeles, which runs about 100 miles north to south and 60 miles east to west, has only 13 million residents.  LA's metro area has 8,225 per square miles.  New Delhi has twice the density of the population with more than 15,000 people per square mile.  We noticed this immediately on our drive to the hotel from the airport.
The Sheraton New Delhi is easily a four-star hotel.  It's located in a very congested, disheveled and seemingly poor area.  Each time we entered Raju had to pop the trunk and wait while a Sheraton security guard ran a mirror under the car's chassis checking for bombs.  Then we had to place our luggage through an airline-style security conveyor belt.  Finally, we each had to clear ourselves through a metal detector before entering the hotel lobby. This type of security is common all over the world outside of the United States. Americans, don't worry this is coming to the U.S. soon as well.
The hotel was gorgeous with lots of mahogany woods and marble.  It would have been difficult to guess that a luxury hotel existed here considering what the neighborhood looked like just 50 yards away.  As a Sheraton Gold member, we were given an upgraded room and access to the Sheraton lounge.  We could go here pretty much all day and eat and drink on a complimentary basis.  Don't miss the photos of this hotel and all of the first-class hotels we used during the trip.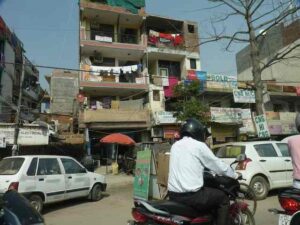 It was time to meet India.
Despite having traveled so far there was no rest for the weary.  Just 45 minutes after checking in we were meeting Raju for some Delhi touring for the afternoon.  Our first stop was for an Indian lunch at a famous restaurant called Pindi's.  We are big fans of Indian food and eat it often at home and when we travel in the U.S. For our tastes we found the Indian food in the U.S. to be better than what we had in India.  Of course, we like pizza made in the U.S. better than what they serve in Italy and Belgium waffles much better in the U.S. than what we've eaten in Belgium.
The food was good, not great at Pindi's.  The service was excellent.  The menu included an impressive review from the New York Times.  When we looked a bit closer we found the review was from 1982! This was 2013.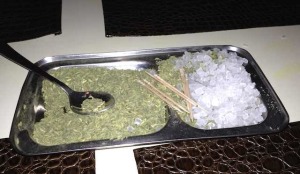 At the end of the meal they served something called "Mukhwas". This was a combination of fennel and anise seeds used for breath freshening.  Diners simply spoon some of the seeds into their hand and eat them.  These were accompanied by a small dish of sugar crystals.  We were somewhat taken aback when an Indian woman whom we didn't know came up to our table and grabbed a handful of seeds and walked away.  Carol and I looked at each other as if to say, "Welcome to India!"
Once outside the restaurant vendors hawking cheap souvenirs descended upon us.  This would be a constant during the entire trip.  As a tourist, you just have to be good at saying "No" politely yet firmly.  Luckily, a post office was located next to our restaurant.  This allowed Carol to pick up stamps early in the trip for the large number of post cards she sends to all of the young people in our family who are college age or younger.  Once they graduate from college they're on their own!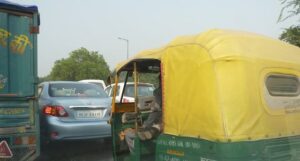 I can't possibly describe India's traffic in words.
New Delhi aka "Delhi" traffic was beyond intense.  The small motorcycle traffic was heavy as it is in most Asian countries I have visited.  Often these smallish 50-200cc bikes are carrying two passengers and sometimes an entire family of four or five people with mothers clutching young children and/or babies.
What we did notice is that some 80-90% of the people we saw during our trip were male.  I'm guessing most Indian women were at home.  India has just 920 women for every 1,000 men.  That comes about by "gender selection" during the pregnancy stage where female fetishes are aborted more often.  India has the lowest number of women compared to men of any country in the world excepting China.  They have a similar gender selection policy.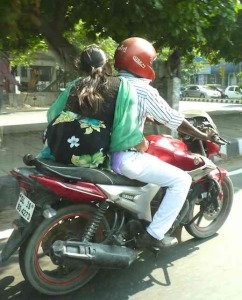 Say what?
In Delhi male motorcyclists are required to wear helmets.  However, a woman riding with a man is NOT required to wear a helmet! In rural areas it is common to see most riders traveling without helmets at all.  Despite near misses with motorcycle traffic about every seven seconds for the entire trip we never saw a single motorcycle accident. 
You should know we are not intimidated by heavy traffic. We have traversed the 12-lane freeways of Los Angeles for nearly 40 years. India is in its own traffic league. You do NOT want to drive yourself in India. Only the absolute craziest of tourists would do that. Then they would regret it forever. You have been warned.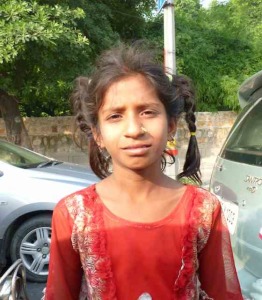 When we were stopped in traffic it was common for children and older people to tap on the window begging for a handout.  We tried not to make eye contact.  Raju, our driver, told us not to give money to these people because it would only encourage others to instantly attack our car.  We did as told most of the time.  One young girl, about 11 years old and wearing a bright Red Indian dress could perform some of the most unusual gymnastic routines.  I felt she deserved some reward but refrained at least today.
Now I KNEW we were in India.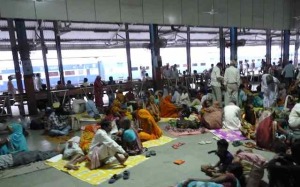 Next up was a visit to the New Delhi train station. Son J.J., who had visited Delhi a couple of years ago recommended we make a stop here.  I'm glad we did.  I prefer seeing how people live in a city more than seeing one more monument or castle.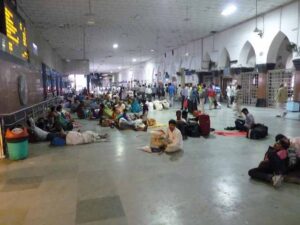 The train station was old.  Raju had to do some major gymnastics to park the car.  Most of the time Raju allowed us to see whatever attraction we were visiting on our own.  However, for the train station "tour", he came along.  Please don't miss the pictures.  People were laying all over the floor of the dark and dingy station waiting for trains.  We used the restrooms in the station.  The men's restroom was the worst I had ever personally used and that's saying something considering how many short track racing toilets I've seen!
We then visited "Old Delhi" until it began to get dark.  Raju told us that Delhi and almost all of India was safe from crime.  However, statistics don't fully support that assertion.  Alison had recommended a bicycle-powered rickshaw ride here.  Carol looked around at the congestion, poverty and general filth and nixed that idea.  She might have been right on that one, although I was up for it. By the way, Carol is not a wimp when it comes to adventure. She has ridden and driven in actual auto races several times.
 By the way, the ethnic landscape was nearly devoid of white people.  That's not unusual.  We rarely see much U.S. tourism in places like this as in nearly zero.  We did observe a number of British tourists during our travels.
With the above, in the rearview touring mirror we were back to the Sheraton for a full ten hours of sleep.  After traveling as far as we had the slumber was welcome.  We would be ready for "full touring" from here on out.
Tuesday – Day 4 – New Delhi to Agra, India
I'm just a softie at heart.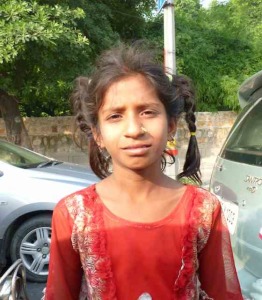 As we made our way slowly through Delhi traffic this morning for our day of sightseeing we were stopped at an intersection.  Soon a "tap tap" came on my passenger side window.  "Remember me? Remember me?" it was the girl in the same red dress from yesterday.  She did some more incredible yoga poses.  I couldn't resist the idea that she remembered us from yesterday.  I lowered my window and gave her a dollar.  I could tell Raju was none too pleased with me.  Carol wasn't either.  As predicted our car was instantly besieged with another twenty people trying to get a donation.  This was the first and last time I gave money to beggars.  You won't want to miss the picture of the "girl in the red dress".
Today's tour included the huge government buildings, which are home to the Indian Prime Minister among others.  Then it was off to India Gate where we observed the changing of the guard.  A real highlight was our stop at Humayun's tomb.  If you have an interest in Indian tourism please check out the photos from these stops.
Friendly, hard-working and rushed.
Everywhere we went the Indian population was friendly and engaging.  We didn't always understand their English however.  From what we could see everyone was extremely hard working.  It seemed as if everyone was rushing to get somewhere or complete some manual tasks.  The infrastructure was way behind what was needed to be efficient. Someone once told me not to "mistake activity for achievement".  I believe that might be the case in India.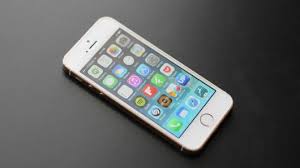 While we were touring Humayun's Tomb I received a text message from J.J. He was telling me that my new iPhone 5S (this was 2013) had been delivered to our house early.  As no one was there to pick it up the package would be sitting on our doorstep for more than a week.  That wouldn't do. I texted J.J. the contact information for our neighbors and they came over to pick up the package for safekeeping.  How's that for efficiency and effectiveness while on vacation in such a faraway place as India!
We see it all when we trackchase.
Soon we were off to the city of Agra, home to the Taj Mahal.  It's a "small" city of just 1.6 million people.  Agra's literacy rate is 81% considerably higher than India's overall literacy rate of just 59.6%.  The literacy rate of men is considerably higher than that of women in India.
The drive to Agra from Delhi would take about four hours.  We would be using the brand new modern western like freeway known as the Yamuna Expressway.  There was almost no one on this road.  We had one stop to make before we arrived in Agra and a nighttime view of the Taj Mahal.
This was a very important stop. Getting the race tickets!
We needed to pick up our race tickets! Today was Tuesday. The race was on Sunday.  I have been given instructions from my ticket company on where to pick up the tickets.  Having a driver was such a plus on so many fronts.  Raju himself needed to stop a few times to ask for directions in Hindi but we made it.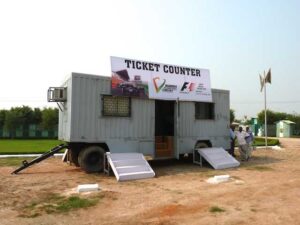 I was envisioning some upscale ticket pickup location. This was a WAS a World Formula 1 event.  Truth be told we picked up the tickets in one of the more rundown small construction trailers in the general area of the Buddh International Circuit.  There were two desks and two young men in the trailer.  There was also a good deal of trash and disorganization there.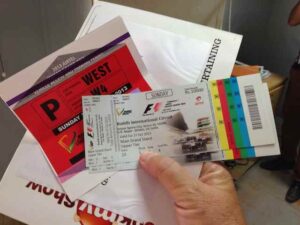 Luckily, they had our tickets! I gave them my passport as I.D. to get the tickets.  I felt relieved to know we had that little chore behind us.  Then we were off to Agra.
This wasn't the western world and we didn't want it to be.
Virtually all of the main highways we traveled were toll roads.  Tolls were included in our fee for Raju.  The toll roads had some toilets and a small restaurant at each toll booth.  However, these facilities were nothing like what would be found in the western world.  Please don't take that as a criticism.  We didn't come all the way to India to have it be just like San Clemente.
We had it all…a good driver and a good guide.
Whenever we wanted to stop for lunch we just gave the word to Raju.  He took us to a place in Agra aptly named "Indiana"!  This was the type of place we NEVER would have found on our own.  We enjoyed their food very much.  Restaurants were very inexpensive during the entire trip.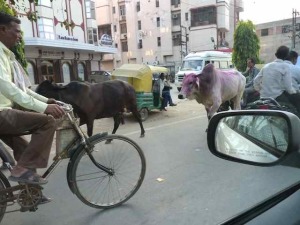 Just like the old west….cattle roaming in the streets.
Agra is somewhat rural compared to Delhi.  It is very congested, has lots of cattle roaming free in the streets, motorbikes, bicycles, tuk-tuks, cars, trucks, pedestrians, dogs, camels!  There was a little bit of everything roaming the streets.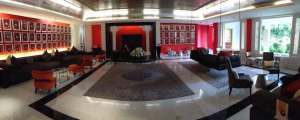 Just enjoying good fortune.
After lunch, we checked into the Sheraton ITC Agra.  At the front desk, I asked for an upgrade to a full suite.  My request was approved and we were soon entering a special area of the hotel open only to guests staying in "Royal Mughal Suites".  Yes, Carol travels first class.  However, she was feeling bad that we had such nice accommodations while there was such poverty literally outside the front door. I assured her we couldn't solve that particular problem on this trip and we should enjoy our good fortune.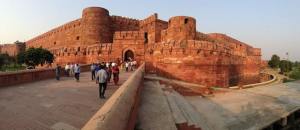 Touring the Agra Fort.
After a few minutes at the hotel, we were off to the Agra Fort.  The Agra Fort was one of the most beautiful places we visited in all of India.  With the sun setting the red sandstone walls of the fort were downright beautiful.  The fort sits 2.5 kilometers northwest of its famous sister the Taj Mahal.  Raju dropped us off and we paid 600 rupees (about $10 U.S.) for our two admissions.  Nearly everywhere we went "foreigners" paid as much as $10-20 more than local residents to see the tourist attractions.  Once inside we hired a guide to explain what we were seeing.  Again don't miss the pictures.
We could see the Taj Mahal in the fading sunlight from several positions inside Agra Fort.  The final touring activity of the day was to view the famous Taj Mahal from across the river.  There wasn't a lot of light left but it was a view we would not have wanted to miss.
These touring days are tiring as we become accustomed to the 12 ½ hour time zone change. There was no dinner for us.  We showered and were off to bed early but not before enjoying the chocolates left in our room by the Sheraton ITC staff.  We would be meeting Raju tomorrow morning at 6 a.m. for a sunrise tour of the Taj Mahal.
Wednesday – Day 5 – Agra, India.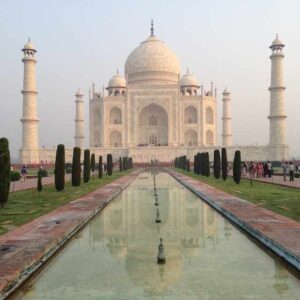 The Taj Mahal!
Folks I grew up in East Peoria, Illinois a lower-middle-class town in the middle of Illinois and in the middle of the U.S.  Most everyone I knew worked in a factory for the Caterpillar Tractor Company.  I doubt 10% of the cities population (including me!) could have told you what COUNTRY the Taj Mahal was in when I was growing up.
Today's main attraction was going to be a tour of the famous Taj Mahal.  Of course, the Taj Mahal is one of the seven wonders of the world.  It's essentially a white marble mausoleum built by the Mughal emperor Shah Jahan in memory of his third wife, Mumtaz Mahal.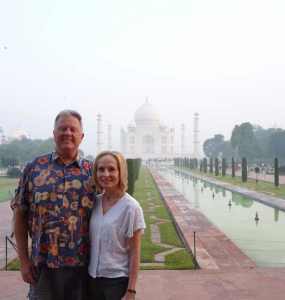 A definite bucket list item.
Seeing the Taj Mahal was definitely a bucket list item. O.K., for the most part, I've never really had bucket list items. However, sometimes after I see or experience something it reminds me that if I did have a bucket list what I just saw or experienced would have been on that list!  
I was surprised to see there were four lines used for people entering the Taj.  The men had two lines for locals and foreigners. The same setup was used for women.  We hired a guide and took a million pictures.  Don't miss them.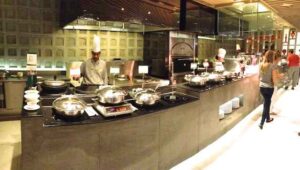 At about 9:30 a.m. we returned to the Sheraton ITC Agra hotel for breakfast.  Their breakfast buffet and dining room were over the top.  Again, the VAST difference between the way the "rich man" to use Raju's words and the "working man" using my words was huge….almost difficult to comprehend.
Arranged marriages.
In the afternoon we visited the Fatehpur Sikri (deserted city amazingly well preserved).  By this time we were getting a little burned out on these types of monument/palace attractions.  It was hot and we hired a young Muslim guide.  It was more interesting quizzing him about his girlfriend and arranged marriages than anything else.
Every finger on your hand is different.
He had a unique way, at age 21, of explaining his Muslim brothers actions that have wreaked havoc on so many in recent years.  He told us there are all kinds of Muslims.  They are just like the fingers on your hand, all different. That seemed to make sense. 
Since my trip to India, I have met and spent a good deal of time with people of the Muslim faith in the Maldives, Tunisia and Algeria. Everyone I have met has been a thoughtful and caring person and more than willing to host me in their country as a foreigner.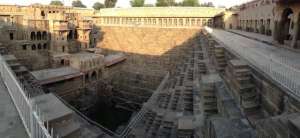 Our next stop was the Abanieri step well.  This was another unique attraction depicting architecture from centuries ago.  
From this stop, we completed our five-hour drive by arriving at the Samode Haveli Hotel.  Going into this trip I had arranged for us to stay exclusively in Sheraton Hotel properties.
If you go to India don't go without the advice and counsel of Alison Jackson.
After meeting Alison Jackson, an expert on Indian travel, she convinced me it would be a good idea to add some "Indian" hotel properties to our itinerary.  I've learned in life to listen to people who know more about a subject than I do.  That means I do a lot of listening! We ended up using Indian hotels for three of our seven overnights in India.  The Sheratons we stayed at were fantastic.  The Indian hotels were as well but in a slightly different way.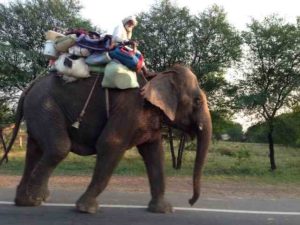 The Samode Haveli hotel in the city of Jaipur is located in a typical crowded and rundown part of the city.  Cows roam freely just outside the main gate.  Men rode past on elephants.  However, like all of the hotels we stayed at, once you get in the property luxury awaits.  Please don't miss the photos of our room.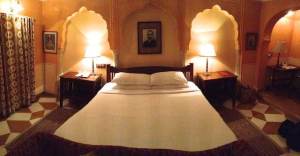 Carol and I enjoyed a wonderful dinner in the outdoor hotel courtyard.  Temperatures were comfortable and the quiet ambiance delightful.  Despite all of our hotels on this trip being in very congested areas once inside the hotel it was quiet and serene.  One would have thought they were a million miles from what lay at the hotel properties entrance gate.