Greetings from Noida, India
From the travels and adventures of the "World's #1 Trackchaser"
Country #66 – Track #1,915
*
HighlightsPre-TripDays 1-5Days 6-11The ListIndia Fast FactsVideosPhotosQuick Facts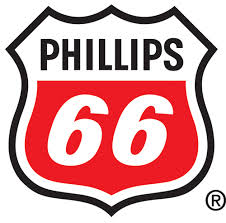 THE TRIP'S KEY HEADLINES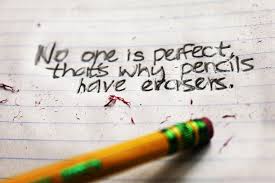 My biggest mistake ever!……details in Pre-Trip.
A savior from above?….or at least from across the pond…..details in Pre-Trip.
No visa; no trip….details in Pre-Trip.
I didn't want to make this phone call…..details in Pre-Trip.
I'm not looking for a tour bus….details in Pre-Trip.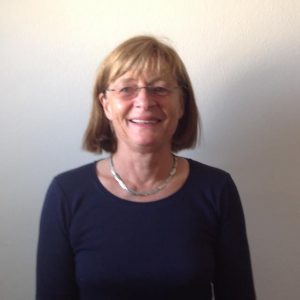 Enter Alison Jackson stage left….details in Pre-Trip.
Los Angeles to Guangzhou, China to New Delhi, India and back!….details in Pre-Trip.
Raju!…..details in Pre-Trip.
It was time to meet India…..more in "Days 1-5".
I'm just a softie at heart…..more in "Days 1-5".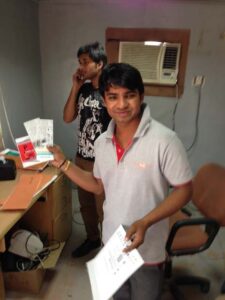 Getting the race tickets!….more in "Days 1-5".
This wasn't the western world and we didn't want it to be…..more in "Days 1-5".
Just like the old west….cattle roaming in the streets……more in "Days 1-5".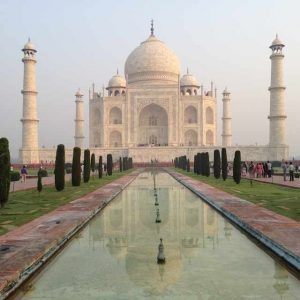 The Taj Mahal!….more in "Days 1-5".
Every finger on your hand is different…..more in "Days 1-5".
Women in the last row!…..more in "Days 6-11".
Delhi belly!…..more in "Days 6-11".
Have you ridden an elephant?…..more in "Days 6-11".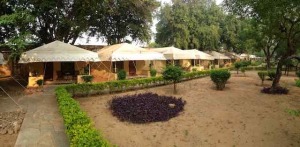 Our hotel had a tent roof!…..more in "Days 6-11".
Good brakes, good eyes and good luck…..more in "Days 6-11".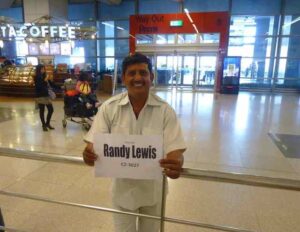 A private driver was worth millions…..more in "Days 6-11".
How much would the race tickets be?…..more in "Days 6-11".
Some go F1 trackchasing and others wimp out?…..more in "Days 6-11".
A line is not a line in this part of the world…..more in "Days 6-11".
Sit back and be quiet…for 27 hours…..more in "Days 6-11".
Raju rocked!…..more in "Days 6-11".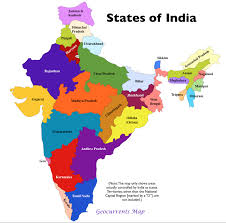 India – FAST FACTS*…..more in where else "India Fast Facts".
PRE-TRIP
ADVANCE PREPARATION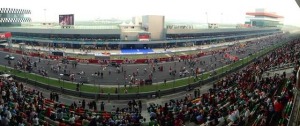 THE RACE
India was off my radar screen and then back on.
I've thought about going trackchasing in India for the last five years or more.  I did have a contact for some local road course racing in India.  Unfortunately, about two years ago he dropped off my radar screen.  That made me put India on the back burner.  However, after seeing racing in 65 different countries the remaining country locations list that have racing is dwindling.  It was time to see racing in India!
What better race to see in the country than the World Formula 1 (F1) race.  I am not a big F1 fan.  However, most of the world outside the U.S. is. Maybe I'm missing something.
I don't care for F1 racing for two reasons.  First, they race on road courses where the fan can see very little.  I grew up with small oval tracks.  At those venues you can easily see all of the racing 100% of the time.
A secondary reason is the cost of F1 race tickets.  In many countries (F1 races in about twenty each year) the least expensive ticket is around $600 U.S.  However, in reality, the cost of the race ticket at these events pales in comparison to the overall cost of the trip with airfare, a week's worth of hotels etc.  Paying $600 to see racing on 10% of the track doesn't seem like a very good value to me.
Was it now or never?
Another reason for coming to India this year, which became obvious to me only after the trip was planned, is the F1 group will not be coming to India in 2014.  They are contracted to race here for a couple more years but who really knows if that will happen.  After seeing the F1 race in India I will have seen racing in every country on the current F1 schedule.  However, I noticed a media story saying Vietnam was angling for one of their races!  In the early 70s I didn't want to go to Vietnam and now I do!  Carol and I have been there previously but not to see a race.
THE VISA
TUESDAY.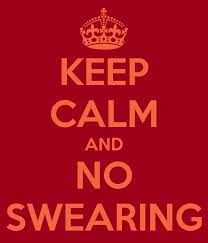 My biggest mistake ever!
I have made some planning mistakes in the millions of miles I have covered seeing all of these foreign country races.  However the mistake I made on this trip was my biggest ever!
Did you know that about 15% of all of the racing I have seen has been in foreign countries?  When I factor out Canada, which I don't think of as a foreign country, I have still seen racing at 160 tracks outside of the U.S. and Canada.  That's made my passport jam-packed with foreign country passport stamps.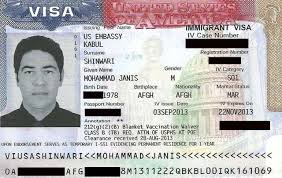 You need a few important items for international travel.
Of course, when you travel outside the U.S. you need a passport.  However, not everyone understands that beyond your passport you might also need a "visa" for the country you are visiting.  You might even need a visa for a country you might simply be "transiting" through.
There are really four visa situations a traveler needs to consider.  Some countries don't require a visa to visit at all (Canada/Mexico).  Remember, I'm looking at this from an American's point of view. Not needing a visa makes it easy.  Some visas can be acquired on line for a fee (Australia). Other visas can be gotten after you arrive in the country (Turkey).  Still other visas must be arranged in advance by mail or by going through the foreign country consulate office in the U.S.  With some of THOSE locations you can hire a travel company to expedite the timing and paperwork process.  That's what we did to get a Russian visa at a cost of about $300 per person!
I use an excellent U.S. government website (Do I need a visa?) to figure out what the visa requirements are for any country I plan to visit.  I've been using this resource for years. It's never let me down.
The "situation".
This brings me to the Indian visa situation for this trip.  When I first got the idea of traveling to India I used Kayak.com to buy our airline tickets.  I did that nearly six months before the race.  Along the way I made reservations at some of the most opulent hotels in India.  Why opulent? As you will read Carol was coming along on this trip.  When she comes with me I get upgraded in just about every aspect of our travel plan!
A savior from above?….or at least from across the pond.
Then I found just about the best travel contact that I have ever encountered.  I'll tell you about Mrs. Alison Jackson a little bit later.  I had picked the brains of son J.J. and son-in-law James who had traveled to India previously.  India is a difficult country to manage in a number of ways I had been told.  However, I had every aspect of this trip wired….up until about four days before the trip.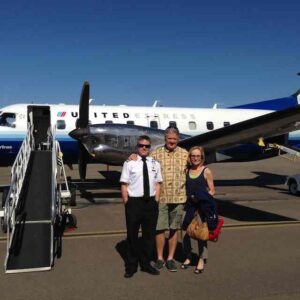 Four days before the trip.
Just four days before we left for India J.J. was wrapping up his flying career as a captain at SkyWest Airlines.  He'll be moving onward and upward to Alaska Airlines.  That's a great career move for him.  Carol and I made the drive up to LAX so we could fly with J.J. on his last day in the SkyWest cockpit.  This was Carol's first chance ever to fly with J.J. commercially and only my second in his 7+ year professional flying career.  Following our flights we joined J.J. for lunch in Los Angeles.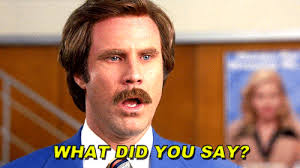 They don't require visas….
It was toward the end of our long lunch, after discussing our Indian trip in great detail, that J.J. asked me a simple question. "How did the Indian visa experience go?" was his question. "What did you say?" I asked. "They don't require visas for Americans to visit," I told him.
It was at this point that he got a quizzical look on his face.  That look put a newly minted concerned look on MY face.  Carol was only half listening and didn't have ANY unusual look on her face at this point.  J.J. said, "Of course, Indian requires a visa.  It's hard to get".
It was at this point that my face turned pale.  I'm pretty quick to put A and B together.  When I quickly added A and B in this equation I soon concluded I had made the biggest mistake in my trackchasing travelling career!
No visa; no trip.
No Indian visa meant no trip to India.  Somehow I had assumed early on we would not need a travel visa to get to India.  I'm not sure where and/or when I came to that erroneous conclusion.
I did know a few things.  I knew that I had spent thousands of dollars on this trip most of which would be non-refundable if we didn't or couldn't go.  I never buy travel insurance.  Ever.  I only insure the things in life that I can't afford to cover if things go badly.  I COULD cover the cost of our trip if we didn't go I just wouldn't WANT too.
I needed a new plan and I needed it quick.
It was now 3 p.m. on a Tuesday afternoon.  Our flight to India left Saturday night.  I had about 100 hours to find a solution to this really big problem.  What could be done at this point?  Luckily we had J.J. and his technology skills to help us out.  I think I can blow away just about anyone in my age bracket with tech.  However, J.J. can blow away just about anyone in ANY age bracket with tech.  Carol was in pretty good hands.  If this disaster could be averted at the last minute we had the right resources.
With his iPhone J.J. started searching the India government's visa requirements on the Internet while we were still at lunch. I was still in a state of shock that somehow through the HOURS of preparation for this trip I had overlooked our visa needs. Carol was beginning to come on board regarding the seriousness of this issue.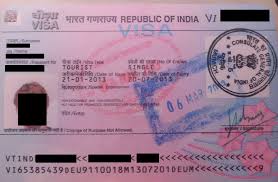 We needed more information before we could get our action plan together.
J.J. learned that we could complete the Indian visa application on line.  That was good news. However, if we mailed the app in it would take longer than we had to get it back.  Mailing the visa application would not work.  I contacted a couple of travel agents that specialized in getting Indian visas quickly.  Nope!  It was too late to avail ourselves to their services.
There was only one available option.  India have five locations in the U.S. where you can walk in, without an appointment, and get your visa in one day.  As a U.S. resident you can only go to the location in your "region" to complete this process.  For folks living in the Far West that location is San Francisco.  That meant that if you lived in Montana or Washington or some far flung Far Western location you would have to get yourself to San Francisco to use the one-day visa process.
One other thing of note….India is one of only two countries in the world that offers "same day" visa service for U.S. residents.  Were we getting lucky or not?  San Francisco would be an eight-hour one-way drive.  I phoned an Indian visa travel agency.  They told me I could take my application and Carol's to SF.  That way Carol wouldn't need to make the journey.  That was a relief.  I never would have heard the end of that one if I had to drag Carol along for a 16-hour round-trip drive for this purpose.
All the while I was making phone calls J.J. was busy researching on the web.  We would need passport photos.  Off Carol and I went to the nearest CVS drugstore.  There we got our photos taken (Carol had to wear a CVS blouse to cover her bare shoulders) and were back in J.J.'s house in a few minutes.  By now he had the application process on line and ready to complete.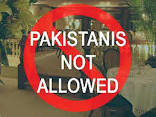 Of course we didn't have our current passports with us when the only plan was to have lunch with J.J.  Luckily I carry the essential passport information (numbers, etc.) in my iPhone's database.  One question on the Indian visa application was "what countries have you visited up to now".  For that I simply opened up www.randylewis.org.  Luckily I had not trackchased in Pakistan.  Pakistan is not India's friend and you will have a difficult time getting an Indian visa if you have visited Pakistan lately.  I have visited more than 80 countries (just 65 for trackchasing) in the past ten years.  The online Indian visa application had room for only about ten country listings.  J.J. and I concluded it would be best to list the least "controversial" countries.  We added places like the United Kingdom, France, Italy and New Zealand to the application.
Our application was ready to go; I just needed to jump in the car and drive.
It looked as if we had our online Indian application ready to go.  Remember it was Tuesday. Carol and I would have to drive 65 miles in late afternoon rush hour traffic back to our house from J.J.'s home so I could pick up our passports.  Then I would have to make the 8-hour drive to San Francisco likely arriving in the wee hours of Wednesday morning.  I needed to be in line at 8 a.m. for the one-day visa process to work.

It was about this time that J.J. discovered that tomorrow, Wednesday, was a national holiday in India!  The San Francisco Indian visa office would be closed.  We were lucky again.  Had I made a bonsai run up to San Francisco I would have found the office closed on Wednesday!
This gave us a little time to get our act together.  Now I would be driving up to San Francisco on Wednesday afternoon for a Thursday morning visit to the tourist office.  Time was getting short before Saturday's departure.  This would require a hotel stay in San Francisco one of the most expensive cities in the world.  I was just beginning to see how much money my inattention to detail was going to cost me.
Yelp! didn't like the San Francisco Indian visa office.
All the while this was going on J.J. was searching Yelp! for user comments regarding the same day Indian visa process.  The comments were not good.  Virtually no one had a good experience.  Finally, I asked J.J. to stop reading the comments.  "I get the point" I told him.  Now I was concerned we were going to jump through all these hoops and still might not get the visa that was required to make our trip.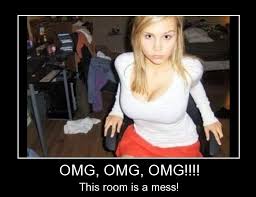 What if we hadn't had lunch with J.J.?
Lots of things were going through my mind.  What if we had decided not to go flying on J.J.'s last trip?  What if we had decided not to invite J.J. to lunch after his flying day was complete?  What if the "Visa question" had not come up at the very end of our lunch?  We would have shown up at LAX on Saturday night with our bags packed and ready to go to India and we would have been REFUSED! OMG.
WEDNESDAY
Life can throw you curves.
I left home at 2 p.m. to travel to San Francisco.  I needed to leave before Los Angeles' rush hour began or it would add well over an hour to my trip.  I had selected a Kayak recommended hotel, the Casa Loma in San Francisco's Richmond district for my overnight stay.  The hotel was just two miles from the Indian visa office.
The Casa Loma was recommended for being quiet and clean.  Rates were a more than reasonable, for San Francisco, $70 U.S.  However, the room did not have a bathroom or shower.  Those were down the hall "European" style.  That wasn't a problem.  I've done that before in the Philippines and elsewhere.  Off I went!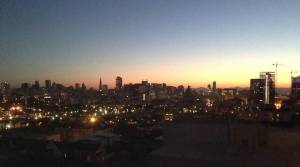 San Francisco is a beautiful city. It's hilly and has very little parking. Almost all parking is on the street.  Much of that parking is metered.  When I arrived at about 11 p.m. at the Casa Loma Hotel there was no parking anywhere near the hotel.  The desk clerk recommended a parking garage but the overnight fee was $20 U.S.  I searched and searched until I found street parking for free.  From where I parked it was a seven-block walk, nearly all uphill, in not the best of neighborhoods.  When I reached my room the clock was just striking midnight.  This experience reminded me of how quickly things can change in life.  It was Wednesday night.  Tuesday morning when we went flying with J.J. I had ZERO thought that I would be spending the evening in San Francisco the very next night!
THURSDAY
It was time to put our action plan in, well, action!
I needed to be in line at the Indian visa office at 8 a.m.  The office didn't open until 9 a.m. but an Indian travel agency advised that getting there an hour early was best.
It was a seven-block walk back to my car in the morning.  At least the walk was downhill at this point. My path took me past a McDonalds.  That would be perfect for breakfast.  I've mentioned that San Francisco is an expensive city.  How expensive?  Most McDonalds sell a double cheeseburger (one of my favorite sandwiches – 458 calories) on their value menu for about $1.39.  That sandwich is also on the SF McDonalds value menu.  However, the price is $4.99!
Using my iPhone Apple Maps app (I've switched back to Apple Maps from Google Maps) I soon found the Indian visa office.  Parking was difficult and metered.  The meters limited parking to two hours at a cost of $2 per hour.  I carry a large supply of quarters in my car.  However, what I thought was a large supply really wasn't.  I would end up spending more than $30 on metered street parking before this was over.  Quarters soon began to be as valuable as $20 gold pieces.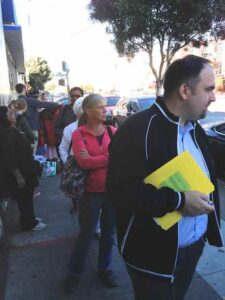 If you're not early you're late.
At 8 a.m. I was second in line.  By 9 a.m. when the door opened there were more than fifty people in the queue to get Indian visas.  The advice I got to get there early was right on.
I had thought to bring two things that weren't mentioned on the Indian visa website.  I made copies of our birth certificates and our electric utility bill.  I had this nagging feeling that no matter how much back up I brought there would still be some little thing I had overlooked.  Remember I was trying to save, at the last minute, thousands of dollars of pre-paid travels expenses that were within an eyelash of disappearing forever.
I walked in the door of the Indian visa office and was given a small slip of paper with my "number" on it.  Being second in line my handwritten number was "1B".  Soon that number was called.  Now the rubber would meet the road.
I brought $500 U.S. in cash with me to pay for the visas.  The clerk explained we would go through my visa application first and then Carol's.  I handed over my information.  The app had my San Clemente address listed as home.  However, I would need one more piece of I.D. (most folks would use their driver's license) to validate my home address.  However I carry a Hawaii, not California, driver's license.  There are good reasons for that.  I won't bore you with them now.  That's why I had thought to bring a copy of our utility bill.  That bill had my name and San Clemente address on it.  I was golden.
Pay the man.
Now I simply had to pay $167.30 U.S. for my visa.  The visa would be good for six months and included multiple entries.  This fee included an extra $100 U.S. for the "rush" part of the visa application.  A small sign read "exact change only".  I had only a stack of twenty-dollar bills.  I paid him $180 and asked that the overage be applied to Carol's visa charge.  The clerk agreed with that plan.
Then I handed over Carol's application.  I was using a photocopy of her California driver's license to corroborate her home address.  All of that worked well.  I laid another stack of twenties down to pay for her visa.  The clerk looked up and said, "You still owe me 70 cents".  Rather than reach across the desk and strangle the guy, I scrounged into my pockets and found my last three quarters.  "Keep the change" I told him.  He didn't acknowledge my woeful attempt at humor.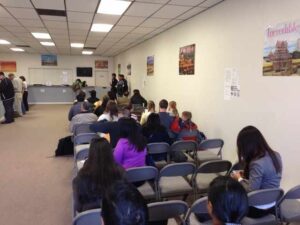 What was next?
What was next?  I would need to return at 5:30 p.m. to get our passports back with our Indian visas.  That sounded like good news.  However, it was now 9:15 a.m. and I didn't need to be back in the somewhat rundown Indian visa office for more than eight hours.  What would I do during that time?
I considered driving down to Fisherman's Wharf and taking the Alcatraz tour. Carol and I have done that several times.  It's a fantastic tour….100% recommended.  However, especially during the summer, the tour can be sold out for days.  I searched the Alcatraz site for tour times.  The tours with the most availability would be in the early afternoon.  However, with the uncertainties of San Francisco traffic and tour schedules I was concerned about getting back to the visa office on time.
Instead I elected to catch an early afternoon movie (newly discovered iPhone app Fandango) starring Ton Hanks titled Captain Phillips.  I gave the flick Fandango's highest racing a "Must Go".  Then just across the street from the movie theater I discovered a Chinese restaurant offering a happy hour special from 3-5 p.m. on their dim sum offerings.  All food and drink was half-priced.  I gorged myself on dim sum and was back at the visa office well in advance of the 5:30 p.m. requirement.  All the time I was scrounging quarters for one parking meter after another.
Other people shared my plight for one reason or another.
While standing in line in the morning I had made friends with folks trying to do the same thing I was.  One person, Ann, an executive secretary was getting visas for her jet setting bosses.  Today was the third day she had been to the office.  She had showed up yesterday not knowing the office was closed because of the Indian national holiday.  Others had similar stories to tell about how many times they had to come back.  No one that I talked to was planning to begin his or her trip (like we were!) to India in just 48 hours though.
The office was a stark building with some 50 folding chairs for the customers.  About five clerks sat behind a crudely built counter processing applications and answering questions.  Generally it was a very quiet atmosphere and peoples of all races waited for that very valuable visa.
The appointed time of 5:30 p.m. came and went.  Nothing.  When all of the passports had been collected in the morning they were sent via courier over to the Indian consulate office.  The office I was visiting was simply an outsourced company that collected applications, collated them and then sent them away.
At nearly 6 p.m. a courier came walking into our office with a plastic tote holding well over 100 passports.  The crowd saw this and a murmur came over them. It was time!  There was an excitement in the air within the office.
I will call your name.
However the tote of passports was taken to a back room.  Nothing happened for several more minutes.  The crowd of 50-75 became more restless.  Then at nearly 6:30 p.m. a man appeared.  He announced, to the hushed crowd, "I will call your name.  Please come up and get your passport".  That was good news.
I was now with my friend Ann, and two eye doctors from rural northern California.  They were going to India to do some pro bono medical work.  First one name and then another name was called.  You could see the relief on people's faces when they had there passport, and visa, in hand.
Now there were just twenty people in the room.  "Randy Lewis" was the next name called!  My friends congratulated me and I ran up to get my passport.  I had just one question, "Where is my wife's passport".  I was told to sit down and wait.  When I returned to my friends they were busy congratulating me.  "I still don't have Carol's passport" I told them.  We all waited until there were just my three friends and me in the room.  The man told everyone that was it for the day!
What about us?
What about us?  We approached the counter.  Then the bad news came.  There had been a "glitch" in the photo process used to make the visa page for just the four of us.  What were the odds, out of 75 people, that the only three people I had befriended would be part of this screw up….as well as Carol.
What were we to do now?  It was Thursday night.  They told us we would have to come back tomorrow. We should show up at 1 p.m.  The passports might be back.  If they weren't we would have to come back at 5:30 p.m. just as we had done tonight.  I asked, "Are you guaranteeing the passports and visas will be back by tomorrow night".  The supervisor told us, "We expect them to be back but there are no guarantees".

Let's do the math.
Folks, it was now Thursday night at 7 p.m.  I didn't have a hotel room.  I was going to need to stay over in San Francisco another night.  More importantly, I didn't have Carol's passport.  We would have one last shot.  If things didn't work out tomorrow, Friday, then I would have to drive back home (8 hours) with just one Indian visa.  You can do the math on that one.
I ended up getting another reservation at the Casa Loma Hotel.  I knew the drill a bit better on the second night.  I still had to park five blocks from the hotel on the street.  I trudged up the hill to the hotel.  At least I didn't have to be anywhere until 1 p.m. tomorrow afternoon.
I didn't want to make this phone call.
However, I did have to make phone call to Carol with the "good news/bad news".  I had my visa.  I didn't have hers.  She doesn't take news like this all that well.  Truth be told I didn't much care for sharing this news with her.  She begins packing for these trips about two months out.  Now, just 48 hours before the trip she didn't know if she was going or not.
FRIDAY
Would the trip be saved today?
It's Friday and we are scheduled to leave tomorrow night for a 9,488-mile (one-way) trip to India.  However, we don't know at this point if Carol is going.  I wondered what the situation would have been if Carol's visa had come through and mine had not.  Lots of things went through my head, most of them weren't good.
I slept in and checked out as late as possible.  Then I made the drive over to the visa office. Would Carol's visa be ready by 1 p.m.?  No, it would not.  I was told to return at 5:30 p.m.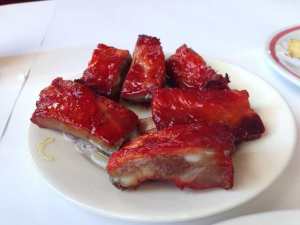 Now I had another free afternoon.  I went back to the same older neighborhood theatre, the 4 Square on Clemente Street and watched the other movie on the marquee, Don Jon.  This was a comedy of sorts and not all that good.  After the movie, just like yesterday I walked across the street and enjoyed some great half-priced dim sum.
It was getting cold now in San Francisco.  My aloha shirt and cargo shorts weren't cutting it. San Francisco can be a very cold city when the wind blows in off the water and the temps drop to about sixty.  I had an appointment.  I had to be back at the visa office at 5:30 p.m.
In the meantime, my friend Ann had called.  "Was it worth her driving into the city to try to get the passports?" she wanted to know.  I told her I was going back . What choice did I have? She agreed.
Our last chance.
Just like the night before the place was packed with people trying to get their passports and visas. With tonight being Friday, and the office being closed over the weekend people would have to wait three more days if things didn't work out tonight. I didn't have that luxury.
While we waited for news an outburst of anger came about from one of the customers.  He began yelling and pounding his fist on the counter.  I have video of this.  He demanded to get his passport back.  They didn't have it.  He wasn't hearing anything of it.  He turned to the crowd and pointed, "These people are just as pissed off as I am" he yelled at the clerk.  With that the crowd gave him yells of encouragement.  Finally, he calmed a bit and stormed out of the office. Now we were back to waiting.
Carol Lewis!
At about 6:30 p.m. the "naming process" began just like the night before.  Whose was the first name? Carol Lewis!  Ann congratulated me and I ran up to get Carol's passport.  Others in the crowd had heard about our dilemma.  The crowd was cheering.  I was fist pumping!  Carol was going to India.  Me too.  By the way, Ann's boss' names were called right after Carol's and she got her passports with visas as well.
I felt like I had just had my name called for an Academy Award.  I was happy.  However, it was now approaching 7 p.m.  My Apple Maps GPS unit told me I wasn't going to get home until around 2 a.m. on Saturday morning.  We would be leaving for the airport to fly to India just 14 hours later.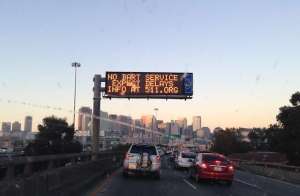 To add to the fun San Francisco's Bay Area Rapid System (BART) went on a one-day strike today.  That would make getting out of SF on a Friday night all that much more difficult.  I didn't care I had two Indian visas in my pocket.
I was more than happy.
All the way back to San Francisco I called family and friends to tell them about this adventure.  Carol was the first call.  When she answered, I yelled, "You're going to India!  You're going to India!"  She was relieved.  I was excited.  Then I called J.J.  He had been a more than a key helper in this process.
I arrived home at just past 2 a.m. on Saturday morning.  This had been a close one.  I honestly have no idea how I put myself in this predicament.  I have more experience doing this than 99.99% of the people in the world.  However, even when you have the experience, you can't get complacent. I don't expect this to ever happen again.
TIME ZONES
Twelve and one-half hours.
We will first fly from Los Angeles to Guangzhou, China. Guangzhou is 15 hours ahead of the Pacific time zone where we live.  Then we'll fly into New Delhi, India where we'll be for a week.  New Delhi is 12 ½ hours ahead of Los Angeles.  That's right. Twelve and ONE-HALF hours.  That might tell you something about the country we would be visiting.
BOOTS ON THE GROUND
I'm not looking for a tour bus.
Whenever I travel I like to get help and advice from people who know more about the subject than I do.  This process has worked very well for me.  It's important to note that I'm looking for advice not someone to simply pick me up at the airport, drive me around and drop me off at the end of the trip.
My first major international trackchasing trip to countries where English is not the native language was with Belgium trackchaser Roland Vanden Eynde.  I will forever be indebted to Roland for his hospitality.  This was a trip where he picked me up, did all the driving, and organized the trip from A to Z.  When it was all over he dropped us (Carol had joined in mid-trip) at the airport and bid us farewell.
I enjoyed seeing racing with Roland in Germany, Belgium, France and the Netherlands.  However, I vowed that I would never make a trip like that again.  This is nothing against Roland.  He did everything anyone could expect from a good host.
However, I don't really enjoy traveling that way.  I want to plan my trips myself.  I want to make the mistakes and reap the rewards that go along with international trip planning.  I don't want to think I'm on a tour where someone tells me what time to get on the tour bus and what time to get back on the tour bus.  I will ask people for advice on each and every trip I take.  Then I will take all the advice I can get, put it in a blender and come up with my own plan.  I've been doing it that way for every country I've visited for years now.  I simply would not do it any other way.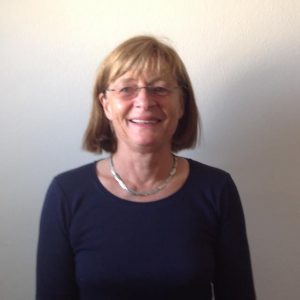 Enter Alison Jackson stage left.
This leads me to Mrs. Alison Jackson.  I met Alison on line.  No, it wasn't THAT kind of online meeting.  Alison lives in the United Kingdom.  I had asked a few questions on the Indian forum of TripAdvisor.com about traveling to India.  Alison saw what I had written and sent me a private email.  She offered her services on Indian travel ideas based upon the numerous trips she had taken with her husband to the country.
Alison made a compelling case.  She was willing to help me at no charge and she had the experience to make that worthwhile.  Alison had lots of recommendations.  It was helpful she was a native English speaker.  Whenever I sent her an email, seemingly at all hours of the day, she got back to me often within minutes.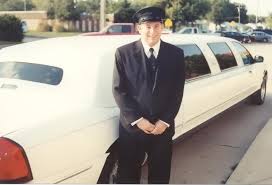 Her first recommendation was to hire a driver.  She had two drivers in mind.  Alison reminded me I did not have to hire one of the people she knew but I DID have to hire a driver.  Of course, she was right.  No American would do well driving themselves in India.  I went with one of Alison's driver recommendations.  I didn't have to pay anything up front.  The driver, Raju, would pick Carol and me up at the airport on day 1, take us everywhere we wanted to go during the trip and then drop us off at the airport for our flight home.  Raju's fee included our car, gasoline, tolls and his services as a driver/tour guide.
I have hired drivers in several countries.  Sometimes just for the day and sometimes for the entire trip.  The closest situation to India would probably be my trip to Sri Lanka. Hiring a driver worked out perfectly there.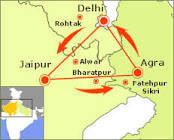 Alison had great ideas about all the key places to visit in India's "Golden Triangle".
Alison was also helpful is steering me away from using exclusively Sheraton Hotels.  I knew we would have a luxurious, even an opulent, experience at those hotels.  However, as Alison pointed out we might also miss some of the "Indian Experience".  I didn't want to bypass that.  We ended up changing three of our seven hotel nights to the unique places she recommended.
Alison and I also discussed all of our touring options for the eight days we would be on the ground in India.  Once she got to know me a little better we honed in on the touring choices that Carol and I would enjoy the most.  If anyone is planning travel to India let me know. Maybe Alison Jackson can help you as well.
I cannot fully describe how helpful Alison was.  Why was she such a willing volunteer?  As she explained she simply wanted to share her knowledge and experience with India with others who would appreciate the benefit.  That would be us.  As I go through the trip report I'll let you know about all of Alison's great ideas.  In hindsight, it was Alison Jackson who made this trip so successful from a touring and convenience standpoint.
THE TRANSPORTATION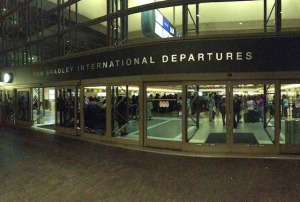 Los Angeles to Guangzhou, China to New Delhi, India and back!
Folks, we are no longer part of the airline sponsorship program we have enjoyed for more than seven years.  That was the most fantastic program any trackchaser, father and world traveler could ever expect to have.  Nothing lasts forever.  Now I'm back to paying for airline tickets myself.  That's O.K.  My biggest ever trackchasing year (2006 – 182 tracks) was a period when I didn't have sponsorship.  I did it then and I'll do it again.
I use Kayak.com to "ballpark" my airfare choices.  Once I get a handle on what going from point A to point B will cost I'll nose around some more and then pull the trigger on the airline tickets.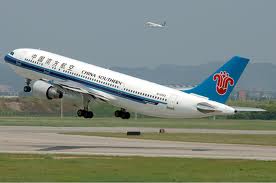 We'll be flying almost 19,000 miles round-trip to New Delhi, India and back.  China Southern Airlines will take us there.  We'll make one stop in Guangzhou, China.  Our layover will be just two hours and 15 minutes.  One of the alternatives was a 19 hours layover in Guangzhou. I loved that idea.  Carol not so much.  We could have done a mini tour of Guangzhou with that plan.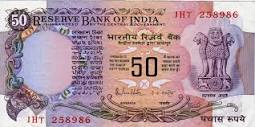 CURRENCY
Do you know the official currency of India?
It's the Rupee (RUP). As we speak my iPhone currency app tells me I can get about 61 RUP for one U.S. dollar.  We left for India without a single Rupee in our pocket.  I did take about $500 in U.S. cash, which is a large amount for me.  We'll get some Indian currency as we go along.  I expect to get some good advice on handling currencies from our driver, Raju.
WEATHER
We had a good weather forecast.
The weather forecast for India was nearly the same every day.  High temperatures will reach nearly 90 degrees each day.  The rain forecast is ZERO for every day of our trip.   I thought India would be humid.  Alison says it will be a dry heat.
OVERNIGHT ACCOMMODATIONS
The perfect sized trip.
We'll be staying at some really nice hotels in India.  Overall, we'll spend three nights at the Sheraton New Delhi, a night at the Sheraton ITC out towards the Taj Mahal.  We'll also spend three nights in Indian brand hotels, the Samode Haveli and the Samode Bagh.  Alison Jackson recommended these.  I can't wait to try them out.
THE RENTAL CAR
One of the very best trip ideas.
There won't be a rental car for us on this trip…. that I will be driving anyway.  We have hired a driver and car for our adventure.  I've done this in the past, and in places where I wouldn't feel comfortable driving, it's wonderful.
With a driver you can leave when you want, stop where and when you want and get all the local advice you may need.  As long as the driver speaks English well enough you're golden.  In Sri Lanka my driver didn't speak much English but would do anything for me including inviting me to spend the afternoon and have lunch with his family.  In Indonesia my driver spoke better English and ended getting me into a Muslim mosque and taking me to some of the worst slums (which I requested) in all of Jakarta.  Having a driver is a great idea and doubles or even triples the experience.
NAVIGATION
Raju!
Raju will handle this!
THE TRAVELING COMPANION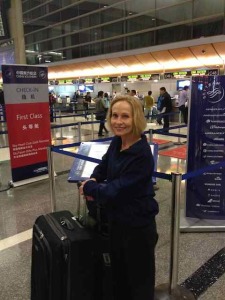 Carol and I will be flying some 40 hours round-trip just to have fun!
I'm happy to report that Carol will be coming along on this trip.  Here's a common question I get when I'm leaving for a trip, "Is Carol going with you?"  That's a fair enough question.
Most people who travel to India, of the very few people I know who would ever make that trip, would certainly bring their spouse along.  Most people who made a trip to New York or Miami and Seattle would likely bring their spouse along.  However, most of those people would only be making a trip or two like that every year if that much.
Make sense?
As you know I make 20-30 trips like those mentioned above every year.  I've been doing that every year for well over ten years.  That's somewhere in the range of 200-300 major trips in a decade.  Can you understand why Carol might not want to make every one of those trips?  I thought you could!
Carol tries (O.K., I really do this) to limit her travel to about 100,000 miles each year.  India will be her 34th trackchasing country.  When you count all the places we've been, trackchasing or not, she's been to more than 60 countries.  That's not really a description of a stay at home individual is it?
THE SUMMARY

My "world map" is filling up fast.
The United Nations classifies India as an Asian country. India will be my 13th Asian trackchasing country. The first twelve look like this:
Bahrain
China
Indonesia
Japan
Malaysia
Philippines
Qatar
Singapore
South Korea
Sri Lanka
Thailand
United Arab Emirates
India will be Carol's 5th Asian trackchasing country. No other trackchaser has seen racing in more than one Asian country.  Why is that? I think the answer is simple.  Asia is a long way from home and very far away from every other trackchaser's cultural background.  It is for Carol and me too.  However, I happen to feel we're just a little bit more adventuresome than our fellow trackchasing competitors.
An E-ticket ride.
I estimate I have spent about 100 days in Asia.  Asian travel truly is an E-ticket ride.  There is very little English speaking.  These are just wild places to visit.  You have to be up for adventure if you want to visit Asian countries.
Where will I go next?  I've got another trip planned just one week after I get back from India! However, the future leaves me with just 8-10 "realistic" "new" countries where I might be able to see racing.  For my stage in life that's a perfect number.  Many of those countries are "out there" either politically, geographically, culturally or "all of the above".  That will just make the challenge of seeing them all the more fun.
Pre-India
These trips take a bit more planning.
I plan my domestic trackchasing trips out a week or maybe two at the most.  On Monday of a domestic trackchasing week I could literally find myself in any of our fifty states by the following weekend.  However, foreign travel planning is a bit different.
For most foreign trips I'll begin planning a couple of months ahead of time.  I might need more lead-time if I'm dealing with visa issues.  I will systematically go through the above checklist. Each trip revolves around the confirmation of a race.  When the race is confirmed it's full speed ahead to make airline arrangements, book hotel space, rental cars and all the rest.
Saturday – Day 1 – (San Clemente to Los Angeles to Guangzhou, China)
It's not over til it's over.
Considering our most recent visa experience I won't rest easy until we have cleared customs in India.  With these trips "You're not in til you're in and it's not over til it's over".
Our first flight of the trip, bound for Guangzhou, China would be leaving from the Los Angeles International Airport.  Going into this trip I have traveled overnight exactly 170 nights for the year. I think that may be the most I have ever traveled in a single year…..well ever.  Counting this trip to India I still have three major international trips before the year winds up.  That's a lot of travel but I only do it because I love it.
We left the house at 6 p.m. for a quick dinner at our favorite Greek restaurant in San Clemente.  Then it was a 65-mile hike in surprisingly heavy Saturday evening traffic.  I dropped Carol and some of the bags off at the newly remodeled Tom Bradley International Terminal.  Tom Bradley was a former mayor of Los Angeles.
From there I took the Carol Lewis owned and Advanced Improvements Lexus RX 350 to the airport parking garage.  I still have an airport parking sponsorship for which I am most grateful.
India is so far away we had to fly through China to get there!
We will be using China Southern Airlines exclusively on this trip.  They have a "hub" in Guangzhou, China and we'll be using it to connect onto New Delhi, India.  China Southern allows each paying passenger to check two bags weighing up to 50 pounds each.  That's very generous compared to the checked bag policy of most American based airlines.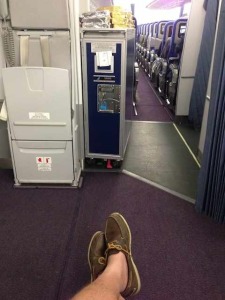 The China Southern agent carefully checked the details of our Indian visas.  We passed!  That was a relief.  Then I had the bright idea to ask for exit row seats.  My request was accepted.  The flight time from LAX to Guangzhou was 14 hours and 20 minutes.  Getting as much legroom as possible was priceless.
Clearing international security wasn't any different or more cumbersome than what normal U.S. domestic security would be.  Because this was an international flight we couldn't use our "Pre-Check" capabilities.  However, on the way back into the U.S. we'll have the benefits of the Global Entry Program.  We'll be able to pass completely through U.S. Customs in 60 seconds or less even if the regular line of U.S. citizens is one or two hours long.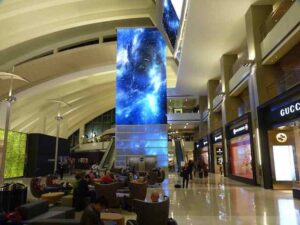 They did a good job with this terminal at LAX.
Much of LAX is what I call a "zoo".  I use this airport the most because you can fly to so many places.  The "new" international terminal has just opened up.  This was my first time to use it. I will tell you it is absolutely gorgeous.
The terminal has the most beautiful, unique and unusual video display I have ever seen anywhere.  It's a huge tower that has to be 60-80 feet tall.  The tower's shape is squarish measuring some 50 feet on each side.  When we entered the tower had a beautiful blue-sky motif.  However, what was to come was right out of Disneyland or Las Vegas or both.  The light display that makes up the tower constantly changes.  From time to time there are out of this world 3-D displays….sort of like movies.  I've included a short video of one of the displays for you to see. Absolutely spectacular.  They did a great job on this terminal especially considering much of LAX is on the rundown side.
It wasn't long before we were on the plane to China.  The legroom was unbeatable.  I had ten feet of free space in front of me.  I must say I didn't find the all female Chinese flight attendant group very friendly.  They almost never smiled.  We were lucky to get the "Gestapo" member of the group in our seating area.  She caught me taking a picture of a flight attendant serving food.  She came over and made me delete it!
Sunday – Day 2 – (On the way to Guangzhou, China)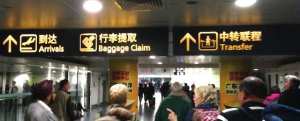 Sunday went by pretty fast.
We left Los Angeles on Saturday night. We landed in Guangzhou, China on Sunday night. Guangzhou is 15 hours ahead of the Pacific time zone in Los Angeles.  Then after just a two-hour layover in China we landed in New Delhi India on Monday in the late morning.  Where did Sunday go?  I don't know but we might find out on the way back.
Monday – Day 3 – (Guangzhou, China to New Delhi, India)
We were getting in the right position to make this adventure happen.
After some 20 hours of flying we landed in New Delhi, the capital of India.  It was easy to clear Indian customs and reclaim our three checked bags.  At this point we were "In India".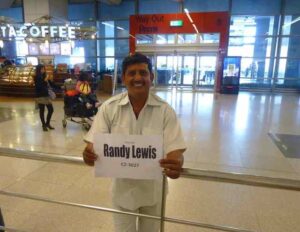 We left baggage claim for the terminal to find our driver, Raju, waiting with a sign that read "Randy Lewis".  I love it when a plan comes together.  Raju had parked his Toyota Etios in the airport parking garage.  We introduced ourselves and headed to the car.
Driving on the "wrong" side of the road.
In India cars are "right-side" steer and drive on the left side of the road.  Countries that were or are under British control normally use this driving method.  Japan does as well for some reason.  I have read that 42% of the world's population drives on the left side of the road.
We were in the hands of Raju for the rest of the week.
Raju was a smaller Indian man in his mid to late 40s.  He was wearing an all white short sleeve shirt and long white pants.  This is a somewhat normal "driver uniform".  Raju was soft-spoken, very friendly and most helpful.  He spoke just enough English that we could get our questions answered but not so much that we needed to talk non-stop for the entire eight day trip on the ground in India.  That worked perfectly for me.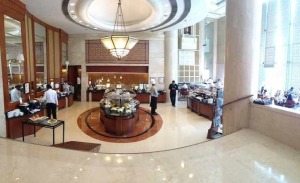 For our first night in India we would be staying at the Sheraton New Delhi.  New Delhi has a huge population.  Their metro area is home to 21 million people.  The metro area of greater Los Angeles, which run about 100 miles north to south and 60 miles east to west, has only 13 million residents.  LA's metro area has 8,225 per square miles.  New Delhi has twice the density of population with more than 15,000 people per square mile.  We noticed this immediately on our drive to the hotel from the airport.
The Sheraton New Delhi is easily a four-star hotel.  It's located in a very congested, disheveled and seemingly poor area.  Each time we entered Raju had to pop the trunk and wait while a Sheraton security guard ran a mirror under the car's chassis checking for bombs.  Then we had to place our luggage through a airline style security conveyor belt.  Finally, we each had to clear ourselves through a metal detector before entering the hotel lobby.
The hotel was gorgeous with lots of mahogany woods and marble.  It would have been difficult to guess that a luxury hotel existed here considering what the neighborhood looked like just 50 yards away.  As a Sheraton Gold member we were given an upgraded room and access to the Sheraton lounge.  We could go here pretty much all day and eat and drink on a complimentary basis.  Don't miss the photos of this hotel and all of the first class hotels we used during the trip.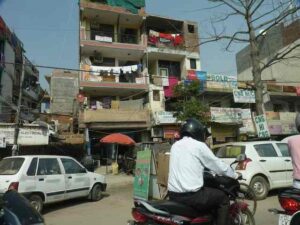 It was time to meet India.
Despite having traveled so far there was no rest for the weary.  Just 45 minutes after checking in we were meeting Raju for some Delhi touring for the afternoon.  Our first stop was for an Indian lunch at a famous restaurant called Pindi's.  We are big fans of Indian food and eat it often at home and when we travel in the U.S. For our tastes we found the Indian food in the U.S. to be better than what we had in India.  Of course, we like pizza made in the U.S. better than what they serve in Italy and Belgium waffles much better in the U.S. than what we've eaten in Belgium.
The food was good not great at Pindi's.  The service was excellent.  The menu included an impressive review from the New York Times.  When we looked a bit closer we found the review was from 1982!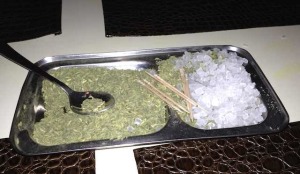 At the end of the meal they served something called "Mukhwas". This was a combination of fennel and anise seeds used for breath freshening.  Diners simply spoon some of the seeds into their hand and eat them.  These were accompanied by a small dish of sugar crystals.  We were somewhat taken aback when an Indian woman whom we didn't know came up to our table and grabbed a handful of seeds and walked away.  Carol and I looked at each other as if to say, "Welcome to India!"
Once outside the restaurant vendors hawking cheap souvenirs descended upon us.  This would be a constant during the entire trip.  As a tourist you just have to be good at saying "No" politely yet firmly.  Luckily, a post office was located next to our restaurant.  This allowed Carol to pick up stamps early in the trip for the large number of post cards she sends to all of the young people in our family who are college age or younger.  Once they graduate from college they're on their own!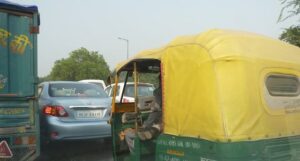 I can't possibly describe India's traffic in words.
New Delhi aka "Delhi" traffic was beyond intense.  The small motorcycle traffic was heavy as it is in most Asian countries I have visited.  Often these smallish 50-200cc bikes are carrying two passengers and sometimes an entire family of four or five people with mothers clutching young children and/or babies.
What we did notice is that some 80-90% of the people we saw during our trip were male.  I'm guessing most Indian women were at home.  India has just 920 women for every 1,000 men.  That comes about by "gender selection" during the pregnancy stage where female fetishes are aborted more often.  India has the lowest number of women compared to men of any country in the world excepting China.  They have the same gender selection policy.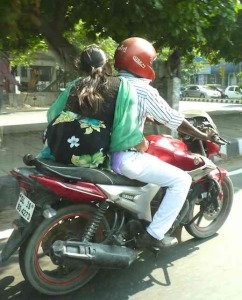 Say what?
In Delhi male motorcyclists are required to wear helmets.  However, a woman riding with a man is NOT required to wear a helmet! In rural areas it is common to see most riders traveling without helmets are all.  Despite near misses with motorcycle traffic about every seven seconds for the entire trip we never saw a single motorcycle accident.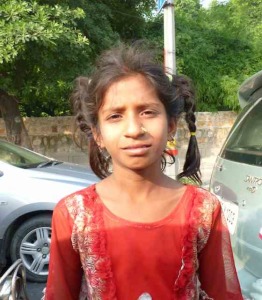 When we were stopped in traffic it was common for children and older people to tap on the window begging for a handout.  We tried not to make eye contact.  Raju told us not to give money to these people because it would only encourage others to instantly attack our car.  We did as told most of the time.  One young girl, about 11 years old and wearing a bright Red Indian dress could perform some of the most unusual gymnastic routines.  I felt she deserved some reward but refrained at least today.
Now I KNEW we were in India.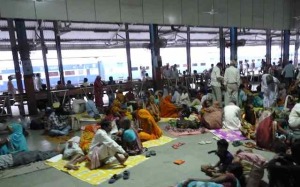 Next up was a visit to the New Delhi train station. Son J.J., who had visited Delhi a couple of years ago recommended we make a stop here.  I'm glad we did.  I prefer seeing how people live in a city more than seeing one more monument or castle.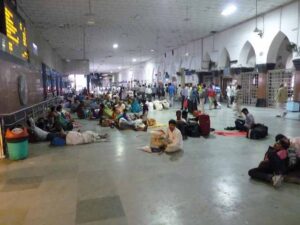 The train station was old.  Raju had to do some major gymnastics to park the car.  Most of the time Raju allowed us to see whatever attraction we were visiting on our own.  However for the train station "tour" he came along.  Please don't miss the pictures.  People were laying all over the floor of the dark and dingy station waiting for trains.  We used the restrooms in the station.  The men's restroom was the worst I had ever personally used and that's saying something considering how many short track racing toilets I've seen!
We then visited "Old Delhi" until it began to get dark.  Raju told us that Delhi and almost all of India was safe from crime.  However, statistics don't fully support that assertion.  Alison had recommended a bicycle powered rickshaw ride here.  Carol looked around at the congestion, poverty and general filth and nixed that idea.  She might have been right on that one, although I was up for it.
By the way the ethnic landscape was nearly devoid of white people.  That's not unusual.  We rarely see much U.S. tourism in places like this as in nearly zero.  We did observe a number of British tourist during our travels.
With the above we were back to the Sheraton for a full ten hours of sleep.  After traveling as far as we had the slumber was welcome.  We would be ready for "full touring" from here on out.
Tuesday – Day 4 – New Delhi to Agra, India
I'm just a softie at heart.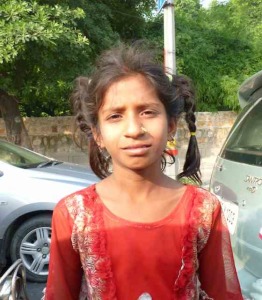 As we made our way slowly through Delhi traffic this morning for our day of sightseeing we were stopped at an intersection.  Soon a "tap tap" came on my passenger side window.  "Remember me? Remember me?" it was the girl in the same red dress from yesterday.  She did some more incredible yoga poses.  I couldn't resist the idea that she remembered us from yesterday.  I lowered my window and gave her a dollar.  I could tell Raju was none too pleased with me.  Carol wasn't either.  As predicted our car was instantly besieged with another twenty people trying to get a donation.  This was the first and last time I gave money to beggars.  You won't want to miss the picture of the "girl in the red dress".
Today's touring included the huge government buildings, which are home to the Indian Prime Minister among others.  Then it was off to India Gate where we observed the changing of the guard.  A real highlight was our stop at Humayun's tomb.  If you have an interest in Indian tourism please check out the photos from these stops.
Friendly, hard-working and rushed.
Everywhere we went the Indian population was friendly and engaging.  We didn't always understand their English however.  From what we could see everyone was extremely hard working.  It seemed as if everyone was rushing to get somewhere or complete some manual task.  The infrastructure was way behind what was needed to be efficient. Someone once told me not to "mistake activity for achievement".  I believe that might be the case in India.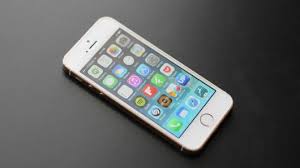 The advantages of modern communication.
While we were touring Humayun's Tomb I received a text message from J.J. He was telling me that my new iPhone 5S had been delivered to our house early.  As no one was there to pick it up the package would be sitting on our doorstep for more than a week.  That wouldn't do. I texted J.J. the contact information for our neighbor's and they came over to pick up the package for safekeeping.  How's that for efficiency and effectiveness while on vacation in such a faraway place as India!
We see it all when we trackchase.
Soon we were off to the city of Agra, home to the Taj Mahal.  It's a "small" city of just 1.6 million people.  Agra's literacy rate is 81% considerably higher than India's overall literacy race of just 59.6%.  The literacy rate of men is considerably higher than that of women in India.
The drive to Agra from Delhi would take about four hours.  We would be using the brand new modern western like freeway known as the Yamuna Expressway.  There was almost no one on this road.  We had one stop to make before we arrived in Agra and a nighttime view of the Taj Mahal.
This was a very important stop. Getting the race tickets!
We needed to pick up our race tickets! Today was Tuesday the race was on Sunday.  I have been given instructions from my ticket company on where to pick up the tickets.  Having a driver was such a plus on so many fronts.  Raju himself needed to stop a few times to ask for directions in Hindi but we made it.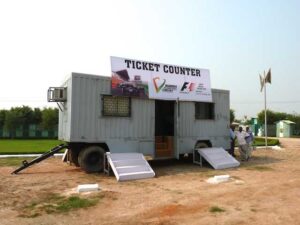 I was envisioning some upscale ticket pickup location.  Truth be told we picked up the tickets in one of the more rundown small construction trailers in the general area of the Buddh International Circuit.  There were two desks and two young men in the trailer.  There was also a good deal of trash and disorganization there.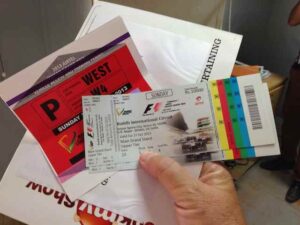 Luckily, they had our tickets! I gave them my passport as I.D. to get the tickets.  I felt relieved to know we had that little chore behind us.  Then we were off to Agra.
This wasn't the western world and we didn't want it to be.
Virtually all of the main highways we traveled were toll roads.  Tolls were included in our fee for Raju.  The toll roads had some toilets and a small restaurant at each tollbooth.  However, these facilities were nothing like what would be found in the western world.  Please don't take that as a criticism.  We didn't come all the way to India to have it be just like San Clemente.
We had it all…a good driver and a good guide.
Whenever we wanted to stop for lunch we just gave the word to Raju.  He took us to a place in Agra aptly named "Indiana"!  This was the type of place we NEVER would have found on our own.  We enjoyed their food very much.  Restaurants were very inexpensive during the entire trip.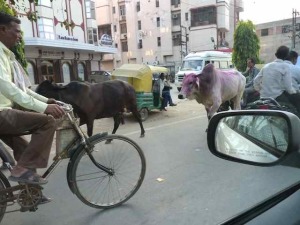 Just like the old west….cattle roaming in the streets.
Agra is somewhat rural compared to Delhi.  It is very congested, has lots of cattle roaming free in the streets, motorbikes, bicycles, tuk tuks, cars, trucks, pedestrians, dogs, camels!  There was a little bit of everything roaming the streets.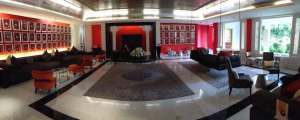 Just enjoying good fortune.
After lunch we checked into the Sheraton ITC Agra.  At the front desk I asked for an upgrade to a full suite.  My request was approved and we were soon entering a special area of the hotel open only to guests staying in "Royal Mughal Suites".  Yes, Carol travels first class.  However, she was feeling badly that we had such nice accommodations while there was such poverty literally outside the front door . I assured her we couldn't solve that particular problem on this trip and we should enjoy our good fortune.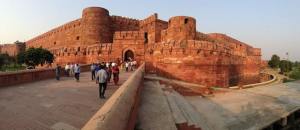 Touring the Agra Fort.
After a few minutes at the hotel we were off to the Agra Fort.  The Agra Fort was one of the most beautiful places we visited in all of India.  With the sun setting the red sandstone walls of the fort were downright beautiful.  The fort sits 2.5 kilometers northwest of its famous sister the Taj Mahal.  Raju dropped us off and we paid 600 rupees (about $10 U.S.) for our two admissions.  Nearly everywhere we went "foreigners" paid as much as 10-20 more than local residents to see the tourist attractions.  Once inside we hired a guide to explain what we were seeing.  Again don't miss the pictures.
We could see the Taj Mahal in the fading sunlight from several positions inside Agra Fort.  The final touring activity of the day was to view the famous Taj Mahal from across the river.  There wasn't a lot of light left but it was a view we would not have wanted to miss.
These touring days are tiring as we become accustomed to the 12 ½ hour time zone change. There was no dinner for us.  We showered and were off to bed early but not before enjoying the chocolates left in our room by the Sheraton ITC staff.  We would be meeting Raju tomorrow morning at 6 a.m. for a sunrise tour of the Taj Mahal.
Wednesday – Day 5 – Agra, India.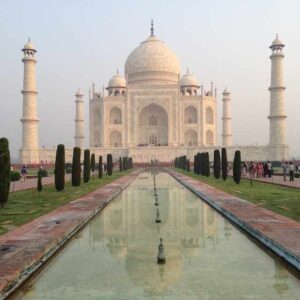 The Taj Mahal!
Folks I grew up in East Peoria, Illinois a lower middle class town in the middle of Illinois and in the middle of the U.S.  Most everyone I knew worked in a factory for the Caterpillar Tractor Company.  I doubt 10% of the cities population (including me!) could have told you what COUNTRY the Taj Mahal was in.
Today's main attraction was going to be a tour of the famous Taj Mahal.  Of course, the Taj Mahal is one of the seven wonders of the world.  It's essentially a white marble mausoleum built my the Mughal emperor Shah Jahan in memory of his third wife, Mumtaz Mahal.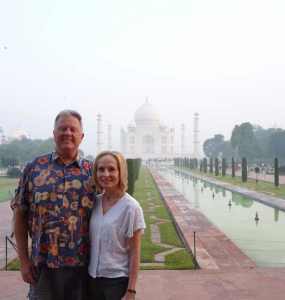 A definite bucket list item.
Seeing the Taj Mahal was definitely a bucket list item.  I was surprised to see there were four lines used for people entering the Taj.  The men had two lines for locals and foreigners. The same setup was used for women.  We hired a guide and took a million pictures.  Don't miss them.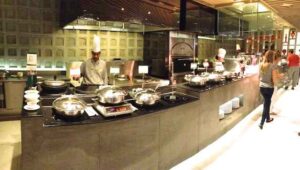 At about 9:30 a.m. we returned to the Sheraton ITC Agra hotel for breakfast.  Their breakfast buffet and dining room were over the top.  Again, the VAST difference between the way the "rich man" to use Raju's words and the "working man" using my words was huge….almost difficult to comprehend.
Arranged marriages.
In the afternoon we visited the Fatehpur Sikri (deserted city amazingly well preserved).  By this time we were getting a little burned out on these types of monument/palace attractions.  It was hot and we hired a young Muslim guide.  It was more interesting quizzing him about his girlfriend and arranged marriages than anything else.
Every finger on your hand is different.
He had a unique way, at age 21, of explaining his Muslim brothers that have wreaked havoc on so many in recent years.  He told us there are all kinds of Muslims.  They are just like the fingers on your hand, all different.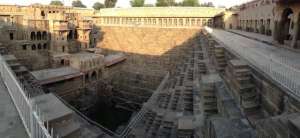 Our next stop was the Abanieri step well.  This was another unique attraction depicting architecture from centuries ago.  
From this stop we completed our five-hour drive by arriving at the Samode Haveli Hotel.  Going into this trip I had arranged for us to stay exclusively in Sheraton Hotel properties.
If you go to India don't go without the advice and counsel of Alison Jackson.
However after meeting Alison Jackson, an expert on Indian travel, she convinced me it would be a good idea to add some "Indian" hotel properties to our itinerary.  I've learned in life to listen to people who know more about a subject than I do.  That means I do a lot of listening! We ended up using Indian hotels for three of our seven overnights in India.  The Sheratons we stayed at were fantastic.  The Indian hotels were as well but in a slightly different way.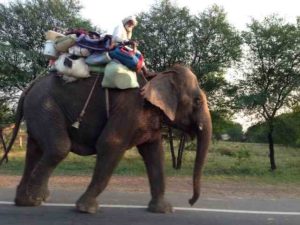 The Samode Haveli hotel in the city of Jaipur is located in a typical crowded and rundown part of the city.  Cows roam freely just outside the main gate.  Men rode past on elephants.  However, like all of the hotels we stayed at, once you get in the property luxury awaits.  Please don't miss the photos of our room.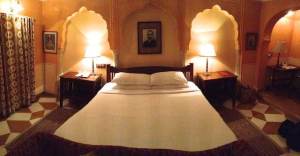 Carol and I enjoyed a wonderful dinner in the outdoor hotel courtyard.  Temperatures were comfortable and the quiet ambiance delightful.  Despite all of our hotels on this trip being in very congested areas once inside the hotel it was quiet and serene.  One would have thought they were a million miles from what lay at the hotel properties entrance gate.
Thursday – Day 6 – Jaipur, India.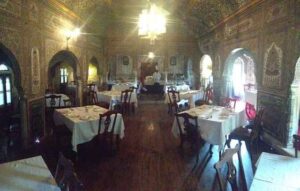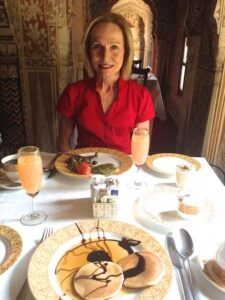 Opulent!
We began the day with a buffet breakfast in one of the most beautiful rooms where I've ever eaten.  We would be spending two nights at the Breakfast at the Samode Haveli Hotel. I'm so glad Alison convinced us to stay in Indian hotels.  Delightful.  Pictures tell it all.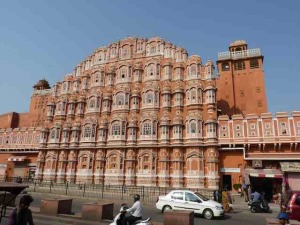 Following breakfast Raju was waiting to take us on a tour of the City Palace in Jaipur.  Along the way we were able to photograph the "Window" Palace as well.  By now I was getting burned out on palaces. What I really wanted to do was coming up!
How many people get to do this? How many people THINK to do this?
J.J. had recommended something most tourists would never think to do. He told us we had to visit the most famous movie theatre in India.  CNN Travel lists the Raj Mandir movie theatre as the #3 "most enjoyable movie theatre" in the world!  Carol and I go to the movies a lot. How could we miss it?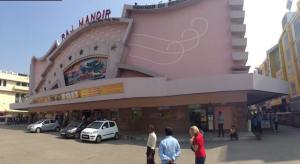 The theatre was built in 1976.  It seats about 1,200. Tickets are sold separately to men and women.  Carol bought three tickets (including Raju) since the line for women was shorter.  Today's Indian movie, "Boss", was only in Hindi without English subtitles.  Despite being in a foreign language we were able to keep up with the comedy/action movie.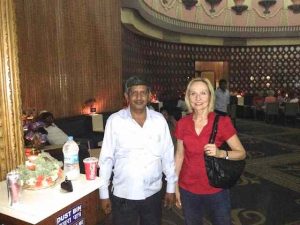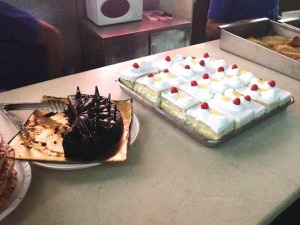 Women in the last row!
It was surprising to see that women and their guests sit in the last few rows of the theatre.  Men only sit in first few rows.  There are three types of seating, two box seat areas and "emerald" where we were (130 rupees – about $2).  The theatre was similar to what you might find from a modern multiplex place in the states but only showing one movie.   They didn't sell popcorn but did have some unusual movie treats.  The crowd really cheered when the hero beat up the bad guys and when the beautiful young girl came on the screen.  It was a most fun experience.  I've now seen movies in several foreign countries.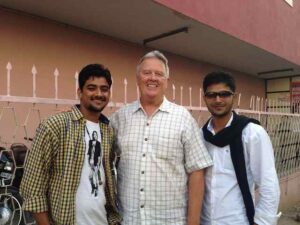 Ohso.
Indian movies are long typically about three hours.  They usually have an interval or intermission.  Ours did.  During the interval an Indian man engaged me in conversation.  He was a nice young guy who was studying for his degree.  He asked for my email address so he could send me info on his favorite author "Ohso".  Editor's note: For several months my new friend DID send me emails about Ohso.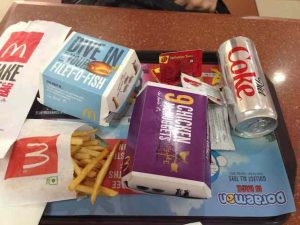 For research purposes only.
Following the movie we walked across the street to McDonalds.  I think any Americans who eat in McDonalds while traveling are either not very creative, scared to death to have new experiences or both and a lot more!
However, when I am in unique foreign countries (India qualifies!) I like to see what their McDonalds might have that American units don't.  We certainly needed to try a Mickey D experience one time in a country where beef is not sold anywhere.  Carol and I had a fish filet sandwich, chicken nuggets and "shake a sack" French fries.  What are "shake a sack" French fries?  The fries come with a packet of seasoning that is poured into the sack, then the fries are added and you shake!  All good. Pictures…don't miss 'em.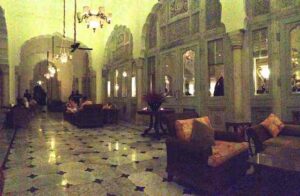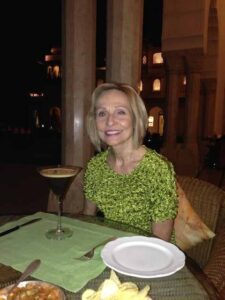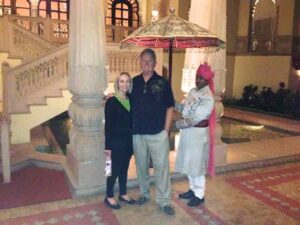 The trackchasing lifestyle ain't bad is it?
Then we battled traffic, which is a tourist attraction in itself on the way back to the hotel.  Raju picked us up in the evening for the short trip over to the Ramsbagh Palace Hotel.  Condè Nast Traveler Magazine rated this hotel the #1 hotel in the world in 2009!  There we had a drink in their elegant courtyard before having dinner in a real train car.  It was a very pleasant evening under wonderful weather conditions.  This trackchasing lifestyle ain't bad is it?
Delhi belly.
However, toward the end of the day I had acquired a case of "Delhi belly".  This comes from eating or drinking things that have organisms that U.S. folks aren't accustomed too.  As I had been instructed at the first sign of this I needed to start taking the pills I had brought along for just such an occasion.
Friday – Day 7 – Jaipur, India.
Delhi belly day!
This is "Delhi belly" day!  The urban dictionary describes "Delhi belly" as "Diarrhea or dysentery contracted from eating Indian (i.e., from India) food".  My case was somewhat mild.  However, "at the first sign of anything" I was instructed to begin taking the pills that son in law James gave us.  They did the job although I didn't feel that well to be touring all day.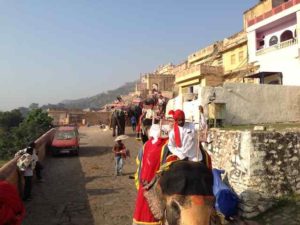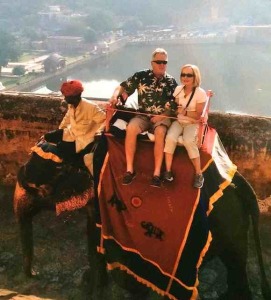 Have you ridden an elephant?
Our first official touring event was the Amber Palace.  The highlight was riding an elephant to the entrance to the palace. Riding an elephant side saddle (with Carol of course) uphill for ten minutes is not the best thing for a person who doesn't feel well.  Nevertheless, I made it.  Don't miss the pictures.  Trackchasing has now allowed me to ride both an elephant and a camel (Morocco).  None of my fellow competitors have done that!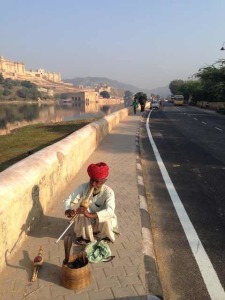 Of course along the way we encountered a "snake charmer".  No, I'm not talking about any present company.  This was a real snake charmer.  For a small fee he showed us his skills.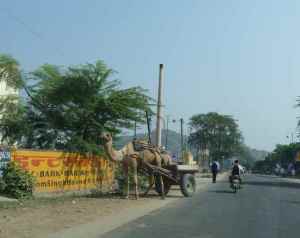 Elephants, camels and monkeys.
We did some touring of the palace (once you've seen one palace…..) but since I wasn't feeling good we cut our tour short.  Carol and I elected to walk down from the palace to the village below.  We would meet Raju there.  This was a 20-30 minute jaunt where we encountered elephants, camels and monkeys!   Animals of all varieties roam freely (no tethering of any kind) including cows, brahma bulls, monkeys, pigs, dogs and anything else that feels like it.
You won't get this feeling on a tour bus.
We had our first experience of walking along the road as traffic zipped past.  Although we had passed thousands of pedestrians so far with Raju driving being the actual pedestrian was a scary feeling.  We walked several blocks through a small village without seeing anyone who looked like us.  You won't get THAT feeling on a group tour.
When we finally found Raju it was a relief.  Along the way we had come across a Citibank ATM.  This was the only American bank ATM we would see during the entire trip.  Since this is our bank we scarfed up 20,000 rupees, which should be enough to get us through the trip.
From Amber Palace to the "Elephant village" where the Amber Palace elephants reside and relax in a huge lake.  The Indian government has stepped in for the protection of elephants.  The number of rides allowed with each elephant is limited each day.  The elephant village has special "houses" built for the elephant's comfort.  The lake is meant to replicate their natural environment.
With me not feeling well we canceled the rest of the day's touring activity.  We then set off for our country hotel, the Samode Bagh, located about 60 kilometers from the Amber Palace.  In my condition this 35-mile ride seemed like 350 miles.  We arrived at the hotel by noon.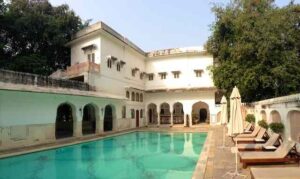 Nothing if not hipsters.
Samode Bagh is in the State of Rajasthan in North India. Another way of saying it is the hotel truly is in the middle of nowhere.  The "Independent" describes the place as being "The 50 best hip hotels around the world."  Carol and I are nothing if not hipsters.  The Samode Hotel group has eight hotels in its exclusive hotel group.  Again, we have Alison Jackson to thank for turning us on to these unique Indian accommodations.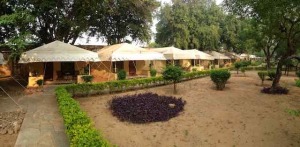 Our hotel room had a tent roof!
The Samode Bagh, built some 250 years ago, is a former hunting lodge used by the King of India.  It's located in what is now the Samode Palace Hotel, which of course was the king's palace.  The Samode Bagh, with its 44 rooms, was converted into a hotel in just 2001.  Each room is a separate cottage with a TENT roof.  Like many of the items I am describing I recommend you see the pictures.
I wasn't feeling up too much at this point.  Just after check-in we went to bed and didn't get up until the next morning.  I think getting 15 hours of rest was just what the doctor would have ordered.
Admin work in the midst of adversity.
I did wake up a time or two during this time to do some "admin" work.  I had to reorder from Amazon my purchase of a new (actually used) Panasonic Lumix FZ 35 camera.  My current model has been great – about 200,000 photos.  However, recently the flash failed and on this trip the LCD monitor went out.  I can still take pictures and videos but without those two options. A new camera would cost nearly $500.  However what was described as "nearly new" cost only $180 on Amazon.  I'm not one for buying used stuff of any kind but with my iPhone taking over a good deal of my photo and video usage nowadays I probably don't need to spend $500 on a new camera.  Editor's note: When I received my camera from Amazon that was absolutely no way to tell it wasn't brand new.  Opening up the product case was EXACTLY like opening up a brand new camera!
What can't technology do?
From time to time I will be on the road and remember I forgot to record a favorite and/or anticipated TV program.  I watch 95%+ of my TV viewing on a recorded basis.  Why do that?  I want to watch the program when I want to watch it not necessarily when it airs.  Additionally, I want to be able to watch 60 minutes of programming in 40-45 minutes without having to see commercials.  That's not too much to ask is it?
That being the case I used my iPhone Direct TV app to program my DVR (digital video recorder) to record the UCLA football game back home.  A few years ago who would have thought something like that could be done let alone be done from India.
I also sent photos from our trip via my iPhone app "Photostream" to family and friends as I have been doing daily.  Then I finalized hotel reservations for my upcoming international trackchasing visit before going back to sleep.  All of these electronic chores had been done from India using only my iPhone!
Saturday – Day 8 – Samode, India.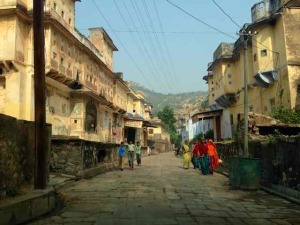 The most beautiful room in Rajasthan.
We had a loving buffet breakfast in the dining hall of the Samode Bagh.  This was a huge space again with a tented roof.  I was feeling a bit better today and ready to take on the touring world of India as we were getting closer to race day, which is now tomorrow.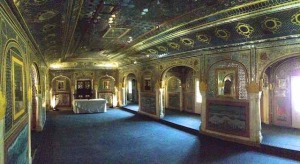 Our first stop was to take a look at the Samode Palace Hotel.  The Samode Palace was a sister hotel to the one we were staying in.  This palace had been converted into a hotel in 1987 and has 43 rooms.  Alison had recommended we come here to see the hotel's Durbar Hall.  She described it as the most beautiful room in all of Rajasthan.  The general manager of the Samode Palace arranged for a private tour of the hotel for us.  Yes, as far as I know, the Durbar Hall is the most beautiful room in Rajasthan.  Check out the pictures!
The long drives we took were tourist attractions in themselves.
Following this stop is was a 5-hour journey back to Delhi.  Some of the drives were long but also the most entertaining as we drove through small villages.  Here we got our best opportunity to see the local cultures and what people do on a daily basis.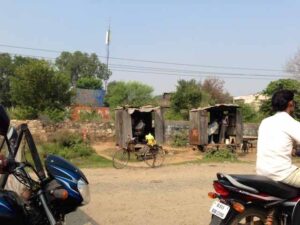 We saw dozens of these.
One of the most unusual items was seeing small wooden shacks about 6' by 6' in size.  These were barber shops!  Inside we could easily see men getting a shave from a barber wielding a straight razor.  I don't think, in this part of the world, I would want anything to do with a straight razor being wielded around my throat.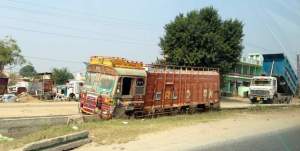 Good brakes, good eyes and good luck.
Raju continued to do a great job with driving under the most difficult traffic conditions I have ever seen (by a factor of several).  Raju says a good driver in India needs three things: Good brakes, good eyes and good luck!
 
The entire drive was like a huge video game where obstacles jump out in front of you at the very last minute.  Years ago we took an Asian cruise to countries like Indonesia, Malaysia, and Vietnam etc.  The best aspect of the travel was taking 50-mile rides at 20 M.P.H. from the cruise ship through the small towns to our final destination which was usually a big city like Saigon aka Ho Chi Men City, Jakarta or the like.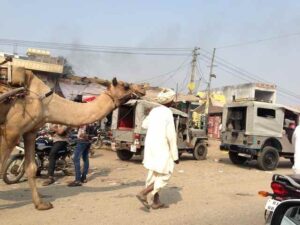 The same is true for India.  We rarely drove faster than 40 mph and often much slower.  This gave us plenty of time to see the "local life".  Days like this were the best.  To make it even better we did knew at the end of the day we would be staying in top class hotels.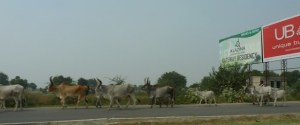 A private driver was worth millions.
Raju stopped whenever and wherever we asked.  That's the benefit of a private tour.  Each day we stopped at a local Indian highway restaurant for lunch.  Food was good but Indian food in the U.S. is probably better.
We will be back at the Sheraton Delhi tonight and tomorrow night our final evening in India.  We were at this hotel for night #1 as well.
When Raju dropped us off at the hotel this afternoon I gave him a large tip so he could take his wife to dinner tonight and relax.  He said he can sometimes go up to 60 days driving people all over India without getting home!  However, in June he takes the family to the mountains and the snow.
It was up to the Sheraton lounge for cocktails and hors d'oeuvres.  It's hard to believe we have such luxury with so much poverty right outside the window.  Carol was most uncomfortable with that fact.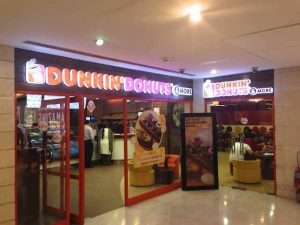 We took a few minutes to check out the "European" style mall as Raju described it next to the Sheraton.  We wanted to see another movie but times did not fit our schedule.  We needed to clear metal detectors to get in the mall and hotel.  That will be in the U.S. before you know it.  We had a Dunkin Donut in the mall and called it a night!
Sunday – Day 9 – New Delhi, India.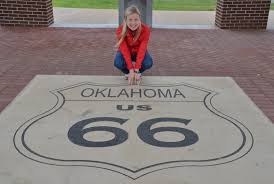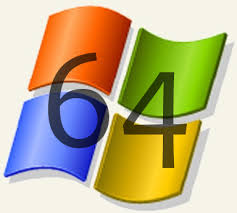 66 in 64.
For just the 66th time in my 64 years of life I've been able to wake up and say "I'm going trackchasing in this country for the very first time".  Granted I have not always made that statement when trackchasing in a country for the first time….but I could have.
100! Nobody's even close.
India will forever be known as a very special trackchasing country for Carol and me as a couple. India is my 66th trackchasing country.  India is Carol's 34th trackchasing country.  What does that add up too?  100!  Yep, Carol and I now have 100 combined trackchasing country visits. How does that compare to our fellow trackchasing couples?  No couple has seen as much as half that number.
This had been like having my teeth pulled.
I had ordered our tickets to this race a few months ago.  Getting the tickets online wasn't easy.  The official tourist agency selling the tickets wouldn't accept ANY of my credit cards on line when I tried to buy the tickets.  Then I followed up with that agency on the phone.  I spent a minimum of two hours on the phone, via a pay call, to India.  No luck!  They never could get my order straight.

Then Alison Jackson forwarded me the website of Gotickets.com.  She was thinking I could get my tickets through them and I did.  It came to my attention during the ordering process that I had used these people for our Singapore F1 tickets.
How much would the race tickets be?
Up to know the most I had ever paid for a race ticket was $200 U.S.  That was for the inaugural F1 event in South Korea.  I bought that ticket from a scalper with the ticket having a face value of more than $600 U.S.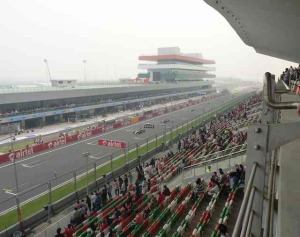 Like South Korea I was again looking to buy tickets in the main grandstand.  From there we could see the pit stops, all of the pre-race ceremonies and the standing start of the F1 race itself.  A lap around the Indian track would take about one minute and twenty seconds.  How much time would we see the cars (at least where we could identify them) racing in a single lap?  The answer: about eight seconds! I guess that's has big a reason as any on why I don't like F1 racing but I do like the "spectacle" of F1 racing.
A new record!
I paid about $220 U.S. for each of our tickets.  On top of that I purchased a parking pass for our driver for about ten bucks.  Earlier in the trip we picked up the tickets at just about the most rustic construction trailer I can every recall seeing.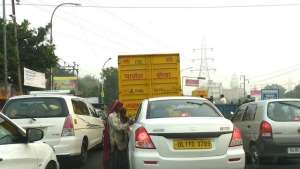 Race time was 1500 or 3 p.m. for you civilians.  There would also be a preliminary race at 12:30 p.m.  We left the hotel at 9:30 a.m. expecting to get to the track about 11 a.m.  Along the way Raju had to stop and pay a tax because we were moving from one Indian state to another.  We did that several times during the trip.  Raju told us that if the tax were not paid then the fine, if he were stopped, would be nearly ten times the cost of the tax and his insurance would be invalid.  Race traffic was heavy but it was probably just normal New Delhi Sunday traffic.
The third and final version.
This would be the third running of the World Formula 1 in India with the first race being in 2011. The local papers said that first race attracted 95,000 spectators and last year's race 65,000. We were surprised, although it was early, how few people were at the track today.
F1 will not be racing in India next year.  The original contract called for five years of F1 racing in India. However, some type of dispute will limit this to likely being the last year of F1 racing in India at least for the time being.  India is not on the 2014 F1 schedule.  I have now seen racing in all countries currently on the F1 schedule.  This includes F1 main event racing in Las Vegas, South Korea, Singapore and now India.
Some trackchasers just wimp out.
Admittedly, I am not a big fan of F1 racing.  However, when I go to an F1 venue on an F1 weekend you can bet I'm going to the main event.  Some of my fellow competitors will "wimp out" and go to see racing on a preliminary day.  They do this to save money.  By the way these same people will spend $200 in gas to see a 30 M.P.H. figure 8 race 400 miles from home but they won't spend the money to see a major league main event! Then they crow that they went trackchasing on "Monaco Grand Prix weekend" or whatever.  Oh my.  If you can afford to get to a foreign country F1 track on the weekend when the F1 group is in town you should be able to afford to see them race.  With some folks if you don't read between the lines you will miss the real story!  Some might recognize this as a Guy Smith tactic.  If you do then that's on you.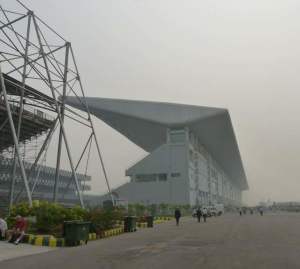 Not much of a spectacle.
I was expecting a "spectacle" from the Indian Grand Prix but they missed the boat badly, very badly on the spectacle part.  I'll try to list all of the areas where today's program fell short. Maybe because it's the last year of the event the promotion team had simply given up.
In South Korea and Singapore there was a LOT going on to support the event.  When I come to one of these big shows I want to look over the souvenirs and eat the local foods offered at F1 events.  Who knows when I will be back this way?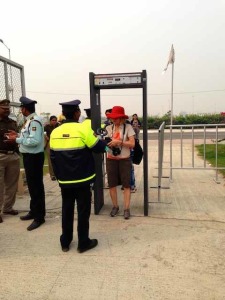 Oh my….this can't be true.
When we arrived we needed to clear metal detectors, which is not unusual. I have no problem with that.  It seems like a good idea in today's world.  However, I have never seen a policy forbidding food or drink from being brought into the grandstand.  That's right!  You could buy concessions at stalls behind the grandstand.  You just couldn't bring your track purchased food and drink into the grandstand! I've seen racing at about 1,900 locations.  I have NEVER heard of such a policy. It was fun watching fans argue with security guards when they first learned of this prohibition.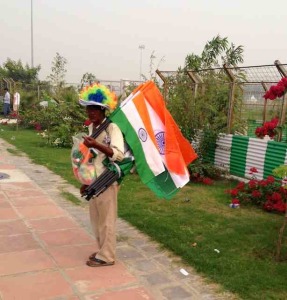 I had to have a racing souvenir from India.
The first stop would be for souvenirs.  They were selling an event program for about $15 U.S. However, I no longer collect programs as I don't have space to store them.  I wanted a shirt or a cap or a flag from India.  Surely, they would have something that would meet this need.  Only the guy pictured above was selling souvenirs and that was outside the race track gates.
Sadly, there was only one small souvenir area selling anything.  This included the Red Bull and Ferrari brands and a couple of other lessor brands.  None of their stuff was unique to India however.  The entire length of this souvenir area could not have been more than 30 yards long.  This was the ONLY souvenir area we saw at the entire track.  I ask the folks reading this who have been to an F1 event….have you ever heard of such a thing?  
There was not a single shirt, hat or flag with the Buddh International Circuit name on it.  Inside the track there was nothing that said a single thing about India being sold as a souvenir.  Nothing!  I couldn't believe it.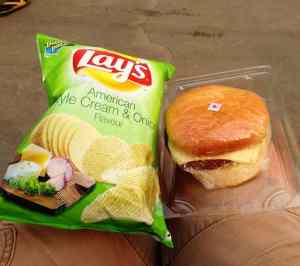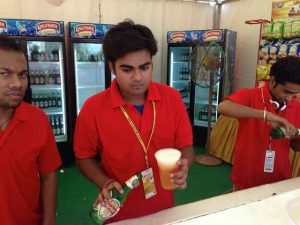 Where was the shrimp masala?
Having struck out with souvenirs we considered lunch.  There must be some savory food stalls featuring India delights right?  Nope.  There was one menu of food and drink items that was sold at EACH concession stand.  This included three chicken sandwich type items, some potato chip offerings (which I think went under the name "wafers") as well as a "vegetable puff" and brownie.  Beer, soft drinks and bottled water were on sale.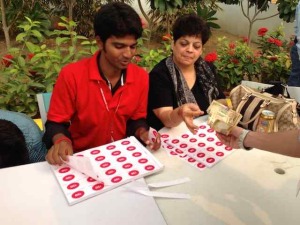 However, you couldn't just walk up to a concession stand, order your food and pay cash.  We needed to go to a special "cash sales" area.  There we exchanged cash for coupons.  If our food and drink order was expected to come to 750 rupees then we needed to buy that amount of coupons.  That didn't leave much room for impulse purchasing at the food counter did it.
Just in case a typhoon blew in before the main event.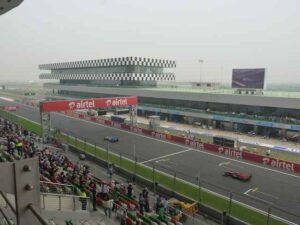 We decided to go into the main grandstand first to watch the one and only preliminary race.   This featured about 15 formula type cars (not dissimilar to Indy cars) racing for 10 laps or 25 minutes whichever came first.  This race "showcased" another feature which made today's event "unspectacular".
Not until the race was finished and the victory interviews took place was there ONE word spoken over the public address system.  Even the lowliest of short tracks in the U.S. has an announcer and P.A. system.  In India nothing!
At least once we had seen the green flag drop on this preliminary race India was "countable".  This was important.  When I went to the F1 race in Korea the main event was nearly rained out.  However, I had seen the preliminary race making the Korea track countable even if the F1 main event had been weathered out.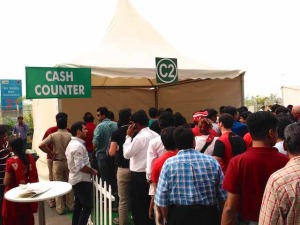 A line is not a line in this part of the world.
With a couple more hours until the F1 race it was time for lunch.  Now the lines to buy food coupons were long. Indians, as well as Europeans, are not the most respectful of the process of waiting in line.  Carol and I constantly raise our eyebrows at folks from these regions "sliding" into the middle of the queue.  I'd like to see these people try cutting in line in Middletown, New York.
With 800 rupees of food coupons in hand we then stood in another "push and shove" line to get our food.  However, as luck or poor planning would have it, the concession stand was out of several food items. Normally this would not have been a problem.  However, since we had purchased food coupons for specific items we now had a minor problem.
We ended up with two chicken burgers with cheese, two packages of Frito-Lay potato chips (wafers I think) and two bottles of Aquafina water.  At least PepsiCo Inc. was getting their cut today.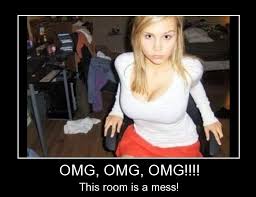 Amazing but true.
Next we came to another hassle that was nearly impossible to believe. None of our food and drink could be taken into the main grandstand! Have you ever heard of such a thing?  I have now been to 1,914 tracks.  I can't think of any of those places that had a complete ban on food and drink in the seating area. OMG.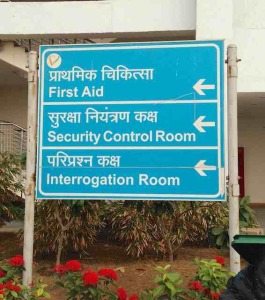 I was nearly at the end of my rope.
We tied to find a curb to sit on to "enjoy" our lunch.  We were shooed away from the first curb we selected by a rental cop.  By now my fuse was getting a bit short.  I yelled at him, "You guys have too many rules….way too many rules".  Alas, I don't think he spoke English.  That might have been a good thing.  There were several signs today pointing toward something called "Interrogation room".  OMG.
I studied their weaknesses.
We finished our pre-packaged very dry and stale chicken burgers while sitting on a dirty curb.  We ate one bag of chips.  The bottled waters were large.  We couldn't drink them all in one setting.  I kept an eye on the security guards turning race fans away who tried to enter the grandstands with food and/or drink.  What were the guard's weaknesses?
First I crammed the potato chip bag into my camera bag.  Then I noticed that the guards were beginning to let people into the stands with their bottled water.  That was a good sign.  I sent Carol ahead to test out the new "bottled water policy".  She made it through.  That meant I could remove the bottled water from inside my cargo shorts.  That was a relief!  Soon we were in the grandstands and heading toward our seats.
This event had come up short so far.  First, they had no souvenirs from the track or India at all.  Then they made it as inconvenient as humanly possible to buy anything to eat and drink.  On top of that they didn't have much that seemed worth eating and drinking.  We had just one thing left.  How would the racing be?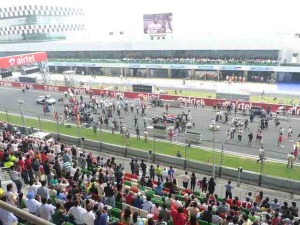 As Joe Friday told us each week on Dragnet…."Just the facts mister".
I have a lot of European friends and other folks from countries I have met during my travels. Many of them are huge F1 fans. I don't want to offend them.   I hope I don't with my analysis of today's racing.
We had perfect "A #1" seats.  We were about midway up in the center of the main grandstand. I don't think anyone at the Buddh International Circuit had a better seat location especially for the pomp and circumstance that comes from the gridding and starting of an F1 race.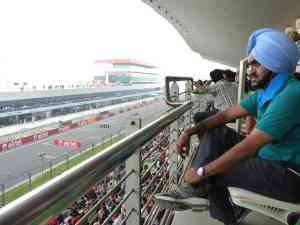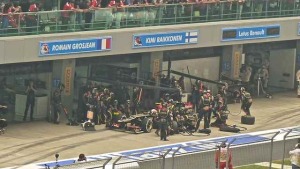 Sebastian Vettel from Germany, a three-time F1 champion, was starting on the pole for this event.  We couldn't have been but a few yards from where he would start the race.  We had a great view of where most of the cars would make their pit stop.  In F1 race they don't refuel the cars.  They just change tires.  A four-tire pit stop takes about four seconds!!!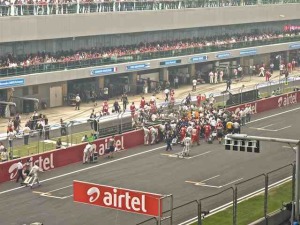 Where was the pre-race activity?
There was very little pre-race activity from the locals like there had been in my previous F1 visits.  However, it is quite amazing how much "stuff" the F1 pit crews bring onto the track as pre-race preparation.  Don't miss the pictures and video.  It is quite a sight when the horn blows and the 10-15 man crews and all of their equipment for 22 cars has to disappear from the track in a matter of about 60 seconds.
Sebastian Vettel is the "Babe Ruth" of F1 racing right now.  He's just 26 years old but has won the last three F1 championships.  Following today's race there are three more F1 events in the 2013 season.  Vettel was so far ahead in the championship standings that if he could win the championship today if he finished well.  Can you imagine a NASCAR champion locking up the championship with three races to go!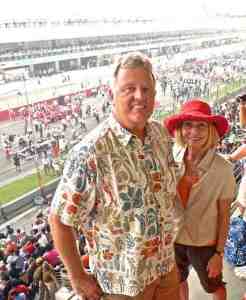 If only she could do that every day.
F1 racing is extremely loud.  Carol never wears ear defenders aka ear plugs.  However, today she had the good sense to listen to my advice.  If only she could do that every day!
Probably the most exciting element of any F1 race is the start.  All 22 cars start from a "standing start" just like they did at the Peoria Speedway when I first started watching racing at about five years of age.
Precisely at 3 p.m. they were off.  They would be racing for 60 laps. Each lap took about 80 seconds so the race would last about 80 minutes.  One nice positive about F1 racing is they don't have much in the way of full course yellow flags.  Yellow flags can kill American short track racing. Today they didn't have any full course yellows.
You do the math.
In the 60 laps of scheduled racing we would see about eight seconds of racing per lap.  We could see cars moving along the backstretch and in one sweeping turn.  However, at those points, the cars were so far away it would have been impossible to identify them.  That meant we would see the cars during the ENTIRE race for about 480 seconds or eight minutes.  At $220 U.S. per ticket you can do the math.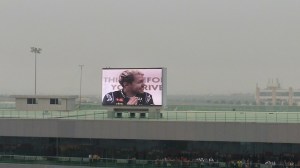 Sebastian Vettel led the first couple of laps before pitting to get rid of his soft tires. This put him in about 16th place.  Good.  That would make things more interesting.
Hear no race; see no race.
Before I go any further did I tell you that most of the time we had no real idea what was happening in the race?  They did have a video board but the writing was so small we had to squint to see what position each driver was in.  There was some audio feed from the TV commentating but the sound was too low for us to hear any of that.
It wasn't long before Sebastian Vettel had resumed being the leader of the race.  He would go onto to win the event by more than 29 seconds over the second place driver.  Can you imagine anyone in today's NASCAR world winning a race by 29 seconds?  Can you imagine anyone winning a race at your local short track by that margin?  Nope.  Even in your wildest dreams you couldn't imagine that!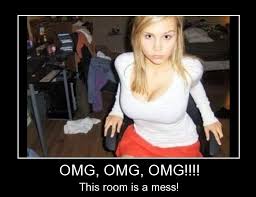 One of the cooler things was when Vettel drove down the front stretch after winning and did a tire smoking donut spin.  The crowd went wild.  Then Sebastian got out of his car and bowed in front of his race car.  I read the next day in the papers that he and his Red Bull team were fined 25,000 euros for this celebration!  OMG.
I don't think this is much of an idea.
This event left a whole lot to be desired.  However, Carol and I had seen a race in India.  Did you know that no other trackchaser has ever seen a race in this country?  I'm discounting professional race drivers who have raced here.  Some trackchasers think that adding in people (pro drivers) who have never ever heard of the hobby of trackchasing in group totals is a good idea.  I don't.

Following the race it was easy to find Raju our driver.  He had spent the day with some of his fellow drivers just hanging out while we enjoyed our day at the races.  Getting out of the track and its traffic wasn't too bad.  However, when we got back into Delhi we faced Sunday night traffic there. It was chaotic to say the least.
Event organizers, according to the local paper, estimated today's crowd at 60,000.  The main grandstand was nearly full as well as a grassy hillside area near turn one.  However I saw two main grandstands that looked as if they could have seated 50,000 with nary a single soul in them.  I doubt very much they had 60,000 fans here today.
Finally we could eat and drink.
When we got back to the Sheraton Delhi we headed straight to the Sheraton lounge.  There we enjoyed our wines (Carol always red, me almost always white) and fried prawns.  When we got back to the room the hotel had special chocolate treats waiting for us.  Trackchasing on the road isn't all bad is it?
What's one of the best things about trackchasing?
Please don't get me wrong in my analysis of today's event. I wouldn't give up this one-time experience for anything.  Mind you I would be flying 40 hours round-trip to get here.  I would be spending thousands of dollars to tour the country for ten days.  Would I ever come back to this venue for this event?  Not on your life!  That's what so great about trackchasing.  If you don't like what you saw then you never have to come back.  That doesn't mean we won't come back to India some day.
Monday – Day 10 – New Delhi, India to Guangzhou, China to Los Angeles, California.

Sit back and be quiet…for 27 hours.
Considering how chaotic the first part of our trip went (Indian visa problems) getting home went as smooth as I could have expected.  Today would be a very long day.  We started at 7:30 a.m. New Delhi time on Monday.  We would not reach the driveway in San Clemente until about 10 a.m. New Delhi time on Tuesday!  That's nearly 27 hours of traveling.
The private Sheraton lounge provided breakfast.  What a special situation I have with so many of my travel partners.  Having "advantages" which sometimes take years to establish can make all the difference during these trips.
I am a "gold" member of the Sheraton "Starwood Preferred Guest" program.  Not only does that provide special prices for accommodations but other benefits accrue as well.  We always get free Wi-Fi when we travel with Sheraton internationally.  At $10-15 per day that can add up over a week's travel or a year's worth of stays.
For our trip to New Delhi we were granted complimentary access to the Sheraton lounge 24/7. In the morning they served a beautiful breakfast buffet from the top floor of the hotel with 180-degree views of Delhi.  Special tea service was available from 2-4 p.m. each day.  However, we were always touring during these hours.  Then in the evening, from 6-8 p.m., we were treated to drinks and hors oeuvres.  Each night we stayed at a Sheraton we stopped for wine and finger food, which sometimes meant dinner.  Today we had breakfast.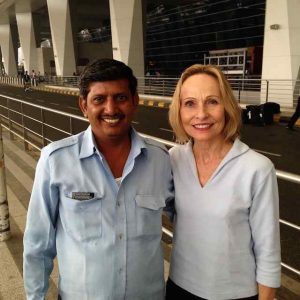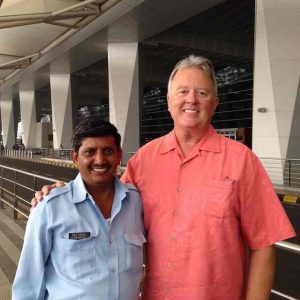 We didn't want to say good-bye.
Then at 8:30 a.m.  Raju picked us up for the last time. I've had drivers in the past.  This is always a sad time when good-byes must be said.  Raju had done his job perfectly.  He wasn't the best English speaker.  That was fine.  When you travel more than 800 miles with someone you don't want to be talking non-stop.
Driving in India is over the top, well over the top.  There is NO WAY I could have driven in India. As a point of fact, I don't know anyone who could have driven in India!  I challenge ANYONE to do the trip we did and drive themselves.  Raju navigated the impossible at seemingly every turn for a full week covering more than 1,200 kilometers.  When we wanted to stop somewhere he stopped.  When we were hungry he took us to just the right place. Raju was a perfect driver for us.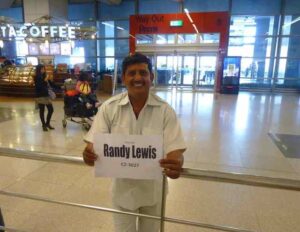 Raju rocked!
When we reached the airport it was time for me to pay Raju.   For all of this time there was no advance payment or any payment at all until the trip was complete.  The fee for having a driver was possibly the best bargain of the trip.
Alison Jackson, my U.K. travel contact, had quoted a charge of 28,000 Rupees (about $475 U.S.) for our eight days with Raju.  Let me tell you what that included.  First, Raju was on call 24/7 to take us anywhere we wanted to go.  The fee included all petrol (800 miles of driving at about $5 U.S. per gallon), all tolls (we probably spent $50-75 U.S. in the many toll stops), and all taxes – every time we changed Indian states we paid a tax.  These taxes probably amounted to another $30-50 U.S. or maybe more.  When we weren't overnight in Delhi Raju stayed at local guest houses.  He told us he paid anywhere from 250-400 rupees ($4-6 U.S.) per night.  This was included in our fee as well.
Rental cars in foreign countries are often more expensive that what would be charged in the U.S.  It's not unusual to pay $40-60 per day or more for a foreign rental car.  Insurances, if paid, can also be very expensive.
All of the above expenses likely add up to the entire fee Raju was paid and more.  However, the real "added value" from Raju was his driving and guiding skills.  He could answer all of our questions along the way.  As mentioned if we wanted to stop we stopped.  If we did or didn't want to do something on the trip's "programme" then we did or didn't do that activity.  You won't get that option with a group tour.  Often Raju interpreted the Hindi language when we needed it most.
I paid Raju his fee in a combination of Indian rupees and U.S. dollars.  Then I gave him a large tip.  He was happy with the money but his main question was "Were you happy with Raju?"  We were indeed.
Just 20 hours of flying and we're home.
New Delhi's international terminal is brand new and luxurious.  We easily found the China Southern Airline counter. We would be flying in coach class from New Delhi to Guangzhou, China (China Southern airline hub) and then onto Los Angeles. The first flight would be about five hours long and the final leg about 15 hours.
Bags checked on China Southern were free which is often the case with international travel.  When I asked for emergency exit row seating and they could not have been more accommodating.  We were given seats in bulkhead rows.  This provided 3-6 feet of legroom where other passengers had 3-6 INCHES of legroom. Folks, I 've found that if you can put together a string of small advantages in life they start to add up rather quickly.
And off we went.
Just before we left the check-in counter, the airline rep put a small round sticker with the airline logo on each of our sleeves.  I told Carol her sticker said in Chinese "I'm a big moron and if you find me wandering the halls of the airport take me to the nearest departure gate".  Then she told me that my sticker said the same thing but focused on my being the "biggest moron" in the airport.  And off we senior citizens went for the last leg of our ten-day journey!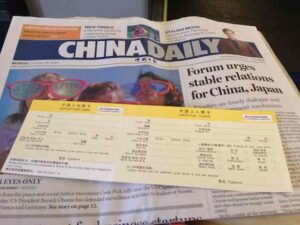 We spent the last remnants of our Indian rupees on some souvenirs for the family which is what we always do.  Then it was time to leave for China.  We had just an hour layover in Guangzhou before leaving for Los Angeles.
When we landed in the beautiful new Tom Bradley International terminal we grabbed our bags, then our car and headed straight for…..In n Out Burgers!  Yep!  India doesn't do beef.  In N Out Burgers does!
If you've read this far you know we've had a grand trip.  Trackchasing country #66 is in the rearview mirror.  Can country #67 be far off?  No it cannot.  
Thanks for reading about my trackchasing, 
Randy Lewis
World's #1 Trackchaser
Life should NOT be a journey to your grave with the intention of arriving with a well-chiseled and honed body but rather to crash in, riding your golf cart up the 18th fairway with a glass of single malt in one hand and a brownie in the other.  You should be totally worn out and used up with a tattoo on your chest proclaiming, "What a ride".
P.S. I suspect that most of you will never visit India.  If you don't then I hope the above diatribe makes it feel as if you have visited India.  If you do decide to go then you had best call me.  I will put you in touch with Alison Jackson.  She will make your visit to India the very best.  Maybe you will be lucky enough to have Raju as your driver.
P.P.S. Special thanks to son J.J. who helped save this trip from the "Jaws of defeat" at literally the 11th hour.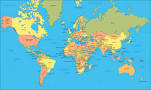 Trackchasing truly has taken me all over the world!



THE COUNTRY LIST


#66!!
RLR – Randy Lewis Racing Lifetime Trackchasing Countries
# 1 – UNITED STATES OF AMERICA – Peoria Speedway – Mt. Hawley, (oval) – Track #1, Peoria, Illinois – circa 1954 (age 5)
# 2 – CANADA – Cayuga Speedway (oval) – Track #174, Nelles Corner, Ontario, Canada – July 31, 1988 (Dick Trickle winner)
# 3 – AUSTRALIA – Parramatta City Raceway (oval) – Track #180, Granville, New South Wales, Australia – November 17, 1989 (accompanied by Carol)
# 4 – UNITED KINGDOM – Northhampton International Raceway (oval) – Track #378, Northhampton – June 26, 1999 (accompanied by Carol, Kristy, Jim)
# 5 – NETHERLANDS – Driesum Racetrack (oval) – Track #839, Driesum – May 5, 2005 (accompanied by Roland Vanden Eynde)
# 6 – BELGIUM – Bellekouter oval (oval) – Track #841, Affligem – May 8, 2005 (accompanied by Roland Vanden Eynde)
# 7 – FRANCE – Circuit de Croix en Ternois (road course) – Track #843, Saint-Pol sur-Ternoise – May 8, 2005 (accompanied by Roland Vanden Eynde – 2nd new country in one day!)
# 8 – GERMANY – Nurburgring (road course) – Track #844, Nurburg – May 13, 2005 (accompanied by Carol, Roland Vanden Eynde)
# 9 – NEW ZEALAND – Western Springs Speedway (oval) – Track #1,134, Western Springs – December 26, 2006 (accompanied by Carol)
# 10 – MEXICO – Triovalo Bernardo Obregon (oval) – Track #1,281, Tiajamulco de Zuniga, Jalisco – October 14, 2007 (accompanied by Carol, J.J., Roger Ward)
# 11 – BARBADOS – Bushy Park Racing Circuit (road course) – Track #1,296, Bushy Park – December 9, 2007
# 12 – THAILAND – Bira Circuit (road course) – Track #1,300, Pattaya – January 19, 2008
# 13 – SOUTH AFRICA – Durban Grand Prix (road course) – Track #1,315, Durban, KwaZulu-Natal – February 24, 2008 (accompanied by J.J. and Will Van Horne)
# 14 – JAMAICA – Dover Raceway (road course) – Track #1,322, Brown's Town St. Ann – March 24, 2008
# 15 – SWEDEN – Sturup Raceway (road course) – Track #1,335, Malmo – May 10, 2008 (accompanied by Carol)
# 16 – DENMARK – Ring Djursland (road course) – Track #1,336, Tirstrup – May 11, 2008 (accompanied by Carol)
# 17 – CZECH REPUBLIC – Automotodrome BRNO (road course) – Track #1,381, Brno – September 13, 2008
# 18 – AUSTRIA – Lambrechten Stock Car Track (road course) – Track #1,382, Lambrechten – September 14, 2008
# 19 – IRELAND – Tipperary International Raceway (oval) – Track #1,388, Rosegreen – October 26, 2008 (Carol and I visited this track earlier in the year)
# 20 – GUYANA – South Dakota Circuit (road course) – Track #1,390, Timehri – November 2, 2008 (accompanied by Carol)
# 21 – CHINA – The Guia Circuit (road course) – Track #1,392, Macau – November 16, 2008 (accompanied by Carol)
# 22 – COSTA RICA – Autodromo La Guacima (road course) – Track #1,398, La Guacima – November 30, 2008
# 23 – ANDORRA – Grandvalira Circuit (road course) – Track #1,404, Port d'Envalira, Andorra – January 17, 2009
# 24 – ARGENTINA – Circuito Efren Chemolli (oval) – Track #1,406, Buenos Aires, Argentina – January 31, 2009 (shared with Jerry Fisher)
# 25 – QATAR – Losail International Circuit (road course) – Track #1,408, Doha, Qatar – February 13, 2009
# 26 – BAHRAIN – Bahrain International Circuit (road course) – Track #1,410, Sakhir, Bahrain – February 27, 2009 (accompanied by Carol)
# 27 – UNITED ARAB EMIRATES – Dubai Autodrome (road course) – Track #1,411, Dubai, United Arab Emirates – February 28, 2009 (accompanied by Carol)
# 28 – COLOMBIA – Autodromo de Tocancipa (road course) – Track #1,415, Tocancipa, Colombia – March 22, 2009
# 29 – SPAIN – Motorland Aragon (road course) – Track #1,416, Alcaniz, Spain – March 28, 2009
# 30 – PORTUGAL – Circuto de Murca (road course) – Track #1,417, Murca, Portugal – March 29, 2009
# 31 – ICELAND – Kapelluhraum (road course) – Track #1,420, Hafnafjorour, Iceland – April 25, 2009 (shared with Will White)
# 32 – HUNGARY – Hungaroring (road course) – Track #1,426, Mogyorod, Hungary – May 8, 2009 (accompanied by Carol)
# 33 – SWITZERLAND – Hock Ybrig (road course) – Track #1,427, Hoch Ybrig, Switzerland – May 9, 2009 (accompanied by Carol)
# 34 – ITALY – Vighizzolo d'Este Stock Car Track (road course) – Track #1,428, Vighizzolo d'Este, Italy – May 10, 2009 (accompanied by Carol)
# 35 – DOMINICAN REPUBLIC – Autodromo Mobil 1 (road course) – Track #1,515, Santo Domingo, Dominican Republic – December 6, 2009 (accompanied by Carol)
# 36 – MALTA – Ta'Qali Race Track (road course) – Track #1,521, Ta'Qali, Malta – February 7, 2010 (accompanied by Carol)
# 37 – FINLAND – Lake Pidisjarvi Ice Track (road course) – Track #1,524, Nivala, Finland – February 20, 2010
# 38 – JAPAN – Suzuka Circuit (road course) – Track #1,530, Suzuka, Japan – March 21, 2010
# 39 – CHILE – Autodromo de Interlomas (road course) – Track #1,531, Temuco, Chile – April 18, 2010
# 40 – MOROCCO – Circuit de Marrakesh (road course) – Track #1,535, Marrakesh, Morocco – May 1, 2010 (accompanied by Carol)
# 41 – BRAZIL – Circuit de Caruaru – Aryten Senna (road course) – Track #1,540, Caruaru, Brazil – May 16, 2010 (accompanied by Carol, Jerry Fisher and Katina Spencer)
# 42 – ESTONIA – Laitse Rally Park (road course) – Track #1,571, Laitse, Estonia – July 24, 2010 (accompanied by Carol)
# 43 – LATVIA – Bikernieki (road course) – Track #1,572, Riga, Latvia – July 25, 2010 (accompanied by Carol
# 44 – GUATEMALA – Autodromo Pedro Cofino (road course) – Track #1,580, Alotenango, Guatemala – August 15, 2010
# 45 – EL SALVADOR – El Jabali (road course) – Track #1,582, Quezaltepeque, El Salvador – August 22, 2010 (accompanied by Carol)
# 46 – ROMANIA – Bradu (road course) – Track #1,603, Bradu, Romania, El Salvador – October 16, 2010
# 47 – BULGARIA – Closed Route – Burgas (road course) – Track #1,604, Burgas, Bulgaria – October 17, 2010 (accompanied by Lyubomir and Plamen Simeonov)
# 48 – SOUTH KOREA – Korea International Circuit (road course) – Track #1,605, Yeongam, Jeollanam-Do, South Korea – October 24, 2010
# 49 – PHILIPPINES – Batangas Racing Circuit (road course) – Track #1,608, Batangas, Philippines – November 21, 2010
# 50 – NORWAY – Lyngas Motorbane (road course) – Track #1,648, Lier, Norway – April 30, 2011
# 51 – MALAYSIA – Sepang International Circuit (road course) – Track #1,656, Sepang, Malaysia – May 28, 2011
# 52 – INDONESIA – Sentul International Circuit (road course) – Track #1,657, Babakan Madang, Boder, Indonesia – May 29, 2011
# 53 – LUXEMBOURG – Alzingen (road course) – Track #1,711, Alzingen, Luxembourg – September 4, 2011 (accompanied by Carol)
# 54 – POLAND – Tor Slomczyn (road course) – Track #1,713, Slomczyn, Poland – September 11, 2011 (accompanied by Carol)
# 55 – SINGAPORE – Marina Bay (road course) – Track #1,714, Singapore, Singapore – September 24, 2011 (accompanied by Carol)
# 56 – URUGUAY – Piriapolis Grand Prix (road course) – Track #1,724, Piriapolis, Uruguay – November 12, 2011
# 57 – SRI LANKA – Pannala Race Track (road course) – Track #1,732, Pannala, Sri Lanka – February 12, 2012
# 58 – ECUADOR – Autodromo Internacional de Yahuarcocha (road course) – Track #1,736, Ibarra, Ecuador – March 11, 2012
# 59 – SLOVAKIA – Slovakia Ring (road course) – Track #1,742, Orechova Puton, Slovakia – April 29, 2012
# 60 – MONACO – Circuit de Monaco (street course) – Track #1,746, Monte Carlo, Monaco – May 13, 2012 (accompanied by Carol)
# 61 – CROATIA – Automotodrom Grobnik (road course) – Track #1,762, Rijeka, Croatia – June 23, 2012
# 62 – PERU – Autodromo La Chutana (road course) – Track #1,802, Lima, Peru – October 21, 2012 (accompanied by Carol)
# 63 – GREECE – Serres Circuit (road course) – Track #1,807, Serres, Greece – November 4, 2012
# 64 – RUSSIA – Moscow Central Hippodrome (oval) – Track #1,824, Moscow, Russia – February 23, 2013 (accompanied by Carol)
# 65 – LITHUANIA – Marijampole Autokross Track (road course) – Track #1,842, Marijampole, Lithuania – May 12, 2013 (accompanied by Carol)
# 66 – INDIA – Buddh International Circuit (road course) – Track #1,915, Noida, India – October 27, 2013 (accompanied by Carol)
The International Big 3.
During the last 6 years, I have added 58 trackchasing countries to my list.  That's an average of nearly ten new trackchasing countries for each of the last six years.
Randy Lewis, San Clemente, California USA – 66
Roland Vanden Eynde, Vilvoorde, Belgium – 52
Carol Lewis, San Clemente, California USA – 34
2013 wraps up as another great year of international trackchasing.
India is my third new country to visit for trackchasing this year.
2013 Country List
Russia
Lithuania
India
LIKE TO KNOW MORE ABOUT INDIA – TRACKCHASING COUNTRY #66?
As a service to my readers I always provide a top line background of each country I visit.  If you'd like to learn a little more about India the country check out the "background" information I prepared for you.  It appears at the bottom of this report.  I have condensed this section so you can get a good "feel" for this most unique Asian continent location.  Most of the material comes from Wikipedia.
India – FAST FACTS*
India, officially the Republic of India is a country in South Asia. It is the seventh-largest country by area, the second-most populous country with over 1.2 billion people, and the most populous democracy in the world. Bounded by the Indian Ocean on the south, the Arabian Sea on the south-west, and the Bay of Bengal on the south-east, it shares land borders with Pakistan to the west; China, Nepal, and Bhutan to the north-east; and Burma and Bangladesh to the east. In the Indian Ocean, India is in the vicinity of Sri Lanka and the Maldives; in addition, India's Andaman and Nicobar Islands share a maritime border with Thailand and Indonesia.
GEOGRAPHY.
India's coastline measures 7,517 kilometres (4,700 mi) in length; of this distance, 5,423 kilometres (3,400 mi) belong to peninsular India and 2,094 kilometres (1,300 mi) to the Andaman, Nicobar, and Lakshadweep island chains. According to the Indian naval hydrographic charts, the mainland coastline consists of the following: 43% sandy beaches; 11% rocky shores, including cliffs; and 46% mudflats or marshy shores.[120]
Major Himalayan-origin rivers that substantially flow through India include the Ganges and the Brahmaputra, both of which drain into the Bay of Bengal.
CLIMATE
The Indian climate is strongly influenced by the Himalayas and the Thar Desert, both of which drive the economically and culturally pivotal summer and winter monsoons. The Himalayas prevent cold Central Asian katabatic winds from blowing in, keeping the bulk of the Indian subcontinent warmer than most locations at similar latitudes. The Thar Desert plays a crucial role in attracting the moisture-laden south-west summer monsoon winds that, between June and October, provide the majority of India's rainfall.
POLITICS
India is the world's most populous democracy. A parliamentary republic with a multi-party system, it has six recognized national parties, including the Indian National Congress and the Bharatiya Janata Party (BJP), and more than 40 regional parties. The Congress is considered centre-left or "liberal" in Indian political culture, and the BJP centre-right or "conservative". For most of the period between 1950—when India first became a republic—and the late 1980s, the Congress held a majority in the parliament. Since then, however, it has increasingly shared the political stage with the BJP, as well as with powerful regional parties which have often forced the creation of multi-party coalitions at the centre.
In the Republic of India's first three general elections, in 1951, 1957, and 1962, the Jawaharlal Nehru-led Congress won easy victories. On Nehru's death in 1964, Lal Bahadur Shastri briefly became prime minister; he was succeeded, after his own unexpected death in 1966, by Indira Gandhi, who went on to lead the Congress to election victories in 1967 and 1971. Following public discontent with the state of emergency she declared in 1975, the Congress was voted out of power in 1977; the then-new Janata Party, which had opposed the emergency, was voted in. Its government lasted just over three years. Voted back into power in 1980, the Congress saw a change in leadership in 1984, when Indira Gandhi was assassinated; she was succeeded by her son Rajiv Gandhi, who won an easy victory in the general elections later that year. The Congress was voted out again in 1989 when a National Front coalition, led by the newly formed Janata Dal in alliance with the Left Front, won the elections; that government too proved relatively short-lived: it lasted just under two years. Elections were held again in 1991; no party won an absolute majority. But the Congress, as the largest single party, was able to form a minority government led by P. V. Narasimha Rao.
A two-year period of political turmoil followed the general election of 1996. Several short-lived alliances shared power at the centre. The BJP formed a government briefly in 1996; it was followed by two comparatively long-lasting United Front coalitions, which depended on external support. In 1998, the BJP was able to form a successful coalition, the National Democratic Alliance (NDA). Led by Atal Bihari Vajpayee, the NDA became the first non-Congress, coalition government to complete a five-year term. In the 2004 Indian general elections, again no party won an absolute majority, but the Congress emerged as the largest single party, forming another successful coalition: the United Progressive Alliance (UPA). It had the support of left-leaning parties and MPs who opposed the BJP. The UPA returned to power in the 2009 general election with increased numbers, and it no longer required external support from India's communist parties. That year, Manmohan Singh became the first prime minister since Jawaharlal Nehru in 1957 and 1962 to be re-elected to a consecutive five-year term.
GOVERNMENT
India is a federation with a parliamentary system governed under the Constitution of India, which serves as the country's supreme legal document. It is a constitutional republic and representative democracy, in which "majority rule is tempered by minority rights protected by law". Federalism in India defines the power distribution between the federal government and the states. The government abides by constitutional checks and balances. The Constitution of India, which came into effect on 26 January 1950, states in its preamble that India is a sovereign, socialist, secular, democratic republic. India's form of government, traditionally described as "quasi-federal" with a strong centre and weak states, has grown increasingly federal since the late 1990s as a result of political, economic, and social changes.
The President of India is the head of state and is elected indirectly by a national electoral college for a five-year term. The Prime Minister of India is the head of government and exercises most executive power. Appointed by the president, the prime minister is by convention supported by the party or political alliance holding the majority of seats in the lower house of parliament. The executive branch of the Indian government consists of the president, the vice-president, and the Council of Ministers—the cabinet being its executive committee—headed by the prime minister.
FOREIGN RELATIONS AND MILITARY
Since its independence in 1947, India has maintained cordial relations with most nations. In the 1950s, it strongly supported decolonization in Africa and Asia and played a lead role in the Non-Aligned Movement. In the late 1980s, the Indian military twice intervened abroad at the invitation of neighbouring countries: a peace-keeping operation in Sri Lanka between 1987 and 1990; and an armed intervention to prevent a coup d'état attempt in Maldives. India has tense relations with neighbouring Pakistan; the two nations have gone to war four times: in 1947, 1965, 1971, and 1999. Three of these wars were fought over the disputed territory of Kashmir, while the fourth, the 1971 war, followed from India's support for the independence of Bangladesh. After waging the 1962 Sino-Indian War and the 1965 war with Pakistan, India pursued close military and economic ties with the Soviet Union; by the late 1960s, the Soviet Union was its largest arms supplier.
The nation has provided 100,000 military and police personnel to serve in 35 UN peacekeeping operations across four continents. It participates in the East Asia Summit, the G8+5, and other multilateral forums. India has close economic ties with South America, Asia, and Africa; it pursues a "Look East" policy that seeks to strengthen partnerships with the ASEAN nations, Japan, and South Korea that revolve around many issues, but especially those involving economic investment and regional security.
China's nuclear test of 1964, as well as its repeated threats to intervene in support of Pakistan in the 1965 war, convinced India to develop nuclear weapons. India conducted its first nuclear weapons test in 1974 and carried out further underground testing in 1998. Despite criticism and military sanctions, India has signed neither the Comprehensive Nuclear-Test-Ban Treaty nor the Nuclear Non-Proliferation Treaty, considering both to be flawed and discriminatory. India maintains a "no first use" nuclear policy and is developing a nuclear triad capability as a part of its "minimum credible deterrence" doctrine. It is developing a ballistic missile defence shield and, in collaboration with Russia, a fifth-generation fighter jet.
Since the end of the Cold War, India has increased its economic, strategic, and military cooperation with the United States and the European Union. In 2008, a civilian nuclear agreement was signed between India and the United States. Although India possessed nuclear weapons at the time and was not party to the Nuclear Non-Proliferation Treaty, it received waivers from the International Atomic Energy Agency and the Nuclear Suppliers Group, ending earlier restrictions on India's nuclear technology and commerce.
The President of India is the supreme commander of the nation's armed forces; with 1.6 million active troops, they compose the world's third-largest military. It comprises the Indian Army, the Indian Navy, and the Indian Air Force; auxiliary organisations include the Strategic Forces Command and three paramilitary groups: the Assam Rifles, the Special Frontier Force, and the Indian Coast Guard. The official Indian defence budget for 2011 was US$36.03 billion, or 1.83% of GDP.
ECONOMY
According to the World Bank, as of 2011, the Indian economy is nominally worth US$1.848 trillion; it is the tenth-largest economy by market exchange rates, and is, at US$4.457 trillion, the third-largest by purchasing power parity, or PPP. With its average annual GDP growth rate of 5.8% over the past two decades, and reaching 6.1% during 2011–12, India is one of the world's fastest-growing economies.
However, the country ranks 140th in the world in nominal GDP per capita and 129th in GDP per capita at PPP. Until 1991, all Indian governments followed protectionist policies that were influenced by socialist economics. Widespread state intervention and regulation largely walled the economy off from the outside world. An acute balance of payments crisis in 1991 forced the nation to liberalise its economy; since then it has slowly moved towards a free-market system by emphasizing both foreign trade and direct investment inflows. India's recent economic model is largely capitalist. India has been a member of WTO since 1 January 1995.
The 486.6-million worker Indian labour force is the world's second-largest, as of 2011. The service sector makes up 55.6% of GDP, the industrial sector 26.3% and the agricultural sector 18.1%. Major agricultural products include rice, wheat, oilseed, cotton, jute, tea, sugarcane, and potatoes. Major industries include textiles, telecommunications, chemicals, pharmaceuticals, biotechnology, food processing, steel, transport equipment, cement, mining, petroleum, machinery, and software. In 2006, the share of external trade in India's GDP stood at 24%, up from 6% in 1985. In 2008, India's share of world trade was 1.68%; In 2011, India was the world's tenth-largest importer and the nineteenth-largest exporter. Major exports include petroleum products, textile goods, jewellery, software, engineering goods, chemicals, and leather manufactures. Major imports include crude oil, machinery, gems, fertilizer, and chemicals.
Despite impressive economic growth during recent decades, India continues to face socio-economic challenges. India contains the largest concentration of people living below the World Bank's international poverty line of US$1.25 per day, the proportion having decreased from 60% in 1981 to 42% in 2005. 48% of India's children under the age of five are underweight, half the children under five suffer from chronic malnutrition.
DEMOGRAPHICS
With 1,210,193,422 residents reported in the 2011 provisional census, India is the world's second-most populous country. Its population grew at 1.76% per annum during 2001–2011, down from 2.13% per annum in the previous decade (1991–2001). The human sex ratio, according to the 2011 census, is 940 females per 1,000 males. The median age was 24.9 in the 2001 census. According to the World Health Organisation, 900,000 Indians die each year from drinking contaminated water or breathing polluted air. There are around 50 physicians per 100,000 Indians. According to the 2001 census, there are 27 million-plus cities in India; among them Delhi, Mumbai, Kolkata, Chennai, Bangalore, Hyderabad and Ahmedabad are the most populous metropolitan areas. The literacy rate in 2011 was 74.04%: 65.46% among females and 82.14% among males.
RELIGION
India is home to two major language families: Indo-Aryan (spoken by about 74% of the population) and Dravidian (24%). India has no national language. Hindi, with the largest number of speakers, is the official language of the government. English is used extensively in business and administration and has the status of a "subsidiary official language"; it is important in education, especially as a medium of higher education.
The 2001 census reported that Hinduism, with over 800 million adherents (80.5% of the population), was the largest religion in India; it is followed by Islam (13.4%), Christianity (2.3%), Sikhism (1.9%), Buddhism (0.8%), Jainism (0.4%), Judaism, Zoroastrianism, and the Bahá'í Faith. India has the world's largest Hindu, Sikh, Jain, Zoroastrian, and Bahá'í populations, and has the third-largest Muslim population and the largest Muslim population for a non-Muslim majority country.
SPORT
In India, several traditional indigenous sports remain fairly popular, among them kabaddi, kho kho, pehlwani and gilli-danda. Some of the earliest forms of Asian martial arts, such as kalarippayattu, musti yuddha, silambam, and marma adi, originated in India. Chess, commonly held to have originated in India as chaturaṅga, is regaining widespread popularity with the rise in the number of Indian grandmasters. Pachisi, from which Parcheesi derives, was played on a giant marble court by Akbar. The improved results garnered by the Indian Davis Cup team and other Indian tennis players in the early 2010s have made tennis increasingly popular in the country. India has a comparatively strong presence in shooting sports, and has won several medals at the Olympics, the World Shooting Championships, and the Commonwealth Games.
Field hockey in India is administered by Hockey India. The Indian national hockey team won the 1975 Hockey World Cup and have, as of 2012, taken eight gold, one silver, and two bronze Olympic medals, making it the sport's most successful team in the Olympics. India has also played a major role in popularizing Cricket. Thus, cricket is, by far, the most popular sport of India. The Indian national cricket team won the 1983 and 2011 Cricket World Cup events, the 2007 ICC World Twenty20, shared the 2002 ICC Champions Trophy with Sri Lanka, and won 2013 ICC Champions Trophy. Major international sporting events held annually in India include the Chennai Open, the Mumbai Marathon, the Delhi Half Marathon, and the Indian Masters. The first Indian Grand Prix featured in late 2011.
TRAVEL DETAILS
AIRPLANE
Los Angeles, CA (LAX) – Guangzhou, China (CAN) – 7,218 miles
Guangzhou, China (CAN) – New Delhi, India (DEL) – 2,270 miles
PRIVATE DRIVER
We were shuttled all over India's "Golden Triangle" by our private driver, Raju.  Driving in India to the places we went is really not possible for a westernized "civilian" driver.  Focus on the words "not possible".  We traveled mainly from Delhi to Agra to Jaipur.  Although the traffic was beyond belief we saw some of our best sights while navigating our way through the minefield of people, animals and vehicular traffic.
Car – 818 miles
AIRPLANE
New Delhi, India (DEL) – Guangzhou, China (CAN) – 2,270 miles
Guangzhou, China (CAN) – Los Angeles, CA (LAX) – 7,218 miles
Total air miles – 18,976 (4 flights)
Total private car miles – 818 (1 car)
Total miles traveled on this trip – 19,794 miles 
That's all folks! Official end of the RLR – Randy Lewis Racing Trackchaser Report