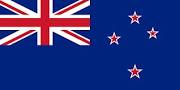 .
Greetings from Hawkes Bay, New Zealand
From the travels and adventures of the "World's #1 Trackchaser"
.
Meeannee Speedway – Lifetime Track #1,140
HighlightsThe Event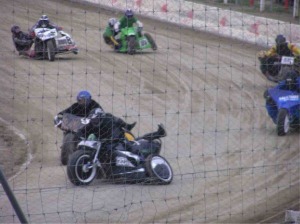 I guess the highlight of tonight's racing was seeing motorcycle side car racing.  I don't think I've ever seen that before.  Those guys are CRAZY!  I also had a nice interview with the track commentator.  It's always fun to get the chance to tell the folks in a foreign (to me anyway) country about my hobby of trackchasing.  Take a look through the pictures below to see what another fun night of trackchasing in New Zealand looked like.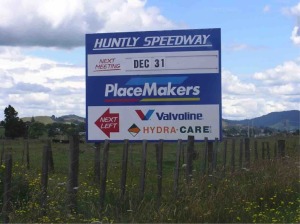 Our New Year's Day drive from the Meremere Raceway to the Meeanee Speedway took us past last night's venue the Huntly Speedway.  Although it rained last night at Huntly, today was a much better day.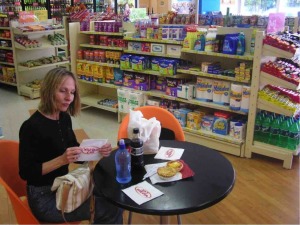 We filled up for gas on more days than we didn't.  We used the BP stations for our petrol.  We soon found the "Wild Bean Cafes" located inside the BP stores to be a great place for a sitdown snack.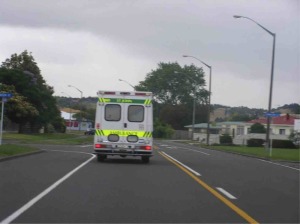 I had a hard time finding the Meeanee Speedway.  I stopped at an ambulance company for directions.  Just at that moment, they got a call to go to the Meeanee Speedway.  We followed them!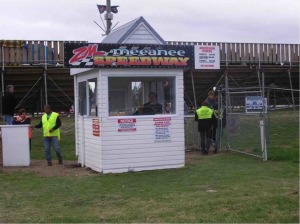 This is the entrance to the Meeanee Speedway.  I felt a bit uncomfortable with all of the yellow vested security personnel.  Note all of the warning signs.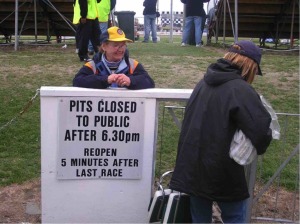 We ran into only a couple of tracks that had restrictions on coming and going to the pit area.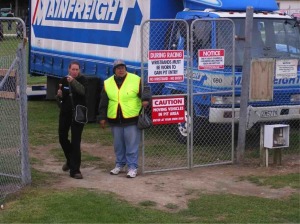 This track must have had some liability problems in the past.  Their security and warning signs were overwhelming.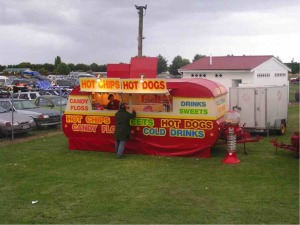 We loved New Zealand racing.  We were a little disappointed in the lack of track food options.  Most tracks were limited to chips and hot dogs.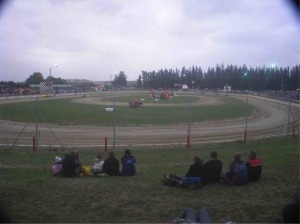 The Meeanee Speedway is a nearly flat quarter mile (or so) dirt oval.  Note the inner oval, it has only recently been added.  They only race solos (motorcycles) on it.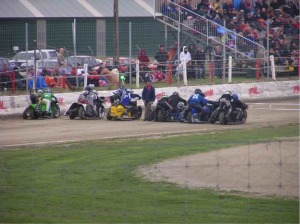 We only got to see the sidecars race once during our trip.  They were a lot of fun.  I don't know which would be more dangerous and/or fun……driving or riding.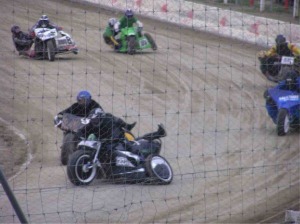 Yep!  These guys look like they've just escaped from the loonie bin!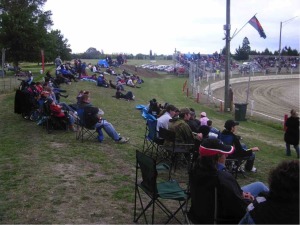 Turns three and four (for most of the races anyway) offered hillside seating.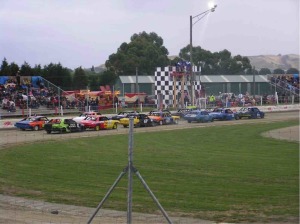 This is the street stock division.  They drive right side steer cars.  They alternate driving in one direction for one race and the other direction in their next race.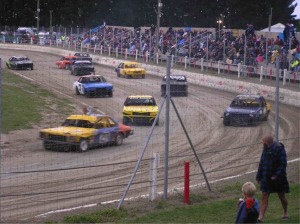 The Meeanee Speedway ran an efficient program in front of a large crowd on a night when the weather threatened.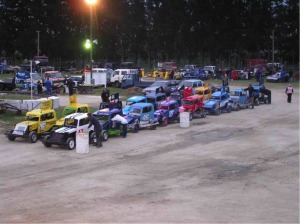 One thing that we saw at every NZ track we visited was the next race completely lined up and ready to go from the pit area.  Most U.S. tracks could learn a lesson from this practice.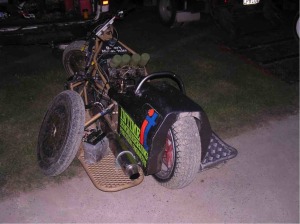 While roaming the pit area, after an on-air interview with two very funny commentators, I came across this side car machine.  Yes, these guys are crazy.
GREETINGS FROM HUNTLY, NEW ZEALAND (THAT'S WHERE THE DAY STARTED)
This is the THIRD report in a multi-part series that will detail our 17-day trackchasing and touring adventure to New Zealand and French Polynesia.  The format of this Trackchaser Report will differ from those you have been reading all season. 
Our activities will be listed chronologically by day and divided into "Trackchasing" and "Tourist" categories.  You will get a glimpse into how another family approaches and takes a long and exotic trip like this.  I hope you enjoy reading about our adventures, until you and your family head out on your next tour of the world.
Warning:  If you do not want to experience the feeling of "being there" I recommend that you not read the descriptions of what went on or view the pictures of what was seen.  I would not want any future visits to these faraway parts to be ruined by the realism you are about ready to experience in words and pictures.
Part III
Monday, January 1, 2007
TOURIST ACTIVITY
It was New Year's Day and there was no time for tourist activity.  We had to visit two racetracks in a day/night trackchasing doubleheader.  We would each be getting a new track in 2007, because of New Zealand's time zone, before any of our domestic trackchasing brothers and sisters even had time to drink a Champaign toast to the New Year.  Yes, that is exactly how it should be.
LIFETIME TRACKCHASER STANDINGS UPDATE:
These worldwide trackchasers are within 100 tracks (plus or minus) of my current trackchaser total.
Randy Lewis, San Clemente, California – 1,140
Guy Smith, Effort, Pennsylvania – 1,077 (-63)*
Rick Schneider – Bay Shore, New York – 1,064 (-76)*
Gordon Killian, Sinking Spring, Pennsylvania – 1,044 (-96)*
Ed Esser, Madison, Wisconsin – 965 (-175)**
* Warning, you are within 50 tracks of being removed from this list. 
** Special exemption.
Other notables
These worldwide trackchasers are within 10 tracks (plus or minus) of Carol's current trackchaser total.
Chris Economaki, Ridgewood, New Jersey – 302 (+6)
Gary Jacob, Turlock, California – 301 (+5)
Ron Rodda, Lincoln, California – 297 (+1)
Carol Lewis, San Clemente, California – 296
Johnny Gibson, Grand Island, Nebraska – 290 (-6)
2007 TRACKCHASER STANDINGS
Carol Lewis, San Clemente, California – 2
Randy Lewis, San Clemente, California – 2
Tracks have been reported through January 1 from two different worldwide trackchasers this season.
Thanks for reading about my trackchasing,
Randy Lewis
#1 Trackchaser Living West of the Mississippi
That's all the news that's fit to print from San Clemente where the women are strong, the men are good-looking, and all of the children are above average.
CUMULATIVE TRAVEL DISTANCES:
AIRPLANE
Los Angeles, CA – Sydney, Australia – 7,490 miles
Sydney, Australia – Auckland, New Zealand – 1,340 miles
RENTAL CAR – AUCKLAND, NEW ZEALAND
Auckland International Airport – trip begins
Driving all over New Zealand

TRACK ADMSSION PRICES:
Western Springs Speedway – $20NZ
Blue Chip Speedway at Baypark – Free
Upper Hutt Family Speedway – $20NZ
Stratford Speedway – $15NZ
Huntly Speedway – Free
Meremere Raceway – Free
Meeanee Speedway – $15NZ
UPCOMING TRACKCHASING PLANS
G'day, mate.  Yep!  The first day of the 2007 trackchasing season is in the books.  We started off with a trackchasing double.  We're in first place…..now can we hold on for just 364 more days?