ITALY
.
.
From the travels and adventures of the "World's #1 Trackchaser"
.
.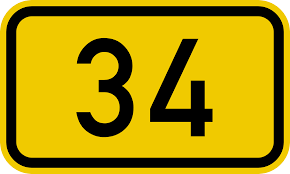 Trackchasing Country #34
HighlightsItaly - 2009Italy 2014 - MugelloItaly 2014 - GonarsThe ListBackgroundVideosPhotos

Carol and I first went to Italy to trackchase back in 2009.  We returned for more Italian racing in 2014.  I'll tell you all about how each of these trips happened in this post.  All you need to do is click on the appropriate link to take you where you want to go.  All set?  Let's do this.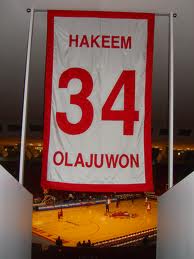 LIKE TO KNOW MORE ABOUT ITALY – TRACKCHASING COUNTRY #34?
As a service to my readers I always provide a top line background of each country I visit.  If you'd like to learn a little more about Italy the country check out the "background" information I prepared for you.  It appears right behind the "background" tab of this post.  I have condensed this section so you can get a good "feel" for this most unique Eastern European location.  Most of the material comes from Wikipedia.   My most recent trip to Italy was in 2014.        
Reprinted with permission from my May 10, 2009 Trackchaser Report  
Greeting from Vighizzolo d'Este, Italy.  
We wrapped up our Swiss racing late on Saturday.  From there we drove to Italy for our last trackchasing day of the trip on Sunday.  Monday found us flying back from Milan, Italy to Barcelona, Spain.  Tuesday, our eighth day of the trip would take us home from Barcelona to San Diego, California.  This is what transpired during days 6-8 on this international trackchasing trip.
TODAY'S HEADLINES
Don't miss the people section today.
The Italians welcomed us with open arms………………..more in "The People".    
Carol makes much better lasagna than the Italians do…………..details in "The Trip".    
The highlight of the day were the great Italian racing people we met. …………..details in "Race Review".            
THE OBJECTIVE, THE TRIP AND THE PEOPLE…AND A WHOLE LOT MORE
The Objective
Why do I go trackchasing?
Just as a reminder, I go trackchasing for the adventure of the trip. I do not go trackchasing with the anticipation that I will see great racing. Most of the time the racing is a "ho-hum" affair. However, I'm O.K. with that. I have no control over the quality of racing I will see. In order to avoid disappointment in this area, I have adopted the attitude that whatever type of racing I end up seeing, it will be O.K.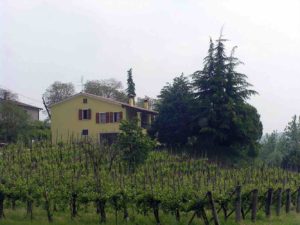 For me the idea of traveling all over the world or even all over the United States for that matter is fun. You just never know what you're going to see when you round the next bend in the road.  One time it's an Italian winery and the next an African safari. The trackchasing hobby is a perfect excuse for "getting me on the road".    
Take this trip as an example. We were in Europe for a week. We dipped our toe, or more, in eight different countries. We spent three afternoons watching racing. By my American oval standards, the racing wasn't great, but it was certainly worth spending an afternoon to see "how they do it somewhere else".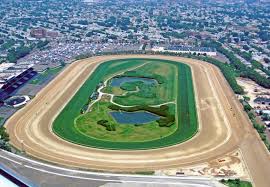 I have now trackchased in 34 different countries. From a pure racing point of view, the best racing I have seen was in the countries of Australia, Canada, the United Kingdom and New Zealand. What do those countries have in common? They all race primarily on ovals. Ovals are what I grew up with in the United States.    
However, I wouldn't give up the experiences I've had in all of the other countries I have visited for anything. Each one had its special uniqueness that made my visit a wonderful happening. Today's racing in Italy was probably the best of the trip. They had hard and close racing on a dirt road course that was very similar to an American oval.              
The Trip
SUNDAY, MAY 10, 2009      
We were in perfect position for our next trackchasing country.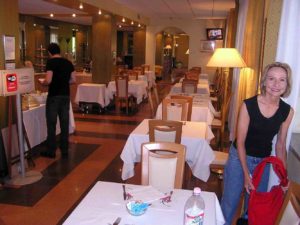 Following our race in Switzerland on Saturday afternoon, we were able to spend the night in Italy. That positioned us perfectly for today's Sunday afternoon race in Italy. This would be my 34th different trackchasing country and Carol's seventeenth. Yes, I guess you could say we are world travelers.    
I was still feeling majorly under the weather. It's very difficult to buy cold medicine over the counter in Italy and other European countries. We stopped at a grocery store hoping to buy some Tylenol. Grocery stores don't sell it. We would have to find a pharmacy. Nevertheless, we did make good use of our time at the food store in Italy. We bought several forms of pasta! I doubt it's much different from pasta we could buy in U.S. grocery stores, but at least our loved ones back home will know we were thinking about them with our pasta souvenirs.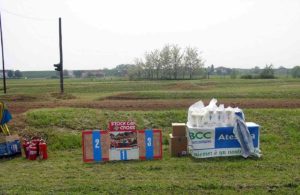 We arrived early at the track.   I guess I'm always at the track early because I subscribe to the theory that "if you're not early, you're late". The race was not scheduled to begin until 4 p.m. We pulled into the track's parking lot at 1 p.m. Although everything looked race ready, there was no one else at the property. The race trophies were all neatly laid out in anticipation of this afternoon's racing. We took the opportunity to have a relaxing Italian lunch.  I'm a big fan of Italian food, although what we got today wasn't as good as I get back home.    
We were in a quaint little section of northern Italy where it seemed every house had its own vineyard. Sometimes there were only 20-30 plants and at other locations, the vineyards went on for as far as the eye could see. The entire scene reminded me of Northern California's Napa Valley.    
As you know, I use Tonto, my loyal and dedicated GPS unit to get me from point A to point B in both North America and Europe. However, Tonto is much more useful than just letting me drive all over the world without ever having to look at a map.  When I need a restaurant recommendation, I ask Tonto for one. He can give me the names and locations, along with phone numbers of restaurants based upon more than ten ethnic food types. There's no quality rating attached to his list, but we can pick out an eatery based upon a restaurant name that sounds intriguing.    
Traveling in foreign countries is not at all like driving down a major street in a large U.S. town. There are no Applebee's or TGI Friday's or Denny's screaming "eat here". In Europe especially, everything is much more understated. It's easy to drive through a smaller town and not see ANY restaurants. They just aren't signed as brightly or identified well as they would be in the U.S. That's where Tonto comes in. He gives us a number of choices and then we pick the one that sounds the best. From there Tonto tells us how to get there!      
It's impossible to make a solid conclusion when you don't have the data.  I used to work at Procter & Gamble. At P&G, everything was data based. You might say to someone that "it's a nice day out". Their likely response might be "where's the data to support that assertion". I love using data to support my points of view. I don't like to hear people spout off some outlandish remark and then have them feel offended when I ask them what data, if any, they have to support their crazy statements.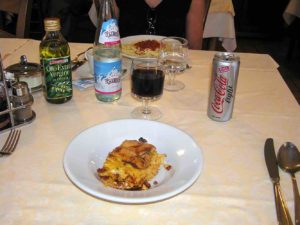 Therefore, when I tell you about our dining experience in Italy this afternoon, I don't want to project a single experience as is it were fully data-based.  Carol makes Italian food better than a well attended Italian restaurant close to today's track.     We ended up at an Italian restaurant that was packed with diners this afternoon. The restaurant wasn't huge. It probably sat around 50-60 people. We had to wait a few minutes before being seated. There was some minor difficulties in language. They didn't speak much English and we spoke less Italian.    
When we dine in a nicer sit-down restaurant, we typically order an appetizer (starter), salad, entrée and maybe dessert. Today we ordered an appetizer, salad and entrée. We were surprised to see we were served our Entrée (lasagna for me) first. We thought they had forgotten the appetizer and salad. Carol makes much better lasagna than I got today. When I was finished with my entrée, I was most surprised to see my appetizer and salad showing up!    
This may be how they do it in Italy, but this isn't the way I like to eat. We spent a good deal of time in very nice restaurants all over the U.S. and lately the world. I can't see the value in being served my entrée first. I wouldn't want (O.K., sometimes I would) to have my dessert first followed by my entrée. I can certainly adapt to any rotation the restaurant uses, but that doesn't mean I have to like it.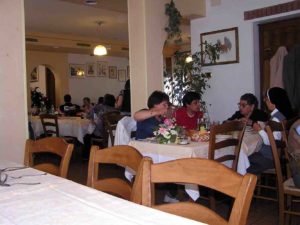 Restaurant food in Europe is very expensive. We rarely spend more than $15-20 per person at even nice sit-down restaurants in the U.S. In Europe, prices can easily double that amount. I often wonder how people who live and work in Europe can afford these prices. They would have to make wages more than twice what folks in the U.S. do.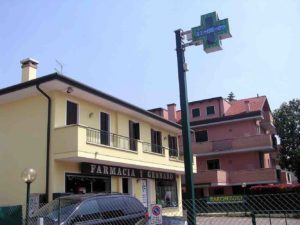 It was time to visit a Pharmacia.  I'm not much of a self-mediator. I usually figure that whatever I have will go away pretty soon and go away on its own. That theory had not worked with my weeklong flu. We had drive nearly 2,000 miles and would end up flying more than 13,000 miles. With such limited availability of over the counter colds medicines, there just had been no time to stop and get more medication.    
I will tell you this. We in American are the most fortunate people in the world. Our standard of living outpaces everywhere I have visited by a large margin. If we want to buy something, we can literally drive down the street, pretty much 24/7, and find multiple places selling what we need to eat, drink and get healthy with…..and at reasonable prices. We're just lucky people.     We finally found a local pharmacy. We were able to buy some Tylenol like aspirin….at prices more than double what it might cost at home. Nevertheless, we were glad to get it.      
We had attempted the nearly impossible and were about ready to wrap up the trip.  Never in the history of trackchasing had Americans attempted what we achieved this week in Europe. Our plan was to see three different European countries spread over both Central and Eastern Europe. We would need to drive almost 2,000 miles to make it happen. We would spend time in eight different countries. Each country spoke a different language and many had different currencies. Nevertheless, we were successful in our trackchasing quest. Maybe our success will encourage more Americans to come here on their own and create their own trip. I hope so.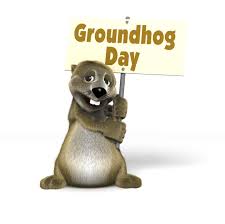 There had been very little time for Trackchasing Tourist Attractions.  Carol's thinks of trackchasing as "Groundhog Day". She says we get up, eat, drive, eat, see some racing, eat, drive and then sleep. The next day we repeat the process. She's right!         Following today's racing in Italy; I noticed we were near Venice, Italy. I have always wanted to have a boatman transporting my loved one and me along the water canals of romantic Venice. We secured a hotel just a few miles outside of this famous city. However, the next morning I was too weak to make the trip. I never miss an opportunity like that. That might tell you have poorly I was feeling.          
MONDAY, MAY 11, 2009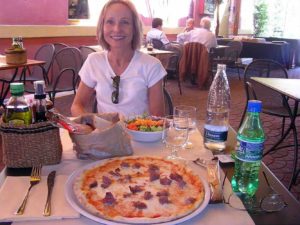 We had one more shot an Italian eating.  I noticed a quaint little pizza place somewhat near our hotel. This would be our last meal in Italy. We gave it a shot. We had already had one outstanding pizza in Italy and a mediocre experience at a more formal Italian restaurant. This afternoon's pizza experience was only O.K. I've had some great pizza in the states, so I think of myself as a "pizza expert". To be fair, there wasn't much food that tasted great in my unhealthy condition. For the entire week, we could only identify three meals that we would label "above average".      
It was time to fly back to Barcelona from Milan, Italy.  It was now time to fly back to Barcelona, Spain. This was where our European trip had begun. It was also where it would end. As luck would have it, our 7:15 p.m. flight was delayed until about 9:30 p.m. I'm just glad they didn't cancel our flight as that would have prevented us from making our Barcelona-New York-San Diego flight scheduled for Tuesday morning.    
When we did land in Barcelona we had a reservation at the Hesperia Towers 5-star hotel. This was the same place we had stayed at on the first night of our arrival. However, since we landed at past 10 p.m., the hotel's shuttle was no longer operating. Virtually any big hotel near a major airport in the U.S. would likely have an airport shuttle running 24 hours a day. This is just another example of the consumer conveniences we take for granted at home. With no shuttle we had to take a taxi. That ended up being 20 Euros, for a less than five-mile ride. The best part about this ordeal was that the hotel upgraded Carol and I to a suite! However, we didn't get in the room until nearly midnight and were out by 7:30 a.m. the next morning.        
TUESDAY, MAY 12, 2009      
It was a somewhat uneventful ride back home.  This had been a tough week for me heath wise. However, from a trackchasing point of view this week had been extremely productive. During the past 19 months I have trackchased in 25 different countries.    
I don't know what the future holds for seeing more countries right away. It's difficult to fly to Europe, with sponsorship support, during the summer. I'll keep my ear to the ground. You never know what opportunities will pop up.    
I have some major U.S. trackchasing plans over the next several weeks. I am way behind in getting my Trackchaser Reports out. By the time, you read this; I will have gone to several U.S. tracks. I'll tell you about them in good time.  
The People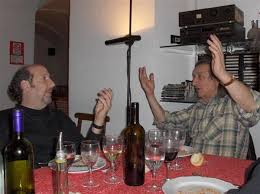 Sometimes I have to speak the local language, even when I don't know how to do that.  I had done 100% of my pre-race communication with the people at this Italy track in Italian! I don't speak Italian on a normal basis, but my computer translation program does! These folks had given me the basic details of when and where they would be racing. I did send a final note in English. They didn't respond. I interpreted that as their saying they preferred to communicate in Italian.      
It was great to have a "partner in crime".  As you know from reading my European Trackchaser Reports from this trip, I had a serious case of the flu all week. Each day I expected to get better. I didn't. When it was all said and done, I was sick from the moment we landed until the time we left. When I got home, I was sick for several more days and am just now "coming out of it".     However, this was a great trip to have Carol along for the ride. She increased her trackchasing country total from fourteen to seventeen. She is always a valuable companion to have on the road. On this trip, her support was especially important. She is a good, conservative driver. I am a good, less than conservative driver. Sometimes, I get a little frustrated by her conservative driving skills. However, on this trip I was too sick to notice. We drove nearly 2,000 miles in just five days. Carol drove most of those miles and did a magnificent job. Could I have done it this week without her? Maybe, but it would have taxed every resource I had. I'm glad she was with me on this trip!      
I was hoping to keep a low profile today.  Often, when I visit a new track I am treated as a celebrity of sorts. This can include interviews with the local media and over the P.A. system of the track. I get to meet the track's owners and V.I.P.s. It's not dissimilar to working in the business world and interacting with important customers. I always want to make a good impression.    
I had already met V.I.P.s and done trackchasing interview work at the first two countries we visited on this trip in Hungary and Switzerland. I had made no special arrangements to meet anyone at the track in Italy. That was a good thing. I was feeling ill. I was very much looking forward to simply watching the race and heading home. There would be no interaction with the track or the fans for me today.      
However, not every one of my plans works out the way I hope it will.  Today, all of the track's announcing was in Italian. That wasn't very surprising. Carol and I had picked out a spot along the fence beyond turns one and two. We would watch the race from there.     However, during the first race or two, I began to hear a few words in Italian that I recognized. Normally, with most foreign languages I don't recognize ANY of the words being spoken.    
The announcer was saying something about an "Americano" and the "numero uno persona". After I heard it a few times, I suspected he might be referring to me. Just a few moments later someone tapped me on the shoulder. It was the fellow who ran the mobile concession stand at the track. Earlier in the day, Carol and I had stopped there for a bottle of water. Of course, the man knew we were Americans when we placed our order. It turns out he had visited the U.S.A. for a summer as a youngster and spoke English.  My concession stand friend explained what was going on. The announcer was asking, in Italian, for me to come over to the pit area so he could interview me about my trackchasing hobby. My new friend asked me to follow him to the announcer. Carol and I did as requested.      
My hopes for traveling incognito were trashed.  Here I was, barely able to walk or speak and ill from a serious case of the flu. I was being introduced to one of the most gregarious announcers I had ever met. They say in the theatrical world, the "show must go on". I did my best to buck up, put a smile on my face, and act as if everything were normal.  The announcer, the interpreter and I all stood out in the middle of the track. The announcer asked the questions in Italian. The concession stand manager explained in English what was being asked. I answered the questions in English. Then the interpreter explained to the announcer in Italian what I had said. Finally, the announcer told the crowd in Italian what the "Americano" and "numero uno persona" person was up too. Everyone seemed to have a good time with it.      
My "public appearance" did not end with this interview.  When our interview did finish up, the announcer insisted that Carol and I watch the races from the infield. This was a small track, maybe 0.6 miles in length. There wasn't much space in the infield. Other than 3-4 corner workers who waved caution flags when needed there was no one else in the infield. I tried to beg off this invitation, but the announcer would hear nothing of it. He was explaining in rapid Italian that the best seat in the house (even though we would have to stand) was in the infield.      
Carol had a close encounter of the wrong kind.  Racing can be dangerous for spectators. It can be especially dangerous when the spectator gets too close of the cars without a safety barrier in place for protection.  Today's track was a flat dirt road course. The track was "dug down" about three feet below ground level. This created a dirt "berm" about three feet high as a barrier. This barrier was designed to prevent the cars from going outside the track or inside into the track's infield.    
Our announcer friend insisted we stand on one of these dirt berms at the apex of one of the racing corners. For the most part the car's momentum was taking them to the opposite side of the track, away from us, when they passed our viewing location.     However, in racing, accidents can happen. The worst ones I've seen are those that a reasonable person never would have expected to happen. That is what occurred this afternoon.  One driver began to spin out, overcorrected, and his car caught traction at the very last minute. This sent him heading directly toward the dirt berm that was designed to keep cars from getting into the track's infield (where we were standing!). At full speed the car hit the berm, flew into the air and landed out of the track in the infield. I would have expected the driver to get off the gas, and just park it at this point until the race was over.    
Nope! That didn't happen. Without ever taking his foot off the throttle, this wild driver flew through the air, landed in the infield and made an immediate right hand turn back over the berm and onto the track again. I am sure the crowd loved this daring move.  However, when he re-entered the track at full speed he missed Carol by maybe 10-15 feet. I have pictures of his track re-entry skid marks in the infield grass and where Carol was standing during this brief but dangerous encounter. After the race, we tried to exit the infield. The announcer and several others laughed and gestured at what had nearly happened. I've seen this stuff a million times. I don't think Carol fully realized how close to a dangerous situation she had just escaped.    
At this point, we watched a few races from the perimeter of track. This was where the rest of the fans viewed the event. There were no grandstands. At short track European events there is rarely any formal seating. The fans all knew who Carol and I were by now. As we walked along the fence looking for a place to watch the races, I could feel every pair of eyes following our every move. Yep! They were fascinated and wanted to keep an eye on these crazy "Americanos" who had chosen to spend their day at this rural little Italian racing track.    
The announcer wanted to make amends with Carol.  After every 5-6 races, the track took an intermission to work on the track. During the first intermission, he invited one of the track's corner workers to take Carol for a few "fast laps" in the racecar that had been sitting in the infield. Of course, I always encourage such a thing. So few people ever get such an experience.         So……Carol and her chauffer buckled themselves in the car, with a standard seat belt and shoulder harness (no helmets!) and off they went. There is nobody in trackchasing that gets as many up close and personal racing experiences as Trackchasing's First Mother and I do.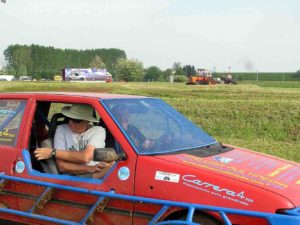 After about ten racing laps, it appeared to be my turn. Recall, I should have been in bed under a pile of covers waiting for the flu to go away. I wasn't! I was soon climbing into the passenger's seat and flying around the dirt road course at full song. I don't think a single spectator took their eyes off the car and me during the ten laps we sailed around the track.      
The announcer just kept coming up with more ideas for us.  I was lucky I never had any feelings of nausea during my bout with the flu. I wouldn't have wanted to "mess up" the hot laps car! When we finished our fast laps display the announcer wanted to do some more interviewing.  The entire day had us watching about four classes of racecars race 20-25 races. When the program was finished, all of the drivers brought their cars onto the track. It was trophy time.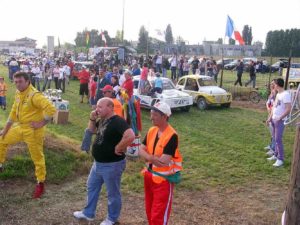 The announcer had me present a few trophies to the winners. While I was doing this Carol made a trip to visit the track's ambulance. She was in search of medicine for my illness. She just never stops trying to help.  When I had given out the last trophy, the crowd began to dissipate. Carol and I headed for the porta potty for one last stop before we headed back toward Milan for the night. As I was standing in line, a small boy came up and tapped me lightly on the arm. I'm sure he didn't speak any English. He simply looked up at me and stuck his hand out. In his small hand was a business card with the track's 2009 season schedule on it. I smiled and thanked him. Soon Carol and I were on our way. Our encounter with the Italian people at today's track had been beyond our expectations.            
RACE REVIEW    
VIGHIZZOLO d'ESTE STOCK CAR TRACK, VIGHIZZOLO d'ESTE, ITALY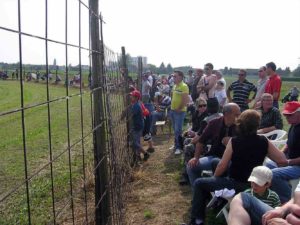 The highlight of our days at the races was…..The people! We entered the track hoping to blend into the crowd without being noticed by anyone. By the end of the day, we had done on the track interviews, ridden for several hot laps around the track and handed out trophies to the winners. It was a pleasant way to meet these Italian racing people.       The racing was the most like what I see at local dirt tracks in the U.S.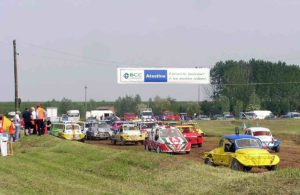 There were about 25 racecars on hand today. The track was a oval with a severe "dent" in the backstretch, making the configuration a road course for trackchasing purposes.   The track does have lights, so I suspect some races are run after dark. I was surprised to see the group starting as late as they did today (4 p.m.) on a Sunday. I had to confirm that a couple of times (in Italian) just to make sure we would get to the track on time.  Each race had only 4-6 cars. The races were short, about five laps. However, these drivers raced each other hard. The competition was close and the announcer described it vividly and continuously in Italian.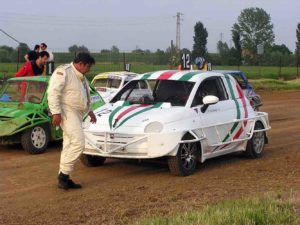 A portable concession stand was available for food and drink. After every few races they took time to water and smooth out the track. There were about 250 people at the races today. They were a well-behaved and attentive crowd. When I was taking my "fast laps" during one of the intermissions every time I passed by the second turn a fan kept yelling, "Americano, Americano"!     The top car in the field today, according to my English translator, was a Fiat 500. Apparently, this was a brand new car with an engine that was far superior to the rest of the competition. The driver was a big hulking Buddy Baker type, but he was not a crowd favorite. He was disqualified from one race for rough driving. He took his time disputing the call to no avail. Later in the program, this driver was a victim of rough driving. The crowd loved it. The track officials appeared to be less than sympathetic to this driver's cause much to his dismay.    
The racing was very good today. Please take a look at my photos of the racing action. It will bring these words to life.    
RENTAL CAR UPDATE    
Milan, Italy – Thursday/Monday  
Carol and I were lucky to be able to rent a Hertz Rental Car Racing Mercedes C230 for this trip.  We drove the car 3,071 kilometers (1,919 miles) in the five days we had it.  I'm too lazy to convert all the foreign currencies and liters to gallons to give you an accurate fuel mileage number.  We rented the car for five days for just about $100 U.S.  That was an unheard of good deal.  The car was nearly brand new and sported an automatic transmission.  I don't know how we lucked into this deal, but with Carol driving so many miles it was a great car to have.     
Thanks for reading about my trackchasing,  
Randy Lewis Alberta's #1 Trackchaser
All we're trying to do in life is get food.            
TRAVEL DETAILS
AIRPLANE  
San Diego, CA – New York, NY – 2,442 miles
New York, NY – Barcelona, Spain – 3,834 miles    
AIRPLANE   Barcelona, Spain – Milan, Italy – 448 miles    
RENTAL CAR  
Milan International Airport – trip begins Mogyorod, Hungary – 715 miles
Hoch Ybrig, Switzerland – 1,044 miles
Vighizzolo d'Este, Italy – 1,673 miles
Milan International Airport – 1,919 miles – trip ends    
AIRPLANE   Milan, Italy – Barcelona, Spain – 448 miles    
AIRPLANE   Barcelona, Spain – New York, NY – 3,834 miles
New York, NY – San Diego, CA – 2,442 miles    
Total Air miles – 13,448 (6 flights)    
Total auto and air miles traveled on this trip – 15,367 miles        
TRACK ADMSSION PRICES:
Hungaroring – No charge
Hoch Ybrig – complimentary tickets
Vighizzolo d'Este Stock Car Track – 6 Euros    
Total racetrack admissions for the trip – 6 Euros            
COMPARISONS
LIFETIME TRACKCHASER COMPARISONS UPDATE:  
There are no trackchasers currently within 200 tracks of my lifetime total.   
1.  Randy Lewis, San Clemente, California – 1,428  
UPCOMING TRACKCHASING PLANS 
Wow!  This makes nine separate trans-oceanic trips (8 trackchasing and one vacation) since the beginning of 2009.  Will I make more of these long distance trips in 2009?  Only time will tell.
Greetings from all over Europe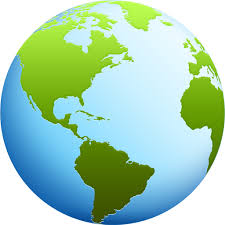 Why this plan?  
All planning for these trips is done at the world headquarters of Randy Lewis Racing in San Clemente, California.  None of the work is "farmed out".  However, I have hundreds of freelance supporters located all over the world.  They help shape my plans.    
This 20-day trip to Europe was not the ORIGINAL plan.  The original plan called for us to visit Ukraine as the site of my 69th trackchasing country.  However, when Ukraine got crossways with Russia we decided now might not be a good time to visit Ukraine!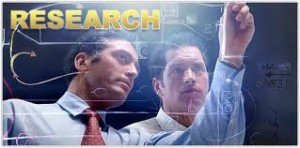 Next up the Randy Lewis Racing research and travel department came up with the idea to see TWO new racing countries during one long European trip.  It was determined that Serbia and Bosnia and Herzegovina would be trackchasing countries #69 and #70 respectively.  The plan was set.  We bought our airline tickets and were ready to go.  Then, before we left on the trip, the Serbian race had some problems with the local government.  That pushed back their race a few weeks.  With non-refundable airline tickets our ship would sink or swim with Bosnia and Herzegovina (of course that's ONE country) as trackchasing country #69.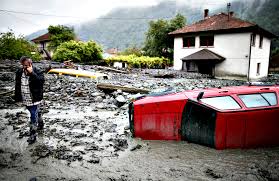 However, before and during the time we left for this trip, it began to rain in Bosnia and Herzegovina.  The rains came and then they came some more.  Then the floods came to Bosnia.  The flooding was the worst in the history of the country!  Our 20-day trip which would span three weekends was supposed to include Serbia on weekend #1, then a couple of tracks in Austria on weekend #2 followed by a race in Bosnia and Herzegovina on weekend #3.  After we arrived in Europe we learned that Bosnia would not race because of the severe flooding.  I had expected that after hearing the extent to the problem.  Now I had a 20-day European trackchasing trip with exactly TWO tracks on the agenda.  That would not do.  I rang up the RLR research department back in the states and pleaded for help.  As per normal these folks did not disappoint.  To be perfectly clear I had people, who will be identified during these reports, from all over Europe that were pitching in to help with information, support and direction on what tracks could be added on short notice to our itinerary.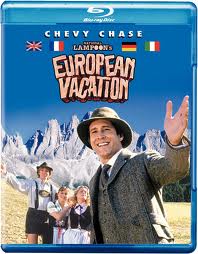 Now it's time to ride along with Randy Lewis Racing and enjoy the sights and sounds of our travails all over much of Europe.  It was a fun trip that had all kinds of twists, turns and just unusual stuff.  No problem with that.  We expect it!  That's exactly what makes these trips so much fun.    
The entire trip will be broken up into six parts:  
Part 1 – Trackchasing in Italy  
Part 2 – A visit to Slovakia for Carol's 36th trackchasing country  
Part 3 – Trackchasing in Austria  
Part 4 – A return outing to the Netherlands for autocross racing  
Part 5 – A venture into Germany for stock car racing  
Part 6 – One more visit to my "New England" the Netherlands for autocross racing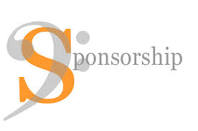 I couldn't do this without my sponsors. 
Before I go any further I need to thank my sponsors and vendors.  Without them I couldn't do what I do. Here's a list of my travel partners that made this trip a smashing success.    
Airfare – Kayak.com    
Hotels – Booking.com, Hotels.com, Interval International    
International Rental Cars –  Gemut.com (Portland, OR)    
GPS – iPhone, Garmin, Avis Car Rental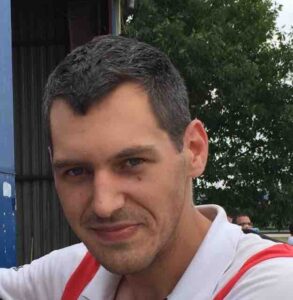 Race planning – I have a series of support staff located all over Europe.  The lead staffer for this trip was Boris Miljevic from Bosnia and Herzegovina.  However contacts in Italy, Serbia, Netherlands, Belgium, Austria, Germany, Hungary, Slovakia and the Czech Republic were critically important to the planning of this trip as well.    
It's important to note that all final decisions on where to go and how to get there are done by just one person…me.  This is in contrast to some trackchasers who "phone it in" when they visit non-English speaking countries.  They pretty much say, as an example, "I'll be there from July 10-20.  Pick me up at the airport, drive me around to the tracks and drop me off at the airport."  An effort like that knocks out about 80% of the fun on an adventure like this.  Of course that view is simply my opinion.  Not all folk's idea of adventure and creativity is the same.    
Part 1 of this six part trip will cover the "Italian effort" over the first four days of the journey.
Day 1/20 – Thursday, May 15, 2014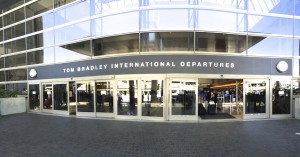 The planning was finished.  Now it was time to ask like Nike and "Just do it". The planning and preparation is done.  Now it is time to embark on a 20-day trip to Europe.  Carol will be with me for the first 13 days.  This trip has been looked at, massaged and evaluated many times.  I know certain elements of the plan will not work.  I just don't know which ones!  It was good to have a non-stop flight from Los Angeles to Munich, Germany.  With a late afternoon departure (5:20 p.m.) we could both work out in the morning.  We wouldn't leave the house until 12 noon.  As economy passengers we are each allowed to check one bag for free.  Those bags can way 50 pounds each.  You would think that would be a lot but we always over pack "just in case".
We left the house 23 minutes late.  I don't know why that is but we can never leave on time.  Our first stop was at the NYC Café in nearby San Juan Capistrano.  We had an Amazon Local electronic coupon expiring soon and wanted to use it today.  When I went to use the coupon my phone wouldn't work.  Why?  I had turned off most of the updates so as not to use up my precious data plan when we got to Europe.  Soon that was figured out and we were having our last meal for a while in the U.S.A.  
We were in the "mix" now. Once we got to LAX things got hectic.  It was Thursday afternoon at 2:30 p.m. and the place was packed.  I'm not certain I had ever seen it more crowded even at Christmas.  On the drive up we noticed (upon reading our airline ticket paperwork for the first time!) that Lufthansa Airlines only allowed our carryon bags to weigh 18 pounds.  That was a problem.  Heck, my SNACKS weigh 18 pounds.  We had planned to check two bags and carry on two bags NOT counting my computer bag and Carol's humongous purse.  Remember, no matter how many times we've done this it is never easy!
Just before we got to the airport we noticed the car's thermometer had touched 107 degrees.  At LAX, which borders the Pacific Ocean it was "only" 92 degrees.  Weather-wise this would be a perfect time to escape to Europe.  
Don't try this at home.  We are professionals. I pulled over to an open spot near the Tom Bradley (former Los Angeles mayor) International Terminal.  There we pulled out all of our bags and spread them over the sidewalk.  To passersby it might not have looked like it we had a plan.  We did.  We would jam the two biggest bags that we were planning to check with what we thought would be 50 pounds each.  Then, we hoped the two carryon bags would be down to the maximum of 18 pounds or so.  We were a sight with four bags open and clothes flying back and forth.  
Then I dropped Carol and the checked bags at the terminal.  I went to park the car.  This is our routine that we've been doing for years and years.   Believe it or not this was going to be my 26th trip to Europe just for trackchasing.  We've been to Europe many other times with no racing on the travel agenda.  Want to delay the trip for a day? On the way back to the terminal I got a call from Carol.  The flight was overbooked.  Lufthansa Airlines was offering the potential of $800 per person if we were willing to wait until tomorrow to depart.  Carol was calling to see if that was a good idea?  To me it was.  I would miss one Italian track and lose a night's hotel expense.  It might or might not screw up my rental car reservation.  However, some $1,600 in cash would go a long way in paying for our next trip!  
Clearing security was slow.  However, I did flash my American Airlines platinum card to get us some "juice" in the priority lane.  That probably saved us 30 minutes or so of standing in line.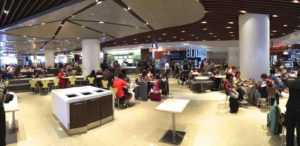 The new Tom Bradley International terminal, which opened last year, is very nice.  It's about the only place at LAX that is.  It had taken us just a bit more than three hours to leave San Clemente, have lunch, make the 65-mile drive, check our bags and clear security.  That left us with almost two hours to wait for our flight.  The more I travel the more I believe that "If you're not early you're late".     As it turned out they did not need our seats that we had volunteered to give up.  I was really good with either way that went although having $1,600 for future air travel would have been nice.  We did get a special perk with better coach seats just for volunteering.
Day 2/20 – Friday, May 16, 2014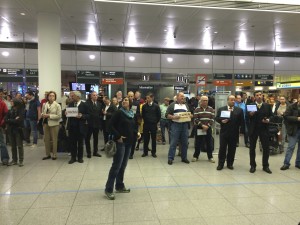 Let's get this party started. We landed in Munich, Germany in mid-afternoon.  We overnighted at the Casa della Torre-Turmhaus in Roverto, Italy.  This is what the day looked like.     We would be renting a car from Avis.  It would have a manual transmission.  I don't mind driving stick shift cars on trips like this.  However, I wouldn't have any interest in owning a personal car with a manual transmission.  
Diesel would have been better. At the rental car desk I asked for a diesel-powered car.  Why?  Diesel prices are lower than gasoline prices in Europe.  Additionally, diesel-powered cars get better mileage.  Alas, after checking and checking they could not locate a diesel-powered car.  I probably should have volunteered to wait for one.  That would have saved a good deal of money.  However, after an 11-hour flight we were itching to get going.  We were looking at a drive of some 222 miles over the Italian Alps.  I wanted to get there before dark.  Of course, we didn't.  
Lots of things are different in Europe than in the U.S.  Some of those differences are better and some are not.  Nevertheless, I wouldn't want all of Europe to be like San Clemente.  If that were the case then why leave home?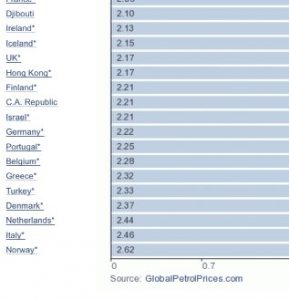 Paying to pee adds insult to injury. We were expecting gas prices of $8-10 per gallon.  We were not disappointed.  The tolls on the Italian motorways were hideous.  It would cost us about $50 per day U.S. just in tolls.  Add that fact to the one and only time we gassed up in Italy, at $9.27 per gallon, and our retirement account was being depleted before our eyes!  Of course, if you paid 50 bucks on tolls and nearly ten bucks a gallon for gas you would think they would let you pee at the gas station for free.  Nope.  They charge for that too!  We also knew that some countries (Austria and Slovakia) required that we purchase a "Vignette" or sticker that would allow us to drive on their highways.  Oh, my.  
One week of our travel would have us staying in St. Johann, Austria.  We own several timeshares in Maui, Hawaii.  At the last minute we decided to trade a week, which would allow us to stay in Austria for the same price (almost) that it would cost us for a week in Hawaii.
The very coolest places to stay. All of the other overnights (12) would be booked at bed & breakfast (ma and pa) locations.  That turned out to be a great idea.  One was more unusual and unique than the last.  This is a great way to visit Europe and very affordable too.
If you don't have GPS you better hire a driver.  We had GPS. For the first seven days of the trip we would be directed by the GPS capabilities of my iPhone.  I had purchased a data plan that would primarily be used to run the GPS.  Virtually all of the hotels had Wi-Fi, some better than others.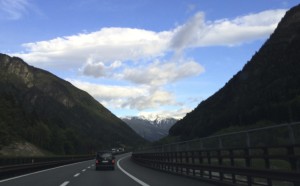 Driving over the Alps it started to spit snow.  That wasn't good.  I had brought mainly shorts and summer shirts expecting temps between 65 and 80 degrees Fahrenheit.  
Don't miss the pictures on this one. We pulled into the Casa della Torre-Turmhaus in Roverto, Italy at nearly 10 p.m.  It was dark.  The B&B was up in the mountains.  Just when we had completed several "switchbacks" and were driving down a one-lane road that was clearly ending the GPS lady told us "You have arrived"!
It was nightfall and we had been travelling for nearly 24 hours.  That first night's sleep is always the best on these trips to Europe.  It's important to stay up to at least past dinnertime, which is not always easy if you arrive in the morning and your body clock says it's midnight.  Then we get a good 8-10 hours or more of sleep and we're "almost" on the local time zone.  Europe will be nine hours ahead of Los Angeles in the places we will be visiting.
One of our many experiences with little or no English speaking. We hopped out of the car and were met with a most gracious and friendly elderly Italian man.  He rattled on and on in Italian.  Then, without further adieu or any identification for that matter, he gave us our room key and showed us to our room.  That's one of the many good things about Europe.  When you come to the hotel they don't mess around with much paperwork.  You pretty much just smile, take the room key and go to your room.  The details including payment are handled in the morning.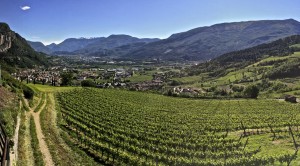 We could see from our balcony that our room overlooked the small city of Roverto.  In the morning we would see what a view we had.  
Day 3/20 – Saturday, May 17, 2014  
Today's Racing Activity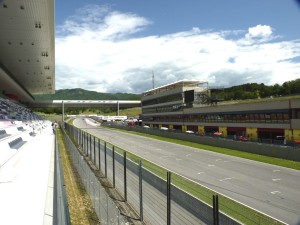 Mugello Circuit, Mugello, Tuscany, Italy  
A gorgeous morning in Italy. We woke up in Roverto, Italy.  We overnighted at the B&B Casa Camilla in Padova, Italy.  This is what the day looked like.
We awoke well rested and ready for a beautiful European vacation.  Today was a beautiful sunny day and our room overlooked a massive vineyard.  It was as green as could be.  
About half of our bed and breakfast accommodations will include breakfast for the two of us.  In most of the other locations breakfast is available at an extra charge.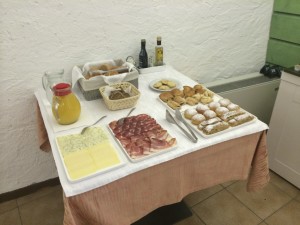 This morning's breakfast included a nice selection of meats, cheeses, pastries as well as juice and coffee.  Our Italian hotel stays (2 nights) would be the most expensive of the trip.  Gas would be the most expensive as well.
We would come to learn that not all that much English is spoken or understood by the locals and fellow guests we met.  However, just enough communication is available so that we don't starve or forget to pay for services rendered.  Please don't miss the pictures of this stay and all that are to come.
Only the best for "Trackchasing's First Mother". The Casa Della Torre in Roverto, Italy came with a 9.1 Booking.com customer satisfaction rating.  That is very high.  I search for the hotels I use based upon price and a high customer satisfaction rating provided by past guests.  When I travel with Carol we stay in the best places.
Time to go racing….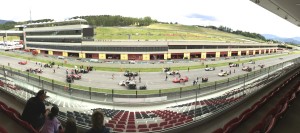 I found this interesting information, from Wikipedia, about the track we would visit today.   "Mugello is a race track in Mugello, Tuscany, Italy. Its length is 5.245 km (3.259 mi). It has 15 turns and a long straight. The circuit stadium stands have a capacity of 50,000.
The track is property of Scuderia Ferrari, which uses it for Formula One testing.  
Road races were held on public streets (road racing) around Mugello since the 1920s.
The Mugello GP was revived in 1955 and from the 1964 to 1969 as a Targa Florio-like road race consisting of eight laps of 66.2 km each, including the Passo della Futa of Mille Miglia fame. The anticlockwise track passed the towns of San Piero a Sieve, Scarperia, Violla, Firenzuola, Selva, San Lucia.  It counted towards the 1965, 1966 and 1967 World Sports car Championship season.  The 1970 event brought about the end of the 66 kilometer Mugello public road circuit; a seven month-old baby was killed when local racer Spartaco Dini crashed his Alfa Romeo GTA into a group of people at the village of Firenzuola during a private test there, when the roads were open to the public (the roads were only closed on race day and for qualifying; and left open for every other day including open practice for the event). Four other people, including 2 young children were seriously injured. Although there had only been one previous fatality at the original Mugello circuit (Günther Klass in 1967), this happening put a bad stain on the whole event, and the 1970 race turned out to be the last one held on the public road circuit, which was won once again by Merzario. After this incident, Dini spent 2 months in jail, and after his time served he moved out of Italy and did not return for years.     The present-day closed Mugello circuit was constructed in 1973 and opened in 1974, about five km east from the easternmost part of the original road circuit.
The circuit was used over 1–3 May, for the in-season test during the 2012 Formula One, by all teams except HRT.  The track was praised by Mark Webber, who stated that he "did 10 dry laps today around Mugello, which is the same as doing 1000 laps around Abu Dhabi track in terms of satisfaction".  Two-time Formula One world champion Sebastian Vettel was impressed too, saying that "unfortunately we don't have this track on the calendar. It's an incredible circuit with a lot of high-speed corners".  On the other hand, Vitaly Petrov from Caterham F1 complained that "It is not safe and wide enough. If you lose it, the walls are so close and you will smash into the tyres. It is not for Formula 1 and, if you lost the steering or the tyre pressure dropped or whatever, then it will be a big crash."  
Major league all the way. We didn't have much trouble finding the race circuit.  It was interesting to see that "San Clemente, Italy" (one of many) was located nearby.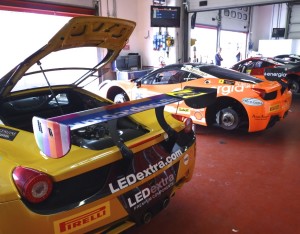 The Mugello Circuit was a "major league" racing venue.  They do F1 testing here.  Today was a special Ferrari sponsored racing weekend.
With all of the announcements in Italian and very little (almost no) English being spoken anywhere we were on our own.  I knew that the one and only race of the day would begin at 2:50 p.m. (that's 14:50 in Europe).  Like much sports car racing in America this was not much of a spectator event.  I would guess there were not more than 100 or 200 people in the stands.  However, the paddock area was jam packed with Formula 1 looking tow rigs and the like.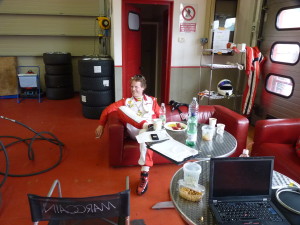 Male discrimination? We could have watched the activities from the grandstands for free.  However, we wanted to see the paddock area.  For that privilege I was charged ten euros.  However, Carol only paid five euros because of her gender.  I may consider a lawsuit based upon "male discrimination".
By the way the exchange rate for this trip is about one euro to $1.37 U.S. dollars.  That means that something that costs 10 euros is really about $14 U.S.  Most things in Europe that cost $10 in the U.S. cost about $20 U.S. in Europe.  That means that most things that cost $10 in the U.S. with the conversion rate cost about $28 U.S. in Europe.  That's a generalization but not far off.     We were on the "inside" today. We had a great time touring the paddock area and the racecar garages.  It's meetings like this, where the crowds are not much that allows fans to see these big facilities up close.  Please check out the photos and video from today's racing.  You'll get a great tour of the Mugello Circuit paddock area.  That's the best way for me to tell you about it.
After the races….
Following the races it was a 120-mile drive northward in Italy, near Venice, to the B&B Casa Camilla in Padova.  This was another unique and romantic little gem.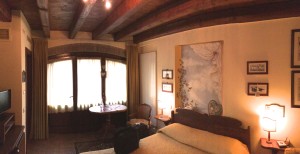 What a welcome! By the time we arrived it was beginning to cool down.  We could not have been welcomed more warmly by the hotel proprietor.  A son and his parents run the place.  "Mama" served us a drink and snack in the courtyard of our hacienda as the sun was beginning to set.  Then when we told them we were planning on going into town for dinner they insisted on driving us to their favorite place.  We soon learned that "Mama" had a lead foot!  When we arrived at the restaurant Mama got out of the car, went into the restaurant and introduced us to the owner.  He was a race fan in his own right.  There were a few driver uniforms and racing helmets on display.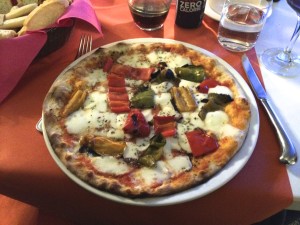 The food in this dimly lit bistro was outstanding.  As a starter I ordered a "pepperoni" pizza.  It wasn't exactly what I was expecting.  It was a pizza decorated with peppers but no meat.  This would be the first of several very special meals we would enjoy on the trip.  Eating is a pretty big deal when one comes to Europe.  Just about every place is gourmet with lovely settings and good food.  Despite Europe being an excellent place to dine I think the restaurants in the U.S. are just as good.
Day 4/20 – Sunday, May 18, 2014
Today's Racing Activity

Gonars Autocross Track, Gonars, Italy
We woke up in Padova, Italy.  We overnighted and would stay for the next seven nights, including this evening, at the Alpenland Sport Hotel in St. Johann im Pongau, Austria.  This is what the day looked like.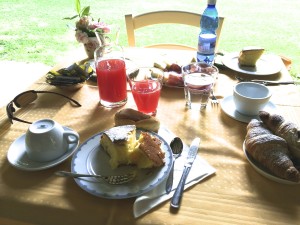 Another beautiful beginning to the day. The day began with breakfast on the patio.  Sitting under shade trees drinking orange juice that was RED and eating the yellowest fried eggs I have ever seen was a great way to start our day.
The B&B Casa Camilla carries a 9.3 (out of 10) rating with Booking.com.  On our way out the son who owns the hotel wanted to take our picture.  We posed with his mother and the photos were emailed to us within the hour.  This was a great place to stay and the hosts could not have been better.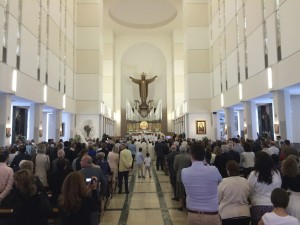 It was Sunday.  Carol likes to go to church on Sundays.  With good luck a Catholic church was just down the street.  We were just in time to catch the last part of the service.  They must be giving gas away back in the states. Gasoline prices in Italy are outrageous.  There are about 190 countries in the world.  I went to GlobalPetrolPrices.com to check out average fuel prices by country.  Italy ranked second highest behind Norway at $2.46 U.S. per liter.  That's nearly ten dollars per gallon.
I constantly hear people in America complaining about our high gas prices.  When I hear those comments I'm guessing the person is either uninformed or has not traveled much or both.  The average gas prices in America for May, 2014 were $0.96 U.S. per liter.  That's just about 20 countries from the lowest, which is Argentina at just three cents U.S. per liter!  Yes, compared to Argentina our gas prices are high.  However, compared to about 170 OTHER countries our prices are low.  I ran into an Englishman while traveling in France a few trips ago.  After learning I was an American he said, "I understand that you give the gas away in America!"     Major GPS change. Today I switched from Google Maps! as my preferred GPS program to Waze.  This was based on J.J.'s recommendation.  I may not be very smart but I know a lot of smart people.  I take their advice.
I couldn't believe all the tunnels we drove through on this trip.  Some were 2-3 miles long.  However, we've driven through tunnels as long as ten miles in Switzerland.  The road tolls persisted averaging about $50 U.S. per day.
Time to go racing….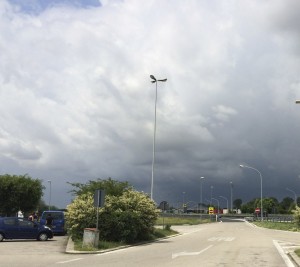 Under threatening weather conditions we've reached this afternoon's autocross race location.  Remember once both Serbia and BiH went south on us I had to find these race dates at the last minute.  Not only did I have to find tracks that were racing but that were close enough to each other to make it worthwhile logistically.  
Close to Slovenia but NOT Slovenia. The Gonars autocross track was a small meeting in the extreme northeastern tip of Italy.  The track was actually only a few miles from the country of Slovenia.
Our GPS could get us to the town of Gonars but finding the track would take some more doing.  We stopped at a couple of bars, which were doing a fine business on Sunday.  There one man agreed, in broken English, do have us follow him to the track.     By the way, one of the more adventuresome activities when you plan and do your own trips is meeting the local people.  It's my job to walk into an Italian bar and ask for help.  Very little English was understood or spoken….except by me.  That's never a problem.  I've learned time and time again that people will always help people.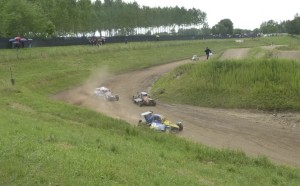 We made it. We were soon at the track.  There we discovered 40-50 cars getting ready to race on a fairly flat dirt road course.  Fans watched from a grassy hillside.  From there we could see about three-quarters of the track.     As is true with most local European racing events fans could wander about the pit area for no extra charge.  I like that.  You can see so much more and experience so much more at these foreign events by touring the pit/paddock area.
Watch the YouTube video. Again, I won't spend a lot of time TELLING you about the races when you can see the racing from my photos and YouTube video.  I did get a good video clip of a car taking an end over end tumble.
After the races….    
Although a series of very dark clouds passed during the races it only sprinkled a bit.  We were lucky with that.     Won't I ever learn? I ran the car past empty on the gas gauge trying to get out of Italy without buying any more of their high-priced gas.  I barely made it.  It was enough to make even me sweat the idea of running out of gas.  I try not to concern Carol with these details as we motor on down the highway.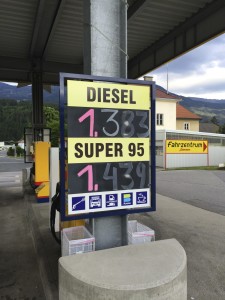 I did make it to a small town in Austria.  There we paid "only" $7.64 U.S. per gallon.  I thought I was stealing compared to buying gas in Italy!     Our drive took us back across the Italy/Austrian Alps in a very scenic drive.  I hold to the belief that Austria, New Zealand and Switzerland are the three most beautiful countries I have ever seen.  Latvia and Japan have the best looking girls!!     For the evening we would check into the Alpenland Sport Hotel in St. Johann im Pongau, Austria.  If you can imagine an American ski resort like Aspen or Steamboat Springs, Colorado then you've got our Austrian location pegged.     We were "home" for a week. It was about dinnertime when we arrived into Austria and our hotel.  By the way, we eat dinner at about 5:30 p.m. at home.  In Europe dinner begins about 8 p.m. (20:00) and runs to about 10 p.m. (22:00) or later.
We found an absolutely stunning restaurant where we dined on calamari and spaghetti carbonara.  We drank some good wine and had a wonderful evening.     I was a little surprised that the desk personnel at the hotel didn't speak and/or understand more English.  That was the case in most of the places we visited.
My credit card machine is "broken" (wink). I was also surprised, in a negative way, that more places did not take credit cards.  Most expected cash payment.  I prefer to charge EVERYTHING if I can.  A couple of businesses "claimed" their credit card machine was broken.  ATM here we come!



Trackchasing truly has taken me all over the world!



THE COUNTRY LIST
 

RLR – Randy Lewis Racing Lifetime Trackchasing Countries  
# 1 – UNITED STATES OF AMERICA – Peoria Speedway – Mt. Hawley, (oval) – Track #1, Peoria, Illinois – circa 1954 (age 5)  
# 2 – CANADA – Cayuga Speedway (oval) – Track #174, Nelles Corner, Ontario, Canada – July 31, 1988 (Dick Trickle winner)  
# 3 – AUSTRALIA – Parramatta City Raceway (oval) – Track #180, Granville, New South Wales, Australia – November 17, 1989 (accompanied by Carol)  
# 4 – UNITED KINGDOM – Northhampton International Raceway (oval) – Track #378, Northhampton – June 26, 1999 (accompanied by Carol, Kristy, Jim)  
# 5 – NETHERLANDS – Driesum Racetrack (oval) – Track #839, Driesum – May 5, 2005 (accompanied by Roland Vanden Eynde)  
# 6 – BELGIUM – Bellekouter oval (oval) – Track #841, Affligem – May 8, 2005 (accompanied by Roland Vanden Eynde)  
# 7 – FRANCE – Circuit de Croix en Ternois (road course) – Track #843, Saint-Pol sur-Ternoise – May 8, 2005 (accompanied by Roland Vanden Eynde – 2nd new country in one day!)  
# 8 – GERMANY – Nurburgring (road course) – Track #844, Nurburg – May 13, 2005 (accompanied by Carol, Roland Vanden Eynde)  
# 9 – NEW ZEALAND – Western Springs Speedway (oval) – Track #1,134, Western Springs – December 26, 2006 (accompanied by Carol)  
# 10 – MEXICO – Triovalo Bernardo Obregon (oval) – Track #1,281, Tiajamulco de Zuniga, Jalisco – October 14, 2007 (accompanied by Carol, J.J., Roger Ward)  
# 11 – BARBADOS – Bushy Park Racing Circuit (road course) – Track #1,296, Bushy Park – December 9, 2007  
# 12 – THAILAND – Bira Circuit (road course) – Track #1,300, Pattaya – January 19, 2008  
# 13 – SOUTH AFRICA – Durban Grand Prix (road course) – Track #1,315, Durban, KwaZulu-Natal – February 24, 2008 (accompanied by J.J. and Will Van Horne)  
# 14 – JAMAICA – Dover Raceway (road course) – Track #1,322, Brown's Town St. Ann – March 24, 2008  
# 15 – SWEDEN – Sturup Raceway (road course) – Track #1,335, Malmo – May 10, 2008 (accompanied by Carol)  
# 16 – DENMARK – Ring Djursland (road course) – Track #1,336, Tirstrup – May 11, 2008 (accompanied by Carol)  
# 17 – CZECH REPUBLIC – Automotodrome BRNO (road course) – Track #1,381, Brno – September 13, 2008  
# 18 – AUSTRIA – Lambrechten Stock Car Track (road course) – Track #1,382, Lambrechten – September 14, 2008  
# 19 – IRELAND – Tipperary International Raceway (oval) – Track #1,388, Rosegreen – October 26, 2008 (Carol and I visited this track earlier in the year)  
# 20 – GUYANA – South Dakota Circuit (road course) – Track #1,390, Timehri – November 2, 2008 (accompanied by Carol)  
# 21 – CHINA – The Guia Circuit (road course) – Track #1,392, Macau – November 16, 2008 (accompanied by Carol)  
# 22 – COSTA RICA – Autodromo La Guacima (road course) – Track #1,398, La Guacima – November 30, 2008  
# 23 – ANDORRA – Grandvalira Circuit (road course) – Track #1,404, Port d'Envalira, Andorra – January 17, 2009  
# 24 – ARGENTINA – Circuito Efren Chemolli (oval) – Track #1,406, Buenos Aires, Argentina – January 31, 2009 (shared with Jerry Fisher)  
# 25 – QATAR – Losail International Circuit (road course) – Track #1,408, Doha, Qatar – February 13, 2009  
# 26 – BAHRAIN – Bahrain International Circuit (road course) – Track #1,410, Sakhir, Bahrain – February 27, 2009 (accompanied by Carol)  
# 27 – UNITED ARAB EMIRATES – Dubai Autodrome (road course) – Track #1,411, Dubai, United Arab Emirates – February 28, 2009 (accompanied by Carol)  
# 28 – COLOMBIA – Autodromo de Tocancipa (road course) – Track #1,415, Tocancipa, Colombia – March 22, 2009  
# 29 – SPAIN – Motorland Aragon (road course) – Track #1,416, Alcaniz, Spain – March 28, 2009  
# 30 – PORTUGAL – Circuto de Murca (road course) – Track #1,417, Murca, Portugal – March 29, 2009  
# 31 – ICELAND – Kapelluhraum (road course) – Track #1,420, Hafnafjorour, Iceland – April 25, 2009 (shared with Will White)  
# 32 – HUNGARY – Hungaroring (road course) – Track #1,426, Mogyorod, Hungary – May 8, 2009 (accompanied by Carol)  
# 33 – SWITZERLAND – Hock Ybrig (road course) – Track #1,427, Hoch Ybrig, Switzerland – May 9, 2009 (accompanied by Carol)  
# 34 – ITALY – Vighizzolo d'Este Stock Car Track (road course) – Track #1,428, Vighizzolo d'Este, Italy – May 10, 2009 (accompanied by Carol)  
ITALY – FAST FACTS    
Full country name:  Italian Republic  
Capital City:  Rome    
Official language:  Italian    
Population (2008):  60 million    
Currency:  Euro (EUR)    
Geography:  Italy shares its northern Alpine border with France, Switzerland, Austria and Slovenia.  
Economy:  Italy is a democratic republic and a developed country with the eighth highest quality of life index rating in the world.  It is a founding member of what is now the European Union as well as NATO.    
Religion:  Some 87.8% of Italians identify themselves as Roman Catholic, although only about one-third of these people described themselves as active members.    
Sports:  The most popular sport in Italy is football.  No, not THAT kind of football.  Italy's national football team is the second most successful team in the world with four World Cup victories (apparently no Super Bowl titles).    
* Some of this info comes from my research at Wikipedia.
Mugello Circuit
.
.
Gonars Autocross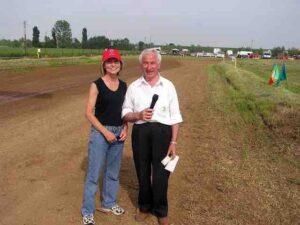 2009 – Vighizzolo Stock Car Track Vighizzolo d'Este, Italy
Click on the link:
Italy…..first racing visit….2009
.
.
.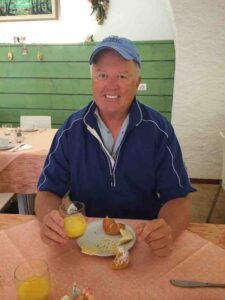 2014 – Mugello Circuit Mugello, Italy
Click on the link:
A trip to the Mugello Circuit and much more
.
.
.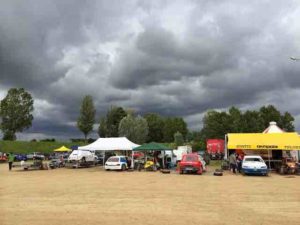 2014 – UnionBeton Racetrack Gonars, Italy
Click on the link:
Italian dirt road course racing plus beautiful scenery
That's all folks!  Official end of the RLR – Randy Lewis Racing Trackchaser Report