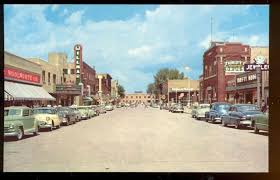 Greetings from Willmar, Minnesota
.
.
From the travels and adventures of the 
"World's #1 Trackchaser"
The EventVideo PlusPhotos

KRA Speedway
Dirt oval
 Lifetime Track #436
THE EVENT
Editor's note: As a trackchaser, I don't go back to tracks I've seen previously all that often. However, I have a couple of exceptions to that rule. Sometimes I'm on the road and have an "off night" from trackchasing. In that case, I might, but probably not, visit a track where I've seen racing before. I will also go back to the tracks again and again that I've seen in the past that provide very entertaining racing.
I AM A TRACKCHASER.
Are you new to the hobby of trackchasing? If so, let me give you just a little bit of background. Before I go any further I will tell you that a lot of people get pretty enthused about what I've been doing with trackchasing. I will offer this warning. If you try it yourself it could become addictive.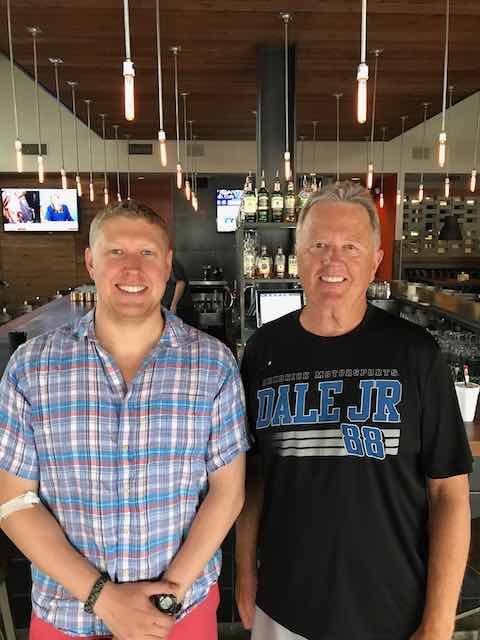 My name is Randy Lewis (above with Rich Lewis – no relation – we met during my trackchasing trip to Zimbabwe). I hail from the sleepy little village by the sea, San Clemente, California. I am a "trackchaser". I trackchase. Have you ever in your life heard of "trackchasing"? I didn't think so. 
Trackchasing is a "collecting" hobby. Trackchasing is a "counting" hobby. It's really not all that much different than when you were a kid and you collected stamps or beer cans or bottle caps.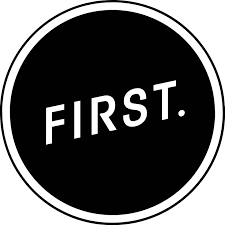 Trackchasing is all about visiting new auto racing tracks for the very first time. Believe it or not, trackchasing has "rules" as to what kind of racetrack and race car and race driver count toward your lifetime totals and which ones would not.
I'll try to oversimplify the rules situation for you. Trackchasers are allowed to count racing cars and trucks that compete on oval, road course and Figure 8 configurations. Any class that is racing, in order to count, must be open to racers 18 years of age or older.
This means that trackchasers cannot count racing down exclusively by kids. There are also various motorsports events and classes of cars that do not count. Trackchasers do not count drag racing, demolition derbies, motorcycle racing or boat racing. Just cars and trucks on ovals, road course and figure 8 tracks. Trackchasing does not allow the counting of flat go-kart racing either.
Before the hair on the back of your neck starts to stand straight up as you think one or more of these rules are just preposterous let me explain. First, I didn't set up these rules. I only count by them. The rules were set up in the 1990s by a group of white men who primarily hung out in Pennsylvania. I don't know that any of them had ever seen any racing on a road course or figure 8 track or maybe even a drag race, with a few exceptions, when the rules were established. There is one good thing about having a common set of rules. It allows each trackchaser to compare his or her list to the next trackchaser. Trackchasers like to do that.
For me, I need three things in order to make my hobby hunt. First, I need a race date. Then I need good weather because folks in the U.S. often cancel racing events when it rains. Finally, I need a way to get to the track. I live in Southern California. The lion's share of racing events in the United States are located in the Midwest and east.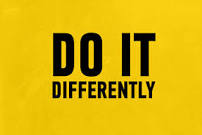 I trackchase just a little bit differently than my fellow competitors. For me, there are three essential elements to the enjoyment of trackchasing. First, I like to see auto racing. I prefer to see racing on what we call "short tracks" more so than a visit to Daytona, Indianapolis or Monaco. By the way, I've seen racing in each of those three iconic locations.
In addition to the racing part of trackchasing for me, I really enjoy seeing the local sights and sounds of whatever area I am visiting. I called these "Trackchasing Tourist Attractions". If you go to my website at www.randylewis.org and click on the Trackchasing Tourist Attractions tab you'll see where I've been all over the world. Here's a link to that tab.
Trackchasing Tourist Attractions
The third and final reason that trackchasing is a lot of fun for me is simply the logistical part of the hobby. I have been retired for nearly 20 years. During that time I have not earned a single dime of work income. That means I have to manage my money pretty closely enable in order to be able to do what I do.
Logistically I have to handle seven different categories of trackchasing expenses. Those expenses include airplanes, rental cars, hotels, airport parking, gasoline, food and race tickets. As an example, you can just imagine what traveling from Southern California out to the Midwest for four days of racing would cost.
In any given year I will travel well over 200,000 miles. I'll stay in hotels 150-200 nights a year, rent 50-75 rental cars every year and buy a full tank of fuel about 100 days a year just for trackchasing.
After each and every event that I attend I post a YouTube video, a SmugMug photo album and a very detailed Trackchaser Report about the experience. My stories are not just about what happened at the track but about my visit to the area and what exactly it took to make the trip happen. That's where the racing, the touring and the logistical challenges come from.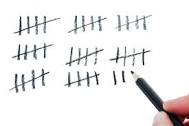 I told you that trackchasing is a "counting" hobby. Trackchasing is ultra-competitive as well. Lots of people don't recognize that when they are initially exposed to this hobby. Trackchasing has had all of the political drama, cheating, accusing people of cheating and other aspects of poor personal behavior that any other competitive activity might have. This is why I am NOT a member of any organized trackchasing group. The management of these groups has been so poor over the years these groups are not something I want to be associated with whatsoever.
As this is written I have seen racing in 85 different countries at more than 2,630 racetracks. During all this time I have never tried to benefit financially from my hobby. This is despite being interviewed by hundreds of track announcers, newspaper reporters and radio and TV outlets as well as doing a TV pilot. I'm a volunteer. I do this 100% for the fun of it.
Because I have seen racing in 85 countries at this point I am considered the World's #1 Trackchaser. That's good enough for me. Now I encourage you to drop down a few spaces and read about trackchasing adventure. As you discover what went on today just think about the idea that I've done this more than 2,600 times. I don't mind admitting I am addicted to that hobby of trackchasing.
Yes, today's adventure was one more of the 2,000 trips that have taken me up, down and around the proverbial long and dusty trackchasing trail.  If you would like to see where I've been and experience those adventures here's the link: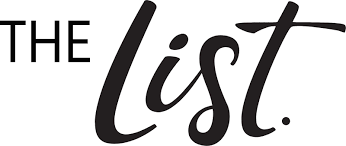 If you've got a question, comment or whatever please leave it at the bottom of this report.  It's very easy to do.  Or you can visit me on Facebook.  Thanks!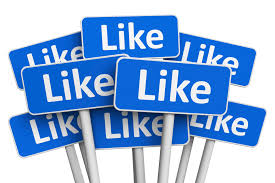 FOREWORD
Thursday, July 8, 2020.
Today Thursday, July 9, 2020, was an off day for trackchasing. Nevertheless, I found myself in Minneapolis, Minnesota. What was I doing on the road if I wasn't trackchasing?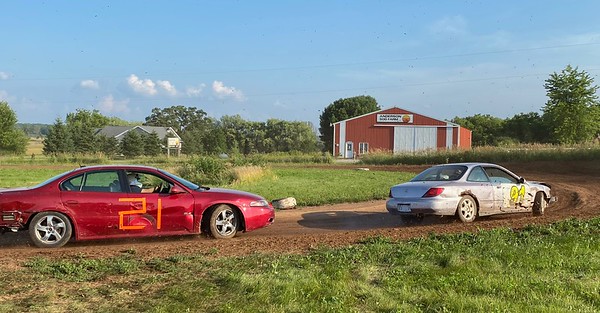 I had made a special trip up to this part of the country to be able to see racing at Bennett's Raceway (above) last night in Neenah, Wisconsin. I couldn't find any new track visit opportunities for tonight, Thursday. However, for the rest of the weekend Friday, Saturday and Sunday I had more new track visits planned here in the Midwest. What could I do on this particular Thursday? I had some very diverse plans in place.
I begin the day with a downtown tour of Minneapolis. Just six weeks ago Minneapolis what shaken to its core with both protests and riots. The unwarranted killing of a fellow by the name of George Floyd turned the country upside down.
When you add different parts of racism, income equality and mob mentality you're likely to get very poor outcomes. That's what happened in Minneapolis.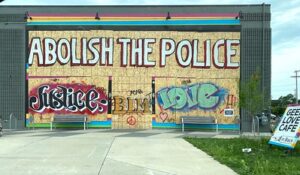 I did a little Google searching and soon found the directions that would lead me to exactly where all of the mayhem had begun. What I saw were burned out buildings, lots of graffiti and hateful/political messages. There was plenty of plywood used to protect the windows of shop owners in the neighborhood as well. I can only imagine what it was like at its flashpoint.
You are not going to want to miss the photos of what I saw during this one-hour tour. I selected a few of the most graphic photos and sent them to my family's texting distribution list. Just by doing that another exciting local opportunity popped up.
I got a text from our daughter Kristy. It read, "Are you in Minneapolis?" In point of fact, I was in Minneapolis. An additional point of fact confirmed that Kristy and her clan were located only one mile from me near the Mall of America where I was at the moment. Isn't technology wonderful?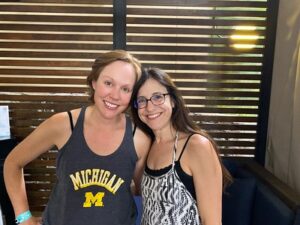 Let me tell you what makes this meeting up so unusual. Kristy and her two kids (Mitch and Astrid…our grandkids) and her friend Laura and her two kids (Aurora and Eleanor) are out and about making a 61-day, 48-state driving tour of the U.S. That's got to be fun. We saw them a few days ago in Michigan. I had no idea they would be in Minneapolis today.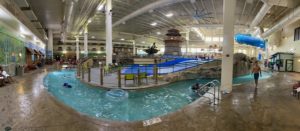 I had a little extra time so I scooted over from the mall to their hotel which featured a huge indoor waterpark theme. There I was able to say hi to everyone including James, Kristy's ex-husband. It was nice seeing everybody and watching them enjoy a good time even though the din of the waterfall inside the Great Wolf Lodge Water Park resort was loud and the humidity could be cut with a knife. However, the kids didn't notice that stuff one bit!
From there I was making the two-hour drive out to Willmar, Minnesota. The KRA Speedway races on Thursday nights. I had been to KRA for the first time all the way back in the year 2000. At the time KRA was lifetime track #436. That means in 20 years I have visited more than 2,000 additional tracks since that long-ago visit to KRA.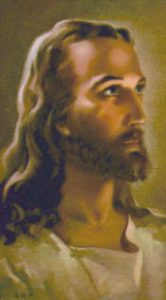 When I entered the grounds I paid my $11 general admission fee from inside the car. The place was packed but I used the "Jesus method". What is the Jesus method? There's always room for one more at the inn. I parked on the end of a row, partially into the exit road, which would allow me to make a graceful exit whenever I needed to.
I've got to tell you that I had absolutely no remembrance of the facilities at the KRA Speedway. I'm talking zero memories of the racing plant. 
However, I did remember one thing from 20 years ago. The track announcer. As I recall he gave me a nice trackchaser mention low those many years ago.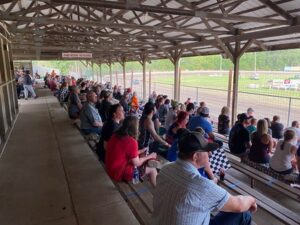 At the KRA Speedway the track announcer sits in a two-story tower located in the track's infield. I'm sure it was the same guy announcing on this evening as it was 20 years ago. I enjoyed the white-haired gentleman's description of the action and his enthusiasm as he informed and entertained the crowd.

The pit situation is a little bit unusual at KRA. The pits are located well off of turns number one and two. There is a very hilly section of the property with all kinds of huge nearly 100-year-old oak trees they use for the pits.
The racing was acceptable on the ½-mile slightly banked dirt oval. The car counts were small but not small by today's standards I guess. There were seven classes racing. The car counts went 11, 10, 9, 9, 9, 9 and 5. That's not a lot of cars. Racing is expensive to participate in.
I don't go "racechasing" all that often. By the way I consideration racechasing to be the idea of a fan going to the races simply to see the racing. That's different than trackchasing. Trackchasers go to a new track for the express purpose of enjoying the experience of a first time ever visit. Very few Trackchasers will go back to tracks a second time. When they do it's usually because the track is relatively close to their home location. If you see the tracks that I go back to for a second time you'll notice how far they are from Southern California.
I was glad I had taken the time to revisit the KRA Speedway after a 20-year embargo. I wouldn't want to do this thing this kind of thing all that often. But once in a while, it's enjoyable. I often tell people that I became a trackchaser because I decided I liked going to a racetrack for the first time more than I did going to the same track a tenth time.
I'll ask that you take a close look at my YouTube video and SmugMug photo album. If you do that you are likely to feel as if you were sitting right next to me all night!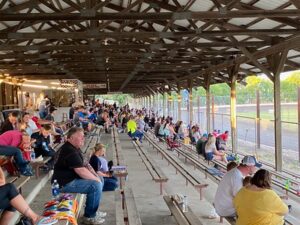 I did like the somewhat funky but still cool covered county fair grandstand. On a warm night it sort of made things feel warmer. Race programs were still just a buck as they were 20 years ago! However, with tonight's ticket price being $11 that was almost double the price back in 2000, which was six dollars. I went with the "cheddar brat" for my track snack.
I thought you might like to see what my Trackchaser Report looked like from my visit to the KRA Speedway on Thursday, July 6, 2000. Remember the KRA Speedway was lifetime track #436 back then. I didn't write my very first Trackchaser Report until I visited the Central Washington State Fairgrounds Raceway in Yakima, Washington. That Evergreen State track was lifetime track #432 and seen just a couple of weeks before the trip to KRA on June 23, 2000.
Reprinted with permission from my July 6, 2000, trackchasing visit to the KRA Speedway.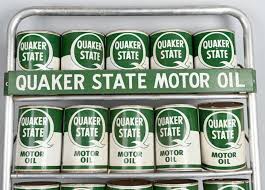 "Quaker State Motor Oil and Right Guard Anti-Perspirant bring today's race report to you.
Thursday night's show was at the KRA Speedway in Willmar, Minnesota.  The track was my 436th all-time.  The weather was perfect.  General admission was a reasonable $6.  This is a fairgrounds track in the fairly large town of Willmar.  Tonight's Super 8 is much better than the last one and located only a couple of miles from the track.
Souvenir programs were $1.  My lucky program number was #899.  And just like my last racing trip my program number was the first one drawn for a prize.  I received both a Right Guard Halfway Challenge cap and a Quaker State racing collapsible duffle bag.  It turns out they might have had an oversupply of Right Guard hats as a girl came through the crowd throwing them to the customers for free.  The gentlemen sitting next to me caught one and gave it to one of his two daughters.  Seeing the daughter without a hat looking like she needed one I gave her mine and everyone was happy.
The racing classes and number of competitors were as follows:
Pure Stocks (9)
Midwest Modifieds (8)
Wissota Streets (7)
Wissota Mod 4s (12)
Wissota Super Stocks (9)
Wissota Modifieds (10)
Again rather slim fields but definitely a better racing experience than Winona County.  The program was scheduled to start at 7 p.m. At 7:12 p.m. they announced the need for a driver's meeting.  I thought this might mean we were in for a long evening.  The first race went off at 7:28 p.m.  Heats were done by 8:20 p.m.  They had a 20-minute intermission.  The last feature took the checker at 9:27 p.m.  Once they got started they ran a solid program.
KRA has a fully covered grandstand.  They had a crowd of three or four hundred people.  The announcer was very animated and kept the crowd entertained.  There was no dust at all but also not much passing.  It looked to me like they started the features straight up by points.  For the fans that doesn't sound like a very good idea to me. 
My rating gives this track a 4.5 for racing and a 4.5 for the facility on a scale of ten.  Still a good choice for a regular Thursday night program.
The weather's beginning to get a little iffy and may necessitate a change in the remaining race plan.  We'll see."
Good evening from Willmar, Minnesota.
Randy Lewis – 85 countries – 2,621 tracks.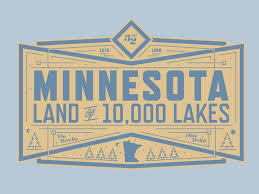 Minnesota
The North Star State
This evening I re-visited a track I have first seen in 2000. In total, I have seen racing at 103 different tracks in the North Star State, yes, the North Star State.  I hold the #1 trackchasing ranking in Minnesota. Oklahoma ranks #6, amongst all the states, in tracks seen for me in the U.S.
Thanks for reading about my trackchasing,
Randy Lewis
World's #1 Trackchaser
Peoria Old Timers Racing Club (P.O.R.C.) Hall of Fame Member
Minnesota sayings: "Need a push?"
Imagine this: It's winter, there's about a foot of fresh snow on the ground, and you're trying to pull out of your parking spot. No matter how much digging you do, there's still that 50/50 chance your wheels will be spinning 'til high heaven until some North Face-sporting angel comes along and asks, "Need a push?" Only then, when this balaclava-faced soul gives your ride the extra oomph it needs to get out of that rut, will your car be on its way. We are forever grateful.
JUST THE FACTS
LIFETIME TRACKCHASER COMPARISONS 
The three most important trackchasing comparisons to me are:
Total lifetime tracks seen
Total "trackchasing countries" seen
Lifetime National Geographic Diversity results
Total Lifetime Tracks
There are no trackchasers currently within 735 tracks of my lifetime total.  Don't blame me.
Randy Lewis, San Clemente, California – 2,621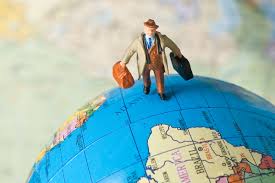 Total Trackchasing Countries
My nearest trackchasing competitor, a native of Belgium, has seen racing in more than 30 fewer countries compared to my lifetime total. 
Randy Lewis, San Clemente, California – 85
Current lifetime National Geographic Diversity results
Randy Lewis, San Clemente, California – 3.96
That's all folks!  Official end of the RLR – Randy Lewis Racing Trackchaser Report
Click on the link below to see the video production from the racing action today.
Click on the link below for a photo album from today's trackchasing day.  You can view the album slide by slide or click on the "slide show" icon for a self-guided tour of today's trackchasing adventure.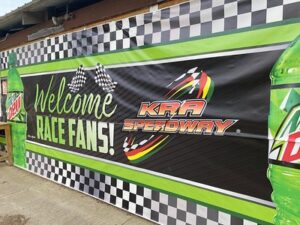 My return visit to the KRA Speedway PLUS a walk through the Minneapolis riot scene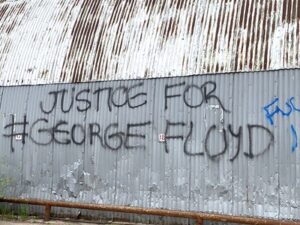 A complete photo album devoted to the Minneapolis riots